Original Link: http://www.anandtech.com/show/6104/origin-chronos-review-the-ultimate-lan-box


Introducing the Origin Chronos
BitFenix's Prodigy enclosure, despite a couple of rough spots, emerged as a one-of-a-kind design and a substantial success for the company. BitFenix brought a remarkably flexible Mini-ITX enclosure to market at one of the lowest price tags we've ever seen for that type of enclosure, making it an instant hit with enthusiasts but also a great opportunity for boutiques to produce a variety of LAN boxes to suit the needs of their customers.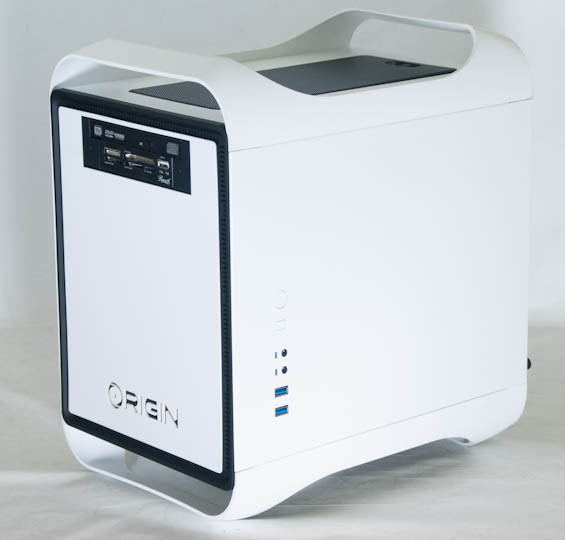 While we've already seen small gaming systems from the likes of AVADirect, DigitalStorm, and iBuyPower, what Origin brings us for review today may be one of the best balanced and most impressive LAN boxes we've ever seen. I've maintained since I started reviewing their cases that BitFenix's enclosures were ideal for boutiques: they're inexpensive, they look good, and they're well made. Origin was showing off a few systems utilizing BitFenix's cases at CES, and the Chronos is just the latest iteration in what looks to be a very fruitful partnership.
More and more the Mini-ITX form factor seems to be able to provide just about everything the average user might need; Micro-ATX generally brings multi-GPU support along with potentially better overclocking and more RAM, and full ATX is really only necessary in isolated cases anymore. But if you just want a single fast CPU and a single fast GPU, a Mini-ITX board may be all you need. Judging from the Origin Chronos, that could be very true indeed.
Origin Chronos Specifications
Chassis
BitFenix Prodigy
Processor
Intel Core i5-3570K
(4x3.4GHz, Overclocked to 4.6GHz, 22nm, 6MB L3, 77W)
Motherboard
ASUS P8Z77-I Deluxe
Memory
2x4GB Corsair Vengeance DDR3-1600
Graphics
eVGA NVIDIA GeForce GTX 670 2GB GDDR5
(1344 CUDA cores, 915MHz/6GHz core/RAM, overclocked to 1015MHz/6.1GHz, 256-bit memory bus)
Hard Drive
Samsung 830 128GB SATA 6Gbps SSD
Western Digital Caviar Blue 1TB SATA 6Gbps HDD
Optical Drive(s)
HL-DT-ST slimline DVD-RAM (GT60N)
Power Supply
550W Corsair TX550M
Networking
Broadcom 802.11b/g/n Wireless
Bluetooth
Intel 82579V Gigabit Ethernet
Audio
Realtek ALC889
Speaker, mic/line-in jacks, optical out for 7.1 sound
Front Side
Optical drive
SD/MMC/CF card reader
USB 2.0
Right Side
2x USB 3.0
Headphone and mic jacks
Back Side
4x USB 2.0
Optical out
HDMI (IGP)
DisplayPort (IGP)
DVI (IGP)
WiFi antennae
4x USB 3.0
Ethernet
2x eSATA
Speaker, mic/line-in jacks
2x DVI (GeForce)
1x HDMI (GeForce)
1x DisplayPort (GeForce)
Operating System
Windows 7 Home Premium 64-bit SP1
Dimensions
9.84" x 15.9" x 14.1"
250mm x 404mm x 359mm
Extras
Integrated 802.11b/g/n
Closed CPU liquid-cooling loop
Card reader
Overclocking on the CPU and GPU
LucidLogix Virtu MVP
Warranty
1-year hardware and lifetime labor and software support
Pricing
Starts at $1,071
Review system configured at $1,499
The average user would be pretty hard-pressed to find anything to ask for in this configuration. The CPU overclock on our review system is hefty; our Ivy Bridge-based Intel Core i5-3570K is clocked at 4.6GHz, which is 200MHz higher than the highest overclock Origin offers on their site outside of the "review configuration." The case and cooling solution handle it fairly well (impressive given the sheer voltage they're pumping through an architecture that's gaining notoriety for running hot), and 200MHz isn't going to break the bank, but you'll see in single or lightly-threaded tasks that the clocks are enough to take the lead. The ASUS motherboard Origin utilizes is a great one, built for overclocking, and it does deliver.
On the graphics side, NVIDIA seems to have done boutiques a real solid by making overclocking their Kepler GPUs even more painless than Intel made overclocking K-series Sandy and Ivy Bridge chips. One trip into EVGA's Precision X software and you can raise both the power target of the card and the boost clock speed. As a result, Origin's GTX 670 enjoys a mild but sustainable 100MHz overclock that bone stock GTX 670s don't have.
Everything else is about what you'd expect, with an SSD system drive and mechanical disk for mass storage, but I liked that Origin opted to use an adaptor for the 5.25" bay that allows them to include both a slimline DVD-RAM drive and a card reader. Sure this is functionality that could've mostly been duplicated by USB accessories, but the more integrated into the system the better.
In the process of writing this review I've been going back and forth with Origin about concerns over the overclock and in doing so had an opportunity to express concerns about the price. Originally there wasn't a "review configuration" shortcut on their site for the Chronos; our configuration was roughly $1,900, which was a hard sell. But it's amazing what chopping $400 off a price tag can do, and at $1,499 the Chronos is actually price competitive with buying the parts off the shelf and assembling it yourself. The starting price of the Chronos seems to be a little on the high side, but the "review configuration" is bang on.
Application and Futuremark Performance
At a very substantial 4.6GHz (roughly as fast as Ivy Bridge can really get without serious cooling and certainly a touch beyond what our own Ian Cutress suggests is common), the Intel Core i5-3570K in our review unit threatens to offer the fastest single-threaded and lightly-threaded performance of all the systems we've tested. On the flipside, it's using a lot of voltage to get there (1.4V); I'm a bit antsy about this for obvious reasons, but I'll get into that in more detail later on.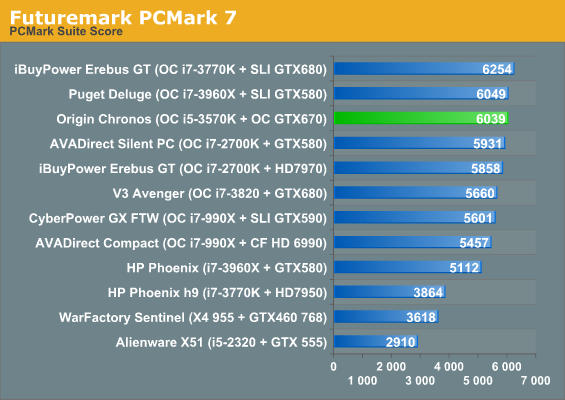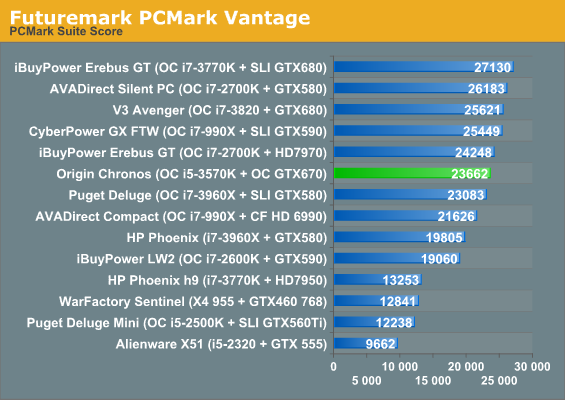 The robust overclock and fast Samsung SSD give the Chronos pretty solid footing. iBuyPower's Ivy Bridge-based Erebus GT is really the one to beat, with its 4.4GHz i7-3770K and SLI'ed GeForce GTX 680s. In terms of raw clock speed, the Erebus has a slight disadvantage, but boasts substantially better threaded and GPU performance elsewhere.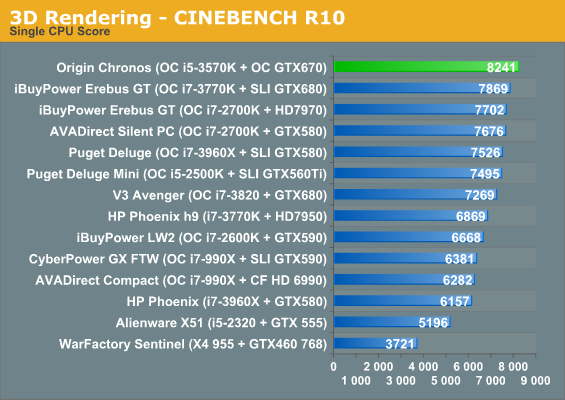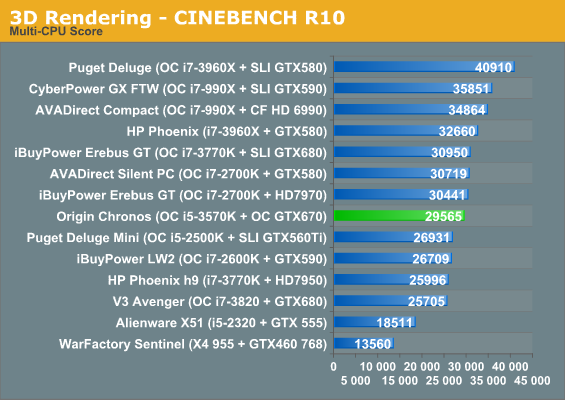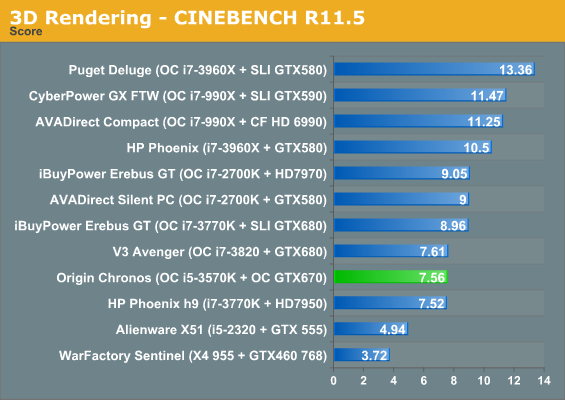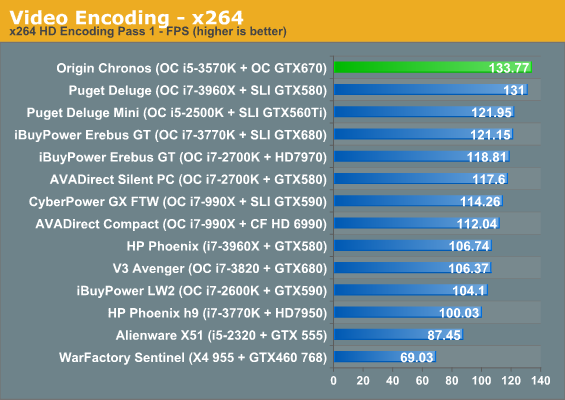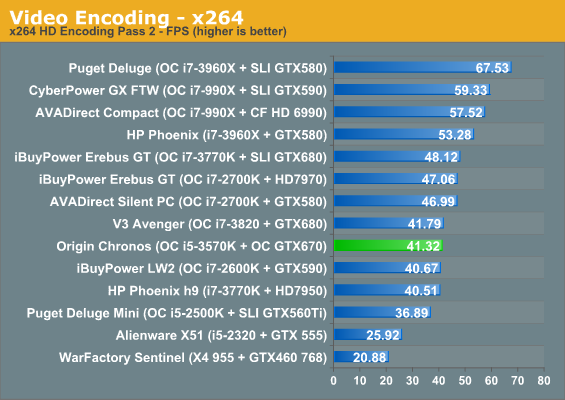 The massive 4.6GHz overclock on the i5-3570K gives it fantastic performance in single-threaded tasks, but once software that can leverage the superior threading power of the hexa-core and/or hyper-threading enabled processors comes into play, the 3570K loses some steam. That's fine, though; most games aren't going to see any advantage from more than four physical/logical cores, making the robust single-threaded performance more relevant.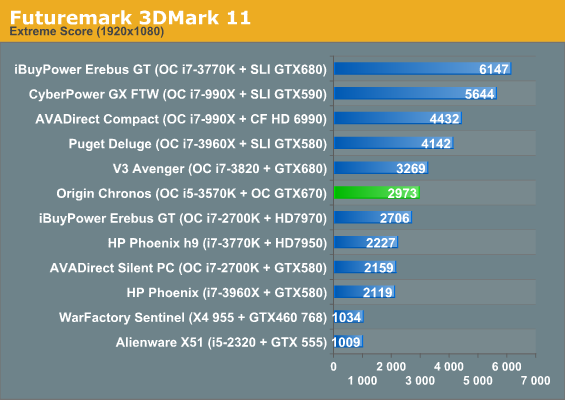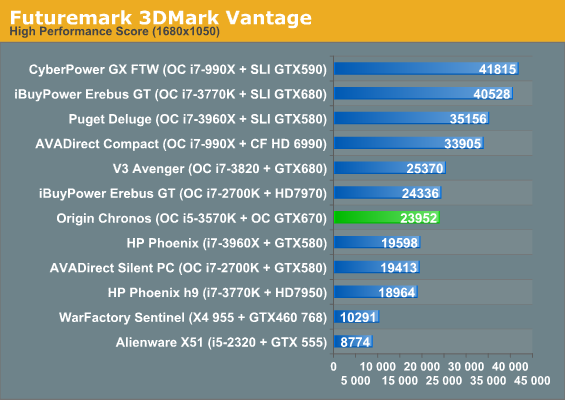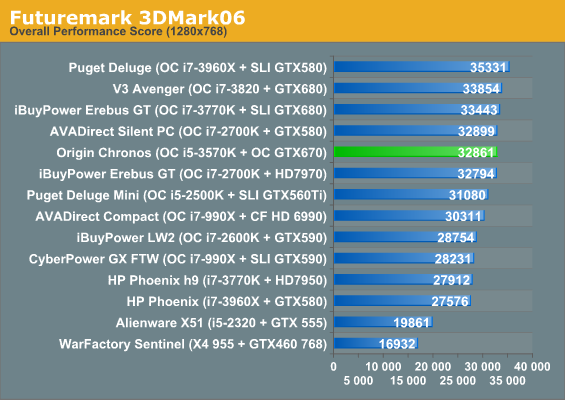 The fast CPU and respectable GeForce GTX 670 give Origin's system a strong showing in 3DMark. You really need to go multi-GPU to make a substantial break away from the GTX 670, especially after even a minor overclock is applied. It's essentially competitive with AMD's Radeon HD 7970 and nips at the heels of NVIDIA's own flagship GTX 680.
Gaming Performance
We're at the point now with high end graphics hardware where even surround resolutions are typically more than playable in all but the most taxing games. As such, 1080p gaming doesn't pose much of a challenge to the GTX 670 in the Origin Chronos, and in many instances we're actually going to be CPU bound even at these very high settings.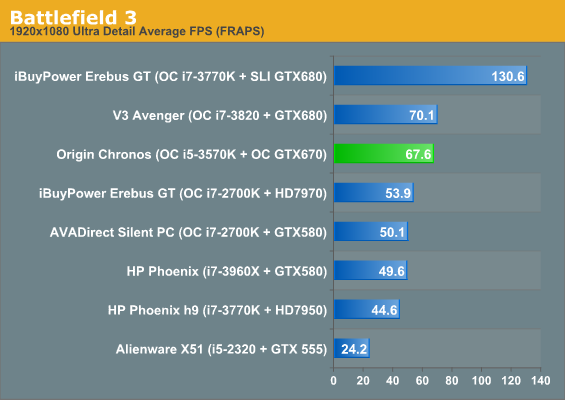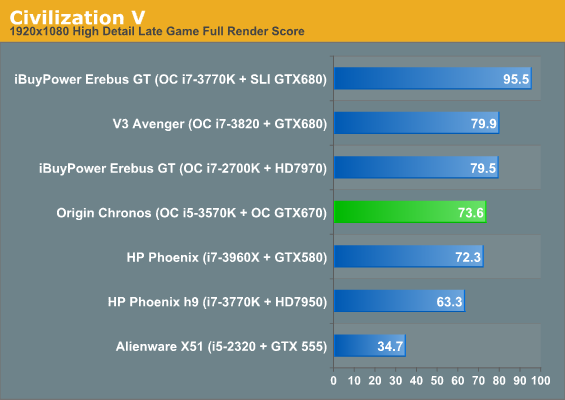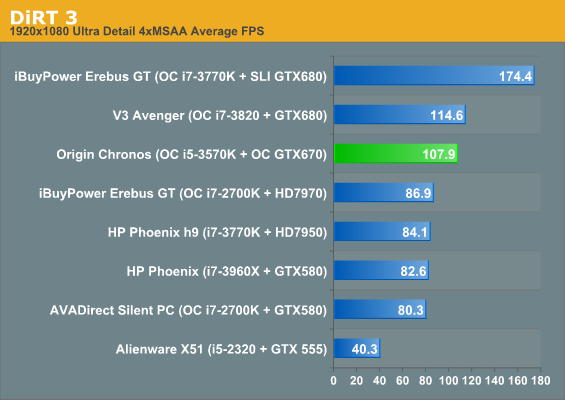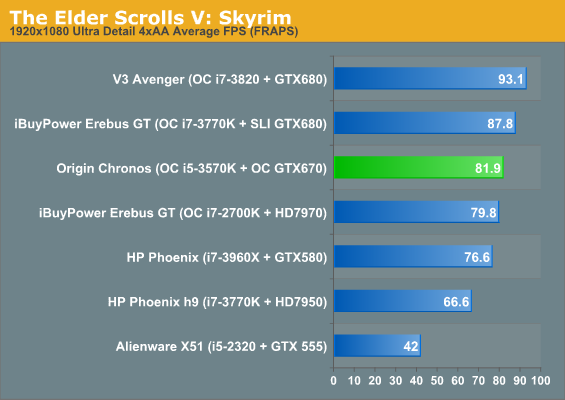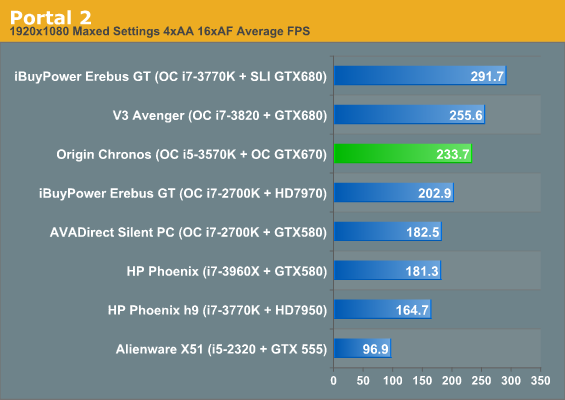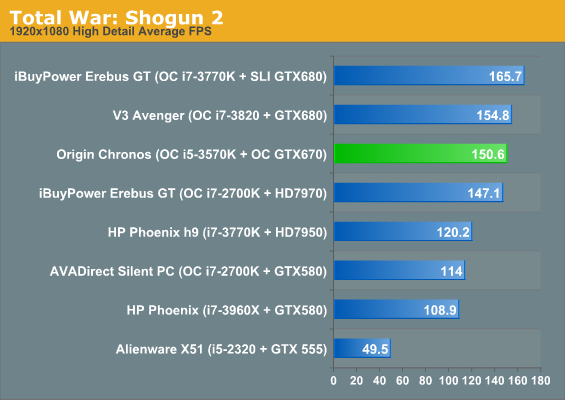 You see what I mean. The most taxing game here is Battlefield 3, and even then we're looking at framerates north of the magic 60fps mark. Everything else is basically trying to maximize both CPU and GPU power as much as possible, and bottlenecks shift from benchmark to benchmark instead of just being consistently GPU limited.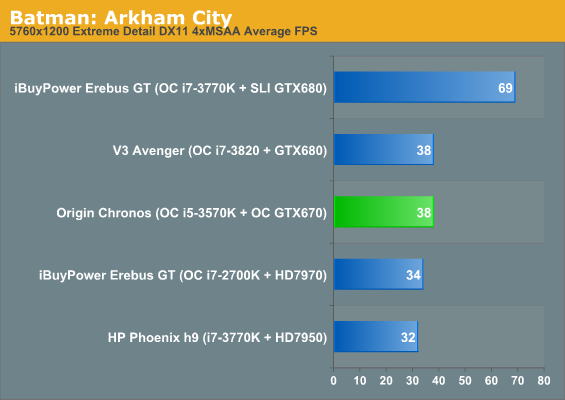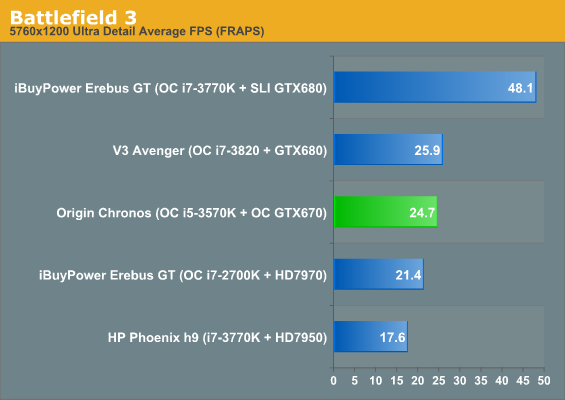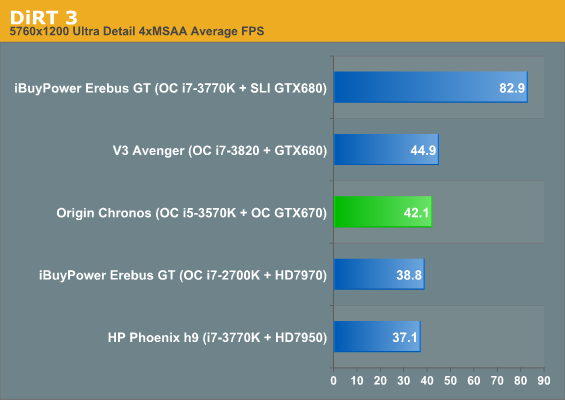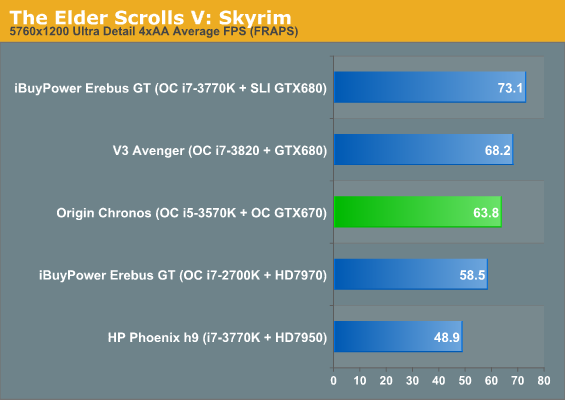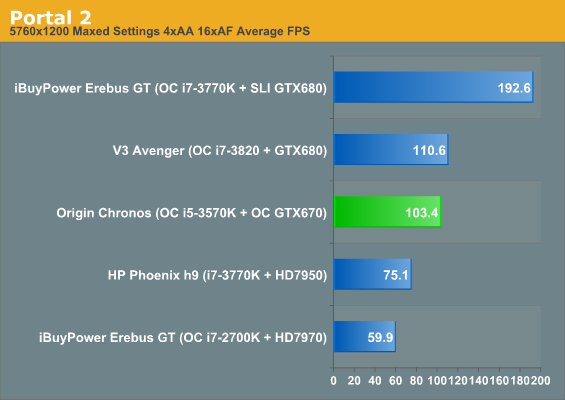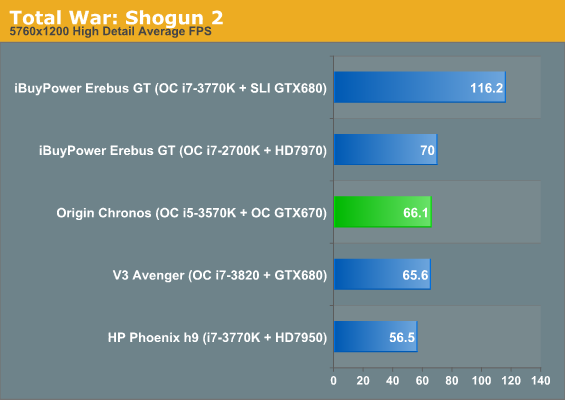 Our surround testing hammers the graphics cards and the result is almost every card falls neatly in line. Notice how the GTX 680 has a very hard time separating itself from the 670, while the 670 in turn hangs with the Radeon HD 7970. If you want to do surround gaming, you can easily do it on the Chronos and will only have to really turn settings down in Batman: Arkham City and Battlefield 3; everything else runs pretty fluidly.
Build and Power Consumption
Physically, the build quality of the Origin Chronos is more or less unimpeachable. The component choices are excellent across the board; I'm not personally a fan of SandForce-based SSDs due to their potentially inconsistent performance (coupled with the odd firmware issues the SF-2200 series dealt with early on), so I was happy to see the more universally respected Samsung 830 SSD make an appearance in this build. Likewise, it was nice to see Corsair's affordable, performable Vengeance DDR3 kit. Any physical issues with the Chronos are basically the result of issues with the components themselves; all of my reservations about the BitFenix Prodigy apply.
One of the selling points Origin wanted to emphasize with the Chronos was their partnership with LucidLogix and resulting support for Virtu MVP. We've talked briefly about Virtu MVP in the past and I even had the privilege of taking a conference call with LucidLogix's CEO, Offir Remez, separate from this review. The scope of Virtu MVP goes a bit beyond the Origin Chronos, though, and it's a value add that much of the competition offers given how widely licensed Virtu MVP is.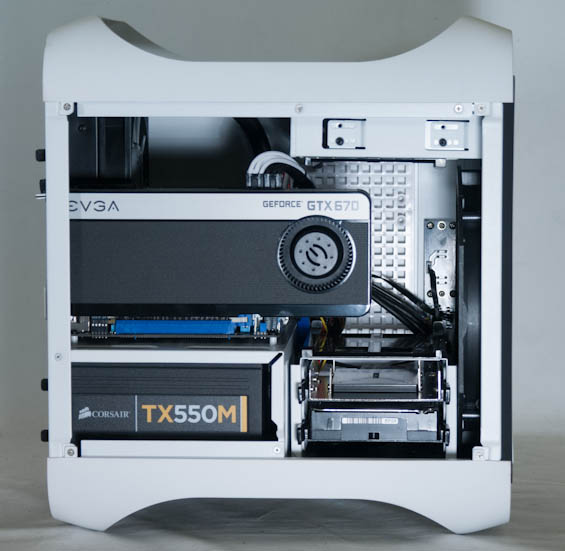 The main issue I have with our review unit is the 4.6GHz overclock on the Intel Core i5-3570K. Origin is pushing 1.4V through the chip under load and while in regular use (PCMark, game testing) the CPU never heats up too much, Prime95 sends the temperatures skyrocketing into the low 90s after just fifteen minutes. Worse, 1.4V is well beyond what conventional wisdom suggests is acceptable for Ivy Bridge. Origin argues that the typical user won't tax the CPU enough for this to result in reliability and longevity issues; their validation process through Intel states that at these settings and spending 70% of its lifetime under sustained load, the i5-3570K will last two and a half years.
I remain pretty skeptical. In my experience, the heat and power consumption generated by Prime95's Small FFT test isn't as unrealistic as people often think. Adobe Media Encoder can actually produce roughly the same heat and power consumption as Prime95, and unlike Prime95, that's a real world application that may see use by the end consumer. What's also important to keep in mind is that the thermals produced under these circumstances (~93C under Prime95) are occurring in a best case scenario: an air conditioned apartment at ~23C, with the system sitting in the middle of the floor and no dust buildup in the radiator or fans. Ivy Bridge may be specced to peak at 105C before throttling so there's some headroom left, but I can see that headroom evaporating in a hurry without careful maintenance. The performance of the overclock is stellar, but I have concerns about long term stability and longevity; Origin's warranty lasts a year, and by Intel's own standard the chip's useful lifetime at these settings doesn't extend as far beyond that as I'd like.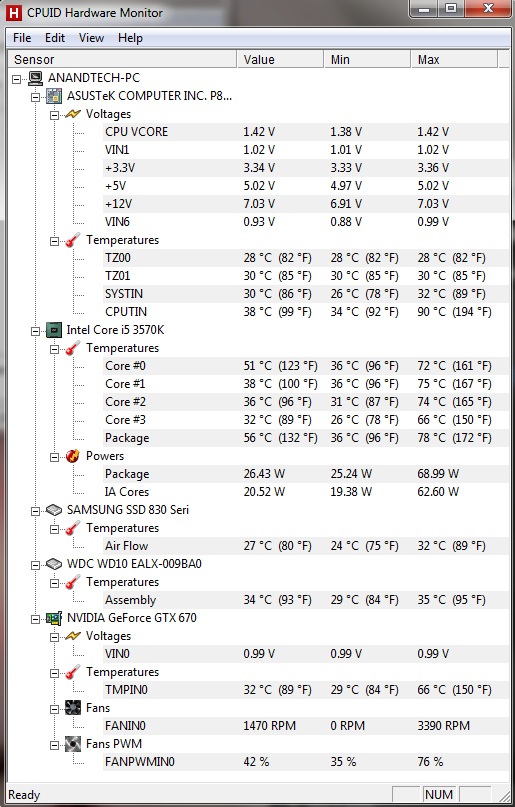 While the thermals under Prime95 are punishing, the thermals under our benchmarking suite are much kinder. The GTX 670 runs pretty cool and probably could've had a more conservative fan setting (it gets noisy under load).
Power Consumption
Intel and NVIDIA both seem to have hit it out of the park with their current lines. Power consumption on these parts remains respectable even under load, and the Origin Chronos benefits from it.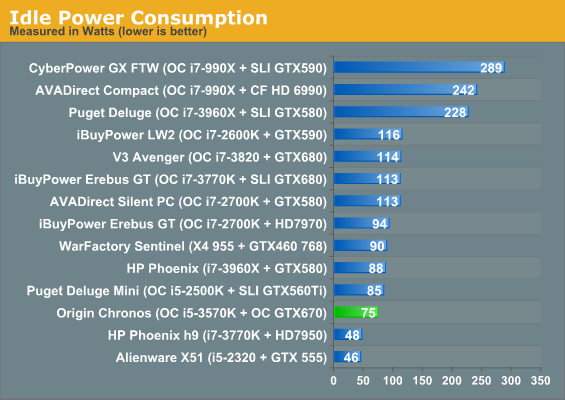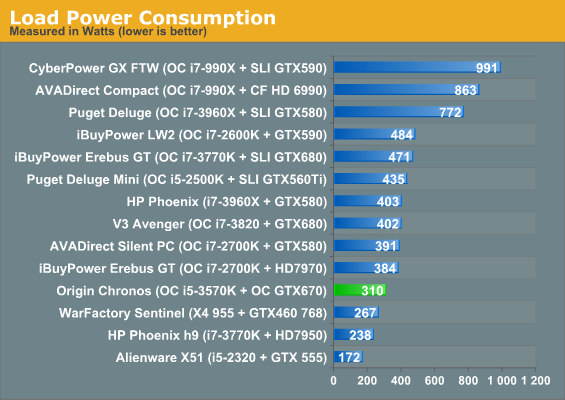 The idle and load current is among the lowest we've seen. Origin's engineers are either very smart or they're reading my reviews (or both?), because despite the high voltage they're at least using an offset instead of a manual voltage setting, resulting in excellent idle power. These are numbers you can actually expect to get out of an end user build, and they're fantastic. It's just tremendously efficient in terms of the amount of power drawn against the performance you get, making it a great citizen both at home or at a LAN.
Conclusion: The Ultimate LAN Box
There's definitely a compelling product in the Origin Chronos. Origin can pitch their partnership with LucidLogix, and that's certainly a good value add, but I think the one with BitFenix is just as noteworthy. The etched Origin logo on the front of the case is a nice touch, but I'm just happy to see good, inexpensive cases from a boutique that aren't made by NZXT. Bringing costs down is important for boutiques since it allows them to be more competitive, and the case is usually the first thing to go. That's why an affordable but quality option is so vital.
Within the Chronos is a lot to like. All of the components chosen are of high quality which means they're good for you as an end user but also good for Origin; less downtime all around. Opting for a slimline optical drive so they could fit a card reader in the front was a welcome addition that I think deserves some credit, while the storage subsystem as a whole is respectable. Our review unit also enjoys arguably the best Mini-ITX motherboard on the market.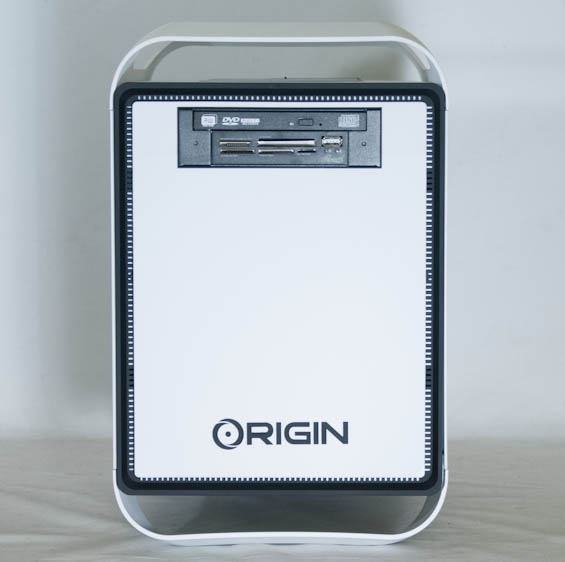 When I initially wrote this review, Origin hadn't made available the "review configuration" on their website and the price was...ungainly. Now that it's there, the Chronos is incredibly price and performance competitive. iBuyPower can give you a similar system for roughly the same price, but configuring something similar on AVADirect's site resulted in a system closer to $1,800. So at least on that front, Origin is offering a solid deal.
Where I think things go haywire is the CPU overclock, which is just too aggressive in our system. This could very well boil down to personal preference; Origin doesn't think the voltage is too high and that the system will hold up fine, and they're the ones that have to make sure it stays that way...for the first year. The problem is if this overclock goes bad after that year is up, the end user could be stuck holding the bag. Is that situation likely to come up? Unless you're using the system for folding, 24/7, probably not. But I have reservations in recommending a system that has such a clear stress tolerance limit. I'm a conservative overclocker, though; my own i7-3770K is at 4.4GHz with 1.2V running through it, Prime95 stable, and that's as high as I'm comfortable going.
Ultimately that's going to be your call, though. I have my side of the overclock argument, Origin has theirs, and both are equally valid. It's not like you have no options here, either; as a consumer you could certainly contact them and request a voltage limit on the overclock. Origin definitely does tune their systems to the particular needs of each CPU (since no two are completely alike), so I don't see it being difficult to just say "I'd like the Chronos review configuration, but cap the CPU voltage at 1.25V." If you want the most out of the processor you may have to deal with a shorter lifespan. This is true of just about any boutique, and I appreciate that Origin was at least transparent about it with us. But the price is very right for our review configuration, so if you're looking for a LAN box, the Chronos may very well be the one for you.