Original Link: http://www.anandtech.com/show/6103/dell-xps-15-l521x-detailed-first-look


Introducing Dell's XPS 15 L521x: the 2012 Update
I've had some good experiences with Dell's XPS line of laptops over the years, but in virtually every case I've had a few minor complaints. The earlier models were large, fast, and too expensive for most users. Then Dell dropped the XPS line for a while and went with the Studio XPS—still generally expensive and there were performance elements that came up short (e.g. the Studio XPS 16 had an awesome RGBLED backlit display, but it tended to run a bit toasty and the hardware wasn't as fast as previous XPS offerings). With the relaunch of the XPS line in late 2010, the original XPS 15 delivered a great display and a well-balanced set of components that was enough to earn our Gold Editor's Choice award, but the chassis was understandably a bit too bulbous for some tastes. The XPS 15 Sandy Bridge update improved the CPU and GPU options, but six months after the first XPS 15 I was even less enamored with the chassis.
Next up in the list of progression was the XPS 15z, which improved some areas but regressed in others. It had a thinner, sleeker looking chassis, but dropped support for quad-core processors, downgraded the GPU slightly, had some thermal concerns, and perhaps most worrisome was the build quality. I posted an update a few months after the review that summed things up nicely: "I can't stress enough how it feels like Dell cut a few corners and the result is a laptop that doesn't hold up as well as I'd like over the long haul…. When the inevitable Ivy Bridge update of the 15z comes out, you can bet I'm going to pound on it a little more." And that brings us to the new XPS 15, which has a completely redesigned chassis. Did Dell listen to my complaints about the 15z build quality? You better believe it!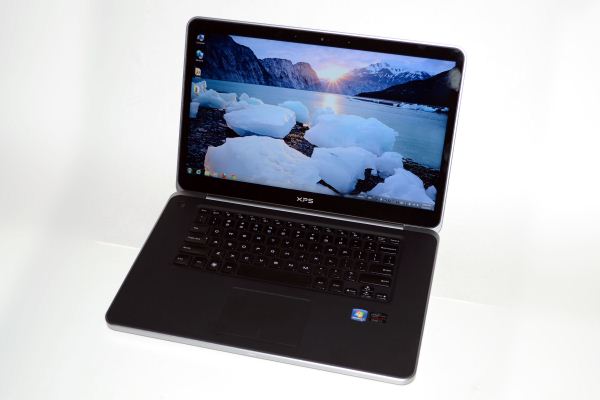 Superficially, the new XPS 15 looks quite similar to the 15z, at least in pictures. Meet one in person, however, and the changes are immediately noticeable. Many suggested that the XPS 15z was trying to clone Apple's MacBook Pro, but that's somewhat disingenuous—unless you consider any laptop that aims to be slimmer and silver to be a MBP clone, I suppose. I would however suggest that it did take more than a couple design cues from Cupertino, including a strikingly similar keyboard layout. The newest model keeps the 15z keyboard layout (which is still a step back from the XPS 15 L501x/L502x in my opinion), but ditches the silver palm rest and keyboard area for a matte black surface with a soft-touch coating. The touchpad also gets a clickable MBP-like interface that we've seen on just about every Ultrabook along with many newer laptops. Personally, I still prefer touchpads with separate non-integrated buttons, so this is another step back.
What's not a step back is the chassis itself, which is now the most MacBook Pro-like chassis I've encountered in a non-Apple product. It uses machined aluminum for the main chassis and frame, similar to Apple's unibody chassis, and it's thicker and far more rigid than any previous Dell XPS laptop. Even the display cover gets a thick aluminum backing, so there's really no twisting or flexing to speak of. The palm rest on the other hand isn't machined aluminum but instead uses magnesium with a soft-touch coating. If you thought the XPS 15z copied a lot of Apple's design, the XPS 15 will only cement that impression, but really I don't care: if a competing product is better, then stealing a few ideas isn't going to hurt my review of it. [Insert obligatory Steve Jobs quote about great artists stealing….]
Here's the spec sheet for the new XPS 15, and I've included the specs of the last-gen MacBook Pro 15 as a reference point. Note that unlike the MacBook Pro Retina, Dell continues to include a DVDRW/Blu-ray optical drive with their XPS 15.
Dell XPS 15 Specification Comparison
Laptop
Dell XPS 15 L521x
Apple MacBook Pro 15 (2012)
Processor
Intel i7-3612QM
(Quad-core 2.10-3.10GHz, 6MB L3, 22nm, 35W)
Intel i7-3610QM
(Quad-core 2.30-3.30GHz, 6MB L3, 22nm, 45W)
Chipset
HM77
HM77
Memory
8GB DDR3-1600
4GB DDR3-1600
Graphics
Intel HD 4000
(16 EUs, up to 1100MHz)

NVIDIA GeForce GT 640M 2GB GDDR5 (Optimus)
(384 cores at 624MHz/709MHz Boost, 128-bit GDDR5-4000)
Intel HD 4000
(16 EUs, up to 1100MHz)

NVIDIA GeForce GT 650M 512MB GDDR5
(384 cores at 735MHz, 128-bit GDDR5-4000)
Display
15.6" WLED Glossy 16:9 1080p (1920x1080)
(AU Optronics B156HTF/B156HW03)
15.4" WLED Glossy 16:10 WXGA+ (1440x900)
Storage
750GB 7200RPM HDD (Seagate ST9750420AS)
32GB mSATA caching SSD (Samsung PM830)
750GB 5400RPM HDD
Optical Drive
Blu-ray Combo slot-load (Matshita UJ167)
DVDRW slot-load
Networking
802.11n dual-band 300Mb WiFi (Intel 6235)
Bluetooth 4.0 (Intel 6235)
Gigabit Ethernet (Realtek RTL8168/8111)
802.11n dual-band 450Mb WiFi
Bluetooth 4.0
Gigabit Ethernet
Audio
Realtek ALC269
Stereo Speakers
Headphone/Microphone jacks
Stereo Speakers with Subwoofer
Headphone/Microphone jacks
Battery/Power
9-cell, 14.8V, 4400mAh, ~65Wh
90W Max AC Adapter (19.5V, 4.72A)
77.5Wh
85W MagSafe Power Adapter
Front Side
N/A
N/A
Left Side
3 x USB 3.0
Mini-DisplayPort
HDMI
Gigabit Ethernet
AC Power Connection
Headphone and Microphone jacks
SDXC Card Reader
2 x USB 3.0
1 x Thunderbolt
1 x FireWire 800
Gigabit Ethernet
MagSafe AC
Right Side
Headphone and Microphone jacks
Kensington Lock
Memory Card Reader
Optical Drive (BD-Combo)
Kensington Lock
Optical Drive (DVDRW 8x SuperDrive)
Back Side
Exhaust Vent
Exhaust Vent
Operating System
Windows 7 Home Premium 64-bit
OS X Lion (or Mountain Lion)
Dimensions
14.6" x 9.8" x 0.91" (WxDxH)
(371mm x 249mm x 23.2mm)
14.35" x 9.82" x 0.95" (WxDxH)
(364mm x 249mm x 24.1mm)
Weight
5.79 lbs (2.6kg)
5.6 lbs (2.56kg)
Extras
1.3MP HD Webcam
80-key Backlit Keyboard (Spill Resistant)
Memory Card Reader (MMC/MS Pro/SD)
720p FaceTime HD Webcam
78-key Backlit Keyboard
Memory Card Reader (SDXC)
Price
$1700 MSRP, online starting at $1600 (7/17/12)
$1799 MSRP; online starting at $1710 (7/17/12)
The "on paper" matchup between the Apple and Dell laptops ends up being quite interesting. Not surprisingly, even the base model MacBook Pro 15 is quite a bit more expensive than the mid-tier XPS 15. (There's a dual-core model XPS 15 that comes with an i5-3210M CPU, GT 630M 1GB GDDR5, 6GB RAM, 500GB HDD + 32GB mSATA SSD, 1080p LCD, and DVDRW for $1300 if you're interested.) In many key areas, Dell comes out ahead of Apple this round: they have a higher resolution LCD standard, you get 8GB DDR3-1600, they use a 750GB 7200RPM HDD with a 32GB mSATA SSD caching drive (via Intel's Smart Response Technology), you get a Blu-ray combo drive, and there's a third USB 3.0 port plus HDMI and DisplayPort outputs.
However, that's not the whole story: Apple uses a full voltage 45W i7-3610QM processor, which boasts slightly higher clock speeds than the 35W 3612QM, and they also use a GT 650M GPU that comes with higher core clocks. Let's also not forget the FireWire 800 port (well, I've never used FireWire so actually I can forget about it…), or more importantly the Thunderbolt port. Apple also uses a higher capacity battery configuration and provides a 450Mbps capable (dual-band 3x3:3 MIMO) wireless adapter.
Perhaps more interesting than the differences are the areas where they're the same. Both laptops have machined aluminum chassis, and the dimensions are very close to a tie. Apple isn't quite as wide, thanks to their 16:10 aspect ratio display, but the Dell XPS 15 is actually slightly thinner. Despite the relatively similar dimensions, Apple still manages to come in 0.2 pounds lighter, but for this size laptop that's close enough for all practical purposes.
So which laptop is better? In the past, I've always felt that Dell's attempts to compete with Apple came up a bit short. The first XPS 15 (L501x/L502x) was a nice change of pace from previous Dell designs, but it wasn't really close to Apple in terms of overall design. The XPS 15z got the form factor right in my opinion, but build quality still went to Apple—plus you were limited to dual-core CPUs. I would also say the same thing about HP's Envy line—they've had some nice looking laptops for sure, but I've never felt they could match Apple's overall build quality (though I would rank the previous models slightly ahead of Dell's older XPS offerings). This time, build quality is absolutely top notch for the new XPS 15, and the only thing that really differentiates it from the MacBook Pro is the black palm rest with soft-touch coating, and the silicone on the bottom of the chassis.
What it really comes down to is one thing: do you prefer running Windows or are you an OS X devotee? Sure, you can always run Windows on a MacBook in a pinch (or you could try to make a Hackintosh), but as we've shown in the past there's a penalty in terms of battery life if you choose that route. If you have never owned a MacBook Pro, there's a good chance you fall into the camp of users that admire Apple's designs but couldn't care less about their OS—which is exactly my feeling. Now, we have a truly viable alternative for the MacBook Pro (though sadly there's nothing even remotely close to the MacBook Pro Retina, of course). And guess what? You'll pay more; yes, it's true: quality has a price.
I'm not sure exactly how much of the added cost comes from the sturdier and slimmer chassis, but if we look at competing Windows laptops (e.g. ASUS N56VZ), you can actually get pretty much the same specs from a laptop for just $1000. There's no doubt in my mind that the XPS 15 is built better than the N56VZ, but I've been using a similar ASUS laptop for a couple months now and the only thing that's really missing in my mind is solid state storage—which you can easily add on your own. The ASUS should also be slightly faster on the CPU side, though the use of DDR3 memory on the GPU makes it a bit of a wash. Based purely on the overall design and features, I'd go with the Dell XPS 15, but at a 60% price premium the ASUS is clearly the better bargain.
The Dell XPS 15 in Practice
Subjectively, I love the new XPS 15 design. From the moment I unpacked the box, I have been happily testing the laptop with very few complaints as far as typical use is concerned. The display looks good (though with a distinct bluish cast), the feel of the laptop hinge and chassis is awesome, and it's really just a very attractive piece of kit. There are many aspects that I really enjoy, but there are also a few areas where the subjective experience comes up a bit short, at least for me. Let's run through the various elements and discuss how they fare in practice.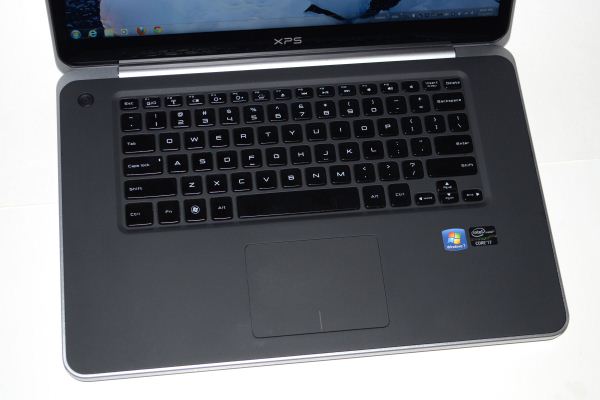 The typing action on the XPS 15 is quite good and easy to adapt to, and accidental activations of the touchpad while typing are generally rare in my experience. Still, I'd like to see a keyboard shortcut to turn off the touchpad, and I question the need for a dedicated mute button when there are so many other keys you could include. Dedicated Home/End/PgUp/PgDn are at the top of my list, and there's definitely room on the right and left sides of the keyboard to have additional keys. On the other hand, adding a number keypad like other laptops have done changes the experience as well, since the main keyboard ends up being shifted to the left in order to make room, resulting in an off-center keyboard relative to the screen.
The keyboard action is slightly different than that of a MacBook Pro, but I wouldn't go so far as to call either one inherently superior; I might give the MBP15 a slight edge in terms of keyboard feel, but as someone who prefers Windows it has a less than optimal layout. I'd also like to see Dell bring back the context-sensitive menu key to the right of the right Alt key, just because it's something I've grown accustomed to using and the alternate shortcut (Shift+F10) isn't as convenient. Again, there's plenty of room for more keys, but Dell has removed a few keys for what appears to be primarily aesthetic considerations. Some people will probably love the layout, but I still think the last generation XPS 15 layout was better.
While I can certainly live with the keyboard without too many complaints, the touchpad is more of a problem. I'm used to (and prefer) having discrete mouse buttons. Clickable touchpads are something I've begun to adapt to, thanks to the numerous Ultrabooks and other laptops I've used that have gone this route, but Apple still seems to have a better experience in this area—and I'm not really keen on Apple's touchpad either. Gesture support is present and works well, but activating the right-click is more finicky than I'd like thanks to the integrated buttons. It's a big surface, which works well for gestures, but I don't really need all the available area and would happily give up some size to get the buttons back. Also, as noted earlier, I wish Dell had included a keyboard shortcut to turn off the touchpad (e.g. an Fn-key combination), as during long typing bouts I would occasionally inadvertently activate the touchpad (and by "occasionally" I mean maybe once for every 1000 or so words I type—definitely livable).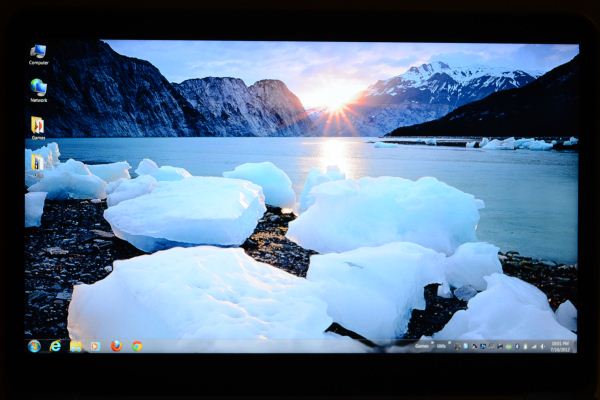 Moving on to the LCD, the display has a good resolution, and if you're not a stickler for accurate colors it will certainly suffice. However, there's a noticeable bluish cast to the screen by default, and even after hardware calibration I wasn't able to completely overcome this. More bothersome than the colors for me is the continued use of glossy LCDs, but there's a second element here. Apple's MacBook Pro laptops have typically offered maximum brightness levels of around 400 nits or more, and that's what I like to see on laptops that may actually see use outside. The AU Optronics panel used by Dell on the XPS 15 appears to be the same B156HW03 model used on the previous generation XPS 15z, with a maximum white level around 350 nits. That's not too bad, but it drops to 300 nits when calibrated to the "native white" level, and if you target the normal D65 or 6500K white levels the maximum brightness registers at 250 nits. Anyway, I can definitely live with the current LCD, but the LG LP156WF1 panel used by ASUS in their N56VZ/VM for example delivers a superior experience (and it's matte as well).
Where things start to get interesting is when we get to the overall experience in performance metrics. The laptop should be fast enough for just about any modern task you might want to do, but that's not the same as being truly fast. The default configuration for our review unit has a 750GB hard drive with a 32GB SSD cache using Intel's Smart Response Technology. The SSD cache definitely helps with overall responsiveness, and 32GB gives you a lot more caching ability than something like the 8GB cache on the Seagate Momentus XT drives, but if you've used a system with a dedicated SSD there's still a difference. Depending on how you use your PC, you may notice this less or more—32GB is plenty for caching the OS, browser, office applications, and a few other items. Once you start using games on a regular basis, though, you run the risk of having more "important" data ejected from the SSD cache. The first time you install and run an application, the laptop will also feel more like a hard drive than an SSD. Dell has an XPS 15 with a dedicated 128GB mSATA SSD (and a 1TB 5400RPM HDD), but that tips the scales at a hefty $2000; there's also a 512GB SSD-only model, but that's even more expensive with a (current) price of $2300.
The other aspect of performance that really raises some questions—and the whole reason we're calling this a First Look rather than a complete review—is when we get to the CPU and GPU performance. On their own, both components perform about where you'd expect. The i7-3612QM is slightly slower than a full voltage i7-3610QM/i7-3615QM, but for most workloads it only ends up being a few percent slower. Run a GPU-centric test like 3DMark11 and the same is generally true—the GT 640M GDDR5 graphics card has plenty of performance potential on tap. The problem right now is what happens when you load up a game that will stress both the CPU and GPU.
Our initial gaming/graphics benchmarks quickly raised a red flag with performance that was often substantially lower than what we've seen on similar laptops—e.g. Acer's V3-571G has a slightly faster i7-3610QM CPU with a GT 640M DDR3 GPU, so in games we would expect the XPS 15 to come out ahead or at worst tie. That wasn't the case, unfortunately; not by a long shot. We began investigating the performance and quickly determined (using HWiNFO64 logs) that the CPU was throttling under most gaming workloads. Instead of running at somewhere between the rated 2.1-3.1GHz under load, after a minute or two of gaming the CPU cores clock down from 2.8GHz to 1.2GHz and generally remain there until we exit the game. The throttling seems to be more than just cutting the CPU clocks in half, though, as there were some titles where performance is less than half of what we'd expect, and most games should still be GPU limited with Ivy Bridge running at ~2.0GHz..
The short-term solution for our testing purposes is that we used ThrottleStop 5.0 Beta 3 for our gaming benchmarks. We disabled the CPU PROC HOT signal and set the maximum CPU multiplier to 23X. Generally speaking, a 2.3GHz quad-core Ivy Bridge processor should be fast enough to keep the GT 640M fed with data, but there is the potential for performance to be slightly lower in some titles since the CPU can't hit higher Turbo Boost speeds. We ended up with these settings by performing many tests and eventually settled on 2.3GHz as it proved stable for all of the games we tested. During testing CPU temperatures typically maxed out in the high 80C range, whereas a 2.5GHz clock reached the mid-90C range and we experienced a couple crashes. But stability with games and ThrottleStop at 2.3GHz isn't the same as stress testing stability at those same settings; we'll have more detail on the stress testing results when we look at the temperatures under load.
There's another slightly less critical problem that came up with our testing: Dell ships the XPS 15 with 296.01 NVIDIA drivers, which are now several months old. We can install the latest 304.79 beta drivers, but using those drivers may reduce performance in some titles while helping in others—we experienced the same thing when testing the Acer V3. We ran our gaming test suite at our Value and Mainstream settings with both sets of drivers, and we're using the higher result for each title. For those who are interested, the 296.01 drivers provided higher performance in Batman: Arkham City (~5% faster), Portal 2 (~4% faster), and Elder Scrolls: Skyrim (~6% faster); there is also apparently a major regression bug with DiRT 3, as performance is up to 200% faster with the 296.01 drivers—30FPS compared to 94FPS (NVIDIA has been notified already and we expect the next beta/WHQL update to address this). Meanwhile the beta 304.79 drivers delivered better performance in Civilization V (23% faster) and Total War: Shogun 2 (19% faster); Battlefield 3 performance remains essentially unchanged. Hopefully the next WHQL driver from NVIDIA will fix some of the performance discrepancies, but with the exception of DiRT 3 the performance drops from 296.01 to 304.79 are less than the performance increases, making the more recent NVIDIA drivers generally preferable.
Our experience with the CPU throttling is definitely not limited to our test unit, as other people are reporting similar issues online. The good news is that all of the CPU throttling issues should be fixable via a firmware/BIOS update—and a Dell representative confirmed last week that the root issue has been identified and that Dell is working on a fix. The latest BIOS is currently A04 at the time of writing, and our laptop shipped with A01; both versions have CPU throttling issues. Dell also gave us two beta BIOS releases to address the CPU throttling, with the second BIOS showing some clear improvements. We're still waiting for the "does everything properly" firmware update right now, and when we get a release BIOS that fixes the throttling issues we've encountered, we will update our laptop and retest. At that point, we will also provide the final conclusion on our Dell XPS 15 review.
For now, consider all of our benchmark results to be preliminary, in particular any that tend to stress the GPU as well as CPU (e.g. portions of PCMark, and definitely 3DMark and the games). The CPU-centric tests appear to be running fine, but it's possible a firmware update may reduce some scores while increasing others. If you want a laptop that can always run the CPU and GPU at the maximum turbo clocks (e.g. 2.8GHz for the i7-3612QM and 624-709MHz for the GT 640M), I'd say it's a safe bet that the XPS 15 won't satisfy that desire. Pathological workloads like Furmark and OCCT are almost certainly going to trigger some form of throttling, and our stress testing suggests that any workload where you hit 100% load on the CPU and GPU will need to lower CPU and/or GPU clocks. Getting maximum clock speeds generally requires more cooling, which requires a thicker chassis, and the XPS 15 doesn't really target that market. Ideally, Dell should be able to deliver a BIOS update that will tune the performance so that gaming/graphics workloads will run the GPU at maximum speed while keeping the CPU clocks in the 2.1-2.8GHz range, and that should be more than sufficient for most users.
Dell XPS 15 General Performance
We start as usual with our general performance application benchmarks. We're reaching the point where we now have quite a few notebooks in our updated Mobile Benchmark suite, and we've tried to select some reasonable comparison points. Given the preliminary nature of our benchmark results (i.e. potential for CPU and/or GPU throttling), we have not yet added the XPS 15 to Mobile Bench, but we will do so when we have a final release BIOS that addresses our throttling concerns. Here's the list of laptops we'll be using for our charts, along with a brief overview of their specs. The full specs for each laptop can be found in their respective reviews, which we've linked in the table below.
We have quite a few SSD-equipped laptops in our list, which will mostly influence PCMark results. The Dell XPS 15 we're reviewing marks the first time—and certainly won't be the last!—we've had a laptop arrive with support for Intel's Smart Response Technology. Previously SRT was only available with the desktop Z68 chipset, but with the new Ivy Bridge Panther Point chipsets (see the chipset table at the bottom of our IVB Ultrabook review) laptops with 7-series chipsets (excluding the HM76) all support SRT. Dell uses a Samsung P830 32GB mSATA SSD for SRT caching, and we enabled the higher performing "Maximized" mode with write-back caching as opposed to the lower performing "Enhanced" mode with write-through caching. There is an increased risk of data loss in the event of hardware removal or failure, but HDD removal is highly unlikely to occur on the XPS 15 and in the case of hardware failure there's already a high chance of data loss. (We always recommend users back up, and back up often!) Note that a system crash doesn't cause data loss—the Intel BIOS hooks detect an improper shutdown with "unsaved" data in the SSD cache, and that data is then committed to the hard drive on the next boot—it's actually quite slick.
The other hybrid storage solution that we've seen more often is Seagate's Momentus XT, which has an 8GB cache that AFAIK only functions in write-through caching mode. Going forward, we'll also see some laptops using alternative caching schemes like Diskeeper/Condusiv Technologies' ExpressCache software. I do have a laptop undergoing testing right now with an 8GB ExpressCache implementation, and it appears to be less performant than a 32GB SRT cache, but given the discrepancy in SSD size it's difficult to come to any firm conclusion at this point.
Now let's get to the benchmark results, starting with PCMark. We ran the XPS 15 in both IGP and dGPU modes, as the presence/lack of Intel's Quick Sync technology can have a sizeable impact on overall performance according to this metric. We've used the best score for each chart on previously testing laptops (e.g. IGP for the Computation results). The XPS 15 results are in green, with the similarly equipped Acer V3-571G results in yellow. We also have results for the ASUS N56VM/N56VZ prototype with both HDD and SSD (light blue) storage, so you can get a feel for the range of performance that the storage solution creates. Note that while the overall design is highly reminiscent of Apple's current MacBook Pro 15, we do not have current MBP15 Boot Camp results—and anecdotally it appears there is very little cross shopping; people either want an MBP with OS X, or something else with Windows. If/when Anand or Vivek gets around to testing the latest MacBooks with Windows, we'll add the results to Mobile Bench.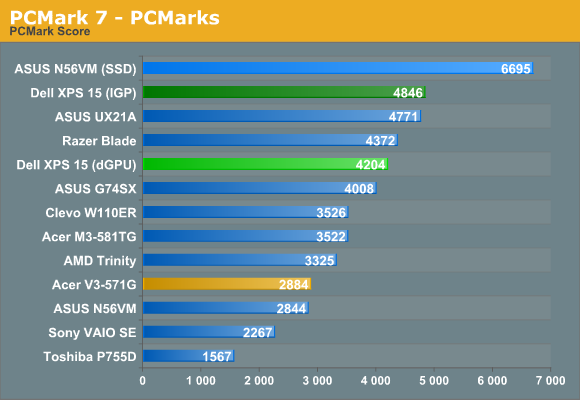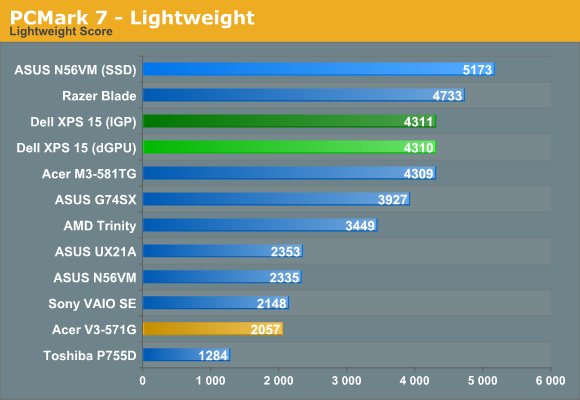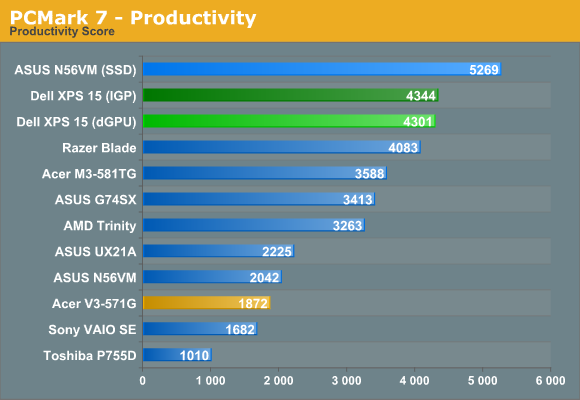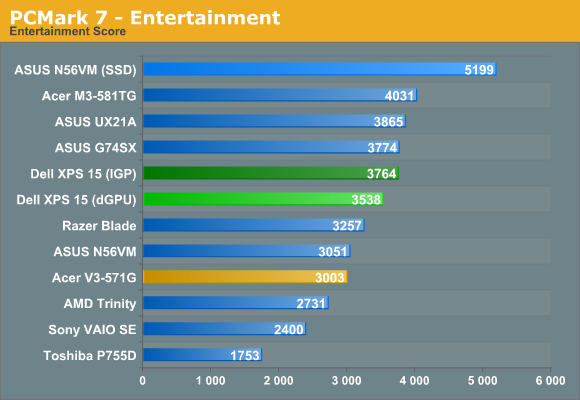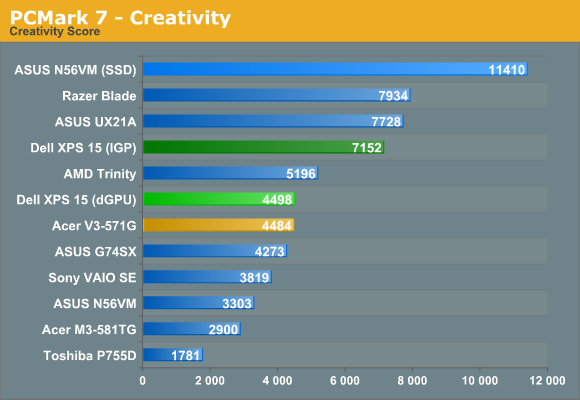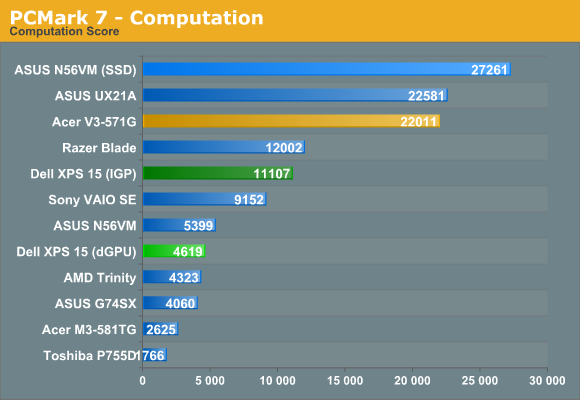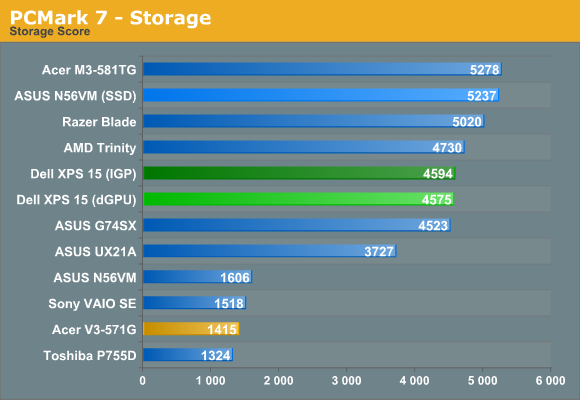 Starting with PCMark 7, our results are actually somewhat surprising. The hybrid Seagate Momentus XT storage in the Clevo W110ER doesn't improve scores all that much over a typical hard drive (if you can call 25% "not that much"), whereas the 32GB SRT solution in the XPS 15 looks to improve performance by around 75% over an HDD. Of course, if you make the switch to a pure SSD solution (e.g. look at the N56VM scores), PCMark 7's overall score improves by 135%. That pretty much establishes the expected storage hierarchy: SSD > HDD + SSD Cache > Hybrid HDD > HDD.
There are a few other oddities in the PCMark 7 results worth noting. Both the Creativity and Computation suites benefit tremendously from Intel's Quick Sync technology. For whatever reason (we tried both the 2696 and 2761 Intel drivers, with similar scores in both cases), the XPS 15 results don't seem to be in line with other Ivy Bridge laptops. In particular, note how the other three IVB laptops (N56VM, UX21A, and V3-571G) all post Computation scores in excess of 20000, while the XPS 15 has to "make do" with a score of only 11000. This may be yet another instance where throttling is affecting the results, so we'll wait for updated firmware before trying to draw any final conclusions.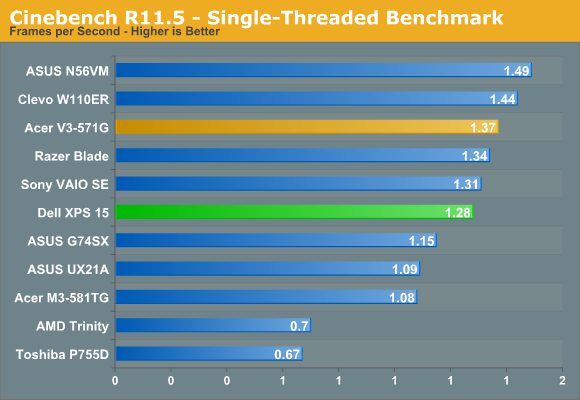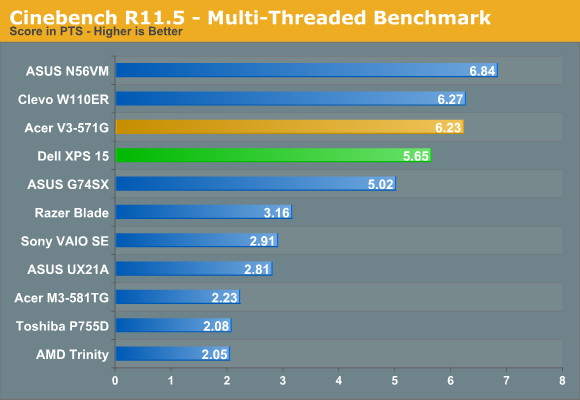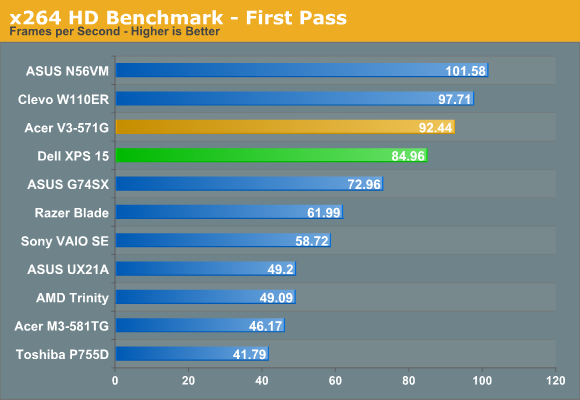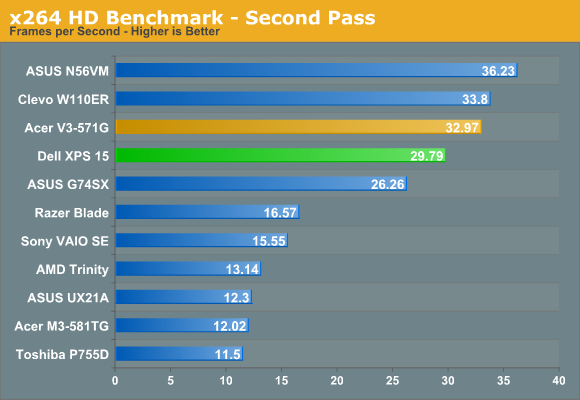 Our CPU-centric tests put the XPS 15 and its 35W i7-3612QM right about where you'd expect. It's faster than any dual-core processor and outperforms the quad-core Sandy Bridge chips, but it's a slight step down from the standard voltage 45W IVB quad-cores. Throttling of CPU clocks did not occur during these tests, so it's only when the CPU and GPU are carrying a significant load the throttling is triggered. As far as we can tell, with the current A04 BIOS, the Dell XPS 15 can pretty much loop a workload like the Cinebench SMP test indefinitely and remain at the maximum Turbo Boost clock (though that may change with updated firmware).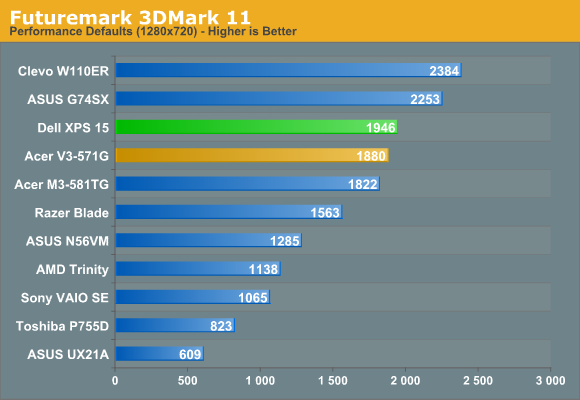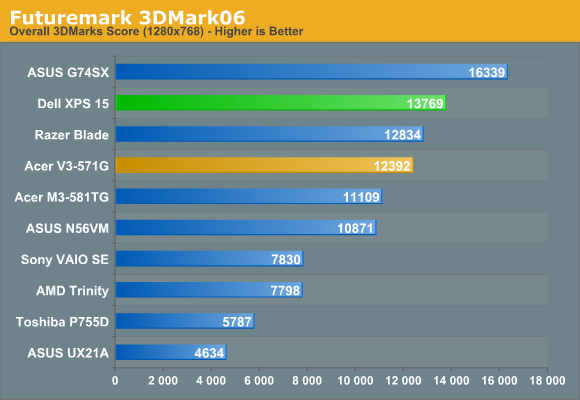 3DMark results also put the XPS 15 and its GDDR5-equipped GT 640M right where you'd expect. It's a step up in performance over the DDR3-equipped GT 640M in the Acer V3-571G, and it also beats the previous generation GT 555M in the Razer Blade. Meanwhile, the GTX 560M can still win in our synthetic graphics tests, and the GT 650M with GDDR5 also outperforms the XPS 15. There are no real surprises here, but as noted several times already, throttling may be affecting these results—and it's definitely a factor in the gaming results, which we'll get to next.
Dell XPS 15 Gaming Performance (with ThrottleStop)
This is where things get a bit messy and confusing. The CPU throttling on BIOS version A01 through A04 is a severe enough problem that out-of-box gaming performance on the XPS 15 is substantially lower than expected. In most games that we tested, CPU throttling kicks in after anywhere from 30 to 90 seconds, at which point the CPU sits at 1.2GHz until you exit the game. This makes benchmark results highly variable, with the first run always being the fastest, and frankly it's unacceptable. How this slipped through the cracks on a shipping laptop is something of a mystery, as it took all of five minutes with DiRT 3 and Batman: Arkham City for me to determine something was wrong with performance, and to then track down the root cause. OEMs take note: both games have built-in benchmarks and your performance labs should be using these and other high-profile games to check performance before you start shipping product. End of discussion.
Now, with that out of the way, we wanted to see what the XPS 15 could do with a bit of fine tuning on CPU clocks. Under the default settings on the A04 BIOS, CPU temperatures topped out at 80C, which is lower than we've seen on quite a few laptops. Furthermore, CPU clocks were almost always 2.8GHz (maximum Turbo Boost for four threads or more on the i7-3612QM) before throttling down to 1.2GHz, which seems rather myopic. The whole point of Intel's Turbo Boost is to let the CPU run at the maximum sustainable clock speed without overheating, and right now that's not happening.
A bit of tinkering with ThrottleStop 5.0 Beta 3 yielded CPU temperatures in the 80-90C range with a 23X multiplier, with some games capable of running at 2.5 or even 2.6GHz without overheating. Again, this isn't something an end user should be required to use in our opinion, but thankfully it does allow substantially improved performance and it's easy enough to enable/disable as needed. Depending on the game in question, we saw performance improve by anywhere from 10% to over 100% by using a 23X multiplier with the CPU PROC HOT signal disabled—Batman and DiRT 3 showed the greatest improvements. Note also that the difference at higher quality settings isn't as large, as the GPU becomes more of a bottleneck. We have 1080p "Enthusiast" results for the XPS 15 as well as our 768p "Value" and 900p "Mainstream" scores, but in most games 1080p Enthusiast wasn't playable so we won't report those scores for now. Let's start with our Value and Mainstream results, and then we'll list "recommended" settings and frame rates for the XPS 15 running at 1080p.
Value Gaming Performance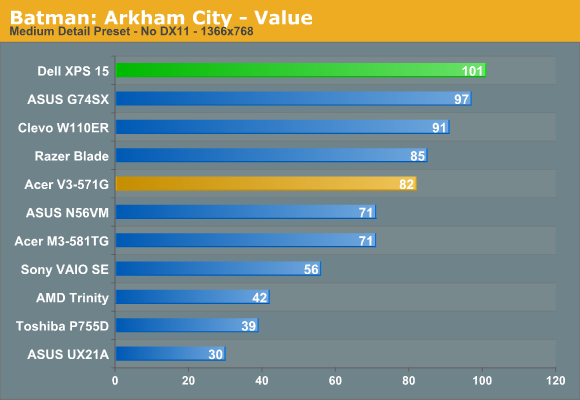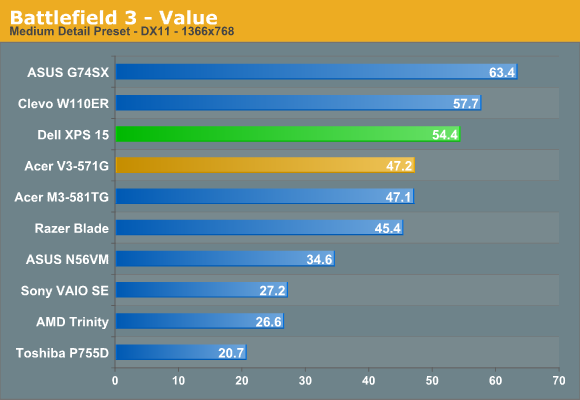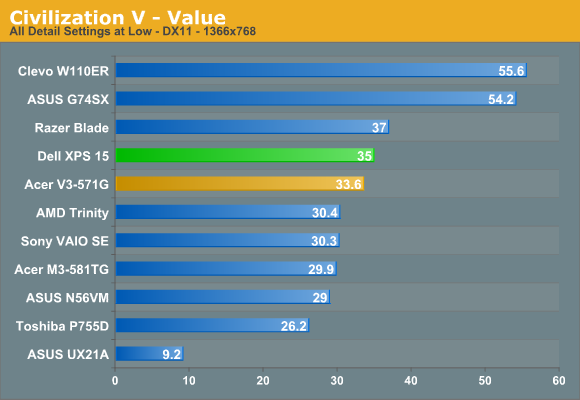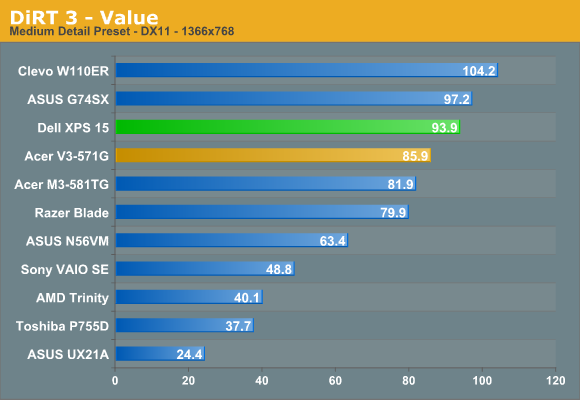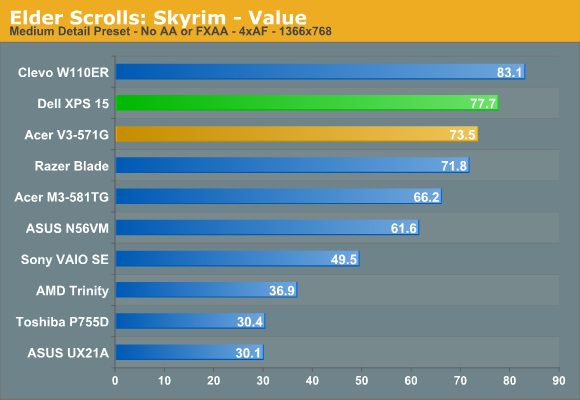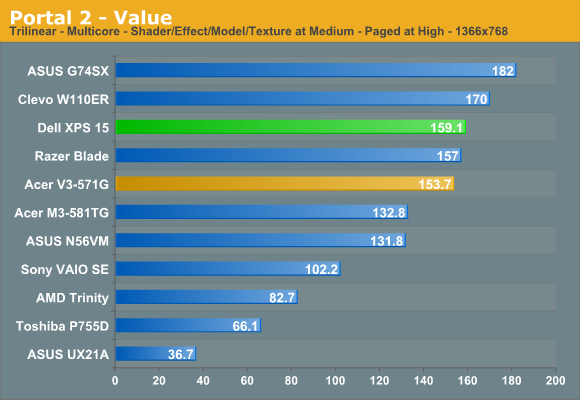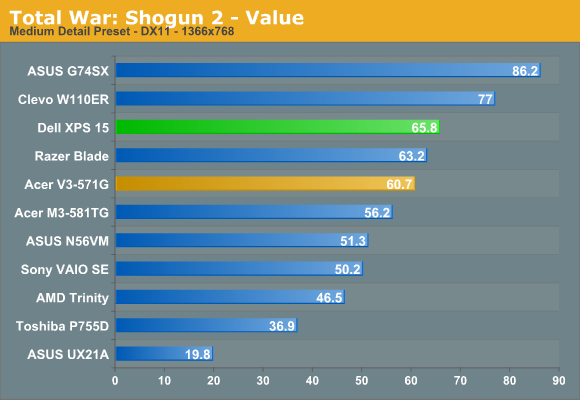 Our Value settings don't pose any problem for the XPS 15, with all games easily besting 30FPS and most surpassing the 60FPS mark. The XPS 15 basically sweeps the table against the Acer V3, showing the value of using GDDR5 memory instead of DDR3 memory on the GPU. Also worth note is that Civilization V performance continues to be a bit quirky with certain driver versions; the original 296.01 drivers couldn't even break 30FPS regardless of setting on the XPS 15, while the newer 304.79 beta drivers at least let you get 35FPS. One quick look at the W110ER results however shows that we ought to be able to get performance closer to 50FPS. I ran FRAPS while performing the Civ5 "lategameview" benchmark at one point to see what was going on, and for some reason performance appeared to fluctuate between 50FPS and 35FPS, where normally the frame rate is pretty steady. I'd guess a future NVIDIA driver will address the issue.
Mainstream Gaming Performance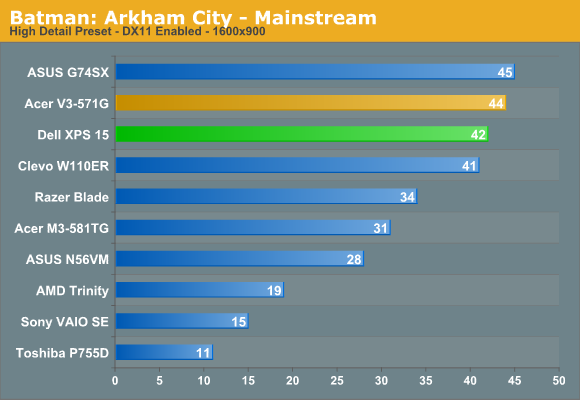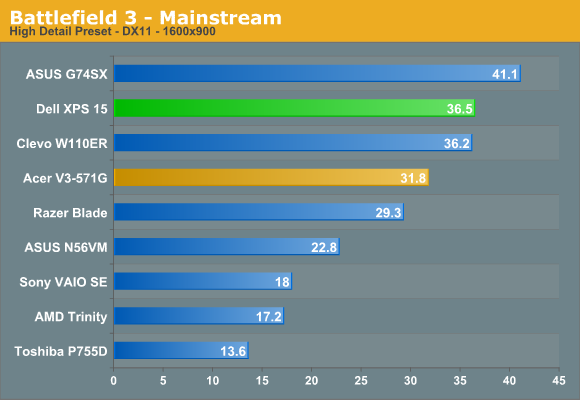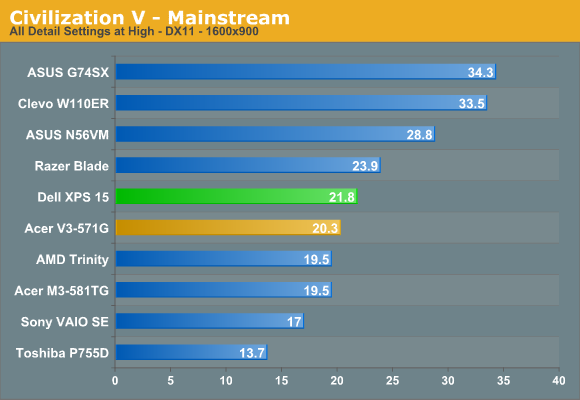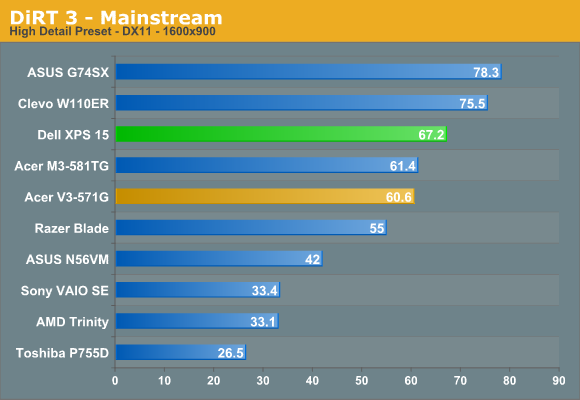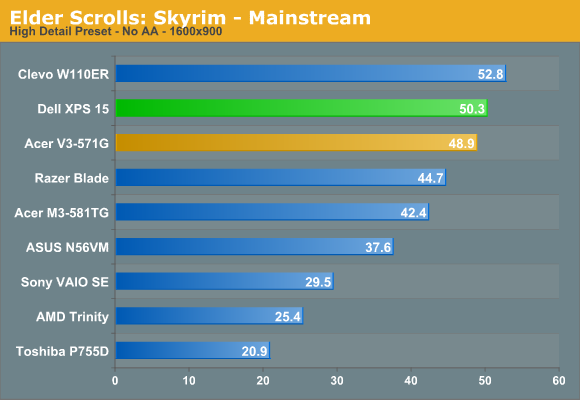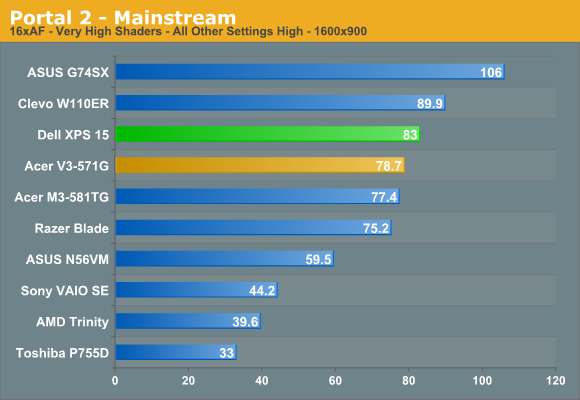 Mainstream performance generally follows the same pattern, only with lower frame rates. The GT 640M with GDDR5 is close to handling all of our test suite at 900p "High" details, with Battlefield 3 and Civilization V being the only two games where we'd recommend dropping to lower detail settings (and again, the drivers are likely a factor in Civ5 performance). It's also interesting that the Acer V3 manages to eke out a win in Batman, indicating our lowered CPU clocks might be coming into play. Otherwise, the use of GDDR5 is typically able to improve GT 640M performance by an average of 8%, with up to 25% higher performance in at least one game (Batman using our Value settings).
Dell XPS 15 Gaming
Recommended Settings for 1920x1080
Game
Detail
FPS
Notes
Batman: Arkham City
Very High +
4xAA
46
DX11 and PhysX both tend to be too much for
the GT 640M, but you can max everything
else out and maintain smooth frame rates.
Battlefield 3
Medium
("Value")
32.6
Single-player is okay at these settings, but
multi-player will need to drop the resolution
or use custom settings with some items on Low.
Civilization V
Low ("Value")
32.3
Civ5 needs a better driver, and we've seen
higher scores in the past. Until then, setting
everything to "Low" is your best bet for 1080p.
DiRT 3
High + 4xAA
45.8
Very fluid at the High defaults with 4xAA. If
you try Ultra without AA, you'll be closer to
30FPS.
Portal 2
Max + 4xAA
57.8
You can pretty much max out the settings in
Portal 2 and still maintain fluid frame rates.
Skyrim
Ultra + 4xAA
30.8
Skyrim is playable at 30FPS, and so our
Enthusiast defaults work well enough. If you
want slightly higher performance, you can use
FXAA instead of 4xAA and get 35 FPS.
Total War: Shogun 2
High
("Mainstream")
34.8
The "High" preset seems to work best, though
"Very High" with AA disabled is also viable.
Most of the games' settings are straightforward, but a couple warrant further explanation. In Batman, enabling Very High with PhysX is borderline playable, with an average frame rate of 27 FPS; DX11 without 4xAA is a similar 26 FPS, and enabling 4xAA in either mode drops a few FPS whereas FXAA is basically free. Civ5 performance is still a bit chaotic (see below), so take those scores with a grain of salt for now. Finally, our test scene in Skyrim happens to be one of the lowest performing areas we could find, so while we report 30 FPS there are many areas in the game that will run in excess of 60 FPS.
As mentioned earlier, Civilization V and Total War: Shogun 2 ran better with the most recent 304.79 beta drivers, and that's what we used for the above settings. The remaining games all ran best with the official 296.01 Dell drivers, though at some point we expect to see a new WHQL driver that will provide the best of both worlds (and hopefully further improve Civ5 performance). Not shown in our charts is another popular game, Diablo III; given that the Acer V3 could handle maxed out settings, the same holds for the XPS 15. With GDDR5 memory, the GT 640M ends up being around 10% faster on average compared to DDR3; it can certainly handle gaming at 1080p, but in many games you'll need to lower the detail settings somewhat to be fully playable.
Dell XPS 15 Battery Life
Dell uses a 9-cell, 65Wh integrated battery in the XPS 15 that's not user replaceable, which is similar to what we've seen in the previous generation XPS 15z as well as the MacBook Pro 15. Apple uses a higher capacity battery, and under OS X the MBP15 will generally offer superior battery life, but unless something has changed since our last look we would expect greatly decreased battery life under Windows via Boot Camp. Since the XPS 15 is designed to run Windows from the ground up, there isn't a problem with lack of power optimizations, and the result is competitive battery life. The LCD was set to 50% brightness (109 nits) for our battery testing—or nine steps down from maximum if you're using the keyboard shortcut.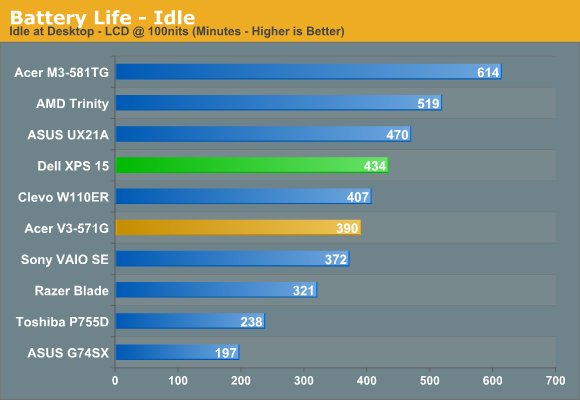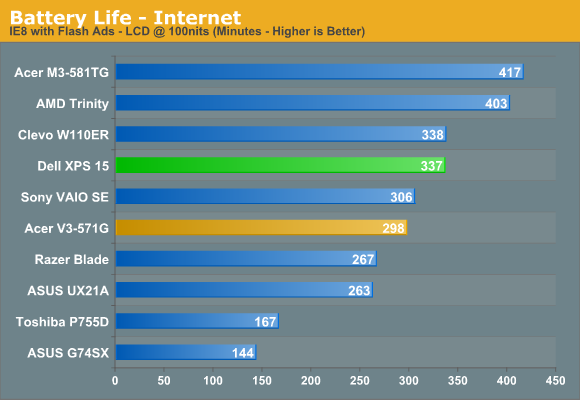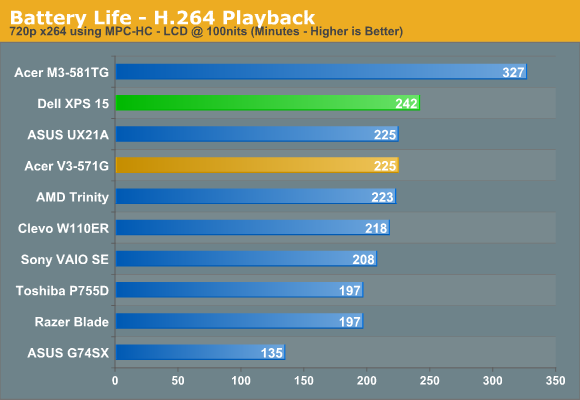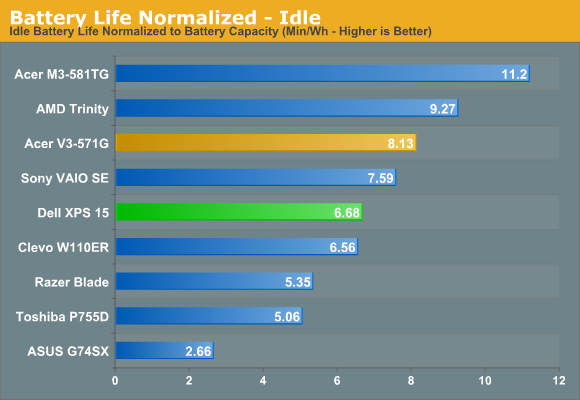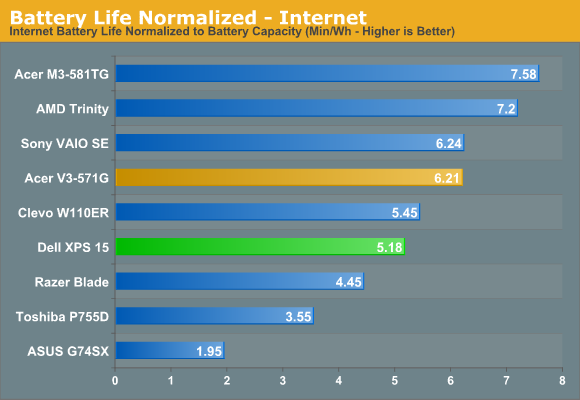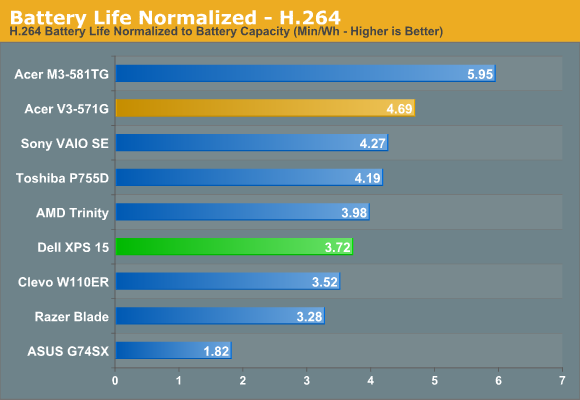 Idle battery life is just over seven hours, with a normalized result putting the XPS 15 ahead of everything except Ultrabooks and AMD's Trinity. Put a more typical load on the laptops, like our Internet test, and we're at five hours of useful battery life. If you're doing lighter web surfing with a mix of office applications, you can expect somewhere around six hours of battery life. As for video playback, Dell manages just over four hours of 720p H.264 decoding; 1080p H.264 decoding drops that slightly to around 3.5 hours. That's actually one of the lower results for battery life considering the battery capacity, though it's worth noting that playback on higher resolution displays ends up being more taxing as there are more pixels to push. Overall, then, battery life is good and will be sufficient for most people to get through a day's work without plugging in, particularly if they let the LCD turn off and/or the laptop go to sleep during periods of inactivity.
Dell XPS 15 LCD: Decent Contrast and Brightness, Mediocre Colors
Dell's XPS line has had a bit of an on-again, off-again relationship with good LCDs. The M1710 and M1730 way back in the day had good WUXGA panels for the time, and the Studio XPS 16 was the first laptop to offer an RGB LED backlit panel (at least to my knowledge). More recently, the XPS 15 and 15z 1080p panels have been good, but the 768p displays in the XPS 13, 14, 14z, 15, and 15z have all been run of the mill offerings. Thankfully, the new XPS 15 sticks with the pattern of offering a decent 1080p display. It's not great and has a definite bluish tint, but contrast is pretty good. If you don't demand accurate colors (which is easily answered by answering this question: do you own a hardware colorimeter?), then the XPS 15 should be good enough to keep you happy. Even with a colorimeter, however, color accuracy remains relatively poor compared to other panels.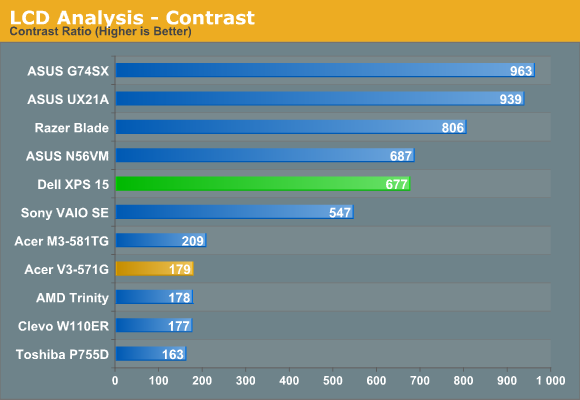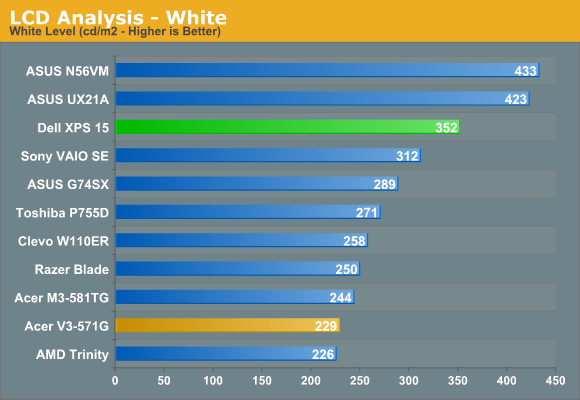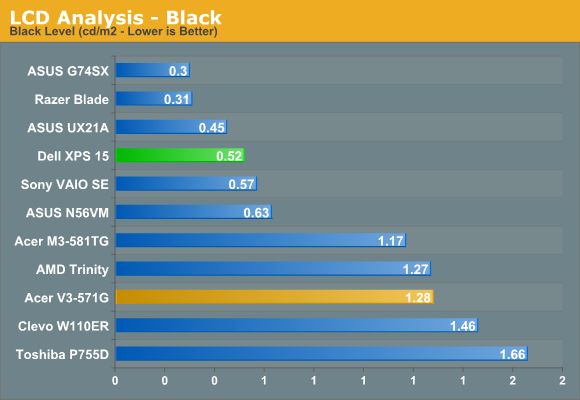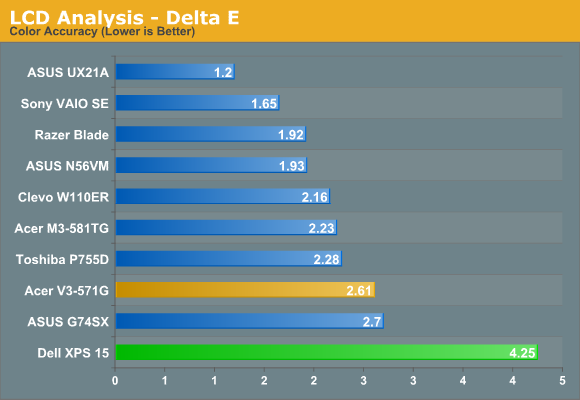 Contrast checks in at 677:1, which is better than average but not exceptional. The maximum white level is 350 nits, but that's with a very strong blue component. Once you calibrate to remove that, the maximum white level drops substantially down to just 250 nits. If you prefer "cool" colors, the LCD will probably make you happy, but those who prefer natural or warmer colors will immediately notice something is off. As noted above, delta E even after calibration is quite poor—just like the XPS 15z. That would make sense, as the two models appear to use the same AU Optronics B156HW03 panel. Color gamut is likewise middling, at 57% of Adobe RGB.
The minor complaints with the panel continue when we look at viewing angles. I've seen some TN panels that do a lot better in terms of vertical viewing angles; this LCD isn't one of those. Viewed from above or below, you get severe color shifting and loss of contrast. There's still a decent viewing arc where the LCD looks good, but this is on the lower end of the 1080p LCDs that we've tested. I also noticed a fair amount of "shimmer" on the edges of windows when moving them around, which appears to come from the 6-bit to 8-bit color interpolation. That's almost always present to varying degrees, but here it's as noticeable as on lesser LCDs like that in the Acer V3-571G.
While the IPS panels in laptops like the UX21A, Sony VAIO SE, HP Envy 15, and Lenovo X220 aren't perfect by any means, they're still a substantial upgrade from panels like this—and this panel in turn is a substantial upgrade from the poor quality 1366x768 panes. We'd love to see more vendors push for IPS panels, and that goes double (triple even!) for high-end laptops like this XPS 15. If you're paying under $1000 for a laptop, we understand the need to make some compromises, but ASUS has managed to get 1080p IPS displays into their new 11.6" and 13.3" Ultrabooks so there's really no excuse for using a lower quality TN panel in a $1300+ laptop. And it almost goes without saying that Apple's new 2880x1800 Retina MacBook Pro is in a league of its own.
Dell XPS 15 Thermal and Throttling Investigations
Considering the CPU throttling that's occurring with the current BIOS, we have several sets of data to examine. We logged clock speeds and temperatures on the CPU and GPU using HWiNFO64, and we'll analyze the results here. Let's start first with the system running "stock" with the A04 BIOS. Again, the current results likely do not represent exactly what we'll see from future BIOS revisions, but I expect temperatures will be somewhere between the stock and ThrottleStop figures we'll discuss in a moment. For the stress testing that we're doing here, we loaded up Cinebench 11.5 rendering with three threads (looped), and we ran 3DMark06 at 1080p on the four gaming tests in a loop. There are slight gaps that occur each time one test ends and the next begins, so a short-term drop in clock speeds isn't particularly noteworthy; it's only when we see sustained lower clock speeds that we can clearly state that the system is throttling.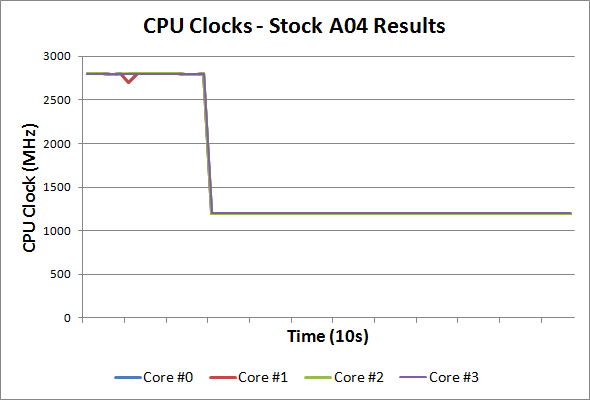 Starting with the clock speeds, it's immediately obvious how far the CPU is throttling and how significant the problem is. With our stress test workload we're able to hit the thermal limits (around 80C on the CPU) in just 30 seconds, at which point the CPU drops to 1.2GHz from 2.8GHz. While our graph only shows the first couple of minutes, the 1.2GHz clock remained in effect for over five hours of stress testing, with nary an upward spike until we halted the tests. Most of the time, we were able to run this workload without problems, but we did experience at least one crash. There's also the question of what would happen under more extreme environmental conditions, as our testing was done in a 70-73F AC cooled environment. Here's a look at the temperatures for the CPU cores and GPU at stock: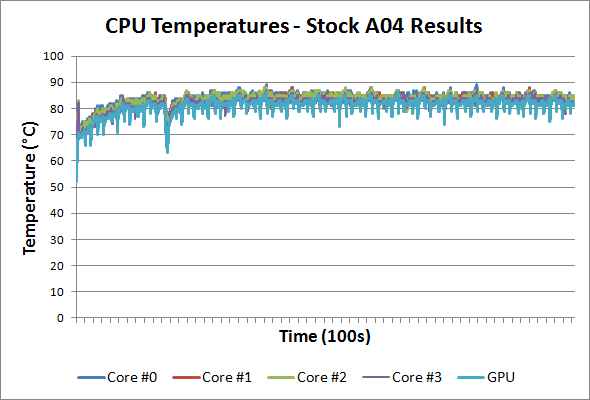 With our particular workload, we reach a maximum CPU temperature of 88C after 20 or so minutes, at which point the cyclical nature of our workload causes the CPU/GPU to fluctuate between 79C and 88C every six or seven minutes (the length of time for a complete 3DMark06 loop). The GPU reaches a maximum temperature of 85/86C after 40 minutes, and again temperatures fluctuate depending on the workload between 76C and 85C over the course of six or seven minutes. A more difficult workload (e.g. Furmark with OCCT) might present problems, but we're looking at a more realistic scenario and at least the thermal throttling keeps the laptop from crashing.
Running stock is well and good for many, but can we push performance any higher by increasing the CPU clocks? That's what we attempted to do, and we turned to ThrottleStop for this purpose. Having successfully run all of our gaming suite at 2.3GHz using ThrottleStop, that's where I started the stress testing. I was a little surprised when the laptop shut down after just 7.5 minutes. Ouch! The CPU cores top out at 100C and the GPU hits 93C, with the laptop sustaining those temperatures for about 30 seconds before crashing (powering off with no warning). With that result in hand (and confirmed with a couple of retests), I stepped the CPU clock back to 2.1GHz. With 200MHz knocked off the CPU clocks, the stress test ran successfully for 20 minutes before once again crashing, and this time the CPU cores maxed out at 99C with the GPU again reaching 93C. The laptop managed to run for five minutes after the first instance of those temperatures, so we're at least heading in the right direction.
Next up I tried 2.0GHz, thinking I was getting close to "stability", and the XPS 15 ran for just over an hour before it crashed once again. Maximum CPU temperatures dropped to 98C and the GPU topped out at 92C, but we're not quite there yet. Interestingly, 1.9GHz on the CPU didn't do any better, with crashes occurring after 45 to 60 minutes three times before we gave up, and similar max temperatures. At 1.8GHz, we finally reached relative stability, with the XPS 15 handling our looped workload for over four hours. The maximum CPU temperature at 1.8GHz was 95C, and the first time it reached that temperature was just over an hour into the stress test, with the core temperature cycling between 89C and 94/95C every six or so minutes. The GPU maximum temperature was 89C, cycling between 84C and 89C. We put together charts of the CPU/GPU temperatures for our four test runs and you can see them in the following gallery.
As for the system itself, surface temperatures are significantly lower than the CPU and GPU core temperatures reported by HWiNFO, and the chassis never felt uncomfortably hot in our experience—the silicone coating on the bottom helps in this regard, though it may also be inhibiting the radiating of heat through the chassis and contributing to the higher temperatures.
Noise levels are relatively loud (I'd guess around 40dB—I don't have my SPL meter with me right now), but given the throttling issues the fan should really be spinning faster to compensate—and apparently it can't. Also note that the exhaust is located under the LCD hinge, which is potentially exacerbating the issue. If the airflow weren't inhibited by the LCD/hinge, it's possible the temperatures would drop 5C or more, which might be enough to avoid most of the throttling problems. At idle, noise isn't a problem at all, with the XPS 15 typically coming in at or below the noise floor of our equipment (30dB). I'd personally rather have a laptop that gets louder but doesn't overheat, throttle, or even worse crash than a laptop that runs quietly but experiences all of those problems. Of course, in an ideal world you could get both reasonably quiet as well as high performance, but doing so with a thin laptop chassis isn't in the cards right now. We've seen the same issues with throttling (or at least lower clocks) on most of the Ultrabooks we've tested as well.
First Impressions: Skin Deep?
When I first laid hands (and eyes) on the new XPS 15, I was extremely impressed. It's such a noticeable upgrade compared to previous XPS laptops in terms of build quality that I really can't understate the fact. Dell's in a bit of a Catch-22 here, of course, with a design that's very similar to the MacBook Pro 15. On the one hand, if they do a 15" laptop that's similar but not built as well (e.g. the XPS 15z from last year), they get complaints from people saying, "Apple can do it, so why can't Dell?" Now they've basically silenced those naysayers and instead they'll get others accusing them of copying Apple's design. Does that really matter, though? I'd rather have something that looks and feels like a high quality laptop that borrows good design elements from other successful laptops than to get a unique laptop that looks and feels poor. Dell has also taken a few steps to differentiate their design from Apple's MBP15, and as someone who has often wondered, "Why don't other OEMs make machined aluminum laptop chassis?" it's nice to see a laptop that really nails that element of the design.
As good as the XPS 15 looks, it also has plenty of performance potential. The XPS 15z made some compromises to keep thermals in check, and with Ivy Bridge and Kepler moving the CPU and GPU to smaller process nodes Dell is able to increase performance within the same power envelope. 1080p gaming is still going to be a bit too much with some titles, but if you're really looking for a gaming laptop Dell already covers that market with their Alienware brand. The XPS is basically a stylish and well built brand that straddles the line between business offerings like the Latitude and Vostro laptops and gaming offerings like the Alienware and Inspiron SE models. (Yes, if you didn't realize, the new Inspiron SE 15 and SE 17 both sport more powerful GPUs than the XPS 15—along with larger, bulkier chassis that don't have the cachet of the XPS line.)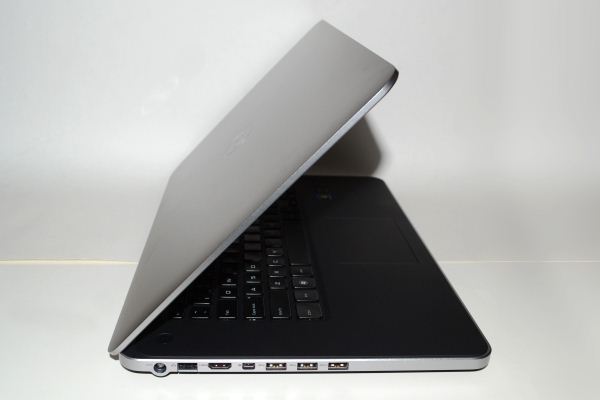 The problem is that good looks and performance potential can only take you so far, and when you really try to put the pedal to the metal with the XPS 15, the engine overheats and you end up taking an unscheduled pit stop. How big of a problem this is will depend on what you plan on doing with the laptop. I can certainly see gamers getting very frustrated with the current throttling issues, but I suspect the next official BIOS update will largely address those concerns. For general use—Internet surfing, office tasks, listening to music and watching movies, video encoding, etc.—the throttling problems will most likely never even show up. It's only when you really push both the CPU and GPU that heat becomes a problem. So if you're not a super demanding laptop user but you want a stylish and sturdy laptop that should last for half a decade—and you don't want to deal with business class laptops, or OS X and Apple products—I can still readily recommend the XPS 15 as a good notebook that pleases me on many levels.
As good as the XPS 15 might be for mainstream/fashion conscious users, for power users or enthusiasts that really like to push their hardware to its limits I suspect that the XPS 15 will come up short. Even if Dell can create a BIOS that won't throttle as badly as the current A04 release, I remain skeptical of their ability to have the XPS 15 run a heavy CPU+GPU load without dropping clock speeds on one or both chips. 1.8GHz was stable with my ThrottleStop testing, but that's in an air conditioned testing environment, and I wasn't using the most demanding workloads possible. If you run a pathological workload or "power virus" like OCCT or Furmark or similar, and if you require a laptop that can handle such applications without throttling CPU or GPU clocks, you'll want to look elsewhere—and probably forget about laptops that are less than an inch thick. And on a related note, I should mention that I've seen at least some minor throttling with several other "thin but fast" laptops, so Dell's not alone here; we'll be making a concerted effort to check for throttling on all future laptop reviews.
For now, the throttling issues are a big enough concern for me that I'm holding off on a final verdict until we can see what the firmware updates bring. I know from past experience that laptops that seem to run a bit hot and/or loud when they're new will only get worse as they start to age. If running any game on the XPS 15 today means 100% fan speed and juggling CPU/GPU clocks to keep thermals within an acceptable range, a year or two down the road you might be looking at a laptop that can't really handle gaming at all. Maybe that matters to you and maybe it doesn't, but if you don't plan on doing anything that leverages the discrete GPU, why even have it there in the first place? Depending on what Haswell brings to the table, we might actually see dGPUs disappear outside of dedicated gaming laptops like the Alienware line—and I'm not sure that's even a bad thing.
If we were judging the XPS 15 by appearances alone, it would easily walk out of here with an award. Depending on what Dell can do with the firmware over the next couple of weeks, we might still have a delayed prize to hand out. Unfortunately, out of the gate the XPS 15 stumbles and Dell will have to work to make up the difference. Until that happens, the XPS 15 is a beautifully crafted laptop with some personality quirks that could be hard to live with long term. Make sure you know what you're getting into before committing to a relationship, or you could end up feeling burned.