Original Link: http://www.anandtech.com/show/6096/evga-geforce-gtx-680-classified-review


As NVIDIA's 28nm GPU supply situation has improved over the past couple of months we have seen their partners finally begin to branch out with unique designs. The first such cards were the requisite factory overclocked models, and more recently semi-custom and finally fully-custom cards have started appearing.
With the floodgates finally open for custom cards we have recently received several different GeForce cards covering a range of performance levels, prices, and cooler configurations. Over the next couple of weeks we'll be taking a look at such GTX 670 and GTX 680 cards from Asus, EVGA, MSI, and Zotac. NVIDIA is going through a period of tight control over their partners' designs, but this hasn't stopped their partners from putting their own unique touches on their cards.
Nowhere is this embodied more than with our first card, EVGA's GeForce GTX 680 Classified. In EVGA's product hierarchy the Classified is their top of the line product, where they typically go all-out to make customized products to scratch the itch of overclockers and premium buyers alike. The GTX 680 Classified in turn is EVGA's take on a premium GTX 680, resulting in a card that is monstrous in virtually every sense of the word. What has EVGA seen fit to do with their fully-custom GTX 680, and does it live up to the hype and the price tag that comes with the Classified name? Let's find out.
EVGA GeForce GTX 680 Condensed Product Lineup
EVGA GTX 680 Classified
EVGA GTX 680 FTW+
EVGA GTX 680 SC
EVGA GTX 680
Stream Processors
1536
1536
1536
1536
Texture Units
128
128
128
128
ROPs
32
32
32
32
Core Clock
1111MHz
1084MHz
1058MHz
1006MHz
Boost Clock
1176MHz
1150MHz
1124MHz
1058MHz
Memory Clock
6.008GHz GDDR5
6.008GHz GDDR5
6.208GHz GDDR5
6.008GHz GDDR5
Memory Bus Width
256-bit
256-bit
256-bit
256-bit
Frame Buffer
4GB
4GB
2GB
2GB
Price
$659
$629
$519
$499
Perhaps before we start anywhere else, it's best to start with a quick explanation of our particular interest in fully-custom video cards.
All things considered, NVIDIA usually turns out solid reference card designs. For their high-end single-GPU cards NVIDIA typically uses balanced designs that are reasonably quiet, reasonably cool, and have some degree of overclocking potential. On the other hand NVIDIA also tends to go conservative in some ways, with NVIDIA favoring blowers so that their reference cards work in most cases, and rarely overbuilding their cards in order to keep the manufacturing cost of the card down.
This is where custom cards come in. NVIDIA's reference design is a jack of all trades but master of none, which leads to their partners creating custom products not only to differentiate themselves from each other, but to target specific niches that the reference design doesn't do a good job of covering. Even just replacing the cooler while maintaining the reference board – what we call a semi-custom card – can have a big impact on noise, temperatures, and can improve overclocking. But at the end of the day there's only so much you can do with NVIDIA's reference boards, particularly when it comes to form factors and overclocking. This leads us to fully-custom cards.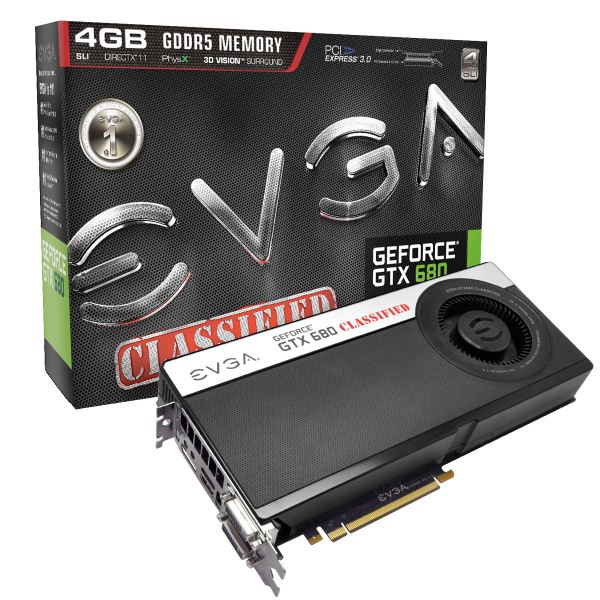 The bulk of fully-custom designs for such a high-end GPU are intended to focus on overclocking, and for good reason. Because NVIDIA is shying away from hardcore overclocking on the GeForce 600 series – something we'll get to in a bit – to push GK104 to its limit and beyond a fully-custom card is necessary. These kinds of custom cards primarily allow partners to lay down bigger, better, and more VRM circuitry to improve power delivery and allow more power to be delivered overall, but it also allows partners to try their hand at improving the memory bus, adding support for additional memory chips (for more memory in total), and adding features above and beyond what NVIDIA directly provides. Whereas NVIDIA needs to worry about the larger market partners can worry about their niches, and in the world of premium cards it's all about pushing GPUs to their peak.
This brings us to EVGA's GeForce GT X 680 Classified, a card that embodies all of these design principles. Fundamentally of course it's a factory overclocked GTX 680, with EVGA shipping the card at 1111MHz for the core clock and 6GHz memory, representing a 105MHz (10%) core overclock, but no memory overclock. The factory overclock is only half of the story though, as more so than any other GTX 680 card the GTX 680 Classified is meant to be overclocked. Even without voltage adjustment the card has a fair bit of headroom thanks to the binning EVGA does for its product lineup, and with voltage adjustment the limits can be pushed even further. But more on that in a bit.
Meet The EVGA GeForce GTX 680 Classified
Breaking the card down as we always do, we'll start with the fundamentals of the card. As we typically see with these premium overclocking cards, the GTX 680 Classified is far bigger than a standard GTX 680. EVGA is still using a double-wide design, however with the need to fit additional VRM circuitry for overclocking the card is longer and taller than a standard GTX 680. Altogether the GTX 680 Classified measures 11 inches long and 4.95 inches tall, making it roughly an inch longer and an inch taller than NVIDIA's reference design. Consequently this definitely isn't a card that will fit in every case – its length should fit in most cases, but depending on the case its height may be an issue.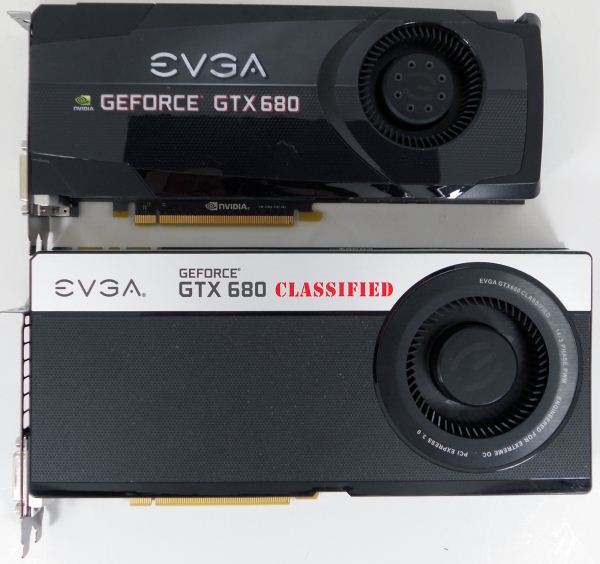 Along with giving EVGA additional space on their board for power circuitry, the larger card also lets them use a larger cooler, which is necessary for the higher power levels the GTX 680 Classified is intended to operate at. EVGA is well known for their use of NVIDIA's reference designs, but even when they strike out on their own they like to stick with blowers, making the GTX 680 Classified one of the few custom cards you'll see with such a cooler.
And like the board itself the cooler is equally large, with EVGA affixing a 80mm radial fan to the card. As with axial fans, radial fans can move more air as they increase in size, which means that not only can EVGA push more air than a standard GTX 680, but they can also do so at lower RPMs with less noise. In fact the card's fan speed is limited to just 55% in order to pass NVIDIA's noise requirements, which means it doesn't get the chance to reach the full potential of what this 24W fan can do.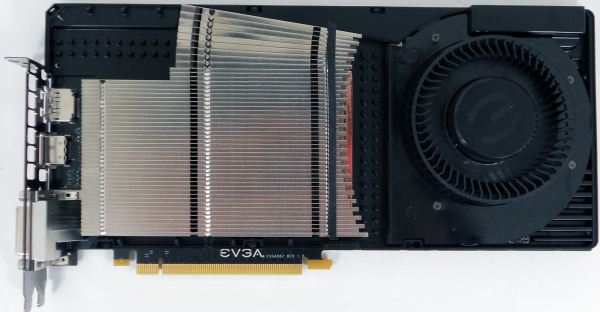 On the other end of the cooling equation we have EVGA's heatsink, which like the fan takes advantage of the larger card in order to fit a larger heatsink. This heatsink is a larger version of the stacked fin heatsinks we've seen NVIDIA use as of late, with a combination of a copper baseplate and a flat copper heatpipe providing transport to the rest of the aluminum heatsink. Truth be told compared to full-card heatsinks we often see on open-air coolers these stacked fin heatsinks are not particularly big, but these designs prove to be quite efficient as we'll see.
Sitting below the primary heatsink is EVGA's aluminum baseplate, which primarily serves to reinforce the card and protect the components, with a secondary duty of serving as a basic heatsink for the RAM and VRM circuitry. We've seen these baseplates take on heatsink-like features before – such as with the GTX 690 and its grooves/fins – but this is the first baseplate we've seen that uses pin fins instead of full fins.
Last but not least of course we have the real star of the show, EVGA's custom PCB. As we alluded to earlier, the bulk of the additional bulk of the PCB is used to house extra VRM circuitry, leading to the back-half of the PCB being densely populated while the front half of the PCB is effectively empty along the top-inch. EVGA is using a 14+3 phase VRM configuration here, with 14 phases supplying power to the GPU while 3 more phases supply power to the GDDR5 RAM. This is as compared to a 4+2 configuration for the reference GTX 680.
VRM phases have become something of a competition between vendors, and while it's not immediately clear whether 14 VRM phases are strictly necessary for this card, going above and beyond the reference GTX 680 certainly is. Not only are the additional phases necessary to smoothly supply power to the GPU and RAM when overclocking (and especially overvolting), but even at its stock state EVGA needs the extra phases thanks to the card's higher default power target. EVGA's default power target on the GTX 680 Classified is 250W (330W if using +132% power target), versus 170W(225W w/+132%) on the reference GTX 680; this not only provides some headroom for overclocking, but it means the GTX 680 Classified can reach its top boost bin more often as it doesn't have to clock down to stay within the 170W power envelope.
Supplying this power is a pair of 8pin PCIe power sockets, which means on paper the GTX 680 Classified can safely draw up to 375W. In practice it's not clear whether GK104 can actually take that, at least with air cooling, so pushing this card much beyond 300W is mostly in the realm of hardcore water and liquid nitrogen overclockers. Still, the GTX 680 Classified is meant to be overclocked and it definitely has the power delivery system necessary to achieve it.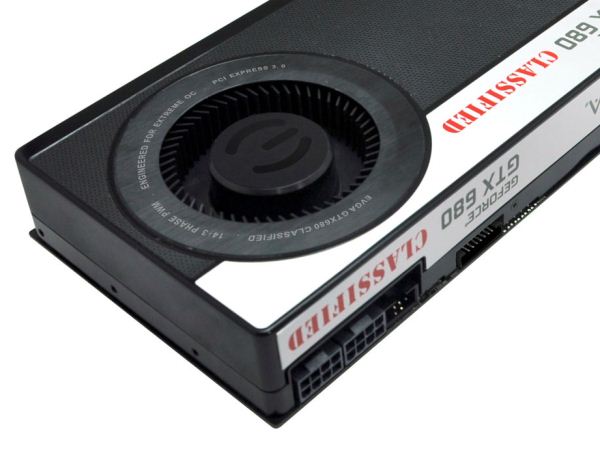 This brings us to EVGA's additional features on the PCB specifically for overclockers. First and foremost, to the right of the 8pin PCIe power sockets is the EVGA EVBot header. We will get into EVBot in a moment when we discuss voltage control in general, but this header is the key to maximizing the GTX 680 Classified's potential. Further to the right we find EVGA's BIOS selection switch, which has 3 states: Normal, OC, and LN2. The latter 2 BIOSes are in fact identical and exist to disable the card's power target to enable extreme overclocking. In our (admitted conservative) experience disabling the power target is best left to water and LN2 overclockers, as the default BIOS seems to offer enough headroom (and heat generation) to keep the reference cooler busy.
Moving on, further still to the right we have a voltage monitoring header. Unfortunately the pins are not labeled and difficult to access with probes, as EVGA is intending for the header to be used with not-yet-released adapter that will make it easier to attach probes. Without the adapter a combination of EVBot and software monitoring are the best way to monitor the card's voltage.
With overclocking out of our way, let's take a look at the rest of the card. The GTX 680 Classified is a 4GB card, which means EVGA is using 16 GDDR5 RAM chips in a 16bit configuration. 8 are on the front, with the other 8 on the rear. These are the same 6GHz Hynix chips we saw on the GTX 680, and this explains why EVGA isn't shipping with a memory overclock. As near as we can tell neither Samsung nor Hynix are actually shipping 6.5GHz/7GHz GDDR5 in volume, which would mean that EVGA cannot put faster RAM on the card (though they could still overclock).
Finally we have the GTX 680 Classified's display port configuration. EVGA is using NVIDIA's reference configuration here, which means 2 DL-DVI ports, 1 DisplayPort, and 1 HDMI port. The HDMI port is admittedly a bit of a head scratcher – we can't seriously imagine anyone using such a card to drive a TV, but there you go. EVGA has put the EVBot header here on previous Classified cards, and that may have been a better use of that space in this case.

Wrapping up our look at the GTX 680 Classified, let's talk about marketing, pricing and availability. One of the things we almost immediately asked EVGA about the GTX 680 Classified is what market segment they're shooting for, since ultra-premium is a rather broad category. The GTX 680 Classified is very much a halo part for EVGA, and while it will grab the attention of the press and fans with headlines like hitting 2GHz on LN2, EVGA tells us that most buyers will stick to air cooling. So while the card was built for insane overclocks and abuse on water and LN2 cooling, EVGA clearly expects to sell many of these cards to buyers that will never go beyond the card's shipping configuration.
Moving on to volume and pricing, Classified cards are usually low-volume parts. Despite that the card has regularly been available from EVGA, so all indications that are the volume of cards is high enough for the market segment EVGA is going after. The toughest part to get over will be pricing: the GTX 680 Classified is a premium variant of what was already a premium product (GTX 680), so EVGA is charging a premium price. The GTX 680 Classified will set you back $660, making it the most expensive GTX 680 currently available. Much of this price hike comes down to the RAM – 4GB GTX 680s start at $590 on Newegg – but even then there's a further premium thanks to the customized hardware and the fact that this is EVGA's highest factory overclock. Compared to their next-cheapest 4GB GTX 680, the GTX 680 FTW+, the Classified still carries a $40 premium.
Of course, this doesn't include the cost of the EVBot controller. If you want one of those – and if you're intending to overvolt you will – you'll need to shell out an additional $80, which brings the price of an entire GTX 680 Classified kit to $740. If the hardware isn't a strong argument that the GTX 680 Classified is an ultra-premium product, the pricing will be an even better argument.
Overvolting & The EVGA EVBot
So much of the GTX 680 Classified is geared around overvolting, so we wanted to break this out into its own section.
For some time now NVIIDA has kept a tight leash on their partners' designs, with partners required to clear their designs with NVIDIA before they can sell them. NVIDIA's interest in this matter is that video card manufacturing is a true partnership – their name and brand is at stake as much as the partners – so they want to be sure that GeForce cards meet their standards. This includes cooling, build quality, and noise limits (the reason the GTX 680C is limited to 55% fan speed). NVIDIA doesn't publish what those requirements are so we can only speculate from the outside about what's going on, but clearly NVIDIA has been unhappy with some partners' custom designs in the past.
With the GeForce 600 series things have become a bit harder for NVIDIA's partners. As we briefly mentioned before, NVIDIA is shying away from hardcore overclocking with the GeForce 600 series. Specifically, there are two things going on:
Partners wishing to have a card with a TDP over 195W (i.e. a base power target 170W) must use a custom board with suitable power circuitry. NVIDIA won't allow partners to ship higher-power cards using the reference board.
Software overvoltage control is forbidden.
These rules impact two classes of cards. The first are heavily factory overclocked cards using the reference PCB, which goosed the GPU voltage to hit their high factory overclocks. Partners that wish to ship heavily overclocked cards will now need to bin to stay within NVIDIA's power requirements. Meanwhile the second class of cards impacted is of course overclocking-focused cards like the GTX 680 Classified. Voltage control becomes necessary beyond a certain point, and since NVIDIA is requiring custom PCBs and disallowing software voltage control EVGA had to get creative.
The end result of that creativity is that EVGA has fallen back to their EVBot controller. By using a beefed up PCB along with an external controller, EVGA can offer voltage control while meeting NVIDIA's guidelines.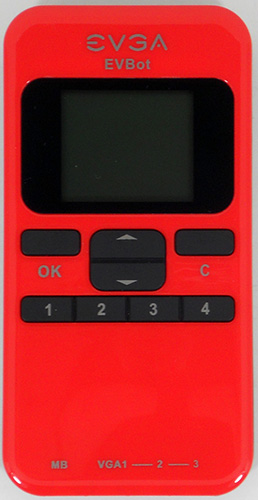 The problem with having to resort to this kind of creativity is that it is unquestionably a step back for enthusiasts. Truth be told we don't mind the voltage lock on reference cards – letting users play with voltage control on cards that aren't meant for it can definitely lead to problems (e.g. GTX 590). However lack of software voltage control makes the whole thing very messy, as we'll see in a moment. No doubt NVIDIA has their reasons for going this route, but we don't believe that anyone has benefitted from a lack of software voltage control on these premium overclocking cards. NVIDIA could and should do better here, since this is effectively an arbitrary restriction that offers no benefit on cards such as the GTX 680 Classified.
Moving on, before getting into the nitty-gritty of voltage control let's quickly discuss EVGA's EVBot.
EVBot
Introduced a few years ago, EVGA's EVBot is a controller intended to offer external control and monitoring capabilities for EVGA's high-end video cards and motherboards. The device itself is a simple controller with an almost iPod-like design, and contains a small firmware that tells the EVBot how to interact with various devices. The EVBot draws power from the device it's controlling, meaning it's basically just a small controller (in the electronics sense) with buttons and a backlit monochrome screen. Finally, 4 headers are found on the bottom, allowing one EVBot to control up to 1 motherboard plus 3 video cards.
Short of an EVGA motherboard or video card, EVBot includes everything else necessary to use it. EVGA includes 4 EVBot cables, so you can control up to the controller's limit of 4 devices without hunting down any further parts. The 4ft long cables are rather generous, but if you have a large case (like we do) then you'll want to make sure you have an opening for the cable fairly close to where you intend to keep the controller, as there's not a ton of slack space to run it behind a full size tower.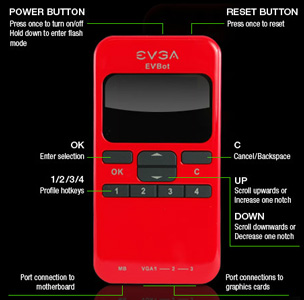 Once powered up, the EVBot is pretty simple to navigate through. Depending on the device being controlled different functions become available, with motherboards in particular getting a full range of voltage and clock adjustments, along with hardware monitoring. Video cards on the other hand get a much smaller feature set; the functionality is limited to voltage adjustment. Which means that the EVBot needs to be used in concert with software utilities such as EVGA's Precision X in order to actually overclock and to monitor that overclock.
Ultimately the functionality EVBot provides for the GTX 680 Classified is essential, but because all it can be used for is voltage control it's not all that useful. If EVBot could offer full clock control so that you could load a clock and voltage profile at the same time it would be far more useful, and for that matter would be a good hardware analog to what the EVGA Precision X software does.
Finally, if you're purchasing an EVBot you'll want to make sure you're purchasing it directly from EVGA. While EVGA uses a standard hardware interface for the EVBot, the device needs hardware-specific profiles to operate. EVBot's firmware is upgradable, but only via motherboards, so if you have an earlier firmware then you're not going to be able to upgrade it for the GTX 680 Classified if the only EVGA product you have is the card. At the same time owners with both an EVGA motherboard and a GTX 680 Classified will want to pay close attention to the EVBot's firmware limitations – because the EVBot's firmware is so small, it can only store a couple of profiles. The GTX 680 Classified firmware (P15) doesn't hold profiles for EVGA's X79 motherboards, for example.
Overvolting With EVBot
So how does overvolting with EVBot work? For better or worse it's actually very simple.
EVBot exposes 5 settings on the GTX 680 Classified: NVVDD, FBVDD, PEXVDD1, PEXVDD2, and OCP. These control the GPU voltage, the RAM voltage, the PCIe voltage, and OverCurrent Protection respectively. As is typically the case for video card overclocking, it's the GPU and RAM voltage that are going to be the important settings for most users.
EVBot Function Table
Name
Function
NVVDD
GPU Voltage
FBVDD
Memory Voltage
PEXVDD1
PCIe Voltage #1
PEXVDD2
PCIe Voltage #2
OCP
OverCurrent Protection
Overvolting is simply a matter of dialing in the desired voltage, in the usual 0.0625v increments we've come to expect on GTX 680 products. EVGA tells us that GPU voltages up to 1.3v are safe, but of course your mileage may vary and the ultimate goal is to reach the desired clockspeed on as little voltage as possible.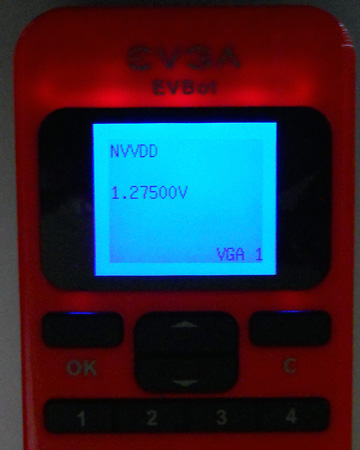 Note that once EVBot is used to take control of the GPU voltage, it overrides NVIDIA's standard control mechanism and leaves you in full control of the voltage. This happens completely transparently to NVIDIA's software, which means that any overclocking tools using the NVAPI (which is to say, all of them) will continue to report the voltage the drivers are asking for rather than the real voltage. This makes the voltage monitoring points on the GTX 680 Classified all the more important, since that's the only way to get a real voltage reading once voltage control is used.
However this also means that voltages are decoupled from NVIDIA's clock domains. Consequently the GTX 680 Classified will idle at a higher voltage, increasing the idle power consumption of the card. This isn't a huge problem, but it is a tradeoff for overvolting.
On that note, it's unfortunate that EVBot voltage settings are not fully persistent. They will survive a soft reboot, but if the card is fully powered down you'll need to reset the desired voltages the next time the card is powered up. For anyone intending to use an overvolted card on a regular basis, this means you'll need to keep an EVBot plugged in at all times so that you can reset the voltages. Note that this also effectively precludes having EVGA Precision X or other utilities apply an overclock on startup, since you'll want to set the voltage first before turning up the clockspeeds.
With all of that said, at the end of the day the EVBot does its job well enough given the limitations imposed by NVIDIA. The fact that this is a separate purchase on top of the GTX 680 Classified is unfortunate, but after thinking it through it wouldn't make a ton of sense to include the EVBot with the card since all anyone would ever need is the one EVBot. Still, the $80 price tag on top of the $660 card means that GTX 680 overvolting is not for the thrifty at this time.
The Test
For our review of the GTX 680 Classified we're using NVIDIA's latest beta drivers, 304.79. These drives have no appreciable difference over the previous 304.42 drivers beyond some simple bug fixes.
CPU:
Intel Core i7-3960X @ 4.3GHz
Motherboard:
EVGA X79 SLI
Chipset Drivers:
Intel 9.​2.​3.​1022
Power Supply:
Antec True Power Quattro 1200
Hard Disk:
Samsung 470 (256GB)
Memory:
G.Skill Ripjaws DDR3-1867 4 x 4GB (8-10-9-26)
Case:
Thermaltake Spedo Advance
Monitor:
Samsung 305T
Asus PA246Q
Video Cards:
AMD Radeon HD 6970
AMD Radeon HD 7950
AMD Radeon HD 7970
AMD Radeon HD 7970 GHz Edition
NVIDIA GeForce GTX 580
NVIDIA GeForce GTX 670
NVIDIA GeForce GTX 680
EVGA GeForce GTX 680 Classified
Video Drivers:
NVIDIA ForceWare 304.42 Beta
NVIDIA ForceWare 304.79 Beta
AMD Catalyst 12.7 Beta
OS:
Windows 7 Ultimate 64-bit
Crysis, Metro, DiRT 3, Shogun 2, & Batman
Since the GTX 680 Classified doesn't bring anything new to the table architecturally, we'll keep our commentary on its stock performance brief. At stock it's much like any other overclocked GTX 680 (factory or otherwise), with the only real room for differentiation being the greater amount of RAM and the higher power target. In practice the greater amount of RAM doesn't make much of a difference in our single-GPU tests, as that much RAM is far more beneficial for the ultra-high resolutions of multi-monitor gaming, at which point you're going to need a second card to provide the necessary horsepower.
The higher default power target on the other hand is quite interesting. The GTX 680 Classified will hit its top boost bin almost all of the time thanks to the generous power target, something the reference GTX 680 can have trouble with even at stock. So although reference cards can be overclocked to this level, it doesn't necessarily mean they'll match the GTX 680 Classified's boost clocks in that state.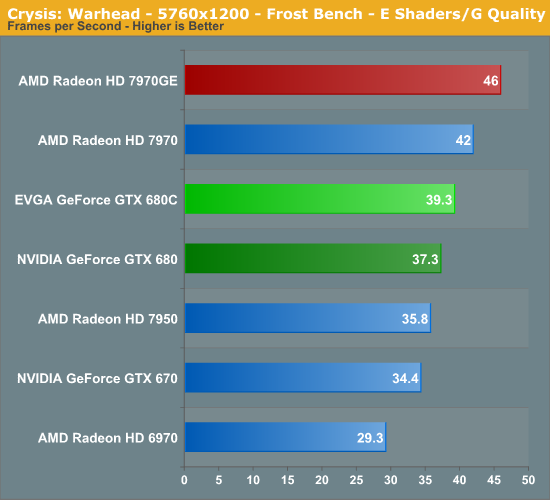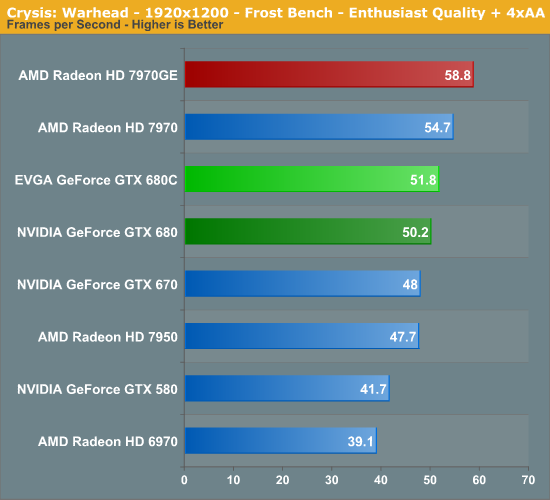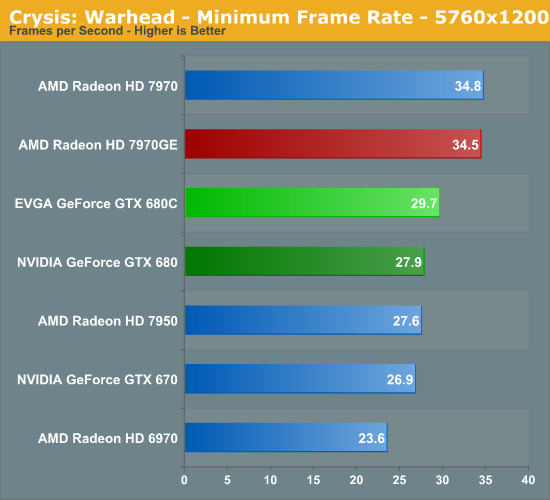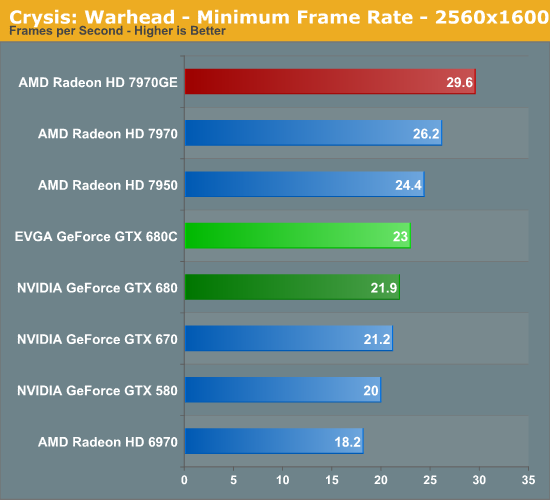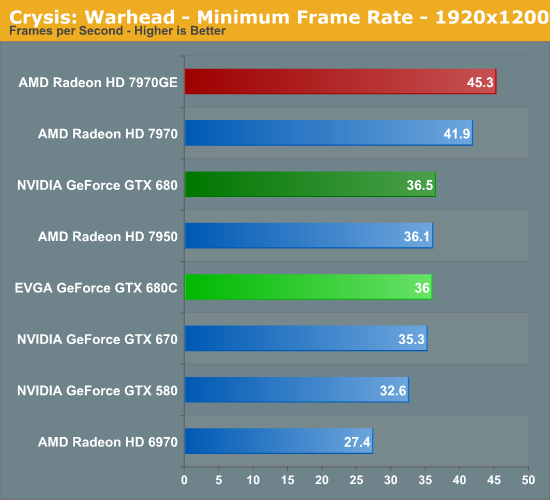 Starting off as always in Crysis, there's actually not much to see. Since the reference GTX 680 is already memory bandwidth limited here and since the GTX 680 Classified doesn't have a memory overclock, the factory core overclock does very little for its performance here.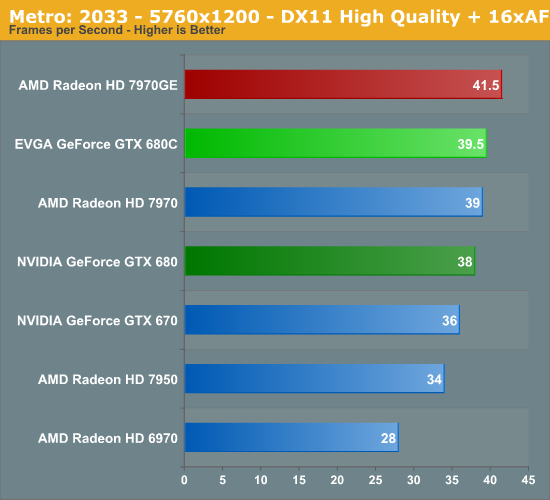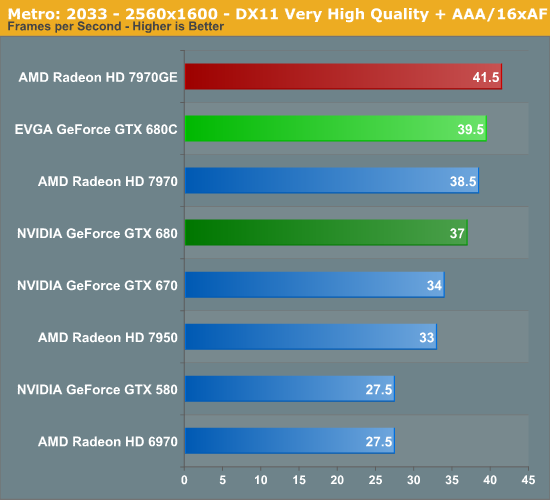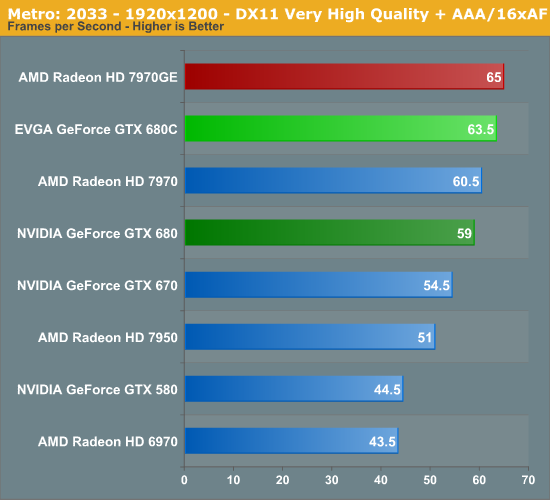 Metro isn't a title that we've previously considered to be memory bandwidth limited, but given its GPU-crushing nature like Crysis (and the fact that the 7970GE does so well here), maybe we should take that into consideration. The GTX 680C picks up 7% here at 2560, which is decent but it's less than what the factory overclock can provide when the GPU can fully stretch its legs.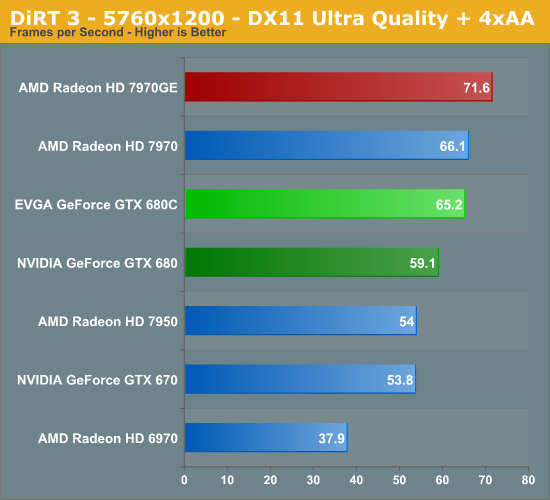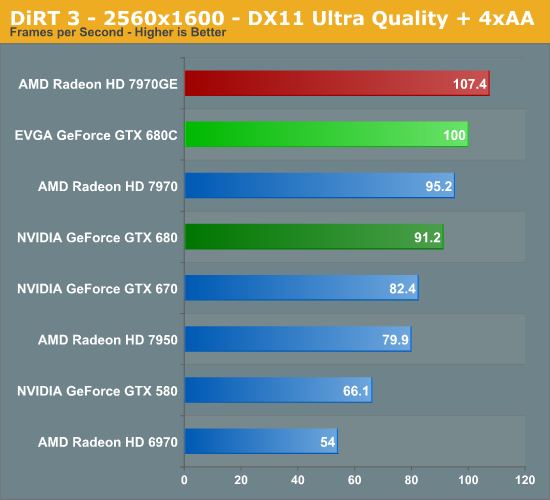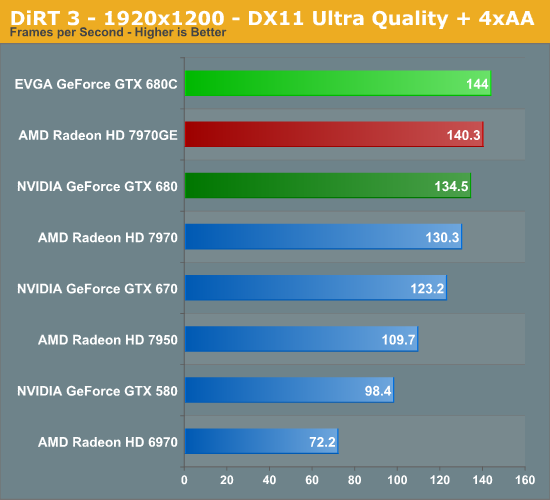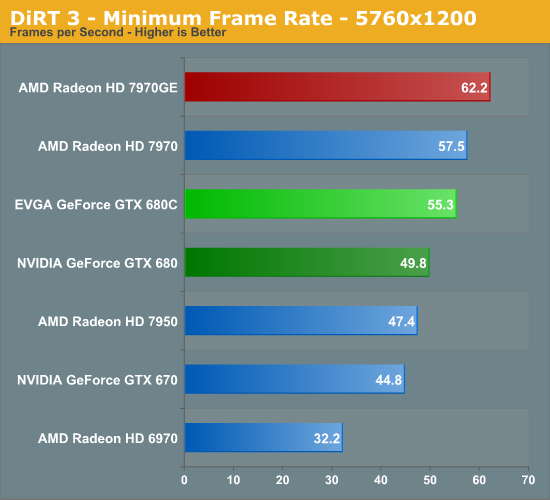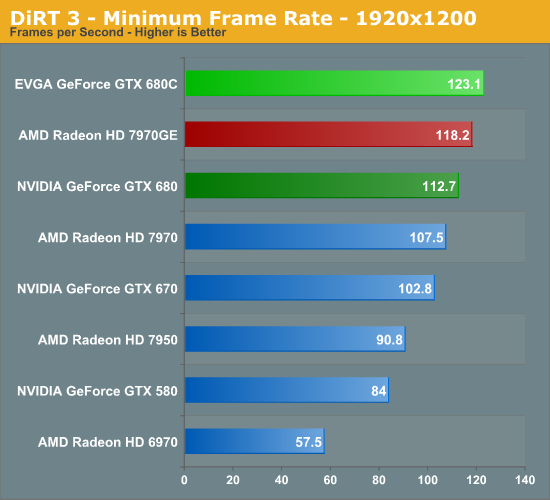 Now when the GTX 680 Classified can stretch its legs in a GPU-bound situation, we see the full impact of that factory overclock. With DiRT 3 it picks up the full 10% performance improvement the factory overclock is capable of providing.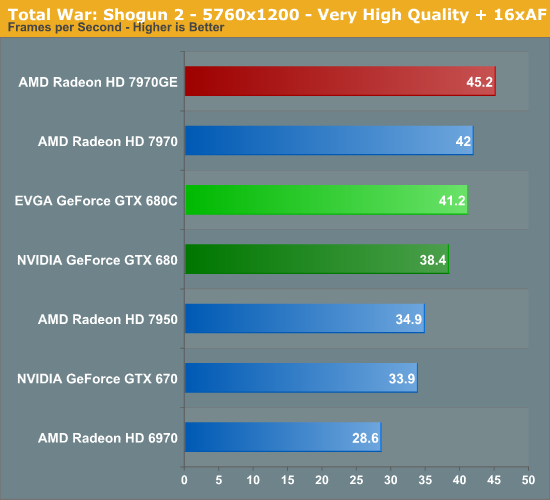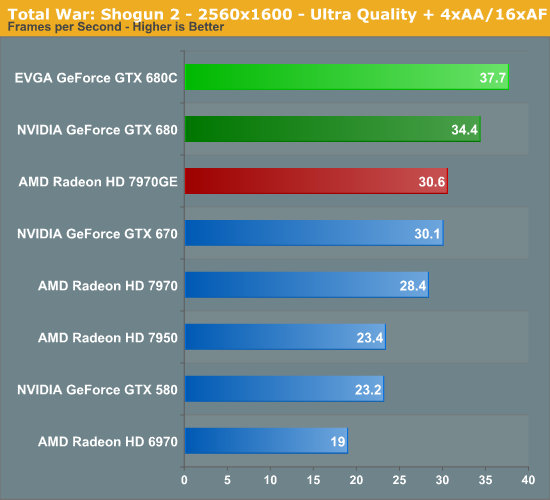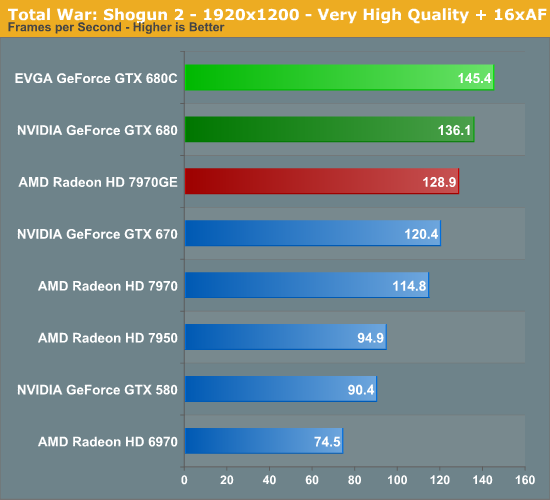 Things also look good with Shogun 2 at 2560, with another 10% gain. On the other hand 5760 only picks up 7%.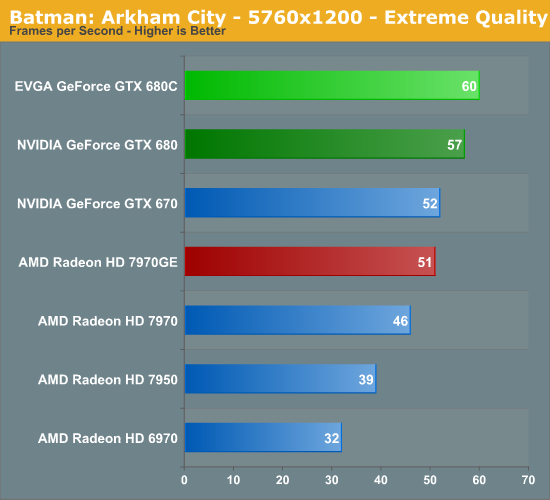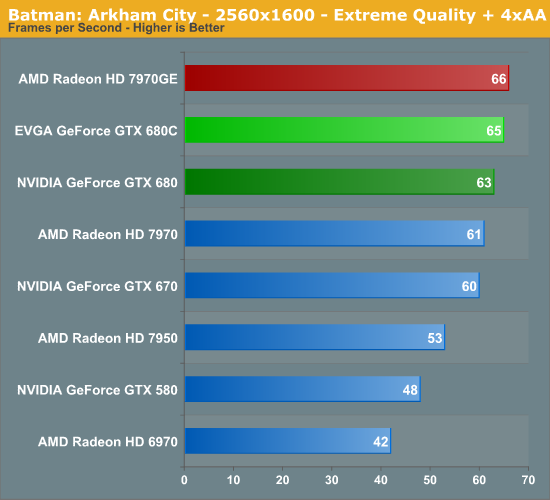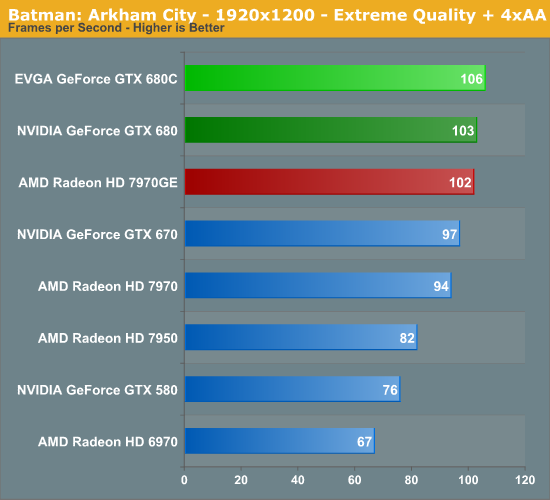 Batman on the other hand doesn't do the GTX 680 Classified any favors, which is a bit odd. 3-5% just isn't what you expect here, since there's no real evidence that the game is CPU or memory bandwidth bottlenecked.
Portal 2, Battlefield 3, Starcraft II, Skyrim, Civilization V, & Compute
Moving on to the back-half of our benchmarks, these are the games that the Kepler architecture traditionally excels at. Hopefully this means we'll get to see the GTX 680 Classified spread its wings a bit more here.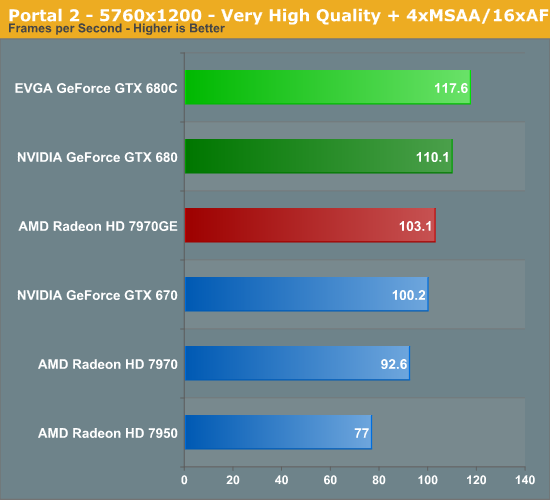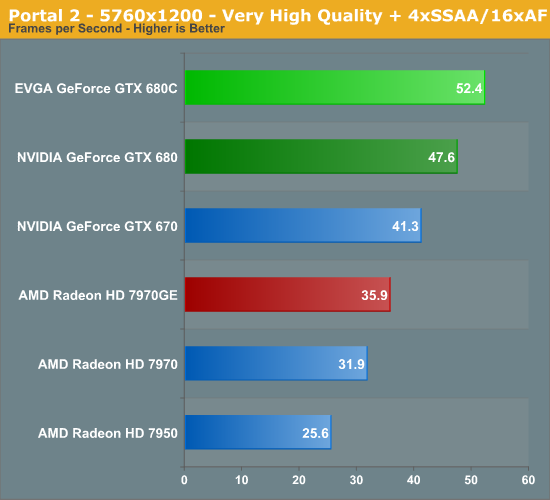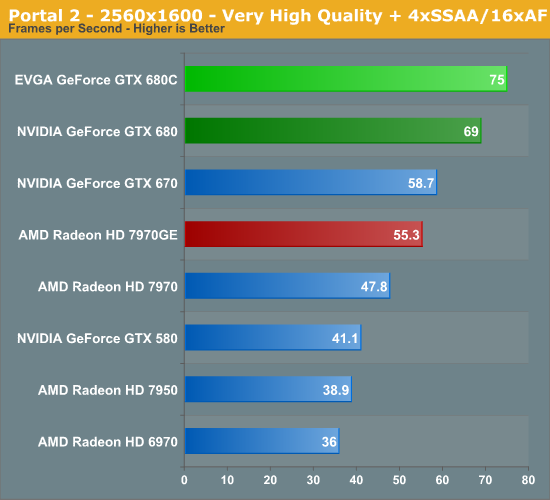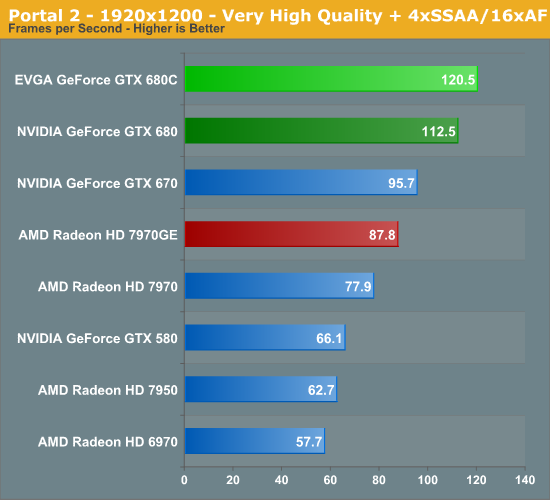 Given how much of an emphasis SSAA puts on GPU performance it comes as no great surprise that the GTX 680 Classified does fairly well here, picking up an additional 9-10% compared to the reference GTX 680. At 52.4fps it's just shy of what would be needed to smoothly play Portal 2 at 5670x1200 with SSAA.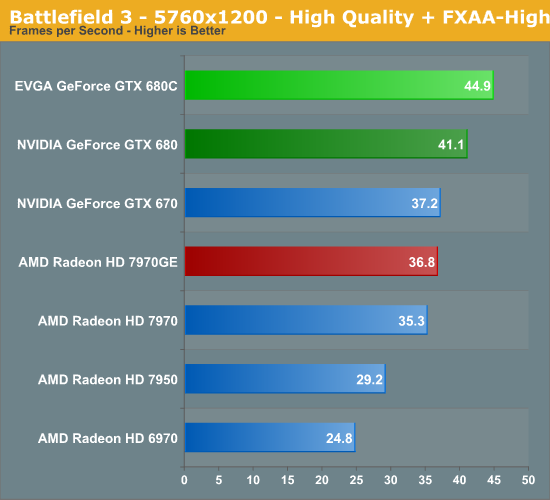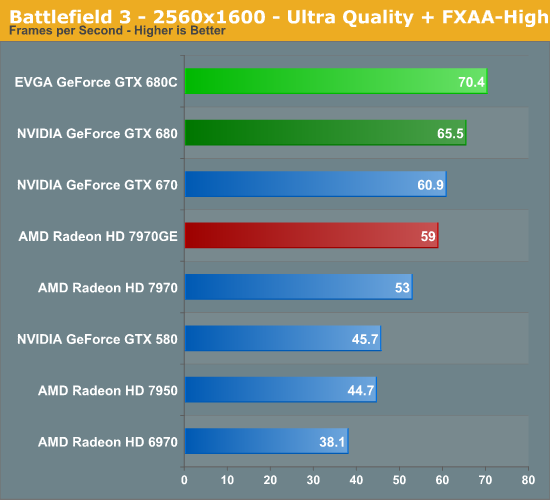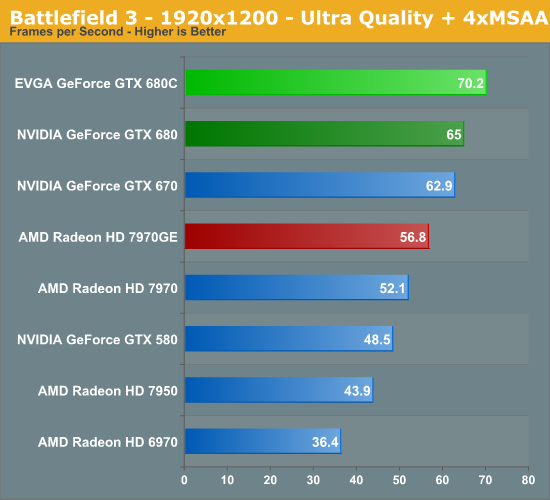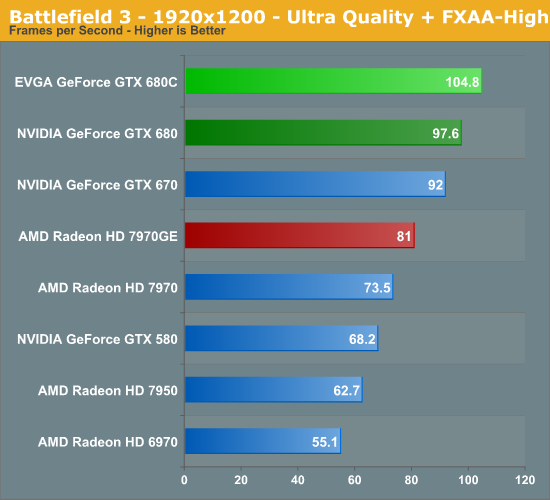 Meanwhile its gains in BF3 are tempered somewhat, only picking up 7% at 2560. Though this is still enough to push it past 70fps. 1920 resolution gamers looking for a 120fps experience will also see some improvement, but it's still not enough to average 120fps on a single card.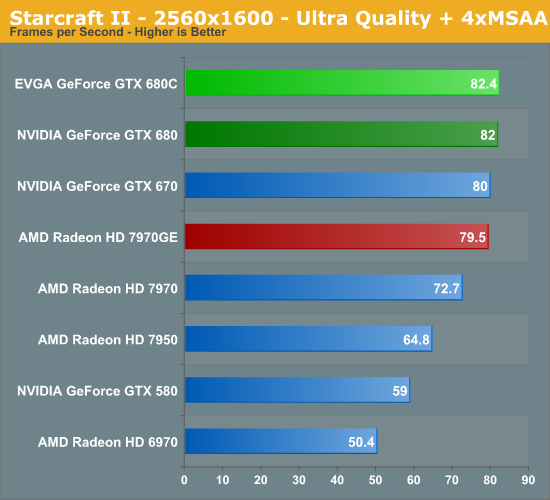 Oddly our SC2 framerates are almost flat. SC2 is most often CPU bound so that does come into play to some degree, but we would have expected a bit of a gain at 2560 given the 4% gain at 1920.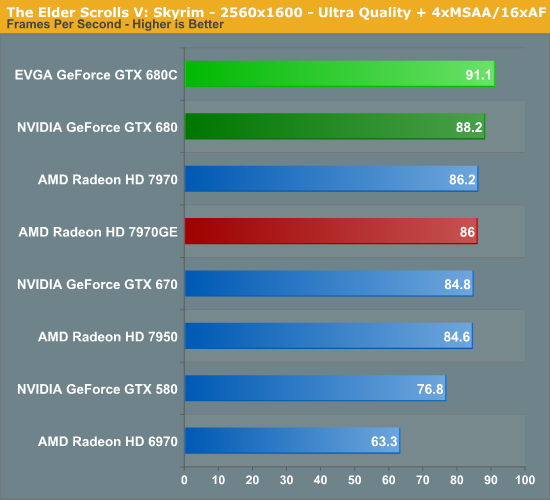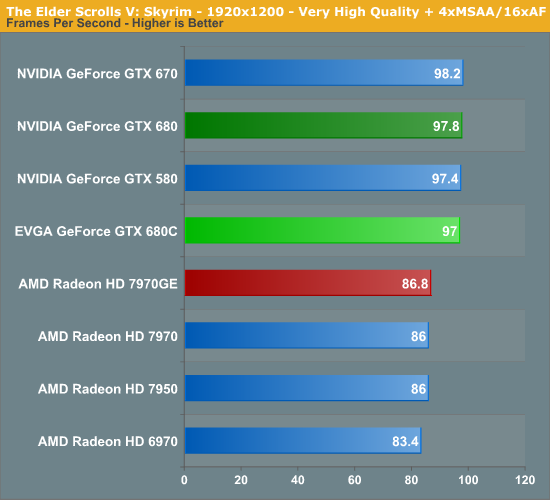 However the typically CPU-bound Skyrim actuals eeks out a small 3% performance improvement at 2560. Still, even a reference GTX 680 is overkill for Skyrim without 3rd part modifications.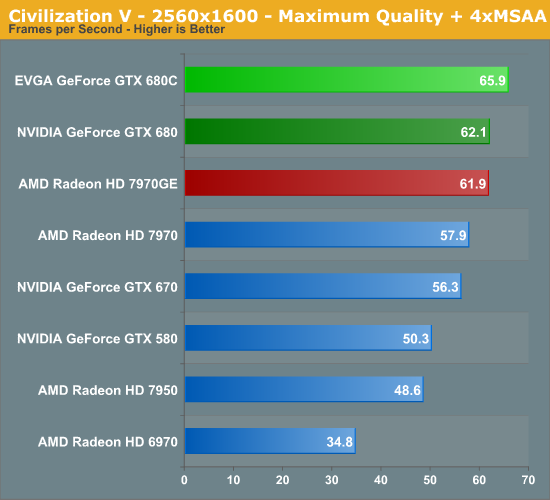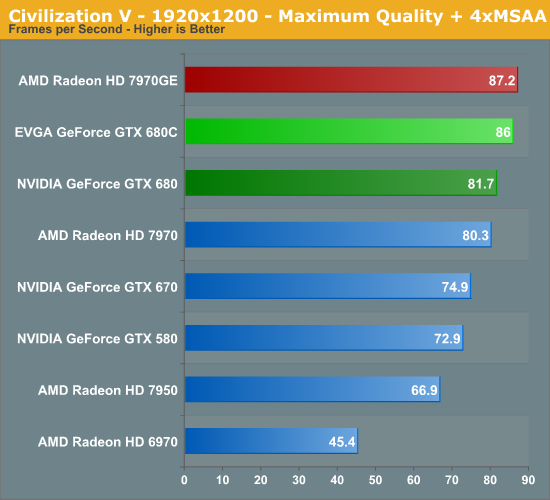 Finally, Civilization V sees some performance improvements, but again it's less than the full force of the factory GPU overclock. 6% at 2560 will be all that the GTX 680 Classified can do.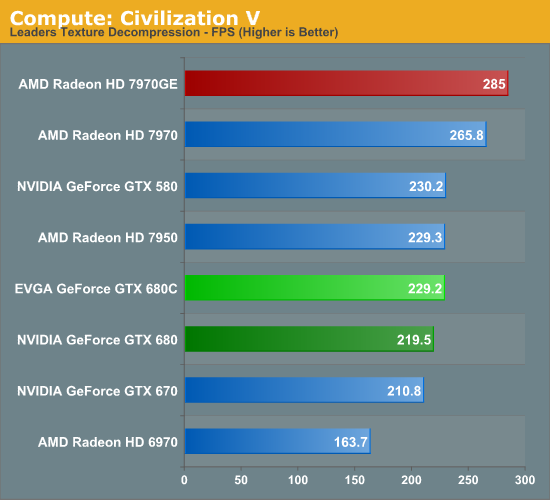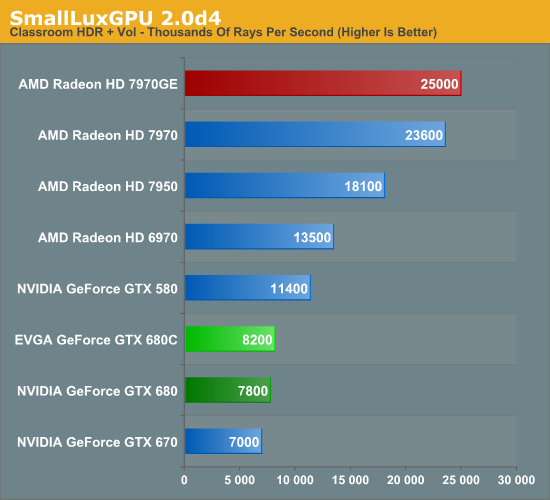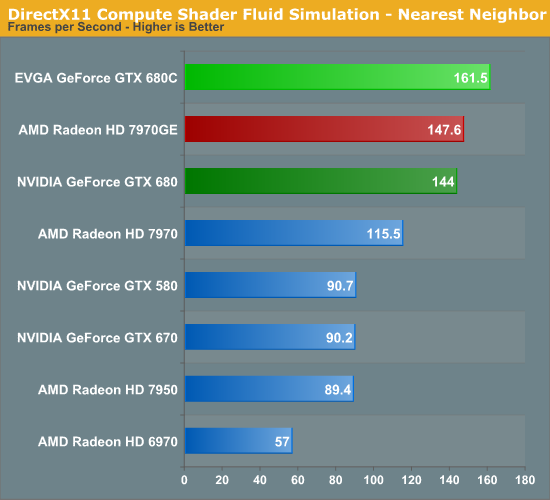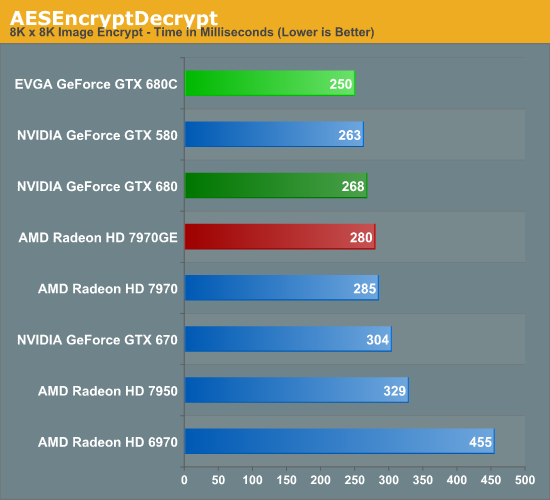 Moving on to compute quickly, since most compute tasks are GPU-bound the factory overclock does help to some degree. The Radeon HD 7970GE is still more than a potent adversary though.
Power, Temperature, & Noise
Wrapping up our look at the stock performance characteristics of the GTX 680 Classified, we have what's perhaps our most important results section: power, temperature, & noise.
When it comes to custom cards these results can often make or break a card, depending on the niche it's going for. The GTX 680 Classified is a high performing card, but it's not a card shooting for performance at any cost, so we expect to find some kind of reasonable balance here.
GeForce GTX 600 Series Voltages
EVGA GTX 680C Boost Load
Ref GTX 680 Boost Load
EVGA GTX 680C Idle
1.175v
1.175v
0.987v
Note that at its stock settings EVGA must follow NVIDIA's defaults, so the GTX 680 Classified has the same 1.175v load voltage as the reference GTX 680. This is where binning comes into play, as EVGA needs to identify GK104 GPUs that can reach 1100MHz+ at 1.175v in order to make the GTX 680 Classified a viable product.
EVGA GTX 680 Classified Average Clockspeed
Game
Clockspeed
Crysis: Warhead
1188MHz
Metro 2033
1211MHz
DiRT 3
1211MHz
Shogun2
1162MHz
Batman: Arkham City
1188MHz
Portal 2
1211MHz
Battlefield 3
1188MHz
Starcraft II
1188MHz
Skyrim
1211MHz
Civilization V
1188MHz
Meanwhile, looking at the GTX 680 Classified's median clockspeed during our benchmarks, we can see that our earlier speculation about the impact of such a high power target was true. The maximum boost bin on our card is 1201MHz (versus 1110MHz for our reference card), and with the exception of Shogun 2, the GTX 680 Classified is almost constantly at 1201MHz or the temperature-induced 1188MHz during our tests. With Shogun 2 that drops down to 1162MHz. With such a high power target the resulting clockspeeds are very consistent for a GTX 680 card.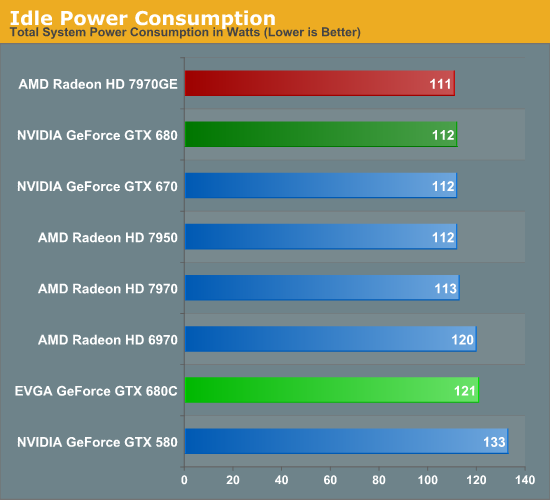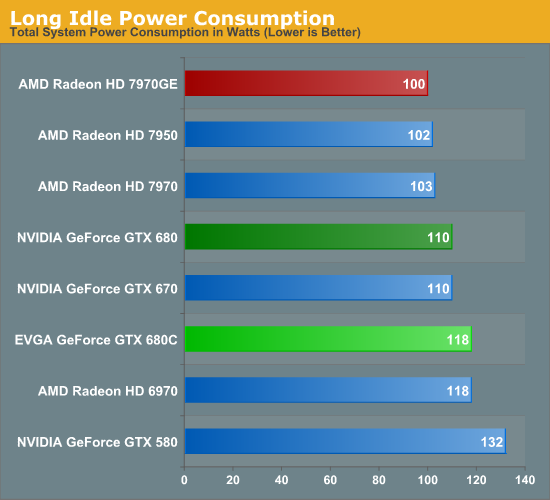 Moving on to power consumption, there are no great surprises here for the GTX 680 Classified when it comes to idle power consumption. With the additional VRM phases and more importantly 8 extra GDDR5 memory chips, idle power consumption has to go up. The impact is that idle power consumption rises by 8-9W, which would push the total idle power consumption of the card up to around 25W. Note however that this is still better than the GTX 580.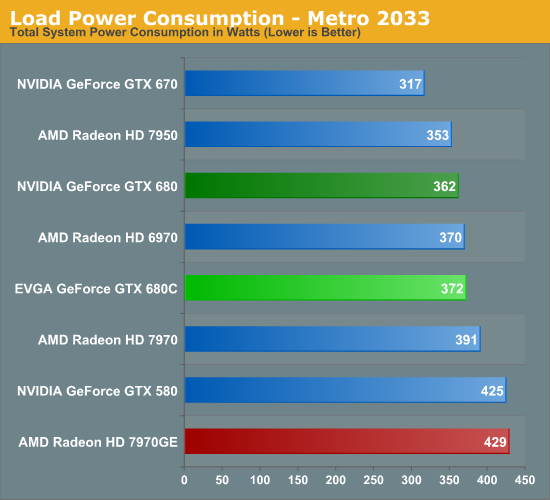 Load power on the other hand looks very good. In fact it's much better than we were expecting. Despite the additional memory chips and the factory overclock, under Metro power consumption only rises 10W at the wall. This is still less than the7970, let alone the 7970GE.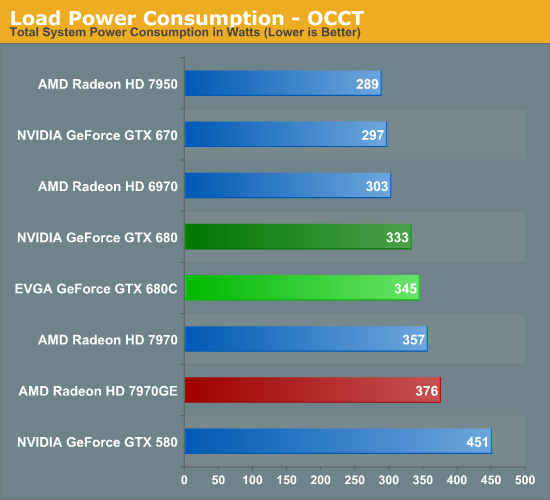 The story with OCCT is much the same. Here we can see that power at the wall increases by all of 12W, which is roughly the remaining difference between the GTX 680 Classified and the 7970. Ultimately the binning process necessary for EVGA to assign GK104 GPUs to their various products has pushed the very best GK104 GPUs into the Classified. The end result is that even at NVIDIA's standard voltage of 1.175v, the GK104 GPU in our card ends up consuming less power than a more typical GK104 GPU, which allows the GTX 680 Classified to partially offset the higher power consumption of the additional RAM, additional VRM phases, and the factory overclock.
The final result is that the GTX 680 Classified still consumes a bit more power than the reference GTX 680, but not immensely so. Furthermore depending on whether we're looking at Metro or OCCT, the GTX 680 Classified still draws 30-50W less than the next-nearest competitor, the 7970GE.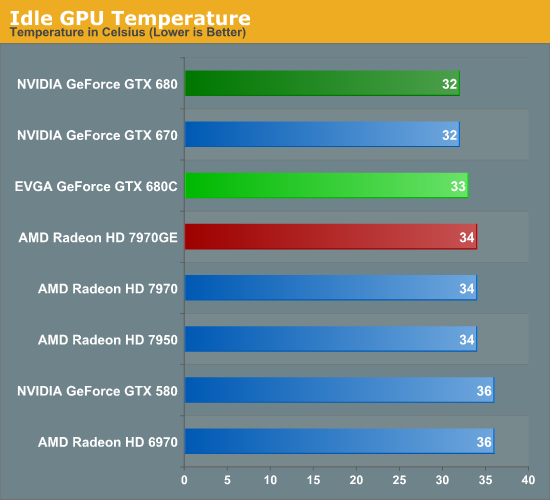 Moving on to temperatures, since EVGA has equipped the GTX 680 Classified with what's functionally a larger version of the GTX 680's blower, there are no grand surprises here. The GTX 680 Classified idles at 33C, which so far appears to be typical for these latest iterations of high-performance video cards.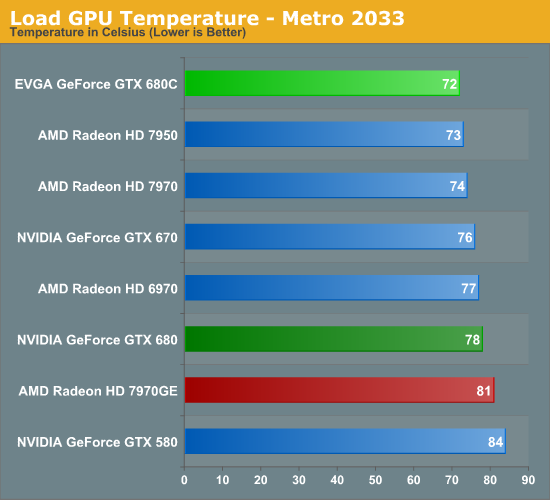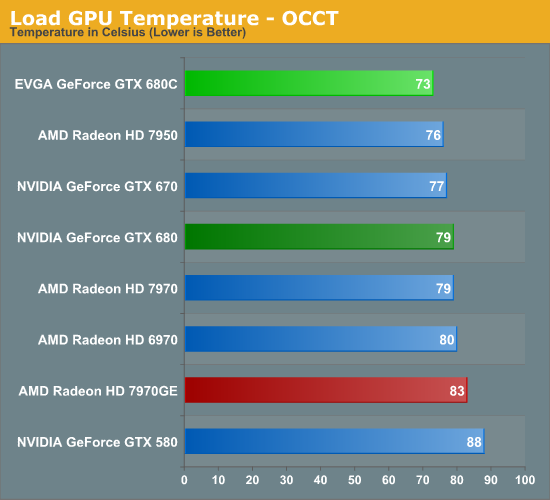 Load GPU temperatures on the other hand are clearly benefitting not only from the larger cooler of the GTX 680 Classified, but also its lower GPU power consumption. With both OCCT and Metro the GTX 680 Classified is 6C cooler than the reference GTX 680. Blowers aren't known as the most effective coolers, so to reach the low 70s like this is definitely impressive.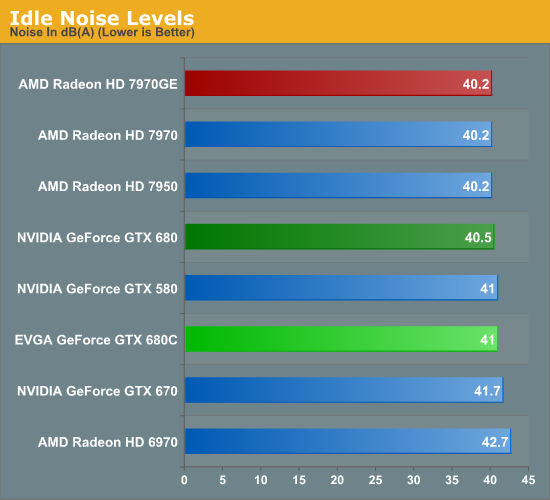 Last but not least we have our look at noise levels. Starting with idle noise, the GTX 680 Classified makes no significant tradeoff for its size. Idle noise ends up being a hair higher than the reference GTX 680, but not noticeably so.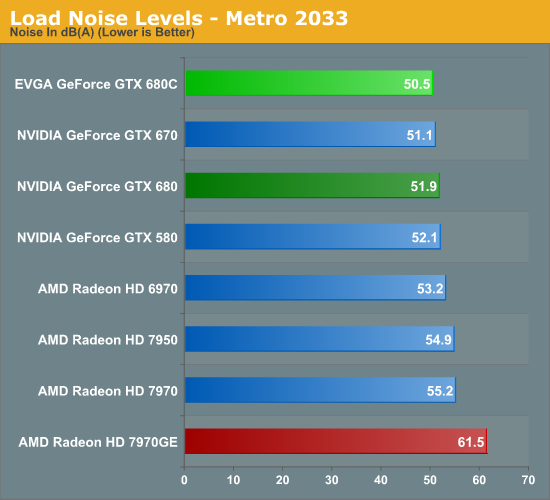 With load noise levels on the other hand we find ourselves once again impressed. The larger cooler and larger fan means that the GTX 680 Classified generates less noise than even the reference GTX 680, which was already a fairly quiet card for its performance level. We had expected EVGA to make some kind of temperature/noise tradeoff here but there's none to be found. They have managed to lower both at the same time.
Ultimately it's clear that while EVGA has engineered the GTX 680 Classified for heavy overclocking, they haven't sacrificed reference performance to get there. When it comes to both temperatures and noise, the GTX 680 Classified is suitably superior to the reference GTX 680. The fact that EVGA did all of this with a blower makes it all the more impressive, since we typically only see gains like these by switching to an open air cooler. Granted these improvements are largely a consequence of the need to overbuild the card for the kind of heavy overclocking it was designed for, but if you do run at stock there are definitely benefits to be realized.
Overclocked: Power, Temperature, & Noise
So far our look at the stock performance of the GTX 680 Classified has been more obligatory than critical. The GTX 680 Classified is first and foremost an overclocking card, and while EVGA ships it with a decent factory overclock it's the end-user overclock that is going to make the GTX 680 Classified stand apart from the crowd.
So how did the GTX 680 Classified fare? As always, we're going to break our results down into two categories. We've overclocked our sample both with and without overvolting it, to get an idea of just how much more headroom is left in the GK104 GPU at stock, and how much more headroom is unlocked through overvolting.
EVGA GTX 680 Classified Overclocking
Stock
OC
OC + OV
Core Clock
1111MHz
1211MHz
1287MHz
Max Boost Clock
1201MHz
1301MHz
1377MHz
Memory Clock
6GHz
6.4GHz
6.5GHz
Max Boost Voltage
1.175v
1.175v
1.275v
Without overvolting we were able to push our GTX 680 Classified an additional 100MHz(9%) on the core to 1211MHz. Given that we started with what was already a factory overclocked GPU, the fact that this is nearly 100Mhz beyond our next best card should come as no surprise. Binning doesn't just isolate GPUs that can reach EVGA's stock specifications, but it isolates those GPUs that can overclock better than the rest too.
Meanwhile on the memory front we were only able to push the memory a further 400MHz to 6.4GHz. This is noticeably less than what we've been able to push reference-based GTX 670/680 cards (which have reached nearly 7GHz), and it's not immediately clear why we're seeing this difference. With both a custom PCB and additional memory chips it's possible that either one could be holding back memory overclocking, or more likely it's a combination of the two. Regardless of the reason this does put the GTX 680 Classified in a bit of a bind, since the GTX 680 is no stranger to memory bandwidth starvation.
As for the impact of overvolting, unfortunately as it turns out overvolting didn't greatly improve our results. With a core voltage of 1.275v (0.1v over stock) we were able to hit a base clock of 1286MHz, which is just 75MHz higher than what we hit on the stock voltage of 1.175v. In fact both in absolute and relative terms we gained more from our initial stock voltage overclock than we did from the overvolting overclock. Which is not to say that overvolting doesn't help – clearly it does – but in our limited experience overvolting isn't unlocking any kind of amazing clockspeed. It's merely pushing GK104 a bit higher than it can go on stock voltage.
Memory overvolting doesn't have a particularly great impact either. With a memory voltage of 1.65v we were able to squeeze out another 100MHz with the GTX 680 Classified's 4GB of GDDR5. Much like the core overclock this is an improvement, but not greatly so.
Ultimately overvolting the GTX 680 Classified most certainly improves its overclockability, but at least on air you won't be hitting any obscene clocks. Even then we don't seem to be particularly temperature limited, so it's not clear whether better (but not extreme) cooling would improve our overclocking results.
But before we jump into our results, there's one more thing to take into consideration: that pesky power target. EVGA does have a higher power target, but even at 300W+ when using an increased power target, overvolting is going to quickly vault you towards it. The end result is that too much overvolting can make things slower, or at the very least limit the performance gains of what's already a limited clockspeed increase.
The solution to this is EVGA's BIOS switch, which effectively removes all of the power limits for the card, but this is not something to be used carelessly. Based on our temperature results with the stock BIOS there's still some headroom, but the fact that this switch is labeled "LN2" is telling. Disabling all of the power limits is probably not a good idea on the reference cooler, at least in our conservative opinion.
So now that we've gone over overclocking in detail, what has it done for power temperature and noise? Let's find out.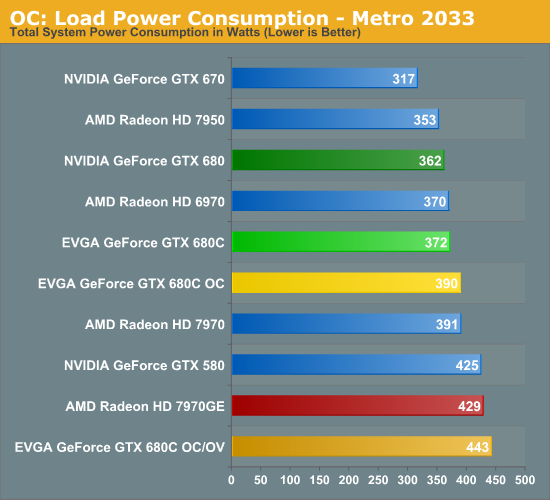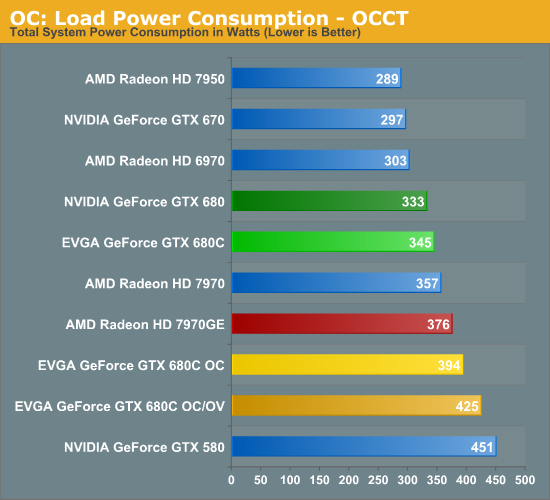 Starting as always with power consumption, as to be expected the impact of overclocking on power consumption varies wildly with whether we're overvolting. Without overvolting our overclock pushes power consumption at the wall up by 18W in Metro, and a much more significant 49W with OCCT (though do keep in mind that we've also raised our power target to +132%). At least as far as games go, without a voltage increase the overall increase in power consumption is fairly small.
Pouring on the voltage significantly increases the power consumption however in both Metro and OCCT. With Metro our power consumption is now 443W at the wall, and with OCCT that's 425W. This isn't to say that the overvolting wasn't worth it, but that additional 75MHz on the core clock and 100MHz memory clock has come with a significant cost.
As to be expected, load temperatures end up reflecting our power consumption figures. Without overvolting we see a 1C increase under Metro and a 7C increase under OCCT. Overvolting pushes the GTX 680 Classified over 80C in all circumstances, topping out at 83C with OCCT. At only 83C there's still some thermal headroom to play with here for overclocking, but at 1.275v we're approaching the safe & sane limits for GK104. Users looking to push the voltage harder will want better cooling, but even better cooling may not be enough in the long-run.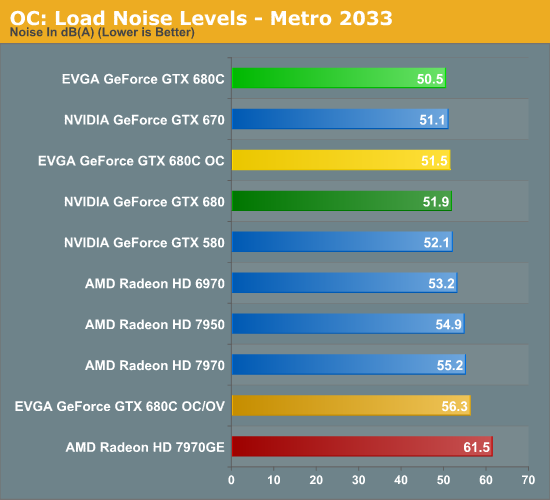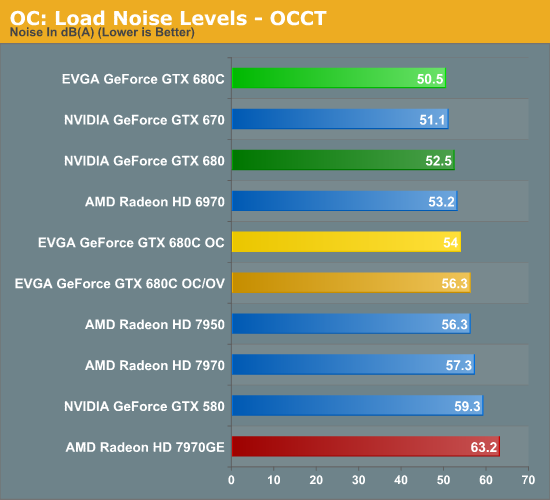 Finally we have our look at load noise. Without overvolting we see the overclocked GTX 680 Classified hit 51.5dB, which incredibly enough is still a smidge quieter than the reference GTX 680. For those of you looking for a fairly quiet overclocking card, the GTX 680 Classified is starting to look very good.
As for overvolting, in both Metro and OCCT cause our sample card to hit 56.3dB. This is understandably louder than the reference GTX 680 at this point, though in absolute terms whether it's particularly loud or not depends on what you're willing to put up with. The consolation prize here is that even with overclocking and overvolting it's still 5dB+ quieter than the reference 7970GE.
OC: Gaming Performance
Having taken a look at how well we were able to overclock the GTX 680 Classified and what the power, temperature, and noise impact of that overclock was, it's finally time to take a look at what it does for gaming performance. As always we've culled our results a bit to focus on games that need the extra performance and avoid games that are likely to be CPU limited (and hence waste the overclock).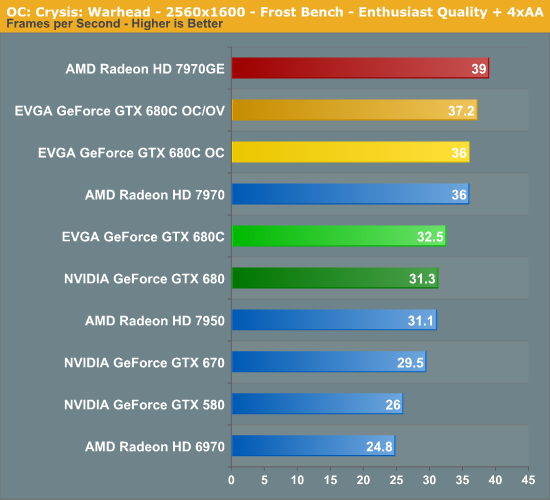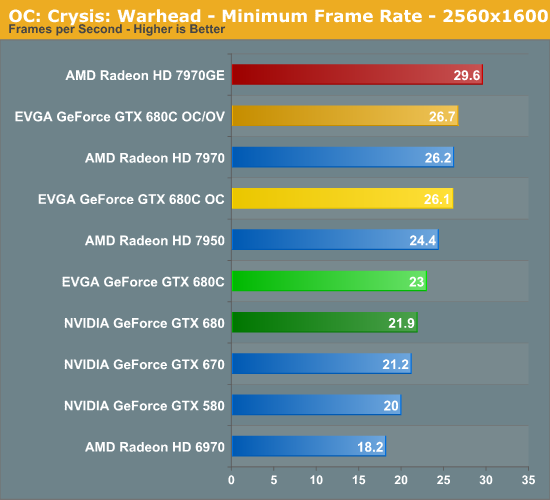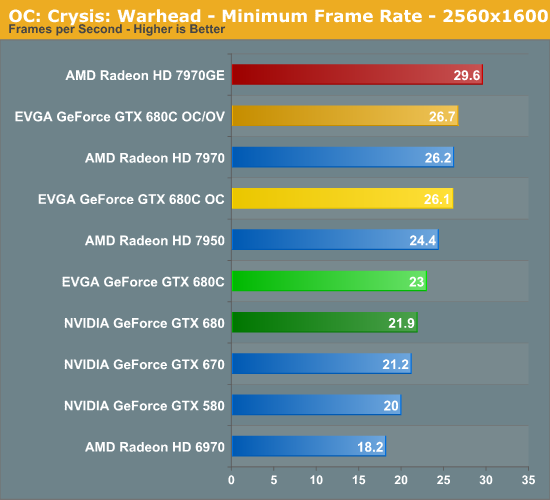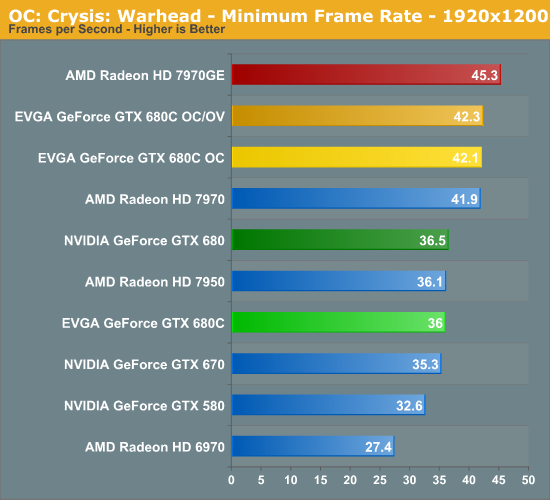 Thanks in large part to our memory overclock the GTX 680 Classified finally picks up some Steam in Crysis. At 36fps for overclocking without overvolting it's just enough to tie the Radeon HD 7970, which shows just how far behind the 7970 the GTX 680 is. The higher overclocks afforded by overvolting improve performance a bit more, but with such a small improvement in memory clocks we see an equally small improvement in Crysis performance.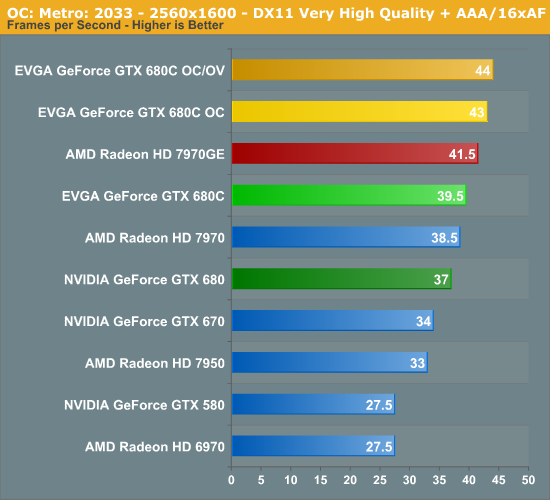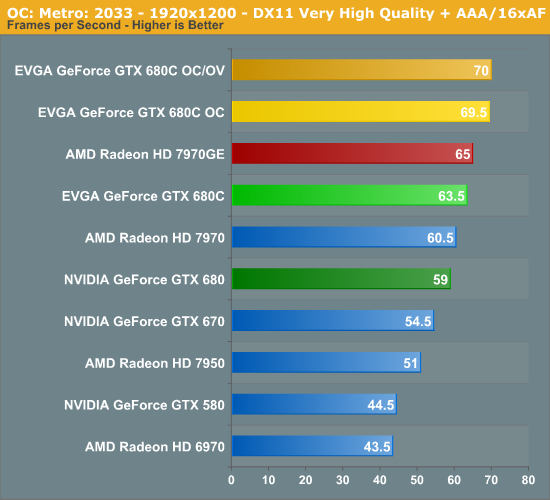 Metro responds well to our combination of core overclocking and memory overclocking, which leads to the stock voltage overclocked GTX 680 Classified picking up 9% and pushing it ahead of the 7970GE to 43fps. Overvolting and further overclocking adds just one more frame per second however.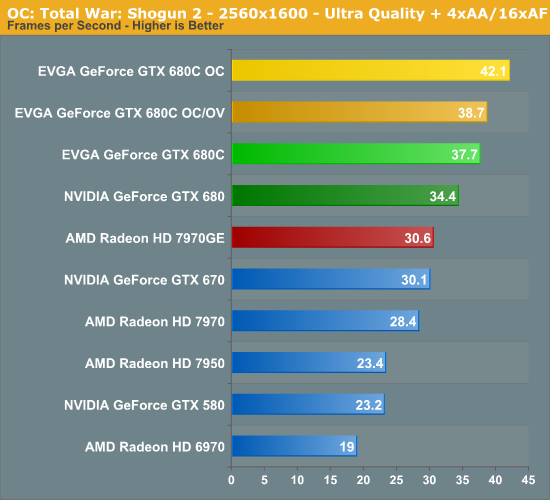 Shogun 2 ends up being our most interesting result, but not necessarily for the right reasons. As we alluded to earlier, overvolting will send power consumption shooting towards the GTX 680 Classified's power target, which is exactly what has happened here. The overclock without overvolting sees a respectable performance increase, but additional voltage sends performance back down to the point where it's not much better than the stock GTX 680 Classified. Overall our core clock was typically under 1100Mhz here when overvolted.
Shogun 2 appears to be an outlier among all of the games we test, but it's a stark reminder that there's more to overclocking than just adding power and cranking up the core clock.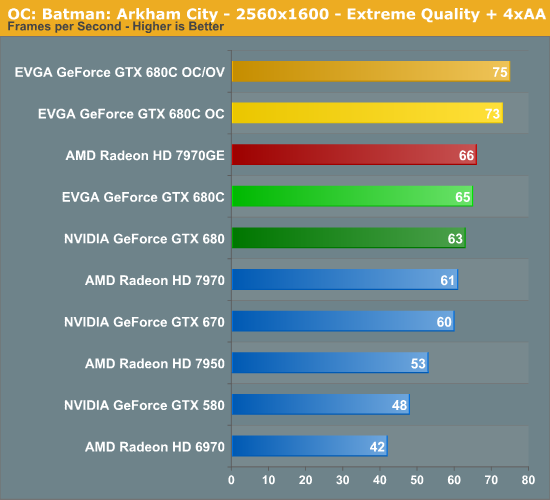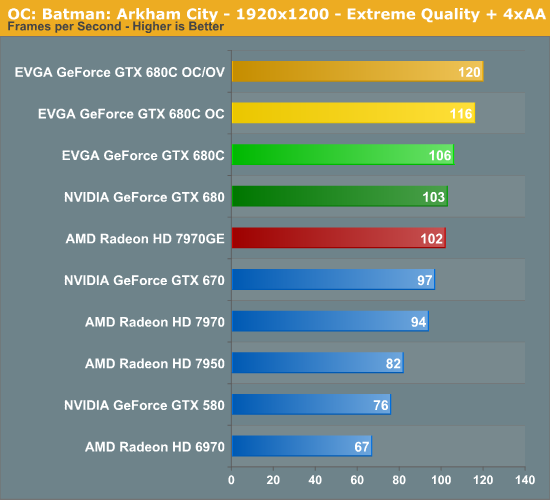 Where the stock GTX 680 Classified didn't greatly improve on the reference GTX 680, overclocking has changed things significantly. 73fps represents a 12% performance improvement for the stock voltage overclocked GTX 680 Classified, while overvolting gets us to 75fps.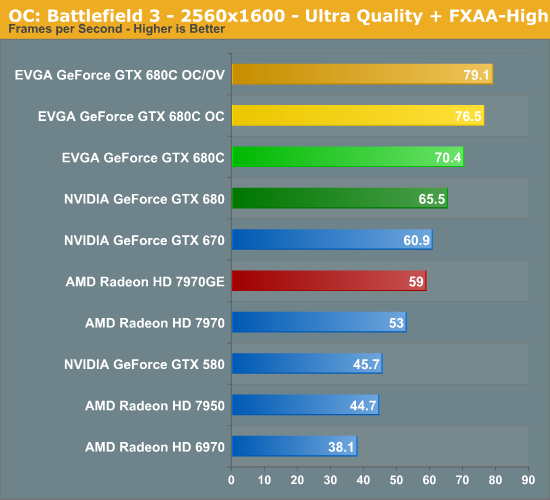 Finally with BF3 we see another solid gain from overclocking, with the non-overvolted GTX 680 Classified improving over the stock card by 9% to 76.5fps. Overvolting gets a further 2.6fps (3%) to 79.1fps.
Final Words
Wrapping things up, it's hard not to find ourselves coming to two opinions on EVGA's GeForce GTX 680 Classified.
Treated like any other GTX 680, out of the box the GTX 680 is a very impressive card. EVGA's various touches such as 4GB of RAM, a larger cooler, a factory overclock, and of course additional VRM circuitry that leads to a higher stock power target, all serve to make the GTX 680 Classified a clearly better card than the reference GTX 680. Furthermore thanks in large part to EVGA's binning there's even more overclocking headroom to play with, leading us to reach a 1211MHz core clock without ever increasing its voltage. It's a very good – if very expensive – GTX 680.
Of course the real draw with the GTX 680 Classified is with its overvolting support, and that's where things don't hold up quite as well. From an end-user perspective NVIDIA's overvolting restrictions make the entire voltage manipulation process needlessly difficult. The fact that an external controller is required for voltage control and that it can't easily be tied to overclocking settings is a considerable step back from what GTX 500 series cards could do. NVIDIA has purposely made overvolting more difficult, and while it's not impossible it's enough to give you pause as to whether the additional effort and the additional cost are worth it.
Bringing that into further consideration is that our overclocking results with overvolting weren't all that great. With a reasonable voltage increase we picked up an additional 75MHz on the GPU clock and 100MHz on the memory clock, which compared to our initial overclock on stock voltage isn't a particularly big improvement. While we hate to draw overclocking conclusions from a single sample, if our results are anywhere near accurate then it means EVGA is wringing out most of the potential of the GTX 680 in the factory, which is great for conservative overclocking, but it diminishes the value of having overvolting.
Ultimately there's a sizable contingent of enthusiasts that will buy the GTX 680 Classified regardless of the above simply because it has overvolting support, and those enthusiasts will be perfectly happy with the card even with the restrictions NVIDIA has put in place. At the same time gamers who are simply looking for an ultra-premium GTX 680 will find that the GTX 680 Classified fills that role well. Otherwise if you're on the fringe and are considering other cards (e.g. the GTX 680 FTW+), then this will probably come down to how you view its unique features. The GTX 680 Classified is without question an impressive card, but with a price tag of $659 (+$80 for EVBot) that may not be quite enough if you don't value voltage control.