Original Link: http://www.anandtech.com/show/6091/htc-droid-incredible-4g-lte-review


The original Droid Incredible was released as the third wave in Verizon's push to battle Apple's iPhone with modern, capable Android phones. Though its internals and display were almost plucked straight from a Nexus One, the exterior of the device took on a more aggressive and playful tone, with crimson red accents around the camera and under the battery cover. The 1 GHz Snapdragon SoC, large (for the time) 3.7" AMOLED display, and cutting edge 8MP camera made the phone worthy of its place as a 'halo' device on Verizon. But that was when 'halo' devices had just a few months in the spotlight before being replaced by the next best thing.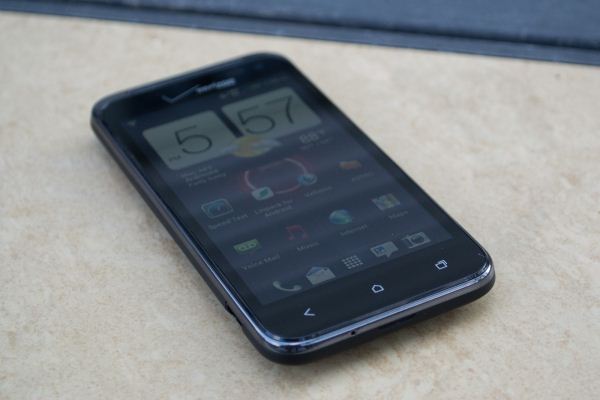 A lot has changed in the 30 months since the Incredible's premier, but the family resemblance is hard to miss on the Droid Incredible 4G LTE. Released as the third iteration of the Incredible line, the Incredible 4G foregoes the new styling and philosophy of HTC's One series, maintaining instead the classic Incredible styling of the past, advanced ever so incrementally. The back is defined by its odd hump made of soft-touch plastic, and now featuring a ribbed texture to improve grip. The red accents persist on the power button, front speaker grill and around the camera lens (and the superfluous Beats logo), but beneath that battery cover is just an expanse of matte black. The edge of the device is rimmed by black chromed plastic, and the now 4" display sits raised above the main body, and with a raised edge to protect it when laid face down. HTC has opted for dedicated capacitive buttons, in the now familiar ICS locations, and a large Verizon logo is planted above the screen.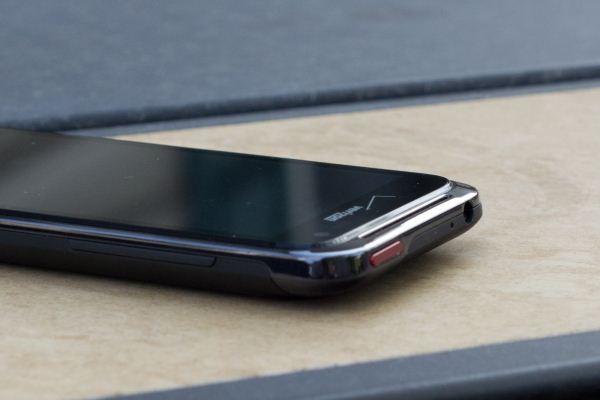 The bottom of the device is otherwise bare but for the voice mic, while the top has a second mic for noise cancellation and stereo audio recording, along with the power button and headphone port. The volume button is now on the right side (when viewing the screen in landscape), and isn't quite as raised or distinguishable from the surrounding plastic as I'd like; the left side sports just a microUSB port. The battery cover retains the HTC legacy, being thick and laden with antennas; this in contrast to Samsung's battery covers which tended to be almost terrifyingly flimsy. Beneath it you'll find a microSD slot and the microSIM tray, and a respectable 1700 mAh battery. With the same power-sipping 28nm internals (and underclocked at that) of the One S, and One X for AT&T, that battery should do the Incredible 4G justice, but more on that later.
Physical Comparison
Apple iPhone 4S
HTC Droid Incredible 4G LTE
HTC One S
HTC One X (AT&T)
Height
115.2 mm (4.5")
121.9 mm (4.8")
130.9 mm (5.15")
134.8 mm (5.31")
Width
58.6 mm (2.31")
61.0 mm (2.4")
65 mm (2.56")
69.9 mm (2.75")
Depth
9.3 mm ( 0.37")
11.7 mm (0.46")
7.8 mm (0.31")
8.9 mm (0.35")
Weight
140 g (4.9 oz)
132 g (4.66 oz)
119.5 (4.22 oz)
129 g (4.6 oz)
CPU
Apple A5 @ ~800MHz Dual Core Cortex A9
1.2 GHz Dual Core Qualcomm Snapdragon MSM8960
1.5 GHz Dual Core Qualcomm Snapdragon MSM8260A
1.5 GHz Dual Core Qualcomm Snapdragon MSM8960
GPU
PowerVR SGX 543MP2
Adreno 225
Adreno 225
Adreno 225
RAM
512MB LPDDR2-800
1 GB RAM
1 GB LPDDR2
1 GB LPDDR2
NAND
16GB, 32GB or 64GB integrated
8 GB NAND with up to 32 GB microSD
16 GB NAND
16 GB NAND
Camera
8 MP with LED Flash, Front Facing Camera
8 MP AF/LED Flash, VGA front facing
8 MP with AF/LED Flash, VGA front facing
8 MP with AF/LED Flash, 1.3 MP front facing
Screen
3.5" 640 x 960 LED backlit LCD
4.0" 960 x 540 Super LCD
4.3" 960 x 540 Super AMOLED
4.7" 1280 x 720 LCD-TFT
Battery
Internal 5.3 Whr
Removable 6.46 Whr
Internal 6.27 Whr
Internal 6.66 Whr
At nearly a half inch thick, the Incredible 4G is making no feints towards svelteness, and while HTC devices never feel plasticky and cheap, their design language has moved forward, yet this device remains in the past. But with updated internals, and a display whose only concession is size, this phone shouldn't be a slouch. But is there really a place for a mid-range phone in todays market? Let's dig-in and find out.
This is a good time to be a display lover, both in the mobile space and in the notebook and tablet space. Not that long ago we bemoaned the absurdity of 4.7" WVGA PenTile displays, with pixels so large you could almost imagine them plucking them up with tweezers. Now, we are awash in gorgeous HD displays, PenTile or otherwise, with fantastic viewing angles, fantastic brightness, and somehow adding nothing at all to the thickness of the handset. So, given its family's 'halo' origins, is it a burden for the Incredible 4G to sport a relatively paltry 960x540 qHD display?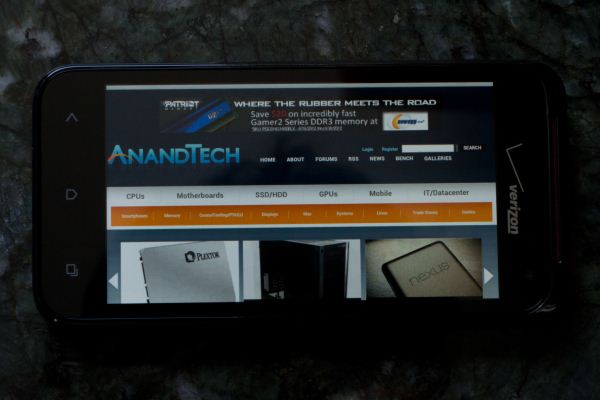 The Incredible 4G LTE's Super LCD 4" panel is not nearly so bad as the resolution might seem to imply. There's an error endemic to the industry to use size and resolution as the only hallmarks for display quality, and the price for that are absurdities like the HTC Titan's 4.7" WVGA display. When Apple introduced the Retina Display on the iPhone 4, it was the highest density display seen in the mobile space. That high pixel density was tied to good color representation and excellent viewing angles, and made the iPhone the gold standard for phone displays. The first return salvo from Android manufacturer's were bigger. That trend started with the Droid X, which at 4.3" was considered possitively massive at the time; though its WVGA resolution made it adequate at best in terms of pixel density. Over the next year and a half displays continued to grow (capping out at the Note's 5.3" display), while resolutions stalled first at WVGA, then briefly at qHD and now finally at 720p. PenTile was a temporizing move, that had mixed results at first, and was glaring at lower resolutions. We hope that issue has finally been settled with screens like the Galaxy S III's 4.8" HD Super AMOLED panel showing that subpixel densities well above 300 ppi make the stripe indistinguishable to the human eye.
But in real terms, if there are to be smaller screens, there must be lower resolutions. Let's take for example a theoretical 4" 1280x720 panel; with a pixel density of 367 ppi it would be the highest density display on a phone by some margin. There's a real power cost to pushing those extra pixels, both in terms of the panel and the additional GPU performance necessary. Now, HTC could overcome the power issue without resorting to an ever thicker body, or one more oddly shaped, I would be first in line for that device. Until then, though, a 4" phone deserves a greater than WVGA resolution, and qHD is the right choice.
Angular resolution is our latest display measurement, and with it the key to recall is that as you approach and then drop below 1 arc minute, the human eye's ability to discern an individual pixel becomes impossible. The Incredible 4G's panel fares better here than other qHD screens, and is almost but not quite at 1 arc minute. This matches real world performance, where unless I brought the screen artificially close to my eyes, I never noticed individual pixels. Does the One X have a better angular resolution? Yep. Would a 720p 4" panel have a better angular resolution? Yep. Does that make this a bad display? Not at all.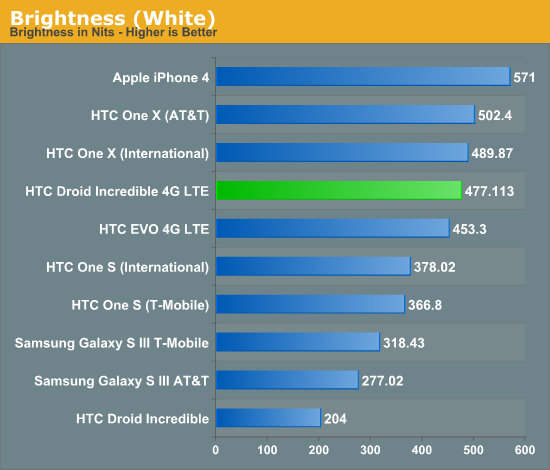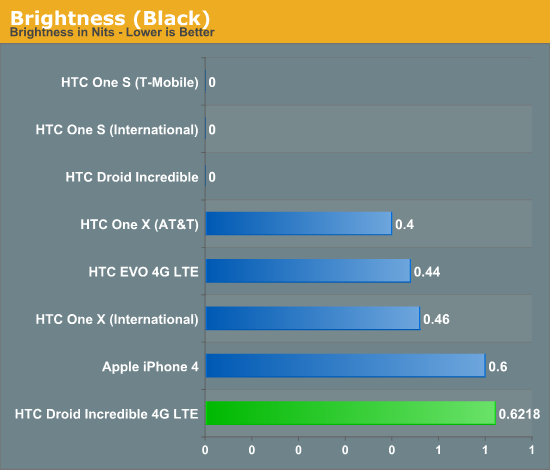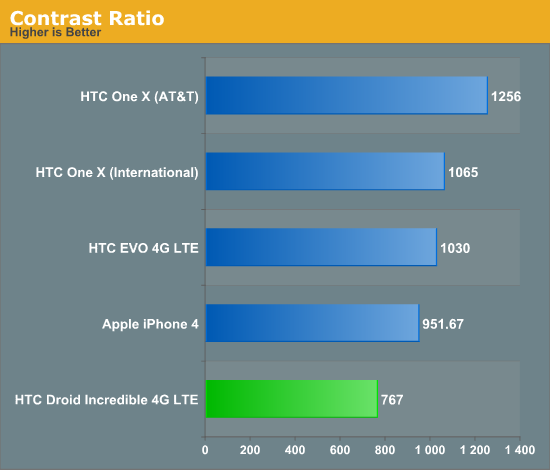 Brightness is comparable to the rest of the One series, though black level isn't exactly stellar. The result is a contrast ratio which isn't class leading, but certainly not unlivable. If you watch a lot of movies on your phone you might have some satisfaction issues; but then you're watching a movie on a 4" display so, since you've already overcome that, you'll hardly notice. Where there are no compromises is in viewing angles or outdoor visibility. RGB coverage looks great, and color temperature is good at just under 7000K. In the last few years, smaller phones have been left to smaller pricing, and often suffered from poorer displays as a result. Here though, there've been no concessions made to quality; if there's room for a 4" device in the mobile handset space, it should be as good as the Incredible 4G LTE's.
The mobile SoC space is generational, just as the x86 space has been for ages. The ARM Cortex-A9 generation is still with us, with Cortex-A15 SoCs not expected to make their way to devices until 2013. But Qualcomm's bespoke A15 competitor, Krait, is already with us, and the easy choice for top of the line handsets, particularly in the carrier driven US market. But this isn't a top of the line handset, so Verizon ordered up the Incredible 4G clocked at 1.2 GHz instead of the S4's full 1.5 GHz. So what does an underclocked S4 net you?
We'll start with our more CPU intensive tests.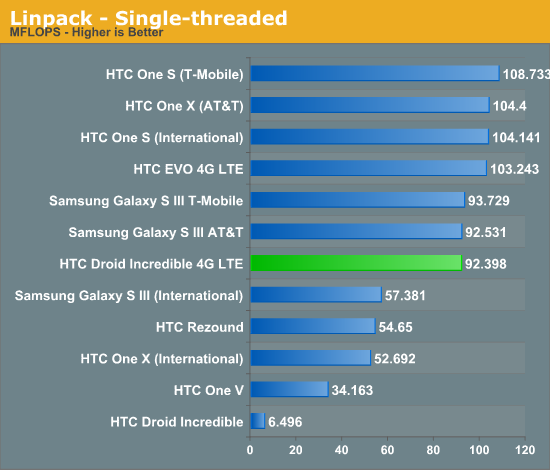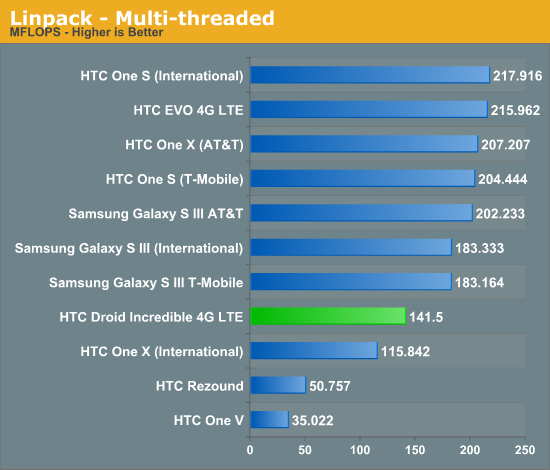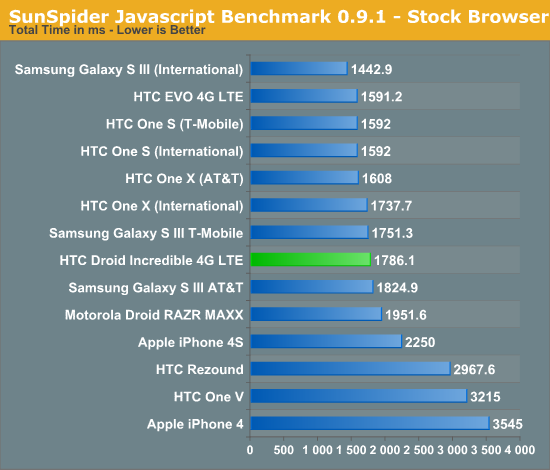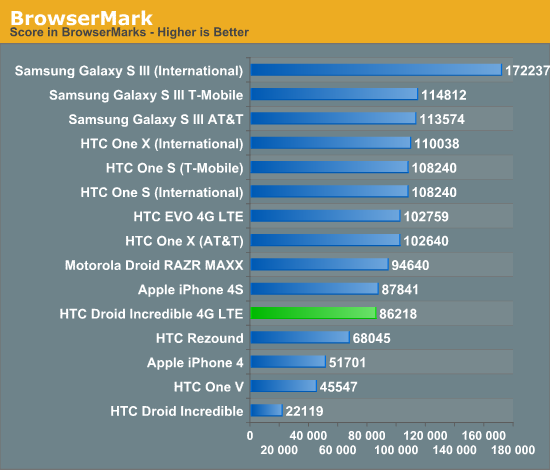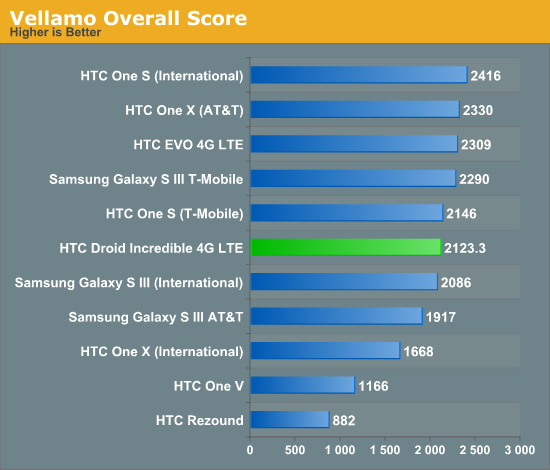 There's a clear performance deficit relative to the other S4 devices on the market, though the S4 still outperforms many of the devices in our chart. The deficits are worst in the Linpack tests, though it's unclear why they should exceed the 20% clock deficit. Rendering tests are within the expected deficit, though. What about GPU performance?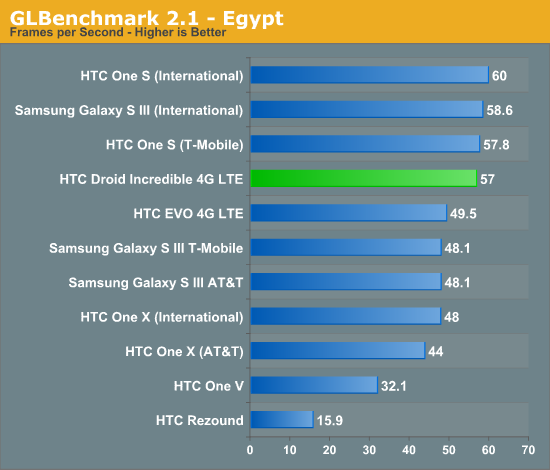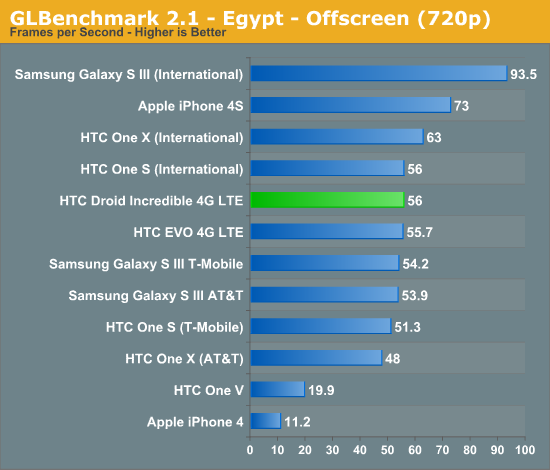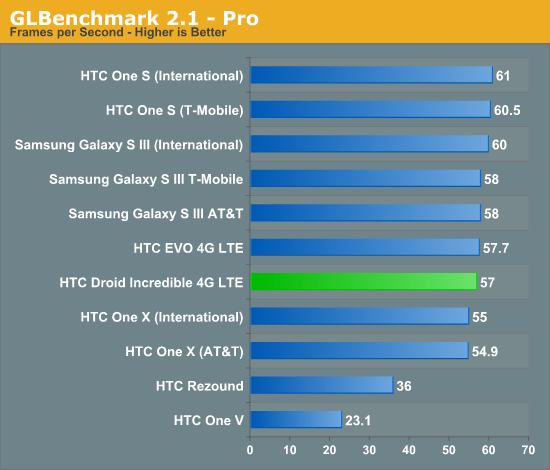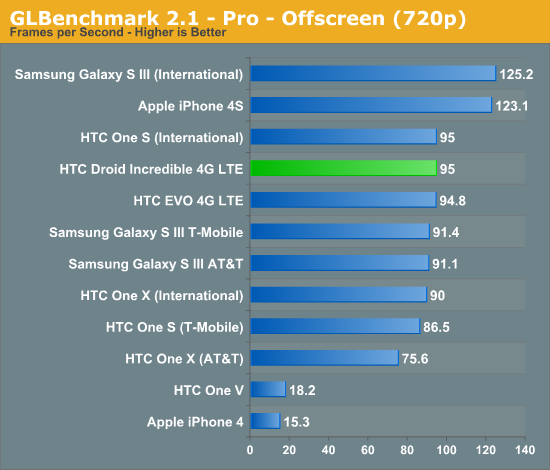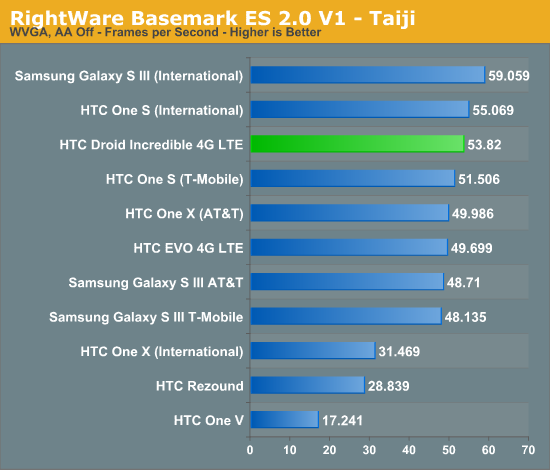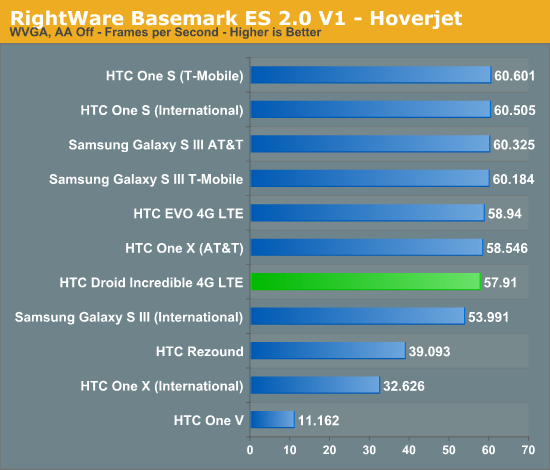 Our GPU tests are starting to show their age, with Vsync getting pegged for the duration of several of them. Even in the challenging offscreen GLBenchmark Egypt test we still see performance approaching 60 fps. Basemark's Taiji and HoverJet tests typically favor Adreno GPUs, and this is no exception. So, while Rightware's tests don't help us stratify the Incredible 4G LTE against non-S4 handsets, it does clue us into something else. With performance that falls in line with the other S4 handsets, but below Vsync in Taiji, it's almost certain that the GPU didn't suffer the same clock penalty as the CPU.
All this aside, there's still the core issue of Ice Cream Sandwich's UI performance. With the Galaxy Nexus running worlds more smoothly with Jelly Bean, despite last-gen internals, there's something very compelling about it. Certainly Jelly Bean should have the potential to be just as smooth on other hardware when the update gets distributed, but with Verizon the eternal question is when that update will actually be distributed. For now, though, this is no better or worse than any other Android handset with similar internals. The UI is buttery smooth across home screens, but open up the gallery or app switcher and the lag isn't just perceivable, it's a nuisance.
There will always be those of us, that don't like anything outside the stock Android theme. That said, there's a real sense of completeness and value to Sense 4 as applied to ICS on this device. The theming is pervasive, so you no longer have some menus or scenarios that revert to the stock theme. And flourishes that previously hijacked the interface are now fully contained within their respective widget. In the past the worst offender was the weather widget, which on coming out of stand by was liable to animate the current weather across the whole of your screen. Pretty? Yes. Useful? Not when I'm trying to check my e-mail.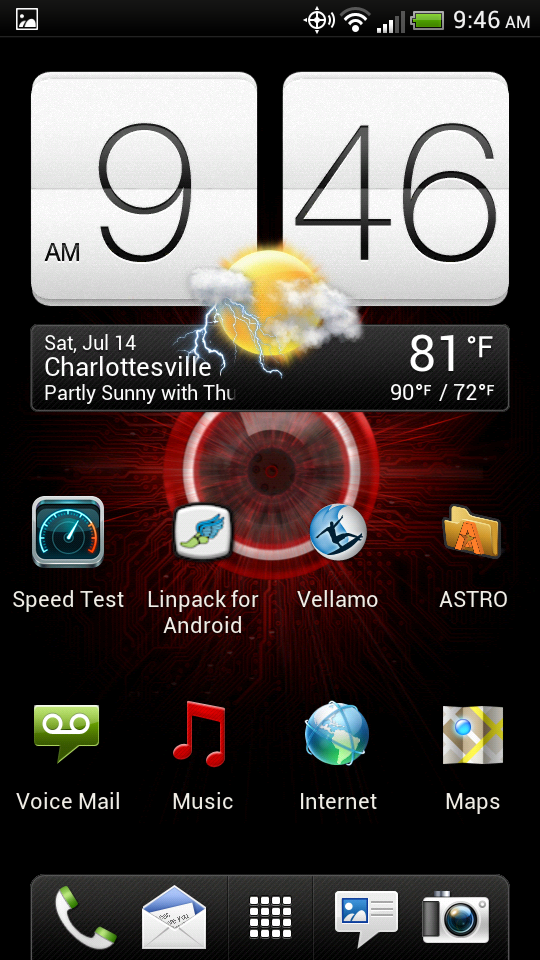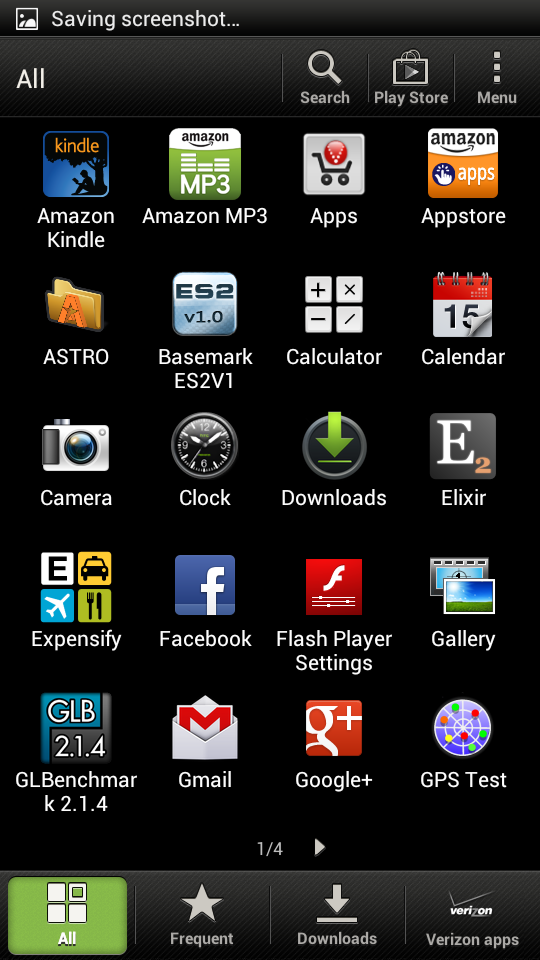 So with Sense now a useful addition, if one that I could still do without, what's the rest of the software load-out like? In a word: Verizon. The Sense app drawer comes with three tabs for app organization, All, Frequent and Downloaded. Er, that is, it comes with three tabs on other phones. On the Incredible 4G we also have the Verizon tab. So, even if you could delete the offending apps, you'd still be left with a branded reminder that the phone was brought to you by the good graces of Verizon Wireless. As if the monthly fee and on-device branding wasn't enough. I'm not trying to draw VZW's ire, but it'd be a different matter entirely if these pack-ins were full-blown games and value adding apps. Instead, the superfluous VZ Navigator sits beside the My Verizon app and demos for Let's Golf and Real Racing 2. Not that the games are labeled demos, no you discover that after you play a round and then wonder why you're not moving on to the next race. And in a phone with 8GB of NAND on-board, microSD notwithstanding, every precious GB should be for the user to fill.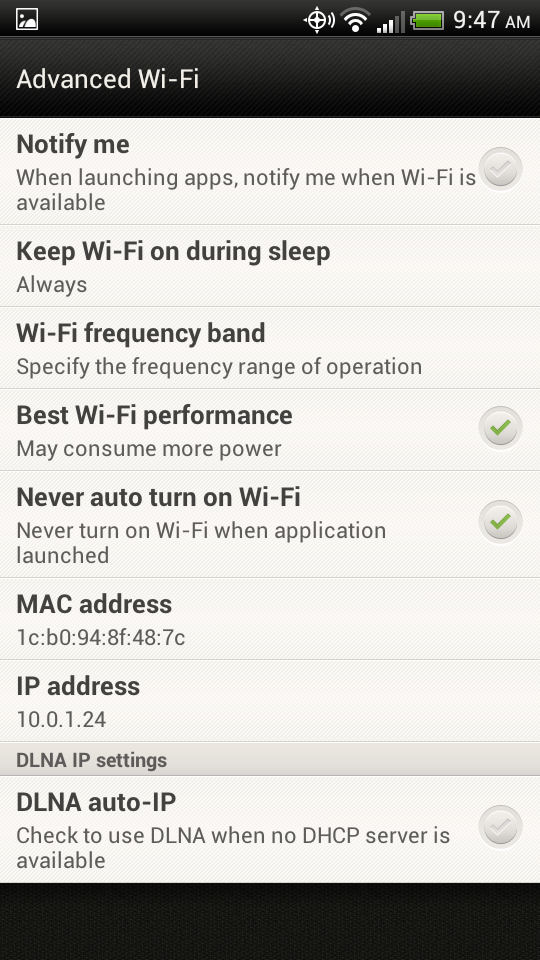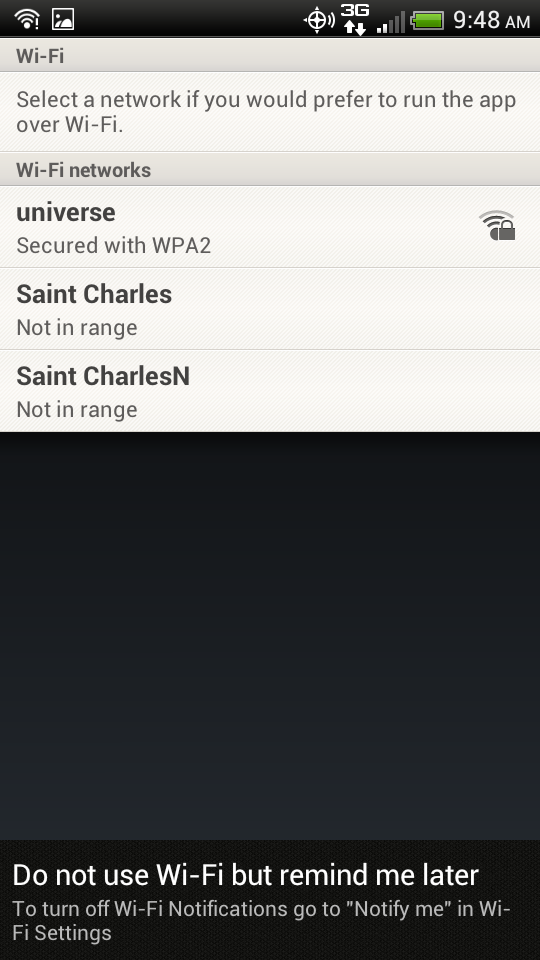 There's two other things I wanted to cover with regards the software: the WiFi notifier and the browser. Power up your new phone and you'll quickly be greeted by a message prompting you to connect to your WiFi network. Android users are used to this, it's pretty standard stuff. Now imagine that prompt appearing every time you open an app while not connected to WiFi. Imagine there being a persistent notification in the notification shade letting you know whether you're connected to a WiFi network, always. That, apparently, is something Verizon thinks we need, based on what we've seen of the VZW Galaxy S 3. The purpose, of course, is to ensure that you don't unnecessarily use their network, 4G or otherwise. With nearly all of their users now tied to tiered data plans, this is no doubt an effort to squelch complaints by users that went over while streaming movies or doing video chat, where WiFi options were available. There's an option buried in the WiFi menus to turn off this notification, thankfully, but an opt-in prompt during set-up would be preferred.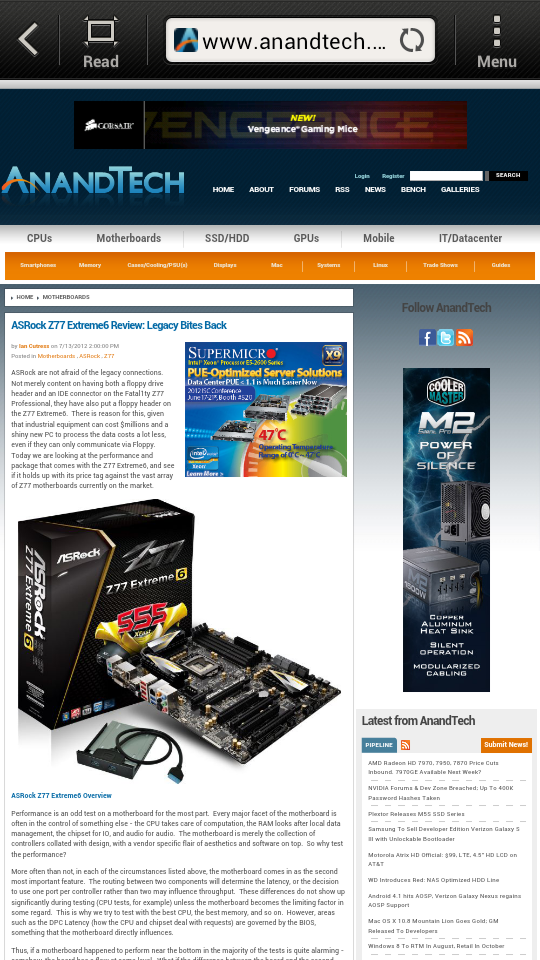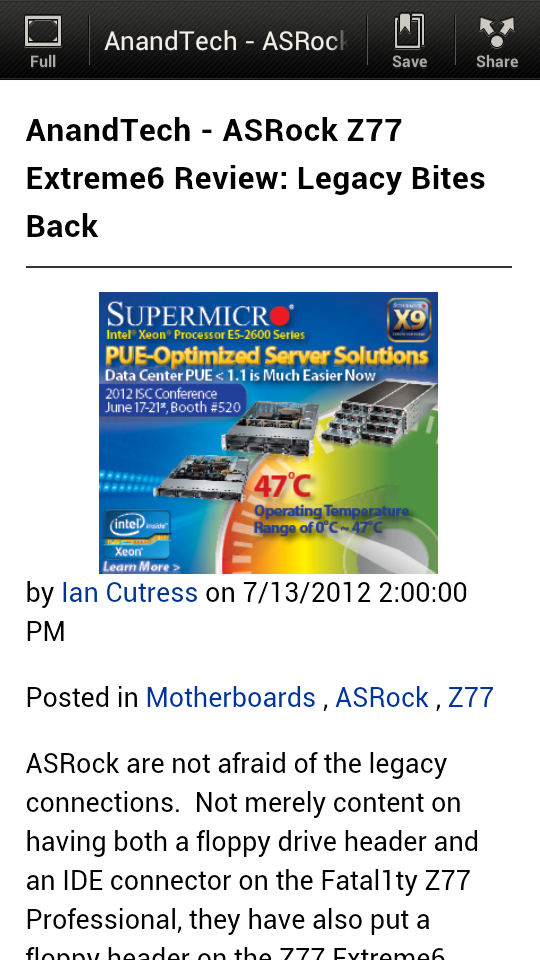 The browser is a much more personal nuisance. While using a web browser a user wants to have as much real estate devoted to the site as possible, though this shouldn't be at the expense of absent or ambiguous controls. The stock Android browser includes a back/stop, button and the ubiquitous Menu button, along with a tabs button, which looks like a stack of folders. The Sense 4 browser, features a back button, a tiny Refresh/Stop button, an oversized menu button, and a huge Read button. At first glace I have no idea what a Read button is meant to do, but I know that it means to get to a list of tabs I have to hit Menu and then Tabs. HTC does have a solution for this, three-finger gestures are implemented for switching between open browser tabs, and this is fine for those that don't ever have too many tabs open at once, but get over four or five and you could be swiping back and forth a lot to find the tab you're looking for. The Read button is handy, I'll admit, but I would appreciate the option to place it under a menu, and restore the tabs button. Browser issues are a somewhat self-limiting problem, as Chrome will be the default browser when Jelly Bean reaches the One series, and its kin, but for now, it's a point of disfavor for me.
Camera
The One series has one of the nicest cameras found in a phone, and in a stem to stearn fashion. Everything from the optics to the ISP performs as well as we could expect, and the result is a camera that's both versatile in features and excellent in image quality. With the Droid Incredible 4G LTE, some compromises were made, likely in pursuit of a lower price. First, the optics aren't the f/2.0 set-up of the One series, in its place is an f/2.2 28 mm set-up, likely inherited from the HTC Rezound. The result is low light performance that relies more on the ISP to yield useful images. And that ISP? It's not HTC's ImageSense ISP, and they weren't willing to say more about what ISP is used. Whatever silicon they're leveraging, it's a fair performer, if not quite a match for the One series. Pictures can be shot rapidly with just a minor lag, but where the One X camera could get mashed for nearly instantaneous images, the Droid Incredible 4G's camera is not quite so fast.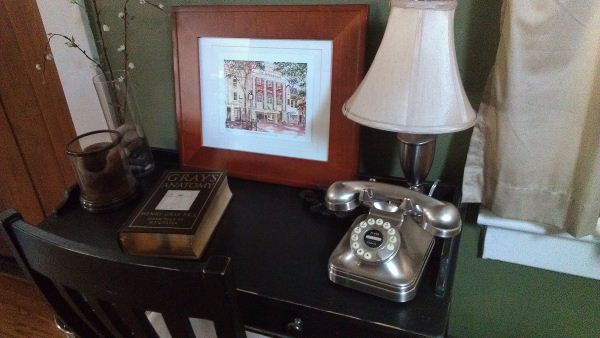 Quality, though, doesn't seem to have suffered so much for all this. The usual filters and parlour tricks are all here, including Panorama and HDR mode. Those are joined by a few unique ones, including a Whiteboard mode that seems targeted at my habit of shooting a picture of the whiteboard with my grocery list on it while on my way out the door. I'm not as well equipped as Brian to provide a gallery of comparison shots from every major handset released, but the gallery above should give you some idea of what you can expect. Low light performance does suffer, but frame a good shot in decent light and the image should impress.
Video performance seems to suffer a little more than single shots. The camera can record in 1080p30, and the files come in at 1920x1088 and 10 Mbit/s, and suffer from blockiness and compression artifact. Audio recording provides decent separation between left and right channels, but be careful of trying to refocus during a shot, an audible click is recorded as the lens shifts. A novelty slow motion setting is provided that records at 768x432 and seems to be recording at around 100 fps, with playback around 25 fps. Audio isn't recorded during this setting and quality is degraded versus the HD recording, but for a quick shot of a car passing by, it'll do.
Call Quality and Speakerphone
A phone is still a phone, even if it's a smartphone. So how does the Incredible 4G do in that regard? Voice quality was clear and plenty loud enough. I wouldn't say it was pin drop quality, but I could make out voices on the other line without difficulty. Some speakerphones are designed to work well on phones screen down or up, not this one, though. The speaker grill is on the large hump on the back, near the camera sensor. This means that when left screen up the speaker is somewhat muffled, flip it over, though, and all's better. I've yet to pick up all the fancy testing gear our elves are hard at work building so I don't have empiric data on loudness, but I can say it was enough that I forewent my laptop as an audio source while working in the kitchen. And then there's that Beats logo on the back. As Brian mentioned in the One X review, the patented Beats technology now works on non-Beats headphones, so my favorite cheap-o earbuds sounded much more bassy than I'd expected. So I shut Beats off. NPR and piano rock just doesn't sound great with more bass.
GPS Performance
GPS performance on all the One devices has been great, owing in no small part to the GNSS silicon inside the Snapdragon S4. Satellite acquisitions are speedy inside and out, and with Qualcomm's excellent cellular-based location awareness, navigation instructions are almost instant, so long as there's a good data connection.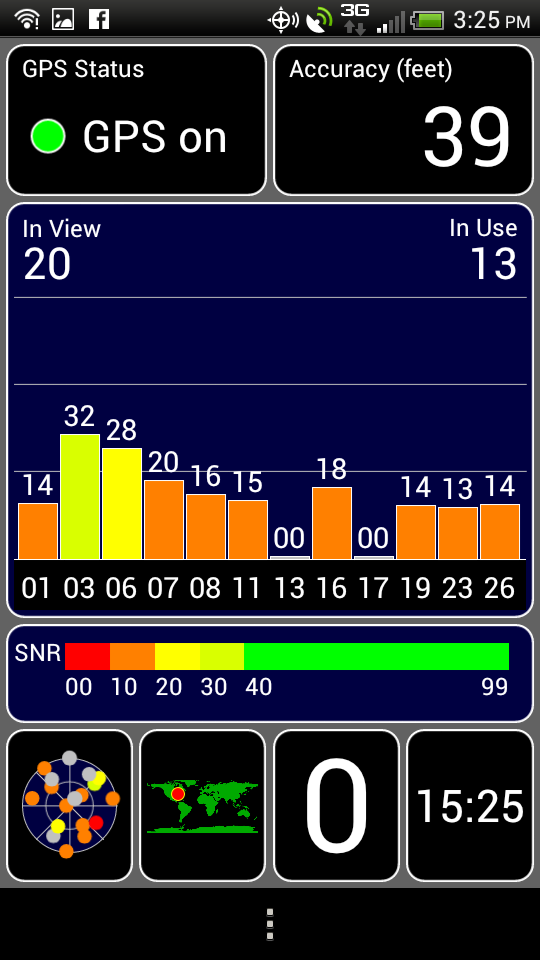 Cellular Performance
Speaking of that data connection . . . Coverage maps aren't necessarily infallible. There are several factors that might not be taken into account when they're drawn, and unfortunately that means a dark maroon color might not mean much in terms of actual reception. And that's just the topographic factors. Interiors are complicated for radio propagation, and even five bars of signal can mean very little in actual terms. I recently moved from almost beneath a tower full of cellular transmitters, to almost perfectly positioned between several towers so as to get coverage from none of them. Unfortunately this is an issue yet to be resolved, and so my battery and cellular testing remains somewhat incomplete. I've seen LTE speeds from the Incredible 4G that mirror those we've seen from other similar devices. And I've seen speeds I'd expect to see from more 3G devices. There's a reality that when we choose a place to do our tests, we may end up choosing a bad place. We'll continue testing to see how it behaves in better settings, but for now, we'll present the data we have.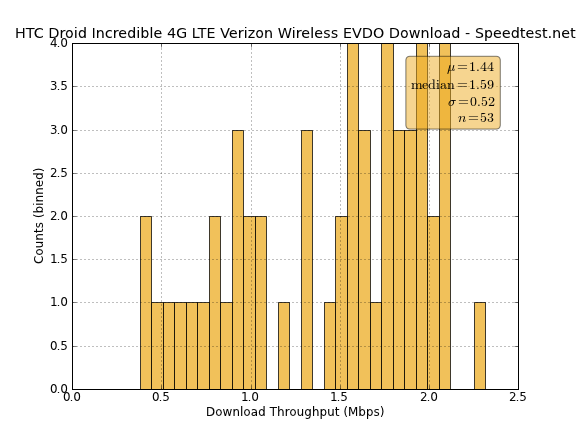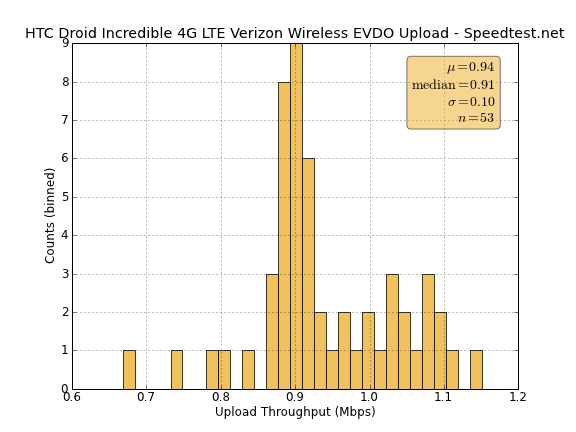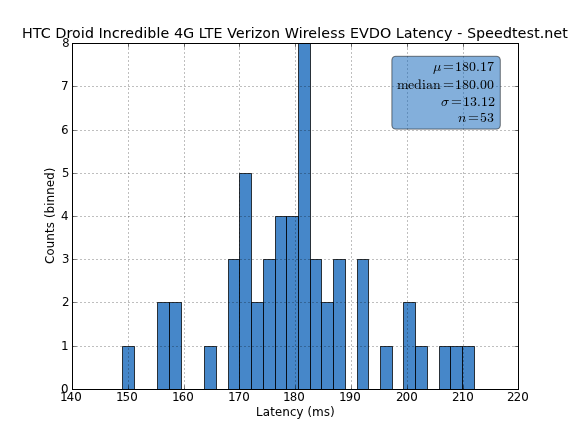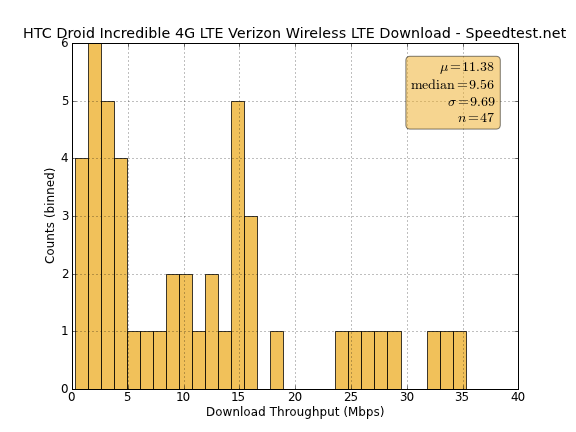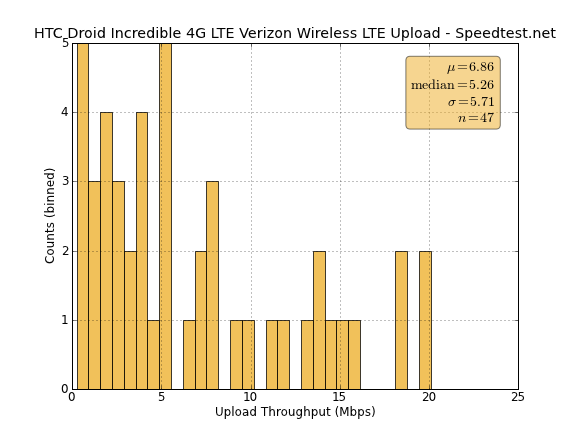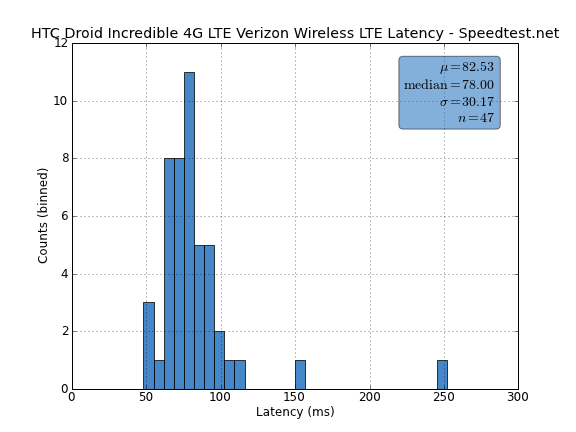 The data isn't as clear as we usually present, and there's obvious flashes of brilliance in our LTE speeds. But this could be as much a result of signal or network issues as it could be a result of issues with this phone. Latency is much more consistent than download speeds, so the towers we were accessing may have just been heavily loaded. AT&T's LTE network is not nearly so heavily loaded as VZW's, but performance between the two should be theoretically equal. As AT&T's network becomes more taxed, it will likely suffer similar degradation in speed.
Like I mentioned in our discussion on cellular speeds, we've had trouble getting reliable signal at our two test locations. There's a very real possibility that this reception issue affected our battery life tests, and so we leave that caveat in our results. Battery testing is easily the biggest part of our review process. In an ideal world the OEMs would send us seven samples, so we can have all our battery tests running at once, and still have samples on hand for performance and display testing. What this means is that battery testing is hard to repeat. So, bear with us as we prepare to do just that.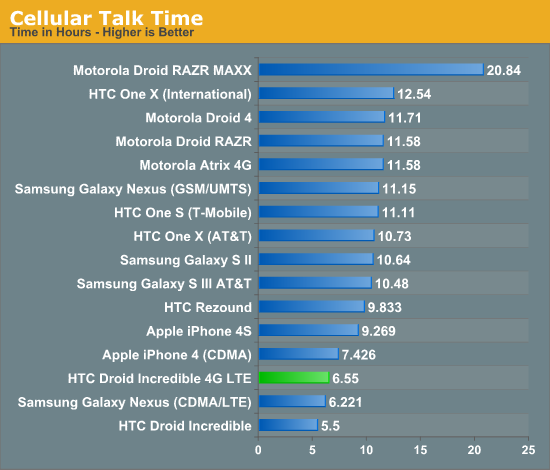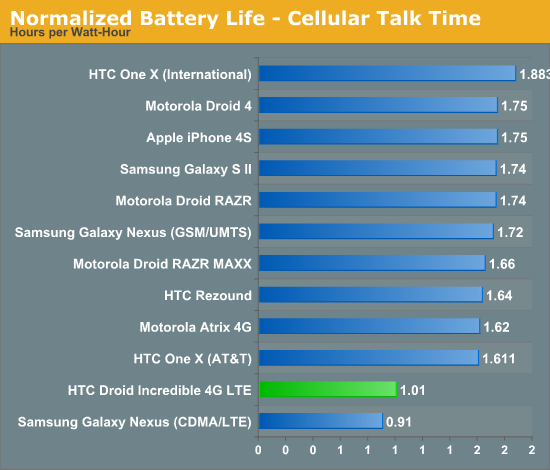 We'll start with our call test, one that has been bringing good news for most of the phones we test over the last year or so. Here we see our first sign of trouble. The test is simple, play a little music through a phone calling another phone, through which a little music is being played. The Incredible 4G manages just under seven hours, nowhere near the One X and One S performance. There's a penalty to be paid in data tests for CDMA devices because the 1xRTT radio has to get pinged periodically to check for calls. Here, though, with no background services syncing data, the screen off, and the phone doing nothing but making a call I find no way to explain the performance. If signal issues are the culprit then we will update, but it's not looking good so far.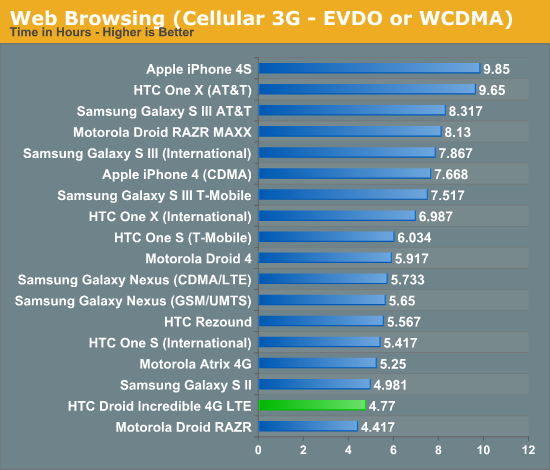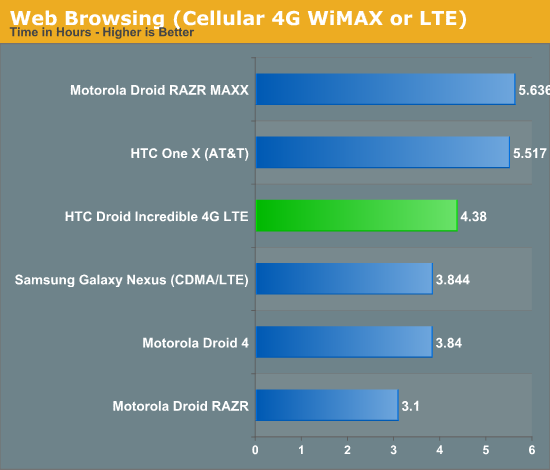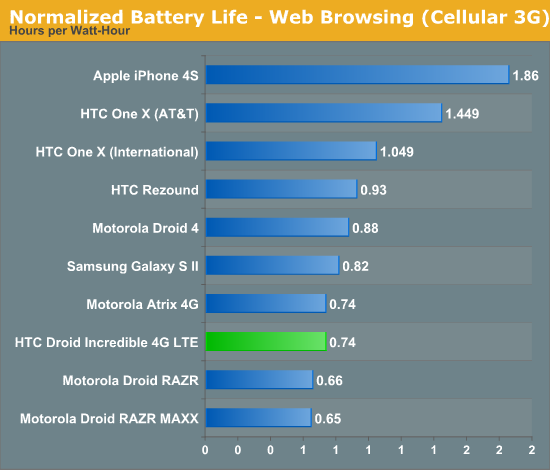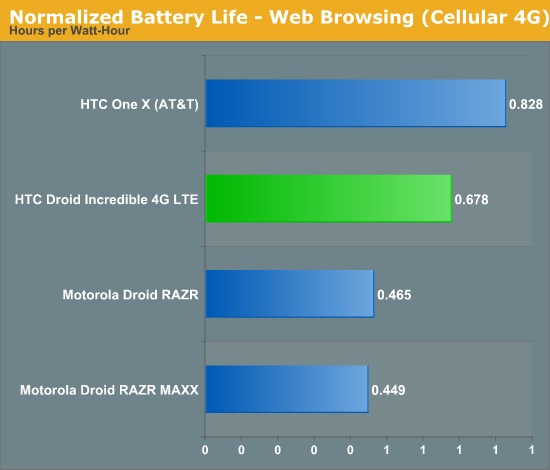 The web browsing test cycles through a suite of websites with the screen on and set at 200 nits of brightness. Performance under 3G was well below the results from the similarly equipped One S, and even lower (by nearly an hour) than the HTC Rezound. Indeed, the AMOLED screen, higher clock speed and smaller battery of the One S should handicap it against the Incredible, but the Incredible 4G falls distinctly behind. There's a glimmer of improvement in the 4G LTE Web Browsing tests, but performance is still well below what we would have expected. Once we account for battery capacity and normalize the data we see that the Incredible 4G remains at nearly the bottom for 3G performance, and not nearly so impressive in LTE performance as the One X for AT&T. [Update: These 3G performance numbers are in a sure better signal area, with great signal, so we're marking these as infallible. We'll work on 4G LTE numbers more, but for now, in 3G, performance is definitely poor.]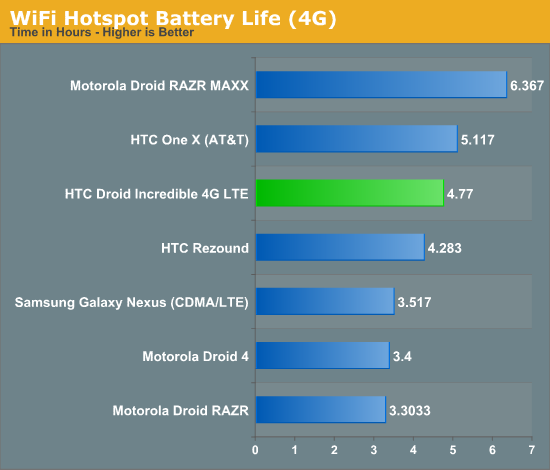 In our tethered data test the Incredible 4G moves a little closer to its One, forebear; mustering nearly 5 hours to the One X's just over 5 hours. This number makes a lot more sense, the savings from having a 20% lower clockspeed would be mitigated by having a 20% smaller battery. So, if having the screen off leads us to a much better battery life result, perhaps the real culprit is related to inefficiencies in the display? Whichever the case, tethered data performance is the only feather in the cap of the Incredible 4G's battery life so far.
We're not going to bring the house crashing down on the Incredible 4G for battery life just yet. If the reception issues are the root cause of the battery life deficits then we should hopefully find out before long. If, though, it turns out that there's something more to it, then one of this phone's most damning deficits will be battery life.
There's nothing that gets the tech press, us included, frothing at the mouth as a top-of-the-line consumer electronics device being announced in some grand spectacular way. If there's any moments gestalt to us it's in that instant when the pinnacle of a category is revealed and we all gawk, and fawn. So, with so many column inches devoted to the halos, is there any space for the mid-range? Not just in the pages of tech websites, but in the US cellular market? Or should the mid-range belong to the halos of the past? Whether tailor made for the mid-range or a former champ reduced to the second rung, it still seems risky to spend $149 on second best, when $199 will get you the rest of the way. But with the HTC Droid Incredible 4G LTE nipping at the internal specs of so many class-leading phones, why does it come in $50 cheaper? Could smaller simply be a better bargain? A real value product?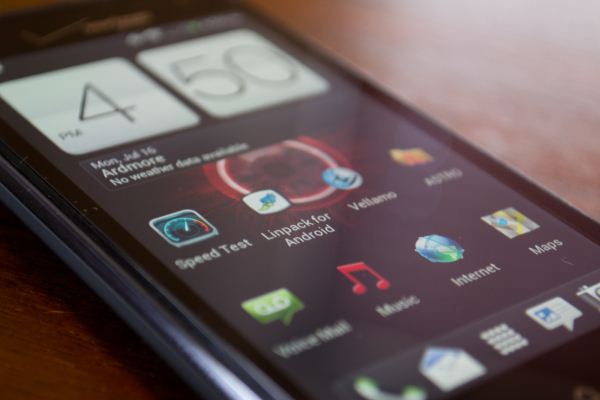 Unfortunately, that's not quite what you get out of the HTC Droid Incredible 4G LTE. I can forgive the diminished clock speed, the real world impact is negligible and is really only evident in benchmarks. But in their desire to bring bill of materials costs down we're left with a phone that costs only slightly less than phones that take no compromises. The camera is very good, but not nearly so as the One X camera. The body feels sturdy, but belongs to a design language that felt dated last year. And while we have our concerns that signal may be playing an issue in our battery life testing, there's a reality that has to be faced that the phone should be outperforming these results. The only standard by which HTC has been able to be uncompromising, is in their choice of display panel; it is bright and vivid from any angle, and suffers not a whit for its resolution.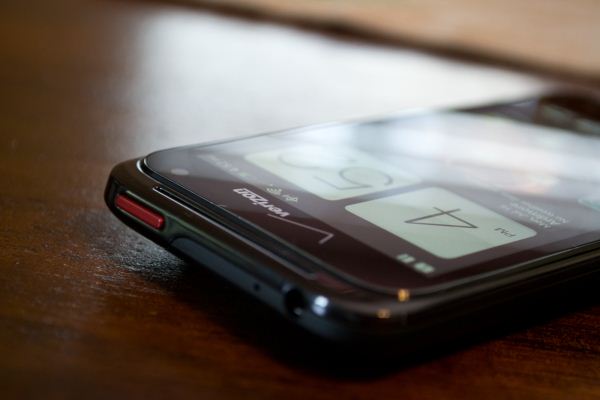 There's no doubt that carriers and OEMs can collaborate to create innovation. Verizon's Motorola Droid brought the landscape sliding QWERTY keyboard to the masses while advancing Android handset design and giving Android a marketing identity that resounded with consumers. The HTC One X and One S move Android handset design forward by being thin, elegant, and sturdy and feature top-notch internals; they're an easy recommendation to anyone looking to buy an Android handset today. So, it's a shame that Verizon Wireless isn't featuring either of these handsets in their line-up. HTC's Droid Incredible 4G LTE has a fantastic screen and a powerful processor, but is otherwise compromised in too many ways. At $149, you're only 10 days without your latte away from something better. Then again, perhaps this phone is destined for even lower priced bins. Perhaps, Verizon has a phone that trumps even the just released VZW Samsung Galaxy S III. Perhaps the GS III is the mid-range phone you'll want in a few months, as another 'halo' phone arrives. We'll wait and see. In the meanwhile, save your pennies.