Original Link: http://www.anandtech.com/show/6073/the-google-nexus-7-review


I viewed Google I/O, Jelly Bean (Android 4.1) and the first Nexus tablet as Google's last chance to deliver a knockout in the tablet space before the onslaught of Windows 8 and Windows RT devices later this year. While the show was undoubtedly a success, I don't know that the market for $499+ Android tablets has a life after Windows 8/RT hit. We should see Windows RT tablets at $499, and Ivy/Haswell based Windows 8 tablets will handle the higher price points.
It seems that Google also realized this as the Nexus 7, its first Nexus branded tablet, starts at just $199. There's a huge market for tablets as a primary computing device, and I believe Windows RT/8 offers something unique and compelling for that usage model. At the same time however, there's decent demand for a tablet to augment your existing computing world. It's a far more specific usage model but one that really demands a lower price point. Users are willing to spend a lot for something that does everything in your life, but for something that's more nice than necessity, price matters even more.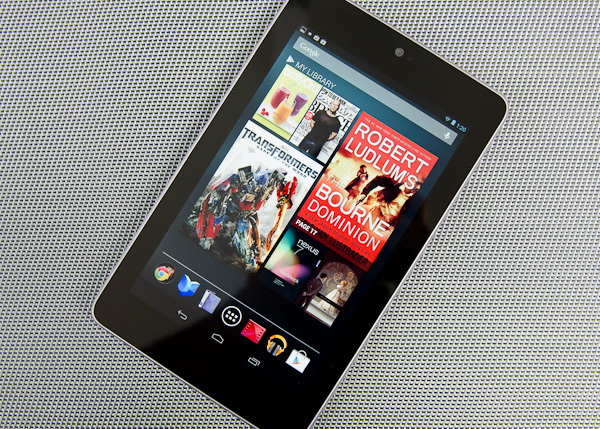 The Nexus 7 is aimed at the latter. It's a device for users who need ultra portability and tons of battery life for content consumption. While Apple has been quietly empowering the iPad to be a content creation device, and dockable Windows 8/RT tablets will attempt to replace your notebook, the Nexus 7 is a more traditional ARM based tablet by default.
It's clearly Google that I have to thank because the Nexus 7 is the most solidly built ASUS tablet I've ever used. That's not to say that its predecessors were examples of shoddy workmanship, it's just that the Nexus 7 is damn near perfect. The back has a great grip to it. The whole thing actually feels like a well made book because of the soft touch plastic back. The book comparison is sort of hilarious because it's a feel that Amazon couldn't get right with its overly generic Kindle Fire. The book illusion stops once your hands touch the glass for obvious reasons, but man does it feel nice to hold.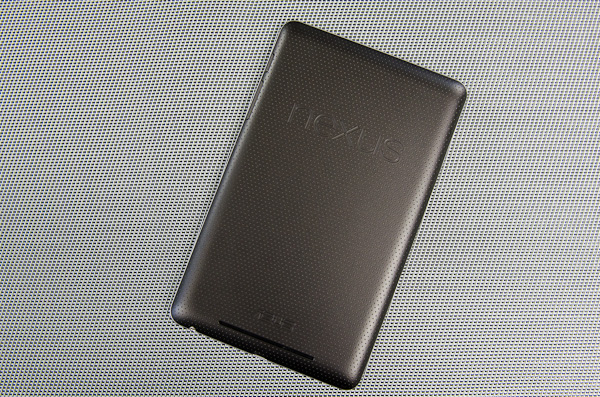 The Nexus 7 feels considerably lighter than the Kindle Fire, but I still had to prop it up on something or hold it in two hands if I was going to use it for a long period of time.
The power button and volume rocker are placed much like they would be on a phone - at the top right edge of the device. The sole buttons on the device do feel a bit ambiguous, something I feel that I would get used to over time. I had the disadvantage of switching between several tablets during this review and never did get used to the position and feel of the buttons on the N7. That's probably the biggest gripe I have about the design of the device. In other words, there's not much to hate.
The Nexus 7 features two mics for noise canceling action (likely in support of Google Now). You get NFC, Bluetooth and 802.11n WiFi but there's no LTE option as of now. I know there's internal debate about releasing an LTE enabled version at some point in the future.
ASUS Tablet Specification Comparison
ASUS Transformer Pad Infinity
ASUS Transformer Pad 300 Series
ASUS Eee Pad Transformer Prime
ASUS Nexus 7
Dimensions
263 x 180.6 x 8.4mm
263 x 180.8 x 9.9mm
263 x 180.8 x 8.3mm
198.5 x 120 x 10.45mm
Chassis
Aluminum + Plastic RF Strip
Plastic
Aluminum
Plastic + Rubber back
Display
10.1-inch 1920 x 1200 Super IPS+
10.1-inch 1280 x 800 IPS
10.1-inch 1280 x 800 Super IPS+
7" 1280 x 800 IPS
Weight
594g
635g
586g
340 g
Processor

1.6GHz NVIDIA Tegra 3 (T33 - 4 x Cortex A9)

NVIDIA Tegra 3 (T30L - 4 x Cortex A9)

1.3GHz NVIDIA Tegra 3 (T30 - 4 x Cortex A9)
1.3 GHz NVIDIA Tegra 3 (T30L - 4 x Cortex A9)
Memory
1GB DDR3-1600
1GB
1GB
1 GB
Storage
32/64GB + microSD slot
16GB/32GB + microSD slot
32GB/64GB + microSD slot
8 GB / 16 GB
Battery
25Whr
22Whr
25Whr
16 Whr
Pricing
$499/$599
$379/$399
$499/$599
$199/$249
Cost is the major selling point for the Nexus 7: for $199 Google will sell you an 8GB version with a $25 credit at the Google Play store, along with some preloaded magazines, books and a movie (Transformers: Dark of the Moon). It's tough to buy a new tablet and not buy apps for it, so the $25 credit is likely to be incredibly useful - making the effective retail price of the Nexus 7 $174. If you want 16GB of storage the price does go up to $249 however. Unfortunately even Google is not above charging $50 for $4 of MLC NAND.
The limited NAND capacity prevents the Nexus 7 from being home to more than a single full length movie or a couple of TV shows. Streaming video content isn't a problem, Netflix works beautifully on the device but there's no hope if you want to keep a ton of content local. Unfortunately USB OTG isn't supported for storage, so you're left with no other option for expanding local storage (short of rooting the device).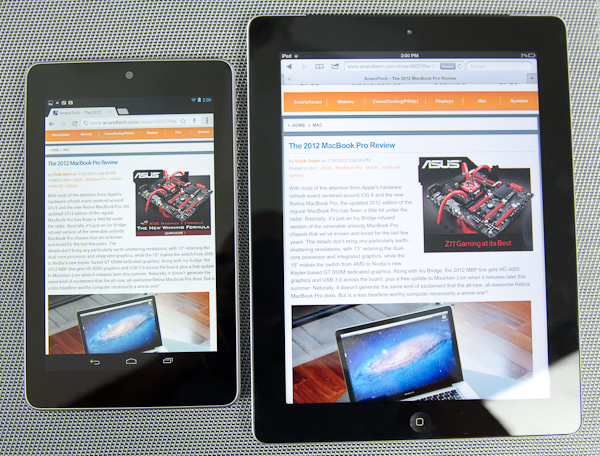 In every sense outside of portability, a 10-inch display is much nicer to look at than a 7-inch one in my opinion. There's less zooming in you need to do on web pages or magazines. Text in general is just easier to read and perhaps I'm getting too old, but there's something nice about everything being comfortably bigger.
Does the Nexus 7's form factor make it feel substantially better than using a smartphone? Yes, I'd say so. The same reasons I gave above for a 10-inch tablet being nicer to use than a 7-inch tablet are equally applicable to 7-inch tablet vs. a smartphone. There's this size/usability optimization curve that requires some soul searching to figure out exactly where you land on it. I suspect most people fall into the small smartphone + large tablet dichotomy, but the beauty of this current mobile revolution is the availability of choice. The Nexus 7 in many ways is very much like the 11-inch MacBook Air. A bit impractical for many, but those who crave portability are drawn to it. The Nexus 7 still feels like you're using a tablet, just a small one.
I needn't dwell on the benefits of a 7-inch form factor for portability any longer. If I'm wearing baggy enough pants I can even pocket the Nexus 7, something I simply couldn't do with the iPad. I'm more likely to carry the Nexus 7 with me than I would the iPad, but the comparison isn't quite as open and shut as that. The iPad offers LTE, the Nexus 7 is more portable, the iPad is easier to look at, the Nexus 7 is more affordable...the back and forth is endless.
Android 4.1
In the process of working on the Nexus 7 review I dusted off (literally) my Kindle Fire, powered it up and checked for updates expecting to find tons. I found none. The Kindle Fire is still running 6.3.1, released a few months ago, and more importantly it's still relying on the CPU for a lot of drawing, which means the UI isn't smooth. Scrolling in Amazon's Silk Browser is fast, but only because the Kindle Fire drops a lot of animation frames. The experience is jarring, and much better on the Nexus 7 by comparison.
While the Kindle Fire's OS looks like a polished, previous generation of Android, Android 4.1 delivers much of the smoothness of the iPad's iOS. Don't get me wrong, there are still some rough edges and hiccups. Project butter or not, Android 4.1's UI performance is still not perfect, but it's nearly so, and it's miles better than the Kindle Fire.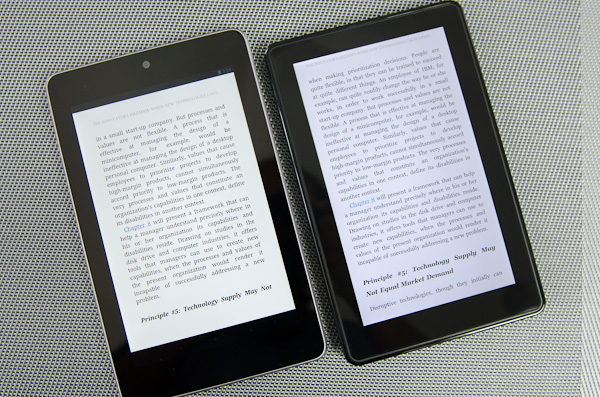 Nexus 7 running Kindle for Android (left) vs. Kindle Fire (right)
The Kindle Fire's carousel of previously used apps and media is smooth, but browsing the web on it is a mess compared to the Nexus 7. What's even more embarrassing for the Fire is even the Kindle app on the Nexus 7 delivers a smoother experience. Couple that with a warmer display and you actually have a better Kindle in the Nexus 7 than with Amazon's own device. When the Kindle Fire was released, its imperfections were easily overlooked since the Fire was so much better than any prior $199 tablets. The Nexus 7 dramatically raised the bar in the experience department.
Even compared to the Transformer Pad Infinity, the Nexus 7 feels faster thanks to UI speed improvements in Jelly Bean. The entire OS feels snappier, despite running on technically slower hardware.
What sets a tablet apart from a smartphone isn't just physical size, but also applications that take advantage of the size/resolution. Google attempts to deliver this with giant widgets that serve as portals to your content. The My Library widget automatically populates itself with books, magazines and movies you've purchased from the Google Play store. The result is quite impressive: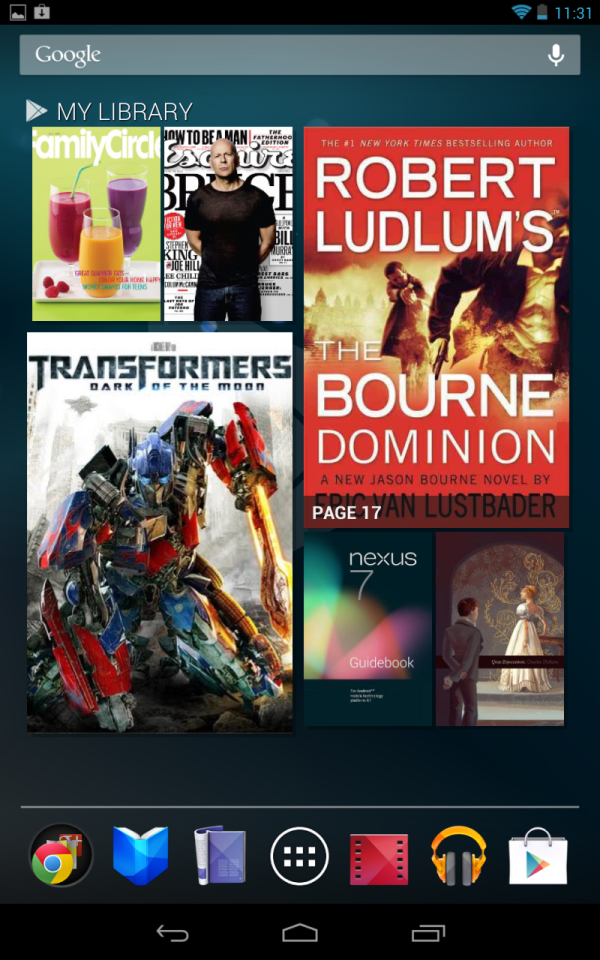 Start adding more conventional shortcuts to your home screen and the illusion quickly collapses, but I do believe the well laid out main home screen is what Google originally intended with widgets on Android.
As an eReader I'd argue the Nexus 7 is at least as good as the Kindle Fire. You can debate the pros/cons of books from Google Play vs. Amazon's Kindle store, but the fact is that both are available on the Nexus 7. The Kindle app for Android works well (as I've already mentioned), although for actual shopping you'll have to use Amazon's website. A small price to pay for a much better tablet experience everywhere else.
In all honesty, that's what you really give up when picking the Nexus 7 over the Kindle Fire - you lose the tightly integrated Amazon shopping experience. You also lose Amazon's video streaming service, which presently doesn't have an Android client.
The Display
In this new age of high resolution panels with small dimensions, the goal seems to be to just get the display out of the way. You shouldn't notice the display, it should just quietly do its job and make you believe that what you're looking at is real. When viewed with this critical eye, very few displays do their job well.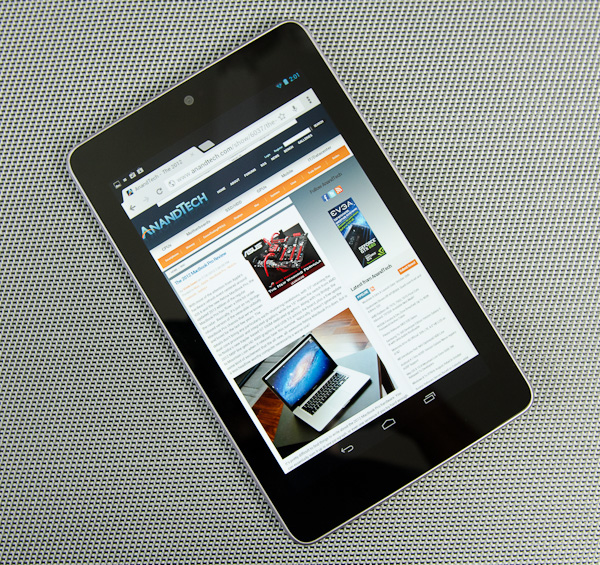 The Nexus 7's display is somewhere between good and perfection. It's not on the latter end of the spectrum, but it's great for $199. Black levels are good, and max brightness is more than enough for indoor use, although you'll have problems outdoors if it's too sunny.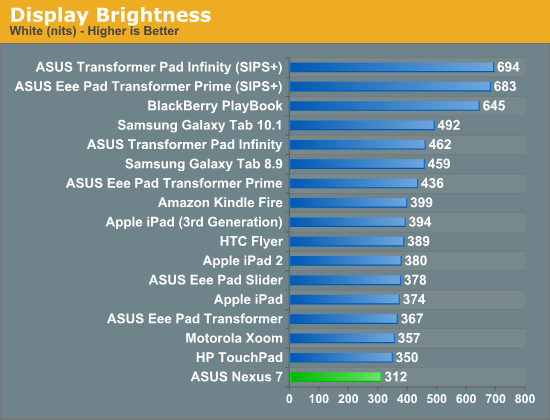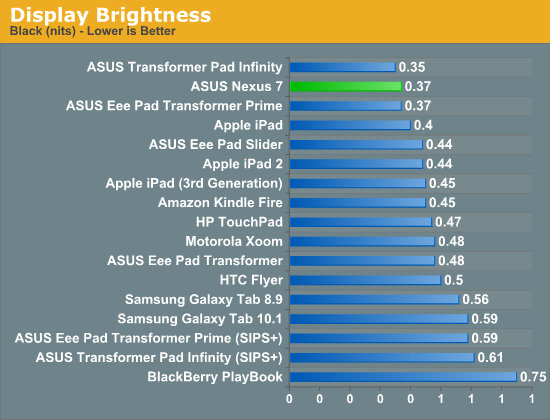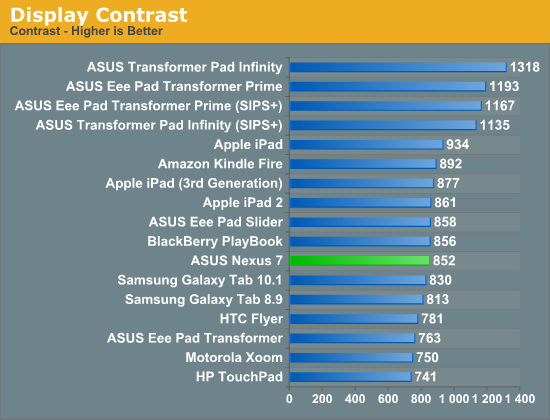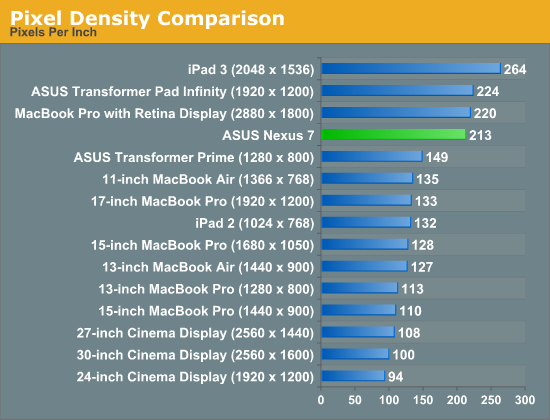 The resolution is high enough that neither Brian nor I were able to identify individual pixels at our normal viewing distances. Images do look better on the new iPad however (not a resolution but rather a panel advantage).
The other interesting aspect of the Nexus 7 is that it is a relatively new and somewhat interesting display form factor. 213 pixels per inch in a 7 inch display is unique for an Android tablet, and puts the Nexus 7 in the "tvdpi" screen density category for Android, 600 x 961 dp (that's dp - density independent pixels, relative to 160 ppi).
The end result is that some applications get a scaled down version of the 10" form factor Android 4.x UI, others don't. Some pages use the phone layout (for example the settings page, play store, and the notifications shade), others use the tablet two pane layout (for example Gmail) due to the 600dp width of the Nexus 7. That is to say it isn't totally correct to say that the UI on the Nexus 7 is a larger, scaled version of the phone UI, but something of an intermediary between the traditional 10" tablet version, and the phone version depending on what the break point is (in dps) for the particular app.
The other interesting note is that because 'tvdpi' isn't a primary display density for Android developers to build assets against, most often bitmaps get scaled down from the hdpi asset. In most places there isn't much of a noticeable softening of the edges, but I'll admit there are a few places where it's obvious bitmaps have been decimated and look a bit soft. Luckily, the pixel density of the display itself is high enough to mask most of this, but it isn't always perfect.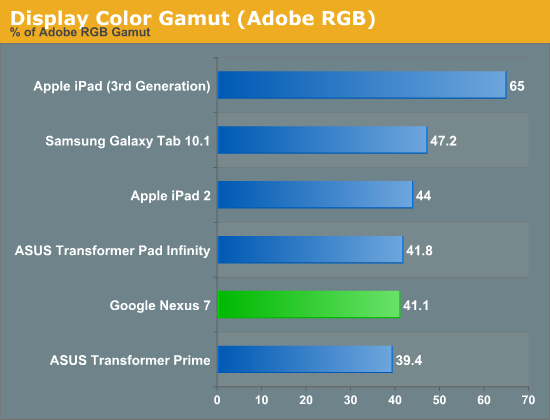 The Nexus 7's IPS panel offers great viewing angles, something that's simply a requirement for any device whose primary interface revolves around the display. Color accuracy is simply middle of the road, but I don't expect many users to do a lot of professional photo editing on the Nexus 7 so I'm not sure how much this actually matters.
The SoC & Performance
While Amazon chose TI's OMAP 4 for the Kindle Fire, Google and ASUS picked arguably the second best SoC on the market today: NVIDIA's Tegra 3. Keep in mind that high-end ARM SoCs generally sell in the $14 - $25 range per chip, which a fabless semiconductor manufacturer has to split with a foundry. The result is a far cry from the margins NVIDIA is used to making on high-end discrete GPUs. I suspect a desire to make good use of all functional Tegra 3 parts that come back from the fab is the reason why we have so many variants of the Tegra 3.
To date we've seen three Tegra 3 SKUs used in tablets: T30L, T30 and T33. Factor in the smartphone SKUs (AP30, AP33) and it's already a pretty healthy collection for a single chip. The main differences between the 30L, 30 and 33 parts are voltages and clock speeds. I've shown this table in previous articles but I present it here again since T30L is what's in the Nexus 7:
NVIDIA Tegra 3
CPU Cores
Max CPU Clock (1 core active)
Max CPU Clock (multiple cores)
GPU Cores
Max GPU Clock
NVIDIA Tegra 3 (T33)
4+1
1.7GHz
1.6GHz
12
520MHz
NVIDIA Tegra 3 (T30)
4+1
1.4GHz
1.3GHz
12
520MHz
NVIDIA Tegra 3 (T30L)
4+1
1.3GHz
1.2GHz
12
416MHz
The loss in performance compared to T30/T33 is marginal at best, at least for most consumer use cases. Four Cortex A9s running at up to 1.3GHz is definitely quick enough for the types of applications you'll run on the Nexus 7. Things can always be faster, but like the Kindle Fire's OMAP 4, the Nexus 7's T30L is good enough for now. Give it another year and we'll see something even faster at this price point. That's the downside of buying anything in the tablet/smartphone space these days unfortunately.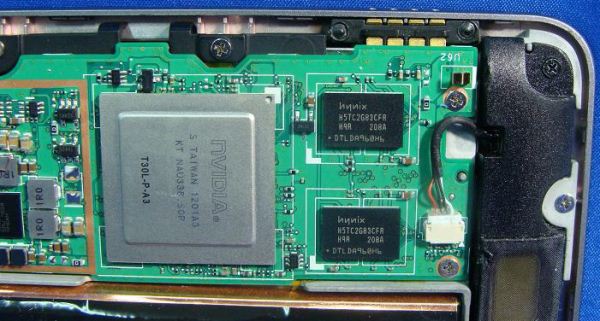 ASUS Android Tablet Memory Choices
TF Prime
TF Pad 300
Nexus 7
TF Pad Infinity
Memory Capacity
1GB
1GB
1GB
1GB
Memory Type
DDR2-1000
DDR3L-1333
DDR3L-1333
DDR3-1600
Memory Bandwidth
4.0GB/s
5.3GB/s
5.3GB/s
6.4GB/s
ASUS selected 1GB of DDR3L-1333 memory for the Nexus 7. This gives it more memory bandwidth than any of the Transformer series of tablets, with the exception of the Transformer Pad Infinity. Since the Tegra 3 SoC only has a single channel memory interface, ASUS had to rely on higher frequency memory to deliver sufficient bandwidth.
Note that the browser performance tests below paint a very good picture for the Nexus 7's performance because Android 4.1 replaces the default web browser with Chrome, with a much faster javascript engine.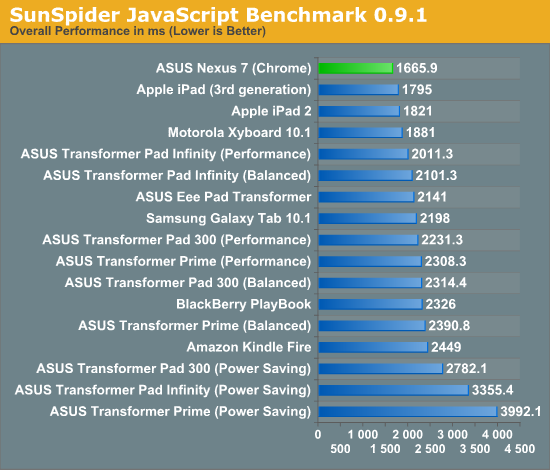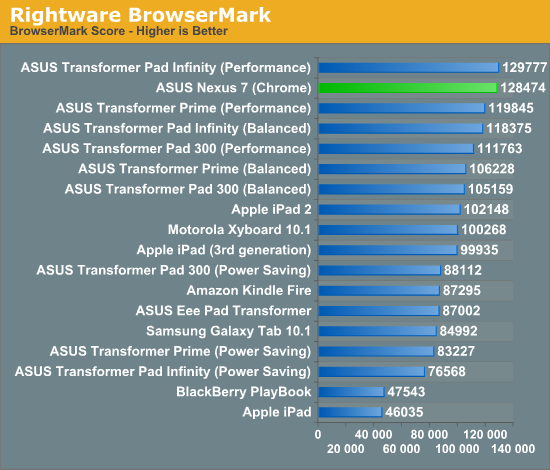 GPU Performance
Tegra 3's GPU is well matched to the Nexus 7's 1280 x 800 display. Performance in GLBenchmark is indiscernible from other T30 based tablets, and performance in games is equally good. I tried both Grand Theft Auto III and Dead Trigger on the Nexus 7 and both games were definitely playable - even at maximum quality settings. While faster SoCs will surely come in the future, at least for now, Tegra 3 doesn't seem underpowered for the N7's display.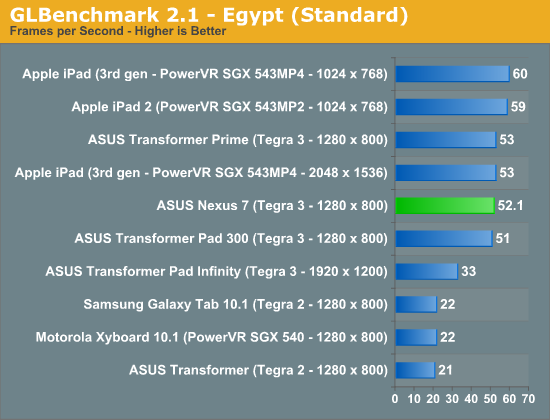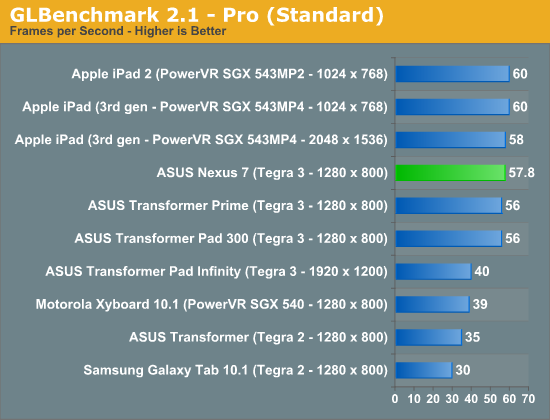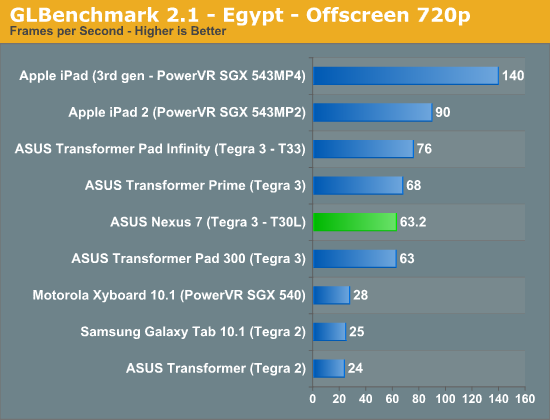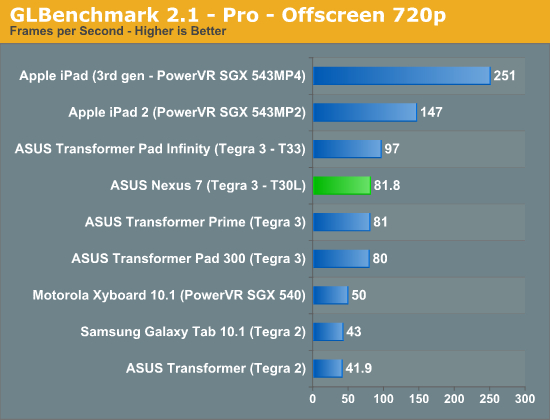 NAND Performance
The $199 Nexus 7 ships with 8GB of NAND on-board in the form of a standalone eMMC 4.41 package from Kingston. The single package storage solution features NAND and controller, although as you can guess there's no room for DRAM. The NAND in use is MLC although it's not clear whether we're looking at 2 or 3-bits per cell. This basic architecture shouldn't be all that unfamiliar to long time AnandTech readers - the cacheless design is exactly what plagued some of the early MLC SSDs for PCs a few years ago.
More recently users have been noticing very poor performance with ASUS Android tablets whenever there's substantial background IO going on, particularly multitasking while writes are taking place (e.g. downloading a torrent and browsing the web). The slowdowns range from multi-second long pauses to sluggish response time. The video below shows you what can happen on a Transformer Pad Infinity while downloading a bunch of large files in the background:
Even though downloading a large file is a largely sequential write operation, any other action performed while that download is in progress will effectively turn the IO stream from purely sequential to pseudo-random. Most of these eMMC and other cheap MLC NAND flash controllers are really glorified SD cards, primarily optimized for reading and writing large images as if they were used in a camera. What they're not designed for is to run and be used in a full blown multitasking OS. Some manufacturers seem to do a better job of picking their storage solution, and the Kingston eMMC in the Nexus 7 is faster than the Hynix e-NAND ASUS has used in previous tablets. Neither is perfect however. There's a tangible impact on simple multitasking if you're downloading a lot of files or installing apps in the background. Even operations in memory are quite negatively affected by background IO. Take a look at how SunSpider performance is hurt by a background file download:
SunSpider 9.1 Performance
Default
With 2MB/s Background Download
Google Nexus 7 (8GB)
1665.9 ms
1984.9 ms
To put all of this in perspective, I turned to Androbench, a storage benchmark that allows an ok amount of flexibility in configuring the test environment. At its default settings the benchmark varies a bit too much for my liking, but if you up the buffer sizes to 100MB it helps smooth out some of the variance.
Here we're looking at both sequential and random IO, the two sides we pay attention to in our SSD reviews as well. It's not clear to me whether or not Androbench is clamping the random IO to a particular range of addresses or not, but the results are telling nonetheless:
Androbench (100MB read/write)
256KB Sequential Read
256KB Sequential Write
4KB Random Read
4KB Random Write
ASUS Transformer Pad Infinity (64GB)
15.9 MB/s
7.13 MB/s
4.90 MB/s
0.22 MB/s
Google Nexus 7 (8GB)
23.1 MB/s
8.43 MB/s
4.77 MB/s
0.32 MB/s
Samsung Galaxy Nexus (16GB)
26.8 MB/s
7.29 MB/s
7.46 MB/s
0.23 MB/s
Sequential read/write speed isn't bad, but it's the random write speed that's really a problem. We're talking about write speeds of a couple hundred KB/s. Remember what I said earlier about how multitasking can take an otherwise sequential IO stream and make it look fairly random? I suspect the low random write performance is one reason we're seeing significant slowdowns with background IO. Not all NAND controllers do well with concurrent reads and writes, which could be another contributing factor to poor performance.
Note that for light usage this isn't a problem. Similar to the first generation of affordable MLC SSDs for PCs, as long as you're doing a lot of reading you'll be ok. It's really for the heavier usage models that this is a problem. On a tablet however, simple background installation or downloading of files counts as heavy these days.
The real solution to this problem is to integrate better NAND flash controllers on-board, or even onto the SoC itself. Tablet makers are still mostly focused on cost cutting, but eventually we'll see real SSDs with good controllers in these things. Windows 8 tablets, at least the high end ones due out later this year will be among the first to incorporate real SSDs.
WiFi Performance, NFC
The Nexus 7 includes support for single spatial stream 802.11b/g/n on 2.4 GHz only. That ends up being a PHY rate of 65 Mbps (single spatial stream with no SGI). ASUS has been using AzureWave modules for basically every single one of its tablets, and the Nexus 7 is no exception. Thanks to the FCC test reports, you can see an AW-NH665 module alongside the new NXP PN65 NFC controller. The AW-NH665 includes a BCM4330 inside - remember there are different vendors who will sell you a completed module.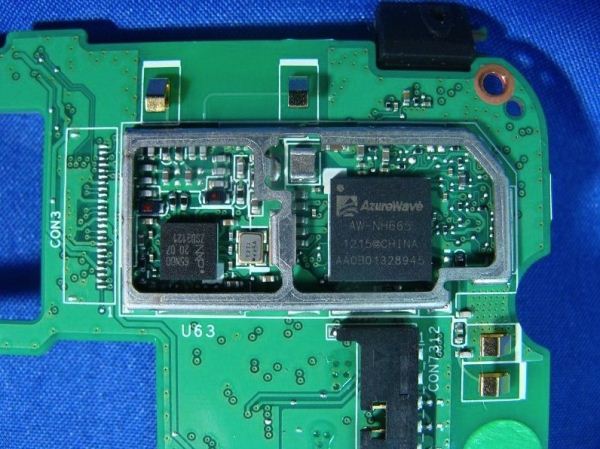 NXP PN65 NFC, AzureWave AW-NH665 (Source: FCC Internal Photos)
If you're looking for a cost cutting measure, the lack of 5 GHz WLAN support is most definitely one. In fact, the lack of 5 GHz WLAN made for probably one of my most memorably hilarious Google I/O experiences, since the event had multiple signs noting that only devices with 5 GHz WLAN would work well (or at all - 2.4 GHz is unuseable at any major event) on the conference WiFi. To mitigate this, Google hooked up USB OTG to MacBook Air ethernet adapters for its Nexus 7 demo stands, which I of course hijacked for my Galaxy Nexus at one point. More and more, having 5 GHz WLAN in a tablet is an expectation, and soon we'll even start seeing 2x2:2 antenna configurations.
The resulting performance is pretty par for the course when it comes to WiFi speeds among single spatial stream 2.4 GHz only devices. I tested using iperf the same way I do smartphones.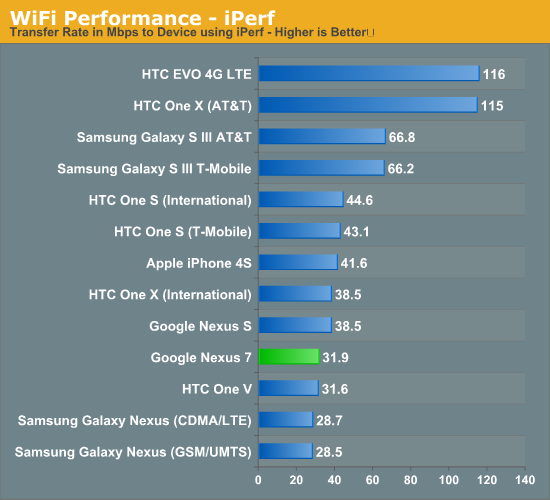 Unlike some of the other ASUS tablets of note, there are no reception issues with the Nexus 7 either. I have no problem getting good reception and see the Nexus 7 fall off the network where I expect it to in my area. I think it's worth being explicit about where the antennas are located since wireless connectivity issues have been a recurring issue for just about every product.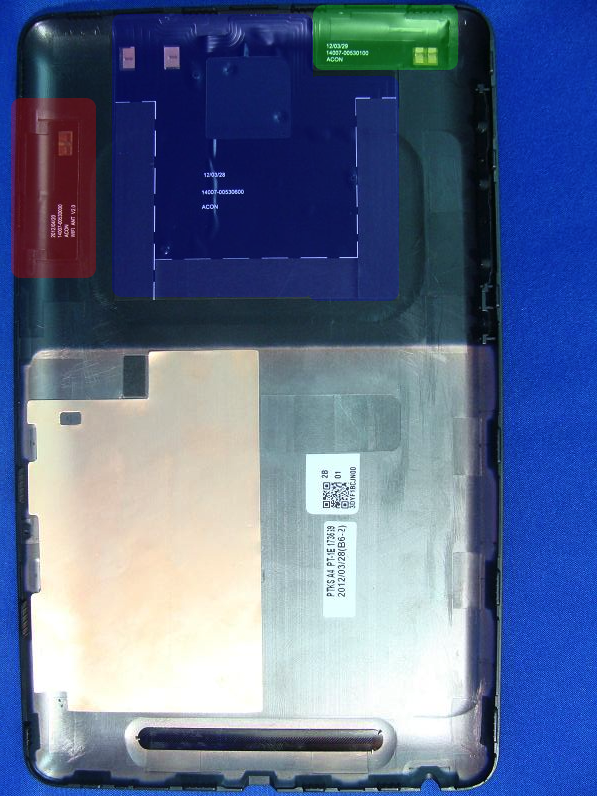 BT/WLAN (red), NFC (blue), GPS (green)
I've gone ahead and marked where the antennas are for BT/WLAN, NFC, and GPS on the case from the FCC teardown photos. Knowing exactly where the NFC coil antenna is located is actually hugely important for correctly positioning the device for beaming or reading tags. It ends up being right behind the "nexus" recessed lettering on the back, but until I saw the antenna in the FCC teardowns I wasn't completely sure. With a smartphone the size makes it relatively forgiving, but tablets are less forgiving about positioning not being exact thanks to the larger size.
GPS
The Nexus 7 uses a monolithic Broadcom BCM4751 GPS receiver, which we've seen in other devices like the iPad 2. This isn't the absolute newest broadcom GPS/GNSS, and again I'm sure ASUS was able to secure great pricing for this since the newer GNSS (GPS+GLONASS) modules are making their way into devices right now.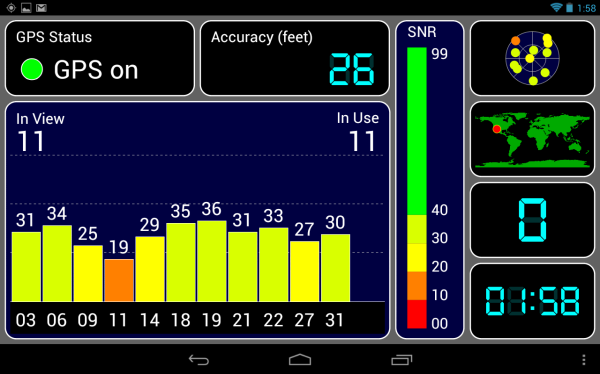 That said, I had no problems with GPS locking quickly from cold and warm starts. I walked around San Francisco with the Nexus 7 using Google Maps (tethered to an SGS3) and saw pretty good performance in the urban canyon scenario. With no occlusions to the sky, performance is excellent, and locks indoors are possible too.
Battery Life
The Nexus 7 has an integrated 16Wh battery, which despite its size delivers extremely good battery life. Our WiFi browsing test saw the Nexus 7 deliver 9 hours of battery life on a single charge, that's roughly half an hour less than the new iPad.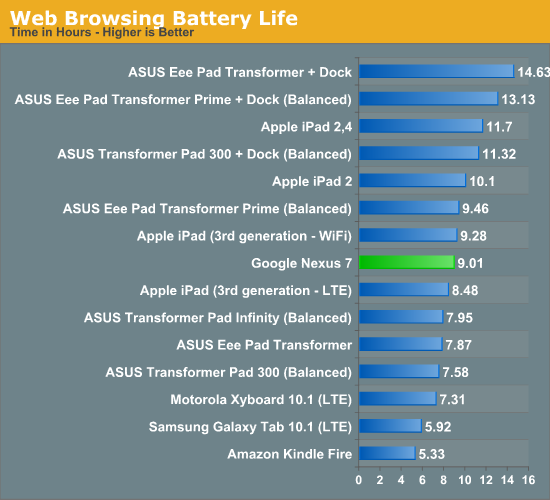 The Kindle Fire comparison is even more impressive - the Nexus 7 outlasts the Fire in this test by nearly 70%.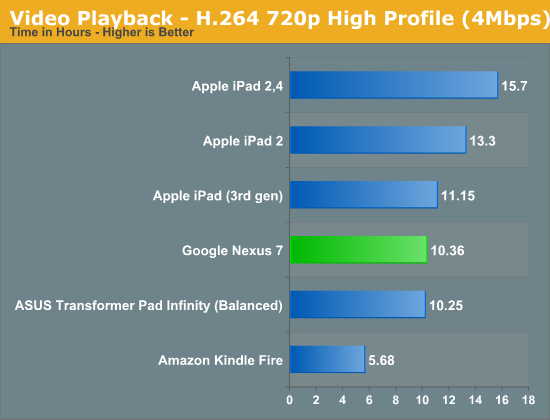 Battery life while playing back locally stored video is just as impressive. Here the Nexus 7 clocked in at over 10.5 hours on a single charge, 82% longer than the Kindle Fire. Of course with only 8GB of local storage you're going to be forced to stream a lot of content to the Nexus 7, where it will get worse battery life.
Our 3D gaming battery life test shows how bad things can get on the Nexus 7 if you really stress the SoC and display: 4.08 hours. This is actually the only test where the Kindle Fire does better on battery. Do keep in mind that the Nexus 7 is technically doing more work (higher resolution and frame rate), which contributes to the delta in battery life here.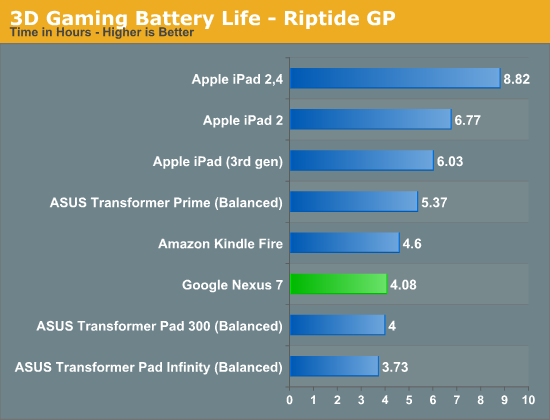 With 4 hours on the low end and 10.5 hours on the high end there's a pretty wide dynamic range for battery life on the Nexus 7. Keep that in mind because depending on your usage model you may end up closer to the lower end of that spectrum than you'd otherwise think. The big problem is without tons of local storage, you're going to end up relying on WiFi for content streaming needs a lot more than you would otherwise - which does have a tangible impact on battery life.
The Nexus 7 does take a good amount of time to charge its relatively small battery using the supplied 10W (5V, 2A) charger: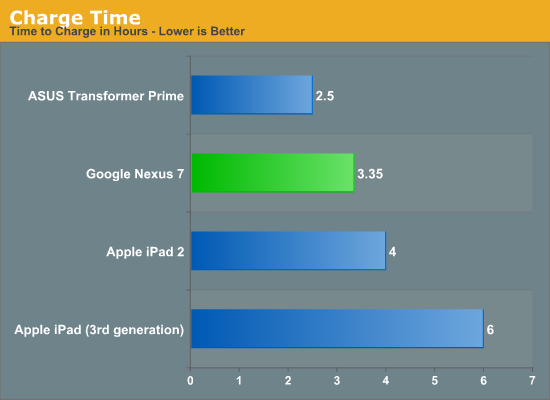 You can expect a full charge to take 3.35 hours, and about 3 hours to hit 90%.
Final Words
The Kindle Fire was great because it married decent software with decent hardware, at a reasonable price. Previous attempts at ~7-inch tablets made sacrifices in one or more of those areas. Amazon knew what it was doing and the Kindle Fire apparently sold quite well. The Nexus 7 executes the same formula, but with better components. The OS is miles better than what you get with the Kindle Fire, and as a Nexus device built by ASUS it's likely to be the first in line for major Android OS updates so long as Tegra 3 is up to snuff. The hardware is better as well. OMAP 4 was good for its time, but Tegra 3 is just faster. While the usefulness of those extra cores is debatable, clock speeds are higher and the added cores definitely don't hurt performance.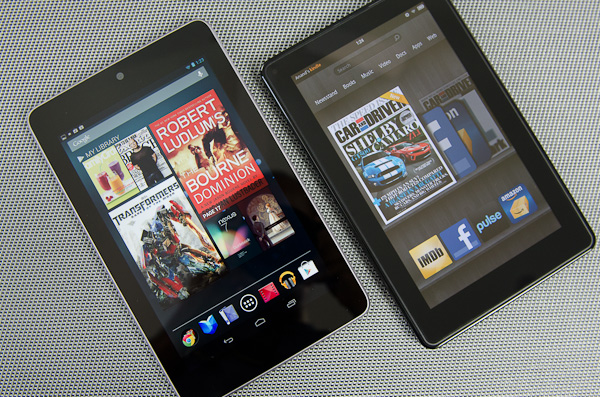 Finally the price point remains unchanged, at $199 the Nexus 7 is a tablet for those who are on the fence about owning a tablet. If you're able to carry around and use the iPad in lieu of a notebook, its $499 price tag is easily justifiable. If, however, the iPad is just an augment to your computing life then spending $499 becomes a tougher pill to swallow. The Nexus 7 brings that commitment level down considerably. For years Android tablet makers have gone after the iPad with comparable hardware, at a comparable price. While there have been some successes, the market for $499+ Android tablets will likely be cannibalized by Windows RT tablets come late this year. The Nexus 7 takes Android into a space that it's quite comfortable with. Subsidized $199 Android phones sell all of the time, and the Nexus 7 delivers a mini-tablet experience at that same price point.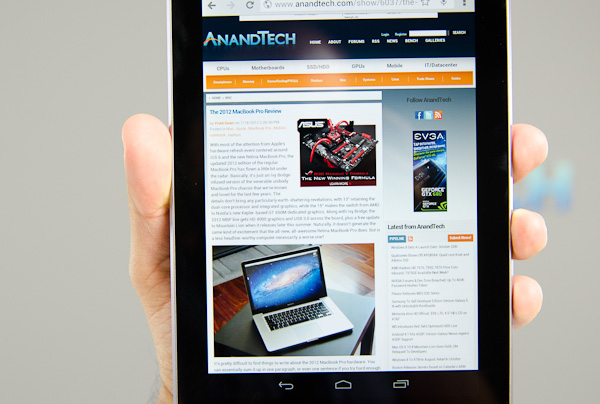 The screen isn't big enough for everyone, but if you're fine with (or better yet, really want) a 7-inch tablet, the Nexus 7 is great. It's well built, has good hardware and is priced perfectly. The only downside is really the limited (and not expandable) internal storage. The lack of expandable storage keeps the Nexus 7 from winning a higher level accolade, but the rest of the package is enough to earn our bronze Editor's Choice award.
The Nexus 7 isn't just a great Android tablet, it's a great tablet.