Original Link: http://www.anandtech.com/show/6055/corsair-carbide-300r-case-review-corsair-for-the-masses


Introducing the Corsair Carbide 300R
Ostensibly, Corsair's Carbide line of enclosures are their budget cases; the Obsidian and Graphite lines both start where the beefy Carbide 500R leaves off. Corsair's least expensive entry is the one we have on hand today, the Carbide 300R. Yet like a certain fruit-flavored company we know, they seem unwilling to part with many of the amenities that make their cases such a joy to assemble and work with, and the result is a Carbide that's caught between two worlds.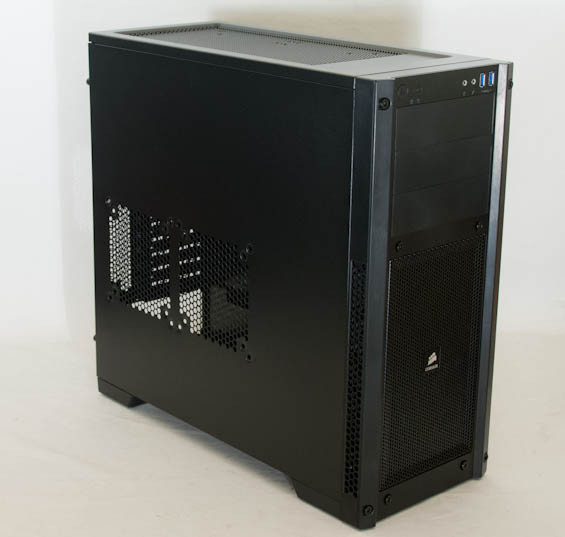 The Carbide 300R attempts to bring many of the things we've come to know and love and expect from Corsair cases down to a hopefully more palatable $79 price tag. While that's not in the "true budget" arena we've seen companies like Bitfenix and Antec stake out, it's definitely more affordable than most and may hit a sweet spot for users who don't want to spend too much on a case but want something of slightly higher quality.
For the most part you can see it just by looking at the case, too. While we've gone down to the raw fundamentals of SECC steel and black plastic, there are still a lot of smart details, and at this juncture it's still uncommon to see USB 3.0 connectivity in a budget case. When we pop it open later on, we'll see why the Carbide 300R commands its $79 asking price, for better or worse.
Corsair Carbide 300R Specifications
Motherboard Form Factor
Mini-ITX, Micro ATX, ATX
Drive Bays
External
3x 5.25"
Internal
4x 2.5"/3.5"
Cooling
Front
1x 140mm intake fan (supports 2x 120/140mm)
Rear
1x 120mm exhaust fan
Top
2x 120/140mm fan mounts
Side
2x 120/140mm fan mounts
Bottom
-
Expansion Slots
7
I/O Port
2x USB 3.0, 1x Headphone, 1x Mic
Power Supply Size
Standard ATX
Clearances
HSF
170 mm
PSU
240 mm
GPU
17.7" / 450mm
Dimensions
19.1" x 8.3" x 17.7"
485mm x 211mm x 450mm
Weight
15.9 lbs / 7.21kg
Special Features
USB 3.0 connectivity via internal headers
Price
$79
There are really only two places where you can tell Corsair trimmed some of the fat, at least from the spec sheet. Corsair's cases typically have dual drive cages, but with only four internal drive sleds, they open up space for an intake fan as well as extra long video cards. They've also removed one of the expansion slots; normally there's an eighth one (a convenience I appreciate), but going down to seven isn't a total loss since we're still within spec for a standard ATX motherboard.
What you should appreciate is the copious amount of clearance for all of the components, including the heatsink. After having a couple of close calls with our Cooler Master Hyper 212 Evo, I was pleased to see that it fit in the 300R with no complaints. The top of the 300R is designed to handle a 240mm radiator (like, say, a Corsair H100) as well.
In and Around the Corsair Carbide 300R
If you've been keeping up with our reviews of Corsair cases, the Carbide 300R is going to be pretty familiar to you. It's missing a couple of the advances we see in more modern Corsair designs like the Obsidian 550D and the Vengeance C70, but keeps a surprising number of conveniences just the same. I get the feeling the 300R is about as trimmed down as Corsair is willing to go, but they may yet surprise us with a 200R down the road.
The front of the 300R is matte black plastic and steel and it gels together very well. There are three 5.25" drive bays but at this point I'd almost recommend going down to two and just using the extra space for increased ventilation, maybe even expanding the front intake fan a little bit more. On my own desktop I use four of the 5.25" bays, but I could give up two relatively easily. The power buttons and I/O are on the top front of the case, which is a fine compromise for users who keep their towers on the floor and users who keep their towers on their desks.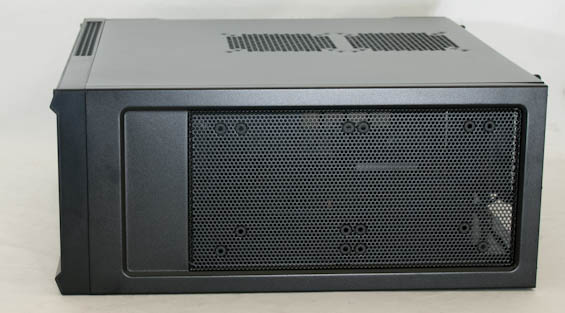 When you move to the top of the 300R, you'll see virtually the entire thing is ventilated except for a small tray-like area in the front, but what I'm particularly fond of is the alignment of the two 120mm mounts for 240mm radiators. This is a point that Antec missed on the P280 but SilverStone nailed on the TJ04-E: it's not so much a matter of vertical clearance for a radiator as it is lateral clearance; you want to avoid crowding the VRM cooling on the motherboard with the radiator. By shifting the mounts towards the side panel, Corsair provides enough room to either use two 140mm exhaust fans or a 240mm radiator (again, like the H100) without crowding the motherboard itself. It's a small but important touch.
The left side panel of the 300R features two laterally arranged 120mm/140mm fan mounts to provide additional cooling for video cards. I've been bullish on having fan intakes on the side due largely to the stallare performance of Rosewill's Thor v2, but the Thor v2 also benefits from a massive 230mm side intake fan that tags pretty much the entire motherboard area short of the CPU cooler. When testing the Corsair Carbide 400R with optional side intake fans I was less impressed. The expansion space is appreciated but I'm not sure it's necessary at this point.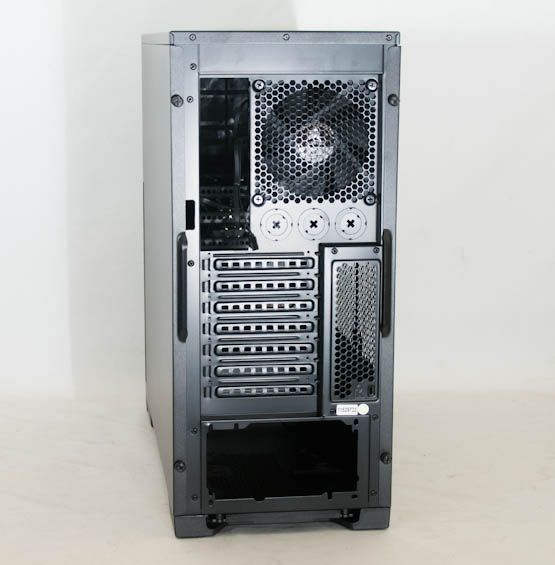 Meanwhile, the rear of the 300R is business as usual, with three cut-outs for external watercooling. What's funny is that it appears Corsair didn't really save any height on the case by eschewing an eighth expansion slot; there's space for one, they just didn't cut it out.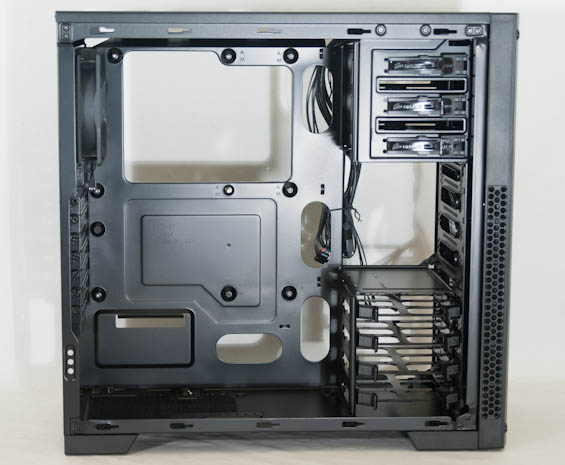 Four thumbscrews are all it takes to get the side panels off, and once we're inside the 300R it's business as usual. What's impressive is the amount of convenience that Corsair has managed to cram into an $80 case. The three 5.25" drive bays are all toolless (and in fact the bay shields snap in and out securely but also easily), the four laterally mounted drive sleds all snap 3.5" drives into place toollessly, and Corsair even includes a brass guide stud in the center of the motherboard tray to hold the motherboard in place while you screw it in. Expansion slots include covers held in place by thumbscrews, too, and there are extrusions in the tray to make for easily mounting the motherboard and for lining up the power supply. In fact the only convenience they really eschewed was lining the motherboard routing holes with rubber grommets. I'm sure we're all crying into our beer over that one.
On the nights when I need to get a review done, but maybe I have a headache, or my tummy hurts, or whatever, I know I can count on a Corsair case to make my life a little easier. Once again, that seems to be true. Thermal performance remains to be seen (though I'm optimistic about the unobstructed front intake fan and slightly positive pressure design), but at least assembly will be a breeze.
Assembling the Corsair Carbide 300R
I've routinely mentioned Corsair makes the easiest cases to assemble on the planet, and the 300R has somehow made that even easier. This assembly was one of the smoothest I've done by a long shot, although there is still at least a little bit of room for improvement.
First, the motherboard tray is practically a godsend. Corsair doesn't include any motherboard standoffs with the 300R because the tray itself has a single brass stud in the center for lining up the board and then extrusions with mounts built into them. The only flaw with this design is that it's not ideal for Micro-ATX boards, and the side of ours wound up hanging off with no support. Since that side isn't going to be particularly prone to stress I'm willing to give them a pass, though I would've liked to have seen more than a single arbitrary mounting hole in the tray for a Micro-ATX standoff (as well as maybe including one or two standoffs in the package).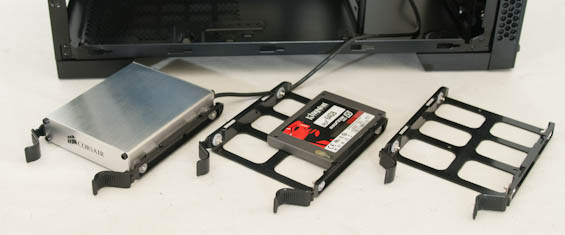 Mounting drives to the 300R was only slightly more difficult. Removing the bay shield from the top 5.25" bay was easy enough, but installing the blu-ray drive our testbed uses required applying a bit of force and shimmying it in. The toolless mechanism Corsair uses is a good one, but end users may want to take advantage of the open mounting holes to secure the drive anyhow. Meanwhile, the drive trays are the older style Corsair used, so while the pins pop into 3.5" drives easily enough, you'll have to remove one to mount 2.5" drives.
Lining up the power supply for installation was incredibly simple, as the entire area around the power supply bay is basically molded to snugly hold it in place. Installing the GeForce GTX 560 Ti we use for testing was also just as easy; two thumbscrews secure it in place after removing the replaceable slot covers.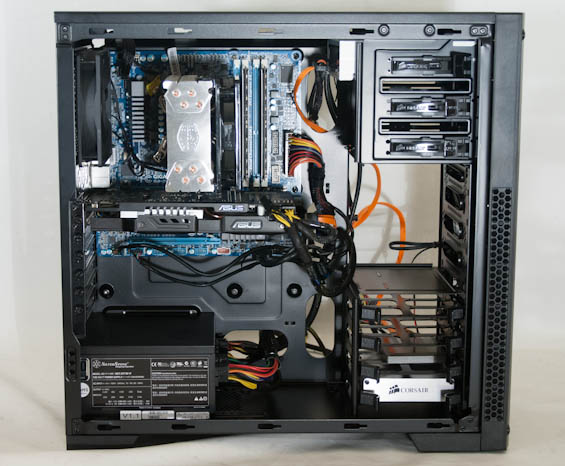 On the flipside, cabling wound up being a little messier than I'd like, and that's at least partially due to the lack of rubber grommets lining the routing holes that I was crying into my beer about earlier. Another part of the problem is that the routing hole for the AUX 12V line is very narrow and requires shimmying the cable through it. It's an extremely tight fit and could stand to be widened at least a little, and I can see many users just foregoing it entirely. There's also a decent amount of space behind the motherboard tray, but I miss the routing channels in more modern designs like the Vengeance C70.
I feel like we've lost some of the clean interior assembly that's been par for the course for Corsair's cases, where they practically forced you to keep everything neat. That said, it's still extremely simple to put together a system in the Carbide 300R. As I've mentioned repeatedly in the past, though: assembly was never Corsair's problem. Let's see how their budget model handles thermals.
Testing Methodology
For testing Micro-ATX and full ATX cases, we use the following standardized testbed in stock and overclocked configurations to get a feel for how well the case handles heat and noise.
Each case is tested in a stock configuration and an overclocked configuration that generates substantially more heat (and thus may produce more noise). The system is powered on and left idle for fifteen minutes, the thermal and acoustic results recorded, and then stressed by running seven threads in Prime95 (in-place large FFTs) on the CPU and OC Scanner (maximum load) on the GPU. At the end of fiteen minutes, thermal and acoustic results are recorded. This is done for the stock settings and for the overclock, and if the enclosure has a fan controller, these tests are repeated for each setting. Ambient temperature is also measured after the fifteen idle minutes but before the stress test and used to calculate the final reported results.
Thank You!
Before moving on, we'd like to thank the following vendors for providing us with the hardware used in our testbed.
Noise and Thermal Testing, Stock
As I've belabored time and time again, Corsair's strength has always been their ease of assembly, while thermal performance has generally been more middle of the road. I'm fairly optimistic about the 300R's ability to dissipate heat, but not as optimistic about its acoustics. That's due simply to the amount of ventilation in the case. I think the competitor to watch here may be the more expensive Antec Eleven Hundred.
As summer is beginning to set in in California, ambient temperature during testing was ~25C. For reference, this is as hot as our ambient temperature testing has gotten, with the lowest low being ~22C.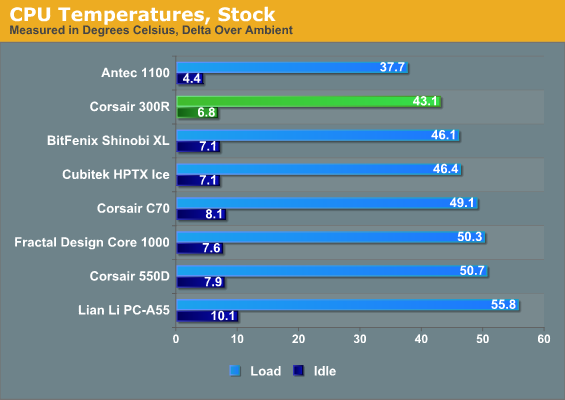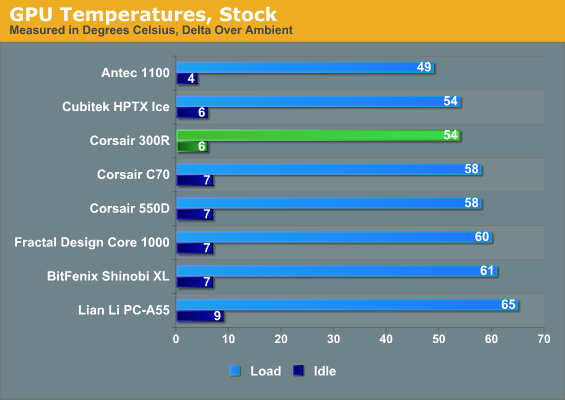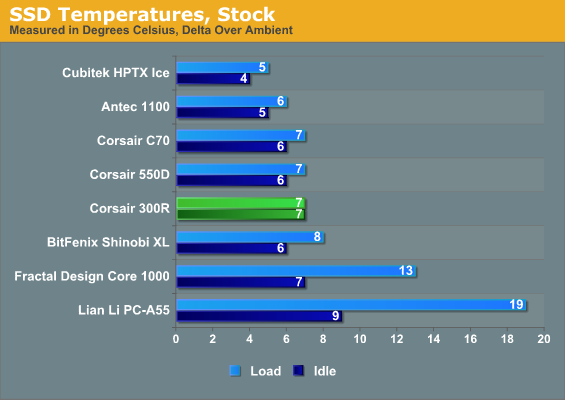 As it turns out, at least at stock, thermal performance is pretty excellent. The Corsair Carbide 300R is very competitive here.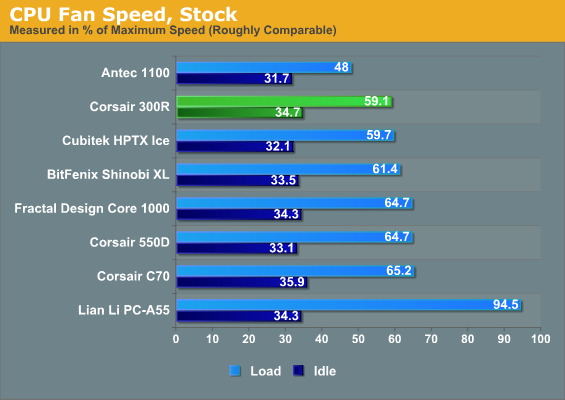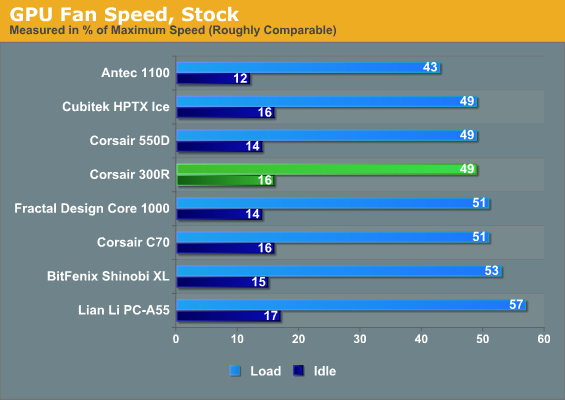 Fan speeds are competitive, too, although Antec's solution continues to show a substantial lead. All told, Corsair's solution is at least a solid performer under stock circumstances, and that's nice to see.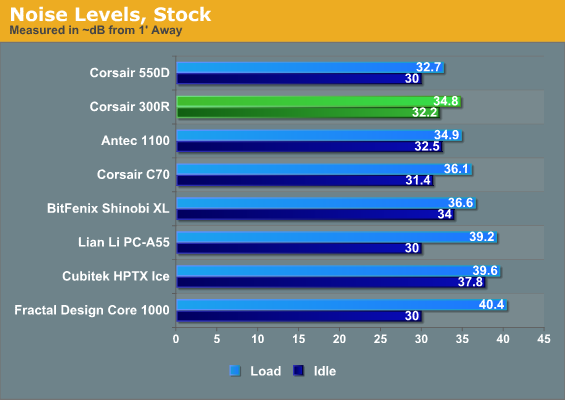 As it turns out, the 300R is also pretty efficient. Noise levels are actually quite tolerable under both idle and load. Corsair appears to be on the right track with the design of the Carbide 300R, though it remains to be seen how well it'll handle the increased thermal load of our overclocked testbed.
Noise and Thermal Testing, Overclocked
So far the Corsair Carbide 300R has been putting in a pretty strong showing, offering competitive performance with other cases in its price class (and even some well above). Our overclocking test is a beating, though; the ASUS DirectCU II cooler on our GeForce GTX 560 Ti can produce a heck of a racket if it's not getting enough air, enough to easily stress the acoustics on any case.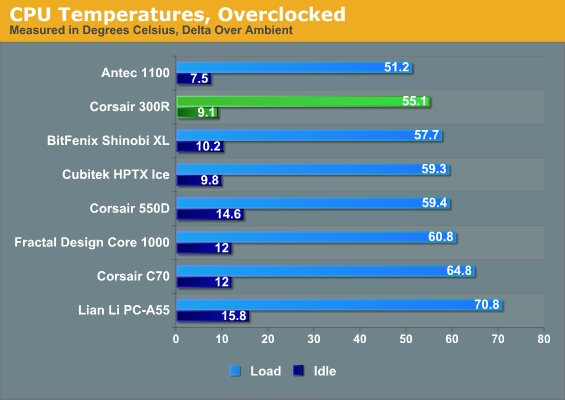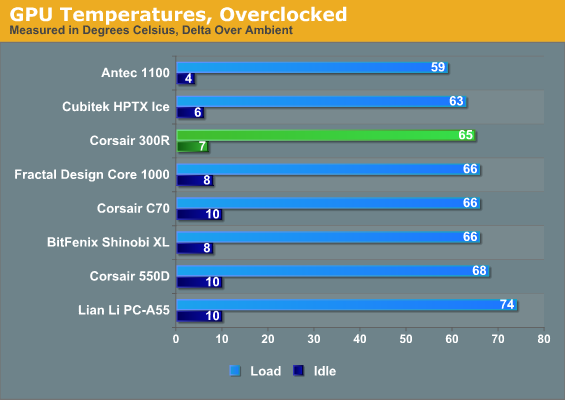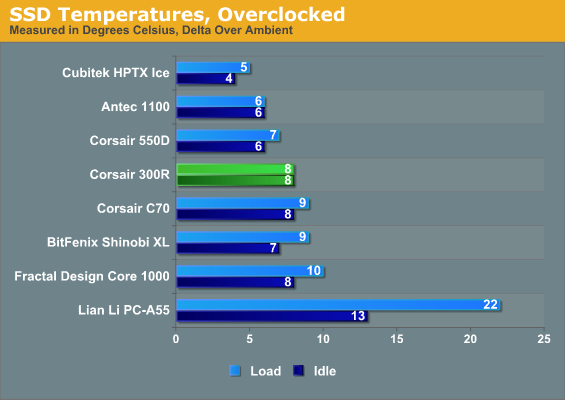 Thermals are still excellent. Overclockers on a budget (remember when that was the whole point of overclocking) are definitely going to want to shortlist the 300R.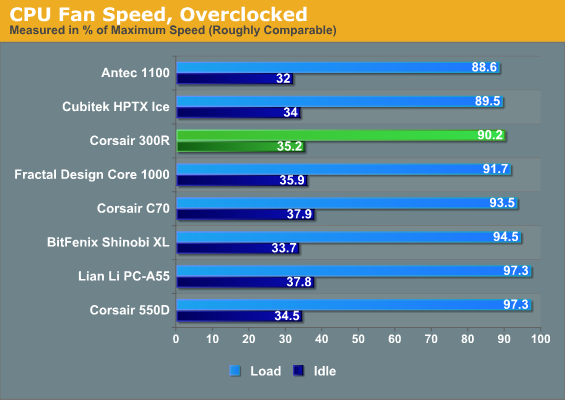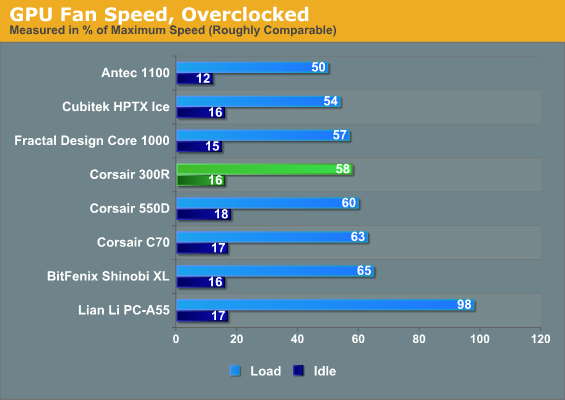 CPU fan speed is quite good, and again the GPU fan speed is competitive. Unfortunately when we get to acoustics, we'll see the Carbide 300R's one major performance flaw.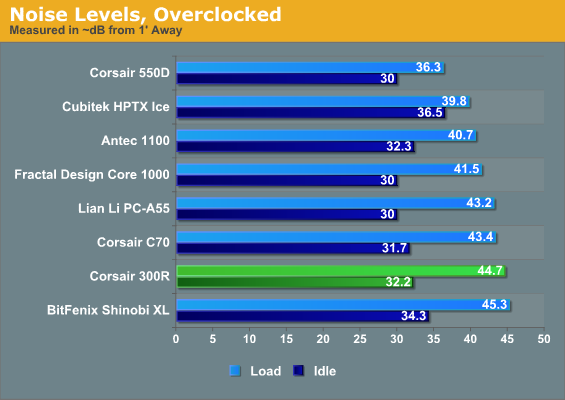 At idle the 300R is quiet enough, but under load it is definitely noisy. The majority of that is noise from the graphics card cooler, which flies right through the ventilation next to the card. Antec's Eleven Hundred has a thermal design that seems to do a slightly better job of keeping the graphics card cool and as a result the fan doesn't hit that threshold where it starts to produce uncomfortable amounts of noise.
The takeaway here is that while the Carbide 300R is a solid performer with reasonably quiet fans, it doesn't have any allowances made towards acoustics. If you're planning on using it for your build, plan the other components around it accordingly.
Conclusion: Remarkably Strong
I've normally been pretty skeptical about Corsair's cases in terms of their thermal performance. Assembly has almost always been a breeze, and cable organization has seldom been an issue, but when crunch time came around they tended to linger in the middle of the pack. By definition, that's not terrible but it's not great either. On the more expensive cases it becomes a problem, especially if they're competing with air cooling juggernauts like the SilverStone FT02.
Yet when we're talking about a case that's under $100, trade-offs become a lot easier to swallow. That's part of what I like so much about the Carbide 300R. While acoustics are somewhat weak, the feature set and performance make them much easier to live with. Laterally oriented drive sleds, solid cable routing, toolless drive installation, USB 3.0 support...there's a lot to like about the internal design.
The 300R doesn't have any means of really dampening sound and so its acoustics can frankly be pretty lousy (particularly with a high-end overclocked system), but for once Corsair has done a bang up job with thermal performance, offering a case that's frequently very competitive where it counts. It still can't beat the Antec Eleven Hundred, but Antec's case also costs at least $20 more and isn't as easy to service as the 300R is. If you build the 300R smart, I believe you can definitely improve the acoustic performance.
Ultimately if you're in the sub-$100 market for a case, I think the Corsair Carbide 300R is going to be pretty close to ideal for end users looking to maximize performance against budget. The only major competitor in my mind is going to be Bitfenix's Outlaw, which sells for $30 less and pretty much steals the show in that market. Yet the 300R is more feature rich, easier to assemble, and allows for a 240mm top-mounted radiator if you're looking to spend up on cooling. It's not a homerun, but it's pretty close. At $79 it's a solid deal; if you find it for any cheaper than that, grab it.