Original Link: http://www.anandtech.com/show/6037/the-2012-macbook-pro-review


With most of the attention from Apple's hardware refresh event centered around iOS 6 and the new Retina MacBook Pro, the updated 2012 edition of the regular MacBook Pro has flown a little bit under the radar. Basically, it's just an Ivy Bridge-infused version of the venerable unibody MacBook Pro chassis that we've known and loved for the last few years. The details don't bring any particularly earth-shattering revelations, with 13" retaining the dual-core processor and integrated graphics, while the 15" makes the switch from AMD to Nvidia's new Kepler-based GT 650M dedicated graphics. Along with Ivy Bridge, the 2012 MBP line gets HD 4000 graphics and USB 3.0 across the board, plus a free update to Mountain Lion when it releases later this summer. Naturally, it doesn't generate the same kind of excitement that the all-new, all-awesome Retina MacBook Pro does. But is a less headline-worthy computer necessarily a worse one?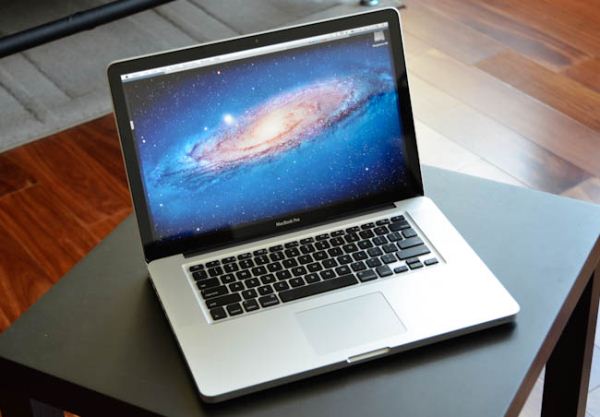 It's pretty difficult to find things to write about the 2012 MacBook Pro hardware. You can essentially sum it up in one paragraph, or even one sentence if you try hard enough. The 2012 MBP looks exactly like the 2011 MBP, which looked exactly like the 2010 MBP, which looked exactly like the post-April 2009 MBP. It's likely to be the last iteration of the original unibody MBP, giving this body style a 4.5 year run as one of the most instantly recognizable notebook computers on the market. I'm not going to go too far in depth with analyzing the design, because we've gone over it a few times over the years (here, here, here, here, here, and here. Oh and here too, just for good measure.)
It's a solid notebook, that much is certain. From an SKU standpoint, Apple has kept things relatively straightforward, with a high end and a low end for both the 13" and 15" models. Starting at $1199, the MBP13 comes with a 2.5GHz Core i5-3210M, 4GB DDR3, and a 500GB HDD, while the higher end SKU bumps that to a 2.9GHz i5-3520M, 8GB DDR3, a 750GB HDD, and a $1499 pricetag. Other than the updated processor/integrated graphics and the addition of USB 3.0, the 13" is identical to the previous model that we covered in depth last year.

The 15" is a bit more interesting. The base $1799 SKU comes with a quad-core i7-3615QM (2.3GHz) and a 512MB Nvidia GeForce GT 650M dGPU, but makes do with a paltry 4GB of memory and a 500GB hard drive. The standard memory and storage configuration in a nearly-$2000 notebook is pretty unacceptable. This being Apple, upgrade pricing is still a hair away from being highway robbery, but at least the matte WSXGA+ screen upgrade costs a reasonable $100. Thankfully, unlike the rMBP and MacBook Air, you can always opt to buy RAM and storage upgrades on your own.
2012 MacBook Pro Lineup Comparison
15-inch Mid 2012 MacBook Pro
MacBook Pro with Retina Display
Dimensions
0.95 H x 14.35 W x 9.82" D
0.71 H x 14.13 W x 9.73" D
Weight
5.6 lbs (2.54 kg)
4.46 lbs (2.02 kg)
CPU
Core i7-3615QM
Core i7-3720QM
Core i7-3615QM
L3 Cache
6MB
6MB
6MB
Base CPU Clock
2.3GHz
2.6GHz
2.3GHz
Max CPU Turbo
3.3GHz
3.6GHz
3.3GHz
GPU
Intel HD 4000 + NVIDIA GeForce GT 650M
GPU Memory
512MB GDDR5
1GB GDDR5
System Memory
4GB DDR3-1600
8GB DDR3-1600
8GB DDR3L-1600
Primary Storage
500GB 5400RPM HDD
750GB 5400RPM HDD
256GB SSD
Optical Drive
Y
Y
N
Display Size
15.4-inches
Display Resolution
1440 x 900
2880 x 1800
Thunderbolt Ports
1
2
USB Ports
2 x USB 3.0
Other Ports
1 x Firewire 800, 1 x Audio Line in, 1 x Audio Line out, SDXC reader, Kensington Lock slot
SDXC reader, HDMI out, headphone out
Battery Capacity
77.5 Wh
95 Wh
Price
$1799
$2199
$2199
The unit we're looking at here is the high-end 15" SKU, with a 2.6GHz i7-3720QM and a 1GB version of the GT 650M, plus 8GB memory and a 750GB HDD. It rings up at $2199, which interestingly is the same as the base rMBP (i7-3615QM/8GB/256GB SSD/1GB GT 650M). I'm mostly certain that it's not the configuration to get - you're better served by getting a base 2.3GHz 15", adding the $100 high-res screen, and grabbing a 256GB SSD (~$250) and an 8GB RAM upgrade (~$50) separately from Newegg or Amazon. Boom. You spend roughly the same $400, depending on your SSD choice (I would go Samsung SSD 830), and end up with a system with a better screen that's faster in most day to day situations. Unless you have a really specific need for the extra 512MB vRAM or 300MHz clock speed increase, I'd recommend against it.
From a performance standpoint, the 2012 MBP lines up basically where we would expect it. My tester was the high-spec SKU with the same 2.6GHz i7-3720QM, 8GB of DDR3, and 1GB GT 650M as Anand's Retina MacBook Pro evaluation unit, with the primary hardware difference being the 750GB mechanical hard drive in place of the Samsung PM830-based SSD in the rMBP. Performance matched up pretty close, with the MBP being just a tick behind the rMBP in most of our benchmark suite. And with the performance deltas we're talking about, it's really almost like splitting hairs.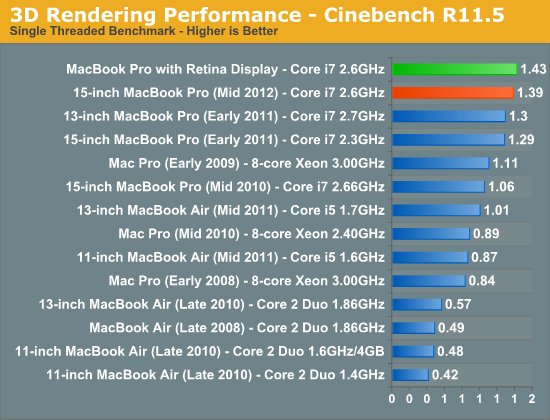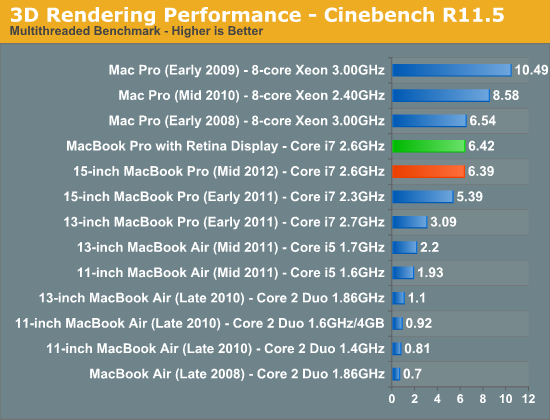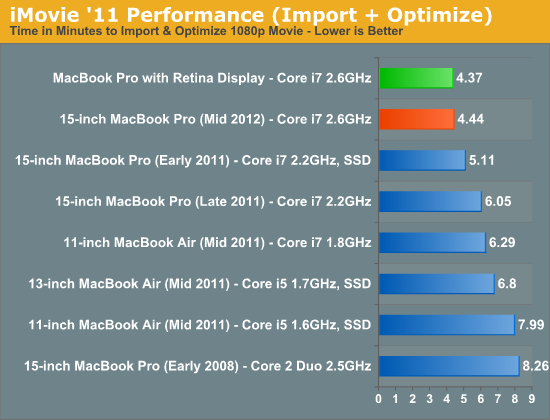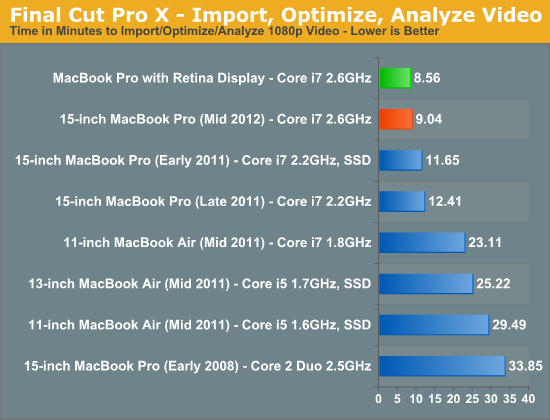 It appears that the i7's Turbo mode is less aggressive in the MBP versus the Retina, possibly due to the revised cooling system that the Retina model has. The 2012 MBP retains the same thermal design as the 2011 model, so it's unsurprising to see that Apple is being more cautious with it.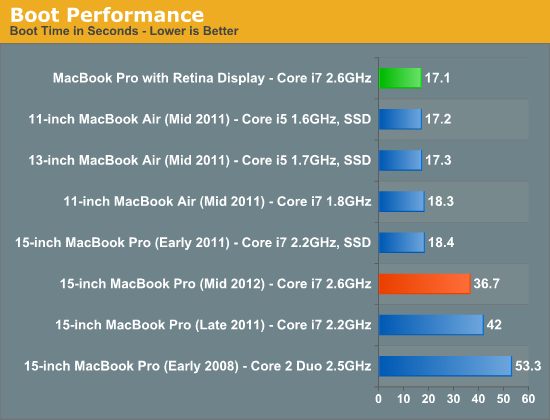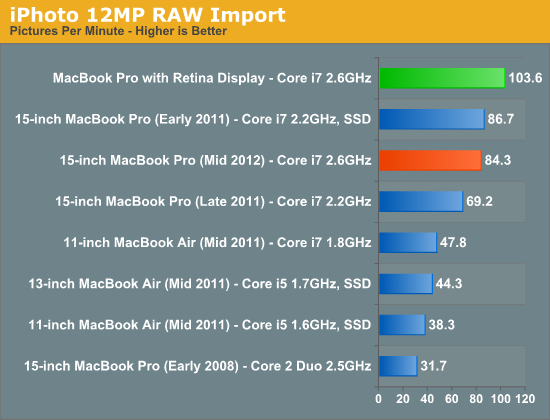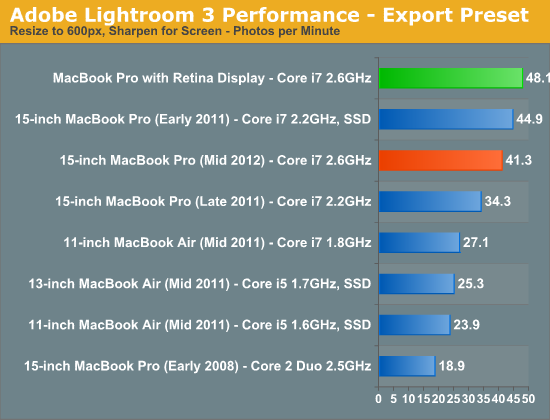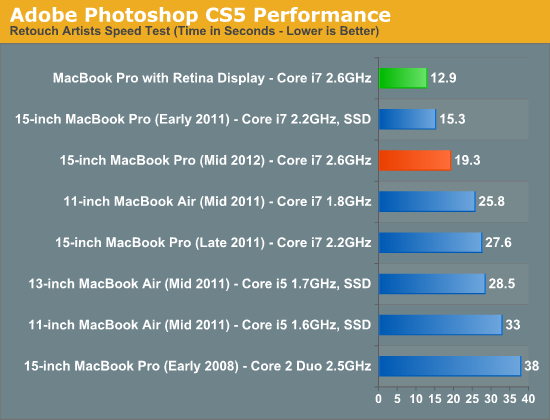 The SSD-based Retina obviously has faster boot times and performs significantly better in any disk-based activity. Based on my limited experiences with the Retina, it really feels substantially more responsive. Our usual recommendation from the last couple of years stands here too: if you're buying a new MacBook Pro, your first upgrade should be to add an SSD.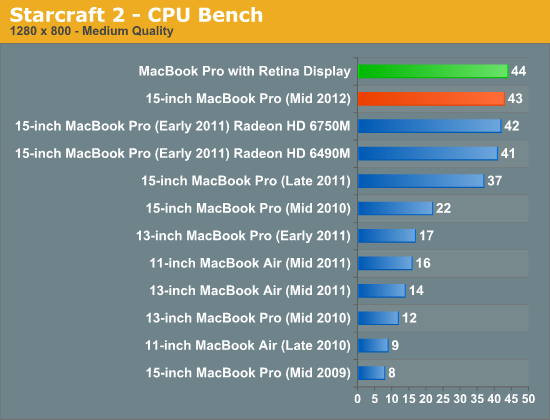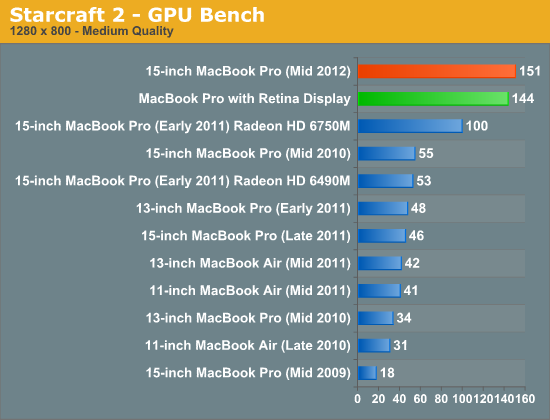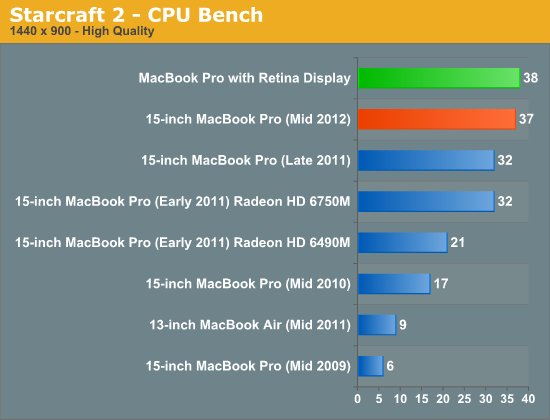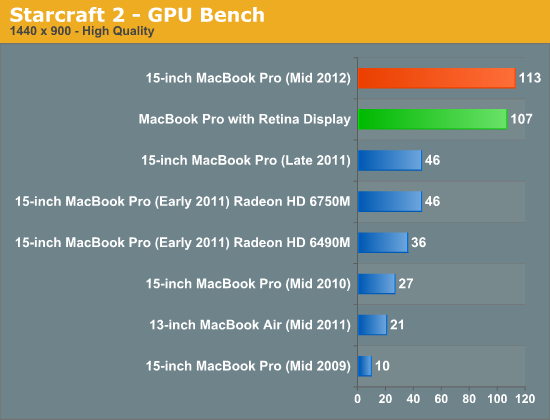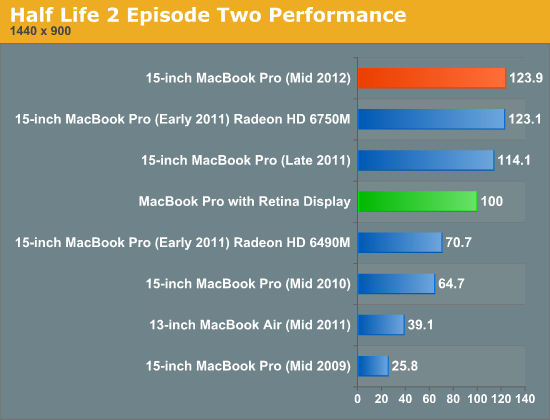 GPU performance is substantially improved over the 2011 MBP, with the GT 650M outpacing both the HD 6750 and 6770, to say nothing of the HD 6490 in the early 2011 Pro. We saw roughly equivalent performance with the rMBP again, with the MBP maintaining a slight edge over the Retina, but again with a margin of less than 5%.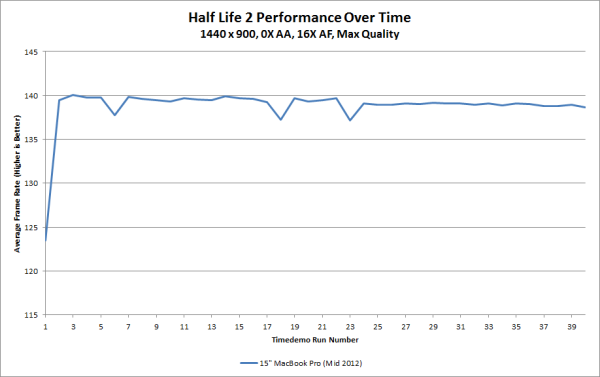 We took a look at performance over time, and as expected, Ivy Bridge and Kepler do a really good job of minimizing heat buildup over time and the corresponding amount of throttling that occurs. Through 40 runs of our Half-Life 2 test (at native res with maxed out settings), I ended up with nearly identical numbers the entire way through, with a very slight downward trend emerging (the delta between the average of runs 2 through 10 was a bit under 1% better than the average of runs 32 through 40). It's pretty much a flat line all the way across, the new chips really let the MBP run at significantly lower temperatures. Using it versus a Core 2 or SNB MacBook Pro, it noticeably doesn't get anywhere near as hot to the touch in day to day use.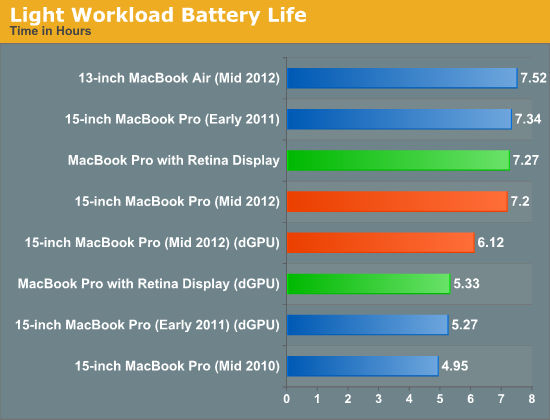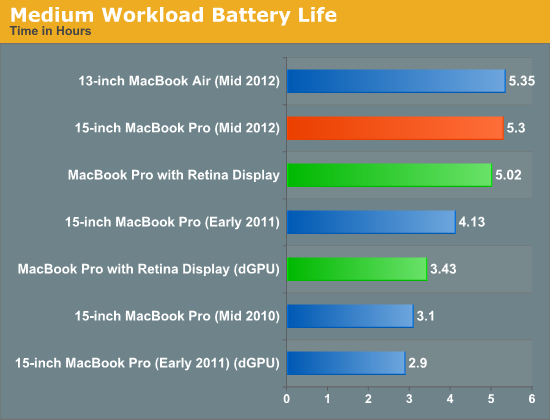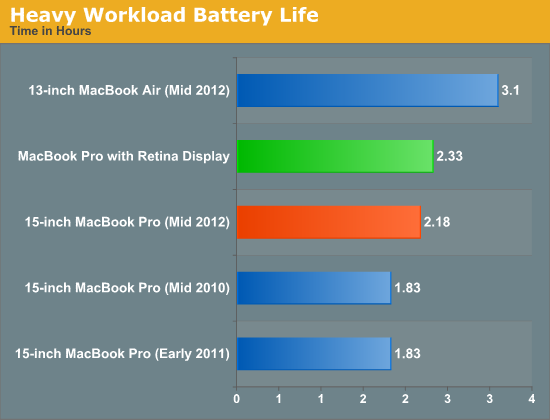 Battery life is pretty solid – we got a bit over 7 hours in our light web browsing test (with dynamic GPU switching on), a hair over 6 with dynamic GPU switching off (forcing the GPU to stay on), close to 5.5 hours in our medium-heavy browsing workload, and a bit over 2 hours in our brutal, heavy use case test (which adds a 1MB/s file transfer and a looping 1080p video to our heavy browsing test). Apple quotes 7 hours of "normal" use, and that's about right based on my standard usage – if you use your notebook for light browsing and word processing with medium levels of brightness, you'll get at least 7 hours if not a bit more. Obviously, once you start hitting the dGPU hard, it'll die pretty quickly, but at least GPU efficiency has improved enough that just leaving the GPU on in light workloads doesn't run down the battery too much.
The story about the regular MacBook Pro's display is more about what it isn't (game changing) because we already know what it is (very competent). As always, the display is a very high quality one, essentially the same as the previous 3 years of MacBook Pros and testing very similarly to the other 15" MacBook Pros we've reviewed over the last few years. Our evaluation unit had the base 1440x900 display, though I'd have preferred the matte WSXGA+ panel. The higher resolution is nice to have, and with the matte screen finish, it was one of my absolute favourite notebook displays.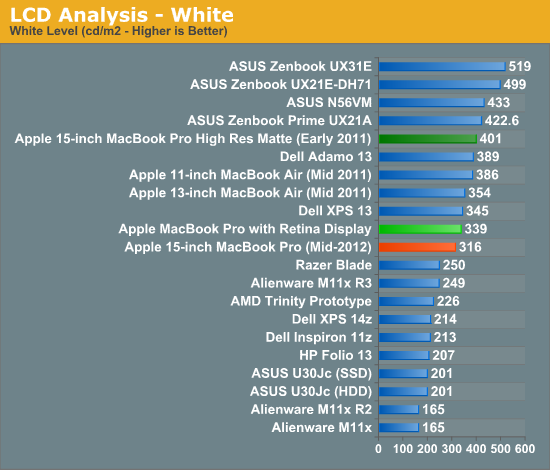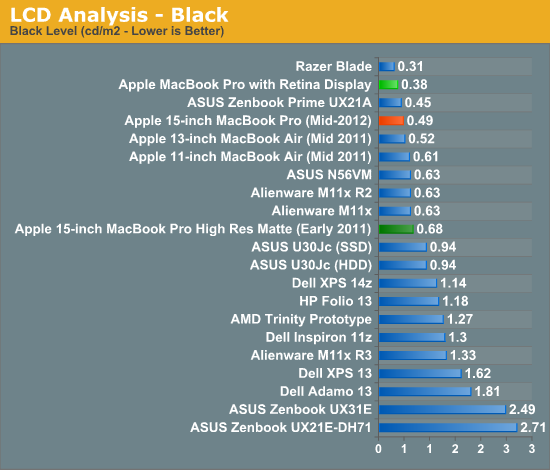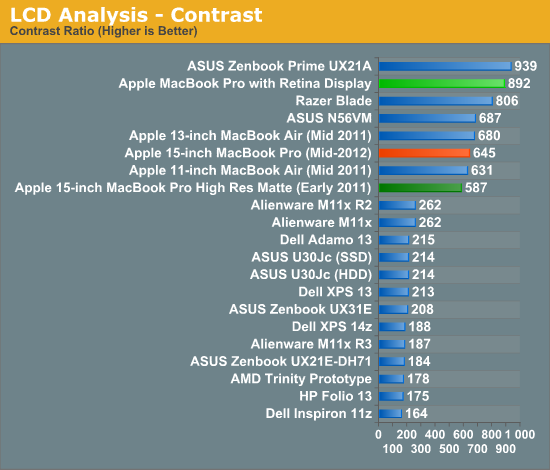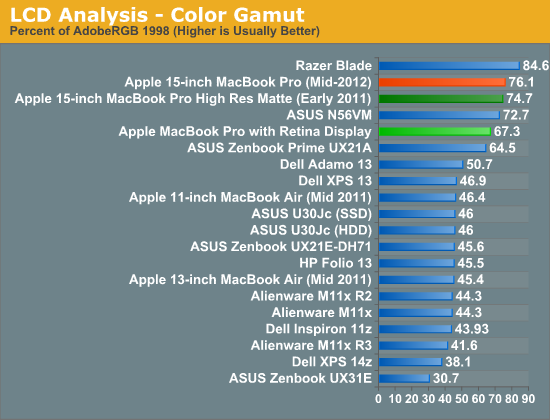 In terms of display performance, the 2012 MBP matches up very close to the 2011 and 2010 models, with very good contrast ratio and colour reproduction. But that's the thing with the regular 2012 MBP – it's just like the 2011 and 2010 MBPs, just updated to IVB/Kepler.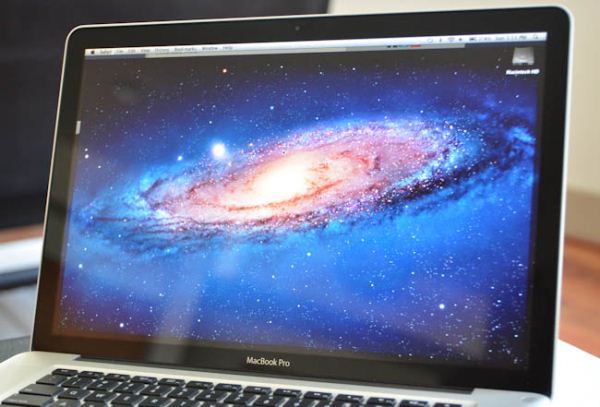 The real story here is about what you're giving up. After using an rMBP, it's actually a little bit difficult to go back to a normal MBP display. I mean, this is by far the biggest differentiating factor between the two, and if you're looking for a solid reason to put the money down for a Retina, this is it. The normal MBP has a good display, a very good display if you go for the matte high-res option, but the Retina MBP display is just on a completely different level. Like the new iPad, the resolution difference doesn't add to the screen real estate so much as allowing for a vastly improved UX with higher resolution UI elements and better text rendering. It's difficult to quantify, and it's easy to dismiss on the surface, but when you actually use a super high-res panel for a prolonged amount of time, you understand the difference it makes. Obviously, there are still some bugs, and it'll take probably one full development cycle for most applications to be updated to Retina-spec textures and UI elements, but that is all to be expected in a radical shift such as this. If you're comfortable sticking to the tried-and-true MBP display, it's not a bad way to go, but I'd advise you to use a Retina MBP before making a decision to go one way or the other.
The 15" professional notebook has been the focal point of Apple's mobile strategy for decades now, going back well into the PowerBook days. So naturally, the MBP 15 (at least the low end SKU) is very well settled in the Apple notebook lineup.
The 13" Pro though, has been a little bit questionable ever since the SNB MacBook Airs launched last year. And this year, with the price drop of the 13" MacBook Air to match the 13" Pro at $1199, that line has gotten even more questionable. The Core 2-based MacBook Airs were all too slow to be viable machines, but the SNB Air from last year brought it a lot closer to the Pro. This time around, with a 1.8GHz ULV Ivy Bridge and an SSD underhood, the MBA 13" is fast enough to be equal or better to the 13" MBP in normal daily use case scenarios. If the extra computing horsepower matters a lot (and let's face it, it's not all that much faster - the extra 700MHz doesn't make as big a difference as you'd expect because of Turbo, and the Air's SSD goes a long way towards making the system more responsive and covers up for any CPU shortfall) you're probably better off either stepping up to a 15" MBP or picking up a discounted 2011 MBP 15".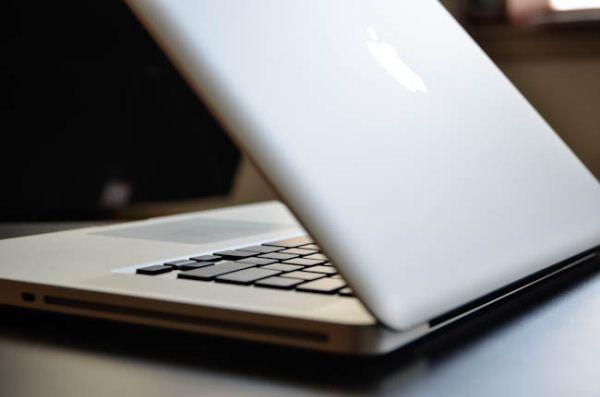 The Air 13" is fast enough for day-to-day use, and the higher screen resolution and significant edge in terms of portability make it pretty compelling versus the Pro's comparatively portly body and disappointingly low-res 1280x800 display. Which isn't to say that the MBP 13 doesn't have its advantages - it's significantly more upgradable (the Air has soldered in, non-upgradable memory, as well as a non-standard form factor SSD, while the Pro has a bog-standard SATA port), as well as an LCD with a wider colour gamut. Plus, if you rely on physical media, it's the only one with a DVD drive.
To me, and I suspect to many consumers, the form factor and screen resolution are enough to sway me towards the Air. As someone who owned and loved a 13" MacBook Pro for a long time (a base 2011 model with a Vertex 3 MAX IOPS), I just don't see the allure in the current one. The custom SSD form factor seems like an overblown issue, because Apple is now shipping SSDs with controllers good enough that I don't think they need to be replaced, and a number of SSD manufacturers make upgrade kits for the Air anyways. With that said, I absolutely don't like what Apple is doing about non-upgradable memory, because it means that if you're not willing to pay Apple sometimes absurd memory upgrade pricing, you're stuck with a system that'll be RAM starved after a couple of years. If you switch laptops frequently, that's not as big an issue, but otherwise, it's definitely something to consider. But to me, the Air just feels more modern than the Pro, and if you're buying a system in the next month or two, I think the base 13" Air is the better one to get.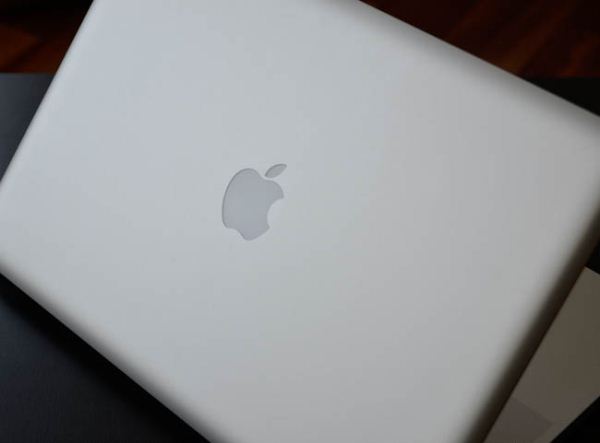 Now with that said, there are also rumors of Apple launching a 13-inch version of the rMBP before the end of the year. Take rumors with a grain of salt but the possibility is something you'll have to be prepared for.
The 2012 MacBook Pro is a pretty intriguing product. It's the latest and last in a line of standard-setting notebooks that helped shape the direction of the notebook industry over the last 5 years. This design has been around for a while, accompanied by the same general specsheet formula: the latest Intel processors, a performance-class GPU, a high quality display panel, and a $1799 starting price. These things haven't changed since the original Intel MacBook Pros from 2006 (with the exception of the odd low-end 2009 MBP15, which started at $1599 and came with an Nvidia 9400M IGP).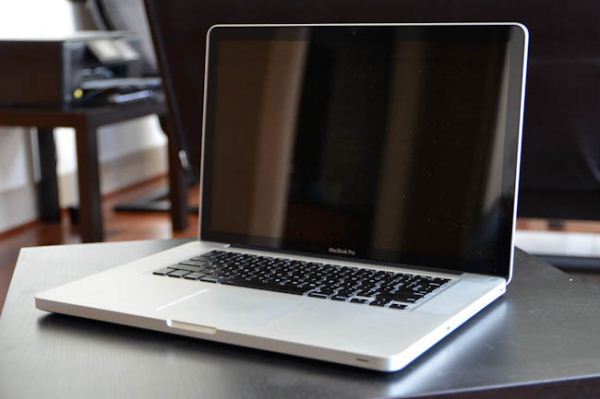 The unibody MacBook Pro is one of the best engineered portables around, and the longevity of the design speaks to that. But at this point, it's an aging design. Nearly four years in, the design has endured well, but it retains features that are starting to matter less and less - a DVD drive, Firewire, an IR window for the remote that hasn't been included with new Macs in years. Possibly even Ethernet. I know some of our editors and readers rely on having an Ethernet connection, but I personally haven't plugged an RJ45 jack into a notebook in years. Like, five or six years. You can see that Apple agrees - the Retina MacBook Pro has none of those things. The optical drive has been unceremoniously dumped, as has the IR port. The Firewire port and Ethernet jack have been traded for a second Thunderbolt port and an HDMI out (finally, HDMI comes to Macs - hooray for no longer needing those infernal adapters!). Based on my usage model, I make that trade twelve times out of ten. Two ports I never use for one I use regularly and one I will use going forward, and becomes worth more as more Thunderbolt accessories become available.
And when you think about it in those terms, you see where the normal 2012 MBP is flawed - it's a design that's rooted in the past, a four year old design with a one year stay of execution. That normally wouldn't be a problem, but with the future being sold alongside it, it becomes a much more difficult sell. Especially when you consider this: if you were to buy the base 15" MBP and upgrade to a 256GB Samsung 830 SSD and 8GB memory (bringing it to spec-parity with the base rMBP), you'd be approximately $100 shy of the rMBP pricing. That's $100 for a smaller, lighter notebook that's just as fast and has a *significantly* better display. If you're eligible for student discount, that difference is actually zero, because the rMBP has a greater student discount than the base MBP15. The rMBP is pretty pricey, but when you think about it, it's a pretty good deal.
There are only a few legitimate reasons I can think of to skip the rMBP and get the MBP15, with the most reasonable of them being that you're very fundamentally opposed to the soldered memory and custom SSD form factor. Another is if you're highly dependent on a DVD drive and Ethernet and don't want to pay for or carry around an external SuperDrive or GigE adapter. Or, you have a hard-set $1800 budget and simply don't care about an SSD, extra memory, or having a good screen (or plan to upgrade them later).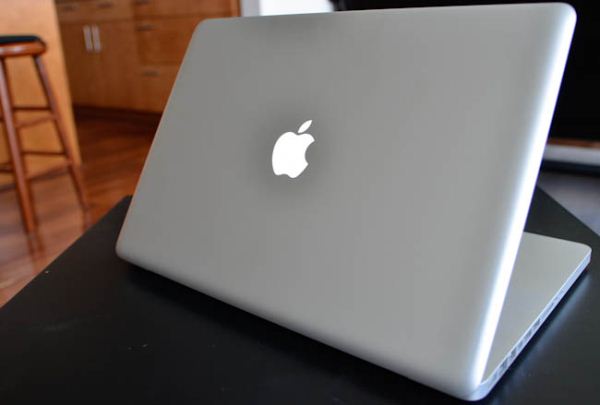 But here's my take – the 2012 MBP is a great notebook and a very solid portable system. I just don't want one. For my money, I'll either save some and get a discounted 2011 MBP15 or spend a bit more to step up to the Retina. And maybe this is telling, but as soon as I was done with the benchmarking and the major part of the writing for this review, I stopped using the MBP and picked up a base Retina. It's the future, simple as that.