Original Link: http://www.anandtech.com/show/6036/asus-transformer-pad-infinity-tf700t-review


At Computex a few weeks ago ASUS gave us exactly what we had been hoping for: a Transformer-style tablet running Windows 8. In fact, ASUS gave us a bunch of options as far as Windows 8 tablets go. The two we've been asking for are the Tablet 600 and Tablet 810, running Windows RT and Windows 8, respectively. They feature standalone tablets with detachable keyboard/mouse docks, giving you the best of both worlds.
ASUS wasn't the only one to bring this sort of flexibility to Windows 8. Acer showed off a similar design with its Iconia W510, as did Samsung and more recently, Microsoft. With the Surface tablets Microsoft actually went a step further and tried to integrate the keyboard into a lightweight cover rather than an external dock. It remains to be seen just how well these approaches will work, but it's clear there's a trend for the first generation of Windows 8 tablets.
We can't forget however what started this all. Much like Apple with the iPhone and iPad, ASUS picked an intersection of functionality and technical feasibility with the introduction of the first Eee Pad Transformer. For the first time we had silicon capable of running for hours in a small form factor tablet, as well as a touch-enabled OS that could run on it. Previous attempts at hybrid tablets often tried to shoehorn a desktop version of Windows into a device that was too clumsy. ASUS' Transformer series was the start of something new.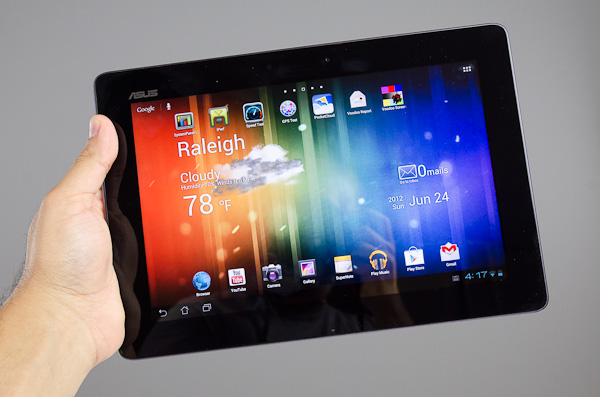 Since the release of the first Eee Pad Transformer (can you believe it's only been about a year?), ASUS has released several members of the Eee Pad and Transformer families. We got a slider, a thinner version called the Transformer Prime, as well as a refreshed entry level Transformer Pad 300. ASUS' experimentation and learning will pay off later this year as it ships the first Windows RT/8 versions. Until then however ASUS isn't done iterating. Today it's officially announcing the final configuration of the Transformer Pad Infinity, the first member of the TF series with a 1920 x 1200 display. It also happens to be the first tablet we've tested to use NVIDIA's higher binned Tegra 3 T33 SoC.
ASUS Tablet Specification Comparison
ASUS Eee Pad Transformer
ASUS Transformer Pad 300 Series
ASUS Eee Pad Transformer Prime
ASUS Transformer Pad Infinity
Dimensions
271mm x 175mm x 12.95mm
263 x 180.8 x 9.9mm
263 x 180.8 x 8.3mm
263 x 180.6 x 8.4mm
Chassis
Plastic
Plastic
Aluminum
Aluminum + Plastic RF Strip
Display
10.1-inch 1280 x 800
10.1-inch 1280 x 800 IPS
10.1-inch 1280 x 800 Super IPS+
10.1-inch 1920 x 1200 Super IPS+
Weight
675g
635g
586g
594g
Processor
1GHz NVIDIA Tegra 2 (2 x Cortex A9)

NVIDIA Tegra 3 (T30L - 4 x Cortex A9)

1.3GHz NVIDIA Tegra 3 (T30 - 4 x Cortex A9)

1.6GHz NVIDIA Tegra 3 (T33 - 4 x Cortex A9)

Memory
1GB
1GB
1GB
1GB DDR3-1600
Storage
16GB + microSD card
16GB/32GB
32GB/64GB + microSD slot
32/64GB + microSD slot
Battery
24.4Whr
22Whr
25Whr
25Whr
Pricing
$399
$379/$399
$499/$599
$499/$599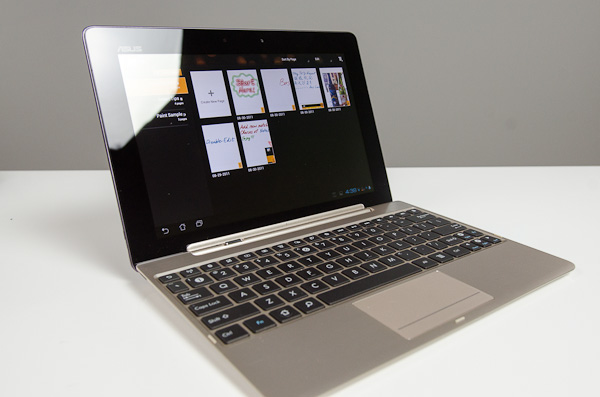 Despite early indications of $599+ pricing, the Transformer Pad Infinity comes in at $499 for the 32GB model and $599 for 64GB. The Infinity is compatible with the Transformer Dock ($149) from the TF Prime as long as your dock has firmware 207 or later on it. The dock is what gives the Transformer Pad its name as it allows the Infinity to be converted into an Android netbook complete with QWERTY keyboard, trackpad and additional battery. The Infinity and its dock are available in the same two colors (amethyst gray and champagne gold) as the TF Prime was at launch. The Infinity dock doesn't appear to carry a separate part number, it's literally the same dock that was used with the Prime.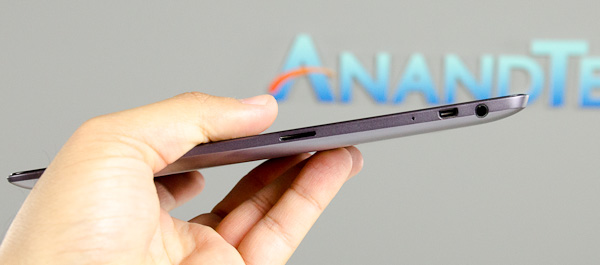 The chassis hasn't changed much since the introduction of the Prime. It is one-tenth of a millimeter thicker to accommodate the higher-resolution display and backlight assembly, but battery capacity remains at 25Wh. The Infinity is a little heavier and its edges are squared a bit instead of being perfectly rounded. The port configuration remains the same (micro HDMI, micro SD, headphone jack), although redistributed around the chassis. The power and volume buttons are now both located along the top of the unit, with the switches themselves more integrated with the tablet.
Although official reviews of the Infinity hit today, availability isn't scheduled until around July 16th. Quantities are unknown at this point and will likely be gated by panel availability.
The Display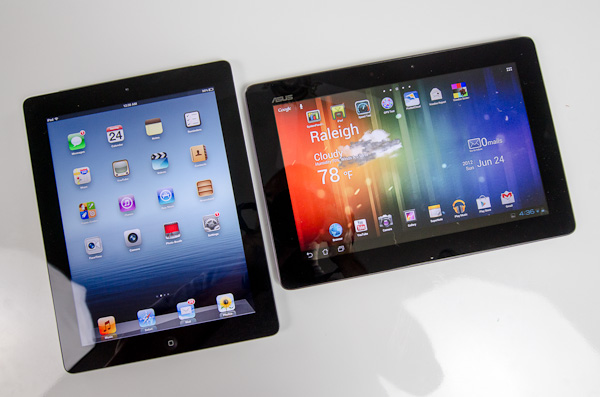 At 1920 x 1200 with a 10.1-inch diagonal, the Transformer Pad Infinity's Super IPS+ panel works out to a hefty 224 pixels per inch. That's shy of the iPad's 264 PPI but still a tremendous improvement over the 149 PPI of the previous generation Transformers. 1920 x 1200 is a fully supported resolution under Ice Cream Sandwich, so there's no funniness that has to happen in order to support the new display. It's still a 16:10 aspect ratio, but with a 1.5x increase in the horizontal and vertical dimensions.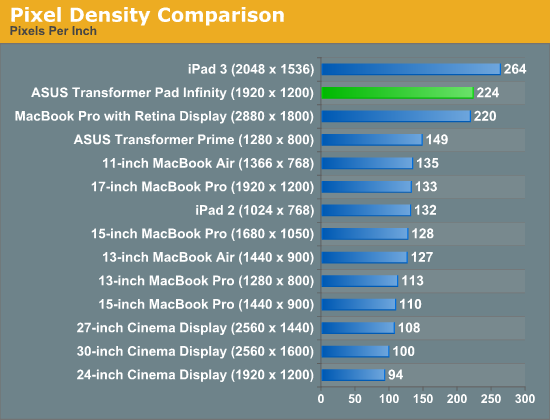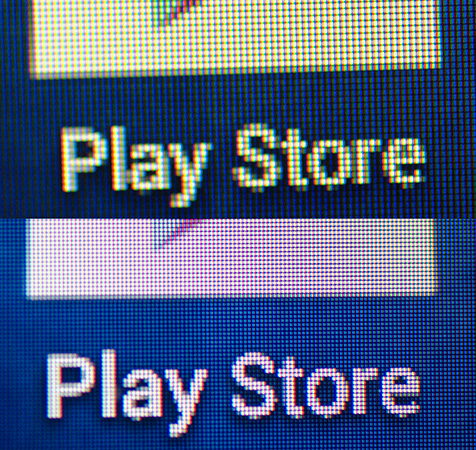 The effect on the display is subtle but present. Text looks sharper, icons look clearer, everything just gets better. The browser uses the added resolution to make smaller text more legible when zoomed out on web pages: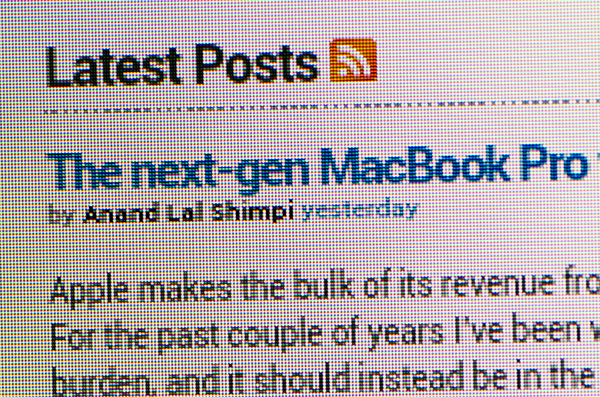 Macro shot of AnandTech.com on the Transformer Prime, 10.1-inch 1280 x 800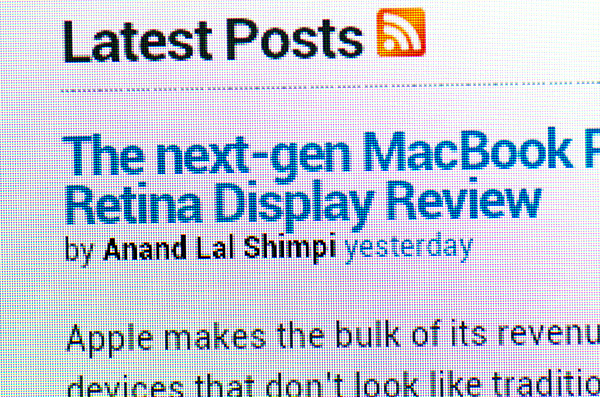 Macro shot of AnandTech.com on the Transformer Pad Infinity, 10.1-inch 1920 x 1080
High resolution photos look good on the display as well, but the effect is a bit more subtle than I would have expected. It's really text that benefits the most in my opinion.
In going to the higher resolution panel, ASUS hasn't improved color gamut or accuracy. Things are a tad better compared to the TF Prime but not appreciably so. White point is kept at around 7500K across the brightness range.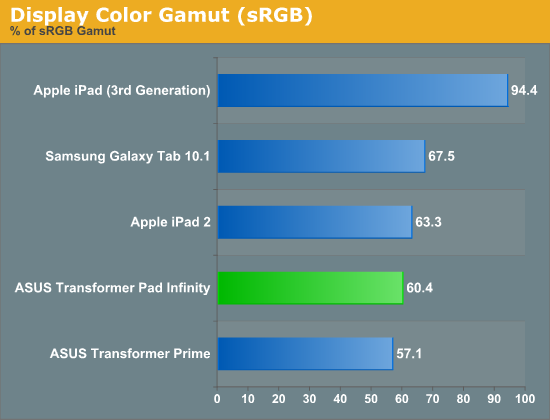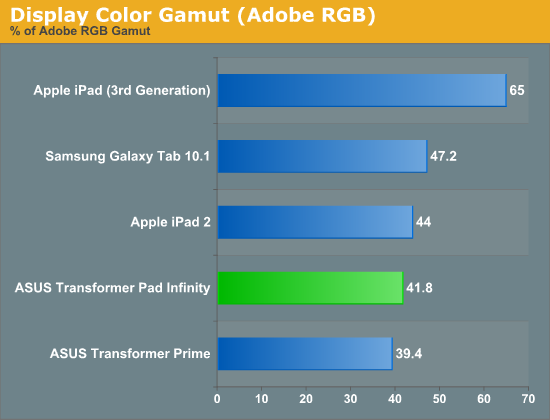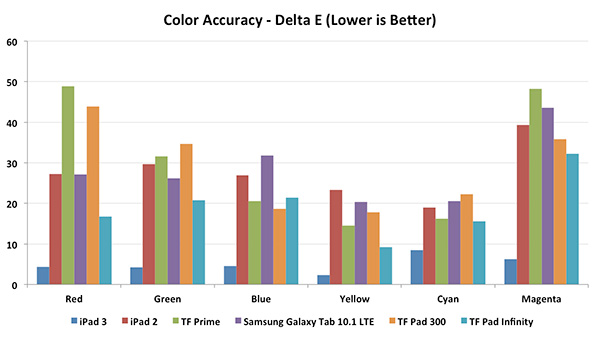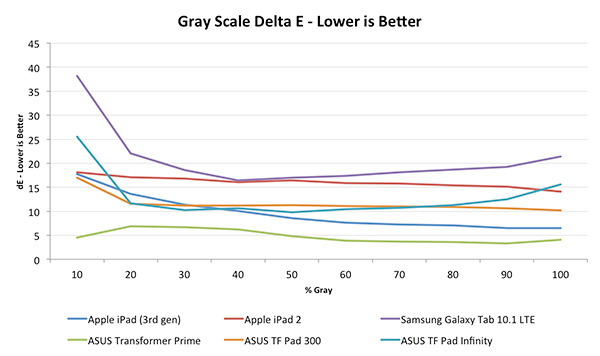 Where ASUS does deliver is in contrast ratio and brightness. In its default state the Transformer Pad Infinity can deliver, at max brightness, 460 nits. Similar to the Transformer Prime, ASUS offers a Super IPS+ mode for outdoor viewing that drives the panel and backlight to just under 700 nits.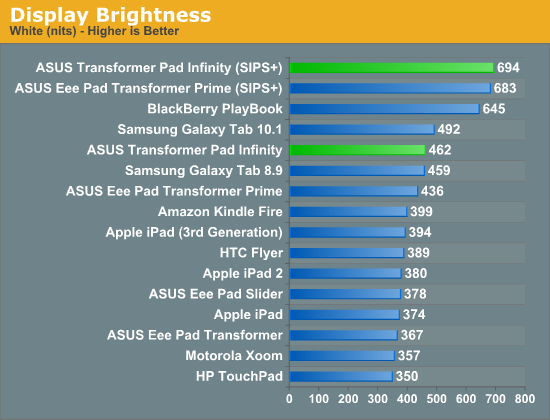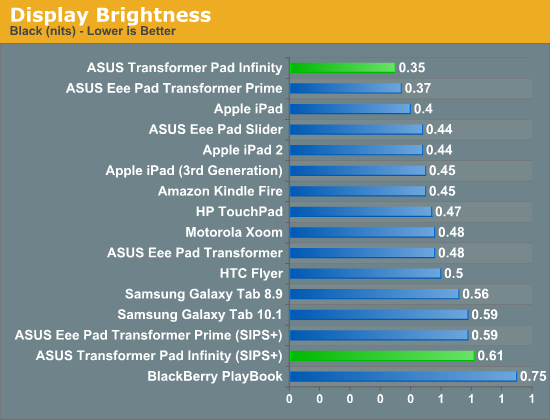 Black levels suffer a bit at the Super IPS+ setting, but otherwise the panel is actually a bit better than what ASUS used in the Transformer Prime. The result is a contrast ratio of over 1300:1, or 1135:1 in Super IPS+ mode.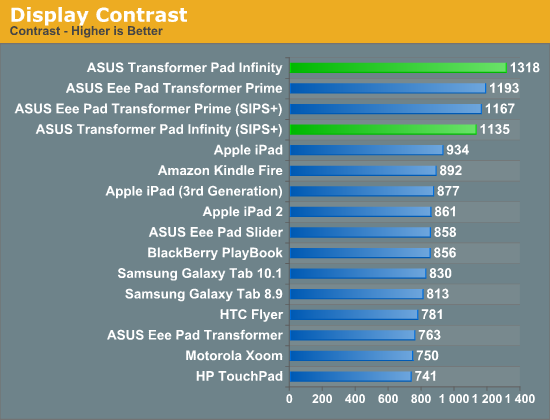 The brightness and contrast improvements are appreciated as is the increased pixel density. It would have been nice to see an improvement in color gamut and color accuracy with the Transformer Pad Infinity. Let's hope ASUS is saving the best for its Windows 8 tablets later this year.
A Faster Tegra 3, More Memory Bandwidth
As its new Android tablet flagship, ASUS selected the fastest Tegra 3 SoC NVIDIA is offering today: the T33. Architecturally similar to the rest of the Tegra 3 lineup, the T33 is simply a higher leakage part running at a higher voltage to hit higher clock speeds. Whereas the original T30 used in the Transformer Prime ran at a nominal voltage of 1.15V, the T33 runs at 1.237V. CPU clocks can now reach 1.7GHz with a single core active, or 1.6GHz otherwise.
NVIDIA Tegra 3
CPU Cores
Max CPU Clock (1 core active)
Max CPU Clock (multiple cores)
GPU Cores
Max GPU Clock
NVIDIA Tegra 3 (T33)
4+1
1.7GHz
1.6GHz
12
520MHz
NVIDIA Tegra 3 (T30)
4+1
1.4GHz
1.3GHz
12
520MHz
NVIDIA Tegra 3 (T30L)
4+1
1.3GHz
1.2GHz
12
416MHz
ASUS continues to expose control over the CPU governer through its Performance, Balanced and Power Saving modes exposed in ICS. In general, the balanced mode really does deliver nearly max performance (1.5 - 1.6GHz) while power saving significantly clamps CPU clock speeds (1GHz) and is more conservative with ramping up CPU clock to that max. Despite offering support for up to 1.7GHz operation, I typically saw 1.6GHz as a max even in performance mode.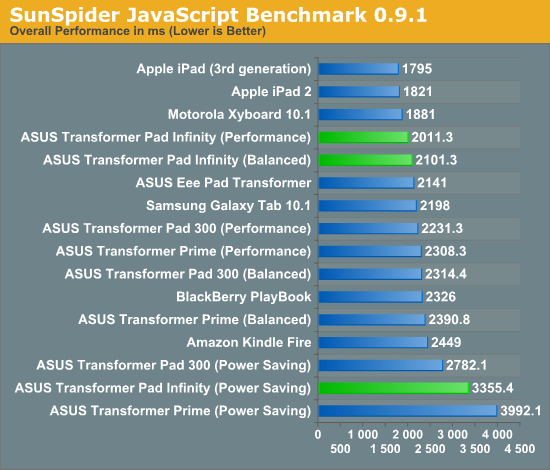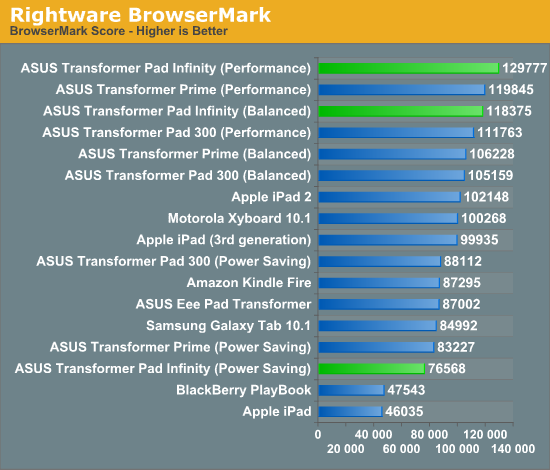 The higher clocked CPU does deliver a tangible performance improvement over the Transformer Prime, and definitely over the original Transformer if you look at the BrowserMark results.
Although GPU clocks remain unchanged, in order to drive the higher resolution panel ASUS outfitted the Infinity with DDR3-1600. If I'm reading the part numbers on the DRAM devices used in previous models it looks like there's a significant increase in memory bandwidth this generation:
ASUS Transformer Memory Choices
TF Prime
TF Pad 300
TF Pad Infinity
Memory Capacity
1GB
1GB
1GB
Memory Type
DDR2-500
DDR3-667
DDR3-1600
Memory Bandwidth
2.0GB/s
2.7GB/s
6.4GB/s
Remember NVIDIA's Tegra 3 only has a single channel memory interface, so frequency is the only option for increasing memory bandwidth. The increase in bandwidth does make scrolling and most UI interactions fairly smooth, although you will see dropped frames from time to time. I must say I'm fairly impressed by how well ASUS/NVIDIA were able to pull off smoothness without a significant hardware update. It's worth pointing out that the experience is far from perfect though. Even ICS is rough around the edges when it comes to delivering consistent UI performance on a tablet. Google is expected to address this with Jelly Bean but it's something to keep in mind for those buying in the near future. Granted by the time the Infinity is actually available, Jelly Bean may have already launched. As ASUS is widely expected to be a launch partner on Jelly Bean, I wonder if that means TF Pad Infinity owners will get a swift update.
GPU Performance
The increase in memory bandwidth from using DDR3-1600 memory should improve 3D performance as well as maintain general UI perf. To find out we turned to GLBenchmark 2.1. Let's start with the synthetics: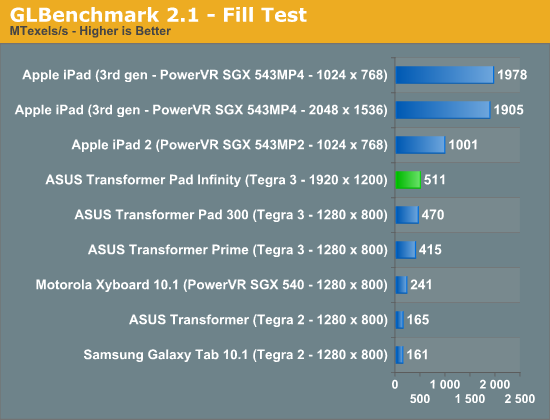 The fill rate test shows a greater than 20% increase in performance, all due to memory bandwidth. We saw a jump with the TF Pad 300 for similar reasons as well.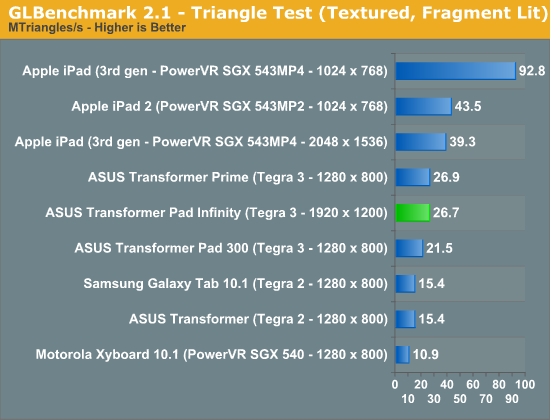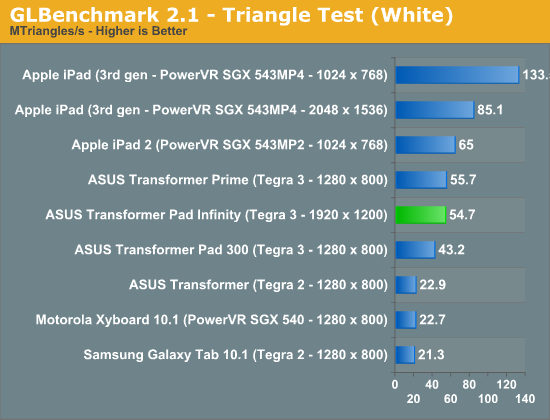 Triangle throughput hasn't changed, which makes sense because there's no increase in processing power or GPU clock speed. Let's look at the impact on simulated gameplay however. First up are the offscreen, 720p results: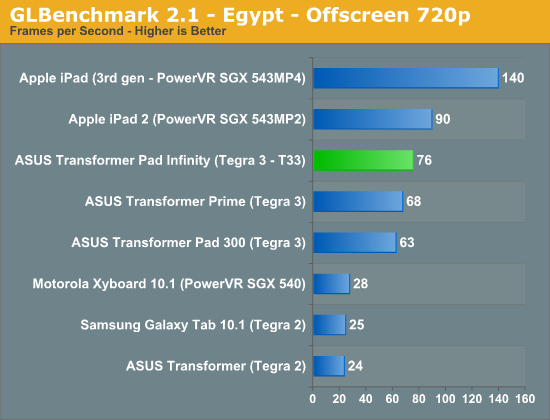 As we've surmized in the past, GLBenchmark's tests are largely compute bound - thus the 11% increase in performance over the Transformer Prime isn't too surprising at 720p.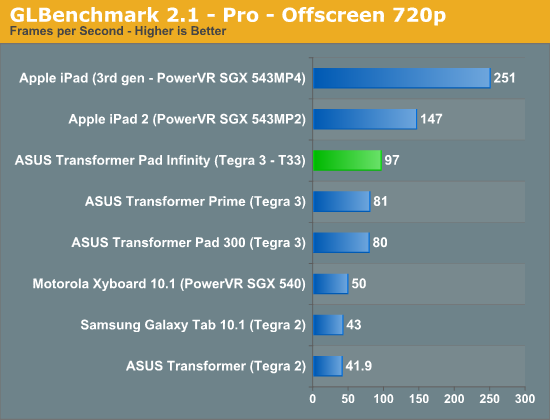 The older Pro test is less compute limited and here we see nearly a 20% increase in performance thanks to the higher bandwidth memory subsystem. The real question is whether or not DDR3-1600 is enough to drive a game at the panel's native 1920 x 1200 resolution.
Although hardly the most visually complex demonstration in the world, the Egypt benchmark does show us that over 30 fps is possible at 1920 x 1200. GPU performance is obviously shy of what Apple crammed into the next-generation iPad, but it can be sufficient for the Infinity.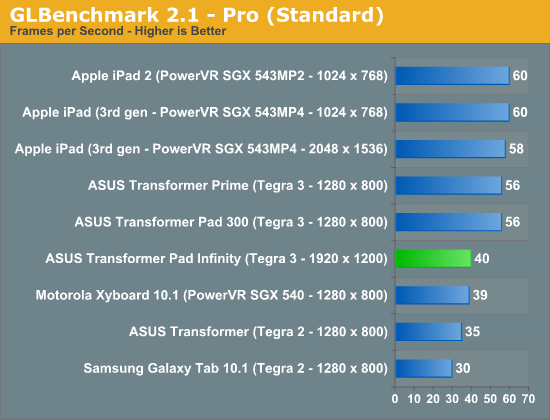 WiFi & GPS Performance
With the Transformer Prime ASUS moved to an all-aluminum construction but did little to focus on maintaining RF performance. The Transformer Pad 300 addressed WiFi and GPS performance by moving back to an all-plastic chassis, but as the high end in ASUS' Transformer stack aluminum was a necessity for the Infinity. The compromise is simple: a strip of similarly colored plastic across the top of the tablet, behind the WiFi and GPS antennas.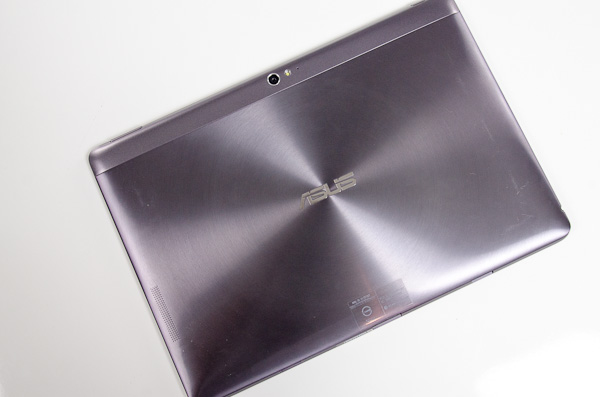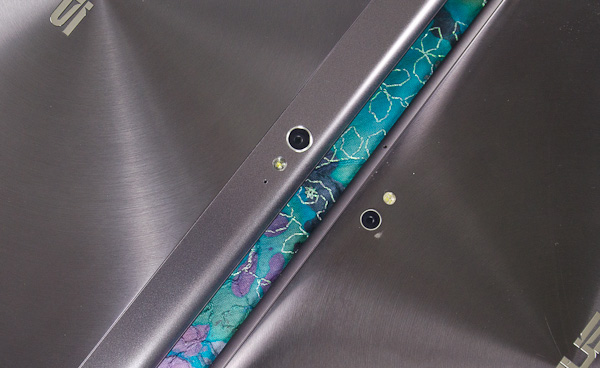 The plastic strip on the TF Pad Infinity (left) vs. the truly all-aluminum TF Prime (right)
I performed a number of WiFi performance tests and am pleased to say that overall wireless performance appears to be much better than any previous Transformer tablet. I managed nearly 40Mbps in the best case scenario, but more importantly I was able to maintain 3 - 4x the transfer speeds of the TF Prime at further distances from the access point. I would say the Infinity's WiFi performance is now on par with that of the iPad, and is seemingly better at 2.4GHz.
WiFi Performance Comparison
Distance from AP
3 feet
20 feet (Different Room)
50 feet (Different Room/Floor)
80 feet (Different Room)
ASUS TF Prime (2.4GHz)
26.9 Mbps
9.85 Mbps
13.5 Mbps
2.20 Mbps
ASUS TF Pad 300 (2.4GHz)
26.5 Mbps
21.8 Mbps
20.7 Mbps
21.3 Mbps
ASUS TF Pad Infinity (2.4GHz)
39.2 Mbps
34.0 Mbps
34.3 Mbps
10.8 Mbps
ASUS Transformer (2.4GHz)
21.8 Mbps
17.6 Mbps
18.8 Mbps
15.0 Mbps
Apple iPad 2 (2.4GHz)
35.1 Mbps
29.9 Mbps
26.9 Mbps
10.6 Mbps
Apple iPad 3 (2.4GHz)
35.1 Mbps
29.9 Mbps
27.9 Mbps
9.98 Mbps
Apple iPad 2 (5GHz)
36.7 Mbps
36.7 Mbps
36.7 Mbps
11.9 Mbps
Apple iPad 3 (5GHz)
36.7 Mbps
36.7 Mbps
36.7 Mbps
11.7 Mbps
ASUS still doesn't support 5GHz unfortunately with the Transformer Pad Infinity, so expect problems in situations with a bunch of 2.4GHz spectrum crowding.
GPS performance also benefits from the RF improvements to the Infinity. Although GPS locks are still not as consistently quick as I'd like them to be, the Infinity is generally able to get a signal lock quicker than even the Transformer Pad 300 - even in adverse conditions. While the Transformer Prime can't get a lock indoors or even in some situations in a car, the Infinity manages to do so in about 12 seconds. The shot below is what I saw after 12 seconds of searching for a lock: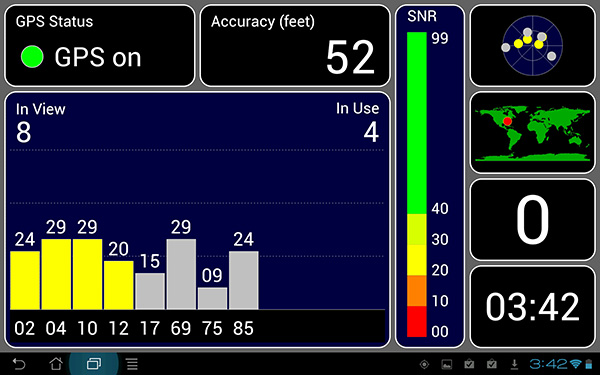 To get something comparable from even the TF Pad 300 took well over a minute. I suspect the improvements to the Infinity go beyond simple chassis work based on its behavior.
Camera Quality
Similar to the TF Pad 300, the Infinity comes with an 8MP rear facing camera (F2.2 aperture, 3264 x 2448 capture resolution). For the first time, ASUS also ships a 2MP front facing camera as well (F2.8 aperture, 1920 x 1080 capture resolution).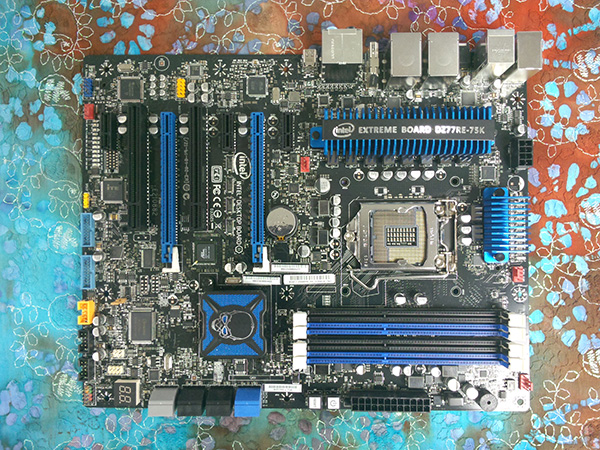 Image quality out of the rear facing camera is comparable to what the Prime produced, despite the new sensor and lens setup. The gallery below has a bunch of shots showing what the rear camera is capable of. Overall the image quality isn't all that impressive at native res as most shots end up looking overexposed or washed out. When scaled down to web resolutions the camera's output is definitely passable for emailing or sharing though.
The camera app's built in panorama mode is very easy to use and produces reasonable results:

The front facing camera similarly delivers acceptable quality, but mostly if you scale it down below its captured resolution: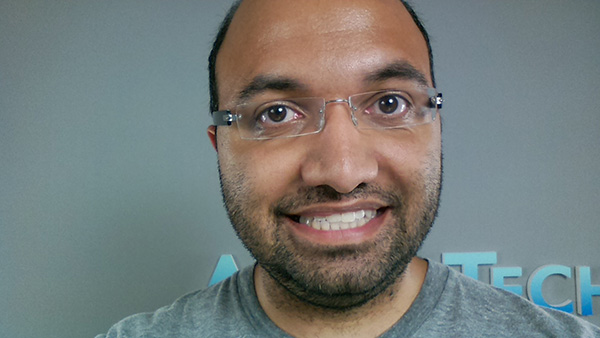 Video capture quality is ok as well. The rear camera will record in 1080p at just under 20Mbps using H.264 baseline profile, although again you'll really want to view video at a lower resolution for it to look good:
Battery Life
The Transformer Pad Infinity features an integrated 25Wh battery, similar to the original Prime. You can obviously extend battery life by docking the Infinity into the optional keyboard dock.
Without an increase in battery capacity, you can expect a drop in battery life compared to the Transformer Prime as there's a leakier SoC, faster DRAM, higher resolution panel and brighter backlight to drive. The drop isn't huge, but it's noticeable: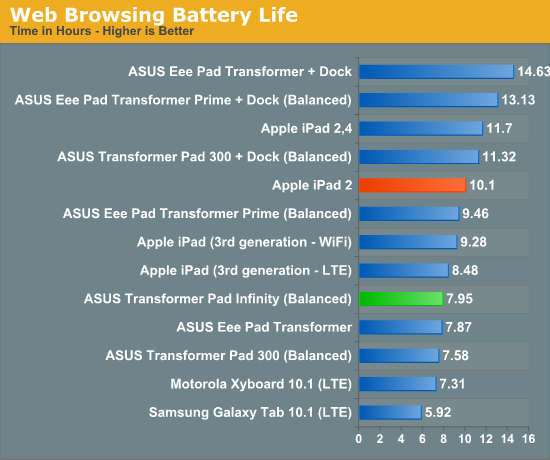 While the original Prime pulled just under 9.5 hours, the Infinity borders on 8 hours of continuous use on a single charge. It's very similar to the battery life from the original Eee Pad Transformer, and better than what you can get out of a TF Pad 300. Eight hours isn't bad by any means, but it's the price you pay for maintaining portability while driving up performance/display.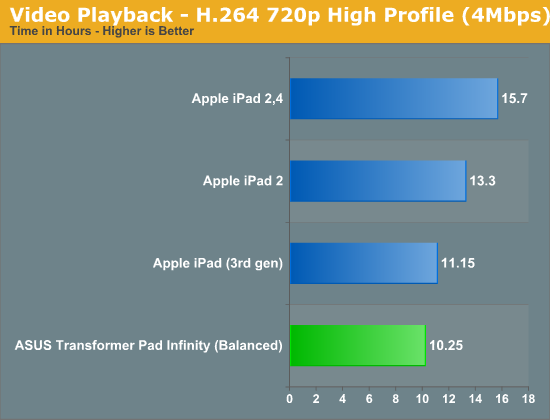 Video playback battery life is thankfully quite respectable on the Infinity. I haven't had time to run the Prime and TF Pad 300 through our new tablet video playback test but at over 10.25 hours there's really nothing to complain about here. You can watch a few movies on a single charge, which is great for anyone stuck on a long haul flight.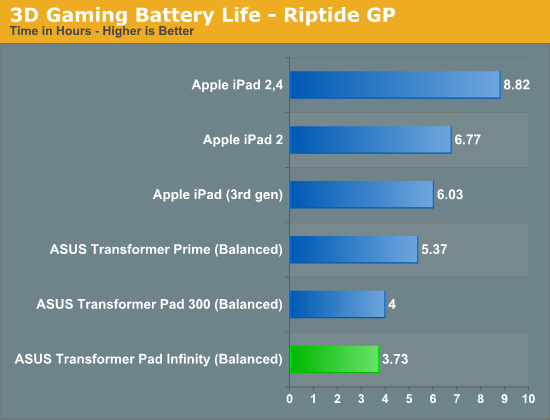 For our gaming battery life test I'm not sure just how comparable the iOS/Android numbers are because it's quite likely that the NVIDIA hardware is actually doing more work here. But the important takeaway is the significant drop in battery life compared to the TF Prime. What we're likely seeing here is the penalty of the leakier SoC combined with the higher speed memory and increased memory bandwidth demands. If you're gaming on the Infinity, just plan on having a charger handy.
Final Words
The Transformer Pad Infinity addresses everything we didn't like about the Transformer Prime. Both WiFi and GPS performance are much improved, the latter to the point of actual usability. The display is also appreciably better thanks to its very high panel resolution and wonderful brightness/contrast. ASUS completes the package with an increase in SoC performance and memory bandwidth, ensuring the Infinity maintains the UI performance and behavior of the Prime despite the higher resolution display.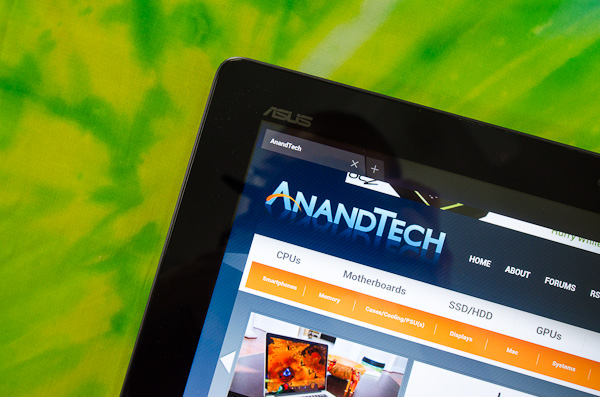 Portability and form factor are just as good as always. Despite moving to a higher resolution panel, device thickness increased by no more than 0.1mm. There's no increase in battery capacity as a result, which does hurt battery life. Video playback is still fine at over 10 hours, it's really the general use and 3D workloads that take the biggest hit. By keeping the form factor constant, however, ASUS guarantees the Infinity is just as easy to port around as its predecessors. Although the dock is nice, there's something about just carrying around an ultra thin, ultra light tablet that feels so comfortable.
While improved features and higher resolutions are nice, it's equally as important that ASUS delivers all of this without an increase in price. The Infinity was originally talked about as a $599+ device, but falling panel costs and increased competitive pressure dictated that $499 would be the actual starting point. Availability isn't scheduled until mid-July however, which actually brings us to our only issue with the Infinity: it doesn't run Windows 8.
Android does quite well as a tablet and smartphone OS, but it seems to fall short as a notebook OS. To really use the Infinity to its potential is to use it in combination with the Transformer Dock. While docked, the Infinity is good, but I suspect the overall experience with Windows 8 will just be better. Current estimates put Windows 8 based tablets out in early Q4, which isn't all that far away from the July 16th launch week for the Infinity.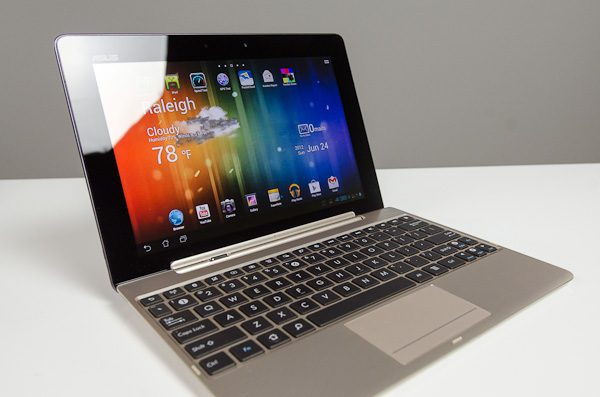 If you're a fan of Android tablets, the Transformer Pad Infinity will likely be one of the best options when it arrives. You get a good, thin, tablet form factor with a nice high resolution display and functional WiFi/GPS. But if you're really interested in having a tablet that can really perform as a notebook, you may want to wait for the ASUS Tablet 600, 810 and Transformer Book. The hybrid tablet/notebook market is one that Windows 8 seems perfectly suited for, and ASUS now has a lot of experience under its belt in building devices for that market. When those two meet, I suspect only good things will happen.