Original Link: http://www.anandtech.com/show/6022/samsung-galaxy-s-iii-review-att-and-tmobile-usa-variants


Before we dive into the review of Samsung's Galaxy S 3 variants for the USA (henceforth SGS3), it's worth it to quickly talk about how much the SGS3 launch in the US differs from that of SGS2. Since announcing the international SGS3, it has been just under a month and a half, and here we are with finalized software and hardware and devices which will be on retail and carrier shelves within a week. When rumors of the SGS3 started circulating, one of the things that resonated the most for me was that Samsung was going to put a lot of emphasis on the USA launch, and dramatically narrow the gap between announcement and availability. When you look at that roughly month and half, and compare to the SGS2 launch, which started with its announcement at MWC and launch in the USA in September and October, it's really obvious to see how much that ended up being true.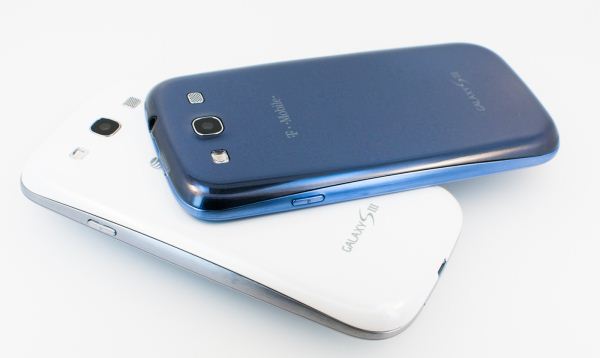 Reviewing the SGS3 USA variants is much easier this time, since all of the devices are basically identical, with the exception of air interfaces. They share the same exact exterior dimensions, display, battery, and accessories. With the exception of those air interfaces, all five variants ship with the same Snapdragon S4 MSM8960 SoC at 1.5 GHz, 2 GB of LPDDR2 RAM, 8 MP rear facing camera, dual band WiFi, Bluetooth 4.0, and a microSD card slot. The only difference is whether you get one with 16 or 32 GB of onboard storage, some software preloads, and the appropriate bands and cellular interfaces for the carrier.
I cannot state enough how huge that is for Samsung, as for the first time we have something other than the iPhone shipping in a nearly identical form on five different carriers. When you look at the evolution of Galaxy S, you can see how much Samsung has built upon this more and more each generation to get to this point. With Galaxy S, there was no consistent branding or naming in the USA - you had variants like the Vibrant, Captivate, Epic 4G, and Fascinate. With SGS2 Samsung nailed down the branding part way (all the variants were "Samsung Galaxy S 2" and then some carrier specific suffix) but ultimately had some differences in hardware platform (one was Exynos 4210, most were APQ8060). With SGS3 Samsung now has nailed down the exterior appearance and battery form factor (which will foster a big accessory ecosystem), the last part of the branding (all of the variants are just Samsung Galaxy S 3), and the hardware platform itself (same display, camera, SoC, etc). It's obvious that Samsung understands the value of having a coherent message and launch spread across the carriers. A couple of weeks ago, I had the opportunity to play with basically all of the SGS3 variants in NYC, and get a first hand appreciation for how consistent things are across the lineup now. Without looking at the branding on the back of the phone (note that it isn't on the front, for once), there literally is no dead giveaway that one SGS3 is a Verizon model, or a T-Mobile model, or an AT&T, or a Sprint model. That alone says quite a lot.
Anyhow, on to the devices themselves. I was sampled the T-Mobile and AT&T SGS3s by Samsung just a few days ago, and have been playing with them, benchmarking, and battery life testing them nonstop. Since seeing the SGS3 at the launch event in London, I have to admit that the design has grown on me considerably.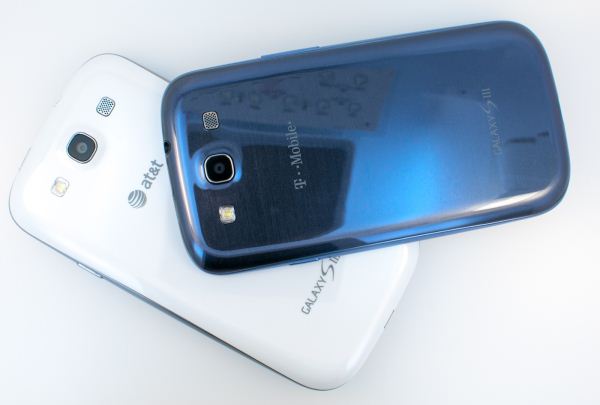 Samsung claims that its SGS3 design is derived from nature, and I guess you can somewhat see a connection between a device with a mostly spherical overall shape and large radii curves, and the spherical form that gravity induces orbital bodies into into being. Either way, it's a clear evolution of the APQ8060 based SGS2 devices that we saw at the end of the SGS2 rollout - phones like the T-Mobile SGS2 or AT&T SGS2 Skyrocket - and thus shouldn't have come as a huge surprise.
I played with a white model at the Unpacked 2012 event which was the first time I'd seen SGS3, and set my impressions about aesthetics based on that color. Samsung made sure to sample both colors for launch – pebble blue, and white. Oh, and the blue color is indeed the same across all 5 variants. After seeing both, I have to admit I prefer the pebble blue device, since it has a unique metallic appearance in the right light which definitely sets it apart.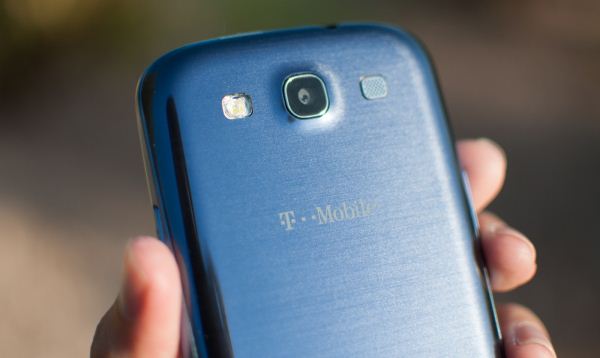 The last differentiation is that AT&T will get a red color that I haven't seen demonstrated yet, though that's at some unknown point in the future this summer. For now, the white or pebble blue choice will be the one most customers will be forced to make. Just like other white devices, my main gripe is that although the color hides surface scratches (sleeks) and fingerprints better, dirt on the surface casts a shadow through the front glass onto the white below, and is easy to spot on the back plastic.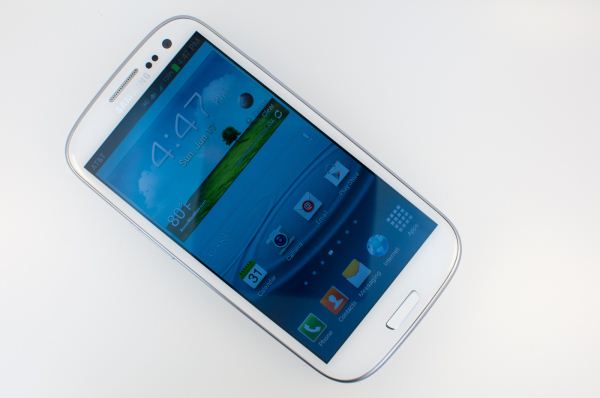 Samsung has largely made the same material choices with the SGS3 as it has other phones in the past, which means the exterior is entirely shiny, glossy plastic. The result is in-palm feel which really is a throwback to the initial Galaxy S or Nexus S. That choice is probably my only real gripe with the device overall, and it's the result of a weight minimization design direction by Samsung's design team more than anything else. The thought process is that customers value lighter weight devices over ones with beefier, metallic material choices. In addition, optimizing for lighter weight translates to less potential energy when dropped from a given height. I think it's totally valid for Samsung to make that case, but I still find myself wishing that the SGS3 had used the textured surface that SGS2 did for the backside, which seemed to yield the best of both worlds. I wish even more that the device had a more unique feel like the bead-blasted polycarbonate or plasma-sputtered metal that other OEMs have gone with.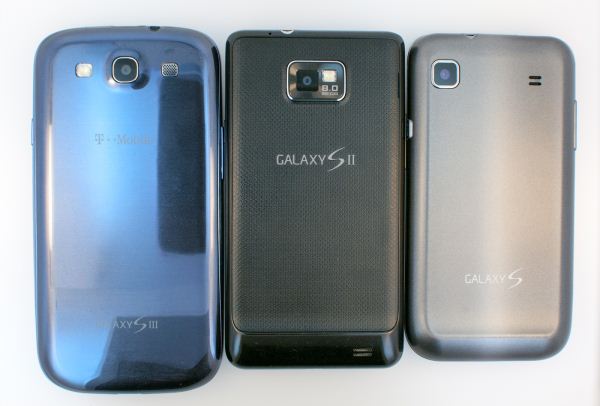 The other thing to talk about is how much bigger the SGS3 is compared to other phones, and the answer is really that it isn't much larger than the Galaxy Nexus. In fact, if you look at the comparison table below, you'll notice it's both 2 mm wider and 1 mm taller than the Galaxy Nexus, but thinner and lighter. That's not bad at all considering display size has gone up from 4.65" to 4.8" diagonal, and I believe people just inspecting display size expected a dramatically larger device than the SGS3 ended up being.
Physical Comparison
Samsung Galaxy Nexus (LTE)
Apple iPhone 4S
Samsung Galaxy S 2
Samsung Galaxy S 3 (USA)
Height
135.5 mm (5.33")
115.2 mm (4.5")
125.3 mm (4.93")
136.6 mm (5.38" )
Width
67.94 mm (2.67)
58.6 mm (2.31")
66.1 mm (2.60")
70.6 mm (2.78")
Depth
9.47 mm (0.37")
9.3 mm ( 0.37")
8.49 mm (0.33")
8.6 mm (0.34")
Weight
150 g (5.3 oz)
140 g (4.9 oz)
115 g (4.06 oz)
133g (4.7 oz)
CPU
1.2 GHz Dual Core Cortex-A9 OMAP 4460
Apple A5 @ ~800MHz Dual Core Cortex A9
1.2 GHz Exynos 4210 Dual Core Cortex A9
1.5 GHz MSM8960 Dual Core Krait
GPU
PowerVR SGX 540
PowerVR SGX 543MP2
ARM Mali-400
Adreno 225
RAM
1 GB LPDDR2
512MB LPDDR2-800
1 GB LPDDR2
2 GB LPDDR2
NAND
32 GB NAND
16GB, 32GB or 64GB integrated
16 GB NAND with up to 32 GB microSD
16/32 GB NAND with up to 64 GB microSDXC
Camera
5 MP with AF/LED Flash, 1080p30 video recording, 1.3 MP front facing
8 MP with LED Flash + Front Facing Camera
8 MP AF/LED flash, 2 MP front facing
8 MP with LED Flash + 1.9 MP front facing
Screen
4.65" 1280x720 HD SAMOLED
3.5" 640 x 960 LED backlit LCD
4.27" 800 x 480 SAMOLED+
4.8" 1280x720 HD SAMOLED
Battery
Removable 6.85 Whr
Internal 5.3 Whr
Removable 6.11 Whr
Removable 7.98 Whr
As an aside, I think far too much time has been spent debating the optimal display size. Clearly there are two factors at play here - a larger display is something immediately appealing to mass market shoppers, but at the same time there is an upper bound to overall device size for pocketability. The factor that often gets left out of most of these smartphone display size discussions that most shoppers aren't my (or the AnandTech readership) demographic, male, 18–34, and obsessed with the latest and greatest tech. There's an increasingly aging populace in the US with degrading eyesight, and for them, larger displays translate to a real value prospect. I find the Galaxy Note to be my personal upper bound for pocketable devices for a few reasons, and since the SGS3 is smaller, I have no issue.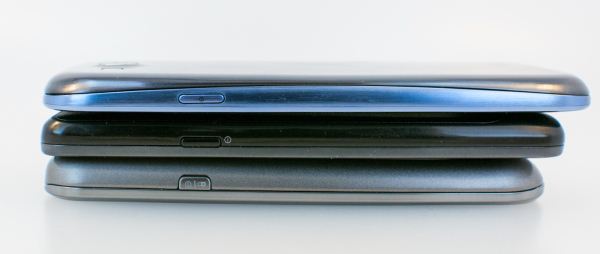 Button placement on the SGS3 is standard fare for a Samsung phone. The standby/lock button is on the top right side of the device, right where your thumb rests if held in the right hand, or index finger for the left hand.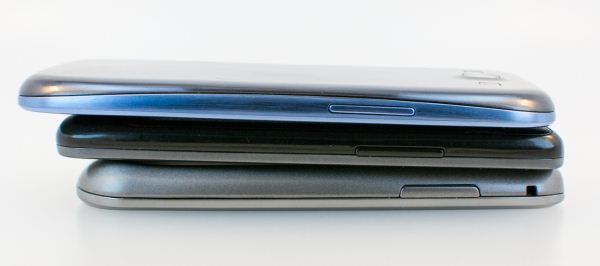 The volume rocker is on the left side the same place on the device, and the headphone jack is up top. MicroUSB gets located at the bottom, just like the SGS2.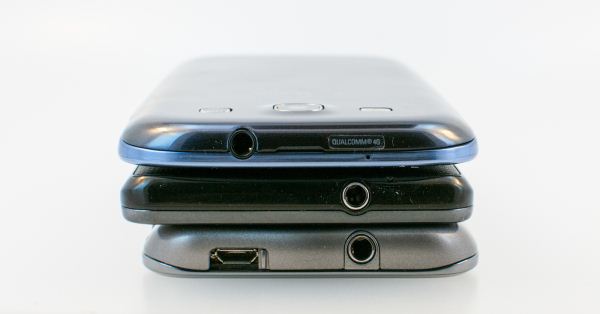 There are two microphones on the SGS3, one up top just right of the thumb groove for the battery cover, one at the bottom just to the right of microUSB. These are used for ambient noise cancelation on calls and stereo audio recording for video just like so many other phones now.
Peeling the battery cover off it's immediately apparent how much space the SGS3 dedicates to battery, which is now a relatively gargantuan 7.98 watt-hours.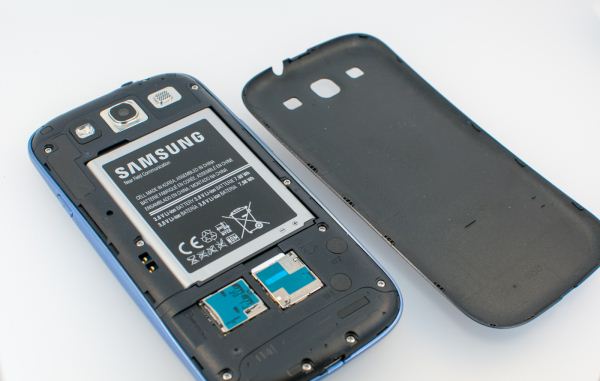 Samsung has also gone to a 3.8V nominal (as opposed to 3.7V) Lithium-ion battery chemistry, joining the ranks of Motorola who was first to adopt this higher voltage. Samsung continues to use the battery surface as the place to locate the NFC coil antenna. Interestingly enough just left of that are two pogo pins ostensibly for using a wireless charger back (which Samsung has shown), so I'm assuming Samsung's hardware will disable NFC while you have that inductive charger attached. Below the battery is the microSIM port, and microSD port which now accommodates up to 64 GB microSDXC cards. At the very top is the speakerphone grille, 8 MP camera, and LED flash.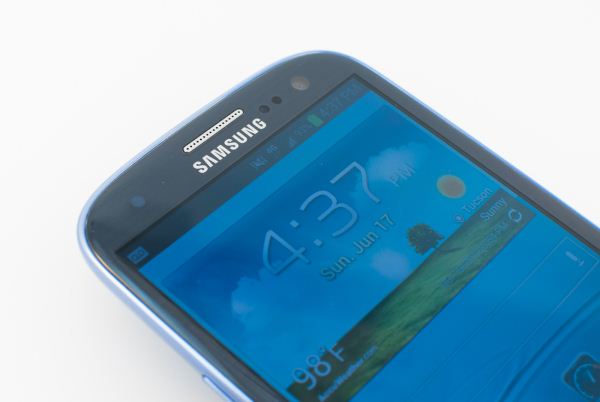 On the front up top are (from left to right) the RGB notification LED, earpiece grille, proximity and ambient light sensor, and 1.9 MP front facing camera. At bottom is the other interesting design consolidation for SGS3 - all five USA variants include the three button scheme that was previously basically only used in international phones. At left is menu, middle is home, and right is back. This is different from the three button scheme that HTC has adopted (back, home, and task switcher) and means that Samsung doesn't need to use an on-screen menu button for applications which haven't fully depreciated its use. These buttons disappear completely when they're not backlit, which is awesome but can be initially confusing for users getting used to the three button scheme. Personally, I appreciate how they completely disappear on both the white and pebble blue variants.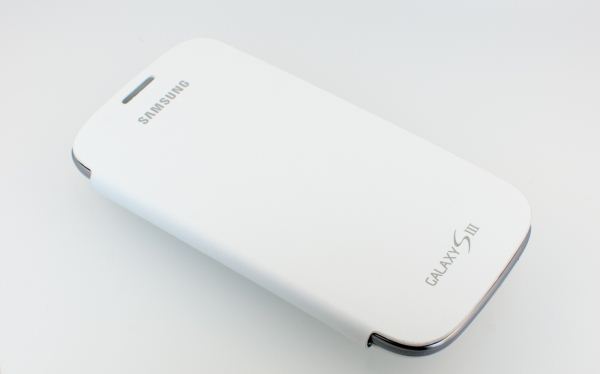 Like Samsung did with the Galaxy Note, they're also making a battery cover with an attached folding front cover. The inside material is soft felt, the outside is a lightly ribbed pleather. I liked the cover when I saw it the Galaxy Note, and like it on the SGS3 a whole lot. I hate screen protectors, but at the same time protecting the display against dirt (or other phones…) scratching it by using something makes sense when it's in your pocket.
That pretty much wraps up my thoughts on the aesthetics of the SGS3, and the USA variants completely mimic the international version. It's a design which has grown on me in the month and a half since I saw it officially unveiled and will no doubt be wildly successful in spite of not mapping 1:1 to the enthusiast wish list.
The SGS3s all ship running Android 4.0.4 (IMM76D), which is just a few builds short of the current latest version of Android. Atop that is the latest version of Samsung's controversial TouchWiz theme. Like almost all skins, that means a different lock screen, tweaked notifications shade, main launcher, and settings pane.
On the lock screen, there are application shortcuts which can be customized, along with a few other options. Weather, stock tickers, and an optional gestural camera shortcut are all TouchWiz enhancements. Like SGS2, missed calls or SMSes can also be directly addressed by swiping on their respective icons.
In the notifications shade, Samsung has added more power toggles. The bar slides right or left to expose those additional toggles. There's also the date now printed alongside carrier, just left of the shortcut into the settings app which is standard in ICS. Speaking of the top status bar, TouchWiz also adds an optional battery percentage report - it blows my mind that this has been something you've needed to use a custom ROM to get for so long.
Samsung's TouchWiz home screen goes with a 3D box left/right transition rather than the ICS stock planar swipe. For the most part however, the flow isn't really changed from ICS. Widgets are added from a separate tab in the applications launcher, and Samsung hasn't overwhelmed with way too many custom ones. The launcher is likewise a horizontally paginated application grid just like ICS. This can be sorted alphabetically or in a customized arrangement where newly downloaded apps get placed at the end of the list.
Settings gets a few new options that I think are worth going over. First is the obvious visual change which includes colorful icons that seem a bit corny but aren't surprising. First is an option to customize the notification LED, but is pretty basic and probably will be supplanted with Lightflow for power users. Under Display is the option to enable "smart stay" which uses the front facing camera and keeps the display on when you're looking at it, beyond the timeout length. I found that this does indeed work well, as long as there's sufficient illumination for the front facing camera to see your face.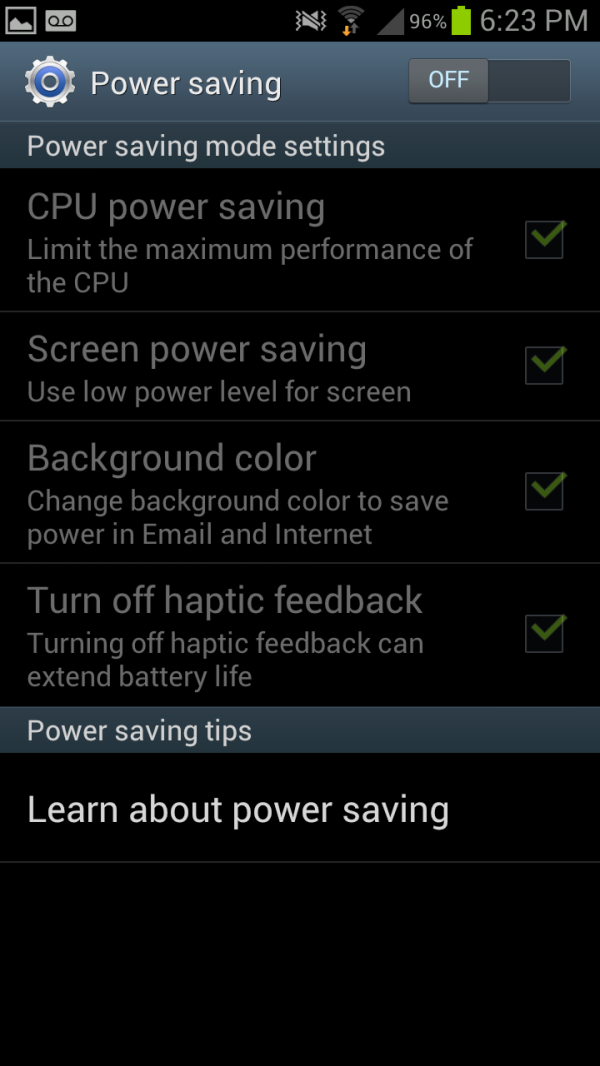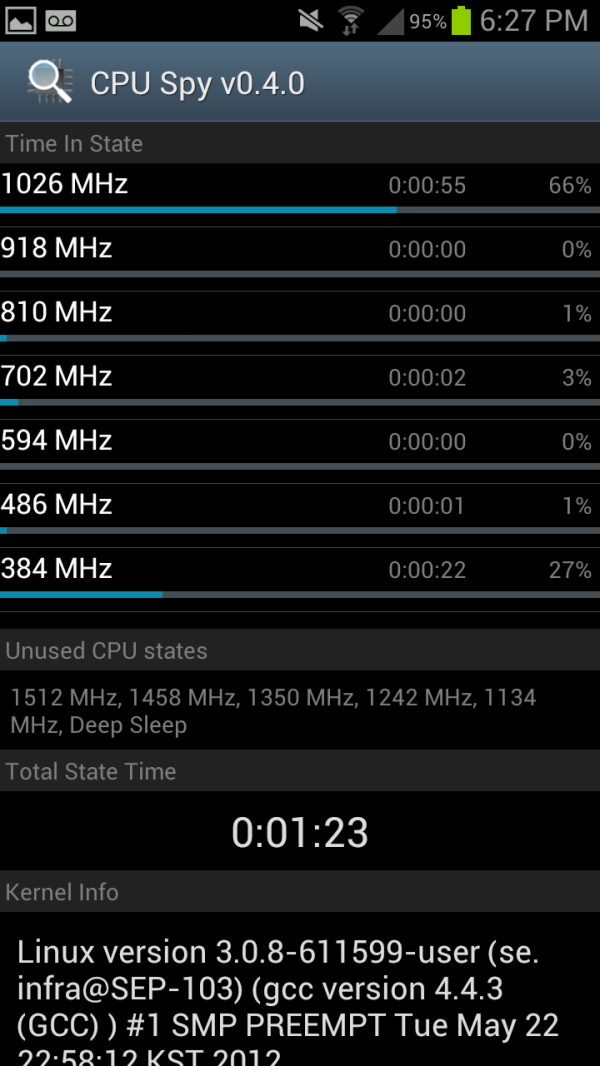 Right - CPU Spy with Power Save "CPU Power Saving" ticked
The next is more interesting - Power Saving. Under here is an option which enables you to change the SoC governor. Tick "CPU power saving" and the maximum MSM8960 CPU clock gets changed to 1.0 GHz instead of 1.5 GHz, giving you a nice savings if you're willing to sacrifice some performance in turn for running with lower active power draw. I believe GPU clock also gets clamped as well, but can't pull those directly. Outside of rooting and messing with the governor yourself, and a governor option pane on some ASUS products, this is the first time I've seen direct user access to CPU frequency since PocketPC days.
Also present are motion gestures, a lot of which I've seen before but never really fully utilized. Under security is that options pane I was talking about earlier for customizing the shortcuts on the lock screen, and enabling that camera launch gesture. Samsung also goes with its own browser customizations for Android 4.0.4's stock browser, but it doesn't deviate too much beyond just UI changes from what I can tell. Just like previous Samsung devices, I find the browser super smooth - gone are the days where browsing using the stock browser was a shuddery mess, though I still prefer Chrome Beta.
Messaging also looks very similar to how I recall it looking on the SGS2. Dialer also gets a change up and still includes a smart dial functionality.
Other than software preloads, which will differ between each carrier device, is Dropbox. Both Verizon and AT&T have opted out of the 50 GB for 2 years promotion, however the other carriers continue to enable this. I was told that the carriers who have opted out have done so because they view Dropbox as a competitor to services they're backing or selling. I'm now up to 131.2 GB on my personal Dropbox account between free quests, the One series promotion, and SGS3 promotion.
The last part are two S - features. S Beam, and S Voice. S Beam is essentially a WiFi Direct augmented version of Android Beam to enable sharing more content than just what can be sent over NFC's limited bandwidth. The gist of it is that you can send photos or files (even large video files) using S Beam over the WiFi direct link which gets setup using NFC. For example, from gallery, one can open a video, then put two phones together, tap and hold on the prompt, and NFC takes care of both setting up the WiFi direct connection and file transfer. In practice it works surprisingly well, even for large video files. I played around and saw a rate around 40 Mbps for transfers, which is pretty close to Samsung's cited "1 GB in 3 minutes" (45 Mbps) speed.
Part of S Beam is the TecTiles initiative, which is a combination of the TecTiles programmer application, and Samsung branded programmable 1KB MIFARE tags available in a set of 5 from carrier stores and online. Even though there are other NFC tags available for cheaper, and similar applications on the market, getting this in a prepackaged format into customers hands will go a long way to driving NFC adoption, which until now has been glacially slow. I programmed both my contact data and my WiFi network (hooray, no longer will I type my 20+ character PSK into new phones, at least those with NFC) into tags.
There's also AllShare Play, which allows you to broadcast either a document, files, or photos to up to 6 devices on the same WiFi network. Trying out sharing features was partially why Samsung sampled two SGS3s, so I gave AllShare a shot with my 100+ MB electromagnetics textbook PDF scan from my ECE381 days. Sure enough, it was possible to jointly browse slides and annotate on the two SGS3s - each member of the AllShare session gets their own colored pen for annotating. I could see this being useful if you managed to round up a number of friends with SGS3s. I wish that the resolution was higher, but if I had paginated this book to be single pages instead of spreads it likely would be sufficient to read the body copy and equations.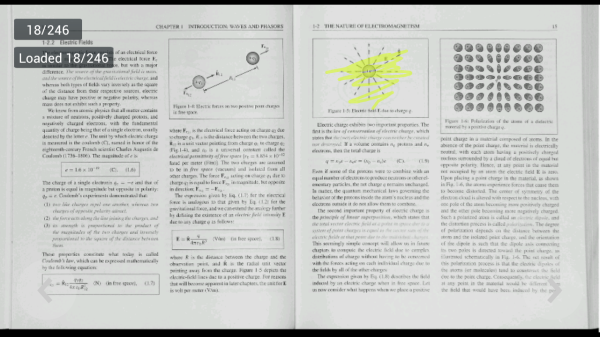 Last but not least is S Voice. There's no putting this lightly - S Voice is definitely a Samsung approximation of Apple's Siri. The promise is a similar level of conversational interaction with S Voice going off and fetching data from appropriate pre-programmed sources and reporting back. A double tap on the home button fires up S Voice, and a familiar tappable microphone interface guides you through voice prompts.
You can do a similar list of things with S Voice as you can with Siri, including asking for the weather, calling people, adding tasks, and setting alarms. A few S Voice features that were previously above and beyond Siri (such as launching apps) are now part of iOS 6, but in theory the level of functionality is pretty close. I'm actually fairly surprised about how much the functionality matches, and wonder if this is the new thing that Apple will attack aggressively with litigation. In practice, I found S Voice a lot less conversational than Siri. I still think voice navigation is kind of a trendy feature that ultimately is slower than just using my hands, unless you're driving and can't use the phone.
Battery life is hugely important, and in the case of the SGS3 USA variants the question is just how long you can go with the combination of even beefier air interfaces like LTE and DC-HSPA+, an even larger 4.8" display, and dual core 28nm MSM8960. The SGS3 includes a very large 7.98 watt-hour battery with a higher 3.8V nominal chemistry (2100 mAh * 3.8 V = 7.98 watt hours).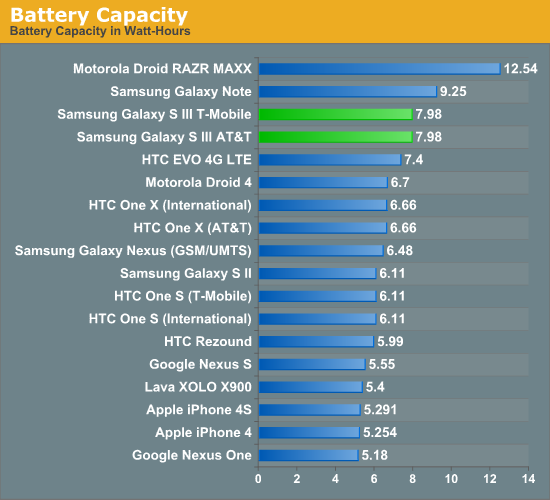 I spent a big part of my limited time with the SGS3s battery life testing, and turned to our Smartphone 2011 suite of battery life tests which I've described in detail before. The web browsing tests consist of a few dozen pages which are loaded every 10 seconds with the display set at precisely 200 nits (using a meter) until the phone dies - this is done over WiFi and cellular data. The tethering test consists of a single client notebook attached to the device using its onboard WiFi hotspot function, and four tabs of our page load test alongside a 128 kbps streaming MP3 station are loaded on that notebook until the phone dies.
I was supplied the AT&T and T-Mobile SGS3s, which differ in air interface and band support. The T-Mobile version is on the carrier's DC-HSPA+ network for testing, and the AT&T version supports both HSPA+ (single carrier) and LTE. Unfortunately AT&T LTE is not lit up in my Tucson, AZ market yet (which would make my life so much easier), so I could only run the 3G WCDMA result. 4G LTE results from that particular device will come shortly and I'll update appropriately.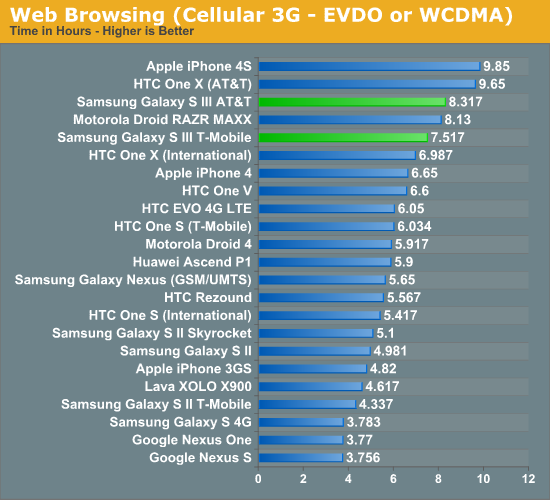 Immediately we can see that the combination of MSM8960 and Samsung's big battery really pay off for the SGS3. Both the T-Mobile and AT&T versions (on DC-HSPA+ 42.2 and HSPA+ 14.4, respectively) post impressive numbers around 8 hours. This is with the display set at 200 nits in the browser, which is one tick short of all the way to maximum on the SGS3. Samsung has included a ton of battery saving display analysis features in the SGS3 browser, which were turned off for this test. Obviously if you turn those on (I would) you'll be able to push battery life even further. It is shocking how close we come to the previously untouchable iPhone 4S.
As soon as I get the AT&T LTE numbers (I have to travel to an AT&T LTE market and carry out the test there) I'll update with that graph here.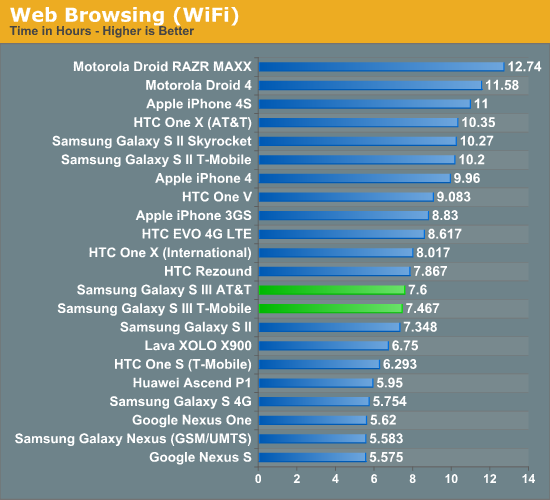 Next up is the WiFi battery life test, which posts numbers right around where the 3G cellular test was. You might be wondering why this is since the SGS3 includes an even lower power WiFi stack (BCM4334 even in the Krait-based USA variants). The result indicates to me that we're almost entirely dominated by display power draw here. If we ran with a lower brightness, I expect you'd see WiFi longevity pull in front of cellular like you'd expect.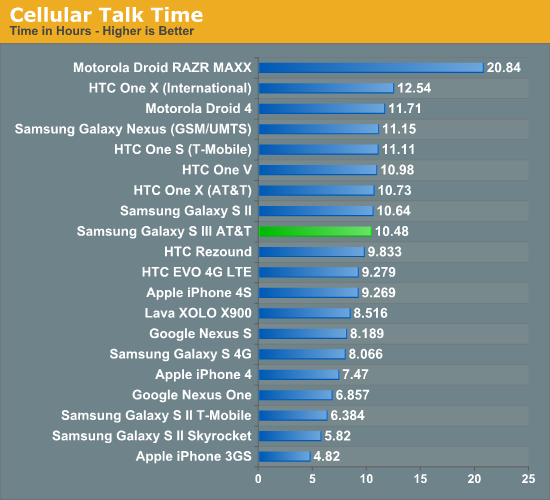 Cellular talk time is starting to get so long that it's hard to test - I essentially lost an entire day of playing with the AT&T SGS3 to running a call time battery life test. This is a good problem to have, though I'm surprised it didn't go just a bit longer and match or beat the One X AT&T result.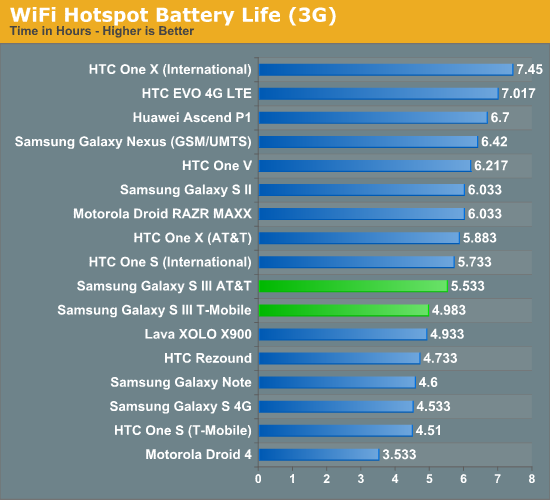 The 3G hotspot test really tells what things are like with the display turned off. Quite honestly I'm surprised the SGS3 doesn't do much better here – it's possible there's room for further optimization of the WiFi hotspot mode on SGS3. Likewise, I'll update with 4G LTE numbers for the AT&T model as soon as I'm in an area where it's lit up and I can burn a few hours testing.
Overall, in my time with the SGS3 I would subjectively describe battery life as above average. With AMOLED, 200 nits is actually pretty bright, and you see Samsung and other OEMs clamping display brightness well below the physical limits to both save power and prevent burn-in.
Obviously the other interesting question is how the SGS3 fares on its battery saving mode with the CPU clock capped at 1.0 GHz. That's also next in line for testing.
We've already seen dual core Krait (MSM8960) performance before and talked about it in the HTC One X (AT&T) review. For the most part, what we see with the USA SGS3 variants is largely the same as what we saw in MSM8960 (or MSM8260A, the same part with different baseband).
If you're looking for a comparison to the International SGS3 with Exynos 4412, my unit hasn't quite arrived yet. Anand and I plan to take a comprehensive look at the SoC performance landscape (Tegra 3 / MSM8960 / Exynos 4412) in another review after we've had time with the international SGS3. I have benchmark numbers from our SGS3 international preview at the launch event, but those were from pre-final software.
Where the SGS3 differentiates itself from what's becoming a slew of USA-bound devices with MSM8960 is available RAM. In this case, all of the USA SGS3s include 2 GB of LPDDR2 RAM, of which 1.62 GB is available to user applications. My own suspicions for why this is the case is that Samsung wanted to make sure they had at least 1 GB available for user space applications. Clearly there is 380 MB absorbed for both preallocated GPU memory, and possibly DRM / baseband, and after that subtraction the only way to get dual channel (2x32b) LPDDR2 is to make the jump to two 1 GB LPDDR2 devices.
That's my own speculation, but either way with the SGS3 you get ample RAM for applications. The positive thing is that even if you launch a ton of applications, it's unlikely they'll get tombstoned. I fired up my regular set of daily driver applications (twitter, baconreader, chrome, messaging, speedtest, radarscope, and a few others) and managed to use up nearly 1 GB.
JavaScript Performance
Although smartphones are clearly headed for a life beyond as a communications tool, web browsing, or phone duties, we are still lacking the tools to measure performance in areas other than a component of web page performance. Measuring JavaScript performance is one component of the entire web page rendering process but it's the most mature in terms of something we can benchmark.
Sunspider 0.9.1 is quite possibly the most well known of these JavaScript tests, and a regular staple of our testing suite: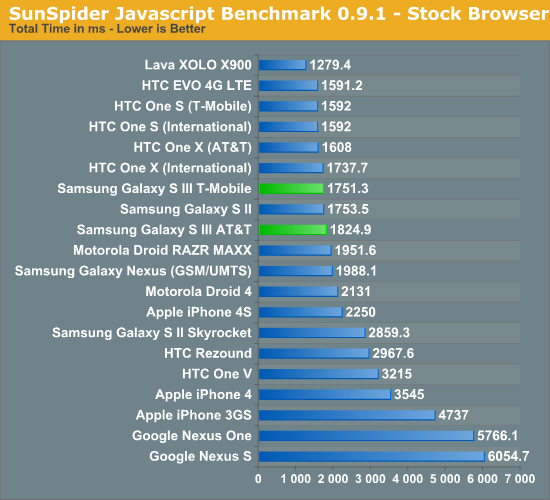 Like the other 1.5 GHz MSM8960 devices, the SGS3 does pretty well, but still is around 150ms slower. I ran this test multiple times but consistently got results in the 1750s or low 1800s for the SGS3s.
Browsermark is the next JavaScript test in our suite, and here it does very favorably against the rest of the competition.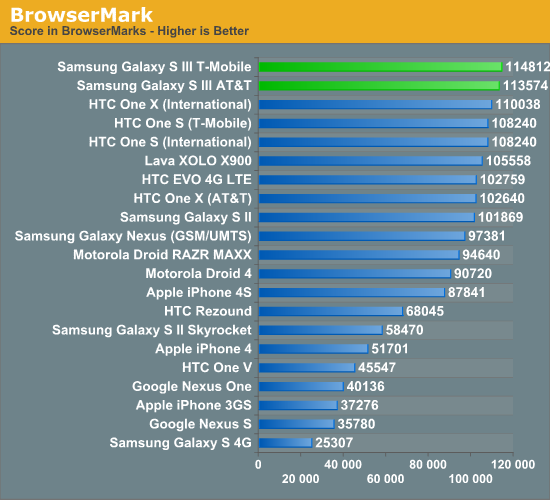 It's interesting to see the SGS3 not do stellar in Sunspider, but excellent in Browsermark. Note that in our preview piece, I did see the International SGS3 post a score of 161k here.
Next up is Vellamo, which is a Qualcomm benchmark developed originally for OEMs to use and optimize their browser performance, and later released for general use. It's a regular member of our test suite and includes both JavaScript tests and scrolling tests that stress the display composition and hardware acceleration in the browser.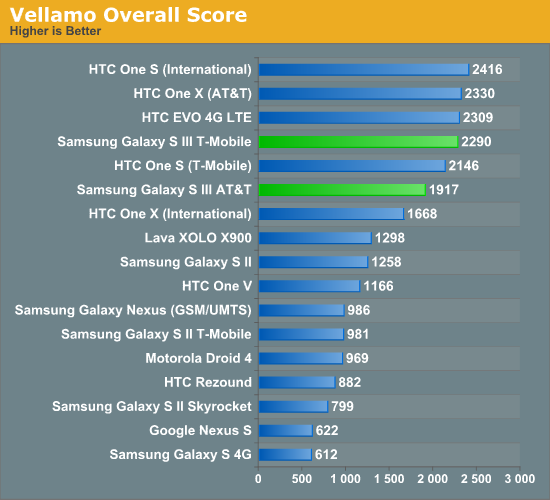 I saw an interesting deviation here between the AT&T and T-Mobile version, for reasons I cannot explain despite multiple reboots and making sure everything was closed. Either way, the devices both have stock browsers that feel like butter, absolutely smooth when translating or zooming around.
Low Level FP Performance
Linpack isn't a great indication of overall smartphone performance, but it is a good test of the floating point capabilities of the CPUs in these SoCs. ARM has steadily been improving FP performance for the past few generations but we're going to see a big jump to Krait/A15. As most client smartphone workloads are integer based and those that are FP heavy end up relying on the GPU, an advantage here doesn't tell us much today (particularly because Linpack isn't running native code but rather atop Dalvik) other than how speedy the FPUs are. There's a new port of Linpack which runs using native code which we'll be trying out in the big performance comparison piece.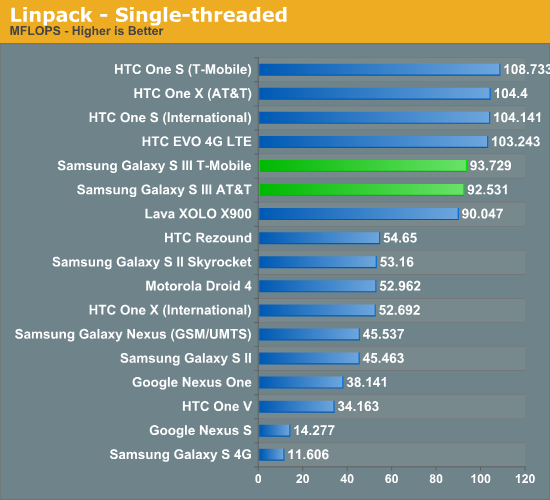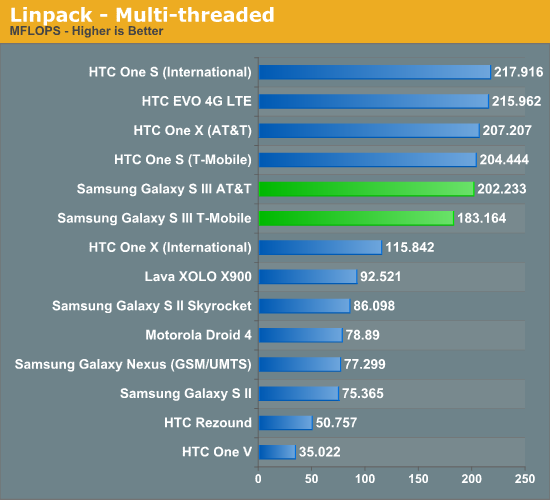 As we've shown before, FP performance on Krait is superb thanks to its architectural advantages over a straight A9. I find that FP performance was more relevant of a benchmark when display rendering was being done in CPU instead of on the GPU with the new OpenGL ES 2.0 render paths. Still, it's worth talking about.
BaseMark OS
Rightware's BaseMark OS is a general purpose benchmark designed to better simulate overall Android performance. It includes a heavily threaded benchmark, file IO tests, and compression/decompression tasks that all contribute to its overall score.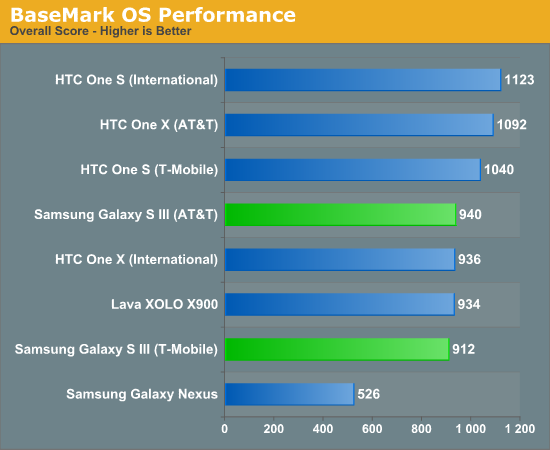 Basemark OS is relatively new to us but we're adding more and more phones as time goes on for comparison purposes. Curiously enough the SGS3s post numbers a bit shy of their HTC cousins. I think that in spite of this, you'd be hard pressed to tell the Krait based One X and Krait based SGS3 apart.
GPU Performance - GLBenchmark 2.1
As we wait for actual 3D gaming benchmarks to make their way into Android (and hopefully crossplatform) games, we must rely on synthetic tests designed to simulate 3D game performance as best as possible. We start with GLBenchmark, one of the better Android GPU tests on the market today. There are two benchmarks, Egypt and Pro, and each is run in two modes: native screen resolution and offscreen (vsync disabled) at 720p. The latter is more useful for apples to apples comparisons as everything is rendering the same number of pixels, whereas performance in the onscreen tests is determined by the screen resolution of the device along with the performance of its GPU.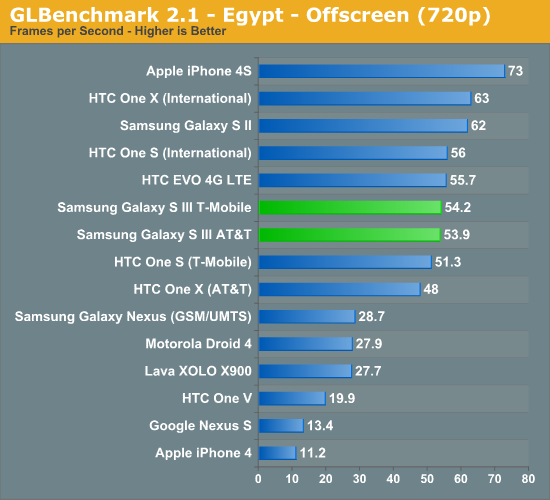 As a reminder, only the Egypt offscreen test takes place with vsync turned off, which is why you see devices with 720p displays posting different results on versus off screen where vsync is off. Part of the deal in getting Krait to market as quickly as possible required that Qualcomm pair the CPU with an older GPU, in this case the Adreno 225 instead of the newer Adreno 3xx offerings due out later this year in SoCs like MSM8960 Pro or the quad core Krait APQ8064. As a result, you can see the SGS2 with Exynos 4210 pull ahead in both tests. Obviously the on-screen test isn't a totally fair comparison because of the inherent difference in resolution - 720p vs WVGA.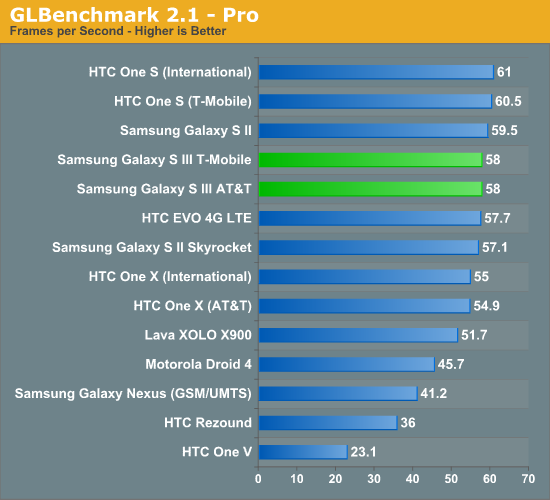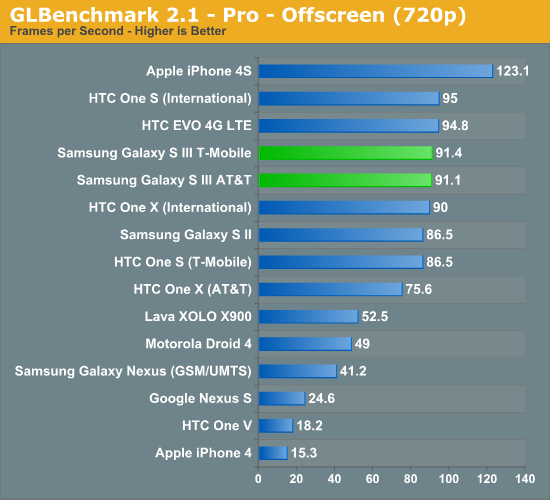 In the older Pro offscreen test, we see Adreno 225 trading spots with SGS2's Mali–400 and coming out on top.
Basemark ES 2.0 V1
Rightware's Basemark ES 2.0 V1 is an aging GPU test that tends to favor Qualcomm's Adreno GPUs above almost all others: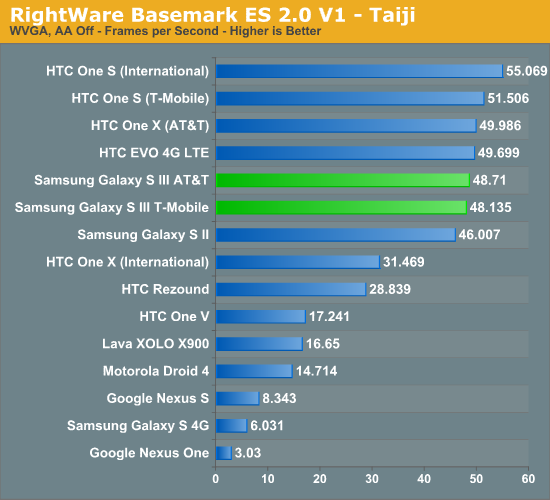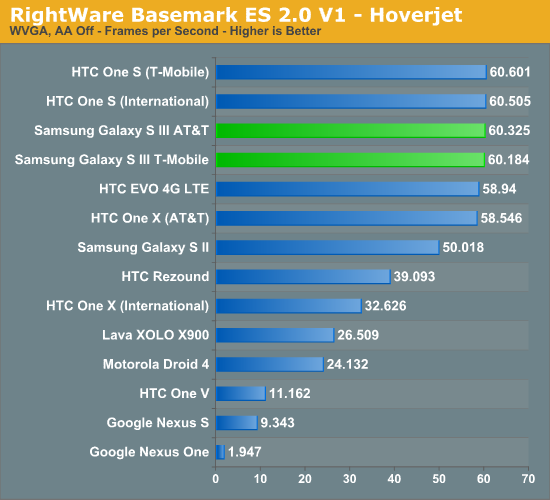 Basemark ES 2.0 is definitely starting to show its age, as Hoverjet is at vsync essentially the whole time, and Taiji is getting there as well. In addition, Qualcomm appears to be using ES 2.0 as an optimization target, so I wouldn't put too much faith in the ES 2.0 results.
Samsung didn't emphasize camera performance very much during its launch event, which surprised me since HTC and Apple have both made steady improvements on the camera experience this generation. That said, the SGS3 does make some iterative improvements of its own in the camera department.
First off, the 8 MP rear facing camera sits behind F/2.6 optics with a relatively wide focal length of 3.7 mm. If you compare to the SGS2's F/2.7 optics with 4.0 mm focal length, the SGS3 is a fair amount wider, and it's noticeable when out and about shooting photos. From my digging, I've found that both my T-Mobile and AT&T SGS3s contain a S5C73M3 rear camera module - that looks like a Samsung CMOS name to me, but usually Samsung CMOSes start with S5K3 in the 8MP category. This is the same as the International version I've seen, though there's still considerable debate about whether this is a Sony CMOS, but initial reports are that it isn't the IMX145 from the iPhone 4S. I've also seen references to "CML0801" but that doesn't mean anything to me immediately. Either way, the CMOS is 8 MP with 1.4µm pixels and BSI, images at full resolution are 3264 x 2448.

The front facing camera is a Samsung S5K6A3 CMOS which hasn't been announced or made formal yet, and as a result I'm not sure about its pixel pitch or format. It is 1.9 MP and square - 1392x1392, which is relatively unique. I wager most users will just use 1280x960 and not know that the 1.9 MP option exists, though it is exposed in the camera UI.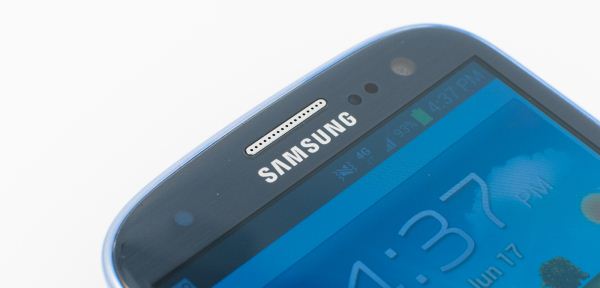 Samsung has made some improvements to the camera UI, and though they're subtle, they're nonetheless worth talking about. The camera application does launch speedily, which was one of Samsung's major points. As I mentioned, the shortcut from home screen (if you enable it) is handy if you don't want to use up one of the application shortcut spaces.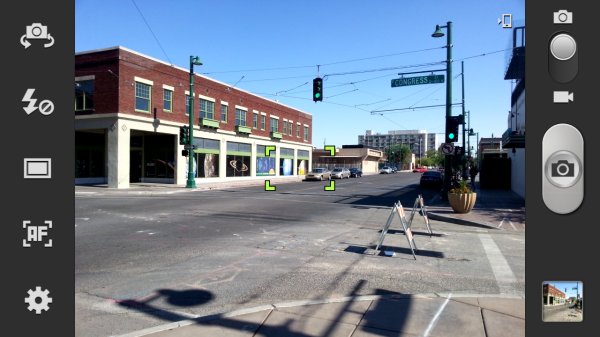 For SGS2 users, the whole application should be familiar, settings is in the bottom left, and all the icons on the left pane can be changed or customized by long pressing. Tap to focus and expose is still here, and capture speed is nearly instantaneous, just like on the One series.
Shooting modes can be changed from single to burst shot, HDR, and a few other options. HDR combines three exposures like we've seen on other platforms, paints a progress bar while it computes (which happens impressively fast) and saves the resulting exposure. Probably one of the cooler shooting modes is share shot, which uses WiFi direct to share photos captured from linked SGS3s to each other. Tapping this brings up the WiFi direct pair prompt, and successive photos get put in a received folder on other devices.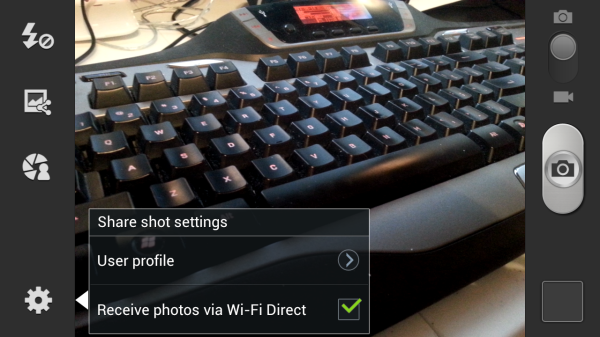 To evaluate still image quality we turn to our usual set of tests, which means the lightbox scene with the lights on and off, and our bench photo locations (numbers 3 - 7 remain). I couldn't get the test charts and lighting setup due to me moving houses while working on this review (everything is boxed up), but will update when that's settled. For now we have a decent picture of the SGS3 camera performance, but something I would like to investigate more once I can setup my test charts. Consider the following more of a first impression than really my end thoughts on the SGS3 camera's performance.
Immediately, you can tell that Samsung has tweaked their camera ISP and disabled the sharpening kernel which used to leave halos around contrasty spatial detail. There's some loss of high frequency detail to noise reduction which is particularly evident in the lightbox camera's focus rings and markings, but nothing too inordinate. White balance gives the scene a somewhat purple cast. I have to say that the One X image is sharper, but not by much.
With the lights off, the SGS3 does a great job exposing, and focuses with the scene lit up so it doesn't miss focus entirely. This is still something I see so many other smartphone cameras not doing, and instead just capturing at infinity focus and hoping for the best. Kudos to Samsung for still doing it the right way.
At the bench location photos, I'm kind of left feeling the same way about the SGS3 camera at first glance. There's nothing really wrong with it, and it seems to have less distortion (the test chart will tell the objective truth) but it just isn't as sharp as some of the other cameras I've seen. Having a wider field of view is definitely something different, and it's noticeable over the SGS2.
The SGS3 with MSM8960 also captures 1080p30 video, just like the Exynos 4412 based international SGS3. I captured videos at 1080p, 720p, and with image stabilization turned on at the usual test location, and like normal uploaded a copy of the video to YouTube, and our servers for you to download without the transcode.
The USA SGS3s encode video at an even higher bitrate than the SGS2. It's 17.0 Mbps H.264 high profile CABAC with 1 reference frame. For comparison, SGS2 was 15 Mbps high profile SGS2 was actually 17.0 Mbps as well. Audio is 128 kbps 48 kHz stereo AAC. The 720p video encode paramaters are a bit lower, at 12.0 Mbps H.264 baseline, with the same audio settings.
1080p30 Bench Video
720p30 Bench Video
EIS Enabled - 1080p30 Bench Video
Last time around, SGS2 was among the best, if not the best, for video encode. The SGS3 is likewise using the best encode settings I've seen thus far at 17 Mbps high profile. Best of all, the SGS3 doesn't drop any frames from what I can tell, as the end FPS in MediaInfo was exactly 30, and watching the videos I don't see anything dropped. It's curious to me too that this is being done (as far as I know) on the MSM8960 when partners like HTC are still using 10 Mbps baseline on their highest end products and dropping frames.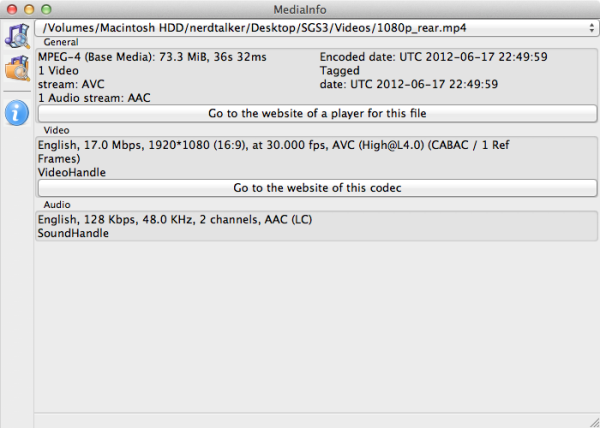 The other things worth mentioning about video encode is that the 1080p mode without anti shake now uses the full field of view of the sensor in the horizontal direction. This is a big improvement over the center crop modes I see a lot. If you turn anti shake on, you do appear to lose some pixels around the edges (which is expected, probably 16 or so in x and y). Unfortunately, the EIS mode appears to be severely glitched, producing very shuddery video which jumps around as EIS works. I'd keep this turned off until it gets fixed.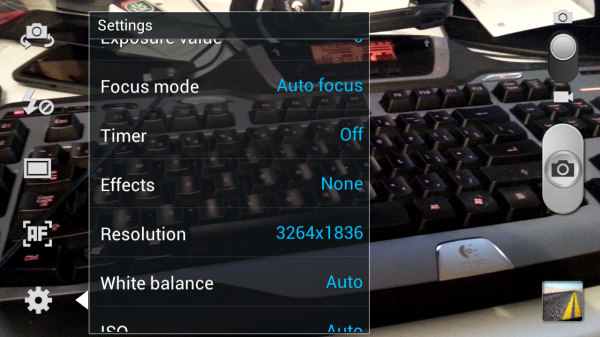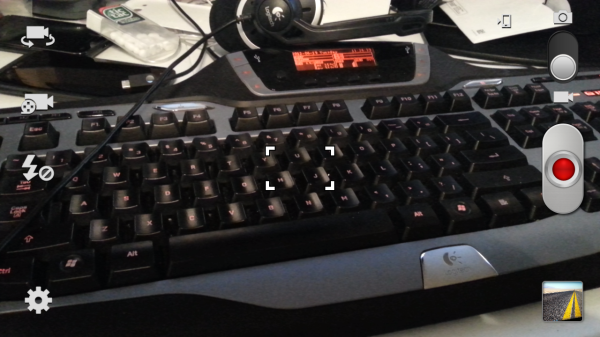 Left - still shooting mode (16:9 6 MP), Right - video capture (1080p) with same Field of View
Inside the video capture UI everything is pretty much the same as the still image capture UI. What's worth mentioning is that like the One X, SGS3 has a capture button which enables you to save full size 1080p frames while capturing video. My favorite new feature is suble - after tapping to focus once while video recording, you'll get a box with AF in brackets.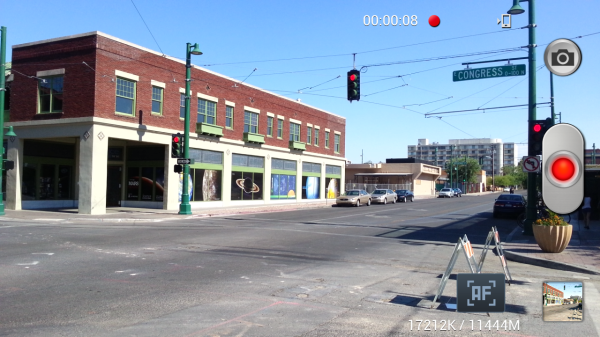 Tapping on this stops CAF (continuous auto focus) from running, effectively giving you an AF lock. This is super useful as I often read many complaints about the breathing effect that CAF adds to video capture while it runs - hold this down and it won't run until you release it - a very useful feature if you're serious.
One of the standout features on the SGS3 is the 4.8" HD SAMOLED display, which has an effective resolution of 1280x720. Like other Samsung devices, the name tells you almost everything you need to know: HD connotes 720p, S for Super means the stack is optically bonded with fewer air gaps (and thus fewer fresnel 4% back reflections), and the lack of Plus means it's an RGBG PenTIle subpixel matrix.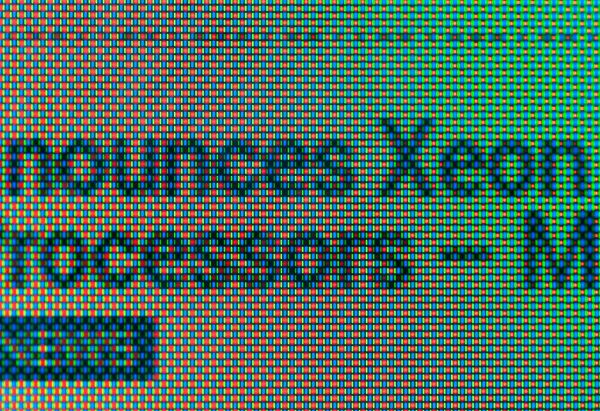 First off, it's clear to me that the SGS3 display is a substantial improvement on the Galaxy Nexus display, which was 4.65" diagonal and also 720p HD SAMOLED. The problems that I talked about in the Galaxy Nexus display are basically completely absent in the SGS3. There's no longer any mura (luminance variance which looks like noise) or a weird purple cast in the greys, two things that are still present on the Galaxy Nexus. I suspect that moving to a larger display with the same resolution (and thus larger subpixels) might have helped mitigate some of the mura, and in addition this appears to be a completely new revision of the process with none of those problems.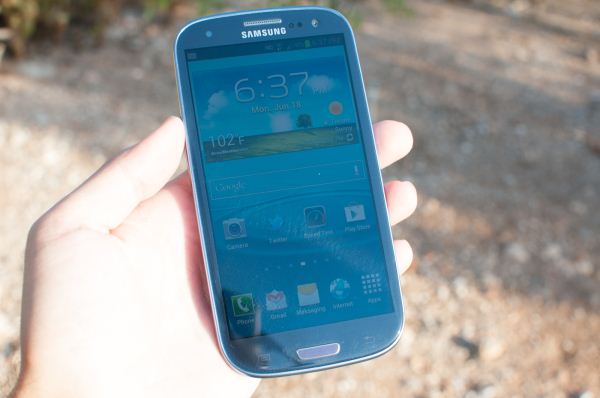 Outdoor viewing angles are pretty darn good
I think it's also worth discussing PenTile once more - specifically in the context of whether or not you can see the pixels. At this point, I don't think we need to go over what it is in much detail, but that it uses two sets of two subpixel units to achieve higher effective resolution than an RGB stripe. There are two variants - RG, BW which I've seen in a few Motorola LCD displays (that are Samsung), and RG, BG, which is the more common variant that is in all the AMOLED panels without the "plus" suffix.
The implementations that I complained loudest about were really the Nexus One and Nexus S / Galaxy S, where AMOLED was still somewhat in its infancy, and RG, BG was both a way to increase subpixel lifetime before fading took place (according to Samsung), and achieve a higher logical resolution with fewer subpixels than an RGB stripe would require. For that reason, you can't really just evaluate a display with some boolean is garbage / not garbage based on the presence of PenTile alone. In theory, if the logical two-pixel cell is itself smaller than human visual acuity, then you shouldn't be able to see it, and seeing the pixels is what drove me crazy about those two phones.
I present the following graph, which has the angular subtense in arcminutes along the stripe (when a device is held portrait, this is the x direction) of one logical pixel. That is to say, two subpixels if we're talking about an RGBG PenTIle display, or three for an RGB display. For reference, human visual acuity is most often cited as being around 1 arcminute for the human vision system corrected to 20/20, which isn't perfect vision (20/15 or slightly better is). Anything below that should be indistinguishable at a distance of 12 inches (standard viewing distance).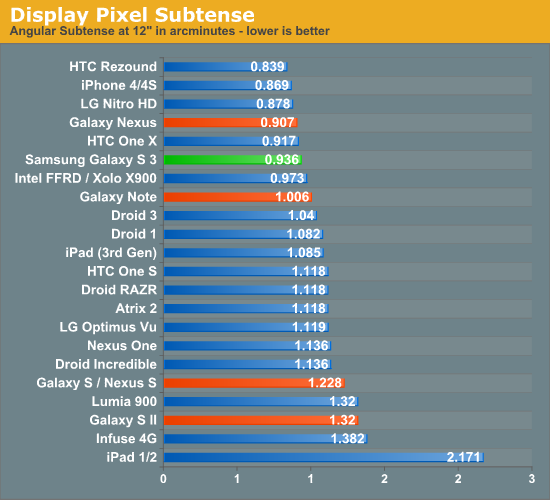 This is what I'm talking about when I say that in implementations such as the SGS3, even though PenTile is present, the logical pixel is still smaller than visual acuity, and the subpixels are half that. There's still a case to be made for whether you can see fringing on black text on a white background to some extent, but personally I cannot see it.
So how is the display in other terms, such as brightness, color rendering, and viewing angles? For this I turned to the combination of my display colorimeter (still an i1D2), ColorHCFR, and Francois's excellent Voodoo Screen Test Patterns.
When it comes to brightness, I found that oddly enough the T-Mobile and AT&T devices differed by a measurable and repeatable margin. Possibly these are from completely different batches, possibly there is some optimization done for the display brightness dynamic range to conserve battery - I'm not sure. Either way, it's there, but the SGS3 is thankfully brighter than the Galaxy Nexus, though it still seems to be clamped to a fairly conservative number.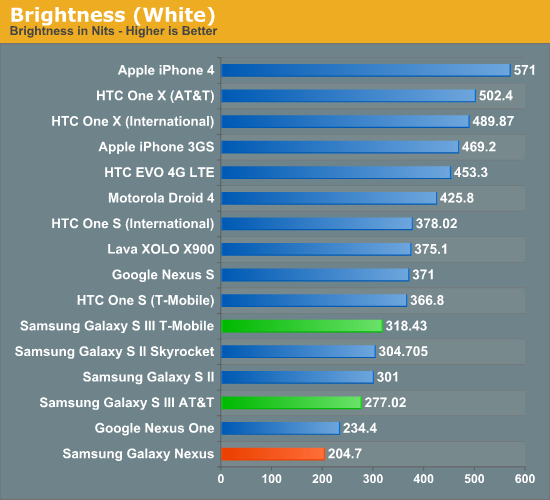 I measured blacks a few times and tried to see if I could get a reading on whether the SGS3 also has a slight DC bias (not fully off), but still couldn't get anything. If it's there, I haven't noticed it yet.
In the Color HCFR testing, we can see that gamma looks very weird and nonlinear across the greys, going from around 2.4 down to 1.2, I have no idea what's going on here. Color temp is thankfully a bit more controlled, at just under 7000K, and relatively flat.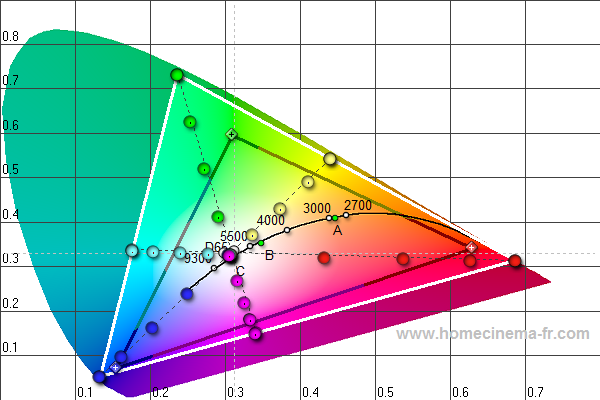 I measured both devices after seeing that there was variance, and uploaded the color.chc files for both the AT&T and T-Mobile model for people with HCFR installed to check out. I've also made two galleries for the respective panels. I've heard really good things about the International SGS3 from Francois (supercurio), but haven't measured it yet. I guess these initial numbers make me suspect that like SGS2 the USA variants have differences in the display rendering. I will say that over a range of brightnesses the SGS3 seems to have much less of the color shift compared to other AMOLEDs I've seen in the past.
I was sampled both the AT&T and T-Mobile SGS3s, so I can really only speak to those particular variants. However, all five of the USA SGS3s use MSM8960's onboard cellular baseband for their respective cellular interfaces. I'm including the table from our original MSM8960 piece almost a year ago, since that shows the capabilities of the baseband - of course, whether or not your device supports all these things is a function of the rest of the RF chain, including transceiver and power amplifiers.
Snapdragon S4 - MSM8960 Cellular Support
LTE FDD
100 Mbps DL / 50 Mbps UL (Cat. 3, 3GPP Rel.9)
LTE TDD
68 Mbps DL / 17 Mbps UL (Cat. 3, 3GPP Rel.9)
UMTS
DC-HSPA+ 42 Mbps DL (Cat. 24) / 11 Mbps UL (Cat. 8)
CDMA2000
1xAdvanced, EVDO Rev.B (14.7 Mbps DL / 5.4 Mbps UL)
GSM
GSM/GPRS/EDGE
TD-SCDMA
TD-SCDMA 4.2 Mbps DL / 2.2 Mbps UL
In the case of the AT&T SGS3, that's LTE on bands 17 and 4 as shown in the table below. What's unique about the AT&T LTE SGS3 is that it's the first device in the USA I've seen with support for both 15 and 20 MHz FDD-LTE on Band 4 (AWS). That should tell you something about the product development cycle here, specifically that the AT&T SGS3 was conceived of back when AT&T was confident about getting T-Mobile's AWS holdings. In addition, all of the cellular connectivity on the AT&T SGS3 sits on the same transmit path, with transmit at the bottom and receive diversity up at the top.
SGS3 AT&T - Network Support
GSM/EDGE Support
850 / 900 / 1800 / 1900 MHz
WCDMA Support
850 / 1900 / 2100 MHz
LTE Support
700 / 1700 MHz (LTE Band 17, 4), Category 3
Baseband Hardware
Qualcomm MSM8960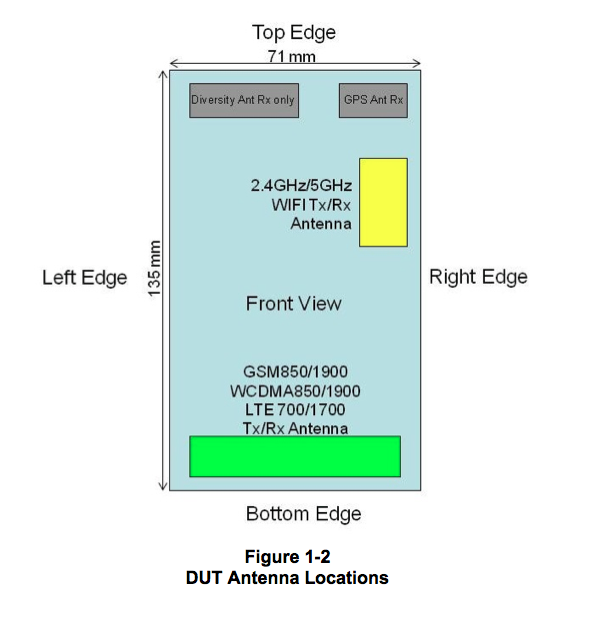 The T-Mobile SGS3 is unsurprisingly very similar to the AT&T SGS3, including support for both their own bands and AT&T's bands for WCDMA as shown in the table below. The T-Mobile device of course supports WCDMA carrier aggregation, or DC-HSPA+. For those that aren't familiar, DC-HSPA+ Category 24 (3GPP Rel.8) employes carrier aggregation in addition to the other HSPA+ features from Release 7. Essentially, two 5 MHz WCDMA carriers are aggregated together on the downlink, resulting in roughly double the performance of a single WCDMA carrier situation. Note that the uplink remains single carrier, so there's even more of an asymmetry that happens, but given the traffic asymmetry that already exists for most mobile workloads this isn't a huge deal.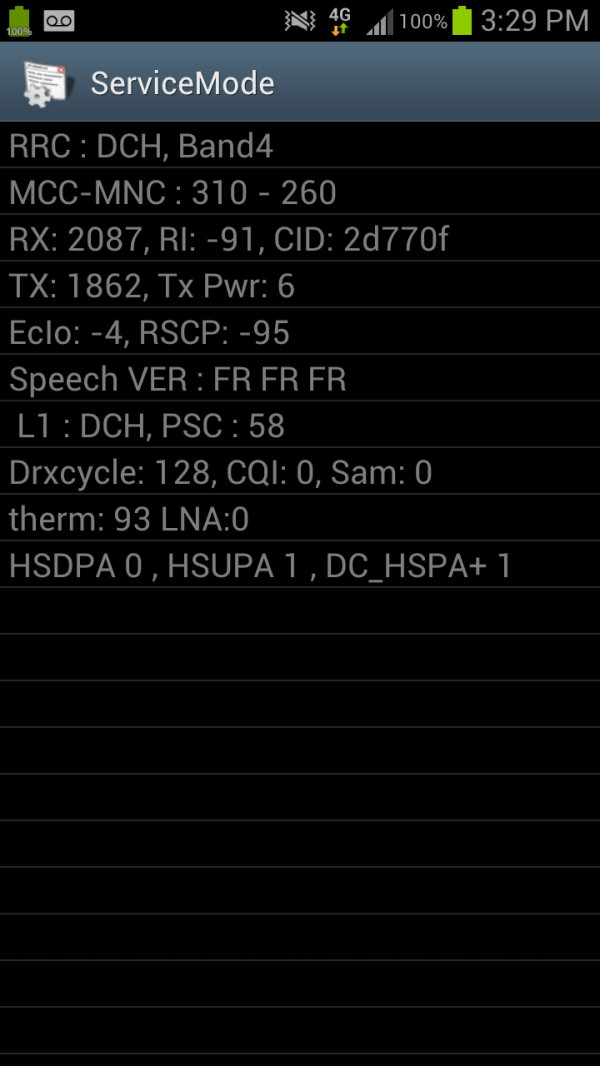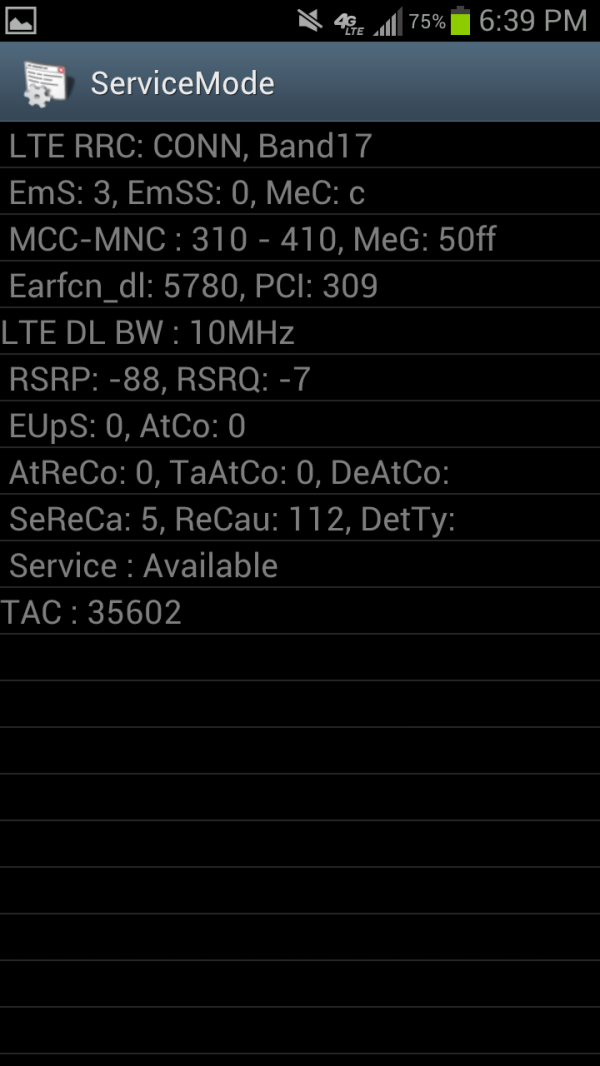 Samsung's excellent ServiceMode (*#0011#) is present on all the USA SGS3 variants, DC-HSPA+ shown on T-Mobile SGS 3 (left), 10 MHz FDD-LTE shown on AT&T Model (right)
Like the HTC One S, the T-Mobile SGS3 can be used on AT&T's 3G network if you can manage to unlock one. This is a definite plus if you don't care about LTE but do care about having a phone with a ton of WCDMA bands supported.
SGS3 T-Mobile - Network Support
GSM/EDGE Support
850 / 900 / 1800 / 1900 MHz
WCDMA Support
850 / 1700 / 1900 / 2100 MHz
HSPA Speeds
HSDPA 42.2 (Cat.24) / HSUPA 5.76 (Cat.6)
Baseband Hardware
Qualcomm MSM8960
Because of my limited time with the SGS3s, I haven't had a chance to run a bunch of speedtests on AT&T LTE and report back with plots. In addition, because AT&T does not support DC-HSPA+ yet (and shows no indication of doing so), there's not much to be learned from 3G WCDMA there, as it's still just HSDPA 14.4 in my market and almost all others. I've still never seen a single AT&T market with 64QAM / HSDPA 21.1. I will update with AT&T LTE results when I have them.
I have however run a bunch on the T-Mobile in my home market of Tucson, AZ and compiled enough to generate some plots. To test, I used the same workflow as always, essentially running as many tests as possible using Ookla's speedtest.net application on Android, exporting the results, and making some pretty graphs with python. I've rewritten my graphing code and prettied it up a bit as well with some stats.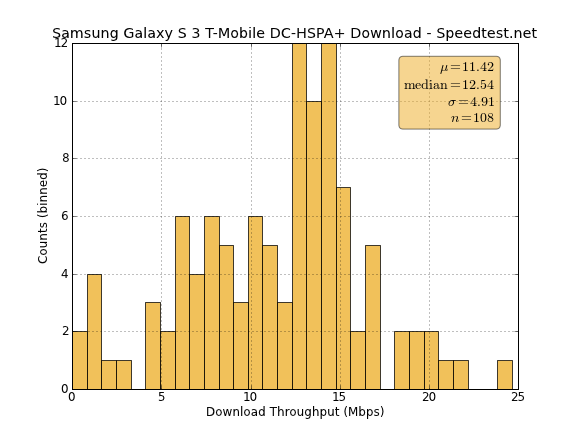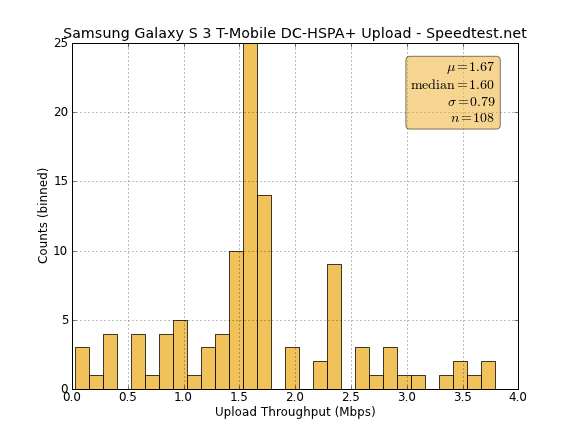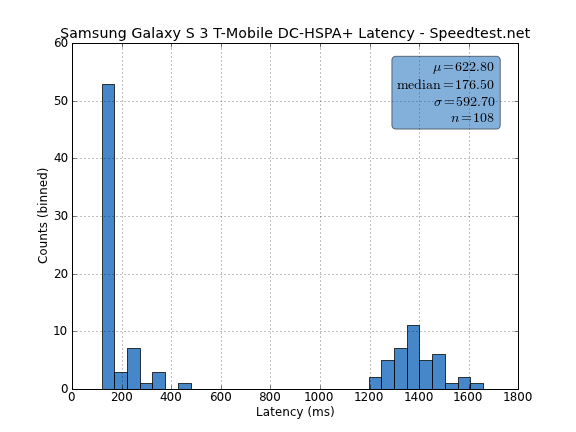 Unsurprisingly DC-HSPA+ is impressively fast on the downlink, with an average of around 11 Mbps and a maximum of just above 20 Mbps. It's not the kind of performance you'll get out of LTE (proving somewhat that using subcarriers through OFDMA and other enhancements does pay off), but it's pretty darn impressive nonetheless. There's a weird double distribution in latency probably due to setup time coming out of CELL_PCH and setting up the DC-HSPA+ link. Running a test right after this setup yields much lower latency thanks to T-Mobile's flat IP network, which is why I say it seems to be connection setup related. I'm impressed with how fast T-Mobile's DC-HSPA+ is in my area, and DC-HSPA+ isn't a bad interim air interface until the carrier can deploy LTE. You have to applaud T-Mobile for being first to both deploy 64QAM on the downlink (HSDPA 21.1) and deploy DC-HSPA+, two things AT&T still has no intention of doing anytime soon.
I'm headed to an AT&T LTE enabled market as soon as possible to get some AT&T LTE results, but I don't expect any surprises from that particular device.
WiFi
On the USA SGS3s, I was surprised to find that Samsung hasn't gone with the on-SoC WLAN and instead implemented BCM4334, mirroring what was done in the international SGS3. BCM4334 we have talked about a lot before, it's the 45nm version of BCM4330 with added support for 40 MHz channels on 5 GHz, among other lower power features and improvements. Of course, the SGS3s also include NFC (from the incredibly ubiquitous PN544) and BT 4.0 support (from BCM4334).
One of our readers pinged me and let me know that reliable iperf ports are now available on Android and iOS, so I'll be switching over to using iperf for my main WiFi throughput testing instead of the 100 MB PDF hosted locally. What I'm looking at is still downstream throughput to the phone, since I wager that's the direction people care most about. I tested a small number of the phones I've got on hand with iperf on the new Buffalo 802.11ac compatible router for comparison. For the purposes of the test I'll be choosing the fastest WiFi interface possible for the device, eg 5 GHz when supported, 2.4 GHz when not supported.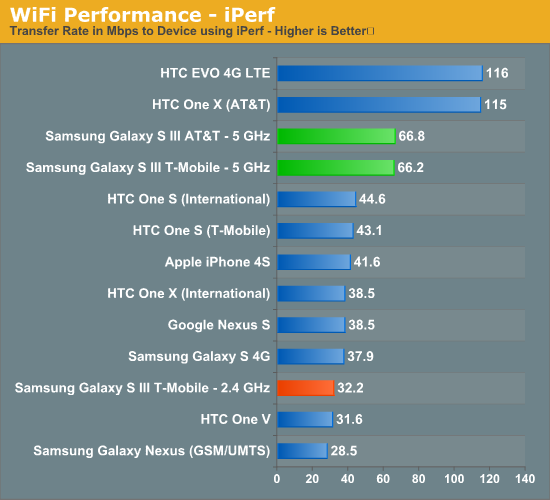 The SGS3s show a PHY of 150 Mbps on 5 GHz with 40 MHz channels, and 65 Mbps on 2.4 GHz with 20 MHz channels. Performance isn't quite up to the MSM8960 devices like the EVO 4G LTE and One X. I suspect this is due to either limitations on the interface between the SoC and BCM4334, or possibly absence of some other MAC features. Either way I'm glad to see 5 GHz support advancing even more now, to the point where devices are starting to show up with 40 MHz onboard as well.
GNSS
The SGS3 includes onboard GNSS (Global Navigation Satellite System) configuration. In this case, that means GPS with GLONASS. I have no problems getting a fast lock even indoors or in an urban environment, and like other combos with GLONASS you can see those satellites pop into use when GPS signal is weak.
I'm unclear whether the USA SGS3s have gone with Broadcom's BCM47511 GNSS like what was done in the international SGS3, or whether Samsung is using the MSM8960 onboard GNSS. I need to do more digging to be certain. I suspect this is done on MSM8960, however.
Speakerphone and Sound
Because I'm in the process of moving, I don't have my sound testing setup complete, nor the sound meter for testing speakerphone. However, I will be able to get that data in the coming week and update with my findings.
Both the AT&T and T-mobile SGS3s use an Audience A2220 for noise rejection using those two microphones (at top and bottom) as well. I need to do my testing here but based on a number of calls I've placed already from both I suspect they'll perform quite well.
It seems like just a short while ago that I played with my first Galaxy S device, a Captivate, and later was handed the T-Mobile Galaxy S 4G at MWC. Samsung has come an incredibly long way since those first devices, and built out the Galaxy S branding to a point where it has real recognition and traction internationally and in the US. In addition, the big pieces of the puzzle have now been largely solved - consistent naming, specs, and appearance for each device carrying the SGS3 name. Once those are squared way, getting the phone to resonate with normal consumers becomes a much easier prospect, and Samsung gets that. In fact, I'm told that the SGS3 will get the biggest marketing push in Samsung's history.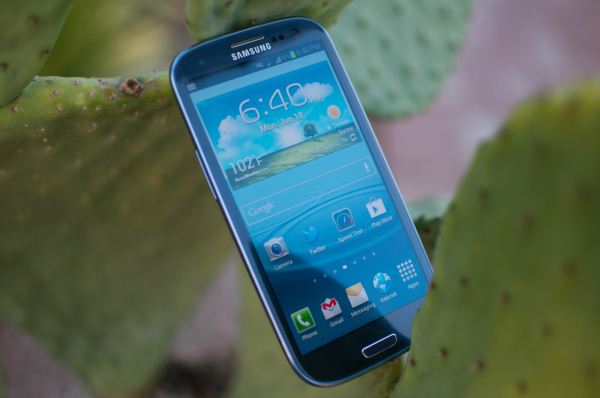 Beyond all of that stuff are the phones themselves. While the rounded shape and polycarbonate construction for SGS3 isn't the unibody ceramic that found its way onto everyone's wish list, in retrospect such things were a bit too lofty to expect in much volume this soon. It's no surprise to me that there's an obvious parallel between reactions to the SGS3 and iPhone 4S. They're both now the predominant brands in the smartphone space, with similar following. I made the case at one point that having that kind of reaction is actually telling for the Galaxy S following.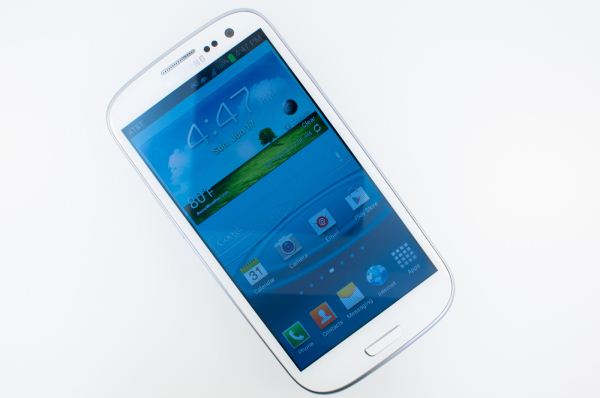 As I've mentioned before, the device and form factor has grown on me considerably. I still wish the back was textured, instead of being the slick plastic that it is, and I still think that HTC has won the industrial design category this time. That said, there's nothing overtly wrong with the phone. I hate idioms, but beauty really is in the eye of the beholder here, and while SGS3 isn't a supermodel, it isn't bad to look at either. You have to look at what else you gain with this type of design versus the competition - a big notification LED, real microSD card slot, removable battery, and easily accessible microSIM port. In addition, the large battery door grants you the opportunity to use extended batteries with an aftermarket battery door. These are things you lose if you move to some of the other space age form factors that might look and feel better, but ultimately aren't expandable or customizable at all. It is just another tradeoff.
In the USA, the competition is primarily shipping phones based on the same SoC, and the result is the same level of UI snappiness and performance between the SGS3 USA and the One X (AT&T), EVO 4G LTE, and One S. Ultimately what will drive people to prefer one over the other will be the features around the edges, like camera, display, onboard storage, and expandability. The SGS3 takes some of the best video around, the largest display in its category, feels as smooth as the competition, and has expandable storage. Unfortunately where it does seem to lag behind is in the ever important in-hand feel, still camera capture (which has improved, but HTC's One camera comes out just ahead in low light), and HD SAMOLED with PenTile is still a divisive thing for some enthusiasts, in spite of how hard it is to notice on devices like SGS3. Overall I'm very positive about SGS3's prospects, however. There's no doubt in my mind that SGS3 will be just as successful as its predecessors, if not more so.