Original Link: http://www.anandtech.com/show/5959/doublesight-ds277w-back-to-the-drawing-board


For the most part, the market for 27", 2560x1440 monitors has been dominated by the higher end brands. The one main exception has been DoubleSight, which has made a pair of 27" monitors including the DS-277W we're reviewing today. Besides the PLS panels used by Samsung, every other 27" monitor on the market is using one of the 27" IPS panels from LG at this point, so much of the difference in designs comes from the electronics and case that are engineered around the monitor.
DoubleSight's approach with the DS-277W is to make a monitor that can work with all of your devices, not just your computer. It has multiple AV inputs (HDMI, Component) for your Blu-ray player or video game systems, and there are integrated speakers for audio from these devices as well. Does this approach set the DS-277W apart from the crowd, or does it lead to issues in trying to integrate everything together?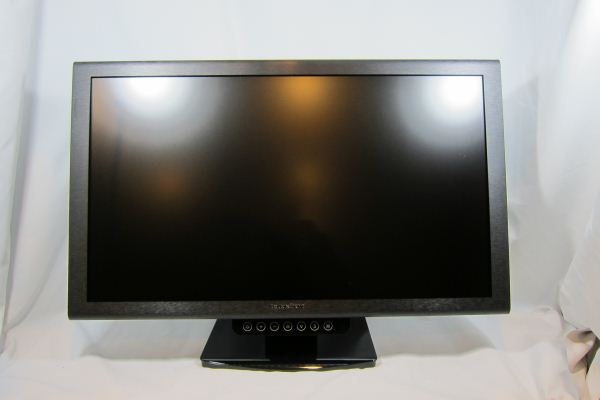 The DS-277W is seemingly constructed to survive in a harsh environment. The case is incredibly heavy duty and measures a couple inches thick with a nice, metal feeling to it. Unfortunately it was built for toughness and not ergonomics. The connectors are located on the bottom and are hard to access as the stand stays close to them. With 27" displays that pivot it is easy to hook them up, but in this case it is more of a challenge. There is also no integrated power supply and instead you have a large, external brick like you might find with a printer.
The OSD controls also follow the monitor manufacturer trend of using touch-sensitive controls, which needs to end soon. Many devices have moved to the touch sensitive inputs, but they either space them too close, or they are too sensitive, or they're not sensitive enough. With standard controls it is easy to adjust the brightness up by 1 or 2 clicks, but that is often a challenge here. With as much room as there is on the case, it would have been easy enough to locate controls there, with tactile response, and it would be a better interface to use.
The stand is likewise heavy duty, with with a limited amount of tilt available. You can use a standard 100mm VESA mount with the DS-277W, though it will have to be sturdy to deal with this case design. It seems that DoubleSight was going for the industrial chic look here, but in doing so have gone with some style over substance.
The OSD is hampered by the touch sensitive controls mentioned earlier. Whereas Dell has long been superb with the OSD interfaces, and BenQ has recently changed theirs to be more like Dell, the DoubleSight continues the sins of most vendors. Menus are laid out with Up-Down and Left-Right controls, but you have no 4-way D-pad to make navigating it easier. Up-Down controls work well if all the interface is designed to only move Up and Down, but once you add Left-Right in there and don't have a 4-way pad, it becomes unnecessarily complicated to control the OSD.
Most controls are available in the OSD, though some menus are not available and you can never seem to select them. They might be options when using the analog inputs, like Component Video, but as I discuss later that didn't work for me. Overall the OSD would have been much better had the input mechanism been better designed, but as it is I was not a fan of it.
Since all 27" panels use very similar IPS panels from LG, the viewing angles here are what we expect. If you get to very extreme angles you can get some backlight washout on the image, but not at any angle you would use while working or watching the display. There is no color inverting or other issues as you would see on a TN display, and I didn't find the level of anti-glare coating to be bothersome. I think it has more than the HP or NEC monitors that I've tested, but I am not nearly as bothered by it as many of our readers are.
DoubleSight DS-277W
Video Inputs
1x DVI-DL
1x HDMI
2x Dsub (VGA)
1x Component
Panel Type
IPS (8-bit native, 10-bit with A-FRC)
Pixel Pitch
0.23mm
Colors
1.07 Billion
Brightness
300 nits
Contrast Ratio
1000:1
Response Time
6ms
Viewable Size
27"
Resolution
2560x1440
Viewing Angle
178/178 Horizontal/Vertical Degrees
Backlight
CCFL
Power Consumption (operation)
121W
Power Consumption (standby)
121W
Screen Treatment
Anti-Glare
Height-Adjustable
Yes
Tilt
Yes
Pivot
No
Swivel
Yes
VESA Wall Mounting
Yes, 100x100mm or 100x200mm
Dimensions w/ Base (WxHxD)
25.75" x 22.50" x 8.50"
Weight
25 lbs.
Additional Features
Stereo LR Inputs, 3.5mm Input and Output, Optical Output
Limited Warranty
1 Year
Accessories
Price
$955 Online (as of 6/12/2012)
All of the specs are what you would expect from the LCD panel, but it's in the other areas that we see some deviation from the norm. For one, there are the numerous input options, though I have to admit including two VGA ports rather than a second HDMI or DVI-DL port seems odd, and despite listing a DisplayPort interface on the manufacturer's page, one isn't present on the actual monitor. Whoops! There are also some audio input/output options. Note that there's no pivot available, if you were hoping for a 27" portrait display, though you could do that with a separate VESA mount if you so choose. And with our tour of the outside and specifications complete, it is time to get it on the test bench and see how it performs.
Most of the 27" monitors that have come through have been able to get incredibly bright, as the backlighting systems need to be pretty powerful to light up a 27" panel well and keep uniformity. Here the DoubleSight comes in closer to the NEC PA271W than to the other 27" or 30" monitors we have tested and can only put out 271 nits at maximum brightness. With the brightness set to minimum we only get down to 145 nits, which is much brighter than anything else we have tested, and it means that our 100 nits dE testing required lowering the output level by adjusting the LUTs in the video card, which can cause posterization and other issues.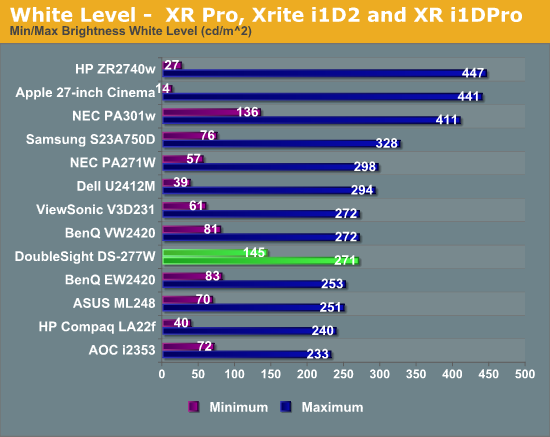 The black level at the minimum backlight is 0.29 nits, which is pretty reasonable. I also engaged the dynamic backlighting system and that dropped the level on a black screen down to 0.189 nits, which improves the contrast ratio quite a bit. Unfortunately, you can clearly see the dynamic backlight in use, and the screen fluctuates in brightness very clearly, which I found to be very annoying in use. The main issue is looking at the black level at maximum brightness, as it is over 16 nits! That's over 32 times as bright as the closest display and really out of the ordinary, so what is going on?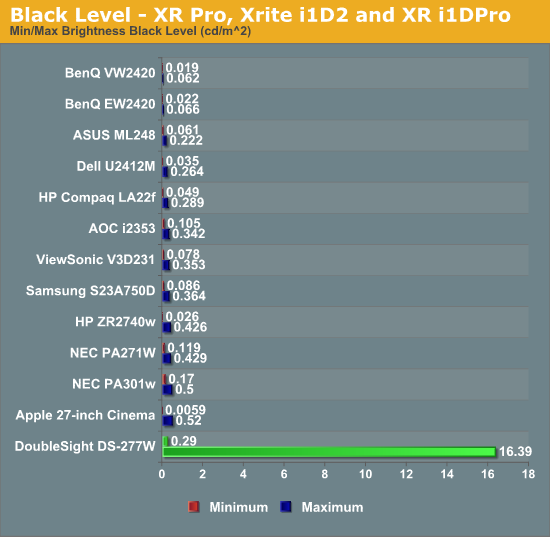 The answer lies in how TV and Monitor controls work. On a TV, brightness controls the level of black, and contrast controls the level of white, and on a flat panel TV there is typically a backlight or cell light control to adjust the light output. On a monitor, there is no backlight or cell light control; brightness handles that. Since computer displays use the full 0-255 RGB gamut, unlike video that uses 16-235, there is no need for a black level adjustment. On the DoubleSight, the electronics are designed to work like on a TV, so instead of adjusting the light output, we are adjusting the black level. Similarly Contrast serves the purpose now of controlling white and the maximum light output. Basically, for use as a computer display, these controls are not designed correctly.
Given that black level, we would expect to see the contrast ratio at maximum light output be pretty poor, and it clocks in at 13:1. At minimum it was a respectable 499:1 and even at 200 nits I measured around 400:1, but once the brightness gets too high, your contrast ratio goes away.
Suffice it to say, the DS-277W was not a good performer on the brightness and contrast testing here. Hopefully that doesn't carry over to every aspect of the display.
Straight out of the box and set to 200 nits, the DS-277W offered pretty respectable performance with an average dE of only 6.46. Blues were the main issue, but the grayscale was pretty respectable without calibration, which is the most important aspect with the dE value.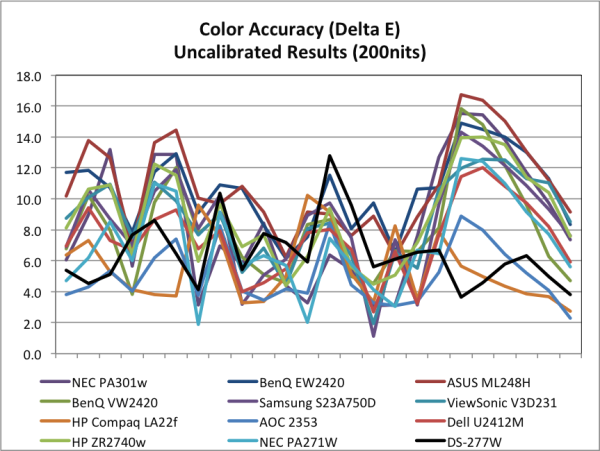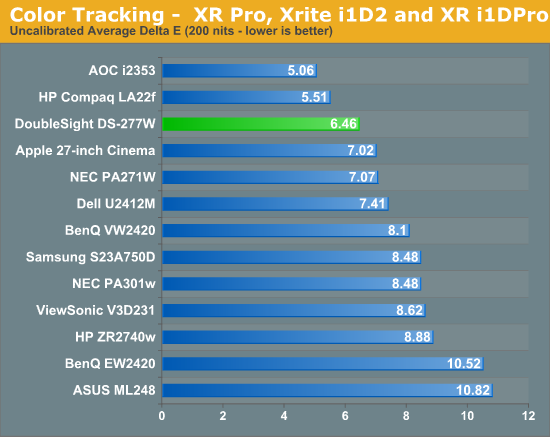 Once calibrated to D65 with 2.2 gamma, the dE drops way down to 1.5 on average. Amazingly this is in line with the more expensive NEC PA271W that I had just tested. The grayscale was nice and flat, and the only colors with an error over 3 were those shades of blue we always see having issues. So despite those huge issues with the brightness level, if you keep yourself at a happy medium light output level, you can get good color results out of the DS-277W.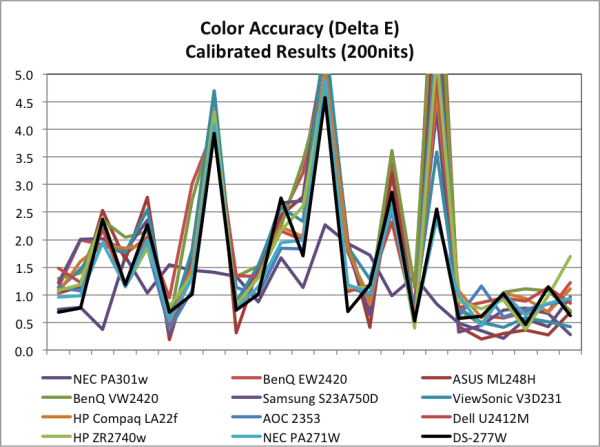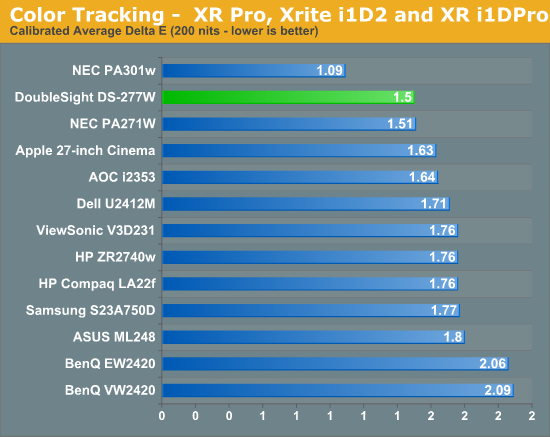 Median color error for 200 nits was the second-best that we have seen. Half of the colors have an error of 1 or less, rendering the difference totally invisible the eye, and a few poor colors are dragging the average way down. If you know what colors are causing this, this can be good as the grayscale and other colors will be accurate, you just need to know that blues will be more incorrect than other shades.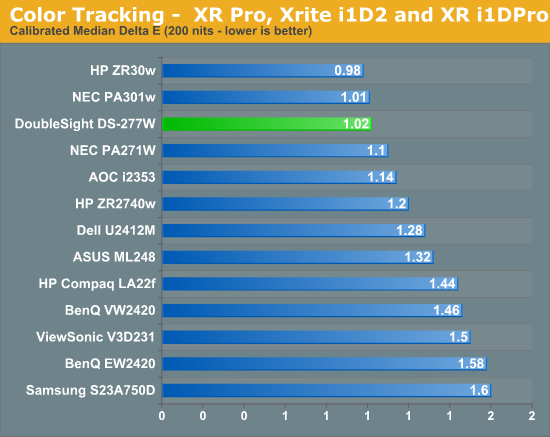 As mentioned on the brightness page, the lowest output level was 140 nits, which means the LUTs have to be adjusted down for reaching 100 nits of light output. This can be done, but shifting the levels to such a large degree can also lead to posterization, a lack of full dynamic range, and other issues with your output, and this is now video card dependant. Possibly because of this the 100 nits average dE rises up to over 2.0 from the 1.5 at 200 nits. Of course since this display only goes down to 140 nits, I would not recommend it for print work either, regardless of the dE value here.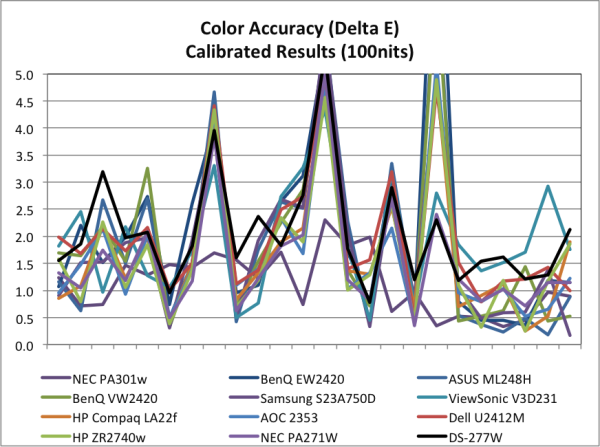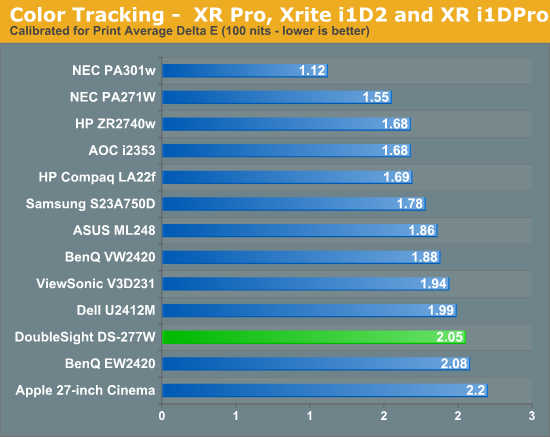 However, it does have a panel and backlighting system with a full AdobeRGB colorspace, and can display over 107% of the AdobeRGB standard. For editing images at 200 nits or so this will work well.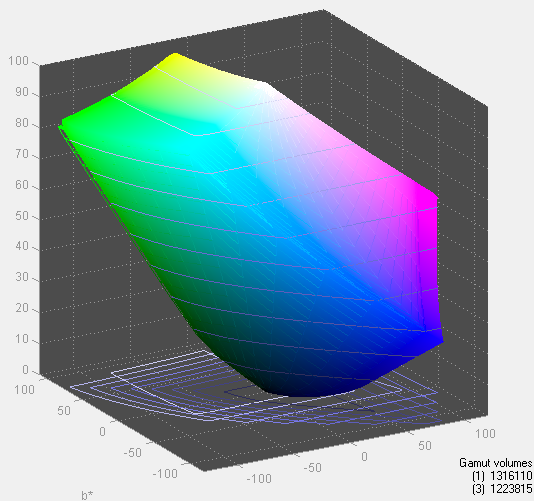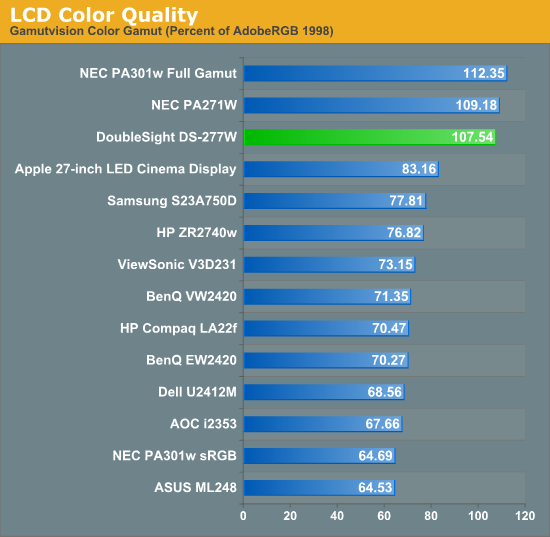 27" panels so far have seemed to do better with display uniformity than smaller displays. The larger size requires a more powerful lighting system and in implementing this it has also been more uniform as well. Here the DS-277W does fairly well, with a couple of darker corners causing a drop but most of the screen staying fairly close to the 200nits we are targeting.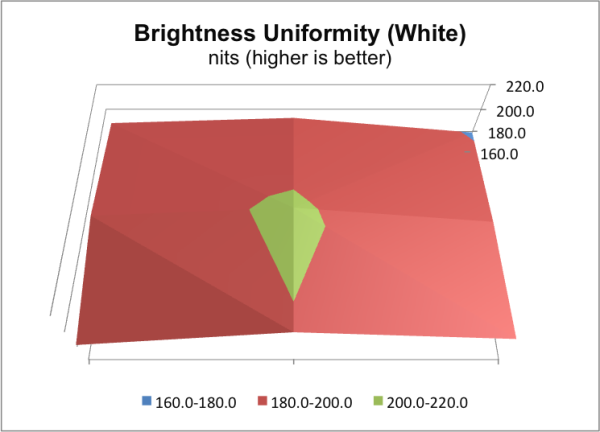 With a black screen the uniformity continues to be decent, with light leakage on one side but the rest of the display keeping close to the same as the center. This was a very good result for the black level in comparison to other displays.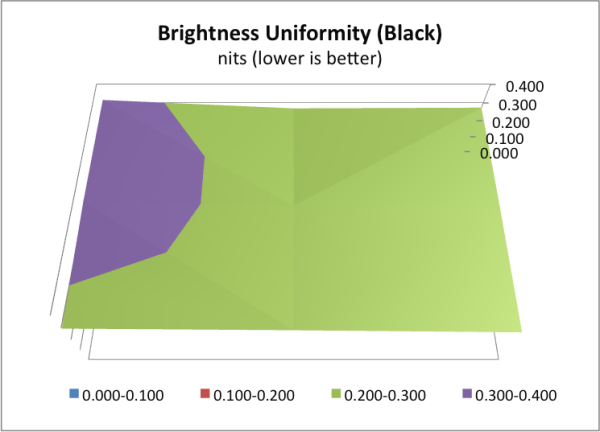 Thankfully this performance does carry over to the color uniformity across the screen. It was established that at 200 nits the DS-277W was a good performer, and it looks like that carried over to the uniformity. The lower-left corner is a little off, but the rest are very close to a dE of 2.0 or below which is good. I will admit to being pretty surprised by how good the results were, but it seems that at 200 nits the DS-277W is a good performer.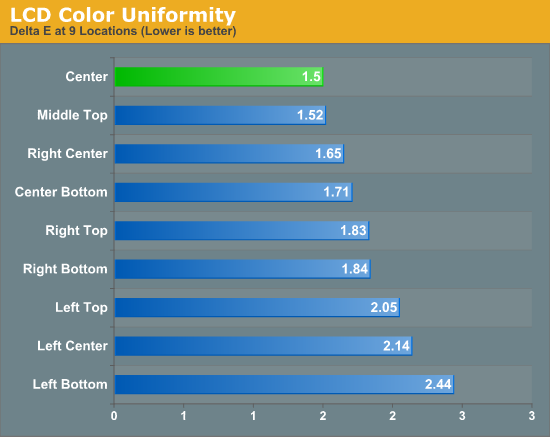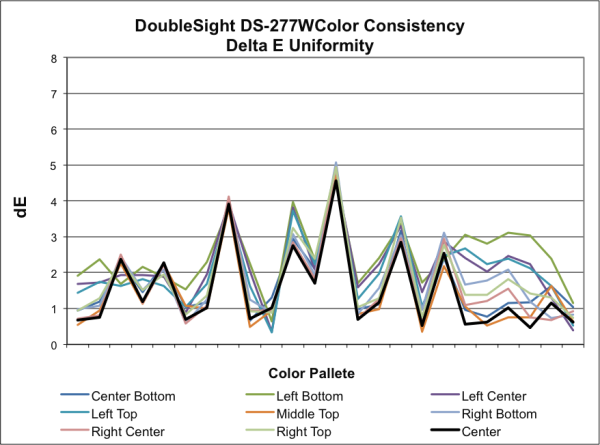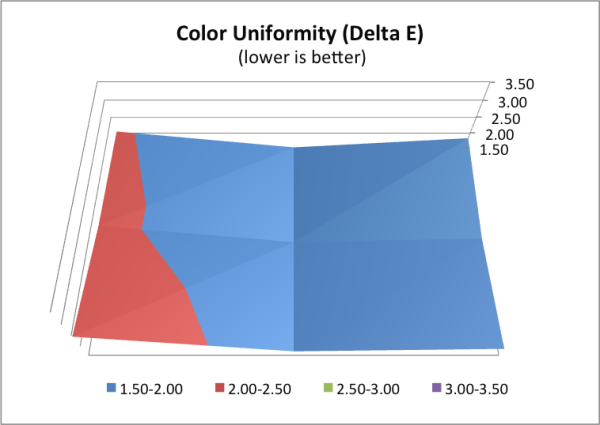 Since all LCD displays have to be compared to a CRT display to calculate the lag, all of the testing is done at 1920x1080 resolution to keep the aspect ratio constant on the DS-277W. This might introduce a bit of an input delay, but because we use SMTT now to test displays we can separate input lag from pixel response to be more accurate.
Using SMTT, the DS-277W exhibited right around 21.3ms of input lag, and it took a full 29.3ms for a pixel to switch colors and come back, and combined this gives us an average response time of 36ms. This is over two frames of delay, so for many people this will not be an acceptable number for heavy gaming. Since the HP ZR2740w offers far faster pixel response time, and costs less to boot, that would be the 27" display I would still recommend with gaming in mind.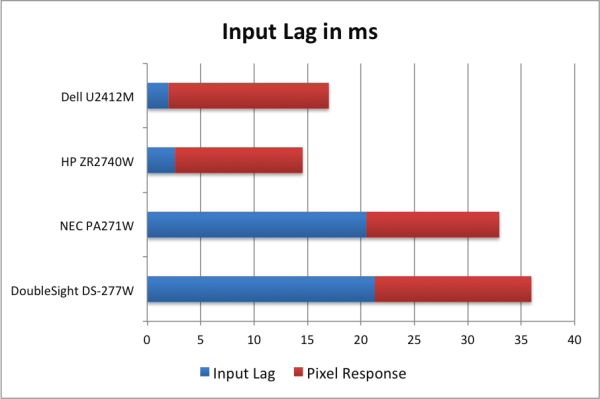 The DS-277W ships with an external power brick, and it seems to draw full current, all the time. At minimum brightness it was using 122 watts and at maximum it was drawing 125. Running at lower brightness to save on your energy bill isn't a concern here, as the DS-277W is going to use a lot of power no matter how you have it setup.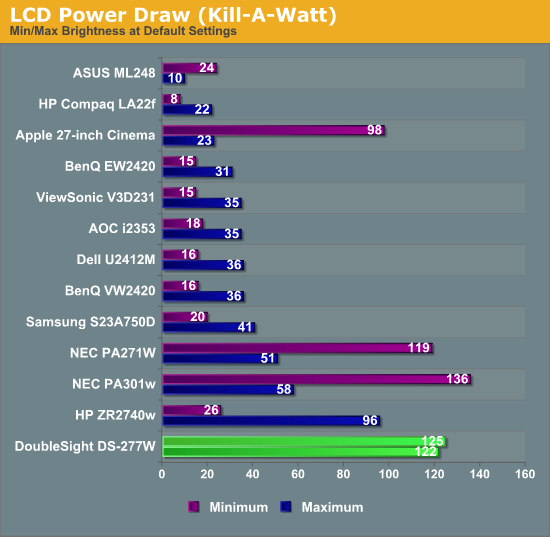 I also tried to test out the DS-277W as a video display, since it has many inputs to use for this. Using an Oppo BDP-93 Blu-ray player, my first discovery was that in 1:1 mapping mode, it crops pixels from an HDMI signal. Losing 11 pixels on each side and 5 on the top and bottom, this is around 1% of overscan in effect, and there is really no reason for this at all. I did test using a PLUGE pattern from the Blu-ray player and found that the brightness control behaved the same over the HDMI input, controlling the black level as you'd expect on a TV.
Testing component didn't even get that far. Once again using the Oppo player, which has a near perfect component video output, I couldn't get an image on the screen at all. Using the Oppo BDP-83SE player instead also resulted in no image, so either the component video on my test LCD didn't work correctly, or it didn't like the timing of the Oppo players, or something else is just incorrect with the component video. Needless to say I wasn't happy with the video testing results.
I own a 26" Doublesight display that we have used for years and it has served us well. Because of that experience I came into this review with high hopes for how the DS-277W would perform. Unfortunately from the time I hooked it up to the time I boxed it up for return, it was an overall disappointment.
The heavy duty case design is nice and cool at first, but unlike the NEC display where the case is designed to allow for incredibly even backlight uniformity, the DS-277W seems to be designed to be industrial looking more than anything. More annoying was the fact that with this huge display there was nowhere to put an internal power supply, side mounted USB slots, or make the video connectors more accessible. I continue to not be a fan of touch sensitive controls on an LCD, or having arrow buttons that control both up and down, then left and right. With all the space on the DS-277W they could have easily installed a 4-way D-pad.
The 200 nits calibrated numbers were good, but moving beyond that was risky as the brightness control didn't work properly for a computer monitor. The combination of these incorrect controls could make it easy to lose black or while levels, and there was no way to adjust the backlight that I could find aside from the brightness setting. The contrast ratios only ranged from decent to awful, and the dynamic contrast was so easy to watch in action that it would drive me crazy with its pulsing in daily work.
Finally the plethora of video inputs proved to be less useful as the HDMI crops off pixels, and the component video didn't work for me. I'd happily remove these to instead gain a DisplayPort interface, since that is becoming more and more common and works with high resolution displays much more easily than DVI. I really don't understand the lack of a DisplayPort connector, and the webpage at the DoubleSight website even claims the display has one!
In the end the DS-277W was the first monitor that truly disappointed me in my reviews at AnandTech so far. Most displays might not be for everyone, but there is a user category that they would work for. With the DS-277W I really don't know who that could be. If you want a cheap 27" display, buy the HP ZR2740w or one of the Korean import brands if you are willing to gamble. If you need a lot of video inputs on your 27" display, the Dell U2711 has all of them available and actually performs well for around the same price.
Hopefully DoubleSight can go back to making monitors like the DS-263N that are high quality and high value, but at least with this display they have lost that distinction. They need to fix the OSD controls so that proper backlight intensity adjustments are available, allow better control over scaling (and over/underscan), and create a better user interface. Once that's complete, DoubleSight should ditch the current industrial design and create something more with the times. When there are so many better options for the same price or less, there's just nothing here worth buying right now.