Original Link: http://www.anandtech.com/show/5906/amd-llano-htpc-builders-guide


Home Theater PCs (HTPCs) are becoming more and more popular due to a number of reasons. The desire of consumers to watch and enjoy their media, be it Blu-rays/DVDs or broadcast content, in an independent manner (i.e. not limited by DRM restrictions such as with Tivo recordings or even just optical media) has enabled the HTPC industry to gain a lot of relevance, as opposed to getting tied down with non-upgradeable consumer electronics equipment. All three major vendors (Intel, AMD, and NVIDIA) pay quite a bit of attention to the HTPC market in their products, but it is universally agreed that AMD represents some of the most economical HTPC building blocks targeted towards budget system builders, so that's our focus for today.
It has now been almost a year since the Llano lineup was launched; by integrating a CPU and GPU into the same die and bringing along AMD's expertise in the GPU arena for HTPCs, these APUs (Accelerated Processing Units) offer a lot to the budget HTPC builders. In today's piece, we will be taking a look at how to build a HTPC system using the Llano platform. We'll cover options based on various form factors, and performance and cost will be analyzed. Note that the Llano processors might not be the latest and greatest, but when it comes to pricing, it is going to be quite difficult to beat--at least until the desktop variants of Trinity come around. We will also assume that you are aware of the technical merits of the Llano APU lineup, as we will not be covering any benchmarks or doing any comparative studies across products from other companies.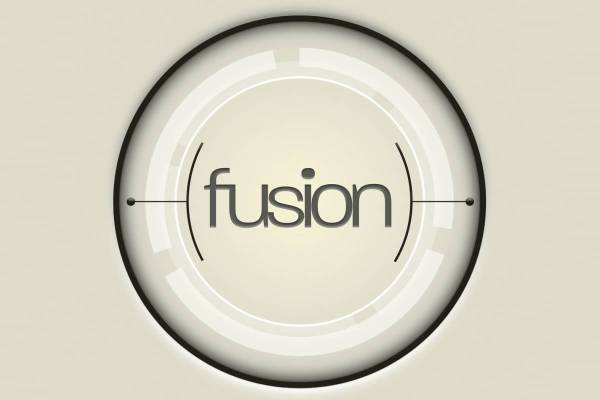 The purpose of a HTPC system is to enable one or more of the following activities:
Media playback: The media could be either stored locally (on a hard drive, NAS, Blu-ray, or DVD) or be streamed from the Internet (from sites such as Netflix or Hulu). Media files include pictures and music files in addition to videos.
Optical disc backup creation: This involves the archiving of Blu-ray and DVD movies onto a physical disk (such as a hard drive or a NAS) after removing the DRM protection. This enables consumers to enjoy the content on their purchased discs without the annoying trailers and advertisements, or the need for a Blu-ray drive (e.g. on tablets or smaller HTPCs).
Recording and/or editing video files: This involves using a TV tuner to capture broadcast content and record it onto a physical drive. The recorded content could then be edited to remove commercials or for any other purpose before being stored away. Sometimes, it might be necessary to transcode the video files as well (say, converting from one H.264 profile to another). This is much more computationally intensive compared to splitting/joining media streams with similar characteristics.
Some users might also want to use their HTPC for activities such as:
Gaming: This is, by far, the most common extension of a HTPC outside its original application area. Thanks to the powerful integrated GPU, we have seen that the Llano APUs are quite good with almost all games at mainstream quality settings. If a budget gaming+HTPC build is on your radar, you can't go wrong with the Llanos--provided you understand that high quality settings and 1080p gaming are likely too much for the iGPU.
Network DVR/IP Camera recording: This is quite uncommon, but some users might like to have IP camera feeds viewable/recordable through their HTPCs.
General PC Tasks: These include basic web browsing, downloading and other similar tasks (which almost all HTPCs are bound to be good with)
Readers using their HTPC for any purpose other than those mentioned above should feel free to let everyone know in the comments section.
AMD's Llano lineup includes a range of processors with TDP ratings from 65W to 100W. Note that simple playback tasks are going to be quite power-efficient, thanks to integrated hardware decoding, so the relatively high TDPs shouldn't put one off. There are also plenty of FM1 socket motherboards based on the A55/A75 FCHs (Fusion Controller Hubs). The choice of the Llano APU, motherboard form factor, and other components should be made depending on the desired usage scenario. In the next few sections, we will take a look at the choices available.
The Llano APUs come in 2, 3 and 4 core variants. The table below lists all the retail SKUs available, along with current pricing. Note that the A4-3420 (which was initially OEM only, and was later supposed to debut in a retail model), A6-3600, A6-3620, A8-3800, and the A8-3820 don't seem to be available with any of the first-tier retailers, so we've left them out of the charts.
AMD Llano APU Lineup (Desktop)
APU
Cores
Frequency
(Turbo)
GPU
GPU Config
(Shaders:TMU:ROP
@ Frequency)
Memory
Support
TDP
Pricing
A4-3300
2
2.5GHz
6410D
160:8:4 @ 443MHz
DDR3-1600
65W
$60
A4-3400
2
2.7GHz
6410D
160:8:4 @ 600MHz
DDR3-1600
65W
$66
A6-3500
3
2.1GHz
(2.4GHz)
6530D
320:16:8 @ 443MHz
DDR3-1866
65W
$80
A6-3650
4
2.6GHz
6530D
320:16:8 @ 443MHz
DDR3-1866
100W
$85
A6-3670K
4
2.7GHz
6530D
320:16:8 @ 443MHz (Unlocked)
DDR3-1866
100W
$105
A8-3850
4
2.9GHz
6550D
400:20:8 @ 600MHz
DDR3-1866
100W
$110
A8-3870K
4
3.0GHz
6550D
400:20:8 @ 600MHz (Unlocked)
DDR3-1866
100W
$119
With the choice of available APUs out of the way, it is now time to take a look at the two Fusion Controller Hubs (FCHs) available for Lynx, the Llano desktop platform:
AMD Fusion Controller Hubs for Lynx (Desktop Llano)
Chipset
Code Name
Unified Media Interface
SATA
USB 3/2/1.1
TDP
A55
Hudson-D2
x4 Gen 2 + Display Port
6 x 3Gbps
0/14/2
7.6W
A75
Hudson-D3
x4 Gen 2 + Display Port
6 x 6Gbps
4/10/2
7.8W
The three main motherboard form factors of interest to us are (in order of size):
mini-ITX (17cm x 17cm)
micro-ATX (24.4cm x 24.4cm)
ATX (30.5cm x 24.4cm)
Scenarios which don't involve high quality gaming/complex TV tuner systems can make do with mini-ITX motherboards (only one expansion slot). On the other hand, for moderate gaming and/or the installation of capture cards/internal TV tuners, multiple expansion slots such as those in the micro-ATX motherboards might be required. For high end HTPCs that also double up as gaming rigs with cards in CrossFire and/or network DVRs with custom capture cards, ATX motherboards (which have up to seven expansion slots) are necessary.
We're not going to recommend any specific board for each size as being "best", as what qualifies as such will vary from person to person. However, it is worth nothing that the motherboard choice can have wide ranging effects on the overall stability and functionality of a system. If you buy an inexpensive board, it may or may not work with all memory modules, it might lack fine-grained fan control, overclocking features may not be present, and there's even a potential for incompatibilities with certain peripherals and/or SSDs. If any of those items are of particular importance to you, we'd suggest reading up on some of the motherboard reviews to see how the various boards compare. All of the boards listed below should work for a basic HTPC setup, but some are going to be better than others.
The following table gives you an idea of the various mini-ITX motherboards currently available. All boards have a single PCI-E 2.0 x16 expansion slot, 4x SATA 6Gbps, 1x eSATA2, and are based on the A75 chipset. All of these are targeted towards small form factor systems suitable for use as HTPCs, as they have both HDMI output as well as optical SPDIF for multi-channel audio.
HTPC Oriented mini-ITX Motherboards for Lynx (Desktop Llano)
Vendor
Board Name
Memory Slots
Misc. Notes
Price
ASRock
A75M-ITX
2x DDR3 2400+
GbE + 4x USB 3.0
$90
Asus
F1A75-I DELUXE
2x DDR3 1866
GbE + 2x USB 3.0 + 1x USB 3.0 Internal Header
$140
AzureWave Wi-Fi 802.11 b/g/n
Bluetooth 3.0
Mini-Remote/Keypad
Gigabyte
GA-A75N-USB3
2x DDR3 2000+
RealtekGbE
$74
Zotac
A75ITX-A-E
2x DDR3 1866
DualGbE
$133
802.11 b/g/n
Bluetooth 3.0
6x USB 3.0
Moving on to the micro-ATX configurations, we have a large number of choices. All options have HDMI output with audio. However, not all HTPC setups have a receiver capable of parsing audio over HDMI. In order to experience multi-channel audio in such a scenario, it is necessary to take advantage of the SPDIF output. The table below lists the six boards which satisfy this criteria. If optical SPDIF is not needed, we have many more choices.
HTPC Oriented micro-ATX Motherboards for Lynx (Desktop Llano)
Vendor
Board Name
Memory Slots
PCI Configuration
Misc. Notes
Price
Asus
F1A55-M/CSM
4x DDR3 2250+
2x PCI-E x16 (x16, x4), 1x PCI-E x1, 1x PCI
6x SATA 3Gbps, 2x USB 3.0
$78
ASRock
A75M
2x DDR3 2400+
1x PCI-E x16, 1x PCI-E x1, 2x PCI
5x SATA 6Gbps, 1x eSATA2
$75
ASRock
A75 PRO4-M
4x DDR3 2400+
2x PCI-E x16 (x16, x4), 2x PCI
5x SATA 6Gbps, 1x eSATA2
$84
Asus
F1A75-M PRO
4x DDR3 1866
2x PCI-E x16 (x16, x4), 1x PCI-E x1, 1x PCI
6x SATA 6Gbps
$105
ECS
A75F-M
4x DDR3 1866
1x PCI-E x16, 1x PCI-E x1, 2x PCI
6x SATA 6Gbps, USB 3.0 Headers
$80
Gigabyte
GA-A75M-D2H
2x DDR3 2400+
2x PCI-E x16 (x16, x4), 1x PCI-E x1, 1x PCI
6x SATA 6Gbps, USB 3.0 Headers
$70
For most readers looking to build a Llano-based HTPC, one of the above motherboards should suffice. However, as we mentioned in the last section, users might also want to use their HTPC as a gaming rig; others might want PCI-E/PCI slots for multiple capture cards. A selection of full-sized ATX motherboards for such purposes is provided in the table below. Note that several of the boards also have anywhere from $10 to $30 main-in rebates, and very likely we'll see prices continue to drop as the Q3 launch of Trinity gets closer.
HTPC Oriented ATX Motherboards for Lynx (Desktop Llano)
Vendor
Board Name
Memory Slots
PCI Configuration
Misc. Notes
Price
ASRock
A55 PRO3
4x DDR3 2400+
2x PCI-E x16, 1x PCI-E x1, 3x PCI
5x SATA 3Gbps, 2x SATA 6Gbps, 2x USB 3.0
$75
ASRock
A75 PRO4
4x DDR3 2400+
2x PCI-E x16 (x16,x4), 2x PCI-E x1, 3x PCI
5x SATA 6Gbps, 1x eSATA2
$80
ASRock
A75 Extreme6
4x DDR3 2400+
3x PCI-E x16(x16/x0 or x8/x8, x4), 1x PCI-E x1, 3x PCI
8x SATA 6Gbps, 1x eSATA2
$95
Asus
F1A75-V PRO
4x DDR3 1866
2x PCI-E x16 (x16,x4), 2x PCI-E x1, 3x PCI
7x SATA 6Gbps, 1xeSATA2, 1x DP
$116
Asus
F1A75-V EVO
4x DDR3 1866
3x PCI-E x16(x16/x0 or x8/x8, x4), 2x PCI-E x1, 2x PCI
7x SATA 6Gbps, 1xeSATA2, 1x DP
$130
ECS
A75F-A
4xDDR3 2600+
2x PCI-E x16 (x16,x4), 2x PCI-E x1, 3x PCI
5x SATA 6Gbps, 1x eSATA2
$80
Gigabyte
GA-A75-D3H
4x DDR3 1866
2x PCI-E x16 (x16,x4), 2x PCI-E x1, 3x PCI
5x SATA 6Gbps, 1x eSATA2
$90
Gigabyte
GA-A75-UD4H
4x DDR3 2400+
2x PCI-E x16 (x16,x8), 3x PCI-E x1, 2x PCI
5x SATA 6Gbps, 1x eSATA2
$105
One thing to keep in mind is that Llano is basically a dead-end platform. AMD's Trinity will use socket FM2, so you won't be able to upgrade to anything faster than what we've currently listed. As noted above, we will also likely see prices drop further in the coming month or two. With the processor and motherboard chosen, let us move on to the other components of the build.
Almost all present-day memory modules are at least DDR-1333. Depending on the APU chosen, the reader should go for DDR3-1600 or even DDR3-1866, as the added bandwidth can improve the iGPU performance in particular, and there is not much point in purchasing a module with lower speeds than what the APU natively supports. It is always possible to run higher rated memory modules at lower speeds if one wants to save power or reduce heat, and it is generally better to purchase modules with lower latency specifications, as this has the potential to improve performance in games and sometimes even for renderers such as madVR.
For most HTPC applications, 4GB of memory is more than enough. However, if you are repurposing the HTPC for other tasks such as intenstive video and photo editing, it might be worthwhile to invest in 8GB of memory. While performance typically does not vary between brands (assuming the same timings and clock speed), reliability might. It is therefore essential to choose the memory vendor and model carefully.
Some of the memory kits we recommend for the lower-end APUs (A4-3300 and A4-3400) are below. While all memory modules should work with all motherboards in theory, in practice that's not always the case, particularly if you're going to run low voltage modules. We recommend checking motherboard vendor compatilibity lists if you're not willing to deal with the potential need to return your memory kit for a more compatible set.
G.SKILL Sniper Low Voltage Series 8GB (2 x 4GB) DDR3-1600: This kit operates at a lower voltage (1.25V) compared to similar kits, and can run cooler. The timing is also quite good at 9-9-9-24 when operating at 1600MHz. Coming in at $52, this is one of the best kits for a low power HTPC.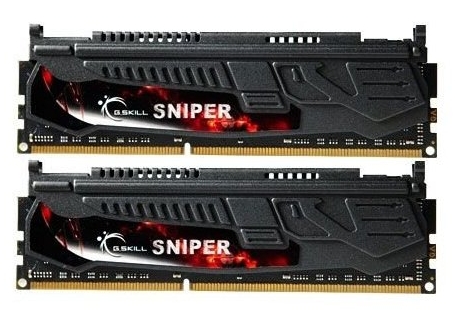 G.SKILL ECO 8GB (4 x 2GB) DDR3-1600: This kit also operates at a lower voltage (1.35V) and has excellent timing parameters of 8-8-8-24. However, it is a quad channel kit and can only be fully utilized with an appropriate motherboard. Priced at $100 it's somewhat expensive, but it may prove more compatible for some systems than 1.25V kits like the above Sniper Low Voltage.
AMD Entertainment Edition 2GB (1 x 2GB) DDR3-1600: This is one of the cheaper alternatives, coming in at $16. It operates at the standard 1.5V with timing parameters of 9-9-9-24.
For the higher-end APUs, we recommend memory kits rated for DDR3-1866. At these speeds, it is not possible to get low voltage kits.
G.SKILL Ripjaws X Series 8GB (2 x 4GB): This kit comes in at $75, operates at 1.5V, and has timings of 8-9-9-24. Users have reported that it overclocks effortlessly to 2133MHz. This makes it an idea candidate for HTPCs that will also serve as gaming rigs.
Crucial Ballistix 2GB (1 x 2GB): Coming in at $21, it is quite cheap compared to the G.SKILL kit above, but you only get one fourth the total memory. It operates at the same 1.5V and has the same timings. Of course, the drawback is that even with four of these in an appropriate motherboard, you only have 8GB of memory while the previous kit can give you 16GB.

Moving on to storage options, the reader will have to take a stance on the HDD vs. SSD debate. While a cheap SSD might sound very tempting (and may even prove excitingly fast in the initial days), the choice must be made only after careful consideration. At AnandTech, most of the SSDs that get reviewed go into production machines. I have been using an OCZ Agility 3 240GB SSD in my personal laptop. It is based on the SandForce SF-2281 controller. Unfortunately, I have experienced annoying random BSODs whenever I try to hibernate or put the laptop to sleep even with the latest firmware. A quick search on the various SSD forums indicates that SandForce-based SSDs usually don't like hibernation or sleep mode. This is just something to keep in consideration, because it is quite common to put HTPCs in sleep mode when not in operation.
If you plan to use your HTPC just as a front-end for local media residing in a NAS/optical drive, a 128GB SSD should serve you well. On the other hand, if you are planning to use your HTPC as a recording or download machine, it is suggested that you go in for a 2TB or 3TB hard drive in addition to having a 64GB SSD as a boot drive. If the HTPC is to be used in the backend as a media server/download or recording machine (and a media streamer or some other device is going to be used in the front-end), a SSD is not needed at all.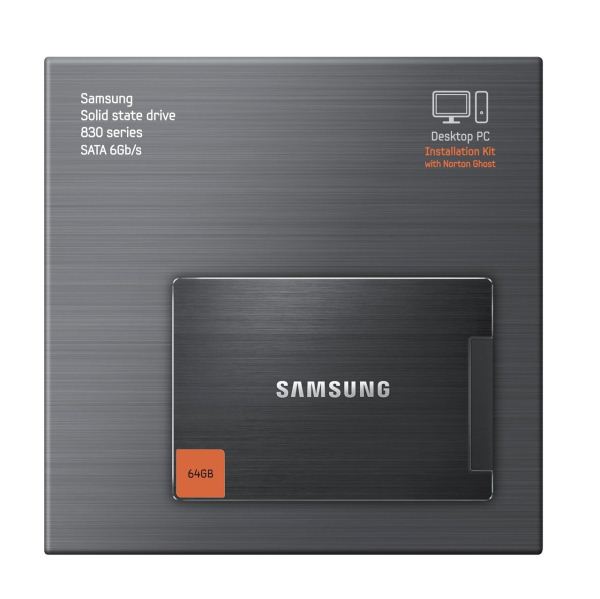 We've selected an SSD and hard drive for use with HTPCs below:
SAMSUNG 830 Series MZ-7PC064D/AM 2.5" 64GB SSD: Samsung's 830 series was well received by us, and Samsung has a good track record of reliability. At $90, the price per GB is much higher than the budget drives, but trust us, a worry-free experience even with unusual HTPC usage scenarios is worth it. If you want more storage in your SSD, a more cost effective purchase would be the SAMSUNG 830 Series MZ-7PC256B/WW 2.5" 256GB SSD that is currently on sale for $250.
Seagate's Barracuda 3TB (ST3000DM001): This hard drive is currently priced at $158 on Amazon. It has 3x1TB platters and delivers better performance than the initial 5x600MB hard drives. For users that like to record TV shows and/or download media files, 3TB is definitely not overkill when it comes to hard drive capacity.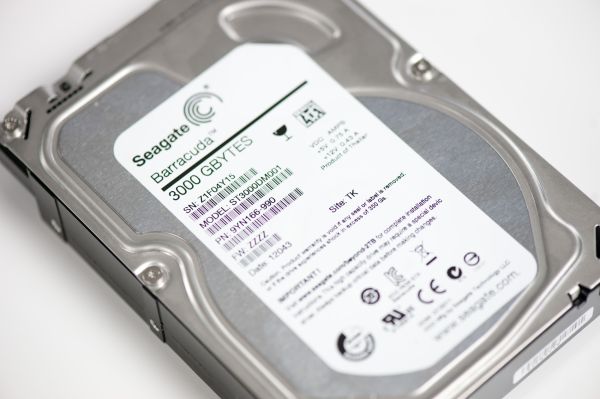 Unless your HTPC is going to double up as a full-blown gaming rig, it is not necessary to go in for more than a 450W power supply, and you can certainly go for less. Users concerned with noise might want to buy a fanless model, although, with 65W and 100W processors that may simply result in your CPU fan being noisier CPU fan.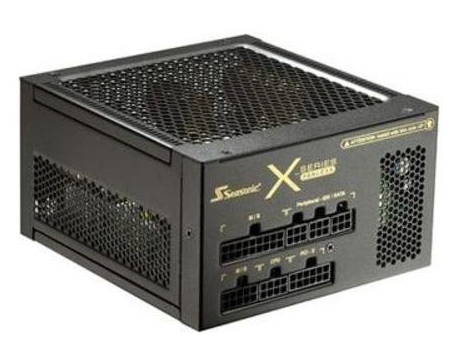 SeaSonic X series SS-400FL 400W 80PLUS GOLD PSU: Coming in at $130, the PSU is a bit costly but that is the price you'll have to pay for silence. It also comes with fully modular cables, which can be helpful when you're building in a smaller mini-ITX or micro-ATX chassis.
Antec VP-450 450W PSU: At $38, this is a no-frills PSU with only moderate (up to 75%) efficiency, but for budget users with low-power rigs it represents a decent value. At this price, one can't expect modular cables and other such niceties. The goal here is decent reliability, low noise, and low cost.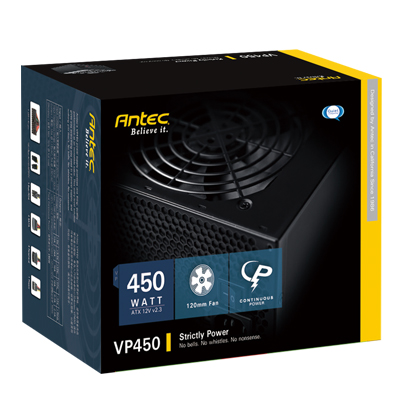 The choice of the chassis depends on the form factor of the chosen motherboard, as well as the usage scenario.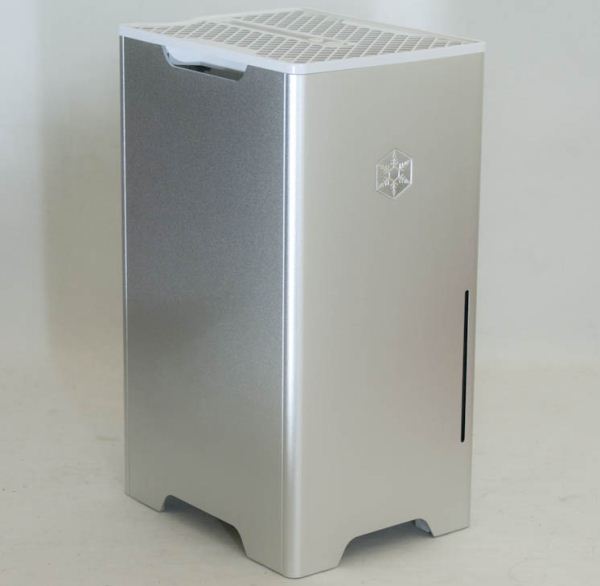 mini-ITX: SilverStone's FT03 Mini is currently on Newegg for $132.99 and also on Amazon for $129.50 (but temporarily out of stock at the time of this article going live). Dustin liked the case a lot and even considered it worthy of an award. The design also makes it stand out (hopefully in a good way, though opinions vary) in a home theater setup.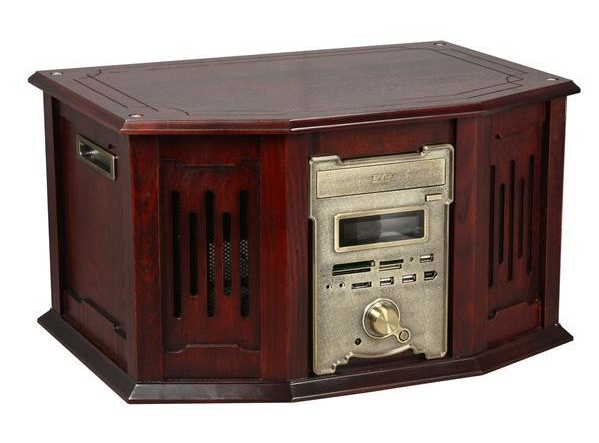 micro-ATX and ATX: I am going to take this opportunity to suggest nMEDIAPC's wooden case currently available on Newegg for $90. This unique case is bound to steal the show even in the most fancy of home theater setups, thanks to its unique construction and industrial design. If you are in search of something mainstream that also includes a MCE remote, the Antec Fusion VERIS Remote Max is an excellent choice I can recommend from personal experience. It is currently on Amazon at $214.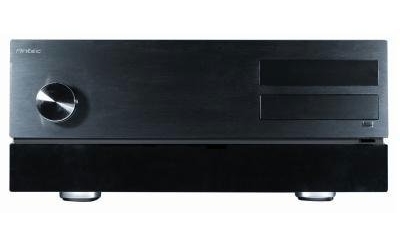 In this buyer's guide, we have taken a look at the options available to readers setting out to build a Llano based HTPC. At AnandTech, we recognize that our readers have varied requirements when looking at a buyer's guide. We've tried to provide several options built around the Llano platform to satisfy those needs.
Personally, all of my media is streamed off a NAS and I have a Smart TV. My requirements from a HTPC would just be a low power front-end to play files off my NAS using XBMC, JRiver Media Center 17, or some other similar software. I could build a system fitting my requirements by selecting components from those presented in the previous pages and present the total cost to the readers, but that is bound to invite comments from irate readers who have other requirements. Hence, we will just leave it to readers to pick and choose components from those listed throughout the article. I have also not discussed general HTPC add-ons such as capture cards and TV tuners, which are not required by all HTPC builders.
Before concluding the piece, I would like to link to our review of Llano from a HTPC perspective. The good news is that many of the issues cited have been fixed. However, the integrated GPU is still not powerful enough for 1080p60 H.264 decoding. If your usage scenario involves playback of such files, it is strongly suggested that one of the quad core APUs be picked up so that you have enough oomph for multi-threaded software decode. High quality madVR rendering is not possible with the integrated GPU, nor is possible with the Intel Sandy Bridge HD 2000/HD 3000 series. You'll need a more potent discrete GPU to help with such scenarios.
Ultimately, it is important for any HTPC system builder to be fully aware of the capabilities--and limitations--of Llano APUs before embarking on this sort of build. In this buyer's guide, I have not touched upon the usage of APUs complementary to the Llano such as the E-350 (Zacate). They make very good platforms for low power NAS systems and media storage servers, but they struggle with the more demanding (and esoteric) video formats. Depending on reader interest, we may cover such platforms at a later date. In the meantime, readers are invited to use the comments section to discuss their existing or planned HTPC builds.