Original Link: http://www.anandtech.com/show/5872/intel-dual-core-ivy-bridge-launch-and-ultrabook-review


Captain's Log, Stardate 20531.0: Dual-Core Ivy Bridge Spotted
After April's launch of quad-core desktop and mobile Ivy Bridge parts, today Intel is launching the smaller, cheaper, and lower powered dual-core half of the IVB family...but only for mobile users. The i7 and i5 parts will be launching today, while budget-seekers looking for i3 parts will need to wait until Q3 to get their IVB fix. If you're looking for additional information on the desktop parts, we don't have much to discuss right now as those are also slated for Q3'12, but Anand does have a writeup of the i5-3470 with HD 2500 Graphics. As we've noted in the past, Intel continues to focus more and more on their mobile products, and dual-core Ivy Bridge continues that trend. Since Intel is really pushing their Ultrabooks for mobile users, we'll start there.
ULV Mobile Ivy Bridge Processors
Model
i7-3667U
i7-3517U
i5-3427U
i5-3317U
Cores/Threads
2/4
2/4
2/4
2/4
Base CPU Clock
2.0GHz
1.9GHz
1.8GHz
1.7GHz
Max SC Turbo
3.2GHz
3.0GHz
2.8GHz
2.6GHz
Max DC Turbo
3.0GHz
2.8GHz
2.6GHz
2.4GHz
L3 Cache (MB)
4MB
4MB
3MB
3MB
iGPU
HD 4000
HD 4000
HD 4000
HD 4000
GPU Clock (Base/Max)
350/1150MHz
350/1150MHz
350/1150MHz
350/1050MHz
Max Supported DDR3
DDR3-1600
DDR3-1600
DDR3-1600
DDR3-1600
VT-x
Yes
Yes
Yes
Yes
AES-NI
Yes
Yes
Yes
Yes
TXT/vPro
Yes
No
Yes
No
TDP
17W
17W
17W
17W
Package
BGA
BGA
BGA
BGA
Estimated Price
$346
N/A
$225
N/A
At the low end of the power scale and primed for use in Ultrabooks we have the Ultra Low Voltage (ULV) IVB family, which is composed of four chips—a pair of i7s and a pair of i5s, with one OEM model in each family. As is customary for the Core i-Series ULV parts, all of these chips have a 17W TDP and run at fairly conservative base clock speeds in order to keep their TDP in check. For the most part Intel is playing it straight here, with the primary differences between the chips being CPU and GPU clock speeds, L3 cache sizes, and of course price.
At the top of the lineup is the i7-3667U, which ships at a base clock speed of 2GHz and can turbo up by at least 50% to 3.0GHz with two cores active or 3.2GHz with one core active. Compared to its SNB predecessor this is 200MHz higher on the base clock and 400MHz/300MHz higher on the turbo clocks in the same 17W envelope, so in CPU-bound scenarios the i7-3667U should pack a noticeably bigger punch. That's in addition to minor performance enhancements with the Ivy Bridge microarchitecture, which should account for another ~5% performance increase at the same clock speed on average.
Of course with Ivy Bridge the biggest performance increases are on the GPU side. All of the ULV IVB CPUs ship with Intel's HD 4000 iGPU, which brings with it a 33% increase in the number of EUs on top of support for DX11 and OpenCL. Compared to SNB the graphics clocks are largely unchanged—350MHz is still the GPU base clock speed while the turbo clock speed has been dropped from 1200MHz to 1150MHz—so the bulk of the performance improvements will be from the larger number of EUs, IVB's ability to turbo more often, and of course the architectural improvements Intel has made for this generation.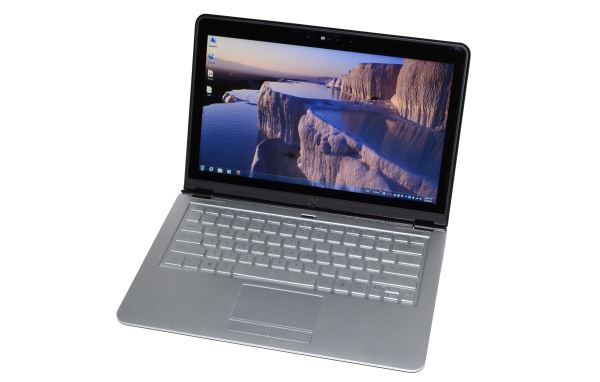 Intel's prototype Ivy Bridge Ultrabook
Fleshing out the rest of the ULV lineup, we have the i7-3517U that runs at slightly lower clock speeds, and then the i5-3427U and i5-3317U. Along with still lower clock speeds, the i5 ULV CPUs also give up 1MB of L3 cache, leaving them with 3MB of L3. All of the ULV CPUs feature VT-x and AES-NI support, so Intel is leaving the most critical features available on the entire lineup, however business buyers will want to take note that the OEM-only parts—i7-3517U and i5-3317U—do not feature Intel's Trusted Execution Technology (TXT) or vPro.
Standard Voltage Mobile Ivy Bridge Processors
Model
i7-3520M
i5-3360M
i5-3320M
i5-3210M
Cores/Threads
2/4
2/4
2/4
2/4
Base CPU Clock
2.9GHz
2.8GHz
2.6GHz
2.5GHz
Max SC Turbo
3.6GHz
3.5GHz
3.3GHz
3.1GHz
Max DC Turbo
3.4GHz
3.3GHz
3.1GHz
2.9GHz
L3 Cache (MB)
4MB
3MB
3MB
3MB
iGPU
HD 4000
HD 4000
HD 4000
HD 4000
GPU Clock (Base/Max)
650/1250MHz
650/1200MHz
650/1200MHz
650/1100MHz
Max Supported DDR3
DDR3-1600
DDR3-1600
DDR3-1600
DDR3-1600
VT-x
Yes
Yes
Yes
Yes
AES-NI
Yes
Yes
Yes
Yes
TXT/vPro
Yes
Yes
Yes
No
TDP
35W
35W
35W
35W
Package
rPGA/BGA
rPGA/BGA
rPGA/BGA
rPGA/BGA
Estimated Price
$346
$266
$225
N/A
The other family of dual-core mobile IVB CPUs being launched today is the Standard Voltage (SV) lineup, which is composed of CPUs that operate at 35W. With the bulk of Intel's i7 mobile IVB lineup focused on quad-core CPUs, there's a single i7 here along with three i5s. The i7-3520M has a base clock speed of 2.9GHz and can turbo up to 3.4GHz and 3.6GHz with two and one active cores, respectively. Meanwhile the GPU base clock is 650Mhz and can turbo up to 1250MHz. Compared to the outgoing SNB based i7-2640M, this is only a 100MHz bump, so the CPU performance difference isn't going to be quite as remarkable as on the ULV lineup, though we still expect these IVB CPUs to be able to turbo higher and more often.
Meanwhile the i5 versions of these CPUs take the requisite clock speed and L3 cache reductions. All three i5 CPUs have 3MB of L3 cache, base clock speeds between 2.5GHz and 2.8GHz, and of course lower prices. The HD 4000 GPU's base clock speed is 650MHz for the entire lineup, while the maximum turbo clock is between 1100MHz and 1200MHz. The entire SV mobile IVB lineup features AES-NI and VT-x, and with the exception of the OEM-only i5-3210M, all of them feature TXT and vPro as well.
Finally, the chipsets these CPUs will be paired with should be familiar to you; Intel is using the same 7-series mobile chipsets that they first launched last month with quad-core mobile IVB, though we do have a bit more information on them compared to last month, particularly regarding power consumption.
Intel 7-Series Mobile Chipsets
Model
QS77
QM77
UM77
HM77
HM76
TDP
3.6W
4.1W
3.0W
4.1W
4.1W
Average Power
1.15W
1.22W
0.84W
1.22W
1.22W
Package Size
22x22
25x25
25x25
25x25
25x25
USB Ports (USB 3.0)
14 (4)
14 (4)
10 (4)
14 (4)
12 (4)
PCIe 2.0 Lanes
8
8
4
8
8
SATA Ports (6Gb/s)
6 (2)
6 (2)
4 (1)
6 (2)
6 (2)
VGA Output
X
X
X
X
LVDS Output
X
X
X
X
Smart Response Technology & RAID
X
X
X
X
vPro & Active Management Technology
X
X
Small Business Advantage
X
X
X
X
With the increasing number of functions handled by the CPU there are fewer and fewer things left for the supporting chipset, which makes many of the chipsets quite similar. Mostly, it's a question of maximum USB ports, PCIe lanes, SATA ports, and power envelope. UM77 is going to be the best candidate for use in Ultrabooks as it has the lowest TDP and lowest average power consumption thanks to its lack of VGA and LVDS monitor support. At the same time with only 4 PCIe lanes available from the chipset, it's only going to have enough bandwidth for Thunderbolt and little else (and at least one of those lanes will be used by a mini-PCIe slot for WiFi). Otherwise QM77, HM77, and HM76 all share the same 4.1W TDP and 1.22W average power and are more likely to be found alongside 35W CPUs.
With the CPU and chipset overview out of the way, it's time to get to the meat of today's review: the Ivy Bridge Ultrabook. Wait, what about architecture changes, die sizes, transistor counts, and all of those good tidbits? We've covered the architecture side already, and the only real change is in the loss of two cores and some of the L3 cache. Sadly, Intel didn't provide any information on how that affected die size or transistor count.
What we do know is that the quad-core Ivy Bridge die is 160mm2 and has 1.4B transistors. We did some quick and dirty estimates based on the removal of half the L3 cache and two CPU cores, and it looks like a dual-core IVB die should be in the neighborhood of 120mm2, but that's just an estimate. There are also rumors circulating that Intel might be harvesting quad-core die for dual-core use as well; that's certainly possible, though it seems unlikely the ULV parts would be harvested chips. Unfortunately, we don't have much else to say on the CPU die beyond that. We'll update with any additional details if we receive them, but now let's see what Intel has planned with their Ultrabook update.
Update: We cracked open the Zenbook Prime UX21A and measured its Core i7-3517U dual-core/GT2 Ivy Bridge CPU.
Meet the Second Generation Ultrabook
Last year, Intel came out with a new initiative to push: the Ultrabook. There are plenty of ways to look at Ultrabooks that show they're nothing new, but much like when Intel launched Centrino, fundamentally it's about guaranteeing a certain level of performance/features. With Centrino, Intel required branded laptops to use an Intel CPU, an Intel chipset, and (somewhat controversially) an Intel wireless adapter. It didn't sound like much back then, but it proved highly successful among OEMs and retail customers. Centrino has now moved on to become a brand for Intel's wireless adapters, but its legacy is still remembered.
With Ultrabooks, Intel came up with a different set of requirements: you still need an Intel CPU, but it has to be of the ULV classification; the chipset is likewise from Intel. The bigger—or in this case, smaller—requirement is that Ultrabooks need to be thin: 18mm or less for 13.3" and smaller displays, 21mm or less for 14" and larger displays, and 23mm or less for convertible tablets. Ultrabooks also need some form of solid state storage (SSD-only or a hybrid solution using an HDD with an SSD cache), battery life should be at least five hours, and there's a loose requirement that there be a sub-$1000 offering for each Ultrabook brand.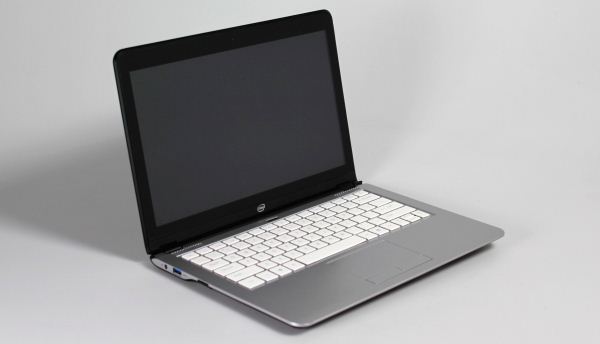 An earlier prototype had a white keyboard
Along with the official launch today of a variety of dual-core Ivy Bridge processors—including standard voltage and ULV laptop chips—Intel sent us a prototype Ivy Bridge Ultrabook for testing. Many of the current crop of Ultrabooks look quite similar, and this one doesn't change a whole lot. It's very thin, very light, and looks quite sexy if you're into that sort of laptop. The big changes naturally come from the CPU update: graphics are now DX11 capable with HD 4000 hardware, and all Ultrabooks should now come with at least one USB 3.0 port and more likely two or more—the UM77 chipset is capable of supporting up to four USB 3.0 ports.
Given this is an R&D Ultrabook, we're not going to go into a ton of detail on the unit. It's pretty close to something that could actually be sold, though it won't be. I do have a few minor complaints with the design and I suspect retail Ultrabooks will address most of those. Here's a quick rundown of the specs for the Intel "PUB-RD" Ultrabook:
Intel Ivy Bridge "PUB-RD" Ultrabook Prototype Specifications
Processor
Intel i5-3427U
(Dual-core 1.80-2.80GHz, 3MB L3, 22nm, 17W)
Chipset
UM77
Memory
4GB (2x2GB) DDR3-1600 Samsung
Graphics
Intel HD 4000
(16 EUs, up to 1150MHz)
Display
13.3" WLED Glossy 16:9 900p (1600x900)
(CPT, model unknown—COR17DB)
Storage
240GB Intel 520 SSD
(Note: Has new "lower power" firmware)
Optical Drive
N/A
Networking
802.11n WiFi (Intel Advanced-N 6235)
Bluetooth 4.0 (Intel)
Audio
Realtek ALC269
Stereo Speakers
Headphone jack
Capable of 5.1 digital output (Mini-HDMI)
Battery/Power
6-cell, ~47Wh
60W Max AC Adapter
Front Side
N/A
Left Side
Mini-HDMI
1 x USB 3.0
AC Power Connection
Right Side
Memory Card Reader
1 x USB 3.0
Headphone jack
Back Side
2x Exhaust vents
Operating System
Windows 7 Home Premium 64-bit
Dimensions
12.97" x 8.78" x 0.63" (WxDxH)
(329mm x 223mm x 16mm)
Weight
3.21 lbs (1.46kg)
Extras
Webcam
80-Key keyboard
Flash reader (MMC/MS/SD)
One thing that immediately sticks out as being unusual for an Intel reference laptop is the CPU. I've seen quite a few Intel provided laptops over the years, and they almost always come with a high-end CPU—often going so far as to include Extreme CPUs, or at most one or two steps down. This isn't the only time we've seen an i5 CPU from Intel, but as the standard bearer for their Ivy Bridge Ultrabook initiative I admit I was a little surprised. Mind you, it's not a bad chip if you're actually going out to purchase an Ultrabook, as the extra $120 or so just for slightly better CPU performance isn't going to be a huge factor. Either the Core i5-3427U is going to be sufficient for your needs, or you'll want a standard voltage CPU—probably one of the quad-core models, and probably with switchable graphics as well.
It appears from the review slides that there are some versions of the above Ultrabook with 8GB RAM, but our sample included 4GB DDR3-1600 from Samsung in a dual-channel configuration. As we'll see in a moment, the RAM is soldered straight onto the motherboard, so there's no upgrading it. This isn't a huge issue for our benchmarks and testing, but if I were an end user I would definitely go straight to 8GB these days (assuming you can find such an Ultrabook). For one, opening up an Ultrabook is typically more complex and/or frustrating than getting at the RAM/HDD in other laptops, but more importantly it looks like most Ultrabooks are soldering RAM onto the motherboard—the extra thickness of an SO-DIMM might not seem like much, but when you're trying to get under 18mm every bit of savings counts!
One item that I have no complaints about is the 240GB Intel 520 SSD. Sure, it's expensive, and I wouldn't necessarily buy one with my own dime, but personally 240/256GB is the sweet spot in terms of storage. It allows me to install all the apps and games I really want, I still have plenty of room for documents, pictures, and movies, and for 2xnm NAND it means you get a sufficient number of channels in your SSD to maximize performance. SandForce 2281 SSDs aren't known for being the best options in terms of idle power use, and that may play a role later, but Intel does make a note in their reviewer's guide that they're running updated firmware that should improve power characteristics.
Rounding out the package and similar to the ASUS UX31E we have a CPT (Chungwa Picture Tubes) 13.3" 1600x900 LCD—most likely the CLAA133UA01 or CLAA133UA02. It's a very bright LCD and has a good resolution for a 13.3" laptop, but contrast is unfortunately not very good. Still, given the choice between a mediocre and somewhat dim 1366x768 TN panel and a mediocre but bright 1600x900 TN panel, we'll take the latter for sure. If you want a better LCD in your Ultrabook, ASUS thankfully looks to have you covered with IPS panels in their upcoming UX21A/UX31A/UX32A. Also similar to the UX31E, there's no Ethernet port on the PUB-RD prototype; even with 300Mbit WiFi, let me tell you it takes quite a while to copy over our ~120GB test suite.
The remaining features are pretty sparse, which is what you need to expect with these ultra thin laptops. There are two USB 3.0 ports, one on each side, a mini-HDMI port, a headphone jack, and flash memory readers for the most common formats. Other than the AC adapter socket and the exhaust/intake ports on the rear of the unit, that's all you get. With a single HDMI output, triple-head display setups are naturally out of the question. It's also important to note that the only way to get triple-head support is if you have two displays attached via DisplayPort, so until we see that (or Thunderbolt) on an Ultrabook or laptop, you should plan on running at most two displays.
We did take the time to photograph the exterior of the PUB-RD Ultrabook, along with opening it up to get some shots of the internals. The top and bottom covers have a soft-touch coating that I find pleasant to the touch, and the palm rest is matte silver plastic. And for your viewing pleasure, check out all the warning labels about this not being a retail sample—and just forget that you saw the part about not using this laptop at home, okay? (You should see the additional warning paperwork that came with the Ultrabook!)
The keyboard keys feel a bit loose for my taste, and the bottom-left Control key has a habit of registering as still pressed after I use it (particularly if I do Fn+Shift+Right to select to the end of a line, as an example), but none of this really matters on a prototype. The touchpad is also standard fare, with Synaptics hardware that works well—and thank goodness for discrete mouse buttons! Most Ultrabooks that I've tested so far have gone for the clickable touchpad with integrated left/right buttons, and I find those somewhat less practical than the tried-and-true discrete buttons; your mileage may vary, of course.
As far as the internals go, space is clearly at a premium. The 47Wh battery takes up a large chunk of real estate, the 2.5" SSD fills in the gap to the left of the battery, and the top half or so of the chassis is home to the motherboard. There is an unused mini-PCIe slot just above the SSD, which might also support mSATA (I don't have the necessary hardware for testing), but that's about the only empty spot. When you consider that this is a 13.3" Ultrabook and there's little unused space, it becomes clear why many Ultrabooks are going with mSATA drives in place of the standard 2.5" drives.
If you look at the cooling section, there's only a single small fan at the top (back) of the motherboard area. How exactly is that little fan supposed to cool everything? There's not even a radiator/heatpipe right next to the fan exhaust, which is where you'd get the best airflow and cooling. Intel addresses this with foam guides on the bottom cover, but I have to think this is one area where retail Ultrabooks will be better than this prototype. We'll get to thermals later, but the back section of the Ultrabook definitely gets warm under load, and even at maximum fan speed there doesn't appear to be a lot of airflow from the exhaust port.
One final interesting side note is that when I first started testing this Ultrabook, I was quite disappointed with battery life. It wasn't all that different from Sandy Bridge, but the problem was HWMonitor was reporting a whopping 67Wh battery capacity. (That's another reason I opened up the chassis.) Intel later provided an updated BIOS to address the situation, and battery life looks a lot better now that I know it's a 47Wh battery.
Outside of minor complaints with the keyboard and the Mini-HDMI adapter (was it really too hard to fit full HDMI? Though mini-DisplayPort would probably be the best all around solution), there's nothing inherently wrong with the PUB-RD Ultrabook. Intel could easily give this design to any of their OEM partners and it could be turned into a retail product with very little effort. I've already had several friends see it and ask me how much it costs and when it will be available. The answer to that question will come from the big OEMs, but given the particulars of this configuration (e.g. the i5-3427U processor and 240GB Intel 520 SSD) it would likely be priced at $1000 or more.
That's not horrible considering everything you get, but ultimately the value in Ultrabooks comes in how much emphasis you place on having a small, sleek ultraportable. We'll look at the performance you can expect momentarily, but while it's better than any Sandy Bridge Ultrabook you're still paying a premium for the form factor. Is an Ultrabook a better buy than something like a Trinity-based laptop? The answer, as always, will come down to how you plan on using your laptop and how much you're willing to pay.
Ivy Bridge Ultrabook General Performance
We've taken most of the performance results from our AMD Trinity review and simply added the Ivy Bridge Ultrabook results to those graphs. (If you're wondering, we've dropped most of the thicker laptops from the comparison, though we've kept quad-core IVB as a reference point.) This will give you a high level picture of what you can expect from Ivy Bridge ULV relative to quad-core Ivy Bridge, Trinity, Llano, and several other laptop configurations. We've also added results from Anand's preview of the ASUS UX21A, which sports a 1080p IPS panel stuffed into an 11.6" form factor along with an i7 ULV processor, and we have the Dell XPS 13 and HP Folio 13 as representatives of Core i7 and Core i5 Sandy Bridge Ultrabooks, respectively.
As always, should you want to make additional comparisons, head over to Mobile Bench and have at it. Here are a few direct comparisons you might be interested in making: i5 IVB ULV vs. i5 SNB ULV, i5 IVB ULV vs. i7 SNB ULV, and i5 IVB ULV vs. A10-4600M. Our graphs will use abbreviated names for the laptops, just to keep things clean, but here is a quick specifications overview of the laptops we're including in our charts. Please note that not all products are priced the same, though we've done our best to minimize differences in the test configurations on several laptops by installing the same Intel 520 240GB SSD used in the prototype IVB Ultrabook.
Laptop Configuration Overview
Laptop
CPU
Graphics
Storage
Battery
Acer TimelineU M3
Intel i7-2637M
GT640M/HD3000
256GB SSD
55Wh
AMD Llano Prototype
AMD A8-3500M
HD6620G
240GB SSD
58Wh
AMD Trinity Prototype
AMD A10-4600M
HD7660G
128GB SSD
56Wh
ASUS N56VM
Intel i7-3720QM
HD4000
240GB SSD
56Wh
ASUS Zenbook Prime UX21A
Intel i7-3517U
HD4000
128GB SSD
35Wh
Dell Vostro V131
Intel i5-2410M
HD3000
240GB SSD
65Wh
Dell XPS 13
Intel i7-2637M
HD3000
256GB SSD
47Wh
HP Folio 13
Intel i5-2467M
HD3000
128GB SSD
60Wh
Ivy Bridge Ultrabook Prototype
Intel i5-3427U
HD4000
240GB SSD
47Wh
We're only going to highlight two laptops for this roundup: the Ivy Bridge Ultrabook and the ASUS Zenbook Prime UX21A. The latter is going to be similar in most respects, but it's also a retail product. It has a smaller form factor, a slower SSD, a higher resolution LCD, and a faster Core i7 IVB ULV processor. The quad-core IVB ASUS N56VM is in a different category, obviously, as it uses more power and is significantly larger. AMD's Trinity is also a bit of an odd comparison, as it's a full voltage 35W part; hopefully we can get some 17W Trinity laptops in for testing to see how AMD's Ultrabook alternative fares. In the meantime, keep these considerations in mind. We'll start as always with PCMark performance.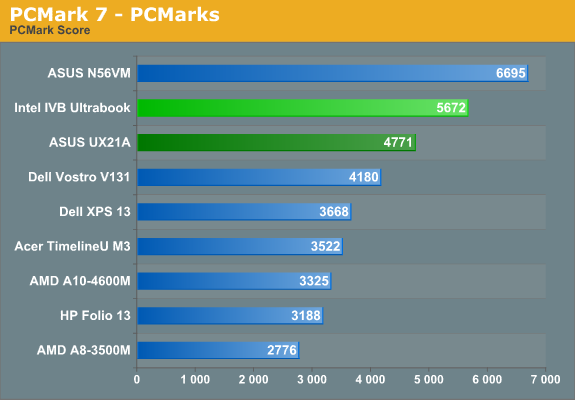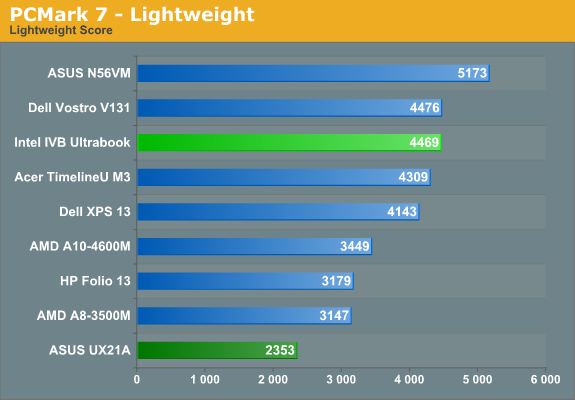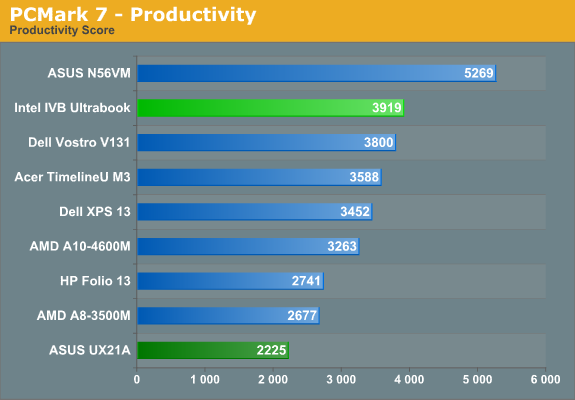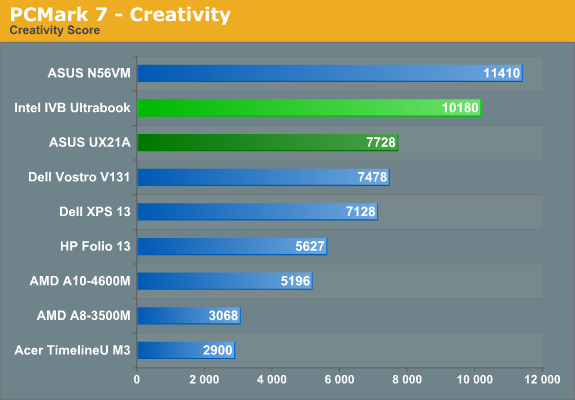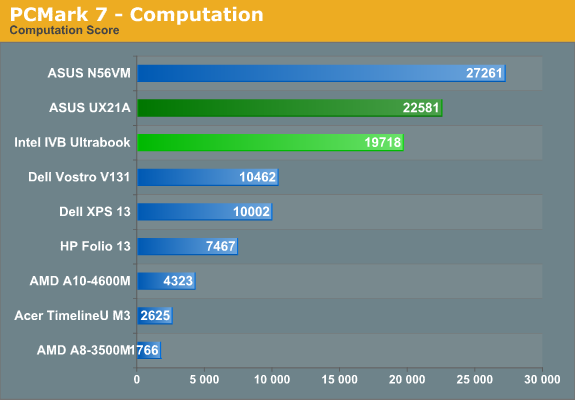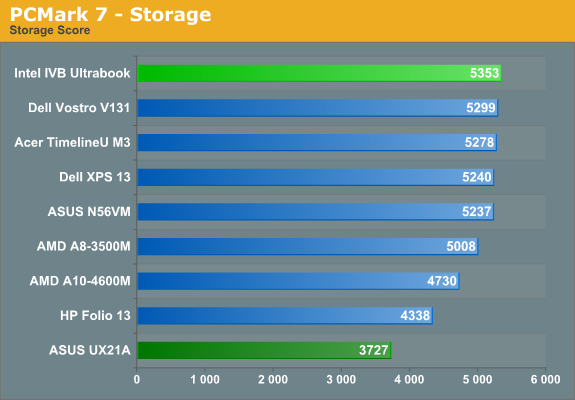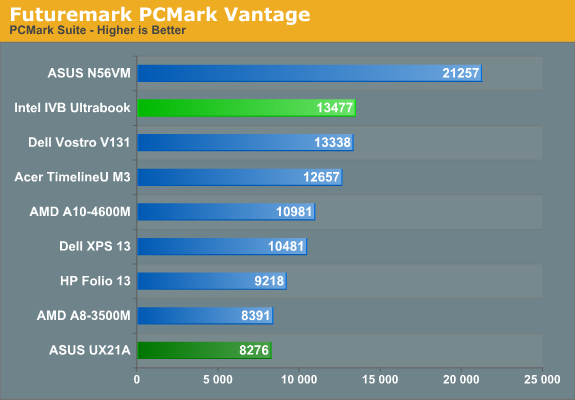 We've mentioned before how much PCMark scores tend to skew towards laptops with SSDs. The good news is that all of the laptops in our charts for this article have SSDs; the bad news is that there's another element at play that can dramatically influence a couple of scores. That element is Intel's Quick Sync technology, which is supported by PCMark 7 and has a major impact on the Creativity and Computation test suites, and a lesser impact on the Entertainment suite. We don't know exactly how much the higher Computation/Creativity scores affect the overall score, but it's definitely a factor. To that end, PCMark Vantage is a nice look at overall performance without any Quick Sync optimizations present.
Given what we just said about Quick Sync, it's not too surprising that Ivy Bridge—even in ULV attire—dominates many of the PCMark 7 charts. The ASUS UX21A standings are severely hampered by the SanDisk U100 SSD, making direct comparisons with the PUB-RD Ultrabook impossible in PCMark. Look at our prototype scores however and we find that it offers performance that's generally better than a last-generation standard voltage Sandy Bridge laptop (e.g. the Dell Vostro V131).
Without testing every single laptop with the same SSD (and arguably with and without Quick Sync enabled), PCMark scores only give us an abstract view of system performance. As we've noted in the past, every single laptop in our charts is going to be "fast enough" for typical home and business use. The real differentiator between laptops is going to be build quality, form factor, design elements, and what applications you plan on running (e.g. complex number crunching apps would benefit from more CPU performance, while games will benefit from faster graphics). To help flesh out our understanding of Ivy Bridge ULV performance and how it compares to other laptops, we've got CPU-centric and GPU-centric tests.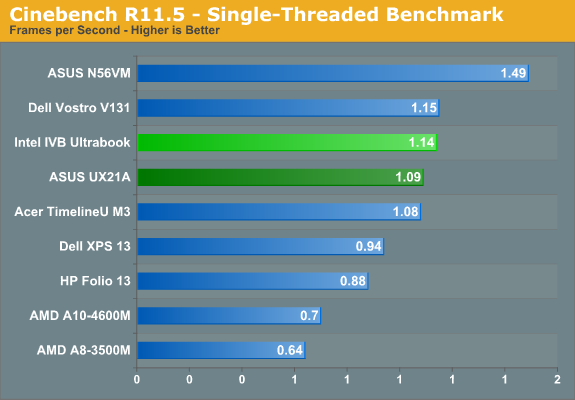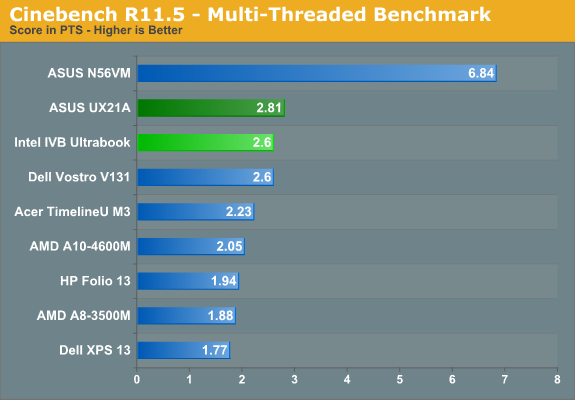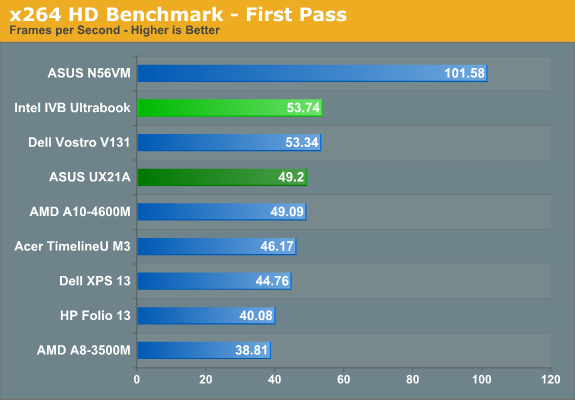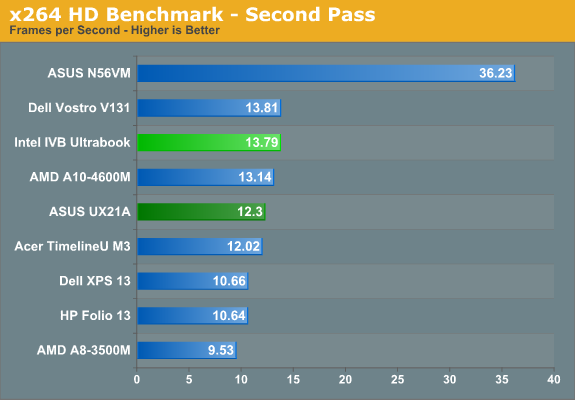 Cinebench is a great look at pure CPU performance, and the workload is such that L3 cache sizes frequently don't come into play. Obviously quad-core IVB is in a different category, but of the dual-core parts that we've included, IVB ULV tops the charts. The ASUS UX21A with its slightly faster Core i7 processor leads in the multi-threaded test, but apparently thermal constraints keep it from hitting maximum Turbo in the single-threaded test and the larger Core i5 Ultrabook comes out ahead. We see a similar situation with the x264 benchmarks, with the Ivy Bridge prototype Ultrabook beating the in-theory-faster UX21A CPU by around 10%.
I have to admit I'm not a big fan of 11.6" laptops to begin with, probably because I'm 6'3" (190cm) and have trouble typing on the smaller keyboards, but thermals are another factor. I've stated before that personally, 13.3" or 14" laptops are my favorite size, and I don't mind 15.6" laptops if they come with added performance and features. Given the comparison between the PUB-RD prototype and the UX21A, I'd rather have a slightly larger Ultrabook. The ASUS UX31A/UX32A on the other hand…it looks like those are going to be the Ultrabooks to beat this round.
Ivy Bridge Ultrabook Quick Sync and 3DMark Performance
Buying a laptop isn't just about generic office and Internet applications, naturally. Intel (and AMD and NVIDIA) have been pushing video and image processing applications as increasingly important, in our digital Facebook/YouTube/etc. world. We've looked at two video transcoding applications from ArcSoft and CyberLink several times already, but let's see how Ivy Bridge Ultrabooks rate. We've run a video transcode converting a 3:43 minute 1080p24 video clip taken with a Nikon D3100 camera into a 720p video and timed how long the process takes.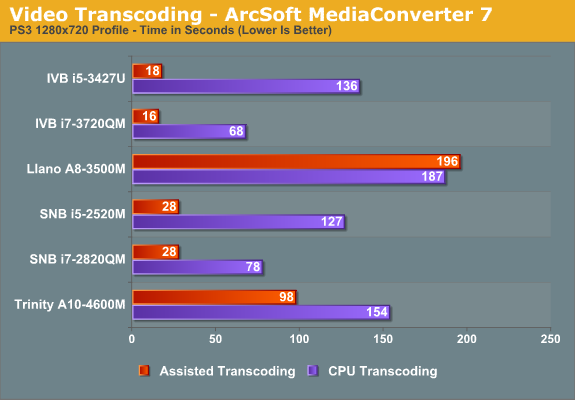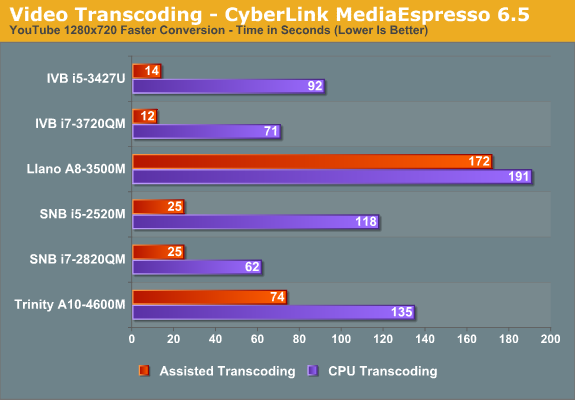 Quick Sync continues to be the undisputed champion of these two applications, beating out AMD's accelerated transcode on Trinity by a factor of five. However, if you're really into video transcoding and you want more control over quality, we don't know many people who use MediaEspresso or MediaConverter. For free software, Handbrake is probably the most popular option right now, and as we showed previously, AMD has a beta OpenCL accelerated version of Handbrake that they've been working on where they can come very close to quad-core Ivy Bridge performance.
It remains to be seen when the public release of Handbrake will get such support, not to mention Intel and NVIDIA are going to be interested in getting the OpenCL version to run appropriately on their hardware. Still, it's important to keep these other developments in mind. For now, the best quality transcodes still come by way of the CPU, and ULV Ivy Bridge offers better performance than AMD's Trinity A10 in that case—never mind the standard voltage parts. We expect to see additional software companies start looking at ways to leverage OpenCL, GPUs, APUs, and Quick Sync to help with this sort of workload going forward.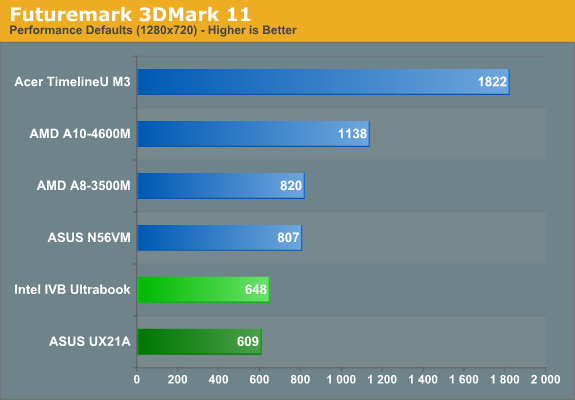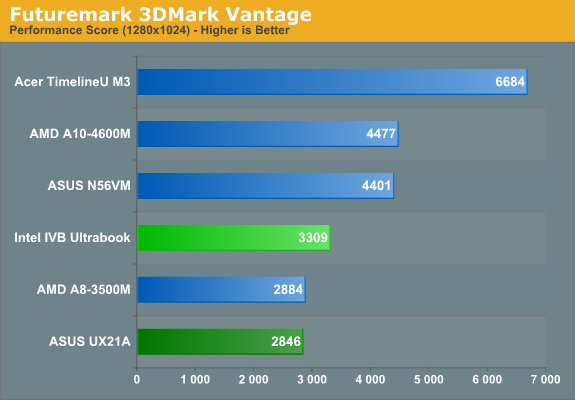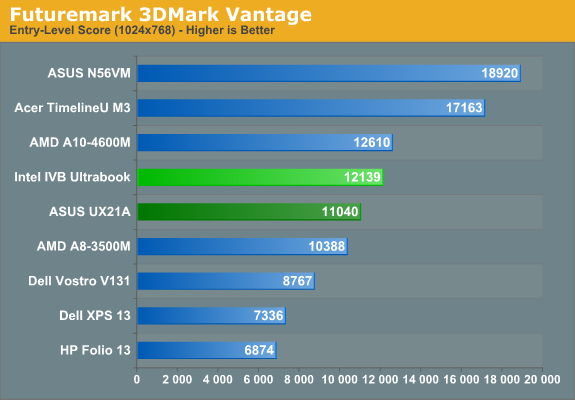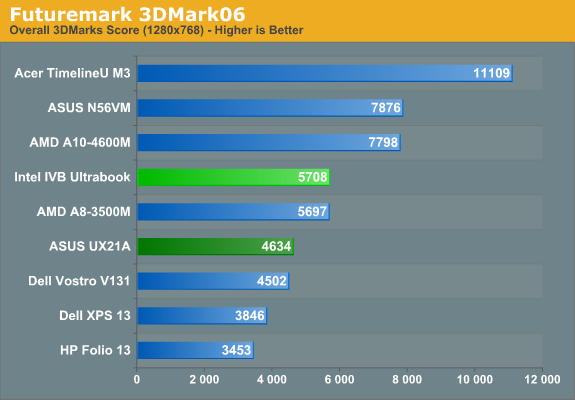 As for synthetic graphics performance, Intel has performed quite well in 3DMarks for several years now—we'd argue their 3DMark scores are often optimized far more than actual gaming performance. Still, 3DMarks are a nice way to compare across several generations of hardware, so we continue to run them on laptops. Again we see the UX21A trail the IVB ULV prototype, despite having a higher performance i7 CPU; thermal issues are the most likely cause, and the difference ranges from a rather minor 6% gap in 3DMark11 up to 23% in 3DMark06. Also interesting is that the quad-core i7-3720QM, which has a GPU that's only clocked up to 9% higher, ends up leading the ULV IVB part by 25% (3DMark11) to as much as 33% or more! The extra—and faster—CPU cores might be a factor, but it's also likely that the i7-3720QM is able to hit the maximum 1250MHz GPU clock far more often than the i5-3427U can hit its maximum 1150MHz clock.
Once we get beyond the Intel IGP comparisons, however, things don't look nearly as good for ULV Ivy Bridge. Llano is around 25% faster in 3DMark11, though ULV IVB comes out ahead in the other results; Trinity on the other hand is 35-75% faster in the three main results (e.g. not counting 3DMark Vantage Entry, as that's very low in terms of stressing the GPU). Again, the most interesting comparison is unfortunately one we can't make yet: how will the A10-4655M 25W Trinity APU (with GPU clocks that are almost 30% lower than the 35W A10) compare with ULV IVB? We'll have to take a wait and see approach on that one, but depending on the game it may or may not be a close matchup.
Ivy Bridge Ultrabook Gaming Performance
Okay, enough of the theoretical 3DMarks results. Let's see how well ULV Ivy Bridge and HD 4000 can do in our gaming suite. (If you don't care at all about gaming, just skip this page and move on.) I've only included the Value charts below, but I'll summarize some additional gaming test results after the graphics. As always, if you want to know how we test games (or other applications) on laptops, please see our 2012 Mobile Benchmark Matrix.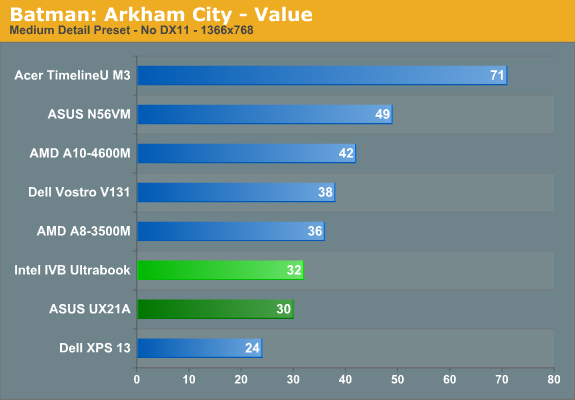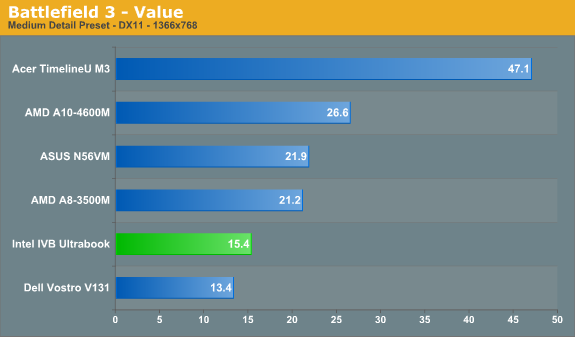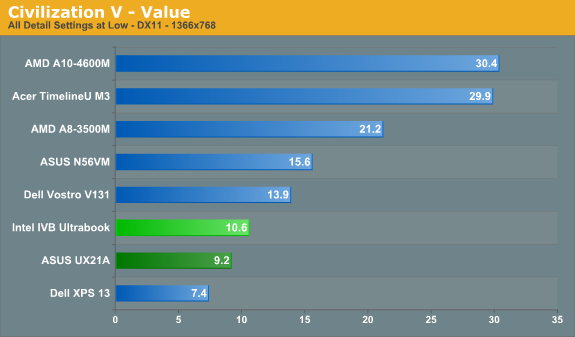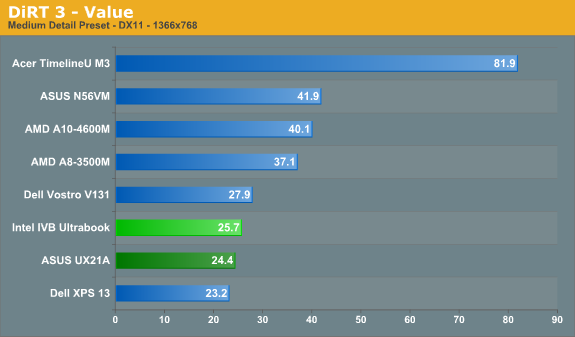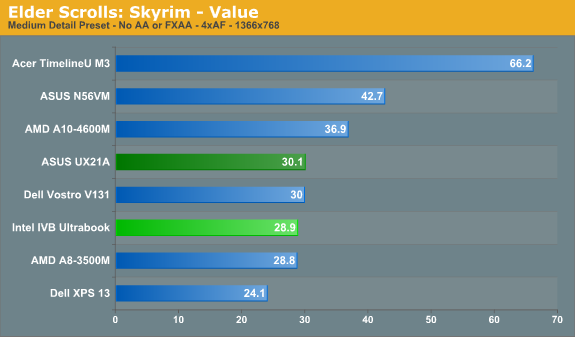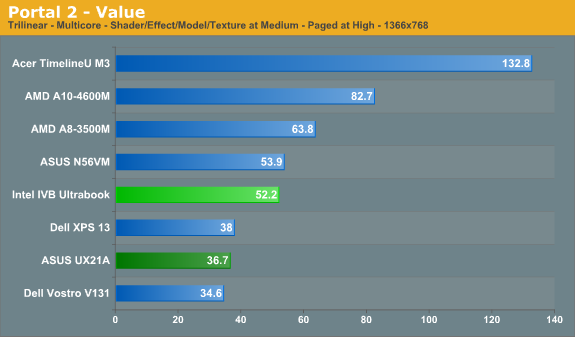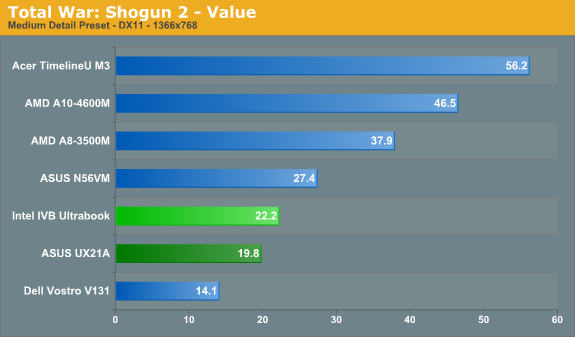 Obviously, gaming isn't a strong suit of Ultrabooks that lack discrete graphics. The TimelineU is an Acer Ultrabook with Sandy Bridge ULV and an NVIDIA Kepler GT 640M DDR3 GPU, and it runs away from the IGP/APU-only competition in most games (Civilization V being the one exception where Trinity can close the gap). If your goal is 1366x768 gaming at medium detail settings, where the quad-core i7-3720QM manages to hit that mark in four of our seven games (five of eight if we count Diablo III—see below), it's only in Portal 2 that ULV IVB is clearly above 30 FPS; it also basically reaches 30FPS (with periodic dips into the low 20s) in Batman, and the UX21A just barely breaks the 30FPS mark in Skyrim as well.
If you're wondering about the score discrepancies between the IVB ULV prototype and the UX21A, Anand tested the UX21A with the currently official 2696 Intel drivers. Intel provided us with a 2725 beta driver for the prototype, and Portal 2 specifically has some performance issues fixed (and the memory leak issue we noticed in StarCraft II is also addressed).
Back on topic, ULV IVB basically isn't going to cut it for medium detail gaming (our "Value" preset) in most titles. However, it's a significant step up from ULV SNB if you look at the charts. We don't have scores for the Dell XPS 13 in BF3 or TWS2, but in the other five titles the IVB upgrade is anywhere from 10% (DiRT 3) to over 40% (Civ5) faster, with most titles in the 20-35% range. Compared to a dual-core i5-2410M (Dell Vostro V131), ULV IVB isn't quite as successful, possibly because of thermal constraints. The V131 is sometimes substantially slower, but it does lead by a fair amount in Batman and Civilization V.
Unfortunately for gamers, HD 3000 Ultrabooks generally were incapable of reaching playable frame rates in most recent games, even at minimum detail settings. With the improved HD 4000 in Ivy Bridge, we decided to test our IVB Ultrabook at even lower settings just to see if dropping settings a bit more could bring the scores up; we tested at 1366x768 as well as 1600x900. We've also included our 1600x900 Mainstream gaming results in the following table, just in case you're curious to see how badly IVB ULV fails at higher quality settings.
Ivy Bridge Ultrabook
Gaming at Lower and Higher Quality Settings
1366x768
Minimum
1600x900
Minimum
1600x900
Mainstream
Batman: Arkham City
33
27
18
Battlefield 3
17.7
16.1
11.7
Civilization V
16.3
15.7
7.8
DiRT 3 (Low)
34.2
30.6
21
Portal 2
53.3
47.8
25.6
Skyrim
33.7
29.5
17.5
Total War: Shogun 2
56.4
47.4
15.1
At minimum/low detail settings (we didn't drop all the way to Ultra Low in DiRT 3, though we did test that: it's only about 1FPS faster than the Low setting), five of the seven titles reach playable frame rates. Somewhat surprisingly, most still look good as well; Skyrim and Shogun 2 at Low are probably the worst of the bunch, and they're still tolerable. If you're willing to drop settings this far, you can even bump the resolution up a notch in most games (assuming your Ultrabook sports a higher resolution LCD). Battlefield 3 and Civilization V on the other hand continue to be punishing on Intel hardware, and there's simply no good way to play them without an AMD or NVIDIA GPU to help out.
BF3 is a known beast, so that's no surprise, but Civ5 has always been a sticking point for Intel and so we asked for some clarification on why performance in that title is so bad. The basic summary is that Civ5 tends to draw lots of very small objects, particularly in the LateGameView benchmark, and it doesn't use instancing. We previously thought that the problem might be with geometry throughput on HD 3000/4000, but it looks like it might be more of a driver overhead issue that hits Intel harder than others. We've seen this problem with Civ5 before with relatively low frame rates even on high-end desktop GPUs; NVIDIA fixed this with some driver tweaks to improve performance on command lists, while AMD didn't really address the issue until Southern Islands. At the very least, Intel knows about the issue and we may see a future driver that will address Civ5 performance—or we may have to wait for Haswell.
Going along with our normal gaming tests, we also did a brief look at Diablo III performance on several laptops. Many pointed out that the early portions of the game aren't as demanding as later areas where monster mobs are larger and more spell effects are present. That's certainly true, and we're working on a better way to test Diablo III, but it's not ready yet. In the meantime, I decided to perform a couple lengthy (around 20 minutes) FRAPS runs from late in Act I (Normal difficulty) and show those graphs. I played through several areas at 1366x768 with all settings on Low (but "Low FX" disabled), and I did the same at 1600x900. Average frame rates were 29.5 FPS at 1366x768 and 24.2 FPS at 1600x900, and here are the detailed charts:


Generally speaking, the 5FPS advantage for the lower resolution is consistent across around 30 minutes of gaming. Diablo III—at least in the earlier going—isn't super demanding, and it's possible to play it at 1600x900 on the IVB ULV Ultrabook, but it was a better experience at 1366x768 where frame rates are almost always above 20, and often in the 25-30 range. The dips in the above charts very likely coincide with battles with groups of monsters, and you can expect minimum frame rates in big battles in later acts to drop even further, so I wouldn't recommend playing a hardcore character on this sort of laptop.
Naturally, if you want a better gaming experience, there are plenty of options to choose from. Are they as small and sleek as an Ultrabook? Generally speaking, no. The closest we've come to seriously thin gaming laptops might be the Sony VAIO Z, but the Acer TimelineU is definitely moving in that direction. Going forward, we expect to see quite a few Ultrabooks launching with some form of NVIDIA Optimus graphics. We already know about the TimelineU M3 and the ASUS UX32A; the TimelineU is a 14" laptop with typical Acer components (e.g. low quality screen, mediocre build quality), but it has a potent GPU. ASUS is going for a better built Ultrabook with a 1080p IPS LCD on some models (though not on the $799 model), but with a slower GT 620M GPU. The GT 620M is still a step up from the previous generation GT 540M, however, with core/shader clocks of 700/1400MHz, so it should provide for decent gaming. We'll report more when we have a test unit in hand.
Update: If you're interested in further details on graphics performance and why the Ivy Bridge Ultrabook is quite a bit slower than the quad-core notebook, despite relatively close max iGPU clocks, we've posted a follow up article investigating real-time Ivy Bridge iGPU and CPU clocks while running games.
Ivy Bridge Ultrabook Battery Life and Thermals
So far, we've seen pretty much what we expected from Ivy Bridge Ultrabooks: moderately to slightly faster CPU performance compared to the first generation Ultrabooks, and a bigger step up in graphics performance. This matches up quite well with our experience of quad-core Ivy Bridge and the ASUS N56VM, but where things took a turn for the worse was in battery life. Many expected Ivy Bridge to be a significant step forward for laptop battery life, but at least on the N56VM we didn't see that. What about ULV Ivy Bridge? Is it better, the same, or worse? Check out our results: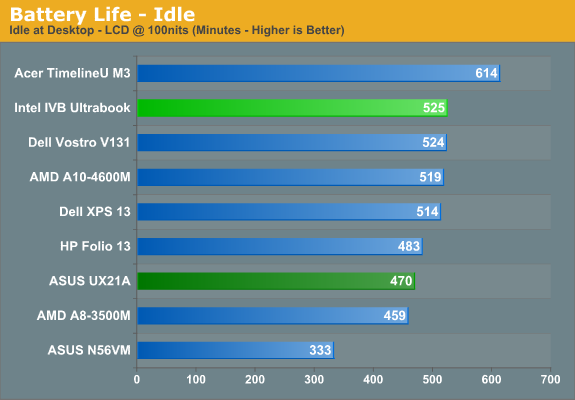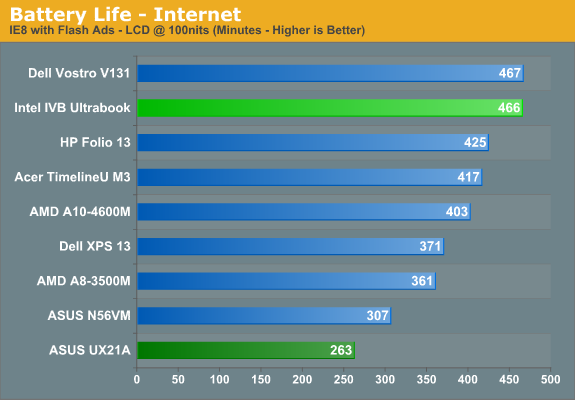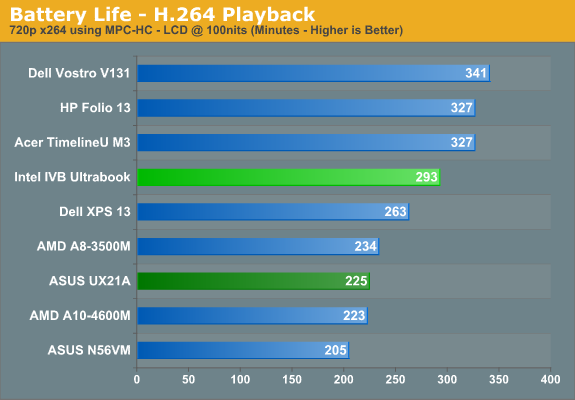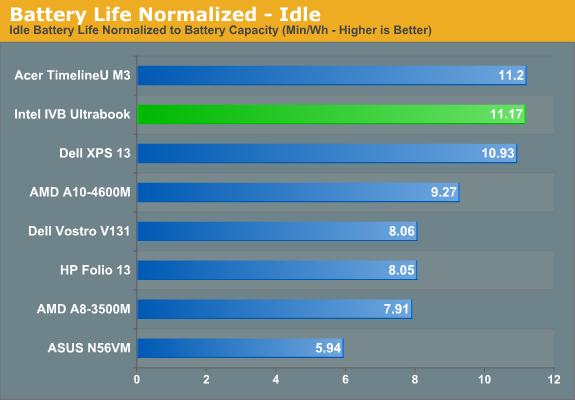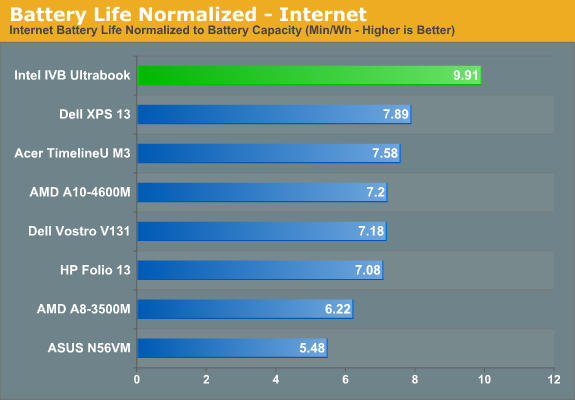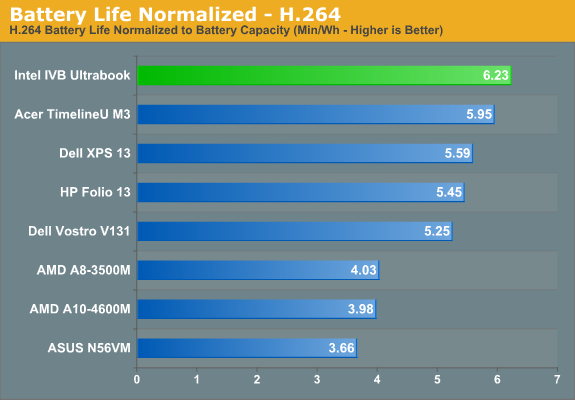 In terms of pure battery life, the Ivy Bridge prototype is good for nearly six hours of movie playback, close to eight hours of Internet surfing, and over 8.5 hours of idle time. It comes close to the top of our charts, though we could point out that the similar ASUS UX31E Sandy Bridge Ultrabook bests it in every category. Then again, ASUS has done very well in battery life comparisons for most of their laptops. Compared to the Acer S3, the IVB Ultrabook comes out ahead in Internet and behind in the other two disciplines; it does better against the Toshiba Portege Z830, Dell XPS 13, HP Folio 13, and matches or exceeds the Acer M3. Overall, given the improved performance, battery life looks to be similar or slightly better than Sandy Bridge Ultrabooks, which is quite acceptable.
We did run another battery life test looping 3DMark06 with the Balanced power profile and the IGP set to Balanced performance. Under those conditions, the PUB-RD Ultrabook lasted 107 minutes, which isn't bad for that punishing workload.
As for thermals, this isn't a production Ultrabook so these results aren't particularly useful. Still, we ran our usual CPU+GPU stress test and here's the HWMonitor screen capture: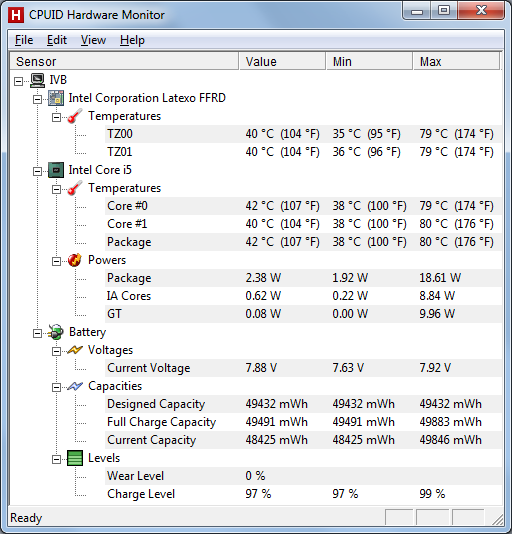 Thermals are reasonable under load at 79/80C, and most of that heat is right in the back-middle section of the chassis, so you're not as apt to notice if you've got it resting on your lap. Along with the heat, let's quickly discuss acoustics.
The IVB Ultrabook is pretty much silent and registers well under the noise floor of our testing equipment during idle/light use, though the fan may occasionally spin up. Start running a few applications and depending on how hard they hit the CPU/GPU—and for how long—you'll get a bump in noise to around 35dB. Under our stress test, which you'll also get if you play any moderately demanding game or do some CPU intensive tasks, the Ultrabook becomes far more audible at 43dB. Again, given the not-for-resale nature of the system, it's not something we're particularly concerned with.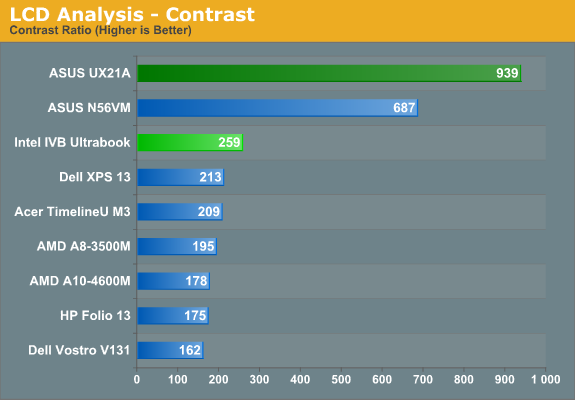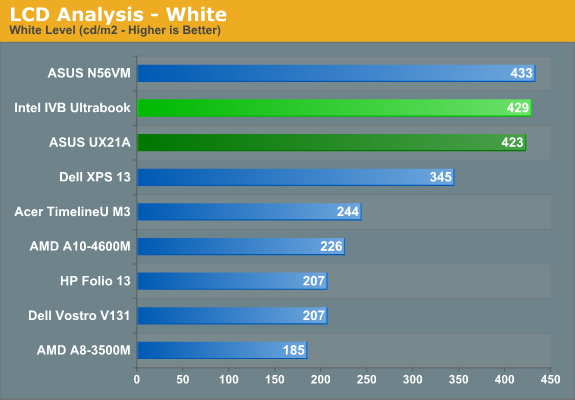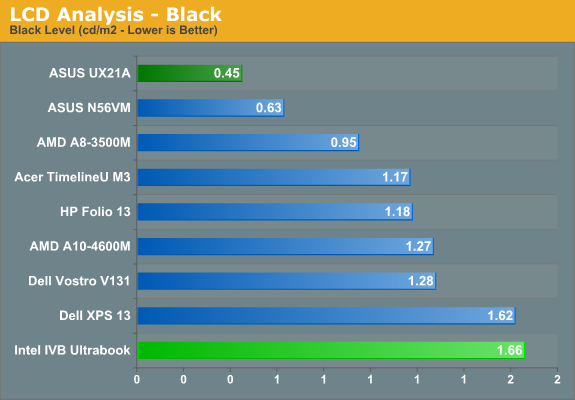 We've also run just a couple of the LCD tests; the LCD is the same one used in the ASUS UX31E, and the results are similar. You get a potentially bright LCD but with mediocre contrast and TN-quality viewing angles. Since this isn't for sale, that's perfectly acceptable, and given the choice between this panel and the 1366x768 junk so many Ultrabooks have shipped with, we'd definitely take this as an upgrade.
Conclusion: A Good Step Forward for Ultrabooks
All indications right now are that Ivy Bridge is far more important for Intel's laptop division than for their desktops. Yes, we'll eventually get dual-core Ivy Bridge on the desktop as well, but many of those chips will be saddled by less than impressive HD 2500 graphics, which Anand discusses in his i5-3470 review. So why would Intel put all that die space and energy into their IGP if they're just going to disable half of it on most desktops? Because on desktops, integrated graphics performance isn't particularly important; you can always add a discrete GPU (unless you've got a really small/proprietary system). On laptops, a large percentage ship without any sort of dedicated GPU, and it's often a bottleneck for home users.
So just what does Ivy Bridge bring to the party that you couldn't get with Sandy Bridge Ultrabooks? In a word: more. More CPU performance—the i5-3427U we tested today is typically close to i5-2410M performance, and often 20% faster—or more—compared to Sandy Bridge Core i7 Ultrabooks. More GPU performance: HD 4000 in IVB ULV is generally faster than HD 3000 in SNB standard voltage CPUs. And you get all that with similar or slightly better battery life. You also get less: far less bulk and weight to carry around. We're basically looking at the performance of a laptop that used to weigh six pounds in a three pound chassis. If you're someone who carries their laptop around a lot, an Ultrabook would make for an excellent companion—whether for business, school, or some other use. They're light, fast enough, and get great battery life, and they're small enough to fit in a purse or a small laptop bag—no more giant laptop carry ons, thank you very much!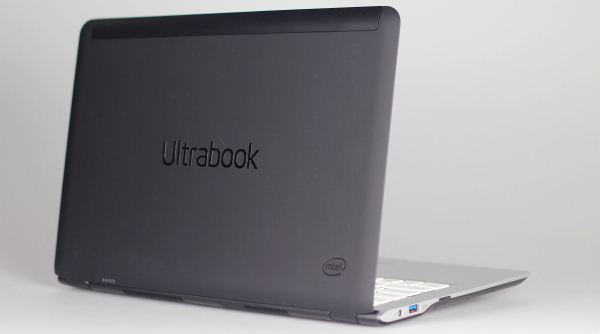 One of the other aspects of Ultrabooks that you can't overlook is that they all include some form of SSD or SSD caching. While we're not as sold on SSD caching, running an SSD on a laptop often results in an end-users experience that's better than running an HDD on a desktop. Boot, sleep, resume, and hibernate times are all excellent: the Ivy Bridge Ultrabook takes just 11 seconds to load Windows and 10 seconds to resume from hibernate, and waking up from sleep is essentially instantaneous. Couple that with features like Intel's Smart Connect Technology that lets your laptop periodically wake up, download email/content from the Internet, and then go back to sleep and you have a system that's ready to go whenever you open it.
With all the good, what's not to like? Well, there's the price. Intel wants people to buy more expensive laptops with more expensive CPUs, and if they're lucky they can even get an Intel SSD in there as well. Ultrabooks are a great way to do all that, but they don't come cheap. The lowest cost Ultrabooks typically start at $800, which is good compared to, say, and Apple MacBook Air, but that $800 is still more than you'll pay for slightly larger/heavier laptops. We've seen Llano A8 laptops going for $500, and even Sandy Bridge laptops with switchable graphics start at under $700 (with some currently on a fire sale for $600). Get one of those and add a decent SSD and you'll still come out ahead, with a potentially more flexible system. It just won't look as sleek as an Ultrabook.
We're also still waiting to see exactly how AMD's lower voltage Trinity parts perform. Given the 17W and 25W TDP on the A6-4455M and A10-4655M, they could easily fit in similar sized laptops (e.g. HP's "Sleekbooks"). Of course, without an SSD you'd lose a lot of the responsiveness of an Ultrabook, and with an SSD the price point would likely be within $100 of where Ultrabooks start. Along with the lower TDPs of Trinity are lower CPU and GPU clocks, though, so while Trinity is clearly more potent for graphics applications at standard voltages, don't expect the low voltage Trinity parts to be quite as fast—and the A6-4455M loses a large number of Radeon cores, so its performance is really hard to guess at without hardware in hand.
If you've been eying the various Ultrabooks and haven't quite taken the plunge just yet, the performance improvements are certainly welcome but may not be the most important item to consider. Instead, it's the second generation Ultrabook designs that are likely to turn heads. We liked the looks of the original ASUS Zenbook, but for all the premium materials they shipped pretty mediocre LCDs. As we discussed in our preview of the UX21A, ASUS is looking to fix that in a major way with their Ivy Bridge Ultrabooks, with 1080p IPS panels available on all three models. All I have to say is: it's about time someone finally offered a tablet quality display in a small laptop! Anand also found the keyboard travel depth to be improved over the original Zenbook, which makes the Zenbook Prime a potentially perfect Ultrabook. We're still waiting to see what others do with their new Ultrabook designs (not to mention Apple's MacBook Air line), but ASUS has thrown down the gauntlet in a big way and they'll be hard to beat this round.