Original Link: http://www.anandtech.com/show/5851/plextor-m3-pro-256gb-review


Introduction
If you are an active reader, you might remember our Plextor M3 review from a few months back. As I noted in the review, I wasn't expecting much when I received the SSD; a Marvell based SSD from a relatively unknown brand when it comes to the SSD market isn't all that promising. We had not reviewed any Plextor SSDs before the M3, so I had no idea what to expect. Obviously, I prepared for the worst.
Luckily, my expectations turned out to be very wrong. Plextor's M3 came out as one of the highest performing drives we have tested. Today we are back with M3's big brother: the M3 Pro. Based on the same Marvell 88SS9174 controller and 24nm Toshiba Toggle-Mode MLC NAND, the M3 Pro offers even higher performance according to Plextor. The differences lie exclusively in the firmware, as hardware wise the M3 and M3 Pro are exactly the same. Let's start with the official specs:
Plextor M3 Pro Specifications
Model
PX-128M3P
PX-256M3P
PX-512M3P
Raw NAND Capacity
128GiB
256GiB
512GiB
Usable Capacity
119.2GiB
238.5GiB
476.9GiB
Number of NAND Packages
8
8
8
Number of Die per Package
2
4
8
Sequential Read
535MB/s
540MB/s
535MB/s
Sequential Write
350MB/s
420MB/s
450MB/s
4K Random Read
75K IOPS
75K IOPS
56K IOPS
4K Random Write
69K IOPS
68K IOPS
34K IOPS
Cache (DDR3)
256MB
512MB
512MB
The biggest difference (other than firmware) between the M3 and M3 Pro lineup is the fact that M3 Pro lacks a 64GB model. This is logical since 64GB SSDs offer lower performance due to the reduced number of NAND die per package, so it makes sense to not offer a 64GB capacity in the performance-oriented M3 Pro lineup. Besides, it's possible that Plextor has already squeezed out every bit of juice they can for the 64GB M3—a 64GB M3 Pro might not be fast enough to differentiate itself from a 64GB M3. In general, 64GB SSDs are more about price than performance anyway because you are already making a compromise on performance by getting such a small capacity.
In terms of performance, the M3 Pro is rated as being noticeably faster than the regular M3. Especially sequential and random write performance are up significantly. For comparison, the 128GB M3 offers sequential write speeds of 210MB/s and random write of 50K IOPS, so sequential write is up by nearly 70% and random write is also up by a good 36% at that specific capacity. The difference at 256GB isn't as big, but the M3 Pro does offer 60MB/s greater sequential write speed. Our review unit is 256GB, so we'll see how it compares with the 256GB M3.
It should not come as a surprise that the M3 Pro is more expensive than the regular M3. However, the good news is that Plextor has lowered the price of M3 compared to what it cost a few months ago when we reviewed it. The 128GB M3 was recently on sale for $130 (back to $200 for now), while the M3 Pro has taken the $180 price spot. The 256GB M3 has come down $100 in price, making it one of the more affordable SSDs, though pricing on the Vertex 3 and 4 and several other drives has also dropped quite a bit. As for the M3 Pro, it's more along the lines of Intel's 520 Series—you have to pay more for extra performance and quality. Anyway, I wouldn't say the M3 Pro is overpriced, at least not when compared with Corsair's Performance Series Pro. We'll soon find out if the M3 Pro is worth the extra money.
Once again, I would like to emphasize that SSD prices are not stable. There are sales every week so in case you're in the market for an SSD, keep your eye on the prices for at least a few days. You may be able to catch a hot sale and easily save over $20.
The Plextor M3 Pro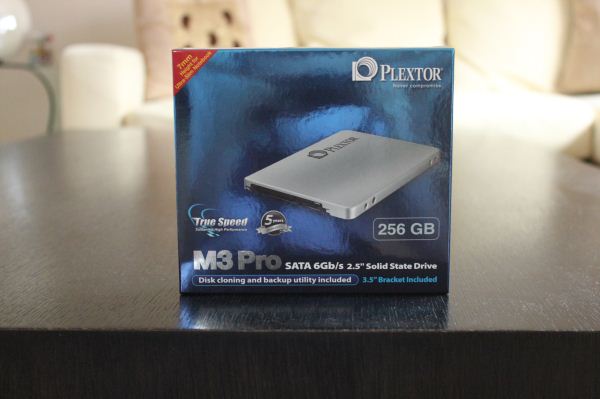 The packaging for the Plextor M3 Pro is similar to the M3, with the main difference being the glossy design instead of matte. Inside the box you'll find a 3.5" bracket, mounting screws, and a software disc with cloning, backup and performance analyzer utilities—along with the SSD of course. Unfortunately there is still no toolbox utility included, at least not in our review unit, but I have some good news. Plextor has released a tool called Plextool and it's available free of charge for all owners of Plextor SSDs. We'll have more information about Plextool on the next page.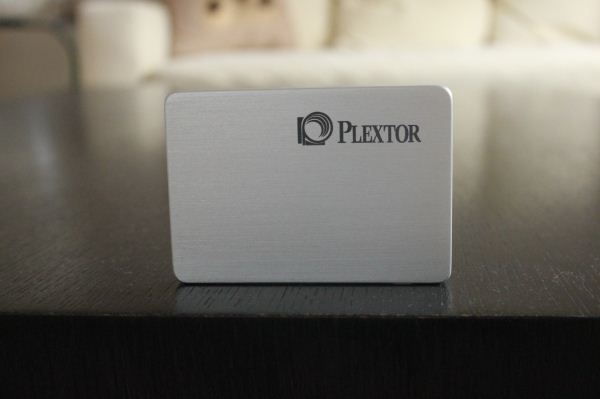 The exterior design follows the same guidelines as the M3, but Plextor has opted for a light grey metal for M3 Pro whereas the M3 uses a much darker, nearly black metal. On the back side sticker you will find info regarding capacity, serial number, and (shipped) firmware of the drive.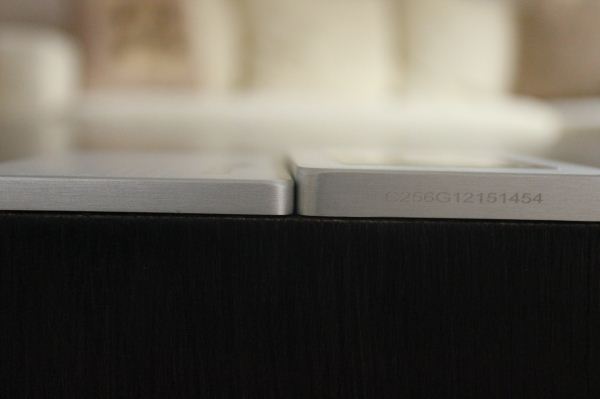 Another big difference between the M3 and M3 Pro is the fact that M3 Pro has height of 7mm while the M3 measures in at more common 9.5mm. The thinner design makes the M3 Pro more suitable for ultrabooks for instance.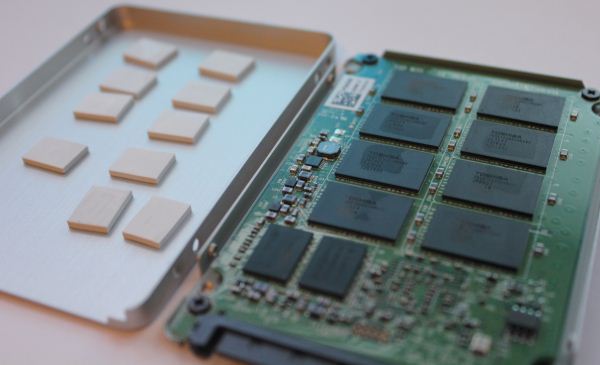 Opening the cover reveals a familiar interior—we have seen this with Plextor M3 and Corsair Performance Series Pro already. Only the thermal pads are thinner in order to make the M3 Pro 7mm thick.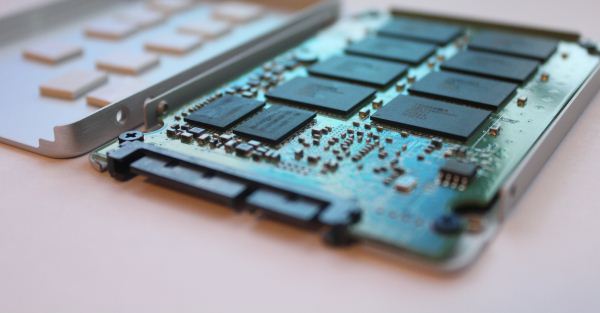 The NAND is once again from Toshiba and there are a total of eight NAND packages on the PCB. These are 32GiB quad-die packages and are manufactured using Toshiba's 24nm process. As in all consumer grade SSDs, the NAND is 2-bit-per-cell MLC NAND. There are also two 256MiB DDR3-1333 chips from Nanya, which gives the drive a cache of 512MiB.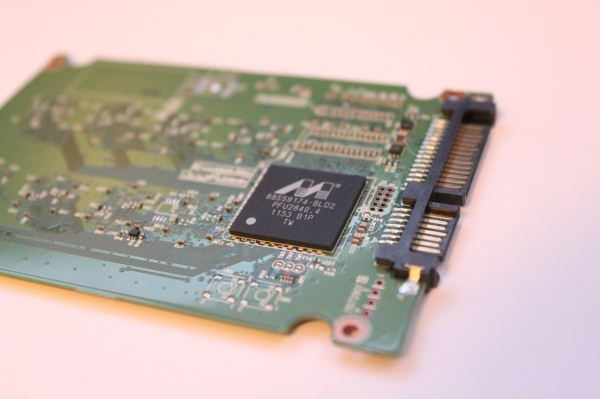 The controller doesn't surprise either as it's Marvell 88SS9174-BLD, which is what we found inside the M3 as well.
Test System
CPU

Intel Core i5-2500K running at 3.3GHz (Turbo and EIST enabled)

Motherboard

AsRock Z68 Pro3

Chipset

Intel Z68

Chipset Drivers

Intel 9.1.1.1015 + Intel RST 10.2

Memory
G.Skill RipjawsX DDR3-1600 2 x 4GB (9-9-9-24)
Video Card
XFX AMD Radeon HD 6850 XXX
(800MHz core clock; 4.2GHz GDDR5 effective)
Video Drivers
AMD Catalyst 10.1
Desktop Resolution
1920 x 1080
OS
Windows 7 x64
Introducing Plextool, Plextor's SSD Toolbox
A toolbox is one of the things that separate the wheat from the chaff. Most SSD manufacturers do not offer one, even though SandForce provides a toolbox to every SandForce SSD OEM. Some SF OEMs have simply chosen not to distribute it, although it's possible that there is an associated cost. Intel's and Samsung's toolboxes are probably the most famous and that's for a reason—they really are great. If you want to provide as good an experience for the end-user as possible, a toolbox is more or less necessary. Plextor clearly understands this and thus they have made their own toolbox called Plextool.
Plextool is compatible with with Plextor's M2S, M2P, M3 and M3 Pro series SSDs. See the table below for the firmware version your drive needs in order to be compatible with Plextool:
In case you don't know what firmware version your drive is running, you can find out using Device Manager in WIndows. In Device Manager, open Disk drives and right-click your SSD and select Properties. Go to the details tab and select 'Hardware Ids' from the dropdown menu. You should now have a window that looks like this: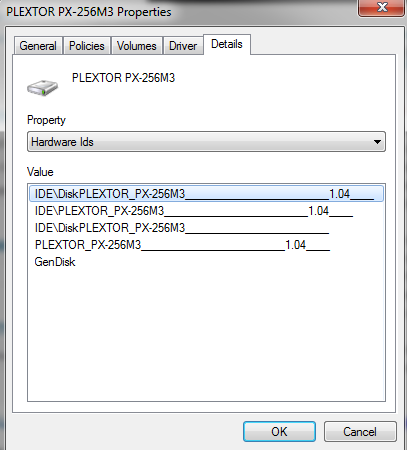 The 1.04 at the end represents the firmware version. And yes, it does change if you update the drive, so it does not stand for the firmware your drive shipped with. I'm using the regular M3 for this section as I've been using it as my boot drive for a few months now, and hence it should give us a better look into what Plextool offers.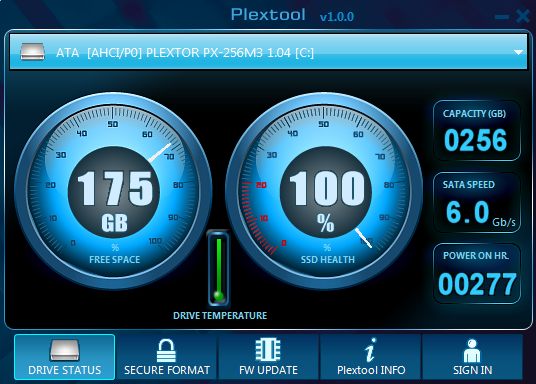 The user interface is very basic and easy to use. There is a dropdown menu of connected drives on the top where you must select your Plextor SSD to see the specifics of your drive. Plextool can read some data on other drives, such as capacity and free space, but other features are strictly for Plextor's SSDs.
Plextool can report the total capacity of your drive as well as the remaining space. These you can easily check in Windows but drive temperature, power on hours, and SSD health are harder to check without third party software. Plextool does not report the actual temperature, though; only whether the temperature is safe or not.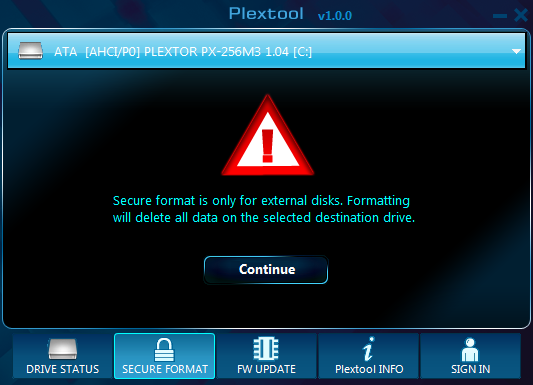 The second tab, 'secure format' allows you to secure erase the drive within Windows. Otherwise you're left with HDD Erase or Linux methods to trigger the drive's internal secure erase function, so secure erase is definitely a welcome addition. However, the only problem is that Plextool only supports secure erase of external drives. I can see Plextor's reasoning behind the decision as it's always risky if you can destroy hundreds of GBs worth of data with just one click. On the other hand, it does seem a bit futile feature now, especially from a reviewer's standpoint. I find it to be more hassle to put the drive inside an enclosure than to simply secure erase the drive with other methods.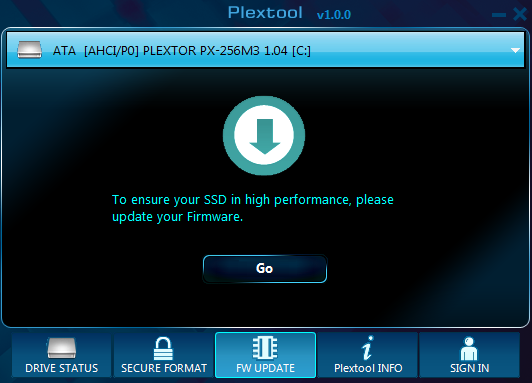 The third and final tab with features is the firmware update tab. Clicking the 'Go' link will open Plextor's firmware update page, so it's essentially just a link to their site.
The two remaining tabs don't hold any real tools. The 'Plextool INFO' tab is basically a help section that includes instructions for how to read the drive status tab. The last tab, 'SIGN IN' is a link to Plextor's VIP registration. However, at least right now the link is dead so we don't know if the VIP membership brings any real benefits.
All in all, I'm extremely happy that Plextor has taken the time and money to build Plextool. There aren't too many toolboxes out there, so offering your own is definitely a great way to differentiate yourself from the competition. It's evident that Plextool is at version 1.0.0, though. Currently it offers a very limited set of features, some of which are easily accessible under WIndows too. It would be useful to see things such as the SMART details that Intel toolbox shows. Making the over-provisioning user-configurable, like Samsung has done, would also be great, especially if the drive is to be put under heavy load. Secure erasing being limited to external drives is also a bit of a con. Hopefully future versions will at least bring some of these useful features.
Random Read/Write Speed
The four corners of SSD performance are as follows: random read, random write, sequential read and sequential write speed. Random accesses are generally small in size, while sequential accesses tend to be larger and thus we have the four Iometer tests we use in all of our reviews. Our first test writes 4KB in a completely random pattern over an 8GB space of the drive to simulate the sort of random access that you'd see on an OS drive (even this is more stressful than a normal desktop user would see).
We perform three concurrent IOs and run the test for 3 minutes. The results reported are in average MB/s over the entire time. We use both standard pseudo randomly generated data for each write as well as fully random data to show you both the maximum and minimum performance offered by SandForce based drives in these tests. The average performance of SF drives will likely be somewhere in between the two values for each drive you see in the graphs. For an understanding of why this matters, read our original SandForce article.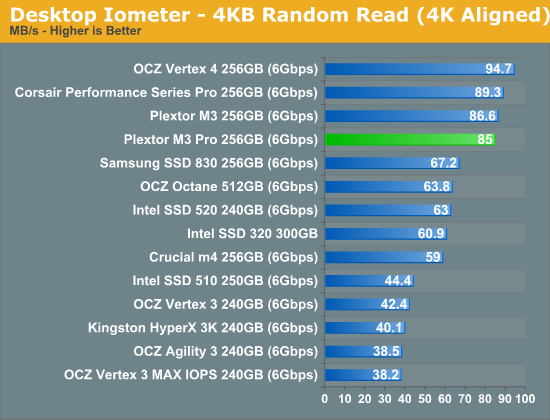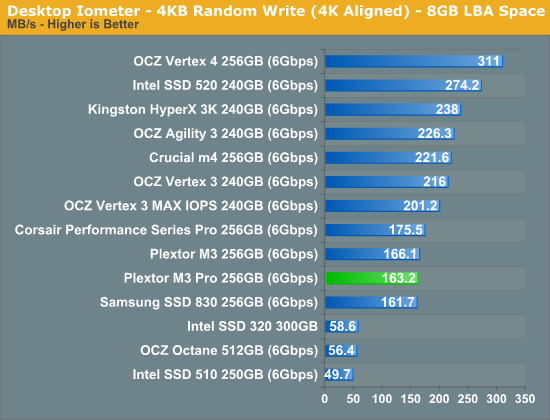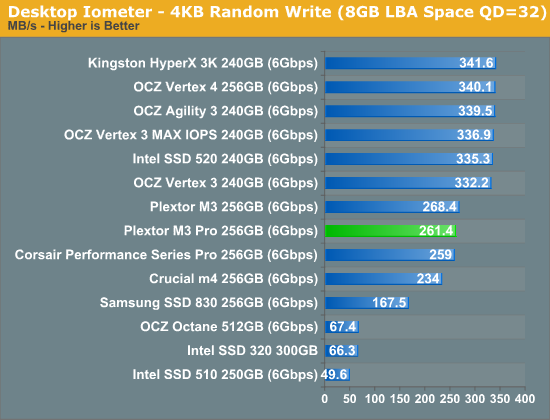 Random performance has not changed and the M3 Pro performs equally with the M3. The M3 Pro is actually slightly slower but the difference is only 1-3%, which is so small that it's within the margin of error.
Sequential Read/Write Speed
To measure sequential performance we ran a one minute long 128KB sequential test over the entire span of the drive at a queue depth of 1. The results reported are in average MB/s over the entire test length.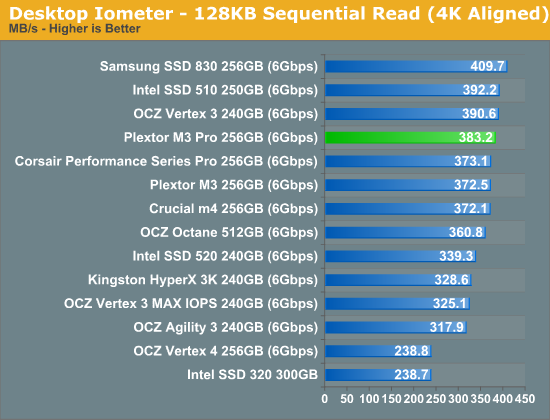 When moving to sequential read, the M3 Pro comes out as a faster drive compared to the M3. The difference is a mere 10.7MB/s, which translates to ~3%, so we aren't looking at a massive improvement here.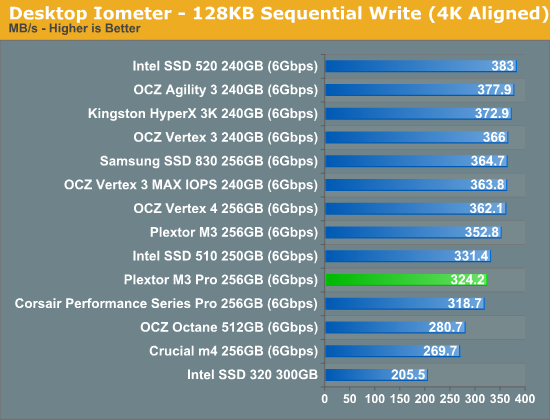 Sequential write speed turns out to be a surprise: the M3 is nearly 30MB/s (~9%) faster here. I even ran the sequential write test on the M3 Pro several times to make sure this is not an error on our end. However, it should be kept in mind that sequential write is just one aspect of performance—this doesn't mean that the M3 Pro is worse than the M3.
AS-SSD Incompressible Sequential Performance
The AS-SSD sequential benchmark uses incompressible data for all of its transfers. The result is a pretty big reduction in sequential write speed on SandForce based controllers, while other drives continue to work at roughly the same speed as with compressible data.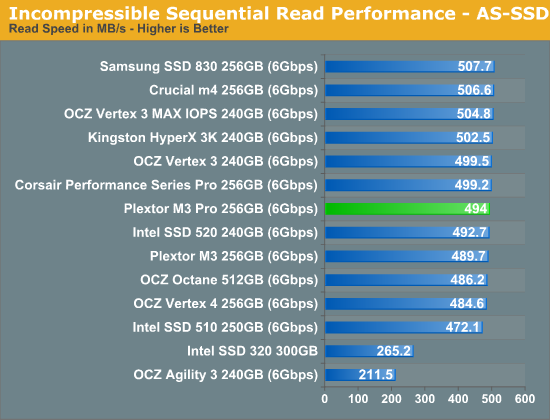 As I've said before, incompressible sequential read speed testing is very unsurprising nowadays to say the least, and the M3 Pro doesn't make an exception. It's 4.3MB/s (0.9%) faster than the M3 but when that is translated into percentages, we're essentially within the margin of error.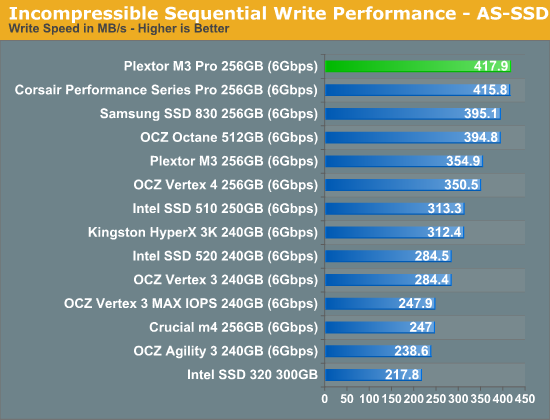 Incompressible sequential write performance, on the other hand, is another story. The M3 Pro comes out as the fastest drive we have tested, although it beats Corsair Performance Series Pro by only 2.1MB/s. However, the difference between the M3 and M3 Pro is 63MB/s (~18%), which is fairly significant.
AnandTech Storage Bench 2011
Last year we introduced our AnandTech Storage Bench, a suite of benchmarks that took traces of real OS/application usage and played them back in a repeatable manner. Anand assembled the traces out of frustration with the majority of what we have today in terms of SSD benchmarks.
Although the AnandTech Storage Bench tests did a good job of characterizing SSD performance, they weren't stressful enough. All of the tests performed less than 10GB of reads/writes and typically involved only 4GB of writes specifically. That's not even enough exceed the spare area on most SSDs. Most canned SSD benchmarks don't even come close to writing a single gigabyte of data, but that doesn't mean that simply writing 4GB is acceptable.
Originally we kept the benchmarks short enough that they wouldn't be a burden to run (~30 minutes) but long enough that they were representative of what a power user might do with their system. Later, however, we created what we refer to as the Mother of All SSD Benchmarks (MOASB). Rather than only writing 4GB of data to the drive, this benchmark writes 106.32GB. This represents the load you'd put on a drive after nearly two weeks of constant usage. And it takes a long time to run.
1) The MOASB, officially called AnandTech Storage Bench 2011—Heavy Workload, mainly focuses on the times when your I/O activity is the highest. There is a lot of downloading and application installing that happens during the course of this test. Our thinking was that it's during application installs, file copies, downloading, and multitasking with all of this that you can really notice performance differences between drives.
2) We tried to cover as many bases as possible with the software incorporated into this test. There's a lot of photo editing in Photoshop, HTML editing in Dreamweaver, web browsing, game playing/level loading (Starcraft II and WoW are both a part of the test), as well as general use stuff (application installing, virus scanning). We included a large amount of email downloading, document creation, and editing as well. To top it all off we even use Visual Studio 2008 to build Chromium during the test.
The test has 2,168,893 read operations and 1,783,447 write operations. The IO breakdown is as follows:
AnandTech Storage Bench 2011—Heavy Workload IO Breakdown
IO Size
% of Total
4KB
28%
16KB
10%
32KB
10%
64KB
4%
Only 42% of all operations are sequential; the rest ranges from pseudo to fully random (with most falling in the pseudo-random category). Average queue depth is 4.625 IOs, with 59% of operations taking place in an IO queue of 1.
Many of you have asked for a better way to really characterize performance. Simply looking at IOPS doesn't really say much. As a result we're going to be presenting Storage Bench 2011 data in a slightly different way. We'll have performance represented as Average MB/s, with higher numbers being better. At the same time we'll be reporting how long the SSD was busy while running this test. These disk busy graphs will show you exactly how much time was shaved off by using a faster drive vs. a slower one during the course of this test. Finally, we will also break out performance into reads, writes, and combined. The reason we do this is to help balance out the fact that this test is unusually write intensive, which can often hide the benefits of a drive with good read performance.
There's also a new light workload for 2011. This is a far more reasonable, typical every day use case benchmark. It has lots of web browsing, photo editing (but with a greater focus on photo consumption), video playback, as well as some application installs and gaming. This test isn't nearly as write intensive as the MOASB but it's still multiple times more write intensive than what we were running last year.
We don't believe that these two benchmarks alone are enough to characterize the performance of a drive, but hopefully along with the rest of our tests they will help provide a better idea. The testbed for Storage Bench 2011 has changed as well. We're now using a Sandy Bridge platform with full 6Gbps support for these tests.
AnandTech Storage Bench 2011—Heavy Workload
We'll start out by looking at average data rate throughout our new heavy workload test: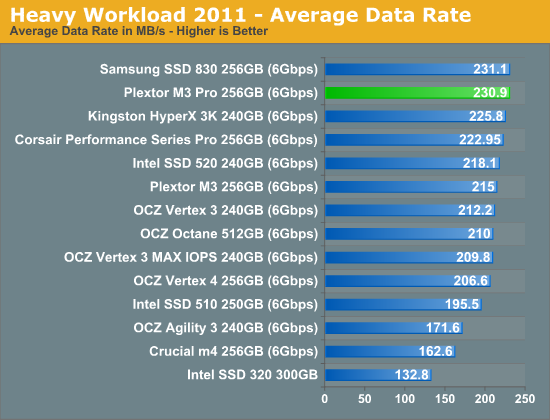 I think it's safe to say that the M3 Pro shares the title of the fastest drive with Samsung SSD 830 in our Heavy suite as the difference between the two is only 0.2MB/s, which is well under the margin of error between runs. When compared with the M3, the M3 Pro is 16MB/s (~7%) faster, which is quite significant when taking into account that these drives share the same hardware. Overall the M3 Pro has outstanding performance for a Marvell based drive and it actually beats all the 240GB SandForce based SSDs we have tested in overall performance for our Heavy scenario.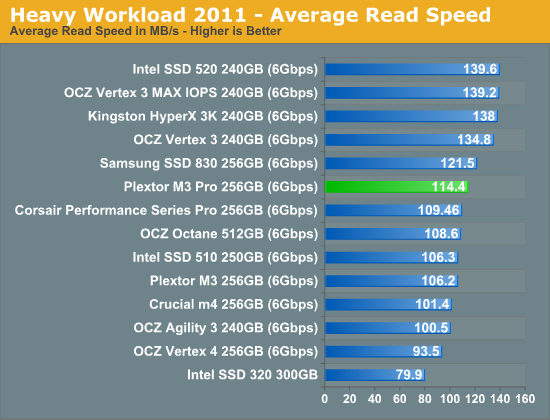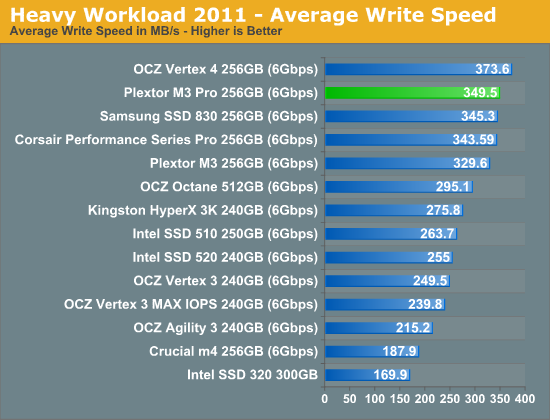 Looking at average read and write speeds, the M3 Pro offers middle-of-the-pack read performance while coming in near the top in read performance--second only to the OCZ Vertex 4. SF-2281 drives go the other route, with typically better read performance but lower write performance (at least with our test data that generally isn't highly compressible).
The next three charts just represent the same data, but in a different manner. Instead of looking at average data rate, we're looking at how long the disk was busy for during this entire test. Note that disk busy time excludes any and all idles; this is just how long the SSD was busy doing something: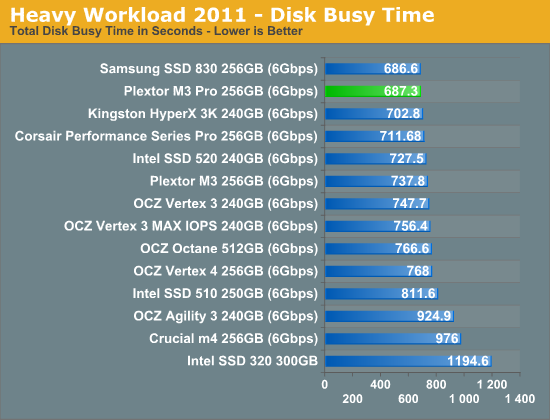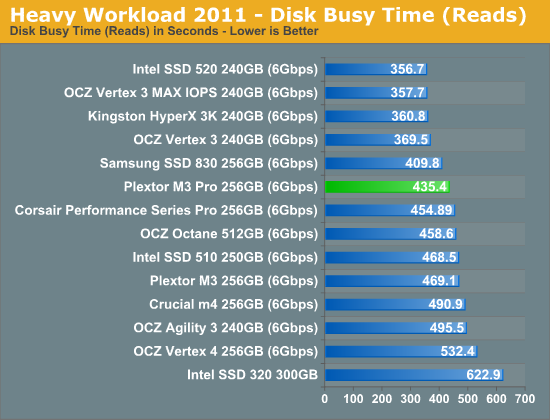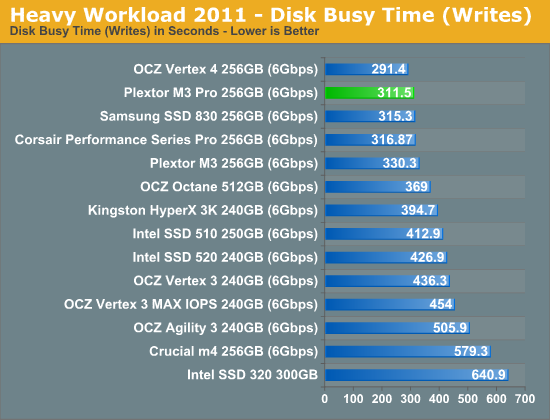 AnandTech Storage Bench 2011, Light Workload
Our new light workload actually has more write operations than read operations. The split is as follows: 372,630 reads and 459,709 writes. The relatively close read/write ratio does better mimic a typical light workload (although even lighter workloads would be far more read centric). The I/O breakdown is similar to the heavy workload at small IOs, however you'll notice that there are far fewer large IO transfers:
AnandTech Storage Bench 2011—Light Workload IO Breakdown
IO Size
% of Total
4KB
27%
16KB
8%
32KB
6%
64KB
5%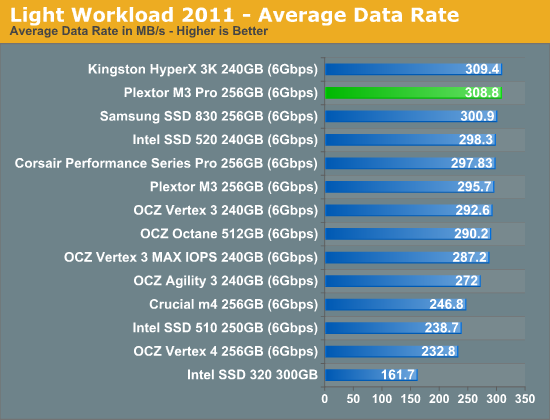 Switching to Light suite doesn't change the story; the M3 Pro is still a brilliant performer. Only the Kingston HyperX 3K is faster, but once again the 0.6MB/s difference is insignificant.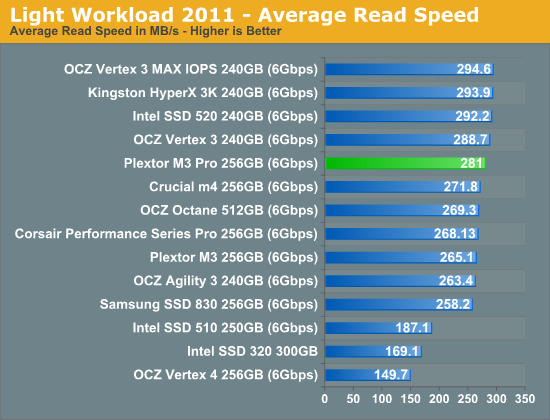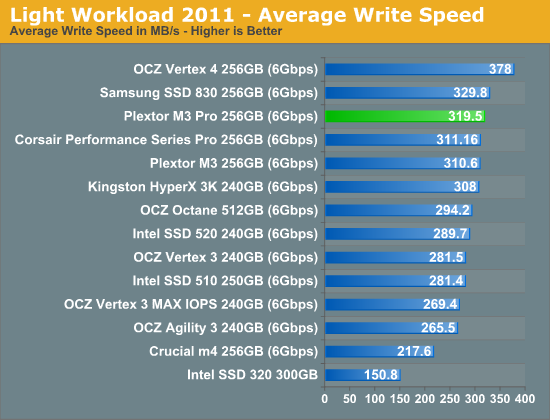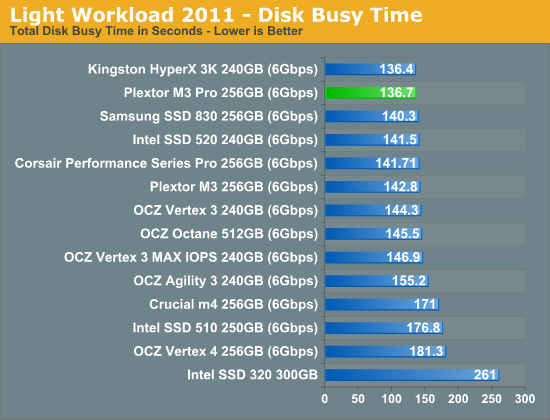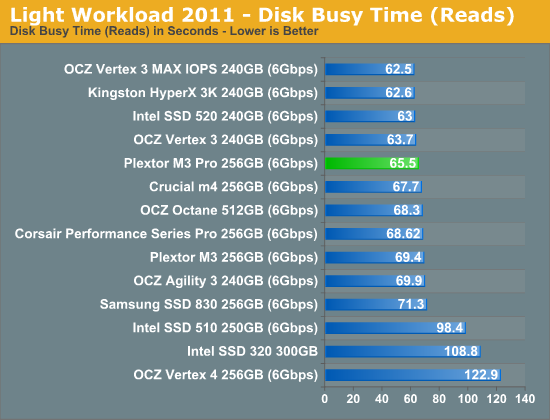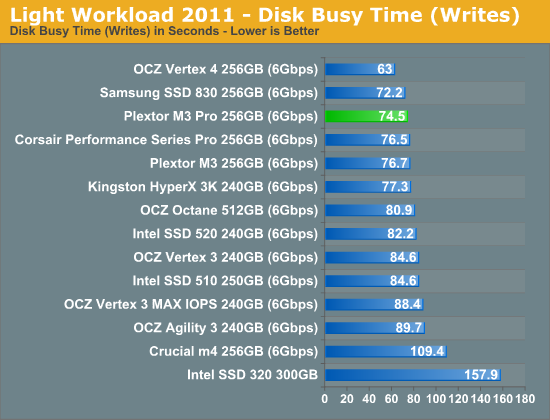 Performance Over Time and TRIM
The M3 Pro is also equipped with Plextor's "True Speed" technology, which we found to be fairly effective when testing the M3. Hence we should expect the M3 Pro to do well in this aspect as well. To get the base-level performance, I ran HD Tach once on a clean drive:
The first step in our torture testing is 20 minutes of 4KB random writes (QD=32, 100% LBA space) ran on a full drive:
As with the M3, 20 minutes of torturing is nowhere enough to put the M3 Pro at its worst state. The average write performance is still 156MB/s, although it does drop to as low as 70-80MB/s for some LBAs.
Next I secure erased the drive and ran our torture test for 60 minutes: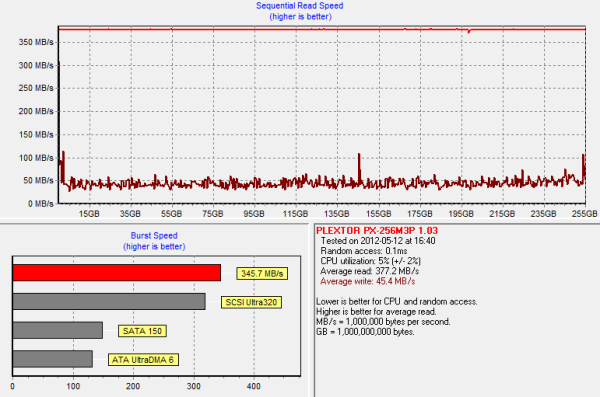 And that's more like it. Average performance has dropped to 45MB/s and there are only three +100MB/s peaks. This was expected as the M3 experienced similar behavior.
I let the drive idle for an hour and 40 minutes after 60 minutes of torture and a single pass of HD Tach, and here's what the performance looked like: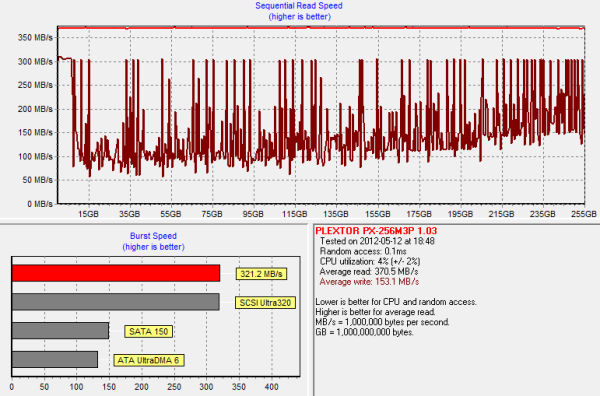 Performance does recover pretty nicely with some idle time and sequential writes. Write speed is still nowhere near clean state performance but it has more than tripled when compared to the dirty state after 60 minutes of torturing.
Finally I TRIM'ed the drive to make sure that TRIM functions properly, and it does: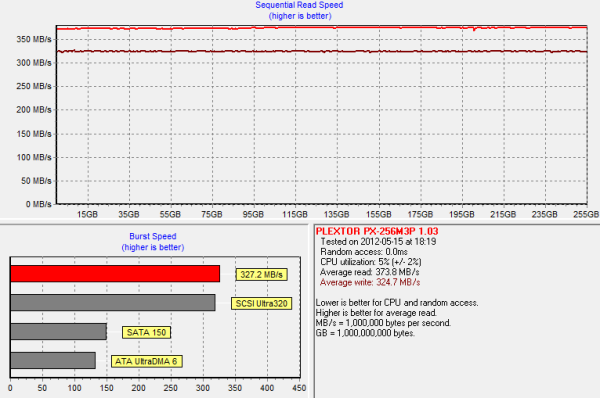 Overall the M3 Pro should be a good option, even if you're using an OS without official TRIM support (such as OS X). If you're running an OS with TRIM support, then there is obviously nothing to worry about as TRIM functions perfectly. TRIM can nowadays be enabled in OS X for third party drives as well, so there is even less to worry about. If you don't want to have TRIM enabled all the time (due to stability issues for example), you can enable it temporarily and TRIM the drive by secure erasing free space in Disk Utility. After that you can simply disable TRIM and you are left with a TRIM'ed SSD.
Power Consumption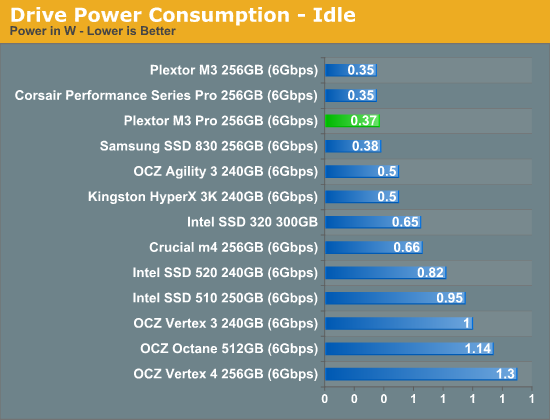 Idle power consumption is a little higher than the M3 and Corsair Performance Pro, but still much better than what most other drives offer.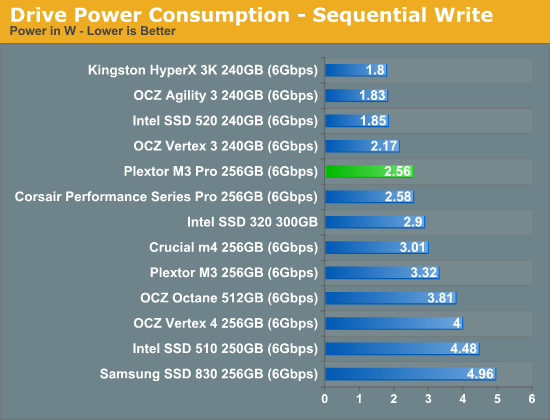 Power consumption during sequential writes, on the other hand, is noticeably lower than the M3. Here the M3 Pro is on-par with Corsair's Performance Series Pro.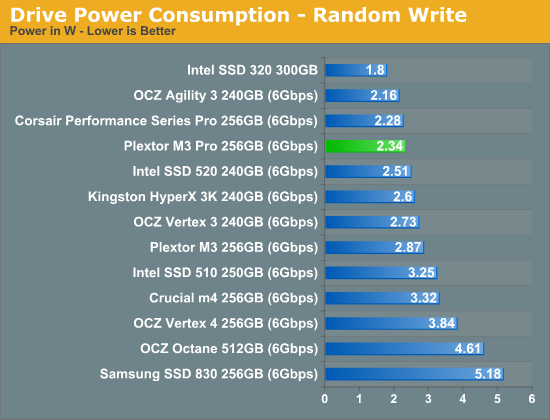 Random write power consumption follows the sequential write pattern—the M3 Pro is again more efficient than the M3 and almost equivalent to Performance Pro.
I would like to note that the power used during I/O actions is only one aspect of total power consumption. If you have a fast drive, it will obviously complete I/O tasks quicker (some might be familiar with the term "race to idle") and hence spend less time writing/reading and more time idling. In terms of laptop battery life, idle power consumption is the most important aspect, although it does depend on one's workload. We are working on improving our power consumption tests in order to make them more real world relevant, but at least for now it looks like the Plextor M3 and M3 Pro should do quite well in a laptop.
I think it's safe to say that the M3 Pro is one of the best SSDs we have tested, at least from a performance standpoint. Overall it comes out as essentially the fastest drive in our Heavy and Light suites (it loses to the Samsung 830 in the Heavy suite by a small margin but beats it in the Light suite; likewise, it loses to the Kingston HyperX 3K in our Light suite but beats it in the Heavy suite—both with bigger margins). The M3 Pro is a very good all-around performer, doing well in all aspects without any real Achilles' heel.
Its performance reminds me of Corsair's Performance Series Pro because they both have exceptionally good incompressible sequential write speed, but when it comes to sequential write with compressible data, their performance is average. Plextor has its own firmware team whereas Corsair uses firmware provided by Marvell, but it's possible (even likely) that Plextor's custom firmware is built upon the Marvell firmware.
Not only is the M3 Pro fast, it's also extremely power efficient. The Samsung 830 has been our recommendation, especially for Macs, pretty much since it was released but it has one downside: a relatively high power consumption under load. This isn't an issue if you have a desktop but laptop users are often concerned about their battery life. Thus Plextor's M3 Pro is a great alternative to the Samsung 830 if you want to squeeze every minute of battery life out of your laptop.
Of course, you don't get first class performance for cheap. The M3 Pro is definitely more expensive than other 2.5" SATA SSDs on average. Is the M3 Pro worth the money? As usual, that depends on the user. The Samsung 830 Series has recently been on sale quite often and I admit that it would be hard to justify paying noticeably (+$20) more for the M3 Pro. However, it should be kept in mind that Samsung only offers a 3-year warranty while all Plextor's SSDs come with 5-year warranty, so the extra two years of warranty may be worthwhile for some buyers.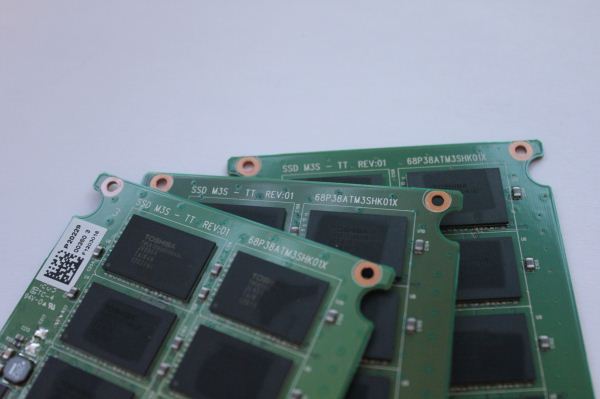 I think Plextor is one of the few OEMs that actually has the chance of challenging SSD giants such as Intel, Samsung, and OCZ. Their firmware team has proven itself to be extremely talented and they definitely have the means for creating a high performance SSD—the M3 and M3 Pro are evidence of that. Plextor is also taking user satisfaction seriously. All their SSDs come with a 5-year warranty, which is something that most OEMs do not offer. Plextool is also a great start and I'm sure future updates will bring at least a few additional desired features.
Ultimately, I would like to see Plextor's regular and Pro lineups merged. I don't think it makes much sense to have two lineups with the exactly same hardware but with different firmware, particularly with the final performance difference isn't all that large. The manufacturing costs are the same, and the higher performing firmware already exists, so why not just make a single lineup with it? In the end, the performance difference between the M3 and M3 Pro is not all that great, which makes it hard to justify the price premium that the M3 Pro commands. A single lineup would allow Plextor to concentrate all of their efforts on making the firmware as good as possible, rather than worrying about handicapping the firmware in order to make the M3.
Short of taking that route, another option would be to equip the regular series (M3 in this case) with cheaper NAND (asynchronous MLC NAND for instance); that would lower the bill of materials and allow Plextor to sell the regular series for even less money, and they could still use the same core firmware without the need to worry about handicapping the cheaper models. This is essentially what OCZ has done with their Agility and Vertex series. I can't say Plextor's current product strategy doesn't work, but personally it would make more sense to focus all you have on just one series and make it as good and competitive as possible.
Either way, I'm anxious to see what Plextor can do with the new Marvell 88SS9187 controller. The M3 Pro is already dangerously fast and I can only imagine that its successor will be significantly improved, with even faster random read and write speeds. We should find out soon enough and Plextor is worthy of being placed on your short list for SSD brands.