Original Link: http://www.anandtech.com/show/5844/pc-power-cooling-silencer-mk-iii-400w


PC Power & Cooling Silencer Mk III 400W
The Silencer series is well known in the enthusiast community, but you rarely see reviews of the small models. The Mk III version we review today doesn't look anything like many other PSUs we know from PC Power & Cooling. It comes in a white case with some black elements as well and provides removable cables. 400W is still plenty even for a midrange system, and with optimal efficiency generally coming at 50% load this is a power supply that should run closer to its "sweet spot" when idle as well as under load. There's still enough power on top to run a Core i7 or Phenom X6 processor and a discrete GPU.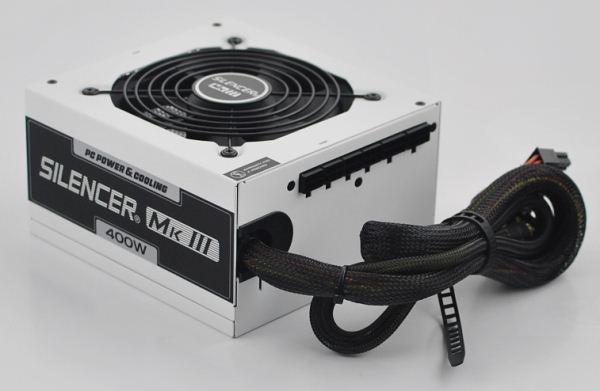 Like any decent modern power supply the Silencer Mk III 400W also carries an 80 Plus certification, this time for the Bronze level. That means the PSU should run at 82% efficiency with a load of 20%, reaching 85% efficiency or more at a load of 50%, and still maintain 82% efficiency at the maximum 400W rated load. This is nothing ground-breaking in 2012, but it does fit perfectly with moderate systems.
Delivery Contents, Power Rating and Fan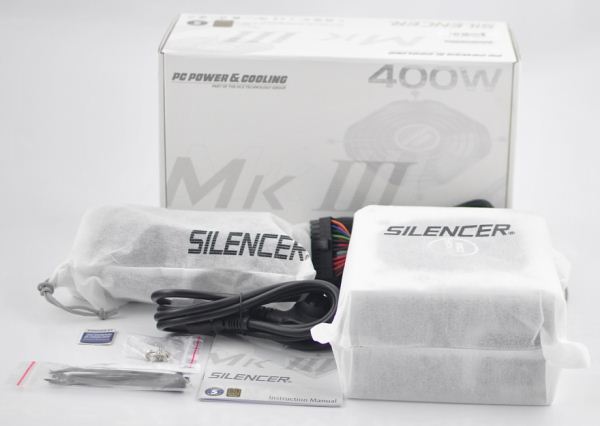 The delivery content is very generous and includes the modular connectors in a separate bag. In addition to the power cord and a set of screws, several cable ties are also included, along with the standard installation manual. A small sticker is included as well. The Silencer Mk III series comes with a 5-year warranty—more than expected in this price range.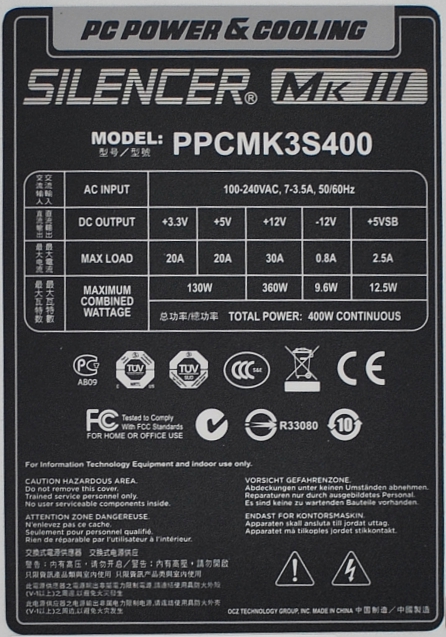 The +3.3V and +5V rails are rated somewhat lower than we're used to, but there's nothing to worry about since modern systems don't place a huge load on these rails anymore. The +12V rail is rated at 30A, which means you can pull up to 360W—almost the full power. All Mk III power supplies use a single strong +12V rail instead of separate +12V outputs.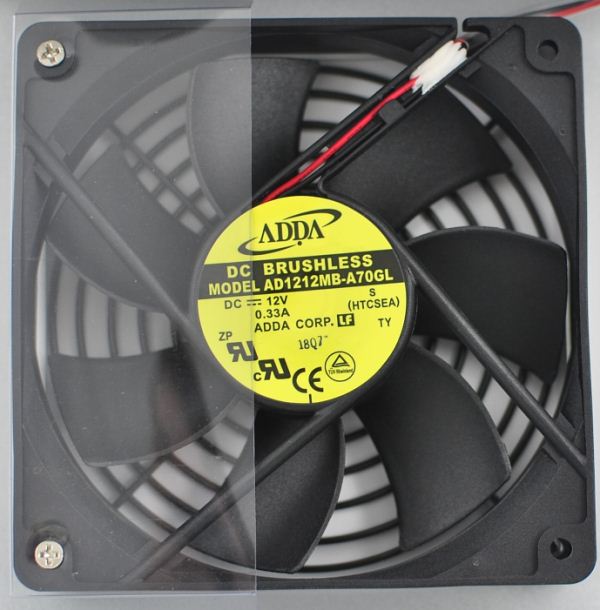 The ADDA fan with the model number AD1212MB-A70GL is a ball bearing type. It's a 120mm sized fan with seven fan blades. Nearly half of the cooling intake is blocked by an air guidance foil. PC Power & Cooling tries to guide the down flowing air stream out through the ventilation holes, so no turbulence from additional down streaming air should occur near the EMI-filtering components. This sounds plausible in theory, but practically it is a massive restriction of the cooling potential of the fan. When such a large area is covered, it should be in question why such large fan is used at all.
External Impressions and Cables
In contrast to all the other power supplies from PC Power & Cooling the Silencer Mk III comes in a white matte coating. The fan and the fan grille are black as always, although there's a small change this time: the grille has a small Silencer logo in the middle. Like many others, PC Power & Cooling uses hexagonal shaped holes for ventilation, which are supposed to create the least are resistance and produce less noise. Other than the fan intake, there are no other openings on the power supply, so the airflow only has one path to travel.
Cables and Connectors

Connector type (length)

Main
1x 24-pin (55cm) fixed
ATX12V/EPS12V
1x 4+4-pin (55cm) fixed
PCIe
1x 6/8-pin (55cm) modular
Peripheral
2x SATA (ca. 55, 70cm) modular
2x SATA (ca. 55, 70cm) modular
2x SATA (ca. 55, 70cm) modular
3x Molex, 1x FDD (ca. 55, 70, 85, 95cm) modular
There are three Molex and six SATA connectors attached. Moreover there is a 4/8-pin connector for the motherboard and one more plug for a graphics card. You won't be able to run an SLI or CrossFire setups, but one connector is exactly as much as we would expect from a 400W power supply. In addition all cables are quite long which is nice when using a large PC case. All modular cables got a black cable sleeving, just like the fixed ones.
Internal Design and Components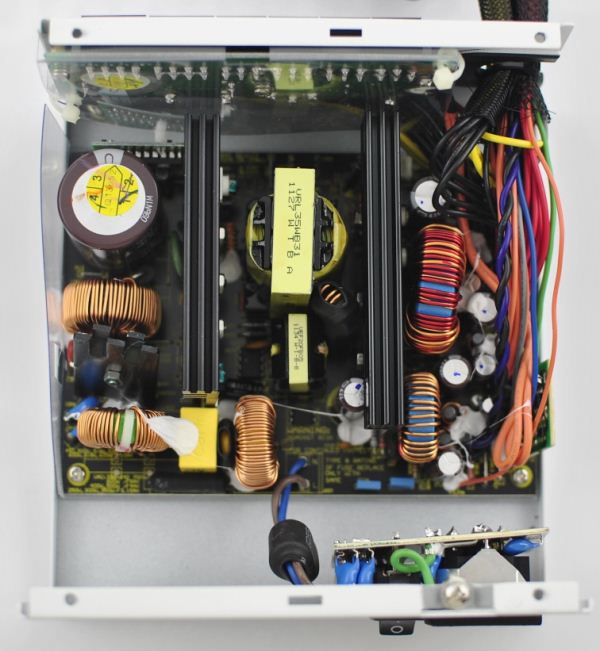 Opening the unit reveals a typical Seasonic design with a 120mm fan blowing at the top of the heatsinks, so the heatsinks benefit in that case from a shape that will allow air to pass through vertically. There is a Nippon Chemi-Con cap installed on the primary circuitry, and the secondary features Japanese capacitors as well. PC Power & Cooling operates with a common forward converter with two MOSFETs (one high-side and one low-side one), which allows the manufacturer to use a higher switching frequency and lower voltage rating for the transistors. EMI filtering is well equipped with two common-mode chokes, another choke against differential mode EMI, six Y capacitors, two X capacitors, and one MOV. The ICs provide all the necessary safety functions such as OVP and UVP.
Voltage Regulation
+3.3V Regulation/Ripple and Noise
Load
Voltage
5%

+2.06% (3mV)

10%

+1..94% (5mV)

20%

+1.79% (5mV)

50%

+0.39% (6mV)

80%

-0.91% (10mV)

100%

-1.67% (15mV)

110%

-1.85% (17mV)

Crossload +12V max.

+1.15%

Crossload +3.3V/+5V max.

+0.60%
+5V Regulation/Ripple and Noise
Load
Voltage
5%

+1.56% (4mV)

10%

+1.44% (5mV)

20%

+1.12% (5mV)

50%

-0.32% (8mV)

80%

-1.74% (12mV)

100%

-1.92% (15mV)

110%

-2.02% (16mV)

Crossload +12V max.

+2.36%

Crossload +3.3V/+5V max.

-5.25%
+12V Regulation (Worst Ouput)/Ripple and Noise (Worst Output)
Load
Voltage
5%

+1.58% (4mV)

10%

+1.54% (4mV)

20%

+2.06% (4mV)

50%

+1.88% (7mV)

80%

+1.73% (9mV)

100%

+1.31% (10mV)

110%

+1.18% (11mV)

Crossload +12V max.

-0.90%

Crossload +3.3V/+5V max.

+4.92%
Noise Levels
Loudness and Temperatures (

Δϑ

to 22.5 °C ambient temperature)
Load
Opinion
5%
small fan noise (

1.1 °C)

10%
small fan noise (

1.9 °C)

20%
small fan noise (

3.7 °C)

50%
small fan noise and choke chirping (

5.8 °C)

80%
fan noise and choke chirping (

9.9 °C)

100%
strong fan noise and choke chirping (

12.3 °C)

110%
strong fan noise and choke chirping (

13.4 °C)
Efficiency and PFC
Efficiency and Power Factor 115 VAC
Load
Efficiency
PFC
5%

70.69%

0.843

10%

75.80%

0.945

20%

82.24%

0.957

50%

86.20%

0.989

80%

84.08%

0.991

100%

83.76%

0.993

110%

83.39%

0.993
Efficiency and Power Factor 230 VAC
Load
Efficiency
PFC
5%

71.47%

0.724

10%

79.22%

0.877

20%

82.70%

0.952

50%

86.71%

0.988

80%

85.59%

0.992

100%

84.80%

0.993

110%

84.16%

0.992
The lower voltage rails drop slightly more than 1.80% below the ideal value, while the 12V rail stays very close to what ATX specification requires. These voltage drops will not cause any problem at all when this PSU is in use in a system. The same is true for the ripple & noise results as this PSU has less than20mV on all outputs. One problem is the poor crossload performance since +5V and +12V are connected to the same feedback. With 230VAC input, the Silencer Mk III 400W starts at 70% efficiency loaded with 20W. It reached a maximum efficiency of 87% at medium load. Efficiency is somewhat lower with 115VAC, reaching up to 86% during 50% load. However, PC Power & Cooling is able to stay above the values they need for 80Plus Bronze. As hoped for the fan is quiet under low load. The choke chirping and fan noise at higher loads make the product a bit of unattractive.
Conclusion
The Silencer Mk III 400W leaves a great impression when it comes to external appearance and electronics. The performance isn't bad, but it does not have anything to do with silence when it comes to high loads. The build quality is very good as always, but the crossload performance is mediocre.
All necessary parts are included in the package. You get the usual set of accessories (a power cord, a few screws, and so forth) and some additional extras such as cable ties. The 5-year warranty from PC Power & Cooling is also welcome. The Silencer Mk III provides one 6/8-pin PCIe connector and 10 peripheral plugs on four cables. Additionally, you get a 4+4-pin CPU connector and a 55cm long 24-pin cable. The cable lengths are generally adequate and longer than many lower wattage PSUs. Moreover the cable sleeving is quiet good for a PC Power & Cooling product.
Internally, the PSU has a small main PCB that would work fine in a smaller housing. PC Power & Cooling only uses Japanese capacitors as promised. The main cap is an expensive type with an average endurance at 105°C. Beyond that the manufacturer used 105°C capacitors on the secondary side that provide a low ESR. Transient filtering is well equipped and there's a MOV as an overvoltage protection. The ICs have all important safety functions. Overall, the component selection and build quality make this a good middle class offering.
What you get for your $69.99 is a good PSU for midrange systems that won't be heavily overclocked or run multiple GPUs—you can still do a fair amount of overclocking if you're so inclined, though that flies in the face of being green I dare say. The cable lengths are suitable for mid-tower and smaller cases, there are sufficient connectors for the target market, and overall build quality, voltage regulation, and efficiency are very good.
Pricing ends up being the big selling point here, especially when we consider the original Seasonic versions cost more. At Newegg they don't even sell an affordable 400W PSU with modular cables. Only Antec a is potential competitor as they offer modular PSUs at the same price. In fact, the HCG-400M uses the same design, so there is no clear winner in that comparison. One reason to prefer Antec is the fact that they provide two connectors for graphics cards. FSP sells a PSU called Aurum 400W ($74.99) which is an inexpensive 80Plus Gold model. Only fan noise is a problem FSP still has to deal with. Finally we can recommend Antec and PC Power & Cooling, if you are interested in modular PSUs and FSP, if you want to get Gold on the cheap.