Original Link: http://www.anandtech.com/show/5796/silverstone-grandia-gd07-review-centering-and-serving-your-media


Introducing the SilverStone GD07
The last time we reviewed one of SilverStone's Grandia enclosures, it was the GD04, and it was a review that launched the first major revamp of how we test cases. Since then SilverStone has kept the Grandia series relatively staid, but at CES they were showing off the new GD07 and GD08, and today we have the GD07 in house.
SilverStone has turned the GD07 into an enclosure designed to cram as much computer into as small a space as possible within reason, and the horizontal orientation seems to make it ideal for use as a media center enclosure. However, inside it also has a tremendous amount of storage capacity that suggests it could also be used as a media server. The GD04 was a fine case once you tweaked it and added a fan controller; is the GD07 ideal on the first go?
It's pretty impressive at first glance, with four external 5.25" drive bays. You're going to find that's something indicative of the rest of the enclosure, as the GD07 is rife with storage options. But we also had the chance to meet with SilverStone at CES 2012 and get a proper tour of the GD07, and so as this review goes on I'll talk a little more about the decisions that went into designing this major update to the Grandia series. Suffice to say it's an excellent update that may be just what you're looking for if you want to build a combination media center/file server (similar to what I use at home), but there are definite drawbacks compared to the previous GD04 and GD05.
SilverStone Grandia GD07 Specifications
Motherboard Form Factor
ATX, Micro-ATX, Mini-ITX
Drive Bays
External
4x 5.25"
Internal
2x 2.5" and 5x 3.5"
Cooling
Front
-
Rear
2x 80mm fan mount
Top
-
Side
1x 120mm intake fan and 1x 120mm fan mount
Bottom
2x 120mm intake fans
Expansion Slots
7+1
I/O Port
2x USB 3.0, 1x Headphone, 1x Mic
Power Supply Size
Standard ATX
Clearances
HSF
138 mm
PSU
220 mm
GPU
13.5" / 343mm
Weight
15.4 lbs.
7 kg
Dimensions
6.9" x 17.3" x 17.1"
175mm x 440mm x 435mm
Special Features
Large removable drive cage
Locking hinged front panel
Extra horizontally mounted expansion slot
USB 3.0 via internal header
Price
Online starting at $140
The GD07 is larger in pretty much every way than its predecessor, the GD04, which means it doesn't necessarily obsolete that model so much as exist alongside it. In exchange for the extra real estate, SilverStone bumps the number of drive bays up substantially as well as allowing for a full ATX motherboard instead of just Micro-ATX or Mini-ITX. We also get front panel USB 3.0 connectivity through an included internal header.
Just like the GD04 was a sibling model with the GD05, differing in front panel layout, so the GD07 and GD08 are similar. The GD07 has more exposed expansion and a locking front door that hinges downward, while the GD08 has just two exposed 5.25" bays and no door. I personally prefer the door; the power button is still exposed, you don't have to lock the door, it offers a cleaner finish, and it hides the optical drive activity LED. If you prefer the alternate configuration, however, the GD08 will retail for $145 and is currently available for pre-order at some retailers.
In and Around the SilverStone GD07
Where I think SilverStone made a major improvement for the better is in ease of assembly and disassembly with the GD07, and that much should be evident when you really examine the enclosure. The GD04 was and is an attractive piece of kit, but servicing it can be an absolute nightmare.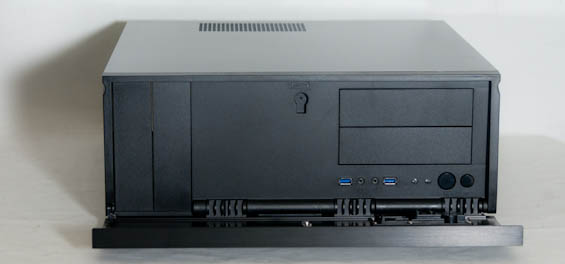 The GD07 maintains the same attractive steel and aluminum finish its predecessors have; the brushed aluminum front door is as minimalistic as it gets, with just a SilverStone logo, the keyhole, and a power button. Unlock it and you'll find that the hinges are both smooth and sturdy, but the inside surface is a matte black plastic. It matches the drive bay shields, but feels unusually cheap for a SilverStone case. Thankfully the interior face should spend most of its life hidden behind the door.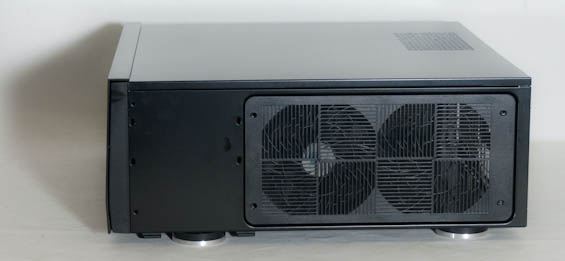 On the sides you'll see three vents; on the left is the vent for the power supply's fan while the right features two 120mm vents, one of which is occupied by a 120mm intake fan by default. SilverStone actually spent a lot of time figuring out exactly the right pattern for the fan grates to minimize air turbulence and keep things quiet; I had a chance to see several of the different designs they tested along with the results, and you'd be amazed at just how much work really went into something like this. Of course, behind both vents is a fan filter.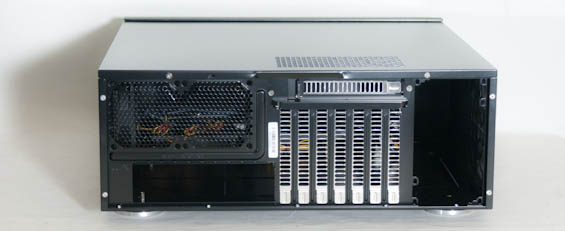 Move around to the back and you'll see a fairly logical layout that's essentially what you'd expect: the motherboard is oriented to the bottom of the enclosure and aligned to the left, while the power supply is mounted on its side on the right, with the bottom intake fan being served by a vent on the right side of the enclosure. SilverStone also includes an eighth expansion slot above the primary seven. Space is essentially maximized here, though; I don't think they really could've made this case any smaller and still allowed for a full ATX system.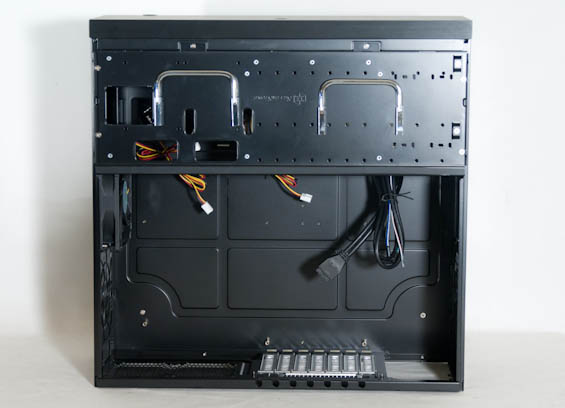 Opening the enclosure, you'll find things are a lot simpler inside. There's a removable drive cage secured by six screws along with a pair of handles for lifting it out of the enclosure, and then beneath the cage are two bottom-mounted 120mm intake fans. This is much, much simpler than the GD04's layout was, but that's a side benefit of the increased size of the case: more space to work in.
I'm used to SilverStone enclosures being puzzles where once you understand the logic of how they were designed, everything locks into place. Indeed, even the GD07 comes with a piece of paper telling you it isn't like a typical enclosure and strongly urging you to read the manual. The funny thing is, this really is one of the simpler designs I've seen from SilverStone. Overall it's a nice and attractive design, but I do have some qualms with the build quality, which does feel a hair chintzier than some of the other SilverStone cases I've tested.
Assembling the SilverStone GD07
Given the relatively logical internal layout of the GD07, assembly was for the most part fairly simple and straightforward. That said, being that this is a SilverStone case, there are still some kinks and idiosyncrasies that the end user is going to want to watch out for.
I actually made the mistake of running into a pretty big one early on, an issue that most users who do their homework won't run into but someone with my poor eyesight and general autopilot mentality will slam into face first. It wasn't until after I'd mounted our standard case testbed that I realized something: there's very minimal CPU heatsink clearance. Our primary testbed actually doesn't fit into the GD07 due to the height of the Cooler Master Hyper 212 Evo; that means that most tower-style CPU coolers are right out the door, which in turn threatens to limit the overall performance potential of the case. There also isn't enough clearance between the motherboard and the side panels to mount a closed-loop radiator, so cooling options are going to be fairly limited overall.
At this point I was forced to make a judgment call before moving forward. This is something that was the subject of a bit of debate between Jarred and I, and is most certainly going to be something a decent portion of you will disagree with. I was left with two options, essentially. The first was to test the GD07 as an ATX/Micro-ATX enclosure and swap out the Hyper 212 Evo for a stock Intel heatsink, but the problem there is that the GD07's test results wouldn't actually be comparable to the other ATX/Micro-ATX cases since one of the major components had changed substantially for the worse. That would mean that in each subsequent review, if I was going to compare the GD07 to other cases, I'd always have to include an asterisk and explain why the GD07 sticks out from the group.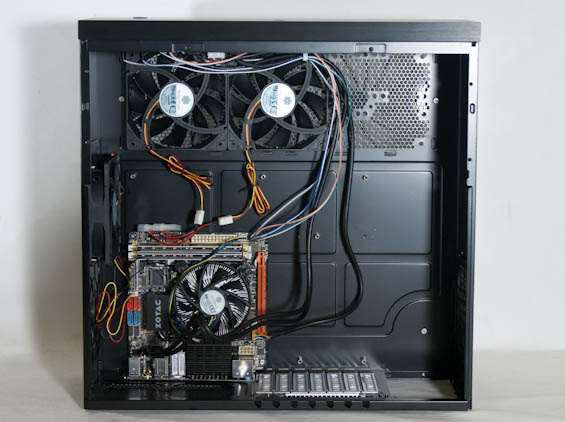 The second choice, and the one I went with, was to use our freshly minted Mini-ITX testbed. This testbed was engineered to fit in much smaller enclosures, but as a result everything would fit perfectly fine. It would be roomier than usual, but it would also leave us with test results that could be compared to other enclosures using the same testbed without having to make any special notes. Undoubtedly some of you are going to be displeased with this decision, or wonder why I didn't just do both options. The fact is I simply didn't have enough time to assemble and test using both testbeds, and I made the call.
As I mentioned before, assembly was fairly easy but there were some hiccups. The removable drive cage uses six screws, which is a minor nuisance, but removing it does make things much easier and is essential for mounting any of the drives.
Clearance between the side intake fan and the motherboard is borderline nonexistent. The GD07 fits things together about as tightly as it can before assembly becomes too much of a chore. Smaller motherboards aren't going to have too many issues in assembly (specifically motherboards that aren't particularly deep), but I'm not sure I'd recommend putting a full-sized board inside the GD07. A seven slot ATX board, sure, but not one with the full ATX depth. The power supply goes in just as easily as the motherboard does.
I understand why the case uses an extrusion and cover for the expansion slots, but I've nonetheless always hated dealing with this type of solution because it adds extra steps to swapping expansion cards in and out, and it almost always requires the end user to carefully re-align the cover plate. There has to be an easier way to handle this kind of design choice to keep it from being so needlessly onerous.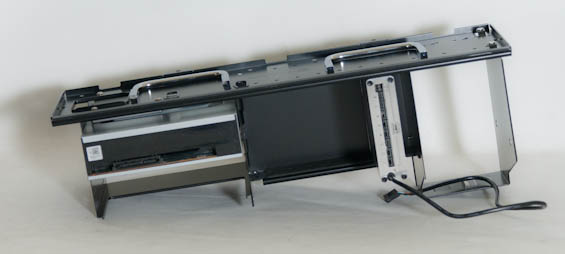 Finally there's the drive cage. The drive cage isn't necessarily badly designed, but there's definite room for improvement here. For the 5.25" drives, you'll want to remove the bay shields in the front first before mounting the drives. There's some give to how far out or in the drive can be mounted (three notched steps to be exact) and no easy guide for what it needs to be. 3.5" drives are easier to figure out; they slide in vertically and are screwed in twice on one side and once on the other. This leaves the bottom of the cage open for fresh air from the intake fan to blow over the drives and be guided out towards the back of the case.
Unfortunately the 2.5" drive mounting system leaves a lot to be desired. 2.5" drives are mounted side-by-side between the topmost optical drive and the top of the drive cage, and while there are holes in the top to help guide cabling, they're nowhere near enough. Clearance between the 2.5" drive and the 5.25" beneath it is so poor that the bog standard L-shaped SATA power lead won't actually fit; you'll need to essentially use either an extension or a molex-to-SATA adaptor. If there's one thing I feel like SilverStone really needs to go back and change, this is it. Kill the extra vertically-mounted 5.25" drive bays (since you're more liable to use them to stash cable) and put some proper 2.5" drive mounts in their place.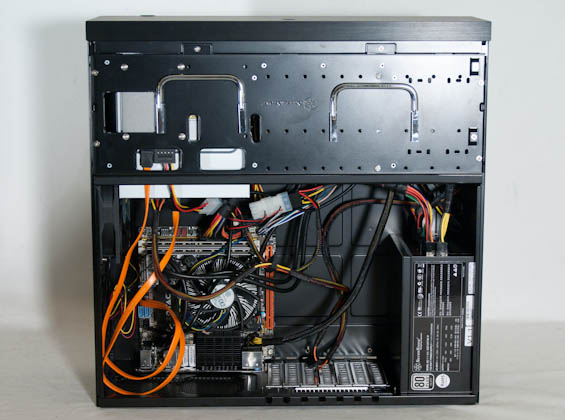 Cabling is relatively easy otherwise, but it should come as no surprise that the GD07 doesn't make any real allowances for cable management outside of politely suggesting you use the vertically-mounted 5.25" bays. One major loss in the move from the GD04 to the GD07, though: the GD04 had internal fan grilles that kept cables from getting caught in the fan blades. Without these it's much, much easier for cables to get stuck in the fan blades in the GD07.
There was a lot to like in assembling the GD07; it's more straightforward than I'm used to seeing from SilverStone, and it never felt too cramped. Yet I still feel like we're kind of in "rough draft" territory with the interior. Better allowances should've been made for 2.5" drives, and the inside fans do need fan grilles. The drive cage should also be at least a little easier to both remove and secure, and there has to be an easier way to handle the expansion slot cover. I'm not expecting a toolless chassis design here, but small changes could make all the difference in assembly and make the GD07 much easier to build and service. Finally, given the size of the chassis, a slightly taller design would have allowed for tower CPU coolers, which have proven in the past to be very effective without requiring a lot of airflow (i.e. noise)--two things that many media center PCs would benefit from.
Testing Methodology
For testing Mini-ITX cases, we use the following standardized testbed in stock and overclocked configurations to get a feel for how well the case handles heat and noise. Again, note that while the GD07 can technically fit a full-size ATX motherboard, it's not tall enough to allow for our testbed's tower cooler. Because of the discrepancies that would make for in testing, plus the fact that media center cases are often mini-ITX designs, we have chosen to use our mini-ITX testbed rather than going with a specialized (e.g. not something you can compare directly to our other cases) ATX build.
Each case is tested with just the Core i3's integrated graphics as well as with a discrete graphics card. The system is powered on and left idle for fifteen minutes, the thermal and acoustic results recorded, and then stressed by running four threads in Prime95 (in-place large FFTs) on the CPU, and OC Scanner (maximum load) is run when the dedicated GPU is installed. At the end of fiteen minutes, thermal and acoustic results are recorded. If the enclosure has a fan controller, these tests are repeated for each setting. Ambient temperature is also measured after the fifteen idle minutes but before the stress test and used to calculate the final reported results.
We try to maintain an ambient testing temperature of between 22C and 24C. Non-thermal test results aren't going to be directly comparable to the finest decimal point, but should be roughly comparable and give a broader idea of how the enclosure performs.
Thank You!
Before moving on, we'd like to thank the following vendors for providing us with the hardware used in our testbed.
Noise and Thermal Testing
As the SilverStone GD07 is the first case we've tested using our revised Mini-ITX testbed, it's the only case we have Mini-ITX results for. This will change soon, though; we have two more Mini-ITX cases lined up for May. The GD07 is an ATX case being tested using our Mini-ITX testbed for reasons explained previously, but the fan speed percentages should at least give us a good idea of how much thermal headroom the GD07 actually has.
Testing for the GD07 was done with an ambient temperature floating around 24C. Note that ambient temperatures are not consistent between case tests; this is why we display our results in delta-over-ambient instead of as strict thermal readings like we used to. Ambient temperatures for case testing will generally range between 21C and 24C, and the GD07 was tested at the latter end of that spectrum.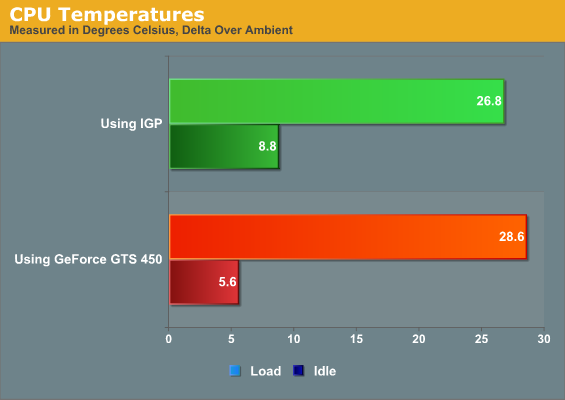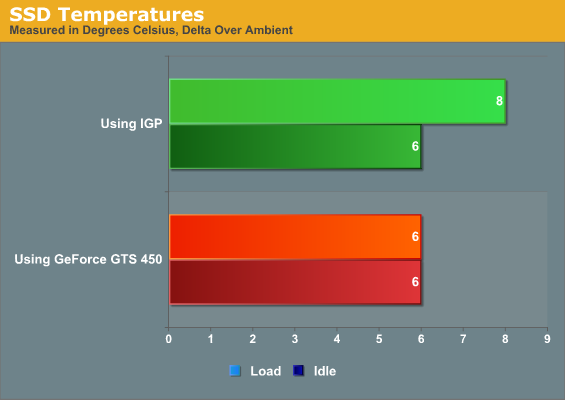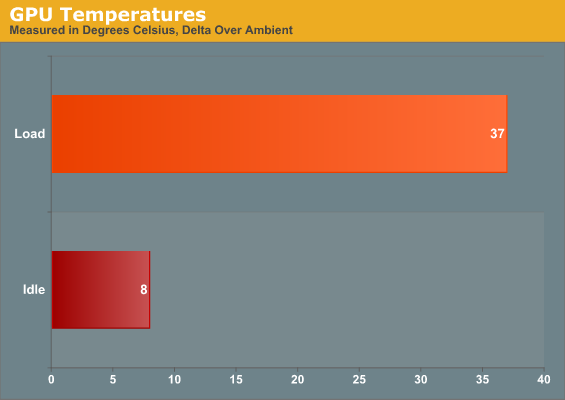 Without having to drive the IGP, the CPU doesn't have to work quite as hard, but thermals are generally reasonable. The heatsink itself has a rated cap of 95 watts, so it's not being pushed all that hard either. In fact...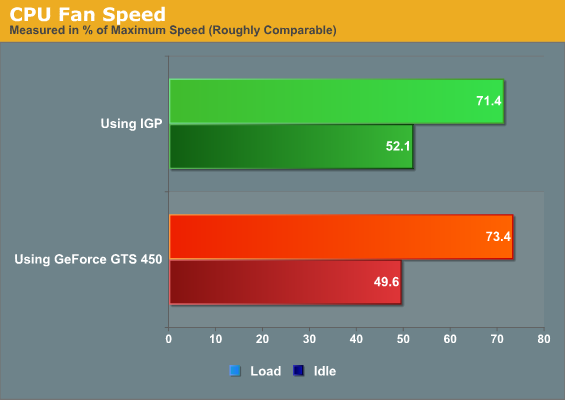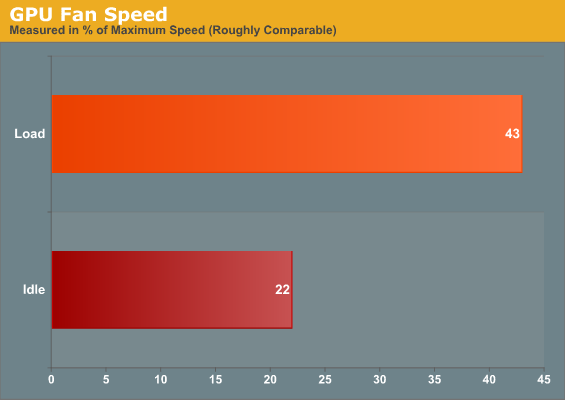 You'll notice we still have plenty of headroom on both the processor and the graphics card. The Zotac GeForce GTS 450 Eco sports a single-slot cooler and no external power lead, but that cooler doesn't seem to have to work particularly hard, even under OC Scanner load.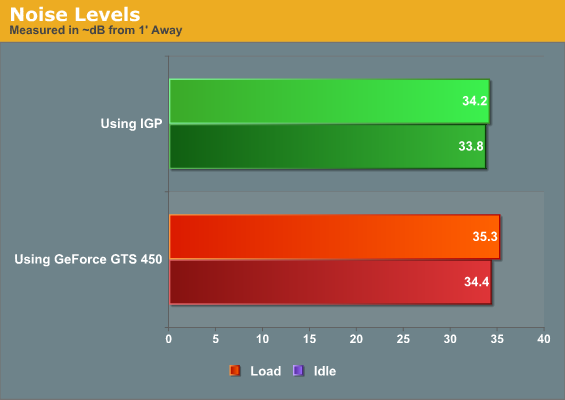 Finally, the GD07's acoustics are actually quite good, at least with this combination of parts. The heatsink we use is specced to be able to get fairly loud, but without having to work very hard we're left largely with the fan noise of the fans included with the GD07 itself. These fans are a major improvement over what was found in the GD04, which really required a dedicated fan controller to be appropriate for use as a media center. A fan controller could no doubt serve the GD07 almost as well, but at least here the noise isn't onerous to begin with.
Conclusion: A Lot of Potential
SilverStone's Grandia GD07 is certainly a compelling option for users like me who use their media center PCs as 24/7 servers as well. That's a small niche, but I have no doubt there are other people who will look at it and find other niches for it as well. For what SilverStone was attempting with the GD07, they've largely excelled and even produced one of their easier-to-use cases. Yet there's definitely room for improvement here.
As I mentioned before, the drive cage is the primary culprit. There was obviously a lot of thought put into the design, but I think it still needs work. The two vertically-mounted 5.25" drive bays should be eschewed for dedicated 2.5" drive bays instead of just squeezing the drives between the other 5.25" bays and the top of the cage. Cabling SSDs in the GD07 is far more trouble than it has any right or reason to be. You'll also want to take care in mounting 5.25" drives to make sure they line up properly with the front of the enclosure.
I also feel like the interior black matte plastic face is a little chintzier than it needs to be. That's a relatively minor complaint given the otherwise attractive black brushed aluminum finish on the front door and the staid black steel build of the rest of the case. Getting rid of the internal fan grilles is a much bigger issue, and needlessly complicates assembly; those grilles were one of the things that made the GD04 at least a little easier to work with.
There's also the fact that the GD07 is frankly pretty large. That owes to observing the ATX spec instead of going with Micro-ATX or Mini-ITX (along with moving the drive cage to the front), but for me it's actually the difference between fitting the GD07 into my entertainment center or having to continue using the GD04 that has faithfully served me since I reviewed it so long ago.
Despite these issues, the GD07 is still a fairly well designed enclosure. Thermal performance is good, and noise is low with room to go lower provided your motherboard has decent fan control or you're willing to shell out for a separate fan controller. Looking at it, you should already know if the GD07 is something you can use or not. If you like the way it looks and it has the features you want or need, it will probably serve you well. Individuals looking for a good HTPC case may need to find something smaller, though.