Original Link: http://www.anandtech.com/show/5779/htc-one-x-for-att-review


For just over a week, I've been using two phones interchangeably. The first is the Lava Xolo X900 with Medfield inside, the second is the flagship of HTC's new One series, the HTC One X on AT&T. It's a device with lofty goals, as it's the flagship of HTC's new branding and strategic positioning behind a single line of devices, industrial design, and focus. The strategy mirrors that of Samsung's with their Galaxy series, and if successful will rekindle the excitement behind HTC's brand.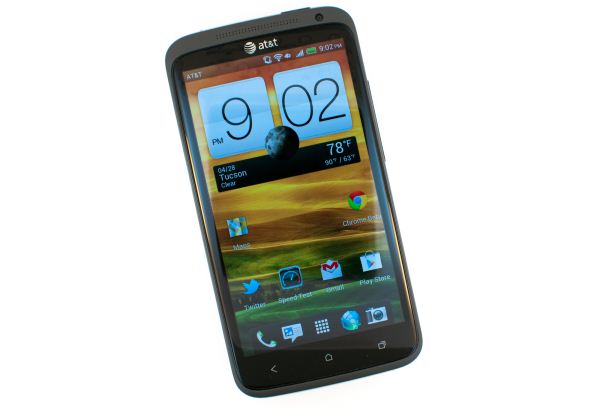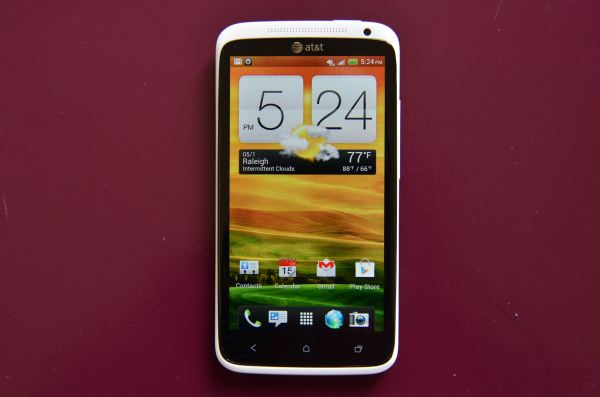 The One X on AT&T is really a One XL (L for LTE), however in the USA the device carries full One X branding. We've got the International One X and One S variants which will be reviewed in short order, but for today we're talking specifically about the One X on AT&T.
The One X is without doubt unlike any other HTC smartphone I've held to date. In fact, it's a testament to how revised HTC's industrial design is that I can even write that sentence. The phone is machined, not injection molded, from a single machined piece of polycarbonate plastic, and feels anything but cheap in the palm. If Nokia was really the first to demonstrate that you can have a polymer (read: plastic) device without making it feel second rate, HTC is the second OEM to do it properly. Probably the biggest part of that effort is giving the surface a proper texture. In this case the HTC One X backside is given a sand blasting for texture, while the sides remain slick with a piano finish gloss. It's a great juxtaposition of textures that makes it easy to identify proper grip, and likewise break any homogenaity.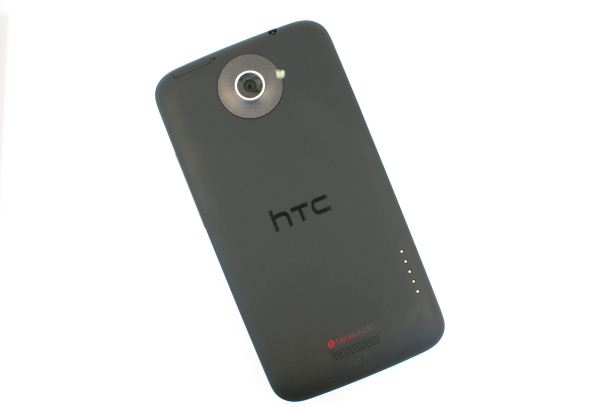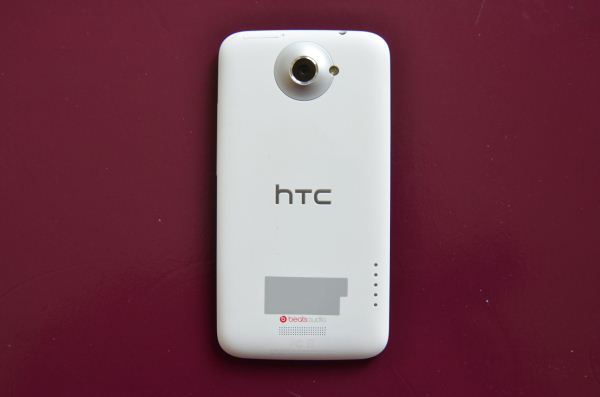 The buttons blend into the glossy sides of the One X, getting pretty close to the optimal combination of protrusion and clickiness. The power/standby button at top is no exception. Speaking of the top, there's a secondary microphone for noise cancelation, headset jack, and finally the microSIM tray, which requires an ejector tool (provided in the box) like many other newer designs.
The case is again a single piece unibody construction. With exception of the microSIM tray, there are virtually no doors or covers, and the consequence is no flex, creaking, or chattering seams when the vibration motor is going. The speakerphone grille at the back and the earpiece at front are both arrays of pinholes no doubt cut with a laser through the polycarbonate. On the front, the notification LED (which shines green or amber) shines through one of the small holes. The only unfortunate part of this is that it's hard to see the notification LED from extreme angles. At far right is the 1.3 MP front facing camera.


HTC has opted to place the microUSB port about one quarter of the way down on the left side of the phone. The result is that it's possible to hold the device in portrait and type like normal without the cable poking into your hand. I also suspect that HTC has placed the majority of the PCB up top, and left the bottom three quarters of the device for the internal battery.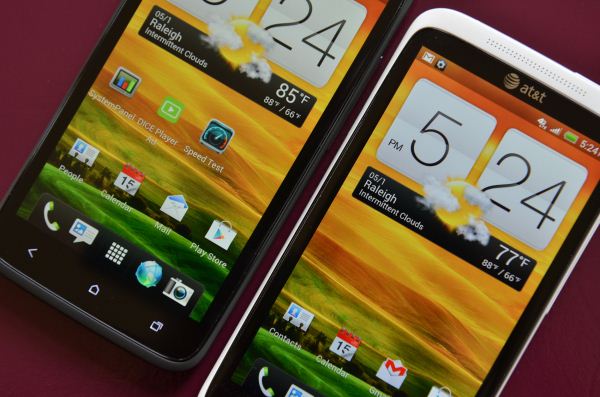 The rear of the device is again a softly textured finish. Our HTC One X is a dark, almost black color, but there's also a white version as well. The white revision indubitably hides scuffing better than our black unit, though so far loss of texture at the contact points on the One X has been minimal. The surface roughness from HTC's bead/sand blasting is very high frequency, which is what makes it somewhat prone to appearing shiny after rubbing on planar surfaces. Interestingly enough I noticed that Nokia moved to a lower frequency surface texture on the Lumia 900 to combat this. I'm sure we'll eventually see HTC do something similar eventually. That said again the scuffing is minor.
There are five pogo pads at right for using a dock or accessory. I'm not sure whether the HTC Car Kit uses these pogo pins, but we've seen HTC and other OEMs use these for audio, power, and USB data signaling before. The camera module bulges out gently from the top center with a single LED flash at right.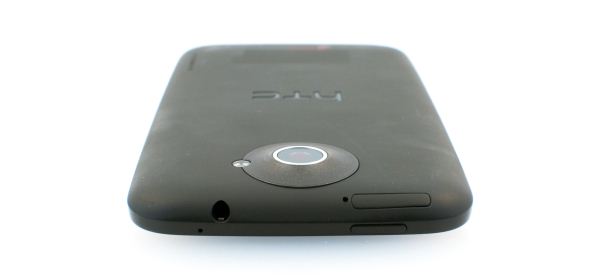 The obvious mainstay of the One X is the 4.7" 720p infinity display which has a gentle curve at the left and right edges. The display isn't curved, however the overall design makes it almost feel that way. Up top, HTC has done an excellent job hiding the ambient light and proximity sensor. I can spot the ambient light sensor, but it's subtle, and I have no idea where the proximity sensor is, which is awesome. At bottom are the three capacitive buttons, which means the menu button becomes part of the UI for legacy applications that haven't fully integrated it yet. I have no complaints with the capacitive buttons, this is something that has long since been completely settled and squared away. They're backlit as well if the ambient brightness level is low enough. The result is even more vertical real estate than the Galaxy Nexus' 720p display provides.
Overall I can't understate how great the One X feels as a whole. It's a new type of minimalism for the handset maker - mature, less chintzy and flashy like so many other Android devices. My only gripe is that the black color shows scuffs and loss of texture (from rubbing other solid surfaces at the contact points) more than I'd like - the white model probably makes more sense purely because I can't imagine that showing.
What's really interesting to me is just how many recent handsets from so many other OEMs have taken a similar design approach - microSIM, unibody polymer construction, no microSD card slot, and non removable battery. That combination of features seems necessary if you're going to craft a device with competitive form factor this generation, and no doubt even more vendors will update with that profile. Polymer makes sense because it's both a material transparent to RF, and easy to machine, and going with a microSIM makes sense since it's all about minimizing area that isn't dedicated to battery.
Next up is our specifications table. Again the chief differentiator between AT&T's One XL turned One X is that the device has a Qualcomm Snapdragon S4 MSM8960 SoC, this is the first 28nm dual core Krait based part, and marks our first smartphone with it inside. The two krait cores are clocked at up to 1.5 GHz, and MSM8960 includes Adreno 225 graphics. The AT&T One X also includes 16 GB of onboard storage, and again there's no microSD card expansion option.
Physical Comparison
Apple iPhone 4S
Samsung Galaxy S 2
Samsung Galaxy Nexus (GSM/UMTS)
HTC One X (AT&T)
Height
115.2 mm (4.5")
125.3 mm (4.93")
135.5 mm (5.33")
134.8 mm (5.31")
Width
58.6 mm (2.31")
66.1 mm (2.60")
67.94 mm (2.67)
69.9 mm (2.75")
Depth
9.3 mm ( 0.37")
8.49 mm (0.33")
8.94 mm (0.35")
8.9 mm (0.35")
Weight
140 g (4.9 oz)
115 g (4.06 oz)
135 g (4.8 oz)
129 g (4.6 oz)
CPU
Apple A5 @ ~800MHz Dual Core Cortex A9
1.2 GHz Exynos 4210 Dual Core Cortex A9
1.2 GHz Dual Core Cortex-A9 OMAP 4460
1.5 GHz Dual Core Qualcomm Snapdragon MSM8960
GPU
PowerVR SGX 543MP2
ARM Mali-400
PowerVR SGX 540 @ 304 MHz
Adreno 225
RAM
512MB LPDDR2-800
1 GB LPDDR2
1 GB LPDDR2
1 GB LPDDR2
NAND
16GB, 32GB or 64GB integrated
16 GB NAND with up to 32 GB microSD
16 GB NAND
16 GB NAND
Camera
8 MP with LED Flash, Front Facing Camera
8 MP AF/LED flash, 2 MP front facing
5 MP with AF/LED Flash, 1.3 MP front facing
8 MP with AF/LED Flash, 1.3 MP front facing
Screen
3.5" 640 x 960 LED backlit LCD
4.27" 800 x 480 SAMOLED+
4.65" 1280x720 SAMOLED HD
4.7" 1280 x 720 LCD-TFT
Battery
Internal 5.3 Whr
Removable 6.11 Whr
Removable 6.48 Whr
Internal 6.66 Whr
To be totally honest, I always found the Sensation's industrial design to be world class, it was a few other devices with carrier influence that showed definite drift away from HTC's unique vision. Keeping that from happening with the One series should be the next big concern for HTC.
The next major thing to talk about it HTC's Sense 4. First off, all of the HTC Ones run Android 4.0.3 as of this writing, which was the first ICS build pushed to the android open source project. It isn't 4.0.4, but that's forgivable considering the timeframe involved. Anyhow, Sense is one of those things that traditionally has been a major point of contention for power users. The problem for an OEM crafting a theme or skin is to strike a balance between the native appearance and feel of the underlying base OS, and whatever unique customizations they're adding.
For probably the first time, I can honestly say I think HTC has has nailed that balance with Sense 4. The platform still feels and looks ICSey, and I think that's what made previous iterations of Sense somewhat awkward - you couldn't adequately grasp the theme or feeling of the underlying OS. HTC has changed things like overscrolling behavior throughout the OS, as elements now spread apart like an accordion. Toggle switches and buttons also get a new theme, but it isn't an altogether huge departure from ICS, and (as required) Holo is still lurking underneath for applications that leverage it.
Like previous iterations, Sense 4 includes a number of lock screen customizations, including the ability to launch applications or SMSes by dragging their shortcuts into the ring. Unlike the previous version, you don't get the ability to change the lock screen shortcuts directly, instead they're inherited from the bottom dock-like row of applications on the launcher. The launcher now includes ICS features like folders on the homescreen for organizing shortcuts, and a new widget, app, and shortcut management view.
The main launcher gives you a paginated 5x4 grid of application tiles. HTC has done similar things in the past with the bottom three tabs - all, frequent (sorted by number of launches), and new downloaded applications. There's not much to say here other than it's interesting how most stock launchers have returned to paginated structure instead of just a big scrollable list view. Both the launcher and main homescreens are very very smooth, thanks to the combination of ICS's OpenGL ES 2.0 2D acceleration and MSM8960.
The other main Sense customizations include both messaging, keyboard, and the task switcher. HTC has opted to change the task switcher entirely; instead of ICS's transparent column of recently launched applications, the HTC Sense 4 launcher is a row of full screen previews. Applications can be closed by swiping them up (hello WebOS cards…) or switched between by tapping on them.
Messaging has changed subtly since the previous version of Sense, and feels snappier. One of my complaints with Android in general has been how messaging seems to always slow down after a few weeks worth of SMSes accumulate, and so far I haven't run into that wall. I still do think the compose box is too big and covers too much of the conversation, and the default font seems gigantic, but thankfully one can change that. The Sense 4 keyboard also feels improved, and I can type at full speed without issue. That said, I'll never understand why OEMs continue to remove the stock keyboard entirely.
Another major design decision HTC has made is to go with the traditional USB disk drive mount option instead of MTP. I think we'll see OEMs also go this route as the MTP connector on some platforms still leaves a lot to be desired. Sense 4 also leaves the notification shade virtually untouched - there aren't any quick power settings or tabs, just the settings pane shortcut like stock ICS. All in all I feel like this is the new Sense 4 design language - minimalist and simple, not the self-justifying customization of every last window and view just for the sake of doing so.
Storage on the AT&T One X is 16 GB of integrated NAND. Like basically all Android phones, this is divided between an /sdcard mount point, and /data. Note that this architecture is basically required if you're going to implement USB mass storage instead of using MTP.
shell@android:/ $ df

Filesystem Size Used Free Blksize

/dev 335M 136K 335M 4096

/system 1007M 895M 112M 4096

/data 2G 696M 1G 4096

/cache 251M 4M 247M 4096

/devlog 19M 16M 3M 4096

/mnt/asec 335M 0K 335M 4096

/mnt/obb 335M 0K 335M 4096

/firmware_radio 199M 33M 166M 4096

/firmware_q6 199M 5M 193M 4096

/firmware_wcnss 4M 1M 3M 2048

/data/secure/data 335M 0K 335M 4096

/data/DxDrm/fuse: Permission denied

/mnt/sdcard 9G 1G 8G 32768
So you get 9 GB of storage for media and photos, and 2 GB for applications, which is pretty much the normal storage split I see. Like we discussed in our initial ICS piece, you can either get unified storage with MTP, or the less cumbersome mass storage mount method.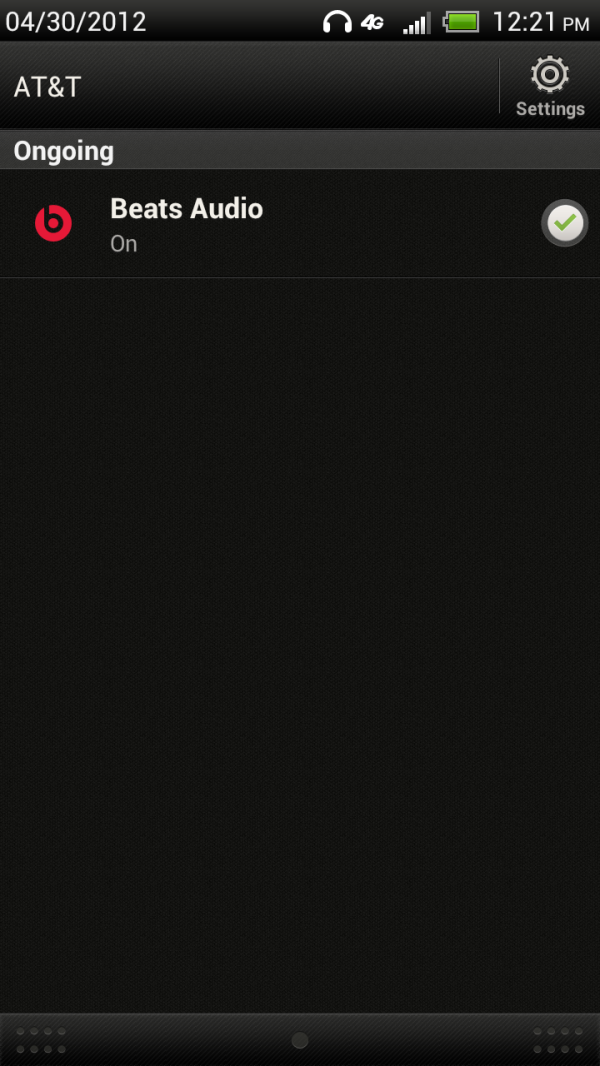 The last note is Beats Audio. HTC includes the Beats branding almost everywhere - it's on the box, on the back of the device, on the boot splash images, and inside the OS. There's no longer any Beats earbuds in the box, but a corresponding change in the way Beats works. The new change is that Beats now works for any headphones that you attach, instead of just Beats branded ones like previously. At some point I'm going to investigate Beats Audio integration in newer HTC devices more thoroughly, for now just know that new HTC devices give you the Beats DSP on any attached headphones. I will note that it sounds to me just like the Beats audio from the HP TouchPad, which is to say boosted bass and some dynamic range compression. I honestly prefer it off, but overall sound quality with it off is subjectively good - no background hiss or whine audible.
The rest of Sense is hardware related and involves another important consolidation - camera, which we'll get into in the respective section.
This is our the first smartphone we've seen with a 28nm SoC, and thus battery life is the big question. Further, the handset includes all the onboard MSM8960 radio goodness as we'll mention in a bit. The problem with some HTC phones for the longest time was that they shipped with smaller than average batteries - while the competition continued up past 6 Whr, HTC would ship phones with 5 or so. That changes with the HTC One X, which includes a 6.66 Whr (1800 mAh, 3.7V) internal battery. I'm presenting the same battery capacity chart that we did in the Xolo X900 review for a frame of reference.
Like we did with the X900 review, we're going to present the normalized battery performance - battery life divided by battery capacity - to give a better idea for how this compares with the competition.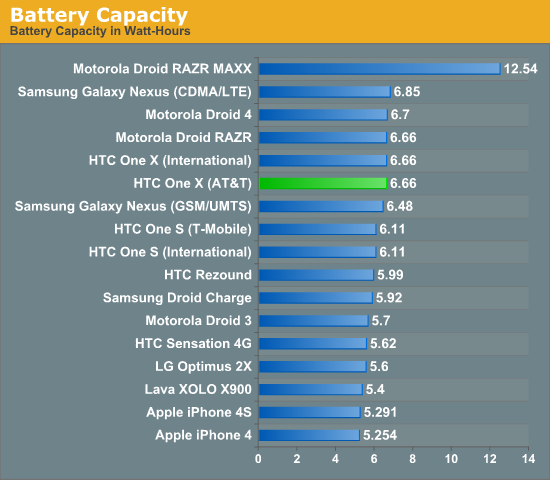 As a reminder, the browsing tests happen at 200 nits and consist of a few dozen pages loaded endlessly over WCDMA or WiFi (depending on the test) until the phone powers off. The WiFi hotspot tethering test consists of a single attached client streaming 128 kbps MP3 audio and loading four tabs of the page loading test through the handset over WCDMA with the display off.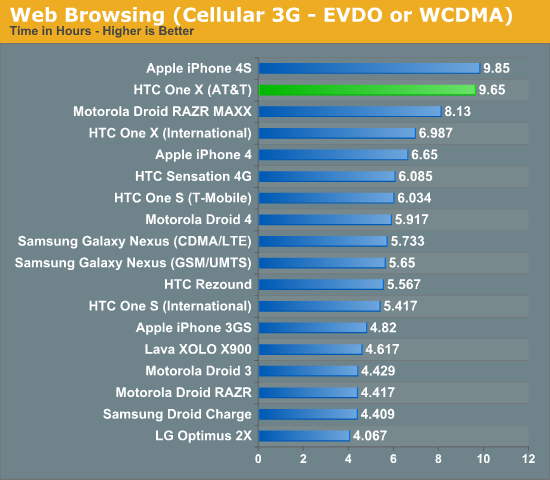 HTC is off to an incredible start with our 3G web browsing tests. Even if you assume that Android and iOS are on even footing from a power efficiency standpoint, the HTC One X is easily able to equal Apple's best in terms of battery life. In reality my guess is that the 4S is at a bit of an unfair advantage in this test due to how aggressive iOS/mobile Safari can be about reducing power consumption, but either way the AT&T One X does amazing here. The advantage isn't just because of the larger battery either, if we look at normalized results we see that the One X is simply a more efficient platform than any other Android smartphone we've tested: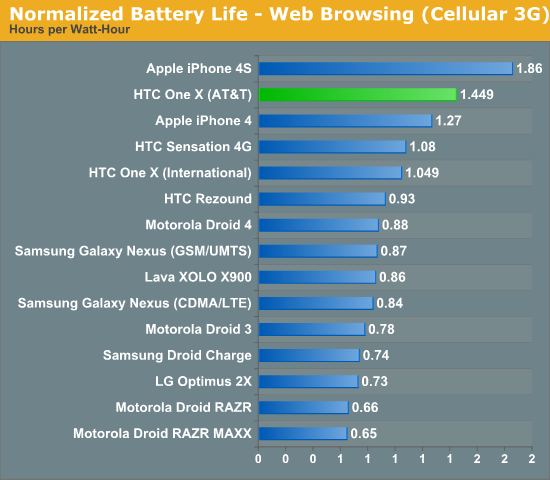 The Tegra 3 based international One X doesn't do as well. NVIDIA tells us that this is because of differences in software. We'll be testing a newer build of the One X's software to see how much of an improvement there is in the coming days.
Moving onto WiFi battery life the AT&T One X continues to do quite well, although the Droid 4 and RAZR MAXX are both able to deliver longer battery life in this case: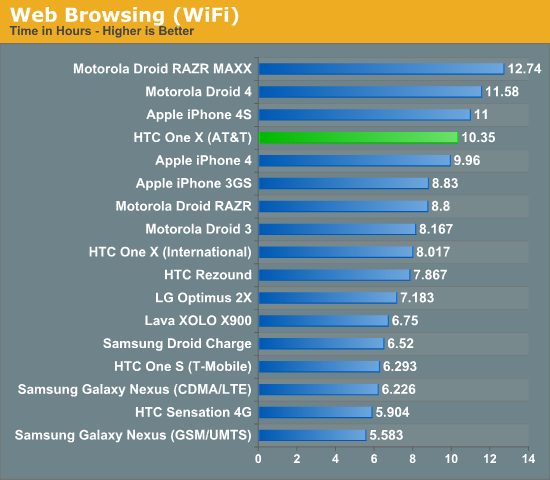 There are too many variables at play here (panel efficiency, WiFi stack, browser/software stack) to pinpoint why the One X loses its first place position, but it's still an extremely strong performer. Once again we see a noticeable difference between it and the international One X.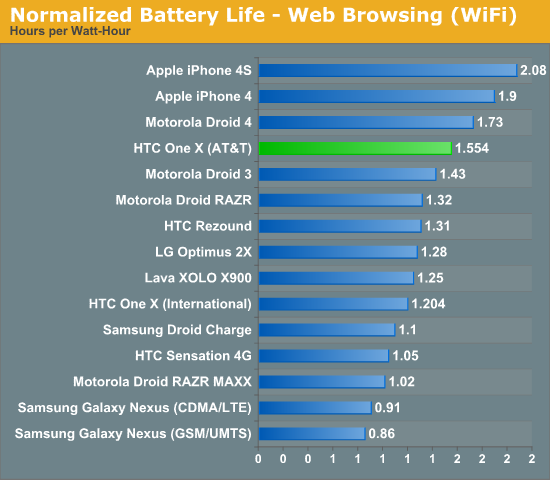 The big question is how well does the AT&T One X do when we're using the MSM8960's LTE baseband? Pretty darn well, when you consider that it's bested only by the RAZR MAXX with its gargantuan battery. Probably the most notable comparison point here is the HTC Vivid or Galaxy Note on AT&T which both are based on the APQ8060 + MDM9200 combination.
As a reminder, the Verizon / CDMA2000 LTE devices here are at a bit of a disadvantage due to virtually all of those handsets camping CDMA2000 1x for voice and SMS. The AT&T LTE enabled devices use circuit switched fallback (CSFB) and essentially only camp one air interface at a time, falling back from LTE to WCDMA to exchange a call.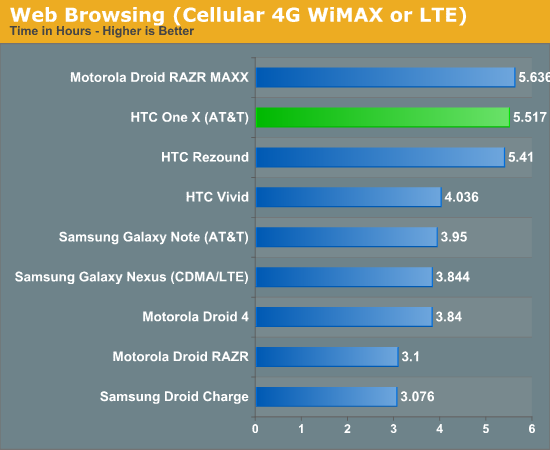 This particular graph doesn't tell the full story however. In practice the AT&T One X seems to last a lot longer using LTE than any LTE Android phone we've tested in the past. Nipping at the heels of the RAZR MAXX, we need to look at normalized battery life to get an idea of just how efficient the new 28nm LTE enabled SoC is: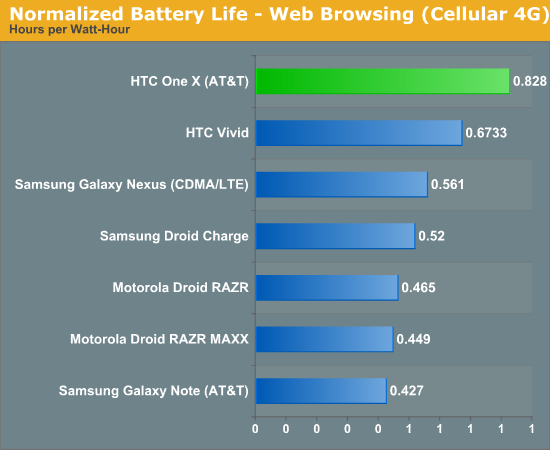 Now that we have 28nm baseband we've immediately realized some power gains. As time progresses, the rest of the RF chain will also get better. Already most of the LTE power amplifiers vendors have newer generation parts with higher PAE (Power-Added Efficiency), and such improvements will hopefully continue to improve things and gradually bring LTE battery life closer to that of 3G WCDMA or EVDO.
Using the AT&T One X as a WiFi hotspot is also going deliver a pretty great experience: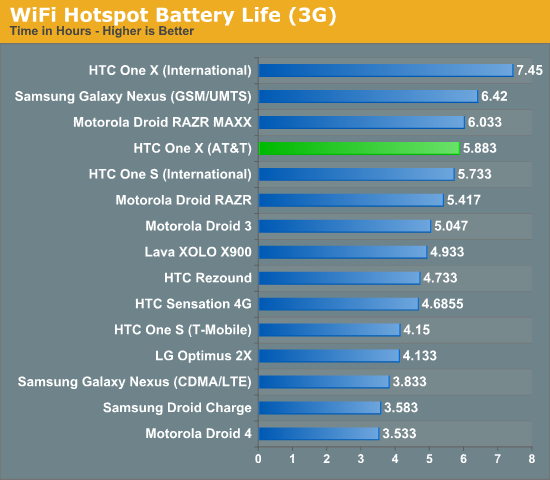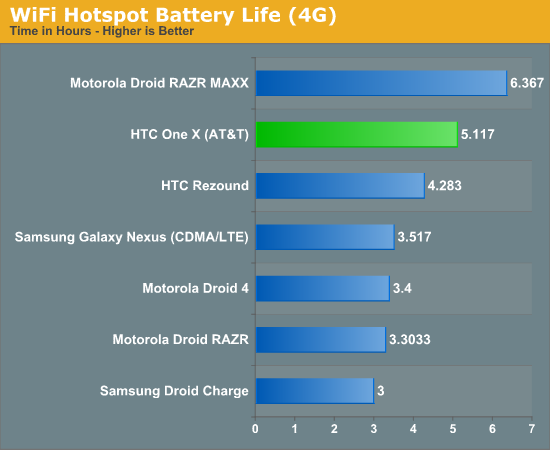 As an LTE hotspot the RAZR MAXX's larger battery is able to deliver a longer run time, however the One X does very well given its battery capacity and size.
Finally, our cellular talk time charts put the AT&T One X in the upper half of our results. Overall the AT&T One X appears to do very well across the board, but it's very strong in the 3G/LTE tests.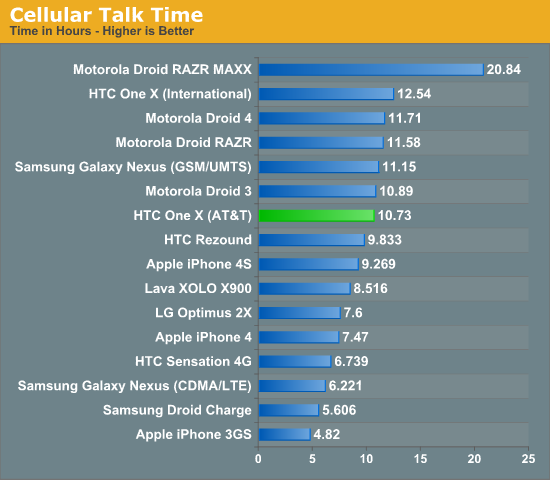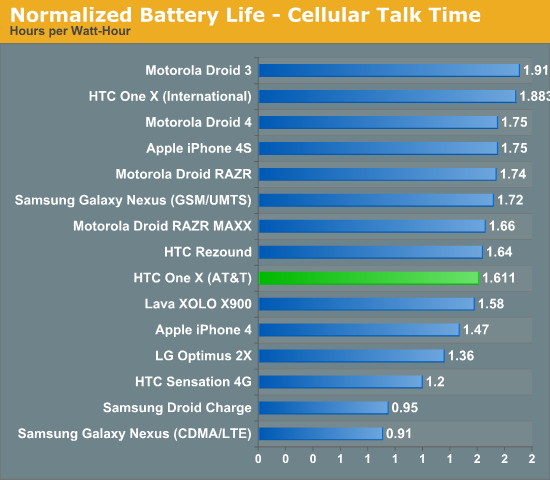 Javascript Performance
Although smartphones are clearly headed for a life beyond simple messaging, web browsing and phone duties, we are still lacking the tools to measure performance in areas other than a component of web page rendering. Measuring javascript performance is one component of the entire web page rendering process but it's the most mature in terms of something we can benchmark.
Sunspider is quite possibly the most well known of these javascript tests: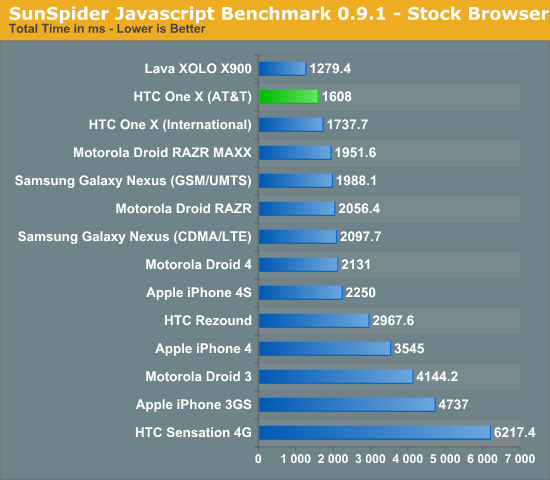 We expected Snapdragon S4 to do very well here based on our preview numbers and it did not disappoint. Although it's not quite as fast as Intel's Medfield, it's clearly the fastest smartphone SoC in this test otherwise. It's worth noting that HTC is able to deliver performance that's within 5% of Qualcomm's Snapdragon S4 MDP, a significant improvement over where things were last year.
The Sunspider test makes good use of 1 - 2 cores but there are times when it'll stress all four on a Tegra 3. For the most part however, NVIDIA's extra cores go unused in this benchmark. Krait and HTC's ICS browser definitely offer a significant advantage over the performance of the ICS launch vehicle, Samsung's Galaxy Nexus. This is honestly the hardware that Google should have used as the basis for its Nexus platform, it's too bad that it wasn't available at the end of last year.
BrowserMark is another js benchmark in our suite: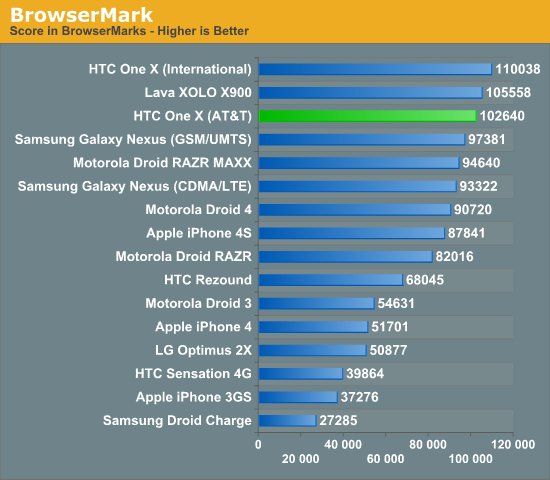 Here the international and AT&T One Xes trade spots as Tegra 3's extra cores are able to give it the slight edge in performance. Once again we're talking about the fastest smartphones in our test suite.
Low Level FP Performance
Linpack isn't a great indication of smartphone performance, but it is a good test of the floating point capabilities of the CPUs in these SoCs. ARM has steadily been improving FP performance for the past few generations but we're going to see a big jump to Krait/A15. As most client smartphone workloads are integer based and those that are FP heavy end up relying on the GPU, an advantage here doesn't tell us much today (particularly because Linpack isn't running native code but rather atop Dalvik) other than how speedy the FPUs are: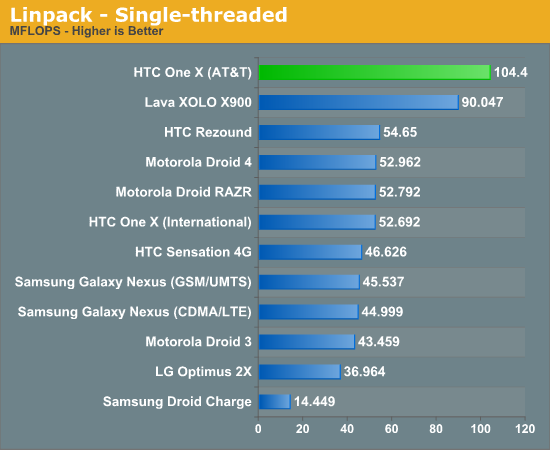 Improved single threaded FP and memory performance is something we get with Krait, and it's demonstrated quite well by the AT&T One X. While you're unlikely to see this magnitude of an advantage in most real world smartphone workloads, this is an architectural advantage of Qualcomm's Krait that's worth mentioning. However these days most FP intensive workloads on smartphones are handled by the GPU, making this performance advantage mostly academic at this point.
Linpack, like many scientific workloads, scales up to multiple cores quite nicely. If we spawn as many threads as there are logical cores (2 for Intel and Qualcomm, but 4 for NVIDIA's Tegra 3) we can see how these SoCs fare in a multithreaded world: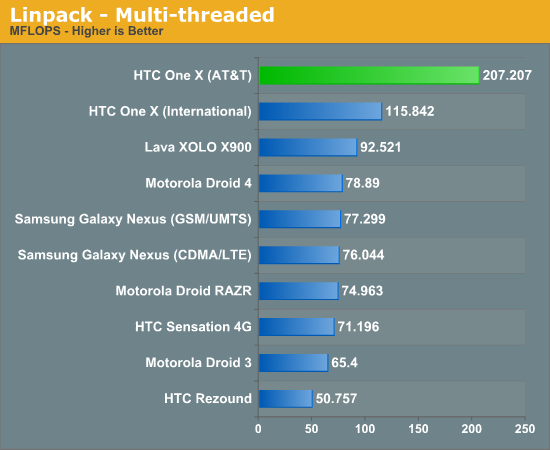 BaseMark OS
Rightware's BaseMark OS is a general purpose benchmark designed to better simulate overall Android performance. It includes a heavily threaded benchmark, file IO tests, and compression/decompression tasks that all contribute to its overall score. We only have results from the HTC One S/AT&T One X (Snapdragon S4), One X (Tegra 3), Galaxy Nexus (OMAP 4) and the Lava phone (Medfield) here: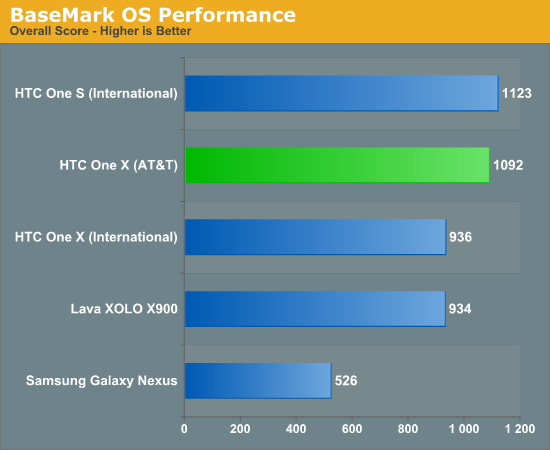 As expected, the AT&T One X does very well in this general purpose, OS-level benchmark. The device significantly outperforms Samsung's Galaxy Nexus, which isn't a surprise given how dated the hardware was at the time of launch. Again the magnitude of advantage is likely exaggerated by this benchmark, but there's no changing the fact that HTC makes the fastest Android smartphones on the planet for now.
Note that the performance difference between the two One X models is likely exaggerated by BaseMark OS as well. In our regular use we found the two to be fairly similar in performance, with the slight edge going to the AT&T One X but not by a huge margin. You'd be hard pressed to tell these two apart.
Vellamo
Vellamo is a Qualcomm developed benchmark that focuses primarily on browser performance, both in rendering and UI speed. The results are heavily influenced by the browser used on the device being tested. As a whole Vellamo isn't always indicative of whether or not you're going to get a smooth browsing experience, but it's another datapoint that captures more than just javascript performance. The Qualcomm-developed nature of the benchmark is always cause for concern, but even if you exclude the Snapdragon results the benchmark can be useful: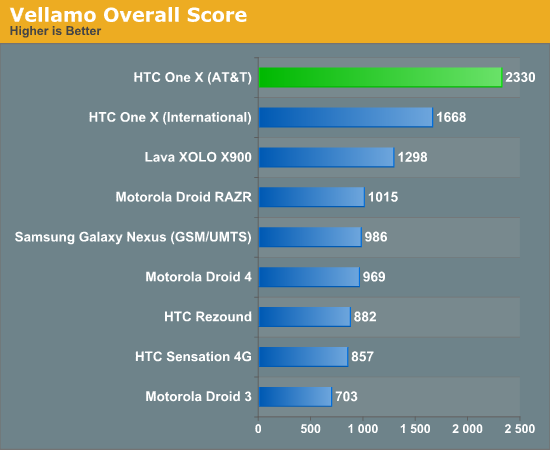 Qualcomm's SoCs have always done very well in this Qualcomm-built benchmark, but the results still echo what we've seen in practice. The AT&T One X definitely feels like the fastest Android phone we've used, especially compared to much of what was available last year. The gap between the international and AT&T One X versions is, once again, debatable. The Qualcomm performance advantage is at times perceivable, but I wouldn't consider it to be significant at all.
Flash Rendering Performance
These days nearly all high-end smartphones (I refuse to call them superphones) can render Flash smoothly. The HTC One X is no exception. We're basically at vsync here and will have to move to either more stressful flash content to test or just accept that flash is already performant enough.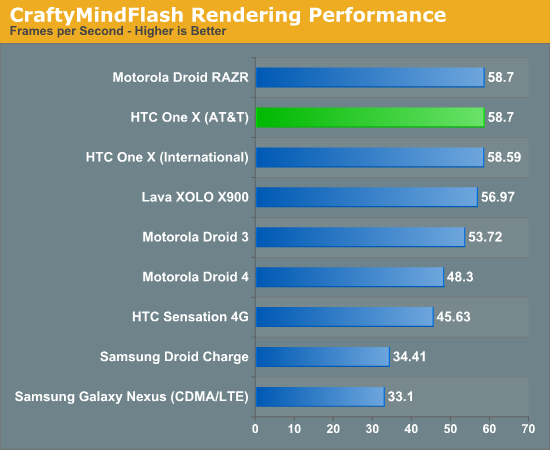 GPU Performance - GLBenchmark 2.1
As we wait for actual 3D gaming benchmarks to make their way into Android (and hopefully crossplatform) games, we must rely on synthetic tests designed to simulate 3D game performance as best as possible. We start with GLBenchmark, one of the better Android GPU tests on the market today. There are two benchmarks, Egypt and Pro, and each is run in two modes: native screen resolution and offscreen (vsync disabled) at 720p. The latter is more useful for apples to apples comparisons as everything is rendering the same number of pixels, whereas performance in the onscreen tests is determined by the screen resolution of the device along with the performance of its GPU.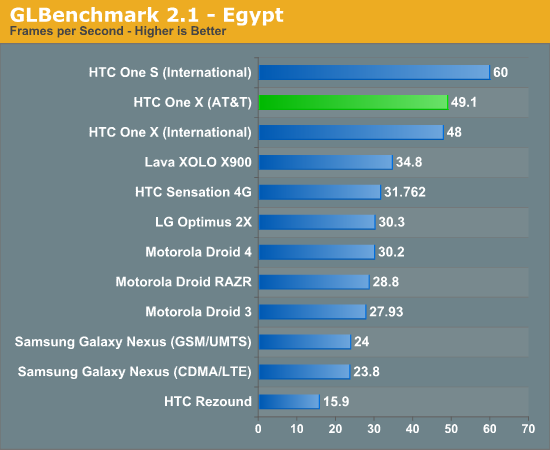 Part of the deal in getting Krait to market as quickly as possible required that Qualcomm pair the CPU with an older GPU, in this case the Adreno 225 instead of the newer Adreno 3xx offerings due out later this year. As a result, the AT&T One X can take a back seat to the international One X in GPU performance. When not limited by v-sync, the Tegra 3 based international One X is about 12% faster than the Qualcomm S4 based AT&T One X. For most gaming however, you'll be hard pressed to notice a performance difference.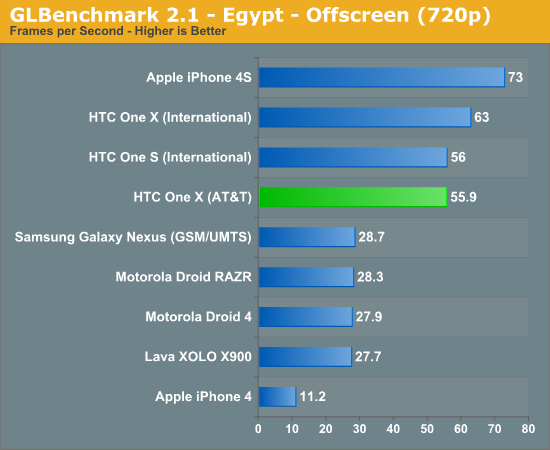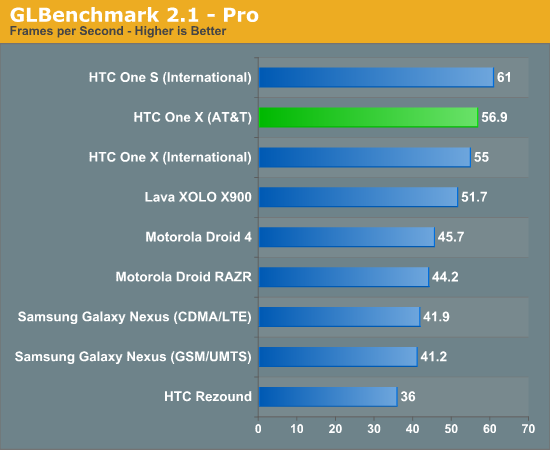 The Pro offscreen results actually flip flop a bit with the AT&T One X leading the international version. Once again, limited by v-sync (onscreen results) the two are basically identical performers.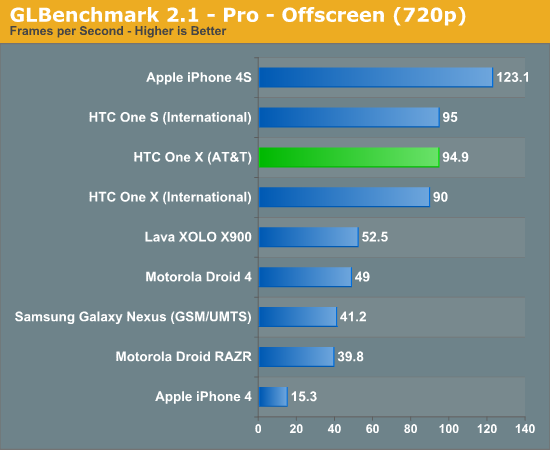 Basemark ES 2.0 V1
Rightware's Basemark ES 2.0 V1 is an aging GPU test that tends to favor Qualcomm's Adreno GPUs above almost all others: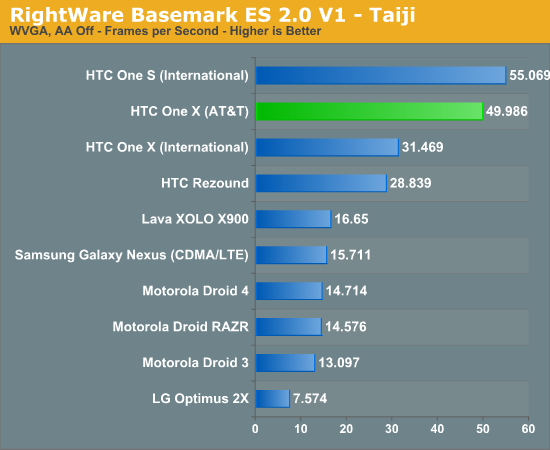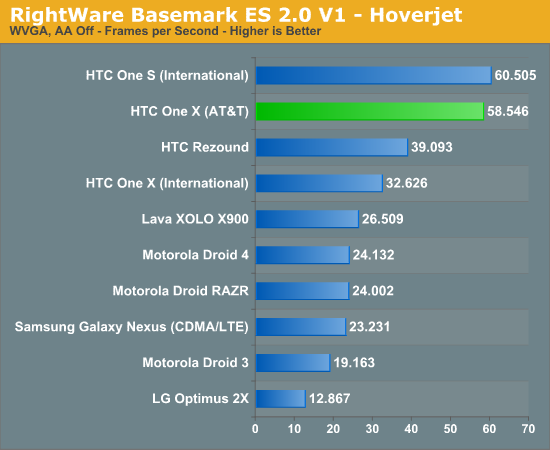 We're not surprised to see the AT&T One X do so well here as it appears Qualcomm has done quite a bit of optimization work for this particular benchmark. I wouldn't put too much faith in these numbers other than to show you an example of just what can happen with a good amount of optimization on behalf of a hardware vendor.
Probably one of the biggest changes with the HTC One series is emphasis on camera quality. It's quickly becoming one of the most important axes of both improvement and comparison for handset vendors, and HTC has taken a rather unique approach with the One. So what is that unique approach exactly? It's the inclusion of discrete ISP which HTC calls ImageChip.
Moving to a discrete ISP to tackle some of the image pipeline makes sense for a number of reasons. First, it makes optimizing for image quality less of a moving target if you're a handset vendor. Each SoC has different ISP, and each combination of both ISP and camera sensor/module needs to be tweaked for optimal image quality. The result is a lot of optimization work that takes time if you're deploying multiple platforms with silicon from different vendors. Moving to one single controlled platform in conjunction with one single module and sensor makes it possible to really squeeze everything out of that combination, and in addition spend more time characterizing the system. The other axis ties into the One branding - each One series smartphone should actually perform the same, thanks to this unified combination of ISP and rear facing camera. So far, this applies to all of the One S and One X(L) variants.
HTC's ImageChip is responsible for most of the things that would traditionally be done on the SoC ISP. 3A (Autofocus, Auto white balance, and Autoexposure), lens correction (geometric and chromatic correction), noise reduction, best shot selection, continuous auto focus, controlling gains on the CMOS sensor, LED flash level decision, region of interest identification (augmented with face detection) and so on. This is all stuff you can verify yourself by taking apart some of the ISP related files - curiously enough internally ImageChip is actually referred to as "rawchip." This is also the hardware responsible for enabling HTC's extremely fast image continuous capture and frame grabbing during video capture (HTC Video Pic). It's somewhat analogous to what Google and TI did with the OMAP4460 on the Galaxy Nexus, except discrete and with a much more ambitious focus.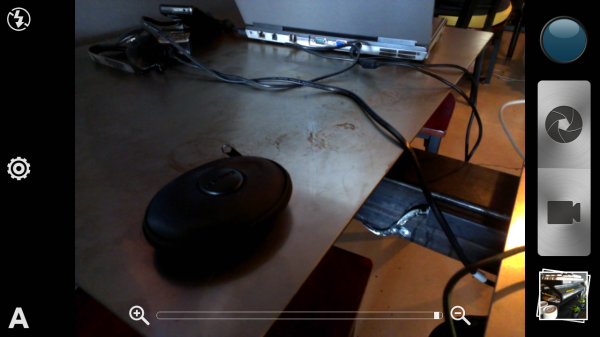 The rest of HTC's efforts involve both optics and sensor. The optical system consists of an F/2.0 3.6mm system (28mm effective). HTC has at present the fastest aperture on a smartphone camera that I'm aware of, surpassing some of its own F/2.2 systems and the F/2.4 systems on other vendors camera modules. Getting a larger aperture is no small feat, as aberrations quickly blow up with F/#. I'm impressed with how well HTC has kept these at bay with the One system. The HTC One X on AT&T (and the One X international) use the same front and rear facing cameras, and we've actually seen these modules before. The rear facing CMOS is a Samsung S5K3H2YX which Vivek spotted in the MyTouch 4G Slide. This is an 8 MP 1/3.2" format BSI sensor with 1.4µm square pixels. The front facing camera is a 1.3 MP S5K6A1GX 1/6" format FSI sensor with 1.75µm pixels. You can check for yourself by catting "/sys/android_camera/sensor" on the device.
The next component of HTC's camera emphasis is its new camera UI, which is excellent. There's properly implemented tap to focus/expose, and in addition the camera preview appears to be close to native resolution. There are settings and configuration options if you want them, including ISO, white balance, and manual exposure. My only gripe is that HTC continues to ship with the camera set to 16:9 aspect ratio instead of 4:3 and taking full advantage of the sensor.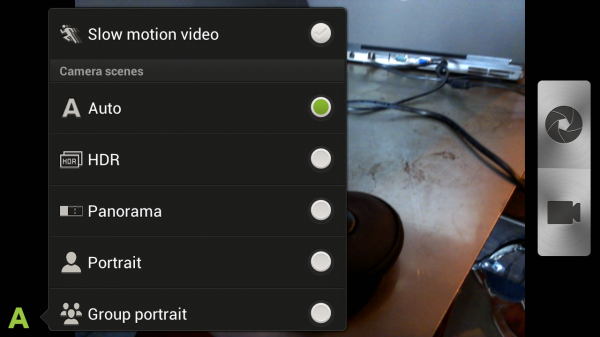 There are two other tabs - some camera scenes settings, and filters. Tapping on the scenes option lets you switch into HDR mode, panorama shooting, and a few other useful presets. HTC's HDR mode is the first I've seen which works just like the HDR mode on the iPhone by combining 3 (or more?) exposures from a bracket capture, quickly. There are a bunch of applications which do this through the camera API on Android, but the result is too much time between frames and more chance of shift. I captured a few HDRs using the in-camera option which looks great. The other is the blue filter button which pops you into some vaguely Instagram-like options, including vignette, a depth of field filter, and others.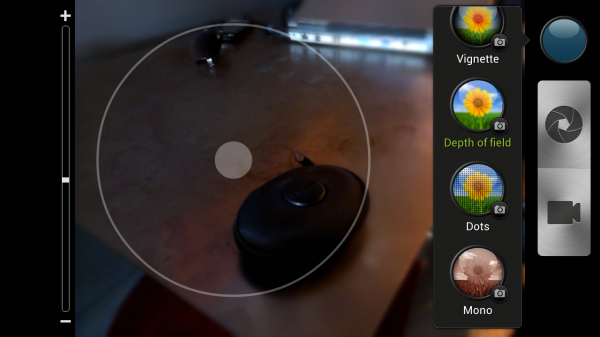 There's no dedicated video or still mode, instead to start taking video or images you just tap the appropriate button. Still image capture is basically instantaneous, and just like the Galaxy Nexus there's continuous auto focus running, alternatively you can tap to focus on a specific region before capture. The other feature is what I mentioned briefly before - continuous capture (by holding down the button) and the ability to select from what the ISP determines is the best of those captures, or save the whole series.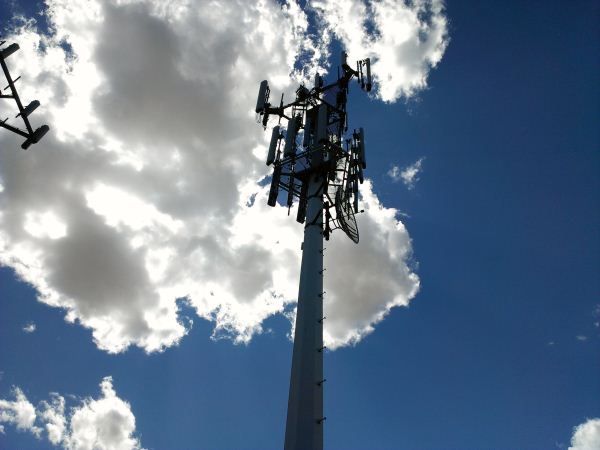 An AT&T eNodeB - Captured with the HTC One X (AT&T) - How meta...
To get to the bottom of still image quality, we turned to our regular set of evaluation tools, consisting of both photos taken in a fixed smartphone lightbox test scene with the lights on and off, with test charts (GMB color checker card, ISO12233, and distortion), and at our smartphone bench locations.
I'm very impressed with HTC's One X/S series camera, to say that HTC has made massive improvements is an understatement. The One X has some of the best (if not the best) low light performance I have seen from a smartphone, no doubt in thanks to that fast F/2.0 aperture and noise reduction they're doing on their ISP. HTC's optics are very controlled with minimal distortion and remain nice and sharp across the field, which is no small feat. The lights on lightbox sample has great color saturation, sharpness, and dynamic range. In the dark with the flash on, their ability to control LED brightness also helps avoid the washed out flash look that I see from other smartphones as well.
The other part is that HTC's optical system now has a low enough F/# to overcome the small 1.4µm pixels and deliver shallow enough depth of field to actually show some nice, visible bokeh. It isn't perfect, but it's definitely there.
I think with the HTC One series it's time to add HTC to the short list (Nokia, Apple) of smartphone vendors doing more than just integrating a module into their smartphone platforms.
Video
Video is the other part of the camera puzzle, and here ultimately HTC has to touch the SoC for video encode, which isn't done on ImageChip. At that point there's going to be some differences between platforms, but at the high end (everything but the One V) 1080p30 video encode is in order.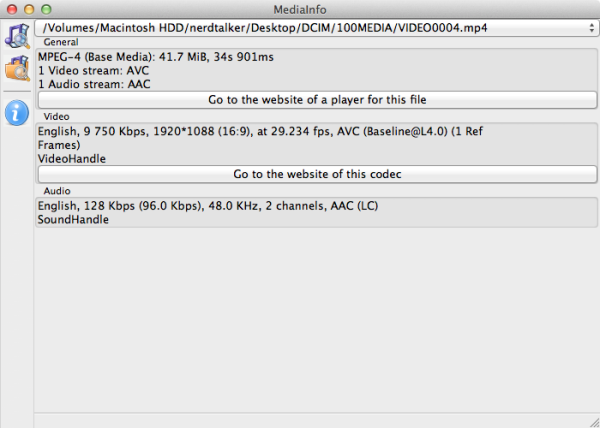 In the case of the One X on AT&T, that means 1080p30 video encoded at 10 Mbps H.264 baseline with one reference frame. That's unfortunate since I know that MSM8960's encode blocks can do more, but I've seen similar for a while now from other vendors. Audio is 128kbps stereo AAC. The One X also can do 60 fps video capture at the rather odd 768x432 resolution, which plays back at around 24fps. I'm still waiting for a platform that can do 720p60 properly, unfortunately. Front facing video is 5 Mbps 720p30 also at H.264 baseline.
I have no complaints with video capture quality other than that I feel quality would get a bump from either higher bitrate or better encode. That said there isn't much distracting macroblocking or other annoying artifacts. HTC also gives you control over whether you want to stabilize video or not in the menus.
Rear 1080p Sample

Front 720p Sample
Rear Slow Motion Sample
As usual I've uploaded the videos to YouTube, and to the AT servers for you to download in a zip without YouTube's transcode.
The One X has a 4.7" 1280x720 display that's beautiful, dubbed the "infinity screen." In fact, that's really all you need to know about it - it's absolutely wonderful, and honestly if you're concerned with mobile displays just stop right there. At above 4.5" diagonal, 720p seems to be the new norm, and the combination of that 4.7" diagonal size and 720p on the HTC One X results in a PPI of 312. HTC shipped a device with an LCD display last year whose pixel density exceeded the iPhone 4/4S Retina Display for the first time in the HTC Rezound, which was 341 PPI.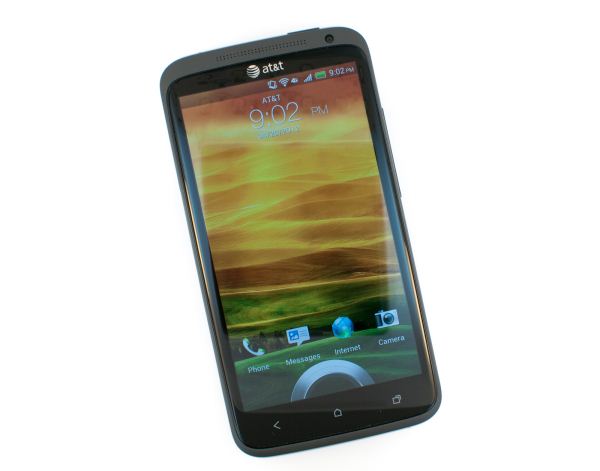 Nevertheless the HTC One X still has subpixels small enough that I can't visually distinguish them at all but from the most extreme distances. In addition, because it's LCD you get an RGB stripe as opposed to PenTile RGBG like what currently ships on Samsung's SAMOLED HD displays at 720p in the Galaxy Nexus.
I did some poking around, and my HTC One X (AT&T) review unit has a Sony display:
[DISP] mipi_video_sony_hd720p_init: assign initial setting for SONY_NT id 0x18103 Cut1, PANEL type = PANEL_ID_ELITE_SONY_NT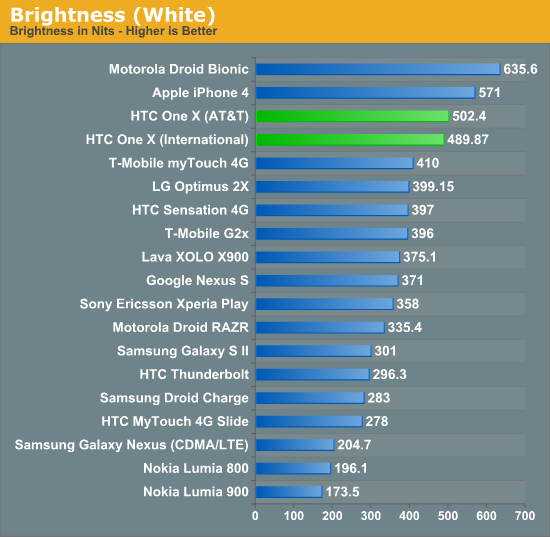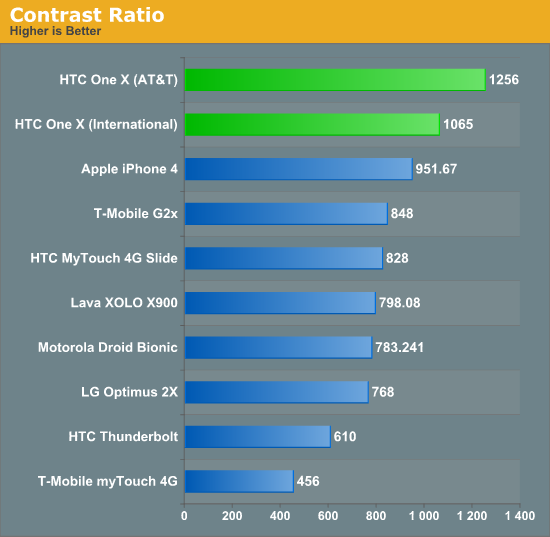 The panel goes extremely bright, at over 500 nits maximum, and has top of the chart contrast. As always I characterized the One X display using a combination of ColorHCFR and an i1D2 and Francois' excellent Voodoo Screen Test Pattern generator application.
I've made both the color.chc file and measures available. The CIE diagram shows that HTC's Infinity Display has very close to sRGB coverage, however color temperature is on the red side at just under 6000K. That's really my only gripe, and curiously enough the One S with SAMOLED qHD displays are closer to 6500K than the LCD packing HTC One Xes.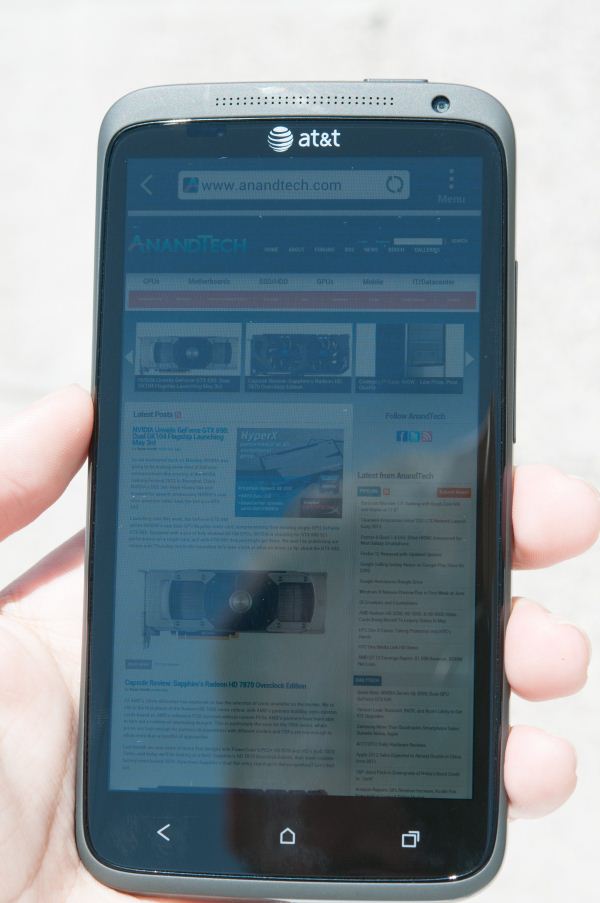 Viewing angles look good on the HTC One X, there's no visible color shift at extreme angles. Outdoor viewing is also pretty good on the HTC One X, thanks in part to optical bonding between the display glass and LCD itself. One fewer air gap means fewer Fresnel reflections which quickly turn a display into a mess outdoors.
Cellular
I stated before that AT&T's HTC One X is really a One XL, and that the L connotes LTE inside. The reason is that the phone is based around Qualcomm's MSM8960 which includes the company's latest and greatest baseband. It's the same block as what's in MDM9615 (which we await with bated breath), and again gets 28nm goodness. MSM8960 supports virtually every air interface - CDMA2000 1x/EVDO up to Rev. B (multicarrier), GSM/EDGE, WCDMA (up to DC-HSPA+ Cat.24), TD-SCDMA for China, and of course LTE up to category 3 with 3GPP Release 9. A couple specifications pages erroneously list the One X AT&T as supporting AWS for WCDMA, however the device does not work with T-Mobile WCDMA and the One XL page lists the correct air interface support.
HTC One X AT&T- Network Support
GSM/EDGE Support
850 / 900 / 1800 / 1900 MHz
WCDMA Support
850 / 1900 / 2100 MHz
LTE support
700 MHz (Band 17), AWS (Band 4) - UE Category 3
Baseband Hardware
MSM8960 Baseband
HSPA Speeds
HSDPA 21.1 (Cat 14) / HSUPA 5.76 (Cat.6)
In the case of the AT&T One X, we're talking about 5 or 10 MHz FDD-LTE and HSPA+ up to 21.1. Even though the baseband can do multicarrier HSPA+ with ease, AT&T still is only running 16QAM (HSDPA 14.4) in most markets, and 64QAM in some (HSDPA 21.1), though I've never ever seen it. The device is limited using some parameters set in build.prop like I've seen before:
ro.ril.hsdpa.category=14
ro.ril.hsupa.category=6
ro.ril.hsxpa=4
HSDPA Category 14 corresponds to 21.1 Mbps, and category 6 on the uplink is what everyone is running at maximum right now, at 5.76 Mbps. The FCC filing for the AT&T One X includes note that this is indeed LTE Category 3, and the expected LTE Band 4 and 17 compliance with both 5 and 10 MHz channels.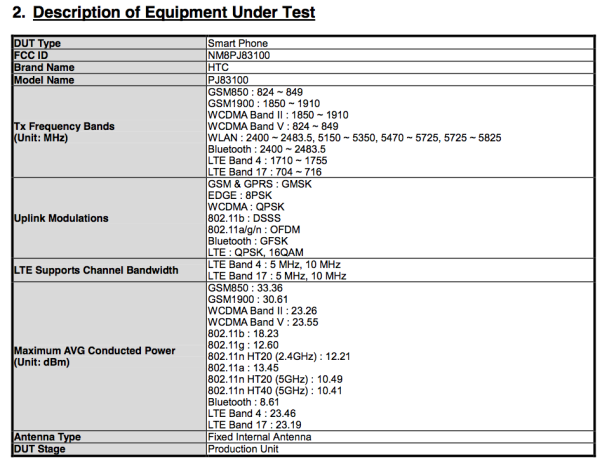 The AT&T One X uses circuit switched fallback (CSFB) to deliver WCDMA 3G voice when in an LTE market, the switch to IMS voice will come later, but for now know that there's no simultaneous voice and LTE, you hard handover to WCDMA, do the call, then hand back up.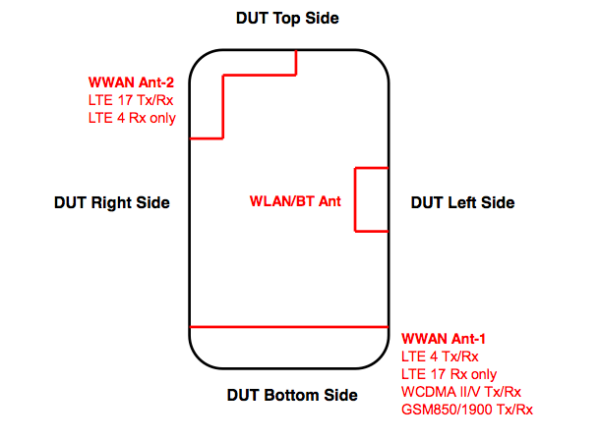 HTC One X AT&T Antenna Locations
One of the first things I usually do on any smartphone that's handed to me is look for Field Test, and on WCDMA/UMTS HTC phones that's usually found through dialing *#*#7262626#*#*. I know that at least one prototype HTC One X (AT&T) model was verified to have field test which launched with that well known dialer code. Unfortunately, all of the HTC Ones have no such field test/engineering menus - I've searched using all the tricks I know and found nothing. That said you can still get LTE RSRP and RSCP under About -> Networks, or from alogcat on the One X AT&T. I would still prefer proper FieldTest with RRC state information, it's unfortunate to see HTC sanitizing release images prior to launch, and I'm not sure what the motivations possibly could be for removing this even on the international variants.
To test AT&T LTE on the HTC One X, I drove a total of over 350 miles up to and around Phoenix, AZ, an AT&T 10 MHz FDD market, and ran over 180 tests using the speedtest.net app, which I then exported and made some pretty histograms from. The results are pretty positive, with a few spikes over 60 Mbps - as a reminder the theoretical maximum for 10 MHz FDD-LTE on a UE Category 3 device is 73 Mbps.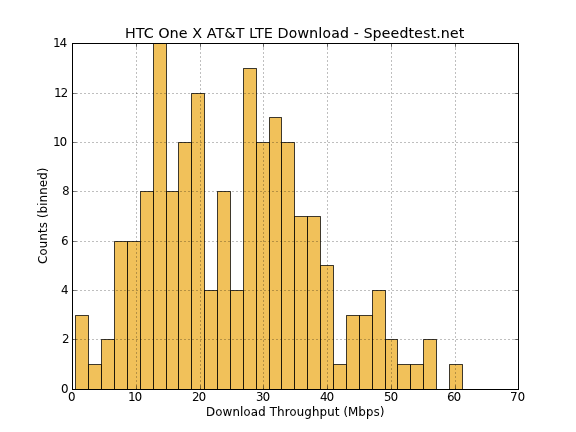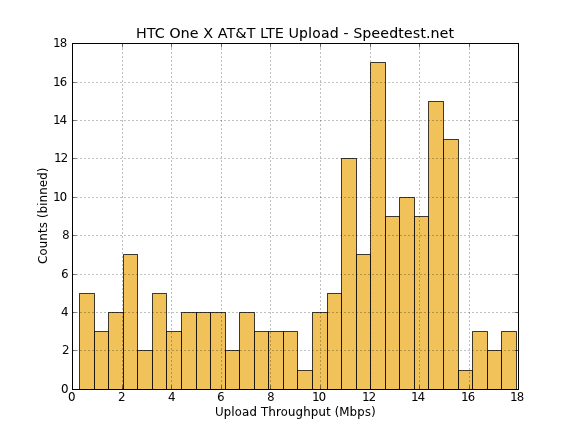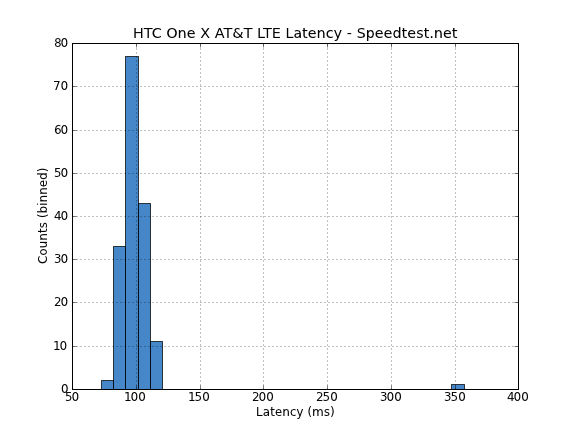 AT&T LTE is quite fast, although it is admittedly still nascent and thus not quite as loaded with as many devices as Verizon's. That said 60+ Mbps tests are always good fun to see without much effort at all. I drove around and spotted a number of LTE base stations in Phoenix, AZ with remote radio heads, which means vastly reduced cable losses.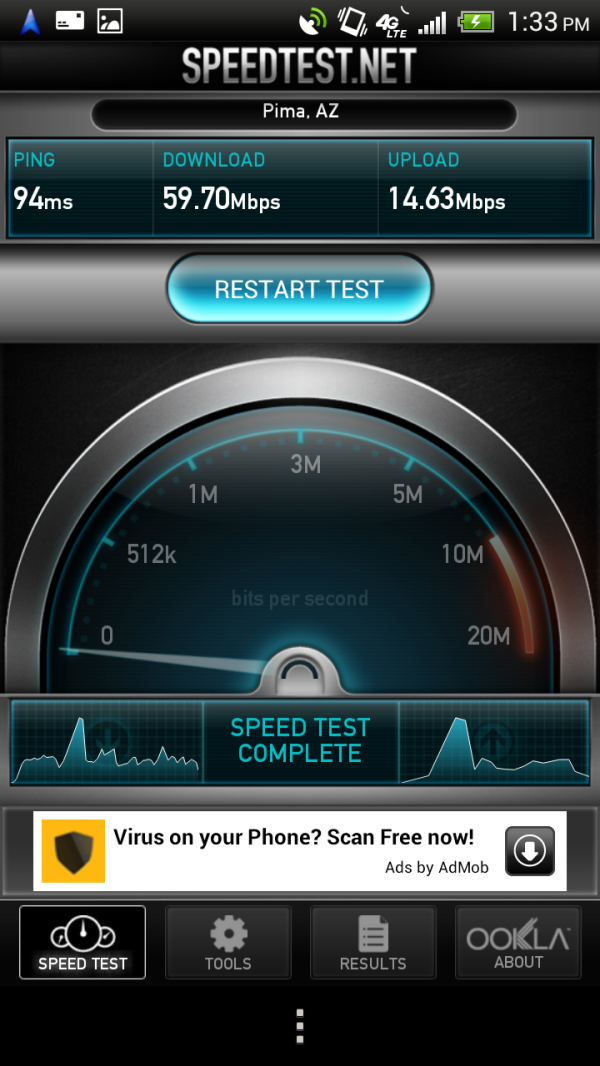 One of my best AT&T LTE tests
On HSPA+ in my home market, I was able to hit impressive speeds thanks to the combination of both the default LTE "pta" APN for AT&T data, and Rx diversity on the One X.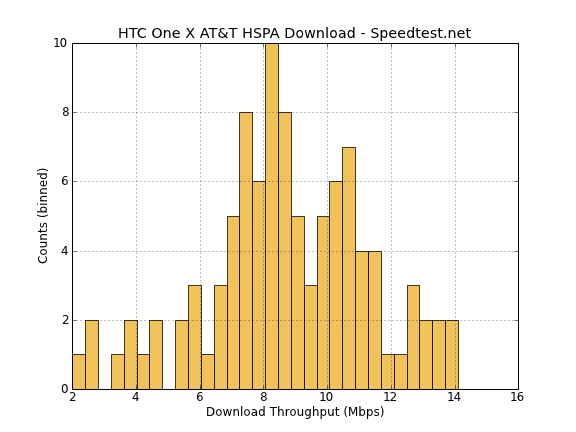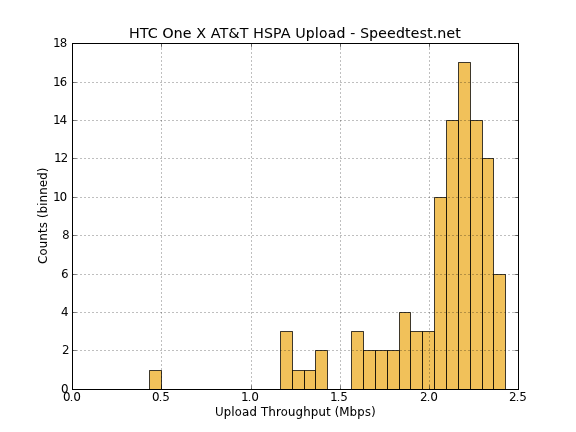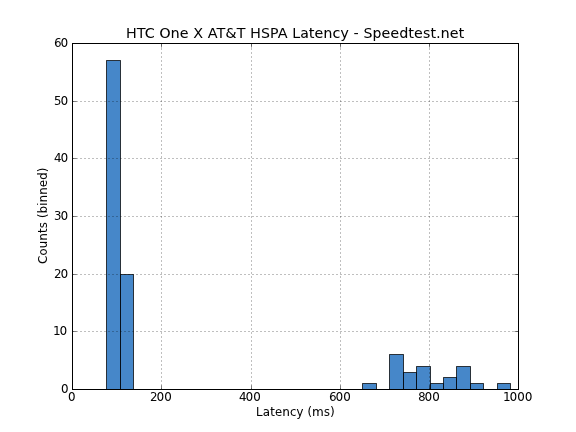 On HSPA+ I'm able to hit right up near the 14.4 theoretical maximum for single carrier WCDMA with 16 QAM in my market. This is very impressive considering other devices I have routinely get 10–11 Mbps maximum in the same conditions.
GNSS
Like many other Qualcomm based devices, the HTC One X uses the gpsOneGen 8A with GLONASS GNSS system for location. It locks almost instantaneously indoors, and performs great.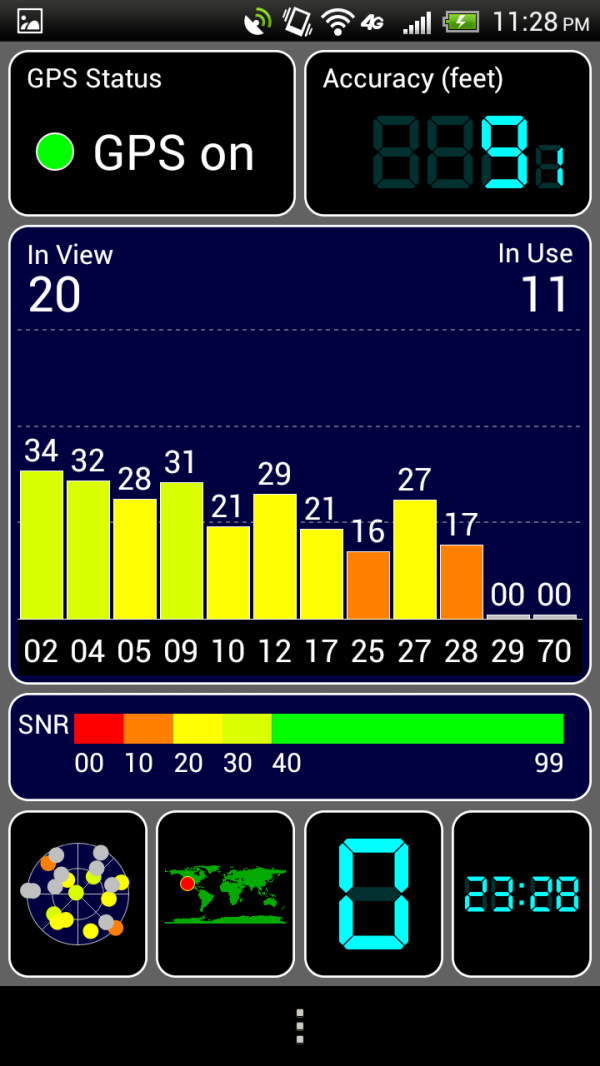 The GLONASS behavior of this system is like other QCT systems I've seen, wherein it only looks for the GLONASS constellation when GPS SNR is low. You can see these with GPS Test and satellites numbered 65–68.
WiFi
WLAN and BT 4.0 on the HTC One X is courtesy onboard "wcnss_wlan" which I take it means the WiFi baseband onboard MSM8960 with some external RF (WCN3660). What's interesting to me is that this is the first device I've seen that will tune 40 MHz channels on 5 GHz. The full breakdown is as follows - single spatial stream 802.11a/b/g/n with 20 MHz channels on 2.4 GHz, 40 MHz channels on 5 GHz, with all modes supporting the short guard interval rates. That means up to a 72 Mbps rate for 2.4 GHz, and 150 Mbps on 5 GHz. Note that the internal WiFi information screens erroneously report 65 Mbps in all conditions even when the MCS negotiated with an AP is higher.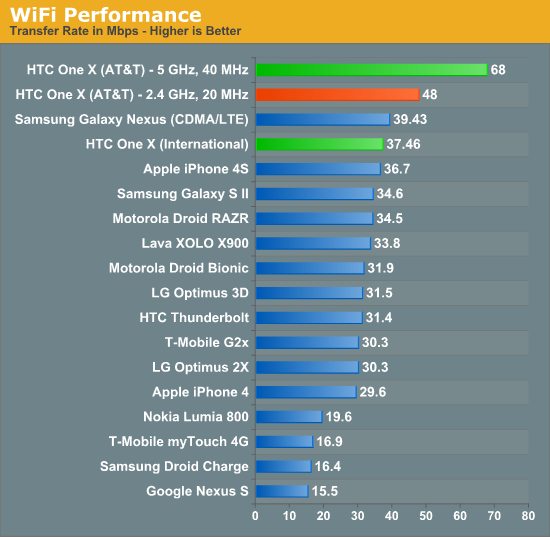 HTC includes the proper band preference tab inside the advanced settings for WiFi, alongside an interesting high performance / higher power checkbox.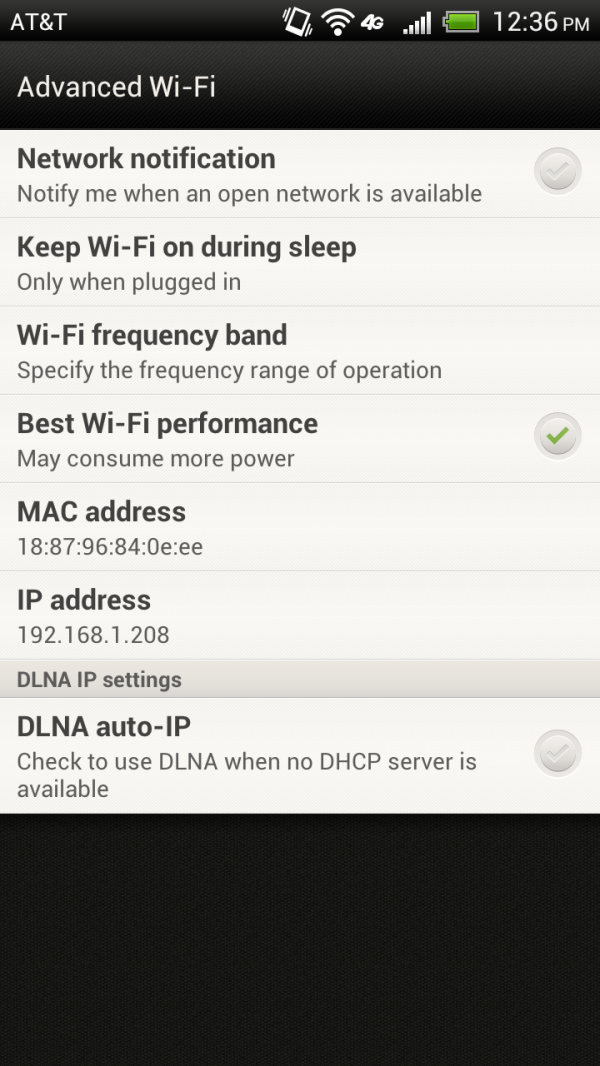 I'm not entirely sure what the checkbox does, but the band preference tab (which mirrors that from Galaxy Nexus) works properly. Unsurprisingly the One X posts the highest WLAN throughput I've seen from a smartphone to date.
NFC
The One X includes NFC tag and beaming support courtesy the ubiquitous NXP PN544. It works as expected and is exposed in the right way as far as I can tell. I tested both beaming with a Galaxy Nexus and my trusty NFC tag from the Nexus S review.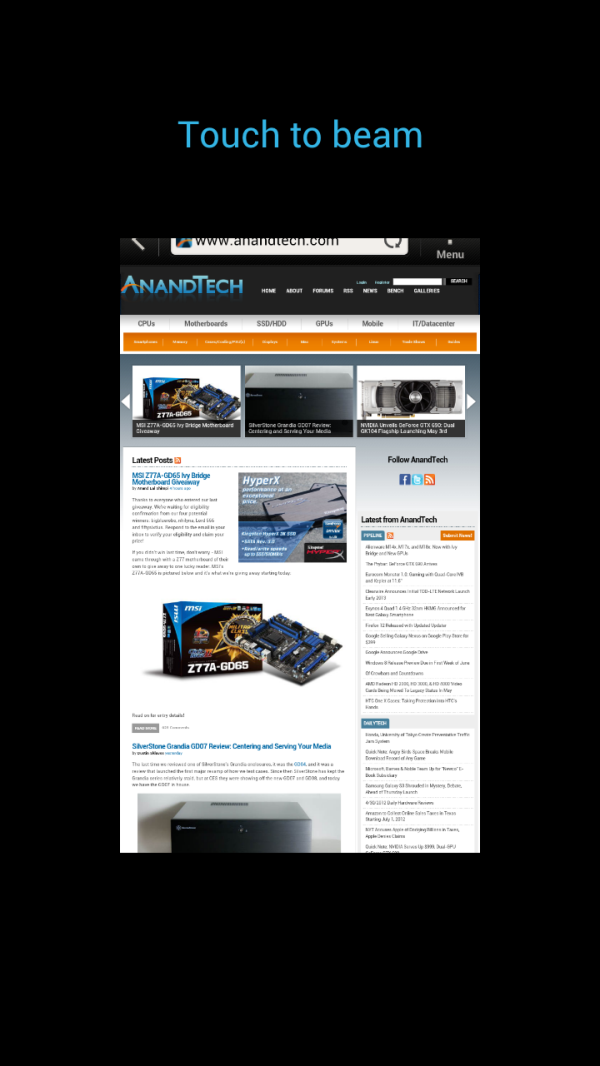 Calls and Speakerphone
Noise suppression on the HTC One X is courtesy an Audience A1028 voice processor, a part we've seen a lot of in recent years. The One X again locates a primary microphone at the very bottom, and a secondary microphone at the very top of the device. With these two, the Audience chip can do some DSP and isolate out noise very effectively. I've recorded a demonstration the way we normally do just so illustrate, and unsurprisingly it works very well.
HTC One X AT&T - Noise Rejection by AnandTech
Next up, I tested speakerphone volume the same way we always do, using an Extech digital sound data logger placed 3 inches from the device while calling the same ASOS weather station.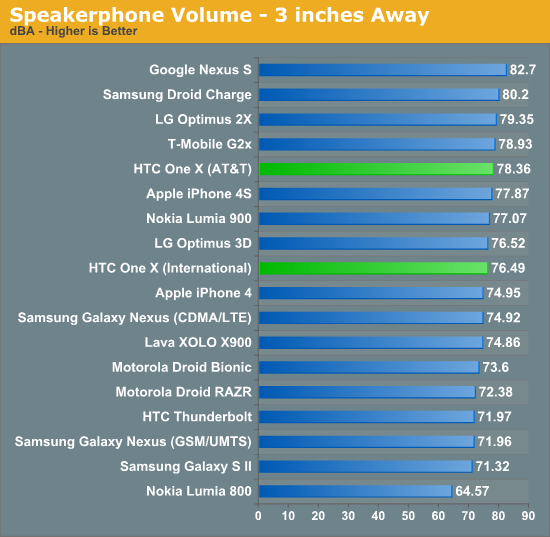 The speakerphone on the One X is on the backside and unfortunately lies nearly planar with the surface. Speakerphone volume on the HTC One X is loud enough to be good, but not chart topping.
Conclusions and Final Thoughts
The HTC One X is quite simply the smartphone we wished Google had launched Ice Cream Sandwich. It has an amazing display, arguably the best balance of performance and power efficiency in an SoC and a truly outstanding design. In a sea of Android devices that mostly look the same, the HTC One X definitely stands out. It really is the best Android smartphone on the market today.
The industrial design and build quality are easily the best HTC has ever put forward. The One X feels incredibly solid and just looks great. The slight curve to the front surface lets you glide your finger smoothly over the display without hitting an abrupt edge as you approach the end of the device. The back of the One X is distinctly HTC, but obviously more modern. Of anything that has launched thus far, it's probably our favorite looking Android smartphone.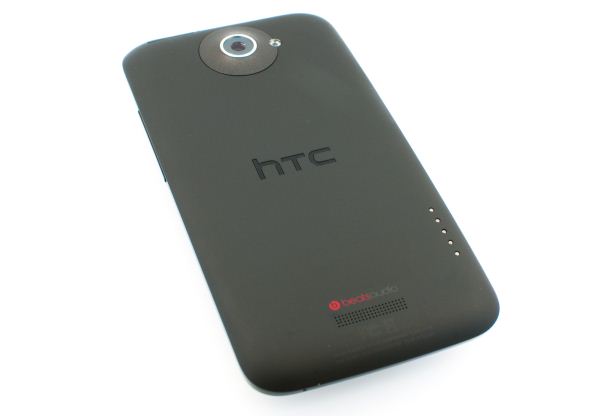 The conclusion for all of HTC's One series reads pretty much the same - HTC has done an extraordinary job both creating its next generation of devices (the One S and One X specifically) and identifying the importance of a concise, unified message. Getting behind either a single device or series and being consistent about it is quite honestly the only way to do battle with the Samsungs and Apples of the world, both of which get this concept and have practiced it for a while now. Unified camera experience, software experience, industrial design, and accessories will make or break this next iteration for the rest of the handset makers. We're still working on finishing our review of the other HTC Ones (One S International, One X International, One S T-Mobile) but my thoughts remain the same for the One X International with Tegra 3 and the other One Ses with Krait - these are without question the best phones HTC has ever made purely because the experience of everything else is kept continuous across the board.
Thankfully the praise doesn't stop with aesthetics. Internally HTC has put together the best hardware available on the market today. The 720p Infinity Screen has the best contrast ratio of any smartphone we've tested, and is among the brightest we've used as well. There's no PenTile to worry about, it's simply one of the best displays if not the best we've reviewed in a phone.
The Qualcomm Snapdragon S4 (MSM8960, "Krait") SoC is easily the fastest or among the fastest on the market today. Android feels very smooth and snappy on the AT&T One X. Applications load quickly, as do web pages. Although the GPU isn't all that new, GPU performance is still quite good. The big draw however is the power efficiency of the hardware platform. In many cases the AT&T One X delivers either the best or among the best battery life of any smartphone we've tested.
For those of you wondering about the Snapdragon S4 vs. Tegra 3 comparison, the answer is pretty simple. It's very difficult to tell the performance difference between these two SoCs in day to day usage. Qualcomm has the scalar performance advantage, while NVIDIA has the heavily threaded performance advantage. On the GPU side, there's likely an NVIDIA advantage there as well. However in practice, you'd be hard pressed to tell the international (Tegra 3) One X and AT&T (S4) One X apart based on performance. Battery life however is a different story entirely. Today, the AT&T One X offers tangibly better battery life than the international version. There are software updates on the way for the One X (Tegra 3) that may narrow the gap, but we'll have to wait and see.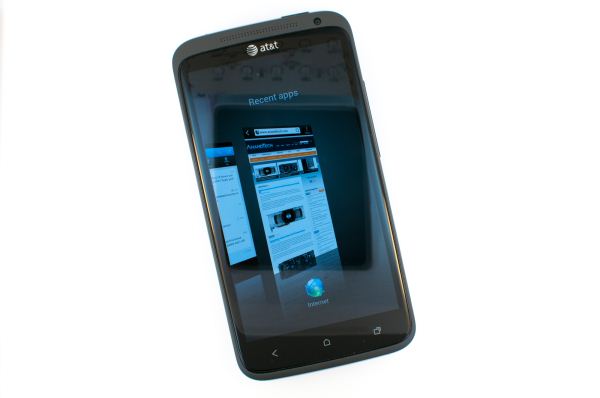 Then there's the camera. Once again, HTC is able to deliver one of the best if not the best smartphone camera with the One X. Low light performance in particularly impressive. The new Sense camera UI is a great match for the hardware as well. The ability to take photos while recording a video without a costly mode switch is both innovative and incredibly useful.
For months we've been recommending waiting for the first 28nm based smartphones before making a purchase. Our biggest fear was that the first 28nm LTE products would show up and be unimpressive, prolonging the wait. Thankfully HTC has put our worries to rest. The One X is an amazing first productization of Qualcomm's Snapdragon S4. It's absolutely everything we wanted. Furthermore, unlike phones released over the past 6 months, you aren't buying into an aging platform. There will be further revisions on Qualcomm's 28nm silicon, and a bunch of exciting stuff coming out early next year, but the One X's hardware won't be immediately obsolete.
If you've been waiting to buy a high-end Android smartphone, the One X is really the only one to get on AT&T.