Original Link: http://www.anandtech.com/show/5717/toshiba-portege-r835-less-ultra-more-notebook


Introducing the Toshiba Portege R835
With the deluge of ultrabooks stemming from Intel's initiative over the past few months, it's easy to forget ultraportables have been a part of the Windows PC landscape for quite some time. One of the unlikeliest sources was Toshiba; in 2010, a company that had been spending the last few years aggressively pursuing budget consumers produced a remarkably compelling ultraportable in the form of the Portege R700. We reviewed the R700 and found a lot to like, and Toshiba must have appreciated the notebook's excellent performance in both critical and commercial arenas.
Despite the steady march of progress with ultrabooks (due to get a shot in the arm soon with Ivy Bridge), Toshiba's Portege R700 hasn't gone untouched. Toshiba refreshed it with the R835, keeping the same basic chassis but enjoying the benefits of Sandy Bridge hardware and USB 3.0 connectivity. Forced to compete in a market with ultrabooks, the R835 strengthens the R700's value proposition with models starting at just $799 and featuring full voltage mobile processors from Intel while maintaining the same portable form factor.
Ultrabooks offer a healthy amount of performance in the sleekest of form factors, but sometimes end users just need a little more power and flexibility. Features that may have to be excised to hit that class can still be found in a notebook like the Portege R835, which enjoys all the comforts of a full-sized notebook without breaking your back...or the bank. Here's what our review unit came equipped with:
Toshiba Portege R835 Specifications
Processor
Intel Core i5-2450M
(2x2.5GHz + HTT, Turbo to 3.1GHz, 32nm, 3MB L3, 35W)
Chipset
Intel HM65
Memory
1x4GB Samsung DDR3-1333 and 1x2GB Samsung DDR3-1333 (Maximum 2x8GB)
Graphics
Intel HD 3000 Graphics
(12 EUs, up to 1.3GHz)
Display
13.3" LED Glossy 16:9 768p
TOS5091
Hard Drive(s)
Hitachi Travelstar 5K750 640GB 5400RPM SATA 3Gbps HDD
Optical Drive
Matsushita DVD-RAM
Networking
Intel WiFi Link 1000 802.11b/g/n
Intel 82579V Gigabit Ethernet
Audio
Realtek ALC269 HD Audio
Stereo speakers
Headphone and mic jacks
Battery
6-Cell, 11.1V, 66Wh
Front Side
-
Right Side
SD Card Reader
Optical drive
Headphone and mic jacks
USB 3.0
Ethernet
Left Side
AC adaptor
Exhaust vent
VGA
eSATA/USB 2.0 combo port
USB 2.0
HDMI
Back Side
-
Operating System
Windows 7 Home Premium 64-bit SP1
Dimensions
12.4" x 0.72-1.05" x 8.94" (WxHxD)
315mm x 18-27mm x 227mm
Weight
3.2 lbs
1.45kg
Extras
Webcam
USB 3.0
Warranty
1-year limited
Pricing
Starts at $799
As configured: $849
Just from the dimensions and weight you can tell the R835 isn't really that much bigger than an ultrabook would be, but Toshiba outfits it with a full voltage Intel Core i5-2450M, a latter day incremental update from the i5-2430M (100MHz higher base and turbo) for Sandy Bridge released early this year. Alternately, the i5-2450M is comparable to the older i5-2520M, but has slightly lower (100MHz) turbo clock speeds. Attached to the i5's memory controller is 6GB of DDR3-1333; realistically the only difference between our review unit and the base level R835 is the extra 2GB of memory and $50 on the price tag. I wouldn't expect the boost in memory to impact performance greatly, particularly in our benchmarks, so prospective shoppers can probably steer clear and save some money buying the least expensive model.
What should attract some attention is the relic sitting in the 2.5" drive bay. We get a lot of higher end systems in for review, and with the push for ultrabooks we've gotten so used to seeing SSDs in notebooks that it's surprising to see a mechanical hard disk in a machine, much less one as slow as the 640GB, 5400RPM drive by Hitachi that occupies the R835. Thankfully it's user replaceable, but using a slower drive is a shock to the system when you've been playing with machines that come equipped with SSDs.
One of the major points where the Portege R835 sets itself apart is the inclusion of an optical drive. While the optical drives in my notebooks very seldom see use, I can recognize enough situations where one can be useful that it's easy to understand why someone might be willing to sacrifice a little bit of extra carrying weight just to get that perk included.
Everything else is pretty much par for the course, although it's nice to see a 66Wh battery standard in the Portege R835 instead of a smaller capacity one. This is usually one of the first places major vendors shave costs for consumer notebooks, and while 66Wh isn't mind-blowing, it's healthy enough to keep the R835 on its legs for a while. Other than the lack of an SSD and a stock voltage CPU (not that that's a bad thing), the only area where the Portege fails to achieve ultrabook status is in thickness: it's about 0.2" too thick at the back.
Don't Mess With Success?
While no company makes a product expecting it not to sell, I remember reps from Toshiba telling me in a meeting about how surprised they were by the original Portege R700's success. The slim form factor, matte plastic shell, and chiclet keyboard were a major departure from their other notebooks, but the success with the design seemed to have struck such a chord that Toshiba took design cues from the R700 and adapted them part and parcel to the Tecra R800 series.
Progress in the industry can be slow, though, and while I've seen some of the pretty radical changes Toshiba has planned for the back-to-school season this year, the Portege R835's shell hasn't really changed much from its predecessor. You could go back and take a look at Vivek's thoughts on the R700's design and apply most of the same information to the R835.
The difference, though, is that his review unit was north of $1,600. The one we have on hand is just $849, and what's unacceptable at a premium price can merely feel like a compromise at a more mainstream cost. Gone from our unit are the fingerprint reader, matte display, and ExpressCard slot; the one concession we get back is the USB 3.0 port, which is welcome enough.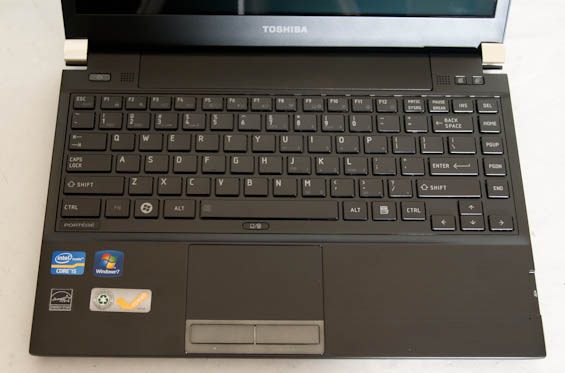 My feelings do echo Vivek's regarding the keyboard, though. While the touchpad and touchpad buttons are perfectly fine and even pleasant enough to use, I'm not a fan of this keyboard. The slightly shorter keys Toshiba employs for this keyboard (and for the one on their ultrabook, the Portege Z830) feel just different enough in size to throw off my typing, and the action of the keys themselves is on the mushy side. I'm also not sure why Toshiba persists in using a glossy finish on their "premium" keyboards; the matte keyboards they use on lesser notebooks are actually more comfortable and practical in my opinion. To their credit, Toshiba continues to use a generally fantastic key layout, with dedicated document navigation keys and arrow keys that are all the same size.
With all that in mind, the relative absence of gloss elsewhere on the notebook is much appreciated. The matte black plastic with brushed aluminum pattern looks slightly chintzy, but generally it's the kind of minimalistic aesthetic that I personally enjoy. The placement of expansion ports is smart, and access panels on the bottom allow the end user to quickly and easily replace the memory and 2.5" drive. Something else you're not liable to see in an ultrabook (besides the optical drive) is present here, too: a user-replaceable battery.
I'm not necessarily wowed by the Portege R835 as a whole, but I'm not underwhelmed by it either. Toshiba's designers seem to have tried to make the most of the limited real estate the form factor provides, and while nicer build materials would've probably helped they also would've been liable to drive the total system cost up.
System Performance
Essentially what we're dealing with when we look at the Toshiba Portege R835's full voltage mobile processor is just how much performance an ultrabook sacrifices to hit that 17W TDP on the CPU. There's more to it than that, but there are also potentially some interesting wrinkles going on with the Intel Core i5-2450M in the R835 that may manifest themselves.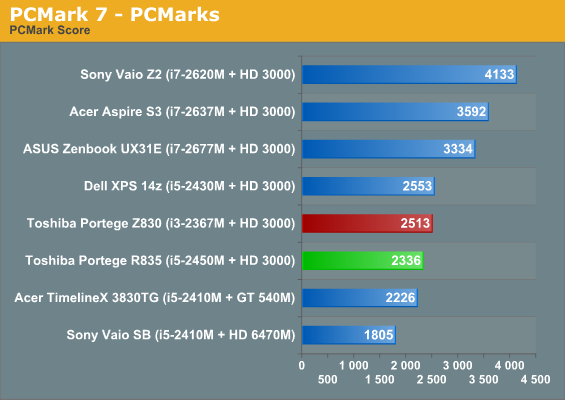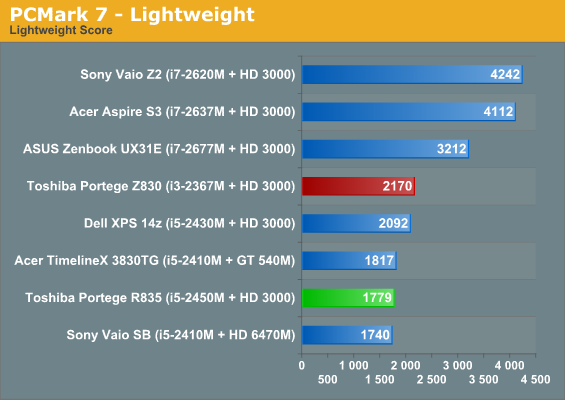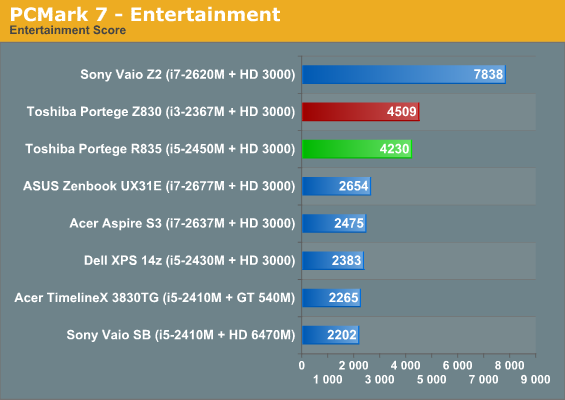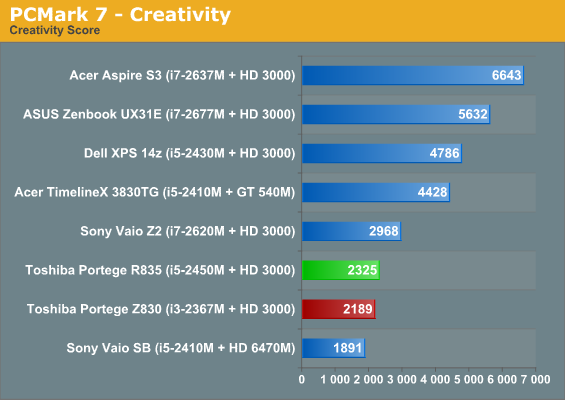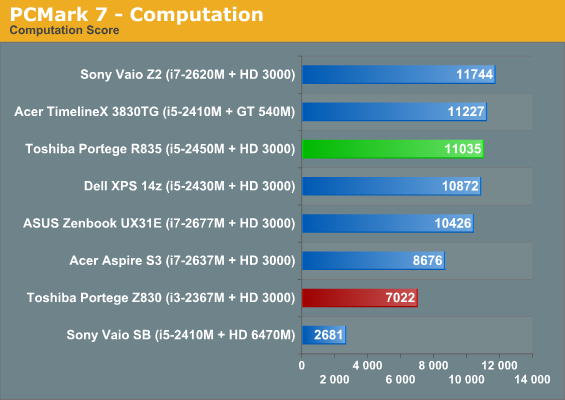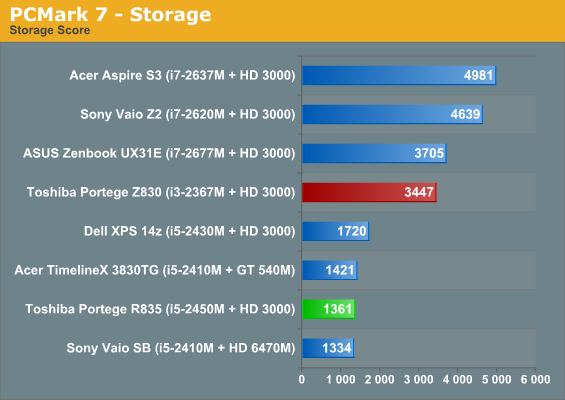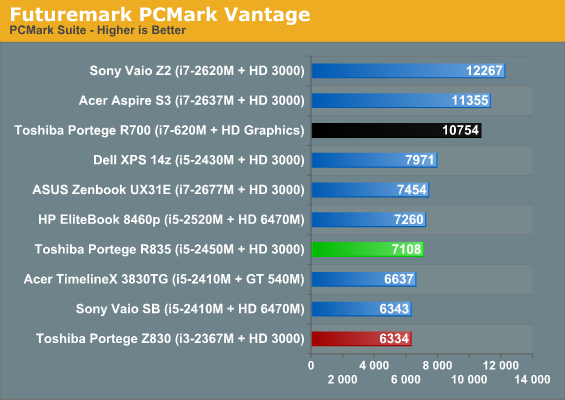 The PCMarks are always going to skew wildly towards any system that enjoys an SSD, so the bottom shelf 5400RPM hard drive in the Portege R835 isn't doing it any favors here. Let's see what happens when we shift performance squarely to the CPU.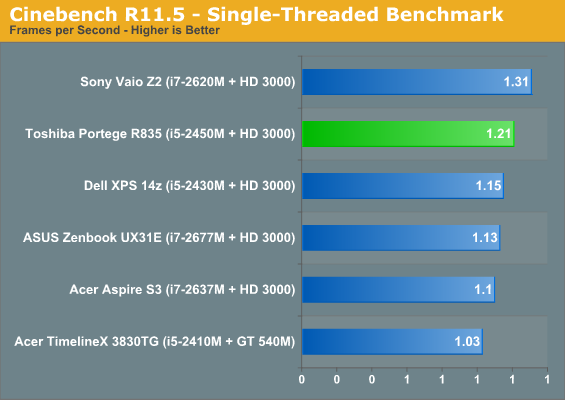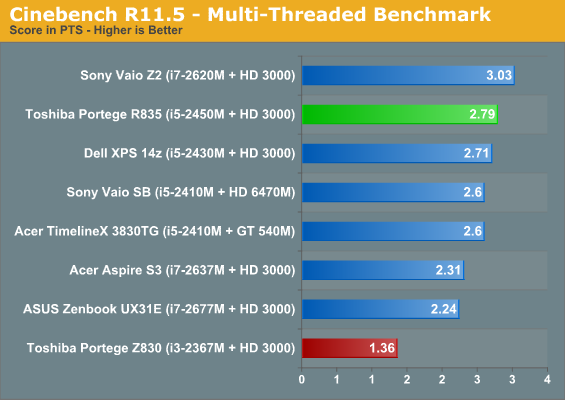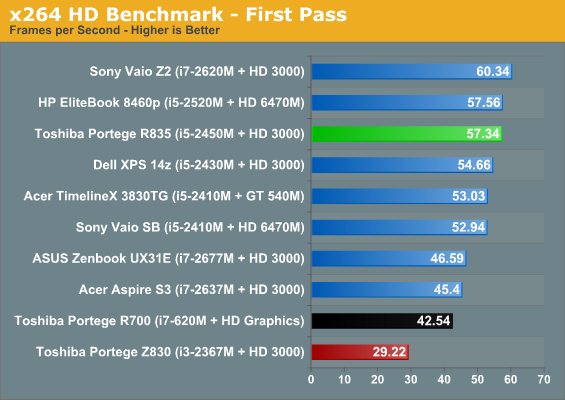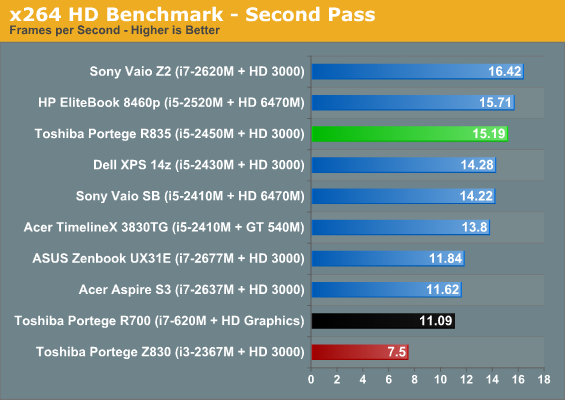 The i5-2450M pulls off an impressive run, demonstrating that there's still a notable difference between a low voltage and a standard voltage chip. The R700's last-generation processor is soundly beaten by this generation's low voltage chips, the turbo-less i3-2367M excluded.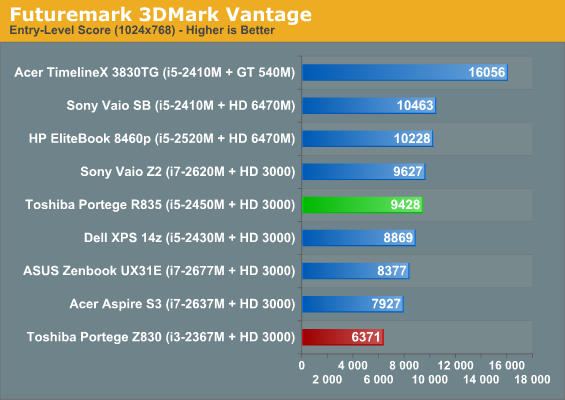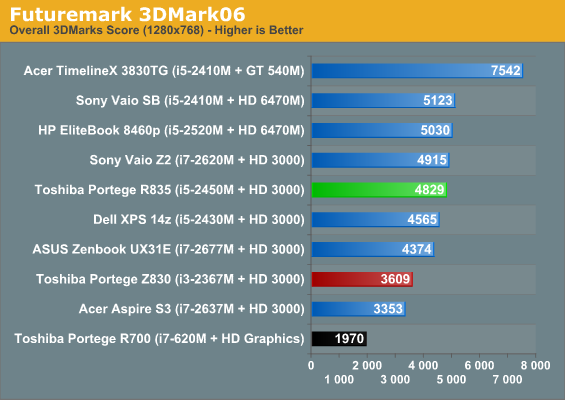 Without DirectX 11 support, Sandy Bridge graphics can't run 3DMark11, but 3DMarks Vantage and 06 demonstrate the importance of both having a faster processor and a faster IGP core. You're not going to be running wild in Battlefield 3 on the Portege R835, but nerds like me can still enjoy games like Magic: the Gathering - Duels of the Planeswalkers 2012 on the IGP.
Battery Life
Where the Toshiba Portege R835 really benefits from Sandy Bridge and excels over its predecessor is in running time on the battery. Toshiba lists the battery life for the R835 as approximately nine hours, a hurdle we were actually able to clear pretty easily at idle.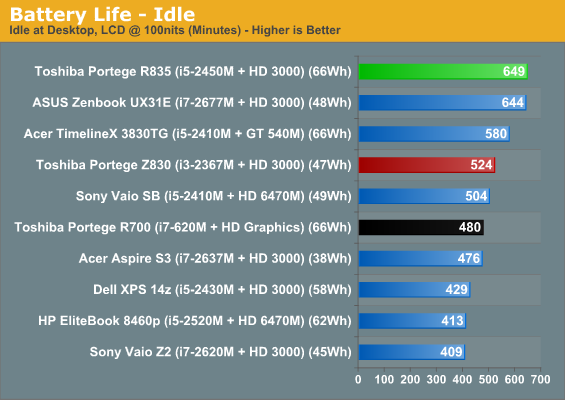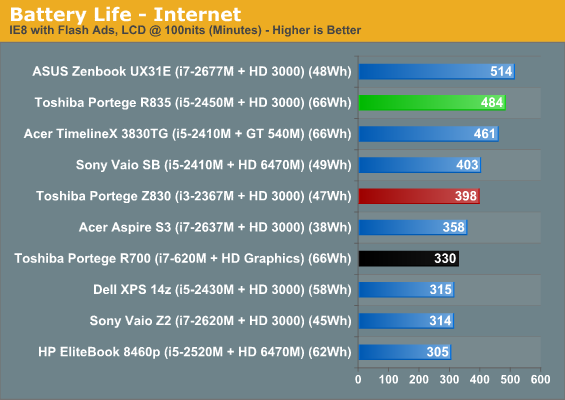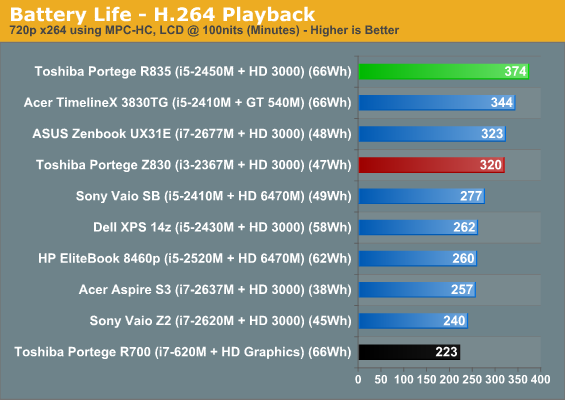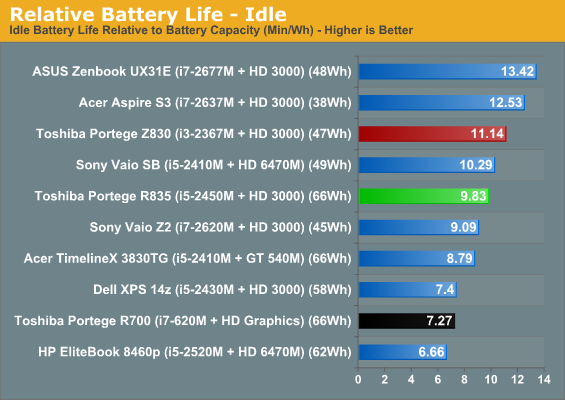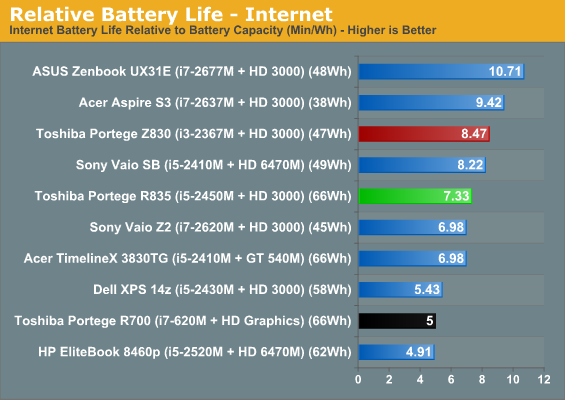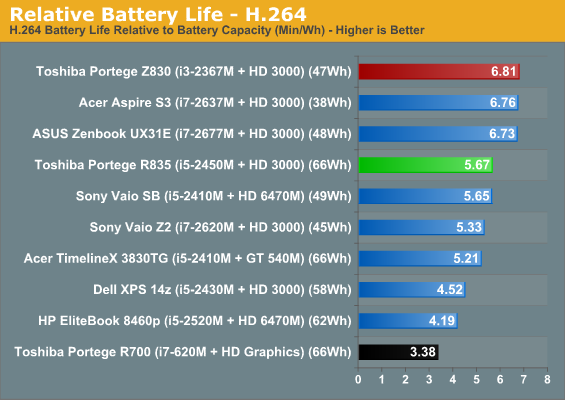 From our test results it's reasonable to assume an end user could hit that nine hour mark if they're willing to sacrifice some display brightness, or if they turn off the wireless once in a while. The Portege R835 also again demonstrates something we've been aware of for a while now: Sandy Bridge is just plain more power efficient than Arrandale. Given we're essentially looking at an updated R700, Sandy Bridge vs. Arrandale ends up with Sandy Bridge offering 35% more idle battery life, 47% more Internet battery life, and a massive 68% more video playback battery life. I makes us wonder how much further Intel can take things with Ivy Bridge, but we'll find out soon enough.
Heat and Noise
Fortunately, the high-pitched whine of the fan noise in many ultrabooks and particularly machines like Sony's Vaio Z2 isn't replicated in the Portege R835; Toshiba's notebook, even under heavy load, isn't actually that obtrusive.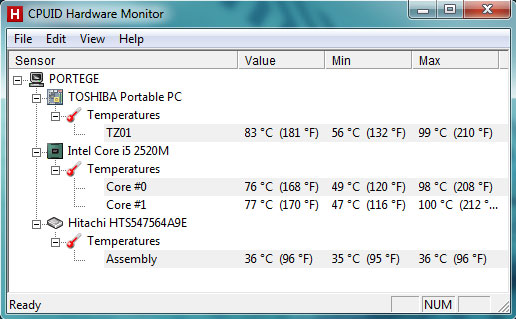 Ignoring HWMonitor misreading the CPU model number, we can see there's a very good reason why fan noise isn't a huge issue with the Portege R835: the processor is basically cooking itself. This is a situation that's basically inexcusable and prevents me from making a recommendation full-stop. I was concerned thermals would prevent the i5-2450M from hitting its turbo clocks consistently after seeing these results, but apparently it's not an issue...the chip just runs very hot in this notebook.
While it's true modern processors take care of themselves to avoid burning out, I still can't help but feel like these kinds of thermals are a warranty call waiting to happen. Once dust starts accumulating in that fan it's going to be game over. This heat doesn't directly translate to the keyboard or the bottom surface of the notebook, but it's there and worthy of concern. Anecdotally, we've seen several older laptops that erred on the side of silence rather than cooling that developed serious issues over time—Jarred in fact just helped someone with a Core 2 Duo laptop that was shutting down and running horribly slow thanks to dust buildup. If you do buy a laptop like this, we definitely recommend regular dust cleanouts with compressed air, at least a couple times per year.
Another Low Quality TN Panel
I recently enjoyed a meeting with Toshiba reps to discuss their upcoming back-to-school lineup. When asked what my biggest pet peeves were when reviewing notebooks and what bothered me the most, it'll surprise no one to say lousy monitor quality was at the top of my list.
Each time I write about a notebook with a crappy display, more and more people get irate in comments, and many of you simply write off the review. The unfortunate fact of the matter is that hardware like this is still what's prevalent in the marketplace, and that Joe Consumer either doesn't seem to care that much about screen quality or just doesn't know to ask for better. That tide may change with the rise of tablets, but there are people who see text on a high resolution screen, see that it's "too small," and just assume the screen quality is poor. So this problem persists.
Writers here have the unique luxury of being able to interact directly with representatives from the vendors producing these notebooks, and "stop giving us crappy panels" is a banner we continue to wave. In the meantime, though, understand that if we stopped reviewing notebooks with bad panels we'd be down to maybe one notebook review a month, and then you'd just wonder why we're not reviewing laptops.
With that spiel out of the way, it should come as no surprise that the Toshiba Portege R835's display is, once again, pretty bad.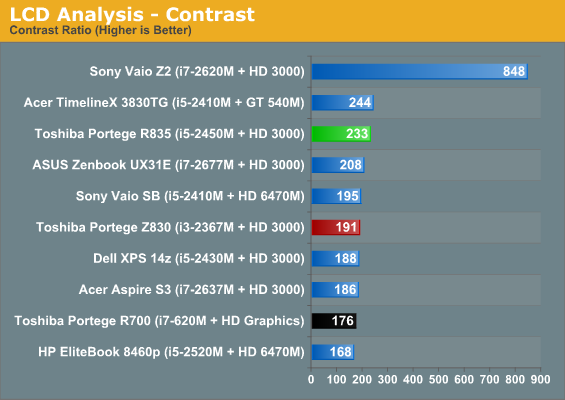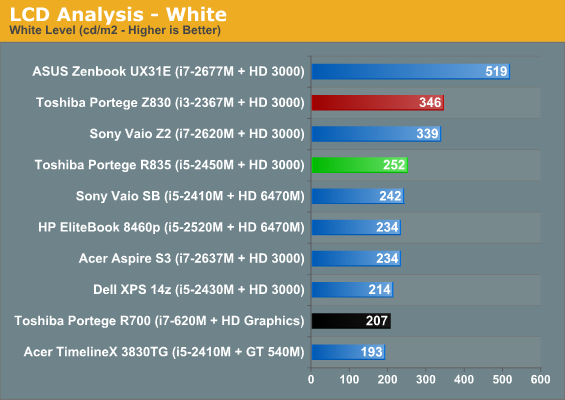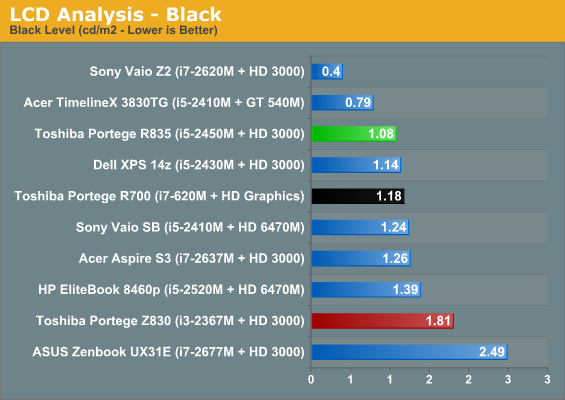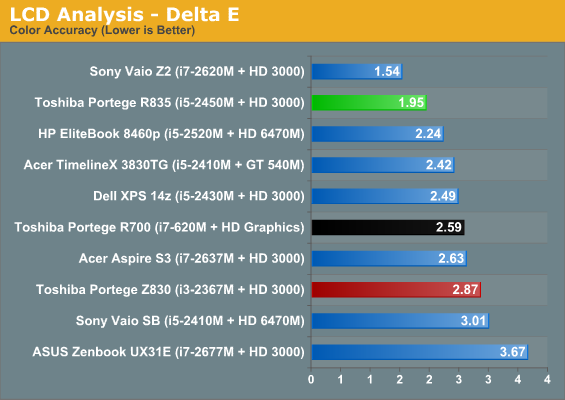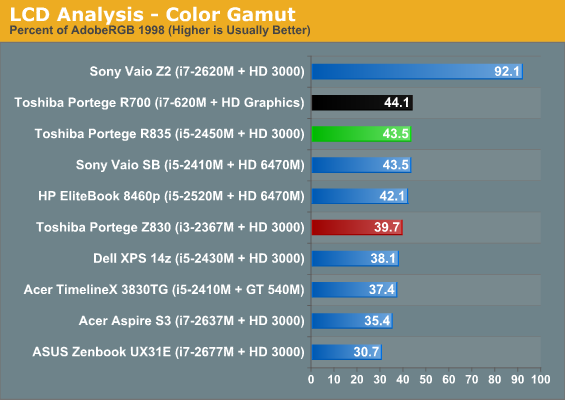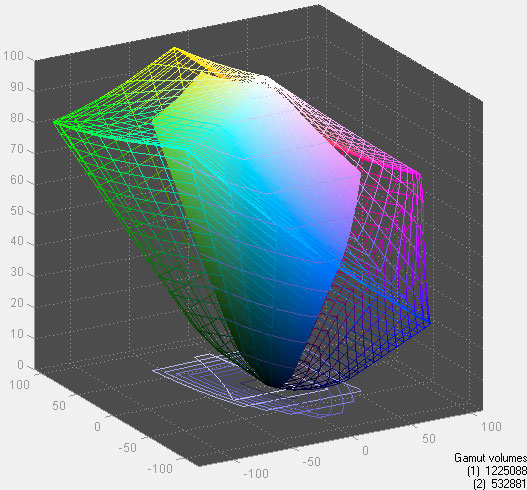 There you have it. Apart from the Vaio Z2's stunning 1080p display (still TN and still suffering from middling viewing angles), what you see above is what the Toshiba Portege R835 has to compete with. It's a broad, industry wide issue. The R835's display isn't really any better or worse than anything else out there that doesn't command a price premium. The 1366x768 display resolution isn't necessarily that bad on a 13.3" screen, but the dire viewing angles, poor contrast, and poor color will always be.
When Apple can stuff a 2048x1536 LCD into the new iPad 2012 for just $499, it's obvious that all we really need is more volume on quality displays and pricing can come down. For that matter, we're not even looking at crazy prices for a decent bump in display quality right now. The stock 1366x768 display in the R835 can be purchased online for just $75, whereas the nicer panel in the Samsung Series 9 appears to go for around $90. Assuming that's the actual panel I've seen in a Series 9 laptop (it's far better than the low-contrast TN panels found elsewhere), $15 extra is a pittance for the improved contrast and brightness. Or how about Apple's vaunted MacBook Air 1440x900 LCD: $100 for a replacement, just $25 more than what we currently have foisted on us.
What it would take is for ASUS, Acer, Dell, HP, Toshiba, etc. to simply start shipping better quality displays for a small bump in price, and we could get rid of the "save $15 for garbage quality" mentality that we're currently living with. Many consumers may not immediately recognize the difference, but the race to the bottom is not doing them any real favors. It's another reason we're frequently inclined to recommend business laptops that cost several hundred dollars more, as the added cost comes with often overlooked items like superior build quality—or in other words, you get what you pay for.
Conclusion: Time for a Change
When Toshiba released the Portege R700 in 2010, it came out of nowhere. We didn't have ultrabooks on the market, and nobody was expecting a design like that from Toshiba of all companies. The design served them well, and they extended that design language to respectable notebooks like their Tecra R840 and R850 lines.
The problem is that while the R700 was a fine effort, it wasn't perfect out of the gate, and it seems like Toshiba's designers may have gotten nervous about messing with success. The result is an R835 with hardware updates under the hood but none of its predecessor's issues resolved. On the contrary, the R835 seems to have suffered in the interim.
Fundamentally we have a sound design, but things fall apart in key areas of the experience. The display is the same problem we've belabored time and time again; that's easy enough to fix provided economies of scale pick up and better quality displays become more readily available, and judging from the explosion of the tablet market this is entirely possible. The keyboard is simple enough to revise, too; lose the glossy keycaps, increase the y-height of the keys, and somehow fix the mushy tactile response. These two items are things that most users can adjust to on a regular notebook, but they're fixable at the design phase as well.
Unfortunately, the last major issue with the R835 is the cooling design. I'm not convinced this is unsolvable, but Toshiba may have to make serious revisions under the hood to get thermals in check—or they have to look at sacrificing quiet running for lower temperatures. My other problems with the R835 were things I could see someone adjusting to, but I can't recommend a system with a CPU that's hitting the high 90s under full load, let alone Intel's spec 100C.
What's disappointing is that if it wasn't for those thermals, I could probably give the Portege R835 a tentative recommendation. Battery life is fantastic, performance is solid enough, and the features are there. I can see the R835 theoretically being a fine solution for certain users. As it stands, though, I couldn't in good conscience recommend a notebook that's pretty much banking on its warranty the moment it ships.