Original Link: http://www.anandtech.com/show/5708/corsair-obsidian-550d-starting-to-specialize


Introducing the Corsair Obsidian 550D
We've been keeping track of the evolution of Corsair's line of enclosures since the Graphite 600T was released. Even as the newer enclosures generally found themselves lower and lower in price, there was a clear evolution as Corsair's engineers gained more experience and confidence with their designs. Yet each new design up to this point has been a little bit of refinement and a little bit of experimentation without any specific specialization. That changes with the 550D.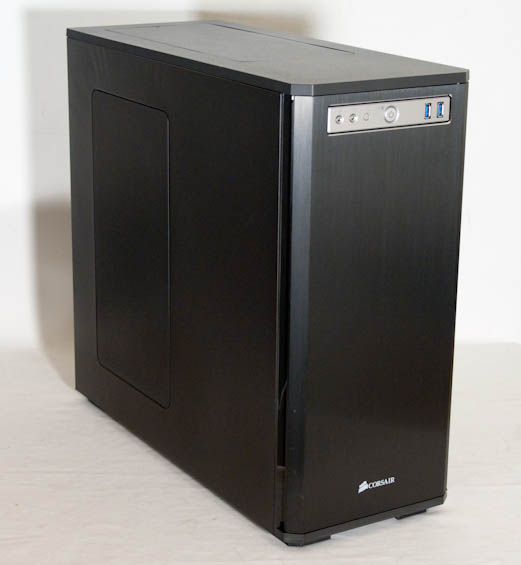 There's definitely some experimentation going on here, and there has to be: the Corsair Obsidian 550D is the first case Corsair has engineered specifically for silent running. That's not all they've experimented with, though, as you'll soon see.
Corsair's case isn't the only thing new about this review, though; we've also gone back and substantially revised our testbed and testing methodology to correct for some abnormalities and issues that may have affected the results of our previous tests. We're including some new data that should hopefully prove useful in both the short and long term. But first, let's get the skinny on the 550D:
Corsair Obsidian Series 550D Specifications
Motherboard Form Factor
ATX, Micro ATX
Drive Bays
External
4x 5.25"
Internal
6x 2.5"/3.5"
Cooling
Front
2x 120mm intake
Rear
1x 120mm exhaust (supports 140mm)
Top
2x 120mm/140mm fan mounts
Side
2x 120mm/140mm fan mounts (or 1x 200mm fan mount)
Bottom
1x 120mm/140mm fan mount
Expansion Slots
8
Front I/O Port
2x USB 3.0 (via motherboard header), 1x Headphone, 1x Mic
Power Supply Size
Standard ATX
Clearances
HSF
180mm
PSU
180mm
GPU
12.5" / 318mm
Weight
16.5 lbs.
7.48 kg
Dimensions
20.9" x 8.8" x 19.5"
531mm x 224mm x 495mm
Special Features
Acoustic dampening foam
USB 3.0 via motherboard header
Dual removable drive cages with three drive trays each
Price
$139
Corsair's design essentially falls into the same market as Antec's P280, but theoretically it's a step up from other silent-engineered cases like NZXT's H2. It has all the same accoutrements you've come to expect from a Corsair enclosure (including remarkable ease of assembly) while cribbing some ideas from Fractal Design's very successful Define R3. How successful this experiment was remains to be seen.
In and Around the Corsair Obsidian 550D
From the get go, Corsair's Obsidian 500D exterior looks like it draws its lineage more from Fractal Design than from any of its predecessors at Corsair. Top to bottom, the whole enclosure is about clean lines and smooth surfaces.
The front of the 500D actually boasts one of my favorite features of the enclosure: the cut-out in the front door for the power and reset buttons and port cluster. It's a simple and elegant solution to one of the two persisting problems of cases that use front doors. The other problem? Depending on where your computer sits, the enclosure door may swing out the wrong way, and for this Corsair has another solution: the front door isn't just removable, but can also be swung out from either side. They achieve this by basically using small C-clasps on the four corners of the door, allowing it to snap shut on either side or swing open. It's a slick solution, but like many of the decisions Corsair made with the 550D it's something that I have concerns about in the long term.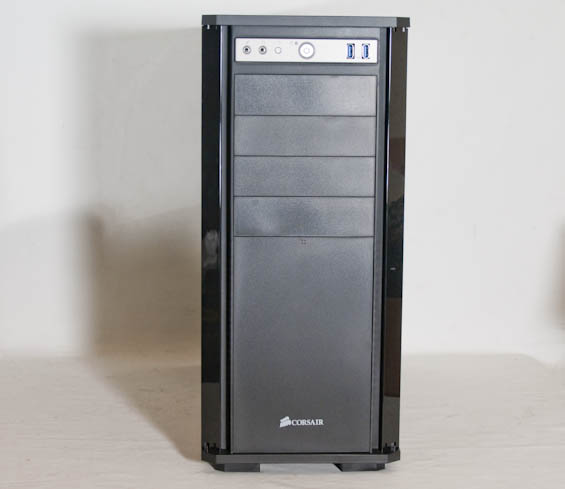 When you do open or remove the front door you'll find the inside surfaces are almost entirely hard black plastic, and look unusually chintzy for Corsair. The aesthetic isn't necessarily bad and your mileage may certainly vary, but I couldn't help but feel like it looked a little bit cheap. If this were any other vendor I'd probably be more forgiving, but this is definitely a case that looks better with the door closed. You can also pop off the large panel beneath the drive bays to expose the two intake fans and their removable filters.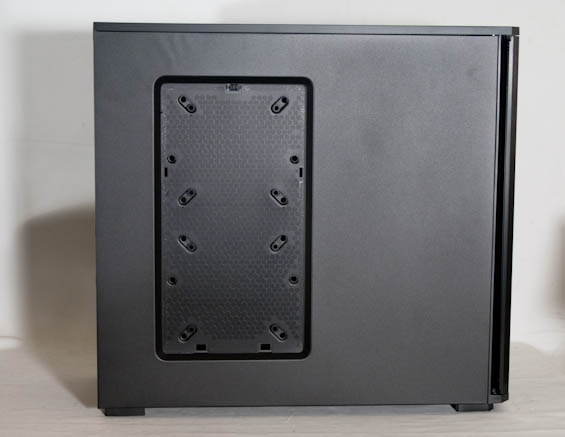 On the left side panel there's also a smaller inset removable panel; it doesn't just provide access to the filter for the underlying fan mounts, it also exposes the potential for mounting side fans to begin with. The filter seems to be affixed magnetically, while the removable inset panel has acoustic foam on its underside, giving the end user the option of engineering for silence or for performance. This is functionality I like to see; instead of having to explicitly choose between superior thermals or superior sound dampening, you can optimize the enclosure for your needs specifically. The top of the 550D has another panel just like this one that operates the same way.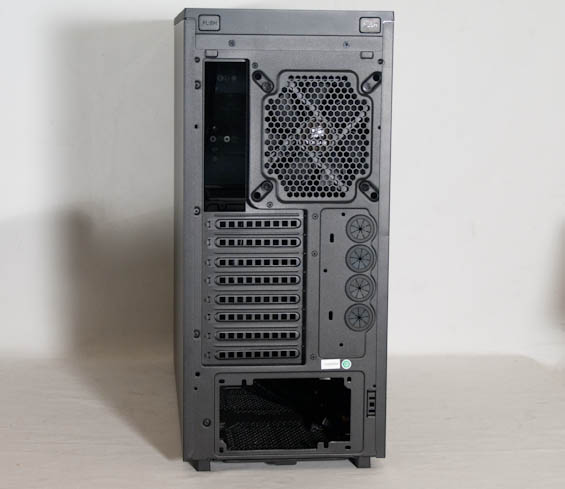 Move to the back of the Corsair 550D and you see the usual tubing grommets along with eight expansion bays, but you'll also see one of the more unusual features of the 550D: the push-button side panel removal system. Corsair has been pretty good about making the side panels of their cases fairly easy to pop off, but there's always been a trade-off there and I can't help but feel like there's another one being made here too. The clamps used on models like the 600T were convenient but never felt completely secure, and the push-button release on the 550D has a similar problem. The side panels hinge at the bottom, and it feels like this design will be prone to developing vibration problems over time. We didn't have any problems with it in testing, but only time will tell if Corsair made the right call.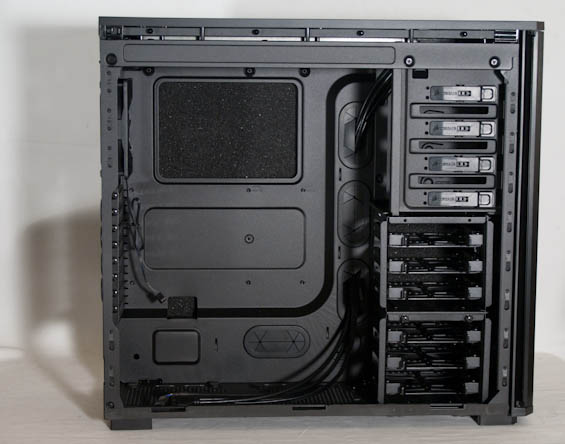 Opening the 550D returns us to very familiar territory with Corsair. If it wasn't for the acoustic foam padding inside the side panels and front door, the 550D might look like any other Corsair case, and that's not a bad thing. I've gone on record before as having said that the only way Corsair could make case assembly easier would be to ship a technician with every case, and the interior of the 550D has all the same smart design decisions of its predecessors along with a new one.
To save on enclosure width, only the area surrounding the motherboard tray (where cabling would go) has a substantial amount of clearance between it and the right side panel. This is actually a very elegant solution, as it creates specific conduits for cables to be routed in and through rather than just mashing everything up behind the motherboard tray and calling it a day. Other conveniences of the interior of the 550D include toolless clasps for the 5.25" drive bays that are actually very effective at keeping drives firmly in place and two completely removable drive cages with three drive sleds apiece, each sled supporting a 2.5" drive or a 3.5" drive. As a much appreciated improvement, the sleds themselves now allow you to either mount the 2.5" drive in the center of the sled or against the side to line up cabling.
Despite some generally clever design decisions and a lot of flexibility in how you can use the 550D, I can't help but have some concerns about its viability for long term use. The panels that hide the fan mounts on the front, side, and top all run the risk of developing the same kinds of vibration problems the top grate of my Graphite 600T developed over time, and that concern is exacerbated by how loose the push-button release mechanism causes the side panels to feel. I'm also not as impressed with the 550D's fit and finish as I am with some of the other Corsair enclosures I've tested; there's just something about the black matte plastic that looks a little bit cheaper than I've come to expect from them, but that's more a matter of personal taste.
Assembling the Corsair Obsidian 550D
Despite my misgivings with some of Corsair's design decisions (which could easily be argued as tradeoffs), there's one thing that Corsair's engineers have down pat by now: ease of assembly. I've said before that assembling a Corsair enclosure is like a vacation for me, and the 550D was no exception.
Once again Corsair includes standoffs for the motherboard built right into the tray, although our refreshed testbed's new motherboard is Micro-ATX and thus required me to add a couple of standoffs. That said, installing the board was relatively painless, and I appreciated being able to plug the exhaust fan's 3-pin header directly into the motherboard.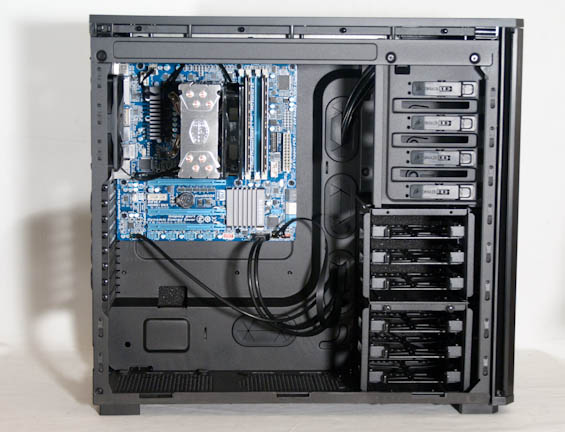 Speaking in all honesty, it's nigh impossible to find any real point in the assembly that's worth mentioning as a standout, at least in terms of difficulty. Corsair has, over time, gradually assuaged every remaining issue I've had with building systems in their cases. The drive sleds now allow me to install a 2.5" drive without removing any of the pins, and a 3.5" drive snaps in perfectly neatly. Popping out the 5.25" drive bay cover was a little bit of a struggle, but barely worth mentioning.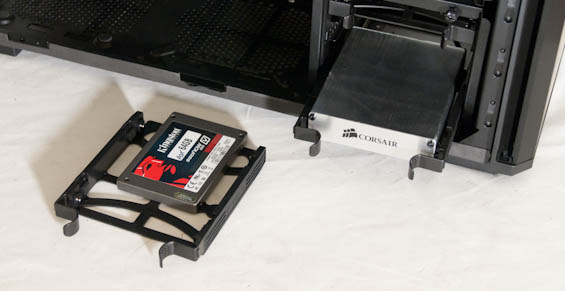 Depending on your perspective, you could argue that cabling is a bit easier with the 550D. The recessed area surrounding the motherboard tray proper only further highlights how well Corsair's engineers guide assembly within their enclosures; it's essentially a subtle suggestion that says "cables go here." And while I'm concerned about the long term use of the side panel release mechanism, it must be said that getting that rear panel back on to the 550D doesn't require the same kind of elbow grease some other cases do: there's enough space to fit your cables back here without too much trouble.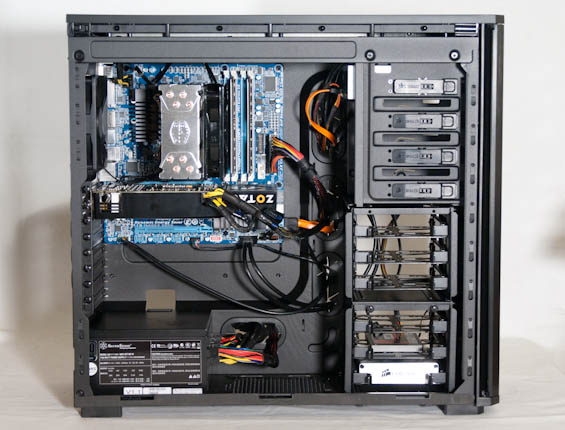 The biggest problem I had in assembly was getting the AUX 12V line to connect, but that's not necessarily something you can fault Corsair for so much as a problem that's par for the course when dealing with this kind of ATX enclosure design. The AUX 12V line on our new motherboard is lower than it was on the old one, and as a result the modular cable that was included with our new testbed power supply couldn't make the journey properly. Thankfully SilverStone uses the same connects for all of their modular power supplies (a convenience Corsair should take to heart) and once I found a longer cable, everything was fine.
Thus, as I said, there's very little to report in the way of assembly. Corsair somehow continues to get the placement of the cable routing holes in the motherboard tray just right, and I can continue to recommend cases from the brand as a whole as being excellent choices for consumers just learning how to build their own machines.
Testing Methodology
For testing Micro-ATX and full ATX cases, we use the following standardized testbed in stock and overclocked configurations to get a feel for how well the case handles heat and noise.
Each case is tested in a stock configuration and an overclocked configuration that generates substantially more heat (and thus may produce more noise). The system is powered on and left idle for fifteen minutes, the thermal and acoustic results recorded, and then stressed by running seven threads in Prime95 (in-place large FFTs) on the CPU and OC Scanner (maximum load) on the GPU. At the end of fiteen minutes, thermal and acoustic results are recorded. This is done for the stock settings and for the overclock, and if the enclosure has a fan controller, these tests are repeated for each setting. Ambient temperature is also measured after the fifteen idle minutes but before the stress test and used to calculate the final reported results.
Thank You!
Before moving on, we'd like to thank the following vendors for providing us with the hardware used in our testbed.
Noise and Thermal Testing
Since we currently only have test results for the Corsair Obsidian 550D based on our new testbed and methodology, this is going to be a relatively short breakdown. Still, there's useful information to be had.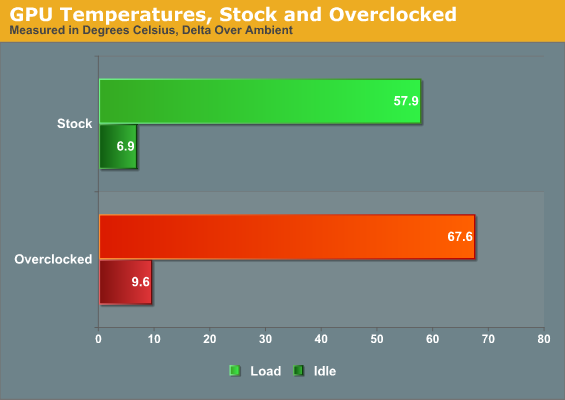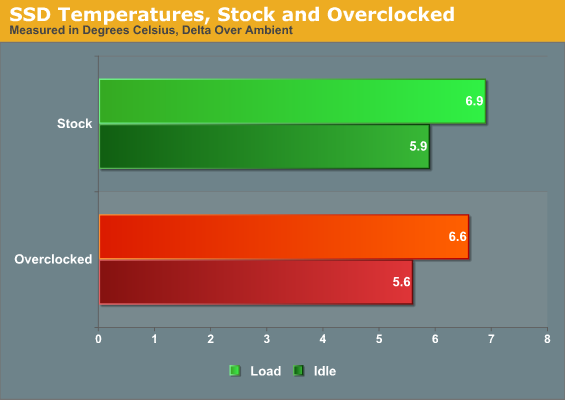 Under the new testing rubric it can be a little difficult to figure out what's going on. First, we can see the CPU and GPU both get about a 10C increase in temperature when overclocked in the Obsidian 550D, while idle temperature increases are nowhere near as severe. The ambient temperature when testing was ~22C, which would result in absolute thermals in the 80s for the CPU...not the greatest results but not dangerous either. GPU thermals are at the 90C threshold, but when you see our fan speed results you'll see the GTX 560 Ti still has some headroom before actually overheating. Meanwhile, the SSD temperatures are within the margin of error; the increased stress from the CPU and GPU in the overclocked configuration doesn't impact the SSD in any noteworthy way.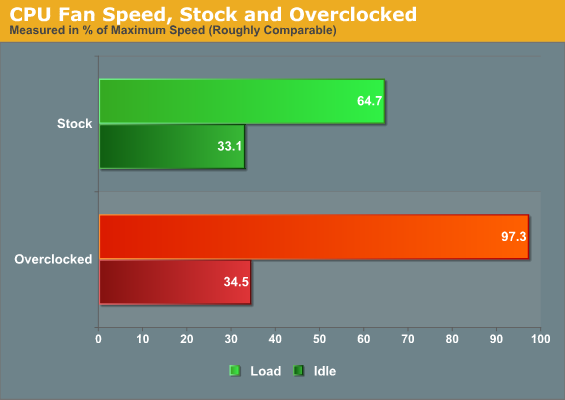 While thermal performance isn't horrible, the fans definitely had to work reasonably hard to keep things under control. The Hyper 212 Evo's fan is virtually maxed out by the thermal load; in practical terms, the 550D in its stock configuration just doesn't seem to have that much of a ceiling for CPU overclocking. Meanwhile, the 560 Ti's fan speed gets a substantial enough jump to prove noticeable, but end users who demand more power will likely meet the limitations of the silicon itself before they hit the limits of the cooling system.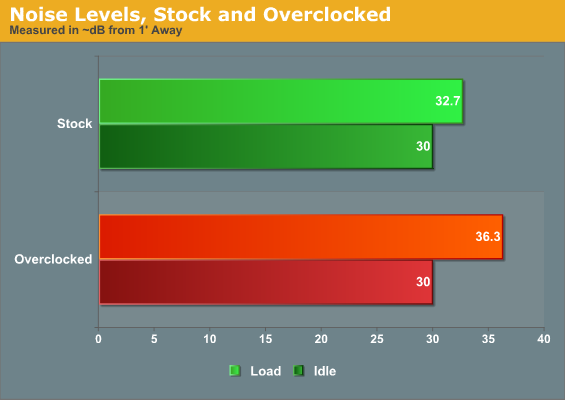 Since 30dB is the floor for our sound meter, we can safely say the Corsair Obsidian 550D is able to keep things under control while the system is idling, regardless of whether or not the components are overclocked. Under load the 550D remains very quiet; in a silent room the difference is noticeable, but in practical use it's far less likely. Unfortunately, when overclocked the 550D has a harder time keeping the noise down; the high pitch of the GTX 560 Ti's fan, in particular, makes itself known.
Conclusion: Built for Silence
Despite being the first case tested under our new methodology, there's still a lot to process with the Corsair Obsidian 550D, both in terms of its design and in the data that results from it. By explicitly engineering their enclosure for silent running, Corsair has taken a major first step in producing a specialized design as opposed to a more fundamental ATX case like the 550D's predecessors. There's still a lot of experimentation going on here, and the case is designed with flexibility in mind, but the insulating foam should be a dead giveaway that the 550D was designed for silence first and foremost.
In terms of thermal performance, it's tough to make a direct comparison to Corsair's other cases. The conclusion I tentatively arrive at is that despite gunning for a design that's quieter than most, acoustics were never really the major problem with the cases Corsair sells at and above the 550D's price point. It's fantastic that they've developed an enclosure like this, something with real dampening properties, but I still want to see them handle the problem that's consistently hounded their designs: thermals. The 550D doesn't perform poorly, but I feel like the thermal performance is still underwhelming.
This is a very difficult balancing act many enclosure designers go through and I don't envy them, but it again serves to highlight a phenomenon I've experienced with some regularity since I started testing cases: south of $150, you can get some gradient of silent running and thermal performance, but not both. It's only when you spend up that you can get both—as with the Thermaltake Level 10 GT, the Cooler Master Cosmos II, and the SilverStone FT02. Not coincidentally, all of those cases also happen to be gigantic full-tower designs. While Corsair lists an MSRP of $159 for the 550D, NewEgg's $140 price point is more appropriate.
Aesthetically, I think the 550D is an attractive case with a lot of slick ideas, but I also feel like there are large parts of it just waiting to develop issues with vibration in the future. The top grate of the Graphite 600T can produce vibration over time, and I get the nagging feeling that the push-button release for the side panels is going to wind up causing more problems than it solves in the long term. Unfortunately this is also speculation based off of an anecdotal experience with one enclosure; it's entirely possible that none of these parts will develop issues with rattling in the future.
Corsair continues to set the standard in ease of use and assembly, and the Obsidian 550D is ultimately a very worthy entrant into the enclosure market. People who are fine spending $40 on a case and calling it a day are unlikely to be swayed by the 550D, but users looking to optimize and invest may find that the 550D's combination of features and customizability is exactly what they're looking for. I have a hard time coming up with any useful suggestions or solutions for the issues I have with the 550D and I'm not ready to risk armchair engineering something that's clearly at least a little experimental. That said, while the Corsair Obsidian 550D isn't the grand slam I was hoping for, it's still compelling and certainly worthy of consideration.