Original Link: http://www.anandtech.com/show/5672/acer-aspire-timelineu-m3-life-on-the-kepler-verge


Some of our editors recently had the opportunity to take part in NVIDIA's Editor's Day in California's "sunny" San Francisco to be briefed on new products. While we can't go into any great detail on NVIDIA's new Kepler architecture (as that information is still under embargo), what we can provide you with is a review of Acer's new Aspire TimelineU M3 notebook, complete with a shiny new GeForce GT 640M based on the Kepler architecture.
Of course, that's not all that's interesting about the TimelineU M3. Taking advantage of Intel's expanded ultrabook definition, Acer has produced a 15.6" notebook with a dedicated GPU that's only 20mm thick. At the risk of spoiling the conclusion of the review, we'll say this is one of the most compelling notebooks we've seen yet, even if we're hesitant to call it a true ultrabook.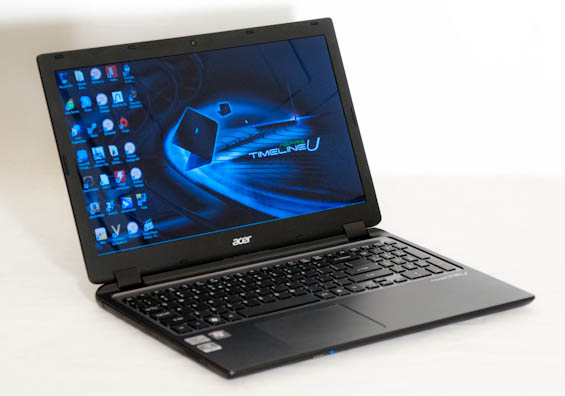 Thus far, when we've thought of ultrabooks we've usually thought of 18mm-thick notebooks hanging out around the three pound weight class, but the TimelineU M3 is just under five pounds, throwing it more into the same kind of class as Dell's XPS 14z and 15z. Of course, arguing semantics over what does and does not constitute an ultrabook isn't really why you're here. What you're really interested in is Kepler.
As I mentioned before, we're still under embargo regarding the architectural details of Kepler; in fact the only reason we can share the TimelineU with you ahead of time is because Acer actually broke the embargo and began selling the notebook early, causing the rest of the press (and NVIDIA) to scramble to put together these reviews. That also means the only details we can share are the ones that can be gleaned from the notebook itself, but that's fine, because there's a lot of interesting information to work with as it is.
Acer Aspire TimelineU M3 Specifications
Processor
Intel Core i7-2637M
(2x1.7GHz + HTT, Turbo to 2.8GHz, 32nm, 4MB L3, 17W)
Chipset
Intel HM77
Memory
2x2GB DDR3-1333 (one stick integrated, one user replaceable, maximum 6GB)
Graphics
NVIDIA GeForce GT 640M 1GB DDR3
(384 CUDA cores, 625/1800MHz core/memory clocks, 128-bit memory bus)

Intel HD 3000 Graphics
(12 EUs, up to 1.2GHz)
Display
15.6" LED Glossy 16:9 768p
AU Optronics B153XTN03.2
Hard Drive(s)
256GB LiteOn mSATA 3Gbps SSD
Optical Drive
HL-DT-ST DVD+/-RW GU61N
Networking
Atheros AR5B97 802.11b/g/n
Broadcom NetLink Gigabit Ethernet
Audio
Realtek ALC269
Stereo speakers
Single combination mic/headphone jack
Battery
3-Cell, 55Wh (integrated)
Front Side
-
Right Side
Kensington lock
Left Side
Optical drive
SD/MMC card reader
Back Side
Exhaust vent
2x USB 2.0
USB 3.0
HDMI
Ethernet jack
AC adaptor
Operating System
Windows 7 Home Premium 64-bit SP1
Dimensions
14.8" x 0.78" x 9.8" (WxHxD)
375mm x 20mm x 250mm
Weight
~5 lbs
Extras
Webcam
mSATA SSD
Open 2.5" drive bay
USB 3.0
Warranty
1-year limited
Pricing
Not yet available
The Intel Core i7-2637M has been a stalwart of the ultrabook class for some time now, and our performance testing shows it's perfectly adequate for most tasks. The 1.7GHz nominal clock speed is obviously on the low side, but the chip is able to turbo up to 2.5GHz on both cores or 2.8GHz on a single core. It's interesting that Acer opted for a 17W ultra-low-voltage CPU for the TimelineU since the chassis looks like it can handle a full-voltage processor, but I suspect they opted to use the bulk of their thermal budget on the dedicated GPU.
That dedicated GPU is the NVIDIA GeForce GT 640M. What's worth noting about the 640M from the spec sheet above: it's sporting four times the number of CUDA cores as its predecessor, the GeForce GT 540M. The chip itself runs at a core clock of "up to 625MHz," while the DDR3 is running at an effective 1.8GHz. Given the limited memory bandwidth, we can probably be expected to be bound by the VRAM long before we're shader bound. Of course, NVIDIA is likely able to fit all that shader power into the 640M due to the chip being based on their upcoming Kepler architecture and thus manufactured on TSMC's 28nm process instead of 40nm. It's entirely possible and even likely given what we know of Kepler behind the scenes that these numbers are incorrect; even GPU-Z doesn't accurately detect the 640M.
Kepler's early arrival isn't actually the only interesting thing about the TimelineU M3, though. While the connectivity is par for the course for an ultrabook, Acer is able to cram an optical drive into the system. More than that, the M3 uses an mSATA SSD but also has an open 2.5" drive bay, effectively making it among the first notebooks we've tested to include the potential for the ideal SSD + HDD storage combination in a reasonable form factor. The mSATA port, single user-replaceable RAM slot, and 2.5" HDD bay are also all easily user accessible by removing a single panel on the bottom of the notebook. For many users, these storage options alone may make the M3 a compelling purchase option, and that's before taking into account the reasonably spacious 256GB mSATA SSD already included. It's also worth pointing out that the M3 is employing Intel's incrementally-improved HM77 chipset, which brings USB 3.0 connectivity with it instead of requiring a separate chip.
In and Around the Acer Aspire TimelineU M3
Stylistically, the Acer Aspire TimelineU M3 is actually among the more attractive notebooks that Acer has offered. Their Timeline series has generally been well-received and among their most compelling offerings, and the M3 is no different. That said, there are a few design choices that are still baffling and definitely curtail some of the notebook's usability.
Black goes with everything, so it's only fitting that the M3 employs a stark two-toned matte black and silver plastic design. While it's premature to begin celebrating the death of gloss in the marketplace, Acer has eschewed glossy plastic almost entirely on the M3, using it only for the Acer logo on the lid. Except for the keyboard tray, the entire notebook is matte black, while the keyboard tray itself uses a shimmering silver that's attractive without being ostentatious. The whole design is actually remarkably minimalistic.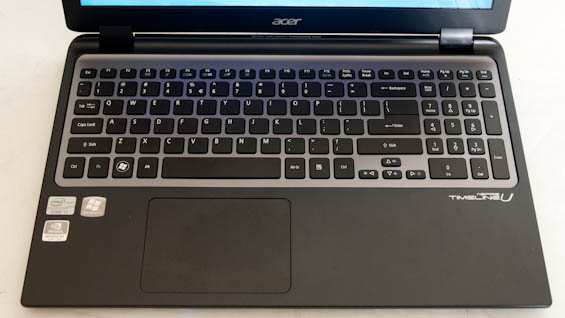 As Jarred noted in his review of the TimelineX, Acer is largely moving away from their old floating island keyboard style and I'm thankful for it. While chiclet keyboards are still a matter of some contention between many users, I still personally find them preferable to the floating island keys. The layout is a logical one, too, and I suspect the enter and backslash keys are snuggled up against each other as a means to make the keyboard easier to swap out for different regions. This isn't one of my favorite keyboards, but with the slightly increased Z-height of the M3 over other ultrabooks it at least has decent key depth and travel.
Where things do get dicier is with the touchpad. Acer uses a massive unified touchpad and like the one we tested on the Dell XPS 13, it's oftentimes more trouble than it's worth. The touchpad has a hard time distinguishing gestures from clicks, and if you need to right-click anything you may find yourself accidentally moving the mouse where you don't want it to go. I've gotten used to using touchpads with dedicated mouse buttons, and breaking the habit of leaving my thumb on the left mouse button is incredibly difficult to do. The result is that I often wind up making gestures I didn't intend, and I've had to actually concentrate on using the touchpad properly.

The port and button layout is also unfortunately pretty poor. All of the connectivity is on the back of the notebook; the optical drive and card reader are on the left side, and the right side is barren except for the kensington lock. Putting the ethernet, HDMI, and AC adaptor connectors on the back isn't really a big deal, but there's no convenient access to the notebook's USB connectivity. Probably worst of all, the power button is on the front of the M3, about an inch left of center, and extremely easy to accidentally press when you're trying to move the machine. If you're using the M3 on your lap, I can't imagine never accidentally hitting it. Most users will probably want to just disable the button entirely while in Windows.
Where I feel like the M3 redeems itself somewhat is in user expandability. As I mentioned before, there's a single panel on the bottom of the notebook held on by three screws. Remove it, and you have access to the mSATA slot, the wireless mini-PCIe card slot, the single user-replaceable DIMM slot, and an empty 2.5" drive bay complete with power and data connections. The 256GB mSATA SSD from LiteOn isn't great, but it's adequate and has a healthy amount of capacity for an SSD; more than that, it's also bigger than any mSATA drive you can buy on NewEgg. The battery isn't user replaceable, but Acer claims it's good for three times the number of charge and recharge cycles of conventional notebook batteries, so if you get even half that you'll still be in good shape.
Honestly I found myself mostly enamored with the TimelineU M3's design. It's all plastic and the build quality doesn't feel the best, but provided you're not too harsh with it, it should last a reasonable amount of time. On the flipside, the dearth of glossy plastic is appreciated, and it's a lightweight notebook that allows us to use mSATA and a conventional 2.5" drive together. The chiclet keyboard is also a massive upgrade on its predecessor, even if the touchpad needs some work.
Application and Futuremark Performance
While we've said before that Intel Core i7-2637M performance is pretty much a known quantity, Acer's TimelineU M3 takes things in a different direction. This is a 15.6" notebook that has dimensions comparable with Dell's XPS 14x and 15z, and a GPU that's at least theoretically well beyond either. At this juncture it's now worth seeing if the i7-2637M is a huge hit compared to, say, a standard voltage i5.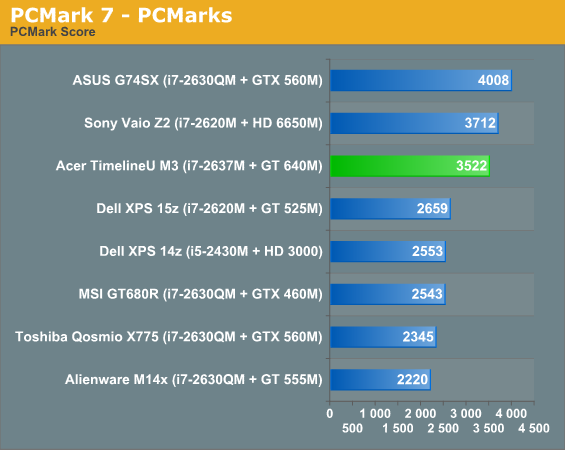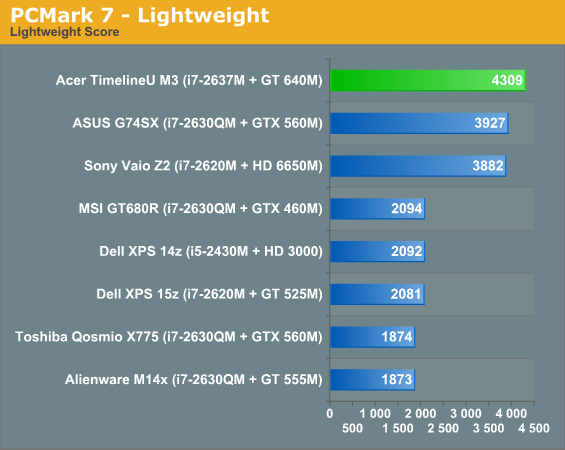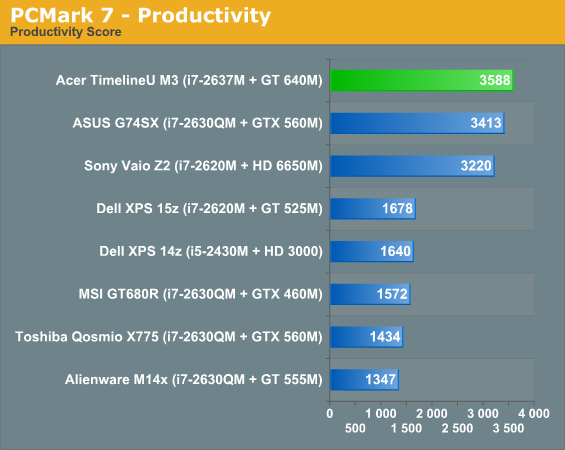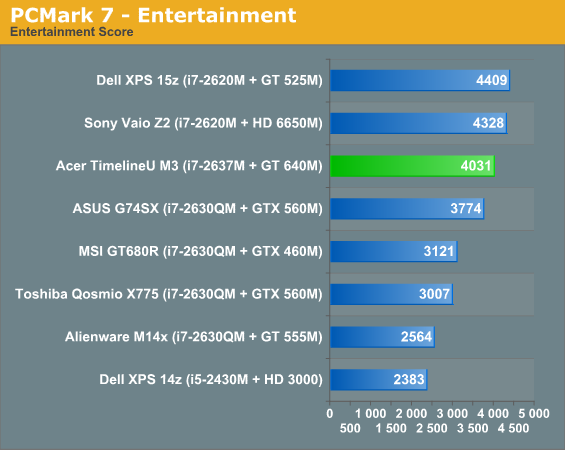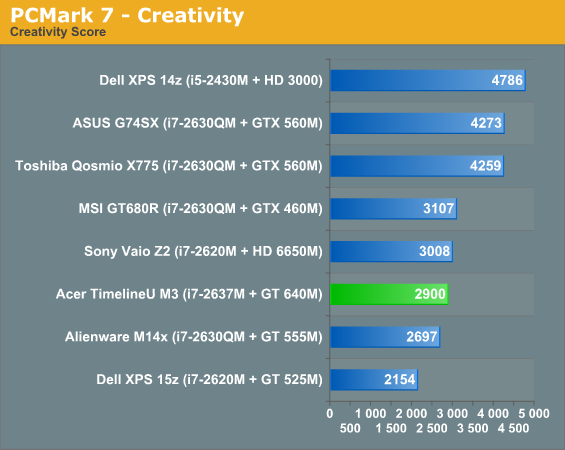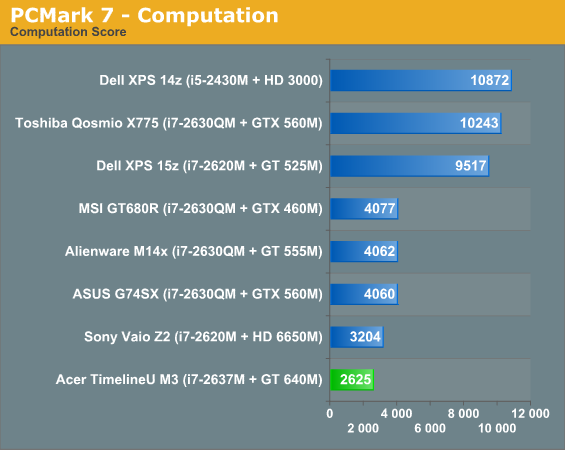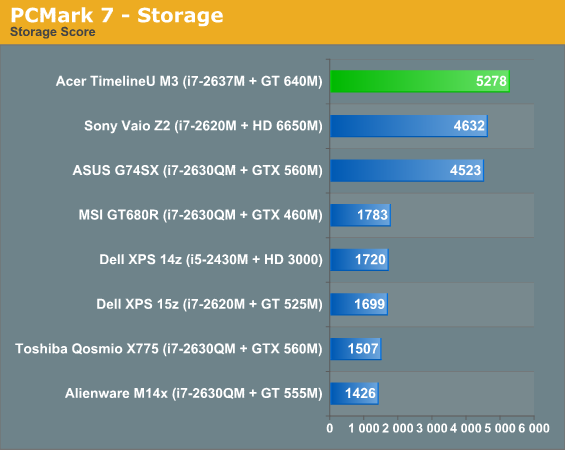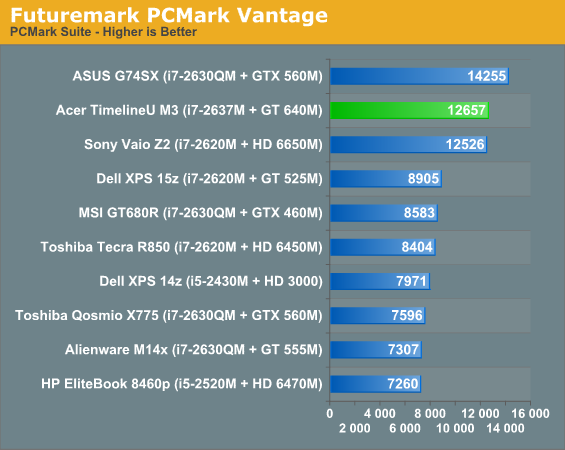 PCMark skews happily and heavily towards the reasonably fast SSD in the M3, despite that SSD only running at SATA 3Gbps speeds. The Computation benchmark also skews towards Intel's QuickSync, and it appears some of NVIDIA's drivers used to defer to the IGP during PCMark7. Let's see what happens when we shift the focus entirely to the CPU proper.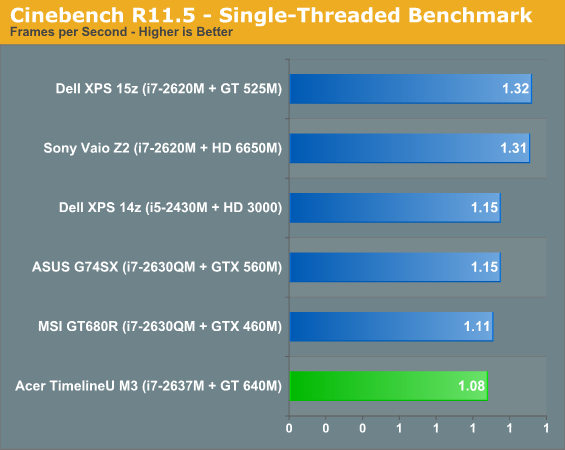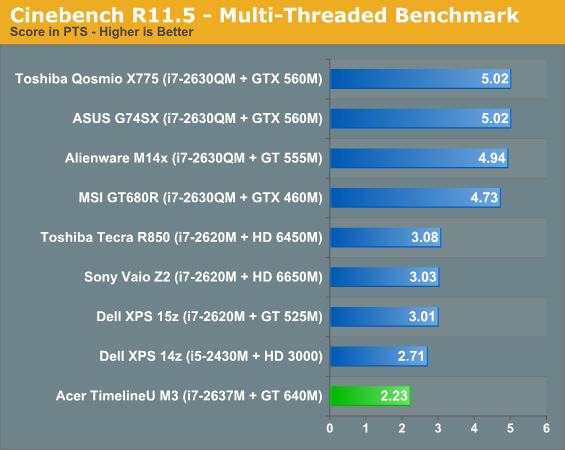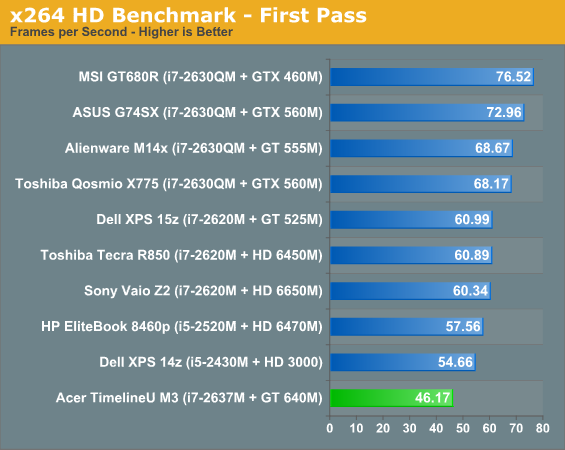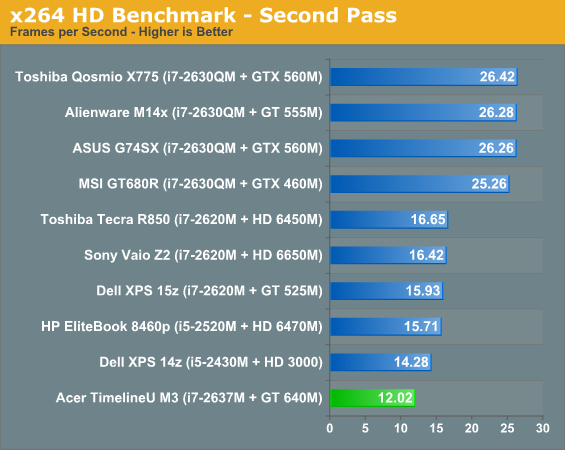 Unfortunately things just aren't so rosy once standard voltage CPUs are added to the equation. The i7-2637M doesn't perform poorly, but run-of-the-mill i5s do produce a good lead on it, and anything with four cores demolishes it as expected.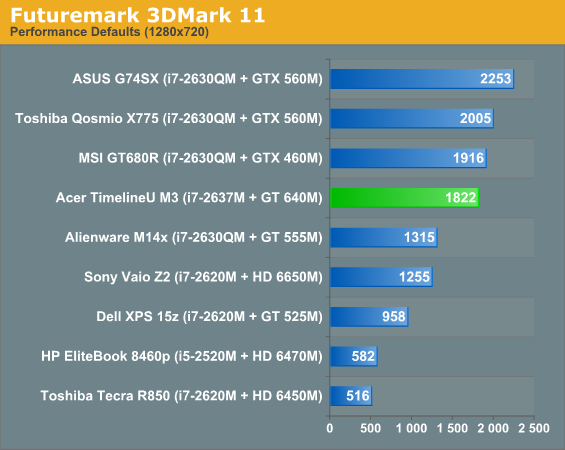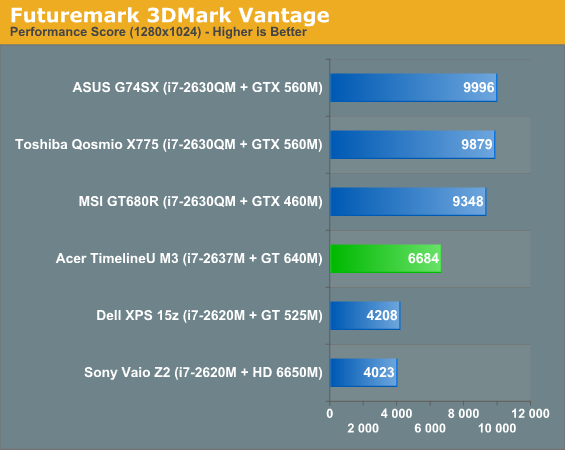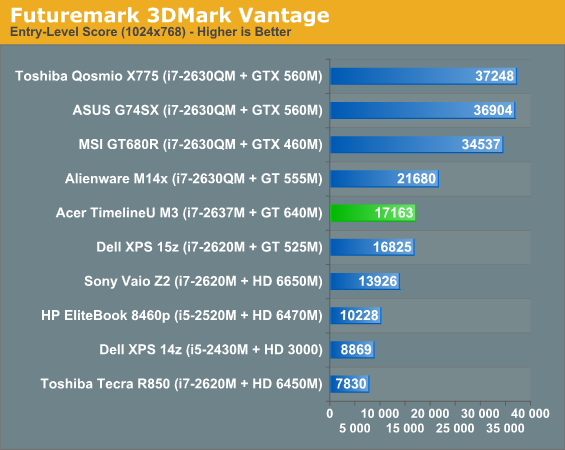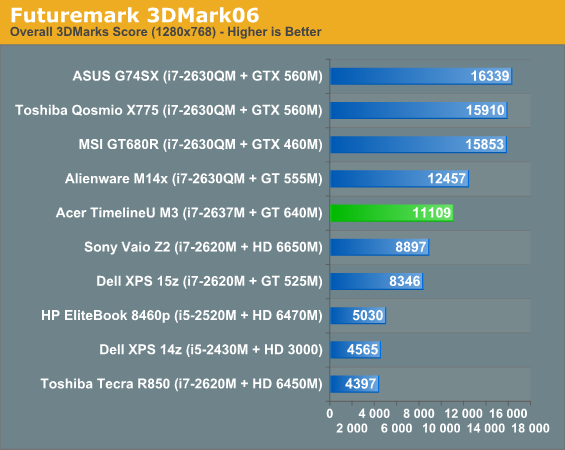 On the other hand, 3DMark approves of the GeForce GT 640M's substantial shader power. We don't have any systems with the GT 540M on our chart, but given how the 640M is nipping at the M14x's GT 555M's heels, it's reasonable to assume the 640M is able to largely demolish its predecessor. What's interesting is seeing how the 640M's 384 CUDA cores compare to the GTX 460M/560M in practice, both of which have just 192.
Gaming Performance
Since this is our first experience with Kepler, we ran the GeForce GT 640M through its paces at each of our presets despite the internal panel of the Acer TimelineU M3 only running at 1366x768. In the process we ran into a bug with Battlefield 3, though, where that game would crash every time we tried to change video settings in-game with a secondary screen connected. As a result we only have Battlefield 3 results at our "Value" preset.
Unfortunately we're also pretty shy on results of notebooks using our current gaming benchmarks, so for now these charts are going to feel a little spare. Thankfully, the most interesting comparison (that between the GTX 560M and the GT 640M) is something we can definitely provide.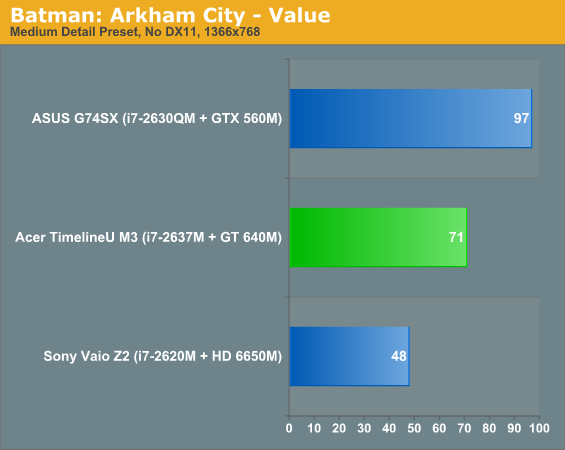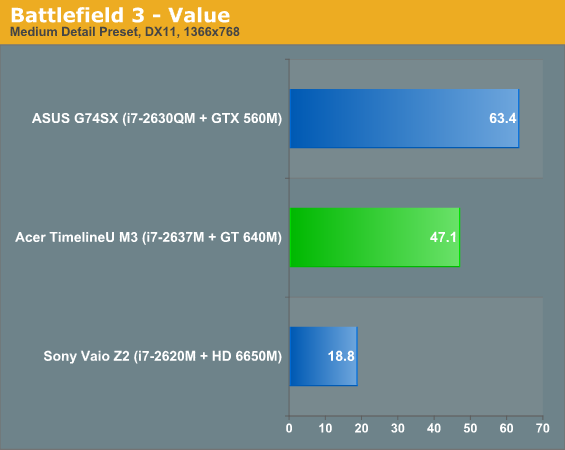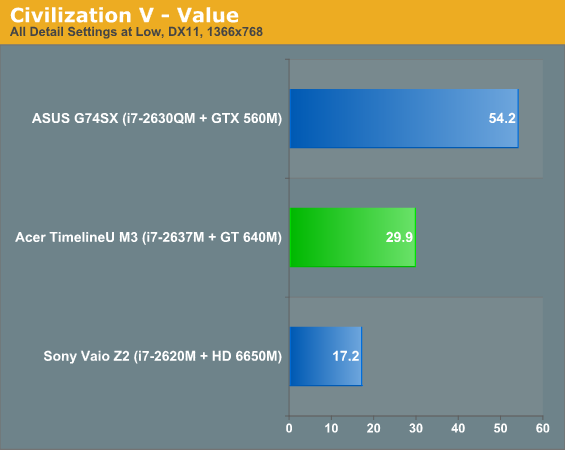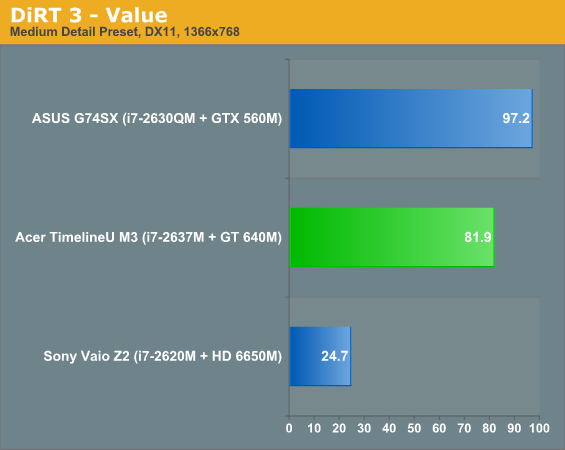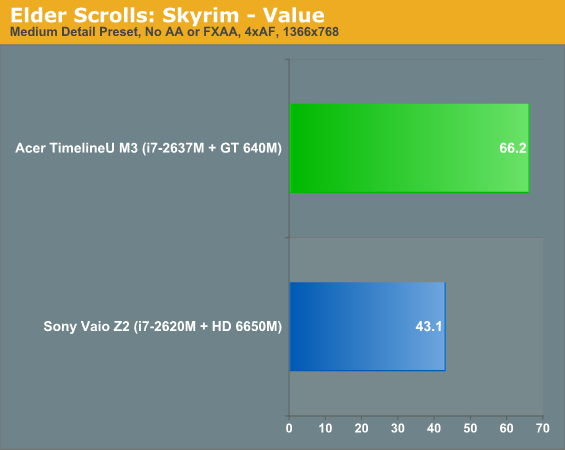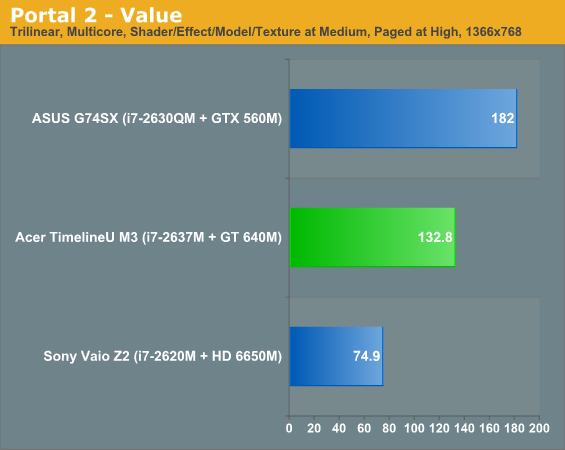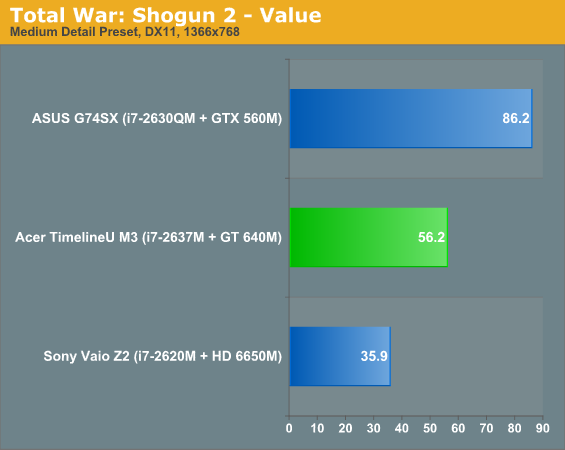 The 640M produces reasonable performance in each game. Given how it's tough to gauge just what clocks the 640M is running at and how little we can reveal about what we know of Kepler, it's difficult to pinpoint exactly what the bottleneck might be. It's entirely possible that at the Value preset is CPU-limited between the ASUS and Acer, while the 6650M in the Sony Vaio Z2 is likely bandwidth limited due to being used on a Thunderbolt connection and thus reduced to PCIe x4 speeds.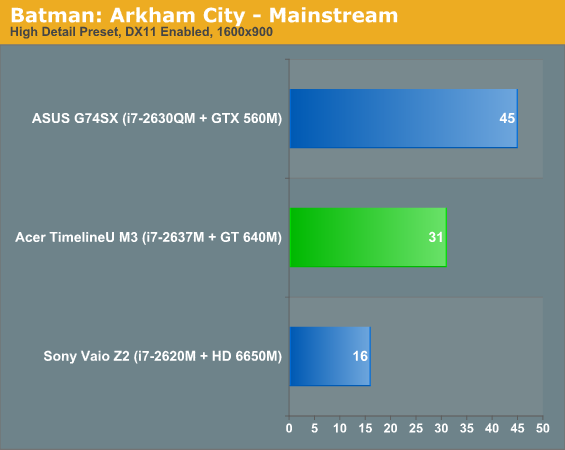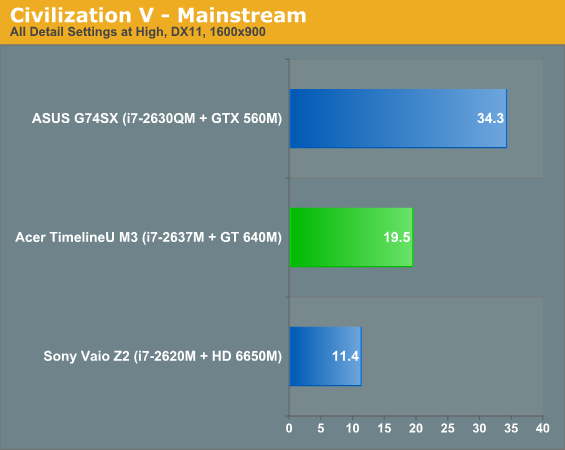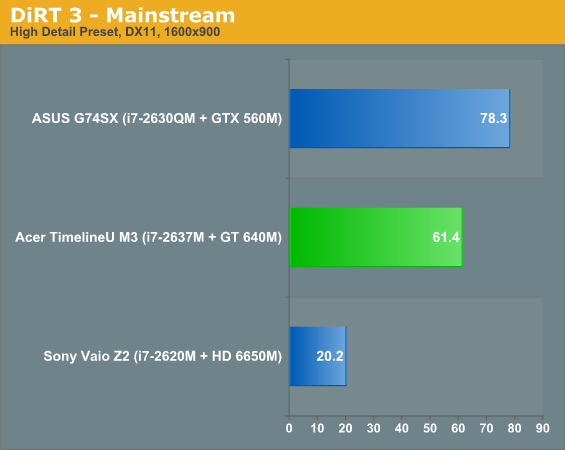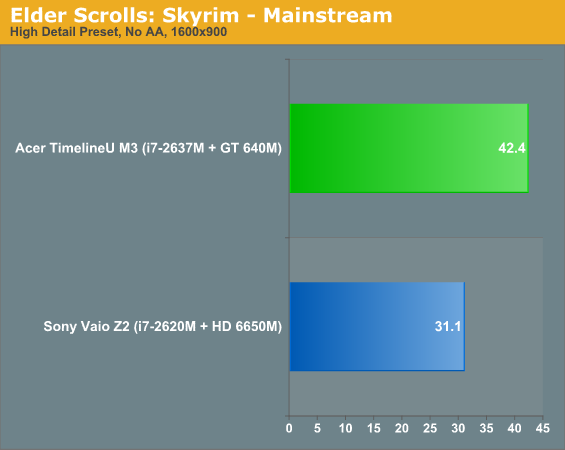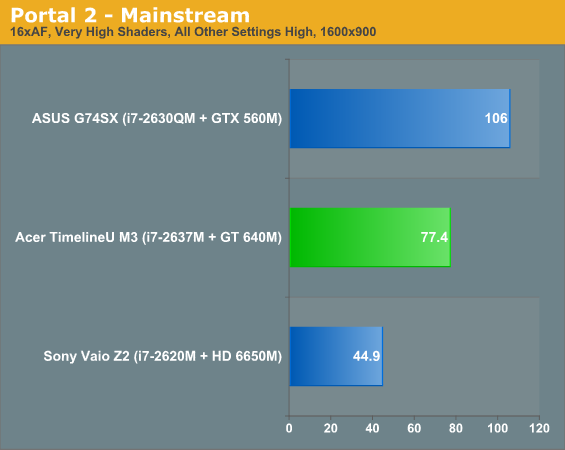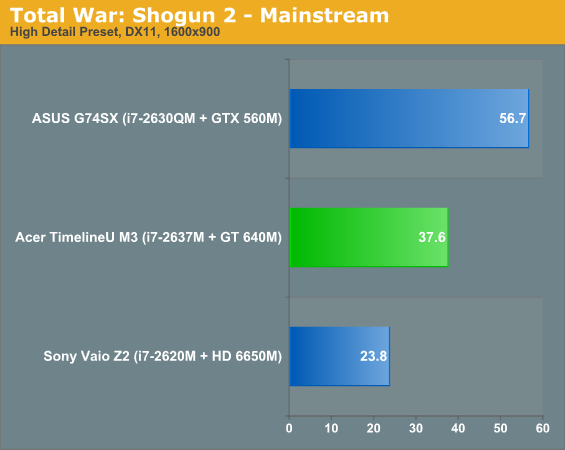 I'll take it as a point of pride that NVIDIA uses almost all of our benchmarks in their reviewer's guide, but what's interesting is that all of our results here are actually a touch higher than what we were told to expect. At 1600x900 the GT 640M is undoubtedly feeling the pinch from the 128-bit DDR3 memory bus, but it still holds its own. This is about the highest resolution you could conceivably want to run this GPU at, at least without GDDR5 (which the 640M does support).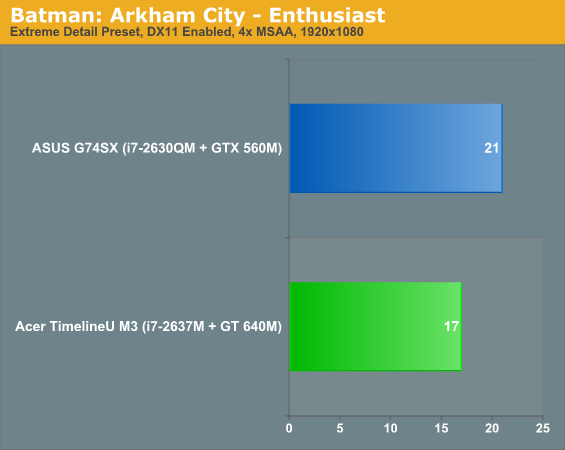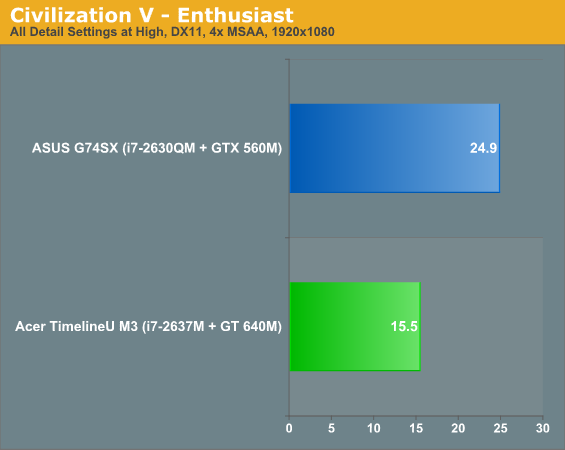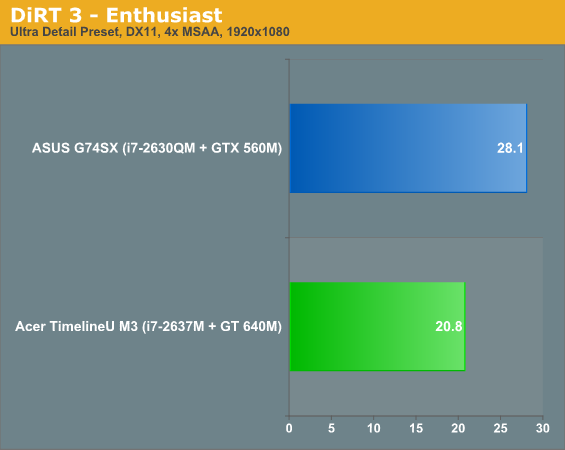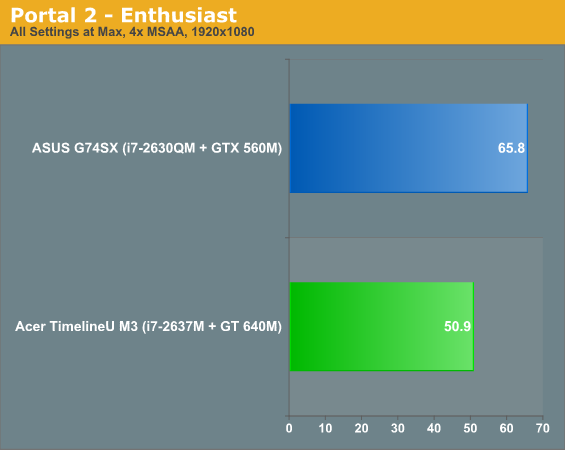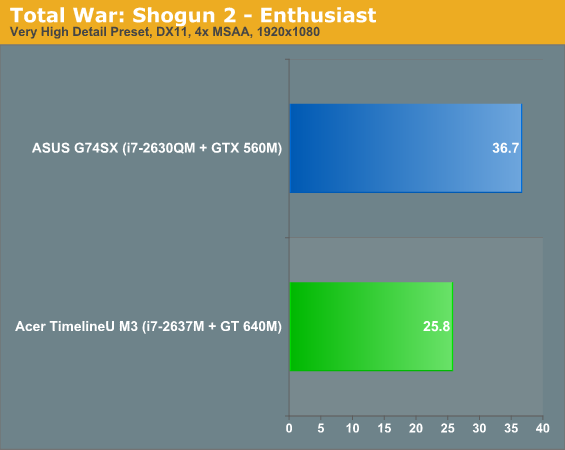 I've never seen a GPU with a 128-bit memory bus and DDR3 memory acquit itself particularly well at 1080p, and NVIDIA isn't about to change that with the GT 640M in the Acer TimelineU. At this point the chip's limited memory bandwidth is just plain overwhelmed and can't keep up, shader power be damned.
With all that information now on the table, it's reasonable to say the GT 640M is definitely a powerful GPU and certainly a step forward from the Fermi-based GT 540M. At 768p, even a DDR3-equipped 640M is undoubtedly going to provide the excellent gaming experience that NVIDIA promises, but anywhere beyond that is still going to require more memory bandwidth, full stop. There's only so much one can do with the die before having to make that concession, and I feel like the 640M needs GDDR5 to really shine.
Battery Life
Getting detailed specifications for the Acer TimelineU M3 has been a little bit difficult; the notebook isn't on Acer's site yet (despite apparently having been released into the wild) and our reviewer's guide is a bit light on details. The box for it claims a meager 3-cell battery, but we're told it has a healthy 55Wh of capacity. That seems pretty dense, but as you'll see it's believable.
Unfortunately due to the crunch we don't yet have results for media playback, but those will be added as soon as humanly possible.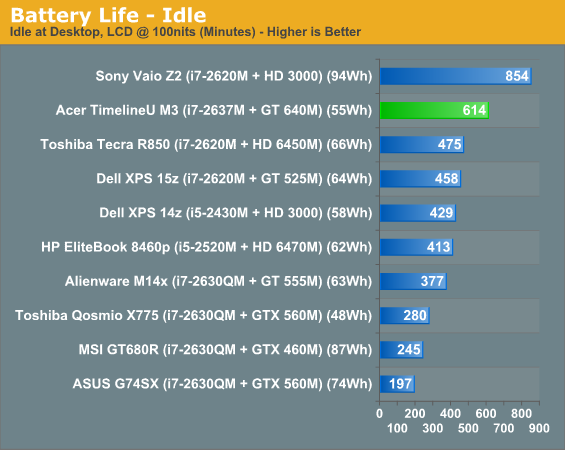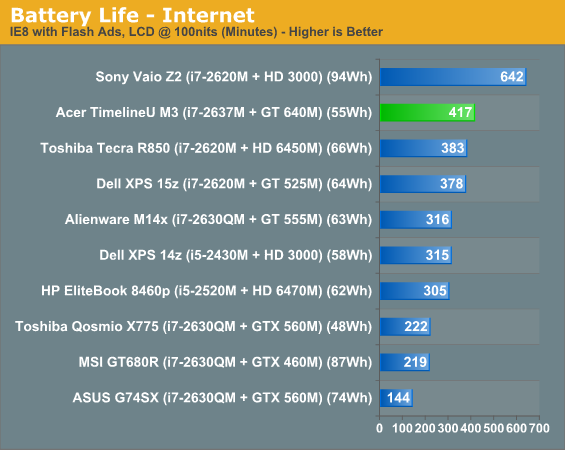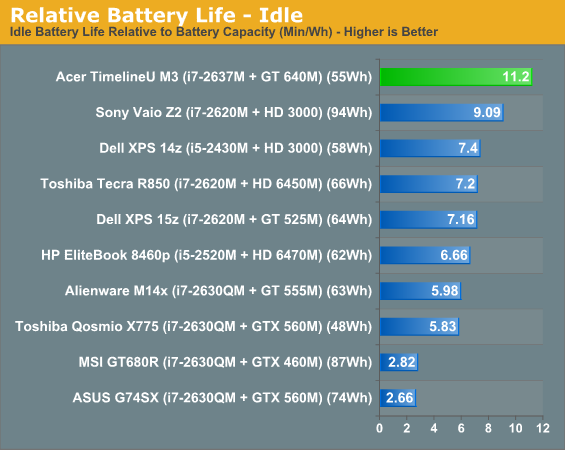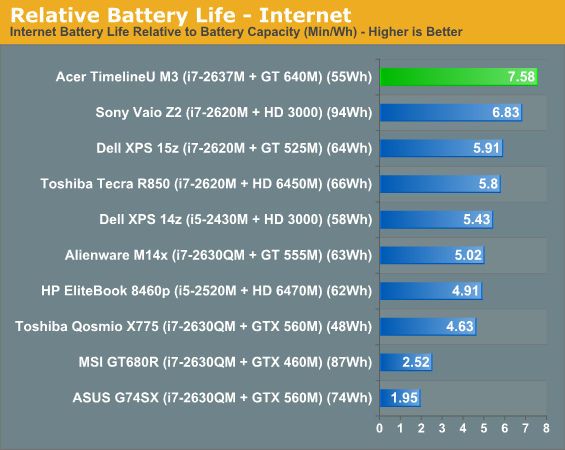 The TimelineU M3 absolutely rocks socks on the battery. NVIDIA's Optimus technology is in full effect here, and as a result the M3 is able to meet and beat the advertised eight hours of battery life that even the reviewer's guide for the M3 claims. This is one place where using the ULV i7-2637M does seem to pay major dividends compared to the full voltage chips.
Heat and Noise
Heat and noise are two more places where having that ULV chip seems to help the M3. While load noise isn't exactly ideal, it's only roughly 41dBA under load, and that's only when the GPU is being stressed. Meanwhile, no hot spots seem to develop on the top surface of the notebook. That said, top-center on the bottom of the M3 does get a bit warm; it's not uncomfortably hot and certainly won't scald you, but there's definitely a single sharp source of heat inside the M3.
Screen Quality
At the risk of digressing, when I used to write for NotebookReview I found myself trying to eschew talking about the speakers of the notebooks I reviewed whenever possible because the results were the same 99% of the time. That's remained true here; notebook speakers are typically only worth talking about when they're not terrible. The reason I bring this up is because I'm beginning to feel the same way when testing the notebook screens. It's obviously useful information, but this is a component that almost always underwhelms, and the same is true again with the Acer TimelineU M3.
While the 1366x768 resolution of today's mediocre TN panel is ideal for our bandwidth-constrained GPU, it doesn't require any feat of prestidigitation to say that the comments on this review will once again light up with well-founded complaints about a 15.6" screen running this resolution natively. Frankly it's just inadequate for a notebook this size, and we're going to keep harping about these subpar panels until manufacturers wise up and start getting it right.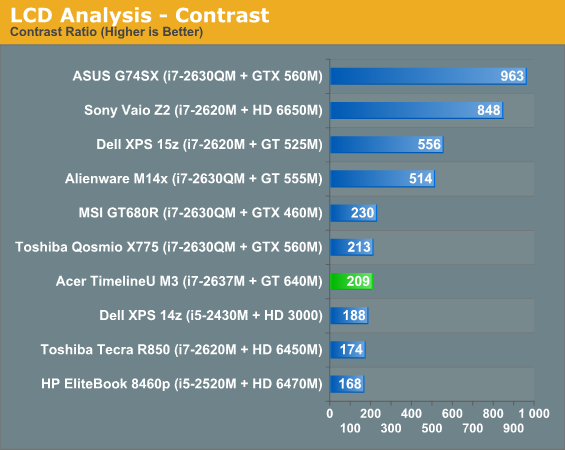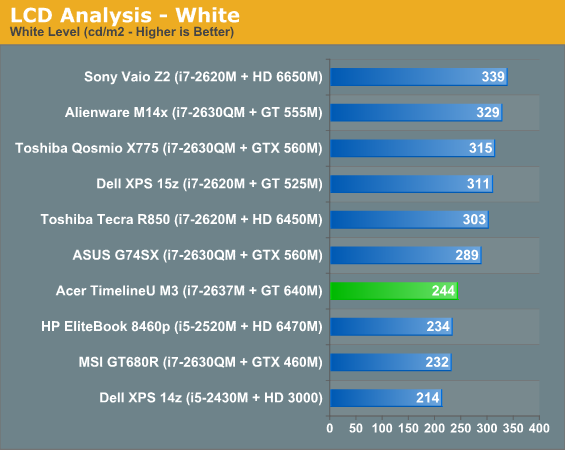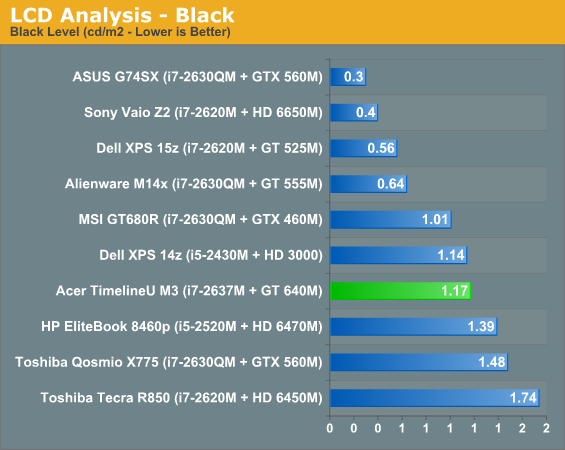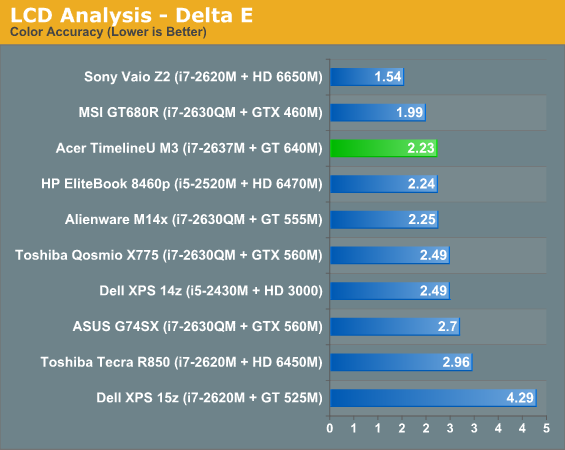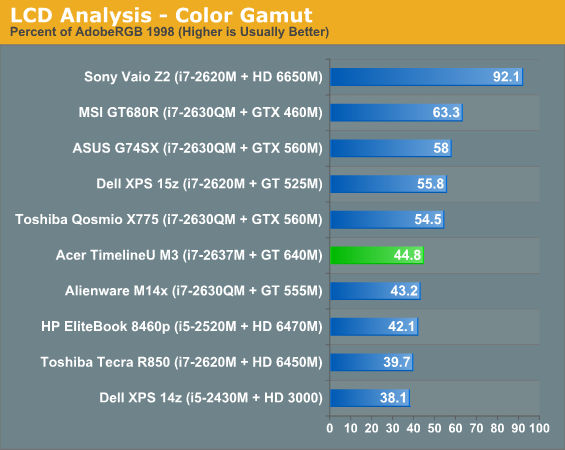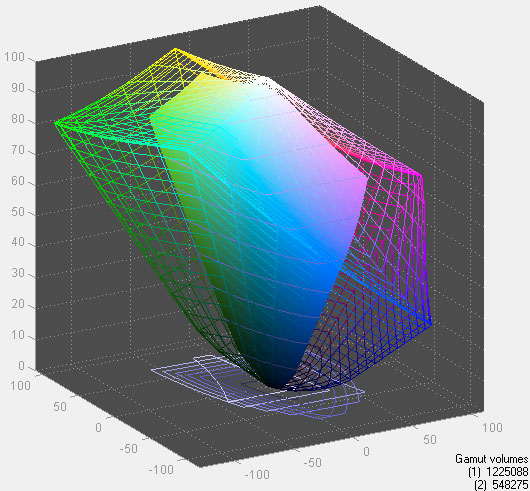 You can see from our test results that it doesn't necessarily have to be this bad. While the M14x's screen is underwhelming in places, it also runs at a superior 1600x900 resolution. The Sony Vaio Z2 may be a premium notebook (or at least a premium-priced one), but you at least see where some of that purchase price is going: a fantastic, high-resolution screen.
Meanwhile, the Acer TimelineU M3 sports the industry-standard dismal TN panel with weak viewing angles, low contrast, and low color accuracy and quality. This needs to change, and there's really no reason to settle for a crappy display when you're putting in 256GB SSDs.
And let's be clear about the costs: when an end user can go out and purchase a replacement AU Optronics B156HW01 v4 display for under $100 (compared to around $60 for a typical 1366x768 panel), the cost savings can't be that much for the laptop makers. Granted, with ultrabooks the manufacturers are also looking to get the thinnest panels they can find (another misguided goal in my book: thinness while sacrificing keyboard and display quality just doesn't make sense), but there are still much better 15.6" displays out there that would only increase the BOM by $50 at most.
Conclusion: A GeForce and an Acer Both So Close
With the Acer Aspire TimelineU M3, we're really talking about and reviewing two different products: the ultrabook itself and the shiny new NVIDIA GeForce GT 640M. There's a certain poetry to the feeling that these two products are both worthy of the same conclusion: excellent on their own, but both need to be able to stretch their legs.
The GeForce first: without being able to reveal details about Kepler it's difficult to say if the GeForce GT 640M is shader heavy, but it is most definitely memory bandwidth bound. At the M3's low native resolution the 640M is a fantastic GPU that demonstrates a lot of the progress that we want to see; it's not just about being able to play games, it's about being able to play them well, and the 640M does provide next-generation performance in what seems to be the same power envelope as its predecessor. We also continue to see Optimus performing as well as it should. Jarred is big on eventually having GPUs idle so low that we simply don't need this kind of graphics-switching technology, but until that day comes, Optimus remains a stellar value add for end users. This is one place where AMD is lagging woefully behind and needs to get their act together, because right now the 640M is going to be preferable to pretty much any other mainstream mobile GPU in terms of both performance and power consumption.
Meanwhile, the TimelineU M3 has a generally beautiful aesthetic, fantastic battery life, and Acer has finally and truly done away with the floating island keyboard. At just under five pounds I'm sorely tempted to split hairs over its "ultrabook" status, but as far as the dimensions are concerned, this is really the form factor we'd like all mainstream notebooks to eventually hit. There's a convincing case to be made between the M3 and the Dell XPS 15z that notebooks just don't need to be particularly bulky anymore unless they're trying to cool high-end graphics hardware; with Ivy Bridge in the pipe even the CPU side of the equation is less and less likely to need extensive cooling. I'm also a big fan of the inclusion of both an mSATA port and 2.5" drive bay, allowing end users to enjoy the best of both worlds.
Unfortunately, the M3's design trips up in a couple of key places. The touchpad is difficult to use and is one more case against unified touchpads in PCs; it's a bit worse than the Dell XPS 13's was, and I have yet to test one that was anywhere near as convenient as the time-honored touchpad and discrete buttons combination. Having almost all of the ports on the back of the M3 is inconvenient as well; at least one USB port needs to be on a side, along with the headphone jack. While I can't really complain about the inclusion of the DVD+/-RW drive, I'm also not entirely sure how essential it is. I can't remember the last time I've needed the optical drive on my Alienware M17x R3, and I've never missed not having one on my ThinkPad X100e. And finally, the SSD controller built into the mSATA SSD in the M3 is capable of SATA 6Gbps speeds, but the mSATA port limits it to SATA 3Gbps, thus leaving some performance on the table.
With all that said, I remain optimistic. The GeForce GT 640M is a worthy mainstream GPU that improves substantially on its predecessors and one I hope to see wide adoption of, while the Acer Aspire TimelineU M3 is the first Acer notebook I've tested that I ultimately felt pretty positively about. If the M3 can hit a reasonable price point it's going to offer an awful lot of value for the money, and I'm pretty sure we can count on Acer to make that happen. I've been trying to find an inexpensive gaming-ready notebook to recommend to a friend lately without having to dip into Llano territory; if the M3 can hit $800 or lower, it's the one. [Ed: Sorry, but you're not getting a 256GB SSD for under a grand, and even 128GB is asking a lot. In fact, with the discrete GPU and i7 CPU, I'm guessing this particular model with go for closer to $1500. Hopefully we'll see a variant with an i5 but still with the 640M GPU, and maybe a 128GB SSD targeting a price closer to $1000.]