Original Link: http://www.anandtech.com/show/5660/dell-xps-13-a-different-kind-of-ultrabook


Late last year, before CES, we had the opportunity to check out Dell's then-upcoming entrant to Intel's nascent ultrabook market, the XPS 13. Dell has been refocusing their XPS line with an eye on sophisticated notebooks that straddle the line between the consumer and business classes, while at the same time emphasizing slimmer, more powerful machines. Thus, the XPS 13 seems like a natural fit both for their XPS line and for the ultrabook category.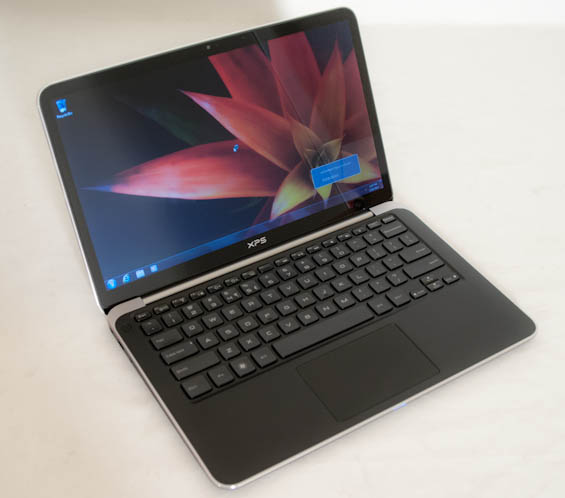 While manufacturers like ASUS, Toshiba, and Acer have been apt to more closely ape the Apple MacBook Air aesthetic that Intel is arguably appropriating for ultrabooks, Dell's XPS 13 is a different creature, and when we saw it in 2011 it felt like the ultrabook to wait for. Now it's here; was it worth the wait?
Internally, the Dell XPS 13 doesn't seem to have any more going on than any of the other Sandy Bridge-based ultrabooks. Dell will be updating the XPS 13 with Ivy Bridge as those chips become available, but it looks like with the delay we'll be enjoying our Sandy Bridge ultrabooks just a bit longer.
Dell XPS 13 Specifications
Processor
Intel Core i7-2637M
(2x1.7GHz + HTT, Turbo to 2.8GHz, 32nm, 4MB L3, 17W)
Chipset
Intel QS67
Memory
2x2GB integrated DDR3-1333
Graphics
Intel HD 3000 Graphics
(12 EUs, up to 1.2GHz)
Display
13.3" LED Glossy 16:9 768p
CMN1338
Hard Drive(s)
256GB Samsung mSATA PM830 6Gbps SSD
Optical Drive
-
Networking
Intel Centrino Advanced-N 6230 802.11a/b/g/n
Bluetooth 3.0
Audio
Realtek ALC275 HD Audio
Stereo speakers
Single combination mic/headphone jack
Battery
6-Cell, 11.1V, 47Wh (integrated)
Front Side
-
Right Side
Battery test button
USB 3.0
Mini-DisplayPort
Left Side
AC adaptor
USB 2.0
Mic/headphone combo jack
Back Side
-
Operating System
Windows 7 Home Premium 64-bit SP1
Dimensions
12.4" x 0.24-0.71" x 8.1" (WxHxD)
316mm x 6-18mm x 205mm
Weight
2.99 lbs
1.36kg
Extras
Webcam
SSD
USB 3.0
Bluetooth
Ambient light sensor
Backlit keyboard
Warranty
1-year limited
Pricing
Starts at $999
As configured: $1,499
Spec-wise, the Dell XPS 13 is nothing impressive for an ultrabook and nothing we haven't seen before. The Intel Core i7-2637M is a capable enough processor, sporting two hyper-threaded cores, 4MB of L3 cache, and a nominal clock speed of 1.7GHz (able to turbo up to 2.5GHz on two cores or 2.8GHz on just one core). Attached to it is Intel's HD 3000 integrated GPU with 12 execution units that can run all the way up to 1.2GHz. 4GB of dual channel DDR3 and Intel's QS67 chipset round things out.
The two more interesting points of the XPS 13 are the SSD and the notebook's connectivity (or lack thereof). Dell opts to use Samsung's 830 series SSD in an mSATA form factor, taking advantage of the SATA 6Gbps connectivity of the controller. Samsung rates the SSD for up to 500MB/sec in reads and 350MB/sec in writes, not stellar but in line with (or even a little better than) the SSDs used in some competing ultrabooks.
Unfortunately, Dell's XPS 13 features arguably sub-Apple MacBook Air-level connectivity. Just two USB ports (one 3.0, one 2.0), the headphone/mic combo jack, and a mini-DisplayPort jack are all you get. While I wasn't expecting wired ethernet (a feature that materializes only every so often on ultrabooks), Dell doesn't include the SD card reader that most other ultrabooks enjoy. You can also use an adaptor to go from mini-DisplayPort to HDMI, so you can probably split the difference on that one. Honestly it's the lack of a card reader that stings the most; this is something that can certainly be remedied by just buying a separate USB one, but when competing ultrabooks all integrate one, why eschew it here?
Thankfully, you do get USB 3.0 connectivity (always appreciated), and Dell includes an ambient light sensor that can be used to dynamically adjust screen brightness as well as detect when to turn on the keyboard backlighting. It's mostly adequate, but the lack of a card reader stings a little when many consumer and even prosumer level still and video cameras use SD cards.
In and Around the Dell XPS 13
While Dell's Inspiron line hasn't seen a whole lot of excitement, their XPS line has thus far been an aggressive attack on the old prevailing notion of Dell as a budget mainstream vendor. The XPS notebooks we've tested have all been well-received, but Dell's entry in the ultrabook market is especially noteworthy: Dell will tell you they're trying to bridge the high-end consumer market with the professional market, but the XPS 13 proves they mean it.
The lid of the XPS 13 is a sheet of machined aluminum and probably one of the least flexible lids I've ever seen; it's the polar opposite of and a sharp contrast to the Sony Vaio Z2, which featured a lid that was ultra-flexible by design to avoid damage. The chintziest-looking thing about it is the glossy black Dell logo. Open it and you'll find very stiff hinges: a welcome find, ensuring there won't be any screen wobble in regular use.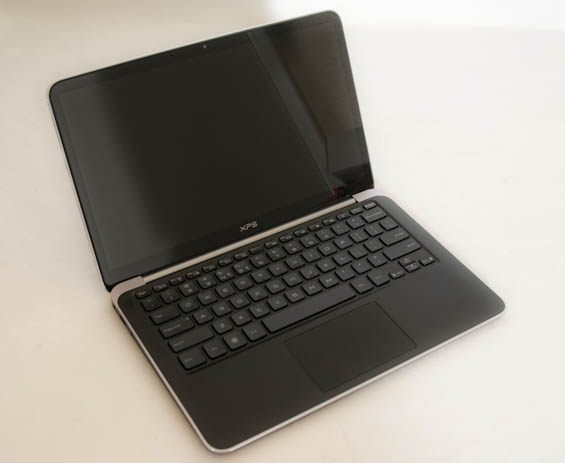 I'm at the point now where I do have some reservations about the single glossy panel that covers the bezel and the screen, though. This is the same style you'll see on all of the Alienware notebooks, and while on the one hand it offers a uniform aesthetic that's pleasing on its own, on the other I've found that a glossy bezel is a fingerprint and dirt magnet. Having this single sheet really just exacerbates that issue. This is going to ultimately be a matter of taste. Where Dell does succeed, though, is having a fairly thin bezel surrounding the screen; much like the XPS 14z features a 14" screen in a 13" chassis, so the XPS 13 features a 13.3" screen in a 12" chassis. If you've ever felt like a bezel was just wasted space, you'll find yourself right at home here: the XPS 13 is very economical in its design, offering a larger screen than we'd normally expect in a notebook with these dimensions.
The silver trim around the keyboard area is one of the less comfortable aspects of the XPS 13's design, though. While it's attractive, it also has an unusually harsh edge that can potentially dig into your wrists depending on how you handle the notebook. The black, soft-touch-coated interior surface is incredibly pleasant to the touch, though, and a welcome deviation from most other ultrabooks. This along with the rounded chiclet keys on the keyboard and the smooth texture of the touchpad prove that Dell seems to have put real thought into how comfortable the XPS 13 would be to use.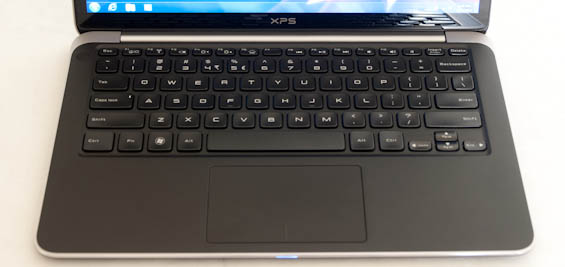 That said, there are reservations. I was able to adapt to the XPS 13's keyboard reasonably quickly, but mushy keyboards with minimal travel will continue to be par for the course for ultrabooks due to the limitations imposed by the form factor. Unified touchpads aping the MacBook's design had their day in the sun for mainstream notebooks (and seem to have thankfully fallen by the wayside), but they persist on ultrabooks, and the one on the XPS 13 is problematic. If you're used to having separate touchpad buttons, you'll find the XPS 13 can have a devil of a time properly detecting when you want to use a button and when you want to just move your fingertip across the pad. This is a pervasive problem with this kind of touchpad design; Apple's systems don't seem to have the issues with it that PCs do. I have an Acer in house that has almost the exact same sensitivity problems.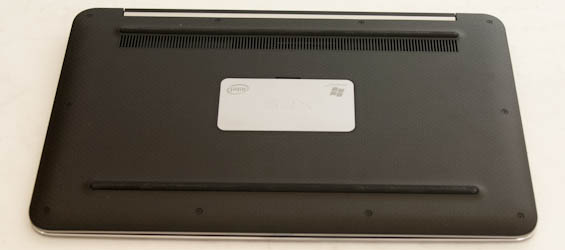 Finally, the base (and much of the frame) of the notebook is carbon fiber, and that carbon fiber does a fantastic job of ensuring the surface never gets too hot to the touch regardless of how hot the internals may be running. It's comfortable and attractive, but the slight bump at the top belies what I think is a problem with how the XPS 13's thermals are engineered. A notebook designed to be this mobile pretty much begs to be used on your lap, but the only ventilation for the XPS 13 is just below that bump: a row of openings hiding the small cooling fan. Other ultrabooks I've seen have ventilated through the side and/or the back, making them more ideal for being used on your lap. Blocking that vent just by using the XPS 13 on your bed can cause CPU core temperatures to reach the mid-to-high 90's.
As a whole I like the design of the XPS 13 a lot. Personally I'm not entirely sold on the ultrabook class, but a discussion with Anand largely confirmed that I'm not really the kind of user these computers were meant for anyhow and if they don't appeal to you specifically, there's a good chance you're not either. That said, of the ultrabooks I've seen I've found the XPS 13's design among the most appealing. Dell's engineers clearly looked at the other ultrabooks on the market and the MacBook Air and asked themselves what could be improved from a design standpoint, and for the most part I think they've been successful. There's still room for improvement in terms of keyboard design and especially with the touchpad, and the cooling system probably needs to be rethought, but the XPS 13 is an excellent starting point.
System Performance
While Dell is able to differentiate the XPS 13 substantially in terms of its external design, the internals are still largely governed by the requirements of the ultrabook class. The XPS 13 benefits greatly from the Samsung 830 SSD, but we're still dealing with a Sandy Bridge ultra-low-voltage i7 and the accompanying HD 3000 graphics. If you want a better idea of how these graphics will perform, you can check out our Sony Vaio Z2 review as that notebook's HD 3000 should be comparable.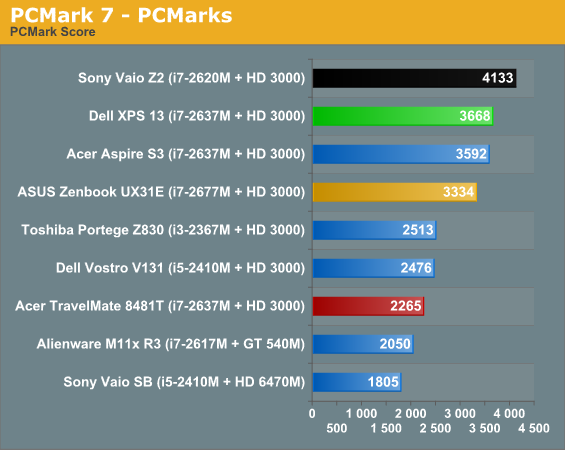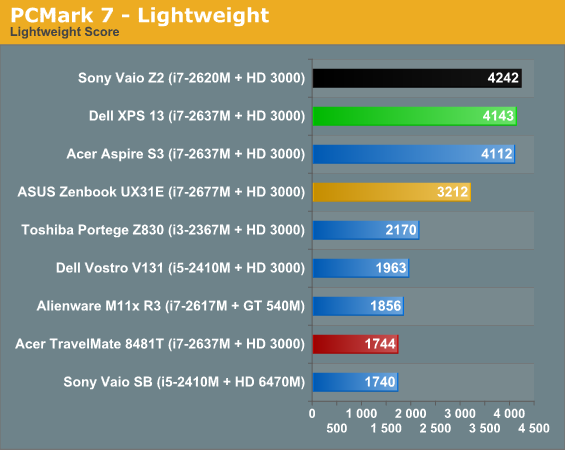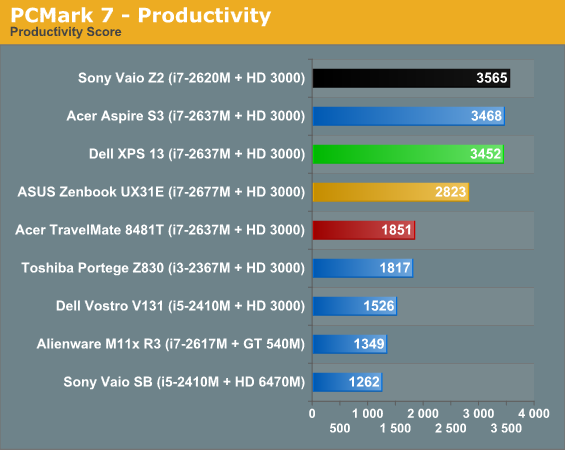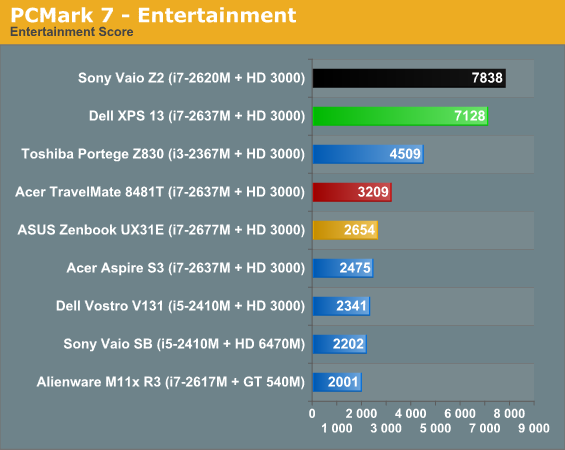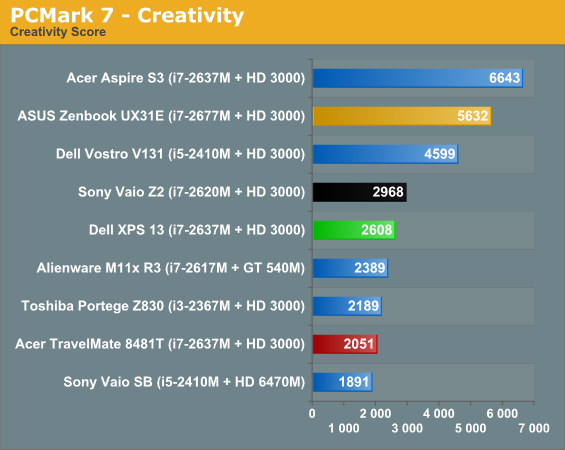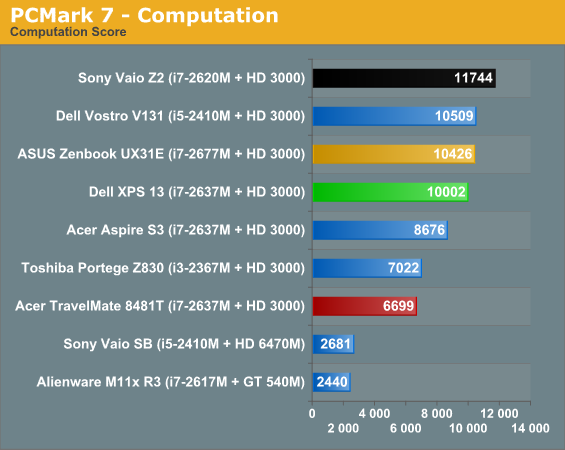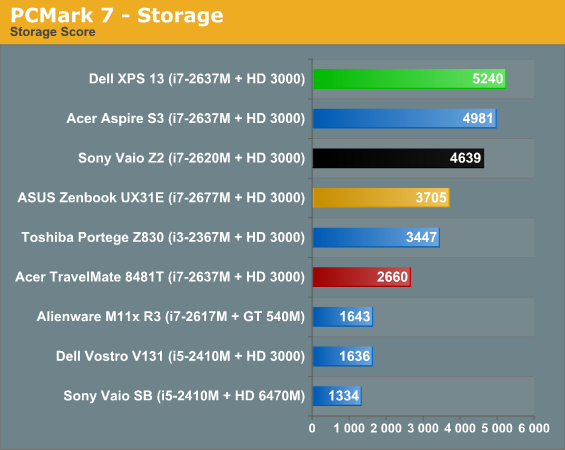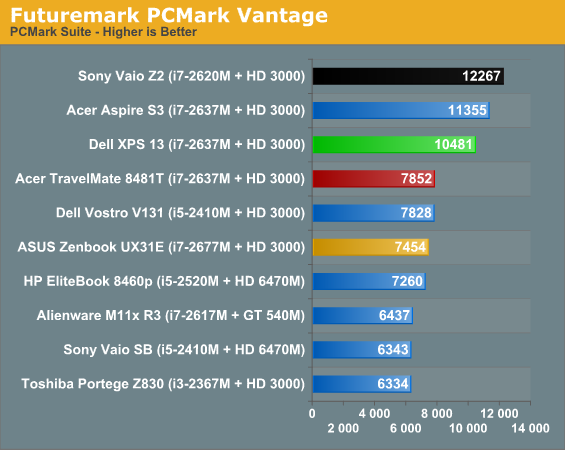 Our PCMark 7 results are mostly predictable, but the takeaway should really be that the Samsung 830 SSD is one of the best SSD solutions we've seen in an ultrabook thus far, even besting Sony's unusual RAID 0 configuration in the Vaio Z2. That lines up largely with conventional wisdom on desktop builds: a single 256GB SSD is generally preferable to a pair of 128GB SSDs in a striped RAID.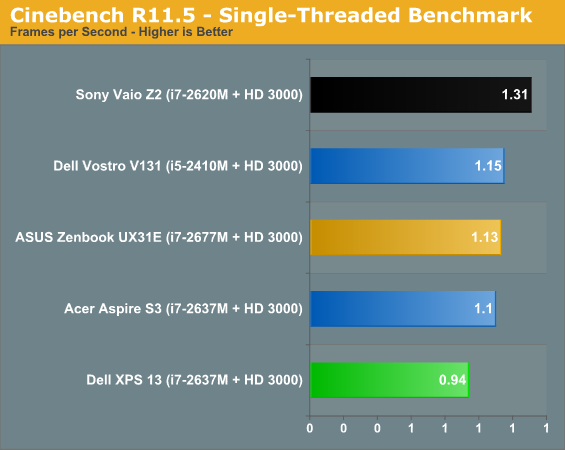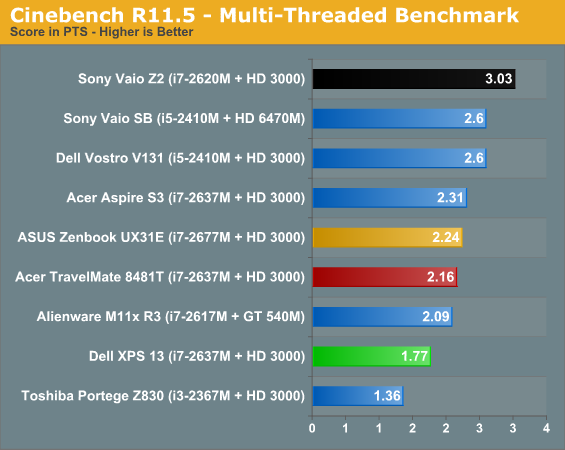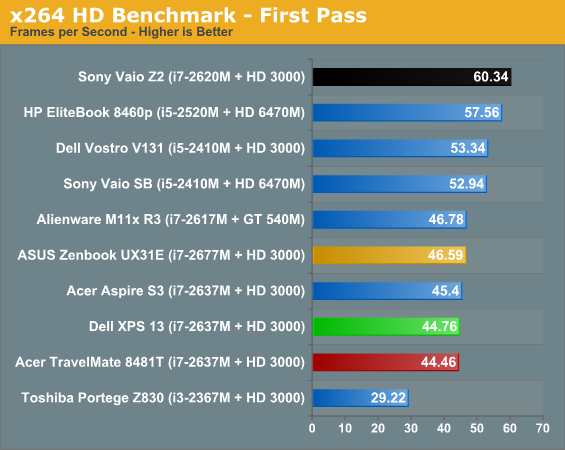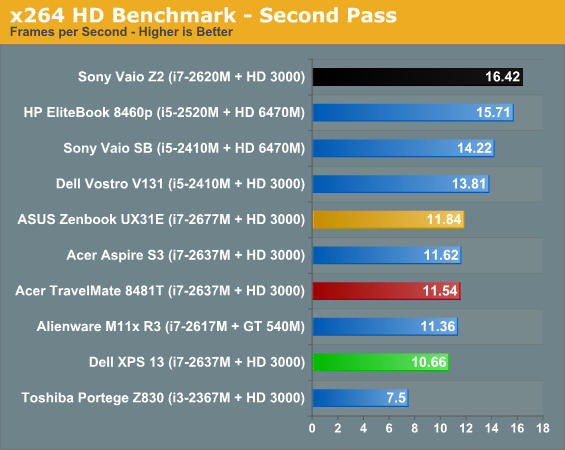 Unfortunately, you could argue the XPS 13 is also hitting some thermal limits as its application performance is a bit behind the curve. While the overall design of the XPS 13 is attractive, the cooling system causes the tiny fan to run at full bore just to keep temperatures manageable, and without that thermal overhead the chip has a harder time hitting and sustaining those high turbo clocks.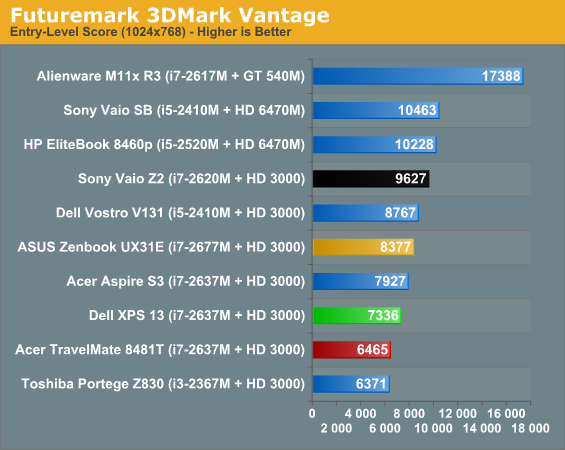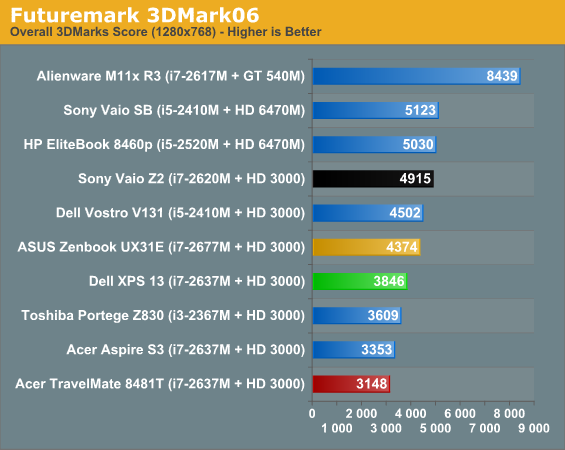 Our 3DMark results corroborate our other findings: where ultrabooks are concerned, the XPS 13 continues to be slightly behind the curve.
Battery Life
One of Intel's big mandates for the ultrabook line was for them to have good battery life, and that's a mandate anyone can really get behind. Dell has gone out of their way to further optimize the XPS 13 for better running time, but their optimizations do run afoul of our testing: the screen features an ambient light sensor which will dynamically adjust the brightness depending on how bright the surrounding room is, and while their optimized mode is enabled it's impossible to prevent the system from going to sleep if left idle. As a result, the XPS 13 was tested in our tried-and-true customized "Power Saver" configuration.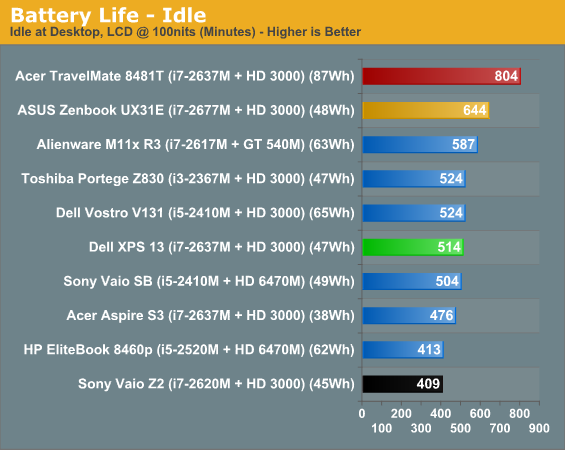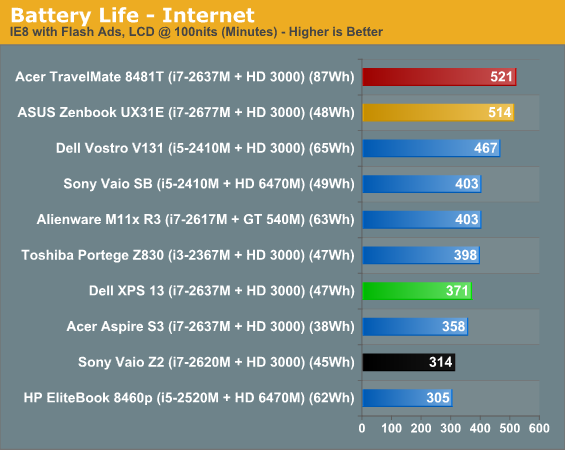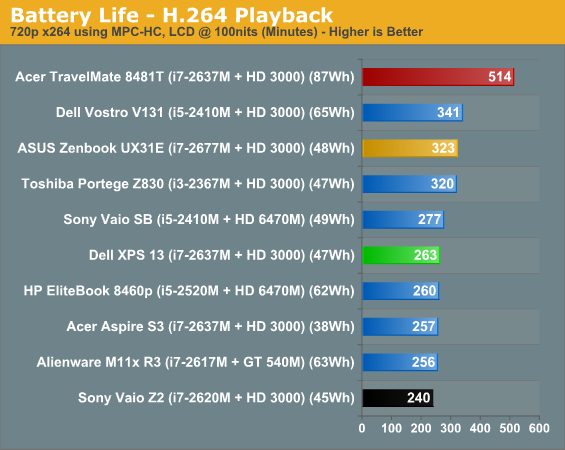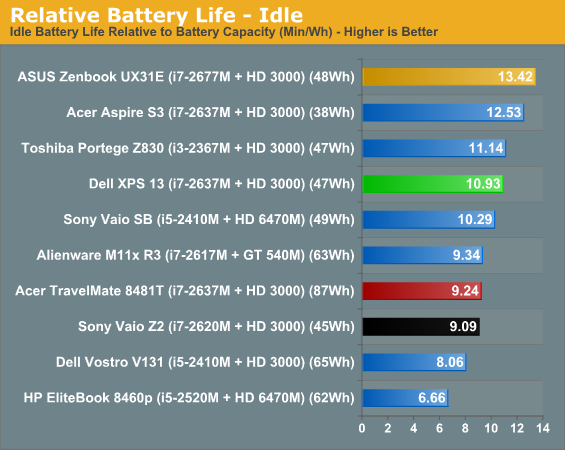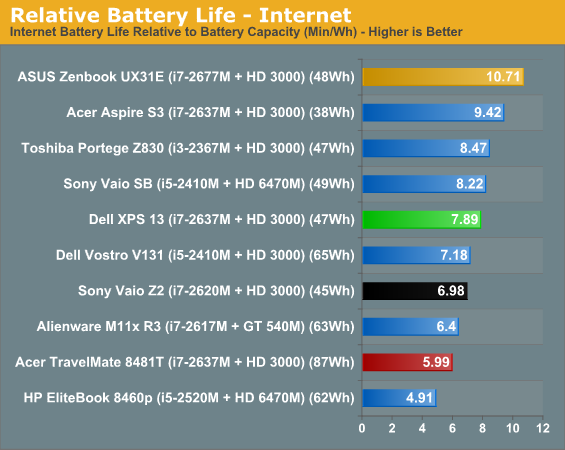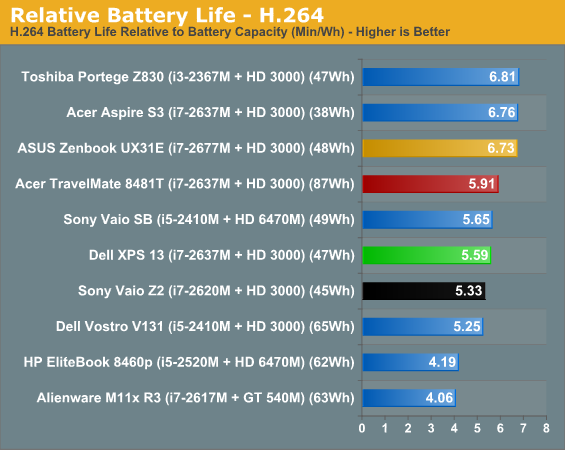 It's hard to complain too much about the battery life the XPS 13 produces, but it's also a situation where you have to wonder if a better thermal solution might not pay off dividends here. Jarred has already proven that Intel's "Hurry Up and Get Idle" mantra is actually accurate to Sandy Bridge, and the XPS 13 could stand to run the fan a bit less.
Heat and Noise
This is really where the Dell XPS 13 just isn't as good of a citizen as we wish it was. Under stress testing, we found the XPS 13's core temperatures would idle in the mid forties and then push into the low eighties. That trouble is compounded by the fan noise; the XPS 13 just seems to have a hard time in general dissipating heat. There's a ceiling that it hits, and then the fan will keep running well after the system has stopped being stressed as it slowly but surely tries to get the temperatures back down to the forties. As I mentioned before, once any obstruction is placed under that bottom vent, it's not at all difficult to get the core temperatures into the high nineties.
Fan noise under heavy load is at least 43dBA, and as is customary with the small fans ultrabooks require, the character of the noise is extremely high pitched. Again, this is really going to be the price of admission for an ultrabook. I want to say that Dell probably could have tweaked their fan controls better, but really it's the fact that the whole cooling system just doesn't seem to be as efficient as competing designs.
Another Low Quality TN Panel
Stop me if you've heard this one before. AnandTech receives a notebook for review from a vendor not named Sony or Apple, and that notebook features a cut rate 1366x768 TN panel with poor viewing angles, poor color, poor contrast, and just poor quality all around. While I don't take issue with that resolution on a 13" screen, everything else only continues to be aggravating, and it's a situation notebook vendors just don't seem to be in any great rush to correct.
If you'll forgive my soapboxing for a second, this wasn't quite as aggravating before the tablet boom. At that point in time, there wasn't any device we could really point to and say "why can't we have that on a notebook?" You could argue that tablets necessitate IPS panels, but high resolution ones like the ones that are beginning to proliferate? And how do they really necessitate them any more than a notebook would, when you're still going to be looking at the screen from roughly the same angles? Yet tablets continue to enjoy excellent quality screens while notebook users are being left out in the cold.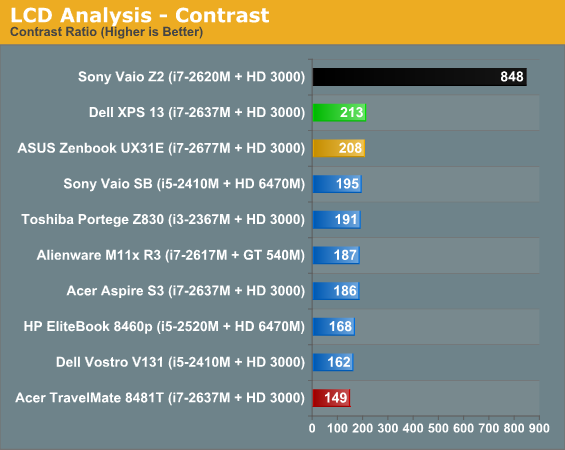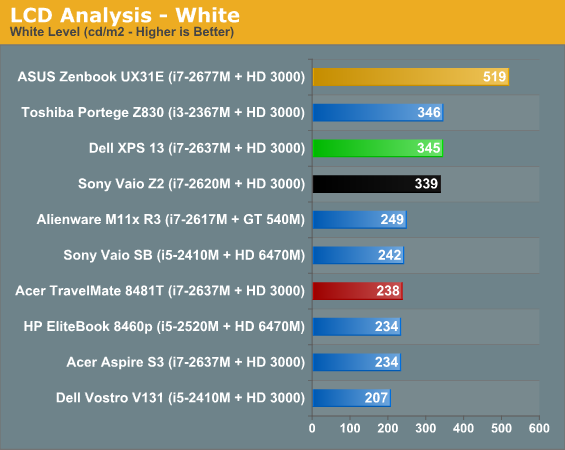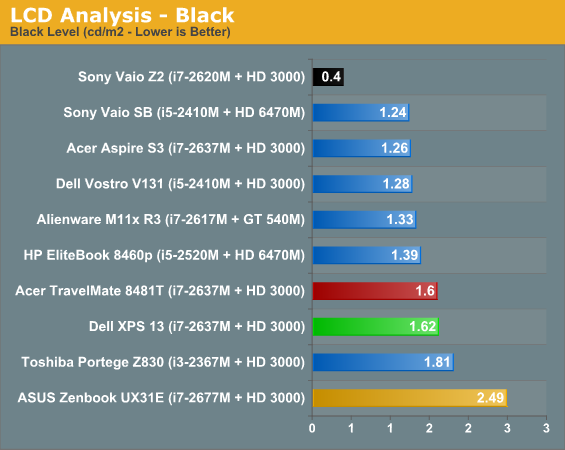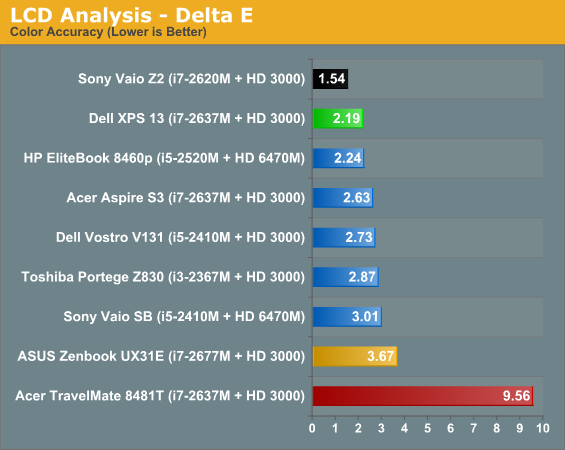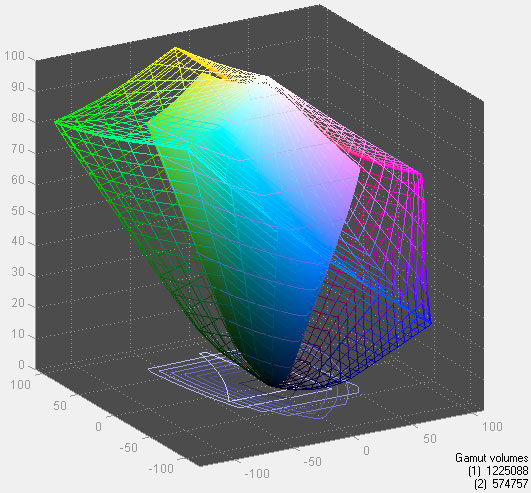 The Sony Vaio Z2's high resolution screen runs roughshod over the competition, while the XPS 13 ranks only as one of the best of a bad bunch. It's incredibly difficult for us, as consumers, to demand better or vote with our dollars when there are virtually no notebooks out there with good panels for us to vote for. Dell is theoretically a big enough vendor to get good panels in the kind of bulk order needed for economy of scale, and I can't help but wish they'd throw that weight around.
Viewing angles are adequate, but the sweet spot is hard to find as is often the case with TN panel notebook screens in this size class. Really, we just need better screens.
Conclusion: Excellent Starting Point
Dell's first entry into the ultrabook market is a patient and smart one. They've arrived at the party a bit later than the competition, but they're fashionably late: instead of a design that just apes the Apple MacBook Air, Dell has taken care to produce something unique to them with the XPS 13.
Aesthetics are almost always a matter of taste, but I continue to personally prefer the looks of the XPS 13 to the other ultrabooks on the market barring the hot pink Zenbook ASUS produces. The materials Dell has chosen to use in the construction of the XPS 13 are notable not just for their quality on their own, but for the lack of chintzy or cheap materials employed. The two-toned black and silver design is also a distinctive one; where other vendors are emphasizing silver and aluminum tones (and giving away their inspiration), Dell has produced an ultrabook that stands out in the right ways.
That's why it's unfortunate that despite the clear attention paid to practicality in the design of the XPS 13, it's also practicality that often needlessly suffers. The keyboard is par for the course for ultrabooks and I'm not sure how much refinement Dell could offer there, but unified touchpads continue to be problematic on PCs and the XPS 13 is no exception. Despite the extended period of time I had to use the XPS 13, I still wasn't ever able to totally adapt to it. I'll also readily admit that I'm personally annoyed by the lack of an integrated card reader; your mileage may vary and certainly it seems like a nitpick, but this is something that I get a tremendous amount of use out of in my aging ThinkPad X100e.
Most of those problems are probably things that the end user will adapt to without too much difficulty, but the XPS 13's thermal solution is a trickier issue. If you're just using the XPS 13 to do word processing or surf the internet, and you use it primarily on flat surfaces, you're not likely to have many issues with it. While the fan can be irritating, the carbon fiber shell ensures the ultrabook never gets uncomfortably hot to the touch. Unfortunately, venting the bottom instead of the sides or back feels like it was the wrong decision, and the ultrabook sometimes has trouble enjoying the benefits of Intel's Turbo Core the way many of its kin do.
None of the issues with the XPS 13 are fundamental flaws or uncorrectable. This is a good product at a reasonable price point that basically just needs a refresh. If you're in the market for an ultrabook I wouldn't dissuade you from going with the XPS 13, but I might advise you to really examine how you're going to use it and do some shopping around first. That's just good advice for any computer purchase, but it's definitely relevant here.