Original Link: http://www.anandtech.com/show/5605/hp-phoenix-h9se-the-pavilion-goes-beyond-thunderdome


Introducing the HP Phoenix h9se
Outside of the Envy series and the bygone era of Voodoo (anyone remember the Blackbird?), HP hasn't exactly been a brand associated with high performance gaming desktops, at least not on the consumer side. They're a large vendor and we tend to expect basic computer systems from them--the type of system we'd buy for our parents or grandparents, not something that would be competitive with the kinds of desktops we can get from boutiques. Yet companies like HP or Dell can leverage their size to produce slick, heavily customized chassis designs for their builds, and that's exactly what HP has done with the Phoenix h9se.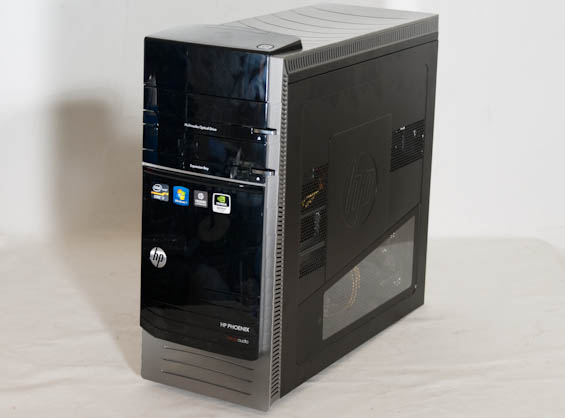 In its nearly sub-midtower dimensions, HP has crammed the Phoenix with a heck of a lot of power while producing something with a unique aesthetic. It's attractive without being gaudy, and in true big-box fashion they've managed to keep the price down. Is the Phoenix worth the gaming dollars of you and yours? Here's the quick rundown of our review unit.
HP Phoenix h9se Specifications
Chassis
Custom HP Phoenix
Processor
Intel Core i7-3960X
(6x3.3GHz, Hyper-Threading, Turbo to 3.9GHz, 32nm, 15MB L3, 130W)
Motherboard
Custom X79 Chipset Board
Memory
4x4GB Micron DDR3-1600
Graphics
NVIDIA GeForce GTX 580 1.5GB GDDR5 (OEM)
(512 CUDA Cores, 772/1544/4008MHz core/shaders/RAM, 384-bit memory bus)
Hard Drive(s)
Intel 320 Series 160GB SATA 3Gbps SSD

Hitachi Deskstar 7K1000.C 500GB 7200-RPM SATA 6Gbps HDD
Optical Drive(s)
Blu-ray/DVDRW Combo Drive
Power Supply
600W Custom
Networking
Ralink RT5392 802.11b/g/n Wireless
Realtek RTL8168 PCIe Gigabit Ethernet
Audio
IDT 92HD89E2
Speaker, mic/line-in, surround jacks, optical out for 7.1 sound
Front Side
Optical drive
4x USB 2.0
SD/MMC/CF card reader
Top
2x USB 3.0
Headphone and mic jacks
Back Side
Optical
4x USB 2.0
2x USB 3.0
Ethernet
Speaker, mic/line-in, surround jacks
2x DVI-D (GeForce)
1x Mini-HDMI (GeForce)
Operating System
Windows 7 Home Premium 64-bit SP1
Dimensions
16.22" x 6.89" x 16.34"
(412mm x 175mm x 415mm)
Extras
Integrated 802.11b/g/n
Closed CPU liquid cooling loop
Warranty
2-year hardware and 1-year software support
Pricing
Starts at $999
Review system configured at $2,899
Our sample system is very nearly as beefy as it gets (and then some!) outside of some upgrade options on storage and memory. While you might think the Phoenix is an Intel-based system from looking at the above table, HP offers the Phoenix with every major processor series. At the $999 price point you start with an AMD FX-8100, which is upgradeable to the FX-8150, but at that point you're within spitting distance of the vastly more powerful Intel Core i7-2600. Ours comes equipped with Intel's Sandy Bridge-E Core i7-3960X, an extremely powerful but costly processor.
HP will also be refreshing the Phoenix with Ivy Bridge once those processors become available. In the meantime, you're also free to overclock any of the unlocked processors that the Phoenix can ship with, although HP won't overclock from the factory and their overclocking support matches Intel's: you're free to do it, but don't come crying to us if/when the overclock is bungled.
Worth noting is that the video card specifically has gone end-of-life from NVIDIA, presumably in anticipation of the release of Kepler, so it's no longer available for order. That leaves the highest performance users hanging in the breeze until March 7th when the AMD Radeon HD 7950 will become available; until then, only the NVIDIA GeForce GTX 550 Ti and AMD Radeon HD 6850 are currently offered. When we asked why the 7970 wasn't being offered, HP's representatives said it was an issue of maintaining a price point. That's a fair response; the 7970 is still pretty fresh in the marketplace, and AMD has seen fit to command a very pretty penny for it. When the 7950 does become available, it'll actually come in at $10 under the GTX 580 configuration.
For the rest of the setup, we've got our preferred SSD + HDD combination for storage, a Blu-ray combo drive, 16GB RAM, and pretty much everything else you'd want from a top of the line system. About the only thing you can't get from the factory in the Phoenix is dual-GPUs; HP sells this strictly as a single-GPU chassis, and the 600W PSU is fitting for such systems. The rest of the components cover all the bases, with USB 3.0 on the top and rear of the chassis and integrated WiFi. Let's hit the benchmarks before discussing the finer details of the build.
System Performance
The HP Phoenix h9se we have for review presents us with a rare opportunity: we have a gaming desktop configured entirely at stock speeds. Also keep in mind that the GTX 580 we have in our system is no longer being offered, as it is being replaced by the AMD Radeon HD 7950 at an ever-so-slightly lower price point, so you'll be getting the same or better performance for about the same amount of money.
We also have a special guest in our charts; the unit marked "Unknown Sample" is a custom rig from a boutique that isn't yet available. We had intended to post that review first, but we've been asked to hold that for a couple more weeks, so we'll just let the numbers speak for themselves.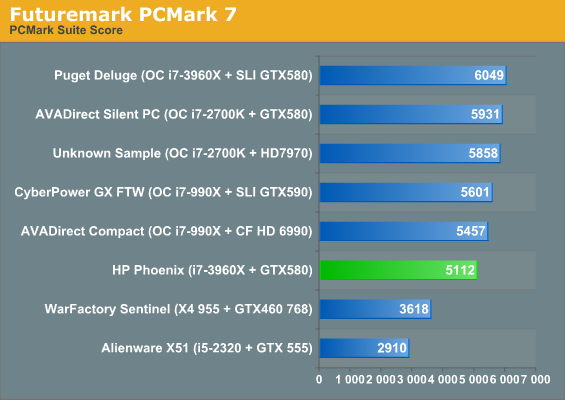 The SSD used in the HP Phoenix is an Intel 320, which is unfortunately limited to 3Gbps operation. As a result our PCMark charts skew heavily in favor of other machines that use faster SSDs. The Intel 320 is by no means awful (an SSD of virtually any stripe is still a notable upgrade as a system drive), but it's a generation behind in terms of performance.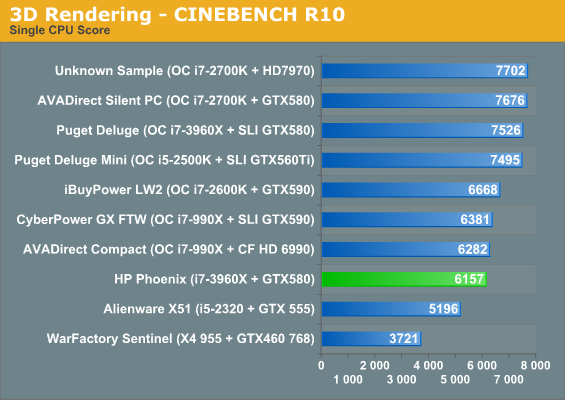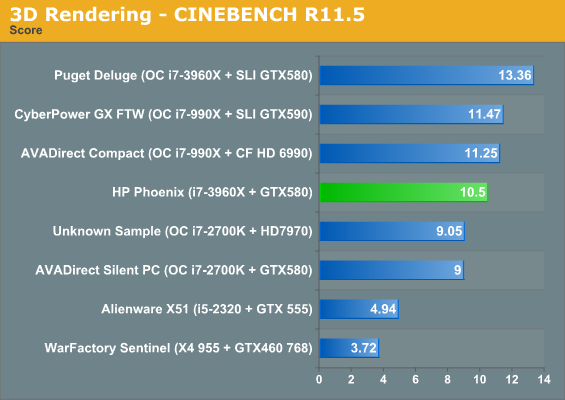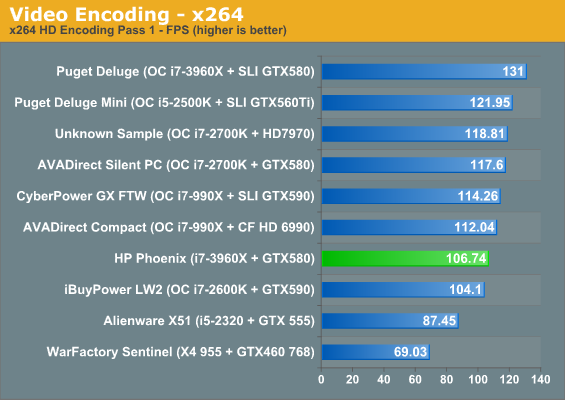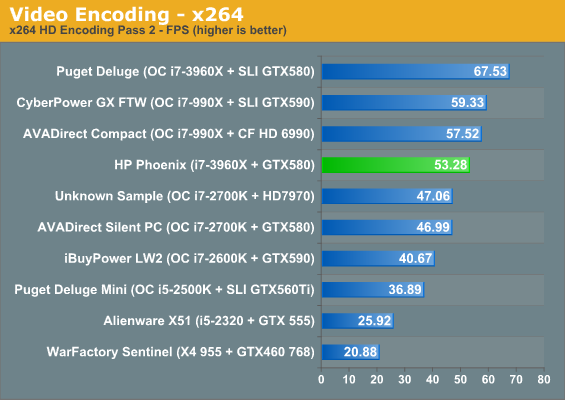 It's interesting to see how a stock-clocked i7-3960X is able to line up against heavily overclocked Sandy Bridge quad-cores (not to mention the previous generation's i7-990X). Every overclocked processor on these charts is running in excess of 4GHz, while the 3960X has to make do with only being able to turbo up to 3.6GHz on all six cores. When it can't leverage the extra two cores, the 3960X carries a notable deficit behind the heavily overclocked Sandy Bridge chips, but once those two come into play, the stock-clocked 3960X is able to mostly hang with the 4GHz+ i7-990X chips and blows past the quads.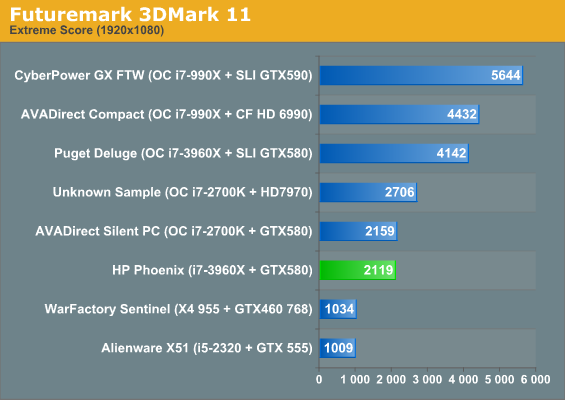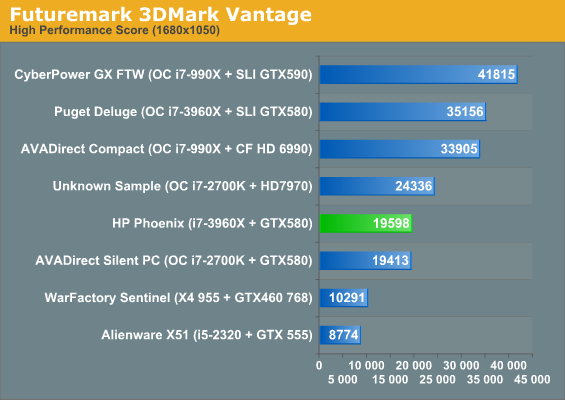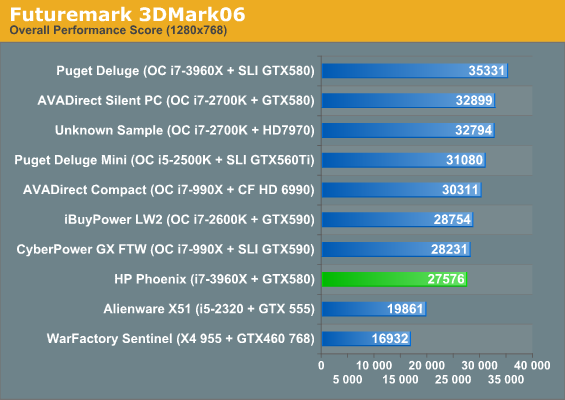 By this point the GeForce GTX 580 is a well-known quantity. A single-GPU card isn't going to be able to compete with dual- and quad-GPU solutions, but it remains among the fastest single-GPU cards available. Unless you're running multiple monitors, the GTX 580 remains very capable, and once the 7950 becomes available for HP things should get shaken up a bit more.
Gaming Performance
Since we refreshed our gaming benchmark suite, we've had to start from scratch on our gaming charts. Unfortunately that means we've seen two GeForce GTX 580-based systems and a single GeForce GTX 555, which is the reason why the "Unknown Sample" with its Radeon HD 7970 has been included. The recent Skyrim 1.4 patch and high resolution texture pack also invalidated some of our test results with AVADirect's silent gaming system, so those have been omitted.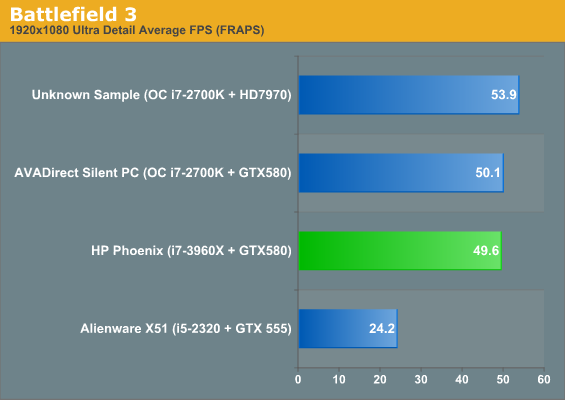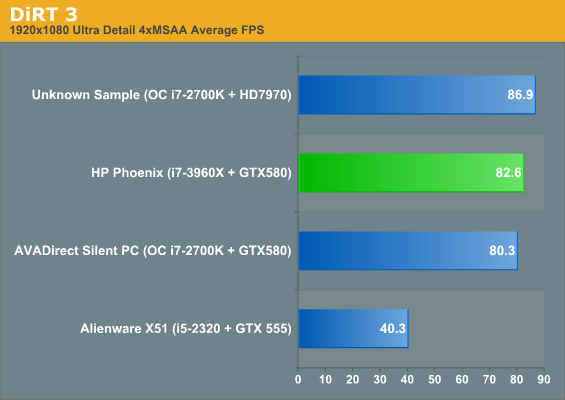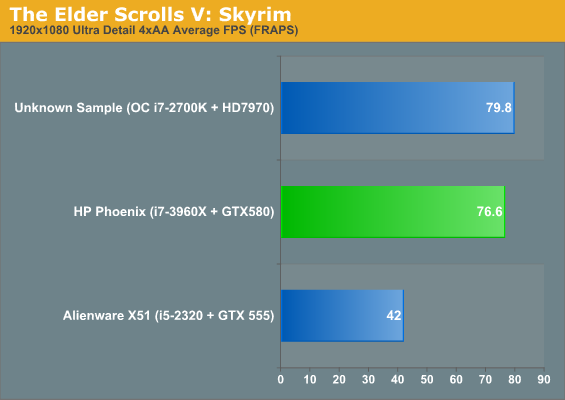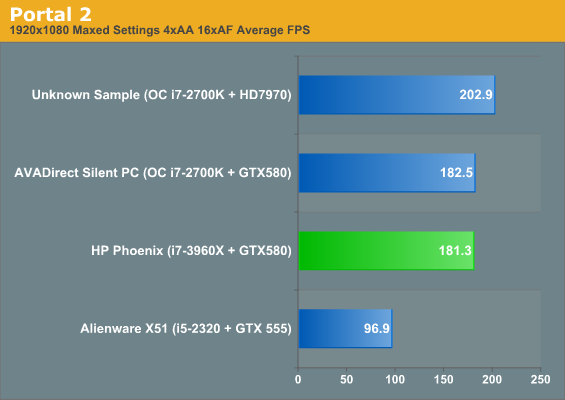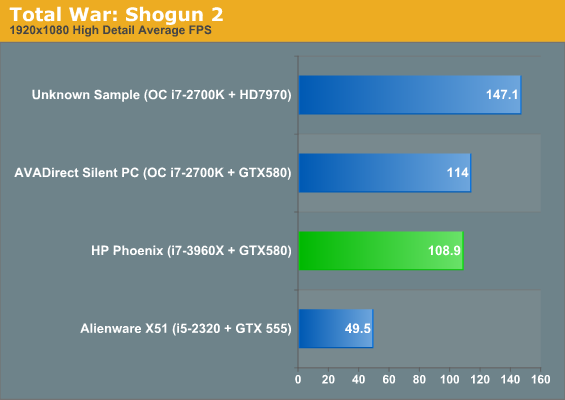 The GeForce GTX 580 may be in its last days, but it's still plenty of graphics card for our 1080p testing suite. Hopefully Kepler will bring support for three displays with it, because gaming technology just hasn't been keeping up with the performance available from our current graphics hardware at this resolution. Even QWXGA and QHD (e.g. 30" and 27" high-resolution displays) can generally run off a single GTX 580 or HD 7970 with all the settings cranked up.
Build, Heat, and Power Consumption
As mentioned before, HP has been able to leverage their size to produce a custom chassis that's reasonably small given the performance of the hardware contained within. What exactly does that mean? Let's assume the R&D and chassis design for a new case comes to around $1 million; for a boutique that might only sell 10K units (if that), it could mean at least $100 extra per system. A large OEM on the other hand that can move 100K units would only need to increase the cost of each unit by $10. Basically, economies of scale are very much in favor of the big OEMs (never mind the additional pricing benefits they enjoy for moving large volumes of CPUs, GPUs, etc.) Regardless of the size of company, though, it's the final product that matters. In the case of the Phoenix chassis, the result is a system with some modest thermal headroom and expandability to boot.
Externally the Phoenix looks like a slightly gussied-up Pavilion, but the aesthetic is pleasing. The side window glows from the red LED fan used on the liquid cooler's radiator, while the front has a series of red stripes that glow softly. I'm not a huge fan of glossy plastic, but here HP uses it primarily as an accent and it makes sense. The rest of the shell is a combination of gray plastic and black steel.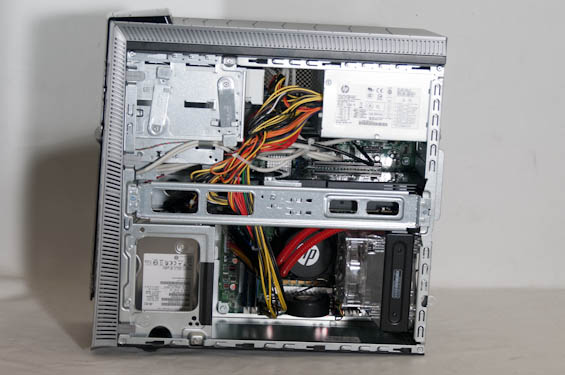 The internal design is about as cramped as you would expect, but HP includes disassembly instructions on the inside of the panel. Note the inverted design; the motherboard is affixed to the left side instead of the right, and the power supply is mounted at the top of the enclosure behind the optical drives. This arrangement paid off handsomely for SilverStone's Temjin TJ08-E enclosure and seems to be the right call for HP. The hard drive cage supports up to two 2.5" SSDs and a single 3.5" HDD.
While the motherboard has two PCIe x16 slots, there just isn't enough space or thermal headroom inside the Phoenix to handle any multi-GPU configurations, let alone power from the power supply. You could potentially use two slower GPUs, but that seems like a step backwards in overall performance potential and ease of use. Running a single GPU shouldn't be a problem, but it's something to keep in mind.
Thermally, HP's cooling system does an adequate job handling this configuration, but I'm not holding my breath for much in the way of overclocking headroom on the i7-3960X. I've generally been unimpressed by closed-loop CPU coolers, but it's still a better choice for shipping than a hefty tower cooler that can stress the motherboard if it's jostled too much. The GTX 580 posts numbers basically on par with what I've come to expect from this type of enclosure design; this is a chassis clearly intended for a specific thermal and power envelope and it meets those needs.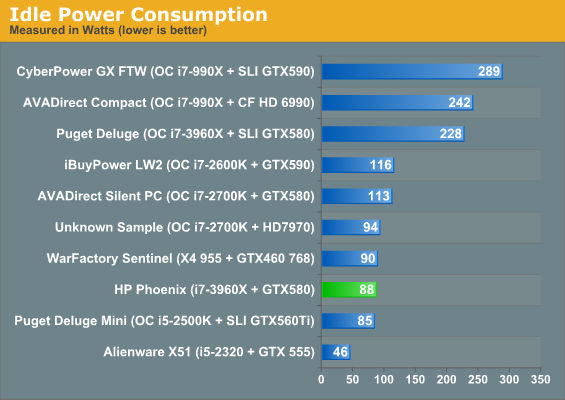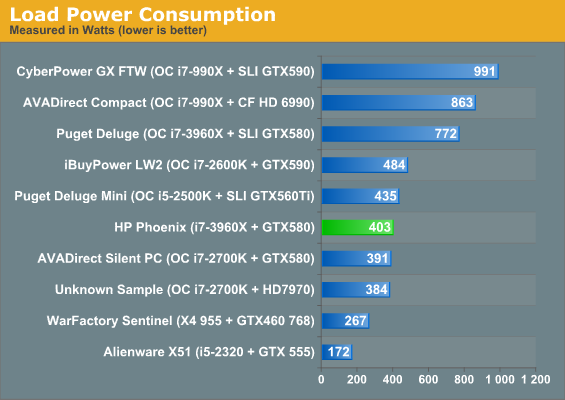 Power consumption for the Phoenix is, all told, pretty good. No one ever accused Sandy Bridge-E of being particularly frugal, but the system at least takes advantage of power-saving technologies on hand.
Conclusion: Carving Out a Niche
What I think HP has done with the Phoenix is to essentially produce a commodity gaming system. To a certain extent the HP Phoenix is comparable with gaming machines from boutiques, but the limited expandability and tight thermal and power constraints of the Phoenix suggest something more akin to Alienware's X51 than something meant to legitimately compete with custom builds.
That in mind, HP is also in a certain way serving a market that has heretofore gone underserved: people who want to buy a PC off the shelf that can play games--not just some games at lowered detail settings, but all recent releases at Full HD resolution. Remember that most desktops in retail cut the GPU corner first and hardest and then almost never have enough juice in the power supply to handle a halfway decent dedicated video card should the end user want to make that upgrade. With the Phoenix, a customer can order a basic $999 tower and not have to worry about being unable to play anything or having to do any serious configuring.
Our review configuration is probably the least sensible build a consumer could order from HP. The vastly less expensive i7-2600 base model is, at $1,149, the sweet spot, though the end user would be advised to pay the extra $69 for the GeForce GTX 550 Ti (at $229 the Radeon HD 6850 upgrade isn't worth it). We'd also recommend waiting for the HD 7950 upgrade to become available if you're serious about gaming, as that should deliver performance similar to our test unit.
The strengths of the Phoenix are also its weaknesses, though. As I mentioned before, the expandability is pretty severely limited due in part to the small chassis. This isn't the hardest enclosure to work in, but really it's meant to be what you need it to be the day it ships. HP doesn't prohibit overclocking, but the i7-2600K/2700K is absent from the configuration options, while the remaining unlocked options (AMD's FX series and the Sandy Bridge-E i7 hex-cores) are already producing about as much heat as the cooling system can handle without serious stress. You can replace the video card, and HP does rate the case as being able to handle up to 250W from there, but that's about as far as you're probably going to want to go. Real estate inside the chassis is at such a premium that multi-GPU configurations aren't an option, and there's very limited space for adding hard drives.
Ultimately the Phoenix is a fine choice for anyone who wants a gaming system but doesn't want to deal with any of the potential hassles. Major vendors like Dell and HP are known quantities to most consumers, and the HP Phoenix is a ready-to-ship big box gaming system for cheap (discounting the SNB-E builds). While more serious users are probably still going to want to buy from boutiques (assuming they're not rolling their own), there's definitely a market for what HP has produced.