Original Link: http://www.anandtech.com/show/5464/seasonic-platinum-series-860w


Introducing the Seasonic Platinum Series 860W
In a short time we've seen quite a few companies come out with their first 80 Plus Platinum power supplies. A couple weeks ago we reviewed the Enermax Platimax with 750W, which was a good PSU even though our testing showed slightly less than the advertised efficiency. Enermax also has a 500W Platimax unit, and there are several other brands launching or ready to launch 80 Plus Platinum offerings. Today we'll look at another sample, this time in the form of Seasonic's Platinum Series 860W.
One thing that all of the 80 Plus Platinum models have in common is that they are very expensive. Something else to consider is that there are only a limited number of companies that actually manufacture PSUs, building various models according to the specifications their partners request. Seasonic is one such company, and we can expect other brands to use variations of the Seasonic Platinum Series we're reviewing today. The 860W model we're looking at includes two different modes for controlling the fan speed, a fullly modular connector system, and DC-to-DC converters for two of the smaller output voltages.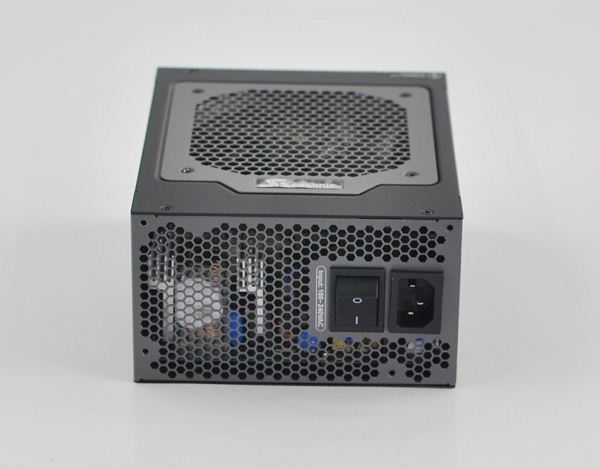 It's been nearly a year since we reviewed Seasonic's X-560 80 Plus Gold power supply, and it's still one of the best PSUs available. The Platinum Series looks set to continue from where the X-Series left off, as their new Platinum Series is very similar to the previous generation Gold products in many respects. Which raises an interesting question: are they even able to surpass their previous generation, especially when we factor in pricing and availability? On the following pages we will show the differences between the new series and the older models, along with all the important measurements and test results.
While efficient PSUs are all the marketing rage in the world of power supplies, we should keep in mind that many manufacturers are trying to reach 80 Plus Platinum levels via "cheap tricks". Enermax and FSP decided to cut the EMI filtering while SuperFlower still has an aversion to over current protection. Shunt resistors for example transform some of the power into power loss when current flows through it, since there is a voltage drop, but that's actually their job as they measure and prevent overcurrent. We are looking forward to see a better solution from Seasonic -- which doesn't mean other solutions would be bad.
Delivery Contents, Power Rating, and Fan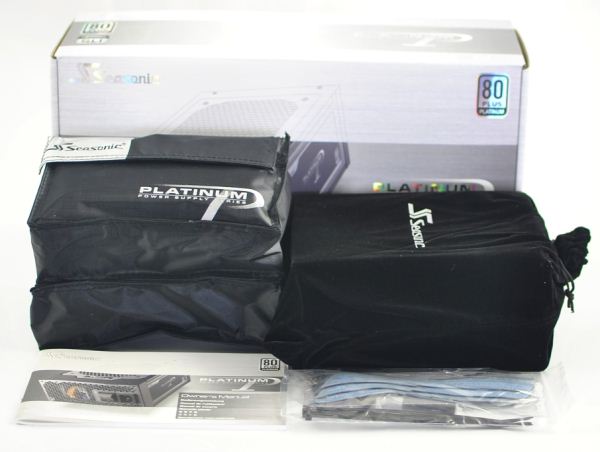 The contents of the Platinum 860W package are not as extensive as those of the MaxRevo series from Enermax. However, you still get two different types of cable ties, a user guide, a bag with the modular connectors, screws for installing the PC power supply in the case, a small screwdriver, and a Seasonic sticker. The ATX power supply itself is well protected from dust and dirt with a cloth bag.
One interesting feature is that Seasonic uses a high quality fan from Sanyo Denki, with a twist. As we will see when we take a closer look to the case, there's a small switch next to the modular sockets. This switch allows users to choose between active mode (the fan will always spin, even if slowly) or semi-passive operation. If the latter is selected, the fan won't rotate at loads below 40%. The idea is similar to what Seasonic offered with their X-Series, but now users have the ability to choose non-passive operation if they prefer a small amount of airflow. Seasonic also provides a 7-year warranty, though of course that doesn't say anything about the actual quality of service or support.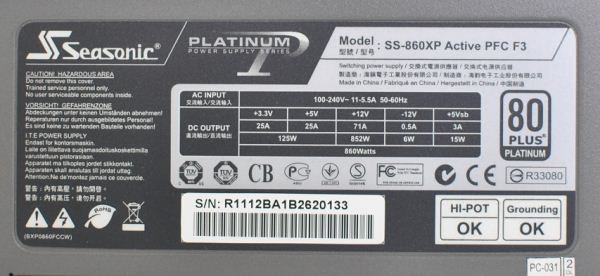 Similar to the X-Series the +3.3V and +5V outputs are rated at 25A each. Together these can deliver up to 125W (so it's not actually possible to draw the maximum current from both simultaneously). Meanwhile the more important +12V output is very powerful and can reach up to 852W output, though in practice the +3.3V and +5V will use some of the available power. +5VSB is rated at 3A. The first parts of the serial number tell us that this power supply was produced in December 2011.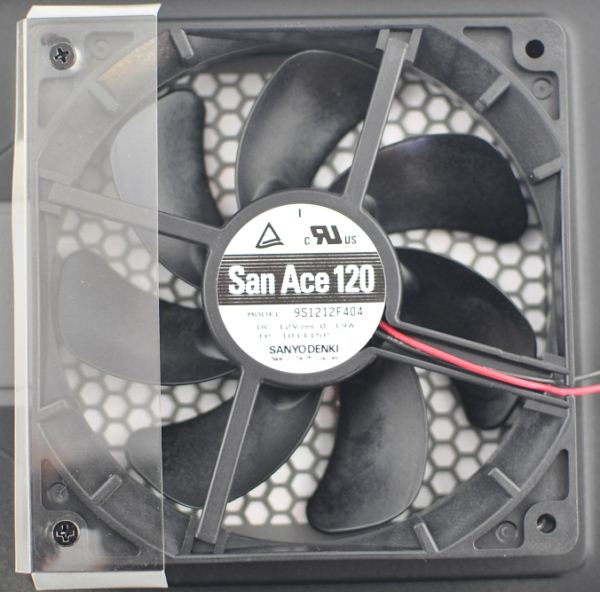 Seasonic installed a 9S1212F04 fan from Sanyo Denki, which we've seen in many other expensive power supplies. This fan uses very good ball bearings and has seven fan blades. Seasonic covers part of the fan by a plastic foil in order to better direct airflow and reduce turbulence. In contrast to the earlier design of the X-Series, the fan speed cannot be adjusted by the duty cycle (PWM). Antec has a patent in this area and Seasonic acquired a restricted license only; thus, the fan speed regulation uses different voltages to control RPMs. With 0.19A the fan has a moderate maximum current use.
External Impressions, Cables, and Connectors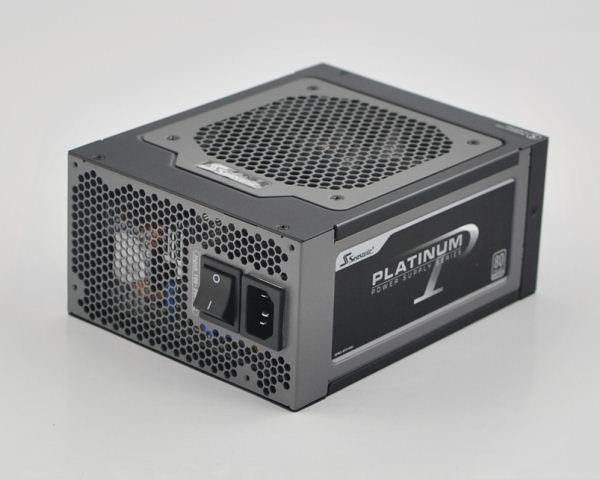 Other than the change in color, the top of the casing looks exactly like the one from the X-1000 and X-1250. All the sides are very thick and even after opening the chassis we couldn't find any sharp-edged parts. One side shows the name of the series, and the opposite side has the power output label. On the rear of the PSU, next to the power input is a large power switch, occupying more than its fair share of space and taking away a bit of area that would otherwise be used for the ventilation holes.
At the front we find that all the modular plugs are uniform in color. The top right socket can be used either for a PCIe or for a CPU connector. When in doubt, the customer must choose one of the two variants, but the PCIe connector can also be connected in the bottom row. Three more PCIe plugs are available, though only two of them are required for the 860W model (e.g. there are only two PCIe cable harnesses).
Worth note is that at 19cm the body is relatively long, but it's not surprisingly long for a modular PSU in this power class. The product wasn't designed for HTPCs so the length shouldn't be a point of criticism. However, you'll want to ensure your intended case has enough room for the PSU.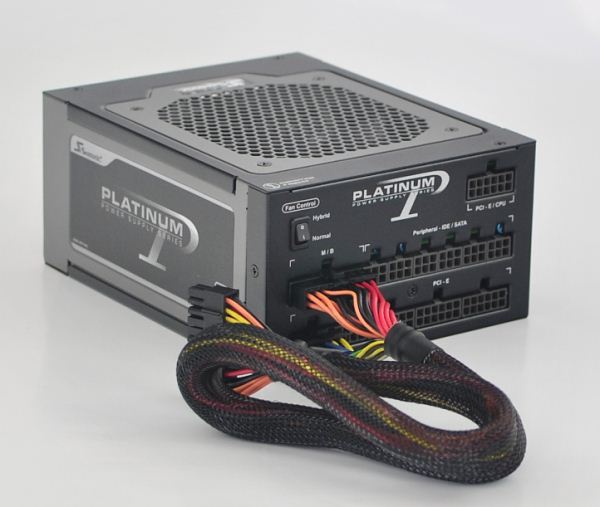 Cables and Connectors

Main

1x 24-pin (60cm) modular

ATX12V/EPS12V
4+4-pin (65cm)
8-pin (65cm) all modular
PCIe
2x 6/8-pin (60cm)
2x 6/8-pin (60cm) all modular
Peripheral

3x SATA (55, 70, 85cm)




3x SATA (55, 70, 85cm)




3x SATA (55, 70, 85cm)




2x SATA (35, 50cm)

all modular

3x Molex (55, 70, 85cm

)




3x Molex (55, 70, 85cm)




2x Molex (35, 50cm)

all modular
In total there are eleven SATA connectors on four separate harnesses, which is above average. The eight Molex connectors are common for this performance category. Note that the connector panel of the PSU only supports using six total harnesses, so you'll have to either skip out on one SATA harness or one of the Molex harnesses. Apart from the two slightly shorter peripheral cables it would have been nice to get different lengths for the remaining SATA and Molex cables.
As noted above the upper socket can be used for graphics cards or the CPU. At up to 85cm long, the peripheral cables should work in nearly all cases, while the mainboard and PCIe plugs reach 60-65cm. The 24-pin plug is connected to the bottom row (with 12 volt) and the middle row as well.
The cable sleeving is very good and relatively opaque, but ends just before the plug sockets, which doesn't look as good as it could. That's apparently the price one must pay for the full modular connector system; perhaps flat cables would be a better solution here. But this is a matter of taste. As always the electronics is much more important for us.
Internals and Electronics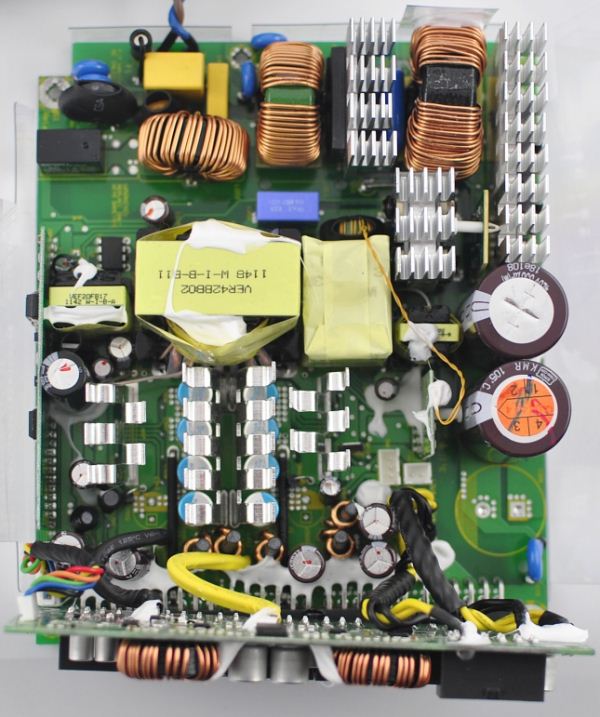 As our research has shown the Platinum 860W is very close to the 80 Plus Gold X-1000 and X-1250. This is not surprising, since the earlier model PSUs already had a considerably higher efficiency than the requirements for 80 Plus Gold certification. Seasonic employs a full-bridge resonant converter that utilizes the transformer in full. You don't need any diodes for commutation during turn-off. As a result this circuit design is predestined for higher power ratings.
The current and voltage pulses of the resonant circuit run nearly sinusoidal and the transistors turn on at zero voltage. Together with the low resistance on the drain-source path the power dissipation is much lower during turn-on, turn-off, and the saturation of those transistors. Accordingly the heatsinks are much smaller now. However, differences between the larger models are the "weaker" MOSFETs and the missing third primary capacitor (which you can see a silkscreened space for in the above image).
There are some minor changes from the previous X-series. One of them is connected with the resonant circuit itself. Two conductions of the IC CM6901 (on a small PCB) lead to a small inductor, which is located between the resonant capacitor, the resonant coil, and the small "auxiliary coil" to relieve the main transformer. With this the current is measured in the resonant circuit to improve regulation. A second winding is connected to the main PCB and the magnetic flux in the core passes through the regulation winding.
We found out that there are two +12V sources at the transformer with two large ground planes. The PS232F offers over current protection for +3.3V, +5V and +12V (up to four outputs). This is the second sign that this PSU has multiple +12V outputs. The pins for the over current measurements are connected to +12V without exception. Seasonic does not officially favor a single output, but many ODM customers such as Corsair do, which might be the reason for the "single rail" rating on their label. Nevertheless it is basically a multiple 12V rail design.
Voltage Regulation
+3.3V Regulation/Ripple and Noise
Load
Voltage
5%

+1.28% (5mV)

10%

+1.24% (6mV)

20%

+1.12% (8mV)

50%

+0.24% (10mV)

80%

-1.23% (11mV)

100%

-1.67% (14mV)

110%

-1.79% (14mV)

Crossload +12V max.

+0.61%

Crossload +3.3V/+5V max.

+0.00%
+5V Regulation/Ripple and Noise
Load
Voltage
5%

+1.20% (7mV)

10%

+0.82% (7mV)

20%

+0.40% (9mV)

50%

-0.02% (11mV)

80%

-0.94% (12mV)

100%

-0.92% (12mV)

110%

-0.86% (13mV)

Crossload +12V max.

+0.28%

Crossload +3.3V/+5V max.

-0.04%
+12V Regulation (Worst Rail)/Ripple and Noise (Worst Rail)
Load
Voltage
5%

+1.13% (4mV)

10%

+1.04% (5mV)

20%

+0.98% (22mV)

50%

+0.48% (16mV)

80%

+0.01% (20mV)

100%

-0.31% (24mV)

110%

-0.67% (26mV)

Crossload +12V max.

-0.17%

Crossload +3.3V/+5V max.

+0.13%
Noise Levels
Loudness
Load
Opinion
5%
low fan noise and small electrical side noise
10%
low fan noise and small electrical side noise
20%
low fan noise and small electrical side noise
50%
fan noise and small electrical side noise
80%
strong fan noise and small electrical side noise
100%
strong fan noise and small electrical side noise
110%
strong fan noise and small electrical side noise
Efficiency and PFC
Efficiency (AC input minus DC output) and Power Factor
Load
Efficiency
PFC
5%

79.83%

0.712

10%

86.53%

0.898

20%

90.77%

0.942

50%

93.03%

0.979

80%

91.99%

0.988

100%

91.40%

0.989

110%

91.27%

0.990
The ball bearing is (almost) inaudible under high loads. During low loads you might hear the PFC choke if you are close enough, but this shouldn't be a problem when the PSU is mounted in a closed case. If desired the fan can be turned off through up to 40% load by a small switch on the front of the casing, which would make the PSU completely silent at lower loads (other than the electrical noise we noted).
Efficiency is much higher than expected. Seasonic is well above the requirements for the 80 Plus Platinum certificate (90%/92%/89% efficiency at 20%/50%/100% load). Even at lower loads Seasonic is able to surpass most results from competing products. In addition the Platinum Series 860W performs much better than what we saw from the Enermax Platimax 750W. It's only at 5% load that this PSU is below 80% efficiency, and even then it's basically a rounding error. So far this is an exceptionally good result; PFC could be a little better, but we don't want to overdo things.
During all loads voltage regulation is simply perfect. Even under crossload conditions all voltages are close to their optimal values. -1.67% is the "worst" result on 3.3V while 12V is much better (-0.31% as long as we stay at <100% load). Another highlight is the low ripple voltage. We would like to see such results more often, since 26mV on 12V is only 0.22% ripple and noise—according to the ATX specification 1% is allowed. Enermax had no problems with this level as well and makes stable outputs too, but ripple was noticeably higher. Given these results, Seasonic is clearly the winner in our head-to-head comparison.
Probably the Best PSU Ever!
The Seasonic Platinum 860W is the best current Seasonic product, and very probably the best power supply available at this time. The delivery contents and the number of connectors are at least above average. The internal design, the fan, and the excellent measurements surpass all current solutions from their competition. Clever ideas like the switch for active or semi-passive cooling operation are welcome extras and work without any complications.
Inside Seasonic uses a powerful variation of the well known resonant converter. As usual, the manufacturer implemented the latest silicon carbide diode in the primary circuit and very good MOSFETs. With a mains filter and further components for EMI filtering the PSU is very well equipped. Other manufacturers tried to cut components here in order to improve efficiency, but here Seasonic still includes passive surge protection and inrush current limitation. As expected, Seasonic uses high-quality Japanese capacitors and very good PCB materials. However, even Seasonic is not safe from problems. We saw ferrite beads on two Gate connectors (part of a MOSFET).
Perhaps the PFC control circuit should get a multi-layer design, since some conducting paths are used for different circuits. This might be a source for differential mode interferences and the reason why ferrite beads are necessary. Apparently Seasonic seems to have no problems with the frequency range of their buck converters used for 3.3V and 5V—some engineers bet on HF litz wires on the storage inductors or reduce the frequency with an external circuit. In addition the ESL (Equivalent Series Inductance) of capacitors gets more and more important. Regardless, Seasonic integrated well chosen components and the soldering quality is impressive.
As noted on the previous page, the Platinum 860W showed no significant weaknesses, only the usual strengths of Seasonic. The ripple and noise voltage is never higher than about 30mV at 12V, and the smaller outputs show even lower results. Moreover there is no significant voltage drop at higher loads; all output voltages are very well regulated. Only the chirping of the PFC inductor becomes noticeable if you are close enough; in a closed PC case the noise should not be audible. Right up to higher loads the fan is quiet—or even inaudible below 40% load if the semi-passive mode is activated. Up to 93% efficiency can be achieved with this design and even at 10% load efficiency is still very good. At very low load the regulation effort is usually high—measured against the operating current. This causes high power loss during low load.
Seasonic has no problem with these power losses and even passive components such as filtering coils can't stop Seasonic from reaching and exceeding the 80 Plus Platinum requirements. That might sound strange at first, but FSP for example changed the input differential-mode choke into two single wires with a ferrite core. The lower inductive reactance opens the doors for differential mode interferences. Other manufacturers try to remove important parts such as OCP to reduce power dissipation. The solution from Seasonic is a major advance, which makes the power supply the flagship in its class. A high efficiency should always be compatible with constant quality, which doesn't mean other solutions wouldn't be acceptable as well. FSP tried to make low prices for their Platinum PSUs—an understandable step.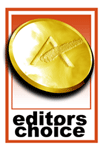 The larger Platimax models (>1000W) from Enermax might have more extras than the Platinum 860W, but Seasonic includes plenty of extras as well and at least matches what you get with the Platimax 750W. The 60 to 65cm motherboard and GPU connectors are extremely long, and the Platinum 860W can support up to four PEG, eleven SATA, and eight HDD connections. In particular, the number of SATA connectors is very satisfying, and the high quality cable sleeving is another reason to buy this product.
The direct competitors include the already mentioned Enermax Platimax 750W / Platimax 850W and the Golden King Platinum design (Kingwin LZP-750) from Super Flower. The latter offering isn't just questionable in name, but the missing overcurrent protection and MOV are also a major drawback. As such, we wouldn't put that particular unit in the same category as the Seasonic; Super Flower products in general use cheaper quality. In price and quality Enermax Platimax is close to the Seasonic Platinum, but Seasonic clearly demonstrates better soldering quality and uses extensive EMI filtering. The Seasonic Platinum 860W is currently available for $220, which is $20 less than the best price we can currently find on the Enermax Platimax 850W. Given all of these factors, there is only one possible ending: the Seasonic Platinum 860W deservedly earns our Gold Editors' Choice Award for being as good as one's word—and in some cases, even better.