Original Link: http://www.anandtech.com/show/5360/ecs-x79rax-black-extreme-review


Over the past 12 months I have covered a number of ECS boards, from the Sandy Bridge and Fusion range, including one with a Hydra chip. Looking back on those, there was a distinct running theme – a willingness to offer the consumer perhaps something different. My tour of the ECS headquarters back in June, and a Q&A session with an ECS VP, gave credence to ECS pushing more into the consumer market rather than their roots in OEM. X79 was a focal point for this, and today we are seeing the fruits of that perseverance, in the X79R-AX (Black Extreme) motherboard.
Overview
Overall, I have to say that this board performed well, after some initial teething problems. What we have is a $310 X79 motherboard ($260 with mail-in rebate from ECS until 2/3) with dual Gigabit Ethernet, support for 12 SATA devices (and 12 SATA cables included), a USB 3.0 bracket, support for quad-SLI/CrossfireX as well as onboard WiFi and Bluetooth. With the MIR this makes it a very attractive board, within firing line of the Gigabyte X79-UD3 reviewed previously.
However, some users will note some areas which are perhaps comparably not as desirable compared to others – a Realtek ALC892 audio rather than the ALC898 commonly on X79, both gigabit Ethernet ports are also Realtek rather than Intel (or Broadcom), and only four DDR3 DIMM slots. Personally, while these features are nice to be upgraded, from a personal perspective, they probably are not deal-breakers unless you specifically need the upgraded component.
In terms of auto-overclocking, this is one of the best ones we've seen, giving a 4.5 GHz CPU overclock, and applying an XMP profile, with just one option in the BIOS. However, other overclocking methods are not as easy - I had difficulty using the auto-memory overclocks, and the CPU multiplier adjustment didn't seem to work, leaving only the CPU strap and BCLK to adjust. Visually, I like the ECS style, with the black, grey and white, and everything is laid out on the board relatively easy to get to. The board itself comes with a 3-year warranty for parts, 2-year for labor.
There were some initial hindrances in the X79R-AX review sample I received. I was confused about some of the SATA ports labeled SAS, given that SAS compatibility was pulled from the Sandy Bridge-E specifications, but this was remedied by installing Intel RST in the OS. On my shipping BIOS (11/10/2011), there were also issues relating to Turbo not being applied to the CPU. This was fixed in the latest BIOS I was shipped (12/26/2011), which should be online shortly. I have also fired a list off to ECS for some suggested changes to default settings to help consumers, but nevertheless, with the features on board, for the price (and the rebate), ECS have a very attractive offering.
Visual Inspection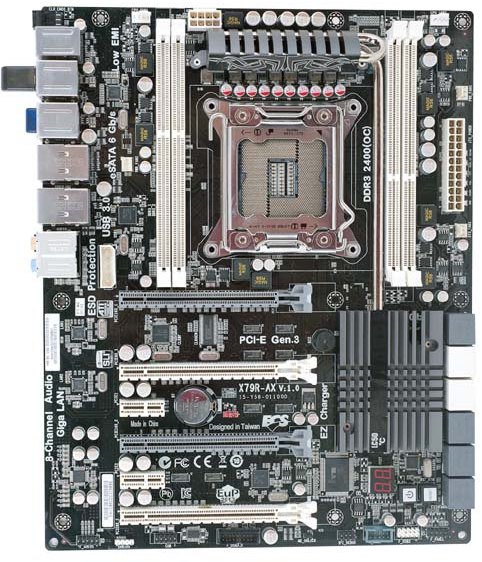 As mentioned previously, I like the ECS color scheme of black, white and grey. Anything that cannot be changed and is in the background is black, and everything else is grey/white. For your money, the first thing users will see is that there are only four DDR3 DIMM slots, compared to some models in this price range having eight. The pros and cons of having eight slots over four are debated wildly across the internet, and it comes down to need – if you want more than 16 GB (4x4 GB) of memory in your system (assuming you are not willing to spend $$$ on 8 GB modules). For most enthusiasts (gaming, overclocking), the answer is probably no, whereas for media editing, rendering, VMs or simulation, you may need more.
Around the socket itself we have a tight squeeze with the DIMMs and the VRM cooler. The VRM cooler is connected via heatpipes to the chipset cooler, and also sports ECS' new 'Qooltech IV' technology. This is essentially a strip (or as ECS put it, 'thermal chromic technology') with chemicals that change color (black/transparent to orange) above a certain limit, akin to what you may have had put on your head as a child to check your temperature. The downside I found is that my CPU cooling obscured this, making it quite irrelevant to the product. Even with the extra temperature strip on the chipset heatsink, that was obscured mainly by my dual GPU setup.
In terms of fan headers, the board has five - two four-pin CPU headers at the top of the board (one either side of the VRM), a three-pin PWR fan to the left of the socket and two 3-pin (one SYS and one PWR) straddling the 24-pin ATX power connector. This means no fan connectors at the bottom, which is a shame. These fans are either controlled via the BIOS, or the eSF software provided by ECS will adjust the SYS fans via a hysteresis loop. More on that later.
Moving down the right hand side of the board are the abundant SATA ports. From top to bottom, we have two SATA 6 Gbps from the PCH in grey, four SATA 3 Gbps from the PCH in white, four SATA ports labeled 'SAS' from the PCH in grey, then another two SATA 6 Gbps in grey from an ASMedia controller labeled EXSATA. Officially, these last six are not supported by the chipset, but are still in the silicon. They have to be enabled in BIOS, then again in the OS by Intel RST - this can be frustrating slightly if you just plug in your hard-drive and expect to be able to install an OS straight away. I suggest using the top six connectors until everything is installed, or keeping the bottom six ports purely for storage devices.
The south side of the board is relatively empty compared to others, with only two USB 2.0 header, one USB 3.0 header, a COM header, front panel connectors and SPDIF output. One thing which does annoy me slightly on ECS boards is the lack of printing on the PCB where the connectors for the front panel should go - this is commonplace on almost every other manufacturer, so users do not need to pull out the manual. For a reviewer, the Power/Reset buttons are a help in this regard, but for users fiddling inside a case, this info should be there on the board itself. Also of note down the bottom of the board is the Debug LED for diagnosing issues.
In terms of PCIe layout, Simple Makes It (a) Lot Easier with the ECS board, sporting four PCIe full length slots each separated by a gap, and thus in x16/x8/x16/x8 configuration (the second x16 becomes x8 when the fourth slot is populated). In between these are a pair of PCIe x1 slots, meaning no PCI connectivity.

The IO panel is awash with USB ports, making up for the lack of headers on the board itself. From left to right, a clear CMOS button, PS/2 connector, two USB 2.0 ports, then the WiFi dongle (antenna is attached to this dongle and comes with the board), two more USB 2.0 ports, an eSATA 6 Gbps port, a blue Bluetooth dongle, two more USB 2.0 ports, and an eSATA 6 Gbps port. Onto the two Realtek Gigabit NICs, and the four blue USB 3.0 ports. Finally we have the audio jacks and SPDIF digital output.
BIOS
There are a lot of manufacturers who put a substantial amount of time and effort into their BIOS systems, and it shows in terms of compatibility, performance, and presentation. In the early days of P67 UEFI, ECS' implementation wasn't much more than a glorified old-fashioned BIOS, with a new set of colors and menus. Back in my ECS HQ Tour in June, I walked past engineers working on their 'more graphical' implementation, which is what we have to look at today. Admittedly, from a usage standpoint, not much has changed - it still feels like you're navigating an old fashioned BIOS system, but with an enhanced color scheme.
One small change that ECS have done is with an easy and advanced mode for their BIOS. At the minute, the BIOS defaults to the Advanced mode, which defeats the purpose of an easy mode, however that may change with BIOS updates. The Easy menu has four buttons - Language, Default, Boot and Advanced, which essentially do what they say on the tin. The Boot menu allows you to select a one-off boot device, which is odd when this option isn't in the advanced part of the BIOS menus (and one I rather like).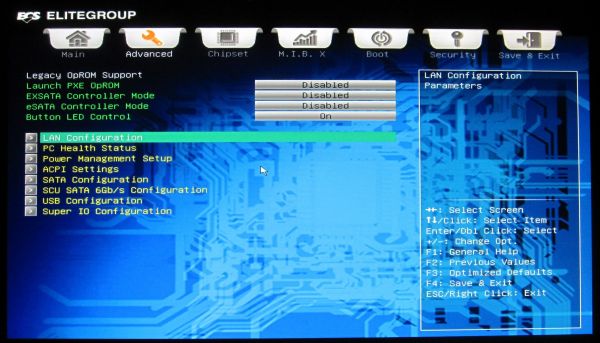 The BIOS is easy to navigate, but the initial screen doesn't provide any of the vital information a user might need - CPU, current CPU speed, Memory installed, Memory speed, basic voltage readings, fan speeds, temperatures. This is all basic stuff which could be listed on the front page for quick access. In terms of temperature/fan speed/voltages, these are found in the PC Health submenu, which further expands into the smart fan settings.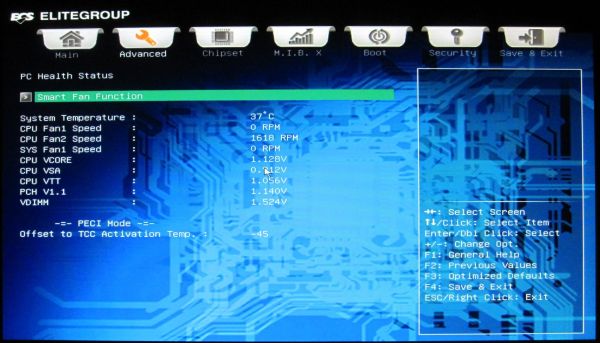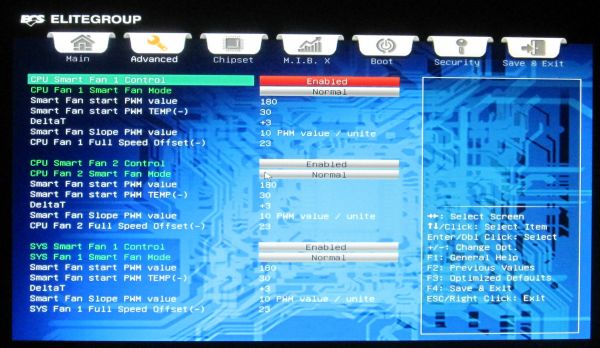 The smart fan settings and controls have preset modes, or manual adjustments. This is the only place you can set the CPU fan settings - the OS software only allows control of the SYS fan headers. Personally, I prefer the OS software anyway to the OS controls here - units such as 'PWM value' have no place on a user screen on a BIOS.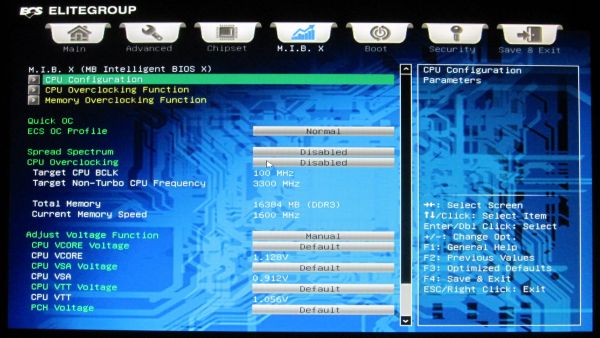 The main bread and butter of a BIOS is in the overclocking, found under the M.I.B. X heading in the ECS BIOS. The front screen contains some of the overclocking tools - the very good 'Quick OC' option which puts the board into preset values supplied by ECS (more on that later), a set of ECS OC profiles (not so good, as of the BIOS I am using), BCLK and CPU strap adjustments, and voltage modification. This screen doesn't have anything CPU multiplier or memory related, which is a big oversight, as they are just as important.
Voltages are only available in offset mode, which is frustrating when the CPU VCore lists the current value, rather than the stock value. In order to change the BCLK, the 'CPU Overclocking' option needs to be set to enabled. In order to adjust the CPU multiplier, users have to navigate to the 'CPU Overclocking Function' menu. Memory tweaking requires the 'Memory Overclocking Function' menu. Note, as of the 12/26/2011 BIOS, I was unable to adjust the CPU multiplier. Another issue is when a user changes the CPU strap from 1.00x to 1.25x - this directly affects the memory, but as there isn't a memory setting on this M.I.B. X front screen, users may suffer boot failures due to memory being clocked too high.
Other points to be noted in the BIOS:
- By default, the bottom six SATA ports are set to disabled, as they are technically not supported by the chipset. Users have to navigate to Advanced -> SCU SATA to enable the ones listed 'SAS'.
- On the 12/26/2011 BIOS (which I'm told may not be a full release BIOS), the WiFi and Bluetooth were also disabled by default. ECS tell me that for consumers, these will be enabled by default, and thus installed by the Chipset driver utility program. Just a heads up if they still are not working after you have installed the chipset drivers.
- Overclock recovery is almost non-existent on the X79R-AX. Whenever I had overclock issues, especially memory, the board would stop on a POST code for a minute or two, then shut down. On trying to clear CMOS, I was left with a blank Debug LED and the board still not even getting to BIOS. The only way to remedy this was to remove the power cord, then hit the Clear CMOS button on the IO panel. The board would then boot, albeit with all my settings lost.
Overclocking
As mentioned a couple of times so far this review, the X79R-AX is a dichotomous motherboard for overclock with the BIOSes I had access to. There are several ways to overclock: by the 'Quick OC' option in the BIOS, by the 'ECS OC Profile' settings which split into memory and CPU, by the OC software in the OS, or by manual adjustment. I will go through each one in turn.
With Quick OC, I was asked to confirm I wanted to proceed, then the board did two hard resets before going into the OS. In the OS, the CPU idled at 1.2 GHz as normal, but in single and multi-threaded mode, this rose to 4.5 GHz (45x multiplier, 100 BCLK) at 1.416 V. The memory was also set to its first XMP profile, which with this set (which has two XMP profiles) gave DDR3-2133 8-10-10. This setting was completely Blender stable, never going above 73ºC.
Back in the BIOS, I now move on to the 'OC Profile' Settings, which is split into CPU and Memory, and each of these is split further. The CPU options split into light/medium/heavy, each with different effects to the BCLK:
- Light: 1.00x strap, 102 BCLK
- Medium: 1.25x strap, 101 BCLK
- Heavy: 1.25x strap, 103 BCLK
On the light setting, the board booted into the OS, however Turbo was disabled, limiting me to 33x multiplier and 102 BCLK, technically making the performance worse than stock settings. Neither the Medium or Heavy setting worked, in fact not even getting to POST. This is because I feel these settings do not take into account the DDR3 memory adjustment - putting an extra 25% through the memory at the same JEDEC sub-timings isn't always advised without due care and attention, to which the user receives no notification on the M.I.B X screen.
With the Memory OC Profile settings, we have options on my memory from 1600 MHz in straps going up to 2400 MHz. The 2133 setting on my memory worked, booting into the OS at 9-11-9 sub timings. However the 2400 MHz setting didn't, giving POST code 64 on the Debug LED, relating to memory.
In terms of the OS overclocking software, eOC, we haven't got much to play with here. The only adjustable is BCLK, which for all intents and purposes for most users is not very useful. There is also an option to adjust the voltages, but these values move with the different power states which the board is in, which could be an issue if a user sets 1.4 V while the board is in an idle state, causing more +mV when in a load state.
And finally, manual overclocking, which for this board, is almost non-existent. I had full reign over BCLK adjustments and CPU strap settings, getting 127 BCLK out of my processor. However, for CPU multiplier adjustments, I hit a brick wall. All the CPU multiplier adjustments are under the 'CPU Overclocking' menu in M.I.B. X, and to adjust the multiplier you have to turn the 'CPU Ratio Setting Control' from 'By Turbo Boost' to 'Manual'. This gave access to the Multiplier, but the board would not apply (or save) any value I changed this to. I tried adjusting the Turbo Boost per-core numbers as well, but this gave me nothing. If I booted with these settings off of default, the OS would reduce to 33x multiplier max, giving a worse-than-stock performance.
As a whole on the overclocking side, I was really pleased with the Quick OC result. Having 4.5 GHz at 1.4 V with XMP enabled is a great, one-button result. However, the other options leave a lot to be desired.
In The Box
The box bundle, while substantial, has positive points and negative points. What we have in the box is 12 SATA cables (two with right angled heads), a USB 3.0 front or rear panel with room for an SSD, a long flexible SLI connector, and the usual internals such as IO panel, driver CD and manuals. Two things to note - other competitors usually include more SLI connectors, and the USB 3.0 front panel cable isn't that long, such that in dual GPU mode it would only be suitable for the bottom of the front of the case, or as a rear USB 3.0 panel.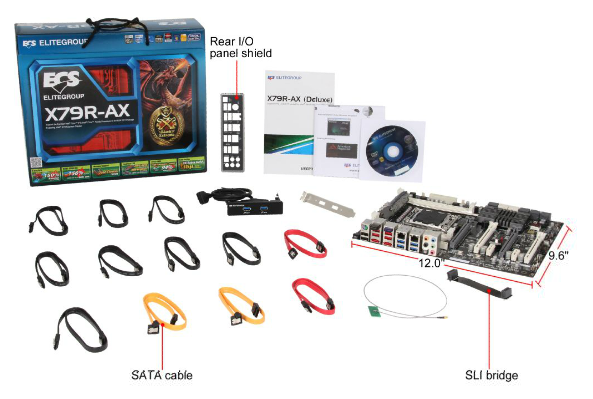 Image courtesy of Newegg
Board Features
ECS X79R-AX (Black Extreme)
Size
ATX
CPU Interface
LGA2011
CPU Support
Intel Second Generation Core i7 Sandy Bridge E
Chipset
Intel X79
Base Clock Frequency
99.8 MHz
Core Voltage
Default, -300 mV to +700 mV
CPU Clock Multiplier
Auto, 12x to 1000x
DRAM Voltage
Auto, -300 mV to +500 mV
DRAM Command Rate
Auto, 1N to 3N
Memory Slots
Four DDR3 DIMM slots supporting up to 32 GB
Up to Quad Channel
Support for DDR3, 1067-2400 MHz
Expansion Slots
2 x PCIe Gen 3 x16
2 x PCIe Gen 3 x8
2 x PCIe x1
Onboard SATA/RAID
2 x SATA 6 Gbps, Support for RAID 0, 1, 5, 10
4 x SATA 3 Gbps, Support for RAID 0, 1, 5, 10
4 x SATA 6 Gbps (labelled SAS), support for RAID 0, 1, 5, 10
Onboard
4 x SATA 3 Gbps (PCH)
8 x SATA 6 Gbps (2 PCH, 4 'SAS', 2 Controller)
5 x Fan Headers
1 x 4-pin Molex CFX/SLI Power Connector
1 x SPDIF Out Header
1 x Front Panel Header
1 x Front Panel Audio Header
2 x USB 2.0 Headers
1 x USB 3.0 Header
1 x COM Header
1 x Clear CMOS header
Power/Reset Buttons + Debug LED
Onboard LAN
Dual RealTek RTL 8111E Gigabit Lan
Onboard Audio
Realtek ALC892
Power Connectors
1 x 24-pin ATX connector
1 x 8-pin 12V connector
1 x 4-pin Molex CFX/SLI Power Connector
Fan Headers
2 x CPU Fan Header (4-pin)
1 x SYS Headers (3-pin)
2 x PWR Headers (3-pin)
IO Panel
1 x PS/2 Mouse and Keyboard Port
1 x Wireless LAN
1 x Bluetooth
6 x USB 2.0
4 x USB 3.0
2 x eSATA 6 Gbps
2 x Gigabit Ethernet
Audio Jacks
BIOS Version
26/12/2012
Warranty Period
3 Years
Again, the ECS has a few positive and negative points with the board features as well. While we have dual gigabit Ethernet, some users may not enjoy they fact that they are Realtek, rather than the Intel NICs we see on almost all the major competitor boards. One other point of contention is that there are only four DIMM slots for one per channel, rather than eight DIMM slots for two per channel, or that the board uses the Realtek ALC892 rather than the ALC898 that all the other boards at this price range use. But I really like the fact that for this price, we can get an X79 board with onboard WiFi, Bluetooth, dual NICs, and twelve SATA ports and still enough space for dual/quad GPUs. It's a combination you will not see on many other products.
Software
Ever since I started reviewing ECS boards, such as P67 and Fusion, there has not been much change in the software available, thus I won't go into detail on many of the specifics, but the package includes at least one gem in their fan controls.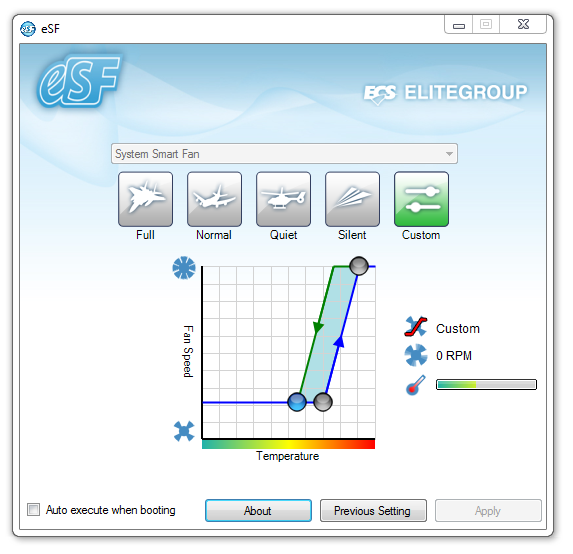 eSF (SF for Smart FAN) controls the SYS headers on the board, allowing for hysteresis in the fan settings. This is a feature we don't see on other boards (ASUS controls are pretty good in comparison for multi-point curves, but don't do hysteresis), and it definitely worked for ECS when I tested it.
Other software onboard is eOC (OC for OverClock), which gives user control of the BCLK and the voltages. This is still software used for older chipsets, as we don't have access to changing the CPU multiplier, or that modern CPUs go into various power states and voltages depending on load, meaning that the CPU voltage selections in eOC can fluctuate wildly. I wouldn't touch the voltages with this tool if I were an end user, in case I accidentally set 1.4 V in an idle state and it then added another +300 mV for a loaded state.
The two other parts of the package are eBLU, a BIOS Live Update tool, and eDLU, a tool which links to the webpage with all the latest drivers.
Test Setup
Power Consumption
Power consumption was tested on the system as a whole with a wall meter connected to the power supply, while in a dual GPU configuration. This method allows us to compare the power management of the UEFI and the board to supply components with power under load, and includes typical PSU losses due to efficiency. These are the real world values that consumers may expect from a typical system (minus the monitor) using this motherboard.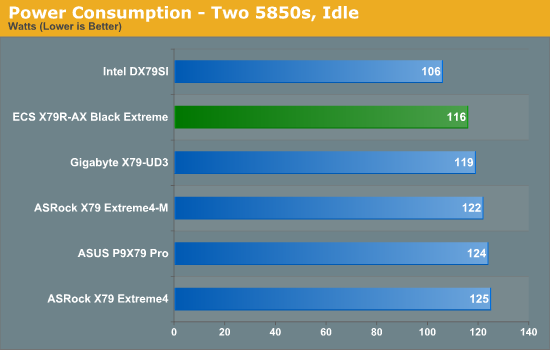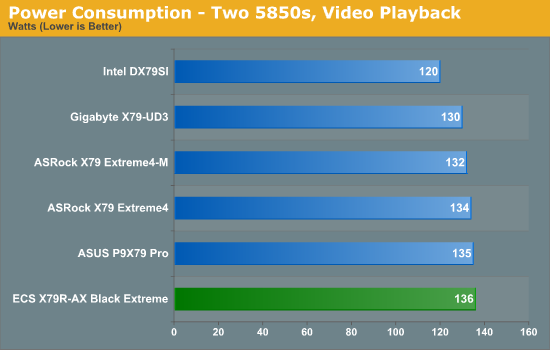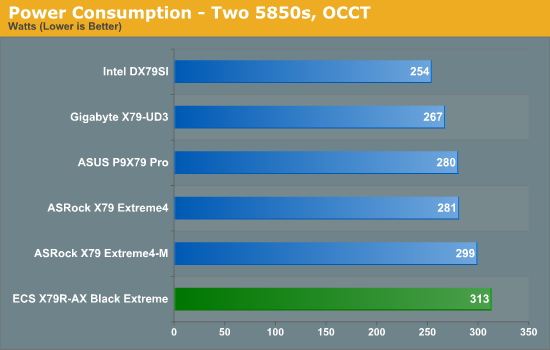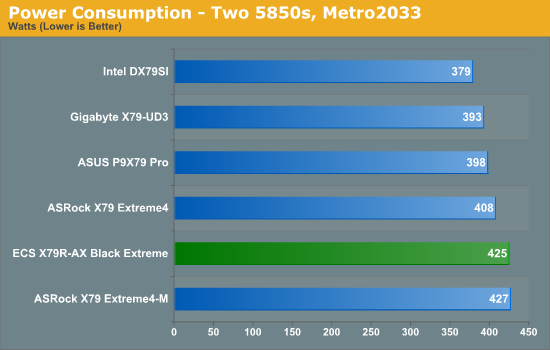 Overall, power usage on the ECS X79R-AX tends to be on the high side compared to other boards we have tested.
CPU Temperatures
With most users' running boards on purely default BIOS settings, we are running at default settings for the CPU temperature tests. This is, in our outward view, an indication of how well (or how adventurous) the vendor has their BIOS configured on automatic settings. With a certain number of vendors not making CPU voltage, turbo voltage or LLC options configurable to the end user, which would directly affect power consumption and CPU temperatures at various usage levels, we find the test appropriate for the majority of cases. This does conflict somewhat with some vendors' methodology of providing a list of 'suggested' settings for reviewers to use. But unless those settings being implemented automatically for the end user, all these settings do for us it attempt to skew the results, and thus provide an unbalanced 'out of the box' result list to the readers who will rely on those default settings to make a judgment. CPU Temperatures are not really indicative of quality or performance, even though one would postulate that worse parts may produce higher temperatures. However, if a manufacturer uses more conductive material in the power plane, this reduces resistance and increases the voltage at the CPU, causing a higher temperature but potentially better stability.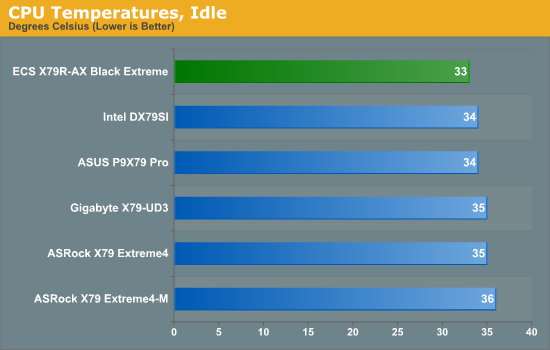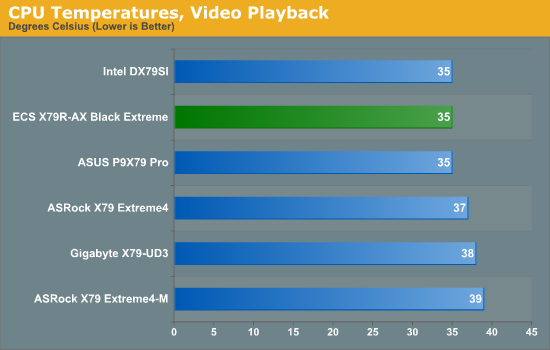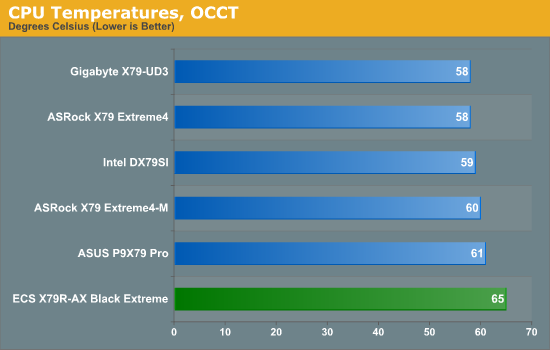 The OCCT temperature result is significantly higher than the other boards we have tested, which may be related to the larger peak power consumption.
USB Speed
For this benchmark, we run CrystalDiskMark to determine the ideal sequential read and write speeds for the USB port using our 64GB Patriot SuperSpeed USB 3.0 drive. Then we transfer a set size of files from the SSD to the USB drive, and monitor the time taken to transfer. The files transferred are a 1.52 GB set of 2867 files across 320 folders – 95% of these files are small typical website files, and the rest (90% of the size) are the videos used in the Sorenson Squeeze test.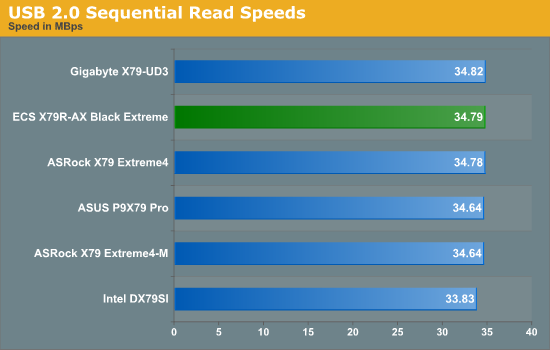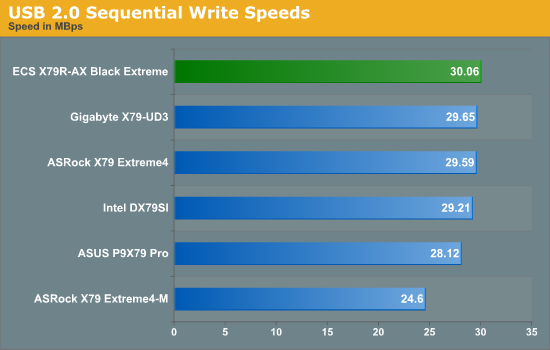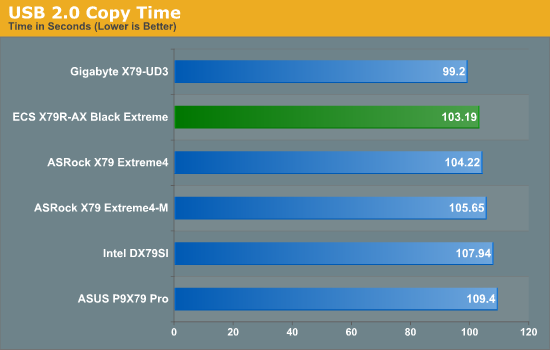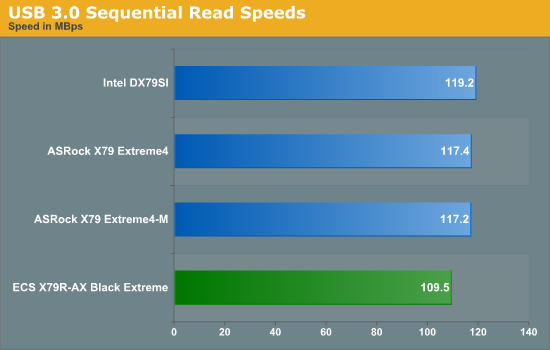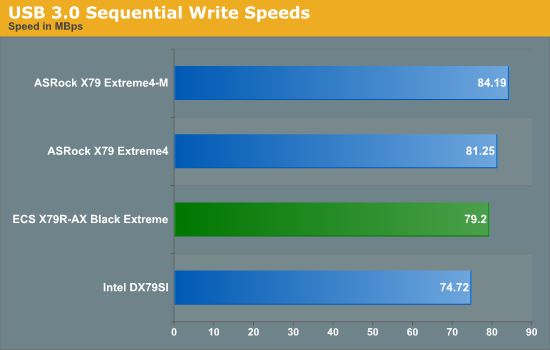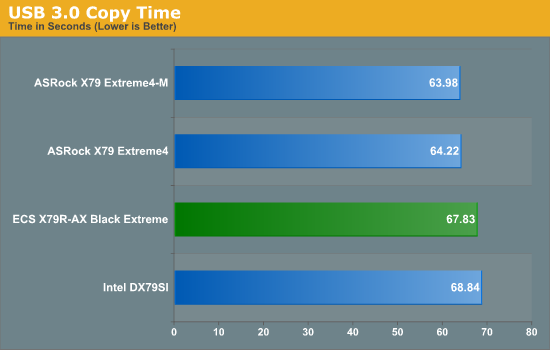 USB 2.0 performance on the X79R-AX seems comparatively on the high end, whereas USB 3.0 performance seems not as good as the ASRock boards.
SATA Testing
We also use CrystalDiskMark for SATA port testing. The operating system is installed on the SSD, and the sequential test is run at the 5 x 1000 MB level. This test probes the efficiency of the data delivery system between the chipset and the drive, or in the case of additional SATA ports provided by a third party controller, the efficiency between the controller, the chipset and the drive.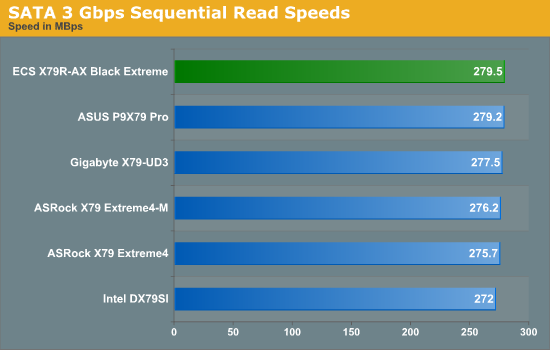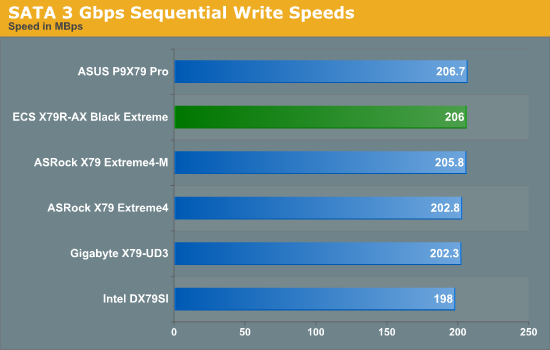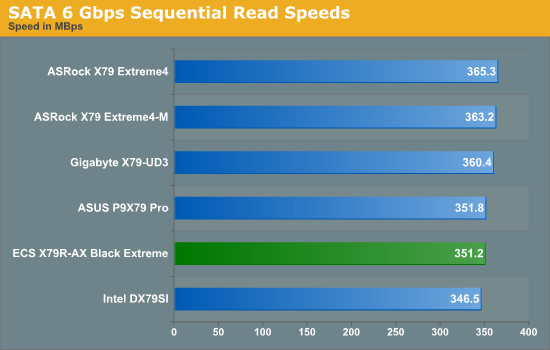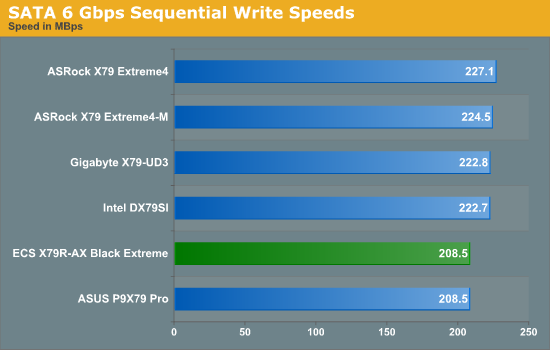 Similarly, the ECS board peforms better on the old standard than the new standard.
DPC Latency
Deferred Procedure Call latency is a way in which Windows handles interrupt servicing. In order to wait for a processor to acknowledge the request, the system will queue all interrupt requests by priority. Critical interrupts will be handled as soon as possible, whereas lesser priority requests, such as audio, will be further down the line. So if the audio device requires data, it will have to wait until the request is processed before the buffer is filled. If the device drivers of higher priority components in a system are poorly implemented, this can cause delays in request scheduling and process time, resulting in an empty audio buffer – this leads to characteristic audible pauses, pops and clicks. Having a bigger buffer and correctly implemented system drivers obviously helps in this regard. The DPC latency checker measures how much time is processing DPCs from driver invocation – the lower the value will result in better audio transfer at smaller buffer sizes. Results are measured in microseconds and taken as the peak latency while cycling through a series of short HD videos - under 500 microseconds usually gets the green light, but the lower the better.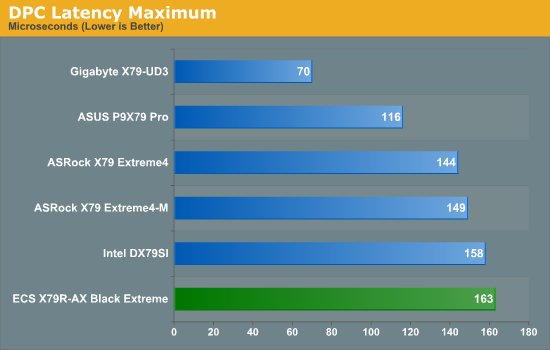 While under the 500 microseconds we want from the DPC test, the default ECS X79R-AX latency is high compared to other X79 boards.
3D Movement Algorithm Test
The algorithms in 3DPM employ both uniform random number generation or normal distribution random number generation, and vary in various amounts of trigonometric operations, conditional statements, generation and rejection, fused operations, etc. The benchmark runs through six algorithms for a specified number of particles and steps, and calculates the speed of each algorithm, then sums them all for a final score. This is an example of a real world situation that a computational scientist may find themselves in, rather than a pure synthetic benchmark. The benchmark is also parallel between particles simulated, and we test the single thread performance as well as the multi-threaded performance.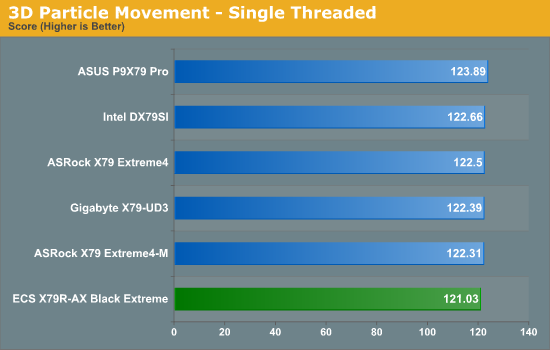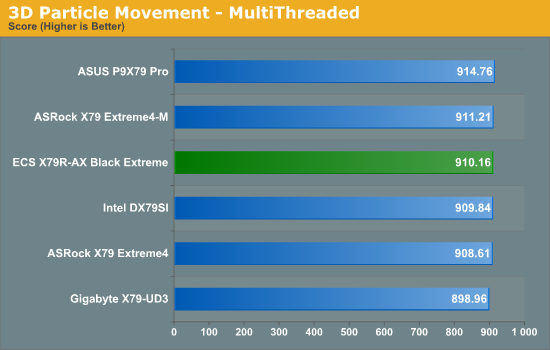 The single thread performance seems a little low (as echoed in the other ST tests), but the multi-thread result is on par with competitors.
WinRAR x64 3.93 - link
With 64-bit WinRAR, we compress the set of files used in the USB speed tests. WinRAR x64 3.93 attempts to use multithreading when possible.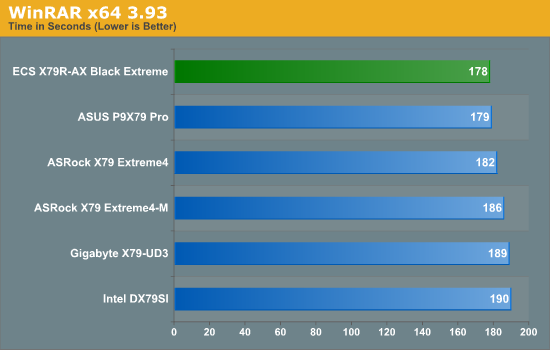 The ECS board takes the record in our multi-threaded WinRAR test!
FastStone Image Viewer 4.2 - link
FastStone Image Viewer is a free piece of software I have been using for quite a few years now. It allows quick viewing of flat images, as well as resizing, changing color depth, adding simple text or simple filters. It also has a bulk image conversion tool, which we use here. The software currently operates only in single-thread mode, which should change in later versions of the software. For this test, we convert a series of 170 files, of various resolutions, dimensions and types (of a total size of 163MB), all to the .gif format of 640x480 dimensions.
Reflecting the 3DPM benchmark result, the ECS board seems not to perform as well in single threaded applications.
Sorenson Squeeze 6.0 - link
Sorenson Squeeze is a professional video encoder, complete with a vast array of options. For this test, we convert 32 HD videos, each a minute long and approximately 42 MB in size, to WMV 512KBps format. Squeeze can encode multiple videos at once, one for each thread.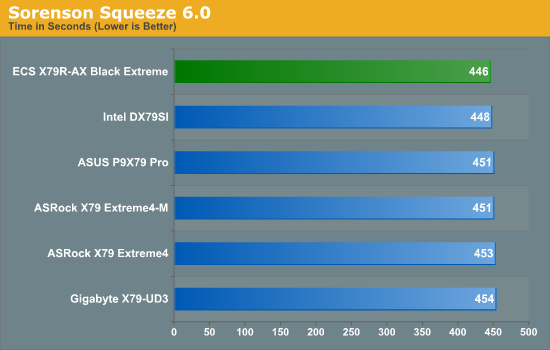 However again the ECS board performs well in multi-threaded mode, coming top of our tested boards.
Aliens vs. Predator Benchmark
Aliens vs. Predator is a DirectX 11 science fiction first-person shooter video game, developed by Rebellion Developments. Available as a standalone benchmark, on default settings the benchmark uses 1920x1080 with high AF settings. Results are reported as the average frame rate across 4 runs.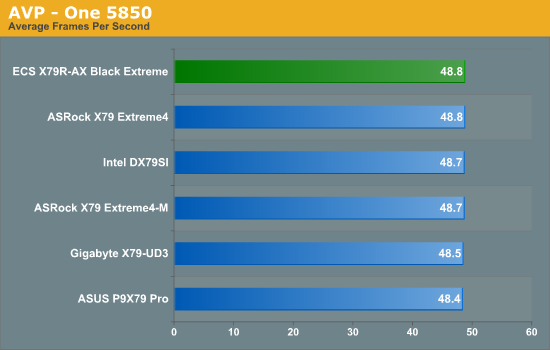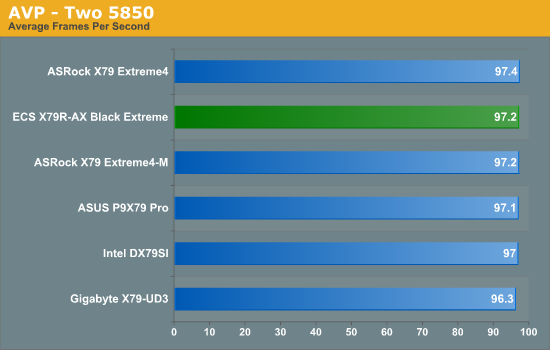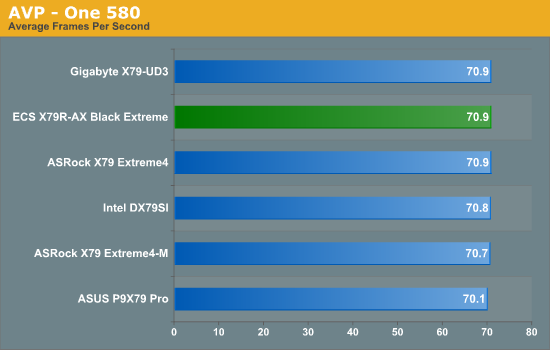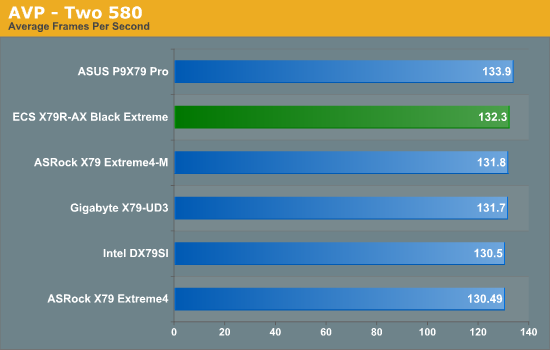 The ECS board scores either first or second in all our AVP tests.
Dirt 3
Dirt 3 is a rallying video game and the third in the Dirt series of the Colin McRae Rally series, developed and published by Codemasters. Using the in game benchmark, Dirt 3 is run at 1920x1080 with full graphical settings. Results are reported as the average frame rate across 4 runs.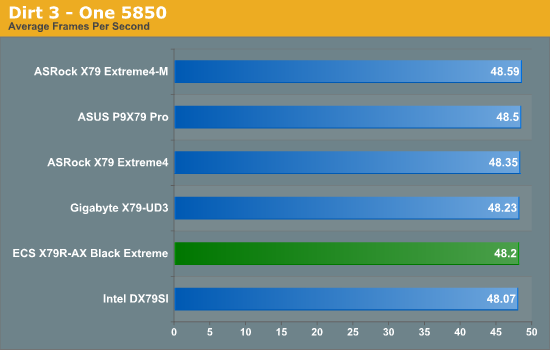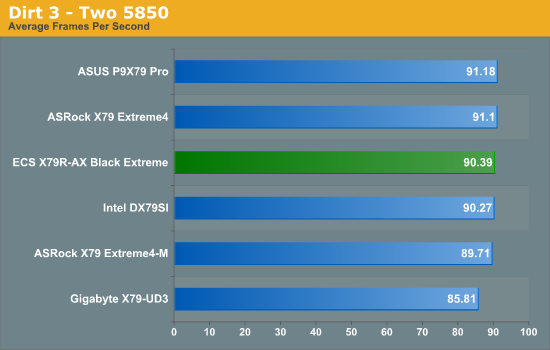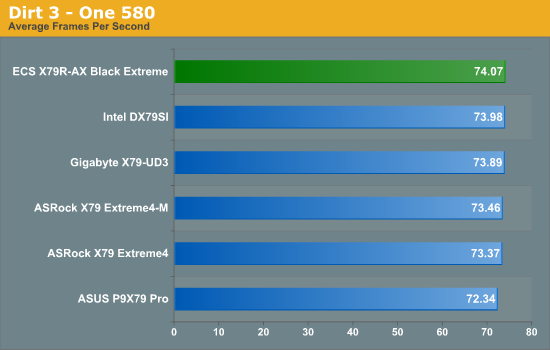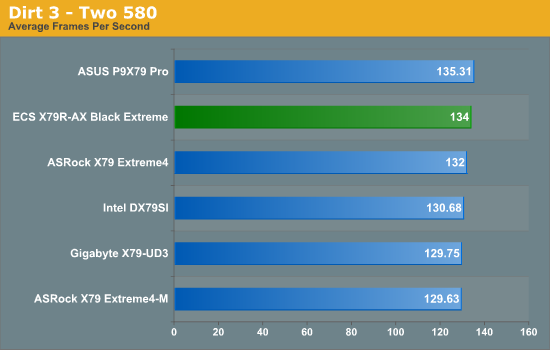 Again the ECS performs well in Dirt3, with only the single 5850 score being 0.3 FPS below first place.
Metro2033
Metro 2033 is a challenging DX11 benchmark that challenges every system that tries to run it at any high-end settings. Developed by 4A Games and released in March 2010, we use the inbuilt DirectX 11 Frontline benchmark to test the hardware at 1920x1080 with full graphical settings. Results are given as the average frame rate from 10 runs.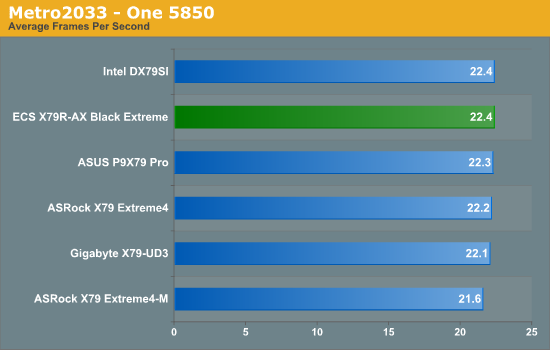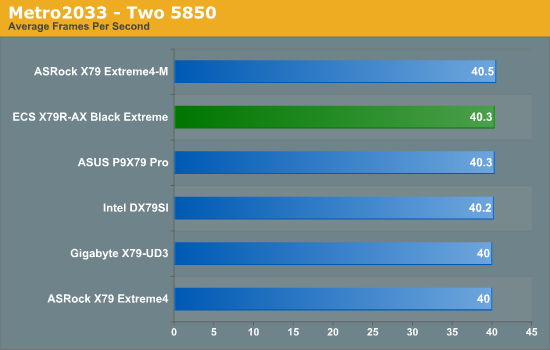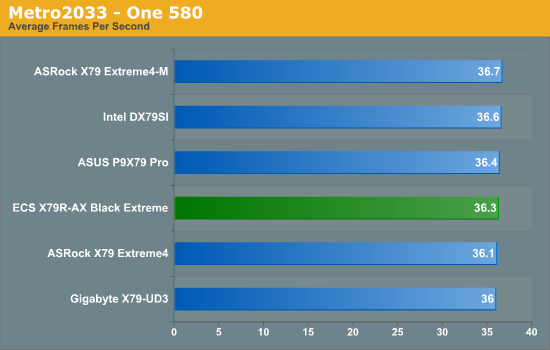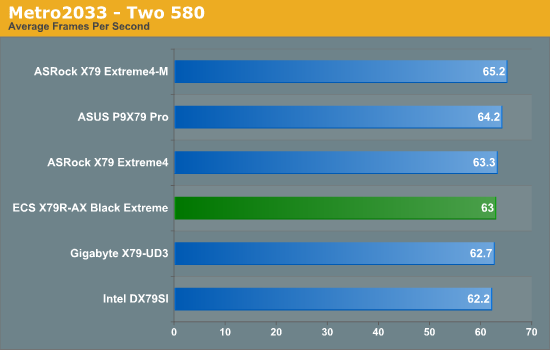 Metro2033 performance is also good.
Every time I come across an ECS board, I'm not sure what to expect. ECS is a company with roots firmly in the pan-Asia OEM market, and their consumer/enthusiast lines account for a small percentage of their total revenue. One would assume therefore that their consumer lines aren't perhaps top priority when it comes to production. Nevertheless, they are pushing more at consumer lines with products like the X79R-AX.
In summary, the good - three year warranty (3 years parts, 2 years labor), on board WiFi, twelve SATA ports, dual NICs, Bluetooth, Power/Reset/Debug LED, working fan controls, one-button OC results, in-the-box bundle contains a lot of SATA cables and a USB 3.0 front panel.
The bad - NICs are Realtek and I'm sure some users would have preferred Intel, only 4 DIMM slots rather than 8, Realtek ALC892 audio rather than the ALC898 used by other products in this price range, most overclocking methods with the 12/26/2011 BIOS are not working, runs a little hotter than its competitors, software hasn't changed much in a few years, limited failed overclock recovery.
Personally, I like the feature set of this board, and if you're reading in January 2012, ECS currently have a mail-in rebate scheme in place making this board a penny under $260, which could positively be eyed as a bargain. Wifi, dual NIC, twelve SATA ports, working fan controls, nice OC - if I had a spare Sandy Bridge-E processor, this would probably be my home system right now. At its usual MSRP of $309.99, I can compare it to a couple of boards I've already tested - the Intel DX79SI (MSRP $300) and the ASUS P9X79 Pro (MSRP $330). Without going into significant detail, the ECS board is preferential to the Intel board I tested, both in terms of features and performance. If you read my ASUS review, I gave the P9X79 Pro a rare AnandTech Silver reward, due to innovation of the X79 concept. Pitching the ECS against the ASUS at $310 vs. $330 results in a win for the ASUS - but at $260 for the ECS with the current rebate scheme, it's a tough choice and down to the individual and how they feel about each manufacturer.
If this ECS board was rock solid out of the package, I'd have to give it a Silver Award for the combination of features and price, without a doubt. Unfortunately, the BIOS still needs work on the OC, the software could do with an update, and some of the more premium onboard features were cut down (Audio, DIMMs, Ethernet controllers), presumably for market segmentation and to save on board cost. But stick in 16 GB, put it on the working auto-OC setting, a couple of GPUs and up to 12 SATA drives, connect to your home wireless, and I can imagine you would have a nice and happy system at your fingertips. For that, I'd have to at least give the board a recommendation, and at the rebate price, an Anandtech Bronze Award.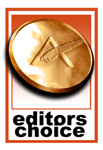 ECS X79R-AX (Black Extreme)