Original Link: http://www.anandtech.com/show/534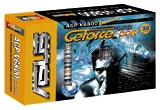 Long is gone the time when ASUS was thought of as a small Taiwanese motherboard manufacturer. Ever since ASUS's entrance into the video card market with the TNT based V3400, the motherboard manufacturer has expanded its market scope by becoming a large video card manufacturer as well. Beginning with this card, ASUS has consistently produced products known for their innovation as well as high quality. Throughout the years ASUS has seen high sales of not only the V3400 but also almost all of the very successful V series in general.
One of the largest manufacturers of NVIDIA based video cards, ASUS happened to be one of the first companies to jump on the 64 MB GeForce boat. Produced for some time now for OEM channels, ASUS is now ready to put their V6800/64 card on the retail market. Powered by the 64 MB GeForce design described in detail in our 64 MB GeForce review, the V6800/64 attempts to make its mark in the high performance graphics market. Let's see how the ASUS V6800/64 performs in comparison to other 64 MB GeForce cards out there. We begin by looking at the product specifications.
Key Features
Powered by the world's first Graphics Processing Unit:
NVIDIA GeForce 256 DDR
Built in 64 MB frame buffer:
Provides more resolutions and color depth
4x4 Engine integrated transform and lighting:
Frees up CPU bandwidth
256-bit QuadPipe rendering:
Delivers industry's fastest graphics performance
AGP 4x with Fast Writes:
Maximizes overall system performance
High quality video acceleration:
Delivers the highest video quality
Optimized for DirectX 7 and OpenGL features:
Ensures broad application support
ASUS Smart Doctor Technologies
SmartCooling technology
Dynamic OverClocking
Over-Heat protection
Fan RMP monitoring
AGP power level monitoring
QuadPipe Rendering
256-bit parallel pixel pipe design
4 pixels per clock
480 M pixels/second fill rate
32 texture samples per clock
Full-speed 8-sample filtering
QuadEngine Architecture
Four independent pipelined engines
Industry-leading 3D performance
15 M triangles/second
Sustained DMA, transform/clip/light, setup, raterize, and render rate
Extremely efficient: >70% of the chip active at all times
Up to 6 triangles "in flight" at a time
Super pipelined design
Very low latency between engines
Superior 2D Performance
256-bit 2D rendering pipeline
4 pixels per clock on all scaled and index image operations
1 GB/s CPU-to-GPU memory via AGP 4x with fast writes
Optimized for DirectX 7 and OpenGL
Transform and lighting
Cube environment mapping
Vertex blending
Projective textures
Texture compression
AGP 4x with Fast Writes
Enables CPU to send data directly to GPU
System memory bus free to perform other functions
Balanced design increases overall system performance
Software Bundle
ASUSDVD software player
Darkan
Rollcage
12 game demos
Refresh Rate Support

Resolution

Color

Max Refresh Rate (Hz)

640 x 480

256/65K/16M

60 - 240

800 x 600

256/65K/16M

60 - 240

1024 x 768

256/65K

60 - 240

1024 x 768

16M

60 - 200

1152 x 864

256/65K

60 - 200

1152 x 864

16M

60 - 170

1280 x 960

256/65K

60 - 170

1280 x 960

16M

60 - 150

1280 x 1024

256/65K

60 - 170

1280 x 1024

16M

60 - 150

1600 x 900

256/65K

60 - 150

1600 x 900

16M

60 - 120

1600 x 1200

256/65K

60 - 120

1600 x 1200

16M

60 - 100

1920 x 1080

256/65K

60 - 100

1920 x 1080

16M

60 - 85

1920 x 1200

256/65K

60 - 100

1920 x 1200

16M

60 - 85

1920 x 1440

256/65K

60 - 85

1920 x 1440

16M

60 - 75

2048 x 1536

256/65K

60 - 75

2048 x 1536

16M

60
The Card
Unlike some of the other ASUS GeForce cards we have seen, the V6800/64 is essentially the NVIDIA reference design, with one addition (we will talk about that later). The layout of the card is card is very similar to the layout of the older ASUS V6600 SDRAM card, also based on a reference design. One difference we noted when comparing the ASUS card to the other 64 MB GeForce reviewed, the SUMA Platinum 64 MB GeForce, was that ASUS choose not to use the AGP-Pro standard incorporated in the SUMA card. This makes sense for two reasons. First, very few motherboards include the AGP-Pro section of the AGP slot, making the AGP-Pro extension useless in most cases. Secondly, this extension only adds more cost to the card, as more PCB is used and additional lines for power must be implemented. Overall, it seems that ASUS made a wise choice by excluding AGP-Pro standard from the V6800/64. In actuality, a 64 MB card will only draw slightly more power than a 32 MB card, meaning that if your system works with at 32 MB GeForce you should have no problem with the 64 MB GeForce. Not only does the card work flawlessly on a regular AGP slot, it also prevents consumers from being worried that their motherboard will not provide the card with enough power.
Also noteworthy of the board layout is the abandonment of the proprietary board design found on all V6x00 cards besides the SDRAM model. The V6x00 Pure and Deluxe models both incorporate a special design manufactured by ASUS in order to permit these cards to carry powerful SGRAM chips as well as advanced video functions, such as video-input. It is possible that ASUS is doing what they did with the V6600 series, by releasing a reference board design to hit the market first and then releasing a "deluxe" version with all the additional features. However, with new products on the horizon it seems pointless to produce such a card. This keeps costs down as well, as a V6800/64 with video in and out would cost more than a fair share of money. It is also questionable if any memory manufacturer is making 8 megabyte density DDR SGRAM chips for mass production; it seems unlikely, leaving the specialized design RAM-less.

One thing that the V6800/64 does add that is not seen on reference design boards is hardware monitoring, a very neat and useful feature. By incorporating the same Winbond W83781D chip found on the other V6x00 cards (with exception to the SDRAM model) on the back of the card, ASUS was able to provide not only temperature readings but also fan RMP monitoring as well as AGP voltage monitoring. This feature turns out to be a very useful tool, leaving us to dream of other manufactures incorporating such a simple device.
The SDRAM chips used on the card are the same chips found on the SUMA Platinum 64 MB GeForce. It turns out that while the RAM is only of type SD, the Hyundai chips, rated at 6 ns, are highly overclockable and perform well on tests. The reason that the commonly used Infineon chips found on all 32 MB DDR GeForce cards are not used on the 64 MB cards seems to be that Infineon currently does not produce these chips with a density high enough to fit 64 MB of the RAM on the card. As it turns out, this change is good simply due to the fact that our overclocking success with the Hyundai SDRAM chips has been much better than the Infineon SGRAM chips. To see additional information why the 64 MB of on card RAM is so crucial to performance, please check out our 64 MB GeForce review.
The GPU is cooled via a hardware monitoring fan attached to the GPU via thermal grease. ASUS has always done a good job at adding just the right amount of the heat conductive material, meaning that the card is being cooled the best it can by the smallish fan. It is refreshing to see a company consistently use thermal grease to aid in cooling. Many times this detail is skipped due to the difficulty encountered by putting the correct amount of the goop on, leaving cards not cooled to their fullest potential.
Overclocking
Overclocking the ASUS V6800/64 was a breeze. Included in the software package is the usually neglected overclocking utility. Although this utility would prove to be fine for cautious users out there, the fact is that the limits of the program are way to conservative, allowing only minor MHz to be gained.
The true power of the V6800/64 is not realized until the card is overclocked using a separate overclocking program. By using PowerStrip we were able to adjust the core and memory speeds to almost any speed desired. Doing so showed how well the cooling combination of thermal grease and heatsink performed and also showed us the large overclockability of the Hyundai SDRAM. When all was said and done, the card performed completely stable at a core speed of 161 MHz and a memory speed of 367 MHz. This is 41 MHz overclocked in the core and a huge 67 MHz (33.5 MHz DDR) overclocked for the memory clock. Upping the speed so high proved to produce a card capable of tackling almost anything thrown at it as well as making it one of the fastest cards AnandTech has seen yet. To see what role the memory and core speeds play in card performance, see our 64 MB GeForce review.
The Drivers
The drivers used in the V6800/64 are the same set of drivers found in all the V6x00 series card. Basically, the driver design incorporates many of the NVIDIA reference driver features but also adds a few features of its own as well as includes many cosmetic changes. For the most part, the driver features and utilities are very useful: they include a taskbar resident utility for commonly used functions and color controls for both 2D functions and 3D games.
In addition, the drivers include SmartDoctor, a program that interprets the information sent to it via the on card Winbond chip. The following is an except from our V6800 Deluxe review, a card which contains the same feature:
One of the best driver feature of the [V6800/64] is the packaged Smart Doctor software. This software takes the information sent to it by the Winbond W8371D chip and displays it very intuitively on the screen. Easily seen in graph type views, the current fan RPM, core temperature, and core voltage are displayed. In addition to these features of the Smart Doctor software, it also includes some very cool overclocking functions. The card features what ASUS calls dynamic overclocking. What this feature does is change the clock speed when needed. For example, when in Windows the clock speed jumps down to a comparatively slow 86 MHz core speed and 82 MHz memory speed. These speeds are adjusted to higher levels when the video card is taxed, for example in any 3D games or programs. Also included is an overheat protection feature that prevents the chip from being clocked too high. If the internal temperature sensor reads that the chip is too hot, the dynamic clock function steps in and clocks down the card, resulting in a lower running temperature.

The one complaint we have with the Smart Doctor software is that it constantly switches focus to the program if a problem is detected. While this may make sense intuitively, problems can be run into if, for example, your motherboard does not put out exactly the correct voltage. You may not notice the problem but Smart Doctor will, and it will continue to notify you by switching focus to the program. This feature, in Quake III Arena, results in a white box flashing on the screen every 5 seconds (or for the time interval you have the monitoring at) and disappearing. In programs where focus can be switched (a feature which Quake III has left out), the game will minimize and Smart Doctor will appear. Quite annoying if you know of the problem and know that it is not really an issue.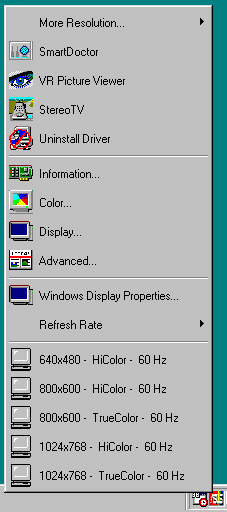 The taskbar allowed us to change settings at a the click of a mouse.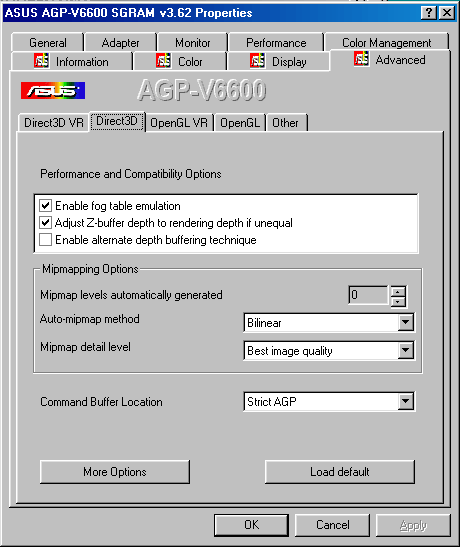 D3D settings were easy to find and tweak.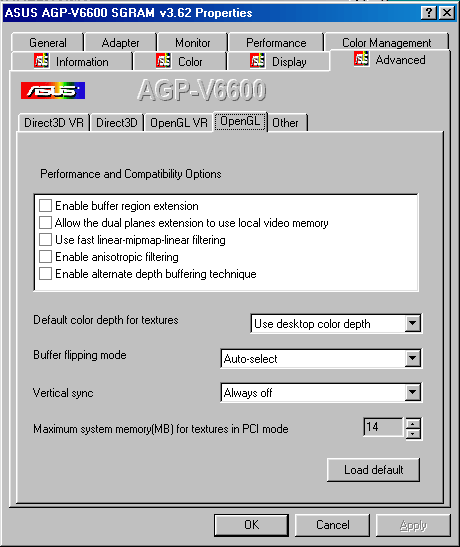 OpenGL settings could be modified easily as well.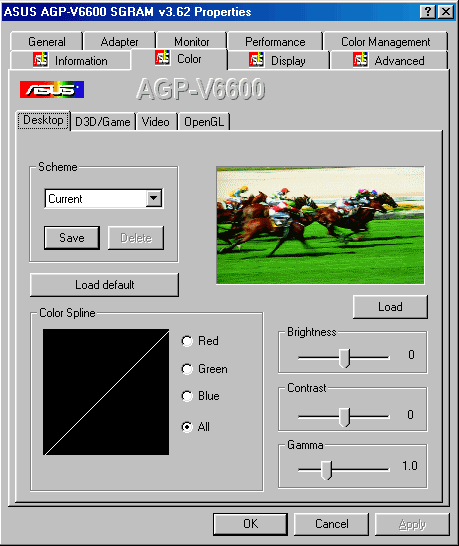 The desktop color tweaking utility.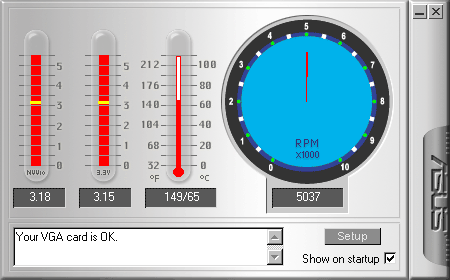 The Smart Doctor utility can be very useful for proper monitoring of the card.
The Test
Windows 98 SE Test System

Hardware

CPU(s)

Intel Pentium III 550E
provided by Memman

Motherboard(s)

ABIT BF6

Memory

128MB PC133 Crucial Technology SDRAM

Hard Drive

Quantum Fireball CR 8.4 GB UDMA 33

CDROM

Acer 24x

Video Card(s)

ASUS V6800/64

Software

Operating System

Windows 98 SE

Video Drivers

NVIDIA GeForce - Detonator 3.76

Benchmarking Applications

Gaming

GT Interactive Unreal Tournament 4.04 UTbench.dem
idSoftware Quake III Arena demo001.dm3
idSoftware Quake III Arena quaver.dm3
Quake III Arena Performance- demo 001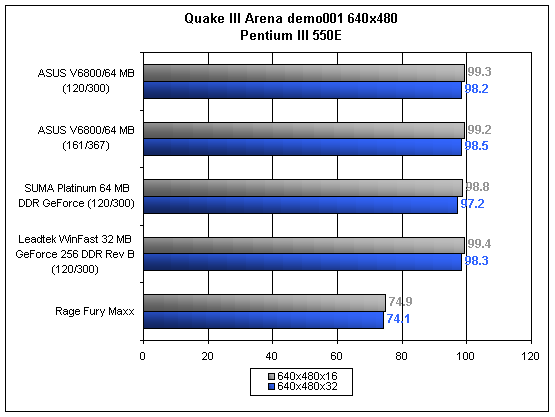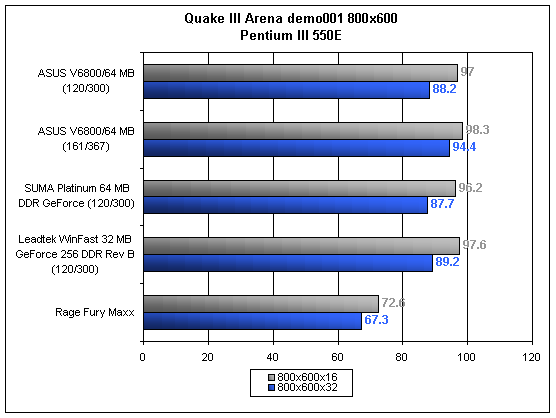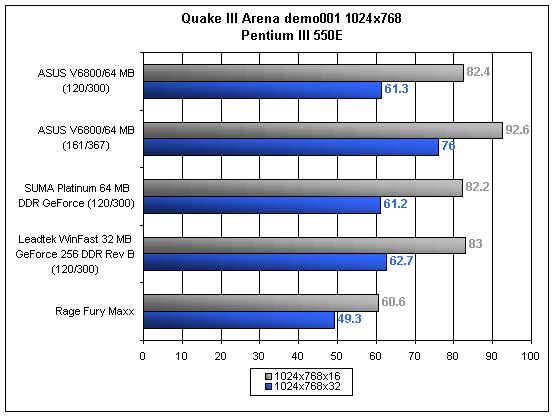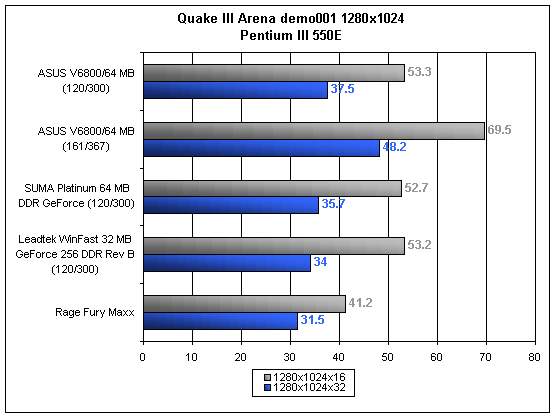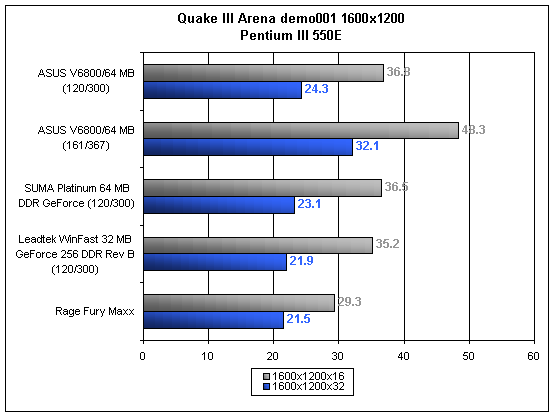 As can be seen in the above graphs, performance of the V6800/64 is on par with the other 64 MB GeForce card reviewed, the SUMA Platinum 64 MB GeForce. This really is not too surprising, considering the fact that both cards use slightly different versions of NVIDIA's reference design. Sometimes we see speed differences when manufactures abandon the reference design and make their own layout, however this is not the case with the two 64 MB GeForce cards reviewed thus far. Also noteworthy is the fact that the 64 MB cards perform almost identically to the 32 MB DDR card tested. For an explanation of this, as well as an explanation of how to really test the speed of 64 MB GeForce cards, please see our 64 MB GeForce review.
Notice how the overclocked card essentially dominates all the other cards tested. When running with a core speed of 161 MHz and a memory speed of 367 MHz, the ASUS V6800/64 performs 32% better at 1600x1200x32. Although this resolution is still on the very extreme side, at the obtainable resolution of 1024x768x32, Quake III Arena performs 24% better when overclocked.
Quake III Arena Performance- Quaver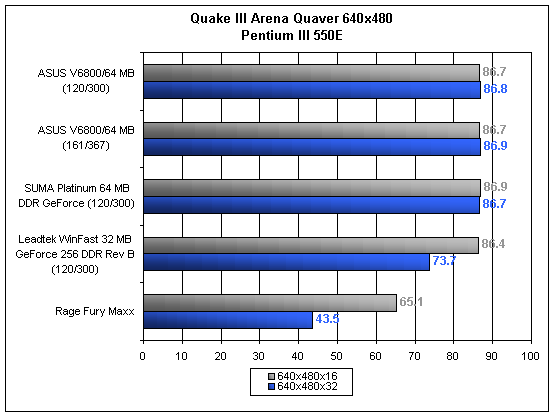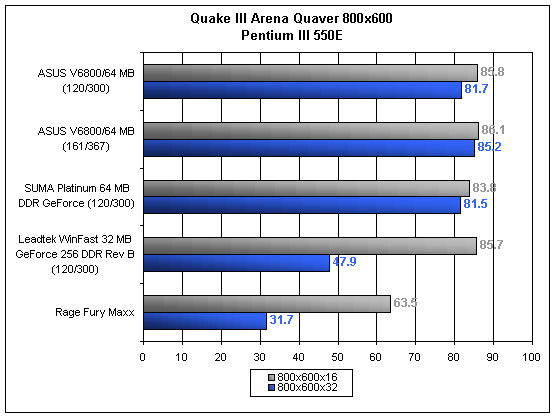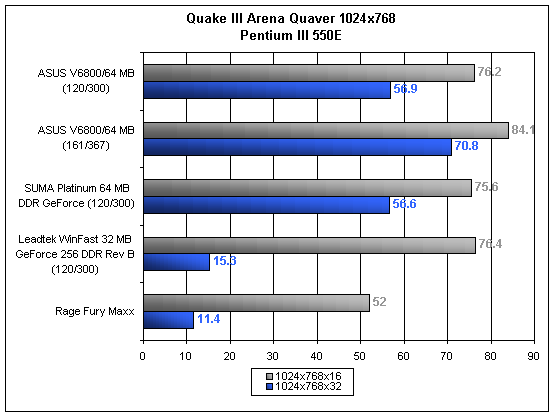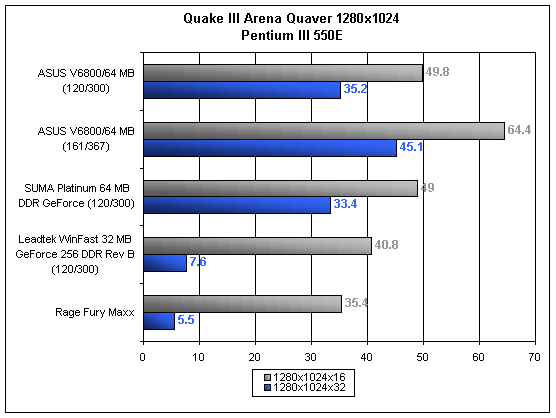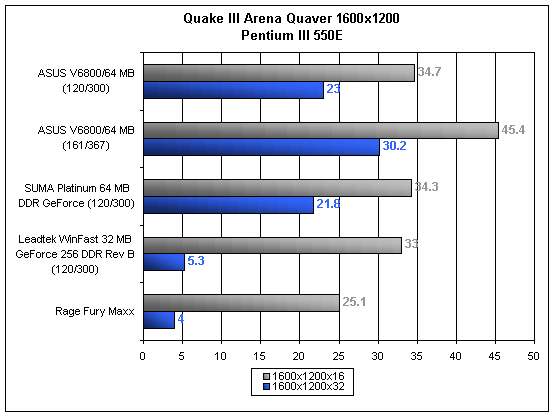 It is not until the Quaver demo is run do we see in what manner the 64 MB GeForce cards prevail. As described in detail in our 64 MB GeForce review Quaver is really the only demo which stresses large textures enough to result in texture swapping. We once again see that both the ASUS V6800/64 and the SUMA Platinum 64 MB GeForce perform almost identically, as a result of the reference design use. Here we do see, unlike what was seen in the demo001 benchmark, a large difference between the 64 MB GeForce and the 32 MB GeForce cards, a result of the Quaver demo's large textures. We see that at the playable (at least on a 64 MB GeForce) resolution of 1024x768x32, the V6800/64 performs a whopping 270% better than a 32 MB DDR GeForce when the cards are tested on 3.76 drivers. As described in our 64 MB GeForce review, the 5.13 drivers could very well change this.
When overclocked, Quaver really flew. At 1024x768x32, the most desirable resolution possible for fluid play, the overclocked card performed 25% faster. The largest speed increase from overclocking was seen at 1600x1200x32, where the overclocked V6800/64 performed 31% better.
Unreal Tournament Performance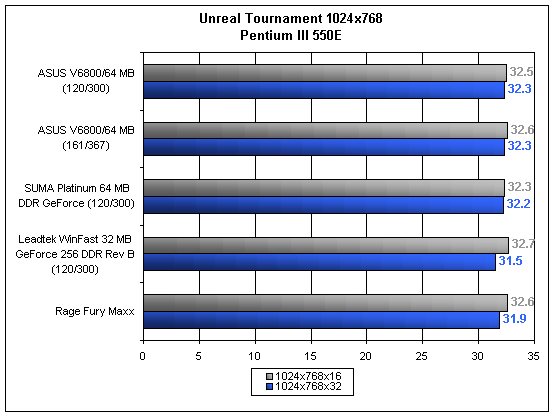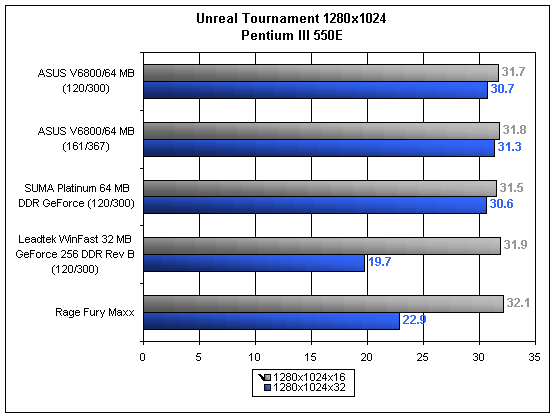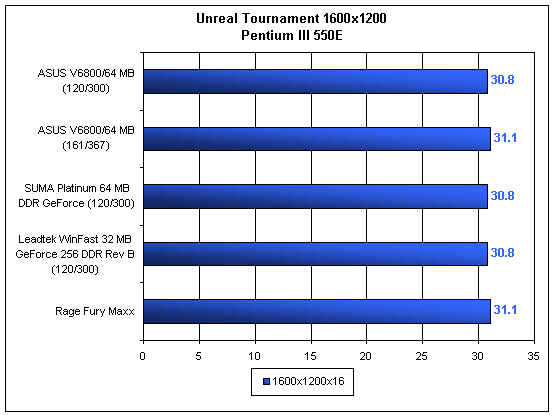 Due to the fact that differences between cards are not seen in Unreal Tournament until 1024x768x16 is reached, the above benchmarks only include this resolution and those above it. Once again we find that the V6800/64 performs the same as the SUMA Platinum 64 MB GeForce. Differences between the 64 MB cards and the 32 MB cards are not seen until 1280x1024x32, where the ASUS V6800/64 performed 56% faster than the 32 MB DDR card tested. When overclocked, differences of only about 1 FPS were seen, most likely as a result of the outdated Unreal Engine not being able to take advantage of the speed provided.
Conclusion
ASUS's products have always gotten high marks for quality and additional features, a place where the V6800/64 also stands out. By incorporating advanced features such as hardware monitoring and a useful driver set into the V6800/64, ASUS has made a very powerful and very attractive card. It was a bit disappointing to find that ASUS stuck to the reference design for the V6800/64, however considering the fact that more powerful products are weeks away it seems only logical that ASUS not put extraordinary effort into a card that could very well be dominated in no time at all.
Additional features we are used to seeing on some ASUS cards, such as video-out and video-in are purposely left off the V6800/64. The reason for this is price: adding anything but the essential would only have made the card basically inaccessible to the average or even power home user. The one addition that the V6800/64 does include, hardware monitoring, is very attractive and functional. This is one way that ASUS sets itself apart from the competition. In addition, the high quality of manufacture that goes into the V6800/64 is the same high quality we have seen in every ASUS video card since the V3400. Not only are the cards rock solid and good overclockers, the use of thermal grease to attach the heatsink to the GPU shows ASUS's high attention to detail. The 2D image quality is what we have come to expect from ASUS GeForce products, meaning that it looks good at resolutions up to 1600x1200.
As far as software bundle is concerned, the V6800/64 comes with the same software as the whole V6x00 line. This means that in addition to a driver CD, you also get the full versions of Rollcage and Darkan, a CD with 12 demo games on it, and ASUSDVD for DVD playback. Of the included software, the games are pretty much useless for the hard core gamer that would be purchasing such a card. As far as ASUSDVD goes, it seems quite ironic that ASUS would bundle a software DVD decoder program for use with a card that has no video out capabilities.
The ASUS V6800 is a very powerful card, however this power comes with a cost. We do not know what the retail price of the card is yet, however expect it to be in the mid $300 range. In addition to high price, the card is yet to hit retail shelves, making availability a concern. Is the 64 MB GeForce line too little too late? Will the NV15 slated to come out soon force the 64 MB GeForce cards out of their top performance slot? Perhaps, however if you are out to get one of these powerful video cards, of the cards examined the ASUS V6800/64 is the card to go with.
Note: this review is a review of the ASUS V6800/64, NOT of the 64 MB GeForce production. To learn about the 64 MB GeForce in general, please see our 64 MB GeForce review.
How It Rates
Please note that the score given is a comparison between the SUMA Platinum 64 MB GeForce and other 64 MB GeForce cards. This is not meant to reflect how 64 MB GeForce cards compare to other video cards on the market. To find this information, please see our 64 MB GeForce Review. Also keep in mind that a score of five indicates standard performance. To learn more about our rating system, please click here.
AnandTech Video Card Rating

Rating (x/10)

Performance

All 64 MB GeForce cards reviewed this far, including the ASUS V6800/64, perform almost identically due to the reference design use. The card also overclocks very similarly to the SUMA Platinum 64 MB GeForce, with a slightly better memory overclock.

5.0

Price

The price tag of the ASUS V6800/64 is expected to be higher than that of the SUMA Platinum 64 MB GeForce, however you get what you pay for. By including the hardware monitoring and the software bundle, the price may be raised but the features are enhanced.

5.0

Drivers

The ASUS drivers have a good look and feel. Their only downside is the fact that they are the same drivers as used for the Deluxe series, meaning that you will be left dreaming of some of the advanced features of these cards every time you right click on the task bar utility.

SmartDoctor is perhaps one of the best parts of the ASUS V6800/64. By providing a driver based hardware monitoring utility, the V6800/64 is always in safe hands. In addition, the overclocking utility as well as the dynamic overclocking feature of SmartDoctor are both very cool features.

7.0

Features

Lacking TV-out and other features we have come to expect from ASUS, the V6800/64 does come with hardware monitoring; a big plus. In addition the thermal grease used to attach the heatsink to the GPU show high quality.

6.0

Retail Availability

It seems that while ASUS may be producing this card for the retail market, we are yet to see any of these cards for sale. You may well be waiting into the the release of the NV15 until you see your V6800/64.

4.0

Documentation & Software Bundle

The manual included with the V6800/64 is quite complete and details the steps of install and utility use. The software bundle of the card, on the other hand, is essentially useless for the type of person who would be the purchaser of such a card, as is quite often the case.

4.5

Overall Rating

6.5
Note: The Overall Rating is not an average of all of the categories