Original Link: http://www.anandtech.com/show/5303/sprint-ad-announces-galaxy-nexus-with-15-ghz-soc


Sprint seems to be busy with its announcements today, and the latest comes in the form of an unassuming-looking advert on CNet. Ordinarily, a US carrier announcing yet another carrier-specific version of the same device isn't big news, but what's interesting about the Sprint Galaxy Nexus is that it notes the inclusion of a 1.5 GHz SoC.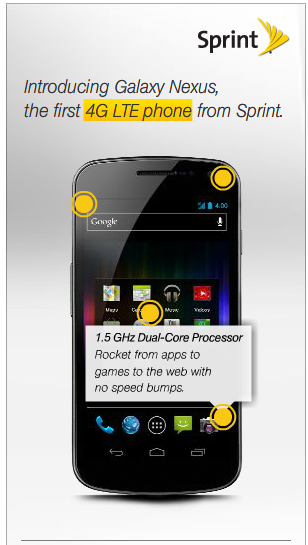 Both the GSM/WCDMA Galaxy Nexus (yajku) and the CDMA/LTE Galaxy Nexus (mysid) are currently based on a TI OMAP4460 SoC with a CPU clock of 1.2 GHz. Of course, OMAP4460's adveritsed maximum clock has always been 1.5 GHz. No doubt, Sprint has chosen to opt for the maximum OMAP4460 clocks for its very own Galaxy Nexus variant, which will also include CDMA and LTE. It will be interesting to see what the Sprint variant pegs its SGX 540 clock at as well, considering how (best I can tell) the current Galaxy Nexus variants put it at 307 MHz, and not the 384 MHz advertised maximum of the OMAP4460. We'll be paying attention to the Sprint variant and update if anything else emerges.
Source: CNet