Original Link: http://www.anandtech.com/show/530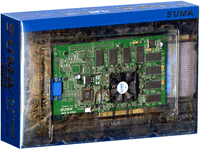 It is not often that a company makes it debut into any market with a revolutionary new product. Most of the time, especially in the computer industry, companies build off of reputation formed by making quality products that are not necessarily considered cutting edge. Besides the marketing advantages that come with having a recognized brand name, advantages are also felt on the consumer front. Due to the fact that emerging and cutting edge products often cost a good amount of money, a consumer is usually wary of spending a significant amount on a brand that might not have the well-known reputation that others have. Although not new to Asia, SUMA System Corp. is brand new to the United States market, and their product, the SUMA Platinum 64 MB GeForce, is anything but old news. How does this new comer perform in such an elite market?
To answer this question, it would be helpful to first get some background information on the 64 MB GeForce. Luckily, this information is contained in our 64 MB GeForce Review. We highly suggest you read this to get more information regarding the impact of additional memory, as well as additional information regarding the GeForce 64 in general. Once this knowledge is acquired, we can then move on into discussing the SUMA Platinum GeForce and its worthiness in the 64 MB GeForce market. Let's begin by taking a look at the product specifications.
Key Features
NVIDIA GeForce 256 GPU (Graphics Processing Unit)
64 MB high-speed DDR SDRAM memory
350 MHz RAMDAC, up to 2048x1536 32 bit resolution
AGP 4X with Fast Write (30% faster transfer speed)
Transform, Lighting, Setup, Rendering Quad-Engine design
Drivers optimized for Pentium III SSE and AMD 3D NOW
OpenGL ICD and DirectX 7.0 Support
2D / 3D Performance
Next generation nVIDIA GeForce chip-set
First-ever single chip GPU (Graphics Processing Unit)
More enhanced 256-bit Graphics Architecture
Up to 2048x1536 resolution, 32-bit color
Full support for Direct X 6.x, 7.x and OpenGL 3D graphics
Up to 128 MB Frame Buffer
First integrated Transform and Lighting
AGP 4x with Fast Write
32-bit color ARGB with Destination Alpha
32-bit Z / Stencil
8-bit Stencil
Cube Environment Mapping
Anisotropic Texture Filtering
350 MHz Palette-DAC
Video Acceleration
Full frame playback
DVD and HDTV-ready motion compensation for MPEG-2 decoding
Industry's first 5-tap horizontal by 3-tap vertical video filtering
8:1 up and down scaling on video overlay
Separate hue, saturation, and brightness controls for the video overlay
Complete VIP 2.0 Video Implementation (1x-8x Host, 75 MHz, 16-bit video port)
Video DMA for efficient VIP host operations
OS and Driver Support
Windows 2000, Windows NT 4.0, Windows 95 OSR 2.1, Windows 98, OS/2, Linux, BeOS display drivers
Complete support for DirectDraw, Direct3D, DirectShow, ActiveX
OpenGL ICD for full OpenGL
Fully PC99 and PC99a Compliant



Refresh Rate Support

Resolution

Color

Max Refresh Rate (Hz)

640 x 480

256/65K/16M

60 - 240

800 x 600

256/65K/16M

60 - 240

1024 x 768

256/65K

60 - 240

1024 x 768

16M

60 - 200

1152 x 864

256/65K

60 - 200

1152 x 864

16M

60 - 170

1280 x 960

256/65K

60 - 170

1280 x 960

16M

60 - 150

1280 x 1024

256/65K

60 - 170

1280 x 1024

16M

60 - 150

1600 x 900

256/65K

60 - 150

1600 x 900

16M

60 - 120

1600 x 1200

256/65K

60 - 120

1600 x 1200

16M

60 - 100

1920 x 1080

256/65K

60 - 100

1920 x 1080

16M

60 - 85

1920 x 1200

256/65K

60 - 100

1920 x 1200

16M

60 - 85

1920 x 1440

256/65K

60 - 85

1920 x 1440

16M

60 - 75

2048 x 1536

256/65K

60 - 75

2048 x 1536

16M

60
The Card
Being the first 64 MB GeForce card in the lab, we were curious to see exactly what type of reference design NVIDIA delegated for use. As it turns out, the SUMA Platinum 64 MB GeForce uses essentially the same reference deign as the professionally targeted Quadro, also manufactured by NVIDIA. In terms of card structure, this leaves the Platinum 64 MB GeForce using the newly adopted AGP-Pro 25 standard to ensure that the card receives sufficient power, a feature which might scare some consumers away due to the fact that few motherboards incorporate this standard. Originally formed to alleviate some of the power consumption problems associated with higher performing video cards, it turns out that, in the Platinum 64 MB GeForce this feature is more of a cautious addition than a necessary feature. The card ran without any problems in motherboards that only used the commonly found AGP bus slot. Be wary of using this card, or any other that supports AGP-Pro, in lower quality motherboards, as it is in these systems that the card runs the risk of receiving too little power, causing anything from random freezes to an inoperable system.
In addition to sharing the same reference design as the highly priced Quadro, the SUMA Platinum 64 MB GeForce also incorporates the same RAM chips and configuration as the Quadro. The 64 MB of power comes from 6 ns Hyundai DDR SDRAM chips with an eight megabyte density. There are eight of these chips located on the front of the card to provide a total of 64 MB of raw DDR power. You may be asking yourself why Infineon chips are not used on 64 MB cards as they are on every 32 MB DDR card currently on the market. Well, as much power as there is to be gained by using the somewhat faster SGRAM chips, it seems that Infineon currently only makes the DDR SGRAM chips in densities of four megabytes per chip. This would require eight SGRAM chips on the front as well as eight SGRAM chips mounted on the back of the card, a design not supported by the reference design. While it would be possible to modify the reference design to fit such a configuration, it would take a considerable amount of time and money: two things a company wishes to avoid when attempting to win the race to the retail market.
Cooling for the card is provided by the generic low profile heatsink and fan, with one exception. Rather than go with the boring black heatsink, SUMA chose to use what appears to be polished aluminum finish, resulting in a chrome-like color. It is from this heatsink that the Platinum 64 MB GeForce gets its namesake. The heatsink is attached to the surface of the GPU via thermal glue alone. Typically, such a setup does not result in astonishing overclocking results, but in the case of the SUMA Platinum GeForce overclocking was anything but uneventful.
Sharing so many similarities with the $700 plus Quadro, one may suspect that the differences are with in the processor itself. Well, that assumption is also incorrect, for the most part. The Quadro platform, targeted at 3D graphics processionals, uses exactly the same GPU as the less expensive and less powerful GeForce. In fact, the only difference between these two platforms is that the Quadro chips are rated at a slightly higher 15 MHz over the stock GeForce setting. So, what sets the $700 plus Quadro apart from the SUMA Platinum 64 MB GeForce? Well, it seems that NVIDIA knew that they could charge more for a professional type card and leave some of these features out for the mainstream market. In order to do this, it seems that the GeForce BIOS disables some of the properties associated with the Quadro, such as enhanced support for anti-aliased points and lines as well as offering a peak triangle rate of 17 million triangles per second up from the GeForce's 10 – 15 million triangles per second. As much as the SUMA Platinum 64 MB GeForce resembles the Quadro, it still falls a bit short. Compared to the 32 MB GeForce, the 64 MB GeForce shines, as seen in our 64 MB GeForce review.
Overclocking
Upon first glance at the SUMA Platinum 64 MB GeForce, we were not very impressed. Besides the fact that the card boasts the most memory per processor amount currently available on the mainstream market, not much else is very striking. Some cards, such as the Leadtek WinFast GeForce 256 DDR Rev B, impress us off the bat due to unusual styling or striking heatsinks. The SUMA Platinum 64 MB GeForce, with its small but shiny heatsink did not initially strike us as an excellent cooler. However, as we have learned in the past, first impressions are not everything.
It was not until the SUMA Platinum 64 MB GeForce was placed in a system and PowerStrip loaded to allow overclocking did we really see how much the Platinum 64 MB GeForce was capable of taking. As it turns out, the card did not experience any problems even at the previously high core speed of 162 MHz. Quite obviously a card that can run stable at 42 MHz above stock speed is doing something right on the cooling front. As skeptical as we were of the thermal glue used to hold the heatsink in place, it was quite pleasant to find such an excellent overclocker in the place least expected. Not only does this overclocked speed take the GeForce GPU where we have never seen it go before, it also places it even one step closer to being a Quadro, at least in MHz.
Overclocking the RAM also proved to be a rewarding experience. Due to the fact that all DDR RAM chips that came on previously reviewed cards were always of the same type from the same company, DDR SGRAM chips from Infineon, it was quite nice to see another type of RAM being used on a DDR card. Although the SDRAM chips chosen may not be as fast as the SGRAM chips seen in other DDR cards, what it loses in stock speed, it makes up for in overclocking capability. The Hyundai 6 ns SDRAM chips were able to reach a DDR speed of 352 MHz, meaning that the memory clock was running at 176 MHz. Once again the SUMA Platinum 64 MB GeForce managed to break previous records and shatter our initial impressions.
One thing to keep in mind is that overclockability will vary from card to card. Due to the fact that many of the obstacles found in overclocking are experienced on a chip level, it is almost impossible to guarantee a exact results on separate cards. We can suggest, however, that the chip was kept fairly cool due to the high speeds reached, suggesting that the GPU at least will overclock to a relatively high number. To see how much speed would be gained using these speeds on processors other than the Pentium III 550E shown in the following benchmarks, check out our 64 MB GeForce review and expect performance even greater than the numbers shown.
The Drivers
As we have found in many cards in the current GeForce based market, the SUMA Platinum 64 MB GeForce actually uses the NVIDIA reference drivers as the driver set. While this may not add the functionality seen in cards such as ELSA's ERAZOR X2, it does allow for three major advantages. First, the reference drivers are updated regularly which means that the driver set for this card will be updated regularly. Secondly, using NVIDIA's reference drivers cuts down on the amount of time needed to develop a functional card: an aspect that allowed SUMA to release the card very early in the product cycle. Finally, use of reference drivers cuts cost. Rather than spending money attempting to make a driver set superior to one that can be downloaded free by users, many of whom are choosing these over custom driver sets, SUMA packages the reference drivers to save money on a card that is not very cheap to manufacture. All of these advantages work together to make the reference driver set not such a bad choice in this case.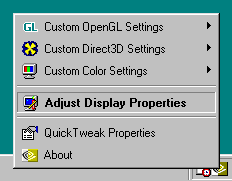 The taskbar settings do not offer many features, but some are user definable.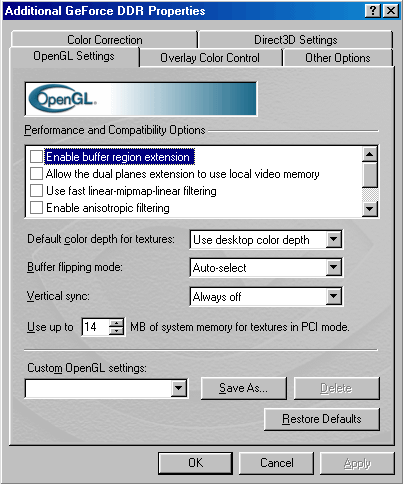 OpenGL settings are easy to find and change.

Direct3D settings are also easy to tweak.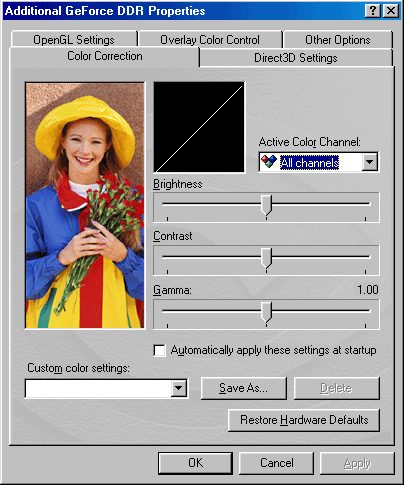 Color adjustment.
The Test
Windows 98 SE Test System

Hardware

CPU(s)

Intel Pentium III 550E
provided by Memman

Motherboard(s)

ABIT BF6

Memory

128MB PC133 Crucial Technology SDRAM

Hard Drive

Quantum Fireball CR 8.4 GB UDMA 33

CDROM

Acer 24x

Video Card(s)

SUMA Platinum 64MB GeForce

Software

Operating System

Windows 98 SE

Video Drivers

NVIDIA GeForce - Detonator 3.76

Benchmarking Applications

Gaming

GT Interactive Unreal Tournament 4.04 UTbench.dem
idSoftware Quake III Arena demo001.dm3
idSoftware Quake III Arena quaver.dm3
Quake III Arena Performance- demo 001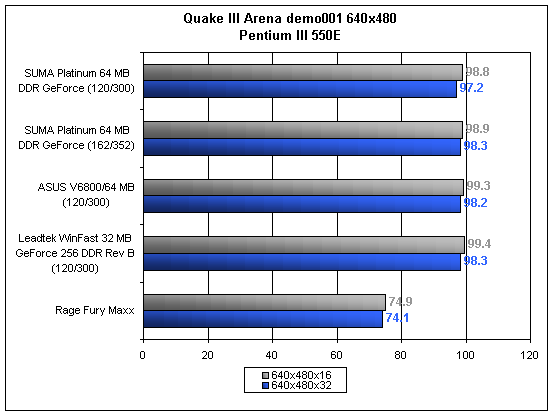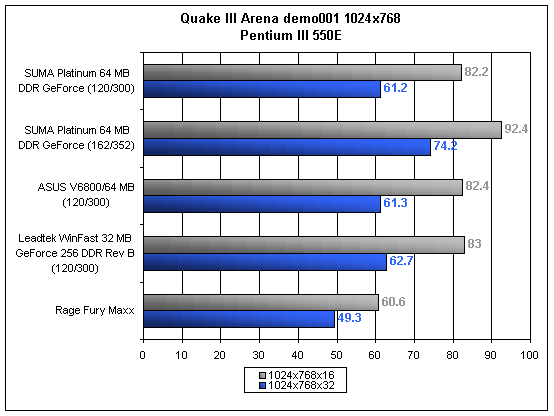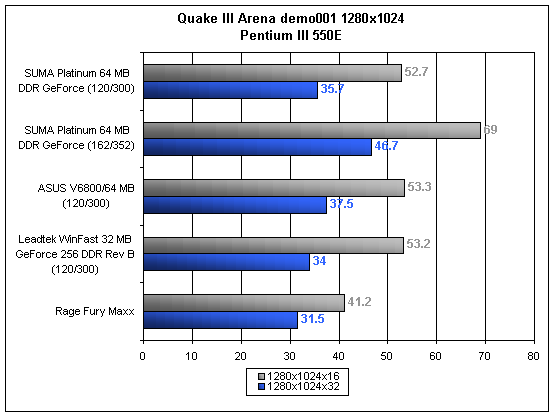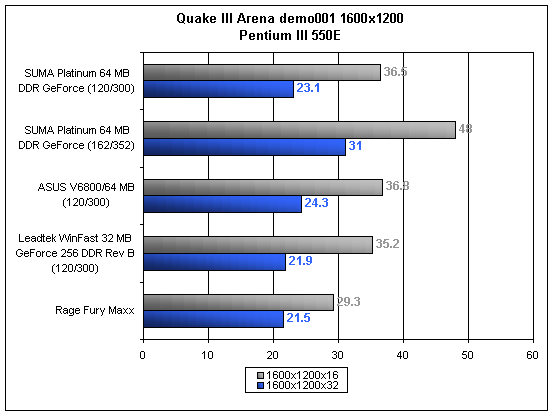 The true advantages of having 64 MB of memory to store textures in is not really seen in the relatively powerless demo001.dm3 benchmark. The level that this benchmark was recorded in is not very complex texture wise and does not contain many large rooms. Thus, by looking at the above graphs, we see that no noticeable improvement is experienced in any color depth or resolution. This is due to the fact that the level is not filling up the 32 MB of memory available on the 32 MB GeForce, thus the additional 32 MB of memory found in the SUMA Platinum 64 MB GeForce is not being used for any purpose. The unused RAM provides no performance advantage, thus we see little difference between the 32 MB GeForce and the 64 MB GeForce. The stock clocked Platinum 64 MB GeForce is slightly beaten by the ASUS V6800/64 MB most likely due to the slightly modified proprietary design used by ASUS in this card.
When overclocked, the Platinum 64 MB GeForce performs exceptionally well in all color depths and resolutions. In order to see the real difference between the 64 MB cards and the 32 MB cards, it is necessary to call upon a more stressful demo. As described in our 64 MB GeForce Review, Quaver is such a demo. Let's see how the cards perform under more stressful situations.
Quake III Arena Performance- quaver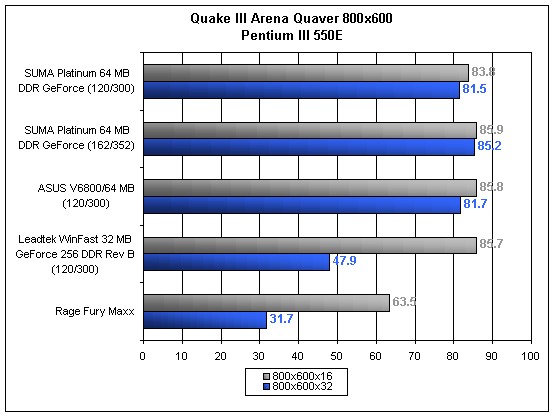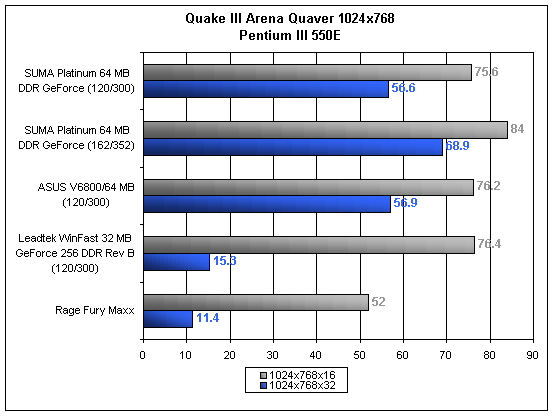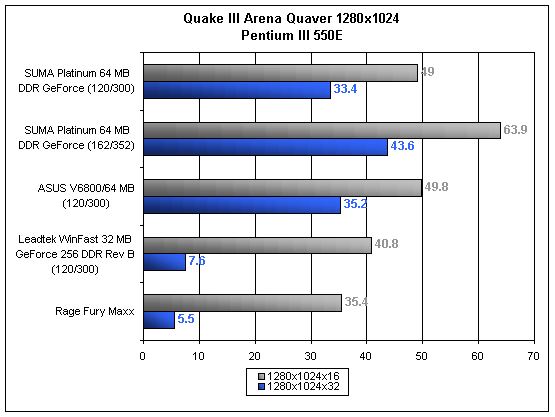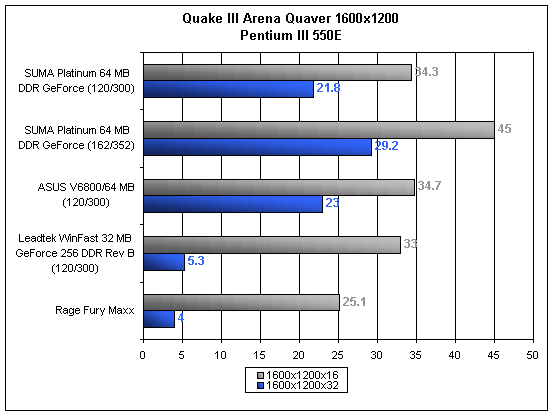 Under Quaver, the differences between 64 MB GeForce cards and 32 MB GeForce cards really show, drawing us to the same conclusion as explained in the 64 MB GeForce review. Even at the lowly resolution of 640x480x32 with texture detail set to high, the 32 MB card begins to choke as it rushes textures away to system memory for temporary storage. The differences between the cards only become more pronounced at higher resolutions and color depths. The SUMA Platinum 64 MB GeForce is able to hold its weight against the ASUS V6800/64 MB. The two cards perform almost identically in every scenario, showing that the SUMA can hold its own against a more recognized opponent.
Once again, the high speed reached by overclocking the Platinum 64 MB GeForce provided nothing short of breathtaking performance. When running at the peak speed of 162/352 MHz, the overclocked Platinum 64 MB GeForce was able to beat its stock clocked counterpart by 31% when at 1600x1200x16. In addition, the extra speed made Quake III Arena extremely playable at 1024x768x32, an accomplishment many cards can not claim.
Unreal Tournament Performance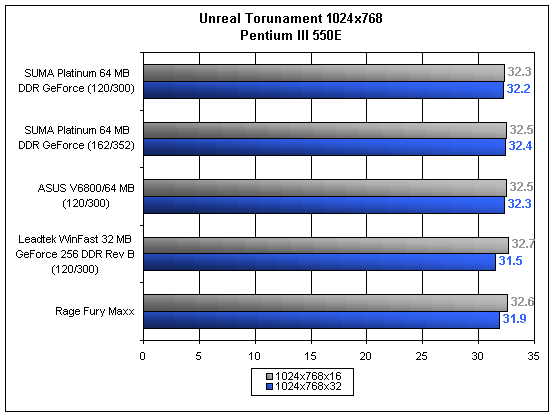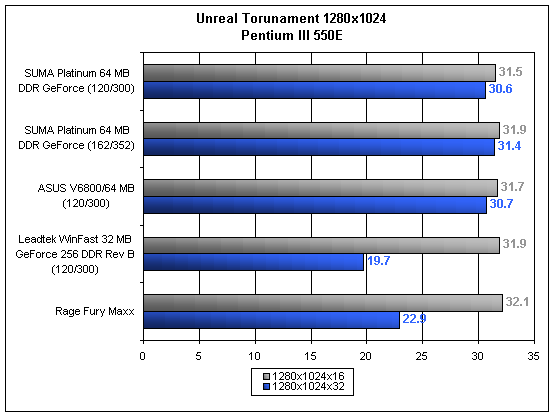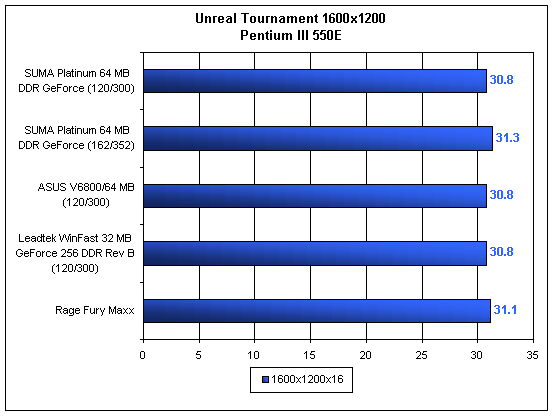 Due to the fact that performance in Unreal Tournament is essentially identical in every card until 1024x768x16, we started the benchmarks here. In fact, it is not until 1280x1024x32 that a difference between the 32 MB GeForce and the 64 MB GeForce is seen. The added RAM must prevent some of the texture swapping from occurring, as hypothesized in the 64 MB GeForce review. The SUMA Platinum 64 MB GeForce once again holds its own when paired up against the ASUS V6800/64MB. As usual, the Unreal engine could not take advantage of the faster speed offered by overclocking the card. Only a .8 FPS increase was seen at 1280x1024x32, the resolution which seems to be most stressful on the cards.
Conclusion
This review does not attempt to place a value on the 64 MB platform on a whole, but rather it deals with how a specific product, the SUMA Platinum 64 MB GeForce, compares to the rest of the 64 MB playing field. If you are interested in the value of 64 MB GeForce cards, please see our 64 MB GeForce Review which deals with these aspects. Now, let's examine the SUMA Platinum 64 MB GeForce.
Design-wise, the SUMA Platinum 64 MB GeForce does not stand out much. The only interesting aspect of the card is its incorporation of an AGP-Pro form factor. It seems to us that this would only scare consumers away, for fear that their computer will not provide enough power for the card. Rest assured, however, that as long as your motherboard is relatively new and of good quality, you should have no power problems running this card.
On the cooling side of things, we determined that looks can be deceiving. Having a card that can reach a core speed of 162 MHz says a lot about the cooling system incorporated on the card. Even though we know that chip quality plays a role in overclocking, we also know that excessive heat can put a damper on a highly overclockable chip simply due to the fact that the card got too hot. On the memory side of things, the Hyundai SDRAM chips proved to be a real overclocking performer. Reaching a speed of 352 MHz, the memory clock should easily be able to move information to and from the large 64 MB of on card RAM. Finally, the 2D image quality is what we have come to expect from the GeForce processor.
The SUMA Platinum 64 MB GeForce does have its downsides, however. First off, there is no space on the card for TV-out options, suggesting that a Platinum with TV-out will never be sold. Secondly, the use of reference drivers may be viewed as a negative point for some, especially those from the days when companies such as Diamond Multimedia produced extravagant and highly useful driver sets and utilities. One of the major downsides to the SUMA Platinum 64 MB GeForce is the fact that it includes no software bundle. The card does come with a nicely decorated CD, but the sole contents of this CD are the display drivers and NVIDIA demos. We have come to expect at least some form of included software in cards, thus it is a bit disappointing to find no such party favors in the SUMA box. The final, and perhaps most influential, drawback to the SUMA Platinum 64 MB GeForce is its price. Running at a retail price of $315, the 64 MB GeForce costs about $75 more than a 32 MB GeForce card that includes such luxuries as TV-out and bundled software. In addition, one should be cautious when viewing the large speed increase associated with 64 MB cards. As described in our 64 MB GeForce Review, tables may turn when S3TC compression is incorporated into the upcoming driver set from NVIDIA.
If you are set on buying a 64 MB GeForce, the SUMA Platinum GeForce is a strong purchase. While its availability may be low, we suspect that it will be one of the lower costing 64 MB GeForce cards. In addition, being first on the market has its appeal: wouldn't you like to be the first on your block to upgrade your computer to a 64 MB GeForce video card? Keep in mind, however, that as much as this card reassembles a Quadro, it is not one. NVIDIA still incorporates the GeForce limitations into the 64 MB GeForce cards. SUMA definitely has made an impact in the US video card market with the release of the first retail 64 MB GeForce. If you are looking for one excellent gaming card at the lower price range compared to other 64 MB GeForce cards, consider the SUMA Platinum GeForce. Beware, on the other hand, of small long term value, especially with the NV15 right around the corner.
How It Rates
Please note that the score given is a comparison between the SUMA Platinum 64 MB GeForce and other 64 MB GeForce cards. This is not meant to reflect how 64 MB GeForce cards compare to other video cards on the market. To find this information, please see our 64 MB GeForce Review. Also keep in mind that a score of five indicates standard performance. To learn more about our rating system, please click here .
AnandTech Video Card Rating

 

Rating (x/10)

Performance

Compared to other 64 MB GeForce cards, the SUMA Platinum 64 MB GeForce performs right on par. The similarities between the speeds are most likely a product of the similarities between the card designs, as the SUMA uses NVIDIA's reference design and the ASUS uses a slightly modified version.


5.0

Price

The 64 MB GeForce seems like it is going to be one of the lower priced 64 MB GeForce cards on the market. The corner cutting made by not including a software bundle and TV-out features is made up for by a lower price tag.

6.0

Drivers

The standard NVIDIA reference drivers is the driver set we have come to expect to see on many GeForce cards. The Platinum 64 MB GeForce is no different on this front.


5.0

Features

The feature set of the SUMA Platinum 64 MB GeForce is rather poor. What SUMA gained in being first on the market, it lost in terms of additional features. TV-out would have made for a more feature rich card.

The heatsink, on the other hand, may not look like much but quite obviously it performs like much. Cooling the GPU is essential and it seems that SUMA has done a good job of doing that.


5.0

Retail Availability

It is yet to be seen how many of the SUMA Platinum GeForce cards are going to make it to the US market. In Asia, SUMA has been slowly expanding the area to which they sell the card. Who knows how slowly the move to the US market will take. We can only guess that retail availability will not be extremely high due to the fact that SUMA is a new company in the US market and suppliers may be hesitant on providing this product.

4.0

 

Documentation & Software Bundle

Although the manual for the SUMA Platinum 64 MB GeForce is as extensive as it need be, the software bundle is missing. The majority of other cards on the market come with some type of bonus software to make your purchase a bit easier, it is too bad that SUMA did not include such luxuries.

4.0

 
Overall Rating

5.0
Note: The Overall Rating is not an average of all of the categories