Original Link: http://www.anandtech.com/show/5277/nzxt-hale82-650w-750w


NZXT HALE82 650W and 750W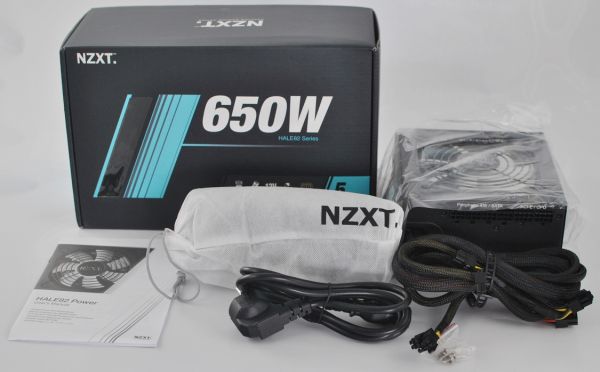 NZXT recently sent us their latest 650W and 750W PSUs from their new HALE82 series. We will focus primarily on the 650W model in this review, as there are only minor differences between it and the 750W model. The package includes a standard power cord, four screws for mounting the power supply, all the modular connectors in a separate bag, and a user guide. The latter has only a few short instructions on how to install the device. According to the manufacturer, the product features include a 5-year warranty, a modular connector panel and Japanese capacitors.
With 80 Plus Bronze certification, the HALE82 series looks like an average product for this performance class. Still, we need to look at the internal design and performance characteristics, since 80 Plus Bronze doesn't really convey enough information for us to form an opinion on a PSU. Furthermore, NZXT uses a "strong 12V Single Rail", a single +12V output that is not split into lower amperage rails.
Both the 650W and the 750W versions have +3.3V and +5V outputs that are specified at 25A maximum load each. Together these outputs provide up to 150W; we will confirm this in our load test later. -12V and the standby power are identically rated as well; the only difference is current at +12V . The 750W model can deliver 108W more on this output than the smaller 650W unit. Both power supplies have a variety of safety certifications, but "CE" in this case is just a sign for "China Export". However, the PSU should be CE compliant as well, as that is necessary for any PSU sold in Europe.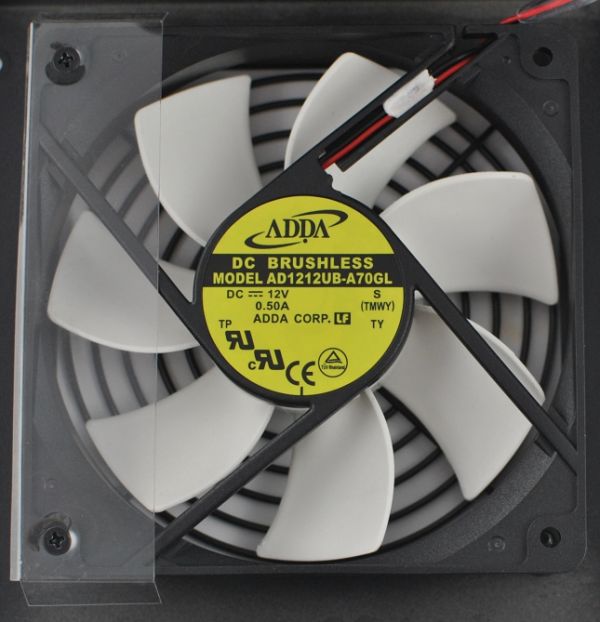 The fan has seven fan blades and is an ADDA model AD1212UB-A70GL. We could only find information for an ADDA fan with the extension A71GL, but the values ​​are probably comparable. That model has a ball bearing and runs at up to 2500RPM, but the current consumption is significantly lower than for the model used here (0.39A vs. 0.50A). Given the higher current rating of the A70GL model, this fan might reach higher speeds, e.g. 3000+ RPM.
Appearance, Cables, and Connectors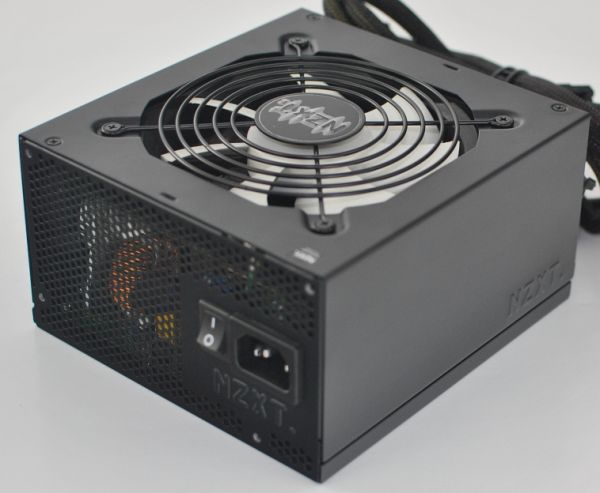 The robust and 160mm deep case has a gray surface and a common fan grille; the fan itself is white. Next to the power input you can find a NZXT logo, as well as on the side of the unit. The ventilation holes are comparatively small and honeycombed. On the front the modular connector panel protrudes slightly, with labels indicating which modular connector fits into each socket. The sleeving for the fixed cables is well made but not opaque, while the modular connectors use flat cables.
Cables and Connectors

Main
24-pin (50cm) fixed
ATX12V/EPS12V
4+4-pin (70cm), 8-pin 55cm all fixed
PCIe
2x 6/8-pin (50, 60cm) fixed, 2x 6/8-pin (50, 60cm) modular
Peripheral

3x SATA (ca. 55, 70, 85cm)

, 3x SATA (ca. 55, 70, 85cm),

3x SATA (750W only, ca. 55, 70, 85cm)

all modular

3x HDD (ca. 55, 70, 85cm

)

, 3x HDD (ca. 55, 70, 85cm)

all modular
The 24-pin cable is relatively short with 50cm. The long CPU cable is very good, particularly for cases where the PSU is mounted on the bottom. The 24-pin, two CPU, and one 6/8-pin PEG cable are fixed. In contrast to the 650W version, the 750W has a third SATA cable with three additional connectors. With six (or nine) SATA and six molex connectors, the two power supplies are exceptionally well equipped. Note that there is no FDD connector, but this shouldn't be a problem for most systems. If you do need such a connector, you can either buy an inexpensive adapter or simply shop elsewhere; it would be nice if NZXT included the adapter in the packaging, though, "just in case".
Internal Design and Components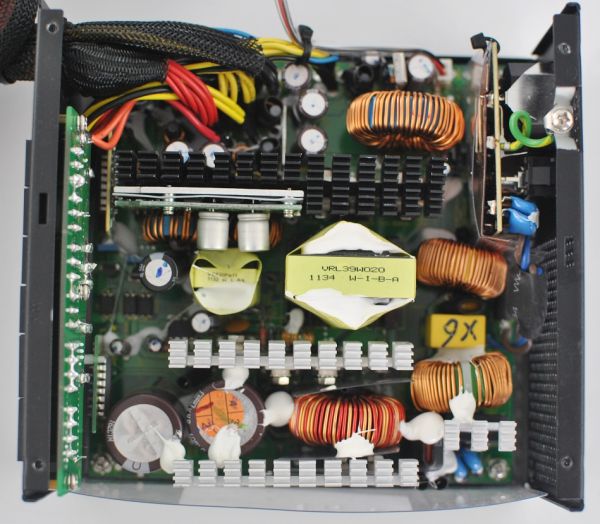 The power supply is based on a circuit design that is identical to the Seasonic M12 II Bronze and the Corsair TX V2 series. NZXT operates with a forward converter with two MOSFETs, which allows the manufacturer to use a higher switching frequency and lower voltage rating for the transistors. In this case the design consists of a primary controller for PFC in continuous current mode and a DC-to-DC converter for +3.3V and +5V as well. This should also clarify how the majority of the output voltages are regulated. The PWM controller of each output takes over this task.
All the heatsinks are relatively small and are punched into an optimized shape. Most of the circuit boards are made out ​​of epoxy resin and fiberglass. In contrast to the 650W model, the 750W unit uses larger filtering capacitors in the primary circuit and generally a bit more powerful semiconductors. The EMI filtering is well equiped with two common-mode chokes, another choke against differential mode EMI, six (!) Y capacitors, two X capacitors, and one MOV.
The only thing keeping this from being a truly high-end classification is the 80 Plus Bronze certification. Seasonic had a few 80 Plus Silver PSUs with a similar structure a while back, which would only require MOSFETs with a lower drain-source resistance. Overall, the design of the HALE82 is definitely more than common 80 Plus Bronze PSUs. We will see a very similar design in the near future with the G-series from Seasonic, which is certified 80 Plus Gold.
Voltage Regulation
+3.3V Regulation/Ripple and Noise
Load
Voltage
5%

+1.81% (4mV)

10%

+1.52% (4mV)

20%

+1.21% (6mV)

50%

+0.61% (8mV)

80%

+0.30% (10mV)

100%

-0.30% (10mV)

110%

-0.61% (11mV)

Crossload +12V max.

-0.30%

Crossload +3.3V/+5V max.

-0.30%
+5V Regulation/Ripple and Noise
Load
Voltage
5%

+0.40% (3mV)

10%

+0.40% (7mV)

20%

+0.20% (7mV)

50%

-0.20% (8mV)

80%

-0.40% (12mV)

100%

-0.60% (13mV)

110%

-0.80% (15mV)

Crossload +12V max.

+0.20%

Crossload +3.3V/+5V max.

+0.40%
+12V Regulation (Worst Rail)/Ripple and Noise (Worst Rail)
Load
Voltage
5%

+0.25% (10mV)

10%

+0.25% (12mV)

20%

+0.25% (14mV)

50%

+0.08% (20mV)

80%

-0.08% (22mV)

100%

-1,25% (33mV)

110%

-1,33% (35mV)

Crossload +12V max.

+0.17%

Crossload +3.3V/+5V max.

+0.59%
Noise Levels
Loudness
Load
Opinion
5%
low fan noise
10%
low fan noise
20%
low fan noise
50%
fan noise / audible bearing
80%
strong fan noise / audible bearing / electrical side noise
100%
strong fan noise / audible bearing / electrical side noise
110%
strong fan noise / audible bearing / electrical side noise
Efficiency and PFC
115VAC. 60Hz
Load
Efficiency
PFC
5%

69.44%

0.850

10%

78.68%

0.890

20%

85.50%

0.930

50%

87.89%

0.966

80%

87.00%

0.981

100%

86.23%

0.982

110%

85.86%

0.984
The ball bearing fan is clearly audible under high loads, but it's not unusually loud for a 650W power supply . However, at 80% load and above, an electronic noise can be heard from a short distance. This may be a problem with our test sample, but it's still undesirable even if the other performance metrics are good.
The efficiency is as high, which is what we expected from the layout. This PSU is very close to achieving 80 Plus Silver certification, and it has no problem meeting the 80 Plus Bronze requirements. However, the efficiency at lower loads (5% and 10%) drops below 80%, which makes the PSU less suitable for low power systems or systems that idle under ~50W.
During low loads the current runs relatively flat trough the large PFC choke. The result is a power factor below 0.900--phase shifting is very high. Under full load 0.982 PF can be achieved.
The highlight of the HALE82 series is its voltage regulation, ripple, and noise results. These are simply put superb for a middle class product! We would like to see such results more often, though not surprisingly the performance comes with a cost.
Conclusion
The HALE82 series from NZXT meets the specified features in full. In particular, the impressive voltage regulation due to the two buck converters and the powerful +12V output are advantageous. The efficiency is relatively high and exceeds the 80 Plus Bronze certification. Unfortunately, we can't say that NZXT makes the quietest power supplies, as the bearing is clearly audible. The fan is still a good choice (we've seen worse), and you simply can't find a better middle class circuit design than the one used here (which comes via the ODM, Seasonic).
NZXT chose well when they elected to go with Seasonic as the manufacturer of these two power supplies. The layout is excellent, and the safety distance between the "power part" and control circuits is good. Moreover the hot +12V choke is far away from all the output capacitors, so they won't get stressed by the heat. NZXT also uses Japanese-made capacitors, at least in the samples we received (and we see no reason why that would change). The choice of high-grade PCBs is another welcome feature.
+3.3V and +5V get regulated by their own PWM IC on the buck converters. However, the design supports two separate +12V outputs, which is what is used in the Corsair TX 750W V2. We wouldn't say that this is a true single-rail design, though it probably doesn't matter for most users. EMI filtering is well equipped including a MOV for overvoltage protection. The 750W device does not show any fundamental differences from the 650W model, other than having some more powerful components on an identical PCB layout to accommodate the higher output rating.
In the load test the 650W model reached nearly 88% efficiency, which is quite close to 80 Plus Silver. At 5% load the PSU only reaches about 70% efficiency, but the power loss in absolute numbers should be negligible (and it's unlikely most PCs needing a 650W PSU will idle at less than 50W). The ripple and noise is low during all loads, with a maximum of 35mV (peak-to-peak value). Starting from 50% load, the bearing and the fast rotation of the fan makes the PSU clearly audible, while at lower loads your ear must very close to the PSU to hear anything. In a closed system with multiple fans, the PSU will actually not be noticed under 50% load, and at 80% most graphics cards will be louder. It's also not too unusual for a 650W power supply to use a strong fan to help with heat removal. Even so we think the fan could be quieter and a high quality sleeve bearing (e.g. HDB) would be a good solution.
There are only a few potential gotchas to look out for; there's no FDD connector available, so you'll need to provide your own if you (still) need such an adapter. The connectors include two CPU plugs, six (650W) or nine (750W) SATA connectors, and six molex connectors, which is good for this performance class. If you prefer flat cables you will also be pleased by the modular connectors on these PSUs, while the fixed cables have good quality sleeving. The 24-pin connector is possibly a little short, depending on your choice of case. Wrapping things up, the illustrated user manual is nice to see. In total the delivery content and cable configuration are average, but the overall impression is quite good.
Pricing on the HALE82 is somewhat high compared to other similar quality PSUs. The 650W model currently goes for around $110 online, while the 750W model costs $10 more; however, both versions currently have rebates that knock off $20 from the price, and Newegg has a 15% discount code for the next few days as well. That brings the base cost to $93.50 and $102, respectively, with the $20 Mail-In rebate still available. If you don't mind dealing with such rebates, the prices are quite good for what you get, but you can find some equal products for slightly lower prices. The XFX Core Edition 650W starts at $90 and has a $25 MIR right now, and all the Corsair TX V2 models offer good quality for similar or slightly lower prices (and again, there are MIRs to be had).
Ultimately, the 80 Plus Bronze certification can't be used as the only criterion for our conclusion. NZXT is very close to 80 Plus Silver and offers an excellent Seasonic design with Japanese capacitors. However, Corsair delivers the aforementioned TX V2 using the same Seasonic platform and XFX is another source for lower cost Seasonic PSUs. We can recommend the HALE82 products as a whole, but looking at the current prices, the Corsair and XFX are two alternatives worth considering. The HALE82 products in principle succeed at providing good quality midrange PSUs, but as is so often the case they end up joining ranks with several other PSUs from the same ODM (Seasonic).