Original Link: http://www.anandtech.com/show/5266/nokia-lumia-800-review-nokias-brave-new-foray-into-wp7


Introduction
The Nokia Lumia 800 is without a doubt one of the most interesting devices produced by the iconic Finnish smartphone manufacturer in a long while. Expectations are high for the Lumia series, which represents Nokia's first foray into devices running Windows Phone 7.5. At the same time, we haven't touched many Windows Phones since our initial review what seems like ages ago, but the platform has moved along, giving us an opportunity to finally take a formal look at the new things Windows Phone 7.5 brings.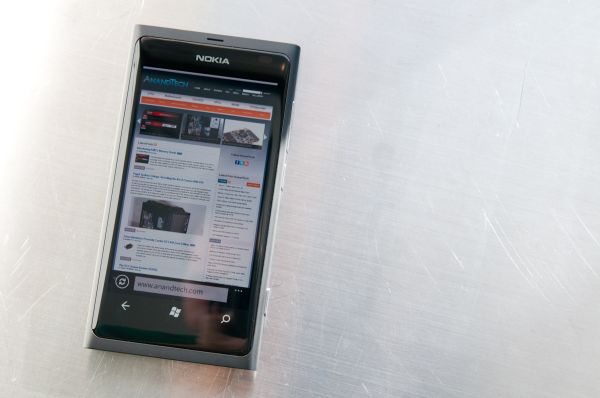 It's easiest to just start with the aesthetics, and here the Lumia 800 shows a huge amount of influence from the Nokia N9. Though we don't have an N9, it's comparatively easy to confuse the two based on just how similar their exteriors are, though inside both are completely different beasts. Of course, this form factor borrows a lot from what made the Nokia N8 such a unique device - unibody design, rounded edges, tapers, and a flat top and bottom. The only downside to this unibody construction is having the battery sealed inside, which isn't quite a deal breaker but is worth noting.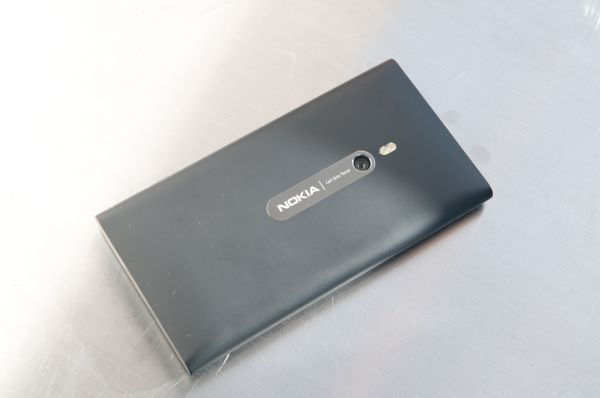 The Lumia 800 (and N9) physically depart from the previous generation of Nokia designs in a major way by eschewing anodized aluminum in favor of a monobody polycarbonate plastic exterior. Of course, this led to much gnashing of teeth over whether the Lumia 800 would feel plasticky, and many looking at this change in materials as a step backwards. Unsurprisingly, the handset doesn't feel cheap or plasticky at all. I've seen Nokia refer to the exterior as polymer a few times (much the same way some weapon manufacturers refer to things as polymer in place of "plastic") and honestly after playing with and holding the Lumia for so long I'm convinced the phone pulls this material swap off quite well. The only downside is that skin oil does discolor the plastic visibly (at least the black variant we have), but it isn't anything a wipe with a microfiber cloth can't fix.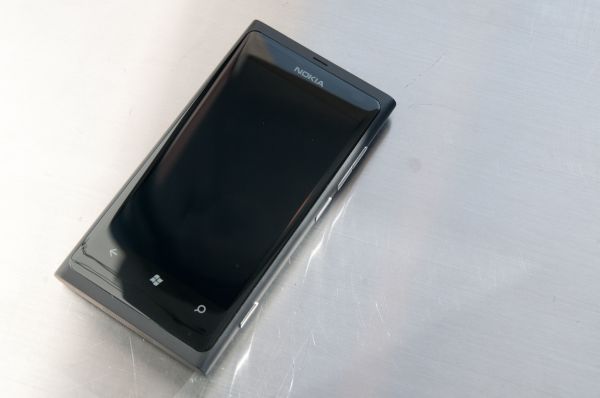 Part of what really helps the Lumia feel good is the fact that the exterior isn't glossy or mirror-smooth, but rather given a light matte texture. It doesn't scuff with a fingernail either like some other matte-finished plastics. In addition, it's striking how nice having a uniform round edge at the left and right side helps ergonomics. It really is one solid piece, minus the display glass.
The only completely flat parts on the Lumia 800 are the top and bottom, with the rest of the phone having a convex spherical shape. On the backside, the only part of the phone that is indeed flat (and thus sits coplanar with a surface) is the chrome "Nokia / Carl Zeiss Tessar" strip which houses the camera. The only major annoyance I have with the whole design is that putting chrome right where the device lays flat just invites scratches. Even with a case on, the chrome strip has picked up some scratches that definitely show at the right angle. To the right of this strip is a dual LED flash, and a tiny little cutout home to a second microphone undoubtably for noise cancelation when on calls.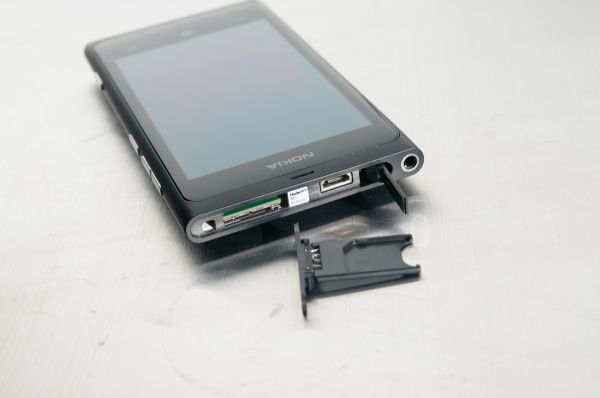 At the very top is the standard headphone jack at far left, and the two doors for both microUSB and microSIM. The microUSB door has a raised region to demark where to press, and pushing here pops up the door which is held shut with magnets otherwise. I worry this door is the first thing that will break off, but it's nice having a covered port. Right next to that is the microSIM tray, which slides over and then out. The door has some contacts on it that seem to be used with logic to tell when you've ejected the SIM as well. It's also inside here that Nokia places the model number, FCC ID, and all that jazz. It's with these two open that you can see the only two screws on the device as well, which look like some Torx bits.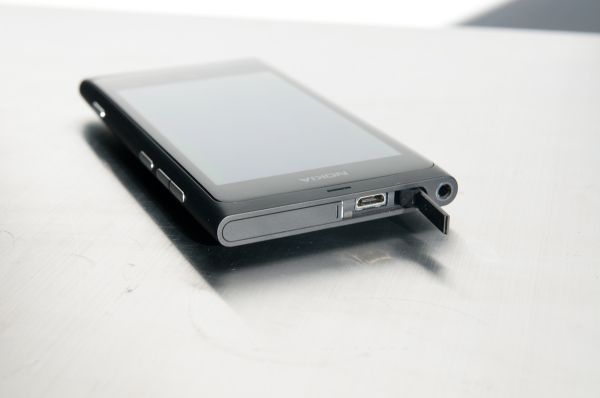 It's intriguing to me that we're now seeing microSIMs popping up everywhere and in so many devices. While this used to be a big deal, SIM cutters are now so ubiquitous that it's impossible to fault anyone for using one.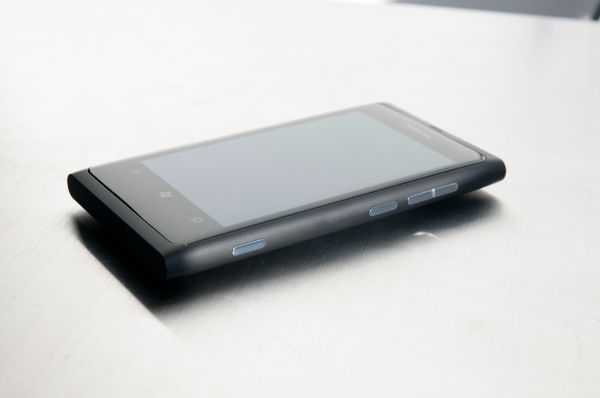 On the right side, Nokia puts the volume rocker above the power button, and then on the lower quarter is the mandatory two-step camera button. I have no complaints with any of the buttons; obviously, Nokia has this down and I have no doubt they're communicative enough to use even with gloves on.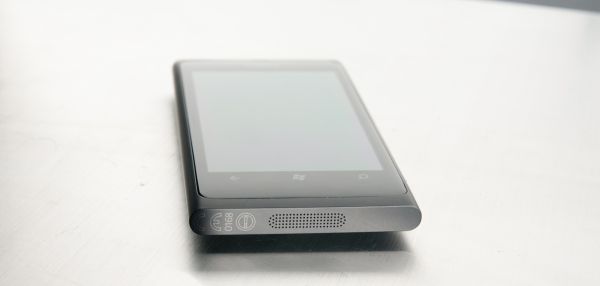 The bottom of the Lumia 800 is home to some more European regulatory markings, and the speaker grille which hides the speakerphone and microphone. More on this later, but I unfortunately found the Lumia 800's speakerphone incredibly quiet.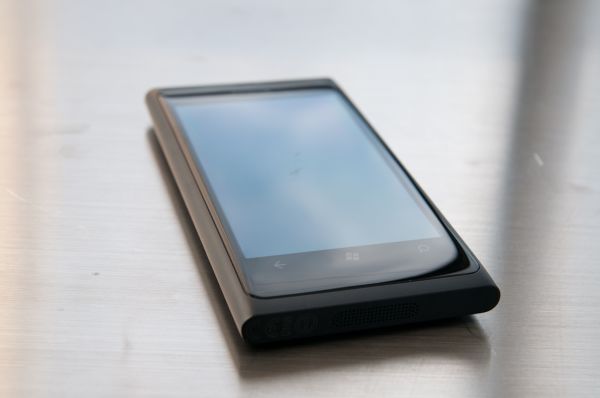 The left side is devoid of buttons, and really feels good. When I look at the ports arranged this way, I feel that they're designed to accommodate the phone being held in the left hand, with the fingers naturally resting right on the buttons.
The front is one homogenous piece of glass with the three mandatory Windows Phone buttons at the bottom, all capacitive and backlit. I have no complaints with the capacitive buttons - they work perfectly. Curved displays are all the rage lately, and again the Lumia 800 has a convex shape that bows outwards spherically, including the front glass. It isn't huge, but it's enough to be perceptible. Up at the very top is the narrow slit for the earpiece.
I've put together the usual comparison table and tossed in the Focus S (which we'll review soon) for good measure. Windows Phone land is still dominated by Qualcomm SoCs, and at this point all the phones shipping are now using single core S2 (MSM8x55 or MSM7x30) variety. Both the Lumia 800 and 710 run their MSM8255s at 1.4 GHz. In addition there are actually two variants of the Nokia Lumia 800 - the RM-801 which we have, and the RM-819 which differ in what WCDMA bands are present, but more on that later.
Physical Comparison
Apple iPhone 4S
HTC Sensation
Samsung Focus S
Nokia Lumia 800
Height
115.2 mm (4.5")
126.3 mm (4.97")
126.1 mm (4.96")
116.5 mm (4.59")
Width
58.6 mm (2.31")
65.5 mm (2.58")
66.8 mm (2.63")
61.2 mm (2.41")
Depth
9.3 mm ( 0.37")
11.6 mm (0.46")
8.5 mm (0.33")
12.1 mm (0.48")
Weight
140 g (4.9 oz)
148 g (5.22 oz)
125 g (3.9 oz)
142 g (5.0 oz)
CPU
Apple A5 @ ~800MHz Dual Core Cortex A9
1.2 GHz Dual Core Snapdragon MSM8260
1.4 GHz Single Core Snapdragon MSM8255
1.4 GHz Single Core Snapdragon MSM8255
GPU
PowerVR SGX 543MP2
Adreno 220
Adreno 205
Adreno 205
RAM
512MB LPDDR2-800
768 MB LPDDR2
512 MB LPDDR2
512 MB LPDDR2
NAND
16GB, 32GB or 64GB integrated
4 GB NAND with 8 GB microSD Class 4 preinstalled
16 GB NAND (no external microSD)
16 GB NAND (no external microSD)
Camera
8 MP with LED Flash + Front Facing Camera
8 MP AF/Dual LED flash, VGA front facing
8 MP AF/LED, 1.3 MP front facing
8 MP AF/Dual LED Flash, 720p Video Rec.
Screen
3.5" 960 x 640 LED backlit LCD
4.3" 960 x 540 S-LCD
4.3" 800 x 480 SAMOLED+
3.7" 800 x 480 SAMOLED w/ClearBlack
Battery
Internal 5.3 Whr
Removable 5.62 Whr
Removable 6.1 Whr
Internal 5.37 Whr
Nokia also does something interesting and ships a rubberized exterior skin with the Lumia 800 right in the box. This is a welcome thing to do that I wish more smartphone OEMs would do. The rubberized skin doesn't cover any of the buttons or ports and keeps the backside off rough surfaces to prevent scratching. I spent most of my time with the Lumia 800 in the rubberized case, but more because I worry about shipping devices back all scuffed up than out of worry about build quality.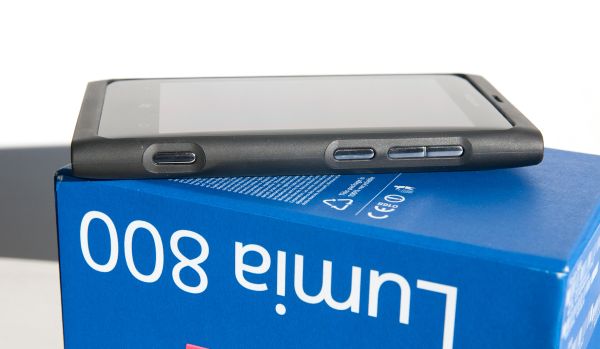 I think that's the major takeaway in the look and feel department. Though we haven't reviewed every Windows Phone formally, I've at least touched every one of them, and the Lumia 800 is without a doubt the absolute best Windows Phone hardware out there right now. Build quality is excellent, the phone feels substantial in the hand, and the form factor and shape have a spark of - something different - people were looking for when they thought about Nokia making a Windows Phone.
I think it's important to start out with battery life for two reasons - I end up spending a huge majority of my time doing battery life tests, and in the case of the Lumia 800 much has been written about battery-related issues. The full disclosure is that the Lumia 800 unfortunately does have some rather glaring power and charging related problems. The first Lumia 800 we were sampled suffered from a battery-related problem that caused spontaneous rebooting during use and some charging issues. This was swapped out for another that had the updated release version firmware on it. This second device is the one I spent my majority of time with, although this second device also periodically reboots, though not as much.
The second issue is one that becomes visible when you fully discharge the phone, which naturally we do a lot of while testing battery. If you discharge the phone completely, and then attempt to re-charge, occasionally the phone will go into an endless boot loop, where it powers on, starts WP7, detects that the battery is below its power-off threshold, and shut down. Then the cycle repeats. Ordinarily this isn't a big deal, but for some reason the PMIC (Qualcomm's PM8058) doesn't really charge the phone while this is going on. I encountered this once, and even after 3 days of charging couldn't boot successfully until I did a hard reset with the Nokia triple finger salute. The other minor issue is that if you get the phone into this low power state, sometimes it won't pull any current to charge the phone. It takes a few attempts and getting the phone into the right pre-boot environment for this to work properly.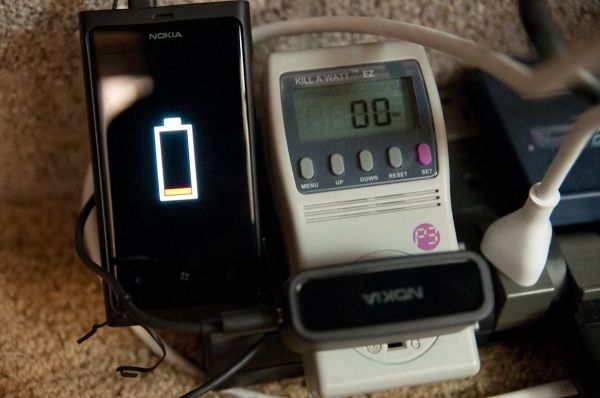 Plugged in but not drawing any current - Unplugging and replugging eventually gets the Lumia 800 to charge correctly and draw 5-6W.
The latest update for the Lumia 800 as of this writing is 1600.2479.7740.11451 and includes "charging improvements" in its change-log, so it's possible this issue has been addressed already, though there's another update coming down the line as well. The Lumia 800 we were sampled only was being pushed "1600.2475.7720.11414" due to Microsoft's staggered update push progress, so again it's possible this is totally fixed.
There's a debug menu which can be launched with the dialer code ##634#, and afterwards appears in the normal application list as well. In here you can see the real battery status, charge capacity, and even the instantaneous current draw no doubt as reported by the PMIC. While I wasn't affected with the bug that sends the charge capacities to 0 mAh, this is still a useful menu.
So the normal corners of our battery life testing are how long the phone lasts while loading pages over 3G and WiFi, and then call time. Page load tests take place with the display set at 200 nits, though on WP7 the only display options are Low, Medium, and High (we selected Medium). We've added hotspot tests too which eliminate the display from being a factor, though these aren't presently able to be tested on WP7.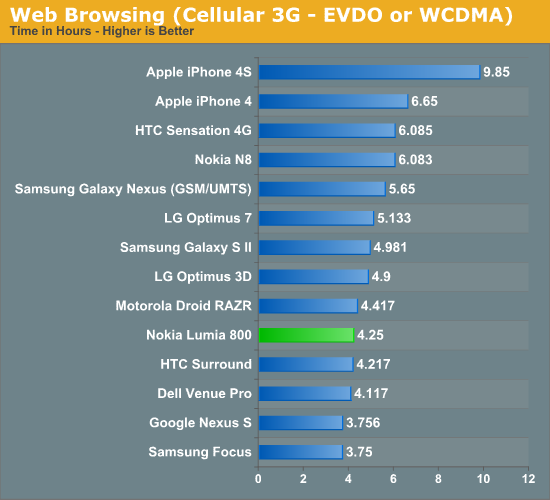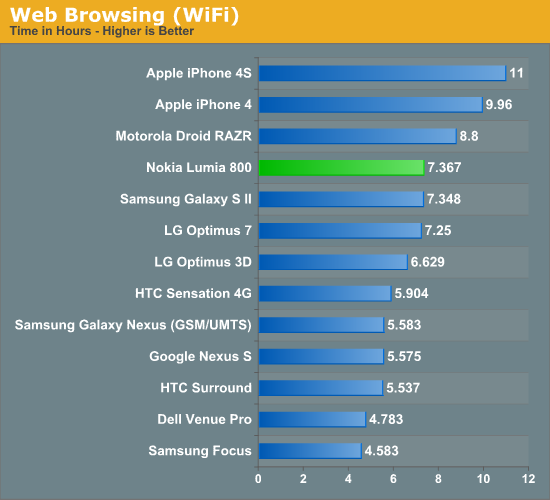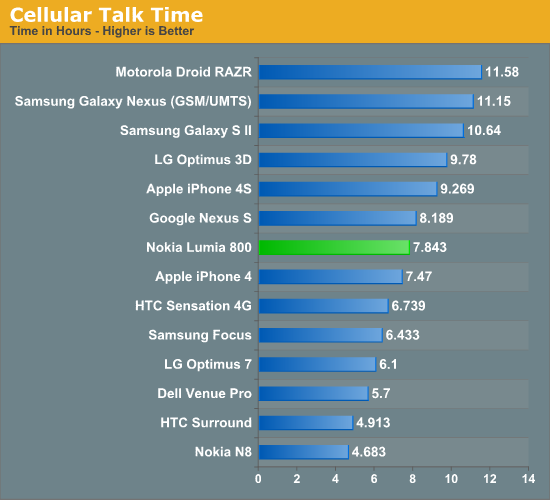 The Lumia leads the pack of WP7 devices we've tested in two out of the three categories, but lags the LG Optimus 7 when it comes to loading pages on cellular data. I'm decently impressed with how well the Lumia does considering its 1450mAh (5.37 Whr) battery, yet it could be better. Having an AMOLED display in conjunction with our primarily white background webpages from the page loading suite definitely makes an impact. I can't help but wonder whether these numbers will improve or not after Nokia also updates firmware and fixes some of the battery life bugs have been publicly acknowledged.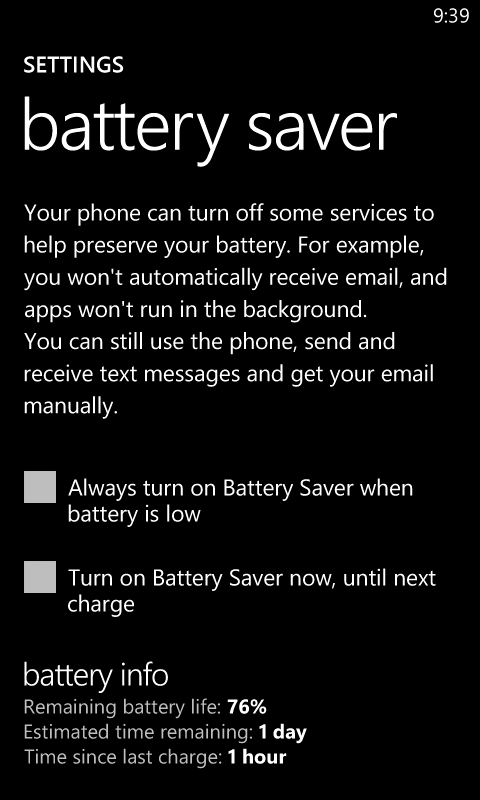 I noticed some other subtle behavior while testing the Lumia 800. A new feature in WP7.5 "mango" is the addition of a battery saver tab under settings which optionally allows automatic pausing of background data and dimming of the display when battery gets low. In this menu you can also view battery percentage and some estimates of battery life remaining based on historical use. With the second updated Lumia 800, the phone turns off at 5%, presumably to mitigate the reboot loop that sometimes results if the phone is discharged to 0%. So there's at least an extra 5% of battery life hanging around that no doubt will be exposed with the eventual update.
Unfortunately, the majority of benchmarks that usually grace our smartphone reviews don't yet have WP7 ports or analogs, but there are a still a number of comparisons we can make. To start, the browser-based performance metrics give a good picture within the Windows Phone ecosystem, and likewise with WPbench, created by one of our own readers and on the marketplace.
There's been a lot written about performance on WP7 already - namely that comparative analysis isn't as big of a deal as it is on other smartphone platforms, but of course this is more the result of two things. First, Microsoft's careful curation of their new smartphone platform with hardware requirements; second, availability of native and managed code execution environments. For the most part, you can pick up any WP7 device and have very good expectation of UI smoothness, but that's not to say there aren't differences, especially as the platform moves from one generation of Snapdragon SoC to the next, and now possibly even a move to ST-E. Benchmarking WP7 (and by analog, Windows 8) will become a big deal very soon, however, and numerous SoC vendors and big names in the PC benchmarking scene are looking to port to these platforms.
This current refresh of WP7 devices continues to be based around exclusively Qualcomm SoCs, and the Lumias are no exception. Both the 710 and 800 are based around Qualcomm's MSM8255 single core S2 Snapdragon at 1.4 GHz with Adreno 205 graphics at the core and dual channel LPDDR2 memory interfaces. This is a 45nm part we've seen and explored numerous times before, and as a refresher includes the HSPA+ 14.4 baseband onboard.
Anyhow, onward to the numbers. First is sunspider, which we've been using for a long while and recently changed from 0.9 to 0.9.1 with. As a result, I've had to re-run devices since the numbers aren't directly comparable. WP7.5 brings a much improved javascript engine which gives it a big boost in scores. I've managed to hang onto the HTC Surround (1.0 GHz QSD8250) and Anand has the Focus (also 1.0 GHz QSD8250), which we've included as well.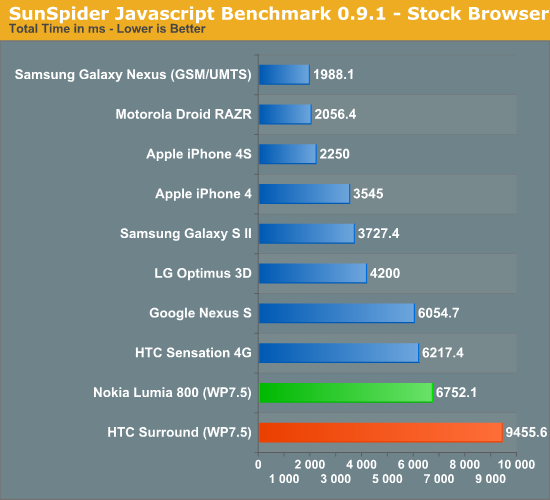 Browsermark hasn't changed or forced us to re-run things, so we have comparison numbers that show how much difference there is in the browser department in WP7.5.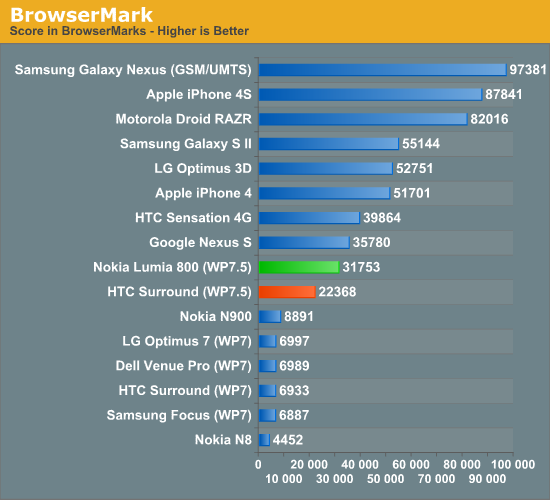 In the synthetics, WP7.5's new JavaScript engine (Chakra) with JIT brings perf almost up to modern levels and is a step in the right direction, but it's still behind iOS and Android. Moving to a higher clocked single core probably does make sense for Windows Phone, especially if IE is single threaded at this point.
For system benchmarking on WP7.5 we have WP Bench, which was created by one of our own readers. The benchmark reports a total score in addition to three sub-scores for CPU, memory, and GPU. My only point of comparison, again, is the HTC Surround.
WPBench Comparison
HTC Surround (1.0 GHz QSD8250)
Nokia Lumia 800 (1.4 GHz MSM8255)
Total Score
59.85
91.14
Result Screenshot
Browser Performance and Changes
I've made a big deal about browsing performance because, for me at least, the stock browser is the one place where performance really must be flawless. OEMs are starting to wake up to the fact that browsing performance makes a huge impact on the overall subjective weighting of a platform's smoothness, which in turn results in a lot of scrutiny. I'd agree with this assertion as well and toss in a few other things that must be flawless for a platform to feel speedy.
When WP7.5 first started surfacing we took a look at its revamped IE9-based browser which uses Trident 5.0 as opposed to NoDo's Trident 3.1. Unsurprisingly everything we saw in the emulator applies to the real-world experience with WP7.5 on live devices. Actually things are even a bit better than they were when we played around in the emulator.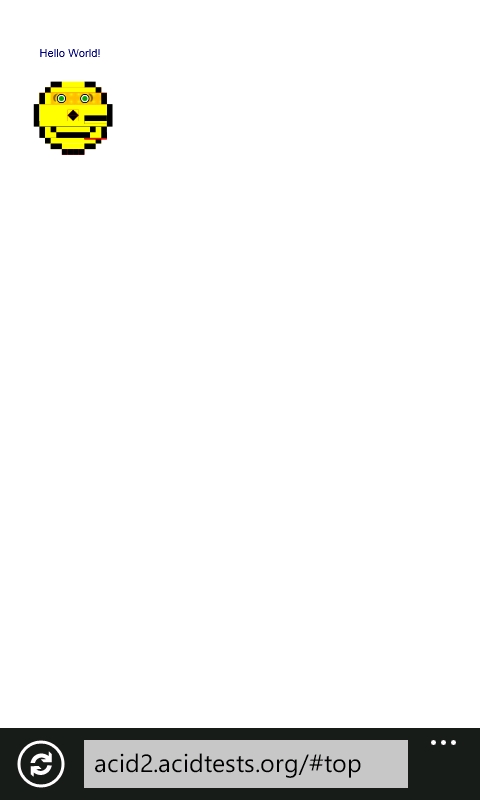 The Windows Phone team has made clear several times that they aren't going to build the browser to any tests but instead real-world page rendering accuracy. That said it's still worthwhile to take a look at the synthetics. Acid 3 now completes and nearly passes (the boxes in top right subtract some points) where it previously scored below 95. Similarly Acid 2 now is almost flawless. Finally, the HTML5test score increases from 130 to 141 on the Lumia 800 and newer WP7.5 builds, which is a slight but still important difference.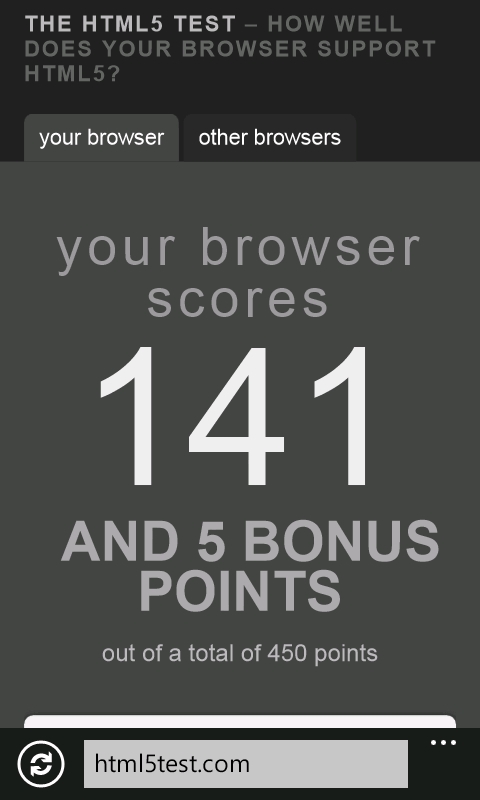 Moving away from Trident 3.1 to 5.0 has made a huge difference on faithful page rendering and eliminated nearly all of the annoying edge cases I saw with previous WP7 smartphones. A number of pages I visit daily back when we did those reviews would render but with a few notable errata, these are now gone completely.
In addition, scrolling performance remains just as speedy as it was before (essentially buttery smooth) as the rendering architecture remains largely the same. We now have all three platforms (WP7.5, iOS, and Android 3.x/4.x) rendering the browser page into a texture that can be translated, clipped, and zoomed with GPU operations. It's clear that this is the right way to do things to keep the browser UI speedy.
The changes to WP7.5's browser make (for me at least) the single most notable improvement over NoDo and previous iterations. It's a huge step forwards in rendering, compliance, and UI, and having that browser experience be as close to perfect as possible is tremendously important.
Of chief interest in the context of the Lumia 800 review are the software preloads that come on our device. This is again something that can change between regions and carriers. Our Lumia 800 came preloaded with a number of Nokia apps that have been ported from other platforms - Nokia Music, Nokia Drive, Nokia Maps, and Application Highlights. In addition the Lumia 800 comes by default with a Nokia Blue color theme, an interesting and nice little touch.
Nokia's Apps
Nokia Drive provides turn-by-turn navigation, and on first launch downloads voice guidance and maps based on your choice of locale. It isn't freely available in the market, but does get marketplace updates and, in the course of the review, has received more than a few. I drove around with Nokia Drive a few times and found that its turn-by-turn guidance does work well, though there's no way to leave the application running and reply to a text message, for example. You're either getting guidance and inside the application or getting no guidance at all if answering a call or replying to an SMS (not that you'd do that while driving, right?). Going back into navigation also takes a few seconds while the GPS comes back up, something else to keep in mind. I'm not sure whether the difficulty here is providing functionality that can't be achieved with the current state of WP7 background APIs, but it's a noteworthy omission.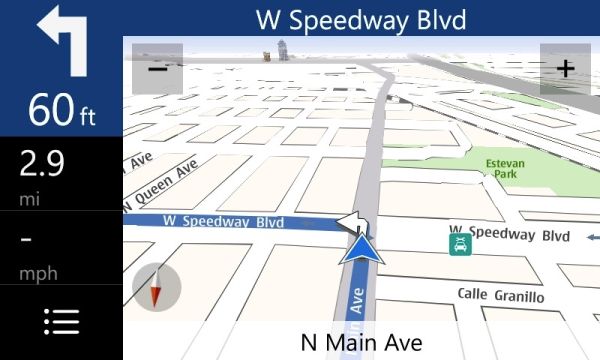 Nokia Drive
The UI also feels a bit off for WP7, something I've seen other people note as well. In fact, the Nokia Drive interface seems to be an almost 1:1 port from the N9. For a port, the software admittedly does work well and seems speedy enough, but does depart from the Metro style guidelines with its menus and navigation. If you can get over that small negative, Nokia Drive does indeed provide a very competent turn-by-turn voice navigation experience that gets the job done very well. Oh, and best of all it's pre-installed on the whole Nokia Lumia range.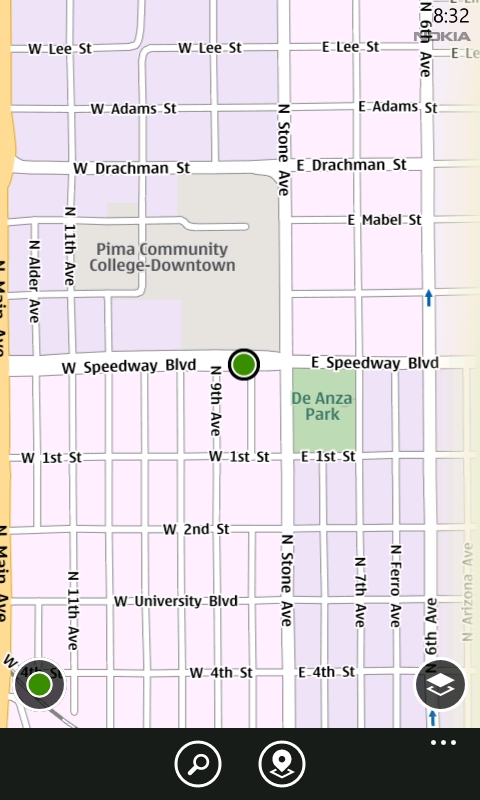 Nokia Maps
Nokia Maps is next, which again is a close analog of Nokia Maps from the N9. This has more of a Metro UI feel to it, and on the Lumia 800, is no doubt positioned to take the place of Microsoft's first party Bing Maps solution. It's a 2D perspective top-down view with Nokia fonts and themeing that we've seen many times before on Nokia phones. As expected, it delivers with three different map view options - map, satellite, and public transport - whose views are self explanatory. The Nokia Maps application also feels much more at home inside Metro-ized WP7 than Nokia Drive.
Nokia Music is something of an analog to Zune Music and Videos, and by default lets you browse your existing music collection under "my music" and view local music events under "gigs." With a Nokia account, you can also apparently stream and mix music, though I don't have a Nokia Music account provisioned for such things.
App highlights is another Nokia specific application and provides a nicely curated list of applications that everyone should install on virtually any WP7 device out of the box. YouTube, Netflix, Yelp, Facebook, Adobe Reader and those sort of must-have applications are all listed with marketplace links. It is telling about the functionality still missing from the core of WP7 that you need to go download a YouTube and Adobe Reader application from the market to use those things, but Nokia has done a nice job listing all of it. Of course there are also some app recommendations for a few other categories of applications as well, all of which link to the main marketplace.
This pretty much wraps up all the Nokia-specific applications. The rest of the Nokia-specific customizations include small things like the two Nokia feedback entry points, and the interesting little theme customization I mentioned earlier. At this point, it's definitely obvious that Nokia's presence is in its few software sideloads, but going forward with WP7 it's also apparent that their influence will take on a much larger role.
Mango Explored
We haven't had an opportunity to take a larger look at WP7.5 "Mango" until now, and it bears going over the numerous improvements that have been made to the platform since last we visited it. Microsoft unsurprisingly has a nice rundown with the changes but we should still go over the larger ones.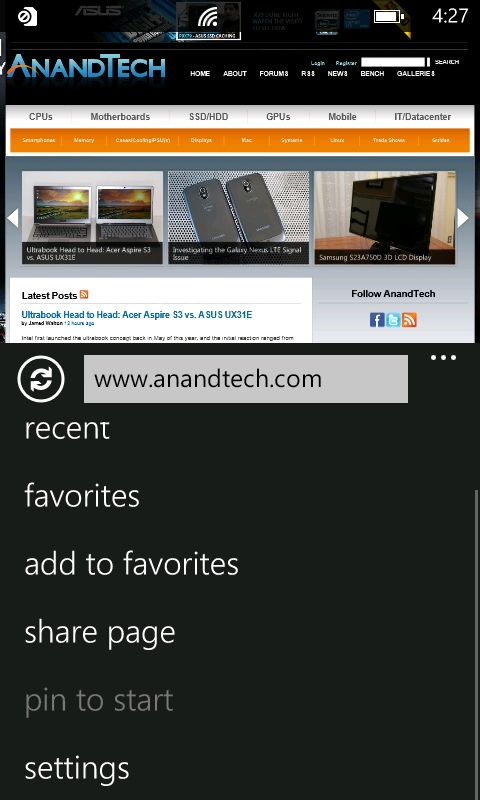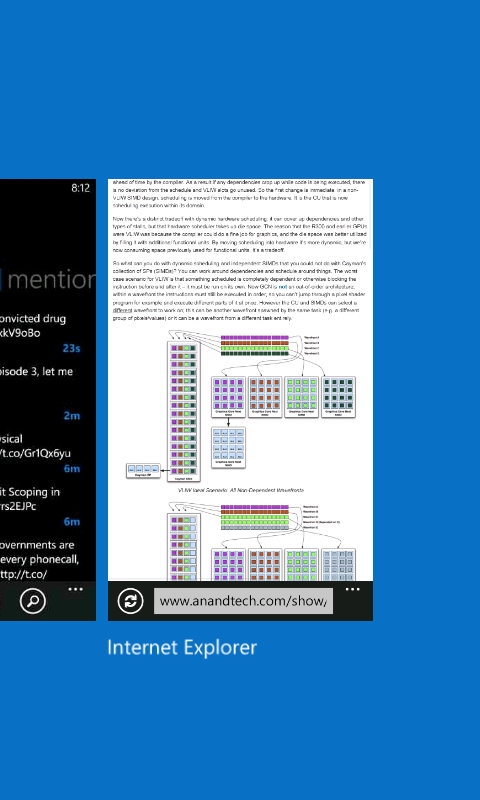 The new IE browser (left), Mango's multitasking interface (right)
I still think the largest change of all is the much-needed IE update, but the other major thing is introduction of a multitasking interface. WP7 already had multitasking features, but navigation purely with the back button could admittedly be confusing in a world where both Android and WP7 use this "back" paradigm so heavily. Now, holding down back brings up a nice switcher that lets you page back and forth between activities. It doesn't switch in-between apps per-se, but rather the topmost screen in an activity stack - eg, you can go into one and tap back until you wind up back at the home screen. The list isn't infinite either and reflects whether the OS has expunged an application. It's almost like webOS' card switcher, but a bit different. Background agents are now present, which is close to true multitasking, yet you can still sense that things close. The interface presents an easy way to switch between views, but it can still be confusing to switch between given applications.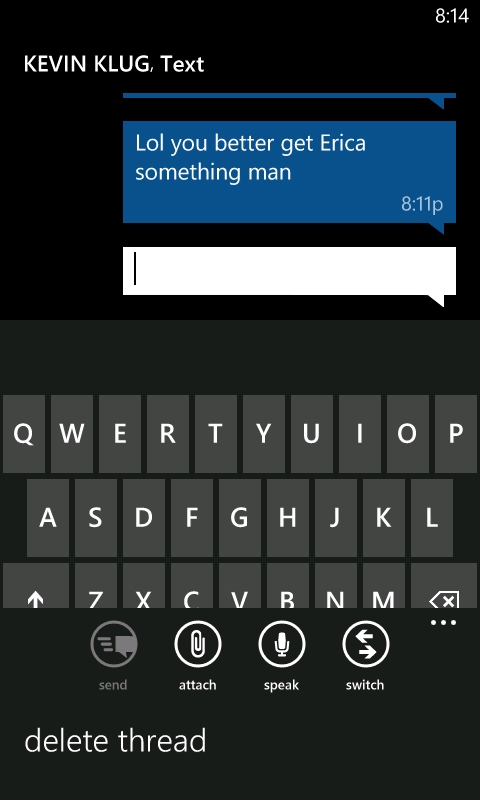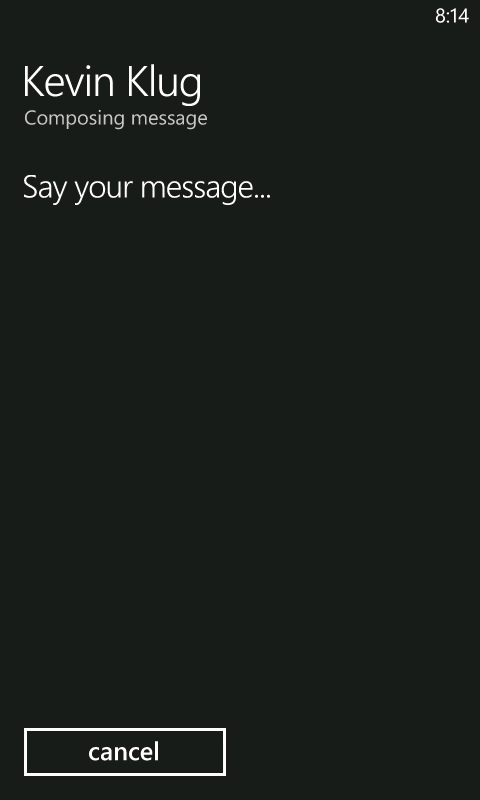 Mango also brings a bunch of communication-related improvements. Messaging now includes MSN Messenger and Facebook chat functionality, and speech-to-text dictation. The email client now includes a conversation view that groups messages by subject appropriately, and inbox linking if you prefer viewing a single inbox. It's confusing to me that the excellent IM and SMS combined view doesn't include support for more IM platforms or plugins, hopefully this is coming at some later date.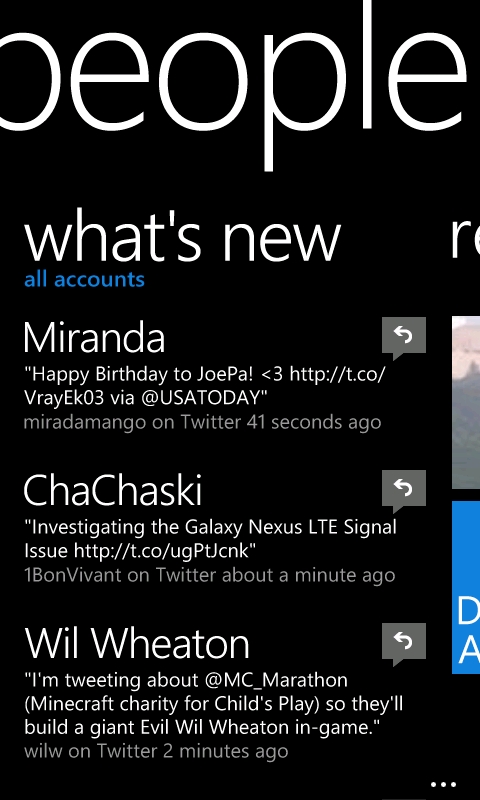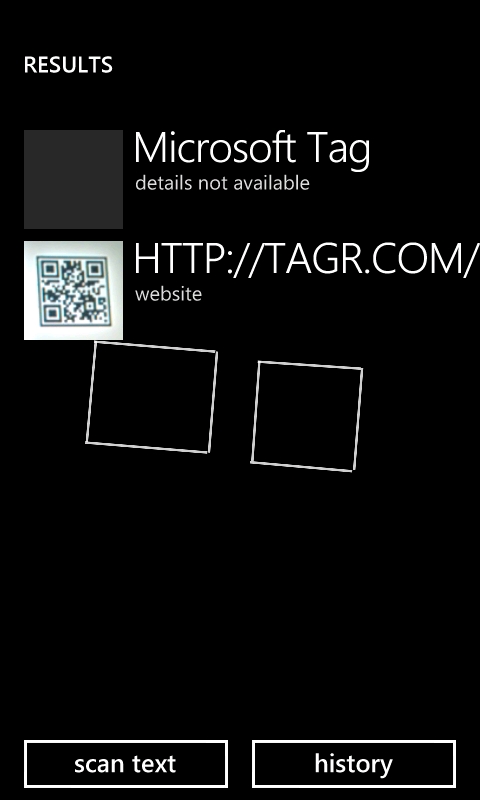 Microsoft also improved a bunch of their first party applications, including the People hub, which now integrates Twitter and LinkedIn in addition to Facebook, along with better organization and groups. Search now includes camera functionality which can scan text and 2D barcodes (QR codes and Microsoft tags). Again Mango brings a bunch of subtle improvements to Microsoft's first party applications that are welcome, to say nothing of the new APIs that many people wanted for WP7 (including network sockets, clipboard, background agents, etc.).
The features that have been added in Mango bring the platform up to a point where it arguably should've been 6 months before it finally hit, but better late than never for the platform.
One of the big things people were alluding to when they talked about how much they wanted Nokia to make a Windows Phone was the camera. Though the other smartphone OEMs are fast catching up, Nokia still has something of a unique position in the smartphone camera world thanks to its positioning with Zeiss and long history of making devices literally built around their camera. In addition, WP7 puts some emphasis on the importance of the camera with their mandatory two-step camera button, and unfortunately until this generation many of the WP7 devices haven't really shipped high-end cameras. I wager that many wanted the N8 camera in a Windows Phone, and though the Lumia 800 (and N9) don't have that kind of design around the camera module, they don't skimp either.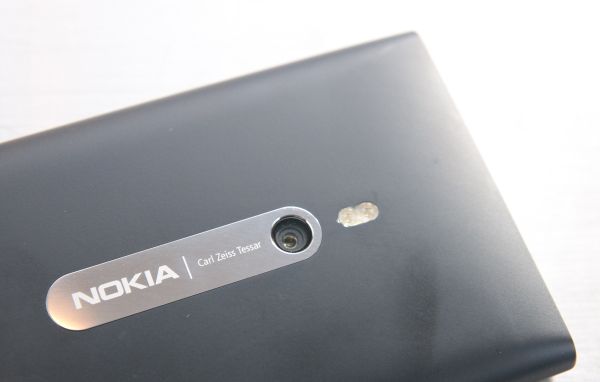 Before we go too further, let's cover the logistics. The Lumia 800, like all Windows Phones, has a dedicated two-step camera button. It feels nice and clicky, and the two detents are easy enough to find and use. Nokia also locates its camera in the center of the device, which is unique and awesome for positioning the device with a tripod or mount - not a big thing for most users but still an intriguing choice. Since each Windows Phone can have different camera UI options it also bears going over those, and the Lumia 800 has more than most I've seen in a while. Shooting scenes, white balance, exposure offset, ISO, metering mode, contrast, saturation, focus (Macro or Normal), and resolution are all listed in still mode. Macro mode might sound a big confusing - this mode actually just gives you the full focus range (but as a result takes longer to run the AF routine) whereas normal has a more clamped range. WP7.5 also now saves and makes camera settings persistent after a close, something that was previously a big annoyance.
On paper the Lumia 800's camera is definitely latest and greatest. It combines an 8 MP CMOS sensor that shoots stills of size 3264x2448 (4:3) or 3552x1998 (16:9) which is something we haven't really seen before. Usually selecting a 16:9 shooting mode simply crops pixels off the top and bottom - on the Lumia 800, selecting this 16:9 mode does shave off some at the top and bottom, but gives you 288 more pixels in the horizontal direction and a truly wider field of view.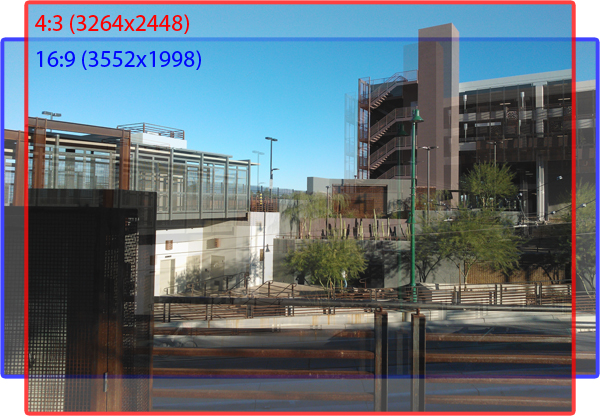 The only way I can see this being possible is that their CMOS really has an effective area of 3552x2448 (or slightly higher) and thus, both modes are a crop of that area. If you superimpose images from the two modes you can see that this is indeed the case (magnification remains the same). Nokia makes a big deal about this (as they well should) because it's a pretty cool feature. As far as I can tell, the 8MP CMOS sensor's size is 1/3.0" just like the N9. After a fair amount of digging, I tracked down that the CMOS sensor is "CMCS-85T330," however this is an unfamiliar name to me. Based on the size and width, the pixels are no doubt in the 1.4µm class, however.
The Lumia 800 uses a Carl Zeiss branded optical system with an F/# of 2.2, which puts it in a small list of smartphones with F/2.2 optics. The camera module in the Lumia 800 is actually the same as the one inside the Nokia N9, and as a result performance differences between the two highlight the big differences in ISP between OMAP3 and MSM8x55. It's difficult to know more about the intricacies of Nokia's camera design, so I reached out on Twitter and learned that this design is indeed 5P (denoting 5 plastic elements) as opposed to the 4P that we've seen in many previous designs.
On paper, the Lumia 800's camera system is absolutely top tier, now the question becomes how it performs in our controlled and outdoor testing. To evaluate this, we turned to our lightbox tests with the lights on and off, outdoor testing at our test locations, and the new semi-revamped camera tests with the ISO12233, distortion, and color checker charts.
In the lightbox test with the lights on, the Lumia 800 is unsurprisingly very sharp. The small focus grooves on the Exakta are easy to make out and show very well. I think JPEG compression in WP7 or ISP might have been a bit aggressive here as the file is only 1.1 MB and shows some compression artifacts around lettering on the camera and other high spatial frequencies. The compression artifacts actually have the unintended consequence of somewhat masking sensor noise in the lights on test as well. The other complaint is that the image is very undersaturated and lifeless, unfortunately. I feel like this is some AWB issue since numerous other photos with the Lumia 800 not in a controlled box have great white balance. With the lights off (and using the dual LED flash) the Lumia 800 actually looks way more saturated and lively. WP7 also deserves lots of credit for always illuminating a dark scene during the autofocus routine, something so many smartphones still aren't doing right.
The other controlled tests sort of tell the same story. The GMB color checker card looks a bit red, and a few other shots were blue of the same target. I don't exactly have daylight color temperature bulbs or anything scientific for testing (yet) but this hunting around for proper white balance seems to be something specific to QCT's SoCs still. Distortion is pretty low, again compared to SGS2 and some other culprits not a big deal at all. The ISO12233 charts also show that the Lumia's camera (and by relation ISP and Windows Phone) don't do absurd oversharpening like we've seen on some phones. We also see spatial frequencies on par with the other 8 MP shooters, though not much more. I can see up to the 14 line in the horizontal direction and 15 in the vertical before the contrast reversal. It's clear to me at least that smartphone optical designs are obviously not diffraction-limited for obvious reasons.
It is in the outdoor scenes, the Lumia 800 really shines and starts to look a lot like the Nokia cameras of note we've seen before. Again we don't have access to locations 1 or 2 anymore, only 3, 4, 5, 6, and 7 are refreshed. In addition, seasons changing makes getting the same lighting difficult. In virtually every scene the Lumia 800 has excellent sharpness and appearance. Only in test 7 is the Lumia 800 strangely bluer than most.
Unsurprisingly, the Lumia 800's camera comes out looking very good against the rest of the 8MP competition, and for me this is the first F/2.2 8 MP shooter I've come across. With less compression and better ISP, it could be even better than most. Although I haven't had a chance to test the N9, it would be interesting to see the differences that its very different ISP makes for.
Video
The Lumia 800 shoots HD video at up to 720p30 at 14.0 Mbps H.264 baseline. This is a pretty high bitrate for 720p and, despite being baseline CABAC with 1 reference frame, looks very good. It is a bit strange to see a super high end level smartphone shipping which only records up to 720p, but I'd personally take really good 720p over mediocre 1080p any day (just another place where looking only at video resolution can be misleading). This 720p limitation is no doubt a result of limitations imposed by MSM8255's onboard video encoder, which to my knowledge can only encode up to 1280x720 H.264. The Windows Phone team likes to talk about how they don't need the bleeding edge of SoC performance, but this is just another axis of improvement that isn't strictly pure performance. Audio shot with the video is stereo AAC at 48.0 Kbps 48 kHz.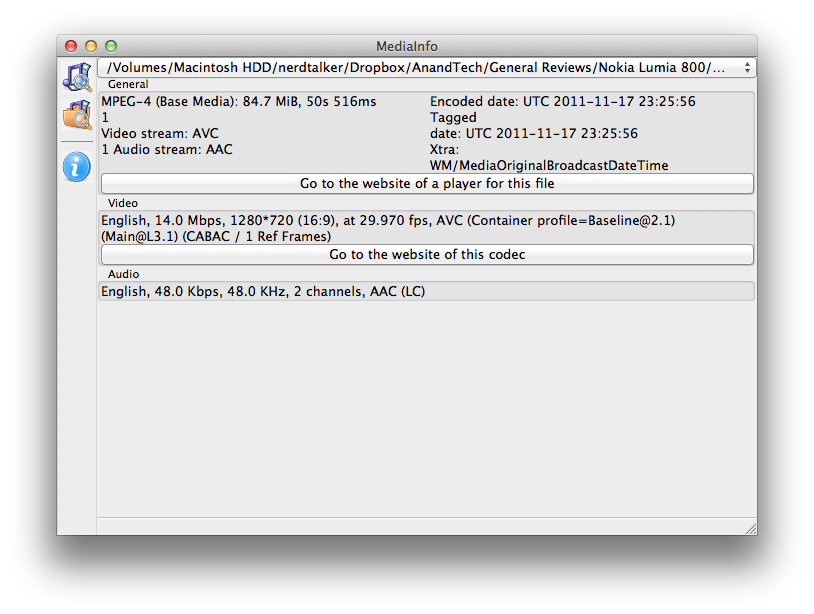 Oddly enough the Lumia 800 software defaults to shooting VGA unless you go in and select 720p instead. Controls here remain notably verbose, including most of the same ISO, exposure, and shooting mode options, in addition to continuous AF options.
As usual, we shot video using the phone under test at the our bench location and uploaded the result to YouTube and locally (89 MB) so you can watch without the YouTube transcode.
Given this bitrate and optics quality it's unsurprising to me that the Lumia 800's 720p30 quality is awesome. The video is sharp and subjectively looks awesome. In addition, its continuous autofocus runs quickly and without too much distraction. The Lumia 800 ends up falling into that category we talked about earlier of devices that don't ship with 1080p video recording capabilities but instead deliver excellent 720p at a similar bitrate.
Display
The Lumia 800 uses a WVGA (800x480) 3.7" Super AMOLED display which of course comes with RGBG PenTile. The reality is that Windows Phone actually feels like it's designed around AMOLED to some extent, so this isn't nearly as big of a concern as it would be otherwise. In fact, WP7 does take advantage of AMOLED's light-emitting nature to display as much black as possible unless you change the background theme, but anyhow onto the display itself.
Because we can't set the brightness manually in the settings UI, we have to rely on the Low/Medium/High presets that are defined already. There's actually a way to set the brightness manually inside ##634# but it isn't clear whether these settings persist after exiting. As usual, we've measured brightness and white point - AMOLED blacks are literally zero thanks to the light-emitting nature of that display technology.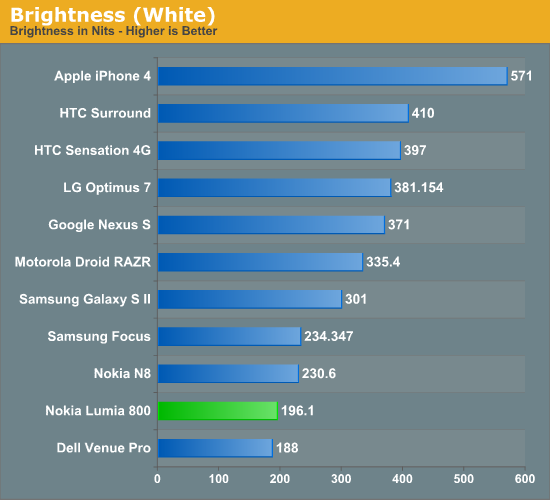 I find that the Lumia 800 isn't as dark as the numbers would have you believe, though it could benefit from going a bit brighter. No doubt Nokia has chosen to err on the conservative side to conserve some battery life.
Lumia 800 Display Metrics
Brightness Level
Black Brightness (nits)
White Brightness (nits)
White Point (K)
High
0
196.1
5854
Medium
0
44.8
6043
Low
0
11.6
6117
The curved nature of the Corning Gorilla Glass display is another thing to discuss as well. It looks great and isn't curved so much that it gets in the way of dragging things around on the display or interacting. Of course, at the most extreme viewing angles (as you approach a critical angle) you do see some total internal reflection effects, but that ends up being literally viewed from the extreme side or bottom.
As usual I've also put together an outdoor viewing gallery in addition to some different viewing angles of the display for your perusal. Nokia's ClearBlack display helps things here, as they've placed a circular polarizer between the touch layer and the front display glass to eliminate some reflections.
I feel as though WP7 is one of the first UIs that's designed with some of the AMOLED/PenTile display guidelines taken to heart, though there's still more that WP7 could do to leverage some of AMOLEDs unique strengths. Little functions like displaying the time or status even when the phone is locked are things that other Nokia phones with AMOLED have done for a while that really made sense and served an important purpose that aren't done in WP7 quite yet.
Cellular
Cellular on the Lumia 800 is supplied courtesy the MSM8255's onboard baseband. Like all the Qualcomm S2 parts, this means GSM/EDGE/WCDMA with HSPA+. The Lumia 800 also takes a microSIM as noted earlier, and I tested on AT&T in my market. There are actually two Lumia 800 variants, each with different WCDMA bands - we were sampled the European variant which worked with AT&T's PCS 1900 MHz WCDMA in my market. The Nokia Lumia 800 Specifications page is a bit misleading since it would have you believe that there's only one variant with quad-band WCDMA when there are actually two different tri-band WCDMA devices.
Nokia Lumia 800 - Network Support
GSM/EDGE Support
850 / 900 / 1800 / 1900 MHz
RM-801 (Europe) WCDMA Support
900 / 1900 / 2100 MHz
RM-819 (USA) WCDMA Support
850 / 1900 / 2100 MHz
Baseband Hardware
QCT MDM8255 w/QTR8200
HSPA Speeds
HSDPA 14.4 (Cat.10) / HSUPA 5.76 (Cat.6)
I couldn't do my usual stats collection and histogram on the Lumia 800 since there's no way to export that data from any of the speed test applications on Windows Phone. However, I did run some tests and see acceptable levels of throughput out of the device.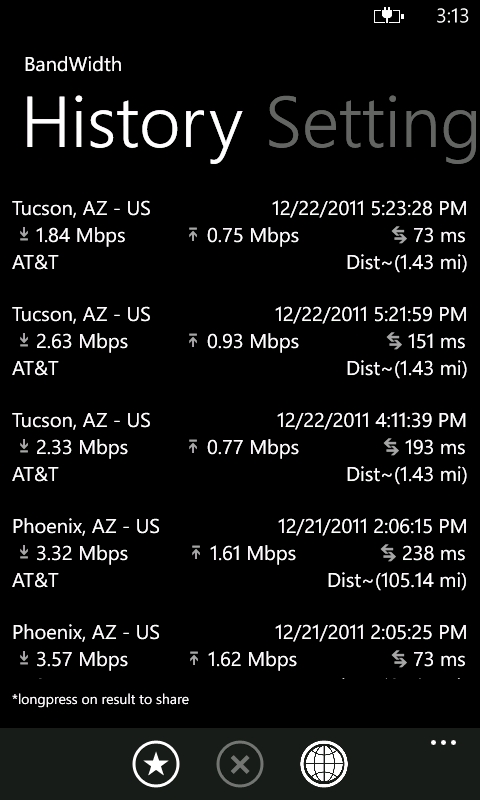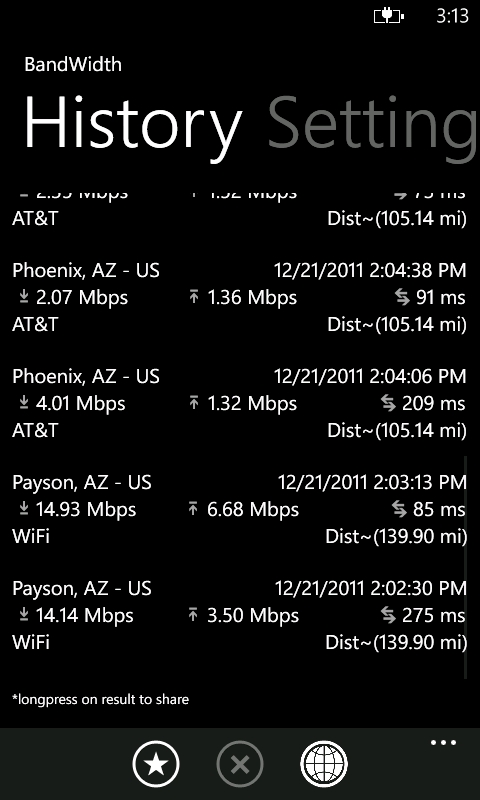 Some speedtests taken with BandWidth on WP7
WiFi
WiFi and Bluetooth 2.1 EDR on the Lumia 800 is supplied courtesy of a Broadcom BCM4329 combo chip which we've seen numerous times before in a number of different smartphones. Though newer devices are starting to ship BCM4330, I wager that WP7.5 includes drivers for just BCM4329 (which a huge majority of Windows Phones include) and BCM4325 (Venue Pro). On the Lumia 800, this means single spatial stream 802.11b/g/n connectivity only on the 2.4 GHz band.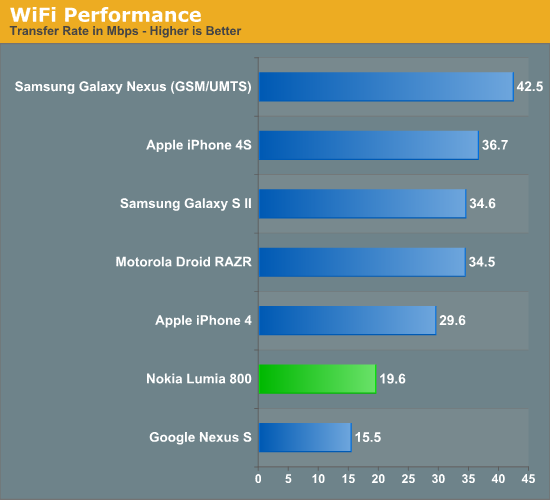 Regardless, WiFi range on the Lumia 800 is totally par for the current generation of devices. In addition, WP7.5 continues to do a great job at deciding when to hand off and back onto WiFi when leaving the coverage radius of your house. It's the small things like these that (to me at least) really demarcate the previous generation of smartphone OSes from the new breed. Unfortunately, in our throughput test which consists of loading a 100 MB PDF hosted locally on an 802.11n network, the Lumia 800 isn't quite up to the speed of other BCM4329 devices. I'd wager this has more to do with the OS than anything else, though running network throughput applications on the Lumia 800 also gave a similar number to our normal PDF download test.
I should also note that WP7.5 also includes the ability to connect to WiFi APs that don't broadcast their SSID. There's a tab under Advanced in WiFi that now allows you to enter all that information and connect away, this wasn't possible until Mango.
Speakerphone
In calls, the speakerphone on the Lumia 800 is honestly a bit too quiet, and our testing with a sound level data logger backs this up. Even at absolute maximum (where we test, of course) I found the sound level inadequate while using Nokia Drive or placing calls. It isn't so much the position of the speaker at the bottom that's a problem (in fact this is a good place to locate it), it's just not loud enough.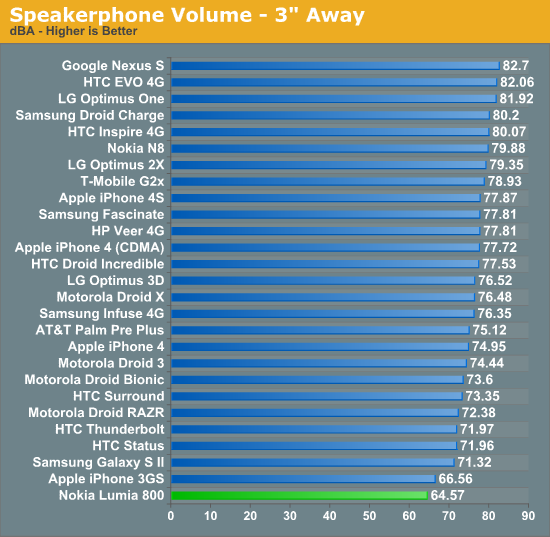 Hopefully, this can be addressed with some software tweaking of the gains for speakerphone volume.
I also recorded some call quality test samples on the Lumia 800. The smartphone also does have the multiple microphone system for common mode noise rejection, though I'm not certain whose IP is being leveraged - perhaps Qualcomm's Fluence?
Noise rejection on the Lumia 800 is very good at all but the most extreme volume levels. Still, there are handsets that can completely reject the ambient noise that you hear at our maximum volume level. Unless you're in an absurdly loud environment, chances are the Lumia 800 will do a good job rejecting noise common between the two microphone system.
GPS
The Lumia 800 uses the GPS/GLONASS (GNSS) system onboard MSM8255 which we've seen numerous times before. Though WP7 doesn't have API access to NMEA data so we can see SNR from individual satellites, the Lumia 800 does seem to get a GPS lock speedily enough even in some tough environments. In both the maps application and Nokia Drive I had no issues getting a GPS lock in under a 5 seconds keeping the lock for the duration of navigation.
Conclusions
The Lumia 800 is indubitably the best Windows Phone hardware out there right now. When people previously spoke in hushed tones about wanting Nokia to make Windows Phones, the unspoken reasons for wanting a Nokia WP7 device were a few notable features - a camera without compromises, hardware build quality that's unique and solid, Nokia's attention to detail, and Nokia's existing market share and ability to get those devices to market.
The Lumia 800 is unique in that it's the first step in Nokia's switch to Windows Phone, and for the large part does fulfill a big cross section of those criteria, at least at the high end. I can't shake the feeling, however, that many people simply wanted a Nokia N8 running Windows Phone 7 (and its still-unsurpassed camera quality). For whatever reason, however, the platform Nokia chose to go with that would become the Lumia 800 borrowed the N9's exterior instead.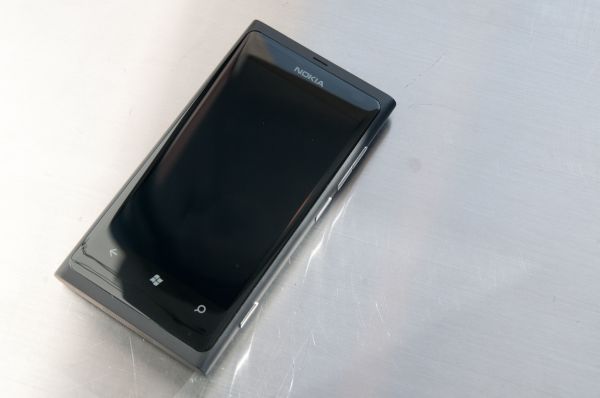 I have nothing but praise for the physical build quality of the Lumia 800, and it's really that attention to detail which puts the Lumia 800 squarely in the lead, at least in my mind. The competition has similar or identical specifications on paper as well (the same 1.4 GHz MSM8x55 SoC, 8 MP camera, 512 MB of RAM, etc.), so it's in these ancillary features that Windows Phone hardware differentiates itself from the pack.
The Lumia 800 does have a few places where it stumbles, however. The aforementioned charging and battery situation is a notable issue that represents a considerable oversight, and I find myself wishing that, like so many other Nokia devices, the phone shipped with pentaband WCDMA instead of two tri-band variants. Having an internal battery is another point of contention, though it's hard to judge how good battery life will be after Nokia has patched the power management IC firmware.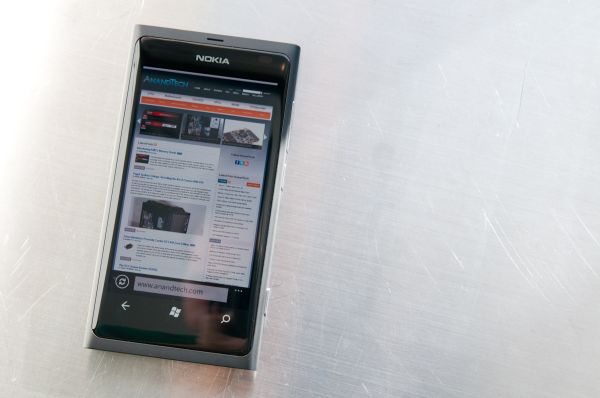 There's also the Windows Phone side of things, where Nokia diehards haven't pulled any punches taking note of the platform's shortcomings - lack of USB or external storage, a still fledgling application ecosystem, and a few others. I'm inclined to agree that while the other major smartphone OSes have taken some big steps forwards, WP7.5 only now just arrives at parity with where those OSes were midway through last year. There's still time for WP7.5 to catch up, but I can't shake the feeling that despite the OS being so much better than it was when it launched, it still isn't as powerful as the alternatives. For normal consumers the functionality WP7.5 offers is perfect, but for Symbian and Maemo users looking at the Lumia series it's a huge deal. On the other hand, Nokia's WP7.5 devices do include Nokia's suite of software, which importantly includes turn by turn GPS navigation (Nokia Drive) for free, where the other WP7 contenders would have you use TeleNav GPS or another subscription service.
While it's unclear in what form or on what carrier the Lumia 800 will arrive stateside, it's clear that something superficially similar to the Lumia 800 is in store for AT&T at least. Among the rest of the Windows Phone contenders, it's arguably neck and neck between the Samsung Focus S and the Lumia 800, but how fast Nokia can fix those charging issues might tip the scales. How the Lumia series does against Windows Phones from Samsung, HTC, and LG remains to be seen, but if the Lumia 800 is any indication of what's in store, I think they're in for some competition.