Original Link: http://www.anandtech.com/show/5199/lian-lis-pca05fn-alternative-thinking-at-a-99-price-point


Introducing the Lian Li PC-A05FN
If you're willing to shell out the money for them, there are a lot of interesting alternative enclosure designs on the market. Companies like SilverStone, Thermaltake, and Lian Li are happy to sell you more experimental and exotic cases once you get past $150 or so, but what if you want something a little spicier without breaking the bank? At $99 Lian Li has you covered with the new PC-A05FN. There are a lot of good (or at least interesting) ideas at work in the PC-A05FN, but how well do they pan out?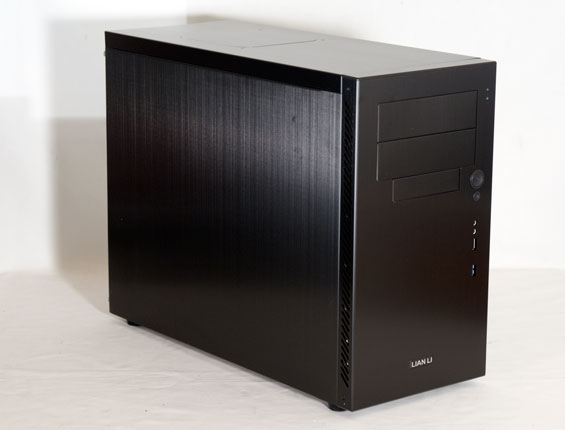 From the outside the PC-A05FN looks like a fairly typical midtower enclosure, albeit one made entirely out of aluminum, but the dimensions are a little unusual. This is a surprisingly short, surprisingly deep enclosure, and one you wouldn't expect to be able to fit a full ATX motherboard. But appearances can be deceiving, and when you pop it open you'll see it's anything but typical.
Lian Li PC-A05FN Specifications
Motherboard Form Factor
ATX, Micro ATX, Mini ITX
Drive Bays
External
2x 5.25", 1x 3.5"
Internal
3x 3.5", 2x 2.5"
Cooling
Front
1x 120mm exhaust fan
Rear
1x 120mm intake fan
Top
1x 140mm fan mount
Side
-
Bottom
-
Expansion Slots
8
Front I/O Port
Power and reset buttons, mic and headphone jacks, USB 2.0, USB 3.0
Top I/O Port
-
Power Supply Size
ATX
Clearance
10.5" (Expansion Cards), 165mm (CPU HSF), 160mm (PSU)
Weight
9.7 lbs (4.4kg)
Dimensions
8.27" x 15.16" x 19.69" (210mm x 385mm x 500mm)
Price
$99
As you can see from the specifications, there isn't that much that seems noteworthy for a basic midtower. The PC-A05FN seems a little shy for hard drive mounting space, but not that many users need more than three 3.5" drive bays, especially with how frequently people are using SSDs now; we have space for two of those as well. Something unusual should catch your eye, though: the PC-A05FN has flipped the traditional airflow design. Instead of taking in cool air from the front and exhausting hot air out of the back, Lian Li has opted to bring cool air directly into the CPU heatsink fan and then blow it over the hard drives out of the front. It's definitely a shift in priorities.
In and Around the Lian Li PC-A05FN
From reading the comments on past reviews, it seems like the overwhelming majority of you vastly prefer enclosures that look more classy and austere than flashier designs. While there's certainly a place for some of those (and I adored the gaudy fire engine red NZXT Phantom 410 we recently reviewed), the overarching theme is that people want an enclosure that reminds them of the monolith from 2001: A Space Odyssey. Lian Li seems to have delivered for the most part on that front with the PC-A05FN; you can get it in silver or black, but it's always going to have the head-to-toe brushed aluminum finish.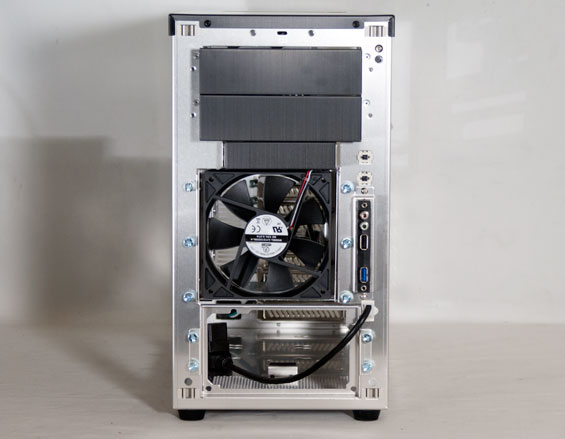 It's definitely an attractive piece of kit, but be warned: the black brushed aluminum is going to pick up fingerprints and smudges. That said, the front of the enclosure is pretty much where all the action happens: there's a pair of 5.25" external bays, a single 3.5" external bay, power and reset buttons, audio jacks, and then singles of USB 2.0 and USB 3.0 ports. These last two are unusual, since there's only one internal connector serving both ports, and that connector is USB 3.0.
The top of the PC-A05FN features a sealed off mount for a 140mm fan; you can remove the aluminum plate and install one internally (and there's space for it), or leave it in and enjoy a remarkably seamless top finish that gives Fractal Design's Define R3 a run for its money. When you swing around to the back is when things are going to start to seem strange: there's no power supply mount, just the I/O cluster, eight expansion slots, and then an AC adaptor plug.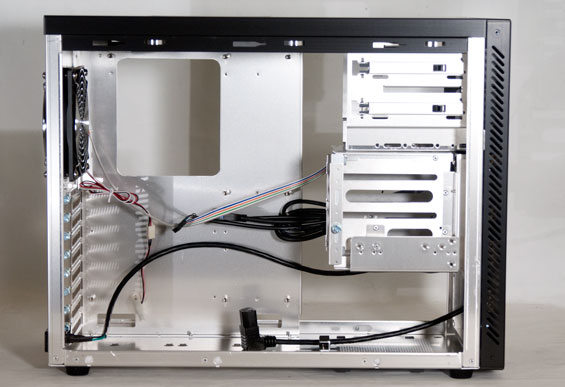 Opening up the enclosure reveals the answer to these mysteries: Lian Li opts to mount the power supply at the front of the case and then route the cable to the front. You can also see how the cooling is fundamentally designed: the rear fan is an intake instead of an exhaust, while the front fan is the exhaust. This looks potentially better for keeping the CPU cool, but at the cost of getting fresh air to the video card(s). For that, we're pretty much hoping the air coming in from the back vents will be enough, but it stands to reason a multi-GPU configuration inside of the PC-A05FN is probably ill-advised.
Overall I found the design of the PC-A05FN interesting, but with some reservations. Much like the last Lian Li case we reviewed, the PC-TU200, I'm left feeling more of that "just because you can doesn't mean you should" kind of vibe in relation to the design decisions. Lian Li has added some allowances for tool-less assembly (like the snapping clips for the 5.25" drive bays), so hopefully assembly will at least go a little more smoothly than the previous Lian Li cases we've tested.
Assembling the Lian Li PC-A05FN
The fundamental problem with trying to assemble a system in any kind of small enclosure is that the enclosure itself is going to make the work slow and cramped. That's not really the fault of anyone or anything but physics, but sometimes a manufacturer tries to make their case a little bit more "capable" than they probably ought. Such may very well be Lian Li's PC-A05FN, which ostensibly has space for our testbed components (and indeed, we were able to fit the standardized testbed inside with some work), but honestly, if you're interested in this enclosure you're going to want to be fairly selective about the parts you choose.
Lian Li was gracious enough to include standoffs built into the motherboard tray, but because of the reversed cooling design, I had to remove the HSF unit we use for testing and then rotate it 180 degrees. Another option for a build in the PC-A05FN may be to orient the HSF to exhaust out of the top of the enclosure (by adding a 140mm fan), thus giving the unit sole access to the air coming in from the back. By that logic, it might also be wise to turn the front fan into an intake as well. Either way, our full-ATX motherboard was able to be jimmied in, but I ran into a problem almost immediately.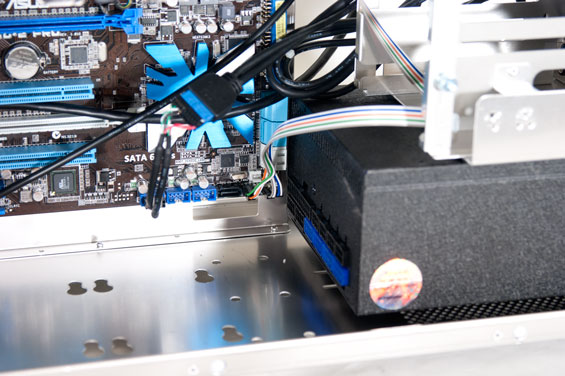 The SilverStone Strider Gold power supply we use for testing is 180mm, 20mm longer than Lian Li's specifications indicate. Thankfully I was still able to get it into the enclosure (I actually installed it first, though you can also install it by first removing the front bezel and then removing the mounting bracket) and get everything wired, but you're better off sticking with a 160mm or shorter unit. Note that clearance isn't good at all; the PSU completely blocks off the side-mounted SATA ports on the motherboard and prevents you from routing any cabling behind the motherboard tray (not that there's much reason to.) I do have to question whether that missing 20mm really matters, though; that's about enough to plug in a SATA cable but it cuts things awfully close.
I'm still not a fan of Lian Li's "rubber and rails" approach to installing 3.5" drives. You basically mount four thumbscrews with rubber rings into the sides of the drive, "unlock" the drive cage by removing the thumbscrew and lifting up the interior metal bumper, slide the drive in, then lower the bumper again and "lock" it by replacing the thumbscrew. I'm just not sure this is really that much easier than a basic, run of the mill drive cage where you have to screw the drive in by hand. And while the 5.25" optical drive at least benefits from a snap-to-close tool-less locking mechanism, that mechanism feels loose and you'll want to screw it in on the opposite side just to be safe (e.g. a loose DVD mount can cause increased vibration noise).
2.5" drives use a similar approach to their 3.5" cousins, but instead the screw and mount go into the bottom of the drive, and you have to use a screwdriver. From there, you pop the drive into a set of holes in the bottom of the chassis and then slide it into place. It feels remarkably secure, but any SATA power plug you use for these low drives is going to need to be at the end of the chain; clearance between the drive and the bottom of the chassis is basically nonexistent. I'd also recommend against using a mechanical drive in one of these mounts; these were clearly intended for SSDs and I can't vouch for how a mechanical drive will handle the vibration or the heat.
You can fit a 10.5" video card like our Zotac GeForce GTX 580 into the PC-A50FN, but you'll sacrifice at least one of the 3.5" drive bays in the process. Really you're better off with a smaller, shorter card like a GTX 560 or Radeon HD 6870; this is another one of those instances where "you can" doesn't mean "you should."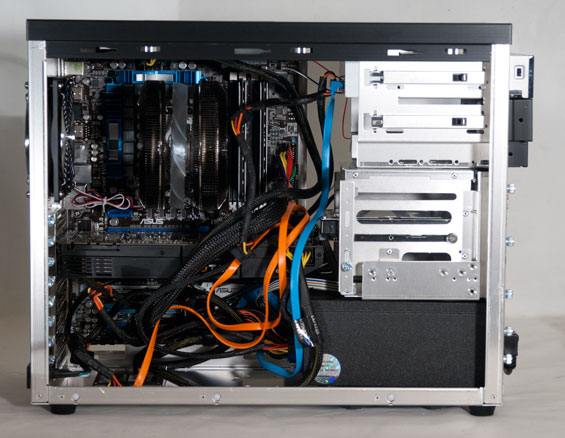 Finally, wiring the whole thing up was troublesome. Part of that is due to using a power supply that's admittedly a touch out of spec for this enclosure, but part of it is also the fact that while there's some space behind the motherboard tray, there's also really nothing to put back there or route. The result is a build that looks a bit messy internally, and worse, seems to crowd the video card something fierce. You could probably clean things up a bit more with some better component choices, but cable management is not the PC-A50FN's strong suit.
Honestly, I like the PC-A50FN more than the other Lian Li cases I've tested so far, but once again you really do need to choose your components carefully if you elect to build in this enclosure. That's not necessarily a bad thing, but this is most definitely not a "one size fits all" case.
Testing Methodology
For testing ATX cases, we use the following standardized testbed in stock and overclocked configurations to get a feel for how well the case handles heat and noise.
A refresher on how we test:
Acoustic testing is standardized on a foot from the front of the case, using the Extech SL10 with an ambient noise floor of ~32dB. For reference, that's what my silent apartment measures with nothing running, testing acoustics in the dead of night (usually between 1am and 3am). A lot of us sit about a foot away from our computers, so this should be a fairly accurate representation of the kind of noise the case generates, and it's close enough to get noise levels that should register above ambient.
Thermal testing is run with the computer having idled at the desktop for fifteen minutes, and again with the computer running both Furmark (where applicable) and Prime95 (less one thread when a GPU is being used) for fifteen minutes. I've found that leaving one thread open in Prime95 allows the processor to heat up enough while making sure Furmark isn't CPU-limited. We're using the thermal diodes included with the hardware to keep everything standardized, and ambient testing temperature is always between 71F and 74F. Processor temperatures reported are the average of the CPU cores.
For more details on how we arrived at this testbed, you can check out our introductory passage in the review for the IN-WIN BUC.
Last but not least, we'd also like to thank the vendors who made our testbed possible:
Thank You!
We have some thanks in order before we press on:
Noise and Thermal Testing, Stock
To look at the Lian Li PC-A05FN at any stage of the assembly, I really had very little idea as to how it was going to perform. There's clearly a focus on improving cooling of the CPU, but they also at least appear to have sacrificed cooling the graphics card in the process. Lian Li also made very few allowances towards cable management, and I didn't have high hopes for the acoustics. Early on at least, I was banking on it providing excellent CPU cooling performance at the expense of the other components.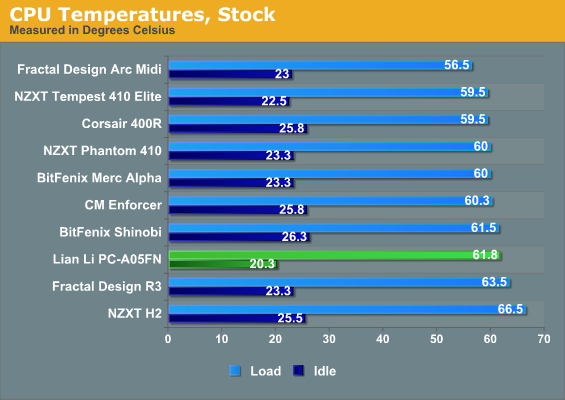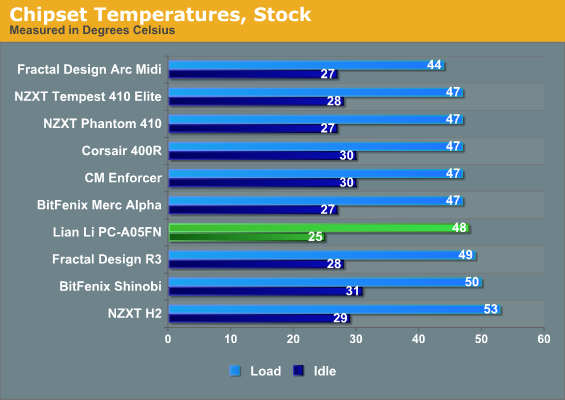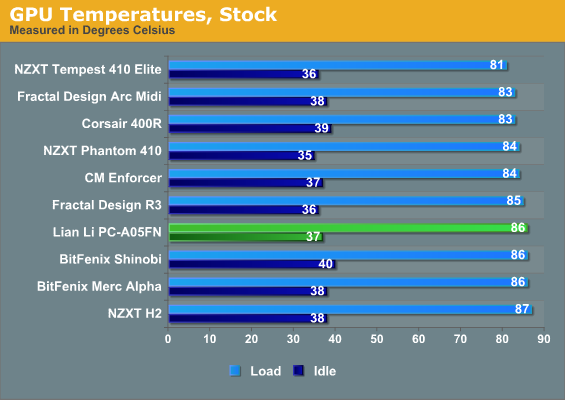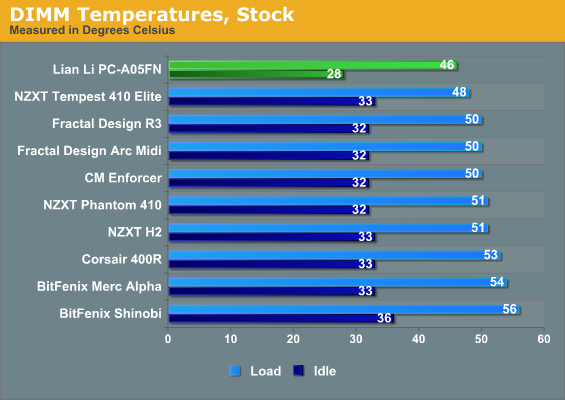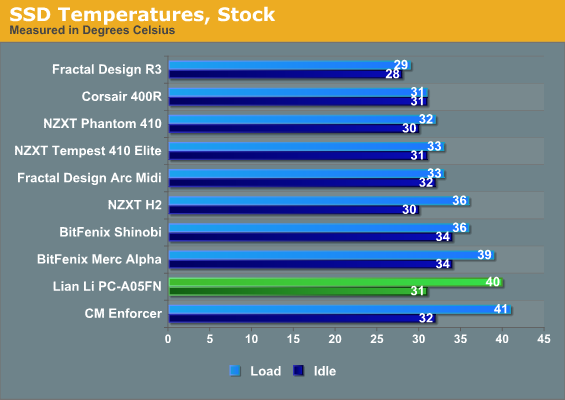 Unfortunately, at least in our stock testing, Lian Li's gamble doesn't seem to have paid off. While idle temperatures are fantastic, once we get to load we find performance to be pretty much on par with everything else. These thermals don't seem to justify the added trouble and care the PC-A05FN requires, but let's see if acoustics are improved.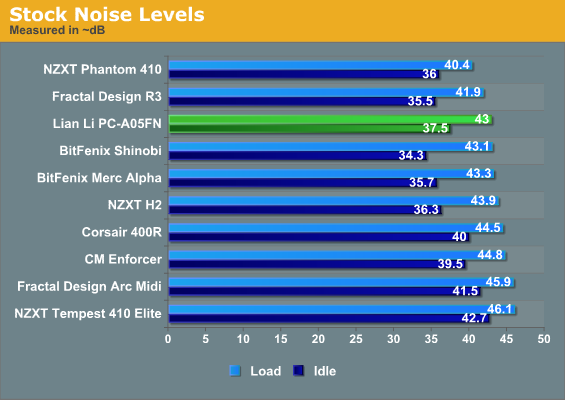 At least the PC-A05FN winds up being reasonably quiet, though under load it kicks up a bit. Maybe our stock settings aren't stressful enough for it? The enclosure seems geared towards CPU cooling and the stock Intel Core i7-875K certainly just doesn't put out much heat under load.
Noise and Thermal Testing, Overclocked
Given the emphasis on processor cooling in Lian Li's PC-A05FN, hopefully the enclosure's unusual design will pay off with the substantially increased thermal load that the overclocked processor and RAM bring. That said, we can expect increased ambient heat in the process and with no directed airflow going towards the GeForce GTX 580, I'm at least a little concerned about the heat and noise that card may put out.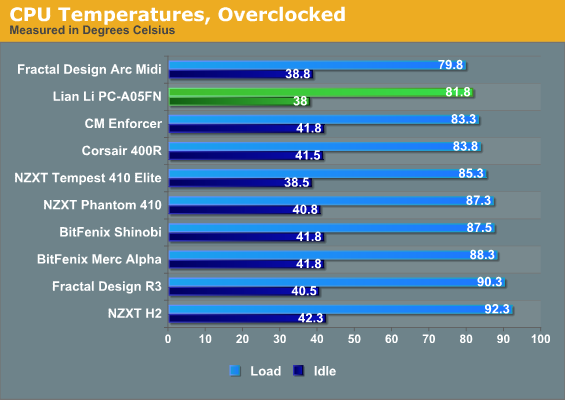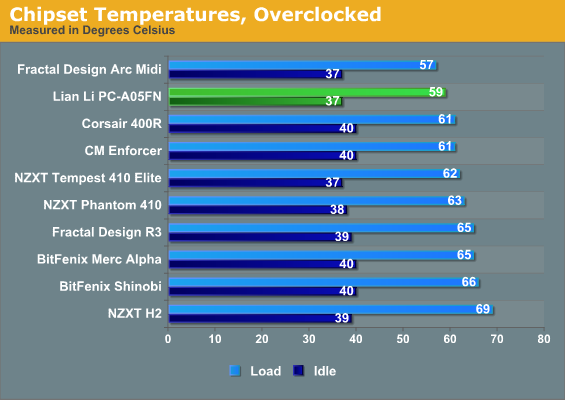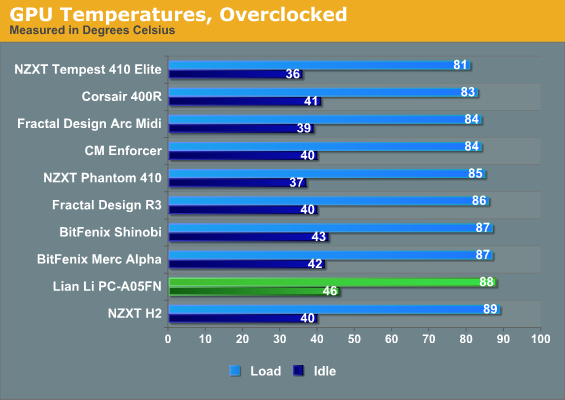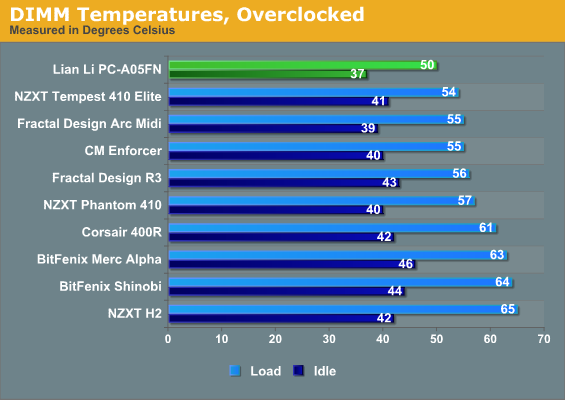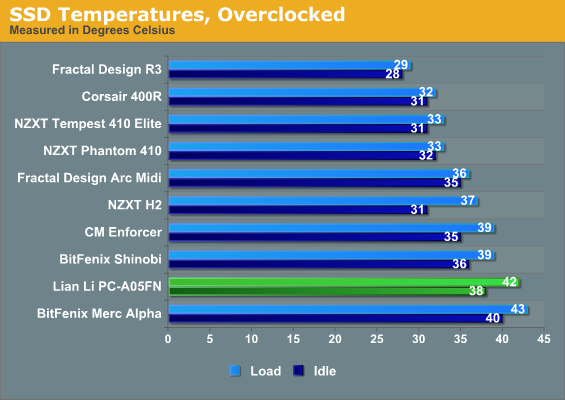 Processor temperatures wind up being excellent, and the chipset and DIMM results are also excellent, but sacrifices are made. The SSD runs hotter than almost any other enclosure we've tested (not really a concern for an SSD, but we'd be wary of using a 2.5" HDD), and the GeForce's cooler is definitely being taxed more than usual. That idle temperature is pretty much the worst we've seen, and the load temperature is mighty close.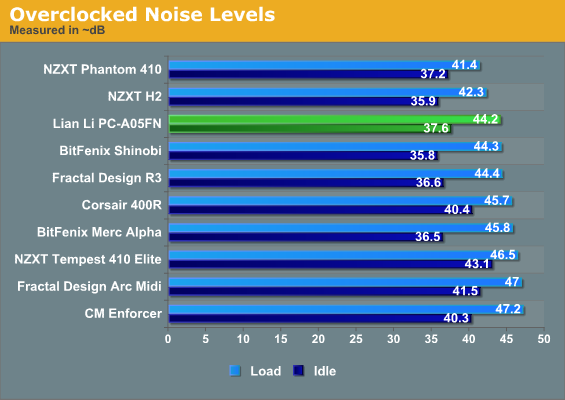 Unfortunately, while noise in the PC-A05FN is good, it's not great. While the processor stays cool enough, that GTX 580 is roasting. It's among the quieter enclosures we've tested under load, but at idle the GTX 580's fan is already working harder than we'd like.
Conclusion: The Dubious Value Proposition
Once again I'm left with an enclosure whose needs are fairly clearly beyond the scope of our standardized testbed, and to me that's too bad. Under the circumstances I don't think the testbed is really that brutal, at least at stock settings, and this is a case that should be able to handle the most challenging part of the overclock with aplomb: the processor.
First, the good stuff: if you're overclocking the CPU, you have a few options with how you want to configure the Lian Li PC-A05FN. The processor cooling seems to be the reason for the case design, and everything else is secondary; if you're operating on a budget of less than $100 for the case and just want the CPU to scream, Lian Li has you covered. The PC-A05FN is also one of the more attractive cases I've tested, and it's also among the lightest due to the all-aluminum design. You sacrifice a little bit in the way of durability, but for most of us it's probably worth the tradeoff, especially at this price point. (The silver version is going for just $89 on NewEgg as of this writing.)
My biggest issue with the PC-A05FN is that once again with a Lian Li case there's a gulf between what the case is ostensibly capable of and what it's actually capable of. Can it handle our testbed? Well, nothing overheated, so that's a "yes", but the GTX 580 is probably more than you should plan on for this case—a GTX 560 or HD 6950 would be a better fit. A better question is whether it can handle our testbed better than other enclosures in its price range. That's a lot foggier, and where things get even more complicated is when you realize that the other cases are almost uniformly easier to assemble your system. The other enclosures may be a bit bigger, but they're also far less "special needs" than the PC-A05FN; you can do a quick-and-dirty build in a BitFenix Shinobi without too much trouble, but the PC-A05FN more or less demands you carefully select your components to maximize the value of the enclosure. It's going to be a bit more work to assemble to boot.
So what's the verdict? By the end of this review, you should have a pretty clear idea of whether or not the Lian Li PC-A05FN is right for you. This just isn't one of those "this is the best enclosure for under $100" situations where I can sign off on it and tell you "godspeed". I wouldn't fault anyone for buying it provided they did the research first and carefully chose the parts used to assemble the build because the case does have potential. For more generic, less specialized builds, though, I'd advise most users to look elsewhere.