Original Link: http://www.anandtech.com/show/5198/motorola-droid-razr-review-a-better-clad-bionic


Motorola Droid RAZR Review
Recently Motorola unleashed a bunch of devices it was keeping up its sleeve, and the latest for Verizon is the Motorola Droid RAZR. A while ago we reviewed the Bionic, which was the first time we got to see 4G LTE connectivity (courtesy of a Motorola Wrigley LTE baseband) alongside a dual core OMAP4430 SoC. The RAZR continues with those two components and brings a new industrial design, a different display, and revival of the RAZR brand itself.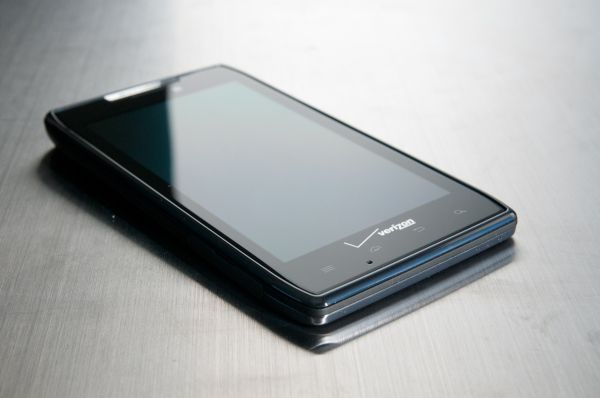 It's safe to say that both elements of the tech press and a large demographic of end users are starting to wake up to something we've known and been talking about for a while now: that unique combinations of SoC and cellular baseband (what I call a hardware platform) define devices, and that often new devices are just iterations of those existing hardware platforms with tweaks to accommodate individual carrier customers (different cellular frequency bands, different aesthetics, different software preloads, etc.). A shaky analogy is to compare it to putting a different case on the same computer or how PC ODMs shop around reference designs. The extra component in the smartphone world is of course carriers, (and the endless variants of hardware platforms that result as a consequence) but there are really only a few different unique hardware platforms that emerge each year.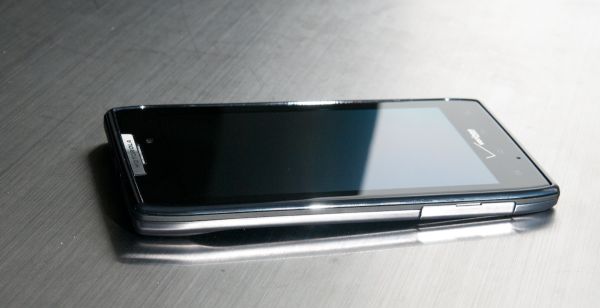 To that end, the RAZR is an obvious evolution of the Bionic purely because it has the same OMAP4430 SoC (albeit at 1.2 GHz as opposed to 1.0 GHz in the Bionic), the same 3G and 4G basebands (MDM6600 and Motorola Wrigley), and the other same big component choices. The real story of the RAZR is its incredibly thin profile and the new direction in Motorola's industrial design that it embodies.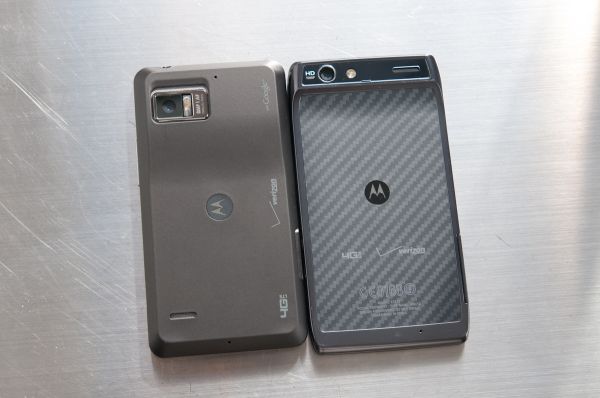 I've outlined the specs in our usual comparison table for your perusal, and though we haven't seen them quite yet, the two other devices that are noteworthy for Verizon shoppers right now are the HTC Rezound and the LTE-enabled Galaxy Nexus.
Physical Comparison
Motorola Droid Bionic
Apple iPhone 4S
Samsung Galaxy Nexus (LTE)
Motorola Droid RAZR
Height
127.5 mm (5.02")
115.2 mm (4.5")
135.5 mm (5.33")
130.7 mm (5.15")
Width
66.9 mm (2.63")
58.6 mm (2.31")
67.94 mm (2.67)
68.9 mm (2.71")
Depth
10.99 mm (0.43")
9.3 mm ( 0.37")
9.47 mm (0.37")
7.1 mm (0.28")
Weight
158 g (5.57 oz)
140 g (4.9 oz)
150 g (5.3 oz)
127 g (4.5 oz)
CPU
1 GHz Dual Core Cortex-A9 OMAP 4430
Apple A5 @ ~800MHz Dual Core Cortex A9
1.2 GHz Dual Core Cortex-A9 OMAP 4460
1.2 GHz Dual Core Cortex-A9 OMAP 4430
GPU
PowerVR SGX 540
PowerVR SGX 543MP2
PowerVR SGX 540
PowerVR SGX 540
RAM
1 GB LPDDR2
512MB LPDDR2-800
1 GB LPDDR2
1 GB LPDDR2
NAND
16 GB NAND, 16 GB microSD class 4 preinstalled
16GB, 32GB or 64GB integrated
32 GB NAND
16 GB NAND, 16 GB microSD class 4 preinstalled
Camera
8 MP with AF/LED Flash, 1080p30 video recording, VGA front facing
8 MP with LED Flash + Front Facing Camera
5 MP with AF/LED Flash, 1080p30 video recording, 1.3 MP front facing
8 MP with AF/LED Flash, 1080p30 video recording, 1.3 MP front facing
Screen
4.3" 960 x 540 RGBW LCD
3.5" 640 x 960 LED backlit LCD
4.65" 1280x720 SAMOLED HD
4.3" 960 x 540 SAMOLED Adv.
Battery
Removable 6.6 Whr
Internal 5.3 Whr
Removable 6.85 Whr
Internal 6.7 Whr
The RAZR is absurdly thin, and coming from the Bionic (which when it launched was itself absurdly thin for an LTE device) it's almost shocking. With the two side by side, this difference is dramatic. Lately there's been something of a 'who can make the thinnest smartphone' war going on between manufacturers, and the RAZR even bests the SGS2 when it comes to its waistline.
Of course, every design decision has a tradeoff, and what the RAZR had to do away with to get to this kind of design profile is the user-replacable battery. Instead, the RAZR's battery is sealed inside the phone. When I reviewed the Bionic, I made note of the device's higher than normal Li-Ion voltage battery (3.8 V nominal) and later received word that this is actually a new Li-Ion battery chemistry that Motorola is adopting across its device line. We've now seen it in the Bionic, the Atrix 2, and thanks to some teardowns know that it's inside the RAZR as well.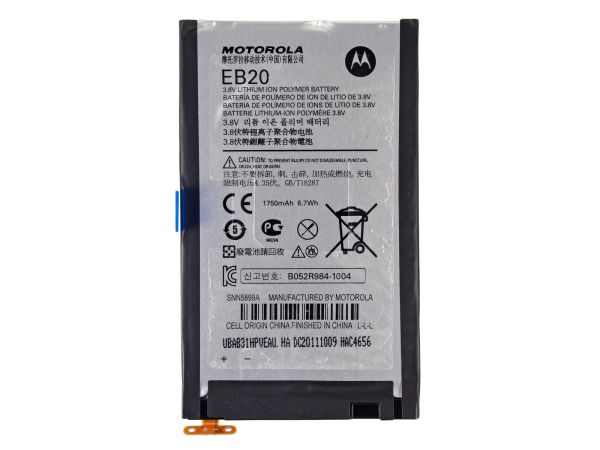 The RAZR's 3.8V nominal, 6.7 Whr internal battery (courtesy iFixit)
As an aside, people love to talk about how battery tech is going nowhere, but here we have a clear example of a few mass-market devices actually shipping with higher voltage batteries. Now that I know it exists, I want this in everything.
Interestingly enough, the sealed internal battery on the RAZR is 1750 mAh at 3.8 V (6.7 Whr) which is ever so slightly larger than the Bionic's stock 1735 mAh at 3.8 V (6.6 Whr) battery. Like the Bionic, the battery has a thin profile and extends across almost the entire area of the device. We've now seen two different approaches to getting devices ultra thin: dual-sided PCBs that take up about a third of the areal profile (which is what Samsung and Apple do), saving the rest for a thick battery, and the Motorola approach with a single-sided PCB and a thin battery that extends over the entire area.
The result of this design methodology is that the RAZR has a huge areal profile with a lot of bezel at the top and bottom. It doesn't look like much, but as a result the device feels large in the palm (which is primarily a function again of areal size), but small in the pocket (which is a function of thickness). These are the kinds of tradeoffs that we're still seeing happen in this slate form factor, one which shows no signs of going out of style.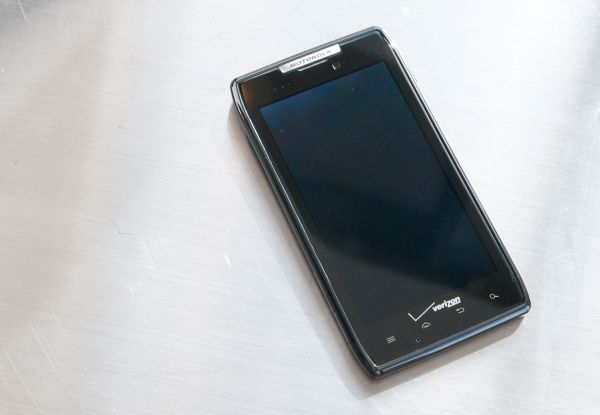 One lingering question is what you're supposed to do if the RAZR hard locks - obviously since the battery is sealed inside, a battery pull is out of the question. Thankfully holding volume down and power/lock for 10 seconds reboots the device even when the device is totally unresponsive (which I did in fact encounter once).
Back to purely subjective aesthetics, the front of the RAZR is one continuous piece of aluminosilicate Gorilla glass just like the Bionic, complete with the interesting taper and gap at the edge where it meets the plastic case. I haven't had much dust settle in here or get stuck, but just like the Bionic it does seem like it'll happen eventually and warrant a blast with some compressed air. The profile of the RAZR isn't a square, nor is it rounded at the edges, instead taking on something of Battlestar Galactica's octagonal paper shape. We've seen photos of other upcoming Motorola smartphones emerge with this shape, and it's clear that their industrial design is going in this octagonal direction.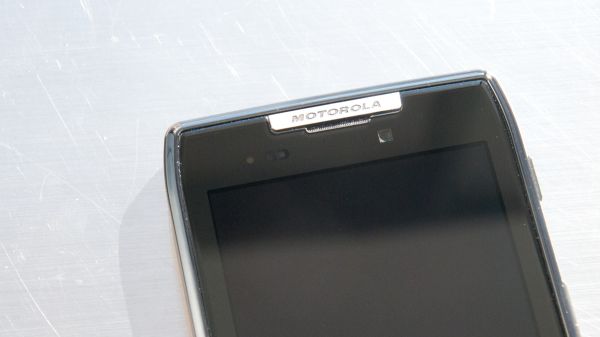 Between the menu and home capacitive Android buttons is the primary microphone, and at the very top are proximity and ambient light sensors. At the right on top is the RAZR's 1.3MP front facing camera.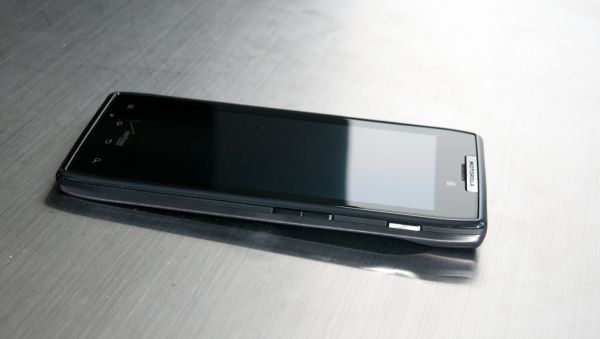 The right side of the RAZR is home to a chrome ringed power/lock button, and below it is a one-piece volume rocker. These buttons are all plastic, but feel pretty good in spite of being very thin. The chrome textured power/lock button helps make it easy to identify with the index finger and is a nice touch.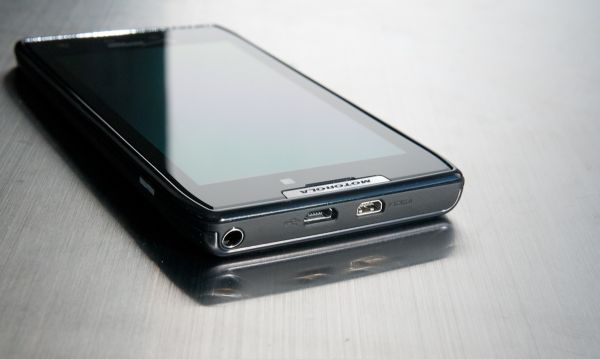 Up top is the headphone jack, microHDMI and microUSB port. The bulge at the top echoes the earliest Droid X designs with this ever-present bulge which traditionally was to accommodate the camera module. In this case you could make the argument that the bulge now accommodates the camera module and headphone jack, considering its size.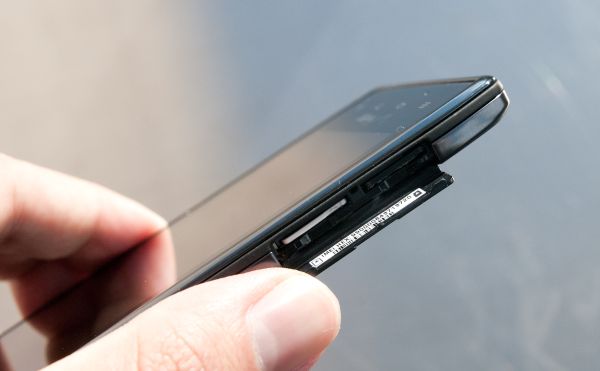 Since the RAZR is essentially sealed, you might be wondering where the microSD and SIM cards go. The answer presents itself underneath a small door on the left side. There's a thumb gap which opens to reveal that the microSD and microSIM card slot. This isn't the first time we've seen Verizon using a microSIM, if you recall back to the Galaxy Tab 10.1 LTE which also used a microSIM, and consider the LTE enabled Galaxy Nexus which will use a microSIM. Thankfully using a microSIM isn't that big of a deal anymore given how relatively common and cheap SIM cutters and microSIM adapters are now.
The RAZR backside is a bit more complicated. Like most new phones, there are two microphones here for noise cancelation and to support stereo audio recording for video. One is just off-center at the very bottom on a chrome lip, the other is center at the top just to the right of flash.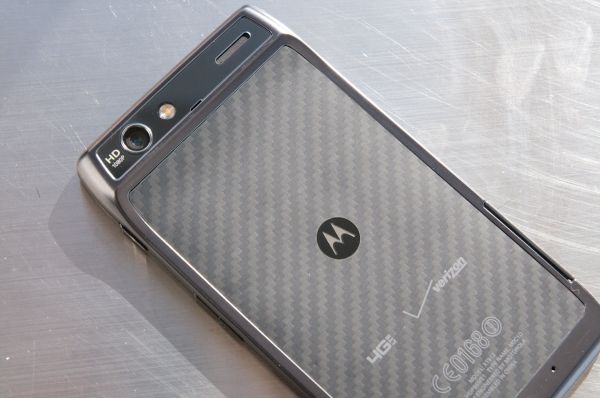 Of course the most prominent and noteworthy feature here is the kevlar backplate, which gives the RAZR a distinctive in-hand feel and style. The kevlar area is definitely flexible - you can press and poke it with your fingernail - and has a rubberized feeling. The result is better than expected in-hand feel, and not the typical homogenous plastic texture I've grown accustomed to after handling lots of Samsung devices. This kevlar region looks nice, feels good, and sounds pretty serious, but don't be fooled - the RAZR isn't going to stop any bullets, and its real purpose here is to keep thickness to a minimum. Further, kevlar's actual valuable material property is in tensile strength, whereas for a back plate I'd wager the more important metric is compressive strength. The RAZR's plastic frame offers plenty of rigidity and doesn't yield or flex at all in normal use.
The kevlar backing continues up to the RAZR's top bulge which houses the phone's 8 MP camera module, flash, microphone (as we've mentioned already), and speakerphone grille. This little area has a reflective chrome region that definitely collects grime but comes clean pretty easily.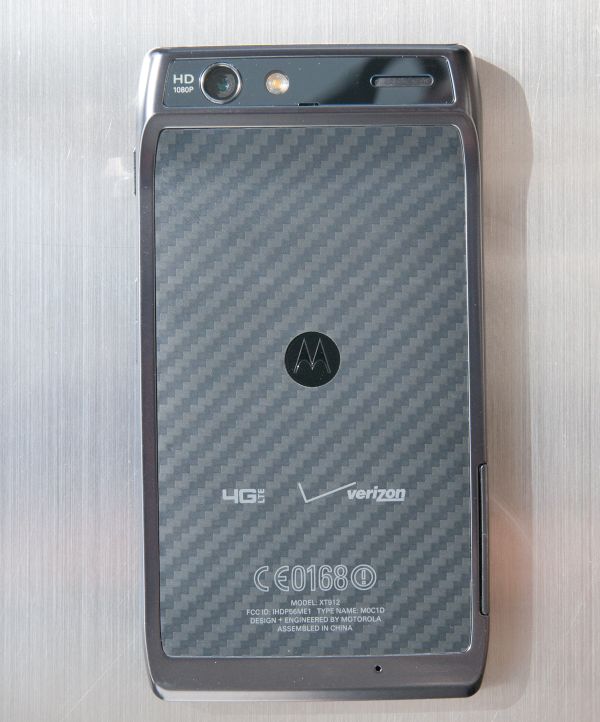 I have to admit that I like the direction that Motorola is taking with its industrial design. After seeing a lot of the same from everyone in 2011, this feels like a big departure from previous devices in a good way - the RAZR is freakishly thin (and relatively light) but still has the build quality that makes it feel like it's worth the high-end price tag and reviving a brand that's 6 years old. It's also safe to say that we're going to see this style and design replicated in Motorola devices coming out in the immediate future, including the Droid 4.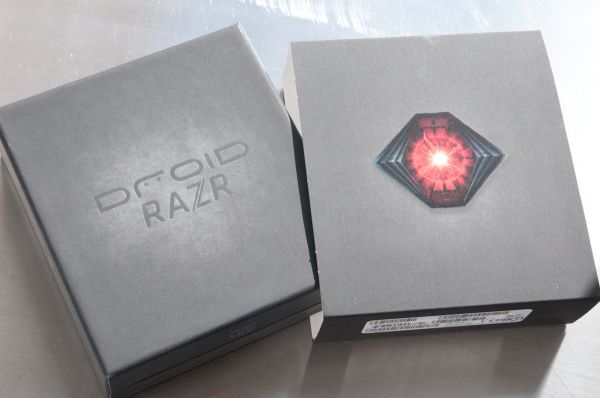 I usually don't give unboxings or packaging much attention, but in this case the RAZR deviates from the standard Verizon 4G LTE box shape and instead is thin and squareish.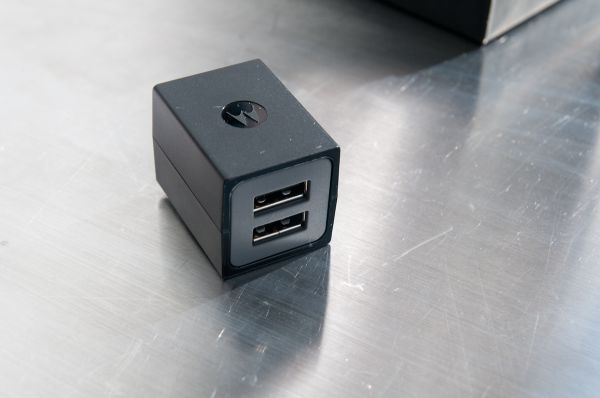 In addition Motorola is shipping a different USB power adapter now that's much smaller, square in shape, and has two USB ports, though output per port is at 750 mA as opposed to 850 mA on the previous chargers.
Battery Life
I still think that when we're reviewing a 4G LTE device that battery life is the main concern, and with a sealed internal battery this is an even more relevant point than it would be otherwise. I started the Bionic review out with a look at battery life first, and think the same approach makes sense for the RAZR. As I mentioned before, the RAZR has a 6.7 Whr internal battery which makes use of Motorola's new higher voltage Li-Ion chemistry, just like we saw in the Bionic.
Motorola also sent us all the goodies to go along with the RAZR, including the Lapdock 100, car windshield mount, VGA adapter, and an extra external 6.9 Whr battery. More on those accessories in a moment, for now let's just talk about the battery.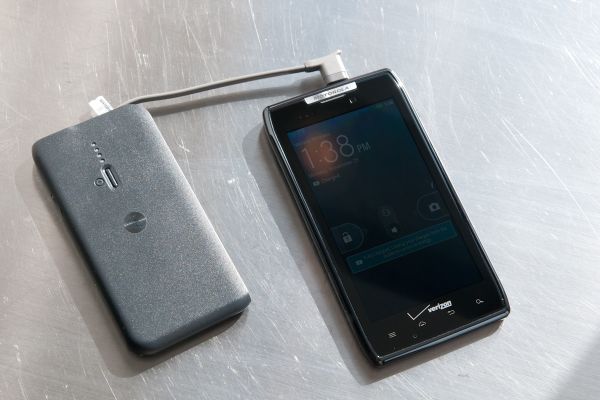 Since the battery for the RAZR is sealed inside, there's no way to go the traditional extended battery route, and thus this external battery which connects using microUSB is the only viable option to extend your electron tank. The external battery charges using a microUSB port on its side and can charge up to two devices at the same time.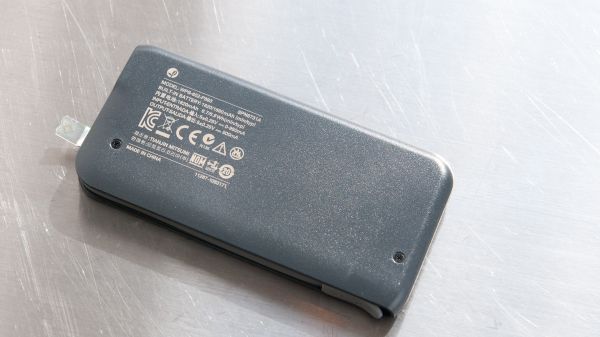 One using the microUSB connector on a rubberized cable that folds into the opposite side, the other using the female USB type A connector at the top. I used the external charger to juice up the RAZR and another device at the same time to much success. Of course, using a big external battery to simultaneously charge a battery and power the RAZR incurs some overhead.
To measure how good the RAZR is at sipping juice, we turned to our standard suite of battery life tests. The first loads through a dozen or so pages over cellular data and WiFi with the display constantly on and set to a brightness of 200 nits using the stock browser.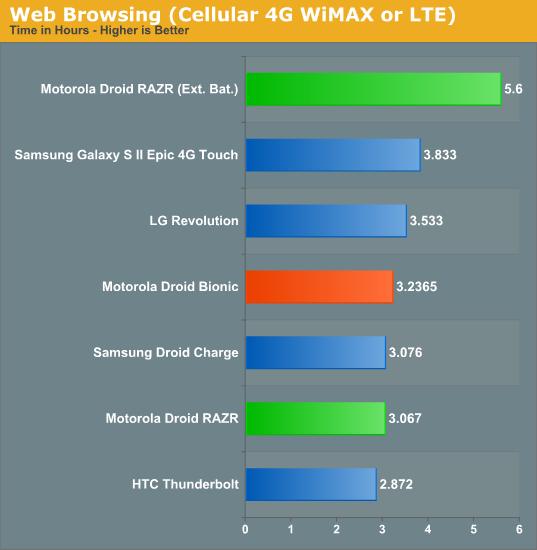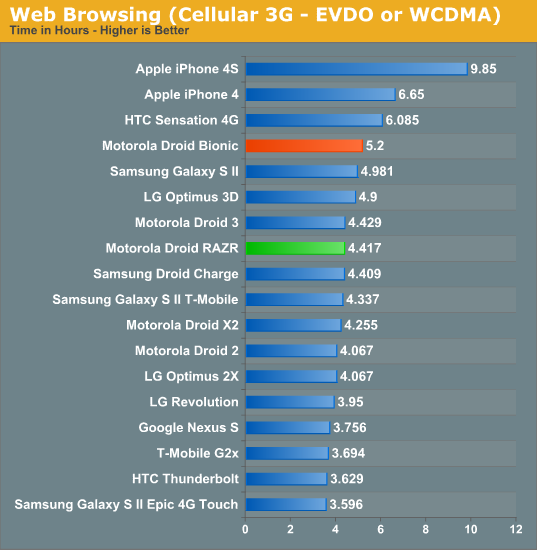 In the cellular browsing department, the RAZR unsurprisingly performs very close to the Bionic, but comes in just behind in spite of having a slightly larger battery. It's pretty easy to point out the sources of increased battery drain on the RAZR versus Bionic, and that's both inclusion of AMOLED (virtually all the webpages in our testing suite have white backgrounds), and a higher CPU clock, though admittedly most of the time the CPU is in an idle state. The other parts of the equation again remain the same - the RAZR has the same cellular basebands and a similar family PMIC (power management IC).
Using the external battery gives you another 2.5 hours of charge in our LTE test, which isn't a doubling, but still a respectable boost. As predicted, you end up losing some of that charge on the external battery to overhead, but it isn't dramatic. I didn't measure how much of a gain using the external battery on EVDO nets you, but you can safely bet the same 1.83 multiplier applies.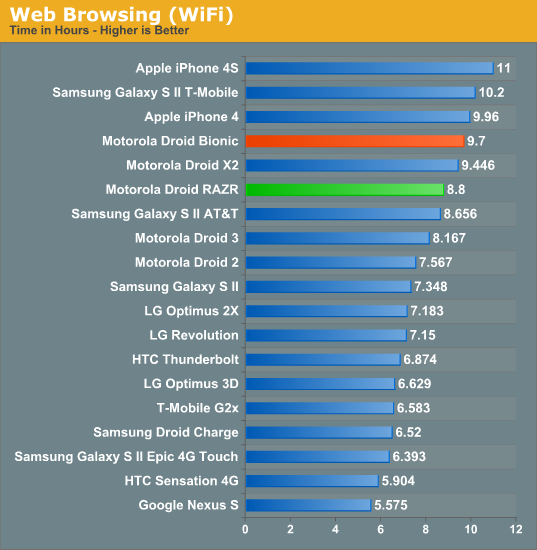 This trend where the RAZR lags the Bionic in our battery life testing carries on to the WiFi web browsing test as well - the two include the same TI WL1285 WLAN combo chip.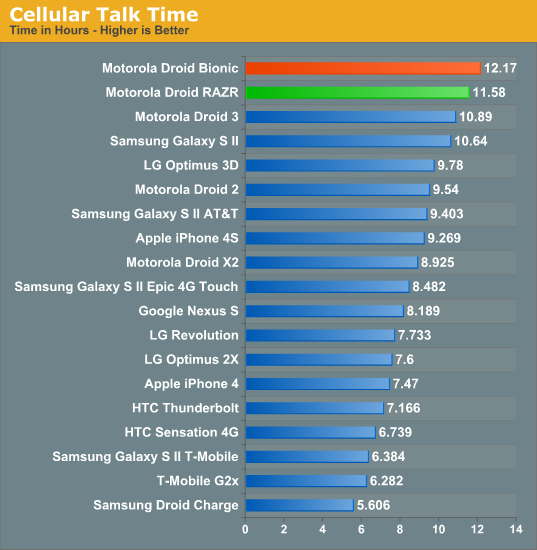 Call testing time likewise puts the RAZR just behind the Bionic. As a reminder, calls on Verizon still happen over 1x on the MDM6600.
I'm starting to put more stock in our WiFi hotspot battery life test, which has four of our normal page loading tabs open and a 128 kbps MP3 streaming radio instance from smoothbeats.com going. This keeps the baseband and WiFi stacks up and also relies on the CPU for routing network traffic through a NAT, and the display is off.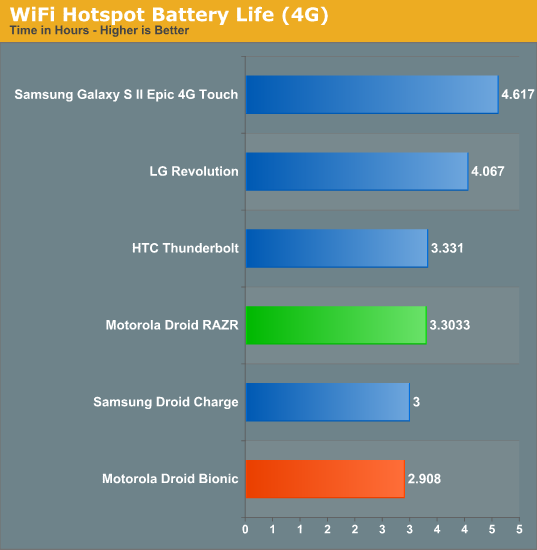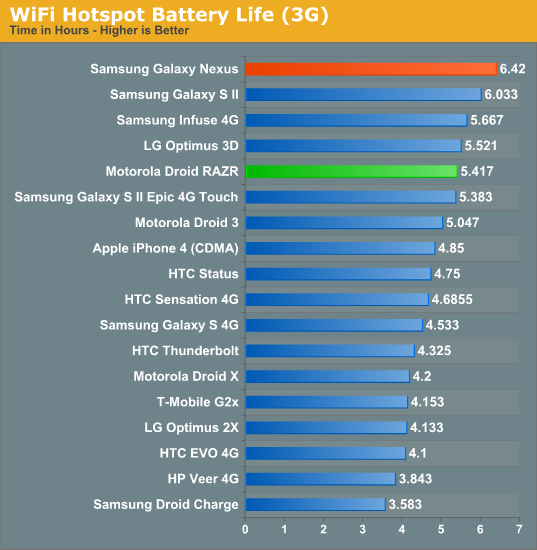 Here the RAZR surprisingly ousts the Bionic (despite testing being done in the exact same location and signal characteristics) by a little over a half hour.
So in the battery department there isn't much to talk about with respect to the RAZR except to note that it's very comparable to the Bionic owing to - again - being based on essentially the same hardware platform. The difference we do see is largely a result of adding a Super AMOLED Advanced display and higher peak CPU clock.
If you're not near a charger or unwilling to go for the external battery, our guidance remains much the same as it did when we first started looking closely at 4G LTE handsets - wait for 28nm SoCs and basebands in 2012. That said, it's absolutely possible to make it through a day with the internal battery, it just depends on what your daily use patterns are.
Software - Android 2.3.5
As of this writing, the RAZR is running Android 2.3.5, and in almost any other context it'd be easy to applaud Motorola for shipping close to the absolute bleeding edge branch of Android 2.3, but there's no way to ignore the fact that this isn't Android 4.0. It's a bit unfortunate for everyone that we're seeing a repeat of last year with devices on the market running an older version of Android than what's currently available on AOSP, but porting and certification takes time. We've outlined it already, but Motorola has stated that the RAZR will get its own Android 4.0 Ice Cream Sandwich update before 2Q 2012, but that's a long potential 6 months to wait for the latest version of Android - a quarter of your 2 year contract.
The flipside of the argument is that it's at least guaranteed to happen sometime before then, and thus the more important comparison for the RAZR becomes how its hardware compares to the Galaxy Nexus, which we'll talk about in the context of that device review. The short thing to note is that the two are both based on an OMAP4 SoC, so performance will likely be close between the two.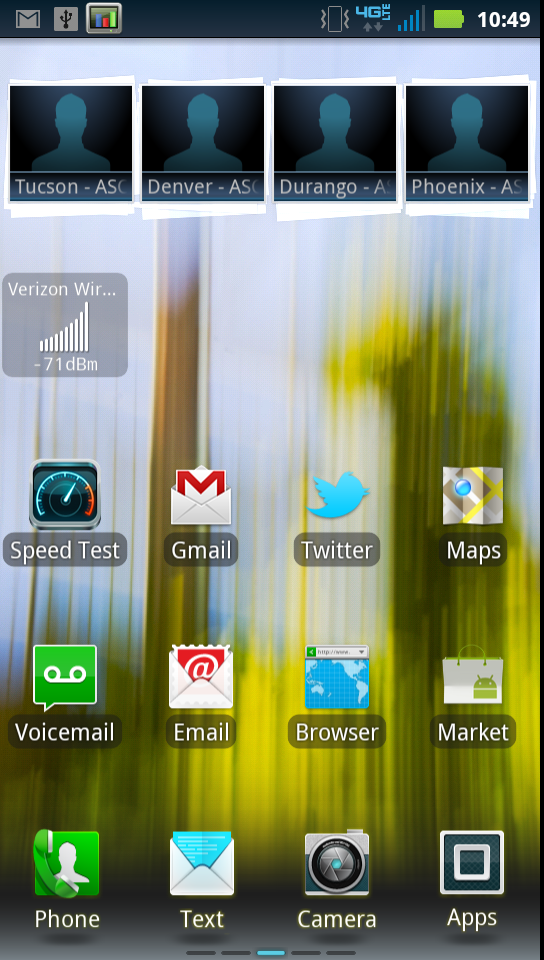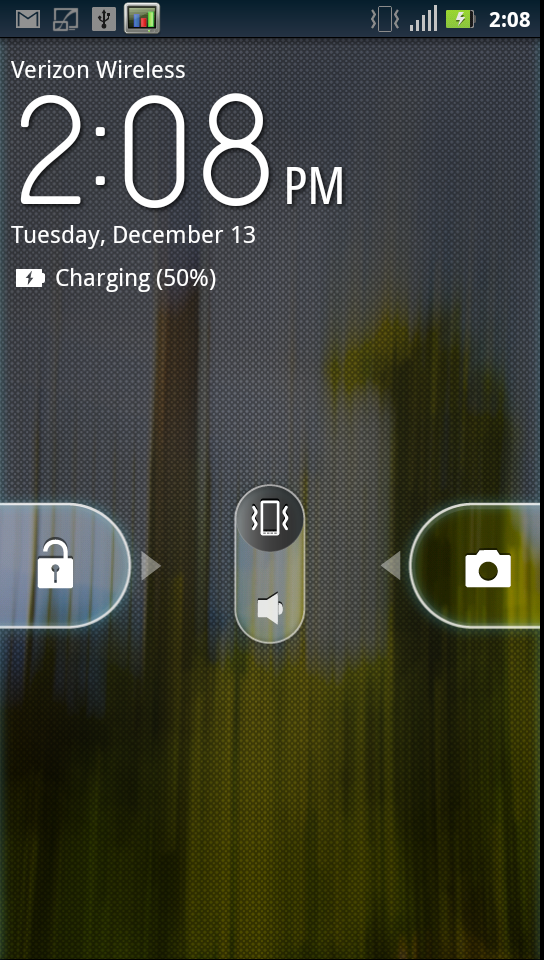 Anyhow, Android 2.3.5 on the RAZR is almost identical to the software and Blur skin we saw running on the Droid Bionic. That is to say, both come with Motorola's not-Blur motoblur skin replete with resizable widgets, 3D launcher with a paginated 4x5 grid of icons, Motorola's own slightly tweaked home screens, blue and grey Android UI colors, and basically the same software preload, but that's not to say there aren't some major changes.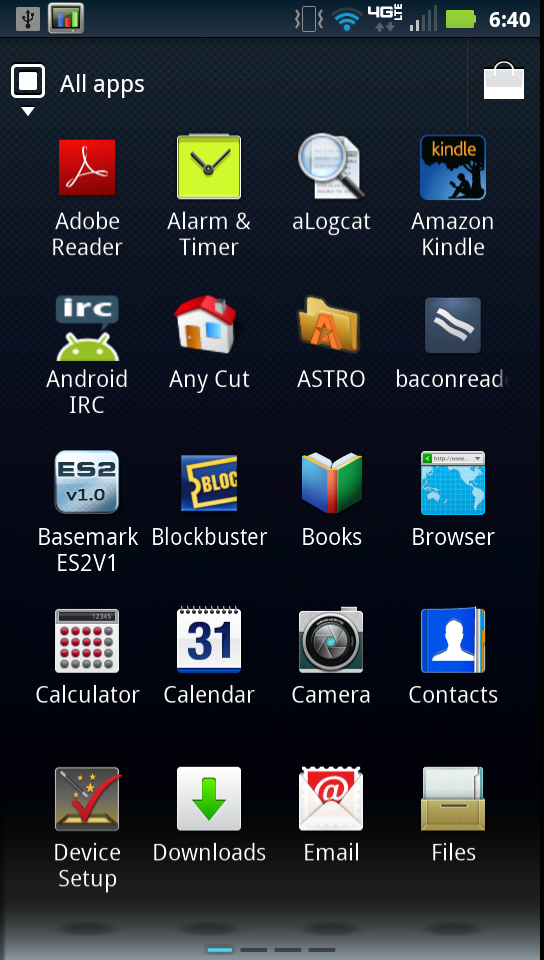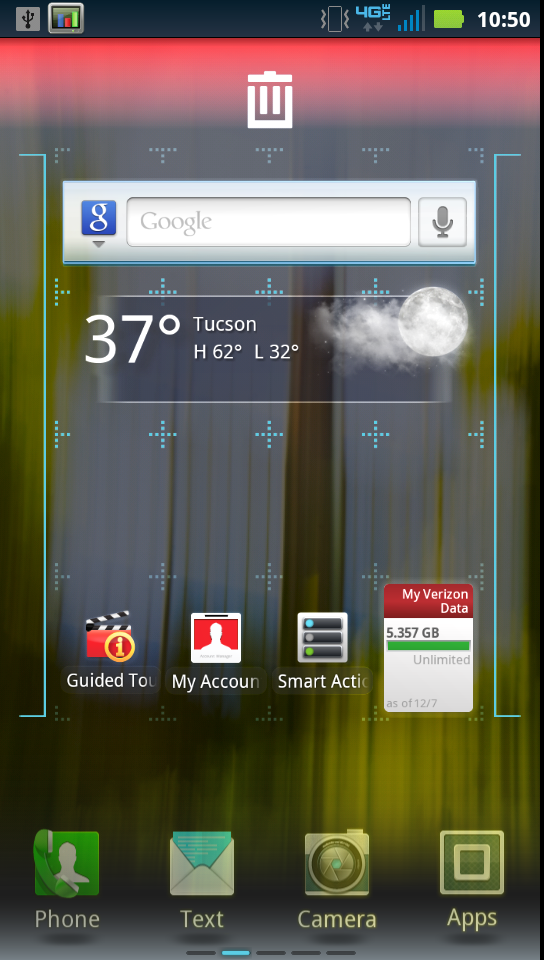 If you recall back to the Bionic review, I noted that device's Blur version, which was 5.5.886. On the RAZR, Blur is now:
Blur_Version.6.11.777.XT912.Verizon.en.US
This change incorporates a bunch of new features. First up is a new lock screen with a quick shortcut that gets you right into the camera (something that basically everyone seems to be doing right now) and still gives the same vibrate/silent and date/time informatics at the top.
The other big change is the addition of so-called "Smart Actions" which really are location, time, and other trigger defined rules. There are a variety of preconfigured samples that you can tailor and build off of, for example to silence your phone when your location is at work or between certain hours, or remind you to charge your phone before sleep. It's similar to Reminders for iOS but with more system integration and using other hooks in the OS for doing more than just location or time based alerts.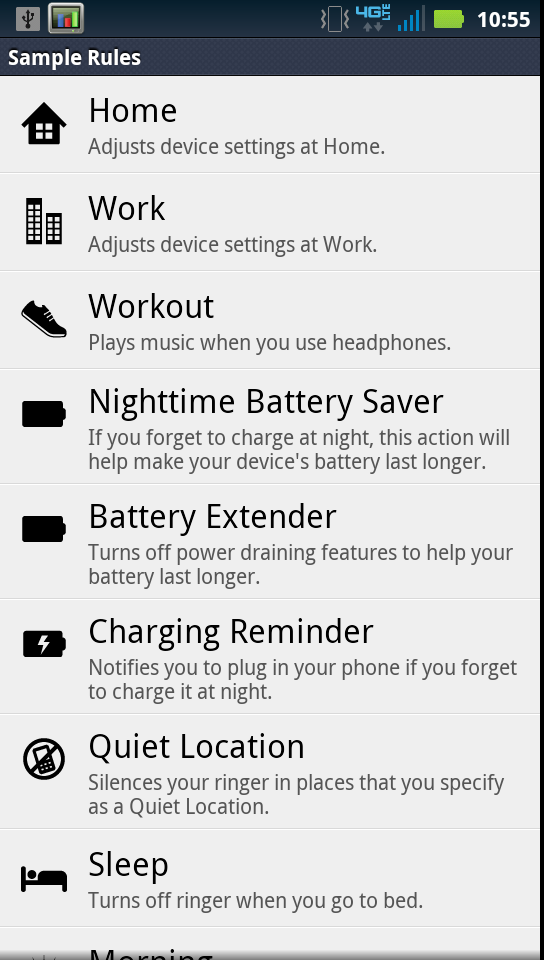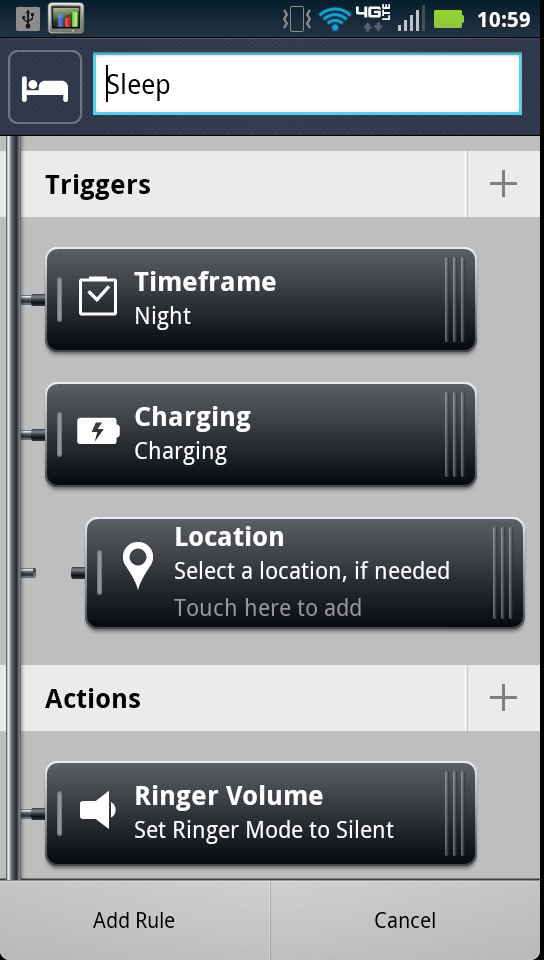 I usually have all my mobile devices on vibrate all the time, but having time and location-triggered silence mode is a far-overdue functionality for smartphones. It's a lifesaver if you're in a workplace or classroom where email and SMS alerts are frowned upon - or worse.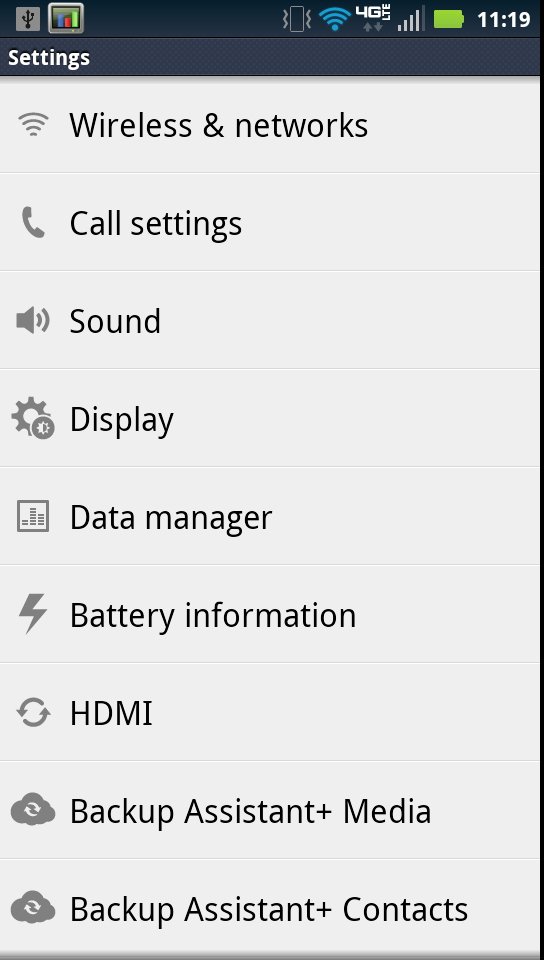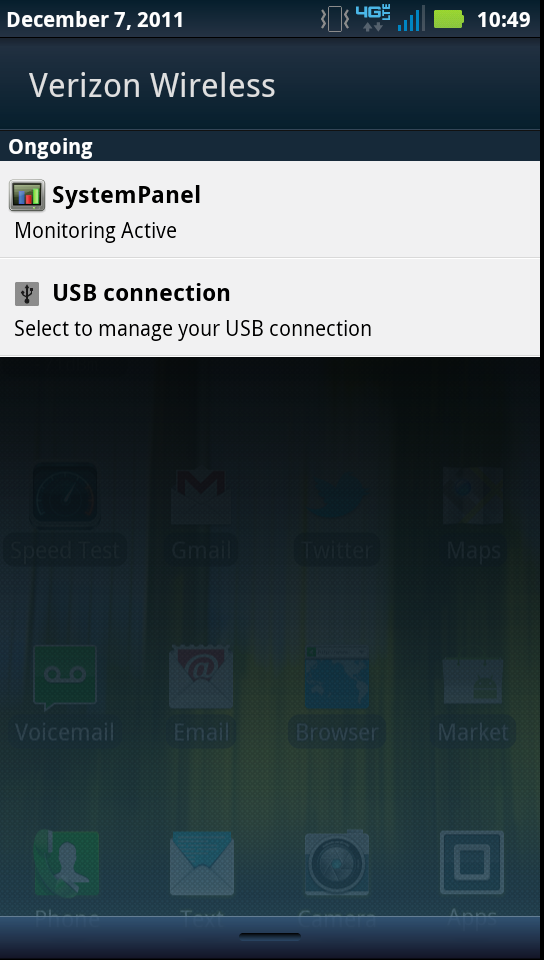 The other big change (and a welcome one) is the relocation of Motorola's battery management and sync restriction system under the smart action umbrella. I've complained a few times in other reviews that both other tech press and end users are confused by the default power saving setting on the previous builds of Blur which disabled account sync between some hours. This is now totally removed and again an optional smart action (battery extender or nighttime battery saver). Instead, under settings is "battery information" which just gives you the percentage and a shortcut to Android's battery use view.
The rest of Android on the RAZR is again much the same as other Motorola devices of this latest generation. There's no doubt that Motorola's suite of skins and customizations will also roll over to its Android 4.0 port - as they've noted in blog posts a few times already - the question is what that will look like when the time comes.
The storage situation on the RAZR is important, again you get 16 GB of internal NAND and a microSDHC port that'll take up to 32 GB cards, and out of the box you get a 16 GB class 4 card preinstalled. Of course, that 16 GB of internal NAND can be divied up in multiple ways, but running df clears things up.
Filesystem Size Used Free Blksize

/dev 460M 380K 459M 4096

/mnt/asec 460M 0K 460M 4096

/mnt/obb 460M 0K 460M 4096

/system 636M 402M 234M 1024

/pds 3M 1M 2M 1024

/preinstall 605M 440M 164M 1024

/data 3G 518M 2G 4096

/cache 1007M 17M 990M 4096

/osh 1G 1G 275M 2048

/mnt/sdcard-ext 14G 432M 14G 8192

/mnt/sdcard 8G 47M 7G 8192
There's an 8 GB internal storage partition which works like an SD card (/mnt/sdcard), 3 GB for applications (/data), and then the 16 GB /mnt/sdcard-ext partition which is actually the external card. I'm assuming the rest of the space from that 16 GB of NAND is actually used for the lapdock.
Super AMOLED Advanced Display
The RAZR is the first Motorola device to ship with an AMOLED panel, and in this case they've coined their 4.3" diagonal qHD (960x540) display Super AMOLED Advanced. True to AMOLED naming monikers, this panel includes RGBG PenTile (the absence of "Plus" tells you this one) and Advanced apparently now connotes qHD.
It seems like PenTile is something that mainstream press has finally become aware of, and for whatever reason, the RAZR served as lightning rod for others to voice their discontent with the non-RGB stripe subpixel rendering layout. Maybe it's because the phone isn't Samsung-branded (although ironically it is undoubtably manufactured by Samsung), but something about the RAZR display caused more than the usual scrutiny. I think a little bit of a history lesson is in order - since the original Atrix, Motorola has been shipping qHD LCD panels with the RGBW variant of PenTile. The fourth white subpixel helps the LCD system be more efficient - especially when displaying black text on a white background. In that system, luminance gets mapped to the white subpixel, chrominance to RGB.


Some AMOLEDs (Left to Right): SAMOLED (Galaxy S), SAMOLED+ (Galaxy S 2), SAMOLED Advanced (RAZR)
In AMOLED land thus far we've only seen RGBG PenTile or RGB subpixel matrixes. By taking advantage of the human visual system's differing frequency response with respect to wavelength (eg we can detect higher spatial frequencies in the green), the system can emulate a higher resolution system with fewer subpixels. First and second generation AMOLED ("AMOLED" on the Nexus One and others, then Super AMOLED on the Galaxy S / Nexus S) drove an effective resolution of WVGA (800x480) at 3.7" and then 4", and it was here that subpixels were big enough to pick out with the naked eye, especially on solid colors or single pixel thickness elements.
The thing that gets left out of most discussions about the RAZR's display is that although RGBG is used, the subpixels have a different geometry than their RGBG first and second generation (AMOLED and Super AMOLED) partners from Samsung. Previously, green subpixels were noticeably thinner than their R and B partners. In this new matrix, they're much closer to being same size (this also applies to the Galaxy Nexus and any of the new Samsung AMOLED panels that don't use RGB stripes).
With respect to the RAZR, the combination of this more uniform subpixel geometry and higher effective resolution (qHD) at 4.3" makes RGBG PenTile nowhere near as visually noticeable as it was on phones like Galaxy S. I originally tweeted that I found the RAZR display visually different than other AMOLED panels with RGBG, and this is what I was referring to. Subjectively I'd even say that the RAZR has less characteristic PenTile grain than the RGBW LCD variants I've seen recently.
Of course the other side of the story is color rendering and accuracy. One of the most frustrating things with AMOLED that has existed in virtually every iteration is how white point varies sometimes wildly as a function of panel brightness. If you use auto brightness (which I wager almost everyone does to save battery), it can change dramatically and be accentuated by ambient lighting changes that accompany. I set out to measure how much change there is a while ago, and continue measuring brightness, contrast, and white point at different brightness percentages as set in the UI.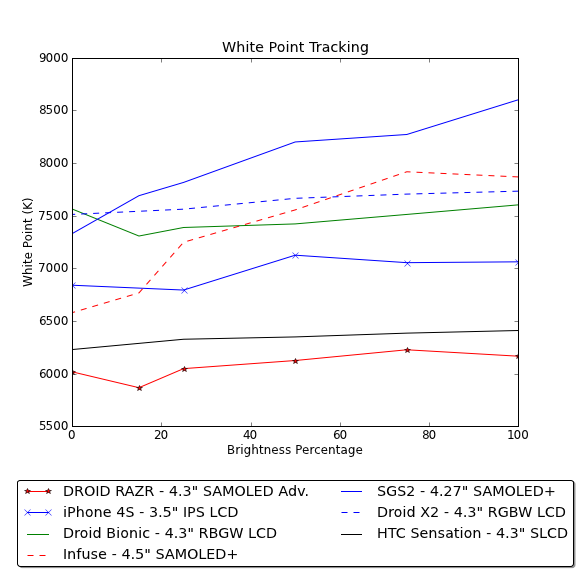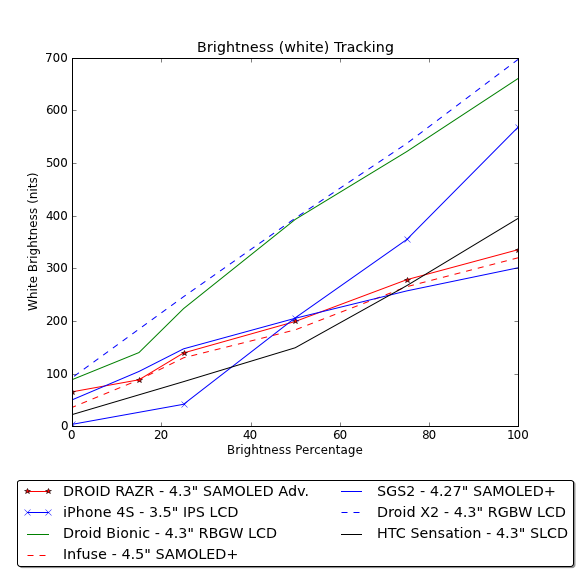 Like virtually all AMOLED displays I've seen, there's subjective variance in appearance as a function of brightness. On the RAZR, the measurements with our i1D2 belies how big this is, and at the absolute lowest brightness settings greys can look somewhat green. Again we've seen this behavior on numerous AMOLED displays.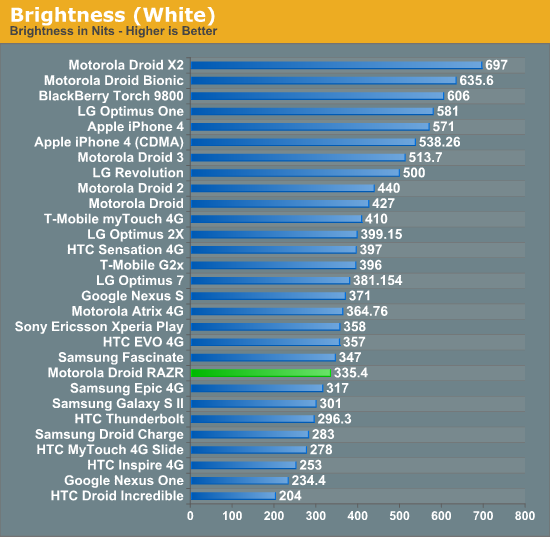 I also threw the RAZR at Color HCFR and took measures with Francois' excellent voodoo screen test patterns application at 100% brightness. The results from a complete run (results in .chc format are here if you want them) are interesting. Starting with the CIE chart, we see the kind of oversaturation that has been long talked about with respect to AMOLED - the inside triangle is the sRGB standard, outside are primary and secondary measures.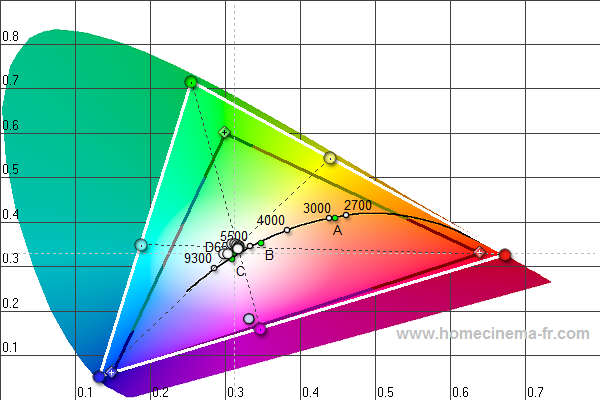 Color temperature straddles 6500K and mirrors what measures I took and mentioned elsewhere, of course here we're looking at it at different IRE values. Likewise, gamma is way above 2.2 and instead average 2.6.
Viewing angles and outdoor response are what we're used to seeing from SAMOLED. That is to say viewing angles are awesome and outdoor response with an optically bonded panel and top glass isn't anything to complain about.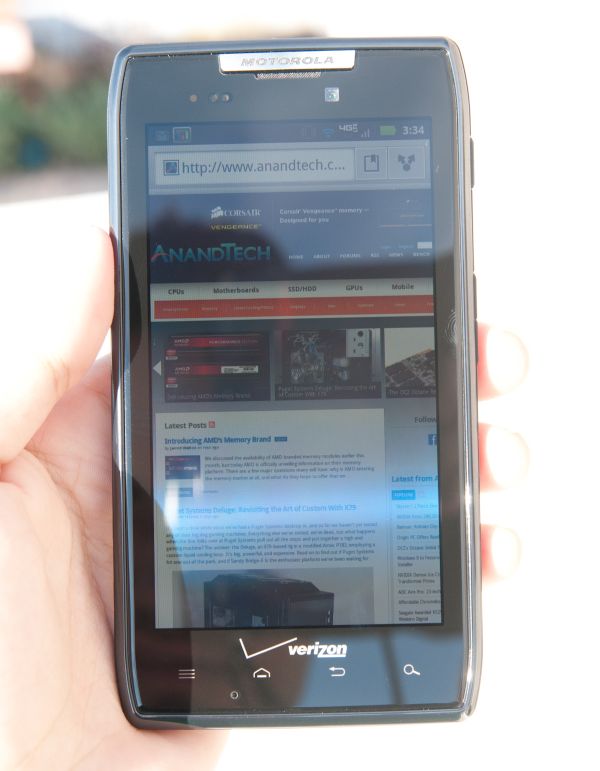 I also haven't seen the RAZR throw a display overheat warning and clamp display brightness either, which is more than I can say for virtually all of the SGS2 variants that I've seen, all of which will throw the overheat error if left in direct sunlight in my climate for too long.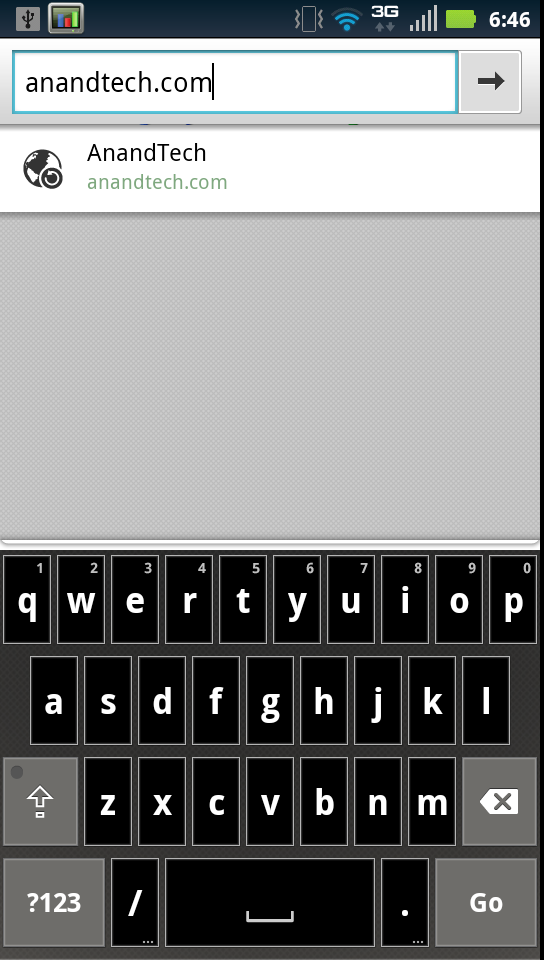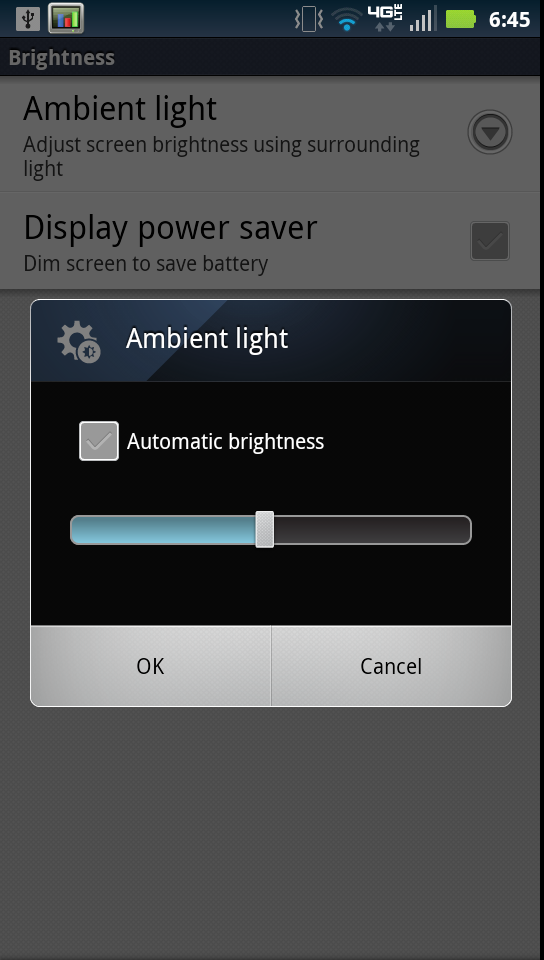 There's two other little things to make note of. First, Motorola made a change to its standard multitouch keyboard and changed the keys to black - this is an interesting and nice little extra feature that might save a bit of battery power. Again, black on AMOLED literally corresponds to the pixels not emitting any light. Last, there's a display power saver checkbox which dims the screen when displaying darker content to save battery - this isn't any surprise, but it's just noteworthy that Samsung isn't alone in including sort of a dynamic contrast function in the guise of saving some battery.
WiFi, GPS, Audio and Speakerphone
The RAZR uses a TI Wilink 7 series WL1285 combo chip for Bluetooth and WiFi, which is the same situation as the Bionic, unsurprisingly. WiFi is limited to 2.4 GHz and single spatial stream 802.11n, and I saw the RAZR negotiate a 65 Mbps (long guard interval) physical rate with my 20 MHz 802.11n wireless network. I found that range on the RAZR is totally on par with other smartphones I've used. Though the visualization at the top seems to be rather conservative with showing bars, if you go view the actual RSSI for WiFi (inside ##4636## and Wireless Information) you'll see things are just fine. Bluetooth is 4.0 LE + EDR which is the latest bleeding edge.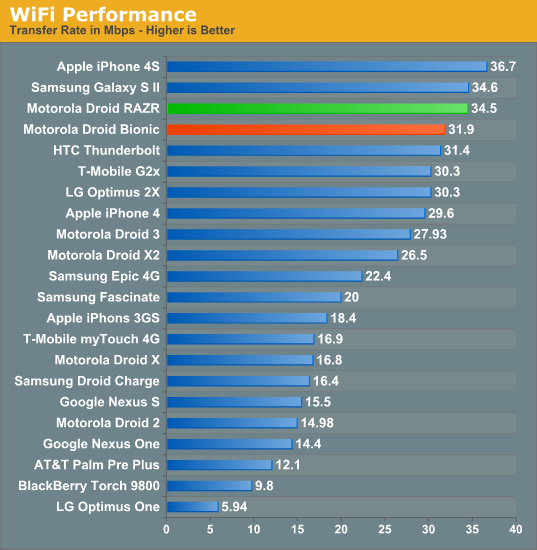 Throughput on WiFi is pretty decent and just a tad faster than the Bionic. It's possible the subtle software differences between the two account for this difference in throughput.
WiFi Hotspot
I had some issues with the RAZR's WiFi hotspot that I didn't encounter with the Bionic. Specifically, when using the hotspot with WPA2 enabled, clients would only be able to attach occasionally for a short period, or not at all. This initially posed lots of frustration when trying to do our WiFi hotspot battery life test, however disabling encryption entirely and running a public AP resulted in no instability.
You still can attach a maximum of 5 clients if you pay the extra fare to Verizon to enable tethering (which the device does check to see is provisioned), and on the whole this works well, just only with security set to open in my experience.
GPS
To the best of my knowledge, the RAZR is using the GPS system onboard MDM6600 and not from the TI Wilink 7 series combo chip. It's a bit hard to nail down for sure, but I was able to confirm on the Bionic and it seems reasonable that the same applies here.
Like we're used to seeing from that system, GPS locks are super fast even indoors and don't pause or stutter at all. I didn't have any issues with GPS and used the RAZR a few times with Google navigation without any hitch.
Audio + Speakerphone
First up in the audio department is speakerphone loudness, which we've been measuring for a while now using a USB sound level data logger while placing a test call to the local ASOS. The RAZR is on the quiet side which isn't incredibly surprising considering the placement and constraints on the size of its acoustic chamber.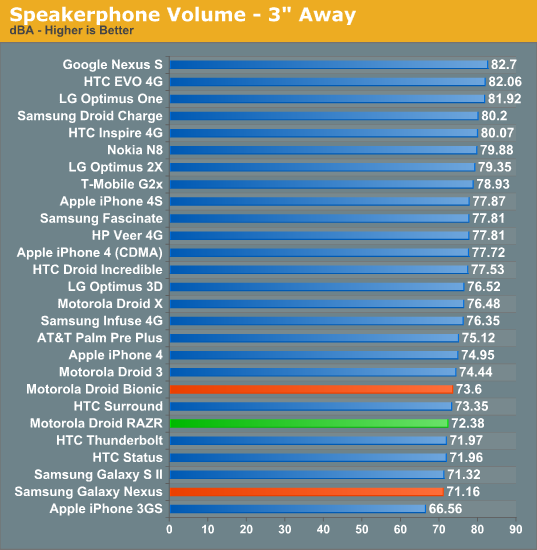 The other part of audio is of course call quality, and the RAZR isn't different at all subjectively from the other Motorola phones on Verizon I've reviewed recently. As a reminder all calls go over 1x voice, and by default almost every device uses the EVRC coder, though you can change this to 13k in the programming menu and perceive a slight change in call quality. Noise cancellation features likewise remain the same, again courtesy of the three microphones onboard the RAZR.
The last important audio quality metric is what the device sounds like when playing back music. The Bionic used an ST-E 3.1 CPAC combo power management IC and audio codec, and the RAZR uses an ST-E 3.2 CPCAP. I'm embarrassed to admit it, but I only recently discovered how to change (read: disable) the DSP that Motorola has enabled on the RAZR by default (and ostensibly many other of their devices that have crossed my desk). Because I use Google Music, I rarely venture into the first party Music application, and it's inside here that the settings lurk for DSP, which are by default enabled.
The background whine that I complained about on the Bionic is reduced but still faintly perceptible with sensitive IEMs on the RAZR. Though it is still present, it's no longer as fatiguing and irritating as it was on the Bionic. I'm not sure whether that's more a function of ST-E's 3.2 (as opposed to 3.1) or something else, but it's much better.
If you're interested, I also ran a run of RMAA using an ASUS Xonar Xense sound card and line-in on the RAZR, Nexus S with VoodooSound, and a GSM Galaxy Nexus for comparison. The RAZR with all of the equalizer and DSP settings turned off actually isn't bad at all, and though I'm not an expert at reading RMAA's tea leaves, it has good noise figures and frequency response, and though noise takes off at the lower frequencies as our own Chris H. pointed out this less than ideal behavior is only 7% of the spectrum.
Cellular Connectivity
We've already outlined much of what there is to say about the combination of Qualcomm's MDM6600 and Motorola's on Wrigley LTE baseband inside the Droid Bionic review, but it still bears going over. Just like the Bionic, MDM6600 handles 1x voice and data, EVDO Rev.A 3G data, and Wrigley supplies LTE connectivity. In fact, the RAZR has a virtually identical cellular architecture to the Bionic, at least as far as I can tell. There's the same Infineon transciever for LTE, Skyworks 700 MHz power amp, and combination MCP DRAM+NAND packages for the MDM6600 and Wrigley basebands.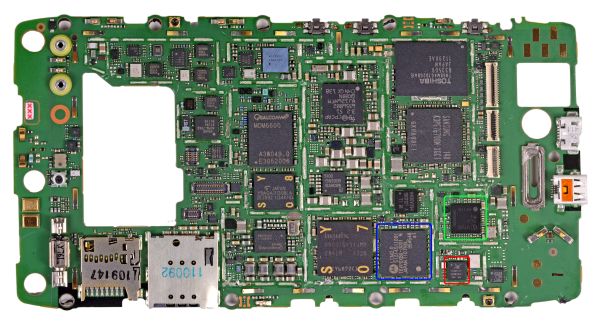 Motorola Wrigley LTE baseband, Intel/Infineon transceiver, Skyworks PA encircled in blue, green, and red respectively. (Original image courtesy iFixit)
I wasn't totally satisfied in the Bionic piece that I proved the Wrigley baseband was UE Category 2, so I did some more poking this time with the RAZR and found the same exact architecture for administration and configuration as previously. Wrigley is actually a very interesting little part, consisting of an ARM926EJ-S running at 380 MHz:
cat /proc/cpuinfo

Processor : ARM926EJ-S rev 5 (v5l)

BogoMIPS : 189.57

Features : swp half thumb fastmult edsp java

CPU implementer : 0x41

CPU architecture: 5TEJ

CPU variant : 0x0

CPU part : 0x926

CPU revision : 5

Hardware : Wrigley 3G DatacardLTE
Oddly enough there are many places where it refers to itself as a "3G Datacard" even though it's clearly designed only to work with LTE. The thing is just running GNU Linux:
uname -a

Linux localhost 2.6.29-omap1 #2 Tue Oct 25 20:02:46 CDT 2011 armv5tejl GNU/Linux
The reality is that almost all black boxes inside mobile phones end up revealing something similar at their heart if you poke around enough. If we were counting the number of ARM parts onboard your average smartphone I wouldn't be surprised to see at least 4 or 5 different ARM cores.
Anyhow, the RAZR doesn't have a nice mib default xml file that nicely spells out the LTE UE category like the Bionic did, but the default set of mibs being set does include the Verizon EARFCN of 5230 which corresponds to LTE band 13. After lots of poking around, I found a way to query the UE category directly:
shell@(unknown):/system/bin$ iwaconfig -g -x 33163

MOID 0x818b Name LTE_MGMT_RRC_UE_CATEGORY MIB OID

value=2 [0x02]
So life is good and our earlier claims that Motorola Wrigley (with lots of TI references inside) is indeed LTE UE Category 2. As a reminder, other devices based on MDM9x00, LG L2000, and Samsung's CMC220 are UE Category 3.

Oddly enough, just like the Bionic the official FCC filing summary information for the LTE side of the RAZR erroneously states that it is UE Category 1. As usual we get the normal pretty diagram with the location of antennas, and interestingly enough the LTE antenna is up at the top on the RAZR instead of in a combined module at the very bottom.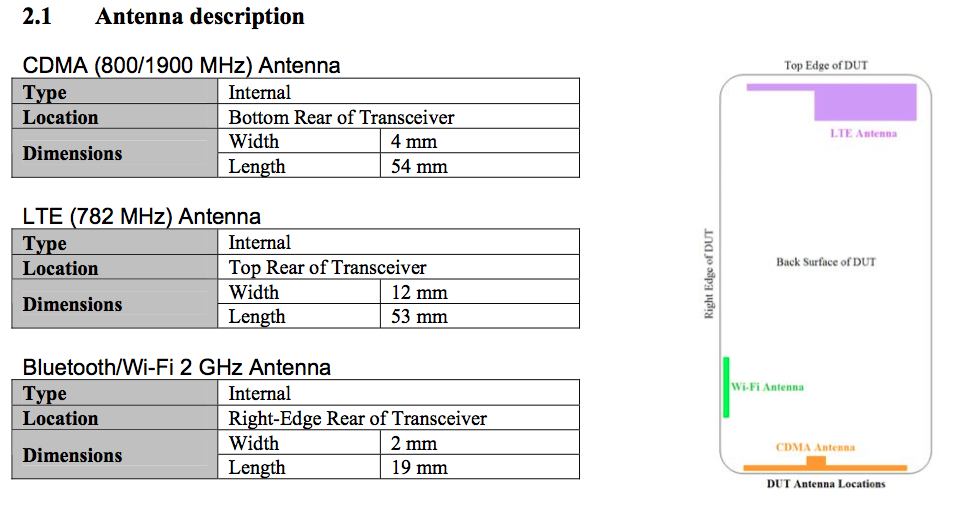 We've been doing a pretty good job keeping track of cellular throughput by running a bunch of speedtests, getting that data off, and making some graphs. The RAZR isn't spared this treatment at all, and I ran 510 tests on Verizon 4G LTE in my own market in Tucson AZ and while on a trip to Los Angeles, CA.
Downstream Stats (Mbps)

Avg: 14.701; Max: 36.267; Min: 0.068, StDev: 6.594

Upstream Stats (Mbps)

Avg: 6.912; Max: 20.719; Min: 0.084, StDev: 3.707

Latency Stats (ms)

Avg: 80.990; Max: 196; Min: 34, StDev: 17.499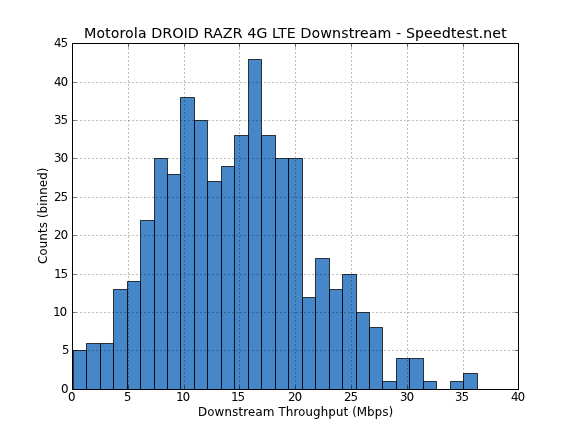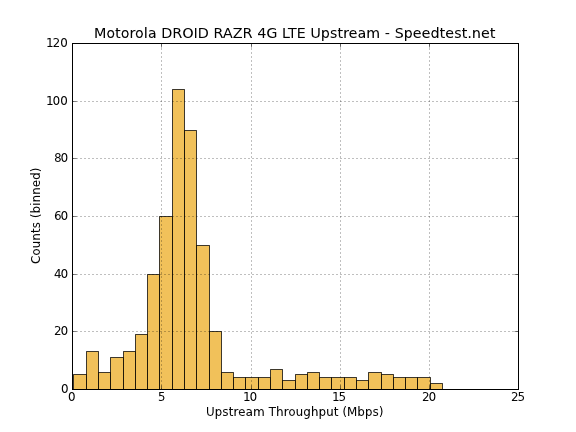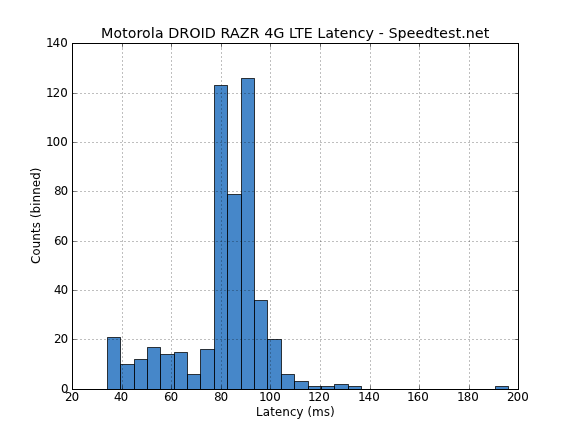 The histograms themselves look a lot like what we've seen already out of Verizon's 4G LTE network on other smartphones, which again uses 10 MHz FDD on LTE band 13. I've seen numerous other people hit speeds above 50 Mbps on category 3 devices in favorable network conditions, but obviously the RAZR being category 2 does preclude it hitting those speeds.
Like the Bionic, the RAZR also gives you a nice and easily accessible network option to use either LTE/CDMA or just CDMA. Unfortunately again there's no way to force data on only LTE and avoid handing over, but in practice I rarely saw the RAZR do a hard handover unless network conditions completely precluded using LTE.
I was pleased with myself when I used the Bionic that it was possible to look at LTE signal power (RSCP) and the channel quality indicator (CQI) by just running logcat and grepping the radio status daemon that Motorola wrote for updating their bar visualization. Unfortunately in this newer version of Blur that logging debug output and functionality is no longer, and if you look closely you'll also notice they went from 4 bars to 5. There's another way to view those metrics but it involves having shell on the baseband and directly querying the MIBs that correspond to all the LTE signal quality figures of merit. It's still possible but much more involved. The upside of course is that I was able to confirm the RAZR correctly reports those bars based on signal power and quality, unlike most of the other LTE handsets which just look at power.
Lastly, the Droid RAZR XT912 Motodev page notes that the phone has WCDMA 850/900/1900/2100 connectivity courtesy of the MDM6600. However, the shipping Droid RAZR has WCDMA disabled and corresponding lines commented out inside build.prop for the WCDMA components. Considering the existence of the RAZR XT910 (sans "Droid") with WCDMA and GSM I think it's fairly easy to predict that a world mode variant with LTE is coming sooner rather than later. I wouldn't mind having a RAZR that works on AT&T WCDMA, that's for sure.
Camera - Still
I guess it shouldn't come as any surprise at this point that the RAZR, you guessed it, uses the same OmniVision OV8820 8 MP CMOS sensor as the Bionic. That means 1.4µm square backside illuminated pixels. However, as we've discussed in the past there really are four parts to the whole smartphone imaging chain: the sensor (CMOS), optical system, Image Signal Processing (ISP), and finally software on the OS talking to the ISP. What's different on the RAZR versus the Bionic is optical system and software.
The Bionic included F/2.8 optics with a 4.6mm focal length. The RAZR keeps that 4.6mm focal length and includes F/2.4 optics according to EXIF. It's entirely likely that the focal length field hasn't changed, but given that from what I can find commercially available OV8820 F/2.4 packages have a focal length around 4.95mm. However, it's reasonably close. Both of these designs are likely 4P (4 plastic elements) as well.
We've done the usual thing and taken photos with the phone under test in our smartphone test locations (which are a bit difficult to control and might have slightly different than usual lighting due to seasons changing) and in our controlled indoor tests.
As a reminder, in the smartphone bench samples only locations 3-7 remain available for testing.
The RAZR does decently well in our controlled testing. Distortion is minimal, the lightbox with light on sample is sharp and looks accurate, and colors look similar to the Bionic. Despite being a half stop wider on the ISO12233 chart we see no more spatial frequencies in the horizontal or vertical (meaning performance is clearly not diffraction limited, which isn't a surprise). In the lights off test, the RAZR still doesn't illuminate the scene in the dark, and instead defaults to focusing to infinity which produces a blurry image in our box.
I guess while we're on the subject of focus, this is a continual problem in the bench test. Focus is soft or missed focus entirely in locations 3 and 4, and in our sample bench video as we'll show later. I'm not sure what the problem is here, but I'm confident I allowed the AF routine to run properly before capturing - this is just the position the software decided was best focus.
I mentioned software because the RAZR's camera software subjectively seems less stable than the Bionic's. I experienced a crash or two in the course of taking bench samples and normal test photos, and like other Motorola camera apps had UI elements disappear sometimes. Obviously not having a physical shutter button makes having a working UI even more important, and the RAZR just needs a bugfix update to address the camera app stability.
Camera - Video
I also shot video at the test location, and here if you look at 1:1 zoom you can see that the RAZR does appear to miss focus despite running its continuous auto focus routine a few times. I shot this video a number of times after a reboot expecting different results but never got a completely sharp video.
The positive part of video recording on the RAZR is that it still uses the same bitrate and H.264 features as the Bionic - 15 Mbps high profile for 1080p30, and 10 Mbps high profile for 720p30. Audio is two-channel stereo AAC at 128 Kbps. You can again pull all of these out of build.prop just as shown below.
ro.media.camcorder.1080p=mp4,h264,30,15000000,aac,128000,44100,2 ro.media.camcorder.720p=mp4,h264,30,10000000,aac,128000,44100,2 ro.media.camcorder.d1NTSC=mp4,h264,30,6000000,aac,128000,44100,2
So that's a good thing, and again thanks in part to OMAP4's excellent video encoder, though we see most of the high end smartphones shooting 1080p based on OMAP4 and Exynos using high profile.
Rear Facing 1080p30 Video Sample
Front Facing 720p30 Video Sample
In addition we've uploaded the raw rear facing camera video sample without YouTube's transcoding which you can grab from us in a big zip here. Again the encode quality of the videos is above average, but sharpness would be much better were it not for these focus issues.
Performance
The RAZR is the first time we've seen TI's OMAP 4430 SoC with a 1.2 GHz CPU clock, other devices run OMAP 4430 at 1.0 GHz. As a refresher, OMAP4430 consists of two ARM Cortex A9 CPUs with the optional NEON SIMD unit for each core, alongside a PowerVR SGX 540 GPU and the usual accoutrements like the Cortex M3 image subsystem and TI's encoder/decoder. We've gone over the details inside the Bionic piece and Droid 3 before, and I'd encourage you to check those out if you're curious.
On the browser performance side, the RAZR is no slouch at all. In fact, I wager that part of Blur 6.x included some browser optimizations that dramatically improve scrolling behavior over the Bionic or other Motorola devices. It isn't quite buttery smooth like Android 4.0's stock browser or Samsung's, but it's much improved over the stock experience. This shows in the Vellamo total score more than anything.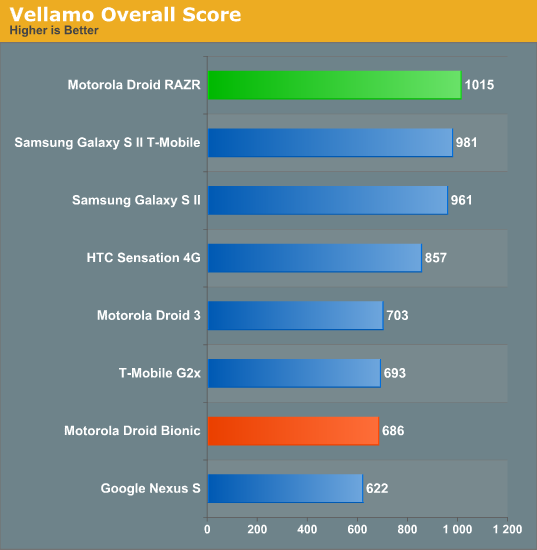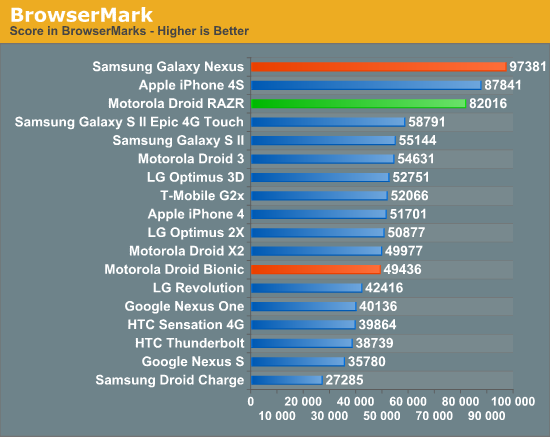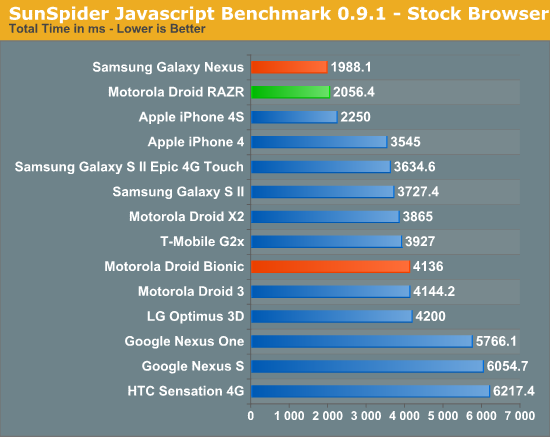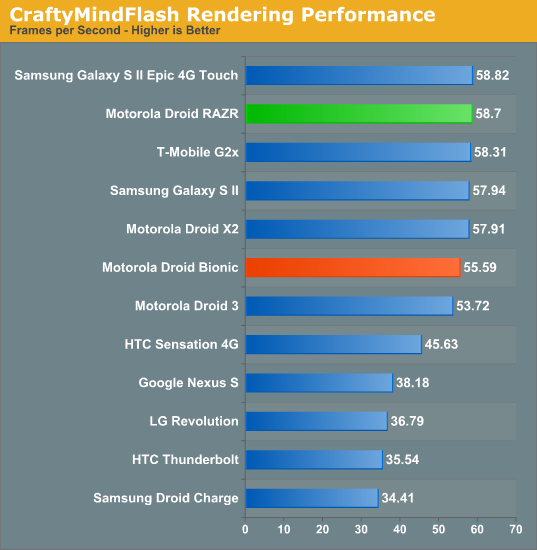 Again, one look at those performance differences between the Bionic and RAZR and it's immediately obvious that something more than a simple 20% boost in CPU clock is at play here. Since I've been working on the Galaxy Nexus at the tail end of the RAZR review, I also tossed those numbers in here, and you can get a feeling for the JavaScript performance delta between Android 2.3.x and Android 4.0.1 right now. In the flash department (CraftyMindFlash) we're basically against Vsync in the test we use and will be using another test with more challenging assets soon.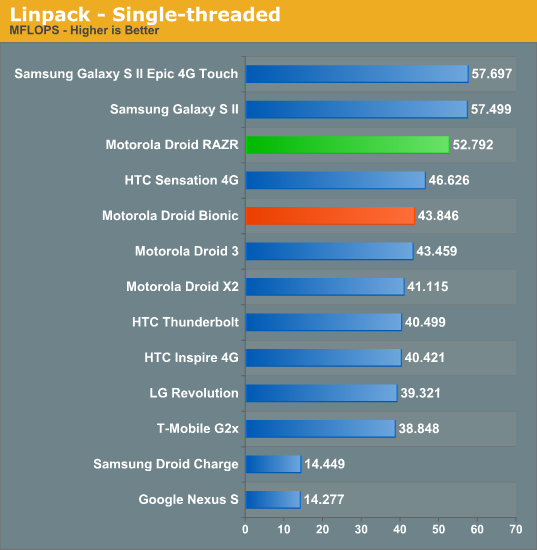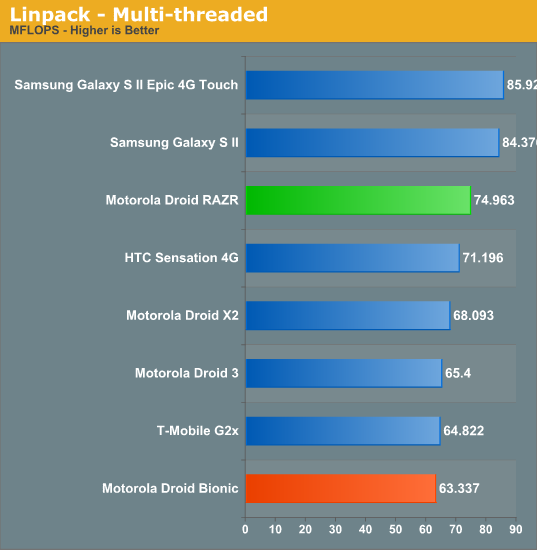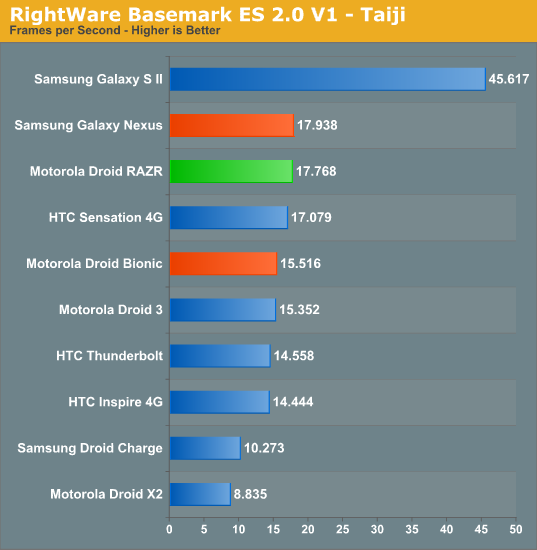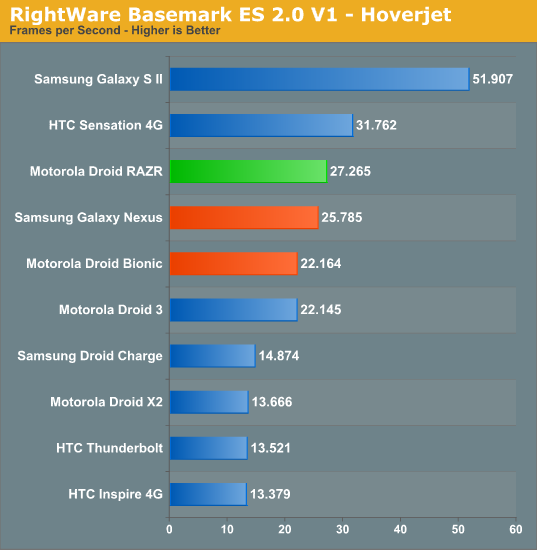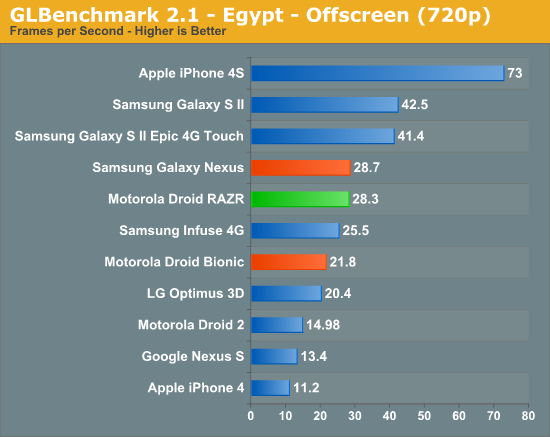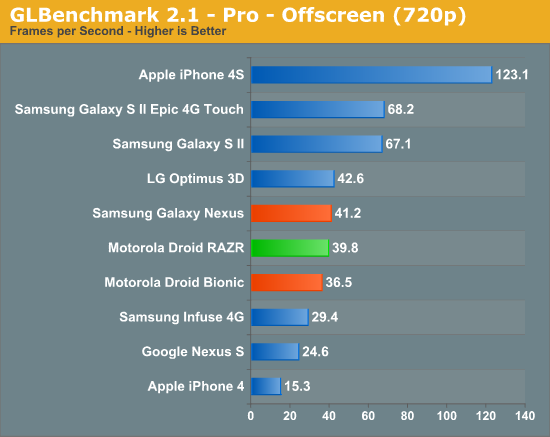 In the synthetics, we see first that Linpack behaves as expected and reflects a 20% boost in CPU clocks over the Bionic. It's in the GPU department that things get a bit interesting, and I again included Galaxy Nexus results that we have on hand from that forthcoming review. The two perform very closely because, from what I can tell, the Galaxy Nexus' OMAP4460 SGX 540 clock is set at 307 MHz (even though OMAP4460 can clock its 540 at up to 384 MHz), very close to the RAZR's OMAP4430 which sets its SGX 540 clock at a maximum of 304 MHz. We'll investigate this further soon in the Galaxy Nexus review as well, but for now know that the RAZR and Galaxy Nexus are pretty evenly matched in the benchmarks.
Lapdock 100 and Accessories
For some reason, even though I've touched nearly all the Motorola Droids at some point or another, I've never managed to actually sit down and use one of the laptop docks. Sure, I poked at the Atrix lapdock for a little while back when that came out, but never really got the chance to experiment and try to fit it into my workflow.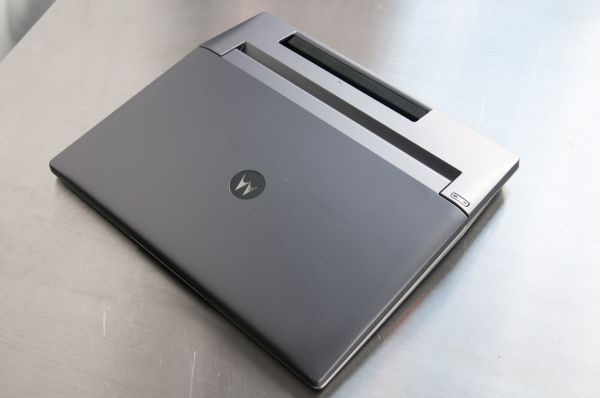 This time we've got the Lapdock 100 which is compatible with virtually all of the newer laptop-dock enabled phones, including the RAZR, Atrix 2, Bionic, Electrify, and Photon 4G. That list is essentially all of the devices that ship with the webtop application installed with the exception of the Atrix. I didn't realize it, but the older Atrix laptop dock is incompatible with these newer devices owing to the microHDMI and microUSB ports being position swapped.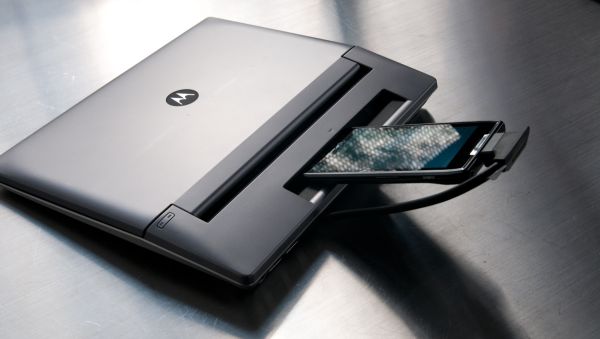 In case Motorola's lapdock concept is one that you haven't been introduced to yet, the idea is to use the smartphone SoC in conjunction with some virtualization (called the Webtop Application) to drive a Linux desktop environment and a few applications on a larger canvas. The laptop dock doesn't include much more than peripherals (keyboard and trackpad), a display, and battery - everything else really is running on the attached device. The smartphone display then becomes a window which you can interact with alongside desktop Firefox or a few other bundled applications. Running applications become tabs at the top of the smartphone window pane, and the android navigational buttons are at the bottom.
Firefox on the laptop dock includes Adobe Flash 10.1 as well, and although the version of Firefox running on the laptop dock isn't bleeding edge at 6.0.2, it's still a big step forwards from the Android 2.3 browser.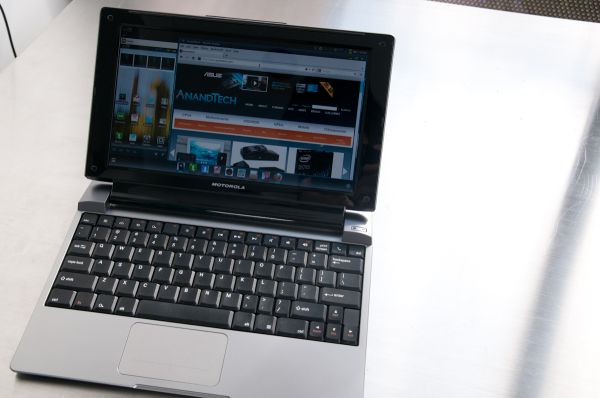 The Lapdock 100 includes a 10.1" 1366x768 display, internal battery for powering the device and the dock, a flexible connector for attaching to compatible phones, two USB ports, trackpad, and a netbook sized QWERTY keyboard with a few positional oddities but overall pretty responsive key domes. The only real issue I have with the keyboard is that the ",./" trio of keys at the right are compressed into a smaller than normal space to accommodate the arrow keys at far right. This is sort of standard netbook fare, although that's to be expected considering the display's 10.1" size.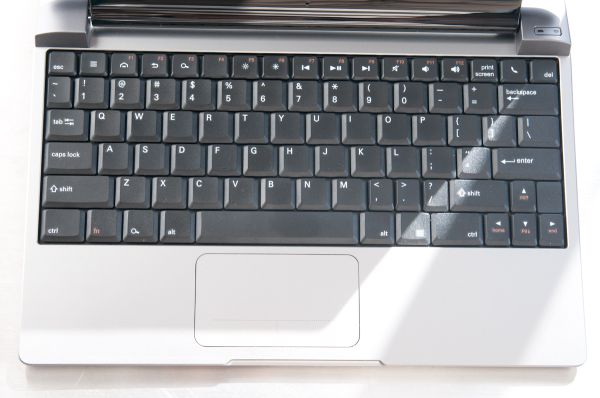 The trackpad is probably the only major frustration I had with the Lapdock 100. I found it difficult to trigger the scroll gesture and instead resorted to using page up and page down for navigation, and it's also easy to sometimes confuse right and left clicking since the buttons aren't discrete but rather part of the trackpad area.
The big selling point for the Lapdock 100 (and the upcoming 500 Pro) over either the Bionic or Atrix docks is that they're compatible with more than just one device, and future devices as well. On the Lapdock 100 instead of really getting a dock, there's a rubberized flexible connector, and the phone then rests inside a rubberized pocket. I still had the Bionic kicking around and tried it with the Lapdock 100 in conjunction with the RAZR and sure enough things work perfectly. The only odd part about using the dock with the RAZR is that the cable isn't quite long enough for it to lay horizontally in the rubberized area, instead the only way I could fit it in was vertically.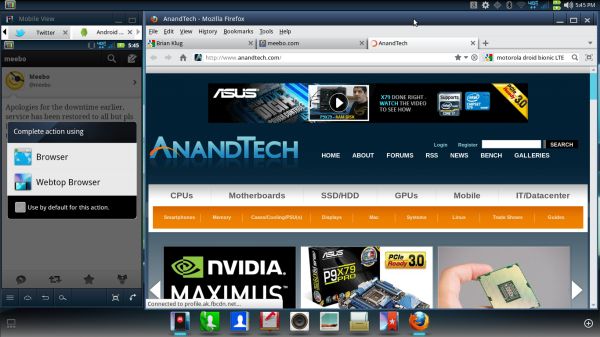 The Lapdock UI looks like what you'd get if you crossed motoblur with a linux desktop. There are some dock-like shortcuts at bottom, a status bar which mirrors Android's status bar at the top, and the usual sort of window controls. I find myself wishing that Motorola would expose a developer mode and allow for a native shell inside the webtop application beyond just Firefox.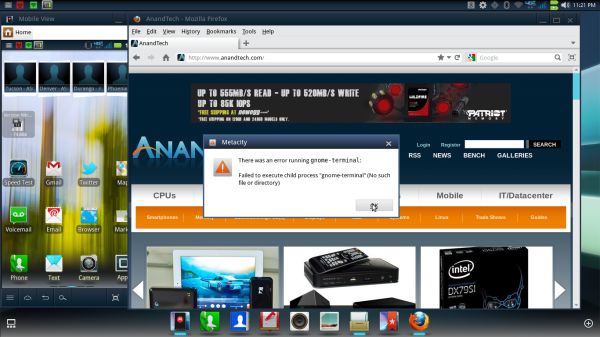 Nope, No shell for you!
Unfortunately at this point the only webtop application types are really what ship with the device, what exist inside the Android mobile view, or HTML5 web apps which run inside Firefox, and there's explicit mention of no shell access.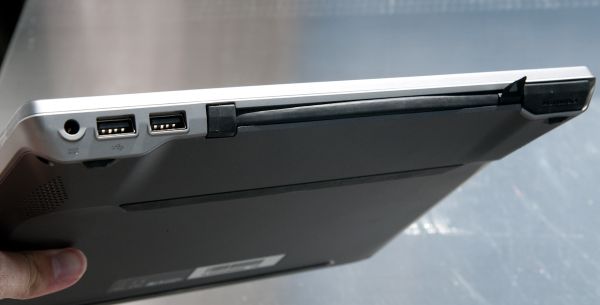 I mentioned the USB ports previously - these can be used in conjunction with any standard USB HID keyboard, mouse, or headset. In addition if a USB mass storage device is attached, it is automatically mounted and storage is visible to the webtop file manager application and to android as "usbdisk_1.3/" or similar depending on the device (as opposed to sdcard/ and sdcard-ext/ for those volumes).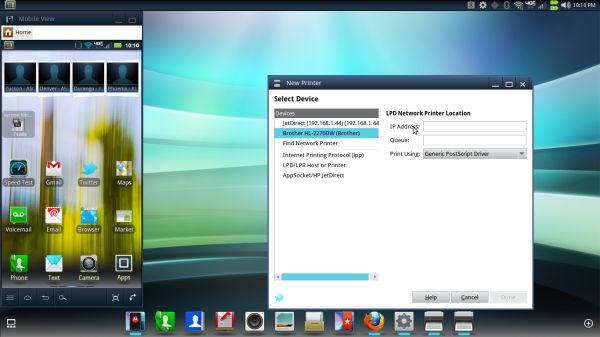 There's also the ability to print from the Lapdock using built-in CUPS over the network, which I tested with two Brother and Samsung network printers. The settings panes provide all the basic functionality you need to print, and Firefox likewise lets you shoot jobs over just fine.
The lapdock's size makes it feel a lot like a netbook in the hands. The only place where it's a bit clumsy is in the weight and balance department; nearly all the weight and thickness on the lapdock is at the back quarter presumably where the battery is. That makes it a bit weird to balance on your knees or hold with one hand compared to an ordinary notebook or netbook.
The lapdock is a good compliment to any of the compatible smartphones if nothing else because it'll simultaneously charge the phone and give you a much bigger display to play around on. That said, there's much more functionality that could be unlocked here were more open development (and not HTML5 webapps) enabled. Of course, the other thing is that the lapdock lets you essentially use a desktop browser without resorting to paying tethering fees or using a third party application. It's cheaper at $249 (as of this writing) than the Chromebooks (which hover between $350 and $450) which subjectively offer the similar level of occasionally sluggish browsing performance.
Final Thoughts
The RAZR is honestly some of the best Android hardware I've seen in a long time. It's incredibly thin, has awesome build quality and an excellent in-hand feel to boot. I find it interesting that we now have Apple, Nokia (Lumia 800), and Motorola shipping their highest-end devices with sealed internal batteries - it says something about the kinds of tradeoffs that have to be made to get the slim form factors that people identify with the highest end. I remember a time when the highest performance commanded the most awkward and bulky packages - anyone remember the HTC Apache? That said, if you really do want to be able to swap out batteries, there's always the Bionic (which is essentially the same hardware).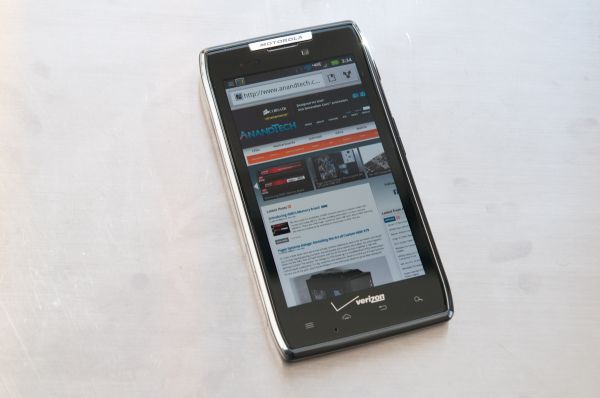 The unfortunate reality is that the RAZR released at quite possibly the worst moment in the Android release schedule. It's difficult to sell the enthusiast crowd on the same hardware platform in another physical package, and at the same time running a version of Android that's behind a handset whose release is imminent. The latest crop of Motorola phones will get their well-deserved Android 4.0 upgrade, but 6 months is admittedly a long time to wait and having a locked bootloader makes sidestepping the carrier and OEM testing period overhead impossible as well.
OEMs are starting to recognize that regular updates breed platform loyalty, and are even offering preview ROMs (like Huawei with their 'demo' Android 4.0 ROM) that sidestep the carrier testing process. I wager that the enthusiast crowd is willing to deal with some bugs and beta issues in exchange for faster updates, and at the same time help OEMs by providing feedback. It doesn't make sense to hold the enthusiast crowd to the same bar if they're willing to run bleeding edge builds. Minimizing support calls resulting from buggy OTA updates is one thing - testing for six months until the phone is nearly obsolete (there's a running joke that handsets are now obsolete every 8 months) is something else entirely.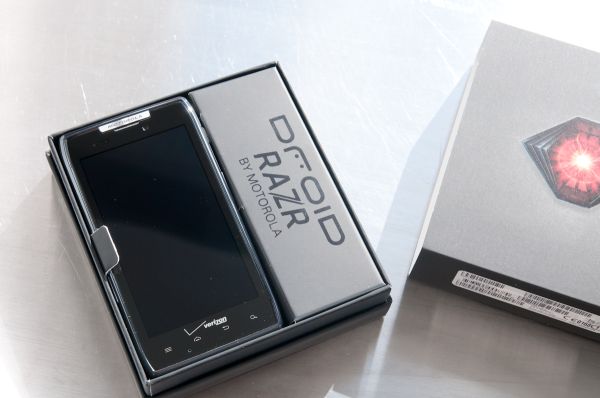 In any other circumstance I'd recommend the RAZR for Verizon shoppers purely because it's the best hardware out right now. As cheesy as it sounds, the Kevlar does lend the phone a unique feel, the hardware is impressively thin, and the display is no worse at color rendering than any other AMOLED panel. It just needs Android 4.0.