Original Link: http://www.anandtech.com/show/5175/asus-transformer-prime-followup


In our original review of the ASUS Eee Pad Transformer Prime I did the best I could do given limited testing opportunity with the platform before the NDA lifted on all the reviews. I made the commitment back then to come back with additional findings after I had spent more time with the platform. Today I'm back to make good on that promise.
Two more Eee Pad Transformer Prime samples later and here we are. Next week retailers and etailers should begin shipping the first orders of the Prime out to customers. There were a number of gaps I wasn't happy with in our original review of the Prime, and I've spent the past couple of weeks trying to fill them. Even what I'm presenting today isn't perfect, but when combined with the original review it should paint a more complete picture of the Eee Pad Transformer Prime.
And I've got video, something I had to cut out of the original review due to time constraints:
The WiFi Story
I'm on my third Transformer Prime. The original sample was almost completely broken when it came to wireless connectivity. I had very little range on the integrated WiFi and performance typically hovered around 0.5Mbps, sometimes reaching as high as 2Mbps. ASUS originally claimed that no one else had this issue but it looks like the CNet reviewer also noticed it. That sample went back to ASUS for diagnosis but I don't have the results back from the autopsy yet. A simple guess would be an antenna that wasn't properly connected, although it could just as easily have been something more complicated.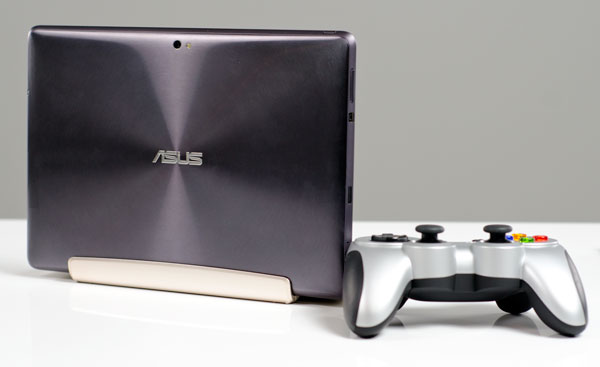 ASUS overnighted me a second Transformer Prime; this one was tested at ASUS in California before making its way out to me. As I published earlier, I had issues with the second sample and any Apple wireless access points (Time Capsule or Airport Extreme). Using a Netgear AP I saw 16Mbps pretty consistently, but I could only get ~32Mbps if the tablet was at the right orientation with respect to the AP. ASUS' HQ eventually conceded that there might have been a problem with the second WiFi antenna on pre-production review samples. Apparently this issue was fixed in the retail lot, but may not have been addressed in what ASUS originally shipped us. Wait—second WiFi antenna?
It turns out that the Eee Pad Transformer Prime features WiFi antenna diversity. We've talked about antenna diversity most often with reference to the cellular chain on Apple's iPhone 4 and 4S, but here it's present on the Prime's WiFi. There are two antennas on the Transformer Prime, one located on either side of the front facing camera. In the second Transformer Prime sample, one of the two wasn't working. In my third review sample, taken from the retail lot that's on its way to vendors this week, both were fully functional. The result is peak WiFi performance that is virtually identical to the original Eee Pad Transformer.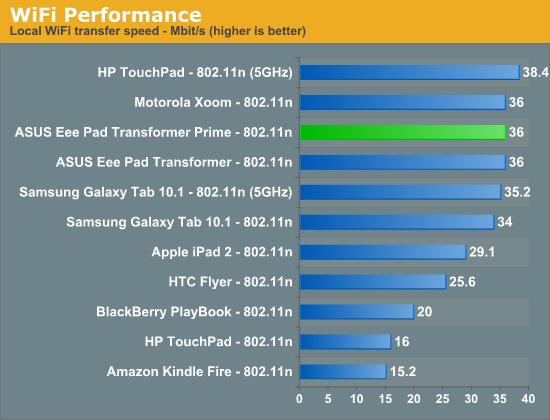 There is no RF window on the back of the Prime where the two antennas are located. Aluminum does a fairly good job of attenuating RF signals, which contributes to worse range on WiFi than the original plastic Eee Pad Transformer. WiFi performance at the edge of reception as well as the maximum usable WiFi range are both noticeably lower than its predecessor. I'm still finalizing our tablet WiFi range tests to be able to quantify some of this stuff, but it's safe to say that if you were at the edge of WiFi coverage on the original Transformer, the Prime won't be any better.
Super IPS+
I rode around town as a passenger equipped with the Transformer Prime and dock to test out how usable the setup was as a truly mobile platform. Glare is still a big issue if you're in a sunny environment; however, I was surprised to see that even without engaging the Prime's Super IPS+ mode that the display was usable in many cases outdoors. I definitely preferred the experience with Super IPS+ mode enabled though. While the glossy screen picks up fingerprints and is extremely reflective, the 600+ nits the panel is able to put out in its brightest mode definitely overcome both of these concerns.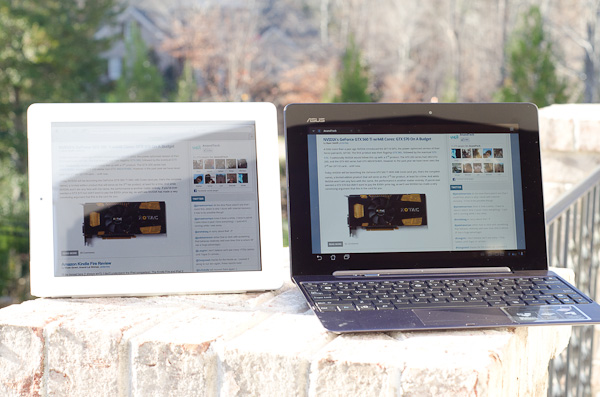 Color Gamut
Some of you have asked for color gamut charts for the Transformer Prime, which I have provided below vs. the original Transformer: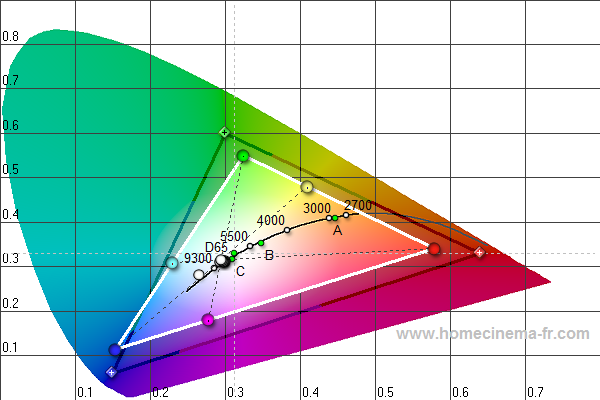 ASUS Eee Pad Transformer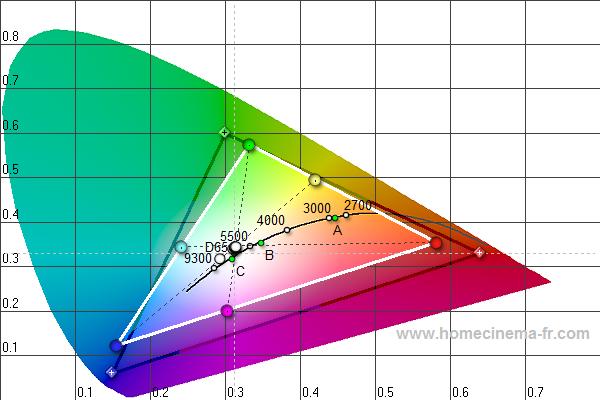 ASUS Eee Pad Transformer Prime
The Final Word on Battery Life
In our iPhone 4S review I mentioned that our web browsing battery life tests were in dire need of an update. The move to iOS 5 increased the aggressiveness of browser side caching, which impacted our old tests significantly. We still have plans for a much more significant departure from our existing battery life testing methodology, however as an interim solution I developed a modified version of our traditional smartphone battery life test.
The old web browsing test lacked any significant cache busting features and the HTML workload itself was more representative of mobile sites than a full desktop experience. The modified test does a much better job of not allowing its components to be cached by the browser, and includes both lighter and full desktop websites. Since the workload has changed, these numbers are no longer comparable to those running the older version of our test. The new web browsing test is also stressful enough to span both smartphones and tablets, whereas before we had a separate version just for tablets.
Finally, I must mention that we ensure all tablets tested here are normalized to the same display brightness setting of 200 nits for a true apples to apples comparison. As always we rely on the stock web browser that ships with the platform and manually quit all background tasks before running our tests. In the case of the Transformer Prime, I was able to run our new battery life test using all three power profiles to get a better idea of the range of battery life. As a recap, here are the details on the power profiles.
ASUS and NVIDIA have defined three power profiles on the Prime: Normal, Balanced, and Power Saving. Normal allows the CPU to run at up to 1.4GHz with only a single core active, and 1.3GHz otherwise. Balanced is the default setting and it drops maximum CPU clock to 1.2GHz and favors lower clock/voltage targets on the curve compared to Normal mode. Power Saving caps CPU frequency at 1GHz with 1—2 cores active, 760MHz with 3 cores active and 620MHz with 4 cores active. It's unclear what the impact is on GPU clocks/performance. I've also noticed that the Power Saving profile also enables a dynamic contrast control that you can't override.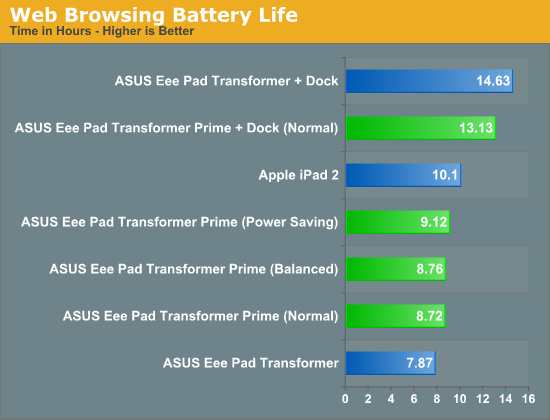 The shipping Prime does much better than the original tablet I reviewed a couple of weeks ago. It's clear that whatever was impacting WiFi performance also took its toll on battery life. What I suspected might be the case ended up being true: the implementation of Tegra 3 in the Transformer Prime delivers better battery life than Tegra 2 in the original Eee Pad Transformer. There are too many variables here for me to attribute the gains to NVIDIA's SoC alone, but seeing as how battery capacity hasn't changed it's likely that we do have Tegra 3 to thank for better battery life in the TF Prime.
Note that even running in Normal mode and allowing all four cores to run at up to 1.3GHz, Tegra 3 is able to post better battery life than Tegra 2. I suspect this is because NVIDIA is able to parallelize some of the web page loading process across all four cores, delivering similar performance to the original Transformer but at lower frequency/voltage settings across all of the cores. Additional performance gained by supporting NEON likely helps improve efficiency, not to mention higher single-threaded performance thanks to Tegra 3's higher clocks. Combine all of this with a more mature 40nm process and a more mature Cortex A9 implementation on that process, and the power improvements make sense.
The Transformer Prime is still unable to dethrone the iPad 2 here, which just goes to show you how efficient Apple's platform was to begin with. That being said, the Prime is within striking distance of Apple's tablet. The race is now close enough where you won't notice too much of a difference between the two.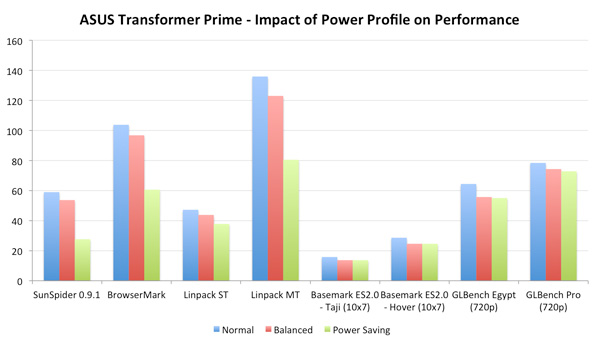 There's also not a huge difference in battery life between the various power profiles. I do applaud ASUS and NVIDIA for giving us control over the CPU governor, but unless you're trying to make the tablet last over a very long flight you're probably fine just leaving it in Normal mode and enjoying the extra performance.
I included results from the Prime running with its dock attached. The additional 22Wh battery improved battery life by 51%. The scaling isn't linear because the dock itself draws power. Once the dock's battery is depleted, the tablet needs to power both itself and the dock. The improvement is tangible though, if you need to do a lot of writing on a flight around the world the dock will help you get there.
Video playback battery life is much better than the original Eee Pad Transformer. Tegra 2 was clearly broken when it came to its video decode abilities and as a result we saw significant limitations on both what video you could play and how long you could play them. Tegra 3 fixes all of that, and the result is battery life that's getting closer to the iPad 2: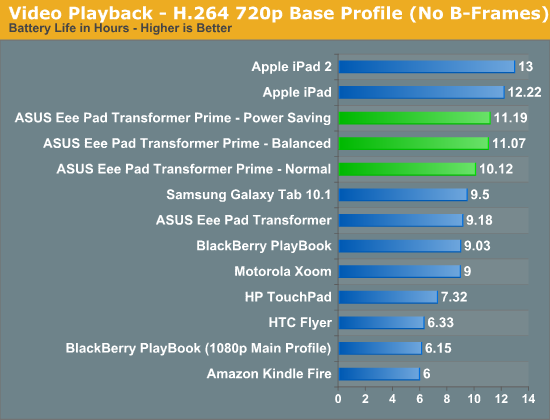 Getting 11 hours of continuous video playback battery life is something to be proud of. Being able to watch 4-6 full length movies on a plane without worrying about your battery is a pretty nice feature. Unlike the active use case, video playback seems to see a bigger benefit from switching away from the Normal power profile.
Changes to the Browser & Performance Analysis
Honeycomb's web browser has always had an issue properly loading Reddit.com. In testing the Transformer Prime, the fact that Reddit loaded properly was one of the first things I noticed—leading me to believe that ASUS and NVIDIA had done some work to customize the browser for the Prime and Tegra 3. This customization work is also evident if you watch the manner in which web pages are loaded on the Prime versus any other Honeycomb tablet, including the original Eee Pad Transformer. The difference isn't really better or worse, just clearly different.
It turns out that there are a number of improvements to the Honeycomb browser for Tegra 3 platforms. The first has to do with threading and GPU acceleration. Google has been steadily moving away from using its skia libraries for drawing to the screen in Android. These libraries are mostly run on the CPU. With Honeycomb Google moved many elements of the OS to OpenGL ES based rendering, but parts of the browser still use these non-GPU accelerated skia libraries for displaying rendered web pages. With Ice Cream Sandwich (Android 4.x), Google moved the browser to OpenGL rendering but unfortunately Tegra 3 would debut on Honeycomb and not ICS so something had to be done. NVIDIA made two primary changes to the Honeycomb browser for Tegra 3. For starters, it further threaded a lot of the skia libraries to better take advantage of the four A9 cores in T3. It also moved some more components of the browser's display pipeline to OpenGL. The change isn't nearly as dramatic as what we'll see with the move to ICS, but it's a step forward.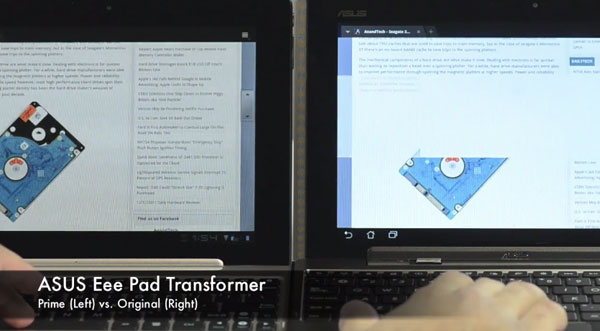 There are some slight improvements in scrolling performance compared to the Tegra 2 build of Honeycomb. You don't get as much white blocking while scrolling on the TF Prime compared to the original (only when scrolling naturally, using the fast scroll bar on the right is the same on both).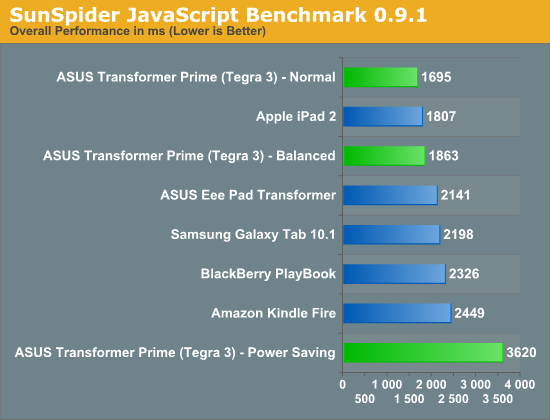 NVIDIA also updated the JavaScript rendering engine in the Tegra 3 build of Honeycomb, which is likely responsible for some of the gains we saw in our original SunSpider numbers (higher CPU clocks helps a bit here as well).
The impact on web page loading performance isn't as dramatic as you'd expect. In general the Prime loads web pages in about the same amount of time as the original Transformer. Some web pages load quicker others load slower and it really varies from run to run. In my testing the original Transformer actually seemed to be more consistent in web page loading times. Whatever changes NVIDIA made to the browser seems to have resulted in this behavior. While there's no major performance gain when it comes to loading most web pages, the difference is that parts of the workload are spread across more cores, allowing each of the cores to run at a lower frequency and thus voltage.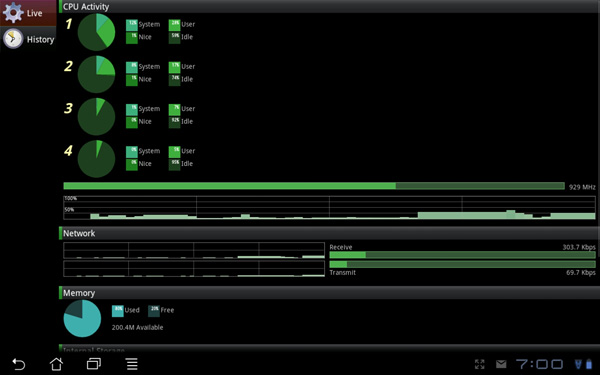 I stand by my original assessment of the Prime's performance. The place you notice the additional CPU cores the most is when multitasking; unfortunately Honeycomb still degrades into a sluggish mess if you ask too much of it, which in turn limits the seat of the pants impact from having twice as many cores. Whereas the move from one to two cores was instantly noticeable on Android phones, the move from two to four is understandably less appreciable. The Prime as a whole feels much faster than its predecessor, but it's unclear to me how much of that is due to the faster GPU, higher CPU clocks, increase in memory bandwidth, NEON support, or the additional cores. I'm willing to bet that the faster GPU and increase in CPU clocks are the most noticeable of the improvements, followed by the increase in core count. I don't mind the extra cores, but I do get the feeling that we'd be better off with two faster cores than four A9s. With A15 and Krait really designed for 28nm, NVIDIA's decision to increase core count at 40nm was probably better for end users than simply increasing CPU clocks on Tegra 2.
I suspect Ice Cream Sandwich will remove some of the software bottlenecks that make the Prime feel sluggish under heavy load, at which point I may have to revisit this assessment. There's also the concern of how Tegra 3 will stack up against Krait based solutions in a few months time. I still feel like the Transformer Prime is a good buy today if you're looking for an Android tablet, but 28nm silicon is less than six months away....
The Dock Experience
The dock experience is better than I had originally written, but I still have issues with the setup. Typing on the dock is a non-issue, in fact I'd call it a pleasure, as long as you're fine with the short travel of chicklet style keyboards. Other than some slight differences in keypress sound, the dock's physical keyboard is very similar to the MacBook Air keyboard. Given how closely ASUS learns from Apple, this is a decision I'm not surprised by.
Many of you have asked about the experience with the dock connected and whether or not the Prime is capable of replacing a netbook or notebook. Depending on your usage model your satisfaction level will vary. As a glorified typewriter the Prime + dock gets the job done. ASUS preloads the tablet with Polaris Office just like it did back with the original Transformer. This time around however Honeycomb is far more stable, and as a result I don't get the crashes in the middle of writing like I used to. Honeycomb still does crash from time to time but now it behaves a lot more like a reliable OS than it did when it was first introduced.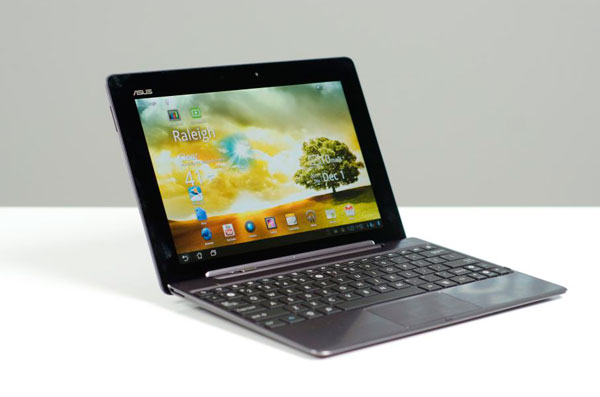 What Polaris Office really needs is an auto save feature. I mentioned this in our original Transformer review, especially as the app would frequently crash back then. Now it doesn't crash so frequently but there's another issue—if you switch to another app while you're typing in Polaris Office, and Android's process manager unloads Polaris Office from memory, you'll lose any unsaved changes to your document. This doesn't happen all of the time. For example, I spent a lot of time in Polaris writing the Momentus XT review and switching between it and the Honeycomb browser without ever losing any data. However, doing the same experiment while installing Pandora and Twitter apps from the Android Market resulted in Polaris being evicted from main memory and me losing any unsaved changes to my document. While I understand this is outside of ASUS' control (short of outfitting the Prime with more memory), it's something that I do believe impacts the overall experience.
Multitasking in Honeycomb with the dock isn't too bad. A while ago ASUS added alt+tab support to the Transformer platform and the Prime gets it as well. The biggest usage hurdle here is the fact that the alt key is only on the right side of the keyboard. Once you get used to that however all you need to do is hold down the alt key and hit tab to cycle through recent apps. This addition alone is a huge boon to using the Transformer Prime + dock as a netbook replacement.
As a machine that's used for web browsing, checking email and taking notes, the Prime + dock is easily a netbook alternative that's significantly better thanks to its tablet flexibility. I still personally prefer a MacBook Air as my choice of ultraportable but that's mostly because I tend to have a heavier workload while on the road. Despite the Prime's quad-core CPU, performance isn't quite good enough for a heavy multitasker. Not to mention that Honeycomb's responsiveness is just as much of a limit there as well.
The trackpad is still a disappointment to me on the dock. Not only is the track area pretty small but the surface of the trackpad isn't the sort of glass smoothness we've come to expect. Two finger scrolling on the trackpad suffers as a result, which forced me to scroll via the touchscreen instead. Thankfully the Prime, while docked, is still close enough to the keyboard to touch without having to reach out too far.
The security of the dock connection doesn't inspire a whole lot of confidence. With the tablet locked in place, there's still a few millimeters of travel if you rock the tablet back and forth. When closed in its clamshell however you'd be hard pressed to tell the Prime + dock apart from a traditional netbook/notebook. That's the beauty of building the two parts of the system out of aluminum; it all feels very solid when closed.
If you plan on doing a lot of typing on your Transformer, the dock is an obvious must have. Still, it's important to keep in mind that just because you have a keyboard doesn't mean the system will turn into an Ultrabook/MacBook Air alternative, particularly in the multitasking/performance department, but it is a nice addition if you're fine with the limits of a tablet.
Final Words
I stand by my original conclusion to our Eee Pad Transformer Prime review—this thing is definitely the best Android tablet on the market and it cements ASUS' image as being a company that is good at both engineering and design.
I also stand by my conclusion that the Prime isn't perfect. The Prime definitely needs Ice Cream Sandwich. The hardware upgrades alone are enough to make Honeycomb more than sufficient, but it's clear that we're bumping into the limits of the OS itself—particularly when it comes to multitasking. I am hoping that ICS brings about greater responsiveness in those areas where Honeycomb suffers today. On the bright side, stability is much improved over the initial releases of Google's tablet OS and it's totally usable for netbook style workloads.
ASUS' willingness to rush the launch is still inexcusable, and despite my third review sample working properly I'd like to see evidence that all (or at least the vast majority of) retail samples will be similarly well built. What I'm afraid of is seeing some of the issues I encountered with my first two samples out in the field. I do hope ASUS proves me wrong.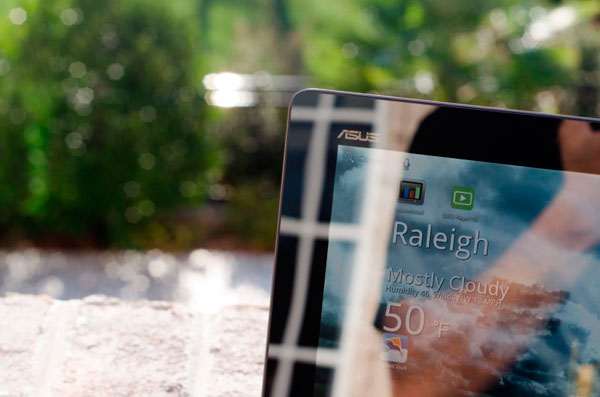 I still need to spend more time with the TF Prime in varied WiFi conditions to get a good feeling for how big of a deal the range limitations are. The fact that ASUS included WiFi antenna diversity in the TF Prime indicates that it knew the aluminum construction was going to be an issue. As to why ASUS didn't opt for a plastic RF window similar to the Apple logo on the iPad, your guess is as good as mine. If all of the retail units behave like mine, however, as long as you're in a place with good WiFi signal you should have no issues with network access on the Prime.
The Prime's aluminum chassis also proved to be a problem for GPS reception. ASUS has since removed GPS support from the Transformer Prime's list of specifications as a result of poor GPS performance. If you're looking for an Android tablet to function as a GPS receiver, the Transformer won't fit the bill.
Power efficiency has been improved by a tangible amount. Battery life is now in the realm of the iPad, whereas before there was a more distinct divide between Honeycomb and iOS tablets. While some may argue that it's disappointing to still see battery life numbers below the iPad 2, at least we finally have something more competitive.
As far as NVIDIA and the Tegra 3 are concerned, this is honestly what the launch platform for Honeycomb should have been. I do have concerns about the SoC's ability to scale to even higher resolutions, but for a 1280 x 800 display Tegra 3 works well. I'm still not sold on the move to four cores, but they aren't a detriment to performance or power consumption so I can't really complain. To be honest, I'd much rather have four A9s than just a higher clocked Tegra 2 so I'm mostly okay with the move. My preference would be for a brand new architecture, but we won't get that until 28nm hits. If Qualcomm can deliver what it's expected to, however, Krait may be a formidable competitor in the not too distant future.