Original Link: http://www.anandtech.com/show/5153/nvidias-geforce-gtx-560-ti-w448-cores-gtx570-on-a-budget


A little more than a year ago NVIDIA introduced the GF110 GPU, the power-optimized version of their Fermi patriarch, GF100. The first product was their flagship GTX 580, followed by the eventual GTX 570. Traditionally NVIDIA would follow this up with a 3rd product. The GTX 200 series had 285/275/260, and the GTX 400 series had GTX 480/470/465. However in the past year we have never seen the 3rd tier GF110 card… until now.
Today NVIDIA will be launching the GeForce GTX 560 Ti With 448 Cores (and yes, that's the complete name), a limited edition product that will serve as the 3rd tier product, at least for a time. And while NVIDIA won't win any fans with the name, the performance is another matter entirely. If you've ever wanted a GTX 570 but didn't want to pay the $300+ price tag, as we'll see NVIDIA has made a very convincing argument that this is the card for you.
| | | | | |
| --- | --- | --- | --- | --- |
| | GTX 580 | GTX 570 | GTX 560 Ti w/448 Cores | GTX 560 Ti |
| Stream Processors | 512 | 480 | 448 | 384 |
| Texture Address / Filtering | 64/64 | 60/60 | 56/56 | 64/64 |
| ROPs | 48 | 40 | 40 | 32 |
| Core Clock | 772MHz | 732MHz | 732MHz | 822MHz |
| Shader Clock | 1544MHz | 1464MHz | 1464MHz | 1644MHz |
| Memory Clock | 1002MHz (4008MHz data rate) GDDR5 | 950MHz (3800MHz data rate) GDDR5 | 900Mhz (3600MHz data rate) GDDR5 | 1002Mhz (4008MHz data rate) GDDR5 |
| Memory Bus Width | 384-bit | 320-bit | 320-bit | 256-bit |
| Frame Buffer | 1.5GB | 1.25GB | 1.25GB | 1GB |
| FP64 | 1/8 FP32 | 1/8 FP32 | 1/8 FP32 | 1/12 FP32 |
| Transistor Count | 3B | 3B | 3B | 1.95B |
| Manufacturing Process | TSMC 40nm | TSMC 40nm | TSMC 40nm | TSMC 40nm |
| Price Point | $489 | $329 | $289 | $229 |
The GTX 560 Ti With 448 Cores is based on the same GF110 GPU as the GTX 580 and GTX 570. Where GTX 580 is a fully enabled GF110 product and GTX 570 is a partially binned part, the GTX 560 Ti With 448 Cores – which we'll refer to as the GTX 560-448 for simplicity's sake – is a further binned GF110 intended to take the position of the traditional 3rd tier product, putting it below the GTX 570.
Looking at the organization of the GF110 being used in the GTX 560-448, the difference between the GTX 570 and GTX 560-448 is that NVIDIA has disabled a further SM unit, cutting the compute/shading, texturing, and geometry performance by 7%. ROP performance remains untouched, as does the number of memory controllers. The core clock is the same as the GTX 570 at 732MHz, while the memory clock has been reduced slightly from 950MHz (3800MHz data rate) to 900MHz (3600MHz). All together compared to the GTX 570, the GTX 560-448 has 93% of the compute/shader performance, 100% of the ROP performance, and 95% of the memory bandwidth. In practice this is closer to the performance of the GTX 570 than the larger product spacing we're used to seeing.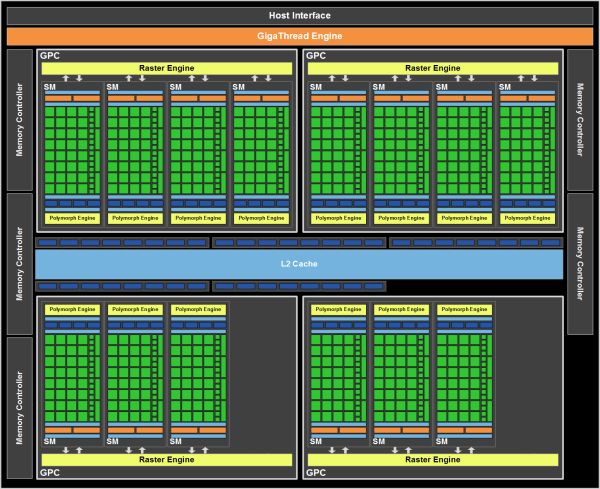 Power and cooling are also very similar to the GTX 570. NVIDIA has put the TDP at 210W, versus 219W for the GTX 570. As always NVIDIA does not supply an idle TDP, but it should be practically identical to the GTX 570. The end result is that the GTX 560-448 should have slightly lower performance than the GTX 570 with similar power consumption.
Now if we're making all of these comparisons to the GTX 570, why is the GTX 560-448 a GTX 560? That's a good question, and not one that we'll get a completely satisfactory answer to. NVIDIA is well aware of what they've done, and they've already prepared a response:
Question: Why is the "GTX 560 Ti" designation used for this product instead of "565" or "570 LE"
The designation is meant to reflect the fact that this is not an addition to our 500 series line-up, but rather a limited edition product.
This is a completely truthful answer – and we'll get to the limited edition aspect in a moment – but it's not a real answer to the question. Ultimately NVIDIA has to balance OEM, consumer, and regional concerns since not every market will be getting this product, but more practically the GTX 560 Ti is a well received and well selling card whose success NVIDIA wants to extend. The result is that NVIDIA can (and will) call it whatever they want, and this time they're calling it a GTX 560 Ti. Thus, this is why we have a GF110 product launching as a GTX 560 Ti even though it has more in common with a GTX 470 than anything else. It's that kind of a launch.
As far as being a limited edition product, that's not particularly complex. NVIDIA bins GF110 GPUs for a number of products, not just GeForce but for Tesla and Quadro too. The best chips go into the most expensive products, while chips with several bad SMs go into products like low-end Quadros and NVIDIA's 4th tier OEM only card – which is also the GTX 560 Ti. In the past year of production NVIDIA has built up a supply of mid-tier chips: chips that aren't good enough to be in a GTX 570, but better than what the lower end markets need. Rather than taking a revenue hit by shipping these chips in those lower end products, NVIDIA has decided to mint a new GeForce product instead, and that's the GTX 560-448.
The reason the GTX 560-448 is a limited edition product is that NVIDIA is not accumulating suitably dysfunctional chips at a rapid pace as they do chips for their other product lines. As a result they only have a small, largely fixed number of chips to produce GTX 560-448s with. With this limited supply NVIDIA will only be chasing particularly affluent markets with a limited number of cards: The US and Canada, the UK, France, Germany, the Nordic countries, and Russia. South America and the Asia Pacific region (APAC) are notably absent. Furthermore for those markets that will be getting the GTX 560-448, it's essentially a seasonal product specifically for Christmas: NVIDIA only expects the supply of cards to last 1-2 months, after which NVIDIA's product lineup reverts to the 580/570/560 stack we already are accustomed to. So while a limited edition product is nothing new, we haven't seen a coordinated launch for an LE product quite like this in recent years.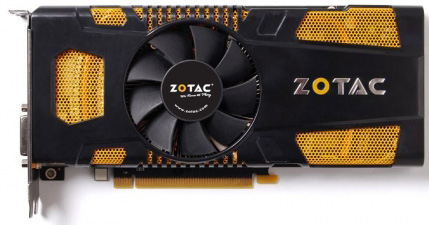 Given the hardware similarities to the GTX 570, it should come as no surprise that NVIDIA is forgoing a reference design while their partners will be launching cards based on their existing GTX 570 designs. At this point all of them have custom GTX 570 designs, and as such the GTX 560-448 cards will be using those custom designs. The card we've been sampled with, Zotac's GeForce GTX 560 Ti 448 Cores Limited Edition, is one such card, based on their custom GTX 570 design. Furthermore as was the case with many proper GTX 560 Ti cards, the GTX 560-448 will be launching in overclocked designs, such as Zotac's which ships at 765MHz instead of 732MHz. So the performance of individual GTX 560-448 products can vary by upwards of several percent.
The MSRP on the GTX 560-448 will be $289, however launch partners will be free to price it higher to match any factory overclocks they do. At $289 the GTX 560-448 is priced extremely close to the cheapest GTX 570s, and depending on clockspeeds and sales a GTX 570 could end up being the same price or cheaper, so it will be prudent to check prices. Meanwhile the GTX 560-448's closest competition from AMD will be the Radeon HD 6950, which trends around $250 after rebate while the Radeon HD 6970 is still closer to $340. Overall NVIDIA's pricing may be a bit high compared to their other products, but compared to AMD's products it's consistent with the performance.
Meet The Zotac GeForce GTX 560 Ti 448 Cores Limited Edition
There will be a number of GTX 560-448 cards launching today; most of NVIDIA's partners will be involved, including Asus, EVGA, Gainward, Gigabyte, Inno3D, Palit, MSI and Zotac. Given that these will be custom designs no two cards will be alike, and while performance should be similar (accounting for clock differences), thermals and noise are going to vary with the design.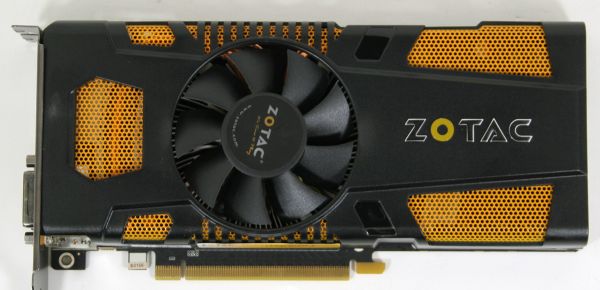 The card we've been sampled with is Zotac's entry, the Zotac GeForce GTX 560 Ti 448 Cores Limited Edition. Zotac's design is based on their existing GTX 570 design, which is an open-air cooler with copper heatpipes running up from the GPU to the heatsink. It's effectively a bigger, more capable version of the GTX 560 Ti reference cooler, which means it shares the temperature and noise benefits of that design at a cost of dumping most of the heat produced inside your computer case.
While this isn't an AMP product – AMP being Zotac's factory overclock brand – Zotac is still goosing their GTX 560-448 by a bit. It will ship at 765MHz core instead of 732MHz (a 4% boost), while memory speeds are unchanged. It's a bigger factory overclock than we've seen in some other cards, but 4% won't make a huge difference in performance most of the time.
Breaking down the card it's quite similar to other single-fan open-air coolers we've seen such as the reference GTX 560 Ti. Airflow is provided by a center fan with heatsinks covering the most important bits. The 2 6pin PCIe power sockets are placed at the rear of the card, which is not ideal but not a huge problem as the card is not particularly long.
For display connectivity Zotac is once again using their expanded offering. Along with the 2 DVI ports common on high-end NVIDIA cards, Zotac is also offering a full size HDMI port, and rare for an NVIDIA based card, a full size DisplayPort. Zotac achieves this by moving one of the DVI ports to the 2nd slot on the card's bracket, which is a convenient location but further restricts the amount of air the card can eject outside of a computer case.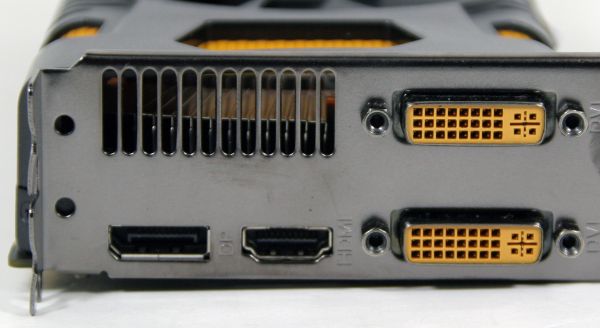 Along with the card, Zotac is continuing their tradition of bundling a game with their high-end cards. This time Zotac's North Amerian office is partnering with Electronic Arts, and they will be including a voucher for Battlefield 3 with their GTX 560-448 in North America. We've always been big fans of video cards including good games, so we're glad to see Zotac continuing this tradition.
Rounding out the rest of the package is the typical collection of odds & ends: PCIe power adaptors, a multi-lingual quickstart guide, Zotac's collection of OEM trialware, and a DVI to VGA dongle.
Between the overclock and the inclusion of Battlefield 3, it should come as no surprise that Zotac is charging above NVIDIA's MSRP for the card. Zotac will be charging $299, $10 over MSRP – the overclock isn't particularly impressive, but if you're in a territory that gets BF3, $10 for BF3 is a good deal any day of the week.
The Test, Crysis, BattleForge, & Metro 2033
Yesterday NVIDIA launched their first 290 series beta driver - this was intended to be the launch driver for the GTX 560-448, but QA kept it held up longer than expected. In lieu of that we are using 285.62, the WHQL 285 series driver for the GTX 560-448.
For our look at performance we'll be taking a look at our Zotac card both at NVIDIA's stock speeds and at Zotac's factory overclock. For power/temp/noise we'll only be looking at Zotac's card – the lack of a reference design means that temperatures and noise can't be extrapolated for other partners' cards.
CPU:
Intel Core i7-920 @ 3.33GHz
Motherboard:
Asus Rampage II Extreme
Chipset Drivers:
Intel 9.1.1.1015 (Intel)
Hard Disk:
OCZ Summit (120GB)
Memory:
Patriot Viper DDR3-1333 3x2GB (7-7-7-20)
Video Cards:
AMD Radeon HD 6870
AMD Radeon HD 6970
AMD Radeon HD 6950
NVIDIA GeForce GTX 580
NVIDIA GeForce GTX 570
NVIDIA GeForce GTX 560 Ti
Zotac GeForce GTX 560 Ti 448 Cores Limited Edition
Video Drivers:
NVIDIA GeForce Driver 285.62
AMD Catalyst 11.11a
OS:
Windows 7 Ultimate 64-bit
As this is not a new architecture, we'll keep the commentary thinner than usual. The near-GTX 570 specifications mean there aren't any surprises with game performance.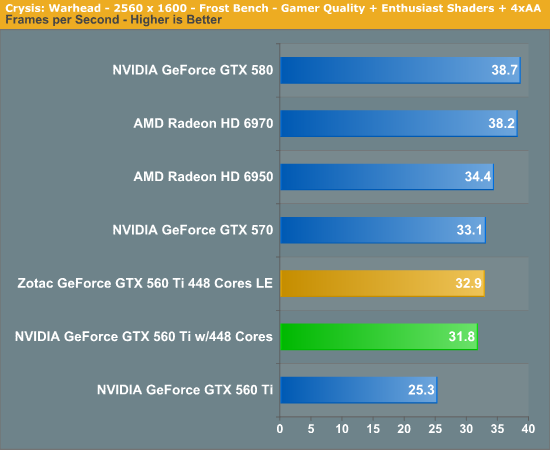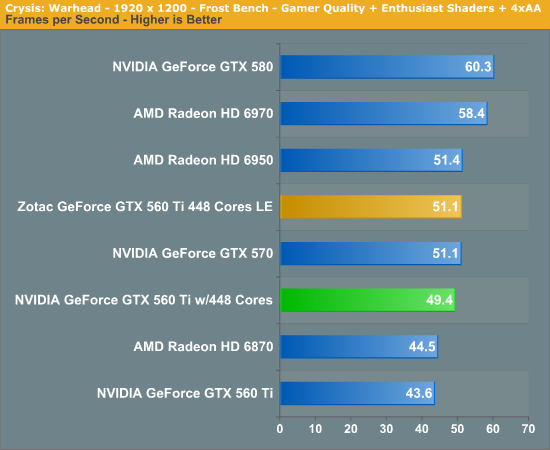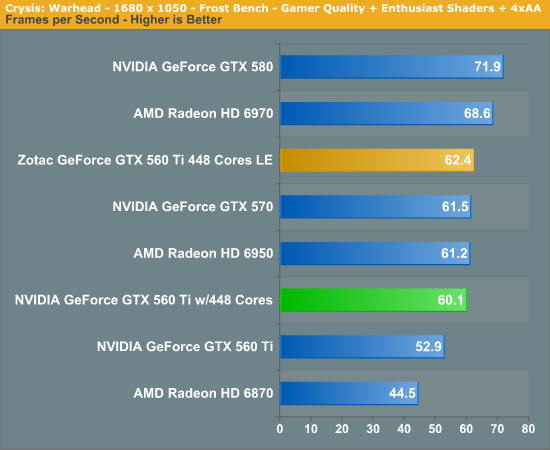 Starting as always with Crysis, at 2560 we can see that while GF100 cards perform decently at 2560, it's really only the GTX 580 that stands a chance in any shader-heavy game. The GTX 560-448 in that respect is a lot like the GTX 560 Ti: it's best suited for 1920 and below.
At 1920 and 1680 the GTX 560-448 is well ahead of its GF114-based namesake. As with the specs and architecture, the GTX 560-448 has more in common with the GTX 570 than it does the GTX 560 Ti. The end result is that the GTX 560-448 is just shy of 50fps at 1920, only a few percent off of the GTX 570. With Zotac's overclock that closes the gap exactly, delivering the same 51.1fps performance. This goes to show just how close the GTX 560-448 and GTX 570 really are. NVIDIA may not want to call it a GTX 570 LE, but that's really what it is.
Meanwhile compared to AMD's lineup things are a little less rosy. The GTX 570 at launch was closer to competition for the Radeon HD 6970, but here the GTX 570 and GTX 560-448 are tied by or beaten by AMD's cheaper 6950.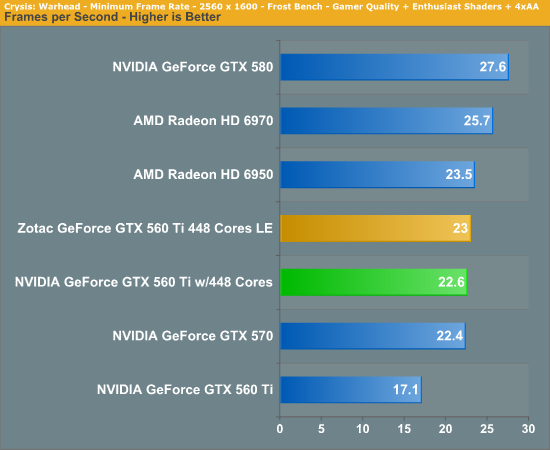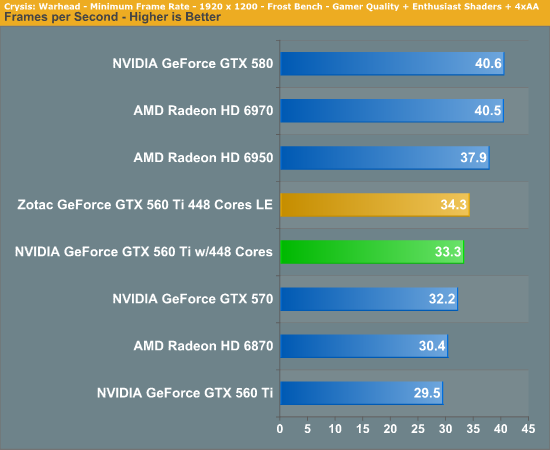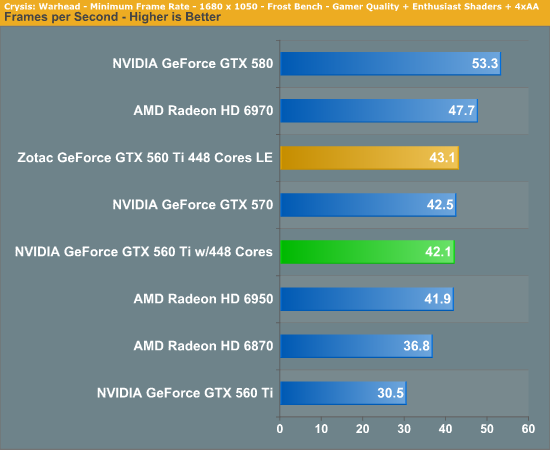 Looking at the minimum framerates we see the same trends. The GTX 560-448 is well above the GTX 560 Ti – by 13% at 1920 – but the 6950 is once again the victor.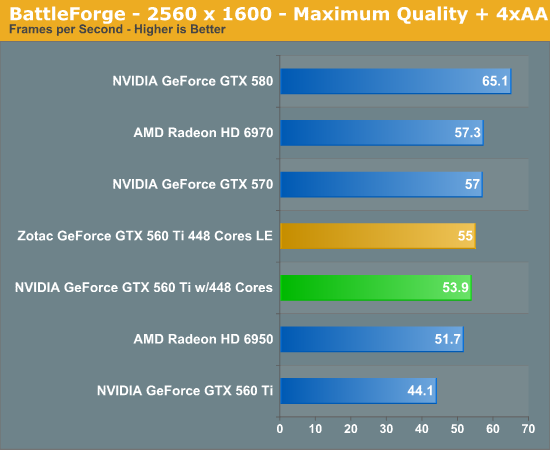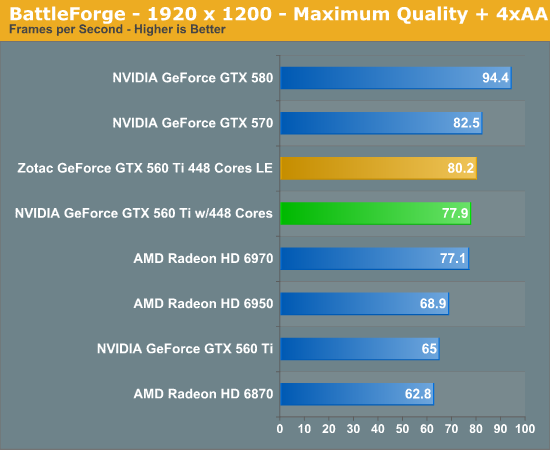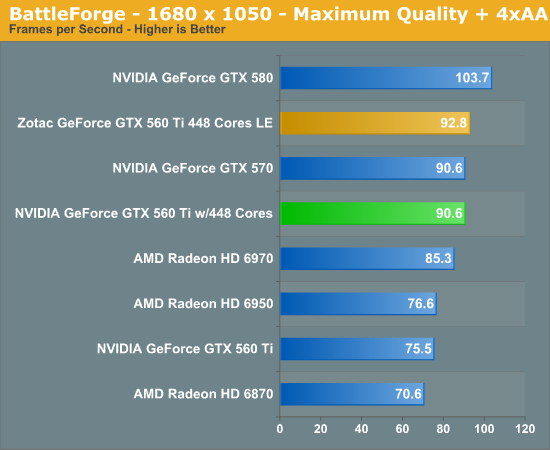 Moving on to BattleForge, we see the emergence of AMD and NVIDIA switching places based on the game being tested. BattleForge favors NVIDIA cards, and as a result the GTX 560-448 does quite well here, tying AMD's more expensive 6970 at 1920. Zotac's overclock further improves thing, but as BattleForge likes memory bandwidth, it can't overcome the GTX 570's 5% memory bandwidth advantage.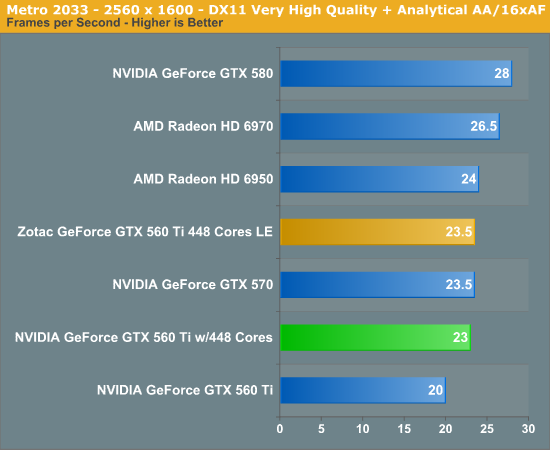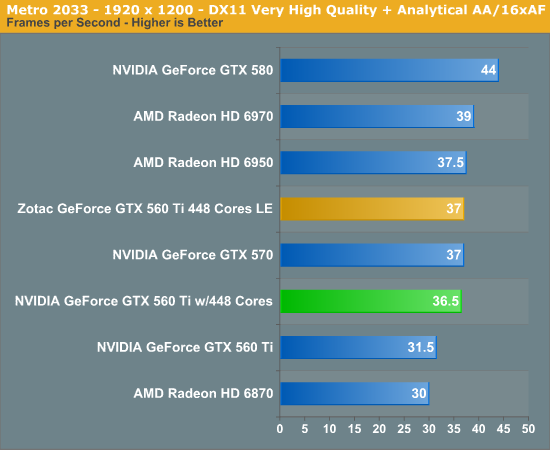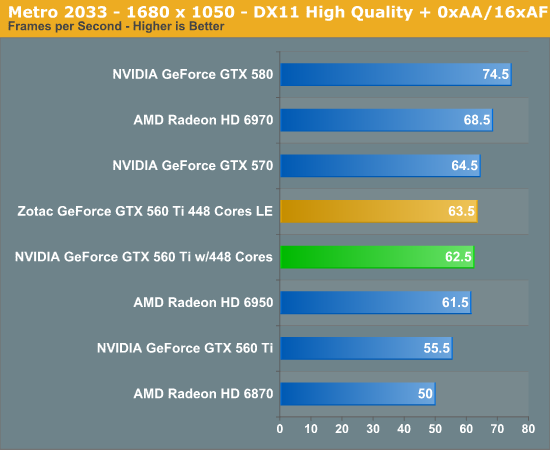 With Metro 2033 we see AMD and NVIDIA swap positions again, this time leaving AMD's lineup with the very slight edge. This puts the 6950 ahead of the GTX 560-448 at 1920, even with Zotac's overclock. Practically speaking however you're not going to break 40fps on a single card without a GTX 580.
HAWX, Civ V, Battlefield BC2, & STALKER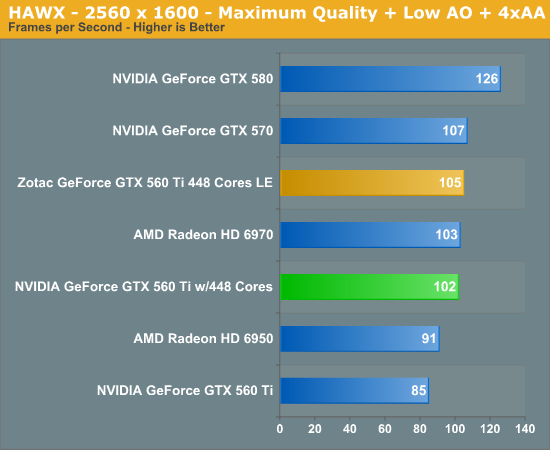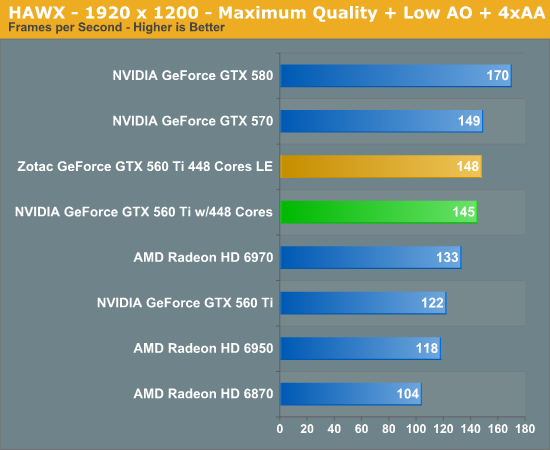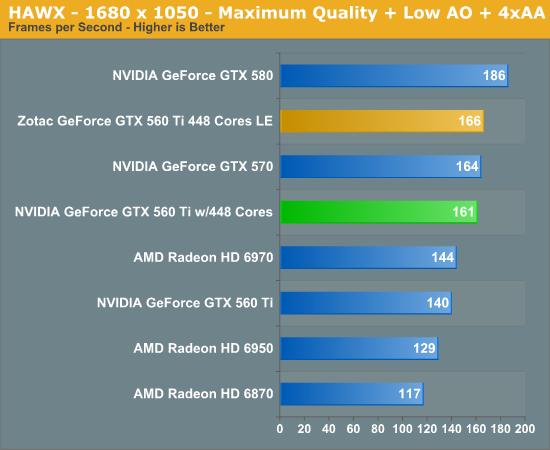 HAWX is one of the oldest games in our current test suite, and as a result high framerates are a common occurrence. Even at 2560 everything can top 100fps, but there is still a clear preference in the results for NVIDIA's cards. At 1920 the GTX 560-448 is 9% ahead of the 6970, while the fact that it has the same number of ROPS as the GTX 570 keeps it extremely close to NVIDIA's next step up.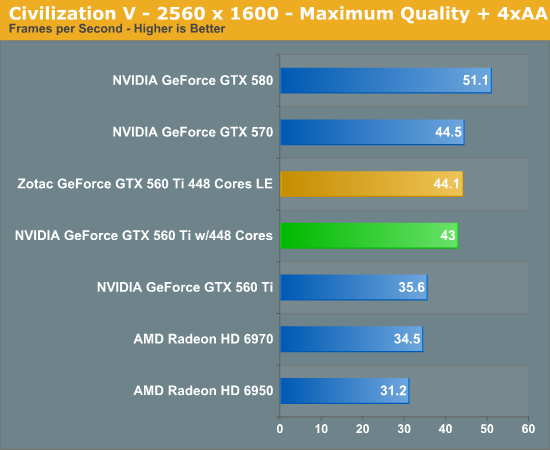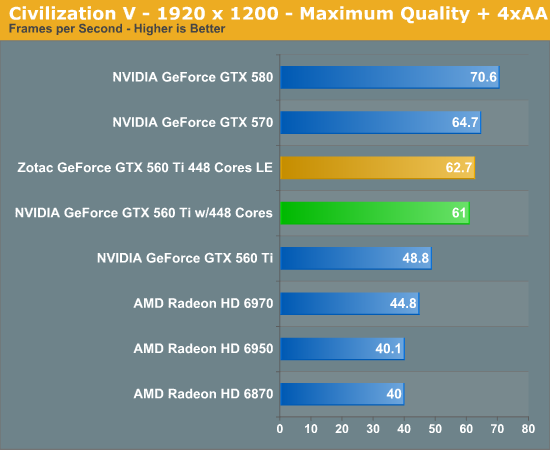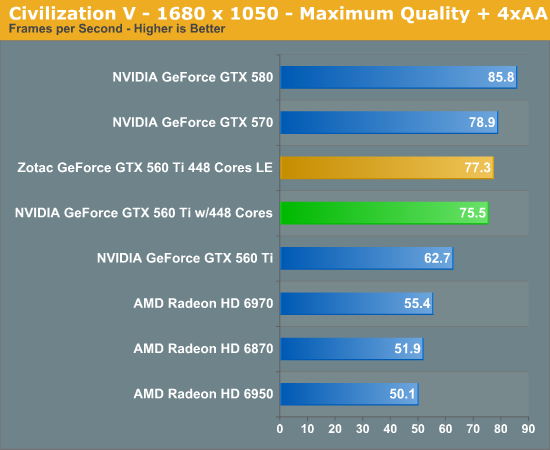 As AMD has still not implemented multithreaded command lists – an optional part of the DX11 API that CivV heavily uses – NVIDIA continues to do much better than AMD here. At 1920 the GTX 560-448 is ahead of the 6970 by 36%, or 16fps. Within NVIDIA's product lineup things are rather consistent, with Zotac's overclock closing the gap on the GTX 570.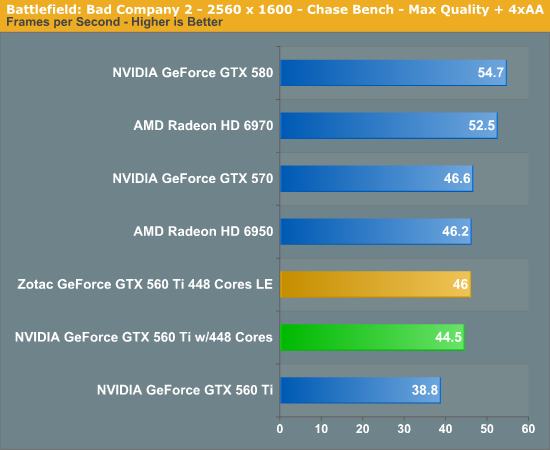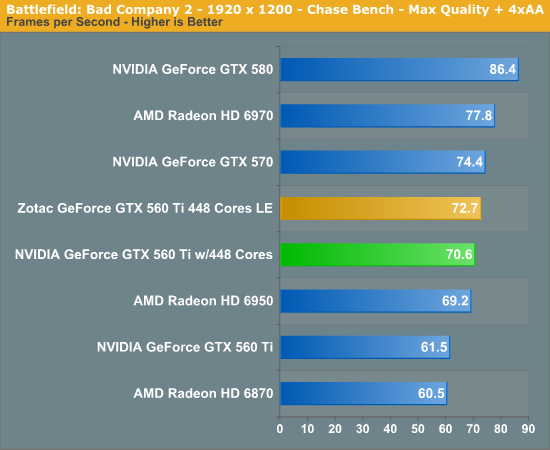 Looking at Battlefield: Bad Company 2, BC2 continues to provide some of the most balanced results in our test suite. The GTX 560-448 beats the 6950, but only by a little over 1fps. Compared to NVIDIA's lineup the GTX 560-448 is a few percent behind the GTX 570, with Zotac's overclock closing the gap. Though at only 1920, any of these cards can average better than 60fps.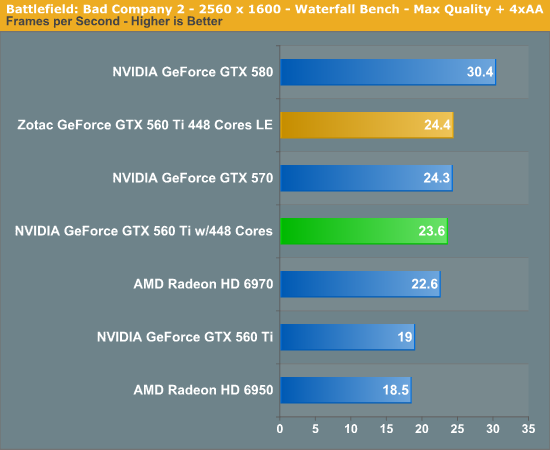 Meanwhile our BC2 waterfall benchmark shakes things up. Everything drops below 30fps, with the GTX 560-448 and other NVIDIA GF11o cards weathering better than AMD's cards.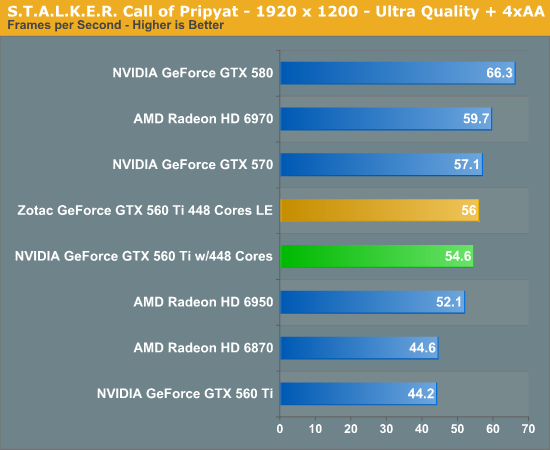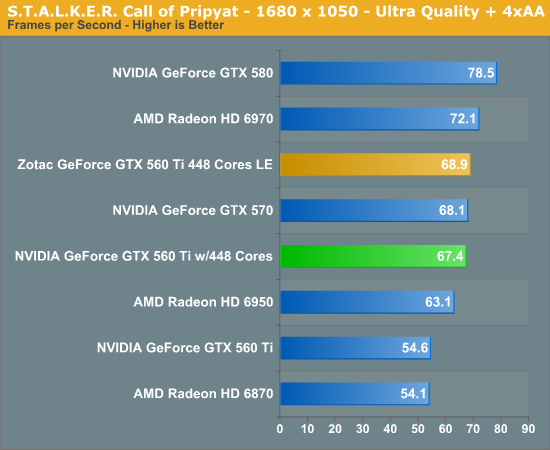 Our next benchmark is the STALKER: Call of Prypriat benchmark. On cards with 1GB of VRAM or less it can be overly taxing, but with more than 1GB of VRAM the bottleneck shifts to rendering. At this point it's another balanced benchmark, with the GTX 560-448 placing slightly ahead of AMD's 6950, and very close to the GTX 570. Zotac's overclock can't close the gap, but it's close.
DIRT 2, Mass Effect 2, Wolfenstein, & Compute Performance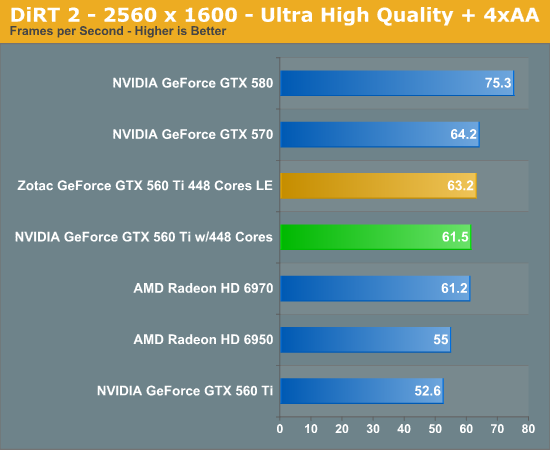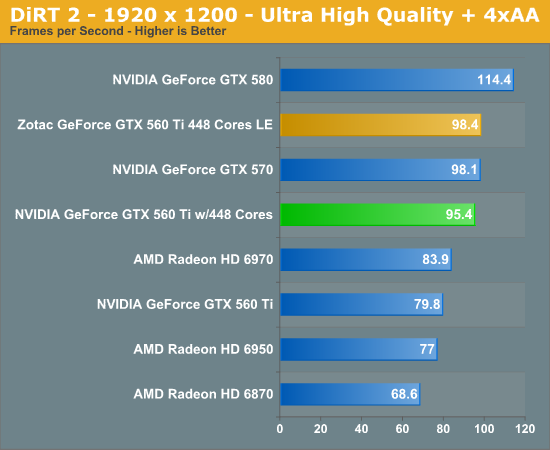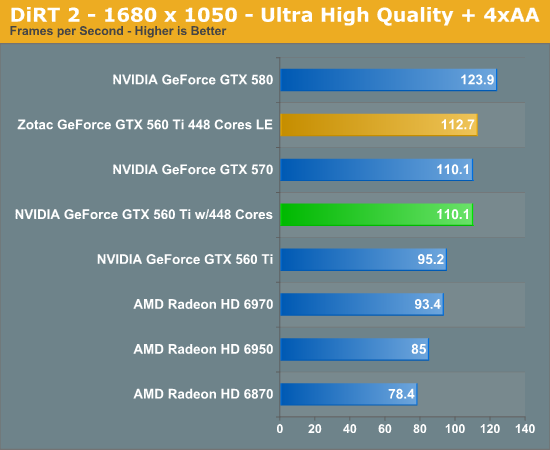 With DIRT 2 our benchmarks once again swing back in favor of NVIDIA. At 1920 the GTX 560-448 is 14% of the 6970, never mind the 6950. The advantage over the GTX 560 Ti is even greater, with the GTX 560-448 coming in at nearly 20% faster. Throw on Zotac's overclock and now the GTX 560-448 is as fast as the GTX 570. If you still don't believe the GTX 560-448 is really a slower GTX 570, then this should be rather convincing proof.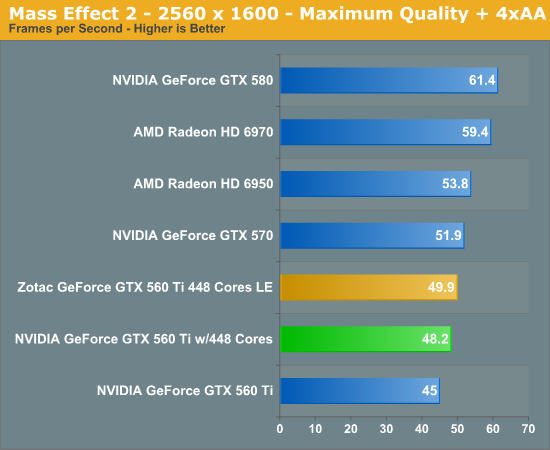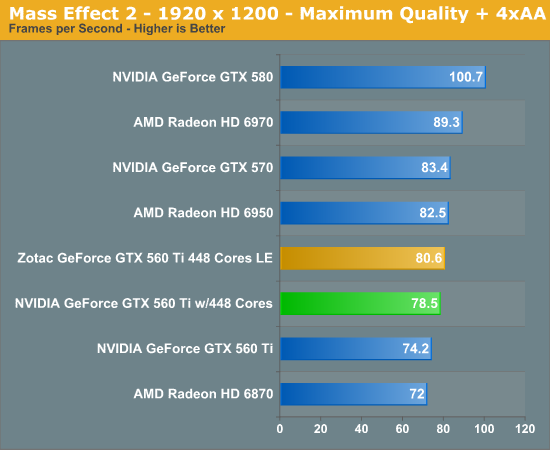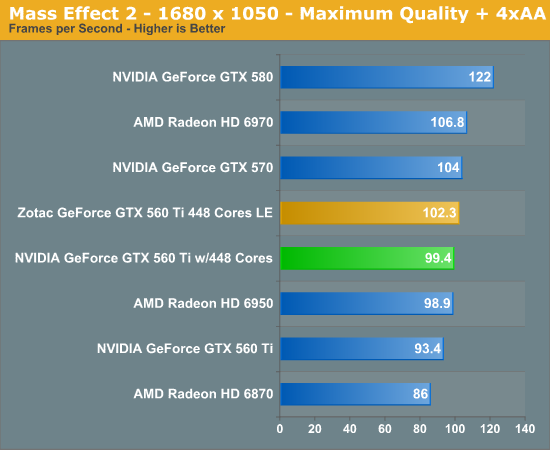 And we swing back the other way with Mass Effect 2. The GTX 560-448 falls short of the 6950 by 5%, and compared to the GTX 560 Ti it only leads by 6%, highlighting the fact that GF110 and GF104 can be very different architectures at times. Furthermore as Mass Effect 2 responds well to memory bandwidth, even with Zotac's overclock the GTX 560-448 still comes up a bit short of the GTX 570. This is one of the few cases where the GTX 570 has a distinct benefit even with its limited advantage on paper.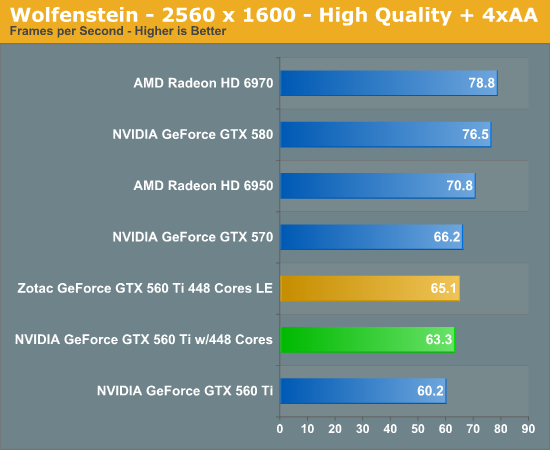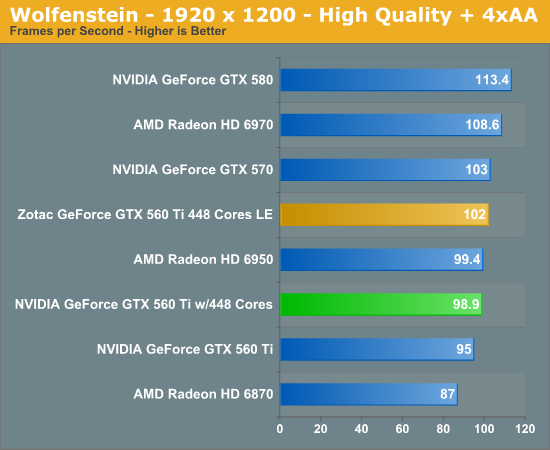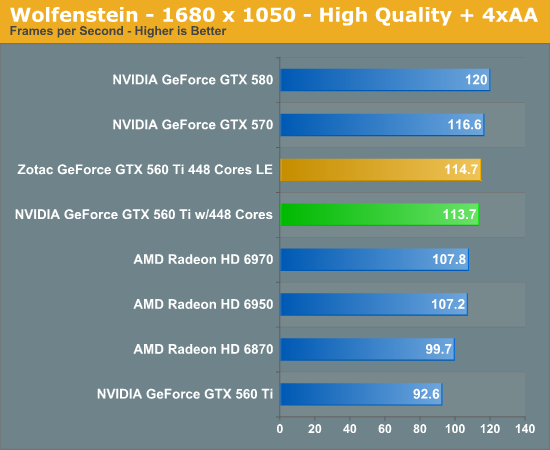 On our final game, the OpenGL based Wolfenstein, AMD and NVIDIA once more swap places with the 6950 squeaking out a small lead over the GTX 560-448. As with other cases where the GTX 560-448 fails to gain on AMD's cards, it also fails to differentiate itself much from the GTX 560 Ti, this time only taking a meager 4% lead.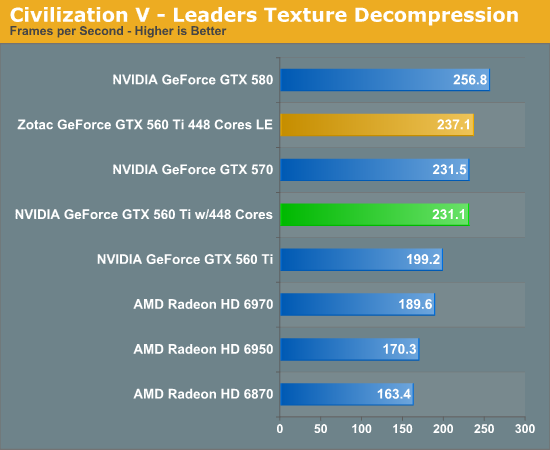 Our final performance benchmark is a quick look at compute performance using the Civilization V texture decompression test. In spite of this not benefiting from NVIDIA's multithreading optimizations, NVIDIA's drivers and architecture still give the GTX 560-448 a solid lead over AMD's cards. The benefit over the GTX 560 Ti is also more pronounced at 16%. Interestingly in spite of the GTX 570's compute performance advantage on paper, the GTX 560-448 can tie it at stock clocks and overtake it with Zotac's overclock, showcasing that this benchmark isn't exclusively tied to compute performance.
Power, Temperature, & Noise
Last but certainly not least is our look at power, temperature, and noise. If we've clearly established that the GTX 560-448 has more in common with the GTX 570 than the GTX 560 Ti in gaming performance, then let's see if the operational attributes are equally close.
GeForce GTX 500 Series Voltages
Ref 580 Load
Ref 570 Load
Zotac 560-448 Load
1.037v
1.025v
1.000v
Looking quickly at voltage, our Zotac card is set to 1.0v. This is actually 0.025v less than our reference GTX 570 and GTX 580 cards, though it's important to note that all of these cards have a wide VID range. Realistically speaking we expect that the GTX 560-448 would have a similar to greater VID range than the GTX 570.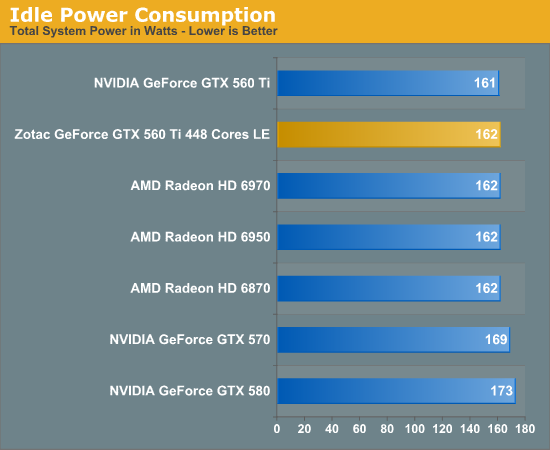 It's quite interesting to find that idle system power consumption is several watts lower than it is with the GTX 570. Truth be told we don't have a great explanation for this; there's the obvious difference in coolers, but it's rare to see a single fan have this kind of an impact.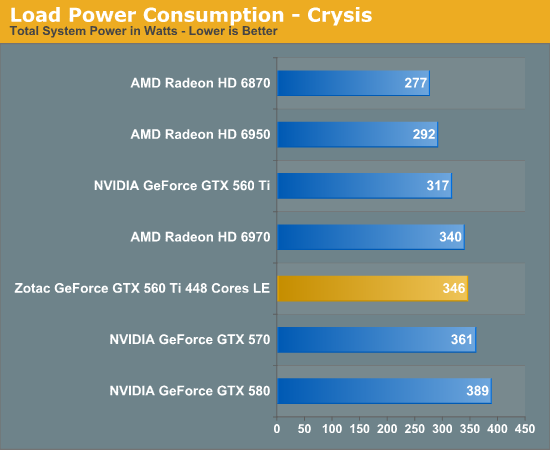 Power consumption under load shows a similar benefit. With the Zotac GTX 560-448 we're drawing 15W less than with the reference GTX 570. Given that the performance of the Zotac GTX 560-448 is so close to the GTX 570, and this actually starts looking like a cheaper GTX 570 with lower power consumption, which is not something we would have expected to find. But at the same time this means load power consumption is still nearly 30W greater than the GTX 560 Ti, is a very distinct difference for two products sharing the same name.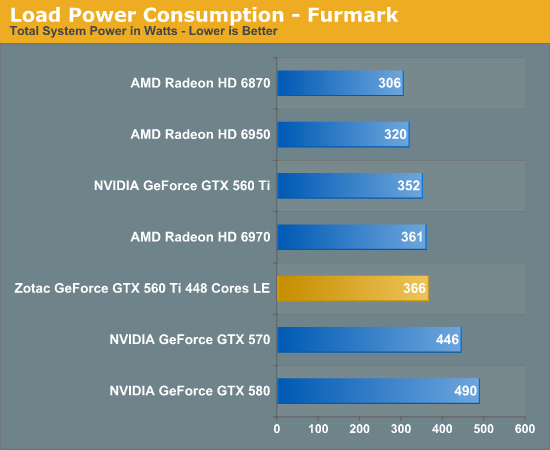 FurMark is thrown in for consistency, but at this point NVIDIA's driver throttling is so extreme that FurMark is instantly beaten back when started.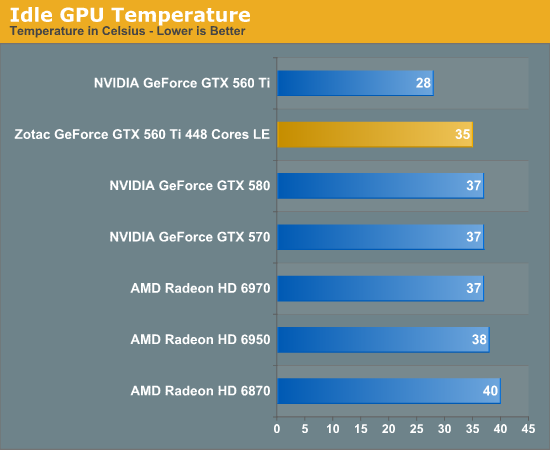 When it comes to GPU temperatures, idle temperatures straddle the difference between the GTX 560 Ti and the GTX 570. The open-air cooler is usually better for lower temperatures, but at the same time GF110's higher idle power consumption negates some of this benefit. In any case it's still one of the coolest high-end cards at idle.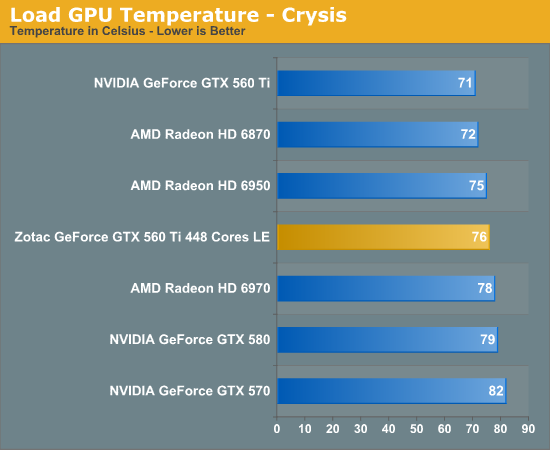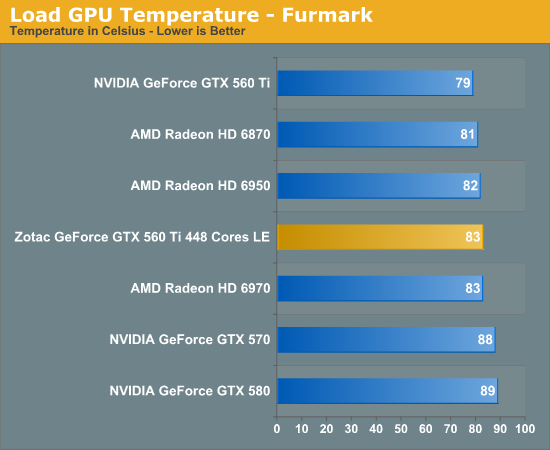 Meanwhile GPU load temperatures are at the middle of the pack. Like all GF110 products the Zotac GTX 560-448 starts getting toasty under load (even with the open-air cooler), but it's still noticeably cooler than the GTX 570 and GTX 580. With that said the open-air cooler means that this is going to be case-dependent, so cases with poor airflow would favor the closed coolers of the GTX 570 and GTX 580.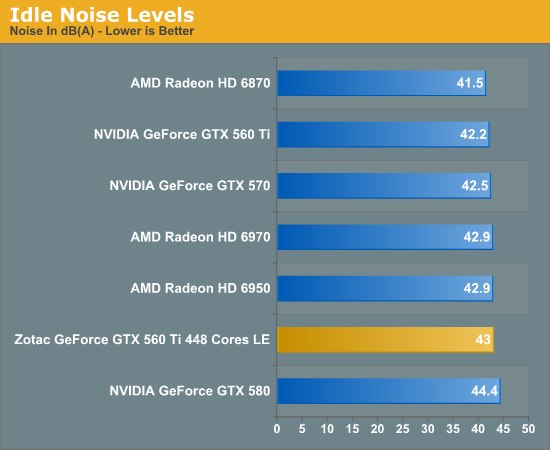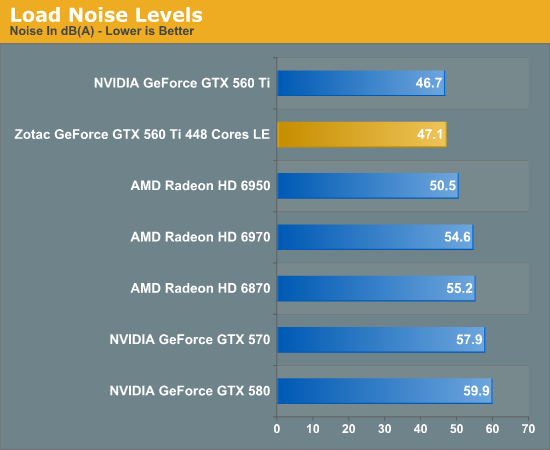 Finally we have our look at noise. The Zotac GTX 560-448 idles just a hair louder than most of our other high-end cards, including the GTX 570. Under load however that open-air cooler really makes its mark among a crowd of closed coolers, leading to noise levels little above the GTX 560 Ti and remarkably quieter than the GTX 570. On a performance/noise spectrum this is fantastic, but the devil is in the details: you need a case with good airflow to make this happen. Otherwise the Zotac GTX 560-448 ramps up significantly once temperatures approach 90C.
Final Thoughts
When we were first informed about the GeForce GTX 560 Ti With 448 Cores, I approached the matter with a great deal of skepticism. 3rd tier products have not been impressive in quite some time, and NVIDIA's previous effort with the GTX 465 is a very good example of this. So imagine my surprise once we had a card in hand and benchmark results to work with. NVIDIA has both impressed me and disappointed me at the same time.
The hardware is impressive enough. GTX 570 is a good base to work off of both with respect to performance and operational characteristics – it's well balanced and the GTX 560-448 directly inherits this. Perhaps most importantly NVIDIA didn't make their 3rd tier product significantly worse than their 2nd tier in terms of its performance targets, and that makes a world of difference. As a result the GTX 560-448 is what we'd happily call a GTX 570 LE or GTX 565 in any other universe, because it's certainly not as slow as a GTX 560 Ti.
On a larger scale, once we factor in AMD's products things get a bit more murky. The GTX 560-448 is definitely faster on average, but as with every other GF100 card, this is heavily dependent on the game being tested. Throwing out CivV – a game where NVIDIA has a distinct advantage due to driver features – leaves things much closer between the GTX 560-448 and the Radeon HD 6950. The 6950 is on average $40 cheaper, and this cannot be ignored. As fast as the GTX 560-448 is, unless you're specifically using it for games NVIDIA has an advantage in or need their ecosystem for, it's just not $40 faster. AMD has made the 6950 a good value, and this can't be ignored.
So if we're generally impressed with the performance, what are we disappointed about? As you can probably expect however, the disappointing aspect is the name. Even if performance really was close to a GTX 560 Ti it still wouldn't excuse the poor name. GF110 isn't GF114, the SM layout and superscalar execution features make these distinctly different GPUs whose differences cannot be reconciled. This is particularly evident when it comes to things such as FP64 performance where the GTX 560-448 is going to be much, much faster; or in cases where the architecture differences mean that the GTX 560-448 isn't going to pull well ahead of the GTX 560 Ti.
NVIDIA is purposely introducing namespace collisions, and while they have their reasons I don't believe them to be good enough. The GeForce GTX 560 Ti With 448 Cores is not a GeForce GTX 560 Ti. Most of the time it's much faster, and this is a good thing. But it also requires more power and generates more heat, and this is a bad thing. My greatest concern is that someone is going to build a system around the operational attributes of a GTX 560 Ti, an then pick up one of these cards, ending up with a system that can't handle the extra load. This is one of the many benefits of a clear, concise, non-conflicting namespace. And it only gets worse once you see the GTX 560 Ti OEM, a much lower-performing GF100 part that nevertheless shares the GTX 560 Ti name. NVIDIA can and should do better by their customers.
Ultimately NVIDIA has thrown us an interesting curveball for the holidays. We have a GTX 560 Ti that isn't really a GTX 560 Ti but rather is a card trying hard to be a GTX 570. At the same time it's a 3rd tier product but unlike other 3rd tier products it's actually quite good. Finally as good as it is it will only be available for a limited time. It's a lot to take into consideration, and a name alone doesn't do the situation justice. The GeForce GTX 560 Ti With 448 Cores isn't going to significantly shake-up NVIDIA's product lines – it's not meant to – but for the budget-minded among us it's a chance to get performance near a GTX 570 for just a bit less for Christmas, and that's as good a reason as any to exist.
Finally, to wrap things up we have the matter of Zotac's GeForce GTX 560 Ti 448 Cores Limited Edition. If the regular GTX 560-448 is nearly a GTX 570, then Zotac's card is a GTX 570's fraternal twin. It's close enough in performance that the differences in performance cease to matter, and the power consumption doesn't suffer for the factory overclock. At $299 there's a greater risk of running into the actual GTX 570, which is what makes the Zotac card a GTX 570 substitute rather than something immediately more or less desirable than the GTX 570. On the plus side if you're in North America and don't yet have Battlefield 3, the choice becomes much clearer.