Original Link: http://www.anandtech.com/show/5144/toshiba-qosmio-f7553d290-glassesfree-3d


Introducing the Toshiba Qosmio F755-3D290
Way back in the dark ages of CES 2011, we were able to lay hands on and play with some interesting new technology from Toshiba. They had a prototype notebook on hand that was capable of glasses-free 3D similar to the Nintendo 3DS, but with a bigger screen and the ability to track head movement and adjust viewing angles accordingly. Yet the release of this 3D notebook has been an unusually quiet one. Is the 15-inch Qosmio F755 a sound design, or is there a reason why it's been unceremoniously dropped into the marketplace?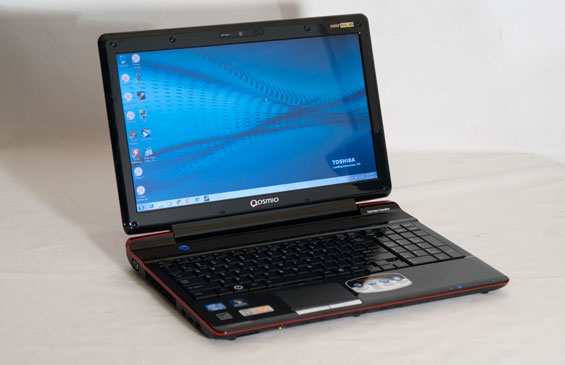 The kind of glasses-free 3D that Toshiba employs in the Qosmio F755-3D290 has thus far been mostly confined to handhelds, like the odd 3D smartphone or the aforementioned Nintendo 3DS. Toshiba even includes a reasonably impressive piece of head-tracking technology that will shift the 3D viewing angle as long as the webcam can see you, at least once you've configured it. So why did Toshiba more or less sneak this one onto the market?
Toshiba Qosmio F755-3D290 Specifications
Processor
Intel Core i7-2630QM
(4x2GHz + HTT, Turbo to 2.9GHz, 32nm, 6MB L3, 45W)
Chipset
Intel HM65
Memory
1x2GB Samsung DDR3-1333 and 1x4GB Samsung DDR3-1333 (Max 2x4GB)
Graphics
NVIDIA GeForce GT 540M 1GB DDR3
(96 CUDA cores, 672MHz/1344MHz/1.8GHz core/shader/memory clocks)
Display
15.6" LED Glossy 16:9 1080p, capable of 720p glasses-free 3D
TOS508F
Hard Drive(s)
750GB Hitachi Travelstar 5K750 5400-RPM SATA-II HDD
Optical Drive
Matshita BD-RE (UJ240ES)
Networking
Realtek PCIe Gigabit Ethernet
Atheros AR9002WB-1NG 802.11b/g/n
Bluetooth 3.0
Audio
Realtek ALC272 HD Audio
Stereo speakers
Mic and headphone jacks
Battery
6-Cell, 11.1V, 48Wh
Front Side
SD/MS/xD card reader
Right Side
Mic and headphone jacks
2x USB 2.0
Optical drive
Left Side
VGA
Exhaust vent
USB 2.0
USB 3.0
HDMI
Back Side
Kensington lock
Ethernet jack
AC adaptor
Operating System
Windows 7 Home Premium 64-bit SP1
Dimensions
15.3" x 10.5" x 1.5" (WxDxH)
Weight
7.5 lbs.
Extras
1.3MP webcam
Keyboard with 10-key
SD card reader
USB 3.0
Glasses-free 3D
Warranty
1-year standard warranty
Pricing
Starting at $1,299
Our model: $1,699
You'll forgive me for my unprofessionalism, but the best word I can think of for the Toshiba Qosmio F755's configuration is "wonky." When I reviewed Toshiba's all-in-one, the DX735, I praised Toshiba for being able to produce a balanced system configuration that was well-suited to its intended purpose, but the F755 in any of its three shipping configurations is the polar opposite.
The bright spot of the F755 is the Intel Core i7-2630QM. The i7-2630QM and its successor the i7-2670QM are, in my opinion, the price/performance/power sweet spot of the mobile market right now. The F755-3D290 configuration employs the i7-2630QM, which is a fast quad-core processor with Hyper-Threading, able to turbo up and provide plenty of juice on two cores, but also capable of being fairly frugal with power consumption. Best of all, the i7-2630QM is reasonably inexpensive and shows up in notebooks across the board. OEMs like it, and I certainly wouldn't ever be unhappy with it.
Unfortunately things wind up being pretty screwy everywhere else. Why just 6GB of DDR3 instead of an even 8GB, especially with prices where they are? Why the dismally slow 5400-RPM hard drive, borderline unforgivable in a $1,700 laptop? Why Atheros's slow wireless solution instead of one of Intel's more capable ones--or at least give us something with support for two spatial streams and 5GHz radios? All this, and then a Blu-ray rewriteable drive? A Blu-ray reader would've sufficed.
Users planning on enjoying 3D Vision with the Qosmio F755 are going to be disappointed on two fronts. The first is the anemic NVIDIA GeForce GT 540M. The 540M is fine for gaming at 1366x768 without 3D, but 3D Vision is very demanding on graphics hardware and the 540M just isn't going to cut it. Fortunately that doesn't matter, because while Toshiba advertises 3D Vision support for the F755, it just plain doesn't work. I actually checked other reviews and they all ran into the same problem; when you click "Enable 3D Vision" on the laptop, it does nothing. I've read that NVIDIA and Toshiba are working together on a 3D Vision driver for the F755, but it hasn't materialized yet...three months after the laptop's release.
Finally, to add insult to injury, the F755 is not Optimus enabled. No intelligent switching between the Sandy Bridge IGP and the GeForce GT 540M, and battery life suffers tremendously as a result. Small wonder the notebook arrived with little fanfare.
A Design Out of Time
Toshiba's Qosmio F755 chassis occupies a strange halfway point between last generation's 18-inch behemoth and the sleeker, modern 17-inch X775. While the F755 is smaller than either, its style is like a slightly muted version of its predecessor yet missing some of the aspects of the X775 that make it more appealing than previous Qosmio notebooks.
The F755 continues Toshiba's ancient commitment to glossy plastic everywhere, but the patterned style used on the lid and palm rest at least helps to shore up some of the major problems of the material. I found the Qomsio F755 to be a lot better about not picking up fingerprints than many of the other glossy notebooks I've tested. The red lid and reddish trim around the body of the notebook is actually fairly attractive, and I like the style of the hinge and the gentle slope upward, allowing Toshiba's engineers to use the back of the notebook for a couple of ports.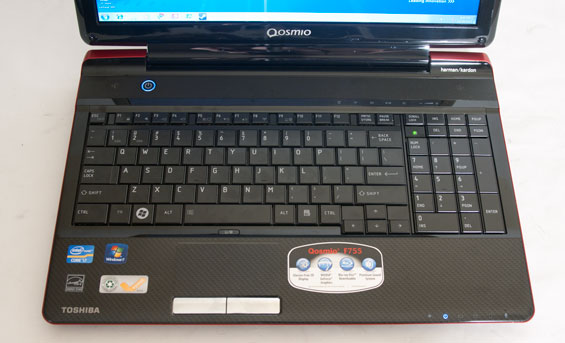 What I'm really not a fan of is Toshiba's glossy tile keyboard. While the one used on the F755 is actually reasonably comfortable to use, it's still a major step back from the chiclet keys used in the X775 and most of Toshiba's modern notebooks. The action in the individual keys is good, though, and Toshiba seems to be one of the only manufacturers that's putting real, intelligent thought into keyboard layouts on 15.6" notebooks. Every time I see a notebook at 13.3" or bigger that doesn't have dedicated document navigation keys, I die a little inside, so Toshiba's commitment at a time when other manufacturers' keyboards are getting slimmer and slimmer is much appreciated. I can't seriously be the only person in the world who uses those keys with regularity.
The touchpad is a part of the palm rest (which always looks chintzy to me), but the texture is different and I found it easy enough to use that I never connected an external mouse while I was testing the F755 (except when gaming). The glossy silver plastic used for the buttons picks up fingerprints horribly, though.
Truth be told I like the overall aesthetic of the F755 a bit more than many of Toshiba's other notebooks, particularly the use of white LEDs as a tertiary color, and I'm a fan of the style of hinge Toshiba uses here. Yet the overreliance on glossy plastic still bothers me, and the tile keyboard was a horrendous idea that never should've seen the mileage it did. It's not as bad as Acer's old floating island keyboard (you can't imagine how happy I am to see they're migrating away from that disasterpiece), but it was never a good idea and the notion that glossy keys are "premium" is insane. Premium keys are supposed to work better than regular ones, not worse.
Application and Futuremark Performance
We've seen the Intel Core i7-2630QM and NVIDIA GeForce GT 540M paired together enough times that performance is going to be fairly predictable, but unfortunately Toshiba drops the ball hardcore by including a dismally slow 5,400-RPM hard drive, inexcusable on any notebook north of a grand. The result is, as you'll see, a notebook that falls a bit behind competing systems with similar configurations, particularly in PCMark.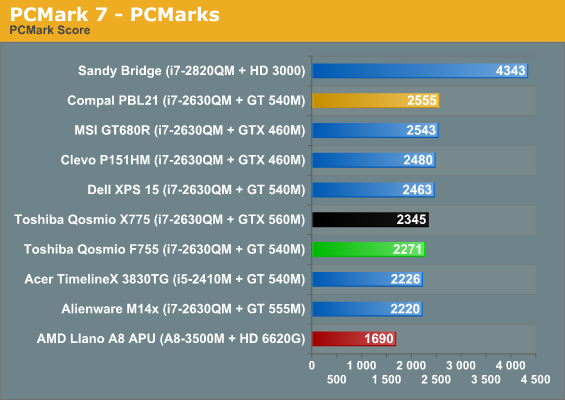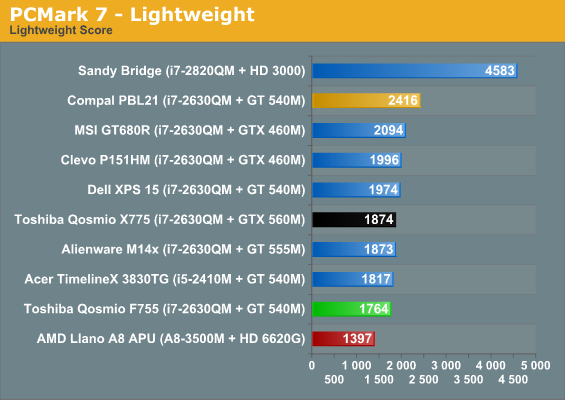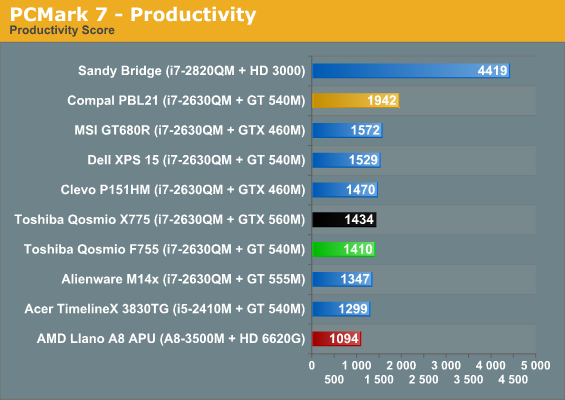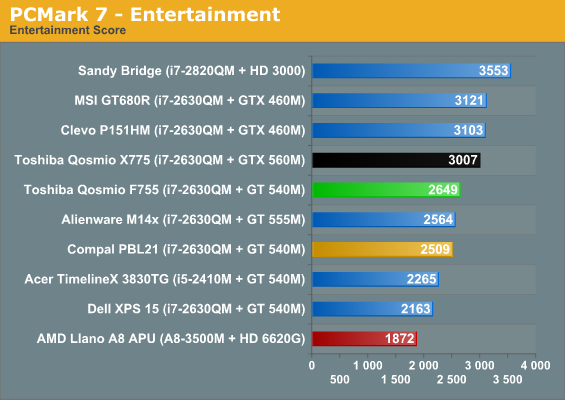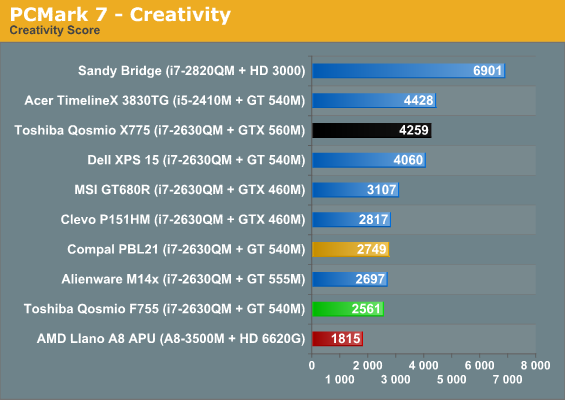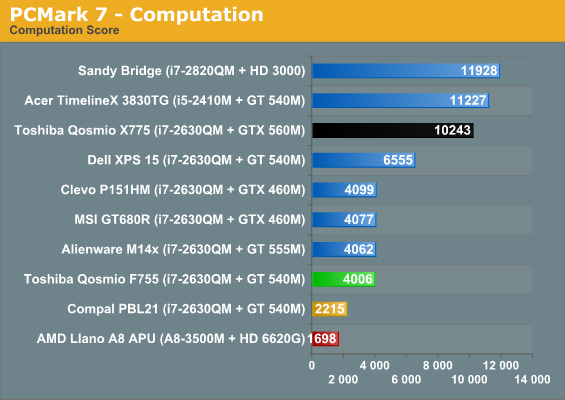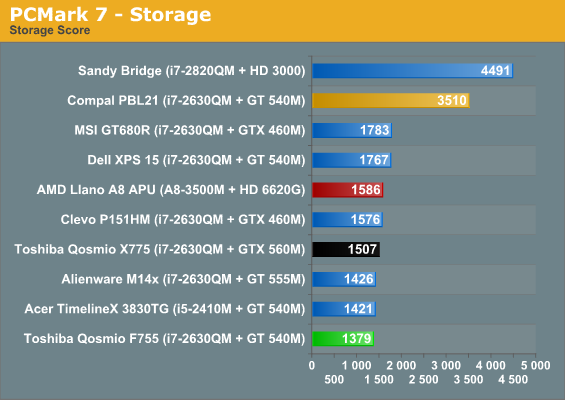 Well, that's too bad. You can see the units that were equipped with SSDs fare better at the storage benchmark, but really, the F755's slow hard drive causes it to come in dead last out of this grouping. In a crowd of similarly-configured notebooks, the F755 puts in a weak showing.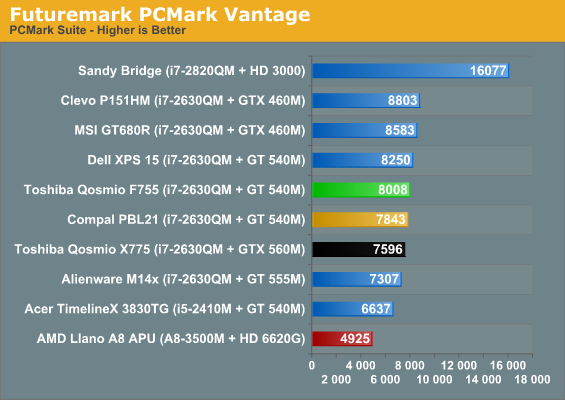 PCMark Vantage seems to be a bit more generous with the F755, giving it a score that hangs out nicely in the middle of the road.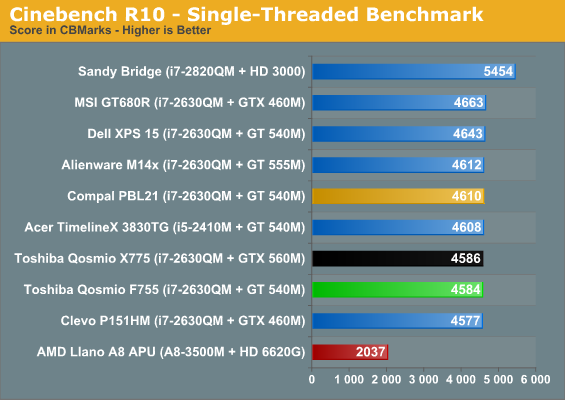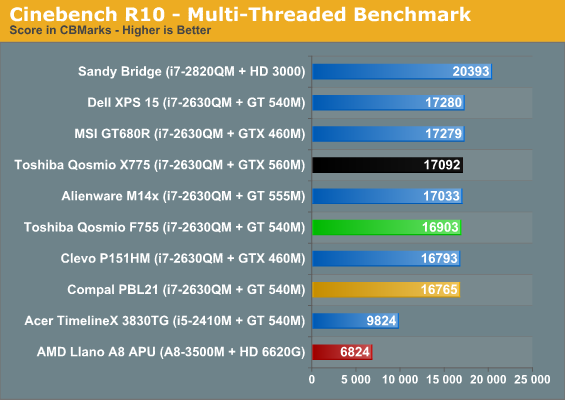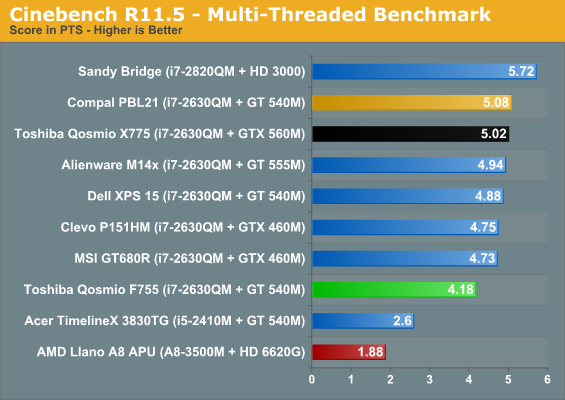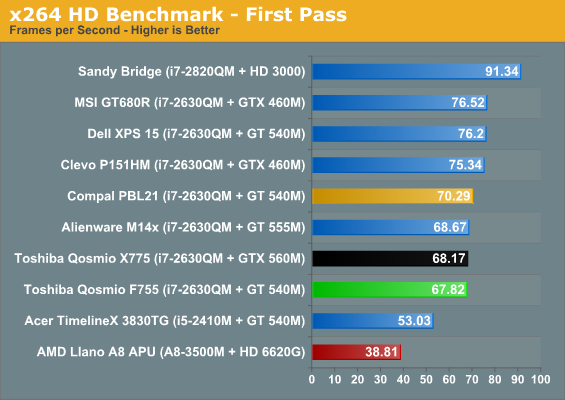 I've always been fond of how consistent Cinebench can be; it's actually one of my favorite benchmarks, and I like having both R10 and R11.5 here because R10 feels more absolute in terms of comparative performance while R11.5 seems better at teasing out minor differences in configurations. While it's not any great difference, the F755 is measurably, consistently slower than other i7-2630QM-equipped notebooks.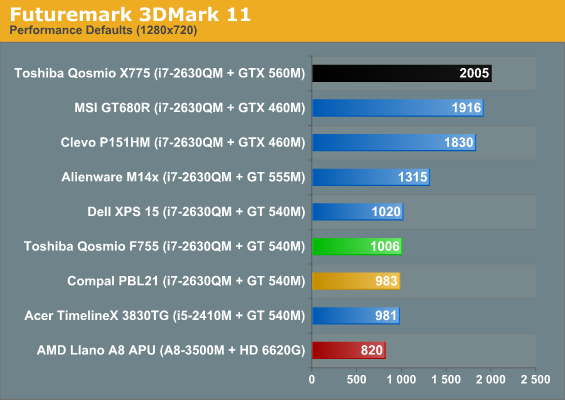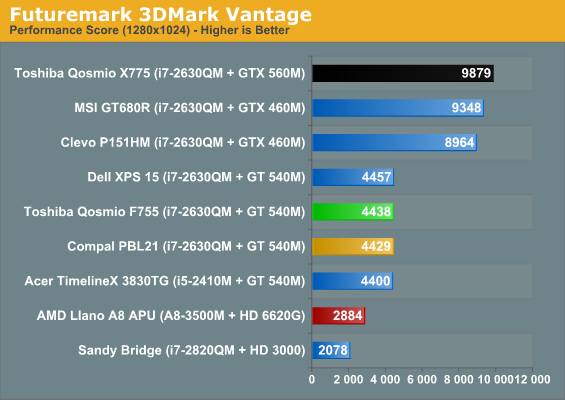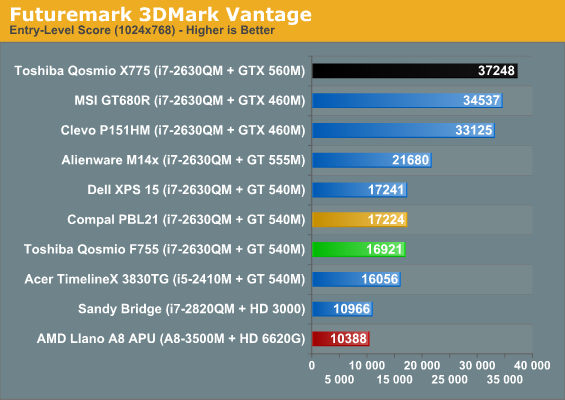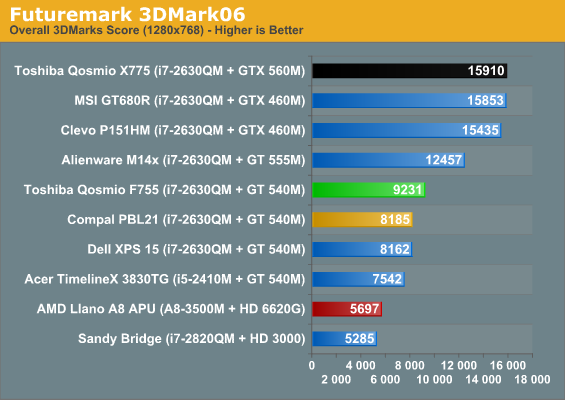 The 3DMarks are also very consistent across the review units. The GT 540M-equipped notebooks all pretty much line up, with 3DMark06 being the only odd man out, boasting a substantially higher score than the others. This should hopefully offer some confirmation that NVIDIA's Optimus is almost all upside.
Gaming Performance
Without 3D Vision being functional on the Toshiba Qosmio F755, we're reduced to the basics. I elected not to run any of our tests at the notebook's native 1080p resolution because, frankly, the GeForce GT 540M has consistently proven not to be powerful enough to handle it. You'll see it even struggles in our "High" benchmark when we jack up the resolution to 1600x900, high enough that the limited memory bandwidth starts to be a real burden.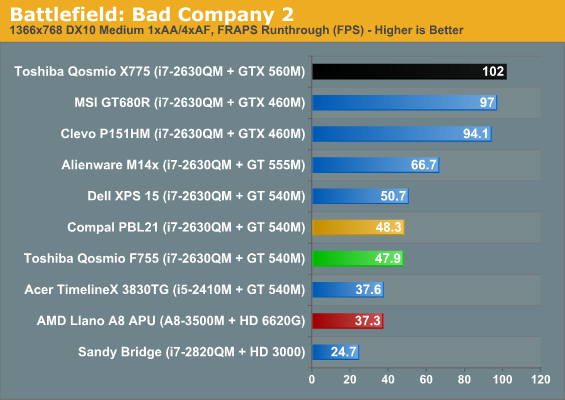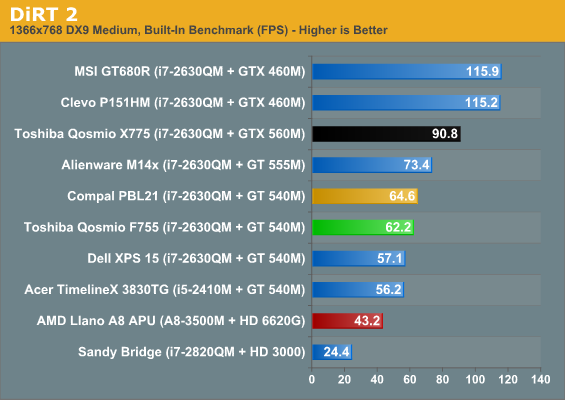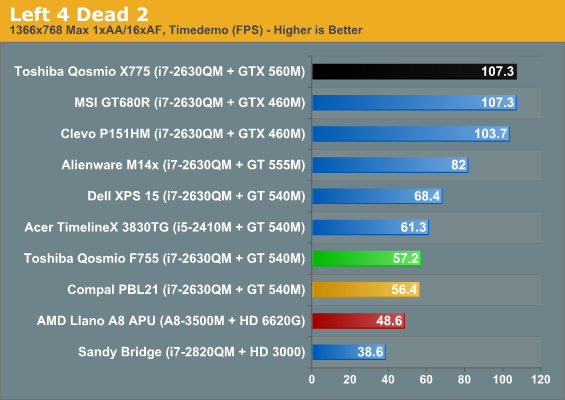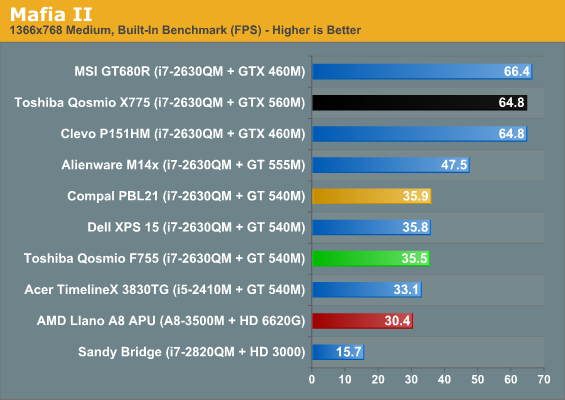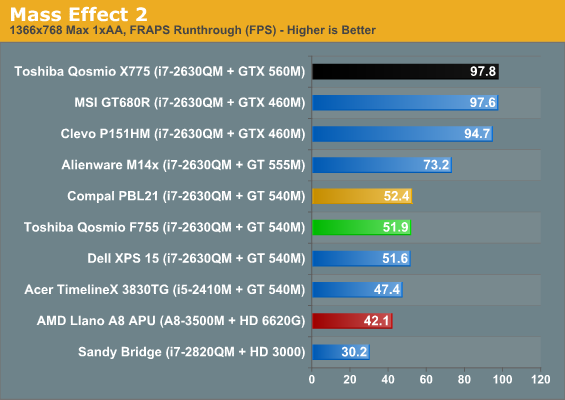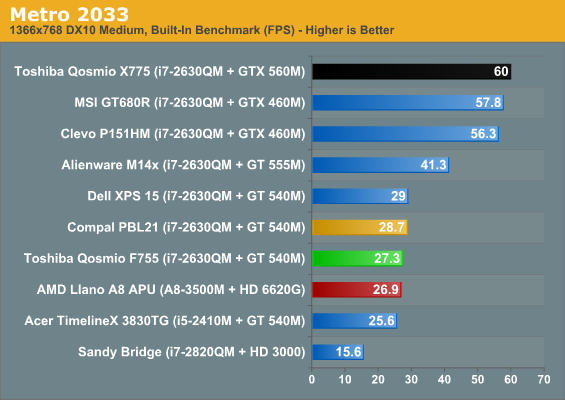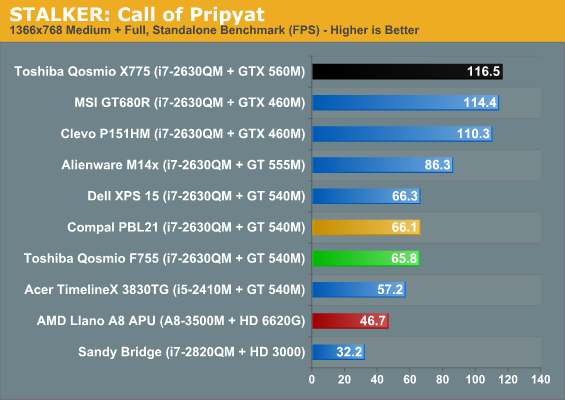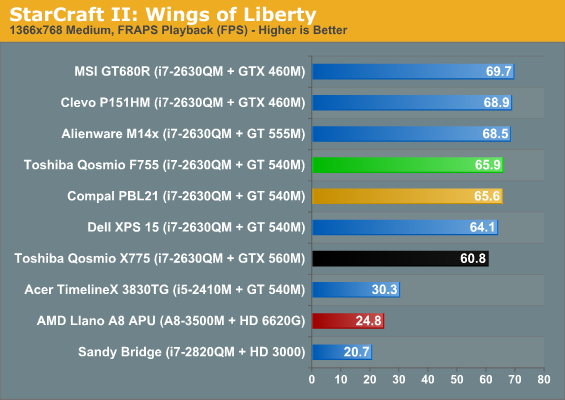 In our medium suite, the F755 is able to at least put in a decent showing, with only the Acer TimelineX 3830TG having trouble keeping pace (due to both the i5-2410M and the fact that the notebook throttles the processor pretty heavily). These are really the settings the GT 540M belongs at. Note how rarely the 540M breaks 60fps even at these settings, basically the minimum for a decent 3D Vision experience. Even if Toshiba and NVIDIA do get it working on the F755, it's likely not to be very useful.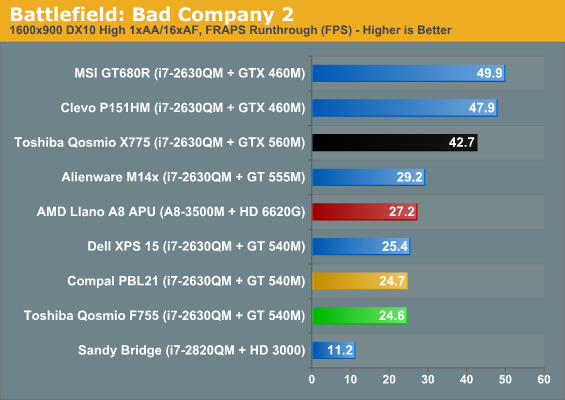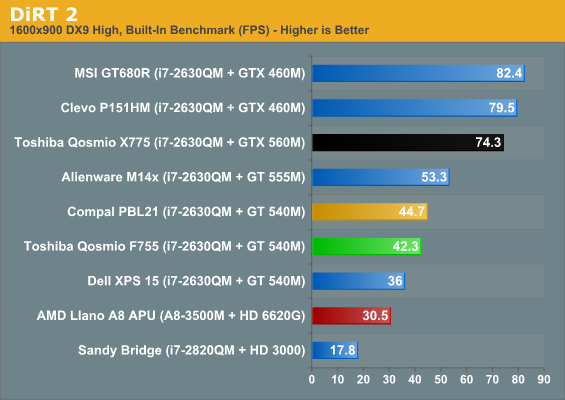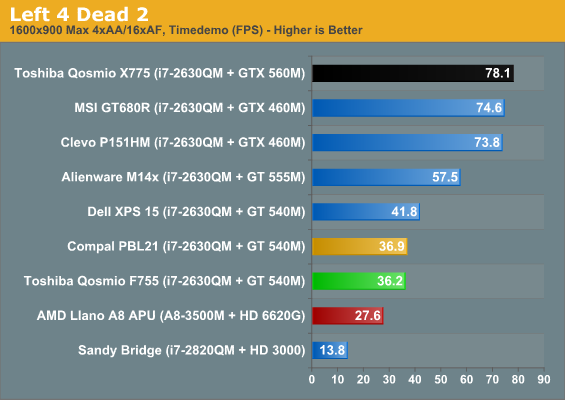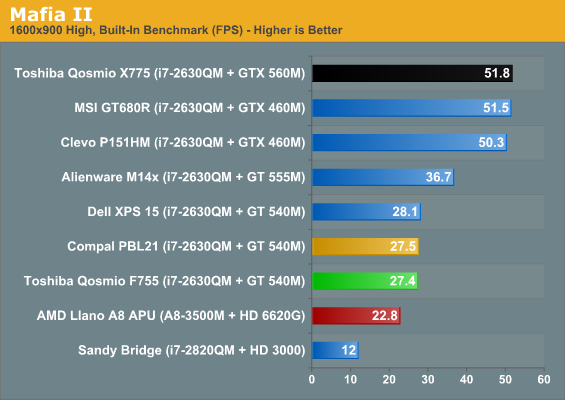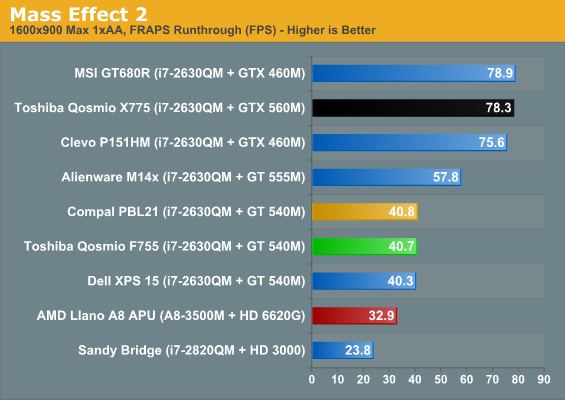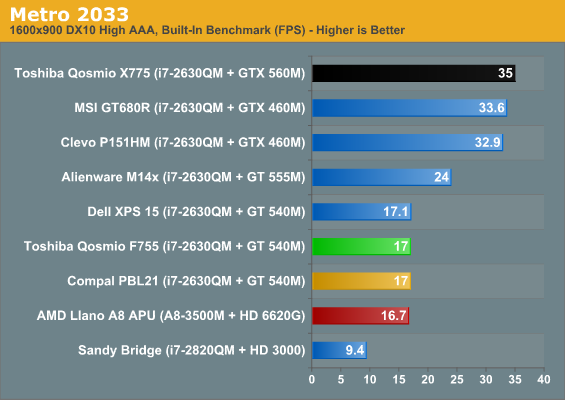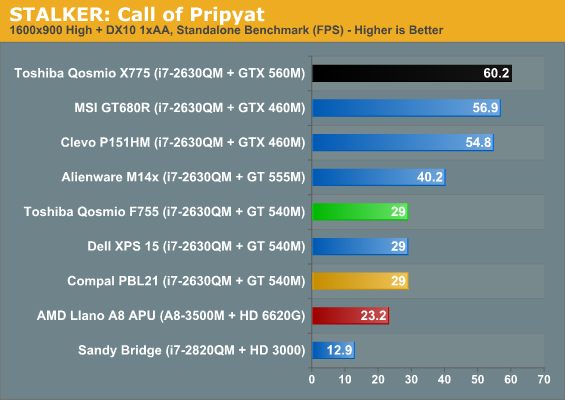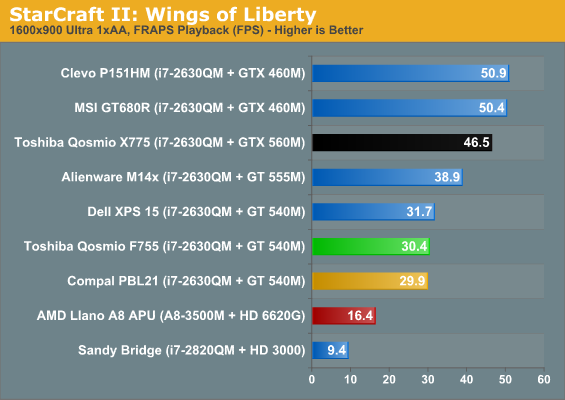 Bump the settings up to "High" and things take a turn. Now the GT 540M has a much harder time keeping up, and it's clear it wasn't never meant to run at a resolution this high, let alone the F755's native 1080p. It's just not powerful enough; the GTX 560M is a far better solution and still able to fit into a 15.6" chassis, even though it adds a bit of bulk.
Battery, Noise, and Heat
Where the Toshiba Qosmio F755 unfortunately crashes and burns is in battery life. I was stunned at how fast I was able to put together this review; normally our battery tests wind up taking the lion's share of the testing period, but the F755 depletes its battery alarmingly quickly. Take a look: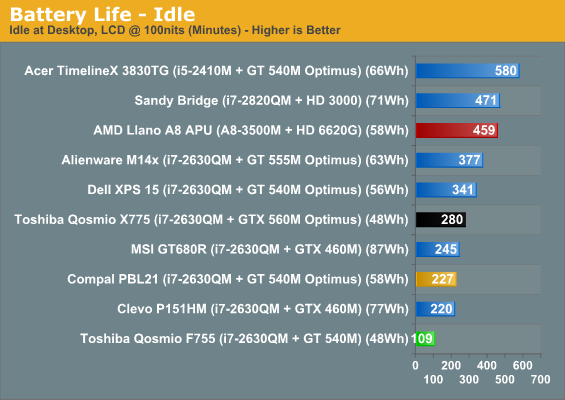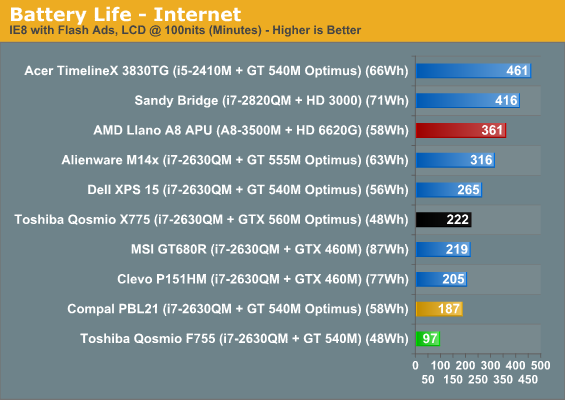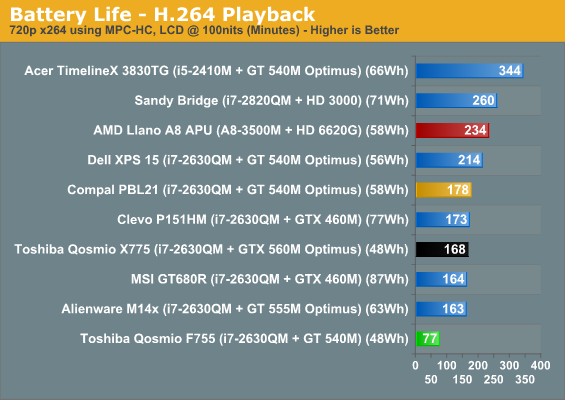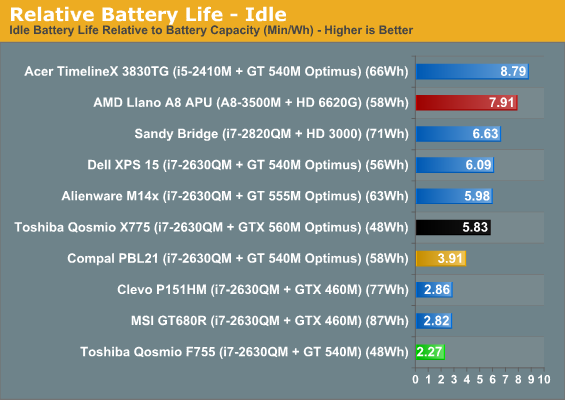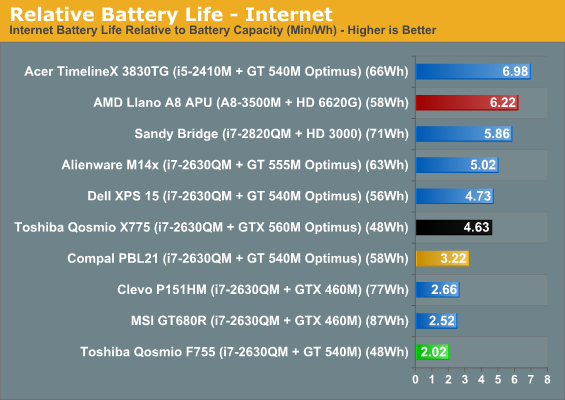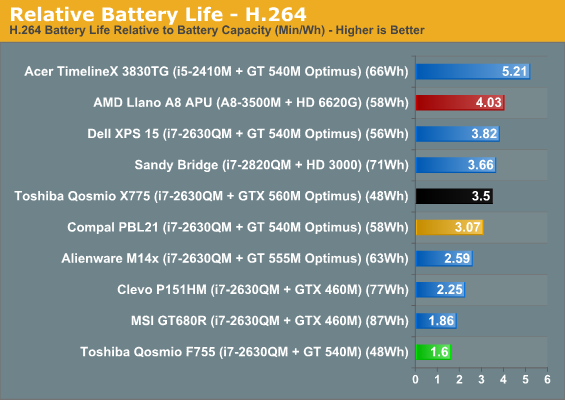 The F755 is at the bottom of the heap every time, performing worse than both GTX 460M-equipped notebooks even after relative battery life is taken into account. It stands to reason the complex screen probably tacks a decent amount of power consumption on top of everything, but the bottom line is that this notebook just isn't capable of running off of the mains for any kind of reasonable time. I wonder if Optimus would've helped, but I guess we'll never know.
Thankfully, Toshiba continues to produce notebooks that don't generate a lot of heat or noise. In the majority of Toshiba notebooks I've tested, heat and noise were never a problem, and the F755 continues that trend. The fan never comes on particularly loudly, and during testing the whole unit never felt very warm.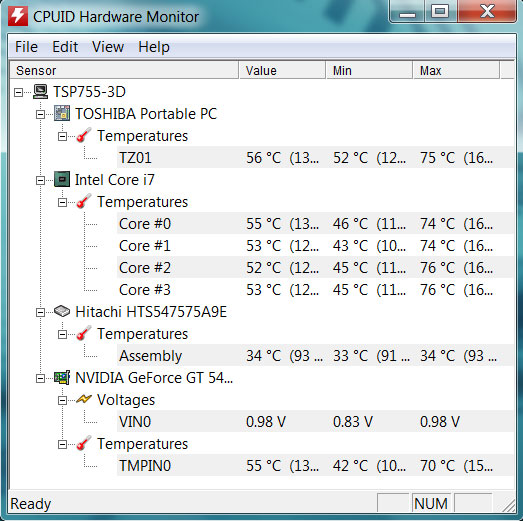 As you can see, idle and load temperatures are for the most part excellent across the board. The GT 540M never gets particularly hot (at least, comparatively speaking), and it's nice to see an i7 hover in the mid-70s rather than going past 80C in a notebook. Meanwhile, the slow-spinning Hitachi hard drive stays remarkably frosty.
The Screen Isn't Ready for Prime Time
Toshiba's Qosmio F755 sports a surprisingly decent screen if you ignore the 3D capability. While running in 2D mode it offers a full 1920x1080 resolution with far superior viewing angles to the traditional TN panel, though it does have a slightly unusual but noticeable texture as a result of also offering the 1366x768 3D mode. I couldn't really capture the texture in photography (and obviously the 3D is impossible to capture that way) so you'll just have to take my word for it.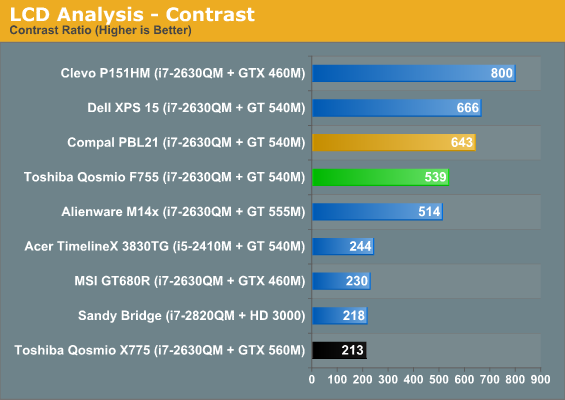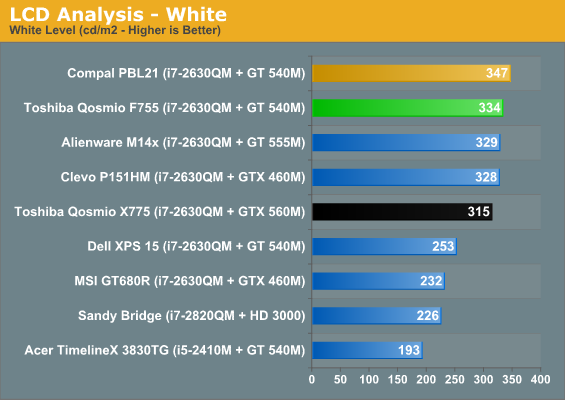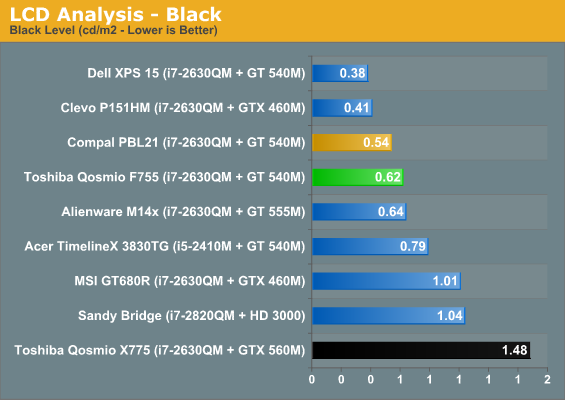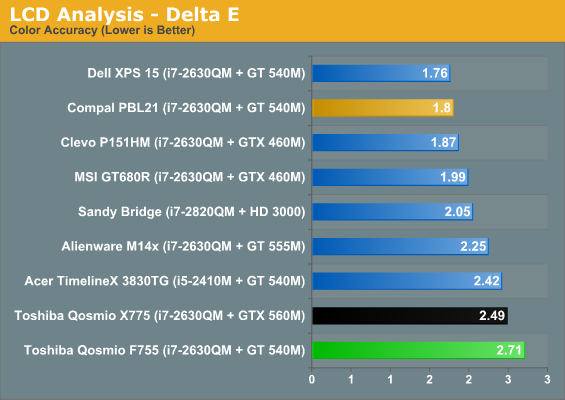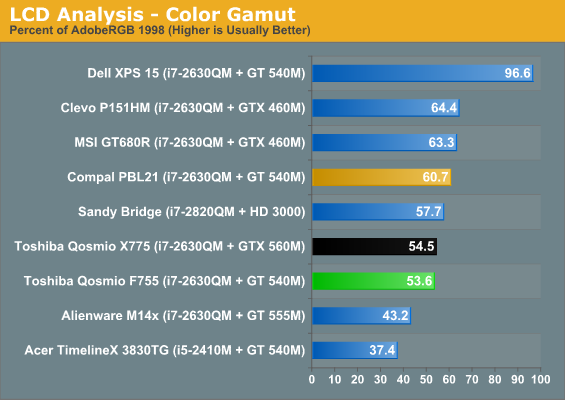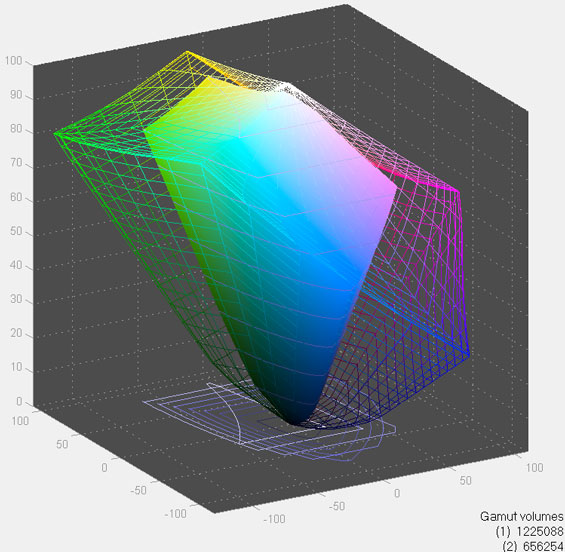 Color gamut and accuracy aren't the best, but contrast is up there, and honestly this is probably one of the best screens I've seen on any Toshiba notebook, a testament both to its quality and unfortunately to how frequently Toshiba tends to cheap out on this particular component. I'm still happy to see a 1080p screen on a 15.6" laptop.
Viewing angles are also remarkably good, although when looking at the screen dead on it doesn't feel entirely uniform. It does the traditional washing out when looked at from below, identifying it as a TN panel, but from above and from the sides it's still of better quality than most.
Where things get foggy is the 3D support. Unfortunately Toshiba offers next to nothing as far as 3D support or software in the Qosmio F755; with 3D Vision nonfunctional, the best way I could really test the 3D functionality was by using the configuration software and by playing back a DVD and using the notebook's software to "3D" it. So I popped in my DVD of the original A Nightmare on Elm Street, a film with excellent cinematography (Jacques Haitkin's understanding of light and shadow is brilliant) and use of depth. The real-time 3D conversion was...troubled. Part of the problem is that I have difficulty with 3D in general (even NVIDIA's excellent 3D Vision produces ghosting artifacts for me), but the screen is frankly just blurry.
Honestly I think the 3D is a cute gimmick on the F755 but basically utterly impractical. It didn't enhance my viewing of Nightmare, I just left the experience with sore eyes and remembering how much I love the soundtrack. Neither of these speak well for the screen or the experience.
Conclusion: A Clear Miss
Reviewing Toshiba's Qosmio F755-3D290 was unfortunately both very easy and very difficult to do. It's easy for anyone to gripe about something and as a reviewer I take my job seriously; you're going to be a lot more miffed about an unpleasant surprise with your new purchase than a pleasant one. The fact remains, though, that I do have to go back and deal with a product's reps and PR, and I have to explain to them why that product reviewed poorly. I'm also personally a fan of Toshiba's products; Toshiba makes good hardware for people on a budget and I've always been happy with that, even failing my complaints over their stylistic decisions.
The problem is that the Qosmio F755 isn't remotely improved from when I saw the prototype back in January. The demonstration there looked promising, but with the final product in hand all I have to show for my time is mediocre 2D-to-3D video conversion, 3D Vision that appears in software but doesn't actually work, and 3D calibration software written in Engrish. Toshiba makes matters worse by offering the F755 with a baffling hardware configuration. It even goes downhill from there, with the dire battery life. Unfortunately, there's just more to dislike about the F755 than there is to like.
Toshiba's base model is $1,299 and the only loss is on the CPU, downgrading to an i5-2410M. At that price it's still not acceptable and worlds away from alternatives from Dell or Compal. You're paying for the glasses-free 3D screen, but the problem is that the 3D is busted from the factory and barely works. In exchange, you sacrifice battery life, mobility, and overall screen and build quality, and that's before taking the price tag into account. If the 3D at least worked, you could probably make a case for that novelty, but it doesn't and I don't think it's going to be fixed anytime soon.
As I said, I generally love working with Toshiba's hardware because I can usually make a case for it. The Qosmio F755, unfortunately, feels misconceived from top to bottom. The screen technology doesn't appear to be ready for the mass market, at least not from this encounter, and the software underlying it needed a lot more time and polish. With very little to recommend it over competing 15.6" notebooks, I have no choice but to suggest you avoid the F755. Hopefully Toshiba can take another crack at the technology sometime in the future, but right now it's not ready for the marketplace and most definitely not worth opening up your wallet.