Original Link: http://www.anandtech.com/show/5113/apple-15inch-macbook-pro-late-2011-review


The early 2011 MacBook Pro is honestly Apple's best effort to date. Only using quad-core CPUs on the 15 and 17-inch models, and offering an optional Thunderbolt Display that can act as a modern day dock makes this platform, particularly the 15-inch model, the perfect candidate for users who want the power and flexibility of a desktop with the portability of a notebook. Apple gets the mobile revolution in more ways than one, and its MacBook Pro/Thunderbolt Display combo is the perfect example of that.
It's this very combination that I've been using, partially since the introduction of the Sandy Bridge MacBook Pro earlier this year (the Thunderbolt Display didn't arrive until later). I've been quite happy with the setup. With the exception of lackluster Quick Sync adoption by Apple and obviously limited GPU options, I have very few major complaints.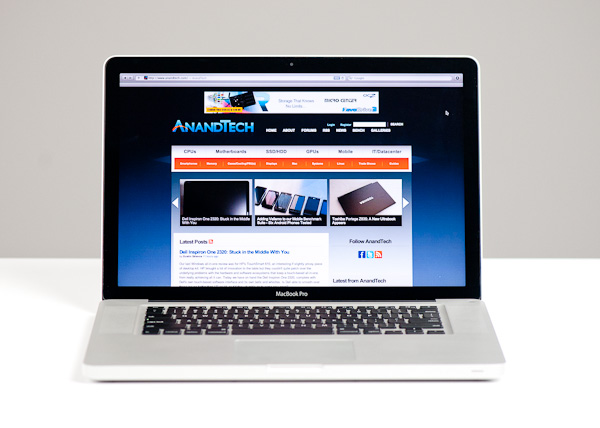 Late last month, Apple updated its 2011 MacBook Pro lineup - likely the first and last update before Apple adopts Ivy Bridge in Q2 next year. We got our hands on the new base 15-inch MacBook Pro configuration, which received one of the more substantial upgrades over the previous model. As this is still a fairly minor upgrade, be sure to read our original review of the platform for a deeper dive into all of the aspects of the system.
Late 2011 MacBook Pro Lineup
13-inch (low end)
13-inch (high end)
15-inch (low end)
15-inch (high end)
17-inch
Dimensions

0.95 H x 12.78 W x 8.94 D

0.95 H x 14.35 W x 9.82 D

0.98 H x 15.47 W x 10.51 D

Weight

4.5 lbs (2.04 kg)

5.6 lbs (2.54 kg)

6.6 lbs (2.99 kg)

CPU

2.4 GHz dual-core Core i5

2.8 GHz dual-core Core i7

2.2 GHz quad-core Core i7

2.4 GHz quad-core Core i7

2.4 GHz quad-core Core i7

GPU

Intel HD 3000 Graphics

Intel HD 3000 + AMD Radeon HD 6750M (512MB)

Intel HD 3000 + AMD Radeon HD 6770M (1GB)

Intel HD 3000 + AMD Radeon HD 6770M (1GB)

RAM

4GB 1333MHz DDR3 (8GB max)

HDD

500GB 5400 RPM

750GB 5400 RPM

500GB 5400 RPM

750GB 5400 RPM

750GB 5400 RPM

Display Resolution

1280x800

1440x900 (1680x1050 optional)

1920x1200

Ports

Gigabit LAN, Firewire 800, Thunderbolt, 2x USB 2.0, SDHC slot, combined audio in/out jack

Gigabit LAN, Firewire 800, Thunderbolt, 2x USB 2.0, SDHC slot, separate audio in/out jacks

Gigabit LAN, Firewire 800, Thunderbolt, 3x USB 2.0, separate audio in/out jacks, ExpressCard 34 slot

Battery Capacity

63.5Wh

77.5Wh

95Wh

Price
$1,199
$1,499
$1,799
$2,199
$2,499
Silicon Updates
The focus of Apple's late 2011 update, despite rumors to the contrary, was on the silicon inside the platform. As the Mac business is a relatively mature one, we can expect a slower pace of chassis and design upgrades compared to the iPhone/iPad businesses for example.
We'll start with the CPU, the lesser updated chip in the new MacBook Pro. System pricing hasn't changed, but CPU speeds have all gone up.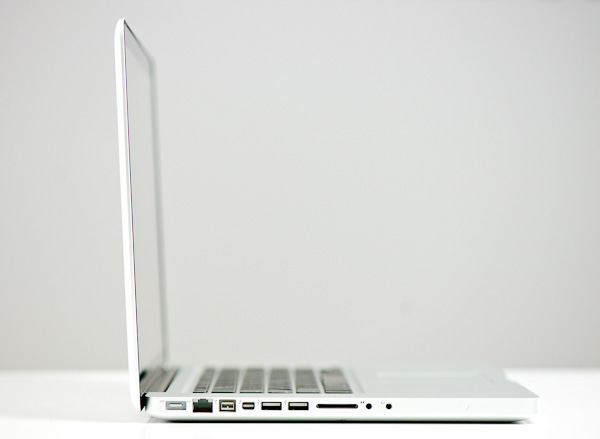 Just as before the 15-inch MacBook Pro is only available with a quad-core Intel Core i7 CPU (codename Sandy Bridge). The $1799 configuration goes from a 2.0GHz i7 to a 2.2GHz model. Be warned, this isn't the same 2.2GHz model that was available as an upgrade earlier this year though.
A quick run of Cinebench points out that the 2.2GHz i7 in our system may be a Core i7 2675QM. The original 2.2GHz option was a Core i7 2720QM. What's the difference between the two? Not a whole lot.

Max turbo is down a bit on the 2675QM. It was 3.3GHz on the 2720, but now it's 3.1GHz. The two, three and four core turbo limits are also down by 200MHz compared to what they were in early 2011. If you didn't have a 2.2GHz early 2011 15-inch MacBook Pro, these differences likely don't mean anything. If for whatever reason you're comparing to an early 2011 2.2GHz model, you'll see a slight regression in CPU bound performance.
The on-die GPU is a hair slower as well. You still get an Intel HD 3000 GPU (12 EUs) but the max turbo moves from 1.3GHz down to 1.2GHz. Or if you prefer another way of looking at it, the 2675QM is the same as the 2670QM, except the GPU is able to clock 100MHz higher (1.2GHz vs. 1.1GHz).
Apple 15-inch Late 2011 MacBook Pro CPU Comparison
2.2GHz quad-core
2.4GHz quad-core
2.5GHz quad-core
Intel Model
Core i7-2675QM
Intel Core i7-2760QM
Intel Core i7-2860QM
Base Clock Speed
2.2GHz
2.4GHz
2.4GHz
Max SC Turbo
3.1GHz
3.5GHz
3.6GHz
Max DC Turbo
3.0GHz
3.4GHz
3.5GHz
Max QC Turbo
2.8GHz
3.2GHz
3.3GHz
L3 Cache
6MB
6MB
8MB
AES-NI
Yes
Yes
Yes
VT-x
Yes
Yes
Yes
VT-d
No
Yes
Yes
TDP
45W
45W
45W
The upgraded 15-inch configuration comes with an all new Sandy Bridge SKU: the Core i7 2760QM running at 2.4GHz. Unlike the old 2.3GHz part, the 2760QM still only has a 6MB L3 cache. You do get higher base and turbo speeds. There's also a new 2.5GHz quad-core option that can run at up to 3.6GHz with a single core active. That's an absolutely insane frequency for a notebook. Notebook-as-a-desktop users will appreciate the flexibility here.
All of the new CPUs support AES-NI, although once again Apple is the victim of Intel's silly segmentation. The entry level 2.2GHz part does not support VT-d (Virtualization Technology for Directed I/O), which allows virtual machines to have direct access to I/O devices (including PCIe GPUs). I'm not sure if any current virtualization software for OS X supports VT-d, but the absence of the feature is important to note nonetheless. The rest of the CPU lineup supports VT-d.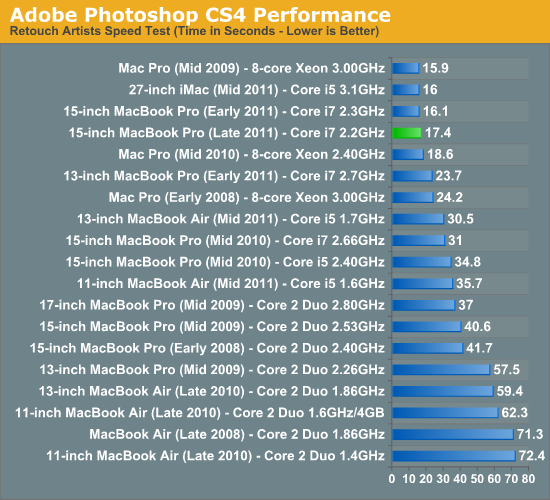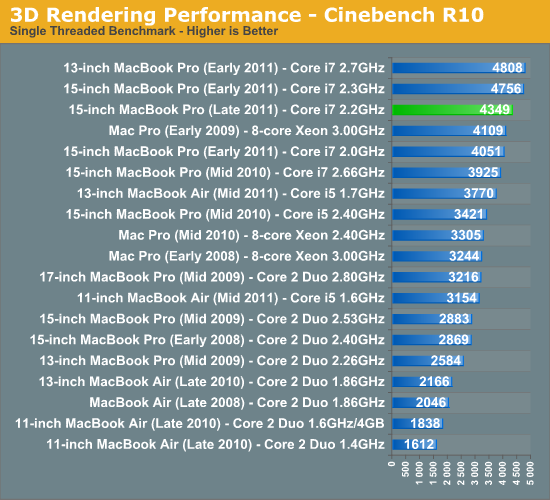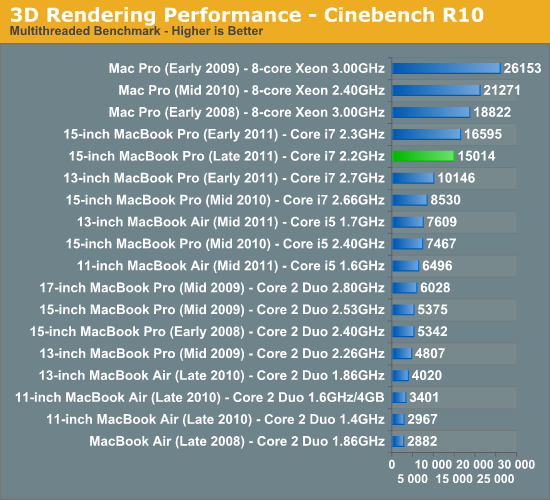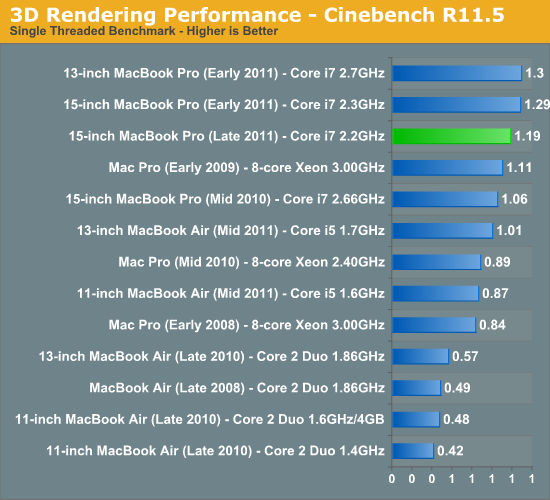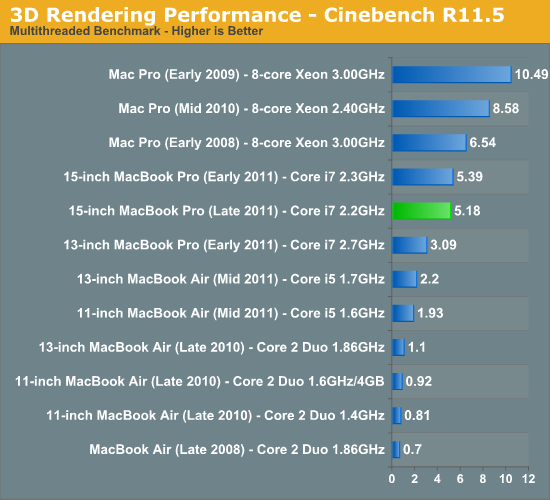 Battery Life
TDPs haven't changed, nor has the MacBook Pro's battery capacity, so overall battery life should (and does) remain relatively unchanged from the early 2011 models. Worst case scenario you can expect around 2.5 hours of battery life under load. With moderate load expect 4 - 5 hours of use on a single charge. And under a very light load you can easily exceed 7 hours.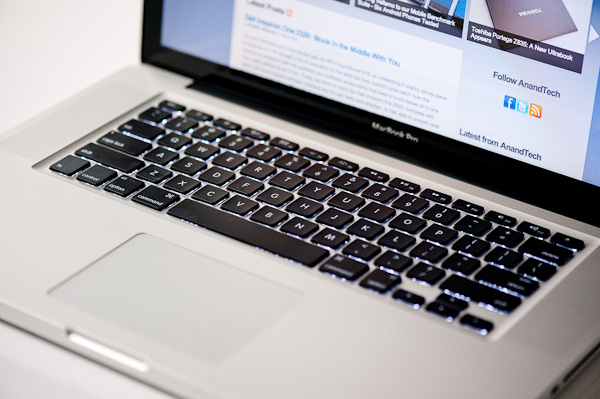 I ran our normal battery life suite, however Lion has made some of the numbers a little less comparable than I would've liked. The lighter use cases (e.g. our web browsing tests) see a drop compared to our older Snow Leopard results. Under full load the new platform, even while running Lion, actually did a bit better than its predecessor. All in all I'd say the new MacBook Pro is pretty consistent with its predecessor - Lion just threw a wrench in a lot of our battery life comparisons so we'll be starting over from scratch in building our new database.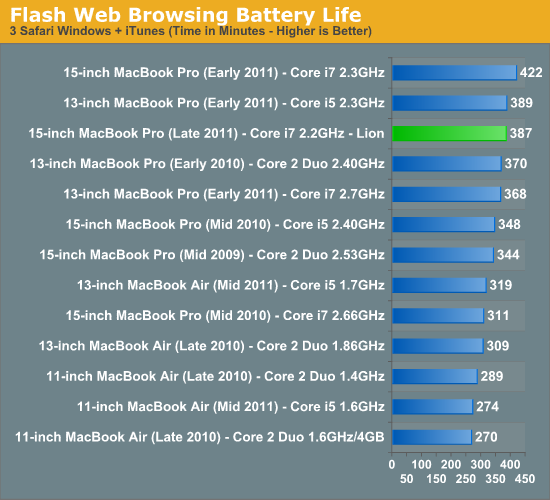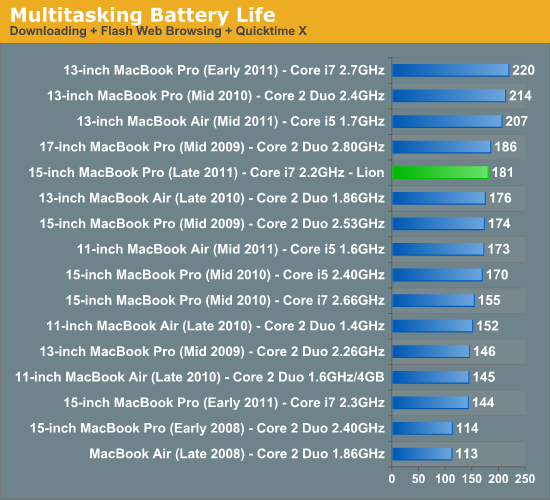 The GPU: Faster
The GPU was the main recipient of Apple's attention for this upgrade. The old entry level model shipped with a pretty disappointing AMD Radeon HD 6490M. Apple has since upgraded the entry level 15-inch model to the Radeon HD 6750M, more than doubling its compute horsepower and memory bandwidth. Memory capacity has doubled as well to 512MB. I don't believe 512MB is ideal if you're going to be driving an external 27-inch panel, but for use on the notebook's screen alone (even at high res) you should be fine.
Discrete GPU Options
AMD Radeon HD 6750M
AMD Radeon HD 6770M
Manufacturing Process
40nm
40nm
SPs
480
480
Texture Units
24
24
ROPs
8
8
Core Clock
600MHz
725MHz
Memory Bus Width
128-bit
128-bit
Memory Clock
900MHz
900MHz?
Frame Buffer
512MB GDDR5
1024MB GDDR5
The upgraded configuration now comes with a Radeon HD 6770M. The 6770M increases shader clock but not the number of processors on the GPU. Memory bandwidth may be improved, it depends on what memory clock Apple decided on - by default the memory interface is no faster than the 6750M. The bigger difference for non-gamers will be the 1GB framebuffer that comes with the 6770M. If you're going to be using a 27-inch display, you'll want this GPU.
I tested the 6750M in the $1799 model and found it generally comparable to the 6750M in the old upgraded setup. The old 6490M is much slower and thankfully, out of the picture: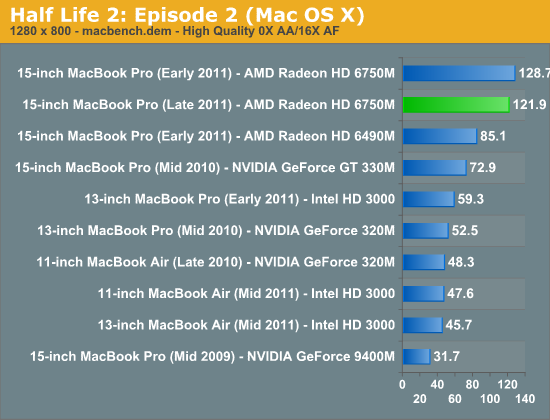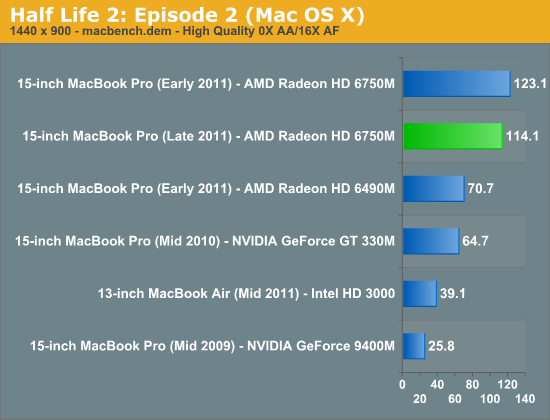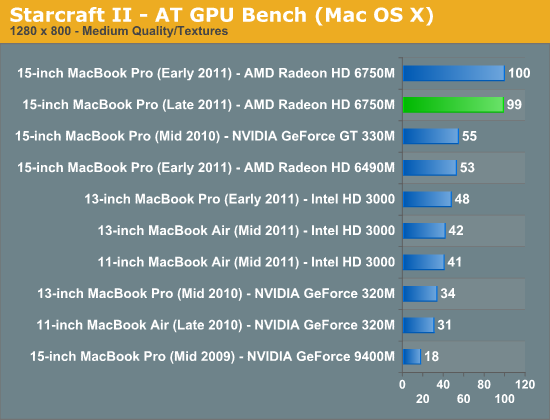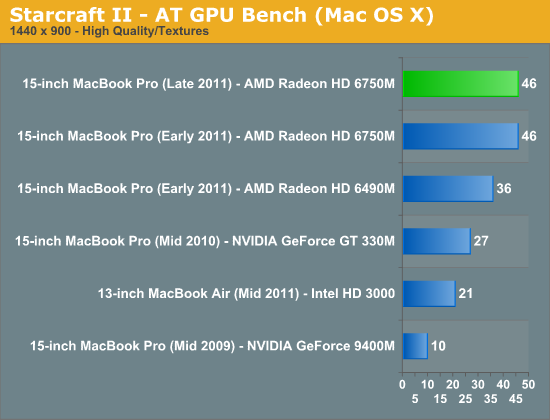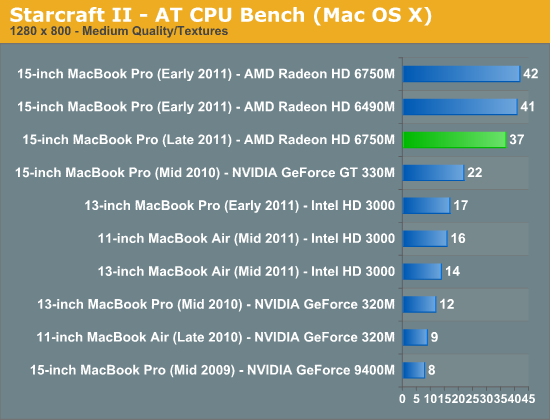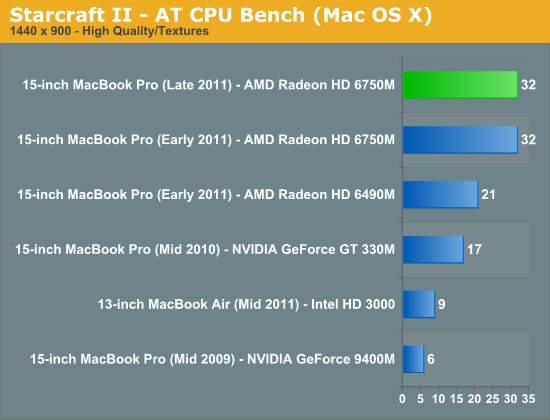 Display Quality
The display hasn't changed since earlier this year, although this is the first 15-inch 2011 MacBook Pro that I've tested with the standard resolution (1440 x 900), glossy panel. Aesthetically I prefer this panel (I'm the rare case that isn't bothered by gloss) and the lower resolution is easier on my eyes, but for productivity I do feel the 1680 x 1050 upgrade is worth it. If this is going to be a workhorse, and you have good eyesight, get the high-res version.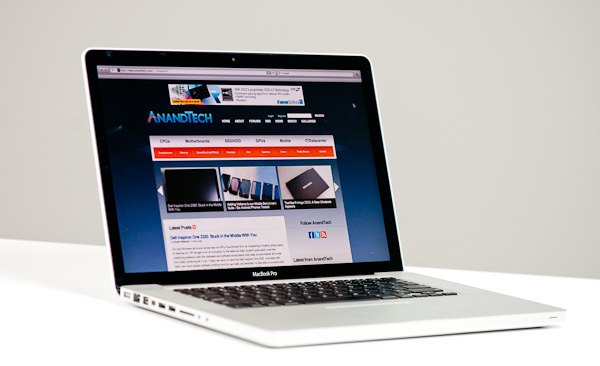 As always, Apple calibrates its panels at the factory. Note the out-of-the-box white point across the 11-inch MacBook Air, 13-inch MacBook Air and 15-inch MacBook Pro: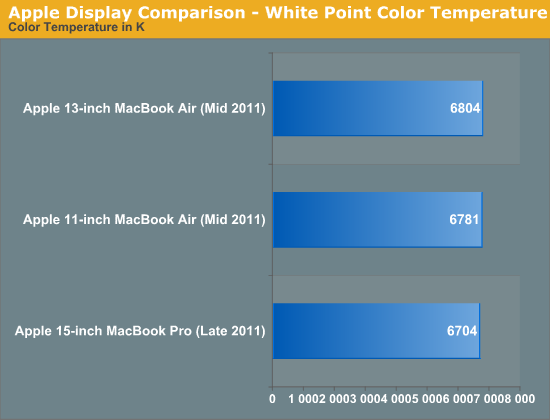 Apple wants to deliver as consistent of an experience as possible across its product line. While the Air models still don't have quite as high quality a panel as the Pro, at least there aren't any wide variations in what constitutes white on these panels.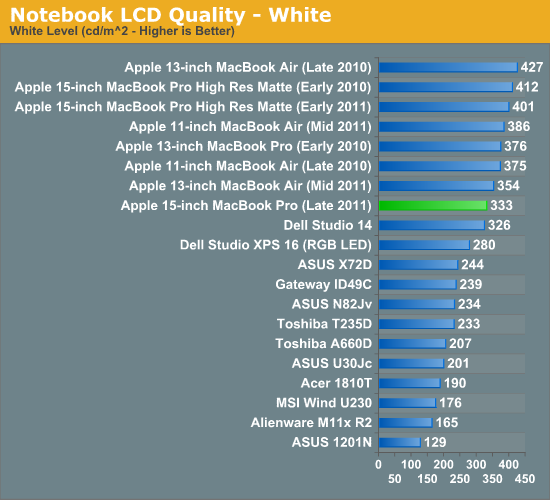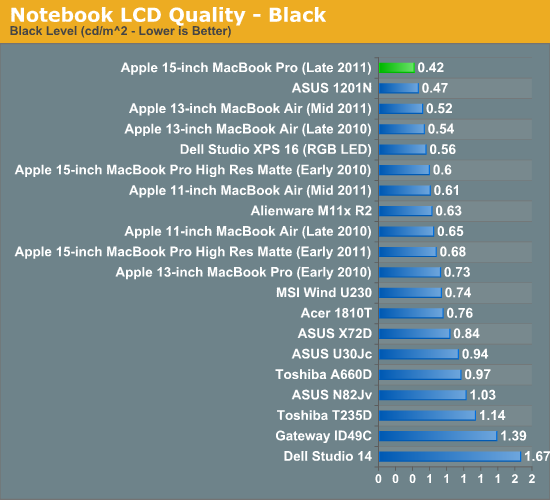 Brightness is down a bit compared to the high-res panel we looked at earlier this year, but so are black levels. The combination of the two actually results in a slightly higher contrast ratio than what we measured on the early 2011 models. In practice the panel looks just as good and seems to get just as blindingly bright as my personal 15-inch.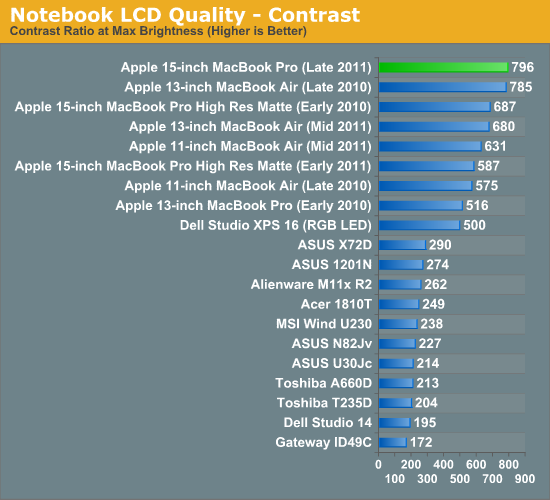 Color quality and gamut are virtually identical as well, no surprises here: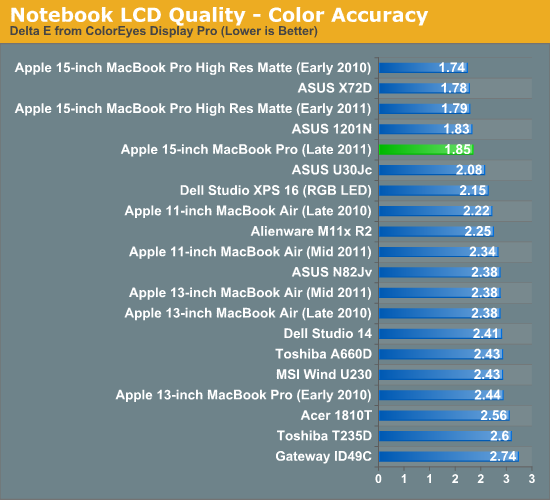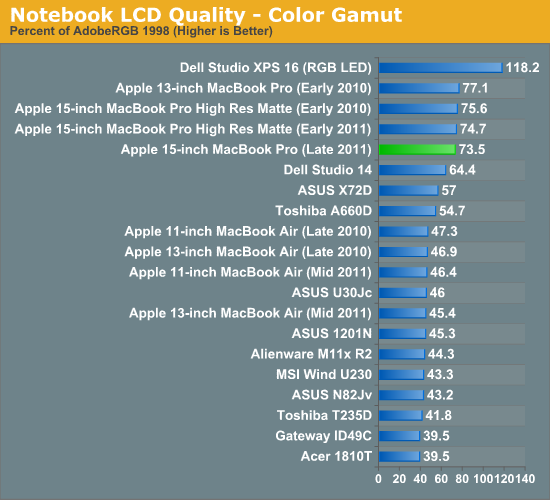 Hard Drive
The more traditional Macs (MBP, Mac Pro, iMac) continue to ship with mechanical hard drives by default, the late 2011 update is no different. My review sample came with a 5400RPM Toshiba MK5064GSXF. The drive features two 320GB platters (obviously not all in use for the 500GB capacity), and an 8MB cache.
All of my personal systems use SSDs and in testing the new MBP with a hard drive I can only say that the move back is more painful than ever. It's most noticeable when multitasking. Installing applications while browsing the web and copying files just seems to slow to a crawl compared to my SSD equipped MacBook Pro. If you're going to buy any new machine, especially if you're paying top dollar for something you expect to feel fast, you definitely need an SSD.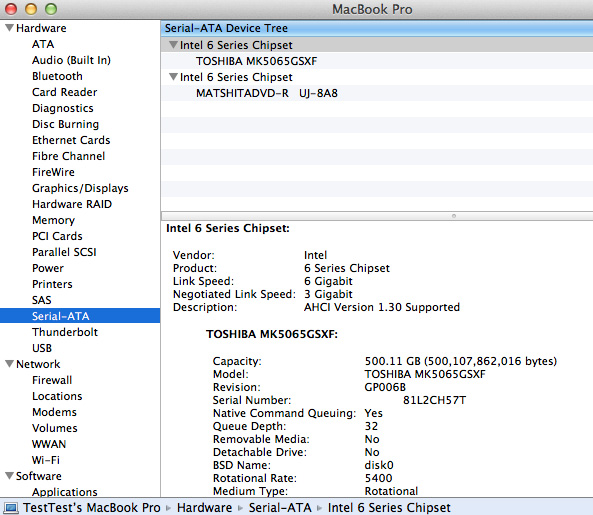 The good news is Apple's SSD pricing isn't horribly unreasonable, at least at the beginning. For $200 you can upgrade the 15-inch MacBook Pro to a 128GB drive (most likely a 3Gbps Samsung based SSD). It's when you look at the 256GB or larger drives that you're probably better off buying your own. You can buy a 256GB Crucial m4 for under $400 today, and a 240GB Vertex 3 will set you back around $460. Both options are cheaper (and faster) than Apple's $600 256GB upgrade. If you get the high-end 15-inch MBP model however, the upgrade prices drop by $100 - making the Apple route much more cost competitive. You don't get the same performance you would from an aftermarket drive, but with less headaches and potential for issues it's possibly a better route.
The 512GB drives are most definitely not a bargain from Apple. To equip a 15-inch MBP with a 512GB SSD, Apple wants $1200. You're much better off buying a 512GB Samsung SSD 830 for under $800 and pocketing the difference.
Apple SSD Upgrade Pricing
128GB
256GB
512GB
13-inch 2011 MacBook Pro
$200
$600
$1200
13-inch 2011 MacBook Pro (high end)
$100
$500
$1100
15-inch 2011 MacBook Pro
$200
$600
$1200
15-inch 2011 MacBook Pro (high end)
$100
$500
$1100
17-inch 2011 MacBook Pro
$100
$500
$1100
What aftermarket SSD should you buy? If you want to play it safe and hang on to TRIM support, go with Apple. Ever since I've been reviewed SSDs however I've run aftermarket SSDs in my Macs, mostly without any major issues. I can vouch for the Intel SSD 510, Samsung SSD 830 and OCZ Vertex 3. At one point or another I've used all of them in my 2011 MacBook Pro. My current setup is a Samsung 830 in the primary drive bay and an Intel SSD 510 in place of my optical drive, the combination works wonderfully.
Still Great WiFi
Apple continues to quietly focus on delivering excellent WiFi performance with the MacBook Pro. In the late 2011 models WiFi is still powered by Broadcom's BCM4331 3x3 solution. A quick test with a 3rd generation Time Capsule showed us peak transfer rates of 154Mbps, in line with what we've seen with the first generation Sandy Bridge MacBook Pro.
Despite Apple's move to Bluetooth 4.0 support on some of its other platforms, the MacBook Pro remains at 2.1 with the same BCM2070 controller.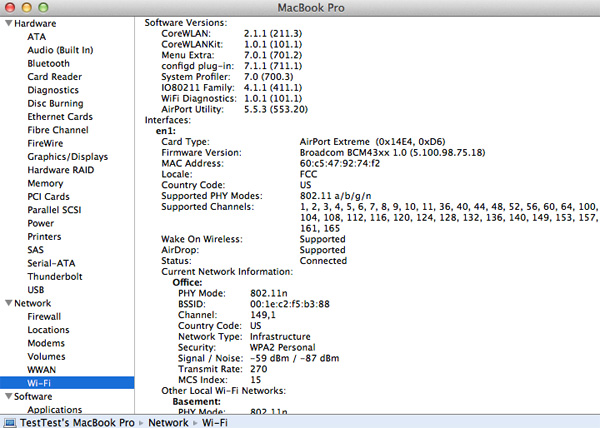 Final Words
While I had a hard time recommending the base 15-inch MacBook Pro to users earlier this year, with the GPU upgrade I'm pretty happy with the $1799 configuration. It is pricey for sure, but if you can only have one Mac in your life and you like performance, it is probably the one to get.
The MacBook Air is nice but for demanding workloads it's not enough. The iMac is fast, but I'm not a fan of lugging around a 27-inch display with me wherever I go. The 15-inch MacBook Pro is honestly the best of both worlds. Obviously there are cheaper PC alternatives if you just need affordable compute, I'm speaking only to those users who have their sights set on something running OS X.
The only changes I'd make to the system are an upgrade in display resolution and the addition of an SSD. Both are options that Apple offers, and with the latter you can always handle that upgrade on your own.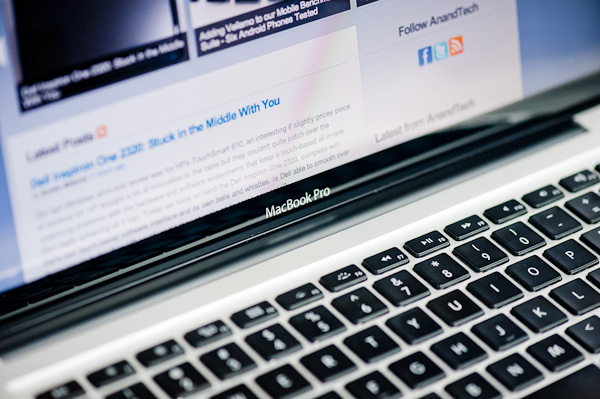 At some point Apple will have to outfit these things with SSDs standard, similar to the MacBook Air. There's such a huge difference in user experience that it only makes sense to, the question is when?
For a while now we've heard rumors of a thinner, redesigned MacBook Pro without an optical drive. Removing the optical drive alone isn't enough to significantly decrease the thickness of the machine, Apple would have to move away from the 2.5" HDD form factor as well. Given that there are no reasonable performing HDDs in a smaller form factor, one would assume that if and when Apple removes the optical drive from the MacBook Pro, it will also remove the hard drive.
Ivy Bridge would be an interesting time to make such a drastic move, as Intel's 22nm process should be able to significantly reduce power consumption. Although the time may be right from a processor perspective, I wonder whether the MacBook Pro audience would be fine with only 128GB or 256GB of storage.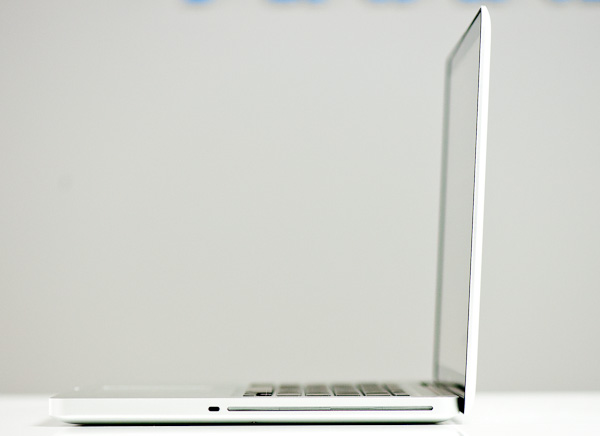 There is of course another option: expand the MacBook Air line with a larger (thicker?) 15-inch model. The trick here would be cramming a 35W quad-core chip into the system, otherwise it just becomes a 13-inch MBA with a bigger screen. That's where the thicker comment comes into play. Currently the MacBook Air only has to worry about dissipating 17W from the CPU, which includes the GPU. The 15-inch MacBook Pro however has a 45W quad-core CPU and a discrete GPU. Ivy Bridge will significantly increase integrated graphics performance, but not enough to truly eliminate the need for a discrete GPU. I suspect for Apple to do the ultra thin 15-inch MacBook Pro the right way it would have to wait until Haswell, where integrated graphics performance is supposed to be much better.
Of course all of this is speculating out loud, anything (or nothing) could happen. If you need a system today, the upgraded MacBook Pro line makes an an already great system a better value. If you can wait, Ivy Bridge will likely be very good for notebook users in about 6 - 8 months.
That's the downside to Intel's tick-tock cadence. When the ticks and tocks are major, there's almost never a good time to buy. Ivy Bridge will significantly reduce power consumption and improve GPU performance and then there's Haswell...
The next two years aren't going to be easy on anyone's wallet.