Original Link: http://www.anandtech.com/show/5093/dell-inspiron-one-2320-stuck-in-the-middle-with-you


Introducing the Dell Inspiron One 2320
Our last Windows all-in-one review was for HP's TouchSmart 610, an interesting if slightly pricey piece of desktop kit. HP brought a lot of innovation to the table but they couldn't quite patch over the underlying problems with the hardware and software ecosystems that keep a touch-based all-in-one from really achieving all it can. Today we have on hand the Dell Inspiron One 2320, complete with Dell's own touch-based software interface and its own bells and whistles. Is Dell able to smooth over those issues better than HP could, or did they stumble on to some new ones?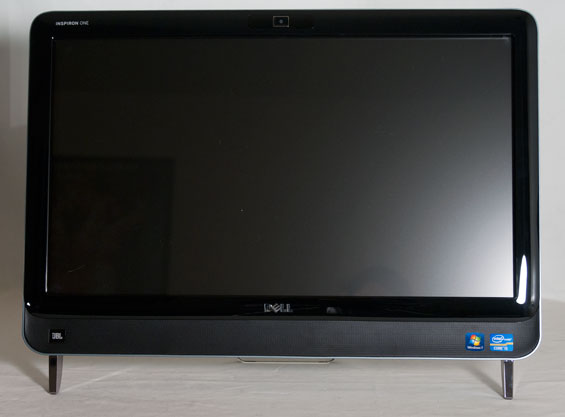 What surprised me out of the gate was that Dell opted to go for a much less adjustable stand than any of HP's or even Toshiba's all-in-ones (one of which we have in house); the Inspiron One 2320 has two legs and then it just sort of reclines on its own. That makes it simultaneously more and less user-friendly than the competition; there's something about it that feels more approachable, but at the same time it's really less adjustable than the other ones, and with a TN panel that really spells trouble. Let's hit the specs before we go any further.
Dell Inspiron One 2320 Specifications
Processor
Intel Core i5-2400S
(4x2.5GHz, 3.3GHz Turbo, 32nm, 6MB L3, 65W)
Chipset
Intel H61
Memory
2x4GB Hynix DDR3-1333 SODIMM (Max 2x4GB)
Graphics
NVIDIA GeForce GT 525M 1GB DDR3
(96 CUDA cores, 600/1.2GHz/1.8GHz core/shader/memory clocks, 128-bit memory bus)
Display
23" LED Glossy 16:9 1080p
Hard Drive(s)
Seagate Barracuda XT 2TB 7200-RPM SATA 6Gbps HDD
Optical Drive
Blu-ray reader/DVD+/-RW writer (HL-DT-ST CT30N)
Networking
Realtek PCIe Gigabit Ethernet
Intel Centrino Advanced-N 6230 802.11a/b/g/n
Bluetooth 3.0
Audio
Realtek ALC269 HD Audio
Stereo speakers
Headphone and mic jacks
Front Side
Webcam
Speaker grilles
Right Side
Optical drive
Input button
Power button
Left Side
Brightness control
Volume control
Headphone and mic jacks
2x USB 2.0
SD/MMC/XD/MS Pro card reader
Back Side
Kensington lock
HDMI input
Composite input
Optical out
Antenna jack
Antenna jack for NTSC/OTA ATSC input
VGA output
Ethernet jack
Surround jack
4x USB 2.0 (one taken by wireless mouse and keyboard receiver)
Operating System
Windows 7 Home Premium 64-bit
Dimensions
22.25" x 2.5" x 17" (WxDxH)
Weight
18.85 lbs
Extras
Webcam
Wireless keyboard and mouse
Flash reader (MMC, SD/Mini SD, MS/Duo/Pro/Pro Duo)
Blu-ray writer
Touchscreen
JBL speakers
Warranty
1-year basic support
(optional 3-year)
Pricing
Starting at $599
Price as configured: $1,249
As with HP's TouchSmart 610, Dell's Inspiron One opts for a mix of desktop and notebook hardware. The CPU is a low-power desktop model, the Intel Core i5-2400S clocked at 2.5GHz and capable of turbo-ing up to 3.3GHz on a single core or 2.6GHz on all four non-Hyper-Threaded cores. Instead of desktop DIMMs, though, Dell only offers two SO-DIMM slots, each with 4GB of DDR3, more than adequate for even demanding use cases.
The graphics hardware takes the hit, though. I ranted a bit about the lack of a proper ecosystem in my HP TouchSmart 610 review, but here it's particularly egregious. Dell opts for a lowly NVIDIA GeForce GT 525M as the fastest GPU you can get in the Inspiron One 2320 line. The desktop GeForce GT 430 it's descended from was already pretty dire to begin with, but just 96 CUDA cores running at 600MHz (1.2GHz on the shaders) and just 1.8GHz of DDR3 on a 128-bit memory bus isn't going to cut it for a 1080p display. We've tested this chip on Dell's XPS 15z as well, and really it's only good for medium detail 768p gaming. This is the same issue I had with HP's all-in-one, only here it's amplified because there had to have been thermal headroom in the Inspiron One 2320 for at least the GeForce GT 540M. I'd complain about that, too, but not quite so vocally.
When I spoke to HP's representative about the meager graphics hardware in the TouchSmart, she suggested that it was really meant to be more of a family computer and thus didn't need particularly aggressive graphics hardware. That may be the case, but it undermines the necessity of a dedicated GPU to begin with. If the integrated HD 2000/3000 graphics are inadequate, you probably plan on doing at least some gaming, so you'll want more. The fact is that these mobile graphics chips were designed for notebooks with 768p screens, and at that resolution they're fine. On an all-in-one, though, they're much harder to justify and really speak to a fundamental problem with the all-in-one ecosystem: we need an in-between point for graphics hardware. What we really need for "upscale" 1080p AIO systems is at least GT 555M or (preferably) GTX 560M level hardware; we've seen such chips in 14" and 15" notebooks; would it really be that hard to stuff something faster into a significantly larger AIO system? The GT 525M upgrade from the base model Inspiron One 2320 ends up costing over $200, and for that price it just doesn't add enough performance.
The rest of the Inspiron One 2320 is capable enough, and Dell seems to be gunning for more of a true family machine with it by including VGA, composite, and HDMI inputs, suggesting that even when the computer inside it isn't particularly great anymore, you can still use it as a monitor. It also supports Intel's WiDi, and the hard drive inside is a full 3.5" drive.
Application and Futuremark Performance
The HP TouchSmart 610 we reviewed had one of Intel's fastest desktop processors at its core but was hopelessly hamstrung by a dire 5400-RPM hard drive. Dell's Inspiron One 2320 has its fortune flipped; the 2TB hard drive is speedy by mechanical drive standards, but the processor is a low-voltage desktop part, peaking at just 2.6GHz on all four cores. This is still decent, but it's actually no faster on all four cores than Intel's slowest notebook quad-core CPU. I have to wonder if Dell saved enough money by going this route instead of just using a notebook quad to justify its inclusion. [Ed: Dell is a large OEM; of course they saved money!]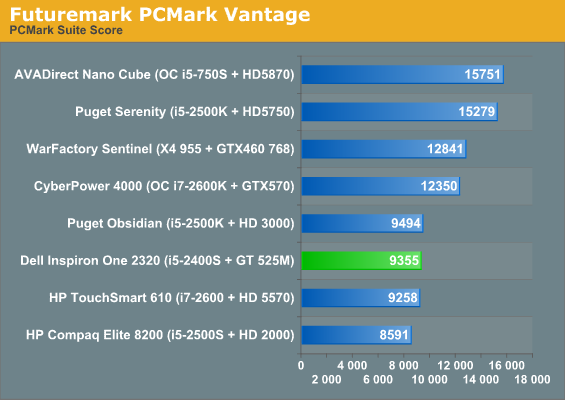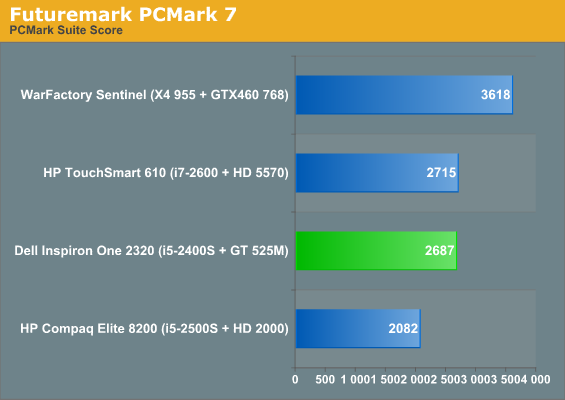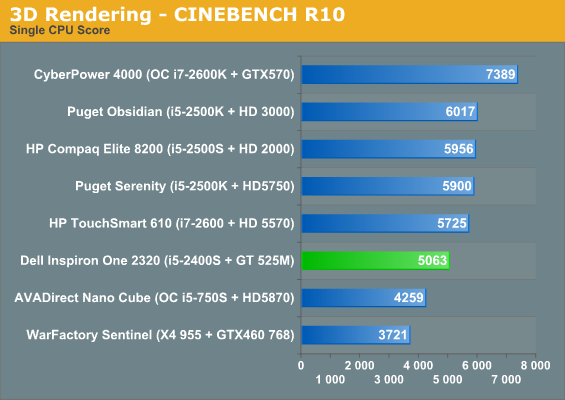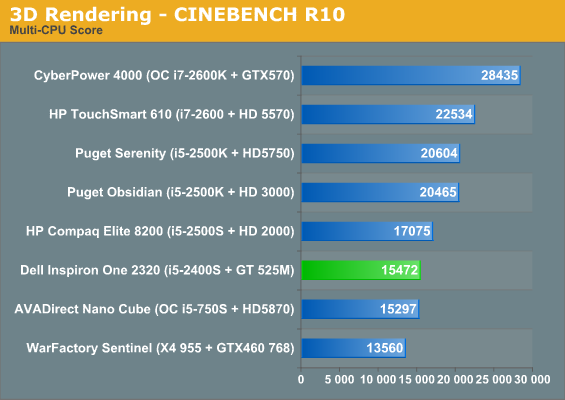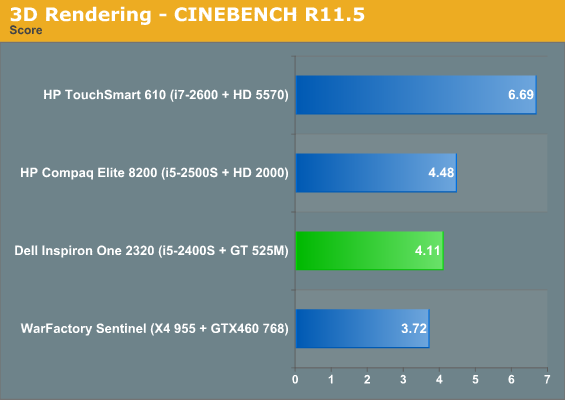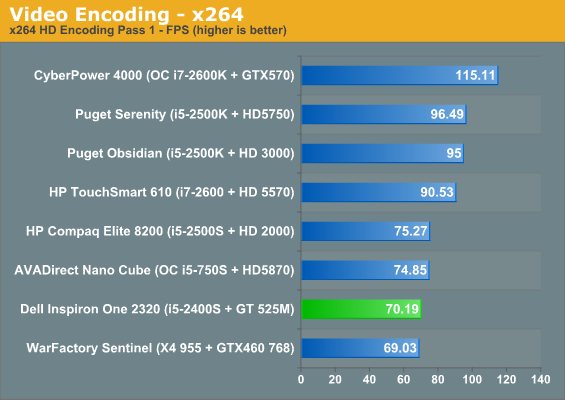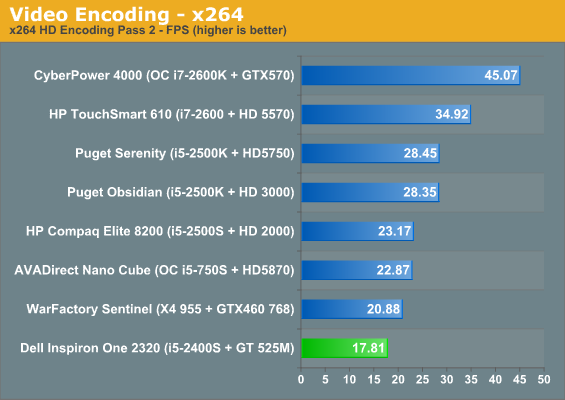 Unfortunately, the Inspiron's i5-2400S winds up being one of the slowest processors we've tested in recent memory, at least in a desktop system. It's still plenty fast, but I have to wonder if Dell didn't do themselves a disservice by employing the underpowered i5-2400S. Maybe they should've just split the difference and gone for an i7-2630QM?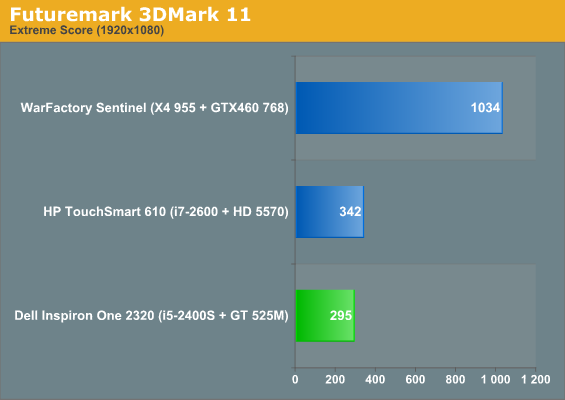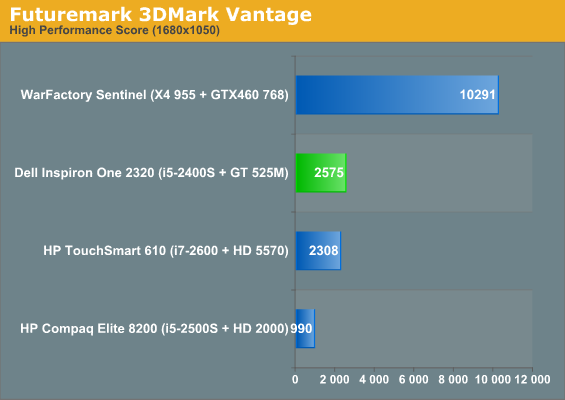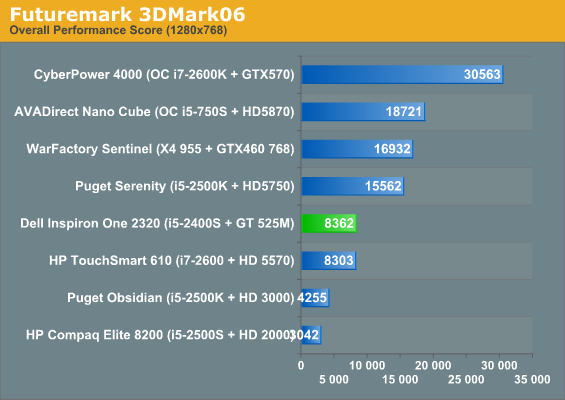 Meanwhile the GeForce GT 525M is worlds behind desktop cards we'd consider the bare minimum for gaming at 1080p, essentially tying in performance with the AMD Radeon HD 5570 in the TouchSmart 610. If Dell wants to match the performance of its competition, that's fine, but that performance was one of the major problem areas of the TouchSmart 610. Gamers, consider yourself warned for what we'll see on the next page.
Gaming Performance
I can only hope I've contained my excitement enough for this part. As mentioned in the frequently referenced HP TouchSmart 610 review, these GPUs just aren't powerful enough to be driving these 1080p displays. The NVIDIA GeForce GT 525M is pretty heavily hamstrung, operating at even lower clocks than the already underpowered desktop GT 430. I can't believe this is the best Dell can offer in this all-in-one. We'll start with our "Medium" 1080p test suite. It'll be a little underwhelming with just the two all-in-ones tested here, but bear with me.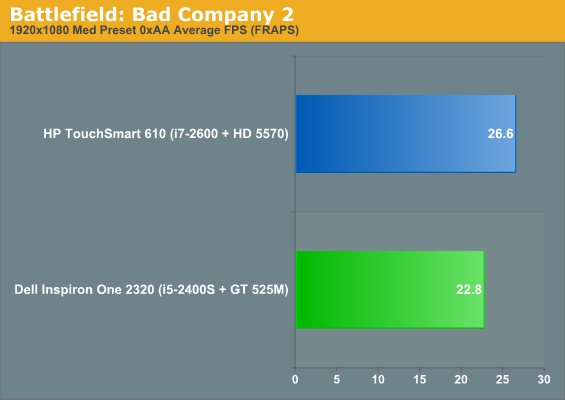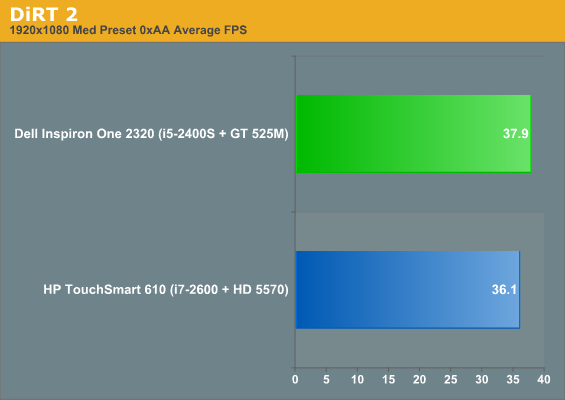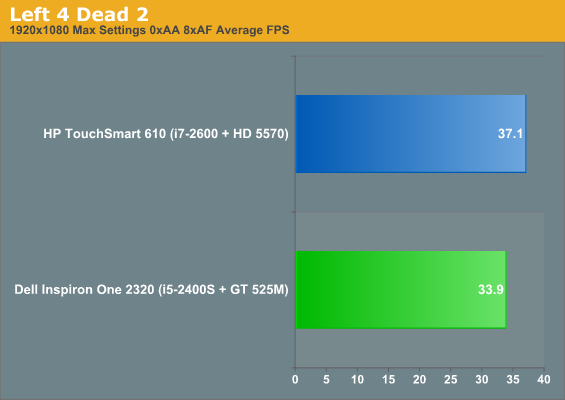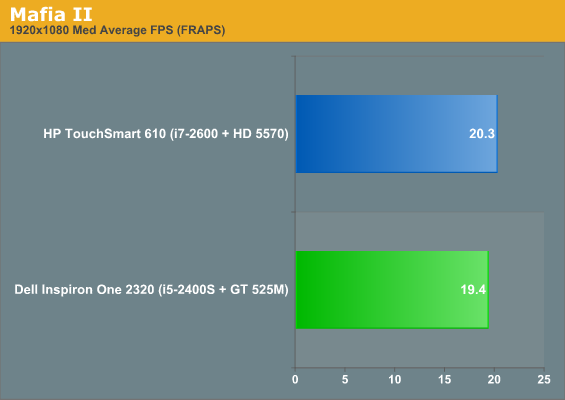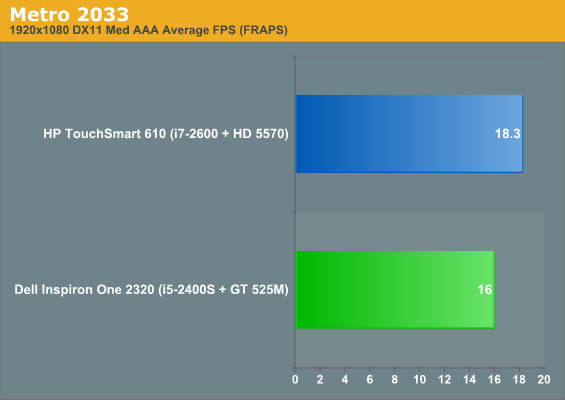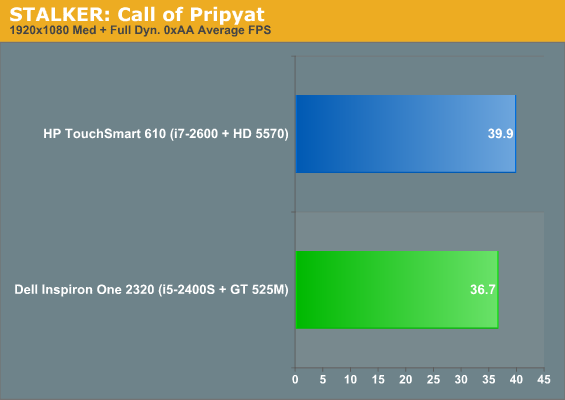 Medium is about as good as you're going to get for half of these games if you want to try and play them at native, but the Inspiron One 2320's GPU is sadly even weaker than the already mediocre AMD Radeon HD 5570 in the TouchSmart. It leads in DiRT 2 but trails everywhere else, and the "High" testing is only more depressing.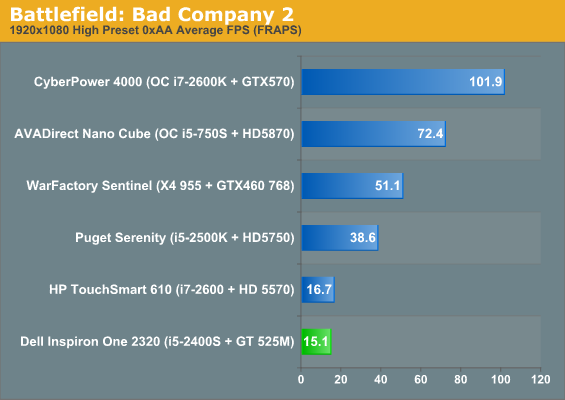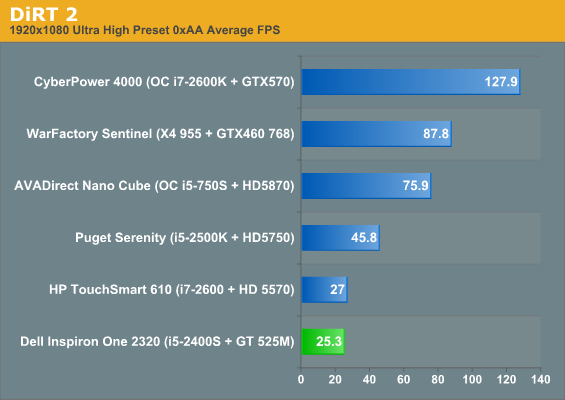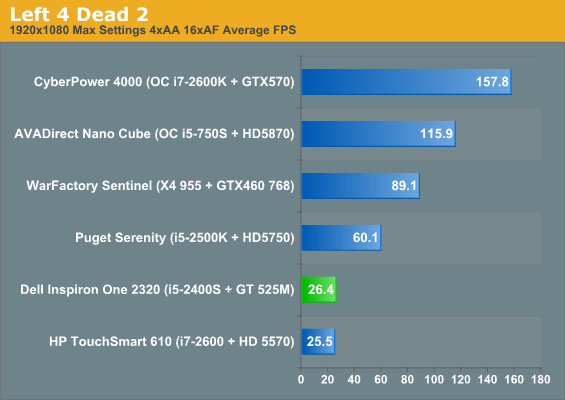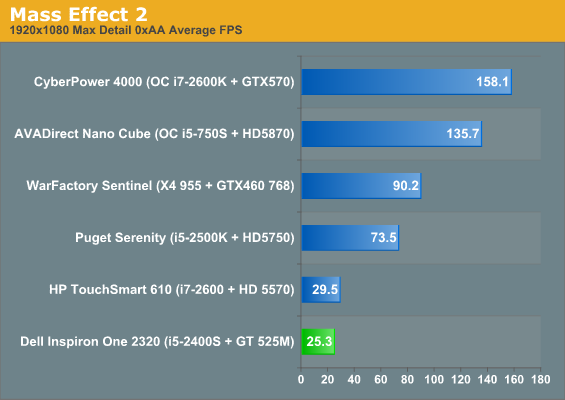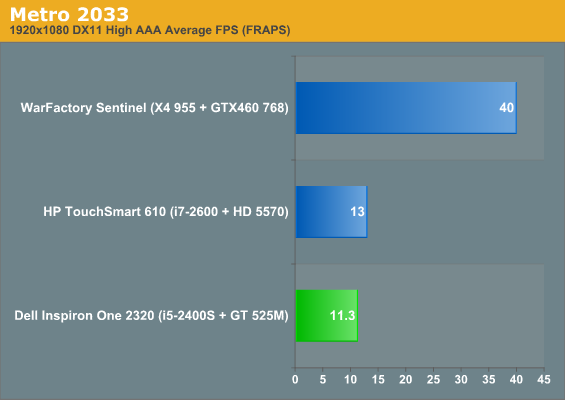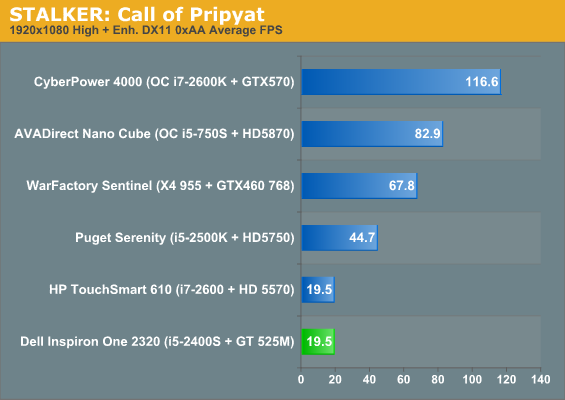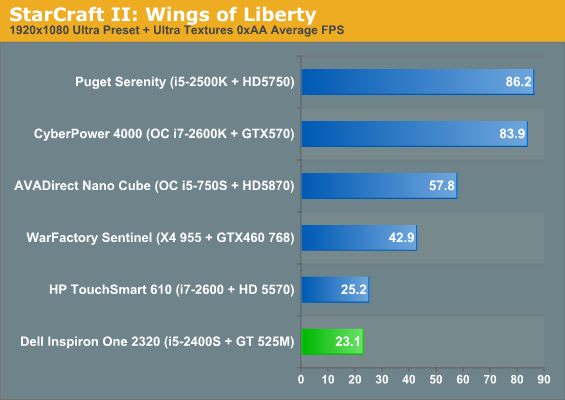 At our high settings the games are unplayable across the board. All-in-ones need something at least at the level of a Radeon HD 5750 to really support the resolutions they're shipping at. And keep in mind that our gaming test suite is mostly over a year old, so newer titles will likely struggle even more (e.g. Battlefield 3, Batman: Arkham City, Skyrim, Deus Ex: Human Revolution, Rage, and the slew of additional games coming out this holiday season).
I asked a friend of mine who's a big fan of StarCraft II to give playing it on the touchscreen a try. As some of you have observed, I'm honestly too much of a moron to grok RTS games, but my buddy Benjamin is a big fan so I turned him loose on the Inspiron One 2320. His response was that the potential for a touch interface in the game was definitely there, but the game's not really designed for it and would need some changes to be playable that way. There are also the issues inherent with responsiveness in current touchscreen technology (misregistered clicks, etc.) that keep it from being a home run. I do feel like this genre of games is one of the places where a touchscreen might be viable on the desktop, but it seems to be a bit of a chicken-and-egg situation at present, and without decent graphics hardware I'm not sure it can ever really succeed.
Screen Quality
The screen is unfortunately one of the places where HP's TouchSmart 610 made the right investment while Dell sacrificed quality for the price point. I've honestly never been happy with TN panels this large on the desktop; viewing angles are oftentimes poor and it can be difficult to find a sweet spot. Unfortunately the design of the Inspiron One 2320 exacerbates things; by being slightly tilted back, the top of the screen washes out a bit. Viewing a TN panel from below is pretty much the worst way to look at it, and that wisdom applies here.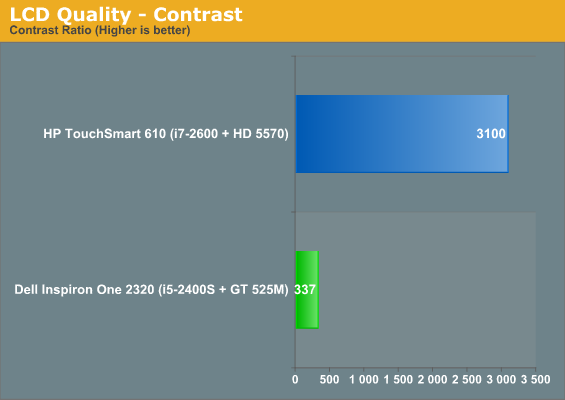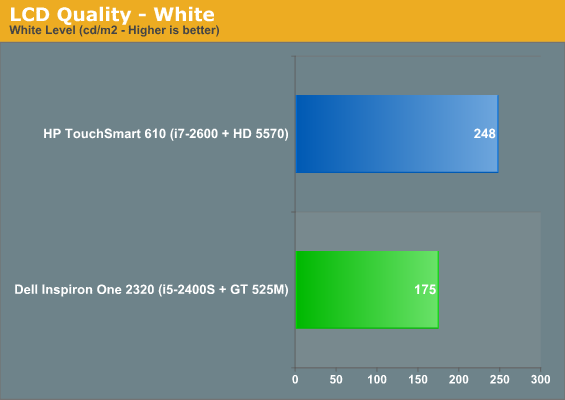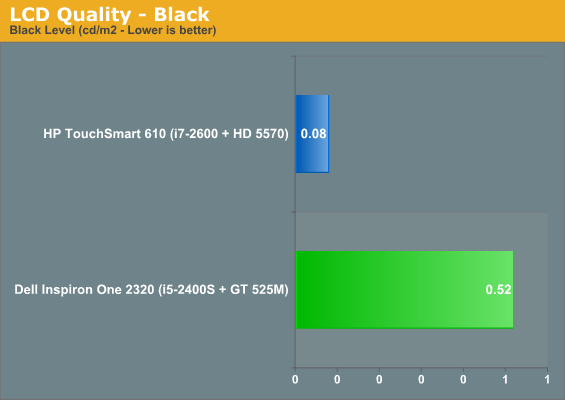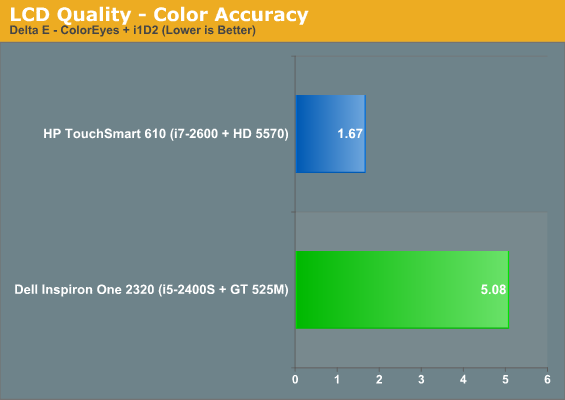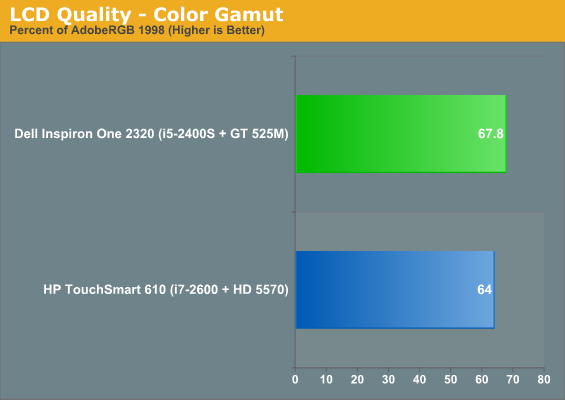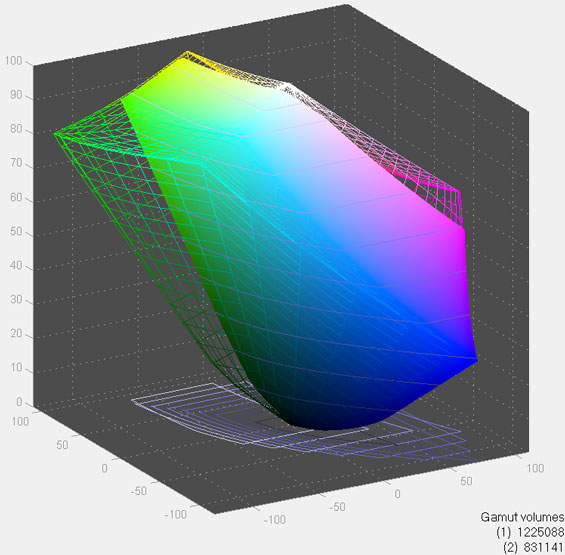 The color gamut is good, but everything else about the Inspiron One's panel is just awful. These numbers would be unacceptable in a standalone panel, and would rank "slightly above average" at best as a notebook screen. Our color accuracy after calibration was particularly bizarre, suggesting the gamma in this panel is unusual as that much of a deviation is extremely rare on even the worst of screens. In practice the Inspiron One seems to trend towards a slightly reddish hue, and it suffers from the same kind of hot reds that I'm used to seeing on Dell screens.
Viewing angles are wider than a notebook's, but really the poor quality TN panel used in the Inspiron One makes the composite, HDMI, and antenna inputs on the back of the unit feel more like a convenience at best. I get the feeling Dell was gunning for something that could be used as a TV and more, but it seems most end users would be better served just going out and buying a separate television.
User Experience
Honestly I feel like the Dell Inspiron One 2320's user experience is really a mixed bag. There are the compromises made as a result of the hardware and software ecosystem--the way Windows 7 really isn't equipped to handle a touch interface and the lack of good graphics solutions for all-in-ones being two major problems.
As far as mitigating the software issues, Dell has a couple of things going for them with the Inspiron One. The first is a simple one that HP just didn't seem to think to do: they raised the icon and text size at the native resolution. While this can result in some compatibility issues with some programs, for most users it's going to be worth the trade-off. You don't have to be particularly precise to hit any of the buttons or select anything, and honestly it helps.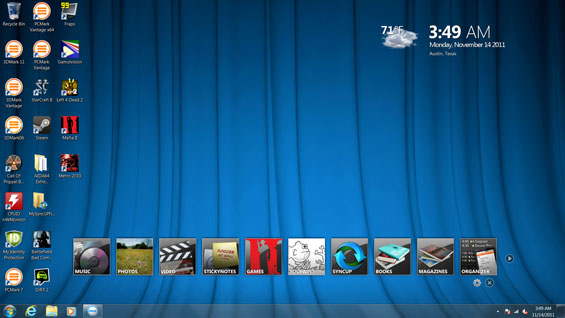 The other solution is Dell's touch-based software bar at the bottom of the screen. These are a series of small, easy to use applications, most of which are connected with the existing Windows file system. MusicStage is a decent music player that offers a nice overlay, PhotoStage is an attractive photo viewer, and VideoStage is a decent if unexciting video streaming platform. What I appreciate is that Dell's software isn't as intrusive or gaudy as HP's TouchSmart suite. These are applications I can see users being happier with, because they're cleaner, not as flashy, and still permit you to use the computer for other tasks...the way a quad-core can and should be used.
We've already covered the screen quality but suffice it to say it's a major down point with the Inspiron One 2320, especially with the way the unit is situated on a desktop. If you're going to use a lousy TN panel for your all-in-one screen, why force the user to orient the system in a way that exacerbates the technology's weaknesses? The stand is adjustable so you can get it mostly perpendicular to the desktop surface, but I'm really just not a fan of this design. It may prevent the screen from wobbling but it's nowhere near as convenient or useful as HP's solution.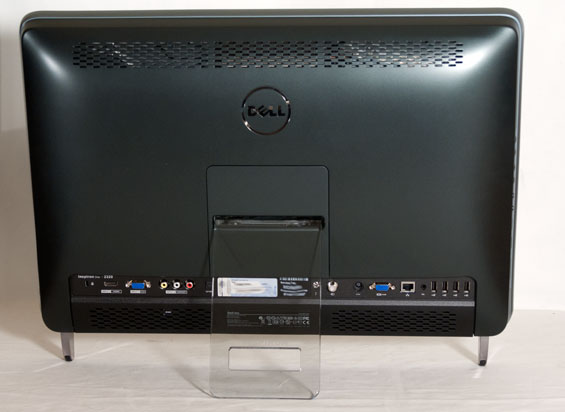 As far as everything else goes, the sound quality of the built-in stereo speakers is reasonable and they're definitely loud, able to produce decent enough bass. Connectivity for the Inspiron One 2320 is also almost excellent, but the lack of USB 3.0 support is an issue. The 2TB hard drive is big enough and fast enough, but there's no high speed interface for data transfer anywhere on this machine.
Heat and Power Consumption
I can't help but feel like the Dell Inspiron One 2320's cooling system just isn't very well optimized. Either that, or Dell made the wrong trade-offs in choosing components and configurations for it. Take a look at the thermals.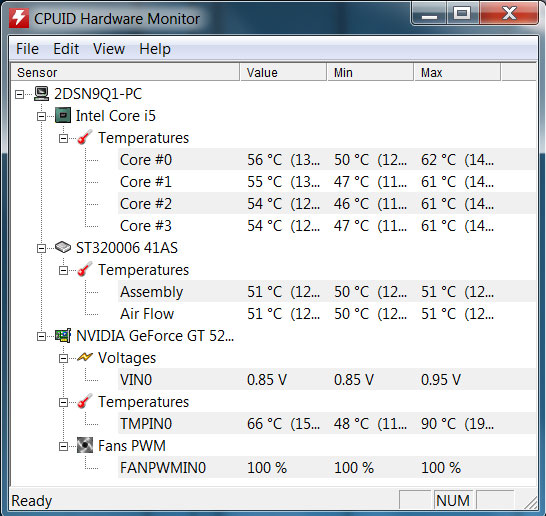 Well, now we know why they went with the underpowered GeForce GT 525M, but it looks like the hard drive is getting cooked, too. The cooling profile feels lopsided; the Core i5 runs downright frosty in comparison. Unfortunately when the fan spins up it has a pretty high-pitched whine to it, too. If my hard drive was running at 50C in my brand-new desktop, I'd be more than a little concerned.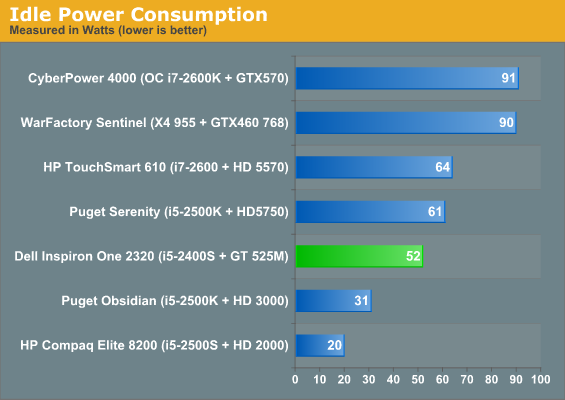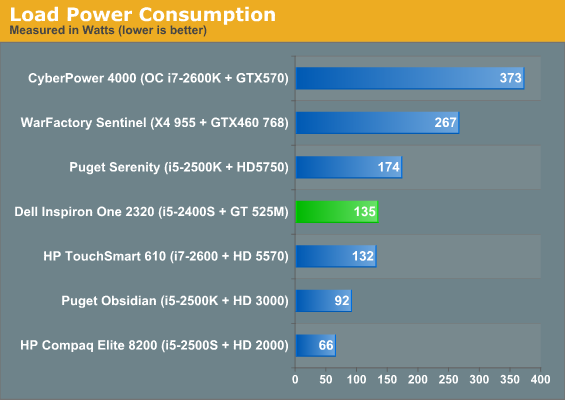 Dell's Inspiron One 2320 is at least fairly frugal on power, but it doesn't feel as frugal as it could be. Sure it has to power a screen in addition to everything else, but compare it to the HP TouchSmart 610. The TouchSmart has a full-on 95-watt desktop processor in it along with a slightly faster GPU, yet the Inspiron pulls as much power under load. Meanwhile, here's something else to noodle: the HP Compaq Elite 8200, which boasts a faster CPU, hits just 66 watts under load. The GeForce GT 525M and an LED-backlit screen shouldn't account for more than double the power consumption.
Conclusion: Start Over From Scratch
Dell's notebook team has been outdoing themselves over and over again lately. Whoever's running the show there has their head on straight, and the all-in-one team could stand to benefit a bit from their wisdom, because the Inspiron One 2320 has some very serious problems.
Amusingly enough, the one place where Dell succeeds over the competition is the software. Just by increasing the font scale and including an inobtrusive set of shortcuts with the Inspiron One, they've substantially improved the usability of the Inspiron One 2320 compared to HP's TouchSmart 610. It's true that you can manually increase the scale on the HP, but Dell thought to increase it from the factory. The MediaStage software is also much more my speed than HP's bloated TouchSmart interface. I don't want to have to swipe my fingertip across a 23-inch touchscreen; the real estate is there, let me just push the button.
I can also see where Dell was going with the variety of inputs on the back of the 2320, and the speakers are good enough that at least initially it seems like the unit could succeed at its intended purpose: being an all-in-one for everyone. There's a lot of flexibility and potential here.
The problem is that the rest of the Inspiron One 2320 is a mess. The screen sucks out loud, and that's an issue that's made worse by the knowledge that Dell's desktop screens are oftentimes excellent values. Dell pushed the prices of eIPS screens south and was one of the first out of the gate with them, so why can't we have one here? A TN panel does not a good television make.
And while there isn't anything fundamentally wrong with the Intel Core i5-2400S's performance, it feels like an odd decision for this machine; it's slow enough that I'd consider just going for an entry level mobile quad-core instead. That would at least free up some thermal headroom to put in a better GPU and balance the system out more. I almost wonder if Dell wouldn't have been better served by a desktop Llano, and that's made especially apparent when you look at how poorly the cooling system seems to be designed. It's noisy and inefficient and worse, it lets the hard drive pretty much bake inside the enclosure. CPU performance isn't the Inspiron One's strong suit, the GPU is too slow for the resolution, and there's no USB 3.0 connectivity. So yes, I'd rather have a Llano.
Ultimately I feel like while the software side is fine, the hardware probably needs to be redesigned from scratch. The cooling system needs to be made more efficient, and the hardware configuration should benefit from it. 50C is way too hot for a hard drive in any kind of desktop system to be running. The panel Dell chose for the Inspiron One 2320 is just dreadful; I've never liked large desktop TN panels and this one has been another example of why. If you're in the market for a touchscreen all-in-one, I'd be looking at HP's TouchSmart 610 line first. The 610 we reviewed may be $150 more than this Inspiron, but it's faster in almost every way but the hard drive, has a vastly superior screen, and is quieter and cooler running to boot.