Original Link: http://www.anandtech.com/show/5088/toshiba-portege-z835-a-new-ultrabook-appears


Introducing the Toshiba Portege Z835
Intel's Ultrabook initiative is a curious one, one that's very gradually picking up interest among vendors. We've already had a chance to take a look at the smaller of the two units from the typically early-out-of-the-gate ASUS, and we know there are other ultrabooks out there from Lenovo and Acer, with only Dell opting to sit out of this round, unconvinced of the viability of Intel's plan. Today, in true Toshiba fashion, we get a chance to look at a more budget-oriented (or at least as budget-oriented as an ultrabook can be) unit: Toshiba's entry-level Portege Z835-P330.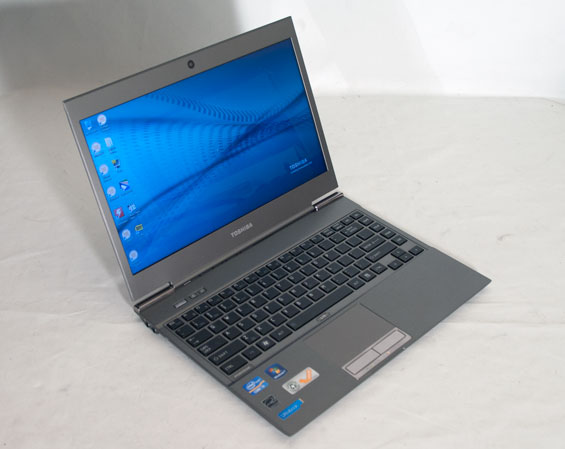 Honestly the impressions start before it even gets out of the box, just because the box itself is so unusually small that you wonder how it could possibly hold a computer. But sure enough, once you open it up you'll see Toshiba's sliver of a notebook. Even if you're used to the MacBook Air, getting an ultrabook in your hands is an interesting experience. It barely weighs anything, and the profile is slim to be sure. It's a testament to how technology has evolved that a notebook like this is even possible, but there were definitely sacrifices made.
Toshiba Portege Z835-P330 Specifications
Processor
Intel Core i3-2367M
(2x1.4GHz + HTT, 32nm, 3MB L3, 17W)
Chipset
Intel HM65
Memory
2x2GB Samsung DDR3-1333 (Max 6GB)
Graphics
Intel HD 3000 Graphics
(12 EUs, up to 1GHz)
Display
13.3" LED Glossy 16:9 768p
TOS5091
Hard Drive(s)
128GB Toshiba SG2 mSATA 3Gbps SSD
(rated 180MB/sec read, 70MB/sec write)
Optical Drive
-
Networking
Intel 82579V Gigabit Ethernet
Intel WiFi Link 1000 802.11b/g/n
Audio
Realtek ALC269 HD Audio
Stereo speakers
Mic and headphone jacks
Battery
8-Cell, 14.8V, 47Wh
Front Side
N/A (Speaker grilles)
Right Side
USB 3.0
Kensington lock
Left Side
Mic and headphone jacks
SD card reader
Back Side
Ethernet jack
Exhaust vent
2x USB 2.0 (one USB charge)
HDMI
AC adaptor
VGA
Operating System
Windows 7 Home Premium 64-bit SP1
Dimensions
12.4" x 8.9" x 0.63" (WxDxH)
Weight
2.4 lbs
Extras
Webcam
Backlit keyboard
SD card reader
USB 3.0
Warranty
1-year standard warranty
Pricing
Starting at $799
Starting at the top of the Toshiba Portege Z830, we have arguably its weakest link: the Intel Core i3-2367M. This processor may be Sandy Bridge hardware, but the anemic 1.4GHz clock speed on the two cores is pretty brutal, and the lack of Turbo Boost (a feature reserved for i5 and i7 processors) only exacerbates things. For basic netbook-style tasks it should still be perfectly fine, but I'll say it right now: anyone interested in the Portege Z830 would do well to wait and upgrade to an i5-equipped unit at least.
Toshiba includes 2GB of DDR3 soldered to the motherboard as well as an expandable 2GB of DDR3-1333. The problem is the Portege Z830 is difficult to get inside of without feeling like you're going to damage it, but on the flipside a cumulative 4GB of DDR3 should be more than adequate for the tasks this notebook is intended for, and this model will likely be throttled by CPU performance long before that memory becomes an issue.
As part of Intel's ultrabook initiative, Toshiba includes a generous 128GB mSATA SSD. Unfortunately, it's not a particularly fast one, rated for just a peak 180MB/sec on reads and 70MB/sec on writes, and using Toshiba's own controller and MLC NAND. So if you were concerned about that 3Gbps interface, rest assured this drive will never saturate it. On the flipside, 128GB of flash (even a comparatively slow SSD) is still a big improvement on a mechanical drive of the same capacity, and the Portege Z830 definitely feels snappier for it.
The one place ultrabooks seem to be succeeding where Apple keeps dropping the ball is connectivity. Apple's willing to sacrifice connectivity by tapering the MacBook Air, making the notebook look slimmer than it really is as a result of the wedge shape. Meanwhile, Toshiba outfits the Z830 with a pair of USB 2.0 ports, a single USB 3.0 port, headphone and microphone jacks, and HDMI and VGA output; Toshiba even keeps a dedicated Ethernet port in the mix. Thunderbolt may have potential, but USB 3.0 is here right now, and it's a lot cheaper to boot.
The Toshiba Portege Z835 is No Sliver Queen
Ignoring my godawful joke of a headline, the Toshiba Portege Z835 is initially fairly impressive to behold. Toshiba uses a brushed aluminum aesthetic for almost the entire notebook, with a matching gray plastic bottom cover. Physically, the main body of the notebook doesn't flex at all; good news given the stunningly thin 0.63" profile. It really does look like a sliver, with only a bit of tapering around the top of the lid and the front of the body to keep it from looking boxy.
Unfortunately, while the body feels pretty firm, the Z835 absolutely gives up the ghost with the screen, lid, and hinges. The screen and lid are extremely thin, and the hinges are pretty wobbly. There's a tremendous amount of flex with the screen, enough to give me real pause. Screens on laptops are always a little flexy, but on the Z835 I feel like even my dire tyrannosaurus rex arms could snap it in half. The bezel also seems unusually wide on all sides, which is a bit of a disappointment after seeing the incredibly slender one used on Dell's XPS 14z.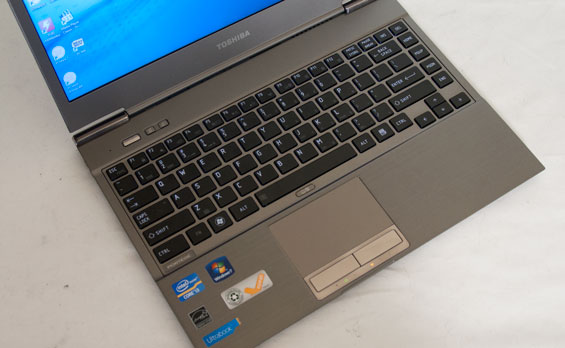 Other reviews have complained about the keyboard quality, but this isn't the worst keyboard I've seen from Toshiba, much less the industry. Toshiba's chiclet layout is usually pretty smart, but the one on the Z835 and its cousin, the R830, is literally an inch from greatness. Seriously, an inch on the y-axis: the keys are simply too short. When I look at the shell of the Z835, I can't help but feel like the keys could've been lengthened just a little bit. Travel also for the most part feels fine, but the keys are also fairly mushy. I don't think the keyboard is a lost cause, but it definitely needs to be revised. Layout is fine, just fix the overall size and quality. The chassis has room for both.
Thankfully the touchpad is extremely smooth and easy to use, and at least has a dedicated surface as opposed to being just part of the shell. The buttons feel a bit mushy and are made of the same cheap looking silver plastic as on the hinges, but they're definitely usable and this is far from the worst touchpad I've used. I have no problem navigating with it.
Finally, the bottom panel is held on by an embarassment of screws, and it bows a bit if you push on it. Even after removing all the screws I still couldn't remove the panel for fear of damaging the Z835, so if you're going to buy it, you'd better buy the configuration you want. There's a single vent for a fan that bubbles out a bit, but honestly I found the Z835 ran extremely cool anyhow.
Ultimately the Z835 looks pretty good and I'd dispute other reviews that call it out as looking too chintzy or cheap. The problem is that in places it does feel cheaper than you'd like, and I just don't like how much the top and bottom panels flex, especially the lid. Intel's $1,000 price point for ultrabooks is pretty pie-in-the-sky, and the sacrifices Toshiba had to make to beat it are evidence of that.
Application and Futuremark Performance
To be perfectly honest, while benchmarking the Toshiba Portege Z835, I felt pretty underwhelmed. While the SSD makes day to day use feel snappy enough, this is the first time in a while that I've watched an Intel processor just slog through CPU-limited tests. The 1.4GHz nominal clock of the processor wouldn't seem so bad if it could turbo, but as a Core i3 you're basically stuck there, and no amount of Hyper-Threading really mitigates that. So while you'll see the Z835 perform reasonably well in the PCMarks, once we get to the more CPU-limited tasks you'll see it falter.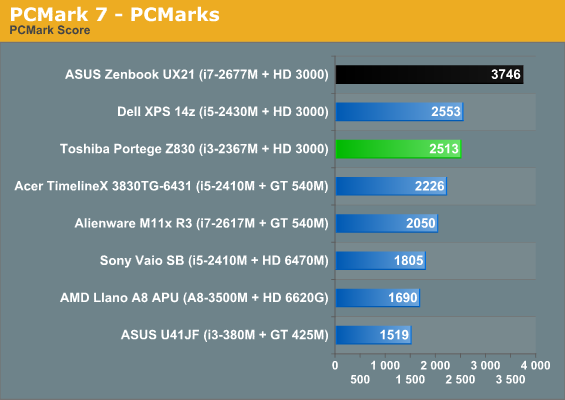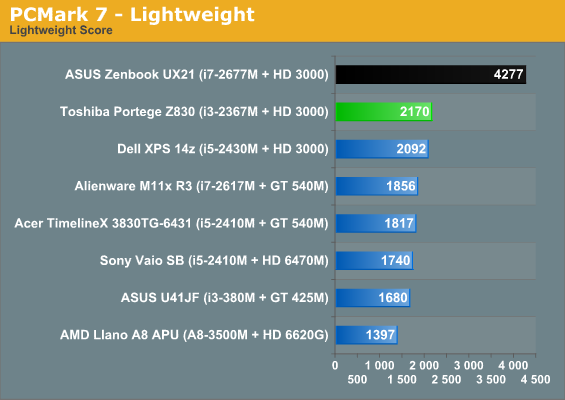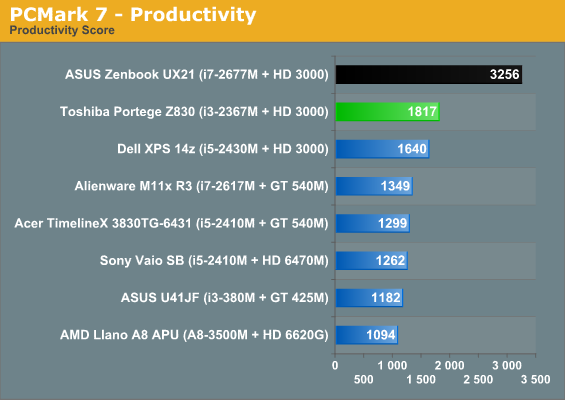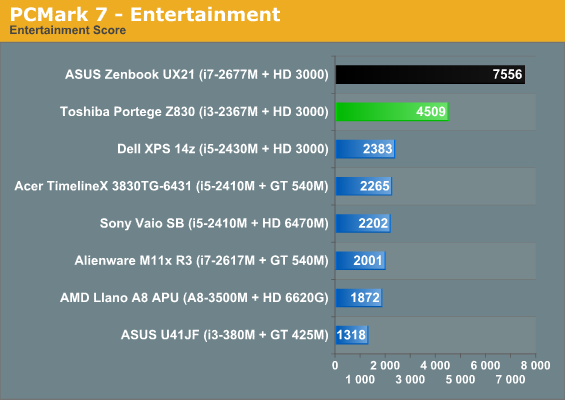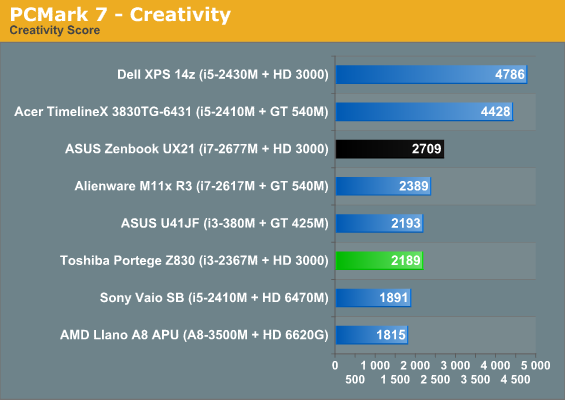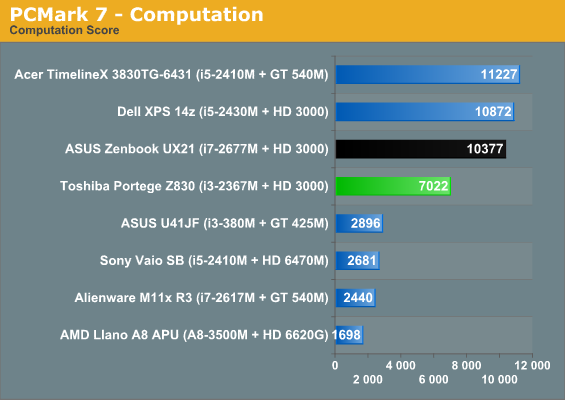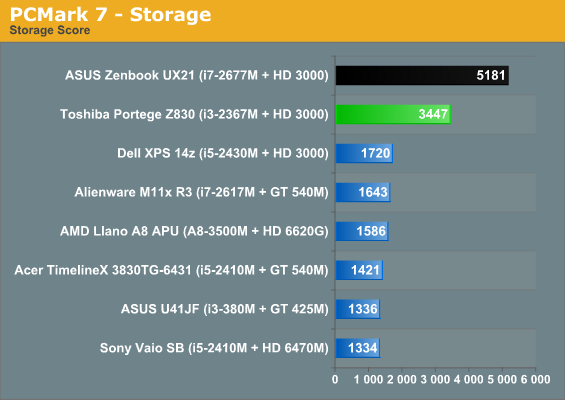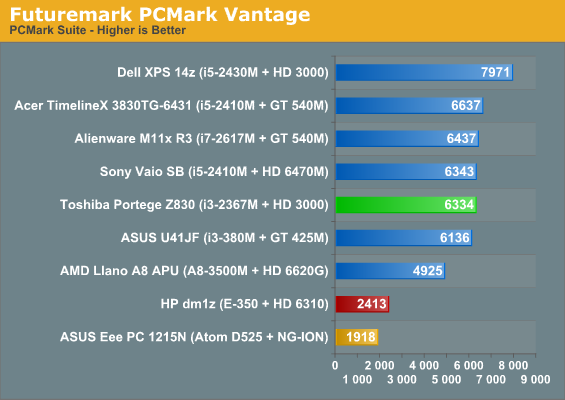 The SSD in the Z830 helps it tremendously, but the other ultrabook in our lineup, ASUS's Zenbook UX21, just spanks it relentlessly due to the faster processor. ASUS's Zenbook also benefits from a 6Gbps interface on the SSD and the hardware to use it; even though the Zenbooks use different SSDs, both of them are easily two to three times faster than the one included in the Z830. While it's a notable improvement over a mechanical drive, there's no denying the Z830's SSD is pokey compared to the competition.
You'll notice that the Z830 seems to do well in PCMark Vantage, though, but that's not the whole story. SSDs have a tendency to grossly inflate these scores, so it's telling that the massive inflation from the Z830's SSD only brings its PCMark Vantage score in line with normal notebooks.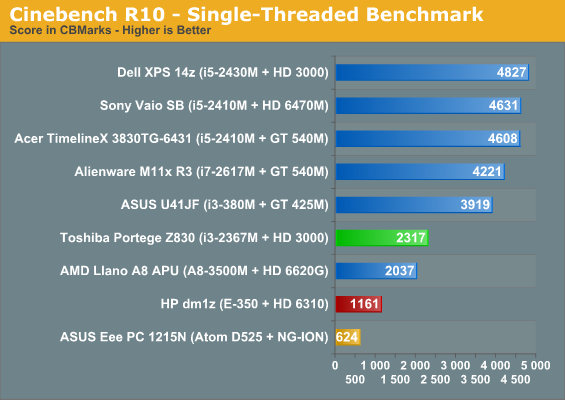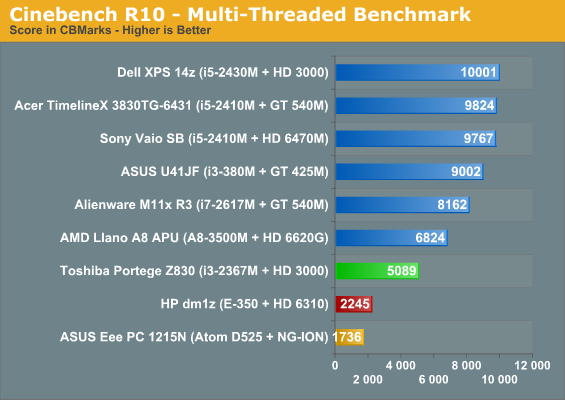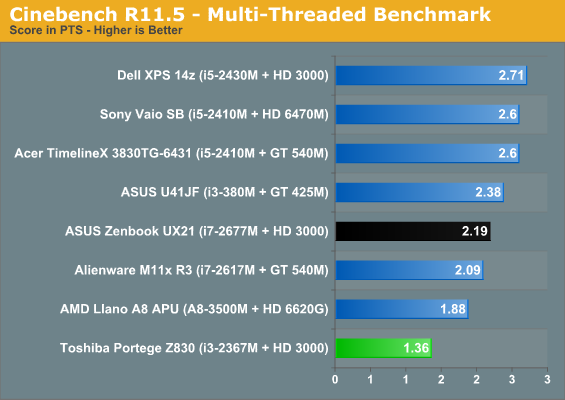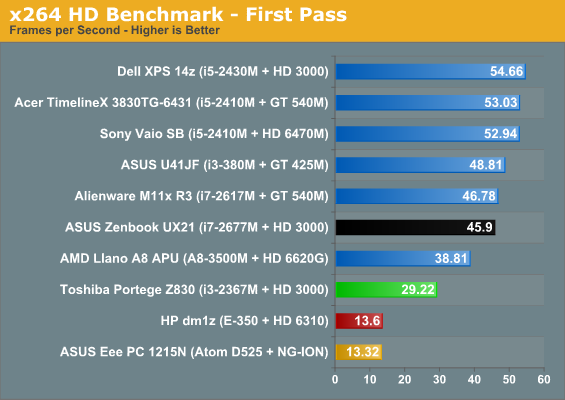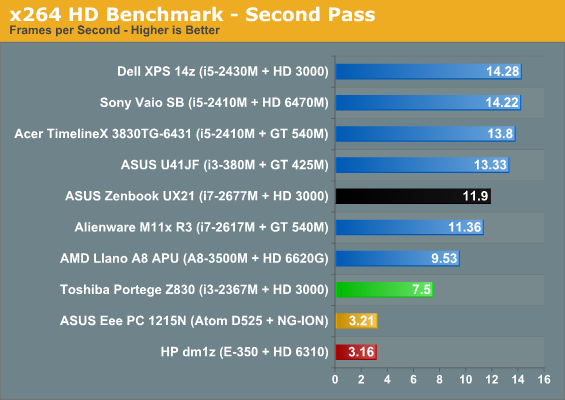 While the Portege Z830's i3 runs wild on the netbook CPUs (proving there's still a substantial gap in performance there), it gets absolutely murdered by everything else. Even the fairly anemic Husky cores in the Llano A8 run roughshod over the 1.4GHz i3. The loss of turbo severely curtails the i3.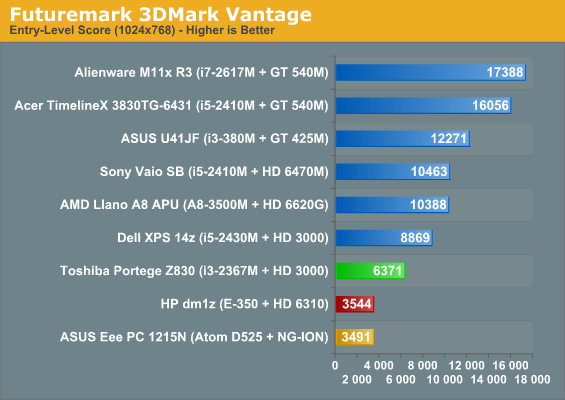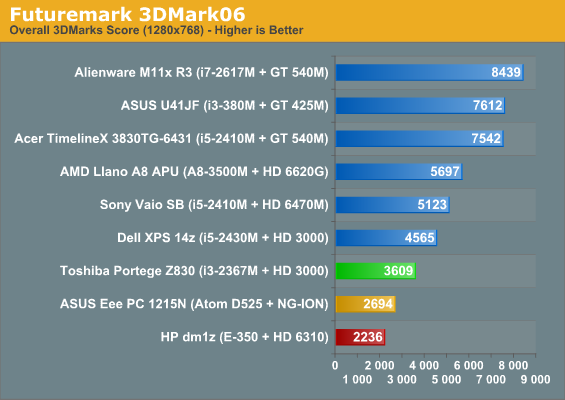 If you weren't clear on all the gaming you're not supposed to do on the Portege Z830, 3DMark should seal the deal. While Intel is generous enough to include the superior HD 3000 graphics in the i3-2367M, it's still inadequate for gaming at anything above minimum detail: processor power is just barely there, and the HD 3000 remains a ways behind even low-end dedicated options as a result.
Battery Life, Heat, and Noise
Despite the incessant griping about the pokey Intel Core i3-2367M beating at the heart of the Toshiba Portege Z830, there's one place where a low-powered processor can pay dividends: battery life. The Z830 may have a weaker processor than the competing ASUS Zenbook UX21, but it also has a bigger battery. Check out this running time.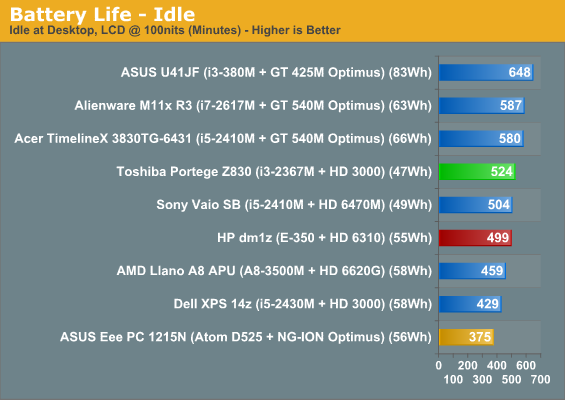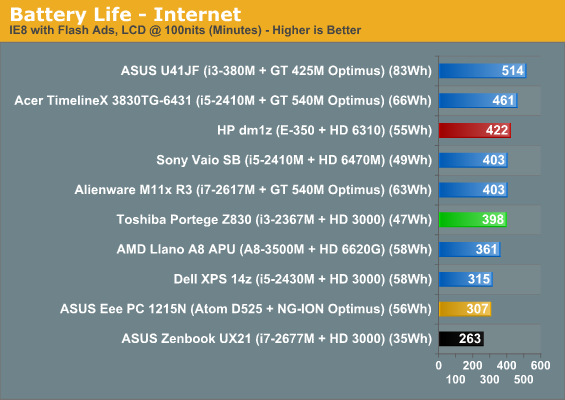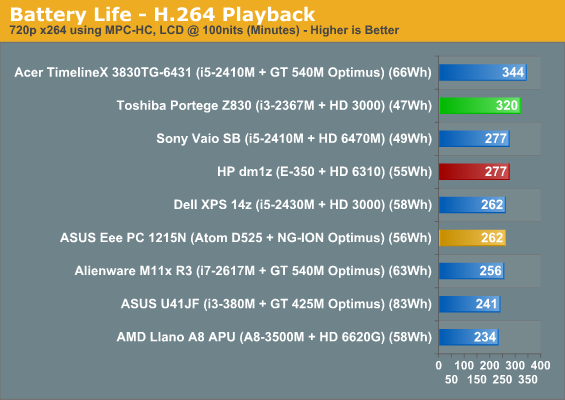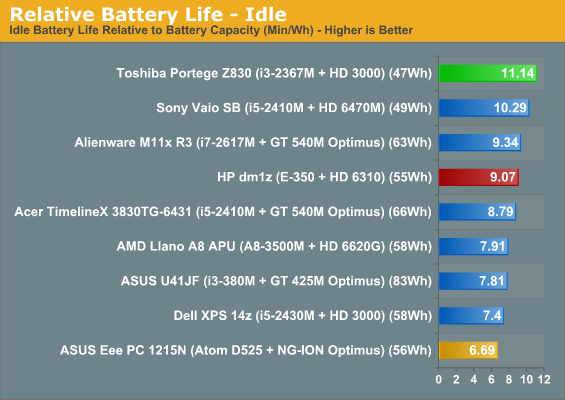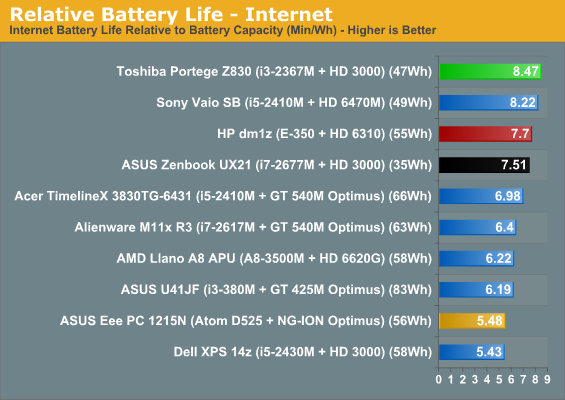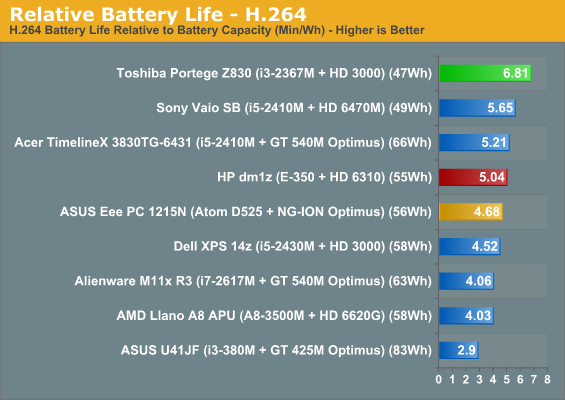 For sheer running time, the Portege Z830 lives up to the promise of ultrabooks, being an incredibly mobile notebook that lasts for a long time off the mains. When you look at the relative battery life, things get even better, with even the Optimus-enabled ASUS Eee PC and HP's E-350-based dm1z putting in weaker showings. Intel's CULV chips have historically been big winners, and suddenly the i3-2367M doesn't look so bad anymore: it's faster in every way than Atom or Zacate, and more frugal with power to boot. That said, the Z830 also benefits from having an mSATA SSD which is also going to sip power.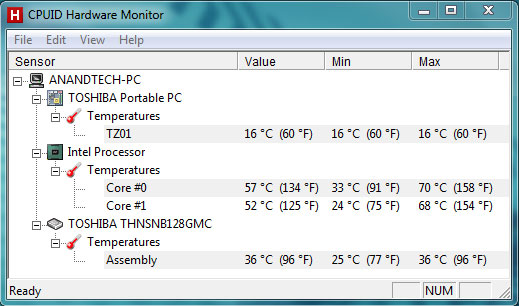 All that battery life wouldn't amount to much if the Z830 was noisy or hot in the process, but surprisingly it's neither of those things. The fan has a very low whine when the system is idling that isn't particularly intrusive, and while that whine does increase in volume under load, it's still nowhere near as irritating as the fan noise is on most notebooks. Better still, despite the thin, flimsy chassis, the Z830 remains fairly cool to the touch as well. During our stress testing loop, no hot spots really surfaced: this is a very cool, very quiet notebook that's definitely fine for using as an honest to goodness laptop.
Unfortunately the Display is Dire
To look at it, you wouldn't think the Toshiba Portege Z830's 13.3" display is of particularly poor quality. Even though the panel is glossy and the 1366x768 resolution remains a thorn in the side of consumers everywhere, the gloss isn't particularly obtrusive, and the resolution doesn't look too bad on a screen this size. Yet when we subject it to actual testing, things take a major turn for the worse.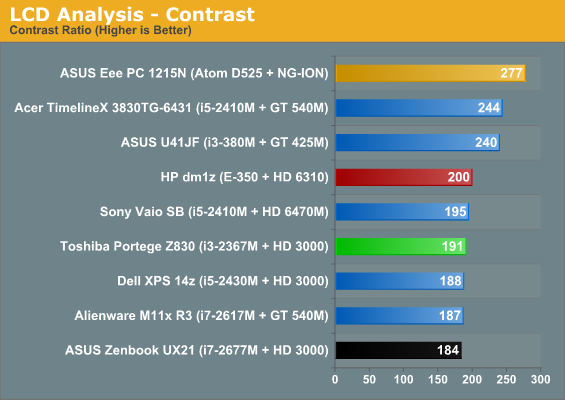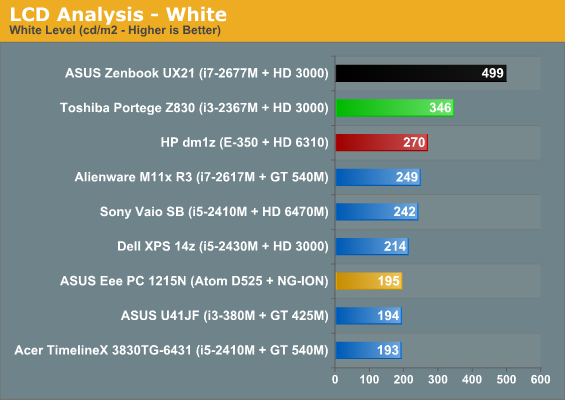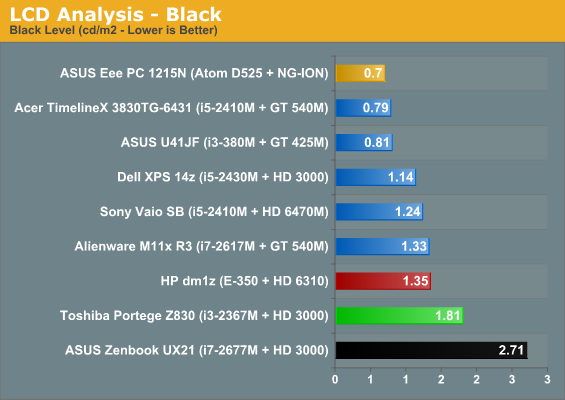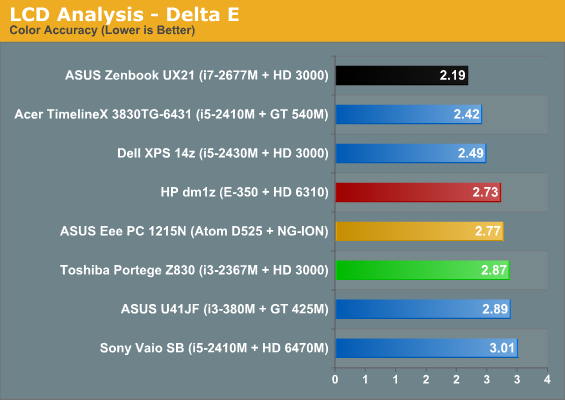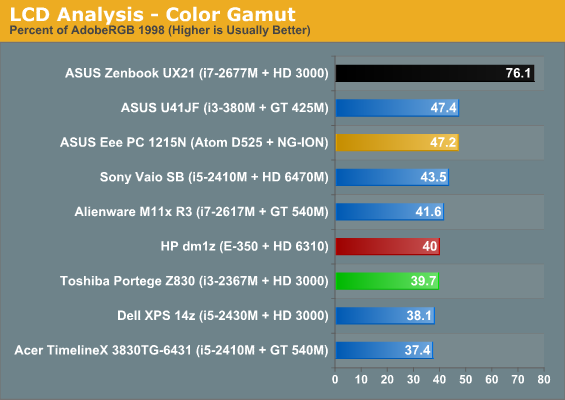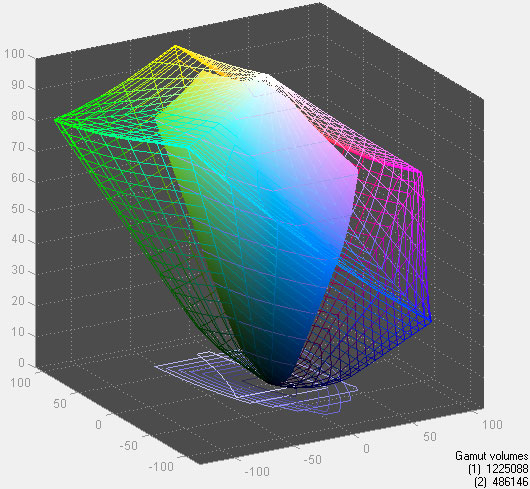 The ASUS Zenbook may have a hard time with black levels, but at least the color gamut and accuracy are worlds better than the Z830. None of these notebooks we've tested are particularly big winners here, but it's stunning just how poor the Z830 turns out to be.
Thankfully viewing angles aren't completely awful. Using the Z830, I found that its panel didn't have the major "sweet spot" issues that can occur with low quality TN panels (particularly smaller ones) in notebooks, where there's just no good angle to really look at the screen without substantially washing part of the image out. It's still a pretty lousy screen, but it'll get the job done at least.
Conclusion: But Who is This For?
Now here's an interesting opportunity: while Anand mostly skirted the ultrabook discussion with his review of the ASUS Zenbook UX21, I have the chance to tackle it head on. But first...does the Toshiba Portege Z835 stand on its own, irrespective of Intel's big ultrabook push? Is this a notebook that we can recommend?
As far as portability is concerned, Toshiba has mostly a homerun on their hands. If you don't take the price tag into account, the Portege Z835 is in many ways directly superior to most netbooks out there. The HD 3000 is a faster graphics core than NVIDIA's NG-ION or AMD's Radeon HD 6310, two pieces of graphics hardware that are unfortunately tied to netbook-class processors. And while the Intel Core i3-2367M's paltry 1.4GHz, turbo-free clock speed is slower than just about anything AMD is willing to sell you above Zacate, it's still substantially faster than Atom or the E-350. To top it all off, the Z835 is cool, quiet, lasts a long time on the battery, and is actually lighter than many netbooks on the market.
The problem is that we do take the price tag into account, and even at $879 for our model, the Z835 is a hard sell. The difference in processor power is great, but I don't think it's enough to open up entirely different usage models from a traditional netbook. Having an SSD standard is also a major benefit, but it's also not something another $100-$200 can't fix when buying a netbook...and that's still going to leave a healthy deficit between the netbook of your choice and the Z835. This also ignores the Z835's mediocre keyboard. Speaking candidly, if I had to choose between the Z835 at $899 and Lenovo's ThinkPad X120e at half that, I'd take the ThinkPad. The E-350 may be a lot slower, but it's still fast enough to handle the same tasks the Z835 would, and it has a more comfortable build. So what if it's a pound heavier? At least it's built to last through several years of use.
Honestly I think a lot of the problems with the Z835 can be laid squarely at Intel's feet, not Toshiba's. The ultrabook initiative invites direct comparison to the Apple MacBook Air, but it's tone deaf to what the appeal of the MacBook Air is. Intel instead came up with a list of bulletpoints and said to vendors, "have at it," but ultimately this is a market that I'm not sure really exists. The MacBook Air has Apple's cachet behind it, and it is the only ultraportable choice Apple offers. If you don't care about OS X, we've had good and even affordable ultraportables available for Windows users for some time now.
The difference between 2.5 lbs. and 3.5 lbs. is comically minor as far as moving a notebook around is concerned. Fighting to get the form factor under an inch thick is just as pointless, an exercise in style rather than practicality. I could be completely blind and out of my depth here, but I just don't see the market an ultrabook serves that a Lenovo ThinkPad X220, Dell XPS 14z, or Sony Vaio SB series couldn't have already served...and better. Windows users who just want something portable to handle word processing and media on have already had the HP dm1z around for a year.
Time could very well prove me wrong on this one. If the ultrabook as a concept appeals to you, the ASUS Zenbook UX21 is probably going to be a better buy. The $999 model may be $100 more than Toshiba's Portege Z835, but it has a much faster CPU, a slightly better screen, better build quality, and a vastly superior SSD. As we're fond of saying here, there are no bad products, only bad prices. Even though comparatively speaking the Z835's $899 price tag isn't unreasonable, in practice I honestly think it would need to go south at least $100-$200 before being worth considering instead of a thicker ultraportable or a netbook. That may not necessarily be Toshiba's fault, but unfortunately Toshiba's stuck with it. The Portege Z835 feels like the best of a bad situation.
Update: The price tag of the Z835 is just $799 at Best Buy. That does make the unit more competitive and definitely worth a second look, but my sentiments regarding ultrabooks in general still stand.