Original Link: http://www.anandtech.com/show/5007/dell-xps-14z-lots-of-features-in-a-small-package


Dell XPS 14z: 14" LCD in a 13.3" Form Factor
When we reviewed the XPS 15z early last month, we found a laptop that got a lot of things right, so the hardly-secret follow-up XPS 14z certainly garnered a spot on our radar. Dell agreed to send us a pre-release unit for the official launch, and we received it last week and spent most of the interim benchmarking and testing the laptop. There are plenty of areas where the 14z continues the 15z legacy, and in some ways it's a better laptop. There are also areas where we feel the 14z falls short of what we'd like to see from Dell's XPS brand—areas where it's more like Inspiron than XPS.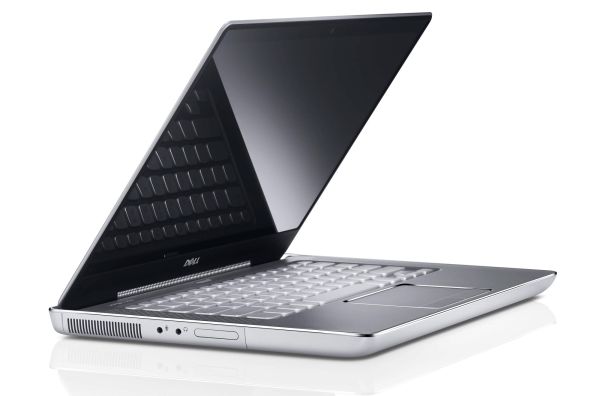 Dell is officially announcing the XPS 14z today, with ordering availability scheduled for November 1 in the US; worldwide availability will occur November 15. There will be four primary configurations available at that point, though we're not sure how much customization will be available. Here's a rundown of the four US-bound configurations with their pricing.
Dell XPS 14z US Launch Configurations
Processor
i5-2430M
i5-2430M
i7-2640M
i7-2640M
Hard drive
500GB
750GB
750GB
256GB SSD
Memory
6GB DDR3
8GB DDR3
8GB DDR3
8GB DDR3
Graphics
Intel HD 3000
NVIDIA 520M 1GB
NVIDIA 520M 1GB
NVIDIA 520M 1GB
Panel
HD
HD
HD
HD
Optical
DVDRW
DVDRW
DVDRW
DVDRW
Wireless
WLAN/BT
WLAN/BT
WLAN/BT
WLAN/BT
Price
$999
$1199
$1299
$1599
We received an early sample of the base $999 model, though the memory configuration changed between the time the system was assembled and the above final specs. Our test unit has 4GB RAM compared to the 6GB that will be shipping; this shouldn't make a difference for normal usage, but it's worth noting. As far as we can tell, all models share the same WiFi, DVDRW, and LCD; the CPU, storage, GPU and amount of memory are where they differ.
The base model comes without discrete graphics, while all of the upgraded versions include NVIDIA's GT 520M. We haven't had a chance to look at that GPU yet, and we're actually interested in testing it as it doesn't seem like it will be much faster than the HD 3000. 48 CUDA cores with a 64-bit DDR3-1600 memory interface (12.8GB/s) is nothing to write home about, and DX11 support is almost meaningless on low end hardware. However, NVIDIA (and AMD) still have better graphics driver support than Intel, so it's something to consider. We hope to get a second 14z with the upgrade GPU and CPU in for testing to see how it fares, and it looks like Dell will charge about $100 extra for the GPU upgrade.
In terms of the review system, here's a full list of the components and specifications:
Dell XPS 14z Specifications
Processor
Intel Core i5-2430M (dual-core 2.40-3.00GHz, 35W)
Intel Core i7-2640M (dual-core 2.80-3.50GHz, 35W)
Chipset
Intel HM67
Memory
4GB (2x2GB DDR3-1333) Pre-Release Sample
6GB (1x4GB + 1x2GB DDR3-1333)
8GB (2x4GB DDR-1333 CL9)
Graphics
Intel HD 3000 Graphics (1.2GHz max clock)
NVIDIA GeForce GT 520M 1GB DDR3 (Optional)
Display
14.0" WLED Glossy 16:9 768p (1366x768)
(LG 140WH6)
Hard Drive
500GB 7200RPM HDD(Seagate ST9500423AS)
750GB 7200RPM HDD
256GB SSD
Optical Drive
8X Slot-Load DVDRW
Networking
Gigabit Ethernet (Atheros AR8151)
802.11n WiFi + Bluetooth 3.0 (Intel Advanced-N 6230)
WiDi 2.0 Ready
Audio
Stereo Speakers
Microphone and headphone jacks
Capable of 5.1 digital output (HDMI)
Battery
8-cell, 58Wh
Front Side
N/A
Left Side
Memory Card Reader
Headphone Jack
Microphone Jack
Exhaust vent
Right Side
Battery Life Indicator
Slot-Load Optical Drive
Back Side
Kensington Lock
AC Power Connection
Mini DisplayPort
HDMI
1 x USB 2.0
1 x USB 3.0
Gigabit Ethernet
Exhaust vent
Operating System
Windows 7 Home Premium 64-bit
Dimensions
13.19" x 9.21" x 0.9" (WxDxH)
(335mm x 234mm x 23mm)
Weight
4.36 lbs / 1.98kg (8-cell)
Extras
1.3MP HD Webcam w/ dual array microphones
80-Key backlit keyboard
Flash reader (SD, MS, MMC)
MS Office 2010 Starter or Home/Student
65W Power Adapter
Warranty
1-year standard warranty
2- and 3-year extended warranties available
Pricing
Review Configuration MSRP: $999
Availability
US: Nov. 1; Worldwide: Nov. 15
Dell packs in pretty much everything most users will need, including a single USB 3.0 Super Speed port on the back. (I'm not sure why they include only one SS port, given the second USB port is right next to it.) The inclusion of an optical drive in such a thin laptop also warrants mention. Our test unit is the base model, so we don't have the GeForce GT 520M added to the mix, but that upgrade is available should you want it. Display connectivity is also reasonable, with a mini DisplayPort and a full size HDMI port on the back of the laptop.
Dell XPS 14z: Like an Ultrabook, Only Larger and No SSD Standard
We just had our first look at a shipping Ultrabook, ASUS' UX21 Zenbook. With Intel's ultrabook initiative now starting to bear fruit, Dell's thin-and-light XPS z-series might seem like it's slightly behind. It misses out on the ultrabook requirements by not coming with an SSD standard (though one is available in the highest-end configuration), and it's also too thick at 0.9" (0.8" is necessary to qualify as an ultrabook). We can split hairs over where the sweet spot is for thinness, but really anything less than 1" thick is doing fine by me. It's the other items that aren't standard on the 14z that will hurt it a bit more—the SSD being a big one. Still, the 14z is plenty fast for most day-to-day tasks, it's reasonably light, well built, and gets good battery life. For many potential buyers, that will satisfy their needs, but let's dig a little deeper.
Without putting the 14z and 15z next to each other to see the size difference, there's plenty the two laptops have in common. They share the same design language, with an aluminum lid and base, a magnesium alloy palm rest, and a matte plastic LCD bezel. The speakers are on the left and right of the keyboard, with the same patterned cut outs in the material, and the touchpad is reasonably large with discrete left and right buttons.
The keyboard is actually the same on the two models, with backlighting and no discernable flex, though I still prefer the layout on the XPS 15 to the 15z/14z (e.g. direct access to the Home/End/PgUp/PgDn keys is desirable). The touchpad looks the same as well, but there has been a change from the Cypress touchpad in the 15z to a more common Synaptics touchpad. The result of the change is that I didn't notice as many errant touchpad activations while typing, particularly after tweaking the settings to my liking. At the default settings, the mouse cursor would often jump around a bit (though it didn't register any clicks at least); turning the PalmCheck setting to maximum and increasing the sensitivity took care of any issues in my experience. So far so good.
One area where the 14z breaks the mold is in the display. Dell notes that this is a 14" display stuffed into a chassis that would normally be used for a 13.3" display, and by our measurements they're not exaggerating. We don't have a large number of 13.3"-screen laptops on hand, but we do have a Dell Vostro V131 and an Acer TimelineX 3830TG. The 14z is virtually the same length and depth as the Vostro while the TimelineX is just slightly smaller (but the TimelineX is a small 13.3" laptop to begin with). I was also able to compare the 14z with a 14" Latitude E6410 and found the Latitude to be about a quarter inch deeper and thicker. The net result is that the left and right LCD bezels on the 14z are quite narrow, which looks really nice, but let's not get too carried away. After all, we're talking about a 0.7" difference on the diagonal, but there's more.
While it's true that the left and right bezels are narrow, the top and bottom bezels are still quite large. This is where the reoccurring 16:9 aspect ratio rears its ugly head and helps to tone down some of the praise we have for the 14z. The LCD is a 1366x768 panel, which we'll have more to say about in a moment, but the chassis could have easily contained a 1440x900 16:10 panel instead. We've lamented the move to 16:9 aspect ratios in the past, and we'll continue to do so. Even business laptops are beginning to succumb to the 16:9 displays, and unless someone starts making laptops that aren't as deep we end up with larger top and bottom bezels. The 14z is no worse in this regard than most other laptops, but with Dell highlighting the narrow bezel it's a shame they didn't carry that to the top and bottom as well as the sides, and a 16:10 display would have helped accomplish this.
Speaking of the LCD panel, we hit the one area where I truly feel Dell misses the mark. We've noted in the past that the XPS line is supposed to be more of a premium brand than Dell's Inspiron line, and part of that comes from the improved materials and build quality. What really sold us on the XPS 15 and later the XPS 15z was the availability of a 1080p high-contrast LCD in place of the standard 1366x768 panel. Really, that was the difference between a decent laptop and an Editors' Choice award. At least for the time being, the XPS 14z only has one display option available, and sadly it is not high contrast, high color, nor high quality. In short, it's a display that would be right at home in an Inspiron, and that's a shame. If Dell added an option for a higher quality 1440x900 (or even 1600x900) panel, we might be back into Editors' Choice territory.
The battery is a 58Wh 8-cell built into the chassis, and trust me when I say that getting to the battery (or hard drive or memory) is more difficult than most other laptops. In an attempt to improve the lines and appearance of the 14z (and 15z), the bottom of the casing is a single large piece of aluminum secured by eight screws and a bunch of somewhat-difficult-to-release clips. If you do open up the chassis, there's another potential issue: getting everything back together may never feel quite the same as pre-opening. So let me emphasize this point: you don't want to open up the chassis to upgrade components if you can avoid it. As much as it would be great to buy a lower cost unit and then upgrade to a 120/240GB SF-2200 SSD, you may end up degrading the fit and finish of the chassis. If you need to replace the battery in a year or two, you'll probably want to take it to an authorized Dell service department, and make sure the chassis is put together properly after the battery replacement. My feeling is that removing the chrome trim and making the casing slightly thicker would have helped to alleviate these concerns.
The rest of the 14z is still good, but it's not significantly better than the competition. We've seen the i5-2410M CPU a lot during the past six months, and the new i5-2530M is only an incremental improvement. Dell does deserve credit for cramming a full slot-load DVD-RW into a reasonably thin chassis, although the need for optical drives seems to be diminishing with each passing year. If you're among those that still use CDs/DVDs regularly, however, that could be a very important distinction. The XPS 14z ends up being a nice looking addition to Dell's thin and light portfolio, sporting better build quality and materials than the Inspiron 14z and Vostro V131 (we have a review coming shortly on the Vostro) while adding in the potential for discrete graphics. It's also significantly thinner than either of those laptops while still packing a 8-cell battery. It's just a pity that Dell didn't give us a better LCD while they were busy using higher quality materials.
Performance Rundown
Given the lack of discrete graphics in our test sample, we're going to skip any gaming benchmarks for now. We hope to have the 14z with GeForce GT 520M in for testing in the near future, and we'll revisit the topic of graphics performance then, but for now we'll simply refer to the ASUS K53E review as a look at how HD 3000 handles gaming. The i5-2430M GPU is clocked slightly lower than the i5-2520M, but either way you're going to want to stick with low detail settings for most titles. Application performance is also pretty much known; the i5-2430M should outperform the i5-2410M by a small margin, but without an SSD general performance won't be as snappy as something like the ASUS UX21.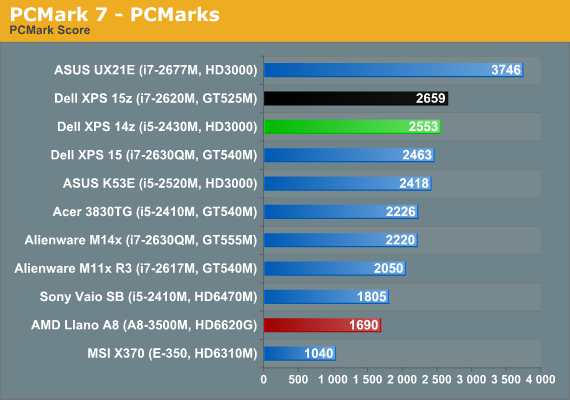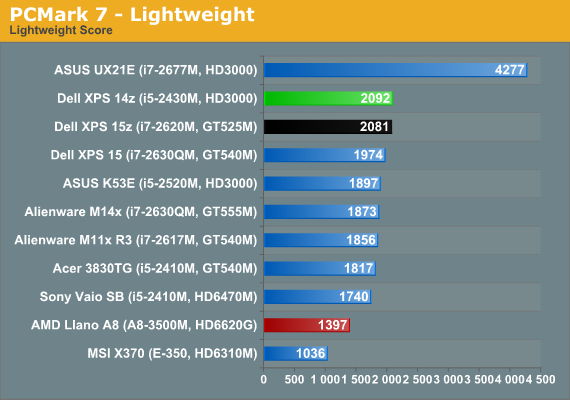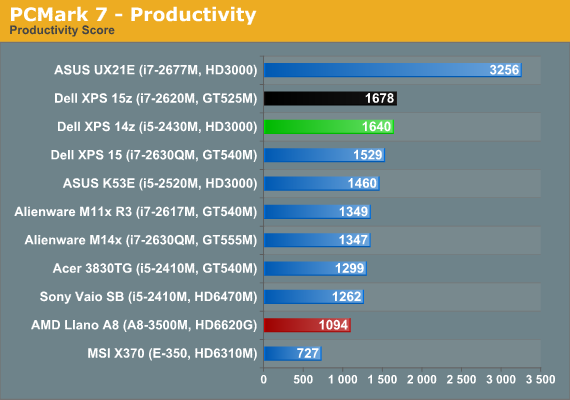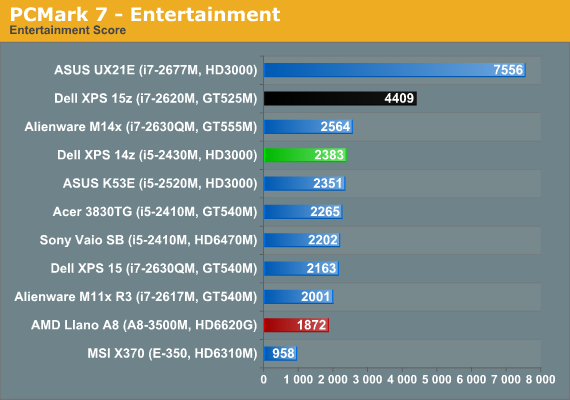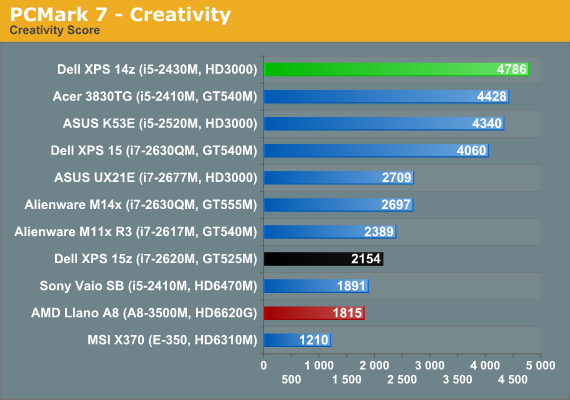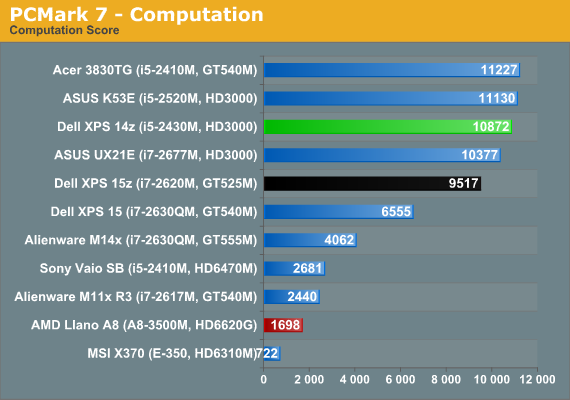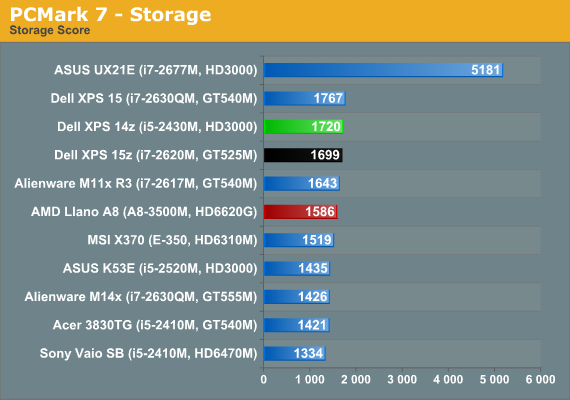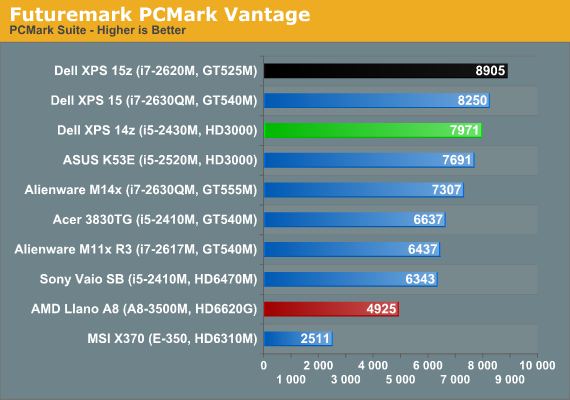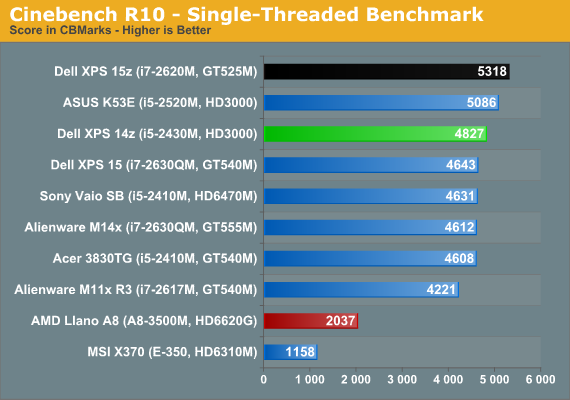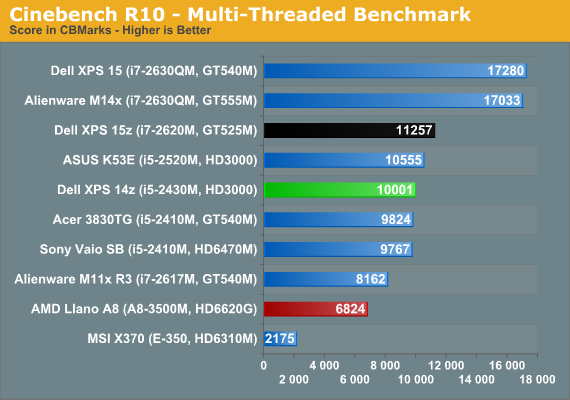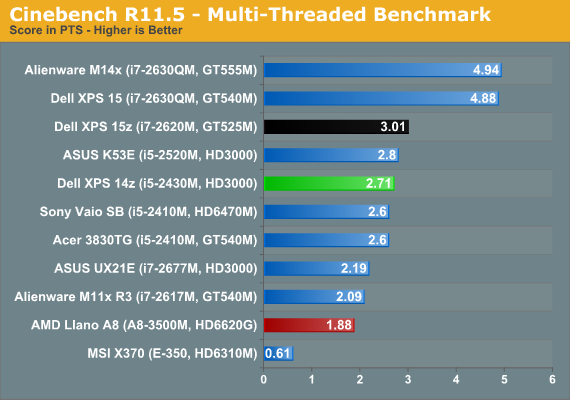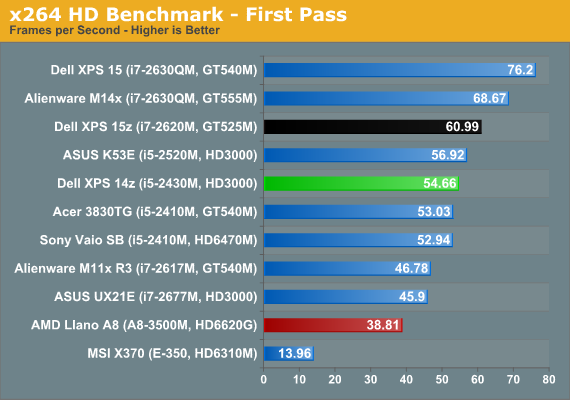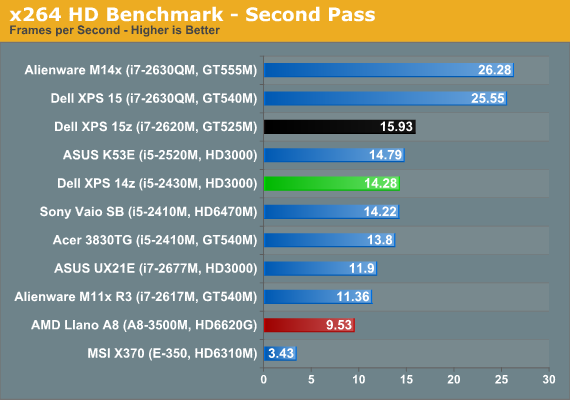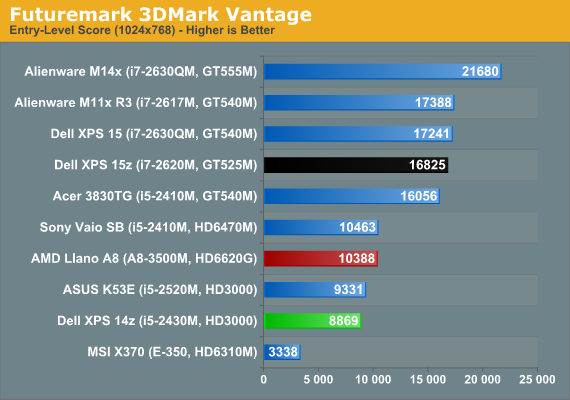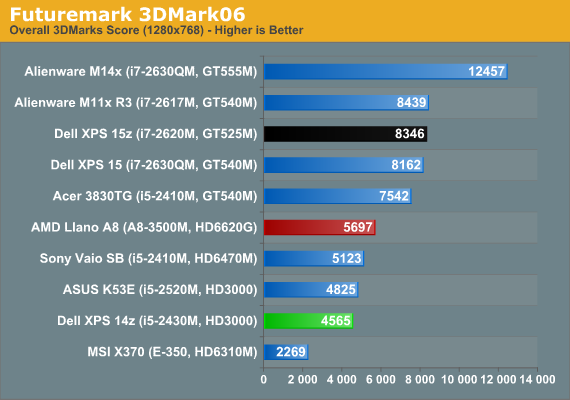 There's not much to point out here that we haven't covered numerous times already. The XPS 14z performs right where you'd expect, given the components. An SSD in place of the HDD would certainly boost the PCMark scores, but otherwise general performance is fine. 3DMark gives us a quick look at what we can expect from the HD 3000 graphics, and the scores are slightly lower than the higher clocked IGP in the K53E.
Decent Battery Life
Here's one area where the ultrabook argument is really going to have a hard time gaining traction with me: battery life. It's great that you can get an ultra thin laptop, but if getting something to 0.8" thick or less requires the sacrifice of battery capacity, a slightly larger laptop will win out. Even with a ULV processor, the ASUS UX21E can't hope to match what other Core i5 laptops can provide. Here are the results, though bear in mind we're comparing the 14z against a limited selection of laptops. Check out Mobile Bench if you'd like to see the full set of results.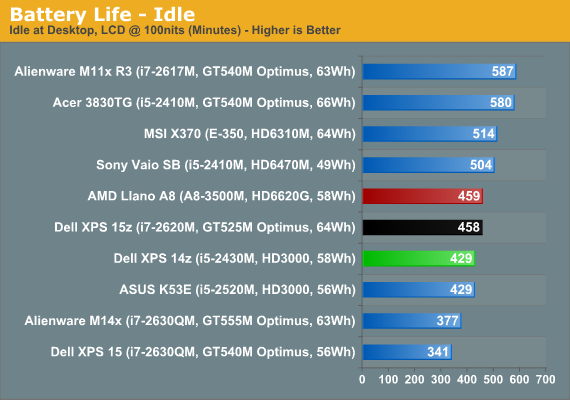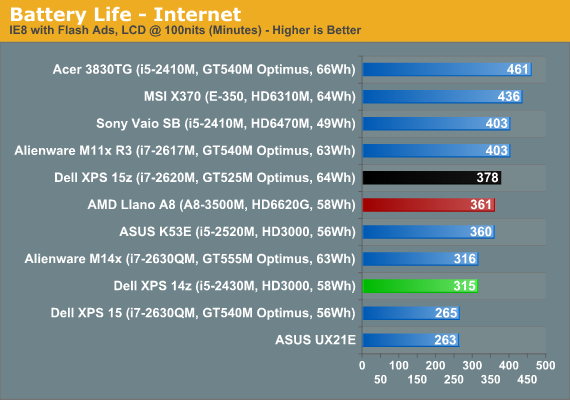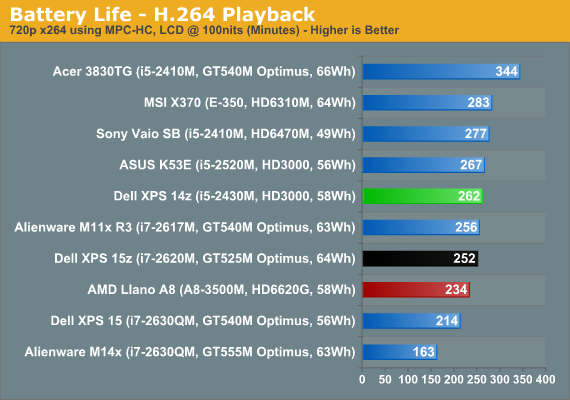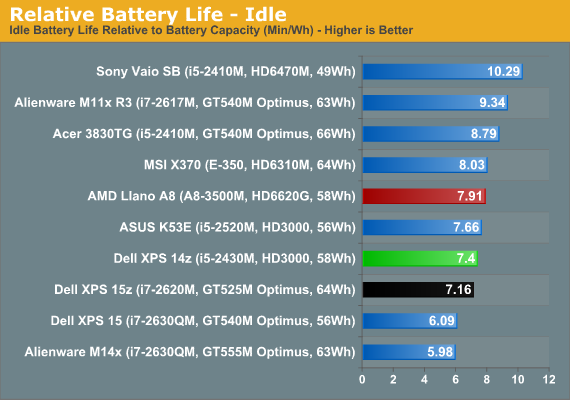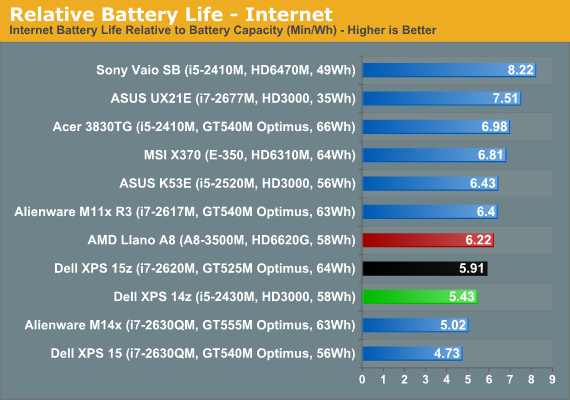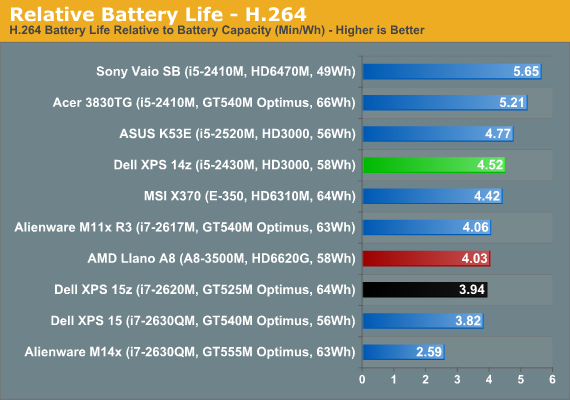 The 14z places in the middle of the pack for battery life, and only the H.264 relative battery life is slightly higher. However, if we look at a larger set of laptops we find that the 14z actually ranks roughly in the top third of battery life among laptops. In terms of raw mobility, five hours of Internet surfing and up to seven hours of idle battery life should be sufficient for most users, and four hours of H.264 playback is enough to get you through a couple of full-length movies.
Noise and Heat
The review sample we received doesn't have the upgraded CPU or discrete graphics, which really helps to keep temperatures and noise in check. The XPS 14z appears to have three fan speeds that you're likely to encounter: slow, medium, and high. Idle and light loads will usually run with the fan at a barely audible 31.2dB (from ~15"). Put a sustained load on the laptop for a minute or two and you'll hear the fan spin up to a much more noticeable 38dB. After several minutes (and likely in hotter environments), the fan appears to have one more speed available that puts out 41dB.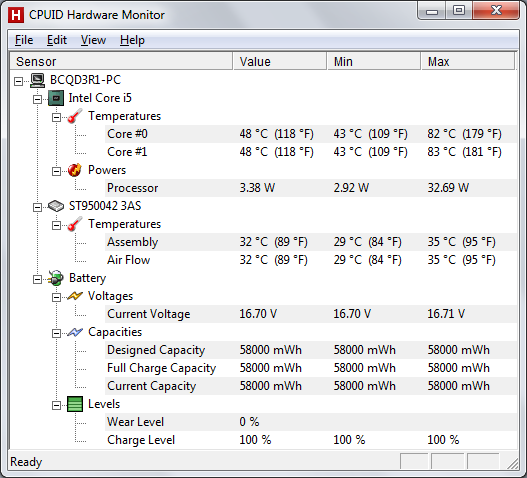 We looped 3DMark06 for several hours and were able to hit maximum fan speed, and temperatures start to get into the higher than typical range. Of note is that a similar sustained load doing H.264 encoding also hit 82C—Intel basically shares the thermal design power budget of the CPU with the IGP, so adding a 100% CPU load test while looping 3DMark didn't increase the temperatures. With a GT 520M or the i7-2640M CPU upgrade, you'll more likely encounter increased fan noise, and we're a little concerned that the cooling setup may prove insufficient in some cases. Most likely the 14z will work fine even with the upgraded CPU/GPU, but there's probably a reason Dell isn't offering more than the entry-level GT 520M, and with the dual-core i5-2430M already hitting 83C it's pretty clear that a 45W quad-core chip would need more cooling than the current chassis provides.
The Screen: A Crying Shame
We've seen so many blasé laptop displays over the years that it's hardly noteworthy anymore, but with the XPS 15 and XPS 15z offering good quality 1080p panels, not to mention the Alienware M14x, M17x, and M18x (the M11x being notably absent), we were hoping for a pleasant surprise. Unfortunately, like the defunct XPS 14 L401x, the XPS 14z is packing a decidedly mediocre LCD panel—and there's no current option for an upgraded panel.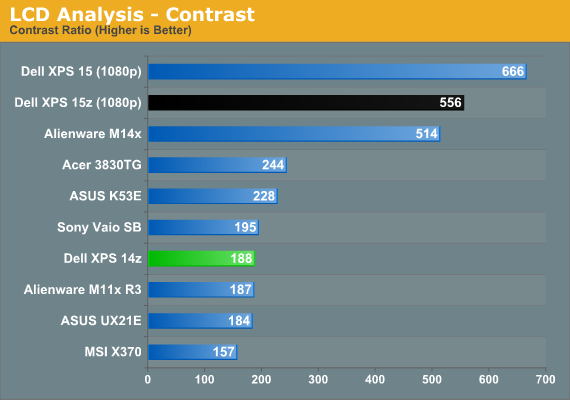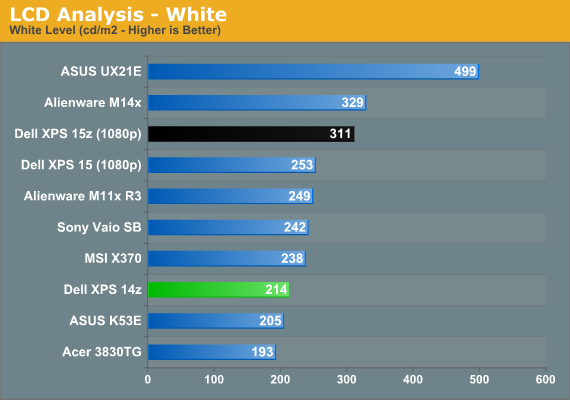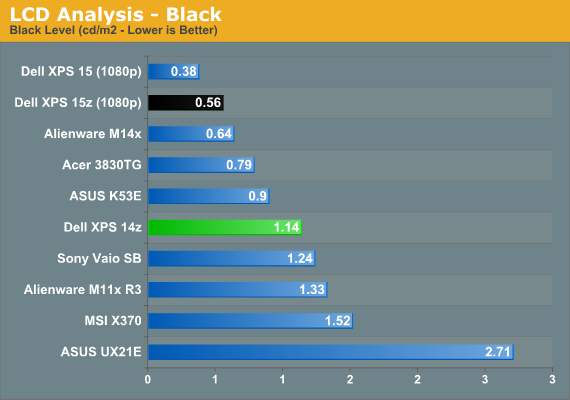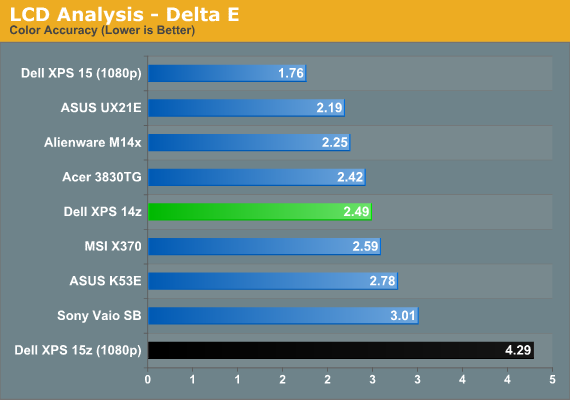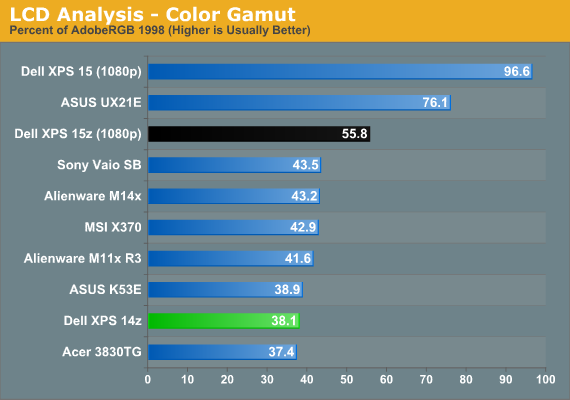 In order of importance, maximum brightness and contrast are the first two areas where we like to see good results. Looking at our global database of laptop displays, only the top third (often in high-end laptops costing $2000 or more) even manage a 500:1 contrast ratio, which is the bare minimum we'd like to see. Likewise, only the top 20% or so manage at least 300 nits maximum brightness. The panel in the 14z ranks in the bottom third for brightness and the bottom 20% for contrast. Not surprisingly, color gamut is also very low, at just 38% of AdobeRGB—that's the fourth lowest gamut we've measured in nearly two years. Given those results, the color accuracy is almost meaningless, though it also rates in the bottom third.
The viewing angles of the LCD don't help the situation. From head on, the display looks fine, and we still like the thin left and right bezels. However, off angle viewing is highly prone to color shift, and vertical viewing angles need to be within about a 10 degree arc to be useful. Compare the viewing angles with the Dell XPS 15z and you'll see why we desperately want the option for an upgraded LCD panel—a 1440x900 display would be ideal.
Dell XPS 14z: Almost There
There's a lot to like about Dell's 14z, including an attractive design, reasonable performance and pricing, and a better build quality than many consumer notebooks. It won't rival the enterprise class business notebooks for build quality, but it's quite a bit lighter than most of those and is still a healthy step up from the mostly-plastic budget laptops. The 14z will handle most everyday tasks without trouble, and it will look good doing it, but we really would like a better than average display to finish out the package.
As far as office and Internet use goes, the 14z works well, but we can say that about any laptop with a Sandy Bridge or Llano CPU. HD video playback works fine, including streaming 1080p YouTube content. 24FPS video might not work flawlessly, but I'm not sure how much that matters for laptop users—it's certainly not a pressing concern for me. Where the base model 14z won't do so well is in games or computationally intensive workloads; users interested in games will want something with a discrete GPU (we'll see what the GT 520M can do in the near future, but GT 525M would likely be a better target for moderate gaming), and for pure computation you'll want a quad-core CPU. Otherwise, performance often isn't a pressing concern on modern PCs, particularly if you've got an SSD.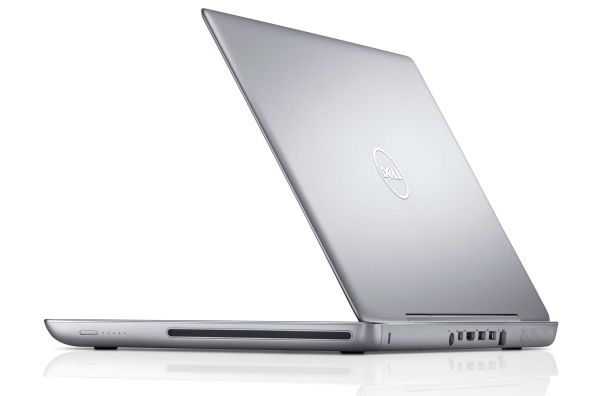 My feeling is that the 14z has one item that could really benefit from an upgrade, and that's the display. Apple has really done well at equipping their MacBook Pro and MacBook Air (and iPad and iPhone) devices with good and even great quality displays, and anyone wanting a piece of the upscale notebook market really needs to pay attention to that area. As Anand pointed out in our ASUS UX21E review, innovation is great but if you can't innovate on a particular area it's best to just copy what the leaders are doing. Dell offers display upgrades on their XPS 15/17/15z, and we definitely recommend spending the extra $100-$150 as a great way to get a high quality laptop display, but at least right now the 14z is missing that option.
One other area where I'd like to see some improvement is in the chassis design. I like the way the 14z and 15z look, but form has definitely pushed function to the wayside when it comes to upgrading or replacing hardware. Opening up the 14z and 15z chassis requires more than a little force to pry the casing apart, and while it's not all that difficult the reassembly may result in a less than perfect fit. The aluminum casing on the bottom and the magnesium alloy palm rest are both a step up from the plastic construction found in too many consumer notebooks, but I don't spend much time at all looking at the bottom of my laptops and I would happily give up the seamless bottom for easy access to the memory and hard drive.
Ultimately, the XPS 14z is a nice-looking design, but it's not without compromises. It's certainly not a clone of the MacBook Pro 13, but the two deserve to be compared. Apple's unibody construction still provides a better fit and finish, and what's more it's a lot easier to access your memory and storage with the MBP13. The MBP13 also has a superior quality display, and while 1366x768 is technically more pixels than 1280x800, I'd rather have a 16:10 aspect ratio.
Where the XPS 14z wins out is in the component specs and pricing. The base model gets you 6GB RAM, a 500GB 7200RPM HDD compared to 4GB RAM and 500GB 5400RPM HDD in the MBP13, and you can get that for about $150 less than the basic MBP13. The upgraded MBP13 will net you an i7-2620M/i7-2640M, 4GB RAM, and a 750GB HDD for around $1400; Dell on the other hand will sell you an i7-2640M, 8GB RAM, 750GB 7200RPM HDD, and a GeForce GT 520M for $1300. In other words, it's mostly the same old story: Dell will sell you a bit more performance for less money, but when it comes to the design and build quality Apple's MacBook Pro wins out, and the Apple LCD is at least a $75 upgrade in my book.
Dell seems to understand the need for better displays at one level, as we have the Precision line now offering IPS panels as an upgrade (albeit one that will cost you $400 extra!), they've had RGB LED as an option for several years on certain models, and the XPS 15/15z have at least better than average displays. In fact, the 15/15z managed to one-up Apple's MacBook on the display front by offering 1080p in a 15.6" panel compared to Apple's 1440x900 resolution (though Apple does offer matte panels as an alternative). Toss in a better display and the 14z suddenly becomes far more compelling and flirts with another Editors' Choice award; without it, it's a laptop that looks good in every area except the one place where your eyes are going to be focused most of th time.