Original Link: http://www.anandtech.com/show/4996/asus-e35m1m-pro-review-anyone-for-fusion


The low powered AMD Fusion market is still an active one, and although the ASUS E35M1-M Pro has been available for a while, we have been asked to have a look. By definition, it is a low powered board with a 1.6 GHz dual core and a 500 MHz GPU clock with 80 stream processors. We clocked a basic system at around 32 W idle, with the APU cooled passively.
Overview
Whilst CPU or GPU intensive tasks are out of the question with a Fusion based system, Fusion boards do have their own advantages such as ultra low power consumption devices, which allow the APU to be passively cooled for a truly silent PC. The optional supplied micro-fan does not add much noise into the equation for low usage, but each end user may or may not want the noise in the background.
There are plenty of connectivity options available on the E35M1-M Pro. In total, there are six SATA 6 Gbps ports and twelve USB 2.0 ports available on this motherboard which should satisfy most requirements. Full HD playback is made possible by the built-in AMD HD 6310 GPU.
Overclocking is possible on the E35M1-M PRO, but as Ian has mentioned before in his round up of three Fusion E-350 motherboards, it is always down to how lucky you get with your silicon because the APU is already installed on the motherboard when you buy it. A respectable overclock of 12% was obtained which brings the final clock speed of the CPU up to 1.792 GHz.
Visual Inspection
The ASUS E35M1-M Pro makes use of a low power APU from AMD which is located under the heatsink in the middle of the board. ASUS are maintaining their current color scheme for their non-ROG branded boards and have gone with blue and black combination. The Hudson M1 FCH is located next to the APU and it provides support for six SATA 6 Gbps ports, five of which are internal and one is an eSATA port. Out of the five internal SATA 6 Gbps ports, four of them are angled and point away from the motherboard and one is not.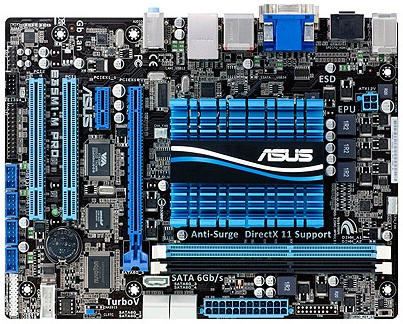 On the expansion side of things, we have a PCIe x16 slot which is electronically limited to x4, a PCIe x1 slot and two PCI slots. There are four USB 2.0 headers which will allow for up to eight extra USB 2.0 ports to be added into your system as well as a USB 3.0 header for an additional two USB 3.0 ports.

On the back of the board, we have a PS2 port (that can be used for either a keyboard or a mouse) and a total of four USB 2.0 ports. Two USB 3.0 ports are located under the gigabit LAN. Three different kinds of video connectivity are available and they consist of HDMI, DVI and D-SUB. There is also a S/PDIF optical output as well as a trio of audio jacks.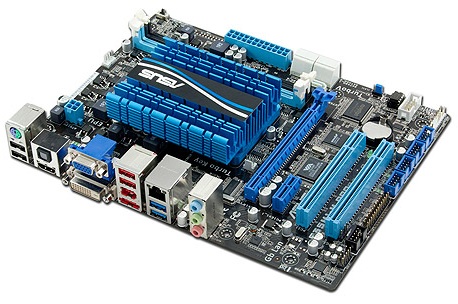 There are only two fan headers on this motherboard, one of which is for the CPU fan, which is located above the heatsink and just to the left of the DIMM slots. The second one is for a chassis fan and is located near the bottom left-hand side of the heatsink. An extra fan header would have been nice to see on a board this size, though is not absolutely necessary.
BIOS
When you first enter BIOS, you will notice that ASUS have used a graphical BIOS with this motherboard. The BIOS itself is very easy to navigate through and when you get into it for the first time, you are faced with the 'EZ Mode' which shows you the basic things which a user may use or need to change such as the boot order of the system. When you enter the 'Advanced Mode', it opens up the entire BIOS so that you can turn things on or off which you would not find in the basic setup.
It is nice to see that overclocking features have been included in this BIOS but I do not think that many users will be buying this motherboard with overclocking in mind, as that will only raise power consumption and temperatures.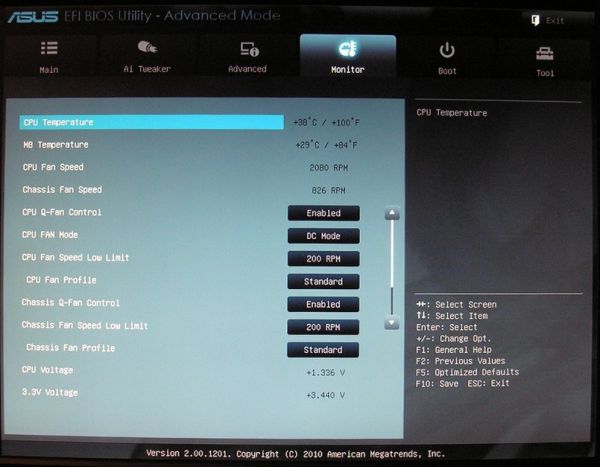 The fan controls in the BIOS allow you control both fan headers on the motherboard. You have a few options available which allow for either optimized cooling based on temperature, or if a quiet computing experience is preferred, that option is at your disposal too.
There are no noticeable changes between the release BIOS and the latest BIOS which is available on the ASUS website. ASUS claim improved system stability is achieved with the latest release although I have not experienced any issues on the shipped BIOS.
Overclocking
While overclocking may not be a strong point of this motherboard, it is still possible to squeeze a bit of extra performance out of the APU. I started with the ASUS Suite II software to see how good the automated overclocking was. The auto-overclocking feature added 3 MHz to the bus speed which increased the overall CPU speed by 48 MHz to give a final clock speed of 1648 MHz. The same overclock is applied if you select the AutoTune feature within the BIOS. It was stable but the increase in performance was not that noticeable.
Going through the BIOS, I was able to achieve a better result. The APU has a stock clock speed of 1.6 GHz and I was able to push it up to 1.792 GHz by using a 112 MHz base clock. All voltages were left on auto. When I went any higher than 112 MHz on the base clock, the motherboard would occasionally have an issue getting into Windows. However, from a stability standpoint, everything worked flawlessly at 112 MHz.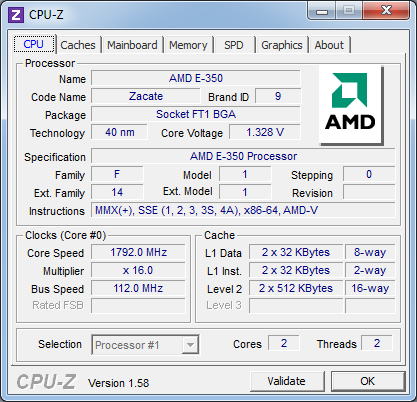 Along with standard stability tests, for completeness, the system was put under a 100 per cent loading for ten minutes and then the PC was put into a sleep state for the night. It switched on in the morning without any issues and full usability. When a 112 MHz base clock was used, there were no issues and the system was fully usable.
Board Features
ASUS E35M1-M Pro
Market Segment
HTPC
CPU Interface
FT1 BGA
CPU Support
Fusion
Chipset
Hudson-M1 (A50M)
Memory Slots
Two DDR3 DIMM
Maximum 8 GB
Non-ECC Unbuffered
Expansion Slots
1 x PCIe x16 (x4 speed)
1 x PCIe x1 2 x PCI
Onboard
5 x SATA 6 Gbps Ports
1 x USB 3.0 header
4 x USB 2.0 headers
2 x Fan Headers
1 x Front Panel Audio Connector
1 x SPDIF Out Connector
Onboard LAN
Realtek® 8111E PCIe Gigabit LAN controller
Onboard Audio
ALC892 8-Channel High Definition Audio CODEC
Supports DTS Surround Sensation Ultra-PC
Power Connectors
24-pin ATX Power Connector
4-pin 12V CPU Power Connector
Fan Headers
1 x CPU (3-pin)
1 x CHA (3-pin)
IO Panel
1 x PS/2 Port
2 x USB 3.0
4 x USB 2.0
1 x HDMI
1 x D-SUB
1 x DVI
1 x eSATA 6 Gbps
1 x Gigabit Ethernet
3 x Audio Jacks
BIOS Version
0506
Warranty Period
3 Year
With regards to the networking and sound processors, ASUS have used the Realtek solutions. It is normal to see the Realtek chips onboard on a motherboard within this price range, but ASUS do occasionally use the Intel solutions on their higher end motherboards.
In The Box
2x SATA 6 Gbps cables
IO shield
1x CPU fan
Users guide
Driver DVD
No USB 3.0 bracket has been supplied but instead of the two SATA 6 Gbps cables which the manual stated, we received four cables in the box.
Software
As the software found with this board has been covered by both Ian in his ASUS P8Z68 Pro review and by me in the ASUS P8P67 review, I will just give you a quick run through. The software installation was easy - you have the choice to install all of the software which comes on the DVD or you can install each individual driver as you please. In our case, all of the drivers were installed in order to allow for a fair test.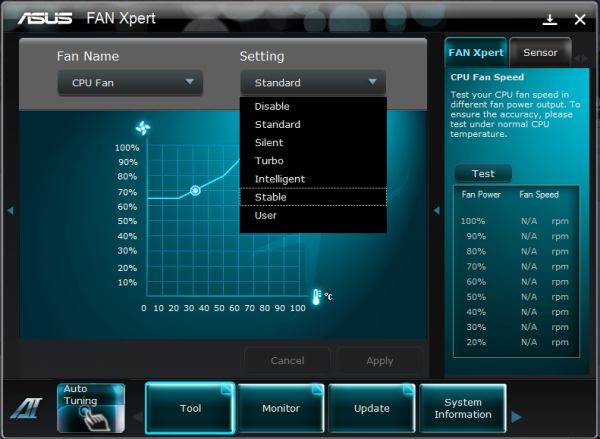 From within the ASUS Suite II, you can overclock your system, change and apply fan settings, monitor temperatures and voltages, change the power saving settings to your requirements as well as being able to update the BIOS. There are no issues with this software from what I can see.
Test Setup
Many thanks to…
Before we go any further, I'd like to take the time to thank G.Skill for providing us with a set of their RipJawsX RAM for my future AMD reviews, in particular, the F3-14900CL9Q-16GBXL kit of which two sticks were used. It is a 16GB (4x4GB) kit which is rated at DDR3-1866MHz with 9-10-9-28 timings on as little as 1.5 volts. It is currently available from Newegg for $149.99.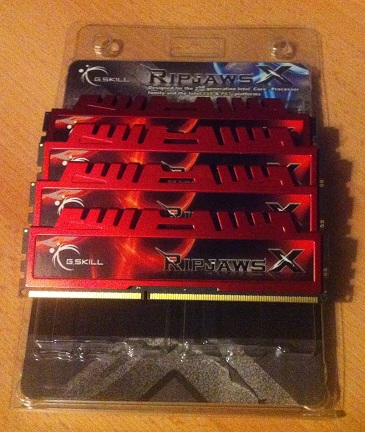 Power Consumption
Power consumption was tested on the system as a whole with a wall meter connected to the power supply, while in an IGP configuration. This method allows us to compare the power management of the UEFI and the board to supply components with power under load, and includes typical PSU losses due to efficiency. These are the real world values that consumers may expect from a typical system (minus the monitor) using this motherboard. The power supply used for this test was a generic 250W model from JeanTech.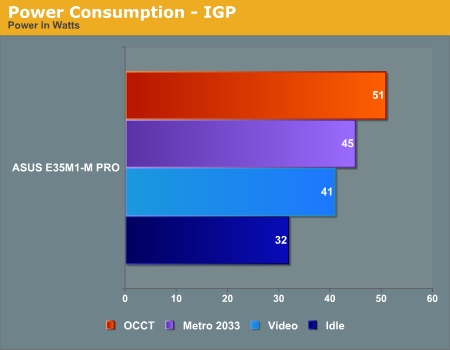 Out of the A50M motherboards which we have had on test, the ASUS E35M1-M PRO has the lowest average power rating across the four tests which we ran.
CPU Temperatures
With most users running boards on purely default BIOS settings, we are running at default settings for the CPU temperature tests. The results of a CPU Temperature test are not easily interpretable – if a motherboard vendor has buffered the amount of copper in the board between the power delivery and the CPU, this lowers the resistance and increases the CPU default voltage causing higher temperatures (but better stability). However, a high temperature could result from using different types of onboard devices, FETs, or the quality of the CPU temperature sensor, so the overall interpretation is purely speculative. The only thing a CPU test can say for sure is how warm the CPU is.
It could be argued that the CPU temperature is an indication of how well (or how adventurous) the vendor has their BIOS configured on automatic settings. A certain number of vendors not making CPU voltage, turbo voltage or LLC options configurable to the end user, which would directly affect power consumption and CPU temperatures at various usage levels.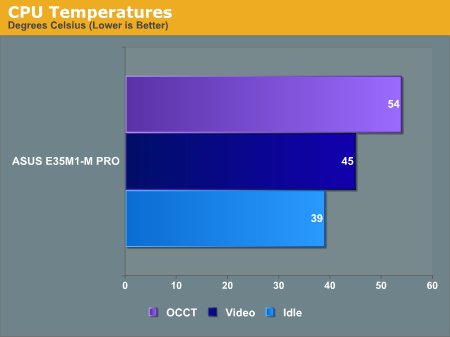 The thermal tests were conducted without the included fan, just like the other Fusion motherboards. As you would expect, the temperatures are significantly lower if you use the fan. For example, if you stress the system with OCCT, the temperatures come down from 54 °C to just 39 °C. The fan is whisper quiet during normal operation and should not be noticed in a HTPC environment - however, when the system is stressed and the fan speeds up to 100%, it does get quite loud.
LAN Speed Test
LAN Speed Test is a freeware program designed for testing the network connection between two PCs on a home network. The speed of the transfer is limited by the lowest common denominator on the network, so if you have gigabit Ethernet capable computers but a 100 Mbit capable router, you are limited to 100 Mbit transfer. Note that this is really a formality – if a network port is rated at 1 Gbps, then chances are that it will hit at least 90+% of this value. The main test here is CPU usage, and how much is offloaded by the controller. For this test, we use LAN Speed Test to transfer a 1000 MB file across a home network with a 1000 Mbps lowest common speed to the same machine each time, in a read/write scenario.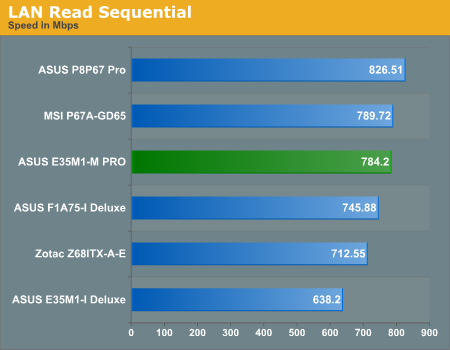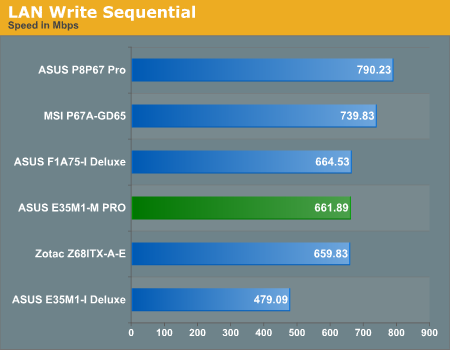 As we only have two results on the A50M platform which were tested under a 1 Gbps environment, I have decided to compare it to a few other platforms too. LAN throughput should be down to the onboard chip and therefore it has been compared to these platforms. Judging by the read and write speeds, the E35M1-M Pro does well for itself and is above average in the read tests but falls just under the average marker with the write tests.
USB Speed
For this benchmark, we run CrystalDiskMark to determine the ideal sequential read and write speeds for the USB port using our 64GB Patriot SuperSpeed USB 3.0 drive. Then we transfer a set size of files from the SSD to the USB drive, and monitor the time taken to transfer. The files transferred are a 1.52 GB set of 2867 files across 320 folders – 95% of these files are small typical website files, and the rest (90% of the size) are the videos used in the Sorenson Squeeze test.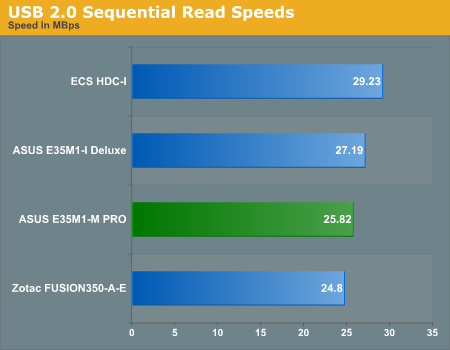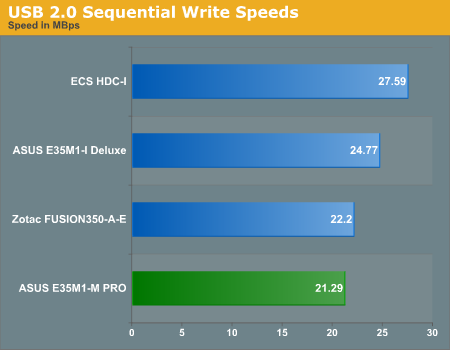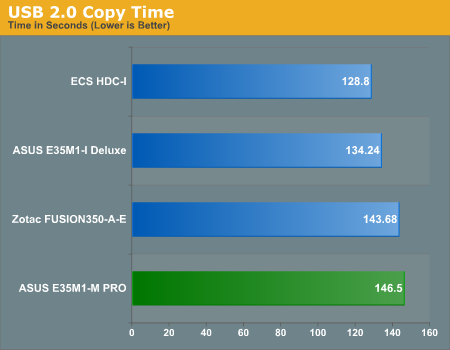 The USB 2.0 read speeds are above average out of the four boards but the writes on the other hand come in at bottom place. The reason for this is unknown.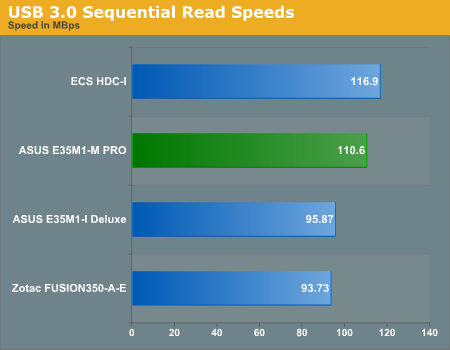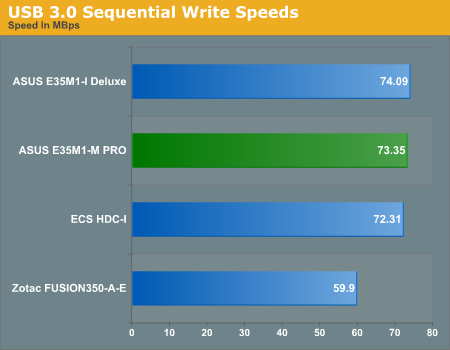 Write speeds on the USB 3.0 side of things are much better than the USB 2.0 results and the read speeds are above average here as well.
SATA Testing
We also use CrystalDiskMark for SATA port testing. The operating system is installed on the OCZ Vertex 3 240GB SSD, which is rated at up to 550 MB/s read and up to 520 MB/s write, and the sequential test is run at the 5 x 1000 MB level on a separate clean partition. This test probes the efficiency of the data delivery system between the chipset and the drive, or in the case of additional SATA ports provided by a third party controller, the efficiency between the controller, the chipset and the drive.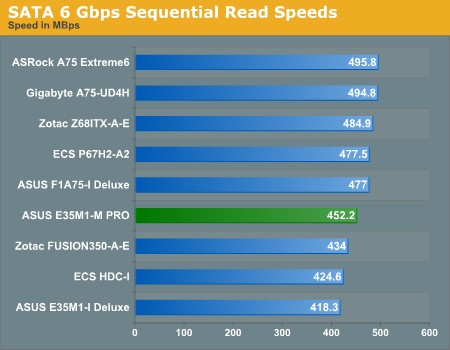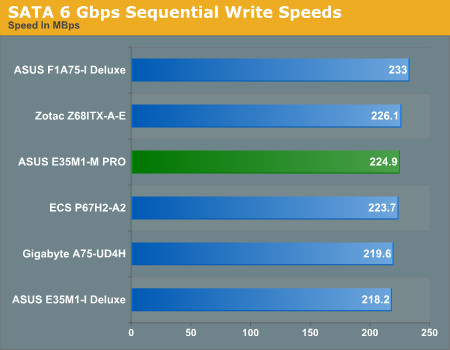 In the Vertex 3 testing the board got the fastest read speeds for A50M but the write speeds were below average. It is debatable whether a user would notice this is regular usage for this board, however.
DPC Latency
Deferred Procedure Call latency is a way in which Windows handles interrupt servicing. In order to wait for a processor to acknowledge the request, the system will queue all interrupt requests by priority. Critical interrupts will be handled as soon as possible, whereas lesser priority requests, such as audio, will be further down the line. So if the audio device requires data, it will have to wait until the request is processed before the buffer is filled. If the device drivers of higher priority components in a system are poorly implemented, this can cause delays in request scheduling and process time, resulting in an empty audio buffer – this leads to characteristic audible pauses, pops and clicks. Having a bigger buffer and correctly implemented system drivers obviously helps in this regard. The DPC latency checker measures how much time is processing DPCs from driver invocation – the lower the value will result in better audio transfer at smaller buffer sizes. Results are measured in microseconds and taken as the peak latency while cycling through a series of short HD videos - under 500 microseconds usually gets the green light, but the lower the better.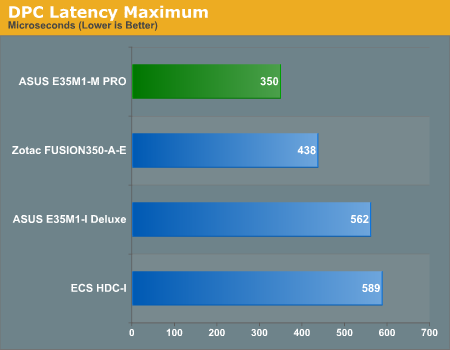 The E35M1-M PRO currently holds the lowest DPC Latency score in our records for the A50M platform.
3D Movement Algorithm Test
The algorithms in 3DPM employ both uniform random number generation or normal distribution random number generation, and vary in various amounts of trigonometric operations, conditional statements, generation and rejection, fused operations, etc. The benchmark runs through six algorithms for a specified number of particles and steps, and calculates the speed of each algorithm, then sums them all for a final score. This is an example of a real world situation that a computational scientist may find themselves in, rather than a pure synthetic benchmark. The benchmark is also parallel between particles simulated, and we test the single thread performance as well as the multi-threaded performance.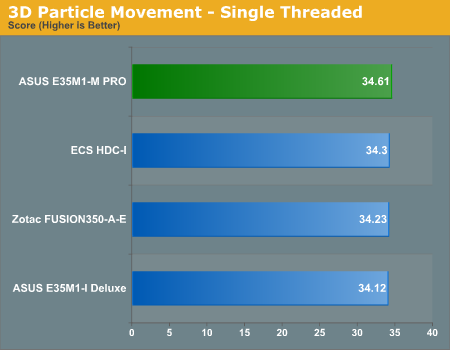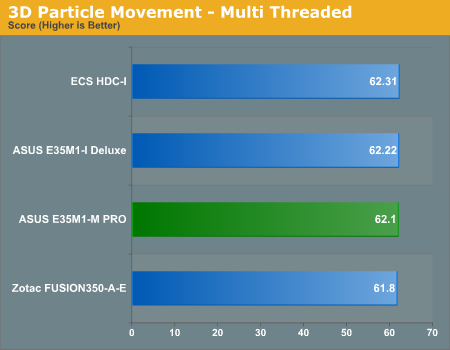 During the single threaded testing, this motherboard was the fastest but it did not fare too well in the multithreaded environment after repeated tests. However both tests are well within statistical variance.
WinRAR x64 3.93
With 64-bit WinRAR, we compress the set of files used in the USB speed tests. WinRAR x64 3.93 attempts to use multithreading when possible.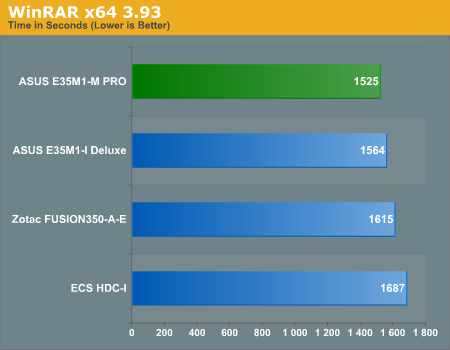 The ASUS E35M1-M PRO is currently the fastest Fusion motherboard in our WinRAR test.
FastStone Image Viewer 4.2
FastStone Image Viewer is a free piece of software I have been using for quite a few years now. It allows quick viewing of flat images, as well as resizing, changing color depth, adding simple text or simple filters. It also has a bulk image conversion tool, which we use here. The software currently operates only in single-thread mode, which should change in later versions of the software. For this test, we convert a series of 170 files, of various resolutions, dimensions and types (of a total size of 163MB), all to the .gif format of 640x480 dimensions.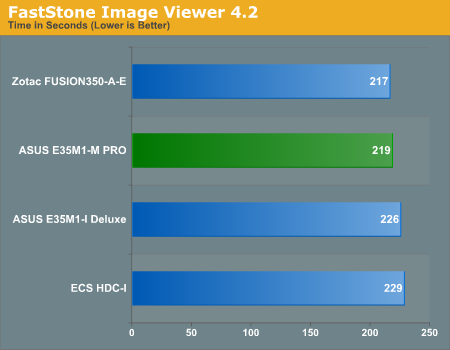 The result of 219 seconds is the second fastest we have for A50M.
Left4Dead2
Left4Dead2 is a classic Steam FPS DirectX 9 shooter. It changes very quickly from GPU to CPU bound over a certain limit - our test is a time demo taken from a run through of the first level.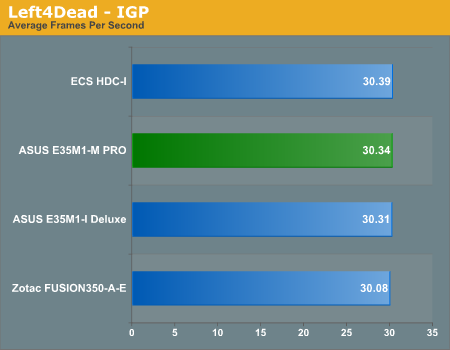 30.34 FPS puts the board in second place as well as being just a little bit behind on the top spot.
Dirt 2
Dirt 2 came to the PC in December 2009, developed by Codemasters with the EGO Engine. Resulting in favorable reviews, we use Dirt 2's inbuilt benchmark under DirectX 11 to test the hardware. We test two different resolutions at two different quality settings using a discrete GPU, and an appropriate integrated GPU setting.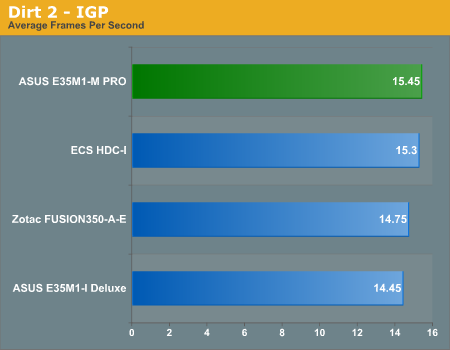 A result of 15.45 FPS puts this motherboard above any other Fusion based system.
Metro 2033
Metro 2033 is a challenging DX11 benchmark that challenges every system that tries to run it at any high-end settings. Developed by 4A Games and released in March 2010, we use the inbuilt DirectX 11 Frontline benchmark to test the hardware.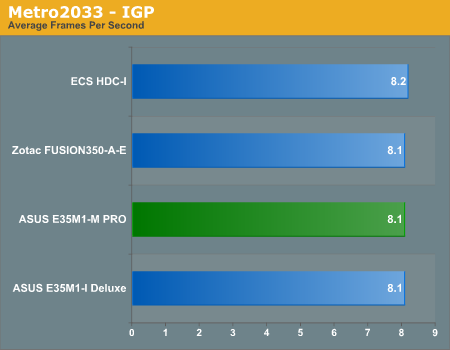 All of the results collected thus far on the Fusion platform are very similar. There is a 0.1 frames per second difference between the top result and the bottom result so this board fits into right into the middle of the bunch.
The ASUS E35M1-M PRO is currently retailing at Newegg.com for $119.99. The price puts this motherboard more or less in the middle of the lot and considering it does beat some of the more expensive motherboards, it is a great contender in the world of low powered computing.
ASUS have provided us with a generous amount of features on the motherboard. Unfortunately, as said earlier, no USB 3.0 bracket was included (given the price of the board this is perhaps understandable), but for some reason there were two extra SATA 6 Gbps cables in the box than advertised. All of the SATA cables are angled at 90 degrees and have locking ends. The total number of USB 2.0 headers can provide an additional eight ports.
The A50M motherboard market is a contested one with many manufacturers bringing out similar products at very similar prices. In order to stand out from the crowd, you have to perform better than the rest, which is what the E35M1-M PRO has demonstrated in most of the tests that were in this review.
The BIOS itself is feature rich and there is not anything I could currently think of which I would change about it. The only issue experienced was to do with a wireless keyboard/mouse compatibility issue but wireless keyboards and mice are not in the EFI standard so I cannot fault ASUS for this or any other manufacturer where this issue may arise.
In tests conducted on other Fusion motherboards, there were no real benefits from using a discrete GPU as it would appear that there just is not enough power available from the processor. However, if you are gaming at low resolutions with low settings, this motherboard does very well for itself and takes the performance crown on the A50M platform from the boards we have tested.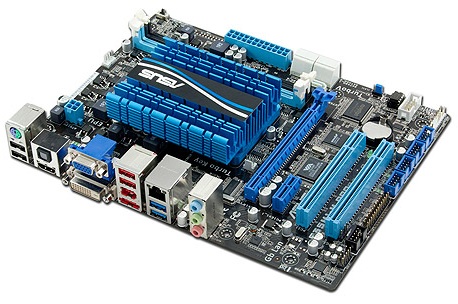 ASUS backs up the boards with a standard 3 year warranty.