Original Link: http://www.anandtech.com/show/4988/amazon-fourthgeneration-kindle-review


The new Kindle Fire may have gotten most of the attention when Amazon refreshed its Kindle lineup this year, but Amazon is still very much in the e-reader market. The fourth-generation Kindle, the Kindle Touch, and the Kindle Touch 3G all promise to deliver the traditional Kindle experience in a lighter and less expensive package - continue reading for our thoughts on the new $79 Kindle.
Hardware and Tech Specs
The new Kindle's 6", 600x800 E-Ink Pearl screen is basically the same as the previous model's, but that's where most of the hardware similarities end: the keyboard, a mainstay of all previous Kindles, has been removed and replaced by four physical buttons and what Amazon calls a "five-way controller," a directional pad surrounding a button. Typing is now done using this controller and an on-screen software keyboard, which I'll complain a bit about later.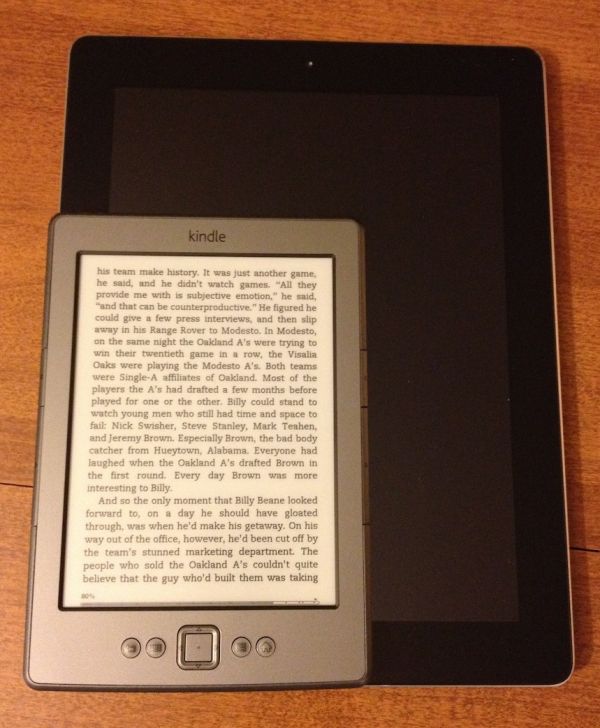 For all the inconvenience of text entry, the keyboard's removal does noticeably reduce the Kindle's size and weight - the new unit is 6.5" (166mm) tall, 4.5" (114mm) wide, and 0.34" (8.7mm) deep, and weighs just a shade under 6 ounces, down from the 8.5 ounces of the previous model. As a result, it's comfortable to hold in one hand for most extended reading sessions. Many promotional shots show it nestled in the back pocket of someone's jeans, which you can do, even though you feel like you're going to snap it in half when you sit down. Suffice it to say that it slides easily into most bags, cases, and purses without issue.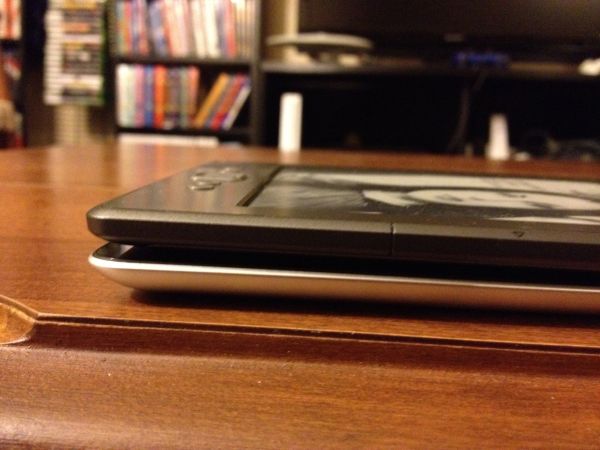 On the inside, the Kindle is outfitted cheaply (to hit that $79 price point) but well enough, given its intended function - the fine folks over at Blog Kindle have done a very thorough, device-bricking teardown of the Kindle so that we didn't have to. The action is driven by a Freescale i.MX50-series Cortex A8 SoC running at 800MHz, while an Epson KCRE7000 E-ink display controller handles the visuals. An Atheros AR6103 chip provides wireless b, g, and n Wi-Fi speeds of up to 72.2 Mbps on the 2.4GHz band. 256MB of RAM from Hynix and 2GB of flash memory from Sandisk round out the rest of the Kindle's important chips.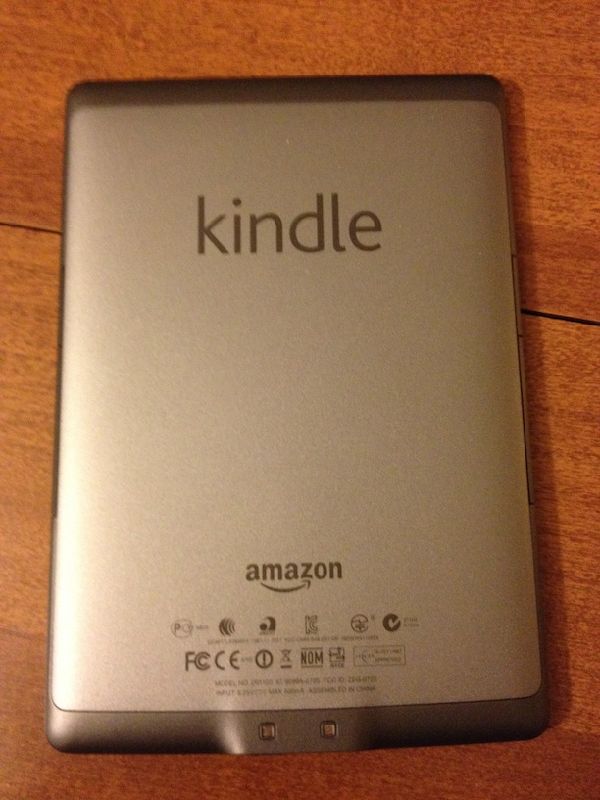 All of this hardware is powered by a 890mAh 3.7 V battery, which Amazon says is good for about a month, and while I haven't had the thing for a month I can say that this sounds about right - after a week of daily usage, I've used about a quarter of the Kindle's battery life. There's no charger included in the box, but the included micro-USB cable can be connected to any computer or USB charger - the Kindle had no problem with my iPhone's charger, and I expect that most micro-USB chargers will work without issue. Amazon also sells its own branded adapter for $10.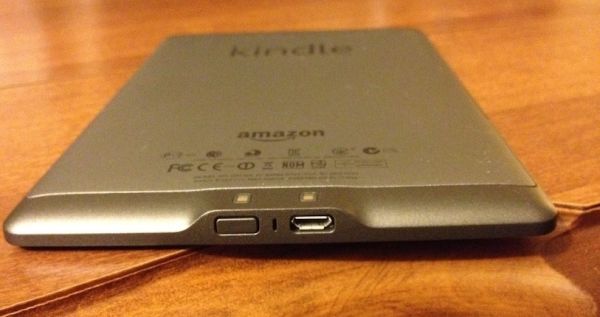 The basic Kindle's 2GB of storage space (which in practice works out to be around 1.3GB after the system software) is half that of the previous generation Kindle and the forthcoming Kindle Touch, though it's certainly as much as you need to store anything you're actively reading. Amazon's cloud storage lets you archive anything you're not reading, and you can re-download it to your device in short order if you've got a Wi-Fi connection.
Aside from Amazon's .AZW format books, this Kindle supports TXT, PDF, unprotected MOBI, and PRC files natively. HTML, DOC, DOCX, JPEG, GIF, PNG, and BMP files can all be viewed after being converted by Amazon or another program. You'll notice that there are no audio files on this list - the low-end Kindle doesn't support audio in any way, so audiobooks, the "read to me" text-to-speech feature, and music are incompatible with it. The Kindle Touch will include audio support when it launches in November, and the Kindle Keyboard (a rebranding of the previous-generation device) continues to support audio.
Plugging the Kindle into your PC puts it into USB drive mode, where you can charge the device and move files into its flash memory. To continue to charge the Kindle while using it normally, eject it from the computer.
Unboxing and Setup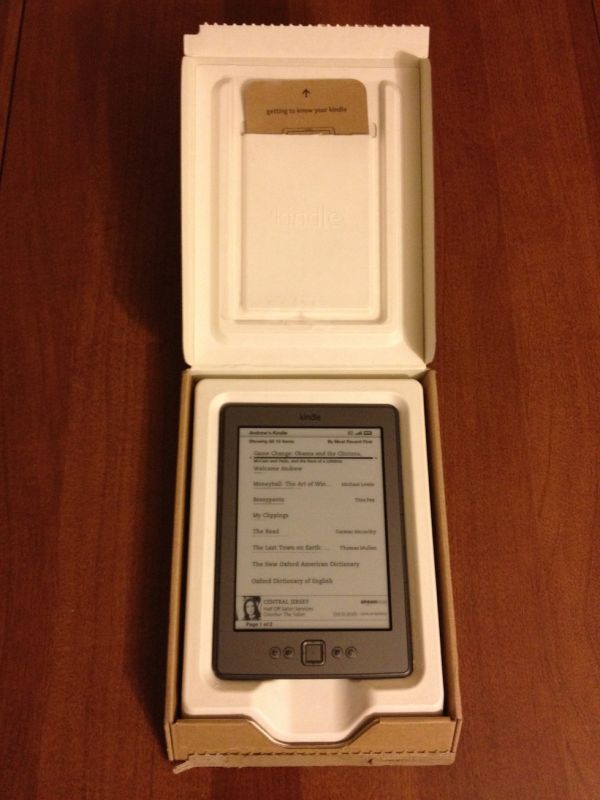 The Kindle comes in a simple, unadorned cardboard box with "Kindle" emblazoned on the side. Open it up, and you'll find the device and the micro USB cable nestled in an all-cardboard enclosure that should be familiar to anyone who has experienced Amazon's "frustration free" packaging - the lack of plastic makes it both easier to open and more environmentally sound. A simple slip of cardboard tells you how to navigate with and charge the Kindle, and there's no other manual in sight.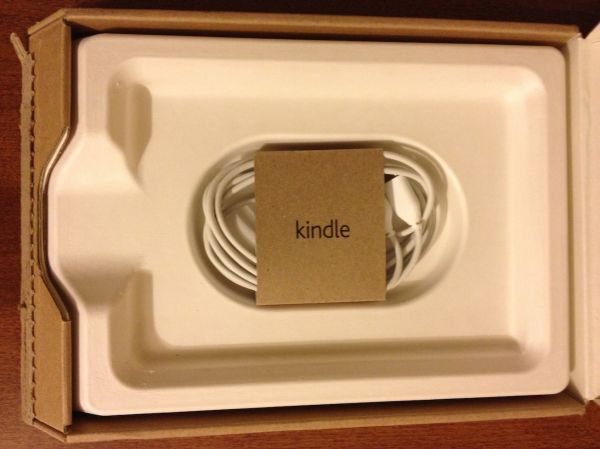 First-time setup is a bit of a pain, and it all comes down to the keyboard - previous Kindles have all used a smartphone-ish physical keyboard (the Kindle Keyboard continues to, of course), and forthcoming Kindles will all include some manner of touchscreen, but the base Kindle just has an on-screen keyboard and a directional pad for navigation.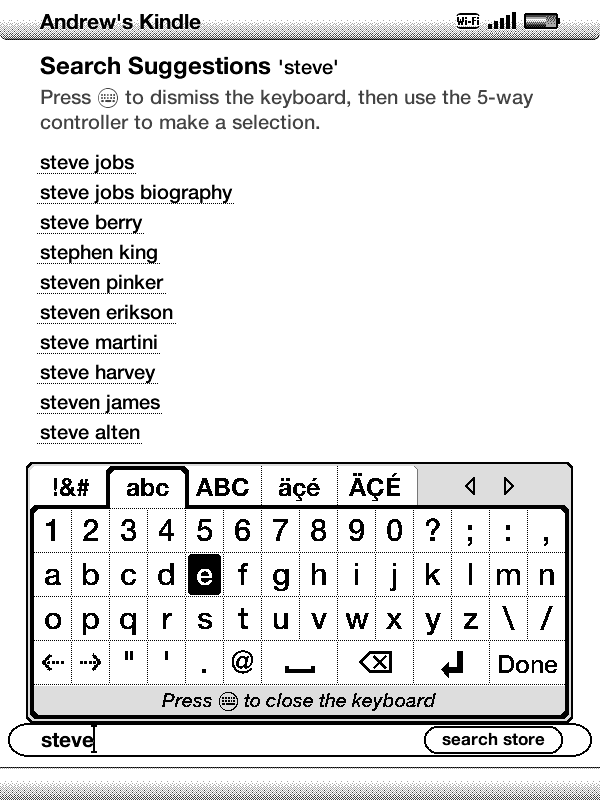 You now know why no one Tweets from their Xbox 360. For the same reason, you'll want to stay away from the included web browser for anything more complicated than a quick search - typing is just too belabored.
After connecting to my wireless network (WEP, WPA, and WPA2 are all fully supported, and once I typed in my SSID the Kindle saw my hidden network without difficulty), I found downloading books from my Kindle library to be quick and relatively painless, though again hampered by constant clicking to navigate and to type. Buying new books is best done on a PC, where Amazon will give you the option to have your titles automatically downloaded to the Kindle - you can find and purchase books on the device itself, but if you find the keyboard as painful to use as I did you'll tend to shy away from it. To its credit, Amazon's search suggestions list is pretty long and pretty aggressive, so you generally shouldn't have to type the entire name of the book or author that you're looking for.
Day-to-day Use
Once you finally get down to the business of reading, though, the Kindle's traditional strengths shine through: the easy-on-the-eyes e-ink screen, the exceptional battery life, the small size and light weight. The latter two benefit from the subtraction of the keyboard, as its removal enabled Amazon to sell the same size screen in a smaller form factor for a lower price.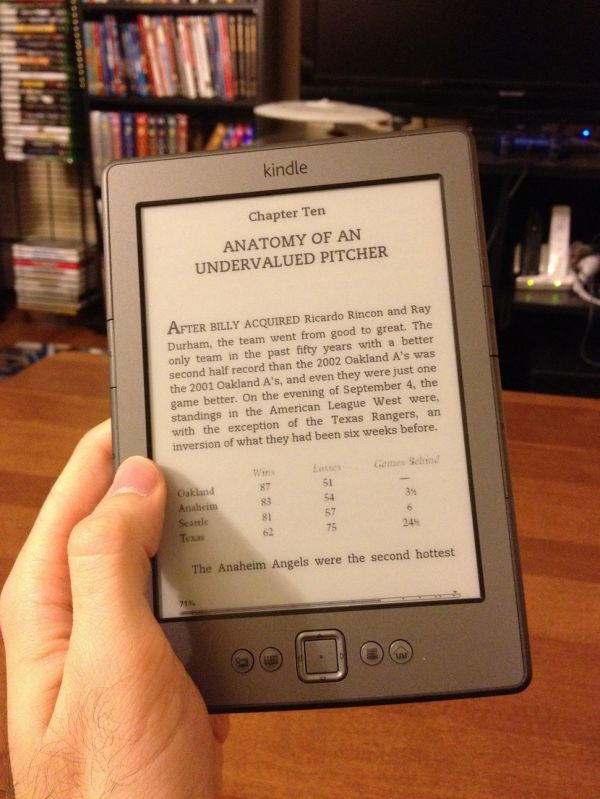 It's easy to hold the device in one hand, and the page turning buttons (a larger one on the bottom for going forward and a smaller one on top to go backward) are easily accessible - there are identical buttons on both the right and left sides of the device to account for both the right- and left-handed folks out there, and the buttons are responsive to input but stiff enough that you usually can't trigger a page turn by accident.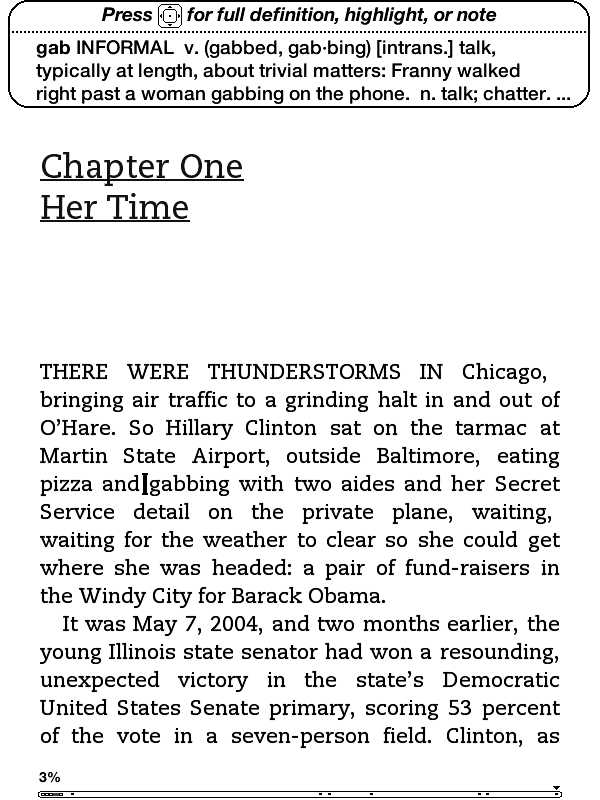 Pushing up and down on the five-way controller turns on a cursor with which you can jump from word to word, automatically bringing up the built-in dictionary's definition for the selected word. Pressing the center button will bring up a menu that allows you to see a word's full definition, start and finish highlighting passages, and create notes (though, again, text entry is unpleasant).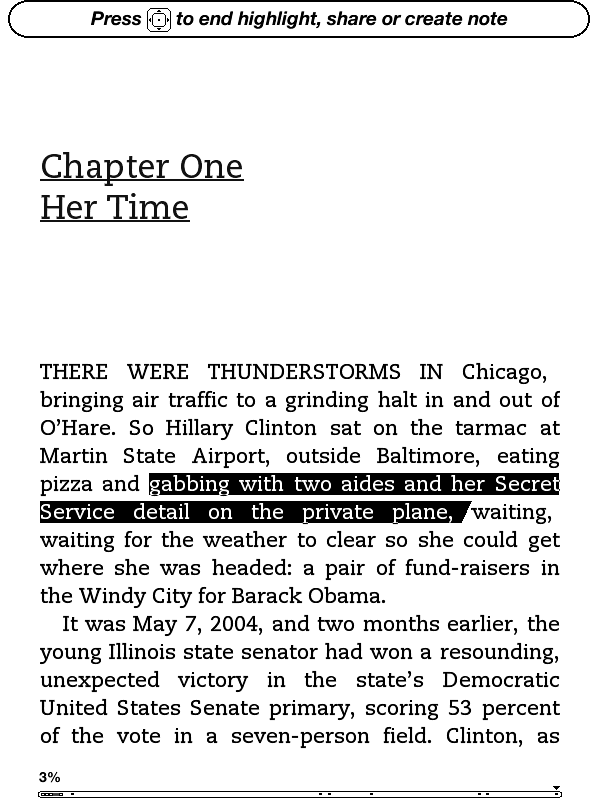 When looking at solid text, the screen only actually "refreshes" every six page turns or so (to fully refresh, the whole screen briefly flashes black) - the result is that at times you can see faint ghosting from previous pages, though it's usually not enough to be distracting. If you want a full page refresh to happen with every page turn, you can enable this in the Settings menu after applying the Kindle 4.0.1 software update. Pages with images embedded automatically trigger a full refresh when they come up.

Page turns don't happen as instantaneously as they do on iDevices or other devices with more traditional screens, though they're certainly not slow enough to pose a problem in practice. I also found the Kindle to be easier on the eyes over hours-long reading sessions than my iPad or iPhone. Since this is my first Kindle-enabled device that's actually a Kindle, I can't personally say whether this is true, but some Amazon reviews note that the contrast of the E-ink display is a bit less pronounced than in the previous generation devices - if you've got a third-gen Kindle that you're happy with, this year's model may not necessarily be an upgrade.

It should also be said that while there's generally no problem with screen glare on the new Kindle, you can see light reflected off of the screen at certain angles under certain types of light. I found that I could usually only make this happen when I was actually trying to make it happen, but it's something to keep in mind.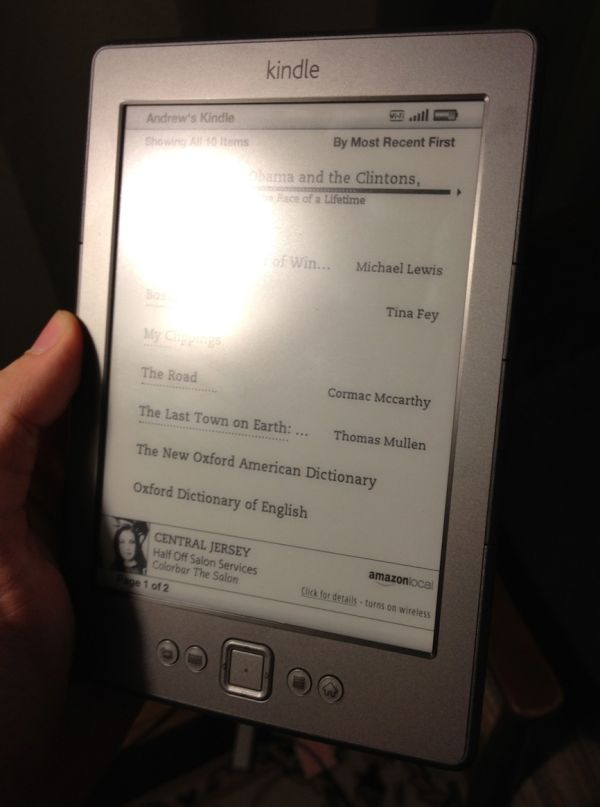 Since this is a Special Offers Kindle, there's an ad banner on the bottom of the home screen, and the device also displays ads instead of turning off when you press the sleep button (though it does turn the wireless off to conserve power). I'm numb enough to ad banners that I didn't find these irritating, but if that's the sort of thing that bothers you you'll want to consider spending the extra $30 to get the ad-free version (for the same amount of money, you can also get rid of the ads on any Special Offers Kindle at any time after purchase).

Wireless syncing worked just about as advertised - once or twice in my week of testing, the Kindle didn't properly detect progress that I had made on my iPhone, but since my iPhone always detected the progress I made on the Kindle I'd be more inclined to blame Apple's device than Amazon's. The second time I went to use the Kindle, it had lost my wireless network settings and needed me to put them in again, but that hasn't happened again since so I assume it's not a chronic problem.
Updating process
Our Kindle shipped with version 4.0 of the built-in software, but Amazon has made version 4.01 available for download. To update your Kindle, first download the update from Amazon's web site (it will be in .bin format). Next, connect the Kindle to your computer, and using the file explorer place the update at the root of your Kindle's drive.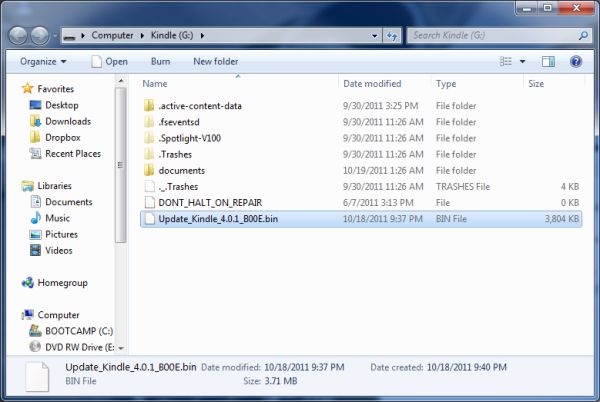 Disconnect the Kindle from the computer, press the Menu button, select Settings, and press the Menu button again, and select Update Your Kindle from the system menu (incidentally, this menu will also let you restart your Kindle, and restore it to the factory defaults). After a minute or two, the Kindle will restart and all will be well with the world.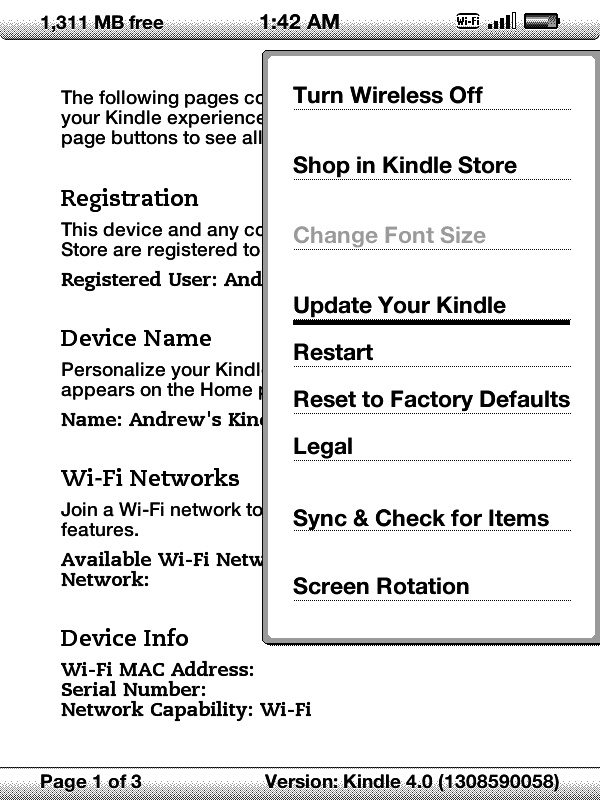 Conclusions
This new, low-end Kindle isn't necessarily designed to be anyone's first Kindle or anyone's only Kindle, though its impulse-buy price will ensure that it is purchased as one or both. For that, I would look to the Kindle Touch, which will offer up much simpler and more intuitive navigation, roughly double the storage space, audio support, and a slightly cleaner look for just $20 more. Serious travellers may find the Kindle Touch 3G's ubiquitous connectivity worth the extra $50 on top of that. For many, the advantages to having a touchscreen on a device like this (for text entry, navigation, and the purchasing of books) are too many to dismiss, and the low-end Kindle's biggest problem is that the Kindle Touch gets you quite a bit for that extra $20.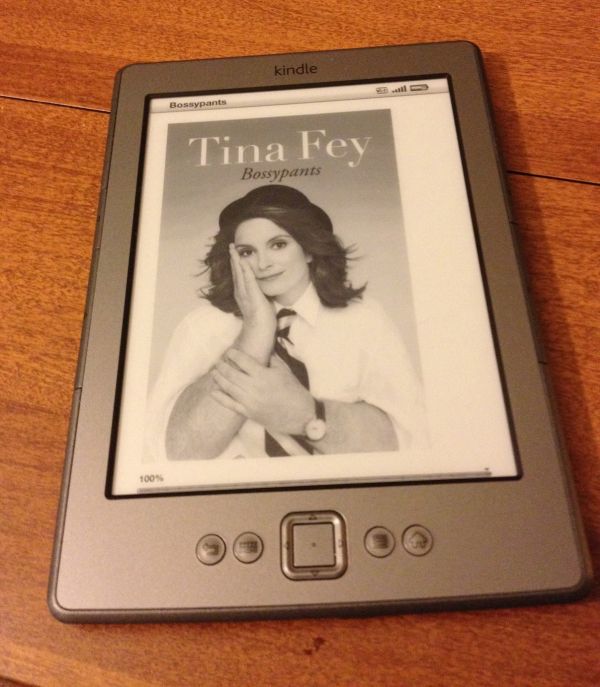 To my mind, this Kindle is aimed primarily at two groups: the first is people for whom money is an overriding concern (and you can include many educational institutions in this category), and the second is individuals who already have an e-reader, whether that be a smartphone, an iPad, or even another Kindle. It's ideal as a secondary Kindle, or as a present for a child who you might not trust with $500 worth of gadget just yet. It may not appeal so much to our tech-savvy audience here at AnandTech, but it still fills an important entry-level position in Amazon's new Kindle lineup.