Original Link: http://www.anandtech.com/show/4985/asus-zenbook-ux21-review


Tablets have introduced a number of great features that are currently without equal in the notebook space. They are ultra light, extremely responsive, have tremendous battery life and are generally instant-on devices. Tablets however, aren't that great for being productive on, leaving good reason to still carry around a notebook. As both platforms continue to grow you'll see them learn from one another. Updates to the tablet experience in iOS 5 for example are clearly built around improving productivity. What about the notebook PC though? What is being done there to make it more tablet-like? This is where Intel's Ultrabook category of notebook PCs comes into play.
Ultrabooks today are simply ultra portable notebooks with a few requirements. They need to be thin, light, have a fast CPU (Sandy Bridge will do for now) and use some form of solid state storage. The SSD requirement helps OEMs guarantee that these Ultrabooks will have reasonable response time (application, boot and wake). Despite the tablet comparison, Ultrabooks aren't intended to go up against ARM based tablets. Intel will eventually have an Atom powered answer in that space, although we likely won't see it until Windows 8 ships.
Hardware specs alone aren't enough to bridge the tablet gap, which is why Intel views new features through software as a major part of the Ultrabook play. Intel expects Ultrabooks won't really go mainstream until sometime in late 2012-2013, so this first wave of notebooks are really nothing more than ultraportable PCs. If you look close enough, they may even look like MacBook Air clones. With the Ivy Bridge and Haswell updates, Intel is expecting to expand the impact of what Ultrabooks mean but today they are pretty much well designed notebooks with a fancy name.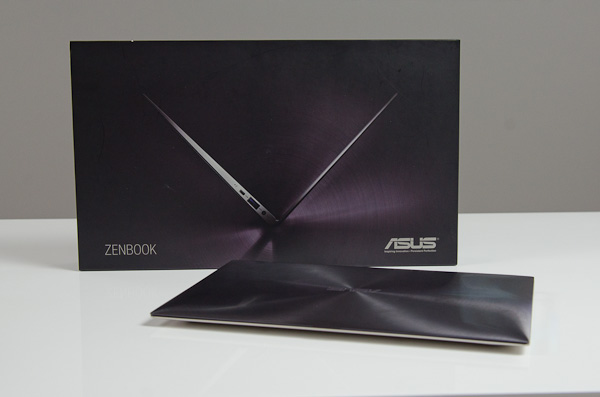 That's not to say that Ultrabooks can't be impressive. In fact, impressive is probably the best way to describe ASUS' first Ultrabook: the Zenbook. Available in 11.6-inch and 13.3-inch varieties, the Zenbook focuses on user experience and aesthetics more than any previous ASUS notebook. ASUS sent us the 11-inch UX21E-DH71, but the full spec list is below:
ASUS Zenbook Lineup
UX21E-DH52
UX21E-DH71
UX31E-DH52
UX31E-DH53
UX31E-DH72
CPU
i5-2467M
i7-2677M
i5-2557M
i5-2557M
i7-2677M
OS
Windows 7 Home Premium 64-bit
Display
11.6-inch 1366 x 768
13.3-inch 1600 x 900
Memory
4GB DDR3
Storage
128GB 6Gbps SSD
256GB 6Gbps SSD
Wireless Connectivity
802.11 b/g/n, Bluetooth 4.0
Battery
35Whr (5+ Hours)
up to 7 day standby
50Whr (7+ Hours)
up to 10 day standby
Camera
0.3MP
Audio
Bang and Olufsen ICEpower & ASUS SonicMaster Tech
I/O
1 x USB 2, 1 x USB 3, 1x audio/mic, 1x microHDMI, 1x miniVGA
1 x USB 2, 1 x USB 3, 1 x audio/mic, 1 x microHDMI, 1 x miniVGA, 1 x SD Card reader
Dimensions
11.7 x 7.7 x 0.11-0.67"
12.8 x 8.8 x 0.11-0.71"
Weight
2.43 lbs
2.86 lbs
USA MSRP
$999
$1199
$1099
$1349
$1499
The Chassis
The Zenbook is built out of an all-aluminum chassis. ASUS starts with a block of aluminum and uses a CNC mill to carve out the chassis. The resulting chassis is extremely rigid and devoid of all perceivable flex. The only removable panel on the Zenbook is underneath the chassis, limiting the user's interaction with non-keyboard components that aren't built out of a single piece of metal.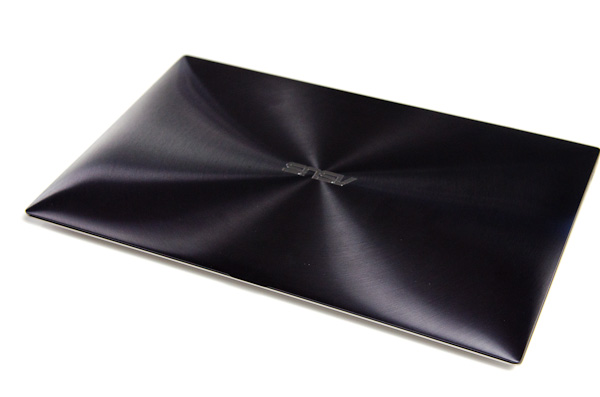 The main chassis has a vertically brushed pattern on it while a circular brushing pattern is used on the display lid. the two parts of the Zenbook are also colored differently, with the main body featuring a platinum silver while the display uses a darker steel color.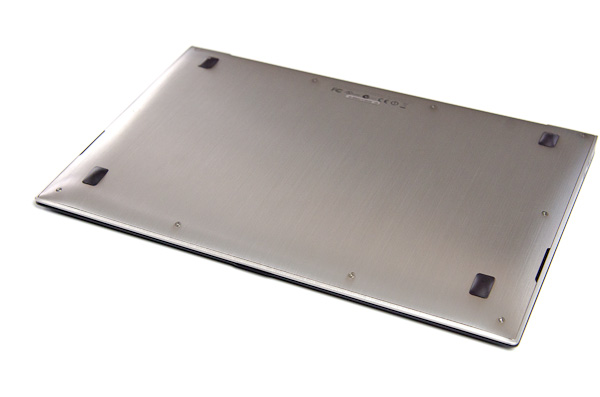 In a nod to just how design focused ASUS was with the Zenbook, even the 10 screws on the bottom of the chassis feature the same brushed pattern as the rest of the chassis. ASUS elected to use torx bits instead of standard phillips heads to better match the industrial design of the system. While I appreciate the attention to detail I think I'd be happier if ASUS had stuck to standard screws.
Venting is obvious on the Zenbook, ASUS does nothing to hide it: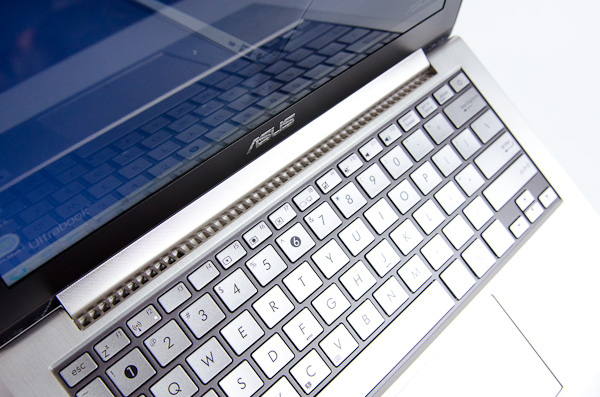 The effect is both elegant and functional. In using and benchmarking the system I definitely heard the fans spin up, but the chassis never got uncomfortably warm—even when looping Cinebench while typing this paragraph. Part of that is due to Intel's low voltage Sandy Bridge CPU, but part of it is because ASUS' design isn't embarassed to admit it needs air to cool the CPU.
The UX21's two speakers point downward and together produce a surprisingly decent sound. It's better than the 11-inch MacBook Air for sure.
ASUS includes a small lip on the display cover to aid in actually getting the machine open. Lifting the lid on any of these ultra slim machines isn't easy (as you're liable to lift the entire laptop instead of just the lid) but the lip does help a bit.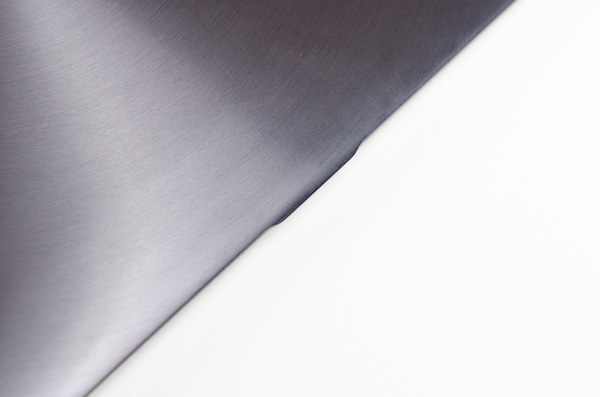 The display hinge is reasonably stiff. I'm able to hold the Zenbook up with the display perpendicular to the ground and not have the hinge give under the force of gravity. Picking up the Zenbook and shaking it a bit will allow the hinge to move as you'd expect, but overall it seems pretty resistent to unintended motion.
ASUS printed a pattern of very tiny hexagons on the surface of the hinge, giving the impression of perforation. On my sample one of those printed hexagons appeared slightly out of place, which in turn made it looked like my Zenbook had a clogged pore on its hinge. If you're the OCD type you better hope yours turns out perfectly.
With that minor exception I have to really commend ASUS on a job well done with the Zenbook's design. It's easily the most beautiful PC notebook I've ever laid hands (and eyes) on and even stands out more than a MacBook Air thanks to its brushed aluminum surface. Apple's design does look a bit more cohesive in my eyes, while the ASUS' Zenbook is more on the tastefully flashy side. Either way it's absolutely gorgeous and one of those things you just have to see to appreciate. I haven't been able to take a photo of the Zenbook that I believe adequately captures just how good this thing looks.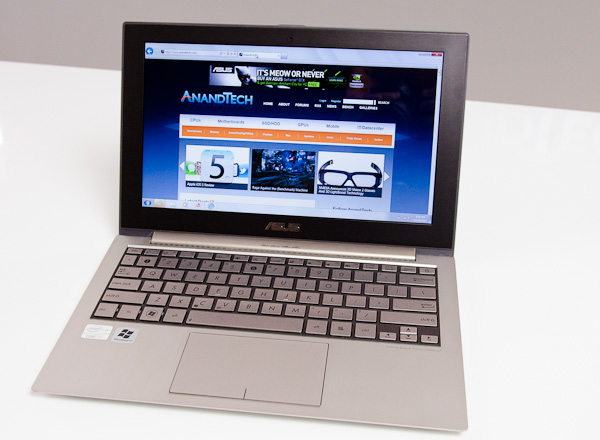 The design is quite functional as well. Thanks to the slim profile of the Zenbook and its diminutive weight, the UX21 is an absolute pleasure to carry. It's the pinnacle of portability without sacrificing the functionality of a keyboard. A tablet sure is nicer to carry, but the UX21 is much easier to type on.
The entire design is a bit more curvy than the current MacBook Air but it feels great in your hands. If you're used to Apple's aluminum the Zenbook may feel a bit tougher but the edge is something you get used to over time. After a few days of using it, the Zenbook UX21 felt just as comfortable to me as the MacBook Air.
I'm personally a fan of the 11-inch form factor as I believe, with Sandy Bridge, it delivers a great balance of portability and performance. If you do a lot of writing, it's a great companion.
USB 3.0: Supported
The Zenbook UX21 features two USB ports: one 2.0 port driven off of the QS67 chipset and one USB 3.0 port powered by a Fresco Logic FL1009 controller. Why not feature two USB 3.0 ports? The Fresco Logic controller supports two ports but the 11-inch chassis required that one port be allocated per side. The USB 2.0 port actually resides on a daughterboard on the other side of the system from the USB 3.0 controller. It looks like there wasn't a clean way to route the traces from the FL controller to that side of the system, which is why you get 1 x USB 2.0 and 1 x 3.0 port.
The performance advantage of USB 3.0 is beyond obvious. I measured large file transfer rate across both ports and saw the following results: 149MB/s on USB 3.0, 26MB/s on USB 2.0 port.
After being stuck in a number of situations where I was forced to copy files via USB stick, I definitely appreciate systems that come with USB 3.0 support.
No Backlit Keyboard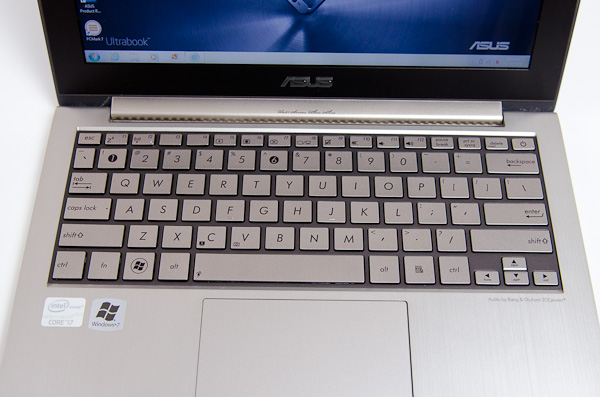 The Zenbook unfortunately doesn't ship with a backlit keyboard. I asked ASUS why it opted not to include one, worrying that the decision was somehow price-related. It turns out it was simply a time to market issue. Designing anything this slim is difficult and ASUS needed extra time to build a keyboard lighting system that would work in the Zenbook's chassis. In the interest of getting product out the door in early Q4, ASUS abandoned the idea of doing a backlit keyboard this generation. It's quite possible we'll see one next round with Ivy Bridge.
No SD Card Reader in the 11-inch Model
Just like Apple, ASUS only includes an SD card reader in the 13-inch UX31 and not the 11-inch UX21 models. Looking inside the chassis it's plainly obvious why: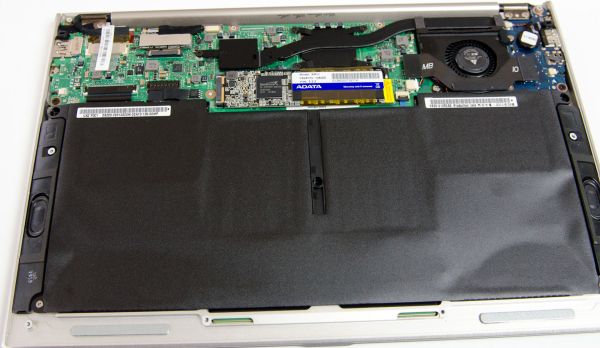 The SD card reader would have to either occupy the area of one of the USB ports, or take out a chunk of area reserved for the integrated battery. Neither sacrifice seemed to make sense to ASUS and as a result the 11 doesn't include an SD card reader.
A Slick Looking Power Brick
While I can't quite pinpoint ASUS' source of inspiration for the Zenbook UX21's 45W power brick design, the end product looks great. Cable management is handled via a standard velcro strap and the power connector itself has an LED on it that glows orange when charging or green when fully charged. Unfortunately It also glows green when it's not connected, which can cause confusion if you plug it in but don't push the connector in all the way. Is it fully charged or just not fully connected? Guessing is half the fun!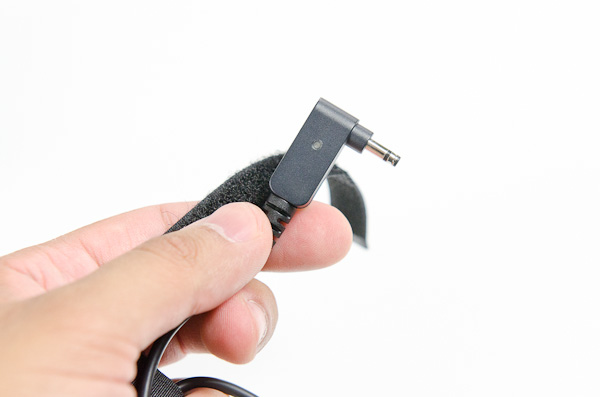 The Relocated CoA: Microsoft Approved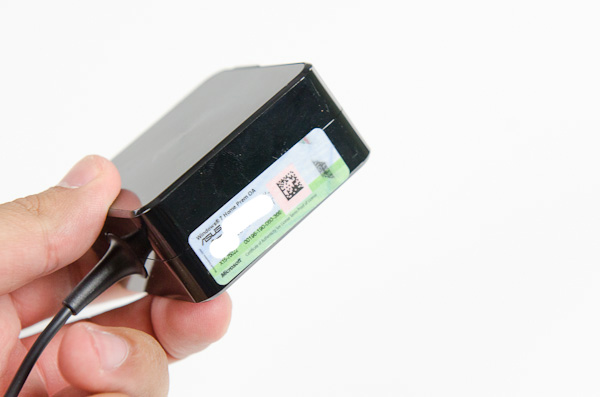 In our earlier coverage I pointed out that ASUS had moved Microsoft's required Certificate of Authenticity to the power brick, something that's usually located on the system itself. Microsoft mandates the sticker's placement on the system, however there is a clean PC program an OEM can apply for in order to somewhat skirt the requirement. ASUS did apply for and was approved, allowing it the luxury of moving that CoA sticker to the power adapter. While it does improve the beauty of the machine, it also means that if you lose your power adapter you do lose your CoA.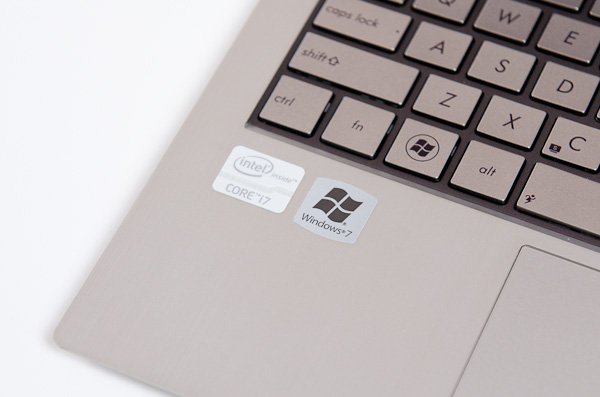 Microsoft and Intel were also petitioned to allow greyscale versions of their respective product logos. ASUS' request was also approved, which is why you see less obnoxious Intel inside and Windows 7 stickers on the Zenbook.
Intel's Rapid Start & Smart Connect Technologies: Not Supported
At Computex earlier this year Intel announced two technologies that would be featured in some Ultrabooks starting this year: Rapid Start and Smart Connect.
Rapid Start sounds a lot like hibernate to NAND, promising 6 second start times from a very low power state. You can get even quicker start times from suspend to RAM, but you sacrifice standby battery life as you have to keep refreshing data stored in DRAM while your system is asleep. Rapid Start gets around this issue by apparently storing some, but not all, data in DRAM—reducing the burden on the battery while asleep, and reducing the amount of data that needs to be read off the SSD upon wakeup.
ASUS felt that even a 6 second start time was too long and instead went after reducing STR power consumption. The result is a sub 2 second wake time (from sleep, not full off) and a ~9 day standby time on a full charge. ASUS wouldn't detail exactly how it managed to increase STR battery life, just that it spent a lot of time studying what electrical components could be shut down to save power and implements a bunch of its own tricks that its competitors haven't seemed to figure out. The Apple comparison is inevitable as the MacBook Air is rated for much longer standby time; presumably the advantage there is largely OS X related.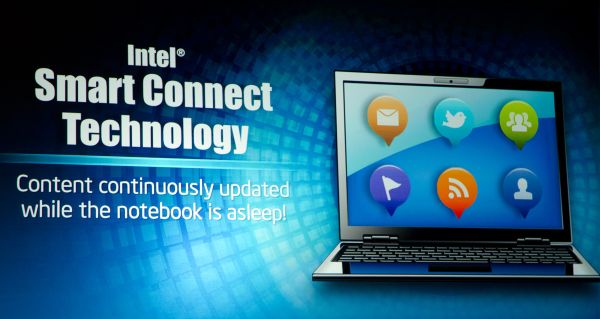 Intel's Smart Connect Technology is another Ultrabook feature that isn't present on the Zenbook. The idea behind this one is to have a layer of software that would periodically wake your system up while asleep and fetch all new updates (e.g. Twitter, Facebook, Emails). With Smart Connect enabled, when you actually do wake up your machine it should be far more up-to-date than it would've been normally. In order to enable Smart Connect you need Intel's WiFi solution. ASUS chose an Atheros WiFi card and as a result there's no Smart Connect here.
The ASUS Power Wizard Gadget
All Zenbooks ship with ASUS' PowerWiz Windows Gadget that gives you some battery life estimates. Based on internal ASUS test data and the current amount of battery remaining, the tool estimates how long your battery will last for various workloads. This data is all static in the sense that it is based on predetermined values and not your current workload.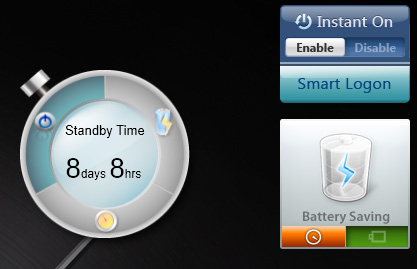 The standby battery life estimate however is a bit more accurate. Every time you put your Zenbook to sleep, ASUS monitors power usage for a full minute. Based on that power usage it then determines standby time given remaining battery capacity. Since standby power depends in part on what you have in memory, this method of estimation can significantly improve accuracy. Granted you'll always get a trailing estimate (e.g. this is how long your battery would last in stand by if you're doing exactly what you did last time you put it to sleep) but it's better than nothing I suppose.
Two SSD Options: SandForce and SanDisk
Like many OEMs, ASUS sources SSDs from two vendors for its Zenbook line: ADATA and SanDisk. Unlike Apple however, the division isn't random. ADATA supplies all 128GB drives while SanDisk handles the 256GB drives. The explanation is simple: ASUS needed a drive that could fit all of its NAND on a single side. SanDisk had a 256GB offering that met those needs; ADATA/SandForce did not.
ASUS didn't specify what SanDisk controller was in use on the 256GB drives, but I suspect it's the U100. ASUS supplied the following test data comparing the two SSDs:

Performance is actually comparable between the two, which is surprising. I'm going to see about getting my hands on a 256GB SanDisk model for comparison to verify for myself. The sample laptop we received comes with the 128GB ADATA drive, which performed quite well in our tests: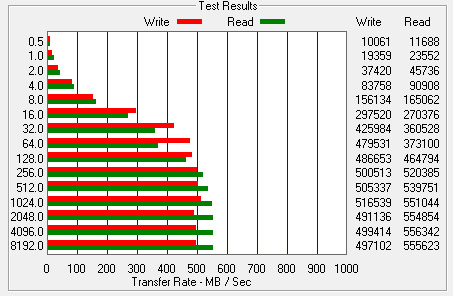 Granted you're looking at highly compressible datasets, but being able to break 500MB/s puts this drive up there with the standard desktop SF-2281 offerings.
If you caught our Zenbook teardown you may have noticed a firmware label on the ADATA drive indicating it was using SandForce firmware revision 3.2.2. Uhoh! SandForce just recently announced that there is a known bug in all version of the SF-2281 firmware prior to 3.3.2 that can cause BSODs. I asked ASUS when we'd see an updated firmware and why on earth it chose to ship a drive with a widely known bug.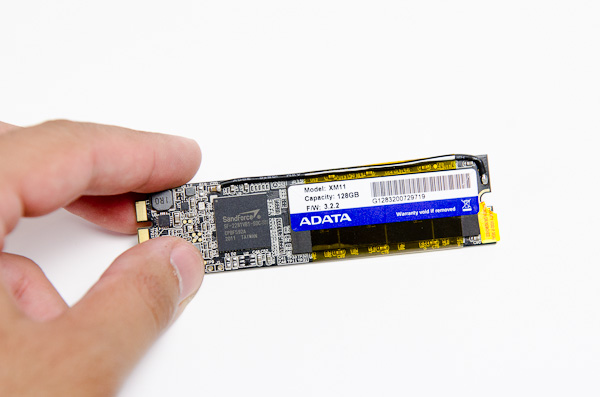 During development, ASUS tested 100+ Zenbooks with 100+ samples of the ADATA drive. The testing included over 50,000 accumulated reliability tests including rapid sleep/wake cycles, 3DMark and other application based tests. In addition to pre-production testing, ASUS conducted additional testing on mass production units. Throughout this entire process ASUS didn't see any reliability issues with the SandForce drives and thus felt comfortable shipping with them. I should add that we have seen many cases where the SF BSOD bug simply won't appear on certain platforms, lending credibility to ASUS' claims that the SandForce drives proved stable during testing.
That being said, I'd still feel more comfortable with an upgrade to 3.3.2 if it turns out that this firmware revision does in fact fix a known issue with the drive.
I pointed out the obvious rework on the ADATA SSD to ASUS engineering. The team responded by saying the rework was implemented to reduce EMI, which was a bit too close to the margins before the change. The rework has since been incorporated into a surface mount component design which will ship in a future spin of the drive. I'm not a huge fan of reworks on shipping products but from time to time they do appear. The nature of the rework and quality of the workmanship are also important to keep in mind, both of which are less alarming in this case than others.
The Keyboard & Trackpad
Despite being clearly ultraportable, ASUS makes very few sacrifices when it comes to the keyboard . The majority of the keys on the UX21 measure ~14.5 x 13.5 mm, while only the arrow keys and top row of function keys are significantly reduced. With the exception of the delete key, which is located in the top row next to the power button, there are absolutely no awkwardly placed keys on this keyboard. ASUS did its homework here because the UX21 requires absolutely no learning curve to pick up and start typing away at full speed. It wasn't too long ago when I couldn't make such a statement about an ultraportable PC, making the Zenbook's improvement a welcome change.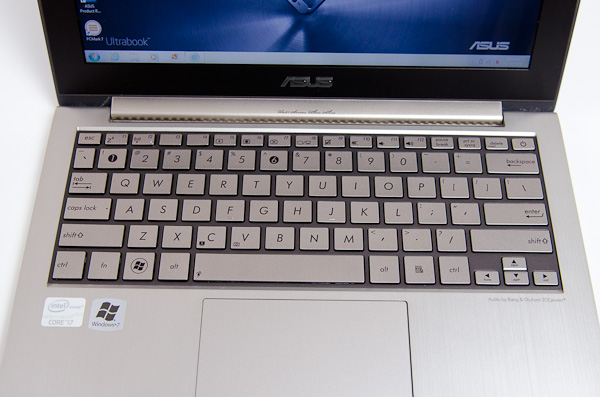 Keypresses are stiff and very distinct. The Zenbook's keyboard is almost too stiff for my tastes, although I definitely felt it loosen up over the course of this review (or I grew more used to it?). If you are a fan of keyboards that require a bit more effort to actuate the keys, the Zenbook delivers. If you're expecting a MacBook Air-like softness you won't find it here. It's not a major gripe and as I mentioned, it is something that you can get used to but it's one area where I don't believe the Zenbook is perfect. Part of the problem may actually be the material used for the keys; by using a harder material there's less give in the actual keys, which increases the impact force on your fingers.
The keyboard lacks any sort of backlight, which is only really a problem for finding which function key you're looking to hit in the dark (e.g. when trying to dim the screen in bed or on an overnight flight). While not a deal breaker, I was hoping ASUS had learned from Apple's mistake with the previous generation MacBook Air.
The system's power button is integrated into the keyboard in the upper right hand corner; it looks and feels just like a regular key. Hitting it brings up ASUS' own popup asking you what you'd like to do (sleep, shut down, restart):

The trackpad is equally well designed. It's a very large unit, something I hope we see more of across ASUS' product line, and is extremely smooth. The trackpad itself serves as a button, with the whole surface moving down with each click. Physical clicks that originate at the very bottom of the trackpad can map to left/right buttons depending on what side of the pad you click on. Anything north of there is treated as a left click. If you click with two fingers on the trackpad the click appears as a right click. Tap-to-click is enabled by default but there's no support for a tap-to-right-click. Click feedback is good and the trackpad is fairly accurate. I had to turn up the default pointer speed but otherwise left everything at stock.
The trackpad is driven by a Sentelic controller which supports multitouch gestures. You get two finger scrolling along both axes as well as three finger swipe in all four directions. You can use the three finger left/right swipe to go back/forward in a web browser, while up/down swipes will either trigger Windows + Tab or reveal the desktop, respectively. There's also pinch-to-zoom support. The gestures are pretty useful despite not being super tightly integrated into the OS.
For whatever reason, getting perfect trackpad operation is pretty difficult. I suspect it doesn't help that there are a few too many cooks in the kitchen when it comes to OS, hardware, touchpad and driver development. ASUS has put its best foot forward with the Zenbook's trackpad and although it's not perfect, ASUS is promising significant updates in the coming weeks.
So where does it have problems? Let's start with what it can't do. In almost all cases, pointer movement is disabled if the trackpad detects more than one finger on its surface. This is particularly problematic if you are used to resting your thumb on the button while guiding the pointer with your index finger. ASUS does allow you to do this, but only if your thumb rests in the click zone at the very bottom of the trackpad. The moment it moves too high, all pointer movement shuts down. You either have to be very conscious of this barrier up front or avoid the situation entirely. I occasionally found myself wondering why the trackpad wasn't responding, only to realize that my thumb was resting a bit too high on the trackpad. This wouldn't be an issue except for the fact that as a button-less trackpad where the entire surface is designed to be a button, you really should support resting your thumb anywhere on its surface so the user can mouse arund with a finger and quickly click with a thumb. Ideally the trackpad's driver would be able to distinguish between a resting finger and the user attempting a two-finger scroll/gesture.
The other major quirk I noticed with the Zenbook's trackpad was a frequent high response time after even short periods of non-use. Basically I'd be typing for a little while, go to move my mouse cursor and encounter a second or so of lag before the pointer responds to my input. The issue isn't consistent and it never seems to happen if I'm continuously using the trackpad, which leads me to believe there may be an overly aggressive power saving component of the trackpad driver at work here.
ASUS tells me it is studying the behavior of Apple's (and other competing) trackpads and is working on significant updates to the driver over the coming weeks. In fact, just after receiving my review unit there was a driver update that alone improved overall trackpad behavior. I believe ASUS when it tells me that it is quickly revving the trackpad drivers; what I'm not convinced of is where the trackpad will ultimately end up from a behavior standpoint. Is a goal of perfection feasible? I'm not sure to be honest.
The Display
To hit a $999 price point with the hardware that it has, ASUS (like Apple) had to give up the pursuit of an IPS panel in the Zenbook. As we saw with the MacBook Air however, it is quite possible to select a decent TN panel at this price point. Was ASUS able to? Sort of.
In the interest of beating Apple, ASUS pursued a brighter overall display design. ASUS even selected a new optical film for the Zenbook's panel that helps improve brightness. As a result, the Zenbook UX21 is brighter than the 11-inch MBA. Given the sad state of most PC notebook displays, the Zenbook fares very well when compared to its PC brethren as well. Very few PC displays are as bright as what we saw with the Zenbook. In fact, a quick look at our PC notebook Bench database reveals the Zenbook is the brightest PC notebook we've ever tested.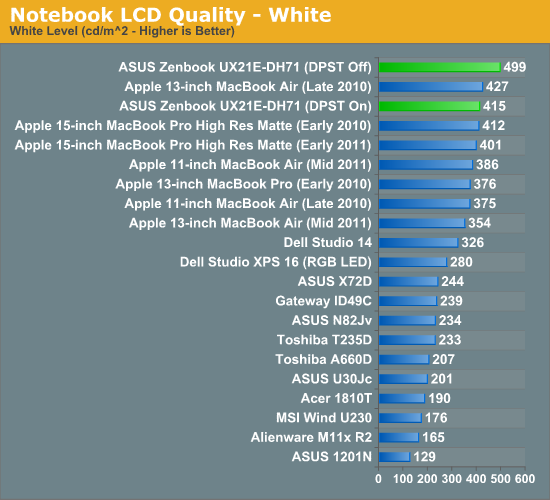 The brightness does come with a downside: higher than desirable black levels. The lowest black level I measured on the UX21 was 1.1 nits using our X-rite i1Display 2, however in the center of the display I measured 1.20 nits. This is nearly double the value I recorded on the 11-inch MacBook Air. Although not terrible, the black levels on the Zenbook's panel could use some improvement. Note that these results were generated with Intel's DPST (Display Power Savings Technology) enabled. Without DPST enabled, the black levels jump even higher to 2.7 nits in our test, while the white point makes it to just under 500 nits. Contrast ratio actually goes down since the impact on black levels is greater than the increase in white point brightness. ASUS ties DPST state to power mode; it's enabled in High Performance mode (on AC power) but disabled in Battery Saver mode (on DC power). You can override these settings by manually configuring the power plan in the Windows 7 control panel.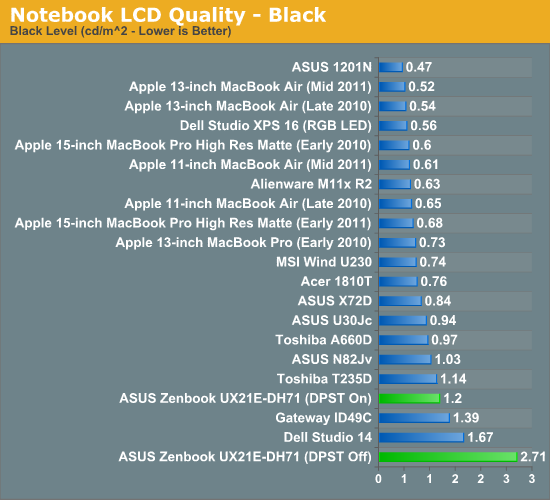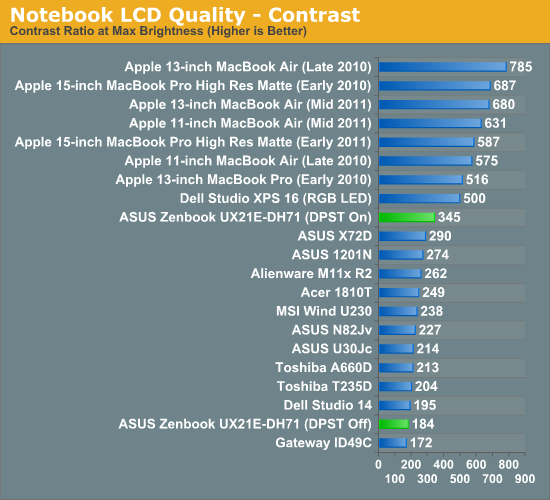 ASUS sent along test data that showed its black levels were only around 40% higher than the 11-inch MBA; however, after a couple of nights of trying I couldn't get any better than the numbers I've presented here. ASUS does use a more sophisticated colorimeter, but its test data for the MacBook Air seems to match up with mine whereas its Zenbook data is considerably better than what I have here.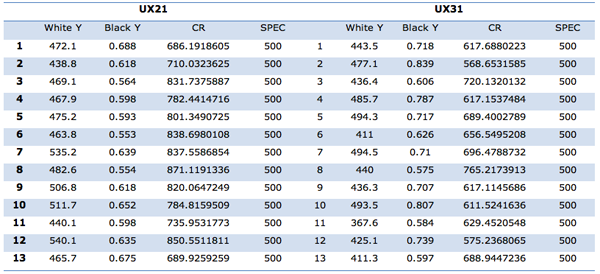 ASUS' Display Test Data

It's possible I simply received a bad unit, or perhaps I just lost the panel lottery with the UX21, but I can only report on the data I was able to generate. The Zenbook UX21's display is very bright, but it neeeds better black levels.
In terms of color quality and gamut, the Zenbook is very competitive once calibrated. You get better color gamut than a MacBook Air and comparable color accuracy. However, the out of the box calibration isn't all that great, as ASUS doesn't calibrate white to 6500K at the factory (it's set to 7700K by default). The system does ship with a digital color management system called Splendid, but you don't have many options beyond moving RGB or color temperature sliders. If ASUS wants to compete in this space I do believe it needs to calibrate panels at the factory.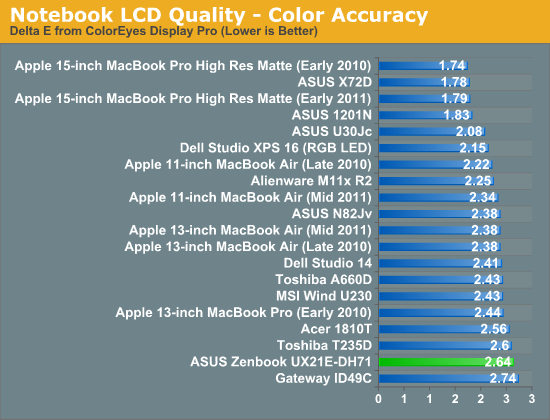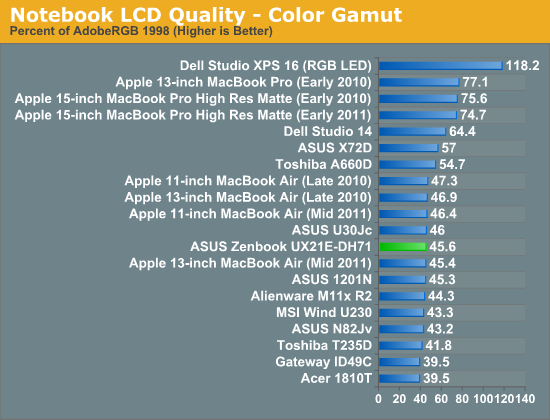 Viewing angle is my only other complaint about the UX21's panel. It seems as if in the quest for better specs, ASUS didn't pay enough attention to viewing angles. Although the UX21 uses a TN panel it is possible to improve viewing angle through the use of a compensation film in front of the polarizer in the display stack. Most TN panels are paired with some form of wide viewing angle film to improve their characteristics, but Apple actually uses an extra wide view compensation film in the case of the MacBook Air to give it slightly more IPS-like viewing angles. The downside to using this film is it reduces light output, which in turn improves black levels (peak contrast ratio is generally unaffected since you clip both white and black levels).
ASUS opted against using the same EWV film as Apple, in part to improve overall brightness as well as guarantee a little bit of off-angle privacy. While the result is a brighter display than what Apple was able to accomplish, the UX21 is far more sensitive to viewing angles. As you can see in the shots below, the UX21 looks great straight on but anything off center is significantly worse. In most situations I didn't find this to be a huge problem as I was able to tilt the display a little farther back and prevent the display from getting too washed out.
Overall the display is better than the vast majority of what you find on PC notebooks, however a couple of key decisions kept ASUS from making it perfect. I have already fed my test data and suggestions back to ASUS engineering, who are currently evaluating options for the second generation UX series next year.
Integrated VGA Camera
ASUS integrated a VGA camera into the display bezel of the UX21. Its performance is pretty much what you'd expect for such a small sensor. Given enough light you can actually send a halfway decent image at a high frame rate to someone at the other end of a Skype call: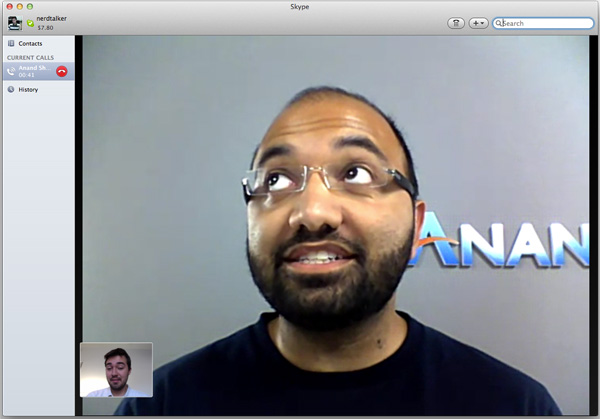 Unfortunately if you're not in studio lighting, both image quality and frame rate suffer tremendously. The camera is still usable, but don't expect anything wonderful out of it: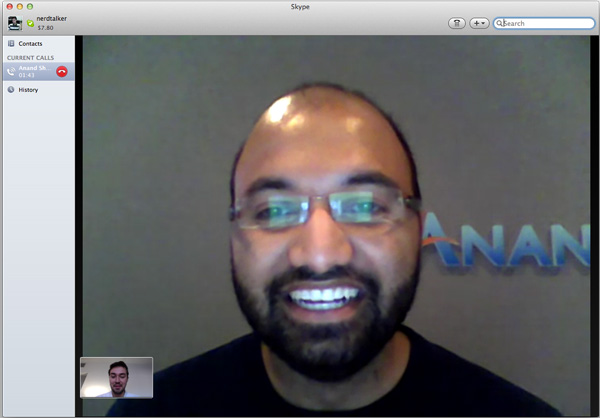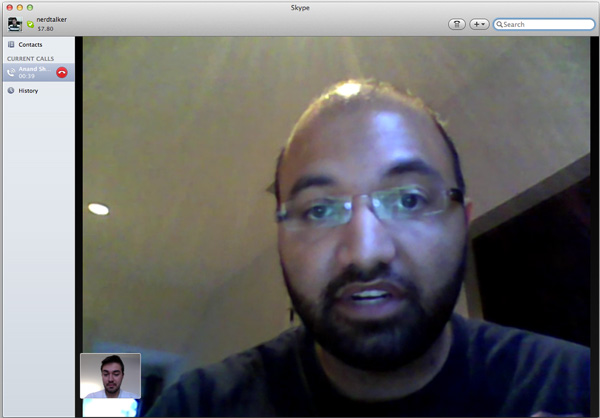 Video Out
The Zenbook UX21 features two display outputs: mini VGA and micro HDMI. ASUS supplies a dongle to conver the former into a standard female VGA connector, while you'll have to supply your own cable for the latter. Maximum display output over VGA is 1920 x 1200 while it's 1920 x 1080 over micro HDMI. I tested both outputs and they worked as expected, with quick detection and switching times between outputs.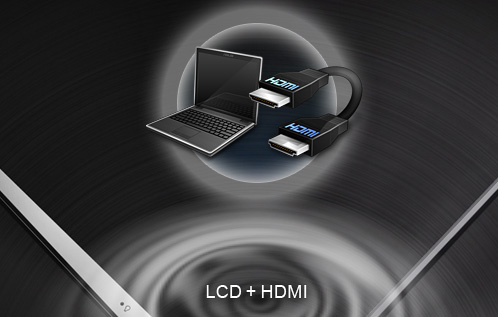 With an external display connected the Zenbook automatically shifts into clone mode. You can cycle through notebook panel or external only configurations by hitting fn + F8. There's also a dedicated combination (fn + F7) to blank the display entirely if you want a quick way to hide what you're working on.
Networking Performance: Wireless & USB Ethernet
ASUS integrated a very small Qualcomm Atheros AR9485 802.11b/g/n WiFi solution into the UX21. Unfortunately the specs of this particular radio aren't anything to write home about. It supports only 2.4GHz and a single spatial stream, limiting its performance to 72Mbps with 20MHz channels and 150Mbps with 40MHz channels. Unfortunately Apple's AirPort Extreme only supports 40MHz channels on the 5GHz band so my testing was limited to 20MHz channels at 72Mbps. Real world performance is obviously significantly lower than that, I measured about 50-60% of the link rate for most transfers within 10 feet of the AP. That works out to be around 5MB/s over 802.11n. If you can connect using 40MHz channels however, expect to see about twice the performance. ASUS is limited by the availability of 1/4 length PCIe WiFi solutions since the Zenbook uses that form factor. Apparently a 2x2:2 version is due out next year; we'll hopefully see it in time for the second generation Zenbook.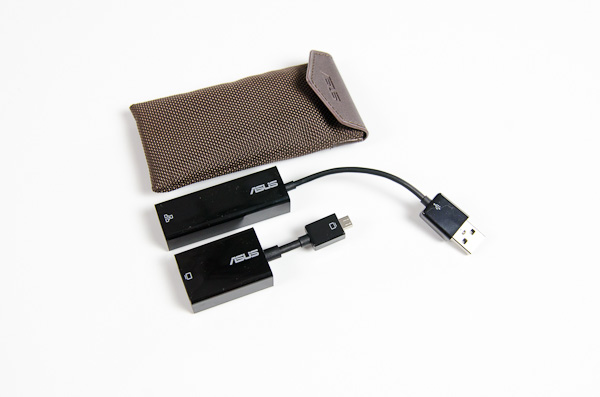 All Zenbooks ship with a USB to Ethernet adapter, enabling 100Mbps Ethernet if you need a wired connection. Inside the dongle is a ASIX AX88772B USB Ethernet controller. The controller works quite well, and I had no problems sustaining over 90Mbps in a transfer on my local network.
Performance
Raw CPU performance of the Zenbook's UX21 is obviously within the realm of the 11-inch MacBook Air, however its SSD really pushes it ahead of the MacBook Air in a lot of the PCMark 7 tests. PCMark tends to emphasize the benefits of an SSD but it really does illustrate just how much of a difference an SSD can make. A lot of the faster systems we've reviewed with mechanical drives simply feel slower than the Zenbook as a result of the latter having an extremely capable SSD. If there's any impact that Ultrabooks have on the market I hope it's the more widespread use of SSDs by OEMs.
Gaming performance is not a strong suit of the Zenbook UX21. Pretty much anything with a half-way decent discrete GPU is going to put this thing to shame. While you can play some games on the Zenbook, if you're planning on doing any real gaming with your notebook you probably don't want an Ultrabook.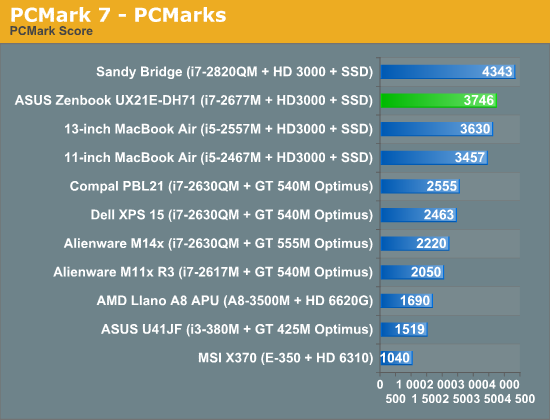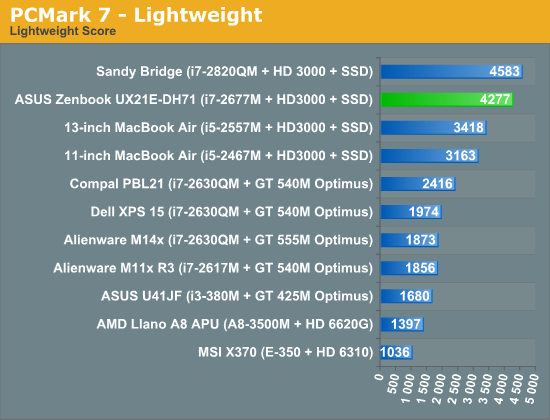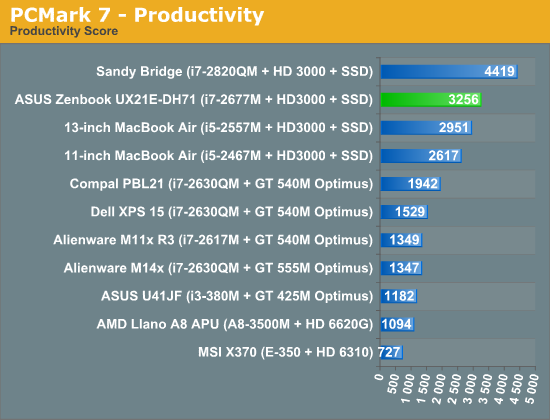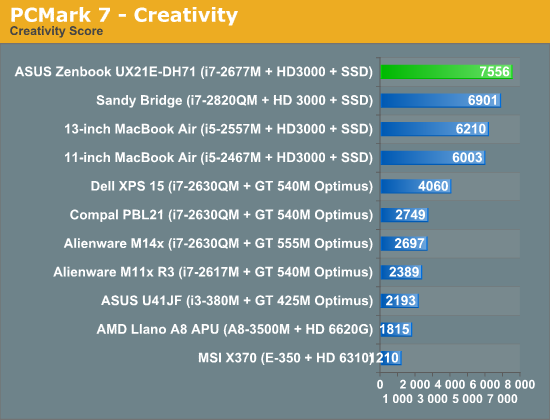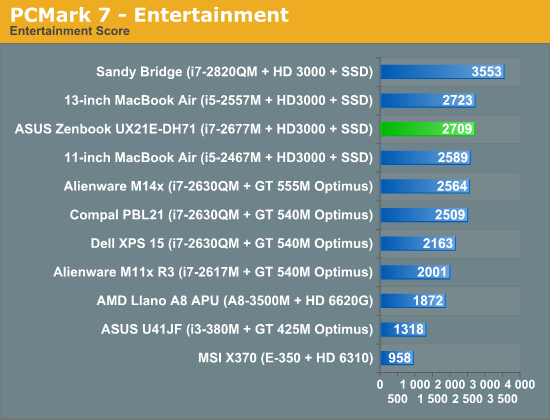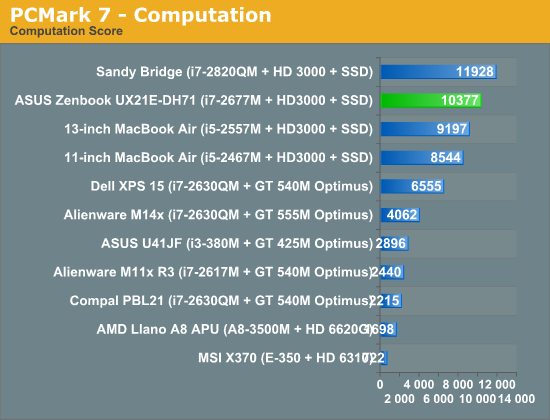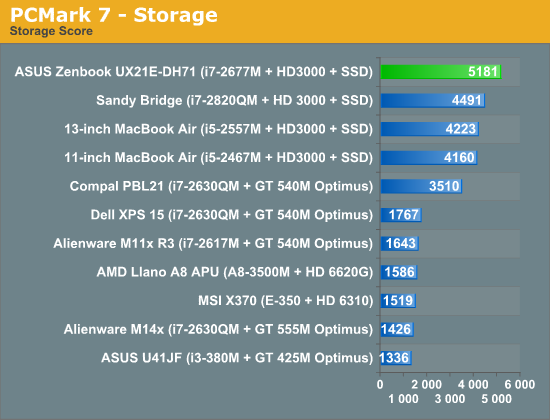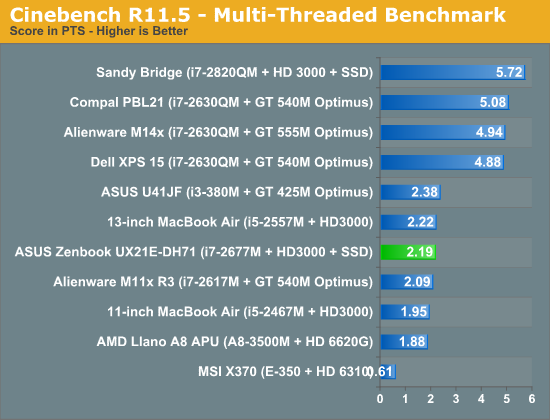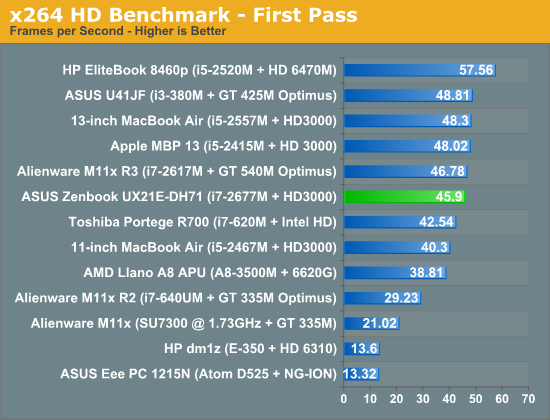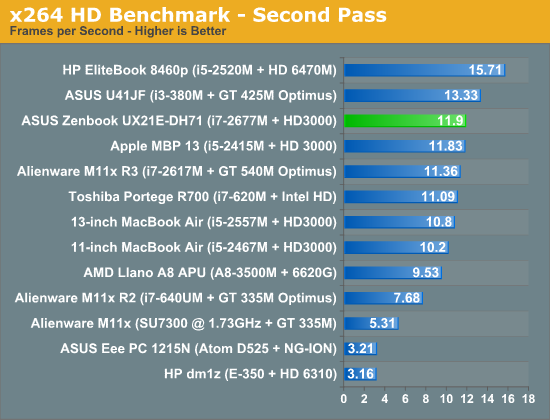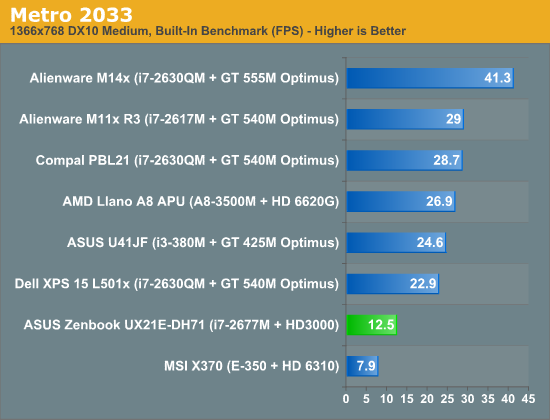 Boot and Resume Time
ASUS did a lot of BIOS optimization work to make the UX21 boot as quickly as possible. In its default configuration you don't see a POST screen; instead you get a quick flash of the ASUS logo before immediately being dumped into the Windows 7 startup sequence. The whole process from power off to desktop takes 16.7 seconds, which is actually marginally little quicker than a MacBook Air from off to OS X (17.2 seconds).
Resume time is even more impressive. By default the UX21 goes into a suspend-to-RAM state when you shut the lid. Resuming from this state takes just a hair over 2 seconds (I measured anywhere from 2.04—2.22 seconds)—it's quick. The WiFi usually takes a couple more seconds to become active beyond that, and Windows doesn't remember your previous brightness setting just whatever setting the active power plan was set to upon resume. Other than those two hiccups, the experience is just awesome.
Battery Life
With limited time to test before I board a plane to Nokia World in London I only had time to run through one of our standard PC battery life scripts. I chose the web browsing test which involves frequent opening/closing of web pages until the battery runs out. It's a pretty stressful test that's not just indicative of web browsing but also battery life in general.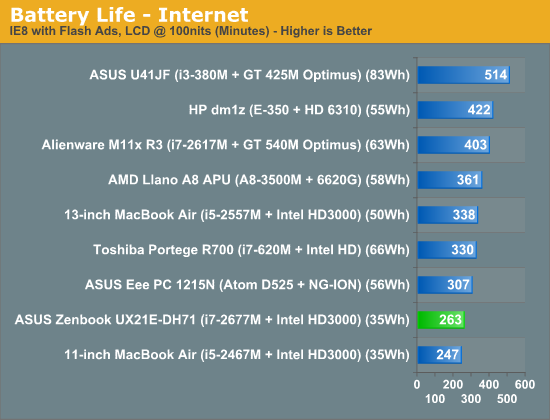 As you may have already seen from our UX21 teaser earlier this week, performance here is as expected. The UX21 has a 35Wh integrated (technically non-removable) battery, which just isn't a whole lot of capacity—particularly compared to your more run of the mill 13- and 14-inch notebooks. Battery life is naturally the price you pay for portability and form factor. You're looking at around 4.5 hours of continuous usage on a single charge. Obviously run something more CPU intensive and that number will drop considerably.
Final Words
Given the lack of any Intel-specific Ultrabook software I'm hesitant to even call this thing an Ultrabook. There's also the fact that, at least in the case of Intel Rapid Start Technology, being more of an Ultrabook in that sense would've been a step back in performance. In fact, I see no real reason to use that brand at all—which is likely why ASUS ended up calling it a Zenbook to begin with. So how well did ASUS do with its first Ultrabook...er Zenbook? I'd say very well, but not quite perfect.
The design, aesthetics and performance are all top notch. I'm a big fan of the LV Sandy Bridge parts; I find that they deliver enough CPU performance for you to get work done without requiring a much larger chassis. I've been a vocal advocate of SSD use in OEM systems for years now so you're going to see my praise of ASUS' SSD choice quite a bit here. Although Sandy Bridge is a very fast CPU architecture, it's the ADATA SSD that actually makes the Zenbook UX21 respond so quickly whenever you ask anything of it. Boot and wake times are both incredibly quick; they are among the fastest on the market today.
The old tradeoff of IO performance for portability doesn't come anywhere near the Zenbook. The system feels fast and will likely continue to feel fast even as your Windows installation ages and is burdened by additional software thanks to this SSD. Gaming performance isn't all there but this is more of a productivity companion than anything else. Battery life is reasonable for the sort of portability you're getting. Granted it's not enough to get through a full day on a single charge, but if you regularly have access to a power outlet the Zenbook can manage.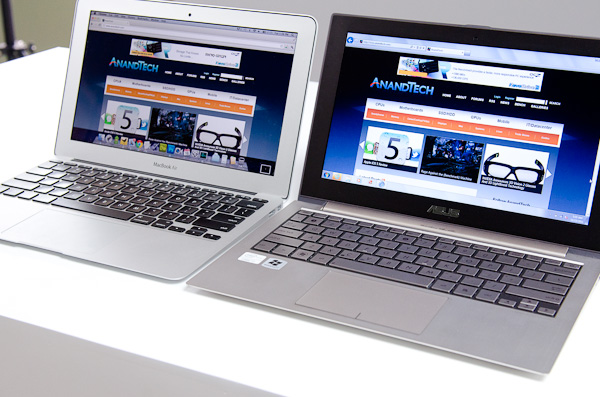 Where the Zenbook needed to spend more time baking was in the display and trackpad departments. I prefer innovation but the display is one area where ASUS should have just blatantly copied Apple. The 11-inch MacBook Air delivers a much better overall experience. It's calibrated from the factory, has appreciably better black levels and despite a reduction in brightness compared to the UX21 it delivers a much better overall contrast ratio.
The trackpad also needs some work, although thankfully the work appears to be entirely limited to driver maturity. It's not impossible to use but it can be frustrating even if you think you've got the hang of it. The occasional high latency response and the lack of support for cursor movement with another finger resting on the pad are both unacceptable. ASUS is promising to address this quickly but I tend to recommend a wait-and-see approach whenever any magical driver fixes are on the table.
If you want me to make the inevitable MacBook Air comparison I can, but as I mentioned earlier I don't believe there's much cross-shopping that happens between Macs and PCs at the same price point. If you want OS X, the Zenbook is obviously not for you. Sure you get a bigger SSD and USB 3.0, but neither of those things give you OS X. And if you truly want Mac OS X, neither of those upgrades are big enough to make up for the loss of the OS you want to run.
Now if you don't care about OS X and just want a good, ultra-thin Windows machine the Zenbook is a viable alternative. If ASUS can fix the trackpad issues then it's worth considering, however the display in the MBA alone is reason to opt for it over the Zenbook, even for Windows use. If you're used to or don't mind typical PC notebook TN panels then the Zenbook will likely be an upgrade. It is far from the best though.
It's worth pointing out this is ASUS' first Zenbook. With a long history of making notebooks that aren't like the Zenbook, I am impressed that ASUS came this close to perfection. The issues I've outlined here are easily fixable and something I would even encourage ASUS to do sooner rather than later, perhaps in an early-design component change on the display. Sure you'd upset early adopters but if you execute the change quickly enough you have the option to satisfy many more. The rest of the notebook is really quite excellent. Perhaps Zen was too great a target for the first generation.