Original Link: http://www.anandtech.com/show/494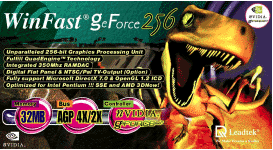 By and large Leadtek's pride and joy lies in their video cards. With the introduction of the TNT2 based S320, Leadtek obtained the reputation of being an early producer, as the S320 was one of the first TNT2 cards to hit the market. Feeding off the fickleness of the video card community, Leadtek products originally appealed to consumers who wanted to be the first on their block with new technology. This marketing strategy was also incorporated into the GeForce market. Once again, Leadtek was one of the first companies to release an SDR and DDR card.
The one thing about being first to a market is that time is often saved by reducing features. In the case of Leadtek's WinFast GeForce 256 DDR Revision A card, the NVIDIA reference design without any further enhancements or features was used to speed up production time and decrease development time. While this is fine when the card first hits the market, when there is little to no competition, it is only a matter of time before slower companies release competing products with additional features. When this occurs, it leaves the older products selling at a much slower rate than the enhanced competing products.
About 2 months after its initial release, Leadtek must have realized that the WinFast GeForce 256 DDR was not so revolutionary in the market anymore, a fact most likely represented with a decrease in sales. Also noticed was some sort of heat problem, a problem which Leadtek admits may have caused unstable performance in some of the older WinFast GeForce 256 DDR cards. With this in mind, the research team at Leadtek set out to revamp their DDR product. The resulting product is what Leadtek is calling the WinFast GeForce 256 DDR Revision B, but in actuality is pretty much a new card. Sold in the same box with a "Rev B" sticker on it, we set out to see how the WinFast GeForce 256 DDR Revision B performs and how it differs from its Revision A counterpart. We begin by looking at the card specifications.


Key Features
NVIDIA GeForce 256 GPU (Graphics Processing Unit)
32 MB high-speed DDR memory
350 MHz RAMDAC, up to 2048x1536 32 bit resolution
AGP 4X with Fast Write (30% faster transfer speed)
Transform, Lighting, Setup, Rendering Quad-Engine design
Drivers optimized for Pentium III SSE and AMD 3D NOW
OpenGL ICD and DirectX 7.0 Support
DVD Package
S-Video and Composite TV-Output
Optional DVI connector for digital flat panel
Overclocking Utilities
2D and 3D Features
NVIDIA GeForce 256, 256-bit GPU
Quad Engine Design for complete 3D Pipeline
350 MHz RAMDAC support display resolution up to 2048x1536
32-bit Z-buffer/stencil
Optimized for Direct3D acceleration with complete hardware support for DirectX 7
Cube Environment Mapping
Full OpenGL 1.2 ICD driver support
32 bits true color texture mapping support
Hardware Transform and Lighting
Optional Digital Flat Panel interface with scaling and filtering for flat panels up to 1600x1200
S-Video and Composite TV-out support up to 800x600 resolution
Full PC99 and PC99a compliant
Driver Support
Microsoft Windows 9x, Windows NT 4.0, Windows 2000 driver support
Microsoft DirectX 7.0 for windows 9x/2000, OpenGL IDC for Windows 9x/2000/NT 4.0
Video Acceleration
DVD and HDTV-ready motion compensation for MPEG-2 decoding
DVD sub-picture alpha blended composting
Hardware YUV 4:2:2 and 4:2:0 color space conversion support
Multi-tap X and Y filtering
8:1 up and down scaling on video overlay
Industry's first 5-tap horizontal by 3-tap vertical video filtering
Supports planar YUV12 (4:2:0) to/from packed (4:2:2) conversion for software MPEG acceleration
Video acceleration for DirectShow, MPEG-2 and MPEG-1
Drivers and Utilities
WHQL-qualified drivers Optimized for Pentium III SSE and AMD 3D NOW
With Leadtek's user-friendly Windows 9x Control Panel (WinFast Settings), you can adjust the gama correction, Direct3D and OpenGL controls and fine tune performance with our Speed Runner utility (overclocking tool)
Bundled Software
MPEG-2 (DVD) Player (WinDVD)
Colorific (for fine-tuning color calibration)
3Deep (for accurate adjustment of color matching between monitor and printer)
WEB 3D from Asymetrix (optional)
WIRL from Platinum (optional)
VRCreator from Platinum (optional)
3D/FX from Asymetrix (optional)
RealiMation STE (Demo) from Datapath (optional)
Microsoft Internet Explorer (optional)
Digital Video Producer from Asymetrix (optional)
VDOLive Video Player from VDOnet (optional)
Package Contents
WinFast 3D GeForce Graphics card
User's Manual
Driver and Utility CD
CD with Software DVD player
Bonus Pack CDs (optional)
S-Video Cable
Composite Cable
Refresh Rate Support

Resolution

Color

Max Refresh Rate (Hz)

640 x 480

256/65K/16M

60 - 240

800 x 600

256/65K/16M

60 - 240

1024 x 768

256/65K

60 - 240

1024 x 768

16M

60 - 200

1152 x 864

256/65K

60 - 200

1152 x 864

16M

60 - 170

1280 x 960

256/65K

60 - 170

1280 x 960

16M

60 - 150

1280 x 1024

256/65K

60 - 170

1280 x 1024

16M

60 - 150

1600 x 900

256/65K

60 - 150

1600 x 900

16M

60 - 120

1600 x 1200

256/65K

60 - 120

1600 x 1200

16M

60 - 100

1920 x 1080

256/65K

60 - 100

1920 x 1080

16M

60 - 85

1920 x 1200

256/65K

60 - 100

1920 x 1200

16M

60 - 85

1920 x 1440

256/65K

60 - 85

1920 x 1440

16M

60 - 75

2048 x 1536

256/65K

60 - 75

2048 x 1536

16M

60
The Card
Unlike most GeForce cards that enter the lab, the most striking feature of the WinFast GeForce 256 DDR Revision B is not its blatant use of NVIDIA's reference design. Yes, it is true that the card is essentially NVIDIA's reference design layout with a few enhancements (discussed later), however is it not this aspect of the card that catches one attention. In the case of the WinFast GeForce 256 DDR Revision B, the huge gold heatsink and fan takes the prize for eye catcher. In a world of reference design boards and seemingly indistinguishable cards, the large heatsink that comes attached to the GeForce processor allows the Revision B card to stand out: not only visually but also on the performance front.
Measuring an impressive 8.5 cm x 4.5 cm, significantly larger than the 4.5 cm x 4.5 cm heatsinks found on every other DDR card we have reviewed, the oversized heatsink is one of the two most significant improvements made from Revision A to Revision B; improvements that not only set the card apart from its younger sibling but also from many other DDR cards reviewed. It may seem that such a large heatsink is an over kill, but in the world of heatsinks larger is better. The reason for this is rather simple: the larger a heatsink, the more surface area it has. The more surface area that a heatsink has, the easier it is for heat to be distributed away from the hot core and cooled via the fan. With large fins on the side of the heatsink, the heatsink found on Revision B is the one of the most impressive one we have seen on a card straight from the manufacturer. The only real down side to this is that cooling is slightly decreased due to the small amount of thermal grease used to transfer heat from the GPU to the heatsink. A more generously applied amount has the potential to aid cooling even more.
Stuck on with a small amount of thermal grease and push pins, one might wonder why the Leadtek chose to include a rather pricey piece of hardware on a card that really can not take advantage of it at stock clock speed. As stated in pervious reviews, NVIDIA has been very strict when it comes to clock speeds of cards. Rather than have a suggested speed as was used in the TNT2 based cards, NVIDIA now mandates that DDR GeForce cards sold must come at 120/300 MHz. This being the case, every GeForce card we have seen deals with the heat produced by a 120 MHz core speed just fine with the reference design 4.5 cm x 4.5 cm low profile heatsink and fan. Why did Leadtek chose to use a heatsink and fan combination that keeps the chip well below maximum operating temperatures? Well, by using such an efficient cooling system Leadtek knew that they could attract a large section of the overclocking market because the use of such a heatsink and fan will basically eliminate heat from the GeForce's speed limit and set the maximum speed in the hands of chip quality.
The other feature that sets Revision B apart from Revision A of the Leadtek WinFast GeForce 256 DDR, as well as from other DDR cards in its price range, is the addition of S-Video as well as composite TV-out features. Powered by the same Brooktree 869 chip found on almost all other GeForce cards with TV-out, the WinFast GeForce 256 DDR Revision B card uses a special TV-out connector to provide the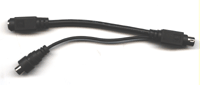 card with both composite as well as S-Video out features. The card comes with a dongle like cable that converts the signal outputted from the Brooktree chip into formats. This feature is a very strong selling point to many users who want video-out functions. While the number of S-Video products on the market are constantly growing, odds are that if you have a television that is not relatively new, your TV does not have an S-Video in connector. By including a composite out feature, the WinFast GeForce 256 DDR Revision B is able to put clear output not only to the most modern and expensive equipment but also to your older television.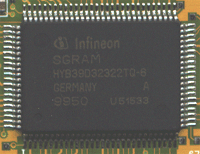 With these special features of the WinFast GeForce 256 DDR Revision B out of the way, it can now be seen that the base of the card is essentially the same as other reference design boards out there. The card includes 32 MB of 6 ns DDR SGRAM, once again provided by Infineon. Seemingly the king of the DDR SGRAM market, Infineon is the only manufacturer that we have seen who produces DDR RAM for use in graphics cards. In addition, it seems that their only current product is the 6 ns RAM chips, meaning that no time soon will your card's RAM be outdated. The layout of the card is reference design, however Leadtek says that have "enhanced circuitry for flawless memory data transfer in higher memory clock rates," a fact that really can not be seen when compared to other GeForce cards on the market.
The one question that remains is why Leadtek chose to call this card Revision B rather than giving the card a different name. In fact, the only difference on the box of Revision B cards is a sticker stating "rev B." While this may prove to be rather confusing to the consumer, it makes perfect sense from Leadtek's point of view. It is true that Leadtek did stop making Revision A of the WinFast GeForce 256 DDR and replaced it with Revision B, the fact is that many Revision A boxes and cards still remain on the market. Retailers who bought packs of Revision A in anticipation of a long product run would be left out of luck if Leadtek chose make the new card a new product. By simply tagging on "Revision B," Leadtek hopes to make both models of the card sell at the same rate due to the fact that many people mistake the difference between the two. This way, not only do retail stores not get angry at Leadtek, Leadtek also maximizes the sales of older card "Revisions." Smart marketing from the viewpoint of Leadtek (as Revision B will get press that people will associate to the whole WinFast GeForce 256 DDR card line), but the consumer is the one who could end up getting burned in the end. In this day of mail order and online purchases, it is very likely that Revision A and Revision B cards will be mistaken for one another.
Overclocking
When our eyes first met the huge heatsink on the WinFast GeForce 256 DDR Revision B, our minds instantly thought of overclocking. Having such a large heatsink and efficient fan, we suspected that the card could go high, and Revision B did not disappoint. After significant testing, the card was able to reach the very high core speed of 160 MHz, a speed only matched by the Creative Labs 3D Blaster Annihilator Pro. Even at this high speed of 40 MHz above stock, the heatsink stayed relatively cool and the processor completely stable. Any attempts to raise the core speed further resulted in artifacts on the screen. As stated earlier, it seems that the oversized heatsink considerably diminishes the heat stress placed on a processor at high speeds. Instead, the limiting factor found in the WinFast GeForce 256 DDR Revision B is most likely the core quality. As the purity of the silicon sheets used to make the processors vary, so do the maximum overclocked speed. There is no telling how far your card can go, but at least you can rest assured that heat is not going to play a very significant role.
We have seen the Infineon SGRAM chips used vary in overclocked speed from 326 MHz to the 348 MHz reached by the the WinFast GeForce 256 DDR Revision B. The overclockability of the RAM chips is almost completely dependent on chip purity and the variations in overclocked speeds shows this fact. The 348 MHz was reached by overclocking the 166 MHz rated chips to 174 MHz on each half clock cycle, resulting in an actual speed of 174 MHz x 2, or 348 MHz.
At a maximum core speed of 160 MHz and memory clock speed of 348 MHz, the WinFast GeForce 256 DDR Revision B was able to tie for the fastest core speed and surpassed the pervious high memory clock speed of 345 MHz. While individual results are sure to vary, rest assured that the heatsink on Revision B will leave you with the best stock heatsink seen on any GeForce cards yet.
The Drivers
The WinFast GeForce 256 DDR Revision B shares its driver set with Leadtek's SDR GeForce card: the WinFast GeForce 256 SDR. With this in mind, lets take a look at some of The Driver section of the WinFast GeForce 256 SDR review:
Many companies have recently moved from developing their own drivers and utilities to using the standard drivers produced by NVIDIA. While this, in theory, reduces production cost and testing times, it often leaves us clinging to the days when reference drivers were not as common. Because Leadtek wished to get their GeForce card out on the market quickly, they opted to take the road that many companies travel by adding a few enhancements to the reference driver set but leaving others untouched.

This production method results in drivers that are almost identical to their competing counterparts. Luckily, the reference drivers do contain the features that most users would need. Leadtek improves upon these features by adding custom graphics and a few handy tools. For example, the taskbar resident driver utility provides quick access to not only video card options but also to a few commonly used Windows screens and features, such as Add/Remove Programs and desktop refresh. On the other hand, the Direct 3D and OpenGL settings are exactly the same as those found in the reference drivers, with the addition of the Leadtek graphic in the back.

The overclocking option that is found in the driver utility is similar to the reference driver overclocking utility. It allows the user to push the core speed and memory speed of the card to new heights without having to use a third party application such as Power Strip. It is always nice to see that companies have enough pride in their products to know that overclocking is a viable possibility.

Another interesting feature of the Leadtek driver set is the included Eye Protection utility. When enabled, this feature can remind you to rest your eyes at an hourly rate specified by the user. While the word of the wise dictates that we should take breaks from computer use, it is quite unlikely that a small dialogue box will motivate us to take a break. This feature seems like more of a work orientated option, as it gives the worker an excuse to take a break. The phrase "But my computer told me to" comes to mind.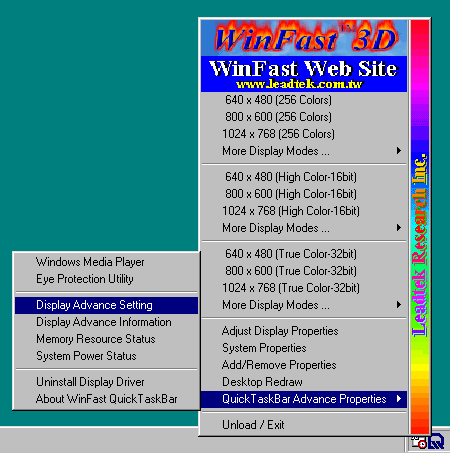 While very similar to the NVIDIA taskbar utility, Leadtek's bar provides easy access to commonly used features.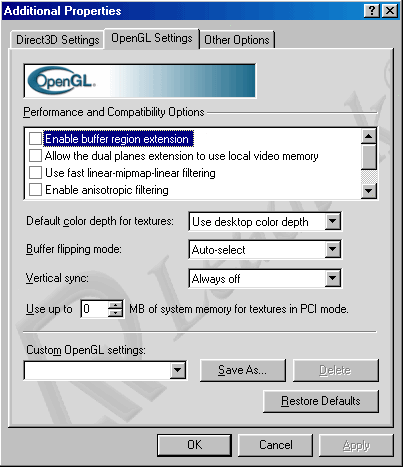 The OpenGL settings are the same as those found in the standard NVIDIA drives.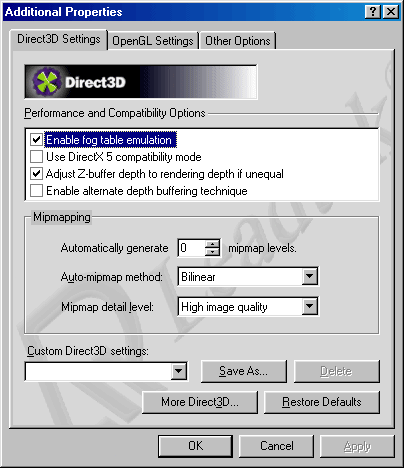 The standard NVIDIA Direct3D screen is also found.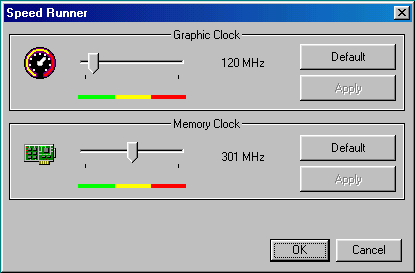 Also included is Speed Runner, the overclocking utility.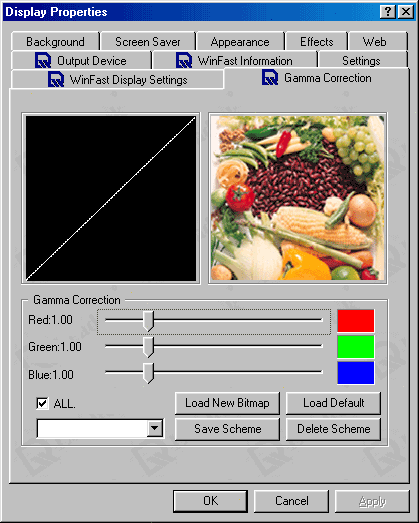 Color adjustments are easily made.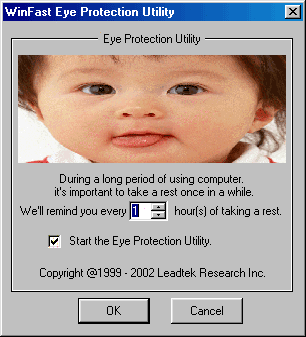 The Eye Protection utility. Yes, the picture is to scale.
The Test
 

Windows 98 SE Test System

 

Hardware

CPU(s)

Intel Pentium III 550E
provided by Memman

Motherboard(s)

ABIT BF6

Memory

128MB PC133 Crucial Technology SDRAM

Hard Drive

Quantum Fireball CR 8.4 GB UDMA 33

CDROM

Acer 24x

Video Card(s)

Leadtek WinFast GeForce 256 DDR Revision B

Software

Operating System

Windows 98 SE

Video Drivers

NVIDIA GeForce - Detonator 3.68

 

Benchmarking Applications

Gaming

GT Interactive Unreal Tournament 4.04 UTbench.dem
idSoftware Quake III Arena demo001.dm3
Quake III Arena Performance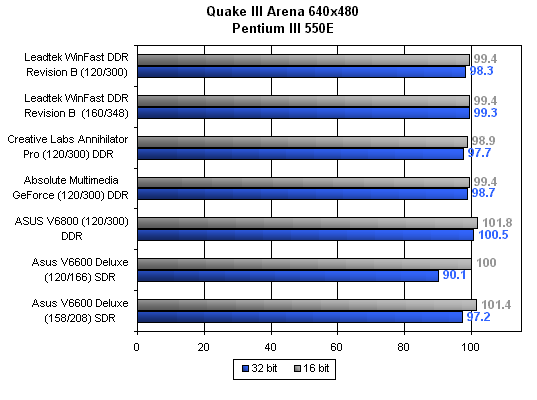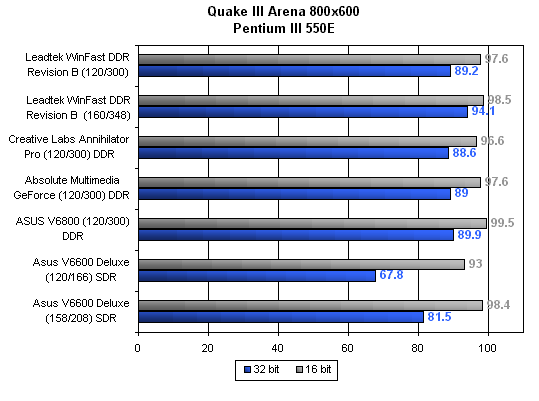 There were no surprises during the benchmarking of the WinFast GeForce 256 DDR Revision B at stock speeds. The card performs almost identically to every other DDR based GeForce card on the market, a fact which can be seen in the above graph. Also seen in the above graphs are the speed improvements that DDR RAM results in. For example, at the stock speed of 120/300 MHz, the WinFast GeForce 256 DDR Revision outperforms our fastest SDR card by 50% at 1024x768x32, a speed improvement that is anything but trivial. When overclocked, the difference jumps to 80% when compared to the stock clocked SDR card. Overclocking the card also provides a 20% increase in speed at 1024x768x32 when compared to the standard clocked card.
Unreal Tournament Performance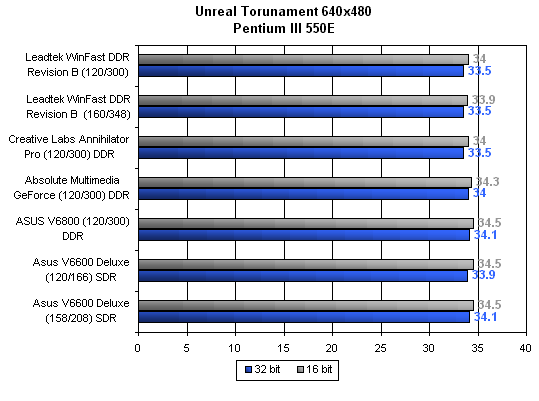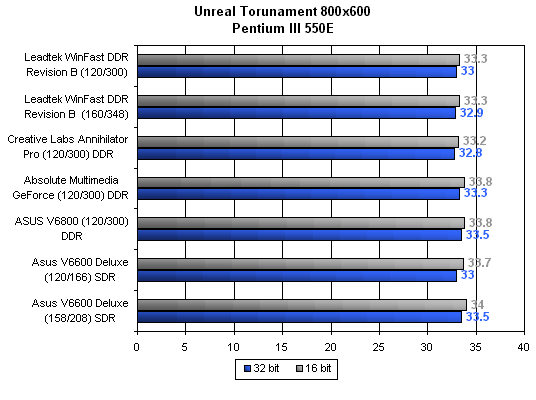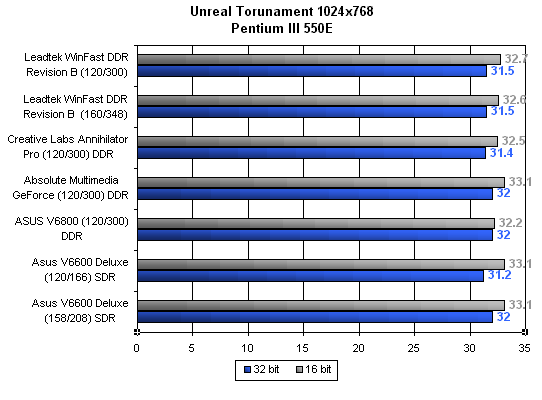 As is typical with the Unreal Engine, running the UTbench demo resulted in no noticeable change between SDR cards, DDR cards, or even overclocked cards. Once again, the limiting factor in the Unreal Engine seems to be the CPU, thus the true card speed can not be measured accurately by using this benchmark. It will tell you, however, if there are any Direct 3D problems with the card or such but, as can be seen, card type and speed do not seem to play a significant role in FPS rating in Unreal Tournament.
Conclusion
Often times companies that rush to put a product on the market first are left feeling the economic impact later in the game. While being the first has its advantages, often times competing products can offer more due to additional time. With this in mind, it is not without improvements that a company can ensure a card's longevity. This is exactly what Leadtek set out to accomplish with the WinFast GeForce 256 DDR Revision B. Lets see if Leadtek's the goal was reached and a more competitive product was formed.
Often times in reviews we talk about how most of the DDR GeForce cards are the same: same reference design, same drivers, ect. In the case of the WinFast GeForce 256 DDR Revision B we can actually discuss the two features which set this card apart. First we have the oversized heatsink and fan. Not only is the heatsink visually pleasing, it is also very functional. By having such a large surface area to dissipate the heat from, the core of the GeForce chip stays exceptionally cool. For this reason one of the major stopping points of overclocking is eliminated: heat. Because the large heatsink and fan effectively dissipate the heat created by even high overclocks, the limit of overclocking the WinFast GeForce 256 DDR Revision B turns out to be chip purity. While often times this is the case with other cards, you can almost be assured that it is not heat buildup that is causing your overclock not to work (as long as the overclocked speeds are moderate).
The second feature that sets the WinFast GeForce 256 DDR Revision B apart from the rest of the DDR pack is the composite video out feature. While most every DDR card now comes with some form of S-Video out, it is rare that we see composite features built onto a card. This can be very useful, especially for those who have not recently purchased a TV. Most older televisions have some form of composite input on them, and those that do not can easily be made composite ready with a simple VCR. What it boils down to is that watching DVD's from your computer just became a whole lot easier for many people. These two aspects, when placed along with the crisp 2D graphics at resolutions up to 1600x1200, make the WinFast GeForce 256 DDR Revision B a very solid card.
Software bundle has become a more important selling point in the video card market. While many of the cards are the same, a software bundle can set a card apart from the competition in some ways. Most of the time, however, we find that the software bundle is rather useless to the avid gamer who is better off going with a lesser software bundle and buying his or her own games. Leadtek made an interesting choice when choosing a software bundle, as they included 3D modeling programs and opted to leave out the often useless games. The fact of the matter remains that many of the programs bundled are not as powerful or as useful as other programs on the market. Thus, once again we find a company opting to include more software at lesser quality.
The one main drawback to the WinFast GeForce 256 DDR Revision B is a results of Leadtek's marketing department. While choosing to call this card "Revision B" may maintain sales of the version A card, it also may leave the consumer wondering which card is which. It is understandable that Leadtek choose not to call Revision B a new name due to the fact that Revision A card sales would almost cease, however it is not right to feed off the press that the WinFast GeForce 256 DDR Revision B will get and use this to maintain Revision A sales. With the major improvements found on the WinFast GeForce 256 DDR Revision B, it can pretty much be considered a new card and one deserving of a new name.
Running at an MSRP of $289, the WinFast GeForce 256 DDR Revision B is on the pricey side of DDR cards. However, as often times is the case, the price reflects the features. The good thing is that the MSRP of the card did not change from Revision A to Revision B, meaning that retail stores will not have to raise the price of the card. It is very likely, however, that the advanced features of the Revision B card will result in a price hike on the retail level. The ideal purchaser of the WinFast GeForce 256 DDR Revision B is a person who wishes to embark on a trip to the world of overclocking without actually having to change any parts. The WinFast GeForce 256 DDR Revision B also appeals to users who wish to view their computer image on their composite television. These two features seem to justify the price of the WinFast GeForce 256 DDR Revision B and make it a strong buy, as long as you can get your hands on the Revision B, revision.
How It Rates
AnandTech Video Card Rating

Rating (x/10)

Performance

The WinFast GeForce 256 DDR Revision B performs almost identically compared to other DDR GeForce cards on the market. This can be expected, given its reference design.

Fact that the WinFast GeForce 256 DDR Revision B performs on average when compared to other DDR GeForce cards and does not stand out in any single performance situation, the average rating is given here.


5.0

Price

As always seems to be the case, price increases as features increase. In the case of the WinFast GeForce 256 DDR Revision B, the MSRP of the card remains slightly higher than competing DDR cards with similar features. What must be kept in mind is that no other cards reviewed have had identical features.

One important aspect is that the WinFast GeForce 256 DDR Revision B is MSRP priced the same as its inferior Revision A sibling, meaning that Leadtek will not be charging much more for the card to get into the hands of retailers. It is quite likely, however, that the feature enhancements of Revision B will result in a price hike on the retail level.


4.0

Drivers

Naturally, the WinFast GeForce 256 DDR Revision B uses NVIDIA's reference drivers (with a few enhancements) to power the card. While the Direct X and OpenGL settings remain identical to the NVIDIA reference screens, the addition a built in overclocking utility is a definite plus.


6.0

Quality

While we have gotten mixed results in Leadtek products, as a whole they seem to produce solid cards. The fact that 2D resolution is good shows that they did not skimp on any graphics filters and the addition of thermal grease shows attention to detail.


5.5

Features

It is here that the WinFast GeForce 256 DDR Revision B earns high marks. The super large heatsink and attached fan provide for excellent cooling that we have never seen on a stock GeForce card, thus resulting in an easy overclock.

The television out, powered by the commonly found Brooktree 869 chip, sets its self away from the rest of the GeForce cards in this price range with the addition of composite out (as well as the customary S-Video out).


6.5

Layout

Naturally, the board design is identical to that of NVIDIA's reference design, leaving the WinFast GeForce 256 DDR Revision B scoring average again.


5.0

Retail Availability

Leadtek has a relatively decent presence in market. While your best bet to find one of these is via mail-order, it is also possible to find one at your local computer store. This results in the same situation as encountered in many other DDR GeForce cards.

The place where the WinFast GeForce 256 DDR Revision B lacks is with the naming of the card as a Revision. By doing this, the consumer is left confused and retail stores wondering which box goes with which card.

4.0

 

Documentation & Software Bundle

The manual for the WinFast GeForce 256 DDR Revision B is solid, with many screen shots, descriptions and definitions. Bringing the score back down to a bit above average is the poor software bundle that is almost useless for the target audience of this card: the avid gamer.

5.5

Overall Rating

7.0
Note: The Overall Rating is not an average of all of the categories