Original Link: http://www.anandtech.com/show/4911/asus-g74sx-noteworthy-updates-to-asus-g7-series


ASUS G74SX: Meaningful Updates, Sans Optimus
The last time we took ASUS' G7 series out for a spin was just after the Sandy Bridge launch, and as one of the first such laptops it wasn't too surprising to find most of the specs largely unchanged from the previous generation. This time around, ASUS has had an extra four months to work out the kinks, resulting in an updated system that sports improved components specs as well as a few updates to the core design.
We'll cut straight to the chase and point out the biggest change, at least from an external perspective: the keyboard layout fixes one of the few (minor) complaints we had with the G73 series, giving us full-size cursor keys and a larger numerical keypad. In fact, the palm rest and keyboard have been tweaked, with aluminum around the keys now instead of plastic, the removal of a few quick-access keys, and a slight change in some of the angles. The result is nearly notebook keyboard perfection as far as I'm concerned—at least if you have a 17.3"-screen chassis to work with. The one blemish is the half-size zero key on the 10-key.
The keyboard and palm rest may be the major change in terms of appearance, but looking at the back and bottom of the chassis reveals a few other modifications. The two vents on the side corners are now a single larger vent in the middle, the battery is in the back-left corner now, and there's a single large access panel secured by a single screw that lets you get to the storage and memory. The components have also received a few upgrades, but let's post the obligatory features table and then we'll discuss the finer points.
ASUS G74SX-A2 Specifications
Processor
Intel Core i7-2630QM
(4x2.0GHz + HT, 32nm, 6MB L3, Turbo to 2.9GHz, 45W)
Chipset
Intel HM65
Memory
4x4GB DDR3-1333 (Max 16GB)
Graphics
NVIDIA GeForce GTX 560M 1.5GB GDDR5
192 SPs, 775/1550/625MHz Core/Shader/RAM clocks
(2.5GHz effective RAM clock)

Drivers: 285.27 Beta/280.26 WHQL
Display
17.3" LED Glossy 16:9 1080p (1920x1080)
(Chimei Innolux N173HGE-L21)
Hard Drive(s)
Intel 160GB 320 Series SSD (SSDSA2CW160G3) 750GB 7200RPM HDD
(Seagate Momentus ST9750420AS)
Optical Drive
Blu-ray/DVDR Combo (Slimtype BDE DS4E1S)
Networking
Gigabit Ethernet (Realtek RTL8168/8111)
802.11n WiFi 150Mbps (Atheros AR9002WB-1NG)
Bluetooth 3.0+HS (Atheros)
Audio
Realtek ALC269 HD Audio (2.1 speakers + subwoofer)
Microphone and headphone jacks
Capable of 5.1 digital output (HDMI)
Battery
8-Cell, 14.4V, 5.2Ah, 74Wh
Front Side
N/A
Left Side
Headphone Jack
Microphone Jack
Optical Drive (BD-ROM/DVDRW)
2 x USB 2.0
Kensington Lock
Right Side
Memory Card Reader
1 x USB 3.0
1 x USB 2.0
VGA
HDMI
Ethernet
AC Power Connection
Back Side
Large exhaust vent
Operating System
Windows 7 Home Premium 64-bit
Dimensions
16.54" x 12.80" x 0.82-2.44" (WxDxH)
420 x 325 x 20.9-62 mm (WxDxH)
Weight
9.42 lbs (with 8-cell battery)
4.28 kg
Extras
Gaming (Laser) Mouse
ASUS Backpack
2MP Webcam
102-Key keyboard with 10-key
Flash reader (SD, MMC, MS-Duo, Smart Media, xD)
Warranty
2-year limited global warranty
1-year accidental damage and battery warranty
Pricing
Online starting at $1948
Other G74SX models starting at $1200
Nearly all of the changes make good sense, but the net result is a $200 jump in price from when the G74SW-A1 launched to the G74SX-A2 we're reviewing. The lion's share of the price increase can be traced back to the Intel 320 Series 160GB SSD, of course: that will set you back $285 all by itself. We'd still prefer something like an Intel 510 Series or a SandForce 2200 equipped SSD for the added performance, but the 320 Series strikes a reasonable blend of performance, capacity, and price—and it's still far faster than any hard drive! The hard drive meanwhile gets a bump to 750GB, and ASUS keeps the same Blu-ray combo drive.
Moving on to the other elements, the same CPU remains but the memory gets a bump from 4x2GB to 4x4GB. The GPU also gets an upgrade to the GTX 560M, which improves clock speeds by 15% but keeps memory bandwidth the same. NVIDIA made a point of telling us that all of their 500M GPUs are now Optimus enabled, but of course the same was true of their 400M parts. As before, it's up to the notebook manufacturers to decide whether or not to utilize Optimus, and ASUS continues to eschew the technology on their gaming notebooks. Whether you feel that's a good or bad thing is up to personal opinion, but in general we'd prefer to have Optimus on any notebook with a discrete GPU.
We know Optimus can create issues for Linux users (basically, you lose access to the discrete GPU), but that's a very small market and ASUS certainly isn't catering to them with their gaming notebooks. At least one reader said he had experienced sluggishness using the latest GPU-accelerated browsers with CSS3 content, but we have been unable to corroborate his claims as no links to offending websites were provided. We tested with Dell's XPS 15 and the ASUS G74SX on a variety of CSS3 sites and didn't experience any severe problems in Chrome 14 or Firefox 7. We did notice that resizing the Firefox 7 window while viewing some websites was choppy, but if that's the extent of the problem I'd still prefer Optimus. If anyone can provide a better list of sites and/or problems with Optimus, we'll be happy to look into it, but otherwise I can't see any problems severe enough with the latest Sandy Bridge Optimus notebooks to make discrete-only solutions preferable.
The remainder of the notebook is generally the same, and as with its predecessors, the G74SX runs remarkably cool and quiet even under extended gaming sessions. Why they don't stuff in a faster GPU than the GTX 560M—at least in certain models—remains a bit of a mystery. The Alienware M17x isn't all that different and supports the GTX 580M, and outside of potential power adapter constraints (hello 100W dGPU), the GTX 580M seems like it would work in the G74S chassis. That's the real competition for ASUS here: Alienware's more expensive but potentially better equipped M17x R3 gaming notebook.
We really liked the M17x R3, enough that we gave it our Bronze Editors' Choice award. The G74SX runs quieter and doesn't get as hot, and in my opinion it has a perfect keyboard layout with no discernible flex. Alienware counters with zoned colored backlighting and higher spec GPU and CPU options, but they'll cost you. The M17x with GTX 560M and upgraded to 1080p and 16GB RAM is already at $2050, and that doesn't include Intel's 160GB SSD, so you're basically looking at $375 for a straight-across upgrade to an M17x R3 with the same specs (but with extra lighting). Kick the M17x to a GTX 580M and you add another $500, which is probably more than most people are willing to pay—for that matter, the $1950 starting price of the G74SX-A2 is already dangerously high, though models without the SSD, with less memory, and with a 1600x900 LCD can be had for $1300 (or there's the $1200 Best Buy model linked above) if that's what you're after.
From a design standpoint, the G74SX has really addressed all of our complaints with the previous G73 series—not that we had any severe concerns, as we even awarded the G73Jh a Gold Award when it first launched. The chassis feels more refined, and with an SSD for the OS and applications (and maybe even a few games), the overall experience is definitely improved. There are faster gaming notebooks, or less expensive gaming notebooks, but it's hard to find fault with the overall balance of options used in the G74SX-A2. Let's hit the benchmarks for a few pages before coming to a final conclusion.
Application Performance: Add an SSD for Improved Performance
The last-gen G73SW would offer nearly identical performance in our application suite were it not for one thing: the Intel 320 Series SSD in the G74SX. Keep the same processor, improve GPU performance a bit, and add in an SSD and what you get is markedly faster boot and application start times and a smoother overall experience. We've mentioned how much Futuremark's PCMark suites skew towards SSDs, but there's something to be said for what an SSD can provide. I still feel like it should be more like a 30% improvement in application scores—and you really mostly notice it when launching applications or booting, particularly if you launch multiple applications at once or have half a dozen startup programs. We'll start with the PCMark suites before moving into CPU-limited testing.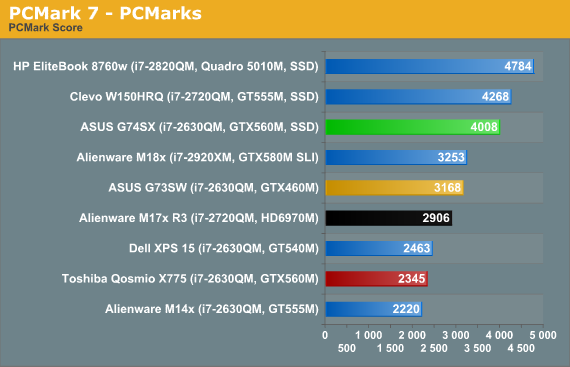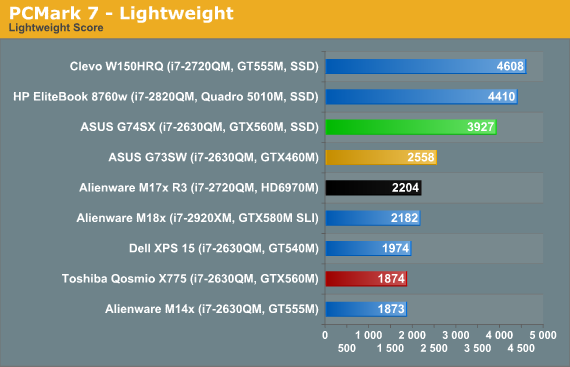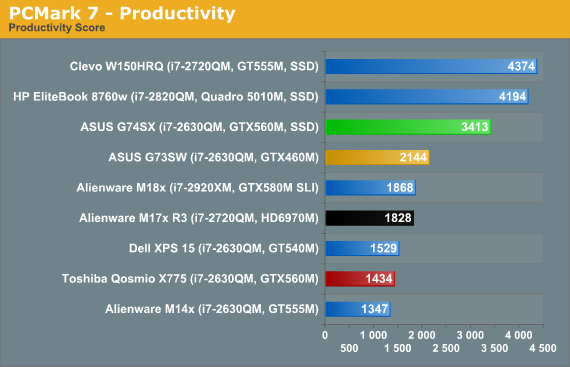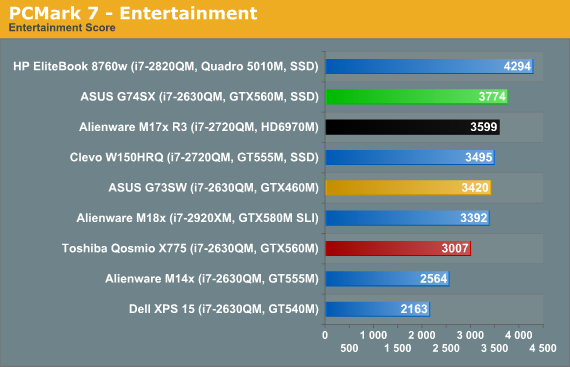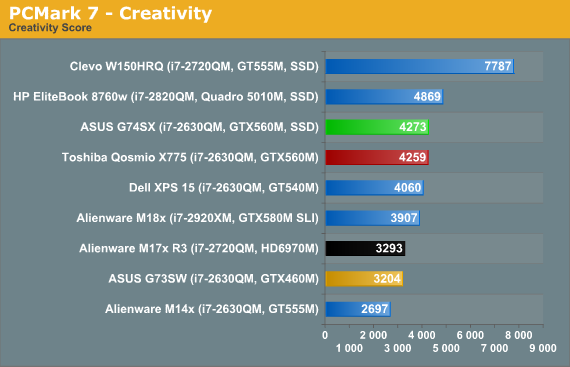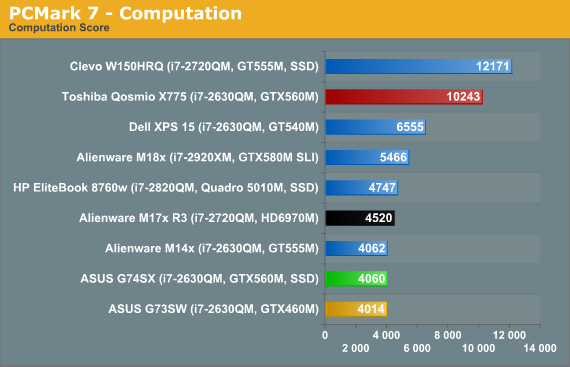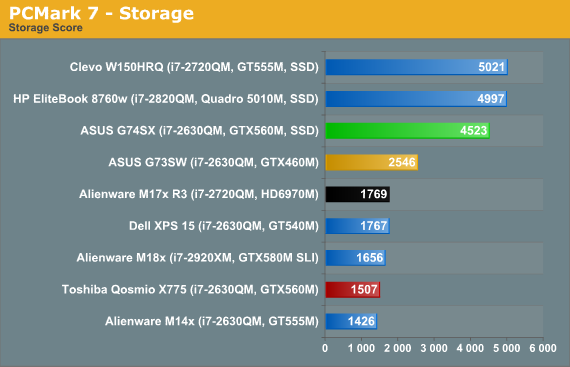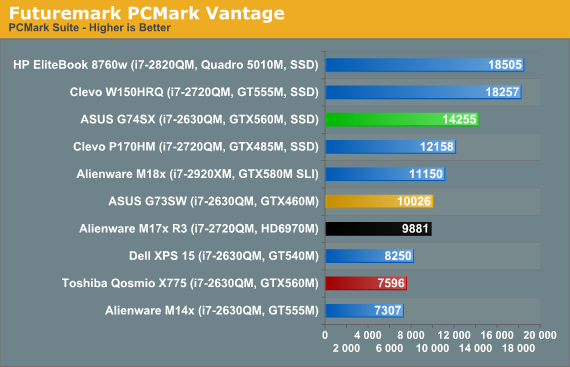 So I just said that I felt the overall benefit to general performance from an SSD should be around 30%, and for the overall PCMark 7 suite that's exactly what we get: the G74SX ends up 27% faster than the G73SW. Elsewhere, the G74SX is anywhere from equal to its predecessor (the Computation score), to 10% faster (Entertainment), to around 30% faster (Creativity), or as much as 50 to 80% faster (Lightweight, Productivity, and Storage). Turning to the older PCMark Vantage, the G74SX tops the G73SW by 42%.
Moving to a slightly different notebook, however, we can see the problem: the G74SX is 38% faster than the Alienware M17x R3 in the overall PCMark 7 suite, even though the Alienware has a faster i7-2720QM processor, and it's 155% faster in the storage benchmark—and the M17x is sporting RAID 0 750GB HDDs. ASUS has somehow optimized storage performance so that PCMark 7 really favors their notebooks, and the SSD boosts their score by an appropriate ~30%, but the G73SW already outperforms similarly equipped laptops (e.g. the Dell XPS 15) by 28%, likely thanks to storage optimizations.
I can't really say that any of the individual scores are without merit, but I can say that you shouldn't expect a 50% boost in gaming performance from adding an SSD—even if you happen to have enough free space on our SSD to hold the games you play. Similarly, video encoding performance and other computationally intensive tasks are still going to hinge on raw CPU speed, and PCMark's Computation result reflects this (assuming you're not using Quick Sync, which we're not on most of these notebooks, the Qosmio, XPS 15, and W150HRQ being the exceptions). Here are the results from the remainder of our application suite, along with a few 3DMark scores, to round out our general performance overview.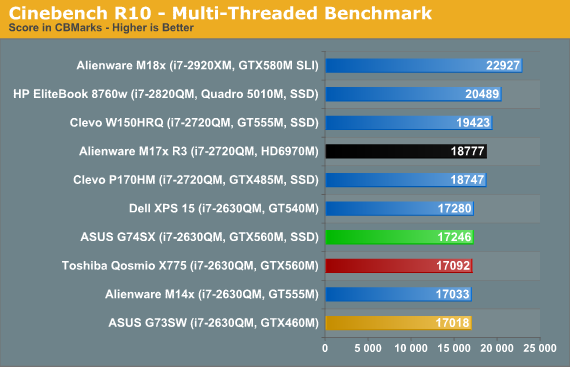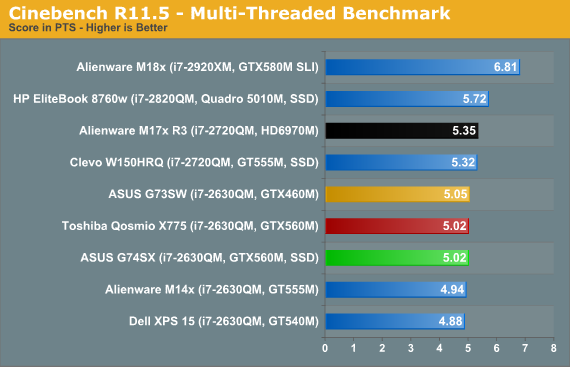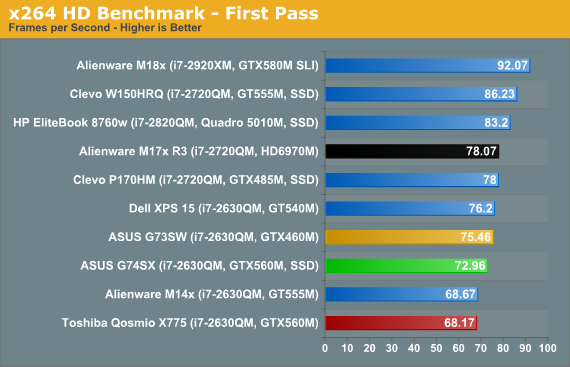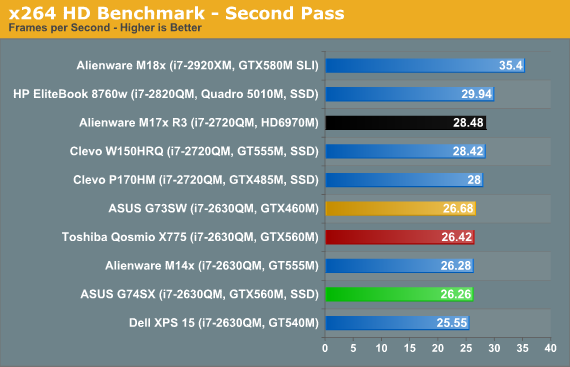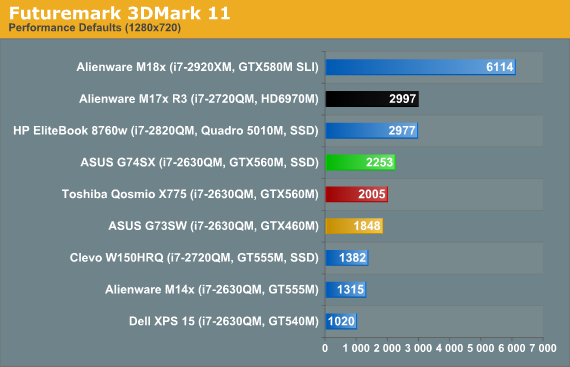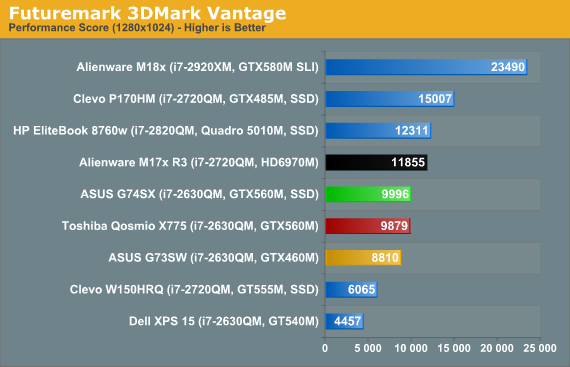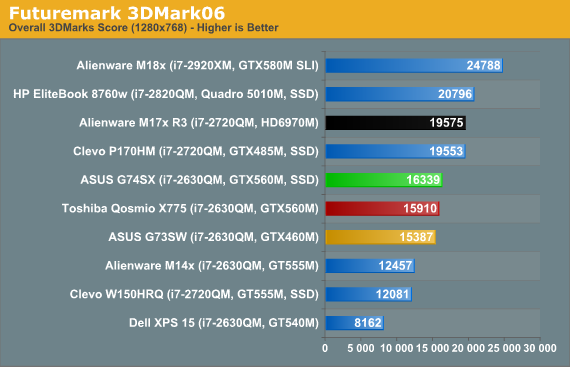 The i7-2630QM is a well-known quantity, and the results fall out right about where we'd expect. There's some minor variation in performance in the x264 encode first pass, but nothing to worry about. 3DMark gives us our first glimpse of the graphics upgrade the GTX 560M brings to bear, and the results range from 22% faster than the G73SW (3DMark 11) to only 6% faster (3DMark06). We're also testing with a newer driver release on the G74SX, which may explain the score discrepancy between the ASUS and the Toshiba Qosmio. Optimus may also be a factor, but more likely it's just drivers. Let's hit the gaming results next for a full look at graphics performance.
Gaming Performance: Good for 1080p Gaming
The GTX 560M is clocked 15% higher on the cores, but memory bandwidth remains the same so we should see a spread of up to ~10%. Driver differences may also play a role, but generally speaking the gaming performance of the GTX 460M was already good for 1080p high quality gaming, and the GTX 560M continues that trend with moderate improvements in performance. Even compared to the older ASUS G73JW, the G74SX isn't a major step up, so if you're running the older iteration you can probably hold off upgrading for a couple more cycles.
Medium Quality Gaming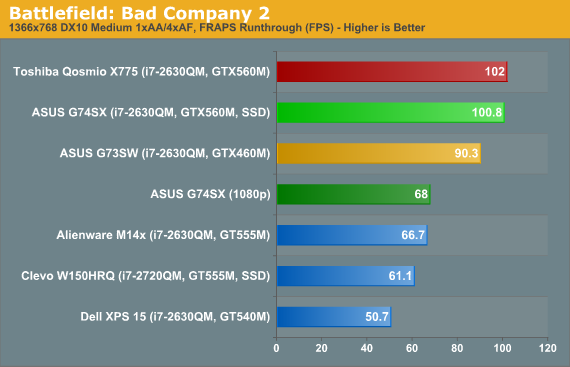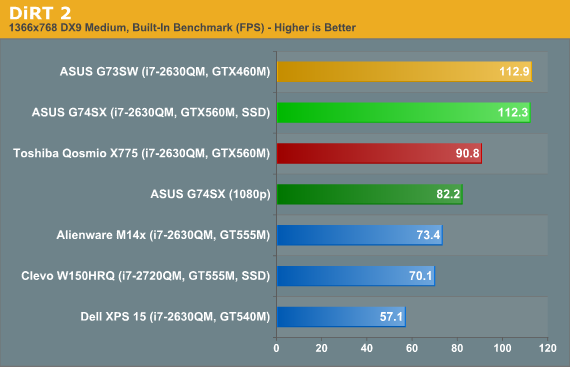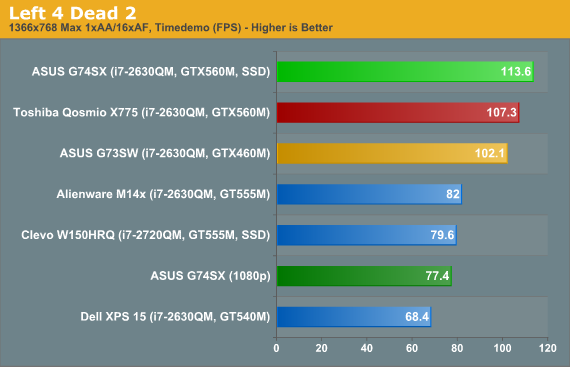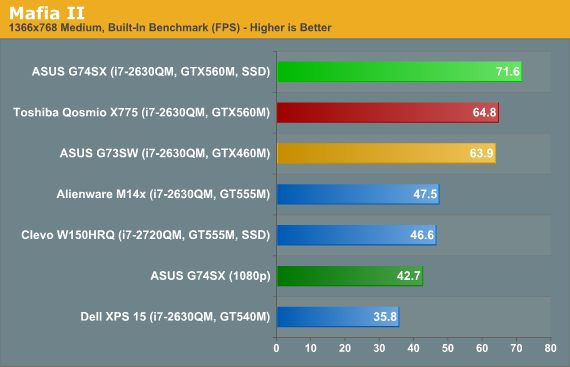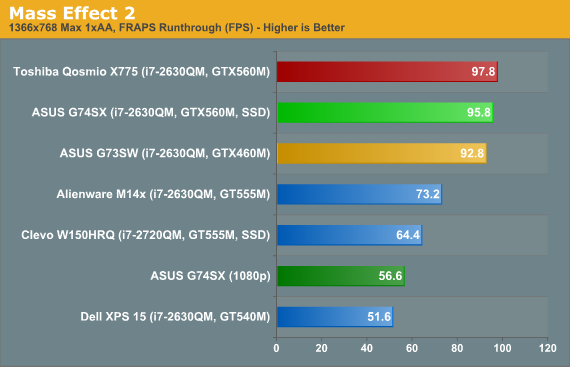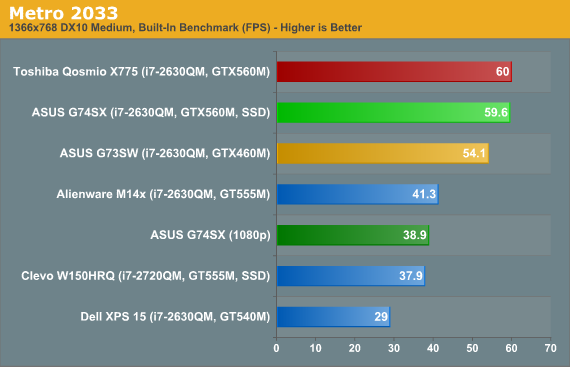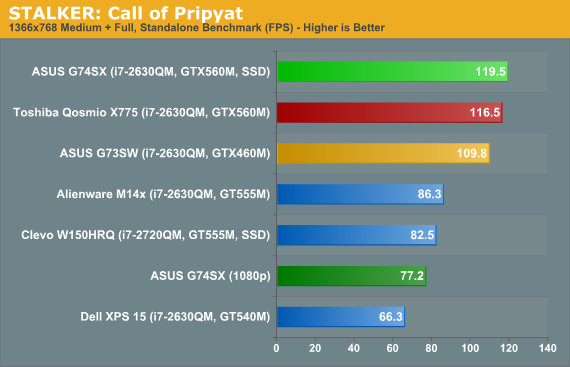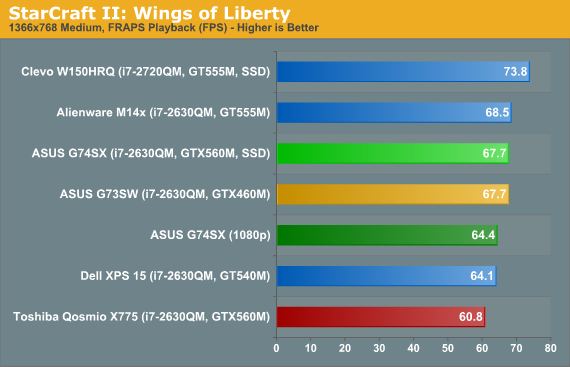 High Quality Gaming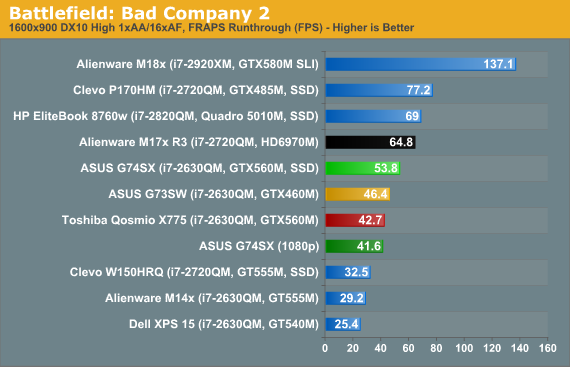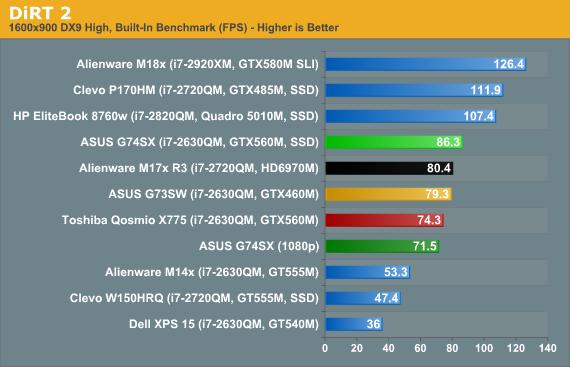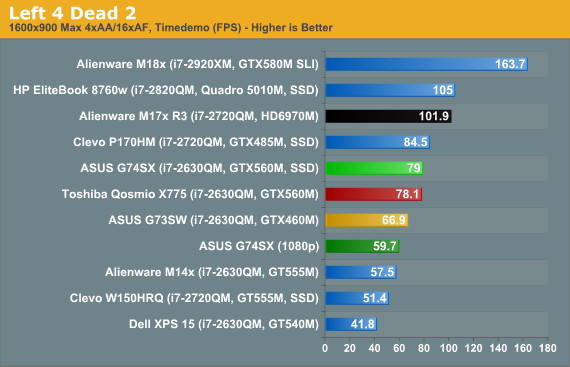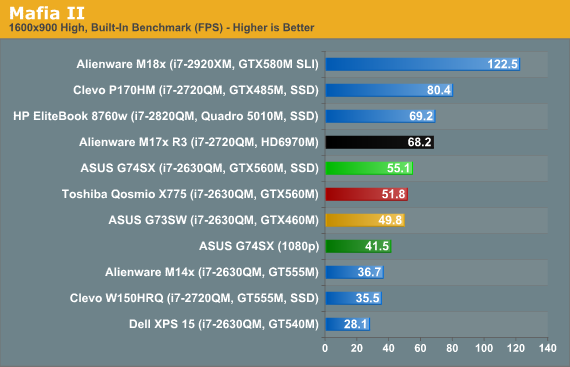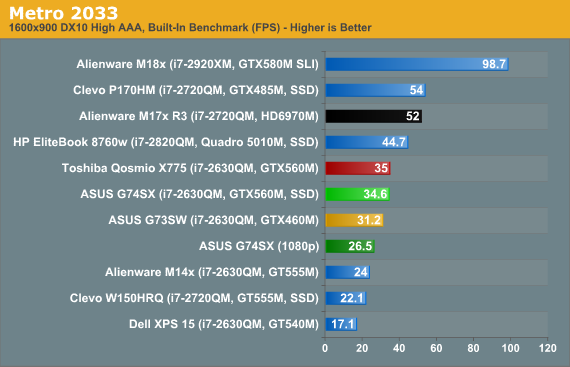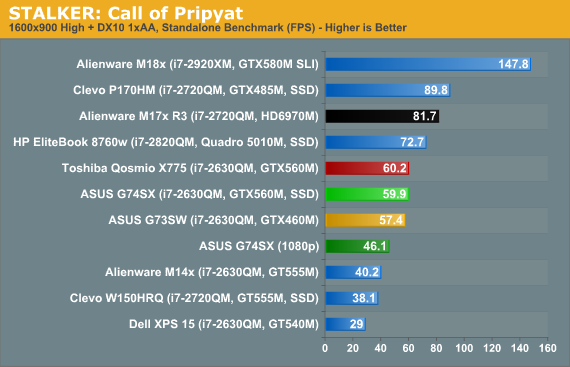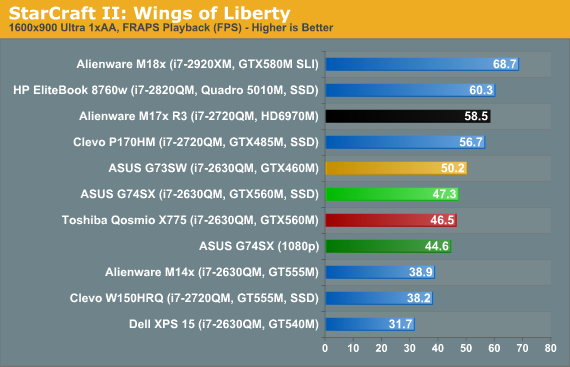 Ultra Quality Gaming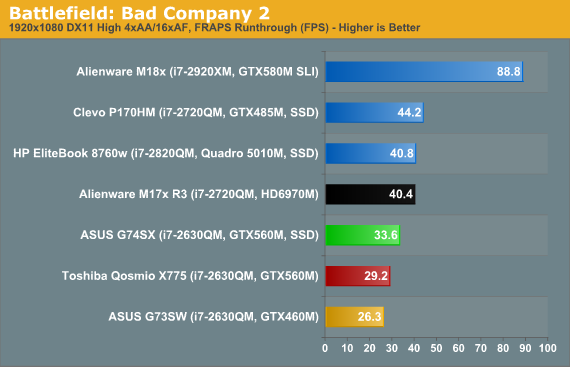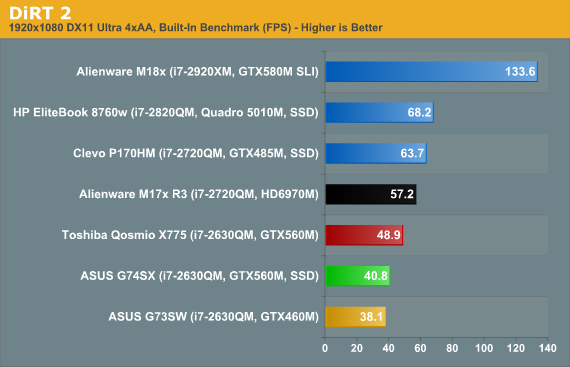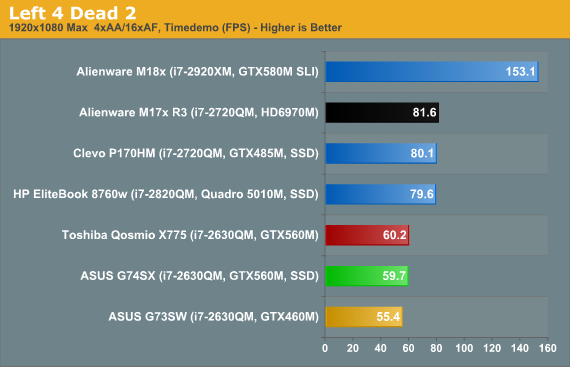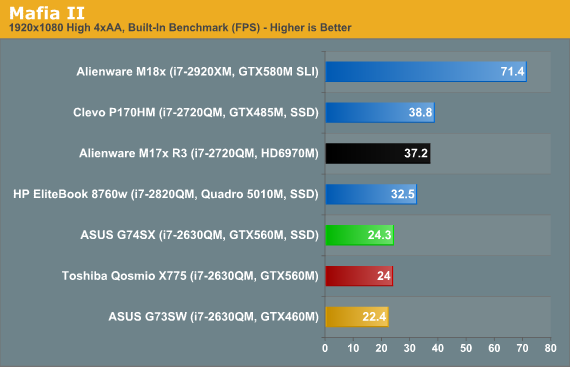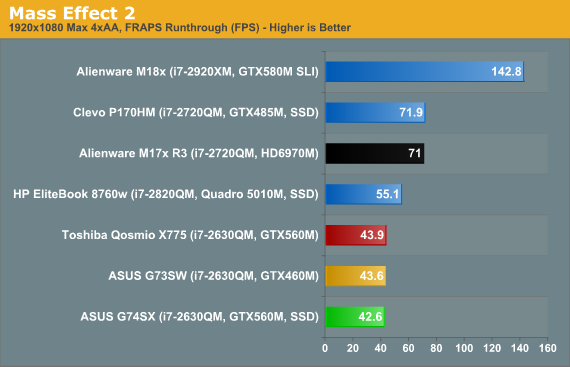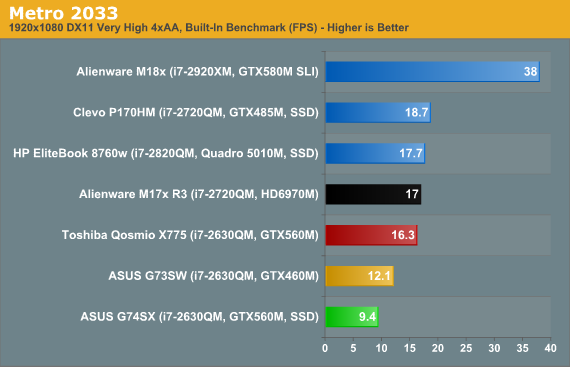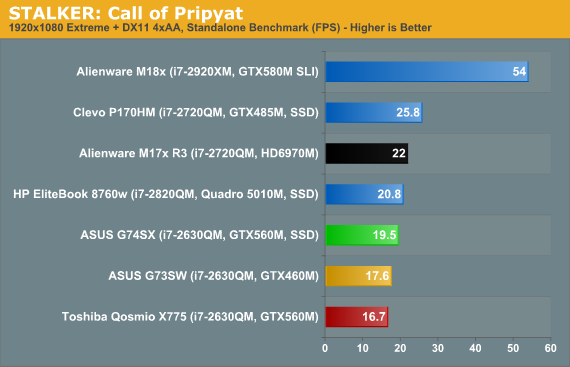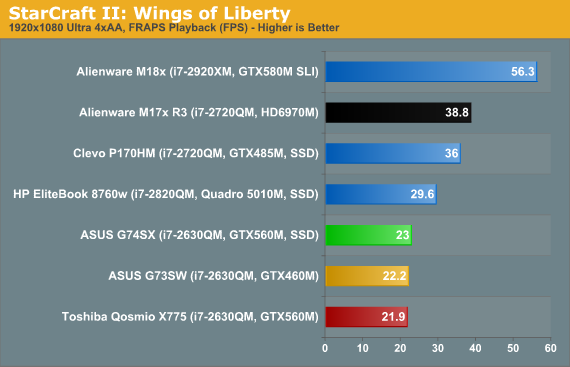 Medium quality gaming obviously doesn't tax the GTX 560M all that much, and even at 1080p we see that results are generally higher than what the next step down (GT 555M) can manage at 768p. Toss in results from the GT 540M (Dell XPS 15) and we can see just how wide the gulf is between "mainstream" mobile gaming GPUs and "high-end" offerings. Really, if you want to play modern games on a laptop, the GT 540M should be your bare minimum GPU, and it's only good for 768p and ~medium settings; if you want to play at 1080p, the GTX 560M is what you'll want.
Looking at our eight titles (with a couple more in Mobile Bench), the G74SX can handle 1080p and our Medium settings in every single title while breaking 30FPS, and eight of the ten games break 60FPS. Move to 1080p and our High settings and nearly all of the games still remain above 30FPS, Metro 2033 being the one exception, but only one title (DiRT 2) can actually break 60FPS. When we turn on antialiasing, we clearly hit the limits of what the GTX 560M can handle. In our Ultra charts, half of the games still break 30FPS, but Mafia II, Metro, STALKER, and StarCraft II fall well short of the mark. You'll want to monitor your use of antialiasing, and personally I find it too much for the G74SX at 1080p in the majority of titles; average frame rates may be reasonable, but 4xAA often introduces periodic stalls where you drop into the teens or even single digit frame rates, and I'd much rather sacrifice visual fidelity than deal with periodic choppiness.
One other interesting item in the above charts is the comparison of the G74SX with the Toshiba Qosmio. Toshiba employs Optimus Technology, but their laptop also felt a bit less optimized for performance, and it was running older NVIDIA drivers. How much each of those elements accounts for the gaming results is difficult to say, but while we see equal performance in some of the results (BFBC2 Medium, L4D2 High/Ultra, Mafia II Ultra, ME2, Metro Med/High, STALKER Med/High, and SC2 High/Ultra), there are also a few areas where the Qosmio is substantially slower. There's a 20~25% gap in BFBC2 High and D2 Med/Ultra, and a 5~15% gap in BFBC2 Ultra, D2 High, L4D2 Med, Mafia2 Med/High, STALKER Ultra (unplayable though), and SC2 Med. We also see at least one instance (Metro Ultra) where the Qosmio comes in 73% faster (though it's completely unplayable at <20FPS, regardless). Clearly, there are some differences in how the two notebooks perform, despite having nearly identical hardware (outside of Optimus support).
Battery Life: No Optimus Makes Me Sad
If there's one major area where the G74SX falls short, it's battery life. With no form of switchable graphics, battery life is roughly on par with what we saw from the previous G73 series of notebooks. Alienware uses switchable graphics for their M18x and M17x HD 6970M, and Optimus for the M17x with GTX 580M; both deliver much better mobility off the mains. The Toshiba Qosmio X775 likewise uses Optimus with a paltry 48Wh battery, and even with the battery capacity handicap it still puts up respectable numbers.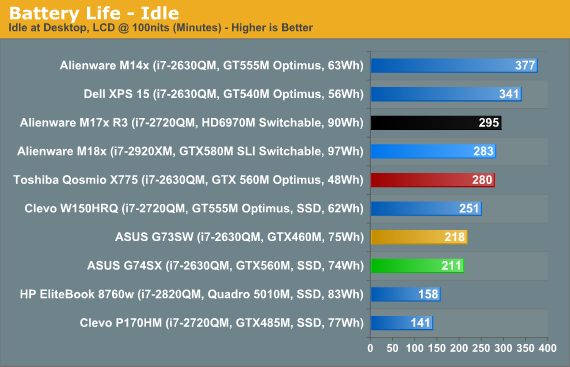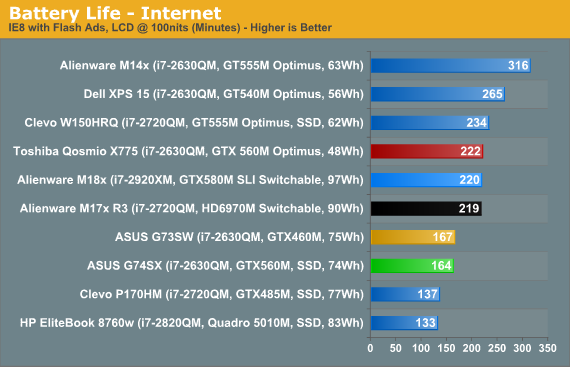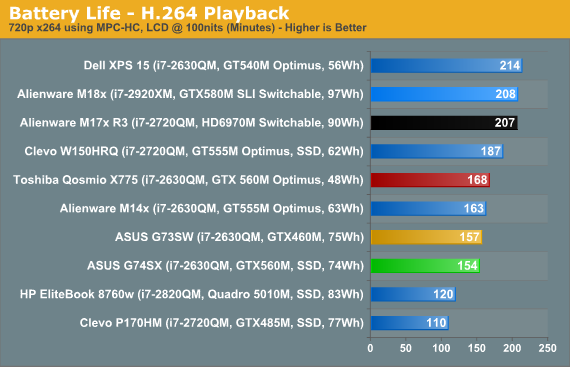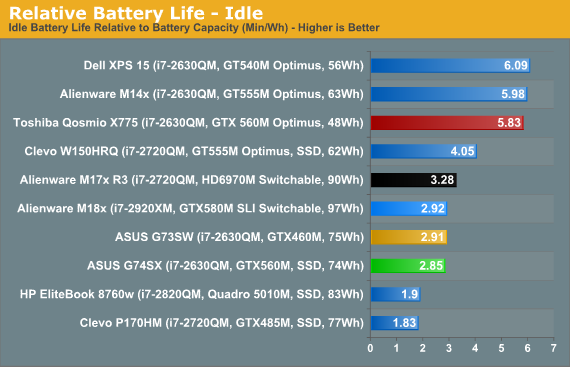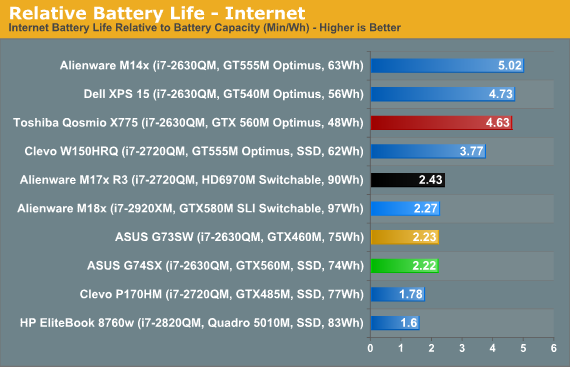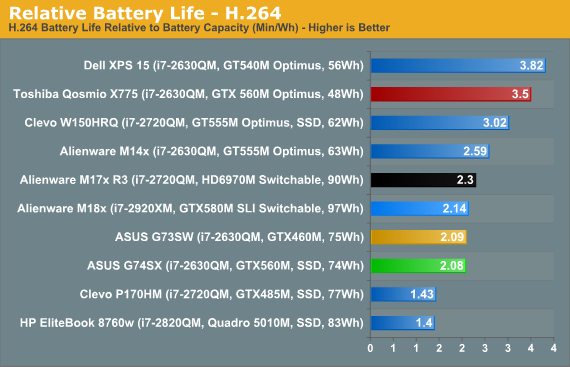 Perhaps the GTX 560M uses a bit more power than the GTX 460M, or maybe the slight change in battery design (and capacity) plays a role. More likely is that the 16GB of memory is also using a bit more power. Whatever the case, battery life is down incrementally relative to the G73SW in all of our tests. You can just squeak past 2.5 hours of H.264 playback or Internet surfing, and around 3.5 hours of idle battery life, but you'll definitely want to carry the power brick with you whenever you plan on going mobile for more than 90 minutes.
It's in the relative battery capacity that the Qosmio really shows what Optimus can provide, although to be fair it doesn't have as much RAM (or SO-DIMMs) to power. Relative battery life is slightly more than double what the G74SX can manage in the idle and Internet tests, and 68% higher in the H.264 result. You do get the "peace of mind" of always using the discrete graphics, no matter the task, but is that enough to sway people to give up battery life? I'm not sure how many feel that way, but I know I'd rather have Optimus and deal with a few idiosyncrasies now and then.
System Temperatures and Noise Levels
One area where I've praised the ASUS G73 in the past is their thermals and noise levels. The G74SX continues that reputation, providing an extremely quiet notebook even during lengthy gaming sessions. Idle noise levels fail to register above the ~30dB noise floor of my testing equipment and environment, and under maximum load the G74SX still only hits 37.3dB. Of course, noise is only half the equation—is ASUS just running their fans at low RPMs to keep things quiet while letting the internal components roast? Here's a chart showing maximum temperatures as reported by HWMonitor after several hours of running high load tasks (Cinebench, x264 encoding, gaming, 3DMark looping, and even 3DMark looping while Cinebench renders in the background).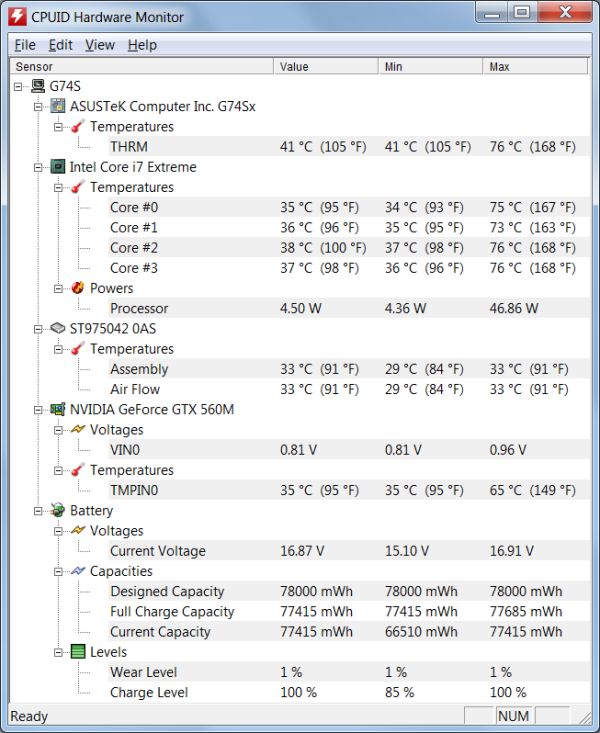 Compared to the noise created by Clevo gaming notebooks and other offerings like MSI's GT680R, the ASUS G7 series delivers the goods in cooling and keeping quiet. In our stress testing, the CPU maxed out at a comfortable 76C, while the GTX 560M laughs as it fans itself lightly with a 65C core temperature. That makes the CPU temperatures roughly the same as the G73, while GPU temperatures have dropped 10C—apparently the reworking of the internals paid off handsomely.
I do have a concern over whether the G74SX can handle extreme environments—like say a soldier wants to pack one of these over to the Middle East during the summer months. To see if the fan speeds normally experienced are the maximum ASUS supports or if the system just isn't getting hot enough to ramp up the RPMs, I put my hand over the rear vent while running 3DMark06. Naturally, temperatures started to climb, but unfortunately I can't say the same for the fan RPMs. Noise levels remained consistent throughout the approximately 10 minute test run, and the GPU did manage to get up to 75C according to HWMonitor. That's still 8C below what Dustin measured on the Alienware M18x, but it was painfully hot on my arm/hand. (Honestly, I'm surprised the GPU and CPU didn't get any hotter!) The final score also dropped slightly (to 15241), but I'm not sure if that was a decrease caused by heat or if the new (beta) drivers are to blame.
While the above scenario may not be a fair test, I do wish ASUS had at least one higher fan speed available, and with a maximum load of Cinebench + 3DMark06 there did appear to be some throttling going on—again, though, only when I covered the exhaust vent, which isn't something I'd recommend doing. The lack of a higher (and noisier) fan speed may also be why ASUS limits the G74SX to the GTX 560M. The GTX 570M and GTX 580M would likely need better cooling, and ASUS may not be willing to sacrifice noise levels in order to support such GPUs.
Update: A reader pointed out a potential CPU throttling issue in the comments, and I was able to replicate the throttling. The throttling so far required the use of Furmark along with a heavily threaded CPU workload, at which point the CPU clock drops to 800MHz and stays there until Furmark is halted (or the CPU load is removed). The temperatures are not a problem, and without using Furmark I have not been able to cause CPU throttling, but the potential is at least there. If anyone has other specific workloads not involving Furmarm (or a similar utility, e.g. MSI Kombustor), please let me know and I will investigate further.
Still a Good LCD
The G73 notebook had a good LCD, with a high contrast and reasonable color. My one complaint was that even at maximum intensity, the backlight wasn't as bright as I would like. With the G74SX, ASUS appears to have taken that criticism to heart, as the maximum brightness is nearly double that of its predecessor.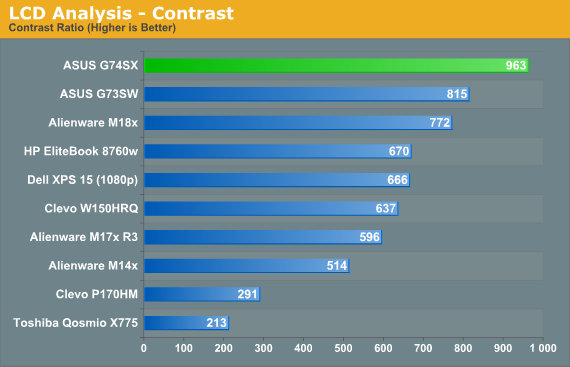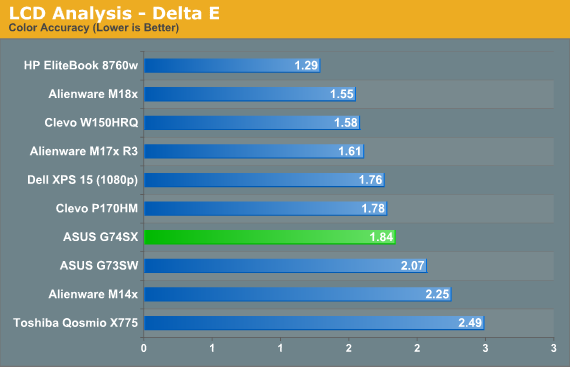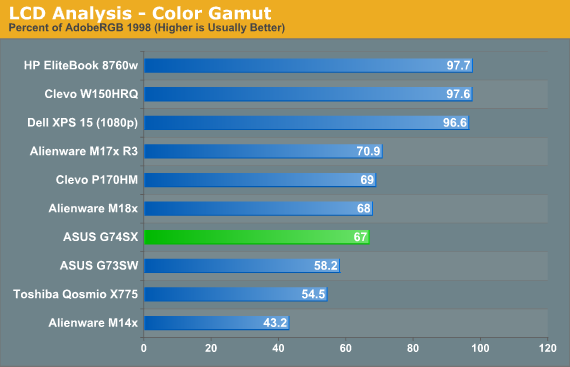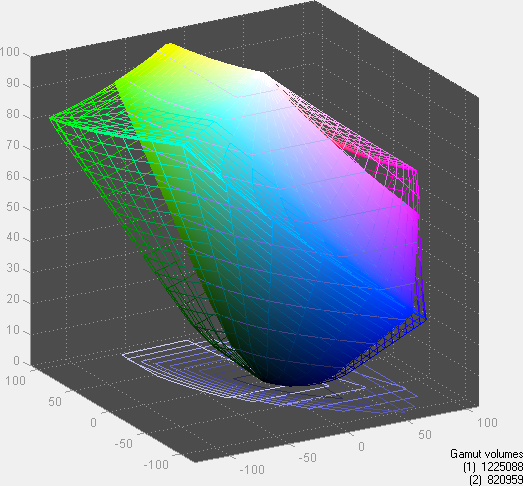 Contrast is excellent at nearly 1000:1, and the maximum white level of 289 nits is a big step up from the ~150 nits of the G73 series. Given the change in characteristics, it's no surprise that the LCD panel used in the G74SX is different this round, coming from Chimei Innolux (instead of HannStar). The model is N173HGE-L21, and it appears that our contrast ratio result is better than the advertised 500:1. Backlight intensity is up, and we also note that color gamut is up, with a slight (not generally noticeable) improvement in color accuracy as well. Without calibration, the panel has a decidedly bluish cast, but that's common among LED backlit panels. Overall, I definitely appreciate the changes made to the LCD panel; the previous version was good, but the new version matches or improves on it in virtually every way.
We're still dealing with a TN panel, so viewing angles aren't perfect, but they're about as good as you can expect from the technology. I still wish the notebook people would start using IPS panels in laptops—they're putting them in $400 tablets after all, so it can't be that hard to fit one into the budget of a $1500+ notebook, can it? Then again, supply and demand create a self-perpetuating cycle, so as demand dries up so does supply, resulting in higher prices for the remaining supply, which segues back into lowered demand, etc. I'd love to see that trend reverse and go the other way.
ASUS G74SX: A Worthwhile Update
I must admit that the G73SW left me feeling a little underwhelmed; it was nearly the same as the G73JW, only with a Sandy Bridge CPU. Yes, Sandy Bridge is a noteworthy upgrade from Clarksfield, but we wanted more. The G74SX is the answer, bringing some minor and some not-so-minor updates to the G7 series. The external design is similar to the previous generation, but there are some clear changes in materials and hints that the internal layout isn't the same. Perhaps the biggest change, however, is in the keyboard.
I'm something of a keyboard snob when it comes to laptops and notebooks. I write (type) for a living, and I type fast enough that differences between my regular desktop keyboard and typical laptop keyboard become immediately apparent. Having discovered the improved layout on the G74SX, I decided to try something: I'd write nearly this entire review on the keyboard to see how I felt after a lengthier experience. The verdict? While I still prefer my MS Natural keyboard, for a notebook the ASUS G74SX does quite well. The size of the keys and their layout makes it easy to switch between a desktop keyboard and the notebook, key travel is good, and there's keyboard backlighting. Unfortunately, I still suffer from RSI issues, and typing on a notebook definitely made me more aware of my carpals, but there's not much I can do about that. As a final bonus, there's no flex to speak of, even when really mashing against a key, which is more than I can say for most notebooks. The only blemish is the half-size zero key on the keypad, which is irritating if you use the 10-key a lot but not a bit enough issue for most people.
Besides the overhaul of the keyboard, ASUS also updated the LCD, providing a brighter panel with similar to slightly better colors. If you're at a dark LAN party with your laptop, the G73SW worked well, but sitting in a car or airplane the LCD just wasn't bright enough in my opinion. The G74SX fixes that, though how many people would actually try to use this sort of notebook in a car or on an airplane—or tote it around a college campus—is questionable. Regardless, all things being equal I prefer a display that can get brighter if I need it, and with nearly 300 nits on tap the G74SX delivers.
As far as performance goes, the G74SX is anywhere from slightly faster to noticeably faster than the G73 variants. The big change is in the A2 model we received for review, which combines a 160GB Intel 320 SSD with a 750GB 7200RPM HDD. That gives you the best of both worlds: great performance for the OS and core applications, and maybe even a few games, with plenty of mass storage still available for images, movies, and additional games (hello, Rage—thanks for eating up 21GB of space on my drive). ASUS also doubled the amount of RAM, packing in a full 16GB—more than even my desktop system!
Battery life on the other hand is about the same (slightly lower), but the improved specs are enough to make up for that. The big omission in this area is NVIDIA's Optimus Technology, but I understand why that can be polarizing. Intel's HD 3000 graphics are generally "good enough" for Windows use, typical office tasks, and web surfing. Start hitting some of the latest CSS3/SVG sites, however, and NVIDIA (and AMD) GPUs can be noticeably faster. I haven't personally been bothered by Optimus, but if you look for it you can find some choppiness and slowdowns when rendering certain content on the Intel IGP. For better or for worse, ASUS avoids all of that by not supporting Optimus, but in the process they basically cut their potential battery life in half.
Ideally, we would get discrete GPU performance with IGP power requirements—basically have a discrete GPU that's just fast enough that you don't notice any choppiness and using only as much power as an IGP, but it can also scale up to full power mode when playing games, or anywhere in between. Optimus provides all the power savings but relies on Intel's IGP for other areas, and at times the Intel IGP still isn't quite at the level of discrete GPUs. This was a bigger problem when Optimus first launched (with GMA 4500 IGPs), but it became less of a concern with Arrandale (HD Graphics), and Sandy Bridge (HD 3000) has cleared up probably 95% of my concerns. When Ivy Bridge launches late this year or early next and Intel delivers a DX11 IGP, hopefully that will remove any lingering issues.
The remainder of the notebook design is roughly the same as the older G7 models. If you don't like the slightly wedge shaped design, it's still there, although ASUS did tone it down quite a bit. This is also a very large 17.3"-screen chassis (just like Alienware's M17x), and weighing in at 8.5 pounds you definitely don't want to carry this thing around all day. For people looking for a good desktop replacement, though, the G74SX is a great system that can handle just about anything you might throw at it.
Right now, if you were to ask us for the best gaming notebook, there's really no clear winner. Price is always a major consideration, but you'll want at least a GTX 560M for graphics duties if you actually intend to play recent games. Delivering the best overall build quality and features, there are really two contenders for your money: the ASUS G74SX, and the Alienware M17x R3—I rule out the M18x because if the G74SX is too big, the M18x is downright enormous (and expensive). The base model M17x will set you back $1500, but it comes with slightly slower graphics, 4GB RAM, a 1600x900 LCD of questionable quality, a single 500GB 7200RPM hard drive, a DVDRW, and a 1-year warranty. For $1950, the G74SX-A2 provides a lot of upgrades, and configuring the M17x R3 to a similar level of features will set you back about $2350. If you like the added lighting features of the M17x, it's still a worthy contender, but if you're trying to cut costs the ASUS G74SX is definitely a great alternative—call it a tie if you will.

The design and appearance of the G74SX won't please everyone—nothing ever could—but anyone looking for a mobile gaming notebook for under $2000 will be hard pressed to do better than this. The base model trims the specs down on the RAM, storage, and display and can be had for $1200, or there's the 1080p-equipped G74SX-XR1 for $1320—add a 240GB SF-2200 SSD and you're still looking at $1600 or so for a potent setup. Or if you just want the maximum configuration, the G74SX-A2 gives you an SSD+HDD, 16GB RAM, a great display, and even tosses in a backpack and mouse for good measure, all for $1950. As long as you grab one of the 1080p equipped models, you really can't go wrong with the G74, and like the Alienware M17x we're also awarding ASUS our Bronze Editors' Choice award. Both are great gaming notebooks, and right now they're our top two picks—grab whichever better suits your needs. Why no gold? We'd like to see the ability for the fan speed (and cooling capacity) to ramp up higher under load--just in case--and after two prior versions with NVIDIA GPUs we feel it's time for the G7 series to add Optimus support. Neither of those complaints are major, but they're the only items that are lacking.