Original Link: http://www.anandtech.com/show/4866/lian-lis-pcv353-lighter-than-air


Introducing the Lian Li PC-V353
We've been wanting to get Lian Li enclosures in house for review for a while now, and we're pleased to report we finally have a contender on hand (with more on the way!) in the form of the PC-V353. Lian Li touts this case as having been designed to cool through use of extensive ventilation instead of fans, but surprisingly they don't advertise what may be one of its more interesting aspects: the enclosure is comprised almost entirely of aluminum and is likely to feel surprisingly light. Can an aluminum, well-ventilated enclosure take the place of steel and fans?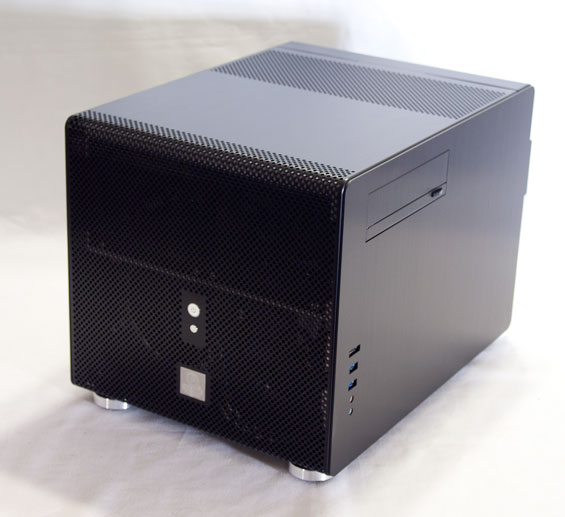 We're trying to get more Micro-ATX/Mini-ITX enclosures in for review, so when the Lian Li rep contacted me about reviewing their products and asked me what I was looking for, I had a pretty specific answer in mind: something silent and/or something small. (Well, I had a third answer, too: "...or pretty much anything; I've been dying to get some Lian Li kit in.") Her answer came in the form of the PC-V353: a Micro-ATX enclosure designed to minimize the amount of fan noise by simply not having fans, instead relying on a lot of ventilation to get the job done.
Lian Li PC-V353 Specifications
Motherboard Form Factor
Micro ATX, Mini ITX
Drive Bays
External
1x 5.25"
Internal
2x 3.5" and 2x 2.5"
Cooling
Front
4x 120mm fan mounts
Rear
1x 80mm fan mount
Top
-
Side
-
Bottom
-
Expansion Slots
4
Side I/O Port
eSATA, 2x USB 3.0, mic and headphone jacks
Top I/O Port
-
Power Supply Size
ATX
Clearance
11.5" (Expansion Cards), 100mm (CPU HSF), 200mm (PSU)
Weight
9.1 lbs. (4.13 kg)
Dimensions
11.26" x 11.34" x 15.63" (286mm x 288mm x 397mm)
Price
$169
Like many smaller cases, the PC-V353 is going to be fairly limited in the types of peripherals it can hold. While some are more bizarrely spacious than others (SilverStone's Temjin TJ08-E comes to mind) these are generally cases that require some compromise; a tower-style cooler seems like a bad idea in general for the PC-V353, especially when you note that the area above the I/O cluster is one of the few places Lian Li didn't ventilate the chassis. Let's take a closer look and see how this small box performs.
In and Around the Lian Li PC-V353
My first impression of the PC-V353 before I even opened the box was amazement: I couldn't believe just how light the case actually was. In fact I still have some trouble with it. Anyone looking for a LAN build may want to consider short-listing the PC-V353 for that reason alone; I can nearly palm the box, and I am a sad, frail, wisp of a man.
Once you get it out of the box, though, confusion is liable to set in. I'm used to cases that take a little more work to figure out, but Lian Li has gone virtually off the grid with this one. The front of the PC-V353 is entirely perforated, with only the power and reset buttons really breaking it up. Our optical drive bay is actually on the right side of the enclosure; you can opt to use the left side instead, but it would be extremely difficult to use both due to how assembly is handled (more on that later.) The ports are also on the right side, below the optical drive, and the port block can actually be removed and swapped over to the left side as well. That's made crystal clear when you look at the left side and see cutouts for the ports (shielded from behind by a plate) along with a bay shield for the 5.25" bay.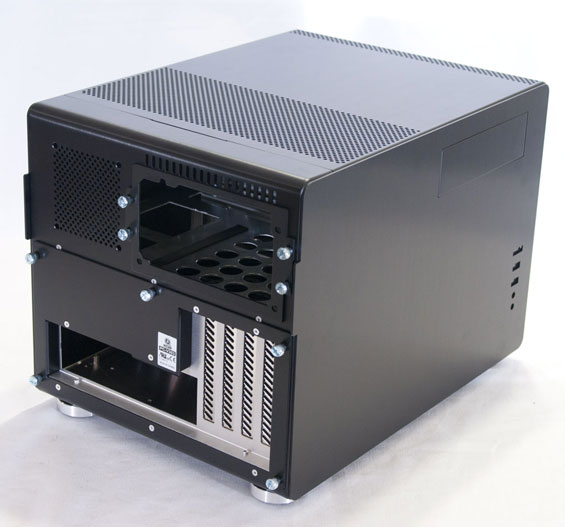 The back of the PC-V353 is home to nine thumbscrews, four of which are used for the power supply mounting bracket while the remaining five hold the removable motherboard tray in place. There are also four vented covers for the expansion slots. At this point I was wondering where the screws were to hold the side panels in place. The answer? There are none!
The side panels actually snap on and off and for what it's worth the mechanism seems pretty sturdy. It would've been easier for Lian Li to simply use screws to hold the panels in place, but I think one too many sacrifices were already made to the fit and finish of the PC-V353 by having the ports swappable between the two sides. Surprisingly, the panels feel like some of the sturdier parts of the case's design; the rest of it is so light, and the motherboard tray can actually bow.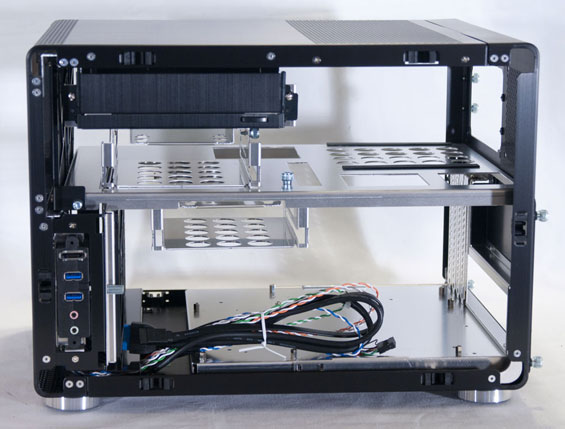 When you do take a look at the interior of the PC-V353, it can actually seem even more puzzling: this is an instance where you're really going to want to go through the instruction manual bit by bit to be sure you know how to assemble a system within the enclosure. There's support for a grand total of five drives: one 5.25", two 3.5", and as a sign of the times, two 2.5". At first glance it also seems like you could fit a fairly long, high end video card in the PC-V353, but when we get to the assembly you'll see it doesn't really work out that way in practice.
I like how the PC-V353 looks for the most part, but I have to be honest and say it feels like they went just a little too far off the beaten path with this one. Assembling it looked frankly daunting, and in my experience smartly arranged ventilation with even a single good, quiet fan has been more effective than just venting everything. I'm also not a fan of being able to swap the optical drive and ports from the right to the left side; the result is that the side you aren't using just looks kind of unattractive and feels like there should really just be a single flat side panel. That's my personal opinion, though; your mileage may vary.
Assembling the Lian Li PC-V353
Lian Li designed the PC-V353's assembly to be tackled essentially in pieces. I have historically endorsed using modular power supplies for any build (to the point where I'm mortified whenever I have to assemble a machine without a modular power supply); in the instance of the PC-V353, I'm about 5% away from making it a requirement.
The PC-V353 breaks down into roughly four parts (five if you're going to argue semantics): the motherboard tray, the drive trays, the power supply mount, and the chassis (which includes the optical drive mount). Because of the nature of the breakdown, it's really in your best interests to wire up each part as best you can before fitting it all together. Since power leads are particularly ornery, that makes a modular power supply that much more vital to assembly in a case like this.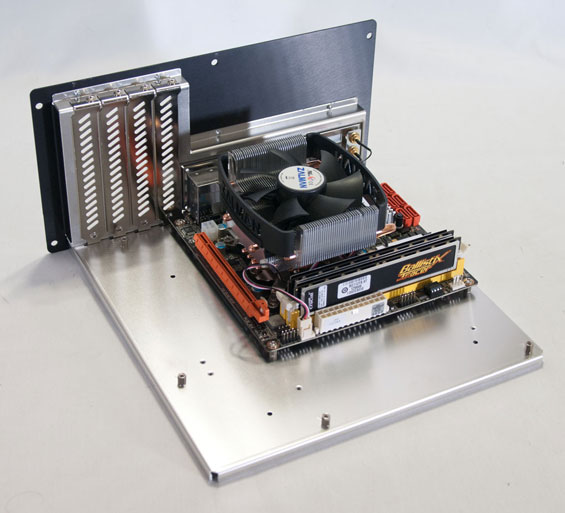 Since the motherboard tray is removable, that part was remarkably easy, though I found the relatively flimsy nature of the tray itself to be a little disconcerting. Everything did come together fine, but it's strange when you're reassuring yourself that it'll work because the rest of the case will have a little give. When I installed the GeForce GTX 580 on the tray, it looked absolutely massive.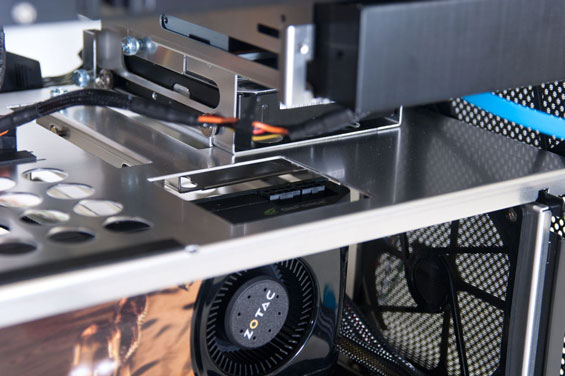 Unfortunately, video cards with top-mounted power connectors are liable to be basically hosed when you do install them in the PC-V353, and that's the reason why there are no results for the GTX 580 in the thermal and acoustic testing: the card itself fit fine, but the power connectors were just too thick and there wasn't enough clearance. Lian Li has a cut-out in the top half of the case for routing exactly these power cables, but it didn't line up with our GTX 580, which uses NVIDIA's reference design.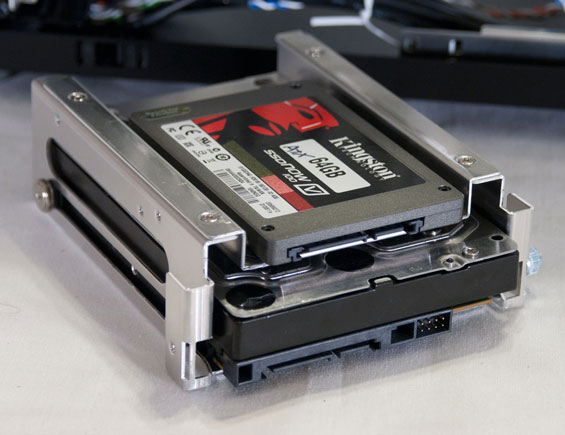 The drives all install in a fairly unique way as well: all of the screws are on rubber-lined runners, and this is true for the 2.5", 3.5" and 5.25" drive mounts. Screws are mounted into the drive first, and then for the 3.5" drive, the drive slides into the rails, and then a thumbscrew locks it into place. Instead of a thumbscrew for the 5.25" drive, it's the fascia. And for the 2.5" drive, there are basically four big holes you drop the screw side into, then push the drive "up" and it locks into place. The system is really quite clever. Again, though, you'll want to wire the drives first. Routing the 5.25" drive's cables requires some doing; you'll want to basically slide them in between the gap between the opposite 5.25" drive bay's fascia and the chassis itself.
Finally, the power supply should go in last and quarters are going to be cramped. If you've been doing this properly and used a modular power supply, your power leads will be connected to the components first so they can be routed up to the power supply at the last stop. If you've been careful, everything should come together reasonably well.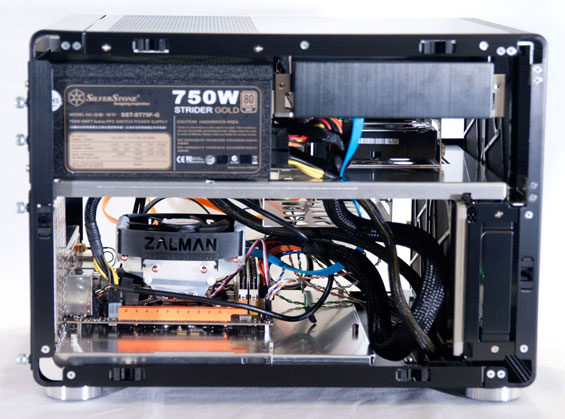 I have to be honest, I'm just not a fan of how the PC-V353 comes together. It feels like it's too unusual, and Lian Li just doesn't make the best use of empty space the way the similar SilverStone does in the Temjin TJ08-E. I have an AVADirect desktop in house that's installed in a Lian Li PC-V354, and honestly that design looks to be a little more sensible than this one. The lack of clearance for the video card's power cables makes all of that case depth feel pointless, and side mounting the optical drive just doesn't seem at all necessary. On top of that, I found the optical drive bay button doesn't line up with our test drive at all. That's not unusual with designs like these, but it makes me wonder why more enclosure designers don't just design a larger button (either externally or internally) that's able to cover the gamut of optical drive eject button placement.
Testing Methodology
For testing Micro-ATX and Mini-ITX cases, we use the following standardized testbed in its stock configuration and a Zotac GeForce GTX 580 in cases that support it to get a feel for how the case handles heat and noise. Due to the power supply clearance constraints of smaller cases, SilverStone provided us with a slightly different PSU than our full-size ATX configuration for testing.
A refresher on how we test:
Acoustic testing is standardized on a foot from the front of the case, using the Extech SL10 with an ambient noise floor of ~32dB. For reference, that's what my silent apartment measures with nothing running, testing acoustics in the dead of night (usually between 1am and 3am). A lot of us sit about a foot away from our computers, so this should be a fairly accurate representation of the kind of noise the case generates, and it's close enough to get noise levels that should register above ambient.
Thermal testing is run with the computer having idled at the desktop for fifteen minutes, and again with the computer running both Furmark (where applicable) and Prime95 (less one thread when a GPU is being used) for fifteen minutes. I've found that leaving one thread open in Prime95 allows the processor to heat up enough while making sure Furmark isn't CPU-limited. We're using the thermal diodes included with the hardware to keep everything standardized, and ambient testing temperature is always between 71F and 74F. Processor temperatures reported are the average of the CPU cores.
For more details on how we arrived at this testbed, you can check out our introductory passage in the review for the SilverStone FT03.
Last but not least, we'd also like to thank the vendors who made our testbed possible:
Thank You!
We have some thanks in order before we press on:
Noise and Thermal Testing
Since we weren't able to get our Zotac GeForce GTX 580's power leads connected, the Lian Li PC-V353 was tested using only the IGP on the Intel Core i3-530. This is where we'll see if Lian Li's fanless design really pays off, though I have reservations about how well a case with this much ventilation is going to be able to handle muffling the sound of our test system heatsink.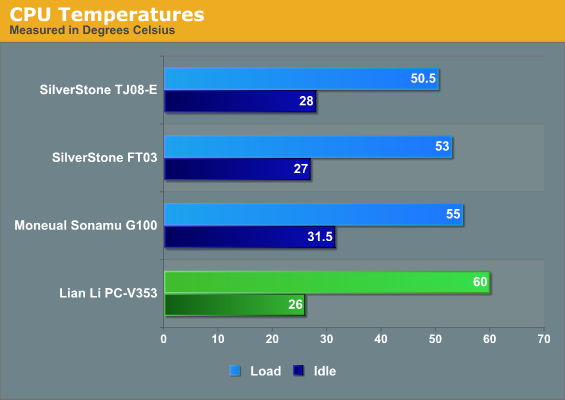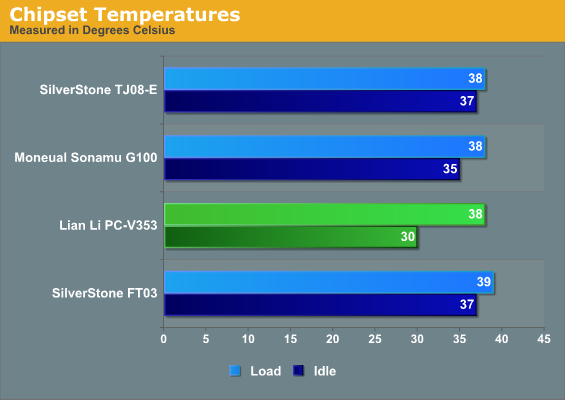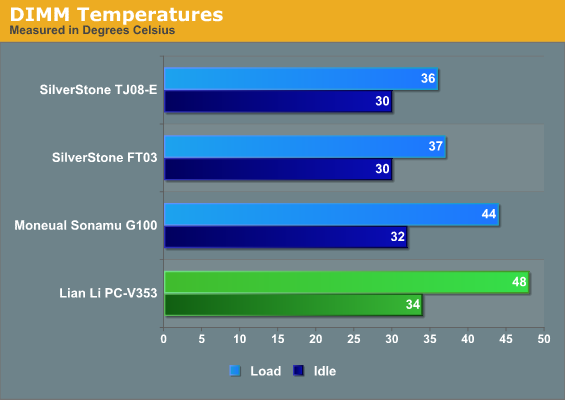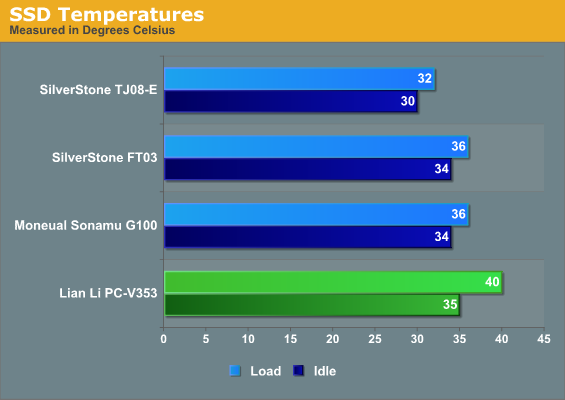 With basically no airflow, many of the parts are left to marinate in their own succulent juices. Thermals start very low since the case design seems to be able to keep the internal ambient temperature close to the external ambient temperature, but once you place a load on the system there's basically nothing inside it to move all that hot air. None of these temperatures are dangerous, but every other case we've tested has had the benefit of at least one good fan.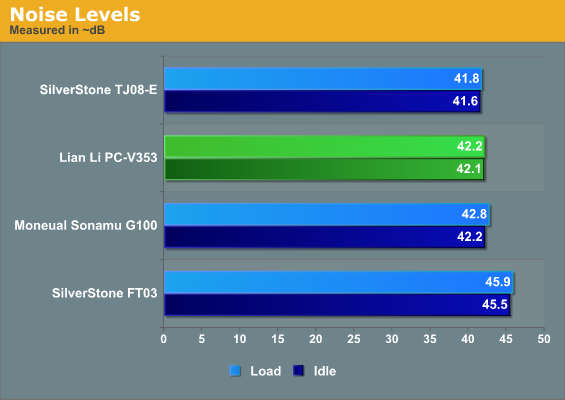 The SilverStone Temjin TJ08-E is able to cool effectively while being a mite quieter than the PC-V353, likely due to a more directed and enclosed design operating with a single silent fan. The only fan noise the PC-V353 has to worry about is the HSF unit on the processor, but the problem is there isn't anything really muffling that noise.
Conclusion: Only if You Plan to Move It
I was honestly really looking forward to getting Lian Li's hardware in house. The company is held in high esteem, and their case designs are both well regarded and oftentimes very unique. I actually have two more cases en route that look to be extremely interesting to review, but the PC-V353 seems like a miss.
Like many, I fear change and the unknown, and that's a small part of why the PC-V353 just didn't work for me. Deviations from traditional enclosure design should never feel arbitrary: they should either feel like an experiment or at least like a smart and intuitive alternative to existing approaches and design tenets. I don't think a side-mounted optical drive is necessarily a bad idea, for example. Virtually no one keeps their tower directly in front of them at home, so it would make sense to be able to mount the drive to the side. The problem is that the PC-V353 doesn't make a very convincing argument for the change, either, and it actually comes more at a detriment to aesthetics. Given the button placement on the PC-V353 (along with its generally diminutive stature), it seems like the case is designed to be placed on your desk, in which case having the ports and optical drive in the front would actually make more sense.
There's also the wasted case depth. While video cards that connect their power leads from the back are probably going to be fine, ones that connect from the top may run into serious problems. Likewise, given the way everything is perforated, wouldn't it make more sense to vent the side where the video card's fan is going to be? Blower-type coolers will probably be okay, but other ones are liable to be that much more problematic.
Finally, there's the asking price. $169 for the PC-V353 is just way too much. It's a nice and unique piece of aluminum, tremendously light and easy to move, but this case honestly would fare a lot better with fans. Lian Li offers the appropriate fan mounts, yet at this price I feel like optional fans should at least be included. SilverStone's Temjin TJ08-E is $69 less and performs better in every metric except weight and overall size. The PC-V353 isn't necessarily a bad case (there are no bad products, only bad prices), but for the price you just don't get enough. Unless you're married to the aluminum finish or want a new case to tinker with and modify, I'd recommend looking elsewhere in Lian Li's line.