Original Link: http://www.anandtech.com/show/4771/microsoft-build-windows-8-pre-beta-preview


We're here in Anaheim, California at Microsoft's BUILD conference. As has become tradition (or at least as much as possible), Microsoft has been holding major developer conferences for their new OSes roughly a year ahead of launch. In 2008 developers and the press got their first in-depth look at Windows 7 at Microsoft's Professional Developers Conference (PDC), and here in 2011 BUILD is doing much the same for Windows 8.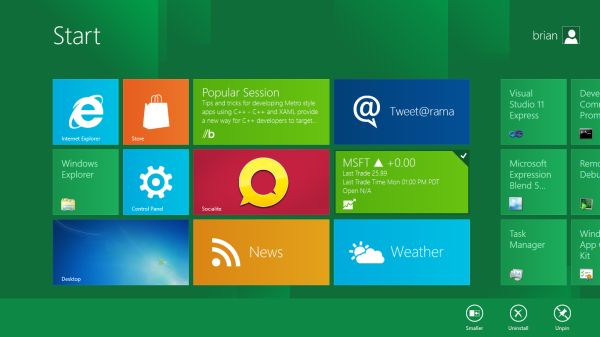 As it stands Windows 8 is still in its infancy. The build in Microsoft's demos is 1802, a pre-beta and not feature complete version of the OS. Microsoft needs to balance the need to show off Windows 8 to developers with a need to keep it under wraps until it's done as to not spook end-users. The result of that is the situation at BUILD, where Microsoft is focusing on finished features while unfinished features are either not in the OS or are going unmentioned. For comparison, at PDC 2008 the Windows 7 interface was not done yet, and Microsoft was using the Windows Vista interface in its place.
Today the show kicks off in earnest with a keynote that begins at the same time as this article went live, followed by some mega-sessions for developers covering the biggest aspects of Windows 8. Yesterday was a pre-show day for press, with Microsoft spending most of the day running the press through a similar series of presentations, focused more on the end-user than developers.
At the conclusion of the press sessions we managed to get some hands on time with a tablet PC development platform running the same build of Windows 8. We haven't had the chance to give the platform a full working over – not that it would be prudent in its pre-beta state – but we did want to give you a rundown of what Microsoft had to share with us and what we've seen so far. Microsoft's tagline for BUILD is that "Windows 8 changes everything" and while Win8 is not a massive reworking of the Windows kernel, it is a major overhaul of nearly everything else. Certainly based on the pre-beta build on display, you will be using Windows 8 significantly differently from Windows 7.
The big thing with Windows 8 is Metro, which we'll go more in-depth with in a bit. Microsoft classifies Metro as a style, but in reality Metro is a new version of Windows from the API on up. Metro is the Windows Shell, Metro is an application design paradigm, Metro is a user paradigm, and Metro is the future of Windows application programming. Metro is everywhere – and for ARM it is everything - and it will make (or break) Windows 8.
The Metro UI
The best way to describe Windows 8 is a cross between the Metro UI from Window Phone 7 and the desktop architecture of Windows 7. In fact, virtually everything but the desktop gets a Metro treatment in Windows 8.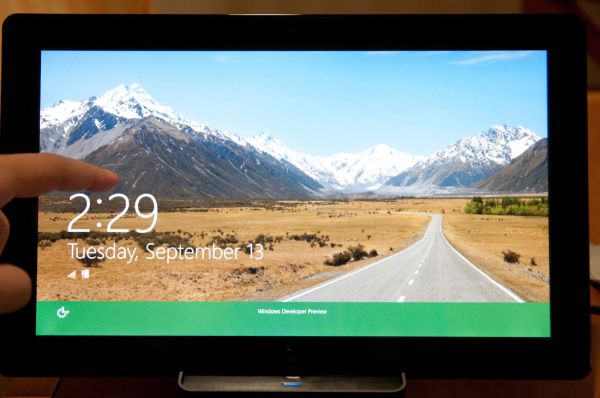 The Windows home screen starts initially hidden behind a lock screen virtually identical to WP7's - slide up on a large edge-to-edge background to unlock. Inside is the Metro start screen, which is comprised of a grid of live application tiles that behave almost identically to those in Windows Phone 7. Two sizes of tiles serve as both application launch shortcuts and notification areas that can be populated with notifications, graphics, and other status indicators.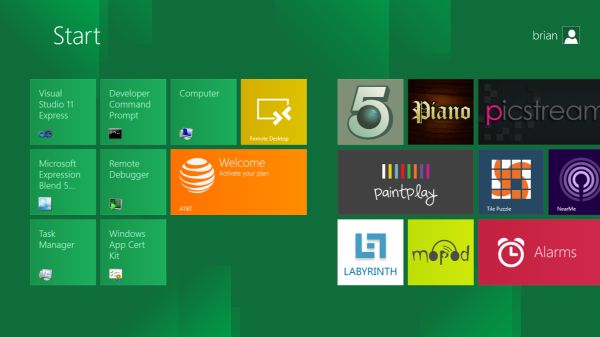 The tiles populate a horizontal strip that can be scrolled back and forth, and tiles can be rearranged accordingly. There are a few new gestures here over what we've seen before in WP7, including a swipe up to select a tile, and multitouch scrolling plus tile repositioning. Swipe up on tiles, and you can select them to convert size, uninstall, or unpin from the home screen.
The new start menu is more than a user experience oriented at tablets, it's also the design language Microsoft has adopted for the entire new Windows 8 experience.
The thing to realize is that this modality isn't so much a view as it is a combination of both new start menu, new interface for making Windows usable from a mobile perspective, and a completely new interaction paradigm. The interface is designed to perform and behave in the same way across multitouch, active digitizer, and keyboard+mouse combinations.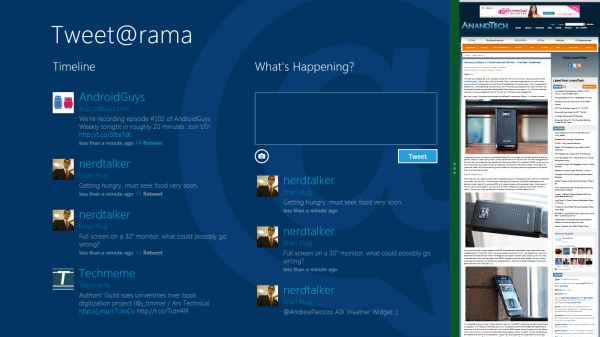 There's another set of gestures and features as well which make use of the four edges of the display. The top and bottom are reserved for application-specific functions, the left and right are reserved for two Windows 8 specific tasks.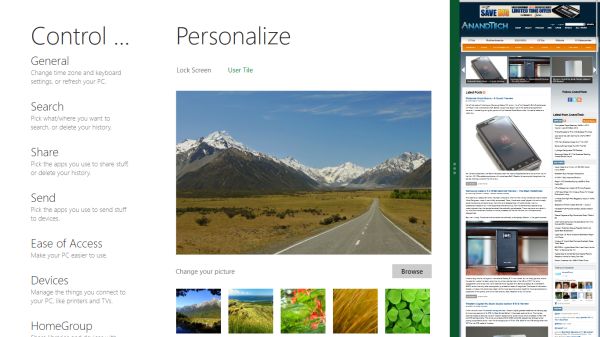 Sliding one's finger from the left edge onto the display allows for both fast application changes, and the multiple-window snap functionality that's been demoed already. The split is roughly 1:4 and divides horizontal real-estate between two applications views at once. The narrower of the two requires some additional development support, but the aim is to create a workable touch interface without sacrificing multitasking.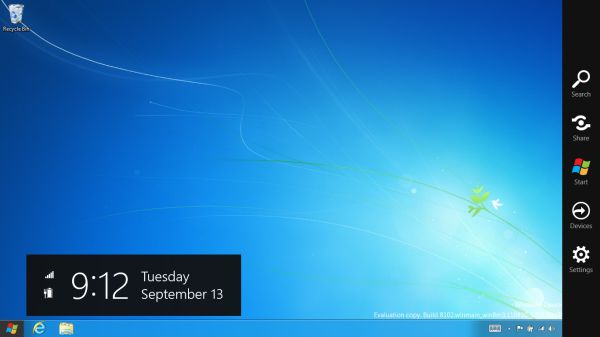 Swiping a finger from the right edge of the display towards the center brings up what Microsoft calls charms. This is a view that includes status indicators, and functionality like search, share, start, devices, and settings.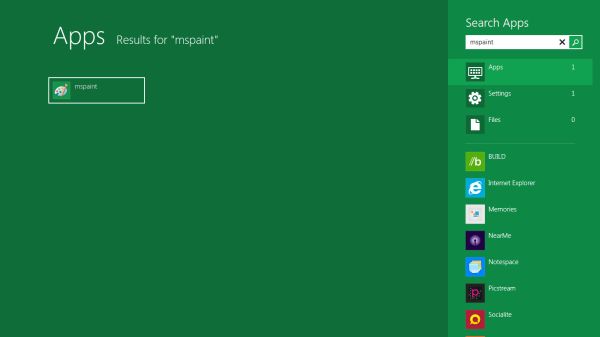 These respective shortcuts then bring up panes that occupy the same area on the right, and do what you'd expect. Settings for example is a place each application to build out a preferences area, so that each application has a common place users will go to control things.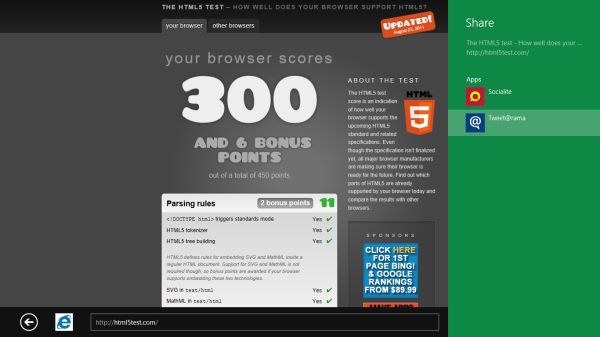 Likewise, share acts like an intelligent copy paste, sharing working elements between applications. Finally search can either look through files and applications or dive into strings surfaced by other third-party applications.
These left and right based gestures exist across not just the Metro-infused start screen, but the entirety of Windows.
Moving around and getting back to the home screen is accomplished by pressing the Windows button, which on the tablet we were loaned is its own physical button analogous to iOS' home button. Pressing the keyboard windows button performs the exact same action and summons the start menu.
The current set of first-party applications is pretty spartan. There's no maps, mail, or camera application, though Microsoft has already bundled a set of its own internally-created applications. These are entirely Metro themed as well. I mention camera because the sample hardware includes a front facing and rear facing camera, and at present the only way to access them is through the change user tile picture function, which can capture a photo from the front or back webcam.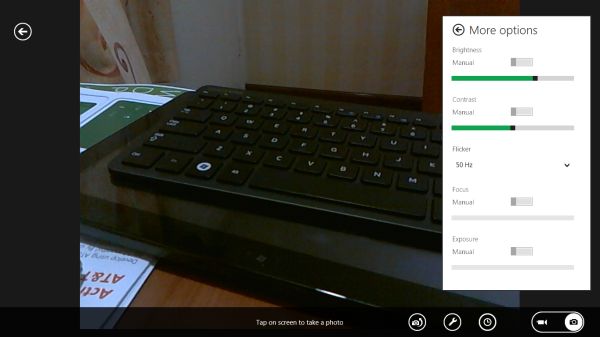 Throughout the entire OS is a very WP7-like virtual keyboard, which supports a full size and thumb keyboard mode. There's also a handwriting recognition mode which has two lines of handwriting input and is styled similarly to Windows 7's tablet input keyboard.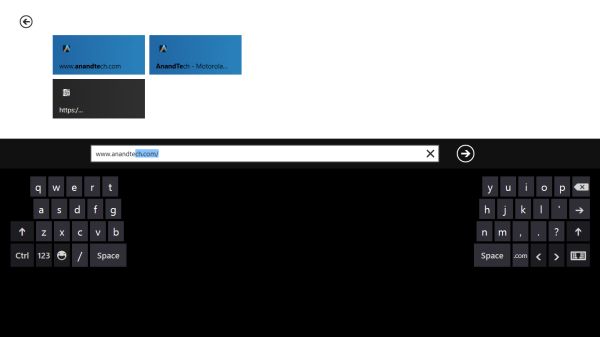 The keyboard can be docked to the bottom of the display or detached and dragged around as well. I find that the split keyboard accommodates typing with thumbs and holding the device midair quite well.
The Metro UI Continued
Next up is the control panel, which doesn't entirely supplant Windows' traditional control panel, but instead offers high level features in a Metro-friendly interface. The left side scrolls up and down and exposes categories, the right side serves as the interaction area for playing with all the toggles.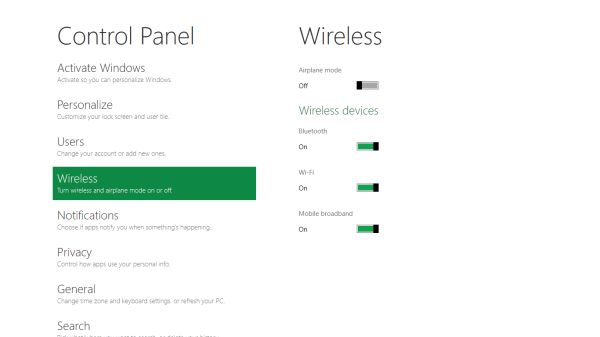 Interesting settings inside the control panel are things like privacy toggles for location services, which is akin to what we've seen on virtually every mobile platform, notifications through the push notification service which no doubt bears similarity to WP7, toggles for the onscreen keyboard (more on that later), and more. Under General are two new features - Refresh your PC, and Reset your PC.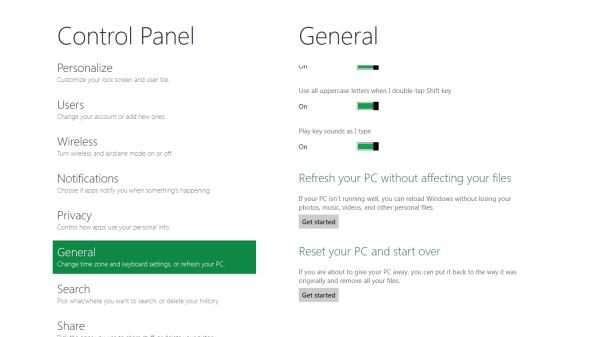 The second is reasonably self explanatory, it resets the entire OS to its original shipping state using a built-in recovery partition part of the install. The first is a bit more interesting, as it restores Windows and configuration settings while leaving user-specific files like photos, music, and videos intact. Microsoft has noted that this option leverages the management tools used for imaging PCs in an enterprise environment, but now in a desktop setting.
There's also a category marked 'devices' which is the settings pane for controlling peripherals like printers, human interface devices, and TVs. It doesn't replace the device manager, but acts in practice as a high-level one for the devices that are used by the Metro/Start interface. At the very bottom is 'more settings' which literally takes you back to the old Windows 7 control panel.
This is the start menu, so just like in Windows 7 and Vista, you can simply start typing to get an immediate list of files and applications that match the string. Results are categorized into one of three bins - apps, settings, and files. Of course you can also just type the application name and hit enter like previous editions of Windows.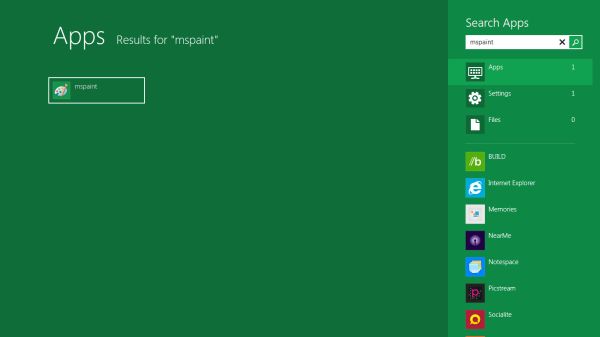 That really brings me to where the real windows desktop "lives" in Windows 8 right now, and there are a couple ways to invoke it. The first is that when a traditional desktop application is launched, either through a tile or search result, the Metro UI disappears and gives way to a Windows 7-esque desktop environment. The second is either by using the Windows Explorer or Desktop tiles, and the third is by good-ol Windows+D. Any of these get you to the desktop so to speak, which at this point looks almost exactly like Windows 7. There's a good chance this isn't finished yet and is going to change soon, but for now things look very familiar.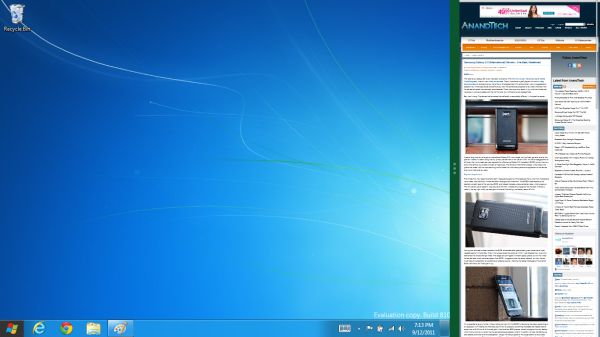 Down in the bottom left is the Start button, which gets a new look, and tapping or clicking here brings you back into the Metro start screen. It was at this point that things really occurred to me - the new start screen completely replaces the Windows 7 start menu in its entirety.
I'm reminded after seeing a lot of Windows 8 of two things. It's almost like Windows Origami experience for UMPCs, but crossed with Windows Phone 7's Metro design language and fluidity, all while retaining the desktop layer underneath. The question is whether Windows can successfully tailor itself to so many different form factors and retain the desktop power that users need and expect.
The last new UI elements we've been shown belong to the desktop part of the OS. These two features are the freshly included explorer ribbon and new queued copy dialogs.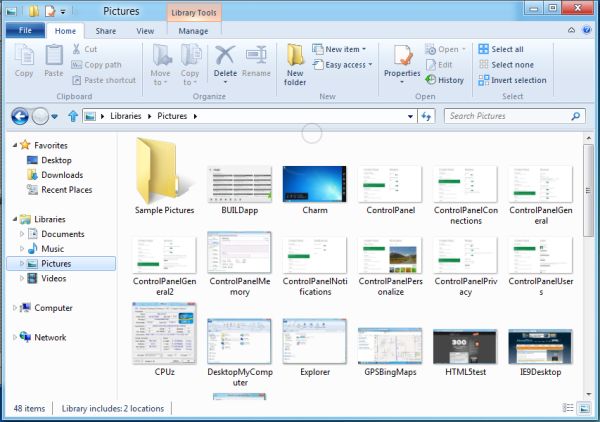 The new Windows 8 explorer window includes two modes. In collapsed mode, the window is essentially the Windows 7 explorer pane, with the inclusion of an up a directory button and simplified bottom pane.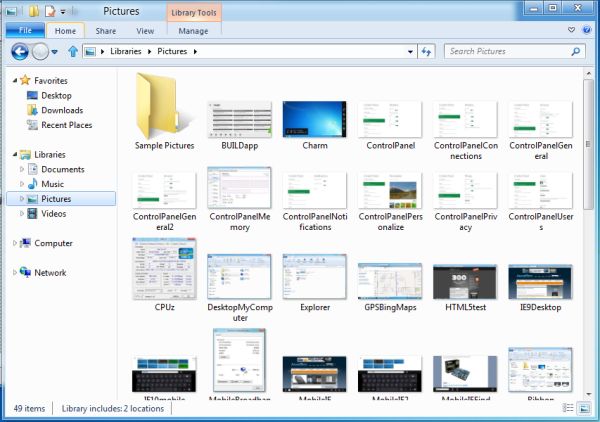 With the window expanded however, the ribbon appears. It's starting to make sense that the ribbon really accommodates a touch-centric workflow, where right click is cumbersome or impossible. In its stead, controls in the ribbon are the one stop shop for file management.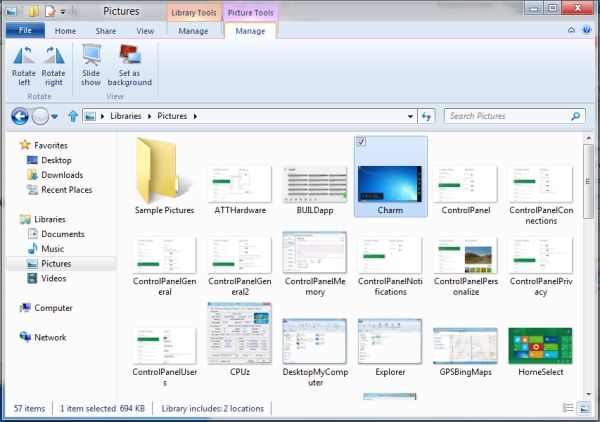 There are also some contextual elements that pop up as well, for example when dealing with a .zip, compressed folder tools appears, and when photos are selected, picture management tools appear. For now the Ribbon isn't mandatory, and the ability to collapse it up and retain valuable horizontal space should assuage the concerns of hopefully at least some of its critics.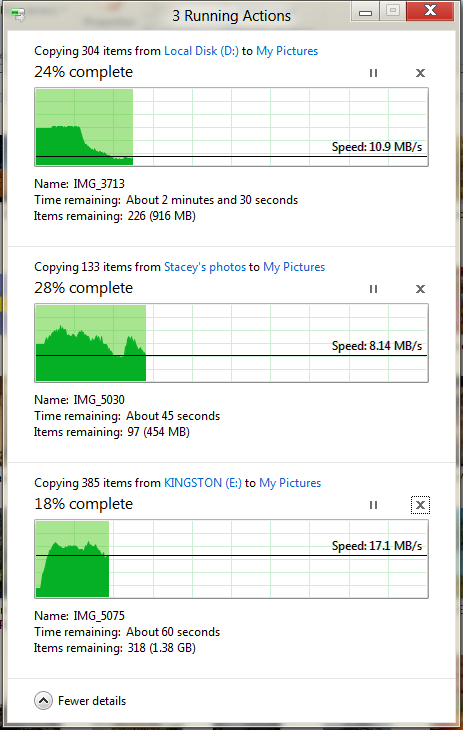 The next major explorer change is the new and improved file copy dialog, which gives an optional detailed graph of copy throughput, and the ability to pause, resume, or stop file copy actions. We've only just started using this build and need more time to really play with larger file copies, but thus far the functionality does work and is welcome.
Mobile Experience Side
Coming from the smartphone side of things, I really see many shades of WP7 inside Windows 8. That's actually dramatically understating the state of things - the core of what we've been shown of Windows 8 that's new literally is either adopted from or directly analogous to much of WP7.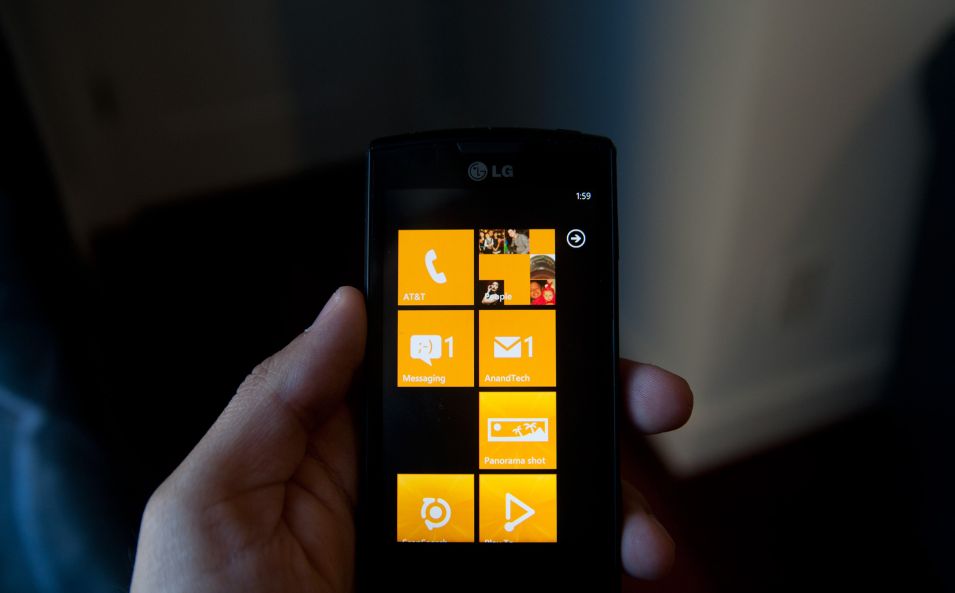 It doesn't come as a surprise to me at all that the desktop Windows experience is moving in this direction, (and it seems as though the Xbox 360 interface will follow shortly). The positive result is that Windows 8's touch experience feels much closer to the ground-up approach Android Honeycomb or iOS have taken than the than the "Tablet-Edition" versions of Windows XP and the tablet integration in Vista and 7. I used a UMPC and remember Origami and how that application lived as its own standalone mode of operation as an application within windows. What Windows 8 is the inverse - Windows now lives inside a Metro-themed Start screen that looks like WP7 for the desktop. Or at least it does in this demo we've been shown currently.
The tablet experience is now absolutely on par with modern mobile OSes - sure there are a few more things that need to be included, but the foundation is there for Windows to suddenly become more than an OS that also can do touch-based interaction.
IE 10
Microsoft has been actively promoting IE 10 since MIX 11, with two platform previews so far, and IE 10 is an integral part of Windows 8 both as a browser and as a runtime for HTML based Metro applications. We won't go into exacting detail about what's new and interesting inside IE10, beyond mentioning that it improves upon IE 9's GPU acceleration and improves web compliance support including CSS3. What's relevant in Windows 8 is that IE 10 gets two views - one belonging to the Metro-heavy start menu experience, which we'll call the mobile view, and the other belonging to the traditional desktop windows view.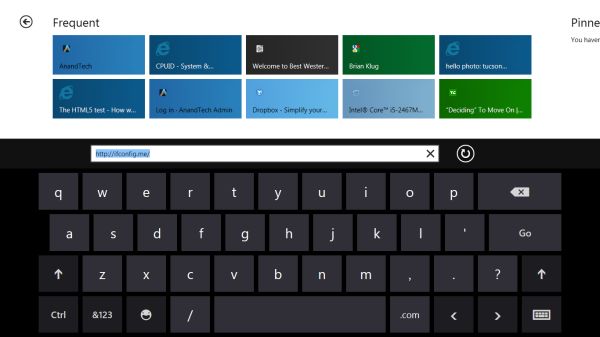 This dichotomy exists between the two IE10 experiences, which is in itself a bit curious. The mobile view is almost exactly what IE looks like inside Windows Phone 7.5 - at the bottom is the URL bar and controls, and with a slide down gesture, at the top are tabs. Meanwhile the IE10 desktop experience uses the older IE 9 UI. At this point, it doesn't appear that windows opened in one are transportable to the other.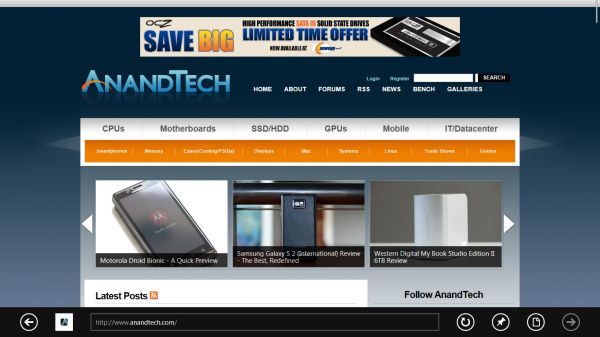 The mobile view is almost exactly like WP7.5's however, the URL bar disappears when scrolling, and the browser supports a completely fluid multitouch experience that feels speedy.
Cloud
Windows 8 offers considerable integration with Windows Live and SkyDrive. Local user accounts can be directly tied to a Live account on trusted PCs, and then be used for live roaming. Live roaming enables each connected device to access the same set of accounts for photos, email, calendar, and contacts and speed up initial setup. For example, photos captured on a WP7.5 device's camera roll can be immediately visible on a Windows 8 PC authenticated against the same Live account. This is very close to how camera roll will integrate into Apple's iCloud and synchronize across iOS and OS X Lion.
One thing is clear, and it's that Microsoft plans to heavily integrate and leverage its Live services into Windows 8 and provide an ecosystem-wide way to migrate accounts settings, photos, and data between mobile, tablet, and desktop.
Samsung's Reference Tablet
We've been loaned Samsung tablets running the Windows 8 Evaluation copy used for this article, and thought it bears going over since the device will no doubt become a reference platform for Windows 8 development. This hardware is also being given away to developers in attendance at BUILD as well.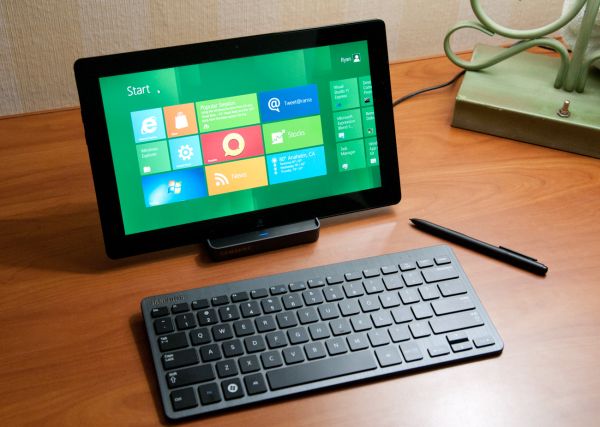 The Samsung tablet is none other than the 700T model announced at IFA very recently, and it packs a relatively impressive spec list.
Samsung 700T Windows 8 Development Notebook/Slate - Specifications
Processor
Intel Core i5-2467M
(2x1.6GHz + HT, 32nm, 3MB L3, 2.3GHz Turbo, 17W)
Chipset
Intel 6 series
Memory
4 GB DDR3 1333MHz RAM (1 SODIMM)
Graphics
Intel HD 3000
Display
11.6" Super PLS (1366x768)
Hard Drive
64 GB Samsung SSD
Networking
802.11n WiFi + Gigabit Ethernet + GSM/WCDMA HSPA+
Sensors
NFC, Magenetometer, Accelerometer, GPS, ALS, Front, Rear Camera
Dimensions
12.9 mm thick, 909 grams
The 700T includes GSM/WCDMA cellular connectivity courtesy of an Option GTM661W combination cellular modem and WiFi card. The GTM661W uses a Qualcomm MDM6200 baseband, which also provides GPS. There are also sensors such as ambient light, an accelerometer, and the two cameras onboard.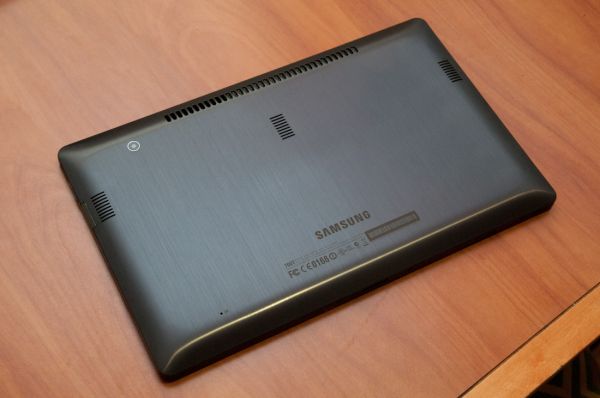 In addition, the 700T includes an active digitizer and capacitive touch display, making it suited for all three interaction modes that Windows 8 will support. The device comes with a dock that doubles as a charging stand, and also replicates full size HDMI, GigE, and a USB 2.0 port on the back. The slate has one USB 2.0 port, a headphone jack, microSD card slot, SIM slot, and a rotation lock button.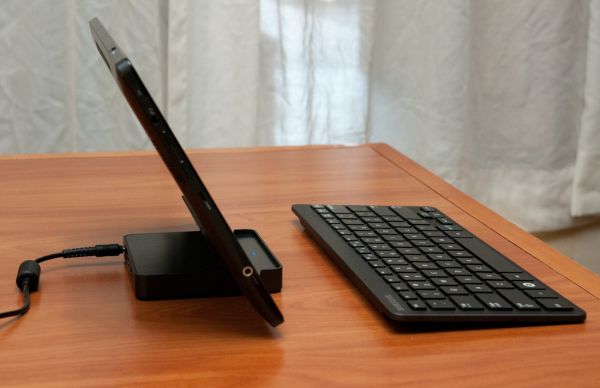 Samsung calls the 700T a slate, we've elected to call it a tablet, and the device feels decent if not a bit heavy in the hands. The 700T is also the first 16:9 tablet we've seen, with Android adopting 16:10 and iOS going with 4:3, which makes portrait a bit extreme.
Developing For Metro – WinRT: The Metro API
So far we've talked about Metro from the end-user perspective where indeed it is a style and a UI. But Metro isn't a way to display existing Windows application, it's what results from a new development model for writing applications. Metro, as the user sees it, is the result of the APIs and design guidelines developers follow in creating Metro applications.
With Windows 8 Microsoft will be introducing a new API: Windows RunTime (WinRT). Over the years much has been said about replacing Microsoft's long-lived Win32 API, with some success. The .Net Framework supersedes Win32 to some extent, but at the end of the day Win32 is still significantly used in one way or another by many developers. WinRT is the API that will replace Win32 for application developers, and is the API developers will need to use to develop for Metro.
WinRT in a nutshell is a combination of the elements needed to make Metro work, along with subsets of features from Win32, COM, .Net, and HTML5/CSS3. As with pure .Net applications, WinRT applications are meant to be architecture agnostic, and ideally Microsoft would like developers writing applications in runtime or interpreted languages such as C#, VB, HTML5/CSS/JavaScript, and even Silverlight. C and C++ will be able to access Metro too, although there's still some ambiguity about under which conditions those will be architecture agnostic. In any case WinRT – and thereby Metro – will be accessible from virtually every language Microsoft supports today in their Visual Studio IDE. And regardless of the underlying language, all Metro applications will behave like first-class applications.
With all of this talk about WinRT, Microsoft went through great lengths to reiterate that developers will continue to have access to older APIs for new applications and that Windows 8 will run everything that Windows 7 can run. This is both because traditional/desktop styled applications will not be going away any time soon, and because WinRT as it stands is for user-facing applications, not device drivers, services, or other backend code. In fact desktop applications will be supported indefinitely (look at how long support for 16bit Windows applications has continued to last), but Microsoft clearly wants developers developing for Metro whenever possible, and not for the desktop. For a great many applications this makes sense, but I'm not sure anyone really understands what this means for specialty applications like 3dsMax, Adobe Photoshop, and other workhorses that not only have large legacy codebases, but whose usage model doesn't easily flow with Metro.
To entice application developers to use WinRT and Metro, Microsoft will be using a carrot and a stick. The carrot will be the Windows Store, the stick is that non-Metro APIs will not be available for ARM. ARM is Metro-only from day one, and the Windows Store will be the enforcer (more on that later). So if developers wish to target both ARM and x86/x64 users, they will need to develop Metro applications.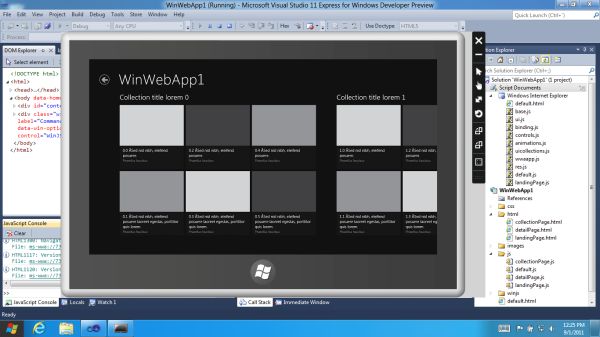 Developers working with Metro will be using Microsoft Visual Studio 2011, which like Windows 8 is in development and will be the first version of Visual Studio to support Metro. We won't spend too much time on Visual Studio, but it will provide development facilities for all of the languages Metro supports, including HTML/CSS/JavaScript. For UI programming Microsoft's Expression Blend 5 will play a big part, as XAML will be the UI markup language for most of the languages excluding HTML5/CSS.
The hard sell for Microsoft will begin tomorrow when the developers arrive. It's clear that Microsoft has attempted to structure WinRT to be familiar to existing Windows programmers, but developers are just as sheepish (if not more) than end-users when it comes to change. It will also be the beginning of the process where the development community figures out where desktop applications fit in amongst the new Metro order. Even if Microsoft can sell developers on Metro from day one, there's still a massive army of legacy machines – everything currently running Windows – that need to be factored in.
The Windows Store
As we mentioned previously, the Windows Store will be the Metro carrot for developers. At the same time it will be a significant change for end-users, double-so for Windows users who move to ARM.
Fundamentally the Windows Store is as you'd expect: it's Microsoft's rendition of the application stores we see on Mac OS X, iOS, Android, Ubuntu, etc. It will have a prominent place in Windows 8 (currently it's the 2nd tile) and Microsoft would be very happy if all of their developers distributed applications through it. For x86/x64 users it will be just another source of applications; Metro applications can be sold through it, while for Win32 applications it will act as a listing service directing users to the owner's website. For ARM users however the Windows Store will be the only place users can get applications from, thereby not only requiring they be Metro, but that the entire experience for ARM users will be a walled garden like iOS.
Unfortunately the Store is one of the few features Microsoft showed off during the press event that was not enabled on our tablet. Right now Microsoft is still working on what their content standards will be, a Terms of Service agreement, pricing/developer cuts, etc.
As it stands the store itself looks like functions exactly how you'd expect a Metro based application store to behave. The store will only be accepting and selling Metro applications, so non-Metro applications will continue to be installed via traditional methods.
The Windows Store alongside Metro's APIs will serve as a two-pronged approach for security for Microsoft. Metro applications will have a fine grained permissions system similar to Android, and as a result most applications will have even fewer rights than today's applications running with user level permissions, as applications will only be given the permissions they ask for and the user approves. Meanwhile the Store's content approval process will further weed out bad applications. As such we'd expect Microsoft's pitch to end-users to be something along this line: so long as you stay in the walled garden, you're guaranteed to be secure.
From an end-user perspective one big thing differentiating the Windows Store from Apple's Mac App Store is that Microsoft will also be allowing developers to offer time limited trials through the store, by building on top of Microsoft's existing DRM/licensing technologies. Along these lines Microsoft will also be offering the now obligatory ability to make in-application purchases, allowing developers to sell application features beyond just the application itself.
We're still waiting to see how software updates are handled, but at this point it's reasonable to expect that they will become part of the Windows Update process as low-priority updates.
The layout/categorization of the store hasn't been finalized, but it's going to be of great interest from developers and end-users alike thanks to its significant status on ARM devices. Microsoft has gained a lot of experience from the Xbox Live Store, and at the same time developers have gained a lot of experience living and dying by the Xbox Live Store. As it currently stands Microsoft will have a curated "Spotlight" category, while other categories such as "Games" will be semi-to-fully automated.
From a development standpoint Microsoft is pitching the Store not only as an easy to access storefront for their wares, but as a source of analytic/telemetry information. Developers will have access to sales data (including sales relative to category leaders), crash reports, certain usage statistics, and other types of information commonly seen in other application stores.
Finally for developers, Microsoft is also looking at what they can do to beat Apple when it comes to application submission and approval. The Windows Store will of course have content restrictions and technical requirements, and Microsoft is looking to capitalize on making those mechanisms transparent versus Apple's black box process. The Store's terms have not been finalized yet, but Microsoft is promising that they'll clearly outline what will be acceptable for the Store. For applications already submitted to the Store there will be a status page developers can access that will tell them which stage their application is currently at: pre-processing, security testing, technical compliance, content compliance, signing and publishing, and finally release. Microsoft's technical compliance requirements will be public, and developers will have access to the tools needed to test technical compliance ahead of time to confirm compliance before submitting it to Microsoft.
The Technical Side Of Windows 8
As we mentioned in the opening of this article, the single biggest addition to Windows 8 coming from Windows 7 will be Metro. Microsoft's last major overhaul of Windows' underpinnings was Windows Vista, and like Windows 7 before it, Microsoft is not looking to significantly alter the operation of the Windows kernel or related systems for Windows 8. With that said this doesn't mean that there aren't any technical changes that will ship with Windows 8.
Fundamentally Microsoft wants to keep the system requirements for Windows 8 the same as Windows 7, which means it needs to run (with varying definitions of "smoothly") on a 1GHz CPU paired with 1GB of RAM and a DX9 class GPU. Realistically as their published requirements stand there is one difference from Windows 7: Windows Display Driver Model (WDDM). Windows 7 would work with older XPDM drivers (albeit without any of the benefits of WDDM), however Windows 8 specifically mentions WDDM as a requirement. This makes sense given the greater reliance on the GPU for Metro, but it also means there are going to be some machines out there using very early DX9 GPUs (e.g. Intel GMA 900) that won't be able to run Windows 8 due to a lack of video drivers.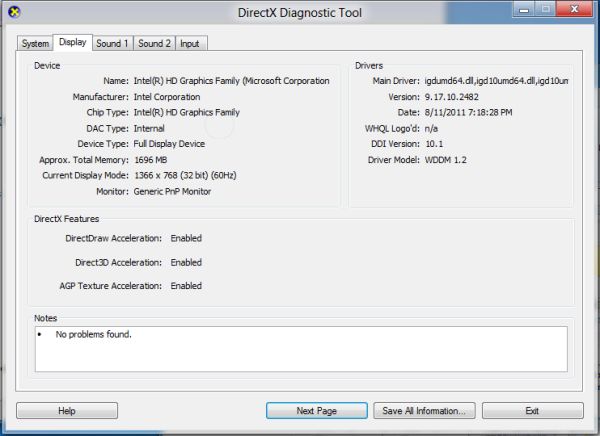 In any case the addition of ARM into the mix will be sure to spice things up., While Microsoft is optimizing Windows 8 to run on ARM CPUs there's a vast range of ARM CPUs, and this is the full version of Windows. Microsoft's current system requirements are easily discernable as x86 based, and we'd expect the ARM requirements to be fairly high to keep pace. Give the launch of quad core ARM SoCs later this year, it's likely that will be a popular pairing with Windows 8 when it launches.
On a final note about system requirements, while Microsoft isn't talking about specific versions of Windows 8 at this time, they've made it clear that x86 will live on for at least one more generation in order to fulfill their desire to have Windows 8 run on everything Windows 7 ran on. So x86 versions of Windows should be expected.
Moving on, as this was a press session as opposed to a technical session, Microsoft was a bit light on the details. We're expecting quite a bit more in the next couple of days, but for the moment we've only been briefed on a few user-facing technologies that are new to Windows 8.
On the hardcore side of things, Microsoft has added a few tricks to Windows in order to keep memory usage from growing and to make the OS better suited for tablets. On the memory side they have added Page Combining, which will combine duplicate memory pages into a single page. This is primarily to reduce the overhead from multiple applications all having copies of the same shared resource by having applications outright share that resource's memory pages. Page Combining will primarily be a tool for reclaiming memory when memory usage is approaching critical levels.
For making the OS better suited for tablet hardware, Microsoft has focused on small changes that can help the hardware sleep longer and wake up less often. Coalescing system timers and a dynamic tick mechanism are two such features that will be coming to Windows 8 (unfortunately we don't have any more details on their function at this time). Meanwhile Metro will play a big part in making Windows tablet friendly, as Metro applications will be designed from the start to be able to handle phone/tablet style process management. This is to say that discarded applications will continue to stay open as a background application, having all of their memory pages intact but unable to schedule CPU time so long as they're a background application. They'll remain in this state until the OS decides to evict them, at which point they need to be able to gracefully shut down and resume when the user re-launches the application. Internally Microsoft calls this freezing and rehydrating an application.
The Technical Side Of Windows 8: Cont
Moving up the chain, Microsoft has added a number of base class drivers for hardware in Windows 8. This includes not only USB 3, but also class drivers for mobile broadband radios, sensors, and even printers. For printers this means Windows 8 can print to roughly 70% of all Windows 7 certified printers without an additional driver, which is nearly a necessity for Windows 8 as an ARM tablet OS, as drivers may not be available and tracking down a driver flies in the face of the modern pre-configured OS model for tablets.
For mobile broadband things are a bit more interesting. With this addition mobile broadband is being promoted to a first class connectivity option, right up there with Wi-Fi and Ethernet. Mobile broadband hardware can then be integrated into a laptop or a tablet or added via a dongle without requiring a driver or a complex dialer/manager application. Managers will still exist in a lesser form as a Metro application; Microsoft included one such example with the tablet we tested, which had a working AT&T 3G modem and its associated management application.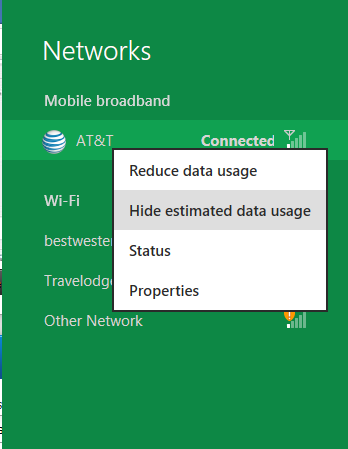 Windows 8 will also be aware of the limitations of mobile broadband connections, with an emphasis in usage caps. Given appropriate information by the ISP Windows 8 knows to halt background download processes (e.g. Windows Update, weather updates, RSS) to keep them from consuming valuable bits, and to notify the user if the device is approaching the cap and would be subject to overages. Along these lines Windows 8 also knows to switch to another source (i.e. Wi-Fi) when it's available to avoid using up those metered bits.
We've mentioned permissions before when talking about the Windows Store, but it seems prudent to mention it again. For Metro applications Windows 8 will have a more fine grained permissions model than existing low/user/admin level privileges, by implementing Android style permissions. Metro applications will only be able to access the resources and data they were approved for, reducing the ability for a compromised application to be used as a launch pad for further attacks.
Our next stop on our look at the technical details for Windows 8 is the boot process. Microsoft put up an interesting blog last week discussing Windows 8's new boot process, which was reiterated here – Windows 8 boots up much faster than Windows 7 thanks to the fact that only user processes are shut down, meanwhile the kernel is hibernated rather than shut down, shaving off a lot of time that would be needed to reload the kernel from a fresh boot. Realistically you need a motherboard with a very fast POSTing sequence, which means this is best paired with UEFI-based OEM boards. Certainly self-built systems will improve too, but we would not expect by as much.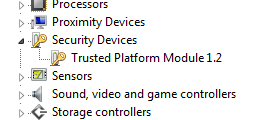 The other new fact discussed about the Windows 8 boot process was that Microsoft is making another push to secure it through chain of trust hardware (presumably a TPM module), this time under the name Secure Boot. Utilizing the chain when available, if Windows 8 detects that a boot component has been modified it will fail the boot and kick over to the Windows Recovery Environment to restore the OS to a fixed state. With ARM devices (and even most PC tablets) the use of this feature will be a given, but obviously TPM hardware is much rarer on laptops and desktops.
Windows' anti-malware features will also be making an appearance in the boot process. Windows Defender (which now includes Microsoft Security Essentials) now loads immediately after the critical boot components are loaded, allowing Defender to check everything that wasn't protected by the Secure Boot process above.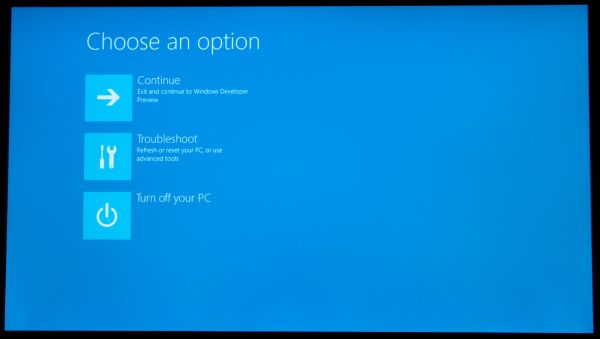 Finally when it comes to booting, the last bastion of the CLI in the Windows boot process is gone. The F8 menu has been replaced with a GUI based Windows Recovery Environment. The WRE goes hand in hand with two other recovery features: Refresh and Reset.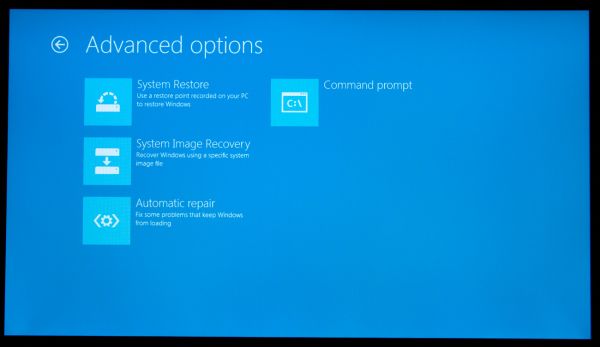 Reset is a Windows-based implementation of OEM OS recovery partitions: when Reset is triggered, the entire system is overwritten by the restoration copy. As for Refresh it's a bit more nebulous; it's apparently a new implementation of Windows' existing Last Known Good Configuration, allowing users to revert anything crapware may have done. But we don't have the full details on its underpinnings at this time.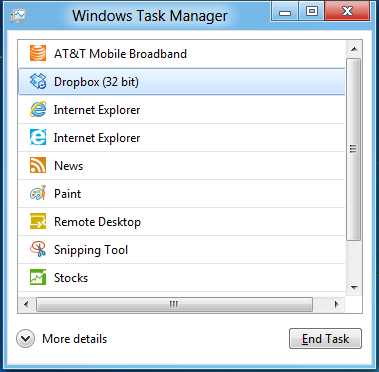 Last, but certainly not least we have the Task Manager. Other than a couple of minor changes with Windows Vista the Task Manager has remained nearly unchanged for years, so of course Microsoft has gone ahead and overhauled it. By default the new Task Manager is extremely simplified and only lists running user applications, thereby ensuring users only close applications and not background processes and such by mistake.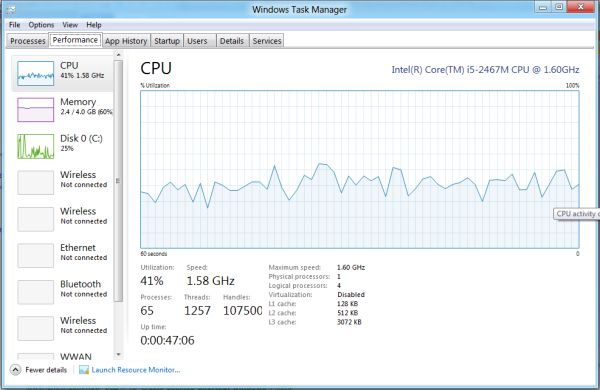 In detailed most the Task Manager takes on a more traditional appearance, giving you greater details about all of the running processes (including breaking them down by application or background process), but also a number of new performance metrics (largely taken from Windows 7's performance monitor), and even an over-time breakdown of the resource usage of all of the system's installed Metro applications. Interestingly the Task Manager itself is not strictly Metro, but rather a desktop application that doesn't require the desktop environment to be loaded.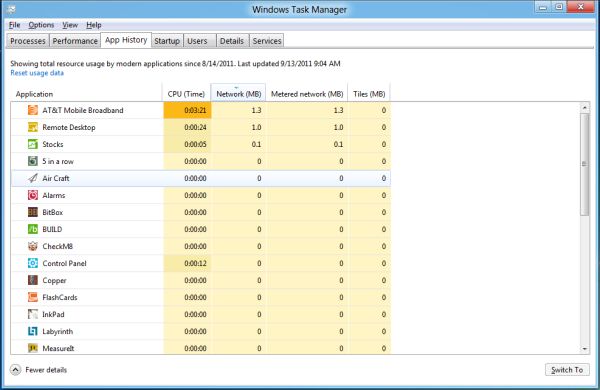 The Desktop User Experience & Business Use
While we're primarily focusing on Windows 8 as a tablet OS since the hardware we used was a tablet, we also wanted to evaluate it some as a desktop OS. As the sample tablet was compatible with Bluetooth peripherals, we were able to pull out a BT keyboard and mouse and use it like a traditional laptop/desktop environment. With that said I'd like to preface our impressions with the following: as it stands Windows 8 is clearly focused on tablets first and Microsoft's presentation was equally tablet focused, and it's almost certain the experience will change before Windows 8 ships.
Overall Windows 8 is extremely jarring right now from a desktop user perspective. Metro is the Windows shell, no ifs ands or butts. Metro applications can only be accessed through the Metro shell (i.e. the Start Screen), and the Metro shell is always what the tablet will boot up into. Explorer as we know it is the Metro shell – if you kill it, you kill Metro shell with it – so at this time it's not possible to boot up into the traditional Windows desktop. Even if you could, the Start Menu is gone, replaced with Metro charms.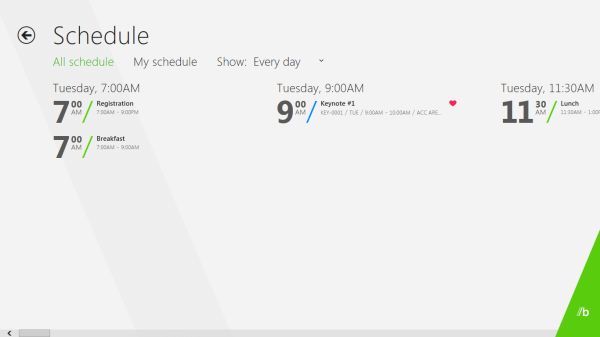 So what we're really evaluating is the ability to use the Metro shell and Metro applications with a mouse. For all the good Microsoft has done implementing multi-touch, the mouse has clearly suffered as it currently stands. Click & drag does not operate the same as tap & drag, which creates some oddities when you want to scroll around. In fact scrolling is probably the biggest oversight right now, as the Metro style dictates applications are laid out left-to-right rather than top-to-bottom. The mouse wheel will (slowly) scroll through tiles on the Start Screen, but in other places such as the Microsoft BUILD application the mouse wheel is useless. In its place you have to drag a scroll bar around, which is about as fun as it was prior to mice coming with a wheel.
Internet Explorer is particularly weird. Because it takes the full screen approach there isn't a menu bar to speak of, and the tabs and URL bar are hidden. Invoking them requires right-clicking, with right-clicking pulling double duty as a way to open a link in a new tab and invoking the various bars. This also means that right-clicking for other purposes (e.g. View Source, etc) are unavailable.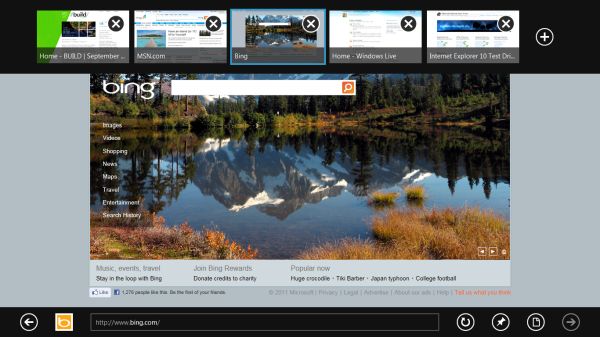 The good news is that most of the traditional keyboard shortcuts still work, including Alt-Tab, WinKey + D, WinKey + E, and Ctrl-Alt-Esc. You can even Alt-Tab between launched Metro applications. The Start Menu search bar is also faithfully replicated on the Start Screen, so when you start typing Windows 8 will start narrowing down results of things to open. So overall keyboard users maintain much of their advantage in quickly executing applications. At the same time we've encountered fields that we can't tab to, so not everything is working as it should.
While we've only had a short period of time work play with Windows 8 with a mouse and keyboard, at this point in time there's not a lot to say that's positive. Metro works well as a tablet interface, but with a mouse and keyboard it's like using a tablet with a mouse and keyboard. Hopefully Microsoft will have a more suitable mouse & keyboard control scheme ready to go for Windows 8 farther down the line.
Windows 8 the Business OS
So far Microsoft has been focused on the consumer side of Windows 8, but business users won't be left out in the cold. Windows 8 will also be the basis of a new version of Windows Server (also using Metro), and Windows 8 clients will have some new features.
The business additions announced so far for Windows 8 revolve around Remote Desktop and Hyper-V. Windows 8 Remote Desktop includes proper support for multi-touch controls, so tablets and other touch devices will be able to RDP into other machines and correctly interact with them. Meanwhile Windows 8 will add support for Hyper-V (previously it was Server-only), allowing Windows clients to spawn virtualized instances of Windows through the Hyper-V hypervisor.
Microsoft also used their discussion on the business side of Windows 8 to announce that Windows 8 will support installation onto and booting off of a USB drive, allowing business users to carry their copy of Windows with them. This has been a repeatedly requested feature for many years from more than just business users, so hopefully it will be everything everyone has always wanted.
First Thoughts
With under a day to see, play with, and write about the Windows 8 pre-beta it's hard to fully digest what we've seen and to come up with a meaningful opinion. With Microsoft it's a safe bet that there's more to be seen when they're still this far away from shipping the final product.
For a tablet-focused event I don't think you will find much disagreement that Microsoft has hit the mark with Metro. Metro feels like it belongs when used with a tablet – it's smooth, it's easy to use, it's gesture-driven, and it's finger-friendly. Virtually everything Windows Phone 7 did well as a touch screen OS has been ported over to Metro and it shows.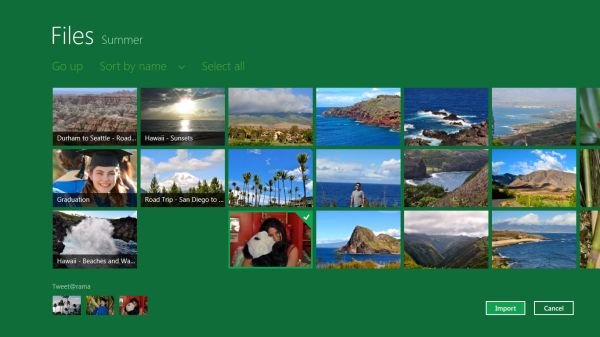 The converse of that is that Metro feels awkward and out of place when used with a mouse and keyboard as a laptop/desktop. It fails to take advantage of the precision of the mouse or the fact that not everything needs to be in size 28 font when sitting down to use a computer. At this moment it feels like trying to use a tablet with a mouse and keyboard, which isn't far off from what it really is in the first place.
The underpinnings look interesting, but there's still a great deal left to see such as DirectX 11.1 and WDDM 1.2. I believe that in the long run the class driver additions will help further simplify using Windows, and integrating Microsoft Security Essentials into the OS is a long overdue change. At the same time if nothing else Metro will go even farther to improve security thanks to the fine grained permissions system.
Ultimately this is just the beginning, in fact it's the beginning of a beginning. Windows 8 is still at least a year off – Microsoft isn't even close to committing to a date – and the pre-beta is pre-beta in every sense of the word. The real fight starts today when Microsoft pitches it to developers. Because so much rides on Metro, Microsoft needs to convince developers to start writing Metro applications, otherwise most of the work Microsoft has put into Windows 8 will languish. Microsoft looks to have the tools their developers need, but will it be enough? Perhaps this is what BUILD is meant to find out.
Stay tuned as we'll have more from BUILD this week, including coverage of today's opening keynote.