Original Link: http://www.anandtech.com/show/4705/amds-trinity-officially-branded-as-radeon-hd-7000-products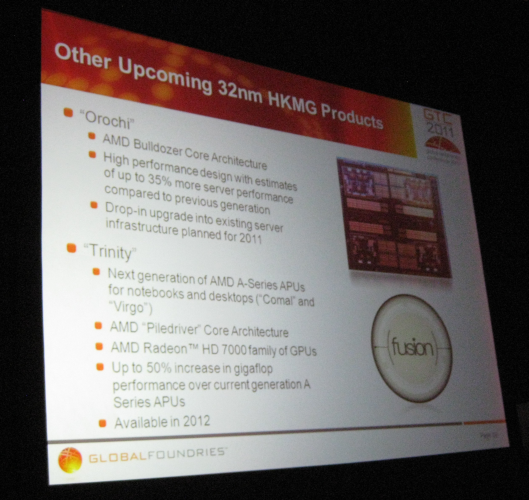 It's not a surprise, but nevertheless: AMD's next APU will feature a GPU branded the AMD Radeon HD 7000 series, as indicated by a GlobalFoundries slide shown in a presentation today.
The slide specifically references the upcoming Trinity APUs, 32nm parts that are slated to replace current Llano A-series APUs when they're released in 2012. AMD says that Trinity APUs should outperform Llano APUs by about 50 percent (at least, when measured in teraflops).
Like the existing Radeon HD 6000 series, the 7000 series will eventually include both on-board APU graphics and more traditional dedicated graphics cards - these dedicated GPUs are currently codenamed Southern Islands, and are expected to be manufactured on a 28nm process.
Source: Fudzilla