Original Link: http://www.anandtech.com/show/4649/mythlogic-pollux-1400-clevos-w150hr-tested


Meet the MYTHLOGIC Pollux 1400, aka Clevo W150HR
Today we get to meet a newcomer to our laptop reviews. MYTHLOGIC (yes, the name is supposed to be in all caps) is one of several boutique computer vendors that sells rebranded whitebook notebooks, along with companies like AVADirect, Sager, and Eurocom to name just a few (Eurocom is probably supposed to be all caps as well). MYTHLOGIC sells customized desktops as well, but today we're looking at their Pollux 1400 notebook. One thing you can always say about Clevo designs: they're distinct. We've reviewed plenty of Clevo models over the years, and even without knowing the ODM it would be obvious that this is a Clevo. The keyboard is the first giveaway, but superficially the W150HR looks almost like the P150/P151 we've looked at this year. When you start delving a little deeper, though, there are plenty of differences. First, let's hit the spec sheet.
MYTHLOGIC Pollux 1400 Specifications
Processor
Intel Core i3-2310M (dual-core 2.10, 35W)
Intel Core i5-2520M (dual-core 2.50-3.20GHz, 35W)
Intel Core i5-2540M (dual-core 2.60-3.30GHz, 35W)
Intel Core i7-2620M (dual-core 2.70-3.40GHz, 35W)
Intel Core i7-2630QM (quad-core 2.00-2.90GHz, 45W)
Intel Core i7-2720QM (quad-core 2.20-3.30GHz, 45W)
Intel Core i7-2820QM (quad-core 2.30-3.40GHz, 45W)
Chipset
Intel HM65
Memory
2x1GB DDR3-1600 (Patriot)
2x2GB DDR3-1600 (Patriot)
1x4GB + 1x2GB DDR3-1600 (Patriot)
2x4GB DDR3-1600 (CL9)(Patriot)2x2GB DDR3-1866 (Kingston HyperX)
2x4GB DDR3-1866 (Kingston HyperX)
2x8GB DDR3-1333 (Samsung)
Graphics
NVIDIA GeForce GTX 540M 1GB DDR3 Optimus
NVIDIA GeForce GTX 555M 2GB DDR3 Optimus
144 SPs, 590/1180/1800MHz Core/Shader/RAM clocks
Display
15.6" LED Glossy 16:9 1080p (1920x1080)
15.6" LED Glossy 16:9 1080p 95% NTSC Gamut
15.6" LED Anti-Glare 16:9 1080p 95% NTSC Gamut
(AU Optronics B156HW1-v4)
Hard Drive(s)
250, 320, 500, 640, 750GB 7200RPM HDD
1TB 5400RPM HDD
40 to 600GB SSDs from various vendors

120GB Intel 510 SSD
(Intel SSDSC2MH120A2)
Optical Drive
2nd HDD/SSD via caddy (See above list)

8X Tray-Load DVDRW (TSST Corp TS-L633F)
8X Slot-Load DVDRW
Blu-ray Reader/DVDRW Combo
Blu-ray Writer/DVDRW
Networking
Gigabit Ethernet (JMicron JMC250)
Intel Advanced-N 6230 (No Longer Available)
802.11n WiFi (Killer Wireless-N 1102)
802.11n WiFi (Killer Wireless-N 1103)
Audio
Realtek ALC269
Stereo Speakers + THX TruStudio Pro
Three audio jacks (Microphone, Headphone, Line-Out)
Capable of 5.1 digital output (HDMI/SPDIF)
Battery
6-Cell, 11.1V, 5.6Ah, 62Wh
Front Side
N/A
Left Side
Memory Card Reader
2 x USB 3.0
1 x USB 2.0
1 x USB 2.0/eSATA Combo
HDMI
Gigabit Ethernet
VGA
Exhaust vent
Right Side
Headphone/Microphone/ Line-Out
1 x USB 2.0
Optical Drive
Back Side
Kensington Lock
AC Power
Operating System
Windows 7 Home Premium 64-bit
Dimensions
14.72" x 9.84" x 0.98-1.46" (WxDxH)
374mm x 250mm x 25-37mm
Weight
5.73 lbs / 2.60kg (with 6-cell battery)
Extras
2MP Webcam
Flash reader (SD, MMC, MS)
Fingerprint Scanner
98-Key keyboard with 10-key
Warranty
4-year labor warranty
1-year parts warranty
Life-time technical support
Up to 3-year extended warranty available
Pricing
Starting Price: $1000 (4GB + 500GB HDD)
Price as configured: $1637
There are plenty of configuration options available, and we've bolded the components in our test units. Yes, that's plural "units"—we tested Bigfoot's Killer Wireless-N 1102 recently, with a competing Intel Advanced-N 6230 in an otherwise identical notebook. MYTHLOGIC teamed up with Bigfoot to get us the test hardware, and while performance in most areas is the same, wireless performance and battery life are potentially different. We'll get to that later, but let's run through the other specs
Starting with the CPU, we've got what is arguably the most cost-effective high performance Sandy Bridge offering in the i7-2720QM. Depending on the task, the 2720QM ends up anywhere from 10 to 20% faster than the i7-2630QM, thanks to a higher base clock and more aggressive Turbo Boost modes. There's nothing wrong with the 2630QM, of course, and you can shave $25 off the price if you're willing to downgrade that component. The next step up, the i7-2820QM, is another 5-10% faster for a $205 increase, which is why we see so many 2630QM and 2720QM notebooks—and we have yet to test anything with the i7-2920XM; hardly a surprise given the $1000 price tag. The GPU is no slouch either; while the GT 555M 2GB card can't keep up with the GTX 560M, it's still a healthy upgrade from the next step down, the GT 540M. Also note that this is the DDR3 version, thank-you-very-much; we wouldn't want the castrated GDDR5 version that's really just a higher clocked GT 540M with more memory bandwidth..
With a fast CPU and a decent GPU, you'll want good components elsewhere and MYTHLOGIC doesn't disappoint. Storage comes courtesy of Intel's 120GB 510 SSD, and what it lacks in capacity it makes up for with impressive performance. For maximum performance you would want a 240GB SandForce 2200 25nm SSD, or potentially a 120GB SF-2200 with 34nm NAND, but the jump from an HDD to any modern SSD is so significant that the differences between SSDs pale in comparison. There's also a healthy 8GB of DDR3 memory, a couple USB 3.0 ports, eSATA, and all the other modern conveniences you might want (other than Firewire).
And how about the display options: 1080p all around, but you get to choose between a standard 1080p glossy display, or you can pay $120 more and get a 95% NTSC gamut in either glossy or matte finish. I'm a sucker for matte panels, and outside of IPS-equipped laptops like HP's DreamColor EliteBooks, this is this best laptop LCD I can recall using. You do get some oversaturation with sRGB content, so outside of imaging professionals the default LCD might be better, but I'd rather get oversaturation and matte than undersaturation and glossy.
Needless to say, with a loadout like our test units, the price ends up being pretty steep. As configured the MYTHLOGIC Pollux 1400 checks in at $1637 (with a free Bluetooth upgrade)—$240 of that goes to the SSD. It's reasonable for the components you get, but we're definitely not in the mainstream market anymore. The starting price for a base Pollux 1400 (i5-2520M, GT 540M 1GB, 4GB RAM, 500GB 7200RPM HDD, and a glossy 1080p LCD) is a far more palatable $1000, but then such a notebook won't be as fast or as snappy as our test system. Checking out other similar vendors, MYTHLOGIC's pricing is right for the Clevo W150HR—AVADirect's W150HR costs $1600 but without Bluetooth, making it an ever so slightly less expensive option (Bluetooth adapters usually go for around $20); Sager's NP5165 comes out to $1639 with Intel's Advanced-N 6230 wireless card, and Eurocom is at $1717 USD for an identical setup. Alienware's M14x lacks a 120GB SSD option, but with a 750GB HDD and otherwise similar specs (and a lesser LCD, though it's not bad), you'll pay around $1700—so around $1850 if you do the 120GB Intel 510 SSD upgrade on your own.
It's difficult for us to rate customer service, but MYTHLOGIC's support page shows they provide reasonable contact and help options. They've got a perfect score on ResellerRatings.com, but unfortunately they only have 17 lifetime reviews, most within the past five months. The company has apparently been around since 1999, and with our experience in chatting with them throughout the process of the Bigfoot and this laptop review showed that they were very knowledgeable and eager to help out. If you're in the market for a notebook like the Clevo W150HR, they're certainly worth a look.
Clevo W150HR: Like the Clevo P150/P151, Only Thinner and Lighter
Okay, let's not get carried away: this is not a thin and light laptop by any stretch. However, it's also not as bulky as the Clevo P15x laptops. At first encounter, they look strikingly similar, but when you start focusing on the details there are plenty of changes. Obviously, Optimus support is one change, though that shouldn't require any major reworking of the motherboard. The bigger changes come in the areas of chassis layout and cooling.
We've got a few shots of the P151HM and W150HR together in the gallery below, and the most notable change is that the two exhaust ports on the rear of the P15x are gone, replaced by a single exhaust to the left. The chassis is also slightly smaller/thinner and weighs about a pound less. The reduced size and weight of the laptop means that the 55W i7-2920XM CPU is no longer an option, and the GPU tops out at the GT 555M we're testing—as opposed to the GTX mobile parts offered in the P15x models. Obviously the lion's share of the weight loss comes from the removal of one large HSF (heatsink + fan). With one less HSF and a less power hungry GPU, noise levels are down as well.
The overall shape of the chassis is less wedge-like than the P15x, and the overall design works well in our testing. Note that the original laptops we received for testing come with a glossy cover and LCD bezel; we asked MYTHLOGIC about this and they informed us they have switched to a matte cover, though the glossy LCD bezel remains. (Why, Clevo, WHY!?) That glossy bezel probably works well with the glossy LCD options, but there needs to be a matte bezel for the matte LCD upgrade. The palm rest looks like brushed aluminum, but it's actually just a textured plastic; still, it does a good job at not picking up fingerprints (unless you have really greasy hands). MYTHLOGIC sent us some pictures of the matte cover as well, which we've included at the end of the above gallery.
Our complaints against the Clevo keyboard remain. I've covered this so many times that I'm simply going to quote what I said on the P150HM review:
Perhaps the most egregious flaw is the keyboard layout. I've gone off on this in the past, but every new Clevo system seems to continue the trend, so let's be a more specific. We've still got the all-but-useless number keypad on the right, with the small-sized enter key where the decimal point belongs. Plus and minus are moved up top with the decimal point, which is where numlock, divide, and multiply should be. The zero key is half-sized and overlaps with the right cursor key, and finally there's an extra row up top where the divide and multiply now sit. It makes the inclusion of the number keypad pointless for any touch 10-key typists.
If you move to the cursor keys, you'll find that once again there's no dedicated PgUp/PgDn/Home/End present if you're using the number keypad. Instead, you have to use Fn+Cursor combinations to those shortcuts, and as someone that uses them all the time I find this highly annoying. The simplest solution for me was to eschew the use of Numlock and just use the 10-key for faster access to the other keys; besides, I can input numbers just as fast using the regular number keys as I can with the mangled 10-kay area. Given that there's easily an inch of space Clevo could recover from the left and right of the keyboard area, why they can't just ditch their tried-and-terrible layout and add put in a proper 10-key layout is beyond me.
I will say that I've grown slightly more accustomed to using Fn+Cursor to access Home/End/PgUp/PgDn (thanks to using Dell's XPS 15z, whose layout is actually worse in my book than the XPS 15). I'd still prefer no 10-key with a column of document navigation keys to what Clevo has right now, but if you use the laptop long enough, you might get used to it—though I have yet to adapt to using their 10-key, given so many of the keys are in the "wrong" places.
Outside of the keyboard and gloss gripes, I don't have too many major complaints. In the minor complaints division, however, the chassis is pretty much all plastic, which means it doesn't provide me with a sense of solidity found in something like a ThinkPad T-series or Dell Latitude. Long-term, I suspect the chassis will start to feel a bit loose and creak when handled, but the same goes for most consumer laptops. The battery life also fails to meet expectations; clearly Clevo could do more work to optimize power use when unplugged. For reference, at idle running off the 62Wh battery, the W150HR draws around 14.4W; that goes up against Dell's XPS 15 at ~9.6W and Alienware's M14x at 9.7W, and even the large 17" Toshiba Qosmio X775 with a GTX 560M (Optimus) only draws ~10W. With Optimus, the GPU shouldn't even be a factor for this test, so somewhere in the motherboard and other circuitry Clevo appears to be sucking down 40% more power at idle than competing solutions.
Speaking of the GPU, I also have a concern there. Yes, this is NVIDIA's single name menagerie. There are at least three different GT 555M configurations I'm aware of, and they're all different enough to make it important to know what exactly you're getting. At the top of the GT 555M performance heap is the 192-bit DDR3 model with 144 CUDA cores. That's what we tested in the Alienware M14x, and even though the 3GB VRAM is excessive, performance is at least good. At the opposite end of the spectrum is the GDDR5 version with 96 CUDA cores, but only 16 TMUs and 4 ROPs (vs. 24 TMUs and 16 ROPs). It has more memory bandwidth but the castrated ROPs is a bad joke—stay away from this model! And just to make things exciting, there's a third version with a 128-bit memory interface but with 144 CUDA cores. That's what we have in the W150HR: 2GB instead of 3GB and 2/3 the memory bandwidth. 3GB VRAM for a midrange GPU is overkill, but the extra 64-bit memory interface certainly has potential to help, so we'll have to see how the M14x compares with this W150HR GPU.
In the face of all these criticisms, the W150HR does offer one trump card: the LCD. I've looked at a lot of laptop LCDs over the years, and short of IPS panels (e.g. HP DreamColor), this is the best looking LCD I've encountered. It's at the top of the TN panel heap, and being able to get it in matte or glossy depending on your personal preference is merely icing on the cake. The model number is B156HW01 v4 from AU Optronics, and you can get the same panel in Lenovo's W510/W520. I've seen the AUO B156HW01 glossy in the Dell XPS 15, which appears to be the same as the 95% NTSC glossy panel. (We've also tested the B156HW01 v1, which is the matte in the P150/P151 and it doesn't have a high color gamut, and the v6, which is frankly terrible by comparison.) It's true that the high gamut can make some sRGB content look oversaturated, but I prefer that to the washed out look of the <50% NTSC displays that most other laptops use. Incidentally, the Lenovo W520 with similar components and a Quadro 2000M will set you back two large; I'd actually be inclined to make that upgrade if I were in the market, but $350 extra for build quality and a slightly faster GPU definitely isn't chump change.
Overall, the Pollux 1400 is an amazingly snappy system, but any laptop with a good SSD and a 2720QM CPU should offer a similar experience. The price is reasonable, the features are all there, and MYTHLOGIC offers a wealth of customizations. Before we come to a final verdict, let's hit the benchmarks and see just where the Pollux/Clevo W150HR stands relative to the competition.
I7 Quad-Core + SSD FTW
Starting with our application results, we should see some amazing results. We know Sandy Bridge quad-core chips are fast, and the i7-2720QM is a moderate step up from the entry level i7-2630QM. Combine that with Intel's 510 SSD—even in 120GB form—and you have a very speedy system. The POST time of 7 seconds on the W150HR could be better, but once Windows 7 starts loading it takes all of 15 seconds to hit the desktop (or 10 seconds to resume from hibernate). With NVIDIA's Optimus, you also have full access to Intel's Quick Sync technology while still being able to run graphically intensive games.
That last point brings us to an interesting topic. We've noted in the past that PCMark 7 appears to use Intel's Quick Sync for some tests, and it seriously boosts the result in the Creativity and Computation suites. By default, however, NVIDIA's Optimus Technology recognizes PCMark 7 and runs it on the dGPU, which results in potentially lower performance. To get around this, we ran PCMark 7 in two modes: once on the GT 555M dGPU and once on the HD 3000 IGP. The overall score isn't affected that much, but you can see how much it helps in the Creativity and Computation suites.
If you're wondering what exactly is involved in the various PCMark 7 suites, we recommend looking at the whitepaper. The overall workload is generally lightweight, aiming to simulate a "real-world" experience. To that end, the use of an SSD can have a major impact on performance. Dustin and I feel the benchmark skews too heavily toward SSDs, but Anand feels it's a better representation of the real world—after all, an SSD will usually be a couple of orders of magnitude faster than an HDD. Then again, that's only in purely random workloads, sustained for a lengthy period of time, which is why I tend to feel an SSD should be more like a ~25% increase in overall "usefulness" for a PC. With that out of the way, here are the results for PCMark 7. I can't say the benchmark is perfect, but coming up with something that is certifiably better in all ways is very difficult, which is why we use the results along with testing things like x264 encoding performance.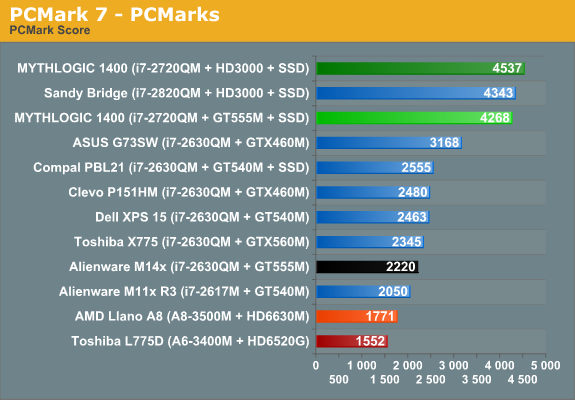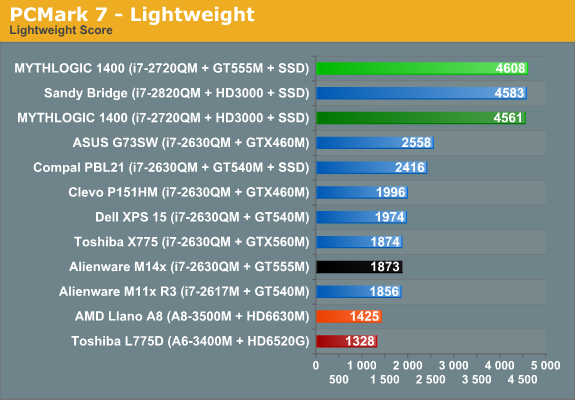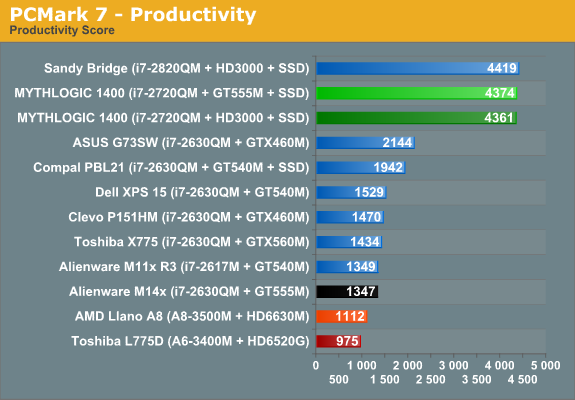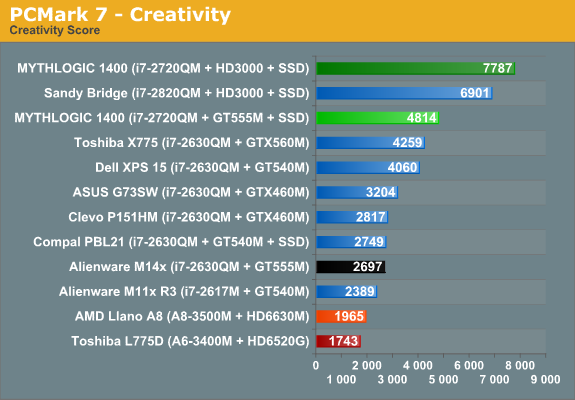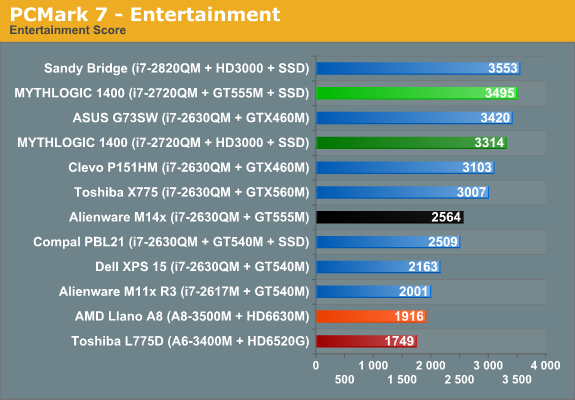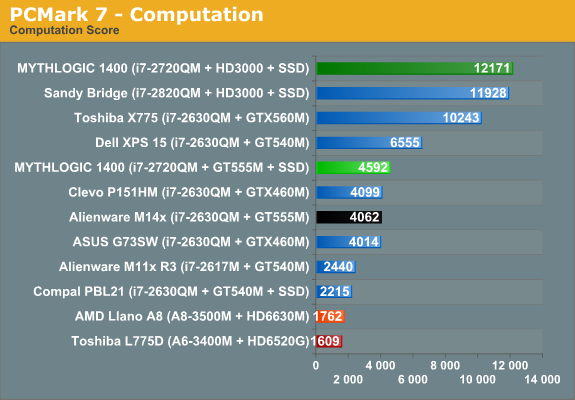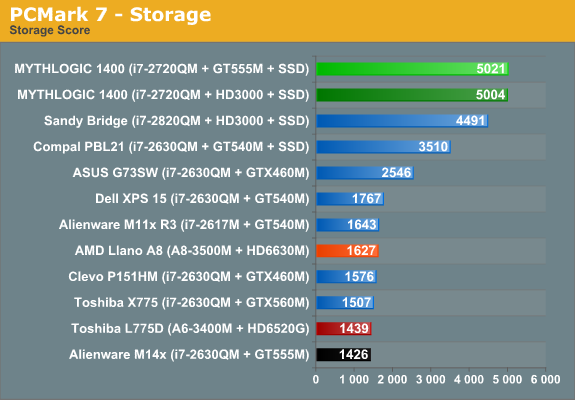 As expected, the MYTHLOGIC Pollux 1400 puts in a great showing. Most of the tests end up slightly faster running on the dGPU, but the Creativity score (which does some video transcoding) is boosted 62% running on the IGP, and the Computation test (which includes video downscaling and a high quality transcode) is 165% faster with the IGP. Those gains might seem unreasonable if you haven't used Quick Sync; our earlier testing showed that transcoding an HD video with Quick Sync could be done over three times faster than on the CPU, and nearly twice as fast as with a GTX 460M. Throw in an SSD, and nearly every suite shows dramatically improved performance, but that's because every suite (except for Computation) includes a storage element. As such, the results seen here are absolutely valid, provided you understand what is being tested. If you never transcode videos, the "Computation" suite doesn't mean much, and if you're not hitting your HDD/SSD a lot (e.g. just surfing the web), an SSD likely won't double your pleasure, fun, or anything else. That's why we again refer you to the PCMark 7 whitepaper.
PCMark Vantage echoes the results of PCMark 7, which is understandable if you look at the PCMark Vantage whitepaper (many of the tests are similar to PCM7 in nature, only without Quick Sync support). The remaining tests focus almost exclusively on the CPU.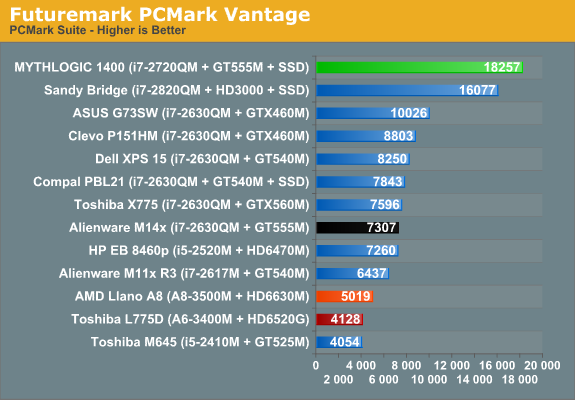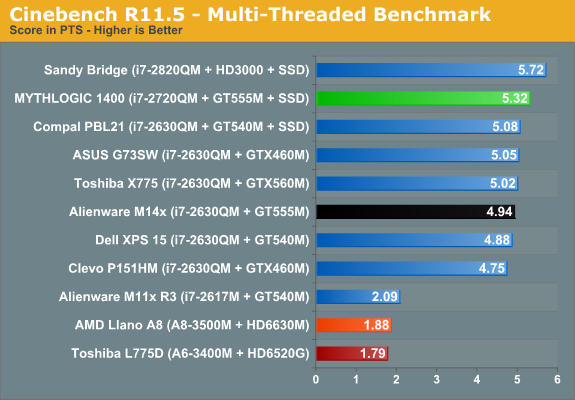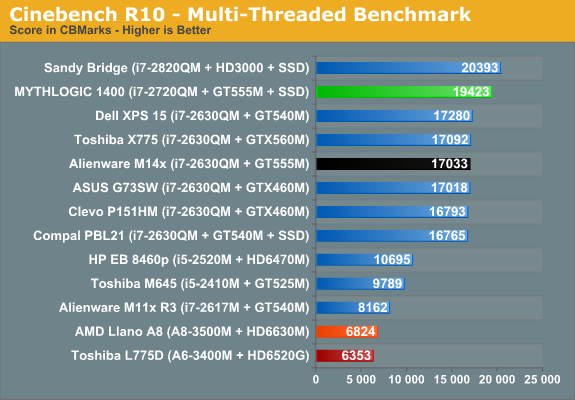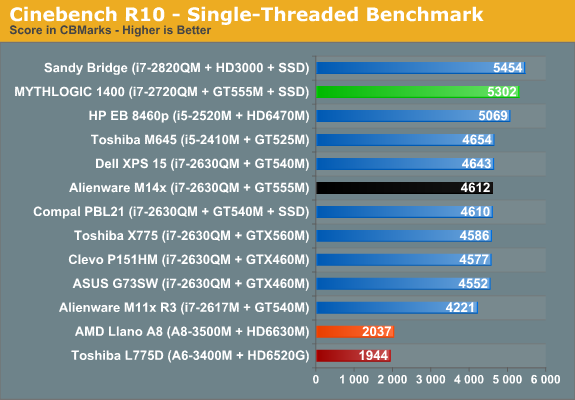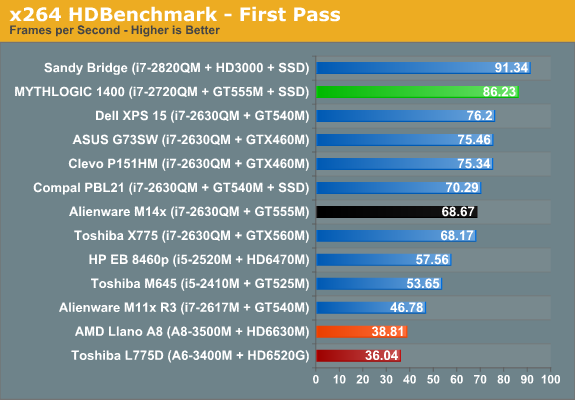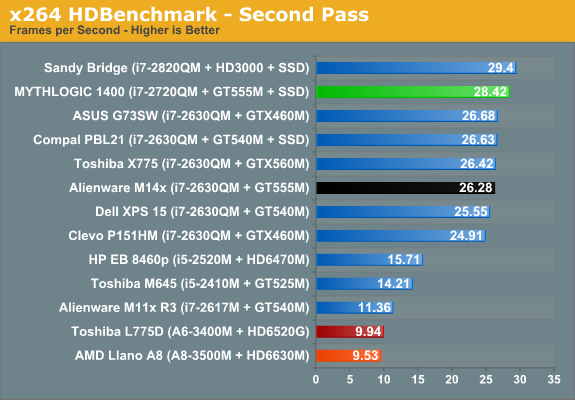 Everything falls out right where it should in our tests: the Pollux 1400 is super fast in PCMark Vantage (thanks to the combination of SSD, CPU, and GPU), and the i7-2720QM is faster than another other mobile CPU we've tested, with the exception of the slightly higher clocked i7-2820QM. You can also see how popular the i7-2630QM is with big OEMs; interesting to note is that for smaller companies like MYTHLOGIC, there doesn't appear to be much of a pricing break on the 2630QM. The upgrade from the 2630QM to the 2620QM costs a scant $25, which seems like a very good deal compared to the $150 extra you'll pay for that upgrade at Alienware.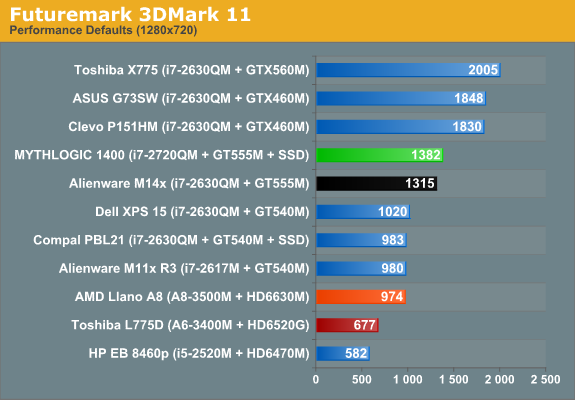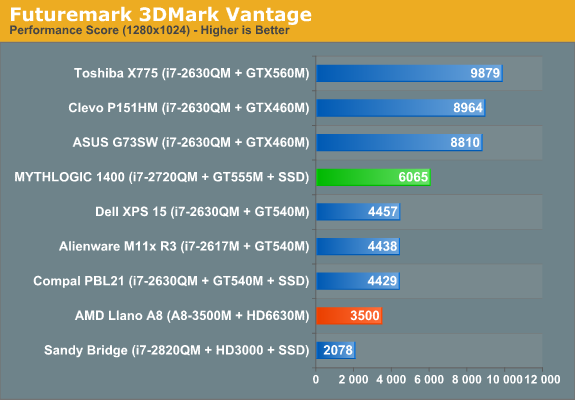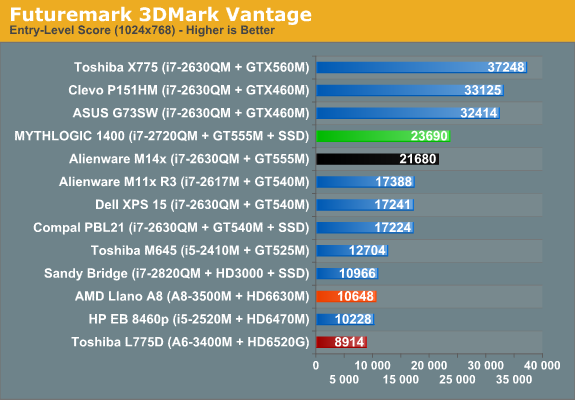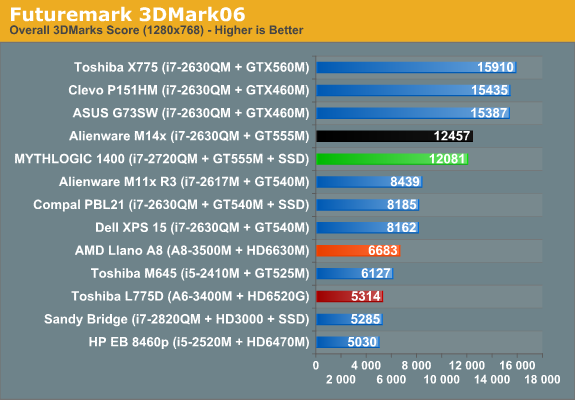 And as one final set of charts before we get to the games, here's what the various 3DMark suites tell us. The Pollux 1400 actually bests the Alienware M14x in two of the three results where we have M14x scores, which is odd considering the 192-bit interface employed by the GT 555M in the M14x. We'll have to see if any of that carries over into actual games, as on paper we'd expect the M14x to come out ahead for graphics benchmarks.
Gaming Performance with GT 555M 128-bit DDR3
We mentioned earlier that Alienware's M14x uses the same GT 555M, only with 3GB of DDR3 and a 192-bit interface. That means it has 50% more memory bandwidth, so except in cases where we're bottlenecked by the CPU or shader performance, the M14x ought to be a faster gaming laptop. I ran our Low Quality benchmarks on the MYTHLOGIC Pollux 1400, but I'm going to skip including them here and simply refer you to Mobile Bench. With a gorgeous 1080p LCD and ample GPU power, there's no reason to run any current games at our Low defaults. Medium Quality is the sweet spot, as you can still hit the native 1080p resolution and break 30FPS; High Quality 1080p unfortunately proves too much for the GT 555M in most of the games we test.
Medium Quality Gaming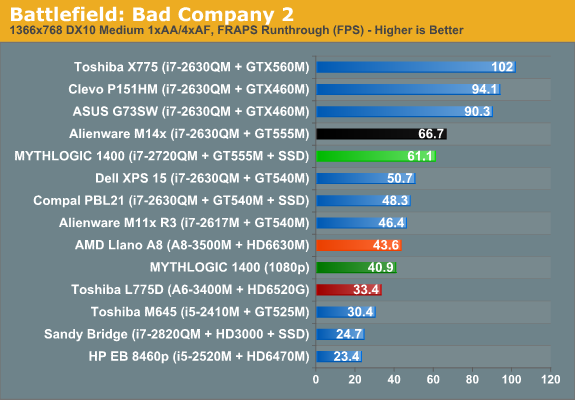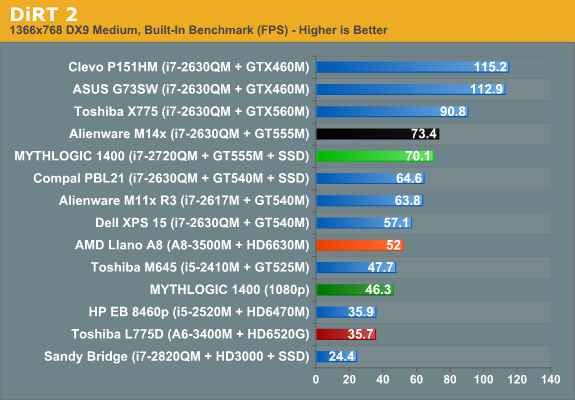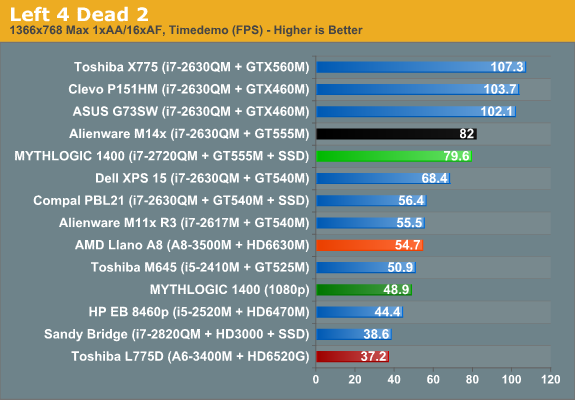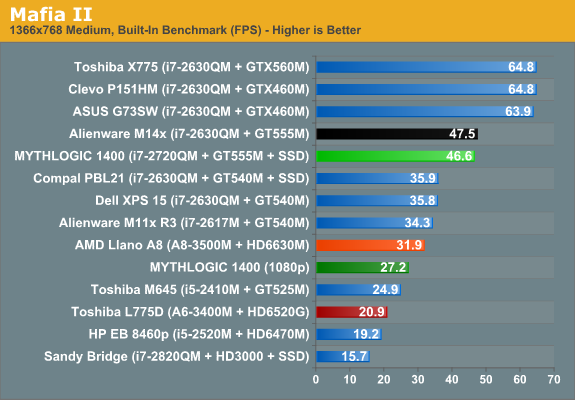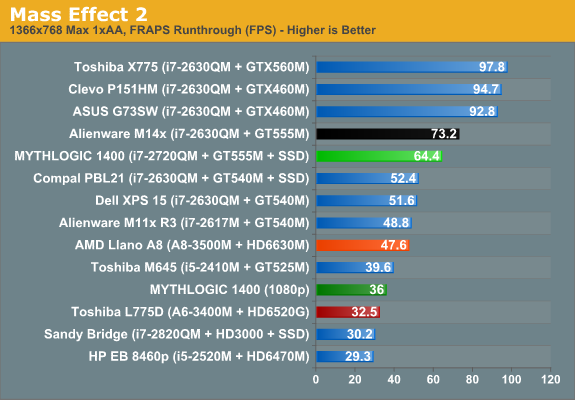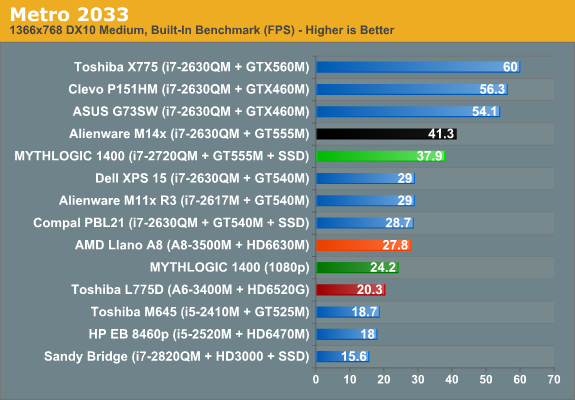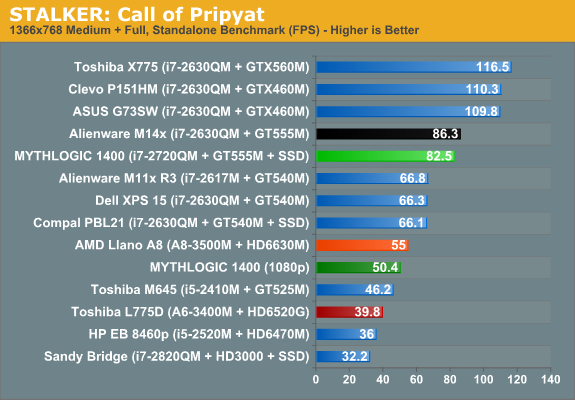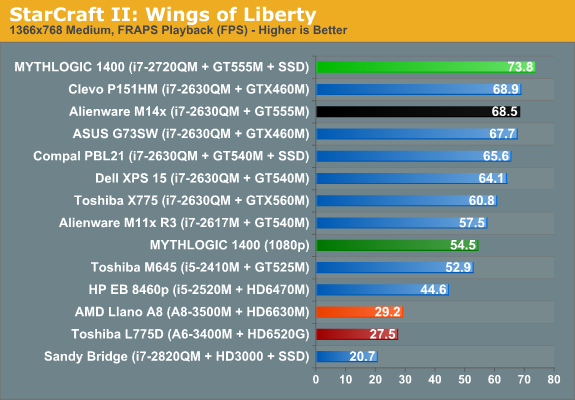 The GT 555M DDR3 ends up being a nice halfway house between the GT 525M/540/550M and the GTX 560/570/580M. Alienware's M14x is generally faster than the W150HR, which we ascribe to the increased memory bandwidth. The difference ranges from as little as 2% to as much as 14%, with the one exception being StarCraft II; there, the W150HR is 8% faster than the M14x. We're using the latest 280 series drivers on the W150HR, so that could explain a few of the differences, and StarCraft is known to be more CPU limited at lower settings. Elsewhere, the W150HR still holds a performance advantage of anywhere from 9% to 31% over the closest GT 540M laptop, so even with the same memory bandwidth the extra shader cores are proving useful. At native resolution, all of the games we tested still manage to break 30FPS, except for the two usual suspects: Mafia II and Metro 2033. We expect the M14x lead to increase at our High settings, which tend to stress bandwidth more, but there are plenty of variables so let's just see how things pan out.
High Quality Gaming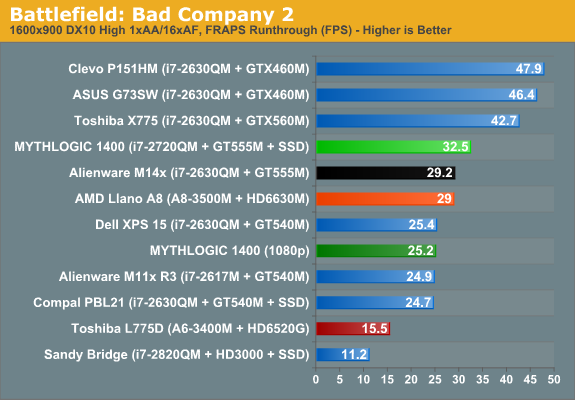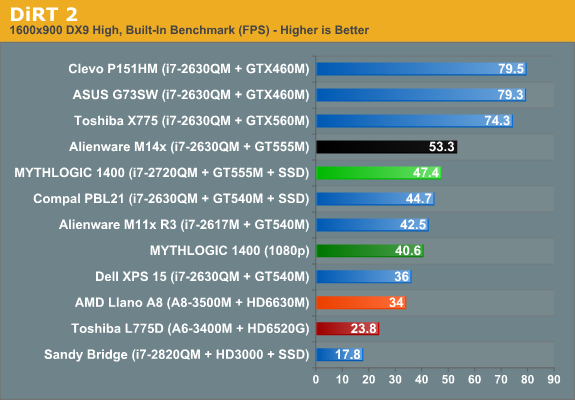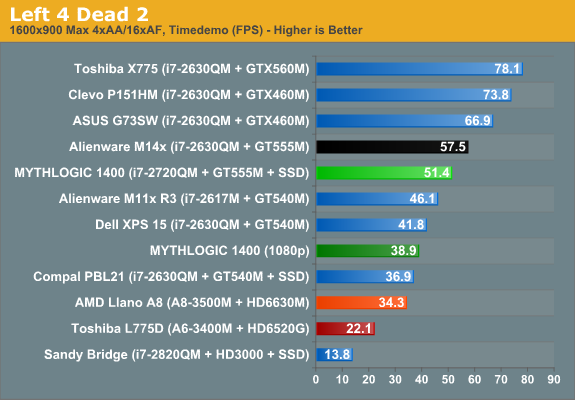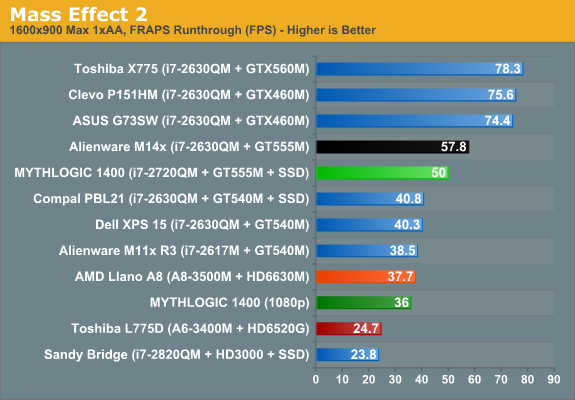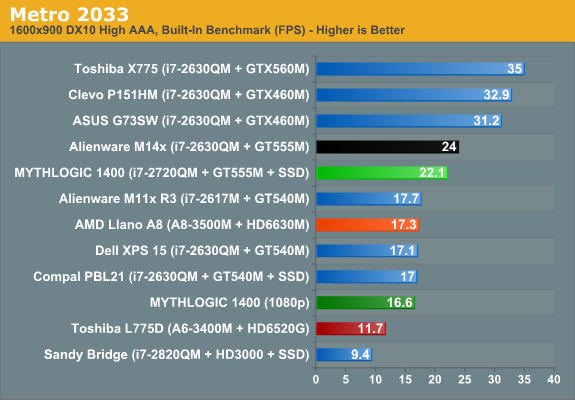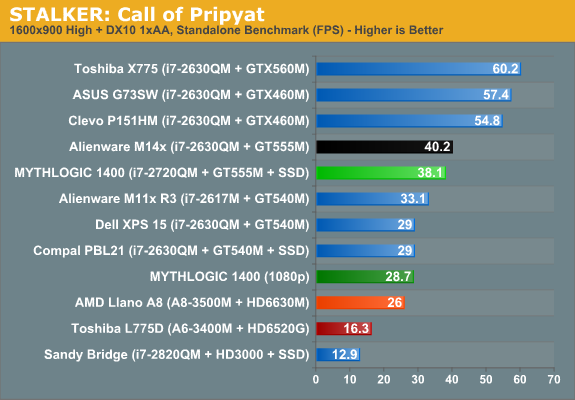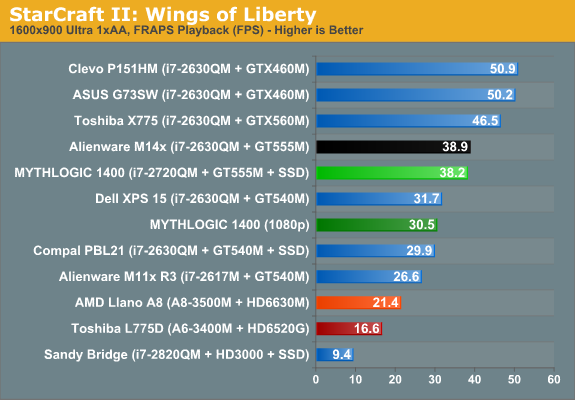 Strange things are afoot at our High settings. First, the W150HR beats the M14x in BFBC2 by 11%; we wouldn't have expected that to happen, but that's why we run tests. Again, differences in drivers might be part of the answer, but we'd be surprised to see much in the way of optimizations happening this long after release. The M14x does lead in the remaining games, with a range of 3-16%, so the gap is about the same as at Medium. 1080p performance is below 30FPS in BFBC2, Mafia II, Metro 2033, and STALKER, so the GT 555M is batting about .500 for 1080p High Quality gaming ability. Looking to the next step down, the W150HR leads the closest GT 540M laptop by 6-26%, but four of the eight games show a >20% increase, and only DiRT 2 shows <10%.
I'm actually a bit surprised that the M14x doesn't acquit itself better in the gaming results; I expected the 50% increase in memory bandwidth to be far more apparent, but on average it's only showing up as a 6% performance advantage. Even if we toss out the two instances where the W150HR came out ahead, the lead would average 8%. It could be that the faster CPU in the W150HR is helping, and it might be hitting higher Turbo speeds on average thanks to the larger chassis and better cooling; driver differences may also be a factor. The only thing we can say for sure is that the difference between the GT 555M 192-bit and GT 555M 128-bit DDR3 models is usually less than 10%. That said, there's still a rather large gap between the GT 555M and the GTX 460M/560M. If you want 1080p laptop gaming without anti-aliasing at high quality settings, you really need at least a GTX brand NVIDIA GPU (or roughly an HD 6850M on the AMD side).
Battery Life and Power: Not a Strong Showing
We've reviewed so many Optimus enabled laptops during the past year that we generally know what to expect. For our battery life tests, the discrete GPU should never have to activate, leaving all of the graphics duties to the Intel IGP. Even without the dGPU coming into play, there are still differences between laptops, and unfortunately this is a weak spot for the Clevo W150HR. We calibrated for 100 nits on the LCD, which came out to a setting of 28% in Windows' power settings (two steps up from minimum on the LCD brightness scale). We also tested both the Bigfoot-equipped W150HR and the Intel 6230-equipped W150HR in the Internet test (the WiFi connection is turned off for the Idle and H.264 tests). Keep an eye on the Dell XPS 15, as that's roughly where we'd like to see the W150HR in the charts.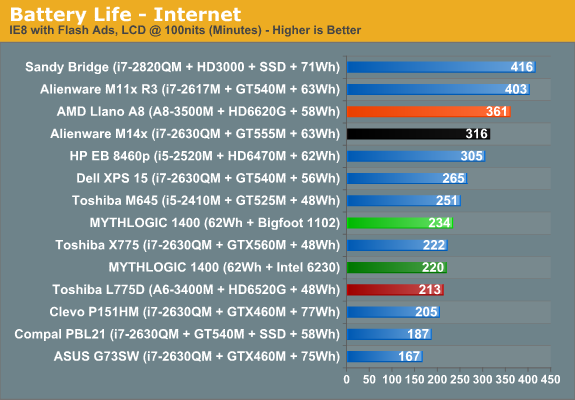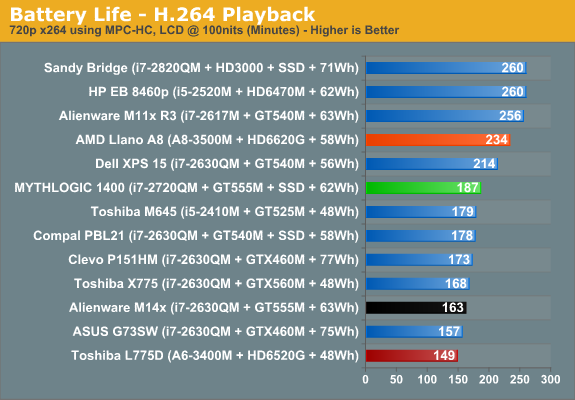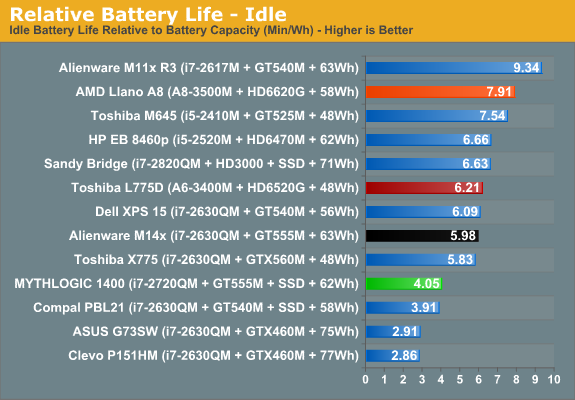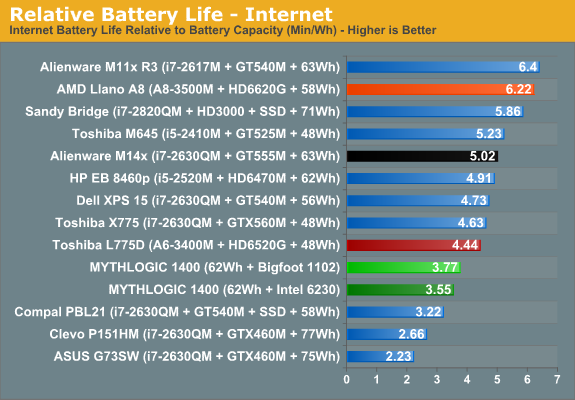 As we were saying, the results are less than impressive. When Toshiba's X775 can pack in a 17.3" LCD and a GTX 560M GPU with a paltry 48Wh battery and still come out ahead in the idle test, that's not good. Looking at the Dell XPS 15, with a 56Wh battery and a similar LCD it manages to best the W150HR by 36% at idle, 13% in the Internet test, 14% in the H.264 test. Accounting for battery capacity, the only Optimus laptop that does similar/worse is the Compal PBL21. (There was a flaw with the H.264 playback result on the Alienware M14x, where a recent Optimus profile update switched MPC-HC to running on the dGPU by default; it did much better in the other two tests and should be around the level of the XPS 15 in the H.264 test.)
Calculating power draw, we get a minimum idle power use of 14.4W for the Clevo W150HR, which is far higher than most similar notebooks. The XPS 15 idles at 9.6W, the Alienware M14x at 9.7W, and even the behemoth Toshiba X775 sits at 10.0W. The Compal PBL21 incidentally is also at 14.9W—anyone else get the impression that major OEMs are better at optimizing laptops for battery power than ODMs like Clevo and Compal?
Also worthy of note is the Internet test with the two different WiFi adapters. We already posted our full review of the Bigfoot 1102, where we came to the conclusion that it was a better WiFi solution than Intel's Advanced-N 6230 and very competitive with the Intel Ultimate-N 6300. We were curious what sort of difference we'd see in battery life, like many of our readers, and the result puts the Bigfoot 1102 in an even better light: better throughput, substantially better latency, and lower power use compared to the Intel 6230. We disabled the Bluetooth support on the 6230, but it might still draw power, as our calculations peg the BF 1102 notebook at ~15.4W during the Internet test compared to ~16.4W for the Intel 6230 notebook. 1W is a huge difference for just a change in WiFi adapter, and we tested with the same battery; however, we did not test in the same chassis so the Intel notebook might simply have a few other components (e.g. the CPU and chipset) that are drawing slightly more current.
The Best TN Laptop Panel We've Tested
Back when we reviewed the Eurocom Racer (Clevo P150HM), I heaped quite a bit of praise on the AUO B156HW01 v1 LCD panel. The Clevo W150HRQ uses the AUO B156HW01 v4, which takes all of the good features of the v1 panel and adds a high gamut backlight. I could still wish for increased luminance (at least 300 nits at max brightness would be great, and 400 nits would be ideal), but otherwise this panel is about as good as I've seen from TN notebook displays. Check out the results.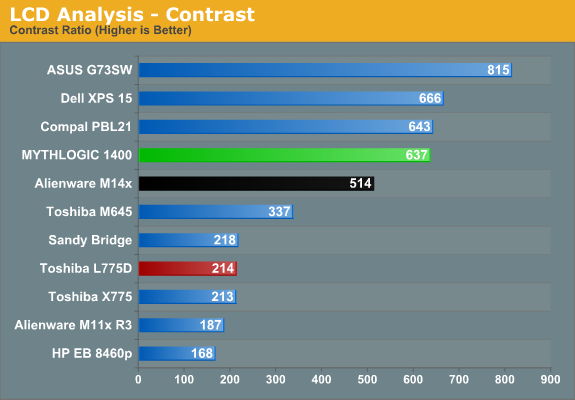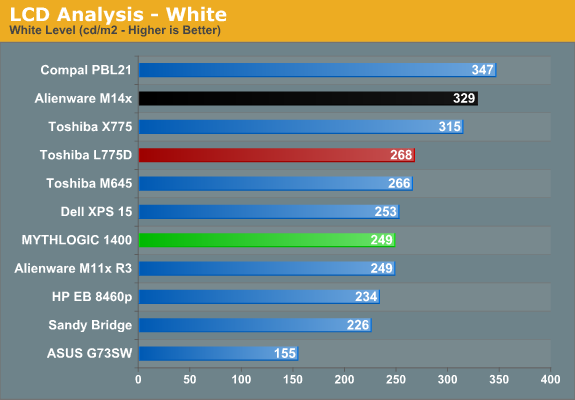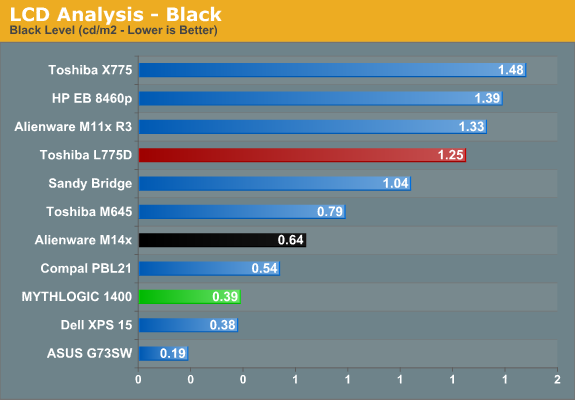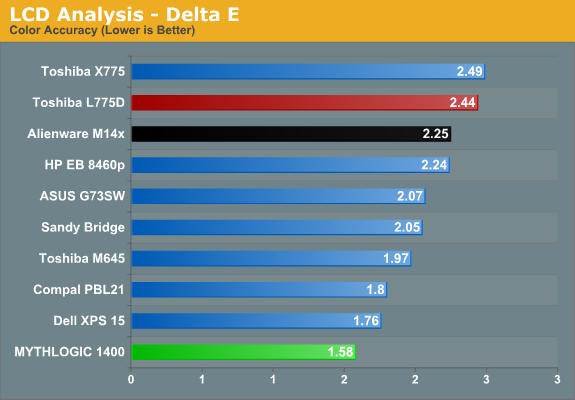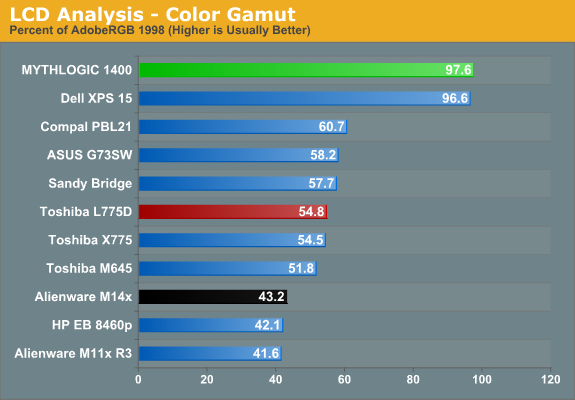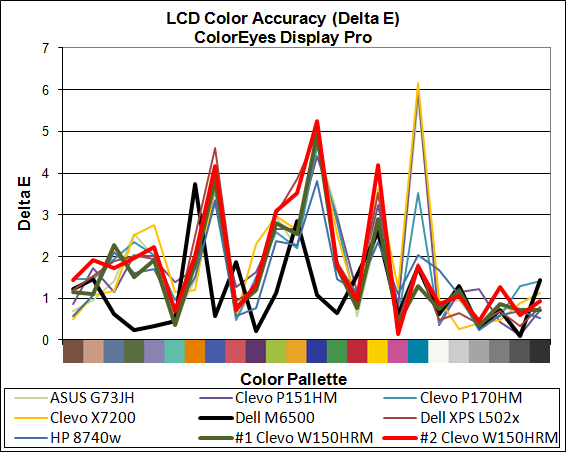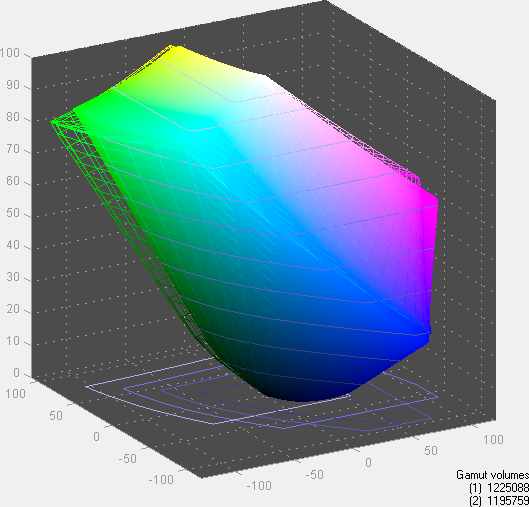 Besides the higher color gamut, the v4 panel also offers better color accuracy. Something you don't quite get from the pictures is the improved viewing angles. The v1 panel did pretty well, but on vertical angles the v4 panel improves the experience. We're still nowhere near the level of IPS and *VA panels for vertical viewing angles, but everything else is great. Really, this should be the bare minimum level of LCD panel quality we should accept in 2011. Sadly, manufactures are all too happy to cut costs on LCD quality, and thus we're stuck with charts like the above where most laptops struggle to hit 250:1 contrast and colors are okay at best.
Temperatures and Noise Levels
Before we wrap things up, there are a couple more areas to examine. First up, we haven't mentioned temperatures or noise levels so far. Let's start with the temperatures.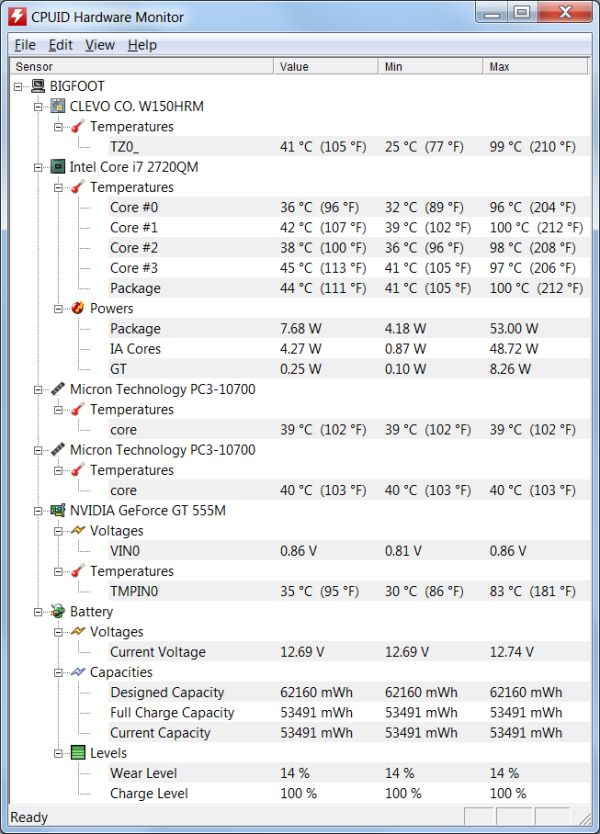 Remember that the goal of a laptop is to balance performance, temperatures, and noise so that all areas stay in spec. 100C on at least one of the CPU cores is a lot higher than we'd like, but Intel specs the chip at up to 100C. Is it too hot or is it "within spec"? Part of the answer depends on how noisy you want your laptop to get and whether you're using it on your lap or on a table. Personally, I'd rather have a slightly bulkier chassis that didn't get so hot.
As for the noise, at idle the laptop performs quite well, measuring near the ~30dB noise floor at 31.3dB. At idle and low loads we also don't have any concerns with the temperatures. Where things get interesting is at higher loads. The W150HR appears to have just three fan speeds: low (idle), medium (usually cooling off from heavy load), and 100% (heavy load for more than ~15 seconds). I even covered the exhaust port for 45 seconds with my hand while running our maximum load (3DMark06 looping with Cinebench 11.5 SMP looping), and the fan speed still didn't increase, so our load results do appear to be "worst-case".
Here's the problem. The Clevo P151HM kept the CPU at a relatively frosty 71C under heavy load, but noise levels hit 44.3dB (and if you cover the exhaust for a bit, you can even get one more fan speed that puts noise levels at ~46dB). In contrast, the W150HR under 100% CPU load, or playing a game, or maxing out both the CPU and GPU tops out at "only" 41.5dB. With the CPU hitting up to 100C (81C on the GPU), however, one more fan speed would have been useful. I suspect maximum Turbo Boost speeds are also not kicking in under sustained loads.
We should note that during all of our tests (on both W150HR notebooks), we never had any stability problems, so at least short-term the tradeoff of heat for lower noise works (and granted, the GPU isn't as powerful/hot as the GTX 560M and even 580M that go into the P150HM). Long-term, though, more noise and/or better ventilation to reduce temperatures into the 80-90C range under load would have been preferable.
Also a quick disclaimer on that battery wear level: I think HWMonitor (or something in the Clevo batteries) isn't reporting the correct data. At one point in earlier testing, the wear level registered 5%, but battery life in the idle test was actually lower than when wear level measured 12%. I have now charged/discharged the batteries over two dozen times each, and both have settled in at 12-14% wear and seem content to stay there.
Testing Wireless Display 2.0
One thing we didn't cover in our Bigfoot review is the potential trump card in Intel's wireless deck: Wireless Display 2.0, aka WiDi 2.0. The idea is pretty simple: connect a wireless receiver to your HDTV, and using software you can send your laptop's display output over to your HDTV. With the price of the HDTV receiver hovering around $80 online, I'm not sure how this technology is all that amazing, but it is sort of cool. You'll still want to plug in your laptop, since sending HD video over wireless will drain the battery pretty fast. Using a Blu-ray disc in particular will suck up your battery in under two hours, although playing 1080p HD content from an HDD/SSD shouldn't be quite so stressful.
So what's the catch with WiDi 2.0? You need an Intel wireless adapter for it to work, since it uses Intel's drivers and software. MYTHLOGIC sent us over the necessary equipment to try it out, consisting of the Netgear Push2TV HD adapter (PTV2000), a BD-ROM combo drive for the W150HR notebook, and PowerDVD Blu-ray playback software. Here's a gallery of the Netgear unit and accessories.
Where WiDi 1.0 was limited to 720p content, WiDi 2.0 can stream 1080p video. Of course, you need a good signal (e.g. you're not at the other side of the house), and overlapping wireless networks can create problems. We tested a 720p video first (running stretched to fill a 1080p display resolution), and everything worked fine. We then played a 1080p video, and all was initially well, but when I started streaming Internet video to a separate PC over wireless…well, I ran into problems with WiDi. The connection initially synced up at 130Mbps, but with the second PC streaming Hulu content (at around 500KBps), the WiDi dropped to a 54Mbps connection. Not surprisingly, such a connection proved insufficient for streaming a 1080p display—even typical PC use caused the display to flicker and render slowly.
The above issue occurred with a 2.4GHz router (Netgear WNR3500L), however, and that appears to be the root of the problem. When I switched to a Linksys E4200 router with a 5GHz connection, I didn't have any problems with WiDi. I tried pulling data to a second laptop on a 5GHz radio while watching HD content, and WiDi continued to work as expected.
Now here's where things get a bit confusing. 1080p video streaming works; I ran several H.264 videos without any issue. Blu-ray on the other hand introduces another variable: HDCP support. I tried two different displays, a Dell S2309W panel and my old Toshiba 46H84 1080i HDTV. Both displays had HDCP errors with WiDi, although connecting directly to the laptop via an HDMI cable worked fine. Chalk up another win for the anti-consumer HDCP lobbying groups I guess. Others have had similar issues, but it looks like at least some people have managed to get Blu-ray streaming working, so the right combination of drivers, WiDi software, firmware, and display should work, and hopefully Intel will get all HDCP compliant displays working properly in the future.
How about gaming? WiDi 1.0 apparently had latency of around 0.5 seconds, which makes it practically useless for anything more than viewing movies and perhaps browsing the web (though even with browsing, using the mouse and seeing a half second delay would be super agravating). WiDi 2.0, at least on this particular notebook, appears to have trimmed latency down to around 0.1 to 0.2 seconds. This makes it far more useful if you're using the mouse, but even then there's a noticeable lag. For FPS gaming, the delay is unacceptable. RTS games would probably be out of the question as well, unless you're not into measuring your CPM (clicks per minute). I did try both types of games, and I quickly stopped playing after feeling a bit motion sick because of the difference between when I expected things to happen and when they actually happened on the screen. Yuck. One type of game still worked alright, however: driving simulations (and potentially flight sims as well). I played a few races of DiRT 2, and because turning, stopping, accelerating, etc. aren't instantaneous, the .1 second delay didn't bother me much. Of course, YMMV.
With the right hardware (e.g. a wireless network running on 5GHz with a decent router), things worked well enough. There's certainly a lot of compression work going on—Intel's Quick Sync technology converts an approximately 2000Mbps stream of 1080p30 content (1920 * 1080 * 30 * 32-bit) to something WiDi can handle, which appears to mean around 50Mbps max and closer to 15Mbps average. There's some loss in quality and latency is still present, but the latency doesn't matter if you're just watching movies, which is appears to be the main point of WiDi.
I still end up back at the big question of: why? You have to buy an $80 peripheral, and all it does is let you get a compressed version of your 1080p content on a display "without wires". Except, you've still got a wire connected to your laptop for power. And you still have to worry about issues like the HDCP stuff I had problems with on two different displays, as well as wireless signal quality. For the 2.4GHz router testing, WiDi 2.0 definitely left me wanting more. With a 5GHz capable router, it was better but still not what I would consider perfect. Perhaps I'm just not the target market, but I rarely find myself wanting to show my laptop content on an HDTV where I can't just plug in an HDMI cable. If the idea of wirelessly sending your display content to your HDTV sounds like something you'd like to use on occasion, WiDi 2.0 could be what you're after. A better long-term solution would be if all HDTVs started incorporating WiDi receivers, but that would be another added cost in a fierce market, for a feature only a small number of users would likely want.
MYTHLOGIC Pollux 1400: A Different Kind of Clevo
Just about every Clevo notebook I've tested during the past several years has had a few standard features. They're high performance, often quite loud under load, generally very expensive, and build quality never quite lives up to my expectations. The W150HR is a break from that tradition in a few ways, though the Pollux 1400 we tested does pack in some high performance and high cost extras (e.g. the SSD and i7 quad-core CPU). However, I tend to value such amenities, and $1600 for a relatively high-end laptop with very snappy overall performance is reasonable.
What's not reasonable is the poor keyboard layout, plastic build quality, relatively high heat, and poor battery life compared to similar laptops. At $1000 for the base configuration, the Pollux 1400 still feels more like an $850 laptop. Actually, I have an Acer TimelineX AS3830TG that you can snag for $700 from Newegg, and when some aspects of the Acer impress me more than the Clevo W150HR, I get concerned. Ditch the 10-key layout on the keyboard and give me a frame that feels more like a Dell Latitude than an Acer Aspire and the price would be a lot more palatable. Improve cooling if you want a quad-core i7 processor in there (unless you like MacBook Pro levels of heat), and then focus some time on BIOS and power optimizations so that the 62Wh battery can hit at least six hours idle/five hours Internet and we'd be in business.
Along with the bad, we do have some good to help balance things. As far as beautiful displays go, the $120 upgrade pays dividends, and you won't find such a display in any notebook costing under $1000 (and more likely, it will cost closer to $1500). Combine that with a fast i7-2720QM, 8GB RAM, GT 555M graphics, and one of the best current SSDs and you have a laptop that can do nearly anything you might want. It may not feel or look quite as nice as other $1500 notebooks, and four hours of useful battery life isn't head-of-the-class material, but that will get you through most plane flights.
Overall, the Clevo W150HR/MYTHLOGIC Pollux 1400 works well, and in a vacuum I'd have no problem recommending it as a decent notebook with an awesome display. We're not in a vacuum, of course, which means there are alternatives. At the premium end, there's the Lenovo W520 and Alienware M14x, but Dell's XPS 15 is right in the mix as well. Outside of these four options, I'm not aware of any other notebooks where you can get the same quality LCD without sacrificing battery life (e.g. you need Optimus), but if you don't demand a good LCD there are numerous other alternatives. Ultimately, the balance of performance and features is good but not great, and I end up moderately interested but with concerns. It's the finer details that are lacking but if you don't want to move up to the Lenovo W520 (note that the Quadro 2000M is an upgrade to GT 555M while Quadro 1000M is a downgrade to GT 540M levels), this is the best way to get a laptop with an awesome 15.6" LCD.
Regarding MYTHLOGIC, our experience throughout the review has been positive. They were helpful and quick to respond to email messages, and their technical knowledge was good. It's difficult to say whether they're better or worse than their Clevo whitebook competitors, but they're certainly in the mix. If you're looking for a custom notebook or desktop, MYTHLOGIC has up-to-date offerings with the latest hardware and plenty of customization options, and their prices are reasonable. We would also like to thank them for working with Bigfoot to get us the review hardware, and for being patient with us throughout our lengthy review process.