Original Link: http://www.anandtech.com/show/4648/rosewill-thor-v2-the-god-of-cooling-and-silence


Introducing the Rosewill Thor v2
Most enthusiasts are familiar with Rosewill as a brand of inexpensive parts of decent quality. They've had enclosures on the market for ages, but those cases are almost always for budget builds. But today we have something that you may not be prepared for: an enthusiast-class full tower enclosure, competitively priced but clearly not for just any build. Rosewill's beast is able to support the largest of ATX motherboards and can handle quad-SLI and quad-Crossfire rigs with room to spare. In a market of SilverStones, Antecs, Corsairs, and Lian Lis, should you be giving Rosewill another look?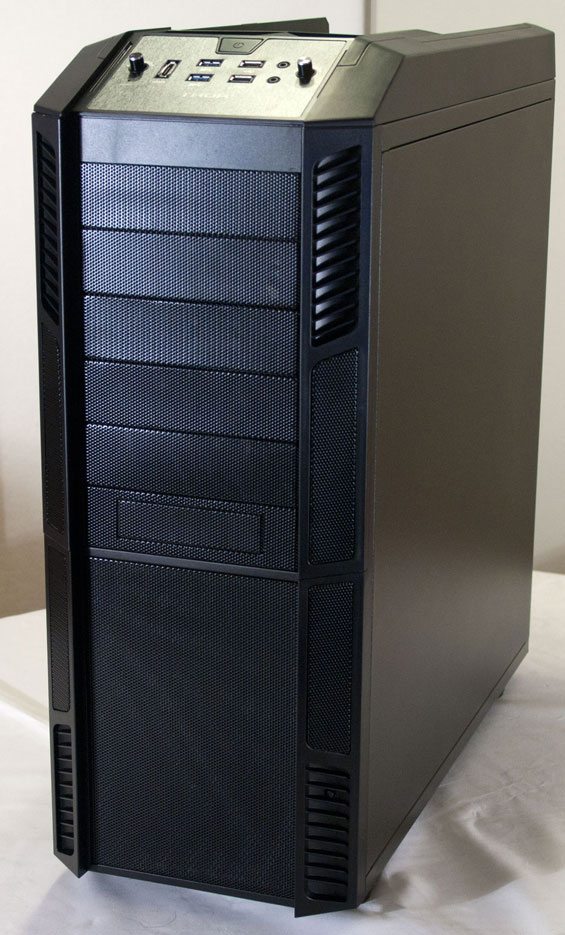 I'll be candid: I wasn't expecting a case like this from Rosewill. This thing is a monster, clearly designed with performance in mind, and priced that way. The plastic and steel build is actually remarkably staid, while connectivity is among the best of breed. It's not a bad looking case at all, and from just glancing at the specifications, the Thor v2 looks like it may have what it takes to perform with the best of them.
Rosewill Thor v2 Specifications
Motherboard Form Factor
Micro-ATX, ATX, E-ATX, XL-ATX
Drive Bays
External
6x 5.25", 1x3.5" (shared with 5.25" using separate faceplate)
Internal
6x 3.5"/2.5"
Cooling
Front
1x 230mm intake fan
Rear
1x 140mm exhaust fan
Top
1x 230mm exhaust fan (supports 2x 120mm/140mm)
Side
1x 230mm intake fan (supports 4x 120mm)
Bottom
1x 120mm/140mm fan mount
Expansion Slots
10
Front I/O Port
-
Top I/O Port
eSATA, 2x USB 2.0, 2x USB 3.0, fan controllers, mic and headphone jacks
Power Supply Size
ATX
Clearance
13" (Expansion Cards), 180mm (CPU HSF), 200mm (PSU)
Weight
30.42 lbs.
Dimensions
22.84" x 9.14" x 21.89"
Price
$149
In addition to the staggering amount of expansion space within the Thor v2, the front 230mm fan glows red, a feature you can toggle on and off using a recessed button on the face. The fan controllers also support up to three fans per channel for six total. What perplexed me from the get-go was the venting on the top, though: there's a slider switch you can use to open or close the top vents, which seems like a cool idea until you realize that with those vents closed, there's nowhere for the top exhaust fan to channel air. Just from a cursory examination, though, it seems like airflow should be the last of the Thor v2's problems.
In and Around the Rosewill Thor v2
If there's one major difference I've noticed between the Rosewill Thor v2 and the last case I reviewed, the SilverStone FT02, it's that the Thor is freaking huge and remarkably tall. So large in fact that I'm honestly surprised it's not more than 30 pounds, though Rosewill likely saved some steel (along with weight and effort by the end user) by going with a plastic top and face.
Most end users probably aren't going to need six 5.25" external bays, but Rosewill had the extra space and must've figured they might as well use it. One of the faceplates for the bays can be used to convert a bay to a 3.5" external, and below the column of bays is the enormous 230mm intake fan. Unlike the other fans, this one glows with red LEDs (as does the Thor logo at the top when the system is powered on), though as I mentioned before there's a button recessed next to the intake fan that can be used to toggle the LEDs on and off. So if you'd rather your case not look like it's possessed, the option is there.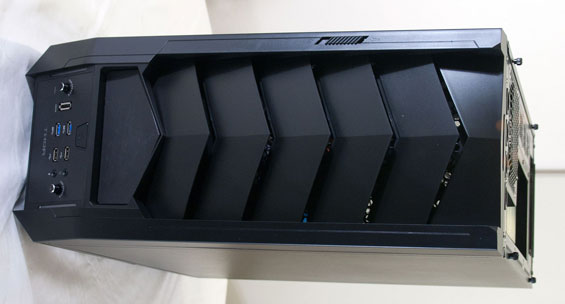 At the top is a very healthy port cluster featuring all the modern amenities, but unfortunately the USB 3.0 ports are routed through the back instead of using an internal motherboard header. Two USB 2.0, two USB 3.0, audio jacks, and even an eSATA port should handle the majority of the connectivity any end user could ask for. Where I do waffle is on the fan controller knobs, which felt loose in my original review unit along with the replacement Rosewill sent. You'll also note a recessed reset button, which I think is a nice touch and prevents the end user [Ed: or their little ones!] from accidentally hitting it. Behind the ports is a small nook for resting external drives or CDs, and then there's the unusual vent system.
As I mentioned before, being able to open and close the top vents of the Thor v2 would seem like a great idea if there were still at least some openings for the top exhaust fan to vent through, but there aren't. In future revisions I would just as soon eschew this part of the design entirely and replace it with something akin to the top panel of the SilverStone Raven RV03.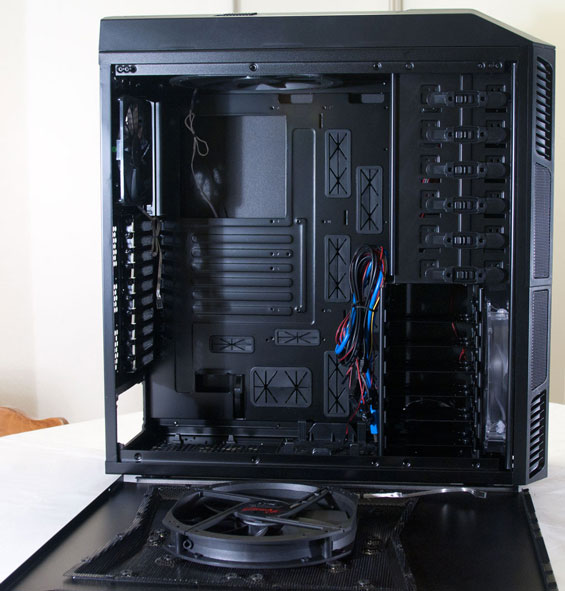 When I opened up the side of the Thor v2, I was treated with an interior that looks very familiar. Apart from just making it more spacious, Rosewill seems to have taken some cues from other designs like Corsair's cases. There's a very healthy ten expansion slots, but the whole thing feels intelligently laid out. The six 3.5"/2.5" drive trays all face behind the motherboard tray, there's a sizable cutout in the tray for installing cooling backplates, and then the top of the case is able to support a 240mm radiator for water-cooling. There are a series of rubber-lined cutouts in the motherboard tray for routing cables, too.
Last but not remotely least, the side panel of the Thor v2 features a huge 230mm intake fan that the craziest of end users can choose to replace with four 120mm fans, though in testing I can't imagine why they'd need to. There's also ventilation near the top for the processor cooling and it's liable to help the aforementioned 240mm radiator if that's a route you're inclined to take.
Thus far the Thor v2 is largely nothing but upshot, but I do have some concerns. While build quality is by no means terrible, the Thor v2 does feel a little bit chintzier than the other cases I've reviewed. The plastic used for the front feels cheap, and as you'll see in assembly, the rubber grommets that line the motherboard tray cutouts are held in place virtually entirely through the power of prayer. Rosewill addressed my concerns with my initial review unit by sending me a replacement, and the replacement does feel a bit more solid, but I think the build quality is still a fundamental weak point. If this case isn't going to be moved around much (and really, at this size it shouldn't be), I don't think it's necessarily horribly rickety or inclined to break; it just doesn't feel quite as solid as some of the other enclosures I've tested.
Assembling the Rosewill Thor v2
Do you remember when I said the Rosewill Thor v2's internals reminded me of the insides of Corsair's cases? That's a good thing and a compliment: Corsair's cases are still the easiest ones to build in I've ever seen, and thankfully the Thor v2 was just as easy to work with.
Installing the motherboard was easy and painless, though Rosewill doesn't include stand-offs built straight into the board, a convenience I do miss. Where Rosewill does run afoul of Corsair is in the rubber grommets used to line the holes in the motherboard tray, which as I said before are held in largely by wishful thinking. Honestly they're just not strong enough to stay in and for most of my cable routing I wound up either accidentally or deliberately popping them out, and this was going on pretty much from the get go.

Unfortunately, while the drive trays are still back-facing and thus awesome, they aren't tool-less. The trays support both 2.5" and 3.5" drives, though only the 3.5" drives use rubber standoffs to dampen vibration (presumably anyone using 2.5" drives would have SSDs), and drives are always mounted from the bottom instead of the sides. Still, the trays work well enough and routing the cables behind them was a breeze.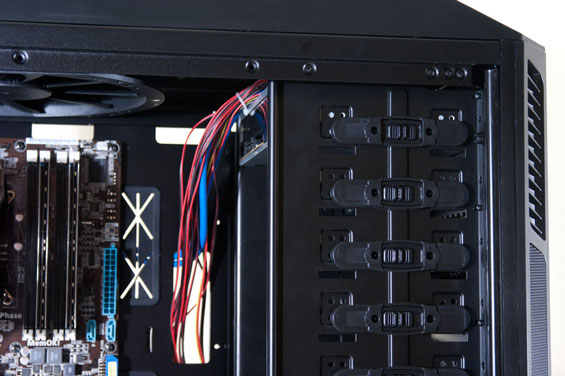 The same can't be said for the tool-less mechanism Rosewill uses for installing 5.25" drives. To remove the bay covers, you actually slide the right part of the case's front bezel off and then lever out the covers. Honestly, the old school "squeeze-and-pop" bay shields would've been perfectly fine here. My main problem is that the tool-less mechanism used to lock the drives into place is flimsy and loose. Optical drives are often among the loudest components in a good build, and with very little really securing them, they're free to vibrate in the bay. I would have been happier with just openings for screwing them in, and thankfully, you can forego using the case's locks and just use screws to mount them.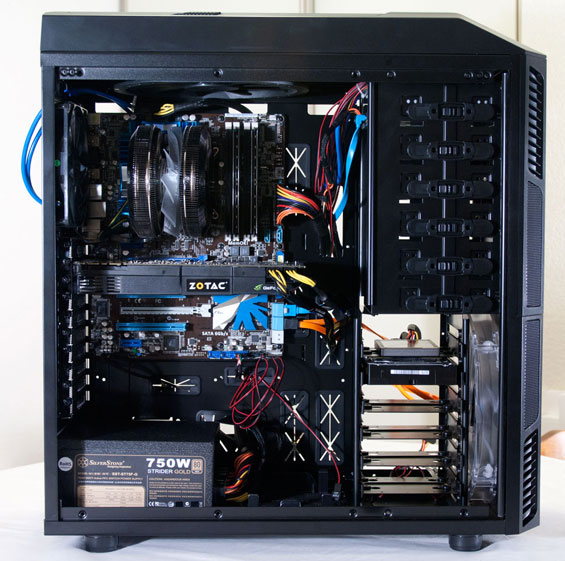 Getting the power supply in and everything else wired up was delightfully painless, as you'd expect from a chassis this size. While the case's cables are a mess of tiny wires, they're ultimately still fairly easy to actually sift through, and there's plenty of space behind the motherboard tray to keep the installation clean. The only issue I really ran into was routing the USB 3.0 cables out the back of the case: the rubber grommets in the back are just as loose as the ones inside, and shoving the cables through them invariably caused them to pop out. You'll also have to route a fan controller cable to the inside so you can connect the side intake fan, something you'll definitely want to do.
All told my chief complaints remain the iffy build quality. The rubber grommets are no big deal (NZXT's H2 had the same problem), but just about everything about the 5.25" drive bays rubbed me the wrong way. They aren't a huge issue and you can work around the problems, but even the material that lines the inside of the bay shields to filter dust is barely held in place. The fan controllers in my first review unit were also problematic: if I didn't tape the knob down, eventually fan speed would just ramp back up to full. I don't want to have to choose between having a tower that runs silent and cool with a piece of shipping tape on the top of it or a tower that runs very cool but with some noise, and I shouldn't have to. Judging from reviews on NewEgg, though, my problem seems to be isolated.
Testing Methodology
For testing ATX cases, we use the following standardized testbed in stock and overclocked configurations to get a feel for how well the case handles heat and noise.
A refresher on how we test:
Acoustic testing is standardized on a foot from the front of the case, using the Extech SL10 with an ambient noise floor of ~32dB. For reference, that's what my silent apartment measures with nothing running, testing acoustics in the dead of night (usually between 1am and 3am). A lot of us sit about a foot away from our computers, so this should be a fairly accurate representation of the kind of noise the case generates, and it's close enough to get noise levels that should register above ambient.
Thermal testing is run with the computer having idled at the desktop for fifteen minutes, and again with the computer running both Furmark (where applicable) and Prime95 (less one thread when a GPU is being used) for fifteen minutes. I've found that leaving one thread open in Prime95 allows the processor to heat up enough while making sure Furmark isn't CPU-limited. We're using the thermal diodes included with the hardware to keep everything standardized, and ambient testing temperature is always between 71F and 74F. Processor temperatures reported are the average of the CPU cores.
For more details on how we arrived at this testbed, you can check out our introductory passage in the review for the IN-WIN BUC.
Last but not least, we'd also like to thank the vendors who made our testbed possible:
Thank You!
We have some thanks in order before we press on:
Noise and Thermal Testing, Stock
When I did get the Rosewill Thor v2 up and running, I had fairly high hopes. I'm a major proponent of side intake fans, and the bigger the better. While the ventilation may at least superficially suggest a louder case, I've found that the vastly improved airflow usually negates it. I tested the Thor v2 with its fan controllers at both their highest and lowest settings; for other cases that have fan controllers, I included the most balanced results from their testing.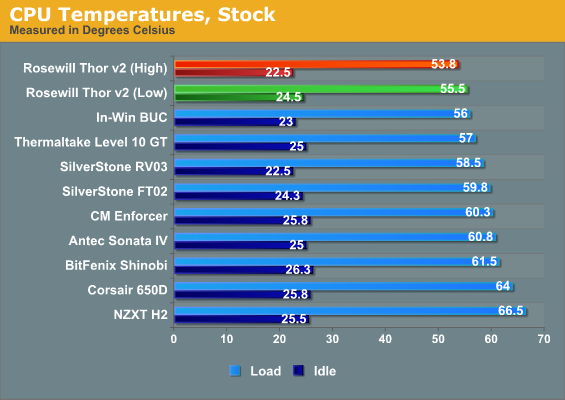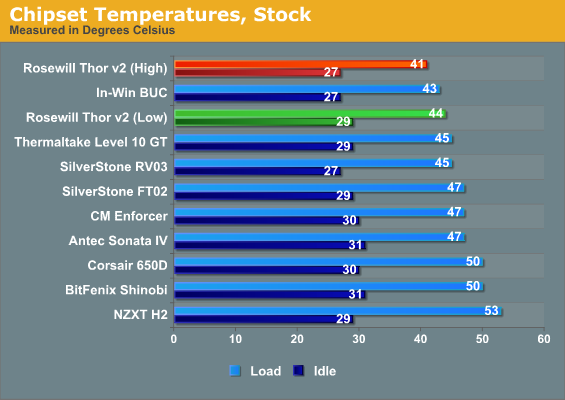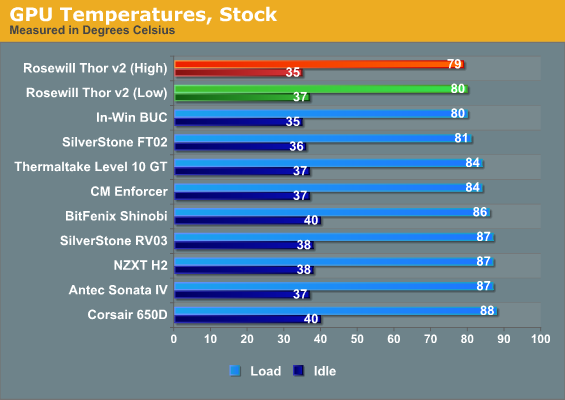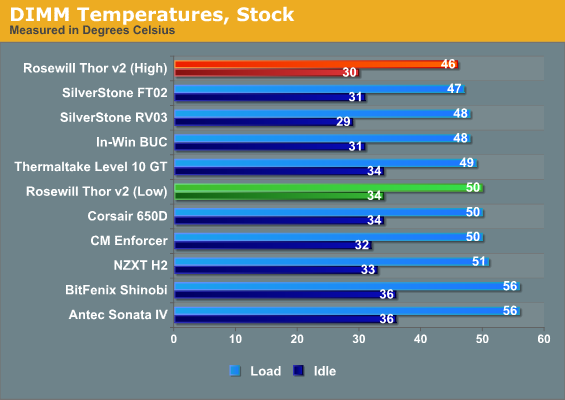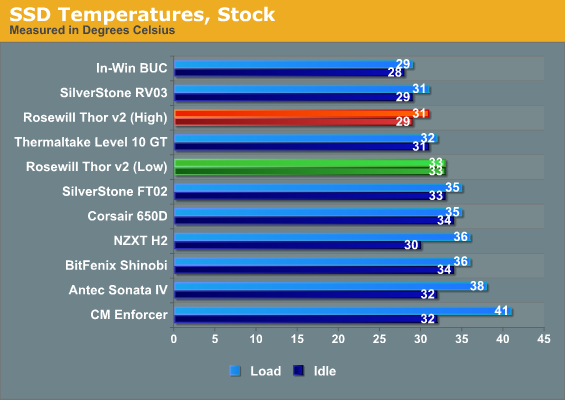 In the metrics that count, Rosewill's enclosure comes out swinging, offering some of the lowest temperatures we've ever measured. This is also one of the first cases I've seen where there's a very measurable difference in thermal performance between high and low fan settings, but even the low setting puts in a respectable showing.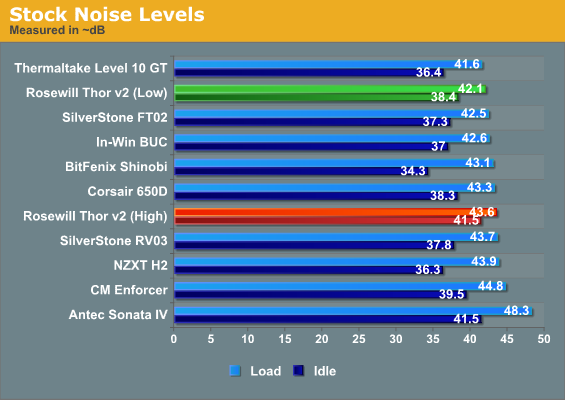 That low setting isn't just fairly cool; it's quiet, too. The series of giant 230mm fans apparently move quite a bit of air without making much of a racket. From the looks of it, the Thor v2 has a healthy amount of thermal headroom, so let's test it with our overclocked settings.
Noise and Thermal Testing, Overclocked
Our overclocked settings have proven to be fairly punishing for other cases, but there's no reason to believe the Rosewill Thor v2 won't handle them with aplomb. The substantial amount of space inside the enclosure coupled with copious airflow should allow our testbed to continue running comparatively coolly.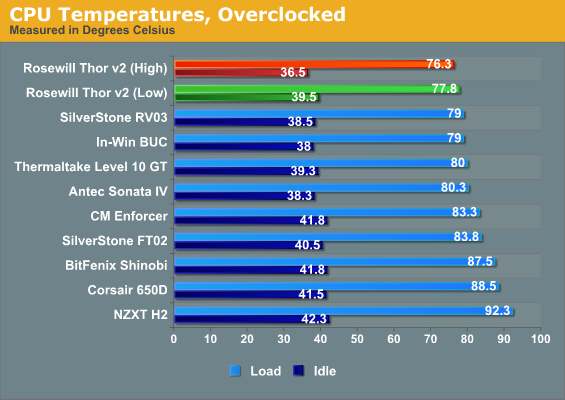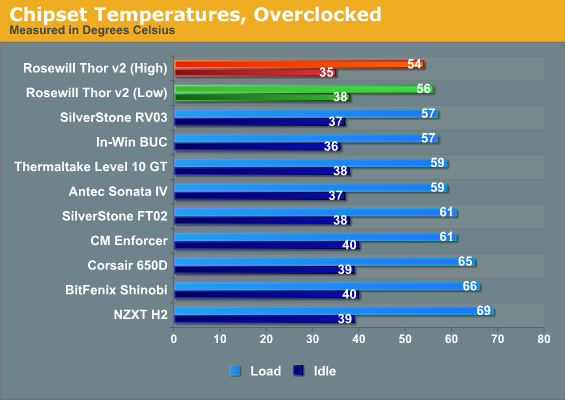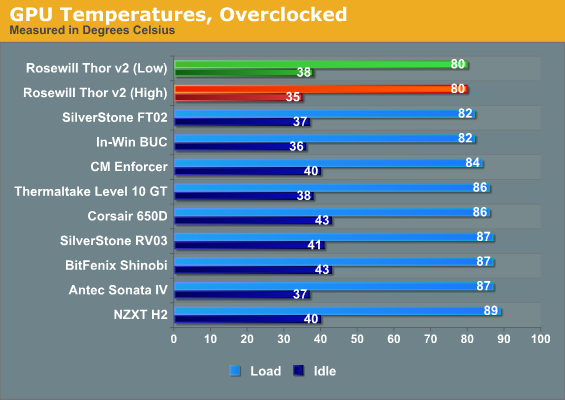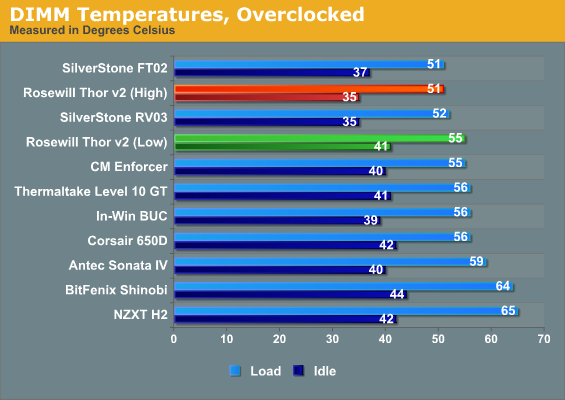 And sure enough, it does. While component temperatures could be a bit better, the processor, chipset, and graphics card run nice and frosty compared to many of the other cases. Even Thermaltake's Level 10 GT has a hard time keeping up.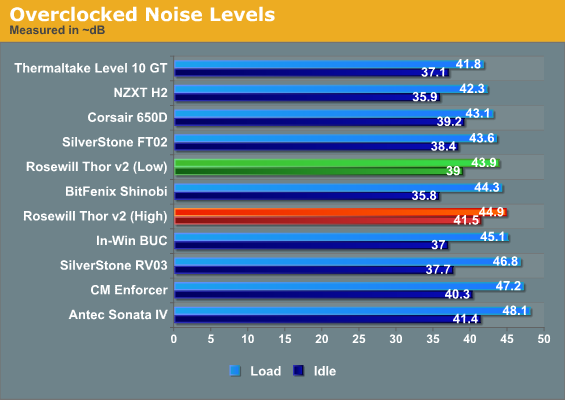 Unfortunately, while the Rosewill Thor v2 is still fairly quiet at its low setting, it has a hard time displacing some of the other cases. That's understandable: it has excellent cooling qualities but very little in the way of sound dampening or isolating features.
Conclusion: Rosewill Comes Out Swinging
I'll make this clear: despite my quibbles with the case's build quality, Rosewill's Thor v2 made me a believer. The thermal and acoustic performance of this case just can't be understated: Rosewill has somehow managed to make $150 for an enclosure seem like a bargain. At this price point you'll have a very hard time beating the performance, and that's ignoring the stellar expansion and just general size of the thing. If you're looking for a full tower and don't want to spend up, Rosewill's engineers have produced an enclosure that hits a reasonable price point while not being particularly ostentatious.
Of course, there are some sacrifices to be made, because yes, that build quality may be problematic for some users. Most of the users on NewEgg seem very happy with the Thor v2, and I can see why, but the plastic used for the enclosure ultimately does feel pretty chintzy, and the mounting system used for the 5.25" drive bays needs a lot of improvement. The top vent doesn't feel that cheap, but it doesn't make sense either: there's no other way for that top fan to exhaust if it's not open. And then the rubber grommets in the motherboard tray aren't held on with any glue or anything at all, and they pop out at the slightest provocation.
Rosewill has a stellar rough draft with the Thor v2. Thicker, better building materials would be appreciated but aren't top priority: what they need to do is glue in the grommets, replace the 5.25" drive bay locks with more secure designs, swap the 5.25" bay shields with classic style "snap-in-snap-out" shields, and kill the hinged vent at the top of the enclosure entirely. While we're building a wish list, switching the USB 3.0 routing cables to a motherboard header would be appreciated, and I'd actually rather see a top-mounted hot-swap drive bay than an eSATA port if possible.
If you think you can deal with the rough edges of the design, or if you want the most case you can get for the least money, the Thor v2 should definitely be on your short list. Able to compete even with enclosures nearly twice as expensive, I'd actually take it over Thermaltake's Level 10 GT just due to the comparative ease of assembly coupled with the less garish appearance. It's a better performer both acoustically and thermally than Corsair's 650D or 600T, too, at roughly the same price. Rosewill's Thor v2 isn't a homerun, but it's a very solid base hit, and there's no reason to think one more revision couldn't make it a top flight enthusiast case.