Original Link: http://www.anandtech.com/show/4559/tmobile-mytouch-4g-slide-review-photographers-wanted


When T-Mobile launched the G2, I was super psyched. It was an HTC-designed slider, ran the stock Android UI, and happened to be one of the first phones running Qualcomm's 2nd-generation Snapdragon (S2) chips. I was so psyched that I ended up buying one, three days before launch (thank you Radio Shack!) I must say, I loved that phone. The hinge mechanism was an initial concern for me, but the rest of that phone was absolutely brilliant. I still regret selling it to buy an HD7, but I had some major durability issues with the hinge. It started loosening up majorly after the four month mark, and it was out of my life by month five. If HTC had seen fit to equip it with a normal spring-loaded slider, I would almost definitely still have it.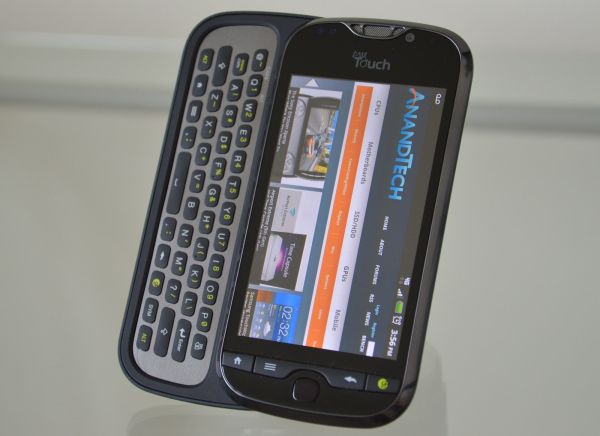 T-Mobile EOL'd the G2 last month, and I was sad to see it go. But it set the stage for the MyTouch 4G Slide, which released last week and on paper looks like the ultimate slider phone. There's one dual-core Snapdragon S3 processor, one real slider with one brilliant HTC keyboard, and one very highly touted 8.0MP camera. It joins the HTC Sensation and the T-Mobile G2x atop the T-Mobile smartphone list.
Physical Comparison
T-Mobile MyTouch 4G Slide
Motorola Droid 3
T-Mobile G2x (LG Optimus 2X)
HTC Sensation
Height
122 mm (4.8")
123.3 mm (4.85")
123.9 mm (4.87")
126.3 mm (4.97")
Width
66 mm (2.6")
64.1 mm (2.52")
63.2 mm (2.48")
65.5 mm (2.58")
Depth
14 mm ( 0.55")
12.9 mm (0.51")
10.9 mm (0.43")
11.6 mm (0.46")
Weight
184 g (6.49 oz)
184 g (6.49 oz)
139.0 g (4.90 oz)
148 g (5.22 oz)
CPU
1.2 GHz Dual Core Snapdragon MSM8260
1 GHz Dual Core Cortex-A9 OMAP 4430
1 GHz Dual Core Cortex-A9 Tegra 2 AP20H
1.2 GHz Dual Core Snapdragon MSM8260
GPU
Adreno 220
PowerVR SGX 540
ULP GeForce
Adreno 220
RAM
768 MB LPDDR2
512 MB LPDDR2
512 MB LPDDR2
768 MB LPDDR2
NAND
4 GB NAND with 8 GB microSD Class 4 preinstalled
16 GB NAND, up to 32 GB microSD
8 GB NAND with up to 32 GB microSD
4 GB NAND with 8 GB microSD Class 4 preinstalled
Camera
8 MP AF/Dual LED flash, f/2.2, 1080p30 video, VGA front facing
8 MP with AF/LED Flash, 1080p30 video recording, VGA (0.3MP) front facing
8 MP with AF/LED Flash, 1080p24 video recording, 1.3 MP front facing
8 MP AF/Dual LED flash, VGA front facing
Screen
3.7" 800 x 480 S-LCD
4.0" 960 x 540 RGBW LCD
4.0" 800 x 480 LCD-TFT
4.3" 960 x 540 S-LCD
Battery
Removable 5.62 Whr
Removable 5.65 Whr
Removable 5.6 Whr
Removable 5.62 Whr
The easiest way to describe the MyTouch 4G Slide (referred to as either the Slide or the MT4GS from here on) is that it's basically a MyTouch 4G with Sensation internals and a physical keyboard. All three are HTC devices, so the use of Qualcomm processors and some form of Sense along with a general recycling of parts is a given, but even by those standards, the accuracy of that statement is striking.
Dimensionally, the MyTouch 4G Slide is pretty similar the original MyTouch 4G, with the Slide adding four millimeters to the width and three mm to the thickness to accommodate the hardware keyboard, but otherwise sharing a very similar look from the front. That three millimeter difference makes a surprisingly big difference in how the Slide feels, it's definitely a bulky phone compared to the supermodel thin slates releasing currently. Even against another landscape slider like the Droid 3, it definitely feels large.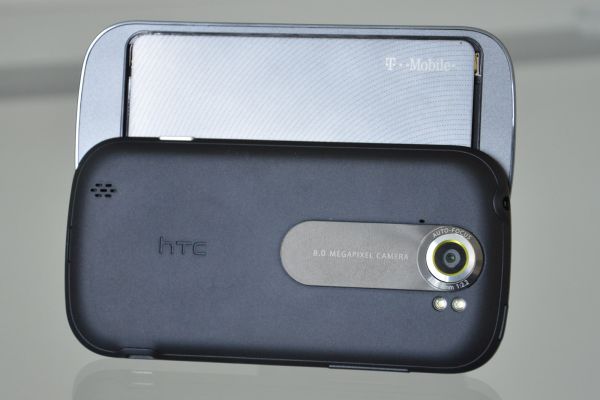 Now, where this becomes a problem is in how much wasted space there is in the MT4GS design. The Droid 3 and the Slide are basically the same dimensionally, just a fraction here or there separating them - the D3 is 2mm taller, 2mm narrower, and 1mm thinner. And yet, while the D3 has a 4.0" qHD screen, the MT4GS makes do with the same 3.7" S-LCD WVGA display from the much-more-compact G2. Nothing against that screen, it was pretty good looking, but in this day and age, where the average Android device has a 4" screen, the 3.7"er feels a bit cramped. Think about it - Galaxy S/Nexus S, LG's high end linuep, most of the new Sony Ericsson devices, and the HTC Incredible S are 4"ers, while the Galaxy S II, Sensation/EVO+, Thunderbolt, Droid 3/Droid X2/Droid Bionic are all 4.3"ers. Even the original MT4G had a larger 3.8" display.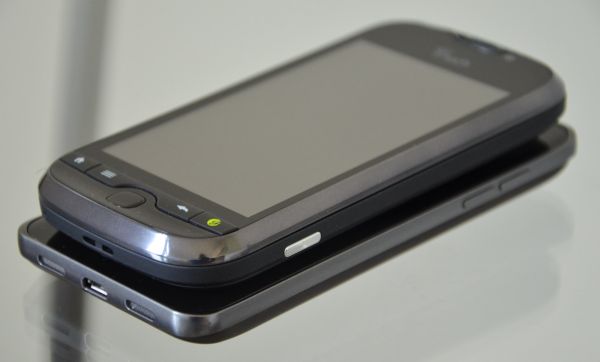 I'm usually not a person that makes a big deal out of the whole screen size thing, especially if the resolution doesn't change, but the amount of wasted space in the MT4GS is fairly maddening. Here's a device that has a nearly identical footprint to phones with 4" WVGA (Optimus 2X) and 4" qHD (Droid 3) screens, but has to make do with a 3.7" display because a larger panel wouldn't fit with the design language. In an era of design minimalism, you know something is wrong when you're using design details to justify functional shortcomings.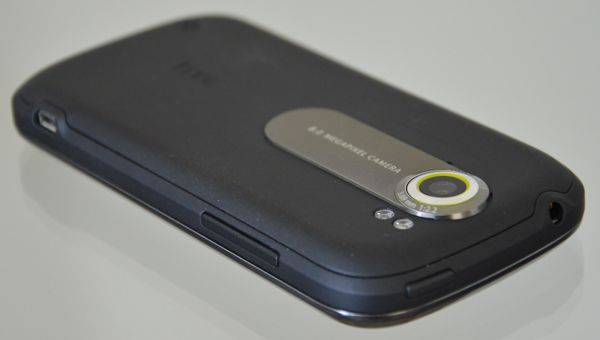 The MT4GS aesthetic is very rounded, with a lot of organic curves and tapering edges. The entire display half of the device is ringed by a ribbon of polished metal that tapers inwards, cutting down on the area of the front face. That's what I'm referring to with "wasted space" - if that taper isn't there, there's easily space for a 4" qHD or WVGA screen. Even then, there's a decent amount of bezel, especially above the display. The space below the display is well used, with four hardware buttons for Home, Menu, Back, and Voice Command, which replaces the traditional Search button, as well as an optical trackpad. But above the display there's about half an inch worth of dead space between the speaker grille/front facing camera and the display that basically just has the MyTouch logo. It just serves to make the display look even smaller. The metallic speaker grille is a gaudy piece, a chrome intrusion into an otherwise clean front face. The silver-ringed front facing camera, ambient light sensor, and proximity sensor are next to the earpiece, while the lock/power button and the headphone jack are at the top of the phone, where God intended them to be. The left side has the volume rocker near the top, as well as the micro-USB port near the bottom of the phone, with the mics being located on the bottom of the phone. The right side is completely clean except for the two-step camera button, another button that's quickly being phased out in Android phones.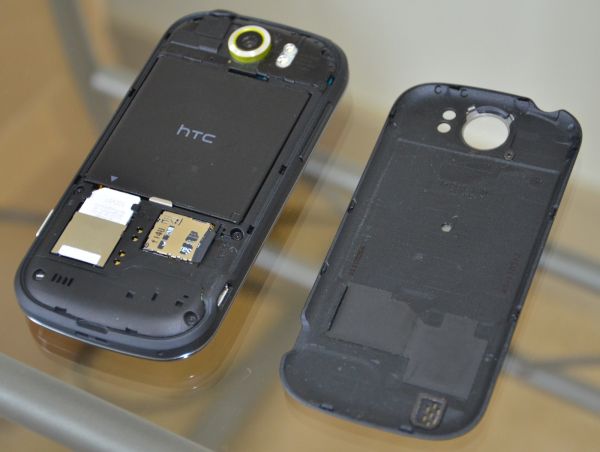 The battery cover spans the entire back of the device and is rendered in a soft-touch black plastic. Near the top, there is a metal surround for the camera. The camera protrudes from the phone, so there's a cutout in the battery cover for the lens and dual LED flashes, but the tolerances are much tighter than what we saw in LG's Optimus 2X. Dust is still a concern, but a relatively minor one. The speakerphone is also located on the battery cover, housed behind a grille near the bottom left corner of the phone.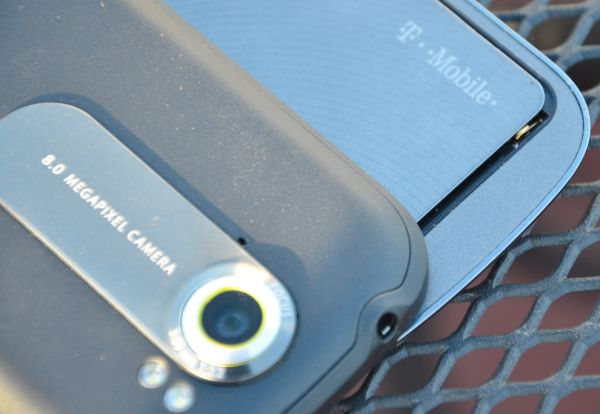 Unlike with the G1 and G2, HTC went for a real sliding mechanism here. The MT4GS has an in-plane slider that isn't spring-loaded, but has smooth rails and positive detents at both ends of the travel. The operation feels pretty solid and sturdy enough to hold up over the long term.
The industrial design as a whole borrows a lot from the original MyTouch 4G - from the front, it's really easy to confuse the two. Some of the very minor details are different - the metal ring around display is larger, the shape of the buttons are very slightly different, the chrome earpiece is now a darker polished metal, but we're talking about things that are really, really splitting hairs. I wasn't kidding when I said the ID was basically the same for both devices.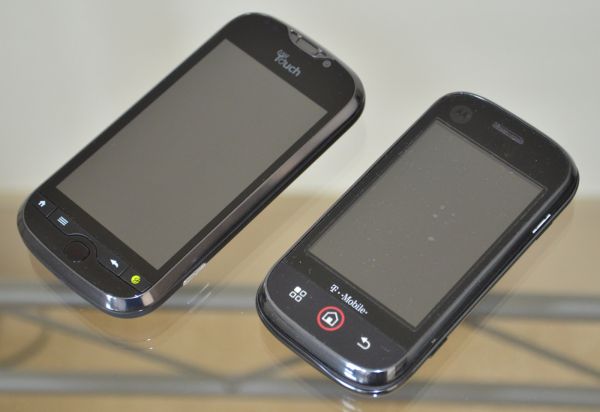 Now with that in mind, look at the similarities between the MyTouch 4G Slide and a much older Android slider on T-Mobile. That's right, this is the much-maligned Motorola CLIQ (and rightfully so, it was terrible.) The CLIQ was another phone that had a screen too small for the body (read: wasted space), a weird UI skin (Sense 3.0 isn't as bad as BLUR by any stretch, but we'll get to the software in a bit), and a rather bubbly-looking industrial design with a lot of soft, rounded edges. The ID isn't the same, but the MT4GS was definitely "inspired" by the CLIQ. It's like T-Mobile higher ups were really cut up about the CLIQ's failure in the marketplace, and had HTC build the ultimate version of that phone. Weird, right?
T-Mobile and HTC were focused on giving the user a very tactile experience with this phone, with 52 physical buttons including the clickable optical trackpad. The last phone I reviewed had a grand total of....three - power/lock, volume up, and volume down. Granted, that 52 figure includes the physical keyboard, but there's still hardware buttons for most main functions. I really don't understand optical trackpads on slates (which is why, for the most part, they no longer exist), and I didn't get it when I had the G2 either. But after using the MT4GS, I can see how they can be useful on landscape sliders, in the sense of being able to navigate through the entire OS with just a thumb. If you are one of the seven people to ever use a UMPC, you know what I'm talking about. Having mouse-like functionality isn't necessary with a touchscreen, but it's nice to have when you're hovering over the keyboard in landscape mode.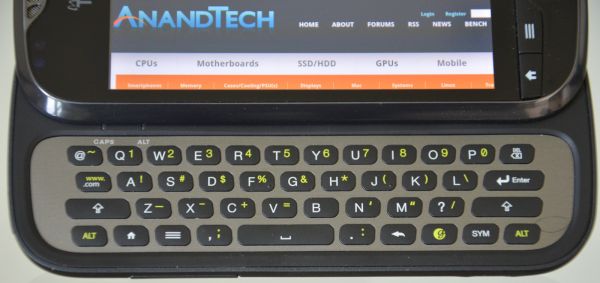 Speaking of which, the backlit four-row keyboard is excellent. The single most appealing feature from the G2 is back mostly unchanged, and that's a very good thing. Seriously, HTC does the best hardware keyboards in the business, and it's been that way for a very long time. I'm in love. I waxed poetic about HTC hardware keyboards in my G2 preview last year, and my sentiments are exactly the same.
The only real complaint you could throw the way of the keyboard is that it's only a four row board, not five row like the Touch Pro 2 (which, in my mind at least, is the all-time benchmark in landscape smartphone keyboards). And while this is true, I understand why the decision to dump the dedicated number keys was made. Now while this means that the easiest way to enter a phone number is to go through the virtual dialer, I'll take the more compact packaging over that fifth row basically any day.
The only other minor niggle I had with the keyboard is that it takes a lot for the backlight to be triggered. In fact, until I got the Slide into a completely dark room, I didn't realize it actually had backlit keys. While the G2 backlit keys would be triggered by most low and dim lighting situations, the MT4GS needs to actually be in complete darkness before the keyboard light goes on. The easiest way around this is to trick the phone into backlighting the keys by putting your finger over the light sensor - if the light is dim enough, the backlight will stay on even after moving your finger. It's not a big deal, just a minor annoyance I came across.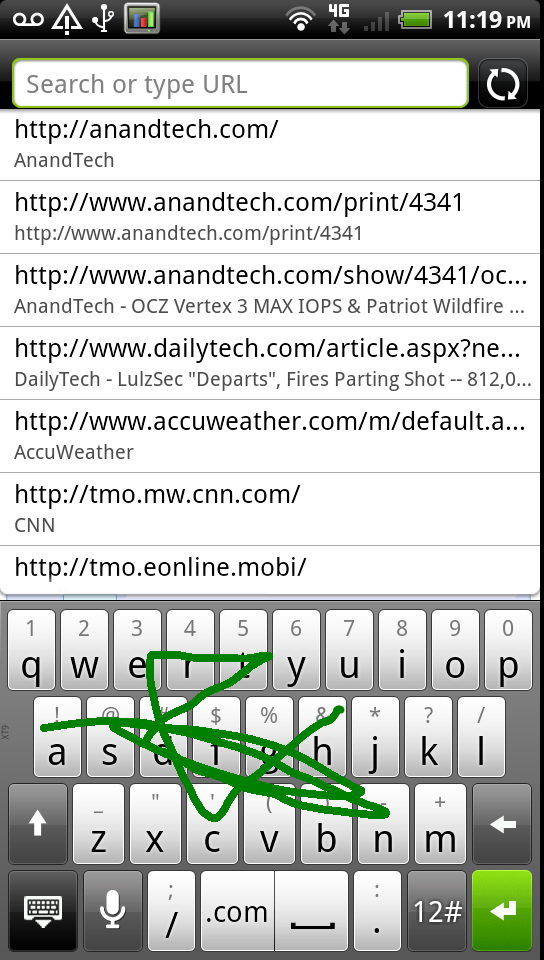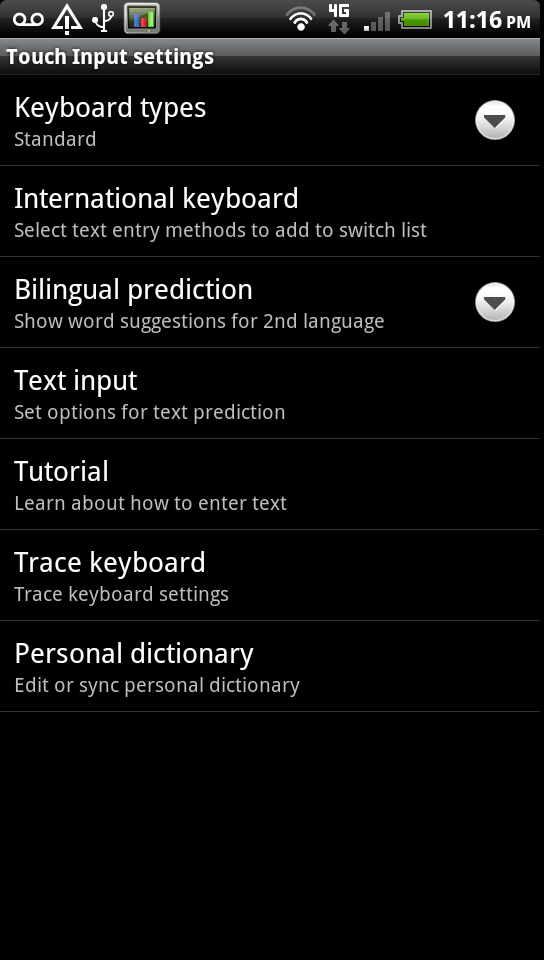 The Slide also has the Sense 3.0 keyboard and Swype preinstalled. The awesome thing here is that HTC totally lifted everything about Swype and put it into their new "Trace" feature in the Sense keyboard, except now you get to choose your own path colour. The Swype keyboard is still available as an option, but they can't be thrilled by HTC's move here. I'm a bit sad to say that I like the Sense keyboard better than Swype, but hey, who cares, this phone has the best hardware keyboard on the market. I refuse to use either soft keyboard out of sheer principle. It's like getting a Ferrari and driving it with the transmission in automatic mode. Completely eliminates the point. If I wanted to use a virtual keyboard, I'd just get a Sensation.
Speaking of the Sensation, a lot of the internal hardware looks pretty similar. The two devices share Qualcomm's now standard dual-core MSM8260 Snapdragon S3 SoC. That basically translates to two 1.2GHz Scorpion cores and the excellent Adreno 220 graphics processor.
Anand is going to do a deep dive into the dual-core Snapdragon microarchitecture in our forthcoming EVO 3D review. The EVO 3D has the MSM8660, which has the same CPU/GPU combo as the 8260, just with a CDMA capable modem onboard. So I'm just going to present benchmark results here, but for the most part, we're looking at performance pretty similar to the Sensation.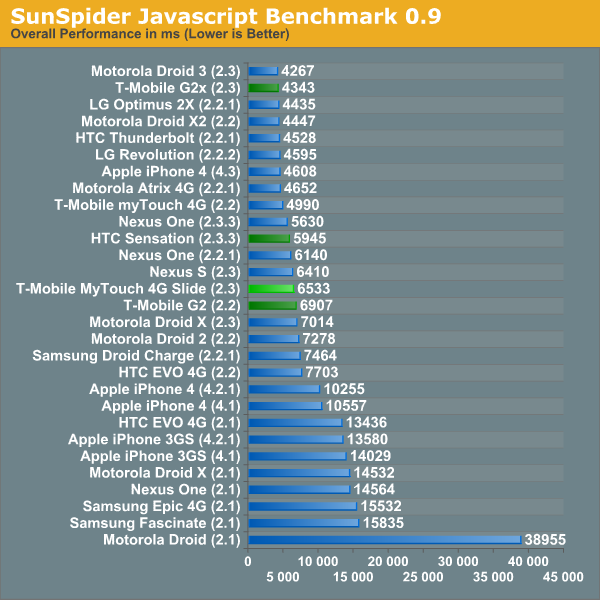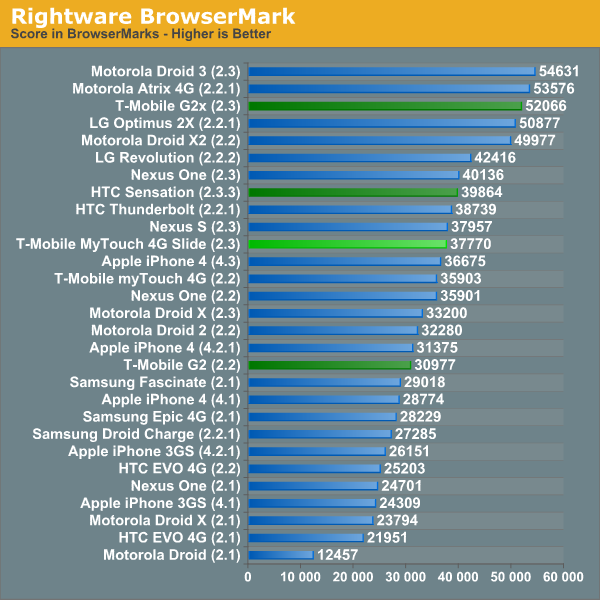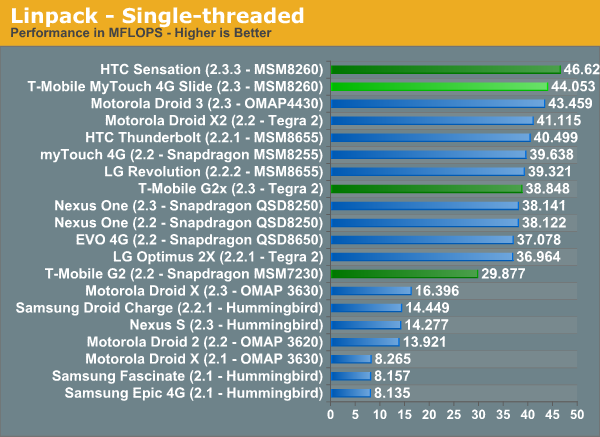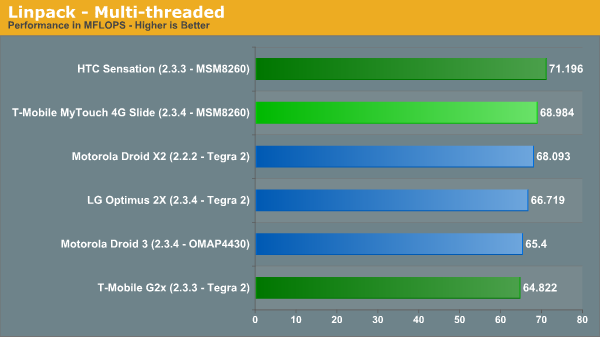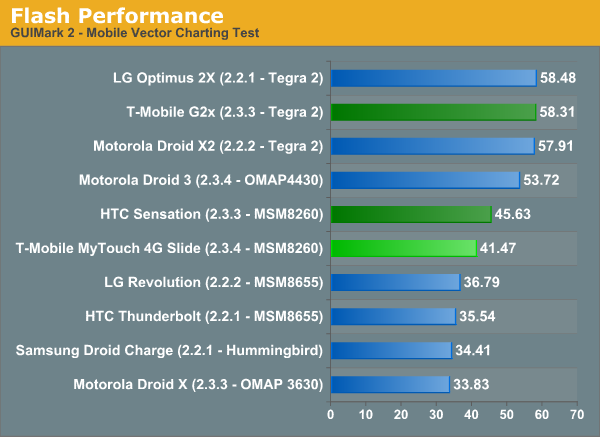 The Sensation's graphics tests aren't an apples-to-apples comparison with the MT4GS because of the resolution difference, but we can get some meaningful data out of them. No search button means no results from Kwaak 3 (yes, there are ways around that, but it's not worth the effort - Quake 3 results are losing relevance at WVGA resolution, since the average is somewhere very close to the vsync of Android regardless of which dual-core SoC you're running).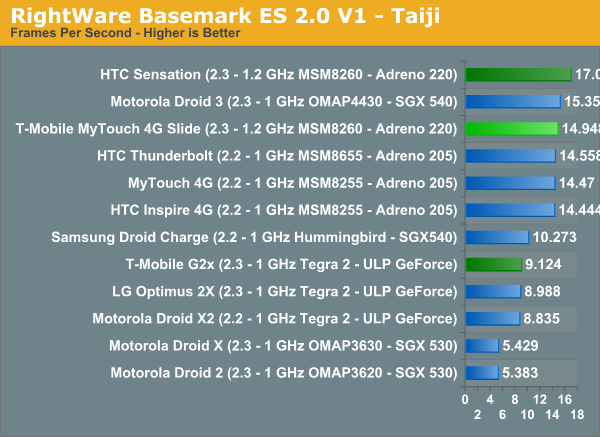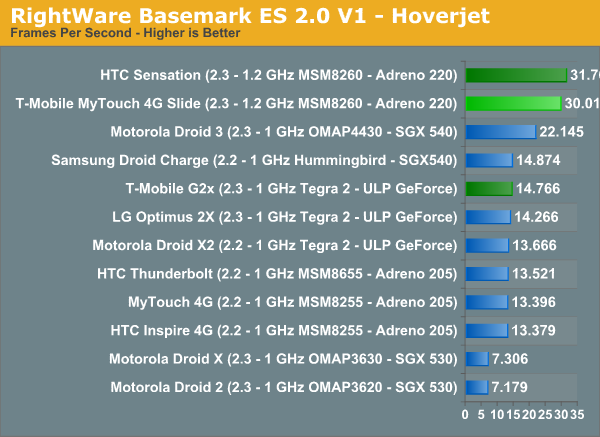 Basemark runs at VGA regardless of native screen resolution, so we see pretty similar numbers between the Slide and the Sensation, and especially in the Hoverjet benchmark, we see that Adreno 220 wipes the floor with....everyone.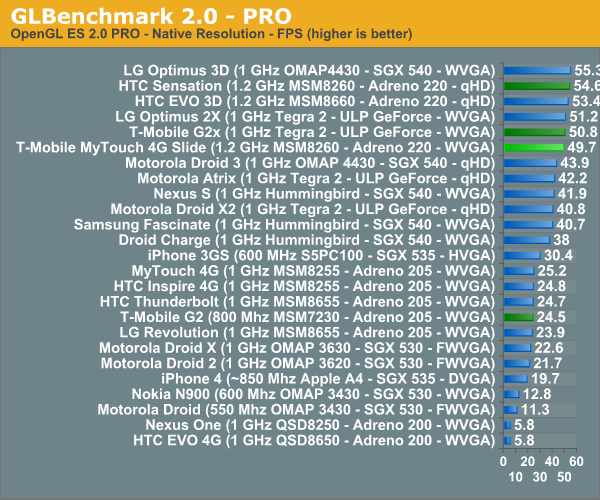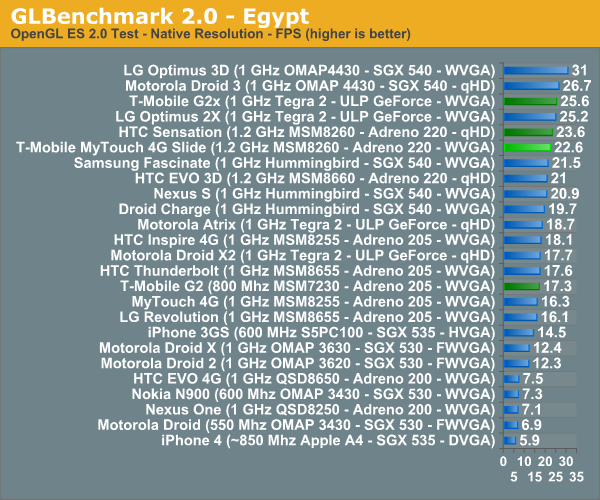 GLBenchmark doesn't actually tell us very much. The Slide benchmarked a hair slower than the Sensation, even with the WVGA vs qHD thing. Given that most of our results are clustered in that region, it's possible that there's something in the textures or geometry that is limiting the framerates to around 25 fps in the Egypt benchmark and around 55 fps in the PRO benchmark. We'll talk more about the Adreno 220 and how it performs in our EVO 3D review as well.
We ran the MT4GS through our entire battery life suite. Given that the Slide has roughly the same components and battery size as the Sensation, and as such, the battery life ends up being pretty similar.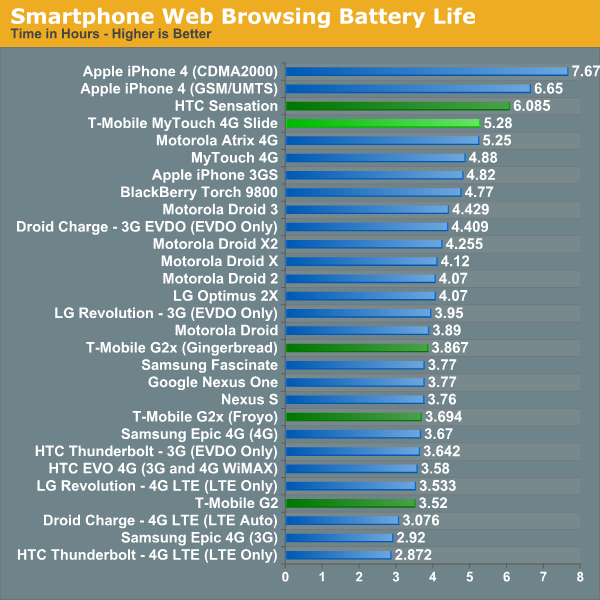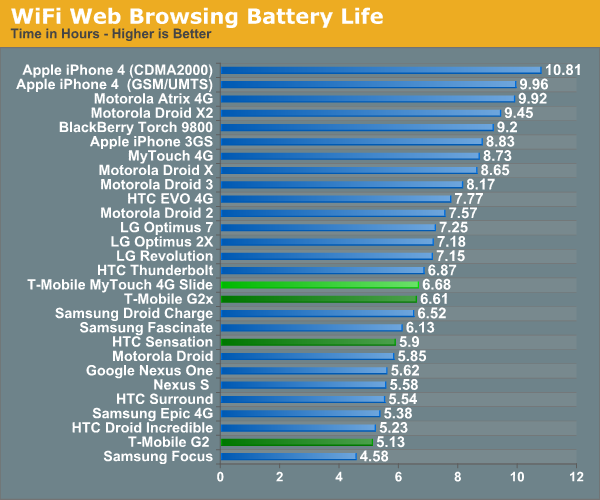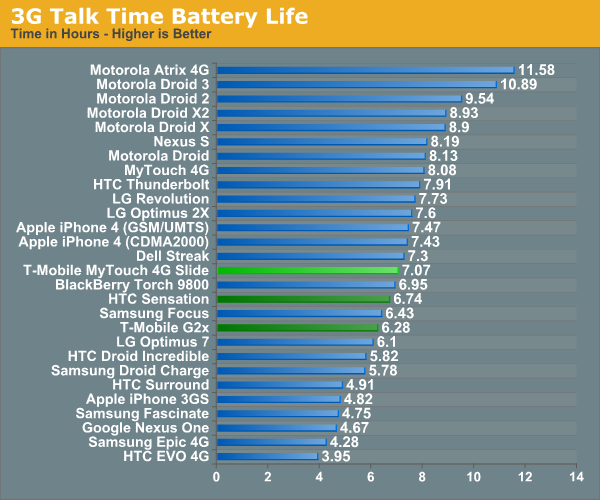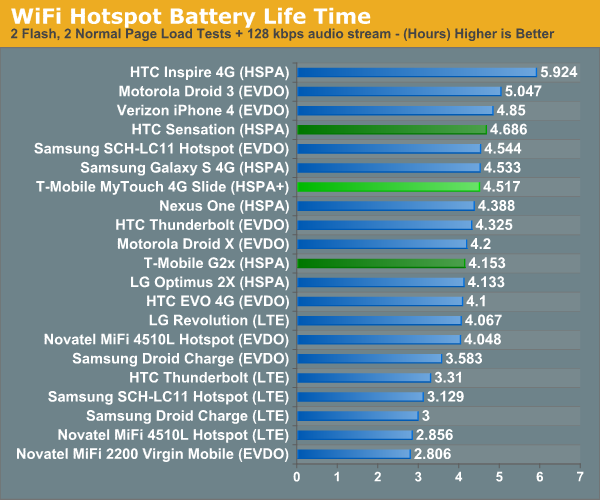 Overall, the Slide fares pretty well. The Sensation gets pretty good battery life for a dual-core smartphone, and the MyTouch is no different.
As I mentioned earlier, the Slide has a 3.7" WVGA Super-LCD display. Brian gave a pretty thorough rundown on what Super-LCD actually is in his Sensation review, so I'm just going to quote him. He's an optical engineer, he knows this stuff a lot better than I (a mechanical engineer) do.
So what is Super LCD? Earlier I mistakenly stated that it was IPS - it's actually a PVA derivative. So why PVA? Well, remember AMOLED's strengths - excellent (completely off) blacks, extremely fast response times, and good viewing angles. It's easy to nail the first and last with IPS, but I wager that HTC also wanted to eliminate any chance of smear, and went for S-LCD which (thanks to its PVA heritage) offers a nice balance of the three. In addition, the S-LCD panels use a traditional RGB (3 subpixel per pixel) stripe rendering layout, making it even better in some ways than the original AMOLED for things like web browsing and sharp-edged or one pixel thick UI elements. Panel types aside, S-LCD is good enough that it's hard to tell apart from IPS.
Unfortunately, unlike the Sensation, which has a new-age 4.3" qHD screen, the Slide makes do with the same 3.7" WVGA panel from the G2. This is borne out in the numbers - the brightness is way low, but the contrast ratio and viewing angles are more than decent, but more importantly, they're all within 2-3% of what we saw from the G2 last year. The white temperature is basically spot on with other HTC devices at 6365K, giving much more natural whites than Samsung (who seems to really enjoy having relatively cool displays with rather oversaturated blues).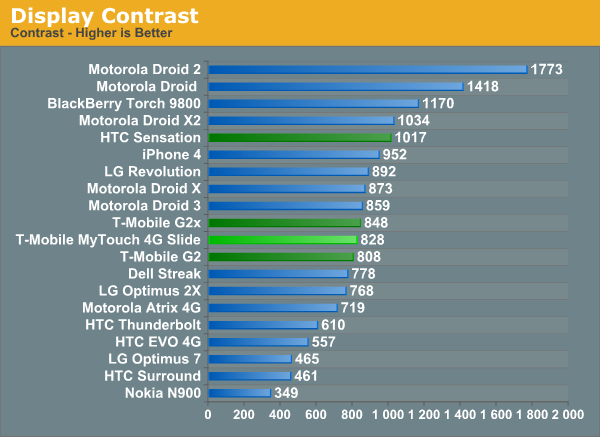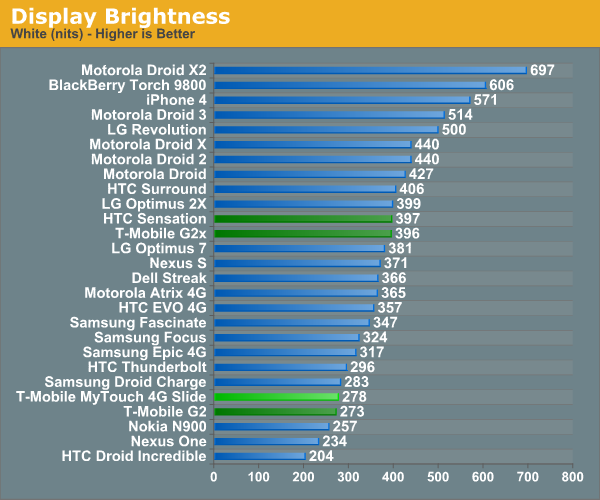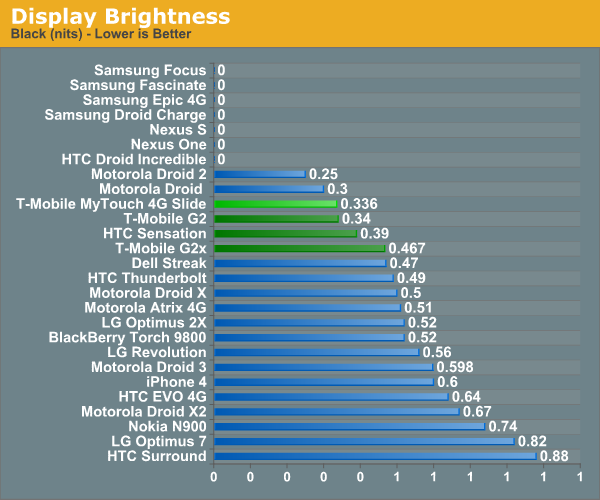 The panel is still okay, but it's definitely not near the top of the class in this day and age. For the next go around, I'd really like to see HTC go for a higher brightness, higher resolution display.
And now we get to the good stuff. The MT4GS camera is one of the more highly touted smartphone shooters in recent memory, with features like zero-shutter lag, an f/2.2 aperture, built-in HDR, panorama, 5-shot bursts, 1080p video recording, and practically everything else including the kitchen and bathroom sinks included. We decided to do a bit of digging to figure out what really was going on, and naturally, took a ton of pictures in the process. 125 sample images later, I here's what we learned.
Let's start with the sensor. A bit of monkeying around in the kernel boot logs gets us a couple of model numbers without too much trouble. The first is Sony's IMX105PQ, a 1/3.2" 8.13MP CMOS sensor with backside illuminated 1.4µm pixels and support for 1080p30. This sensor initialized successfully; it's the one in our test unit. The second model number we got was Samsung's S5K3H2YX, a 1/3.2" 8MP sensor also with 1.4µm backside illumination, 1080p30 and 720p60 support. It's a new sensor, launched at MWC earlier this year, and it's the successor to the Sensation's S5K3H1GX sensor. The OS looked for this sensor on boot, so it's likely the second sensor option. One of my friends bought a Slide this week, and we've been led to believe that it has the Samsung sensor onboard. There are some differences in image quality between the two, but not too many. Think of it like the panel lottery that's common in notebook displays, except with cameraphones. Either way, what you're getting here is a high-end 8MP, backside illuminated sensor with full 1080p30 recording support, all features that are basically mandatory for any serious cameraphone these days.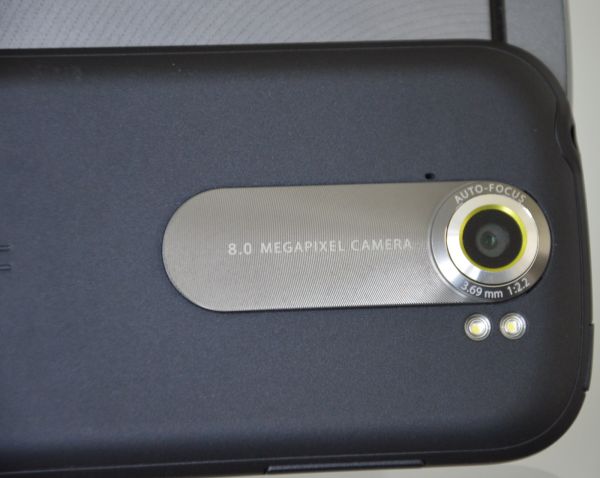 The Slide's optical system is F/2.2, which you can compare and contrast with the average smartphone's F/2.8 (or worse) system. Aperture, in combination with shutter speed, controls how much light is exposed to the sensor. The lower the F/#, the larger the aperture and the higher the diameter of the lens opening. This gets you a greater depth of field and allows more light to reach the image sensor. In the case of the F/2.2, you're looking at approximately 60% more light to the sensor when compared to F/2.8. Granted, the sensors we're dealing with are tiny - the F/3.2" sensor size has a diagonal measurement of 5.68 millimeters and a crop factor of 7.61, but still, having a larger aperture does make a big difference.
Now here's where stuff gets weird. This Zero Shutter Lag business is given with basically no substantiation on T-Mobile's website, but their press release gives a bit of detail on what it is.
Zero Shutter lag: The myTouch 4G Slide is the only cameraphone on the market with Zero Shutter lag technology. When a customer opens the camera application, the camera begins recording in the background in a memory buffer. When you snap the camera button, rather than waiting for a mechanical shutter, it looks at the timestamp of when you pressed the button and pulls the photo from the cache. Thus, there is no delay between pressing that button and grabbing that perfect shot.
Uhhh....okay then.
It turns out that this is a feature that Qualcomm showed off at Computex in June and was developed by Scalado, a Swedish company that specializes in mobile imaging solutions. Scalado's Camera Framework is built into the MSM8x60 line of application processors, so it makes sense that this is one of the first implementations of the technology. More digging suggests that this entire thing is enabled by using Scalado's SpeedTags JPEG optimization codec for 15 fps hi-res image decoding to push a stream of full-resolution JPEG images from the camera sensor to the processor and stored in a cyclic buffer. The stream of images is then displayed by the camera application as the on-screen image preview. SpeedTags data includes a timestamp on each image, so whenever the shutter mechanism is triggered, whether by the physical camera button or the onscreen button, it instantly pulls the image with that timestamp out of the stream. Until I figured out why, I was a bit disappointed in the relatively low framerate of the preview image, but it's actually a rather impressive bit of technology.
The camera interface, too, is really well thought out, starting with the excellent two-stage camera button. It's a machined aluminum bit, with an interesting circular ridge pattern milled into the top. HTC took an idea out of Microsoft's playbook and implemented the same idea with pressing and holding the camera button to open directly to the camera application. You can disable the feature in settings, but it's brilliant kinds of useful.
The camera button works in practice too, due to the rolling image capture. I tend to have major issues with physical camera buttons, because they usually end in me taking a blurry picture. Having no shutter lag takes that out of the equation for me, because it pulls an image from when it registers a shutter click instead of directly afterwards, when the force I apply on the camera button destabilizes the entire phone. That isn't to say that it completely eliminates the issue, as you'll see in a bit. For the most part though, it's brilliant.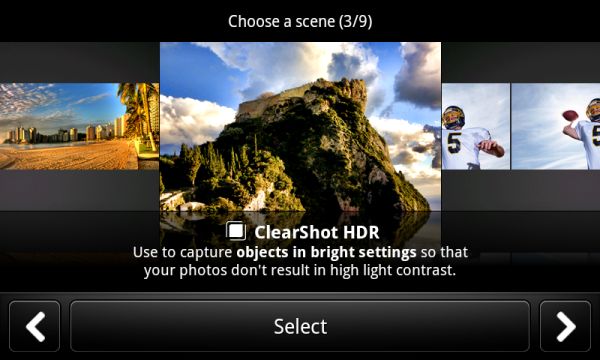 The camera application takes over from LG's as the best in the business for me. Beyond the headlining SweepShot, ClearShot HDR, and BurstShot modes, there's also an Auto mode, a Night mode for low light pictures, Action mode for settings that require a faster shutter, Macro and Portrait modes, and a Manual mode, where all the options come out to play. You can mess with exposure, contrast, saturation, sharpness, white balance, ISO (up to 800), aspect ratio (16:9 or 4:3 only), and resolution.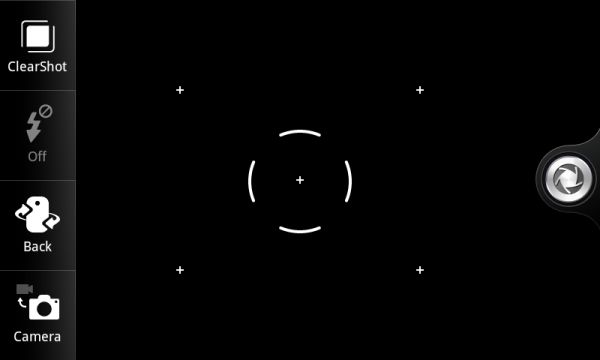 There are four translucent buttons on the left side of the camera application, overlayed on the preview image - mode selection, flash on/off/auto, front/back camera, camera/camcorder. The right side has a compact shutter button, along with a camera roll shortcut in the bottom right corner. Hitting menu brings up the camera settings, with the self-timer, various effects (sepia, grayscale, distortion, others that probably interest preteens and nobody else), resolution settings, autofocus, geo-tagging, whether or not there's a fake shutter noise when you take a picture, etc. If you're in manual mode, this is where all the exposure and ISO options live, but they're greyed out in all the other modes.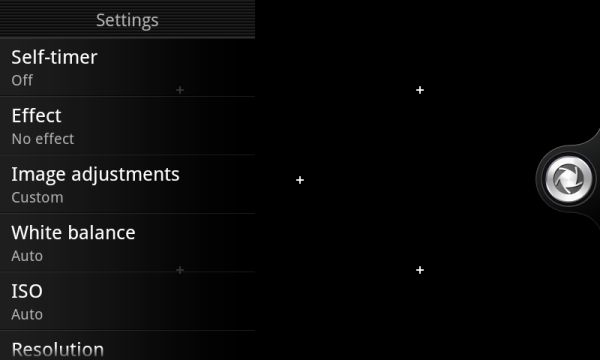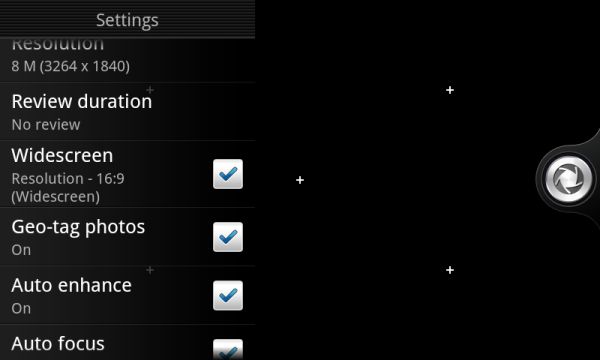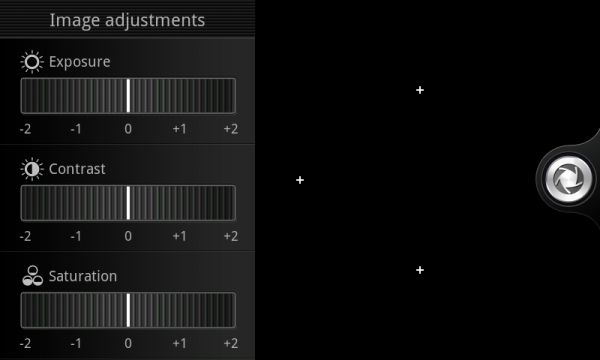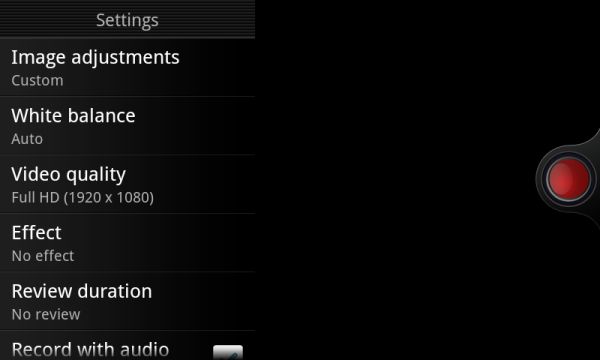 You can tap a specific part of the preview image to focus in a particular spot, and from there it's just point and click. It's just a very sleek looking app that has a lot of features and goes about it's business with a minimum of fuss. HTC clearly put a decent amount of thought into designing a clean and intuitive app with no odd interface actions.
How does all this actually translate to taking pictures? Quite well, actually. I took the Slide with me to a BMW CCA Concours event with a friend of mine, and it gave me some really, really impressive looking images. I had the G2x with me at the same time, and while the G2x camera isn't particularly good, it looks downright bad next to the MyTouch. Great cars, great pictures. The conditions were absolutely perfect that day, especially by Seattle standards, so it's unsurprising.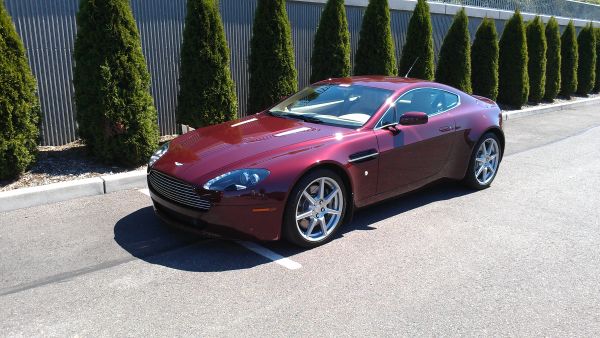 Aston Martin V8 Vantage @ 12PM. Taken in Automatic mode.
When you take pictures in more mixed conditions, they're not quite as stellar, but still significantly better than a vast majority of smartphone cameras. I'd still put the Nokia N8 at the top (and the N9 even higher when it releases), but this definitely in the conversation for second best, along with the Galaxy S II (which we're still testing). I'm willing to say the Slide can replace a point and shoot without too much difficulty during the day, it really is that good.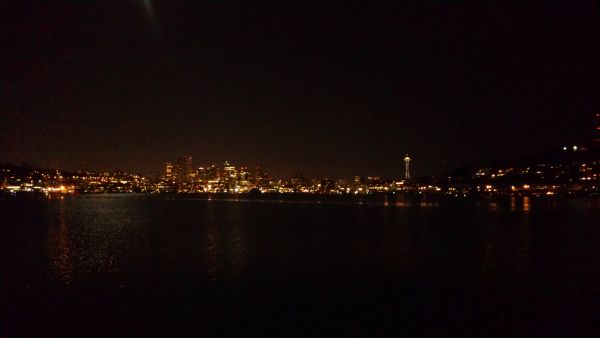 Seattle Skyline @ 12AM. Taken in Night mode, fully automatic settings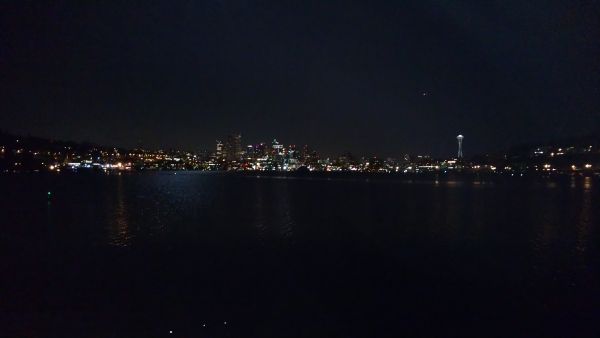 Seattle Skyline @ 12AM. Taken in Manual mode, incandescent white balance and ISO 800
The problem is night-time photography. The white balance in low-light situations is way too red in any of the automatic modes (auto, night, HDR), but you can set the white balance and ISOs in Manual mode. That fixes the light balance, but there's still a lot of noise in the images when viewed at full resolution. It's a bit disappointing, but there's simply no way to get enough light to a sensor that small. I shouldn't complain too much though, because it's better than most of the other cell phone cameras out there.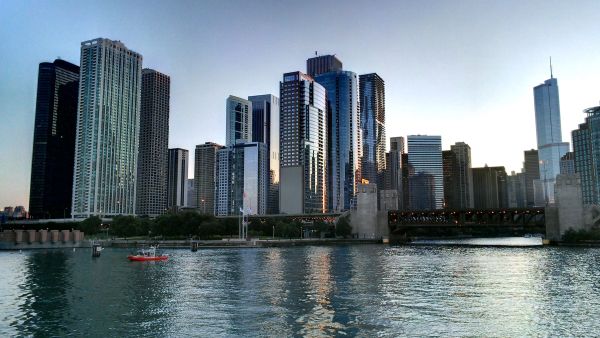 Chicago downtown @ 6PM. Taken in HDR mode, fully automatic settings. Image courtesy of Nitin Seemakurty.
ClearShot HDR basically takes three pictures in quick sequence with three different exposures, then digitally merges them to get high dynamic range. Unfortunately, this issue with white balance means that HDR is basically unusable at night. I really like the night-time HDR effect, so I was a bit crestfallen, but the HDR effect is pretty gorgeous at dawn and dusk, as you can see in the image above. The friend I mentioned earlier took the that picture in downtown Chicago at around 6PM, and I honestly found it difficult to believe that came out of a phone camera. My own HDR images, while not necessarily as stunning as my friend's picture, are decent. I noticed some overdarkening with clouds in the daytime, but it's not too big of a deal.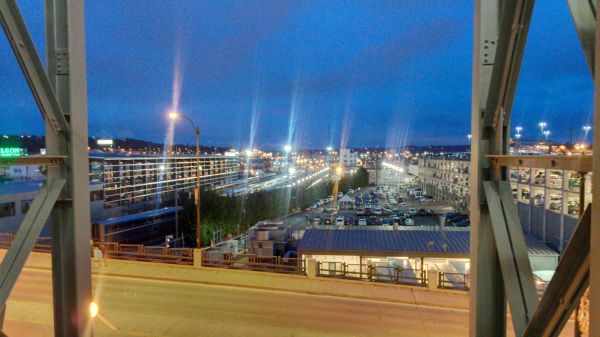 Seattle downtown @ 10PM. Taken in HDR mode, fully automatic settings.
Also, if you're not necessarily very good at keeping a steady hand with the physical camera button, you might end up with something like what you see below. Yay for ghosting....this is why I stick to software buttons. This is also true if you're shooting a dynamic object, like the water in the first downtown Chicago picture.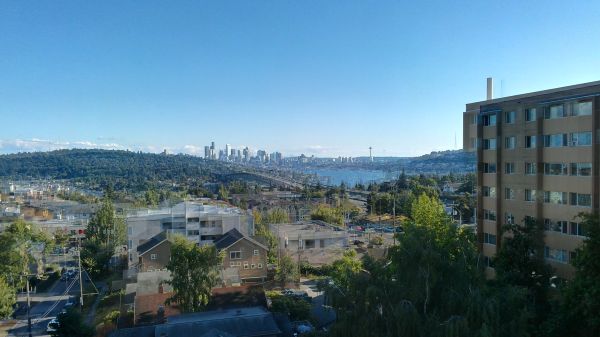 The view of Lake Union from my apartment @ 3PM. Taken shakily in HDR mode, fully automatic settings.
BurstShot is just a rapid fire, 5 frame burst. It's good if you want to capture a quick motion sequence, but also if you're trying to get the best picture out of a set.
SweepShot is a fancy marketing term for a digitally stitched panorama. Hit the camera button then slowly rotate either left or right, and it'll just fill the bar for you. 5 seconds later, you have a panoramic image of the Seattle skyline (in my case) or whatever else suits your fancy.

The view from the roof of my apartment building @ 5AM. Taken in Panorama mode.
Now, for the other sensor. All of my sample images were taken with the Sony IMX105 sensor, which shoots 8MP pictures at 3264x1840 in widescreen and 3264x2448 in 4:3. My friend's widescreen pictures come out at 3232x1824, even though the camera application specs the same resolutions as with the Sony sensor. His pictures don't tell me much, other than he's a better photographer than I am (or he shoots more picturesque subjects than I do - metropolitan skylines will always be better sample images than cars, but hey, I like cars more than buildings). It also reaffirms my feeling that given the right conditions, the Slide can take really, really brilliant pictures.
Images courtesy of Nitin Seemakurty.
The front facing camera is the same Micron/Aptina MT9V113 1/11" VGA CMOS sensor as the Sensation. Unlike LG's front facing cameras, this one is oriented such that the output isn't flipped, as demonstrated by the image sample of my Barcelona jersey. As with the Sensation, quality is pretty mediocre, but it'll be solid enough for videochatting.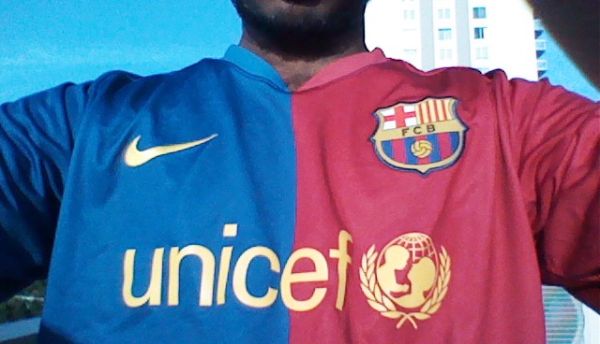 Compared to the still quality, the video quality is actually a bit rubbish. Video is encoded at AVC baseline with 1 reference frame, and at you're looking at a bitrate of 10Mbps for 1080p video (which actually comes out as 1920 x 1088 for whatever reason). Audio is single channel AAC recorded at 96kbps, with a mic that's very susceptible to background noise and generally poor audio quality. The 1 minute, 10 second sample video clip came out in an 86.7MB file, so figure about 75MB per minute of 1080p video capture.
I was relatively crestfallen to see that the Sensation's stereo mics didn't make it to the Slide. I know that it's photo-centric and not video-centric, but for an imaging device, I feel like having the dual mics to provide acceptable audio quality would have been a pretty small concession to make. The additional BOM cost for a second mic would probably have been at most what, 50 cents? Worth every penny.
Okay, I've been mostly ignoring the software side of things here, for not really any good reason, but here it goes. The MT4GS ships with Gingerbread 2.3.4, with a UI skin that basically amounts to a decontented version of Sense 3.0, which Brian covered in depth with his Sensation review. T-Mobile made a whole bunch of changes to the skin, mostly taking features out or just tweaking interface elements.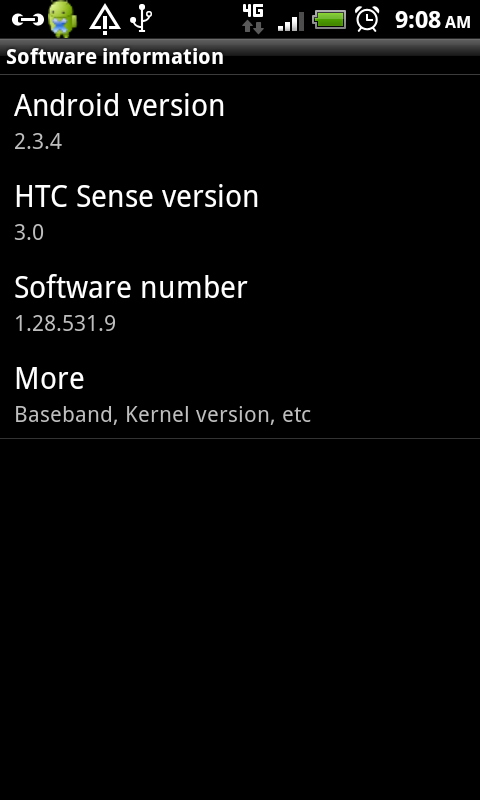 I'm not a huge fan of UI skins. At all. They can make perfectly good phones feel downright slow, and slow phones feel unbearable. For example, the completely unskinned G2 feels subjectively quicker then the Sense-ified MT4GS, even though it's down a core and has 50% lower clocks. This has nothing to do with how powerful the phone is and everything to do with how responsive it feels in basic OS interactions. Very rarely do they ever add anything of value, especially ones done by LG and Samsung. Surprisingly, I never had as much animosity towards Sense as the others, and certainly not as much as Brian. Sense 3.0 on the Sensation is simply the only UI-skin I've dealt with that adds functionality and amounts to a logical reskin of Android.
The skin T-Mobile chose to ship with the Slide is basically Sense 3.0 with all that functionality taken out. The biggest losses here are the lockscreen app shortcuts and the rich info you get from the weather lockscreen. The other disappointing thing is that HTCSense.com features aren't supported in full as they are on devices with the official version of Sense. This is a pretty big loss, since HTCSense.com comes with some pretty nice features, like remote backups, a locating feature with remote dialing (even when set to silent), remote lock and wipe, editing and multimedia features for photos and video taken on your phone. In my opinion, it's one of the best things about Sense, but you get none of that with T-Mobile's custom variant (hereby dubbed nonSense, for lack of a better name).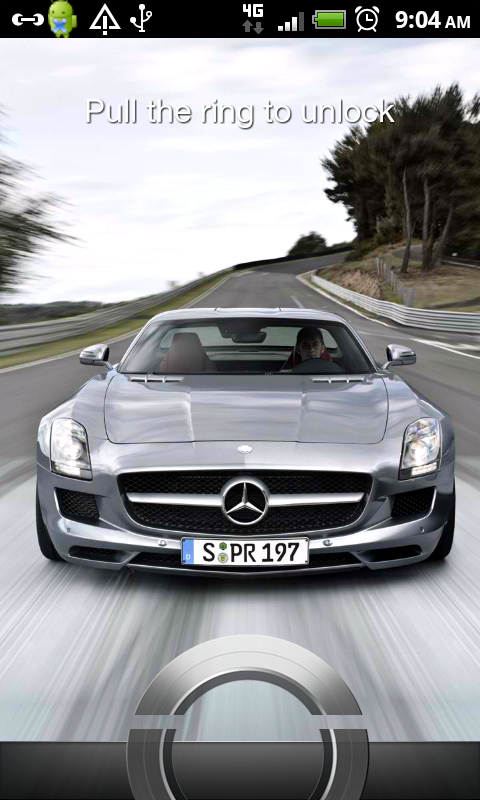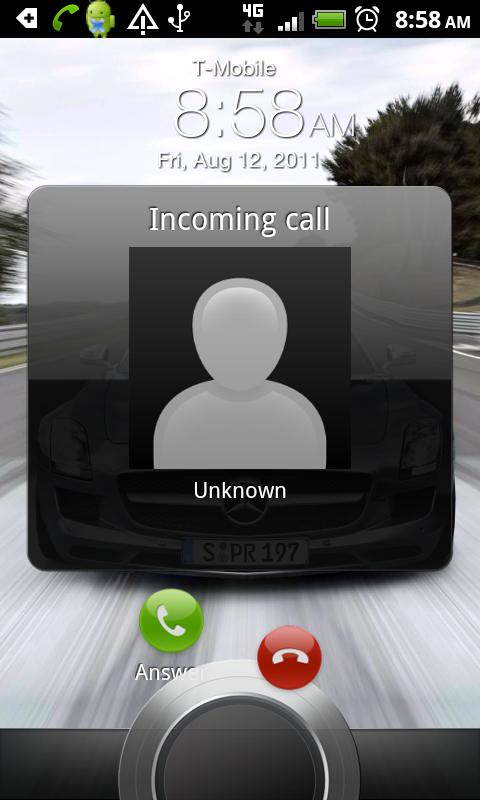 Let's look at what you do get. The sliding ring is still there, you pull it up to unlock the phone. When you're answering the phone, you can drag the green and red icons into the ring to accept or decline the call. Alternately, you can swipe the ring upwards to answer the call.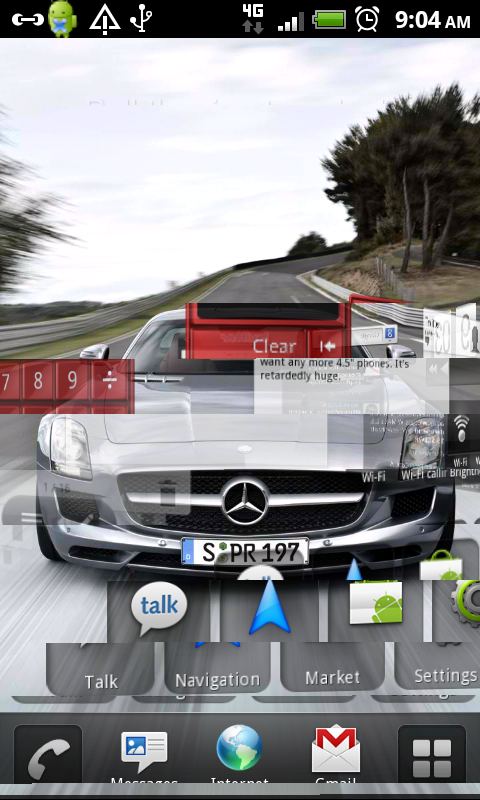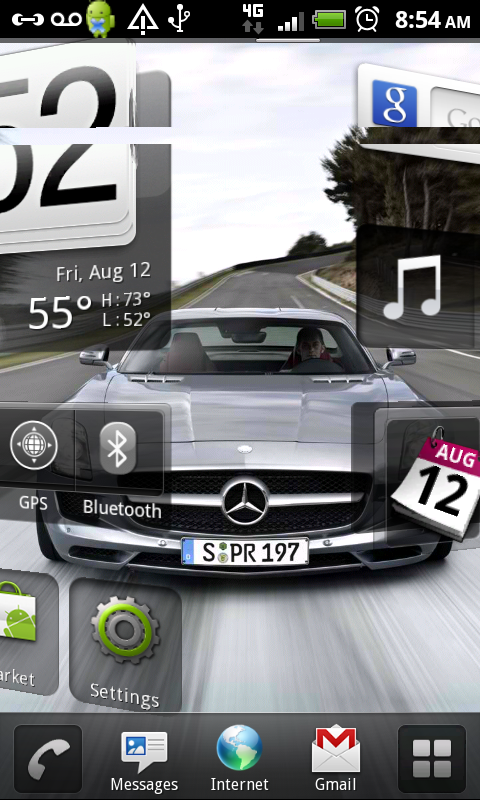 The homescreens rotate in on a circular track, almost like a revolving door of lockscreens. HTC has really emphasized the smoothness of the animations here, but it feels like a waste of computing resources if you ask me. (Sorry for the terrible images, DDMS has some issues with taking screenshots of the rotating motion.) The general interface actions here are identical to those in Sense 3.0. Quickly swiping through homescreens gets the entire deal to spin fluidly, with a virtual version of inertia deciding which screen you land on.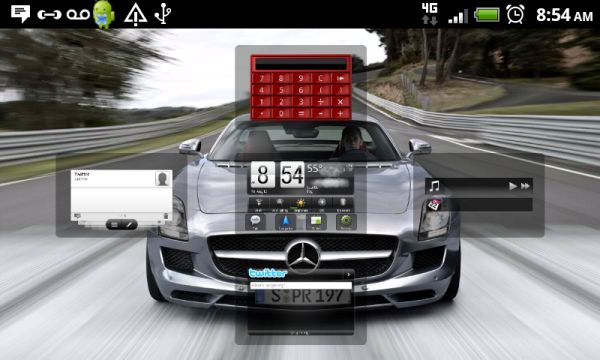 Unlike Sense 3.0, there's only 5 homescreens and no real easy way to rearrange them. Double-clicking the home button from one of the homescreens gets you an exploded view of all five, but there's no way to drag them around or anything. Long-pressing on empty space brings up the Personalize menu, which you can also get to by hitting the menu button from the homescreen. You can mess with a bunch of stuff, including the system theme, wallpaper, widgets, folders, app shortcuts, shortcuts to specific parts of certain apps (such as the battery use part of the settings menu, a Gmail label, or a specific playlist in the music app), the ringtone, and notification sound.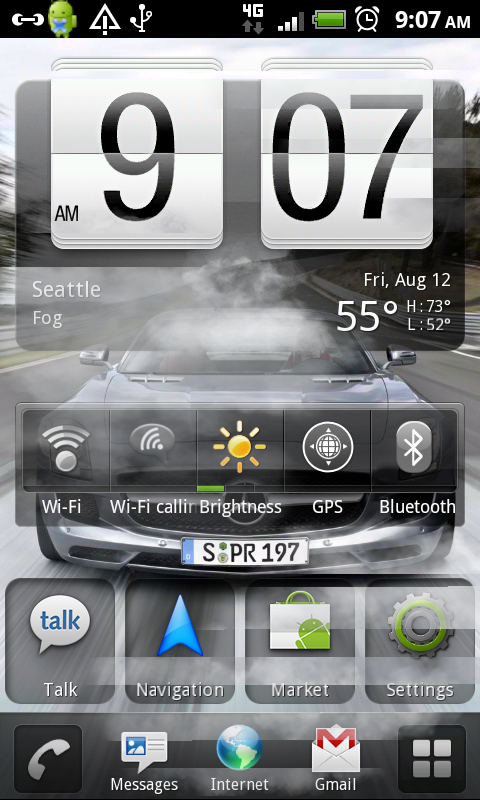 The system theme sounds interesting, but literally all it does is change the wallpaper, ringtone, and appearance of the bottom row of icons. I like having my own wallpapers and ringtones, so it's only a very small appearance difference to me. The bottom row of icons has its own issues though, in that it has five icons, two of which (phone and app launcher) aren't modifiable. I like keeping it simple and just having three options - phone, browser, and app launcher. Sense 3.0 messes with it by dumping the browser button for the Personalize menu, but I can live with it. Something about having 4 or 5 icon docks just bugs me, especially when some of the icons are fixed. You get used to it fairly quickly though, so it's not a huge deal.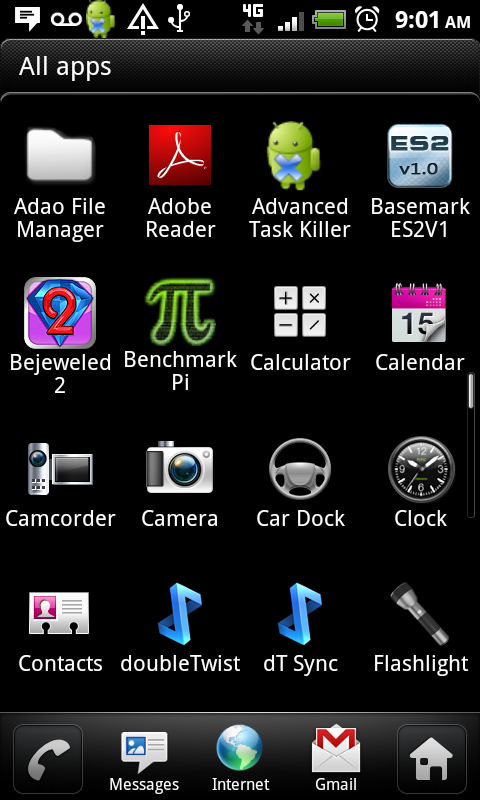 The app launcher is another place where minor annoyances lie. You scroll through pages, grids of 20 at a time, instead of scrolling through by row. This is a feature imported from Sense 3.0, and it's another one that I personally don't like. As with the dock, you get used to it. The big difference in the app launcher between Sense 3.0 and the MyTouch-version is that the MyTouch devices lose the tabs, which is actually a bigger loss than I first thought. The frequently-used apps tab is pretty sweet, I'd have liked to see it in this UI.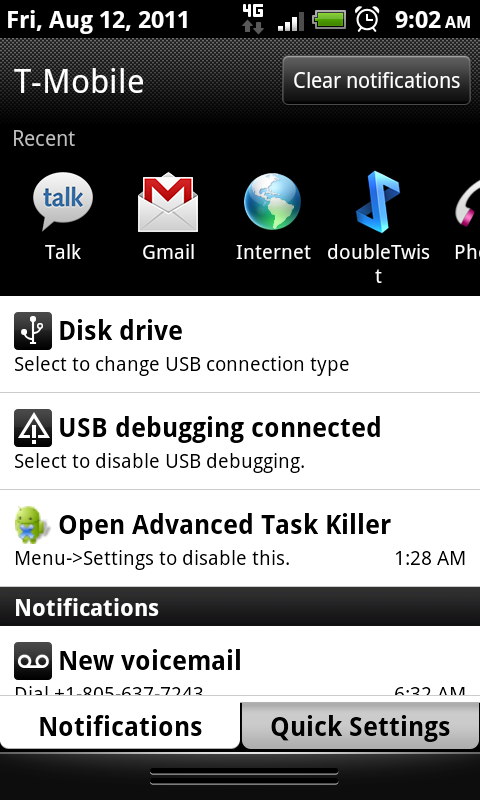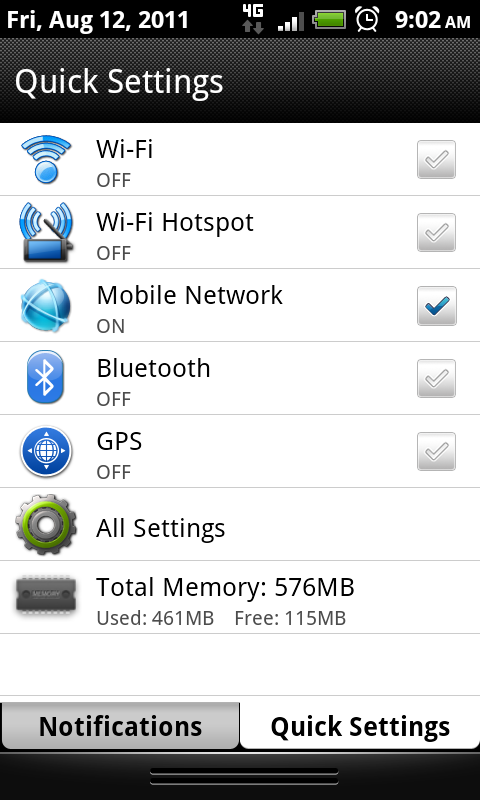 The notifications shade is another carryover piece from Sense 3.0, with a recently used apps list and a quick settings tab. It's a nice touch, one of the additions I really enjoyed, though a brightness slider would have made it even better. The task manager, too, is a good feature to have built-in, it's a pretty clean way to manage running applications.
The only other major change is one that I mentioned earlier, with the Search button being replaced by something called the Genius button. Just right off the bat, let me make it known that it's not as brilliant as T-Mobile seems to think it is. It's a glorified voice command interface done by Nuance, the company behind Dragon Speech and Ford's SYNC. It's a well done bit, but it's not ingenious. Think of it like Windows Phone 7's voice command shortcut, and you've got the right idea.
The software design, like the industrial design, is one of the most infuriating things about the Slide, not because it's bad, but because it's impossible to use it without thinking how it could have been better if there had been less design involved. The implementation of Sense in the MyTouch devices doesn't actually add too much in the way of functionality, and it serves to slow down the system a fair amount. It doesn't come across in benchmarks, but it feels sluggish. The asynchronous core clocking and performance-state stepping of dual-core Snapdragon plays a role compared to the dual-core Cortex A9-based SoCs, but the skin definitely isn't helping. This is true for the Sensation too, which is why I prefer the G2x (as long as it isn't crashing), but Sense 3.0 at least adds some significant functionality and value there that just isn't there in the MyTouch.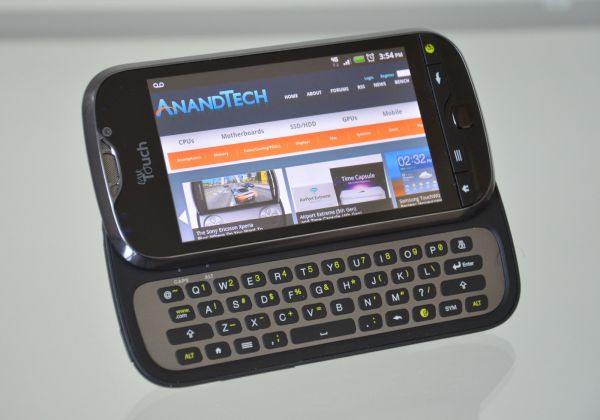 And that's really my takeaway from this device. It's not a bad phone by any means - it's powerful, it's got a long list of features, a great hardware keyboard, and quite possibly the best camera on an Android smartphone at present. But it's not a very enjoyable device to use - there's a lot you have put up with, like the somewhat overdone hardware design or rather the intrusive UI skin. Maybe I notice these things more acutely, because I deal with so many different phones on a week-to-week basis, but it's the same kind of thing that bugged me about the MyTouch line in the past as well.
The MyTouch 4G Slide could have been something like the GSM answer to the Motorola Droid, the same way the G2 was, but it ends up being something much less polished. It probably should have been closer to a landscape slider variant of the Sensation. There was a lot of potential here to create a more competent phone, starting with the industrial design. The thickness was probably inevitable, given the necessary camera hardware, but it didn't need to feel so bulky. And there's not much of an excuse to have such a competent imaging device hamstrung with such a mediocre display, especially not when the size of the device would have easily allowed for it.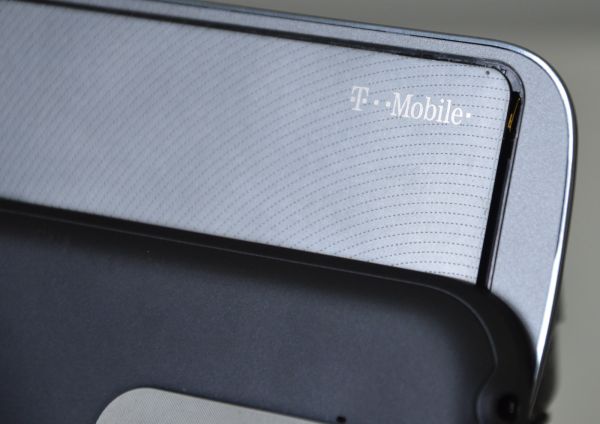 But ultimately, I'm not sure that any of these complaints actually affect the Slide's target market. For anyone on T-Mobile that's looking for a high-end phone with a hardware keyboard, this is literally the only option. And for those people, the Slide is great, a powerful and well-built smartphone with a great camera and a long list of features. If you don't need the keyboard, you might as well get the Sensation, which has the same hardware and a more complete version of the same software to go with the higher quality design and larger qHD display.
The only other reason I can see to get the Slide is if having the best possible cameraphone is important to you, for whatever reason (and you don't want to deal with Symbian - sorry, Nokia.) It's seriously one of the best smartphone cameras out there, but I'd like to see a shooter of this quality on a device like the Sensation - the Slide occupies a much smaller niche in the market due to the added bulk of the slider.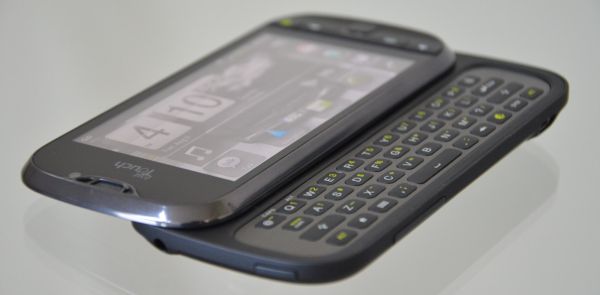 The Slide's only true competition across any of the carriers comes in the form of the Droid 3, at least until the follow-up to the Samsung Epic 4G arrives at Sprint later this year. But the Slide isn't one of those headline, flagship devices for a carrier the way the Droid 3 and Droid Bionic are for Verizon, the EVO 3D is for Sprint, and the Sensation is for T-Mobile. Those are all phones that are either pushing technological boundaries (Droid Bionic and EVO 3D) or phones that are just so thoroughly competent (Droid 3 and Sensation), probably some of the most well-rounded devices on the market. The Slide could have easily been in the latter category, but some of the more head-scratching decisions in hardware and software design mean it ultimately comes well short of delivering on that promise.