Original Link: http://www.anandtech.com/show/4551/motorola-droid-3-review-third-times-a-charm


If ever a product has summed up the progression of the Android ecosystem, it's the Motorola Droid. The first Droid catapulted Android into the mainstream with its first 2.x release, and since then the Droid itself has seen a yearly update cadence that honestly has shown no sign of stopping. The updates thus far track the trends that we've seen affect the Android ecosystem as a whole - newer and better versions of Android alongside ever increasing SoC performance, display improvements, camera improvements, and refined hardware design.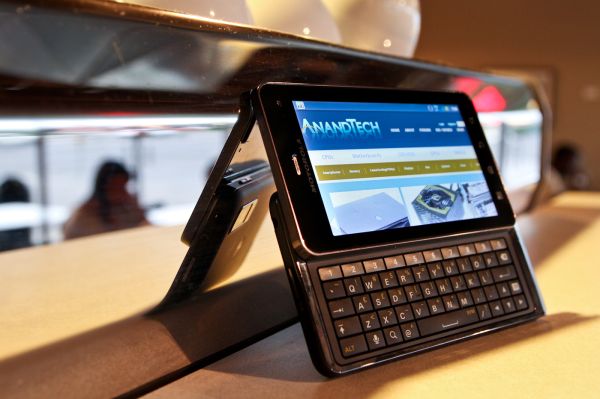 I think that pretty much sums up what kind of update the Motorola Droid 3 (henceforth just Droid 3) is. It's an iterative product launch, for sure, but that belies just how good the improvements all around really are. I noted a few of them already - the Droid 3 includes a dual core OMAP 4430 SoC, larger 4" qHD display, more internal storage, better camera, front facing camera, and most notably a much improved 5 row QWERTY keyboard.
Of course the huge question mark is what has improved connectivity-wise on the Droid 3. There's no 4G LTE baseband, however, instead of repeating the Droid 2 and Droid 2 Global duopoly, Motorola just went ahead and made the Droid 3 global from the start. That's right, it's a dual-mode phone. It's no consolation if you're still waiting for an LTE enabled device with a physical keyboard (for that, you'll have to wait for Samsung to release its rumored next device), but in my mind right now you can either have multi-mode global (CDMA2000 and GSM/UMTS) compatibility or multi-mode (CDMA2000 and LTE) with 4G connectivity. As of yet there's no having it both ways.
We'll talk more about all of that in due time, but for now let's just go over the Droid 3's outward physical appearance and hardware.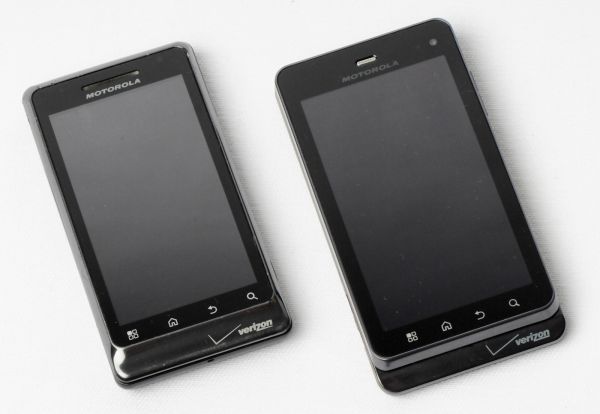 First off, the Droid 3 is notably larger than its predecessor. It's 3 mm wider, 7 mm taller, but almost 1 mm thinner. Those changes in outline are both to accommodate the 4" screen (as opposed to 3.7") and likewise the additional keyboard row. Mass is up as well, from 169 to 184 grams. I won't bore you with all the specifications that have changed, you can just check out the table below.
Physical Comparison
HTC Thunderbolt
Motorola Droid 2
Motorola Droid X2
Motorola Droid 3
Height
122 mm (4.8")
116.3 mm (4.6")
126.5 mm (4.98")
123.3 mm (4.85")
Width
67 mm (2.63")
60.5 mm (2.4")
65.5 mm (2.58")
64.1 mm (2.52")
Depth
13.2 mm (0.52")
13.7 mm (0.54")
9.9 - 14.4 mm (0.39"-0.57")
12.9 mm (0.51")
Weight
183.3 g (6.46 oz)
169 g (5.9 oz)
148.8 g (5.25 oz)
184 g (6.49 oz)
CPU
1 GHz MSM8655 45nm Snapdragon
1 GHz Cortex-A8 OMAP 3620
1 GHz Dual Core Cortex-A9 Tegra 2 AP20H
1 GHz Dual Core Cortex-A9 OMAP 4430
GPU
Adreno 205
PowerVR SGX 530
ULP GeForce
PowerVR SGX 540
RAM
768 MB LPDDR2
512 MB LPDDR2
512 MB LPDDR2
512 MB LPDDR2
NAND
4 GB NAND with 32 GB microSD Class 4 preinstalled
8 GB integrated, preinstalled 8 GB microSD
8 GB NAND, 8 GB microSD class 4 preinstalled
16 GB NAND, up to 32 GB microSD
Camera
8 MP with autofocus and dual LED flash, 720p30 video recording, 1.3 MP front facing
5 MP with dual LED flash and autofocus
8 MP with AF/LED Flash, 720p30 video recording
8 MP with AF/LED Flash, 1080p30 video recording, VGA (0.3MP) front facing
Screen
4.3" 800 x 480 LCD-TFT
3.7" FWVGA 854 x 480 IPS-LCD
4.3" 960 x 540 RGBW LCD
4.0" 960 x 540 RGBW LCD
Battery
Removable 5.18 Whr
Removable 5.2 Whr
Removable 5.65 Whr
Removable 5.65 Whr
Subjectively however, I was shocked at just how thin the Droid 3 feels in the hand in spite of the slide-out keyboard. It seems like generally there's a certain amount of unacceptable overhead that always comes alongside including an actual keyboard, yet the Droid 3 manages to do it without making it painfully obvious that everything was designed around it instead of with it.
The other major difference is how much different the Droid 3 feels compared to the Droid 2 - entirely as a result of the device using squared edges instead of the rounded chamfers that ringed the Droid 2. There's been a recent slow march away from rounded industrial design to one dominated by rigid 90 degree angles, and the Droid 3 follows that trend with this move.
The Droid 3 also takes an incredible number of design nods from the Droid X2 (and its physically identical cousin, the Droid X). In fact, I'd almost consider the Droid 3 more of a Droid X2 with keyboard than an in-place update of the Droid 2. Almost every single side has some language from the X2's design vocabulary.

Top: Droid 3, Bottom: Droid 2
Starting up at the very top is an incredibly similar power and lock button, which juts out squarely from the center. This is just like the Droid X2 button, and a huge departure from the Droid 2's rounded, off-center design. The headphone jack is on the far side and hangs over the edge slightly. There's also a small gap for prying the battery cover off the Droid 3, which also does double duty as a port for one of the Droid 3's three microphones. The power button is easy to locate thanks to it jutting out by almost one mm, and has a communicative click. I always did find that the Droid 2's rounded button made the device seem sleek, but made powering the thing on sometimes a challenge unless you always put your finger on the button immediately.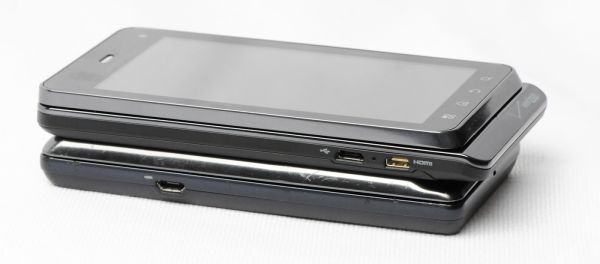 The part of the Droid 3 that I find most similar to the X2 is the left side, which includes a microUSB and microHDMI (type D) port on the bottom quarter. In-between the two is a small circle that looks like it was intended to accommodate a charging LED (which the Droid and Droid 2 both placed next to the microUSB port), instead it serves no such purpose and seems to be an afterthought. I should note that the Droid 3 box doesn't include a microHDMI to HDMI cable, so you'll wind up having to order one if you want to try HDMI mirroring, which the Droid 3 does support.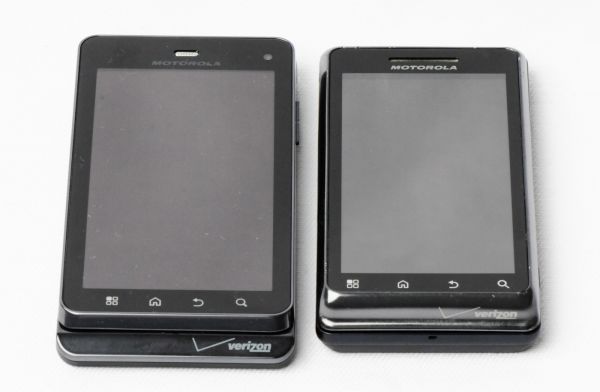 The bottom of the Droid 3 still includes the lip motif that the original Droid started, however the bottom part of the lip is no longer incorporated into top display piece which slides. Dead center and right where the display piece ends is the main microphone for voice. This bottom lip is coated with a glossy chrome material that shows fingerprints, as is the entire display lip. The gap between the display and bottom slider portion is just shy of a fingernail, and thankfully there's very little flex with the device closed. We'll go into more detail about the slider in a second.
The back of the Droid 3 is no longer a single metal piece, instead it's one large snap-on plastic part. Getting the battery door off is almost as harrowing on the Droid 3 as it is on the Nokia N900 - jam a thumb in, then pry the entire affair off. No matter how many times I do this, it's an unnerving experience.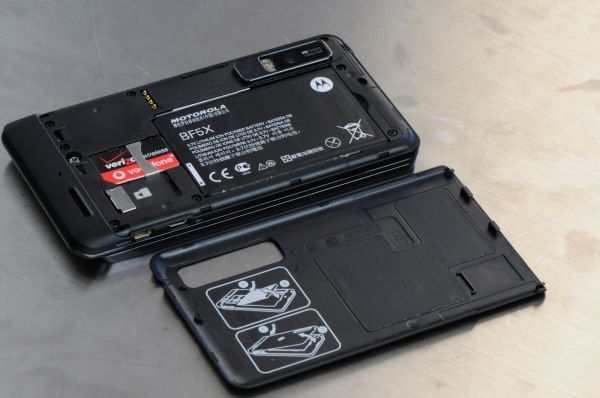 Behind that door is the Motorola's 5.7 Whr battery, which is larger in terms of capacity and different in size compared to the Droid 2 battery. It's a different model number entirely, so you're unfortunately out of luck if you're a previous generation Droid owner with a small collection of batteries.
Next to it is the SIM card slot, which of course comes prepopulated a Verizon/Vodafone SIM you'll need to activate if you want to roam abroad. The other option is of course to call, ask politely for (or buy) an unlock, but more on that later. Adjacent to the SIM slot is the microSD card slot, which comes without any preinstalled card. That's right, there's no microSD card provided with the Droid 3, instead I guess the logic is that 16 GB of internal storage supplants the need for potentially slower SD card based storage. You can always add one of your own, however. There are also four gold pogo pins also on the back of the device which make contact with the Droid 3's optional inductive charging battery cover.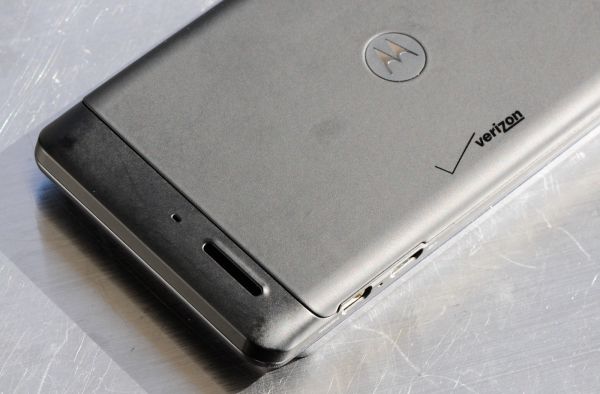 Below that is the speakerphone port, which has a slightly raised top side to prevent it from laying completely coplanar and being muffled by a table. There's a nice mesh grille preventing grime from getting inside too far in the speakerphone port. Dead center is another microphone for noise cancellation and for use with some fancy DSP when recording video.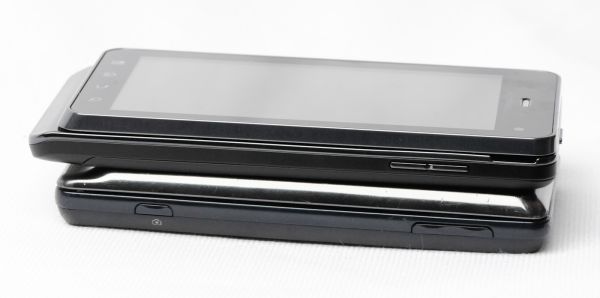 On the far right side is another interesting change, gone is the dual-detent camera button completely, just like the Droid X2. It's a change I think will initially confuse existing Droid users, especially because of how notable the camera button was in previously differentiating the device. At the very top is the volume rocker, which is one solid piece of plastic that pivots. It's nice and clicky, thankfully. There's also a small gap up near the volume buttons which a corresponding bulge on the display slider mates into.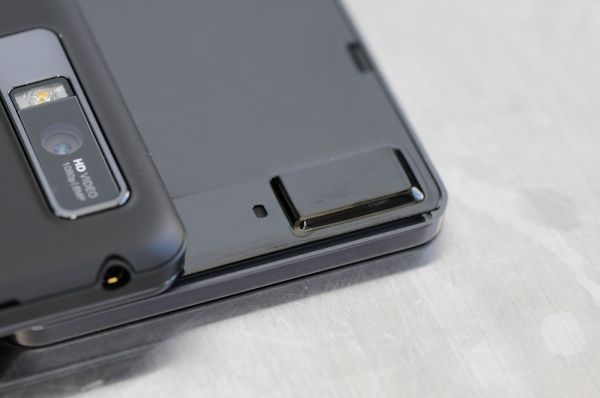 This is what keeps the Droid 3's slider mechanism so firm when the phone is closed and in portrait mode. It doesn't oreo effect at all or have much play at all. When being slid out, the same applies until the bottom part extends beyond the bulge.
Just like the other Droids, this model's slider lacks any spring assistance, instead it slides out along a friction-guided two-rail track. It's pretty obvious where that friction happens and where the slider locks into the display part, given the two small notches at the top, and likewise where the tracks are at the extreme left and right. Initially I found the Droid 3 slider a bit resistive and not super smooth, however after a few days of use it settled into a much better and smoother groove.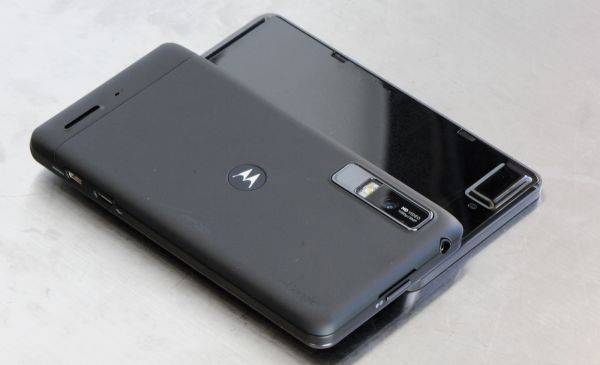 It still isn't quite as fluid as HTC's latest designs, but again gets the job done with an impressive thickness (or lack thereof). The back of the display is topped with a reflective, patterned surface which also unfortunately collects fingerprints.
So how is the keyboard that the slider makes possible? In a word - amazing. Yes, it quite literally is the closest to perfect I've seen in a very long time. Each iteration of Motorola Droid keyboards has gotten slightly better, starting with the almost unusable Droid 1's concave keys which had minimal feedback, to the mid-cycle refresh which changed key domes to convex, followed up by the Droid 2 which removed the D-pad and improved communication, and now the Droid 3.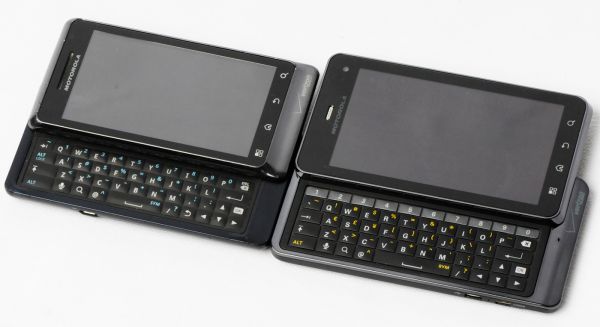 The Droid 3 adds a fifth keyboard row, this time dedicated exclusively to the arabic numerals. I originally thought having numerics wouldn't make much sense, but after entering my 20-character WPA PSK for probably the hundredth time followed by the usual assortment of passwords for email and google accounts, it finally made sense. Having a row dedicated to numerics just makes so much sense in retrospect, both for entering phone numbers in messaging, passwords, and so many other situations.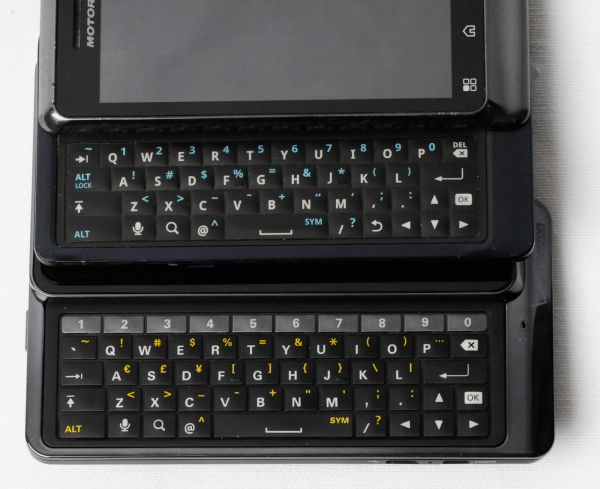 The numerical row also does double duty by acting as a buffer between the top row of the latin characters and the top display slider. My only major complaint with the Droid 2 and before was that there was very little space between this top row and the display slider - if you had any fingernails at all or even just large fingers, they'd likely collide with that slider when typing on the top row. Now, having one more (even half height) row makes that a solved problem.
The keys on the Droid 2 previously had little space between them, it was primarily one large piece without a discrete gap between characters. The Droid 3 now includes a shiny plastic layer between keys, which will no doubt show lots of grime in due time, but it does make each key independently clicky.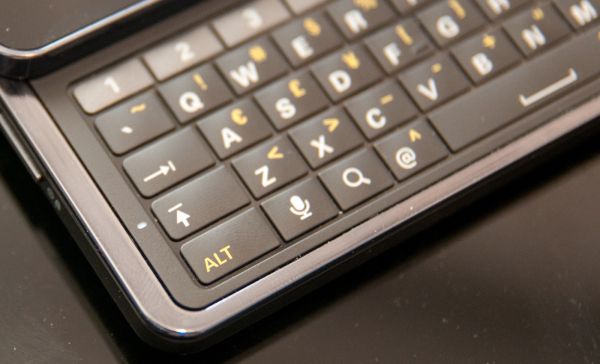 The only rearrangements to speak of are the removal of alt-lock and the back keys, and repositioning of the tab key. The bottom row also is slightly shifted to the left. Material and tactile feel on these new domes are excellent. Again, the keys are convex, topped in a soft matte texture, and communicatively clicky. Motorola takes a nod from Apple with a caps-lock indicator that nicely disappears into the lip on the left next to the shift key - it's a nice touch which makes the caps lock indicator visible even with a finger on the button.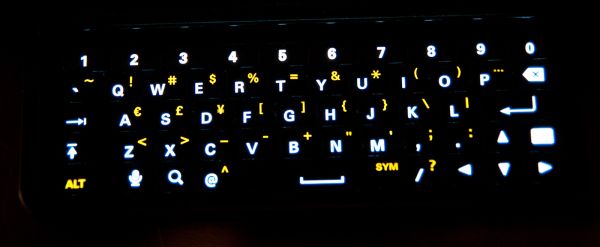 Backlighting on the Droid 3 keyboard is nice and even. There aren't any controls in settings for controlling when the backlight comes on or how long until it turns off. Backlighting seems to turn on and remain on when ambient brightness is under a certain level. Alongside the Droid 2, the Droid 3 seems very conservative with its keyboard backlighting, as it seems to enable it at a notably lower ambient light level than its predecessor.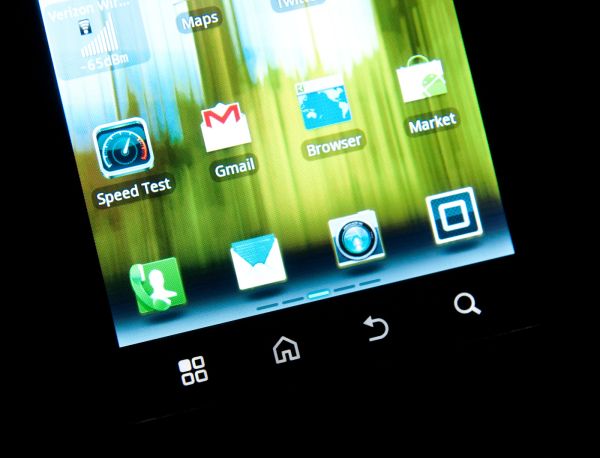 The capacitive buttons are likewise backlit the same way they have been on previous Motorola Droids, and thankfully the order of these respective Android keys are unchanged from the Droid 2 to 3. There's a bit of capacitive button backlight bleed at the bottom of the display where the glass ends and meets plastic, but it isn't too distracting.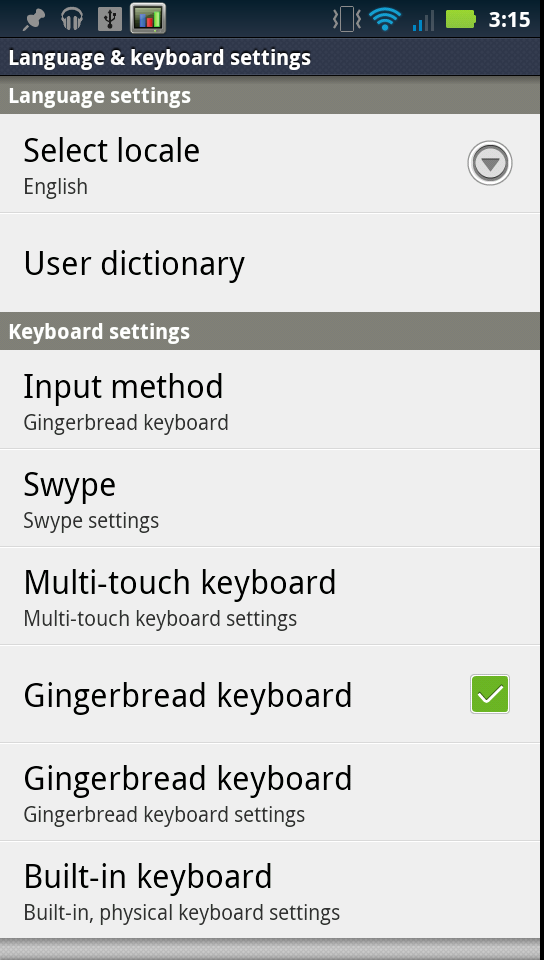 Since we've been talking about the keyboard, I think it's worth mentioning that the Droid 3 continues the Motorola legacy of including a host of software keyboard options for portrait view. Swype, the default Motorola multi-touch keyboard, and the Android 2.3 stock gingerbread keyboard are all preinstalled an available as options. I'm glad the Droid 3 doesn't do away with the gingerbread keyboard, like I've seen other Android 2.3.x handsets do. Swype is themed to look like Motoblur, and the multi-touch keyboard is as good as it always has been on other Motorola Android devices.
The last part is that there's another pane in the input and keyboards settings page for the hardware keyboard with a few options. What feels neglected is how anemic the hardware keyboard auto-replace engine is. Compared with the gingerbread and even Motorola multi-touch keyboards, the hardware keyboard has an almost non-existant auto-replace engine for fixing misspelled words. In practice, it does little more than correct things like "im" to "I'm," and so forth. It'd be nice to see the hardware keyboard get a bit more love.
Droid 3 Car Dock Accessory
Before we leave the subject of superficial hardware impressions and the exterior, I want to mention something else. Motorola did something interesting and sent along the official Droid 3 car dock accessory. I'm familiar with the Droid 1 and 2 car docks, with a friend of mine owning and using one daily.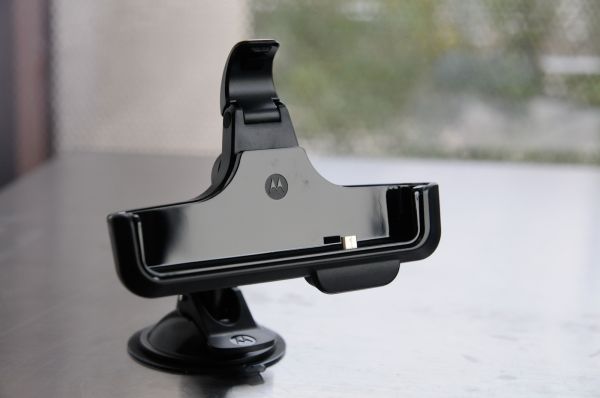 The Droid 3 car dock is changed but only slightly, with a larger form factor designed to accommodate the Droid 3's heftier size. I like that the car charger consists of two pieces. By default, the dock is slightly oversized to accommodate a Droid 3 and reasonably sized case, and a plastic tray that fits inside to then accommodate a Droid 3, sans case.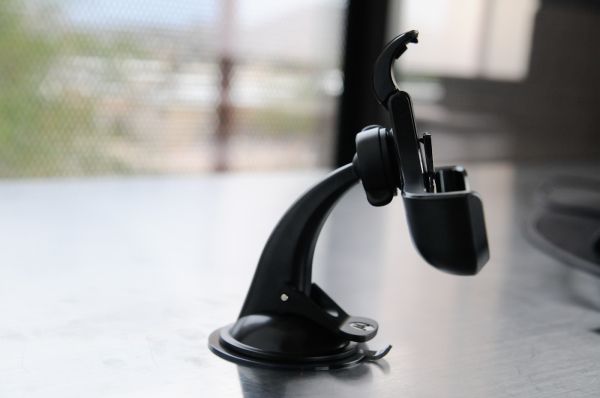 Like other docks, the Droid 3 car dock uses a suction cup to stay attached to a surface, in this case ideally a glass surface. As smartphone editor, to say that I've tried a wide gamut of smartphone car mounts is an understatement. Like most suction cup based mounts, the official Droid 3 model really does need a surface with the level of smoothness only glass can provide to stay attached. Odds are that your dashboard won't be sufficiently smooth enough to keep the mount suctioned on. The smartphone slides in, and a top spring loaded latch locks down on the device to hold it in place.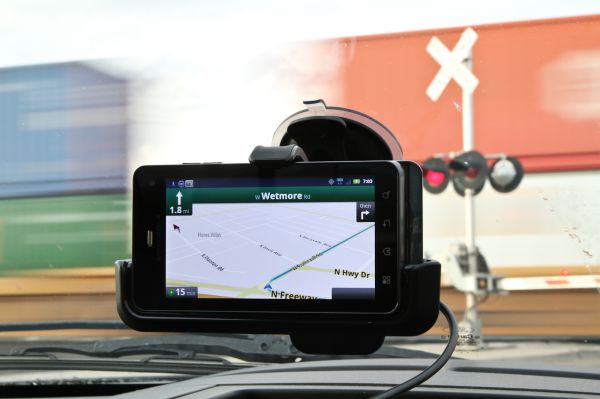 There's a microUSB connection on the back side of the car dock into which a car charger plugs. The dock pivots on a ball which can be tightened. Again, I was impressed with the weight and balance of the car dock, which makes it very stable when attached to a windshield. I have a variety of accessory socket chargers, but ordered the official Motorola accessory socket USB charger just to see whether anything differs. I'm happy that the day of accessories being locked to specific manufacturers is long over.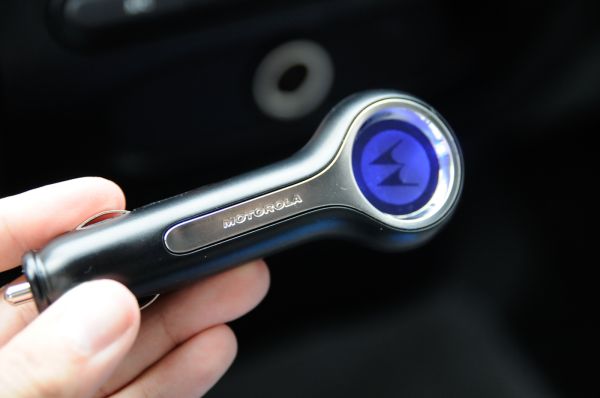 As always, mounts that are specifically designed to a particular product fare better, and the Droid 3's is no exception. The whole apparatus is nicely balanced and dampened with enough mass that the device doesn't shudder or shake violently at any road speed or condition. I drove around town in my truck at surface street speed and on the interstate at 80 MPH with the Droid 3 in the mount and came away impressed.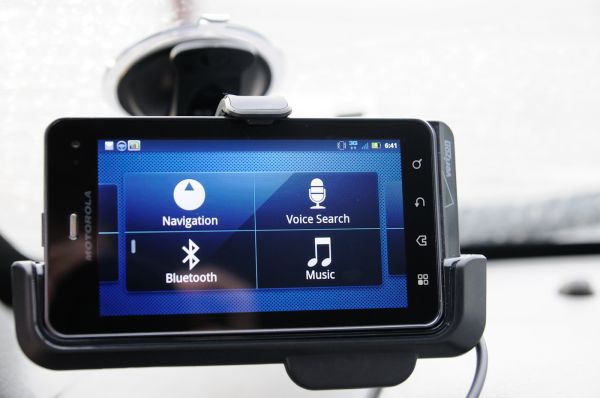 The device docks inside and makes a microUSB connection with the base, which has some signaling that also launches the car mode in the device. From here, one can access some quick shortcuts including four custom applications, some call functionality, and a simple navigational map. The map shows current speed and optionally direction, but doesn't offer much more functionality beyond simply a map and current position indicator. For navigation, one has to actually use Google navigation instead. It's possible to exit the car mode software, but all roads do tend to lead to it afterward while docked.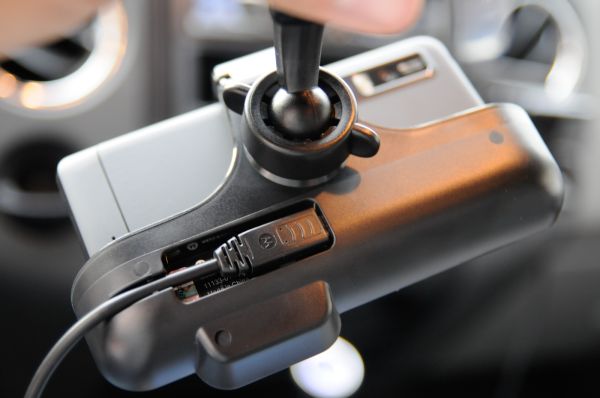 There's not much more to comment about the dock other than that it nicely accommodates the Droid 3. It would be nice if Motorola shipped a microUSB charger along with the dock, as the device essentially needs one for the dock to be useful. At $39.99 as of this writing, the dock is a bit expensive but admittedly priced around what I'm used to for mounts that don't end up feeling cheap and vibrating endlessly. The other options are generic solutions that adjust to fit, or other custom solutions for specific vehicles.
Motoblur that isn't
The Droid 3 also comes by default with the newest version of Motoblur, or, well, some unnamed UI skin that sort of looks like Motoblur, but isn't officially called Motoblur in any of the user-facing parts of the software or website. Though one has to view things from Motorola's perspective - Motoblur has become a dirty word as of late - it's still there, and it still looks like Motoblur. All it takes is looking no further than the Build.prop file inside the Droid 3's system directory to learn that the Motorola UI layer running atop the Droid 3 is still called Blur at its core:
Blur_Version.5.5.959.XT862.Verizon.en.US
For those that followed our Motorola Droid X2 review, this should already be self explanatory - it's literally the same case with the Droid 3 as the X2. That said, the UI skin on the Droid 3 is notably different from what I saw on both the updated Droid X and newer Droid X2.
The Droid 3's Motoblur treatment consists of a different, unique lock screen, and a GPU accelerated launcher plus home screen. Starting with the lock screen, there's a different (non stock) font, unlock pattern, and a silent/ring switch on the home screen. I saw the lock screen glitch out, but only once when switching between landscape and portrait very quickly.
It's hard to appreciate the 3D/GPU accelerated changes in the launcher without actually seeing the thing, screenshots only go so far in conveying what's different. Of course, I still would encourage interested parties to check out our video review which does go over the general UI smoothness. There's a zoomed out view for switching between home screens rapidly as well, which again has a very GPU-accelerated feel to it. Swiping between home screens now is a fluid 3D effect, and after the page stops moving there's a glow that waves across all the icons and widgets. It's a bit of not totally requisite eye candy, but I must admit the animation is constantly fluid.
The Motoblur-specific widgets are still here and keep largely the same appearance. What's different is that the home screen grid also gets a 3D treatment. Move shortcut tiles or widgets around, and they're given a 3D effect and move around as if being dragged through space. Motorola widgets can still resize, though the handles for changing size are differently styled now, but from what I can tell the same row x column configurations previously permitted are still around. The default set of home screens are also not overly cluttered, only the center three are home to any items out of the box.
The bottom row of icons still lack text labels, something that I am still puzzled by, and I wager still confuses new Android users. For example, the rightmost tile is the application launcher, but the icon just doesn't really convey the message immediately. It also can't be moved or replaced, however the other three can after a long press.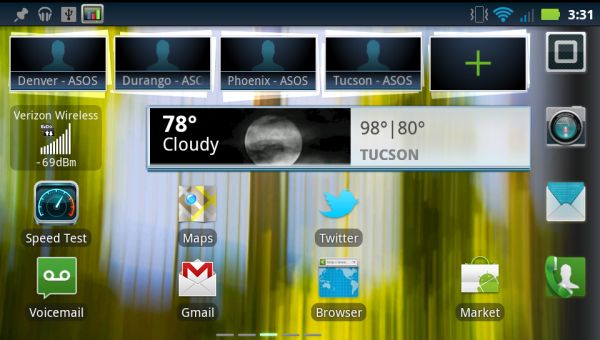 Of course, there are also landscape views for everything to accommodate using the phone with the keyboard out.
The same black on white Motoblur color scheme sticks around, with shades of navy blue for other UI elements. It's the same as we've come to expect - again, based on the Android 2.3 update for the Droid X, and the X2's theme.
The next major UI skin change is the application launcher. It now is divided into pages which slide left and right, instead of one long list which slides up and down. This is a big change for older Droid users who are no doubt already accustomed to the former (and which is also the default Android behavior), and I think might be received by some people as a change that further emulates iOS' organizational scheme.
What does improve, however, is that the launcher also gets the GPU-accelerated theme. Transitions are fluid when swiping between pages both in portrait and landscape, and just like the home screen there's a bit of a depth effect which is visible. It's impressively fluid.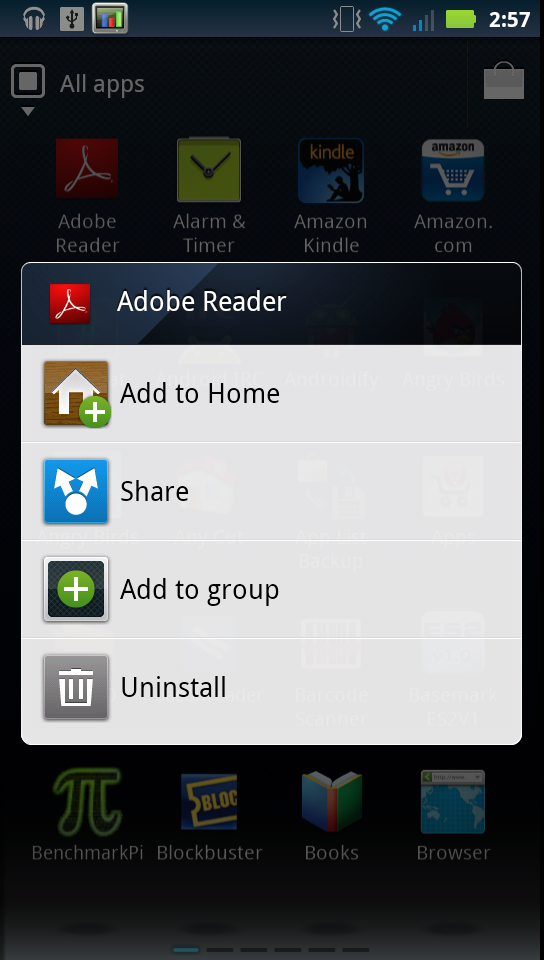 The only place that I think rebooted Motoblur shows some lag is at the portrait-landscape transition. Each time the home screen has to change between portrait and landscape, there's considerable lag as first the wallpaper, then bottom row of icons, then widgets, and finally application tile assets are re-loaded and rendered. It just is a glaring area that stands out in my mind as being equally unpolished and laggy. Almost everything else is superb.
The other changes are subtle. Thankfully the cellular signal, connectivity, and WiFi indicators still change color like they do in stock Android 2.3 to indicate successful connection with Google's servers. There's also the Android 2.3 CRT shutoff animation, though it looks slightly different from the one in mainline Android 2.3.
Inside settings, Motorola continues to include a battery manager that by default restricts account synchronization to "normal" working hours. First thing I did was disable this by selecting performance mode, since my hours are anything but normal. Last go around, this setting confused people since, again, email and other accounts are not synced between 10 PM and 5 AM. It's easy enough to disable, thankfully.
Tapping on the large battery icon dumps you into the Android 2.3 power charts which show estimated use broken down by core function and application, and tapping on the graph still shows a timeline of when different things were on and sucking down battery. I'm glad that virtually all the Android 2.3 enhancements haven't been eschewed.
I mentioned earlier that the Droid 3 doesn't include an SD card by default. Instead, there is 16 GB of NAND onboard which is home to three partitions for application storage, internal storage, and of course the Android OS. By default, the size of those partitions are just shy of 2 GB, 11.35 GB, and over 1 GB.
Filesystem Size Used Free Blksize

/dev 219M 76K 219M 4096

/mnt/asec 219M 0K 219M 4096

/mnt/obb 219M 0K 219M 4096

/system 320M 307M 13M 1024

/data 1G 331M 1G 4096

/cache 535M 17M 517M 4096

/data/tmp 2M 8K 1M 4096

/pds 3M 1M 2M 1024

/preinstall 477M 258M 218M 1024

/mnt/sdcard 11G 1G 9G 8192
The Droid 3 comes with its own share of stuff preinstalled as well, including a veritable bevy of Verizon applications (why they can't consolidate into one massive program seems beyond me), and the usual assortment of preloads that hitch a ride on stock ROMs. Things like slacker, GoToMeeting, CityID, Citrix, Angry Birds (sigh), NFL Mobile, Lets Golf, NFS Shift, and Blockbuster. Of those, only Lets Golf and NFS Shift can be uninstalled, which is better than nothing but still not quite ideal.
The Droid 3 as of this writing has a locked bootloader, so there's no simple way to toss on an AOSP derived ROM like CM7, or any custom ROM for that matter, at least at this point. Hopefully soon however a Motorola-approved update will appear that will make unlocking as simple as running "fastboot oem unlock" like other devices. It's disappointing to see the Droid 3 ship in this state, but unlocked bootloaders are indeed in the cards for almost all manufacturers at this point. It's just a matter of persuading carriers that doing so won't result in network implosion, and preventing hoards of customers from trying to get warranty replacements on devices they've flashed improperly.
Display - qHD RGBW 4"
The original Droid and Droid 2 famously used high quality 3.7" IPS panels, and as a result had excellent contrast and brightness. What always struck me as being a little odd with the arrangement was that the devices used the 16:9 FWVGA (854 x 480) aspect ratio instead of WVGA's 800x480. The difference was subtle, but as a result the Motorola Droids always did seem more rectangular than most of their other Android bretheren. Since then, qHD has become the hot new high-end Android resolution, which vindicates Motorola's by likewise being 16:9.
Aspect ratios aside, it's interesting to me how obvious it is that qHD is the answer to the iPhone 4's retina display. I've been told that the development cycle for most of these handsets is anywhere from 12 to 18 months, and look no further than your calendar and when qHD devices have started shipping to see that in action. Whatever the reason for qHD's emergence, it's good to have some display innovation take place.
The Droid 3 ups the size of the primary display from the 3.7" which adorned the old Motorola Droids to 4.0", and as already noted increases effective resolution from 854x480 to 960x540. Like the Droid X2 and other new qHD Motorola phones, the Droid 3 uses a PenTile L6W RGBW subpixel matrix to achieve effective qHD resolution. I talked about RGBW in the Droid X2 review, and what it boils down to is the inclusion of a fourth white subpixel which increases light transmittance (and thus reduces required backlight power) in a lot of use cases.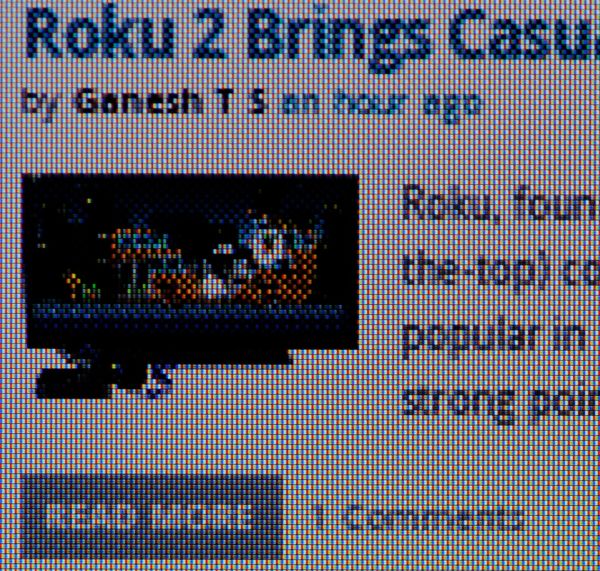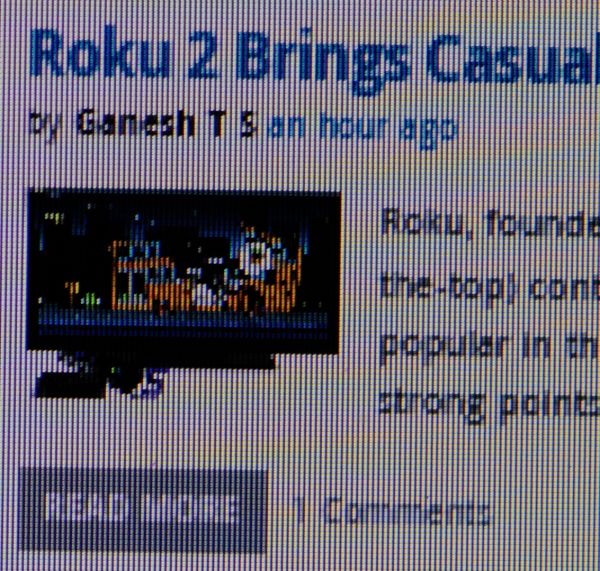 Left: Droid 3 with RGBW PenTile, Right: Droid 2 with RGB Stripe
Unlike the other RGBG PenTile which adorned AMOLED displays before Super AMOLED Plus swung around, I find RGBW much easier to stomach and completely readable when presented with black on white UIs. Colors still have visible grain, as do some UI elements, but the Droid 3's 4" display makes this considerably less noticeable than the same resolution on the Droid X2. Only on bright colors is that extra space due to the fourth subpixel readily visible, and thanks to our color-specific visual acuity, greens are the most visible.
I immediately noticed out of the box with the Droid 3 that it wasn't as super bright as the Droid X2, which was itself almost shockingly bright. That said, the Droid 3 is no slouch and is likewise nice and contrasty as well.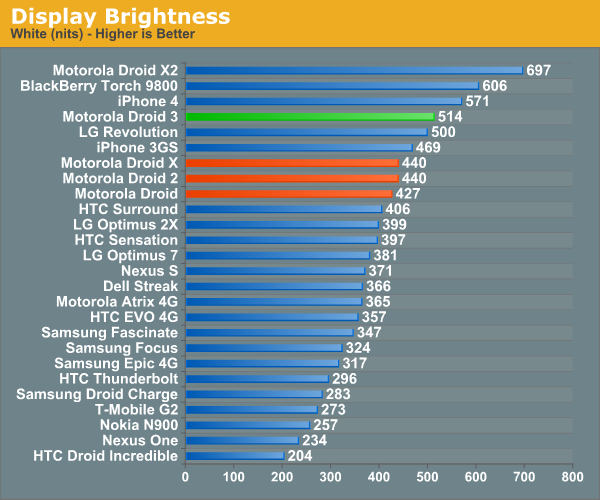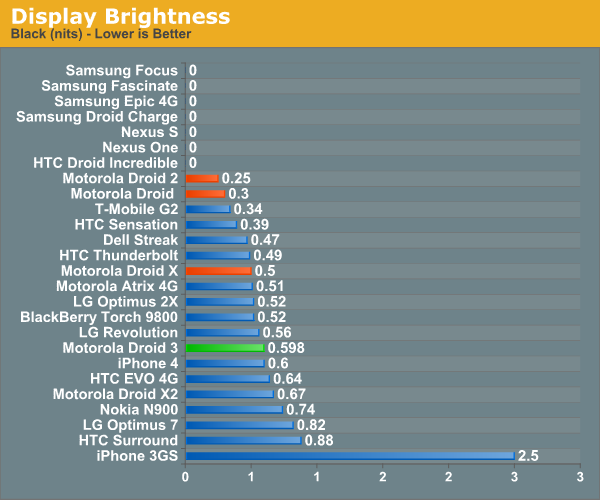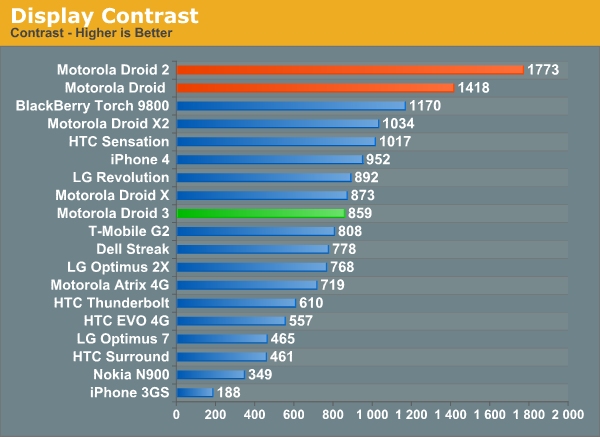 We're still making plots of brightness (white and black), and white point at 25% brightness steps. The Droid 3's white point tracking is slightly different from the X2's despite also using RGBW. It ends up not being visibly blue like some of the AMOLED variants nor noticeably warm like some of the earlier Droid panels were in odd batches.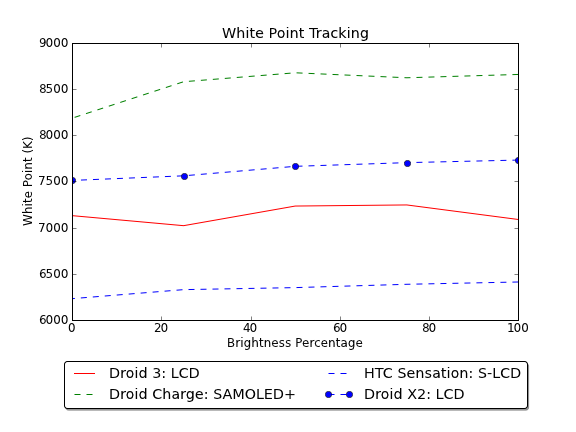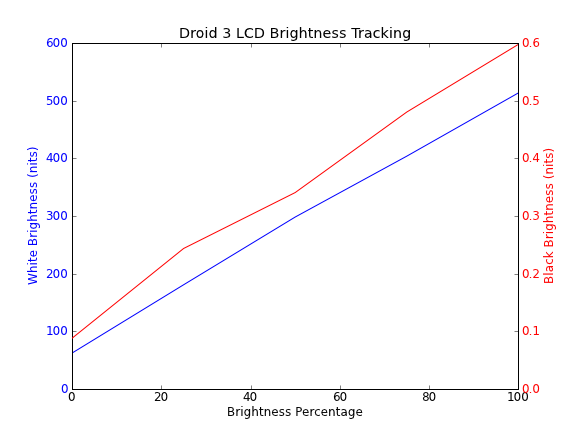 The next are of concern are viewing angles, which in my opinion the Droid 3 does very well at. I stuck the Droid 3 next to the Droid 2 and shot some pics of it at different angles. It's surprising to me in retrospect how much color shift and contrast reduction there is in the old Droid 2 by comparison. In this regard, the Droid 3's display is a clear step forwards.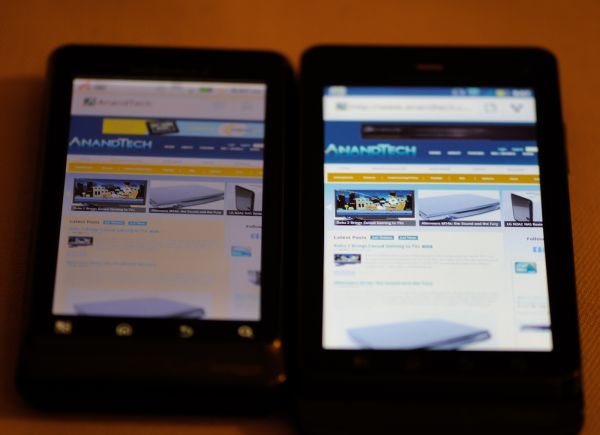 Left: Droid 2, Right: Droid 3
Outdoor viewing angles are decent on the Droid 3 are pretty good but not totally perfect. RGBW helps keep brightness punchy but in my mind outdoor viewing remains an unsolved problem for just about everyone.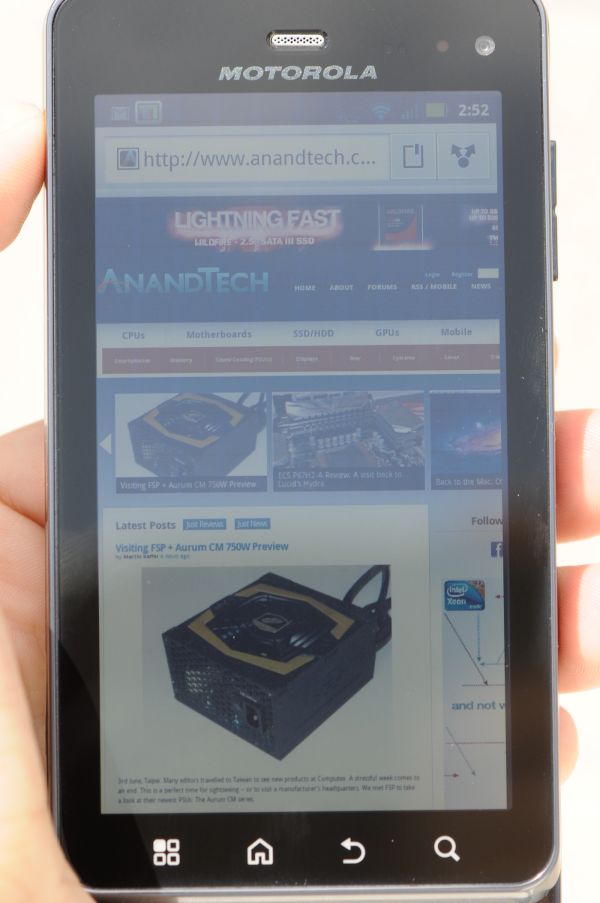 Camera - Stills and Video
The Droid 3 includes a nicely improved rear-facing 8 MP camera. Without doing much more than looking at the back of the device, you can see that gone is the dual-LED flash system, and in its place is a single LED solution which seems to be equivalently bright. For comparison, recall that the Droid 2 had a 5 MP rear facing camera and no front facing camera.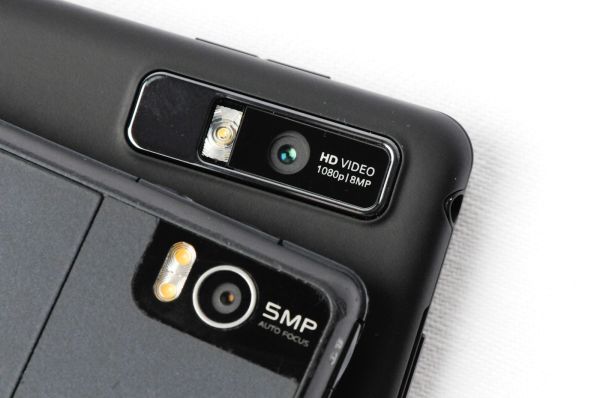 I did some poking around and discovered that the Droid 3 uses an OmniVision OV8820 for its rear facing 8 MP camera, and an OmniVision OV7739 for its front-facing VGA camera. OV8820 is relatively par for smartphone 8 MP sensors, at 1/3.2" size and capable of delivering both 1080p30 and 720p60. Pixels on the OV8820 are 1.4 microns square and backside illuminated (thinned using OV's back-grinding process) just like their other comparable sensors.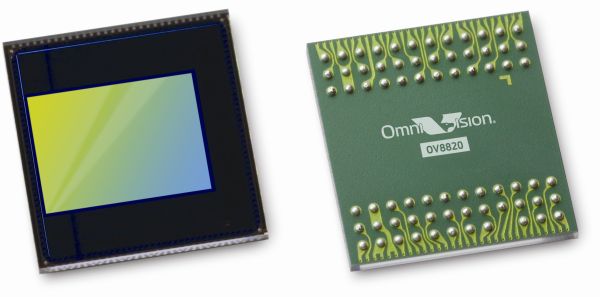 The front-facing OV7739 is again VGA, and designed with package thickness (just 3 mm) in mind. It can capture VGA at 30fps and QVGA at 60fps. Of course, the VGA sensor is correspondingly smaller at just 1/7.5" with 3 micron square pixels.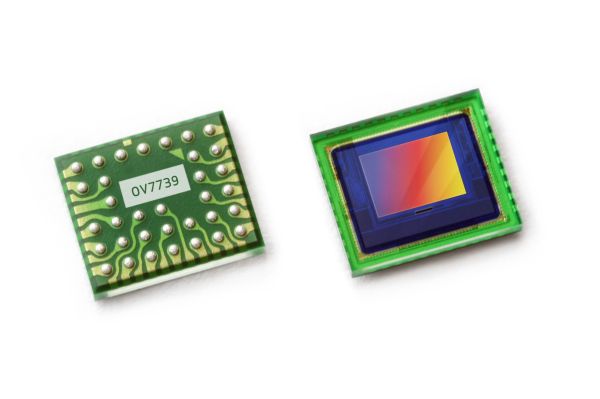 We did the usual thing and took photos with the Motorola Droid 3 at our test locations (which continue to be in a state of flux, with a few spots totally inaccessible - only 3, 4, 6 and 7 are left), in our lighbox with and without the LED flash for comparison, and some general everyday photos around town. Stills taken on the Droid 3 are much improved over the Droid 2. By comparison, the Droid 2's lightbox photo looks noisy and lacks much dynamic range in the dark camera barrel. Note that I maintain the distance from camera to subject, and the difference in apparent size comes from a change in focal length from 4 mm on the Droid 2 to 4.6 mm on the Droid 3.
With the lights on, the Droid 3 is a definite improvement over the Droid 2 and other 8 MP smartphone cameras. However, with the lights off, it's often a crapshoot. The software doesn't pre-illuminate the scene for autofocus, instead only flashing a quick autoexpose test flash and then the photo. As a result, it took many, many attempts to get an even questionably focused shot in the dark.
Stills on the Droid 3 are captured at 3264 x 2448 size when the 4:3 aspect ratio is selected, which I guess brings me to the next set of things that are changed - the camera application. With the camera shutter button gone, the Droid 3 camera UI now features a shutter button center on the right side of the UI instead of top right. There's a button for toggling the front and rear facing camera, and down below between still and video.
Hit menu, and you can see what else is different. The menus have been consolidated into a single strip which goes along the bottom of the camera UI. The same core camera functionality remains - camera effects (filters), a few shooting modes (scenes), panorama, brightness, and flash modes. What's changed is that the shooting resolutions and modes are now super simplified - what remains are a widescreen (6 MP) and non-widescreen (8 MP) capture mode, and nothing more.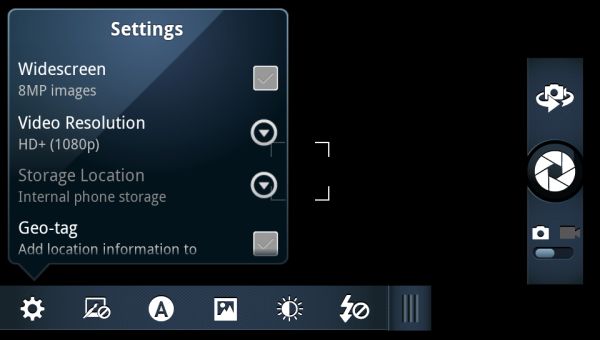 It's a very Apple-like approach (whose iOS camera has no resolution options), and I think it makes sense, since most of the time there really isn't a reason to capture in anything but the highest resolution. Maybe a 2x2 binned-mode resolution for more light sensitivity would make sense, but nothing outside those two sets seems requisite considering it's all just a software decimation at that point anyhow.
The Droid 3 allows for above average capture speed. I was able to mash the capture button on numerous occasions and capture as fast as the button appeared after the extremely short preview and shutter animation finished. The Droid 3 certainly seems faster than the Android paradigm of capture, preview (and covertly write out the buffer), then allow for another frame to be captured, which often takes 5 or more seconds. I show the Droid 3 shooting video pretty quickly in our video review overview.
Regardless, the Droid 3's improved camera now is up to par and slightly better than the competition 8 MP cameras based on Samsung sensors in some of HTC's phones in the right conditions. One thing is certain though, things have improved considerably since last year's 5 MP and 8 MP cameras took stage.
The next subject is of course how video capture fares on the Droid 3. The two most interesting Droid 3 video shooting modes are 720p30 and 1080p30, which record at bitrates of 10 and 15 Mbps, respectively, with 128 Kbps, 44.1 KHz AAC stereo audio.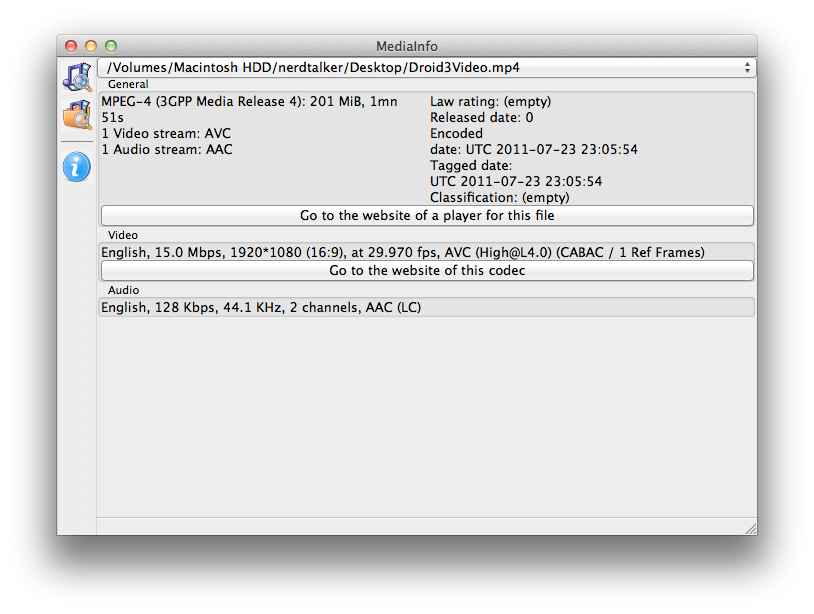 What's impressive about the Droid 3's OMAP4430 SoC is that it can encode high profile H.264 video. Though there's still only 1 reference frame and no B-frames, that's still much better coding than what Tegra 2 or Snapdragon have to offer with their baseline encoders. In addition, the OMAP4 video encoder implements 8x8 size macroblock partitions (8x8DCT), which enables considerably better quality and better encoding than the default 16x16 that other baseline encoders are using. According to further OMAP 4 documentation, it's possible for the IVA-HD encoder in OMAP4430 to work at up to 20 Mbps 1080p30.
Samsung's Exynos is the only other SoC I know of that does high profile H.264 encoding (17 Mbps, CABAC, 1 reference frame), every other SoC we've seen to date just does baseline. At this point, it looks like OMAP4's video encoder is definitively better than both Tegra 2's and Snapdragon's.
I again did the usual thing and shot some videos with the Droid 3 at our test location, and zipped them up for your perusal, but per our media streamer and video guru Ganesh's suggestion, decided to tweak things around for an even better comparison. In addition to the normal test location video, Ganesh suggested shooting video on the device-under-test alongside a reference camera for comparison. I grabbed a dual bracket camera mount, smartphone mount, and monopod and headed out to shoot some side by side video with the Droid 3 alongside a Canon Vixia HF11 I use.
Droid 3 Video
Vixia HF11 Video:
Originally I thought the Vixia HF11 I use was shooting 1080p30, however it turns out that even in 30p mode it actually is capturing 60i. Originally Ganesh and I were concerned that the Droid 3's video looks juddery, it turns out that this shudder/jitter is just because of the difference in 30p (Droid 3) and 60i (Vixia). The Droid 3 is again impressive, easily capturing the top quality crown in our opinion for smartphone video quality. Well deserved kudos to Motorola and TI with the OMAP 4430 encoder. You can download the zip of the HF11 and Droid 3 videos shot on the same bracket and play them back on your own as well.
Cellular Connectivity
So the elephant in the room is cellular connectivity on the Droid 3. To many people's chagrin, the Droid 3 lacks 4G LTE connectivity, instead including dual-mode CDMA2000 1x/EVDO Rev.A and GSM/WCDMA compatibility with a Qualcomm MDM6600. We've seen Motorola using the MDM6600 in a host of smartphones lately, and the baseband offers a native dual-mode (world phone) solution that's essentially fully realized in the Droid 3. To that extent, the Droid 3 does build and improve upon the connectivity of the Droid 2, but still doesn't offer 4G LTE connectivity which would require an additional baseband and possibly larger package.
Motorola Droid 3 - Network Support
CDMA2000 1xRTT/EVDO Rev.A
800 / 1900 MHz
GSM/EDGE
850 / 900 / 1800 / 1900 MHz
WCDMA/UMTS
850 / 1900 / 2100
HSPA Speed
HSDPA 10.2/14.4 (UE Cat. 9/10), HSUPA 5.76
Baseband
Qualcomm MDM6600
We've already tested Verizon Wireless's EVDO Rev.A considerably, but I ran 243 more tests on the Droid 3 and made a histogram again to show how things fare. Again we test using the speedtest.net application in real world environments at all signal levels and times of day to get a good picture for what real-world speeds look like. MDM6600 remains a competent CDMA2000 baseband.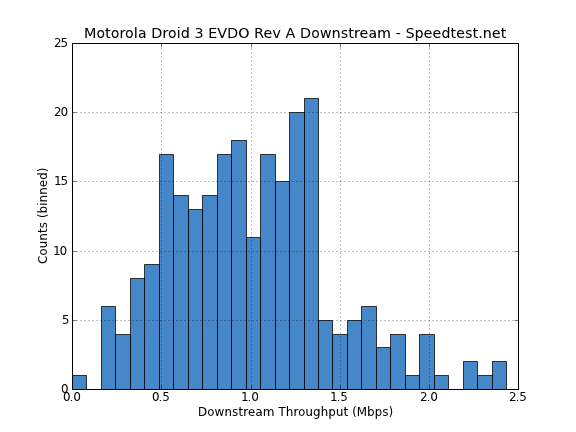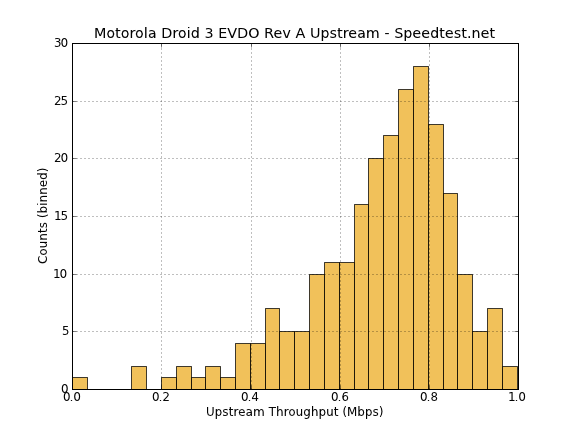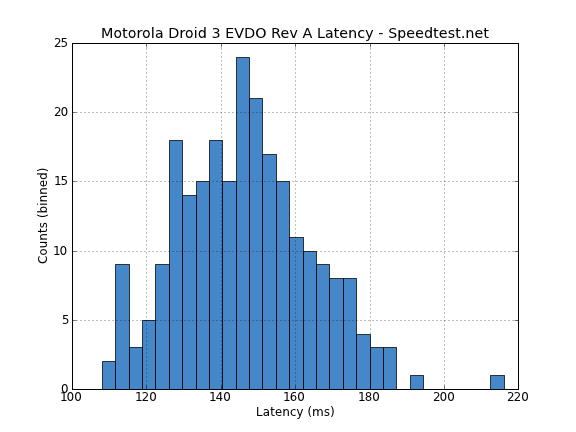 The obvious next part of the story is that WCDMA HSPA+ 14.4 Mbps connectivity. Unfortunately, Verizon has locked the retail Droid 3 out of seeing USA-based GSM/WCDMA networks with an MCC (Mobile Country Code) lock, so you're out of luck if you want to use a retail Droid 3 on AT&T 3G (which it has the band support for) or T-Mobile 2G. Calling up Verizon and getting an unlock code doesn't disable the MCC lock, but you can use the Droid 3 abroad that way. There's another similar Droid 3 for sale outside normal retail channels that purports to have the MCC lock removed, but as we didn't have one, I was unable to test any of the GSM/WCDMA connectivity on the Droid 3. It is there however, as evidenced by toggles in the wireless connectivity pages inside settings.
Next up is attenuation, which again we test for by holding the phone in a variety of positions and watching received signal strength move around. The Droid 3 (like all of its earlier CDMA2000 brethren) has Rx diversity, which you can additionally verify from inside the programming menu. I saw signal drop by 16 dB with the phone cupped at the top and bottom completely, which is about where we have seen other phones sit.
Signal Attenuation Comparison in dB - Lower is Better
Cupping Tightly
Holding Naturally
Holding in Case
On an Open Palm
Droid 3
16.0
11.3
-
5.0
HTC Sensation
15.0
10.0
8.0
0.0
Samsung Droid Charge
10.0
10.0
5.0
0.0
HTC Thunderbolt - LTE
5.3
2.5
-
4.4
HTC THunderbolt - EVDO
6.5
0.8
-
7.2
Verizon iPhone 4
16.5
15.5
9.0
7.9
LG Optimus 2X
13.7
9.3
-
5.9
Nexus S
13.3
6.1
-
4.3
Droid 2
11.5
5.1
-
4.5
BlackBerry Torch
15.9
7.1
-
3.7
Dell Streak
14.0
8.7
-
4.0
Droid X
15.0
5.1
-
4.5
AT&T iPhone 4
24.6
19.8
7.2
9.2
iPhone 3GS
14.3
1.9
3.2
0.2
HTC Nexus One
17.7
10.7
7.7
6.7
One more thing to note is that the Droid 3 actually reports its signal strength bar visualization based on SNR instead of just receive power. I've read a few reports where people were confused by the lack of bars with the Droid 3 next to another Verizon Wireless device, and this is the reason. Remember that great signal strength and great SNR (which actually matters) are not necessarily mutually inclusive.
WLAN and Bluetooth
Next up is WiFi and Bluetooth, both of which are handled by the Droid 3's onboard TI Wilink7 series TI1281 combo BT, FM, WLAN, GPS single chip solution. Note that the official Verizon specifications list TI1285 (which doesn't exist yet on the TI website) but the actual Droid 3 ROM contains the necessary WLAN firmware for TI1281 client and AP mode in no uncertain terms. Either way, we at least know it's a Wilink 7 series stack. TI1281 supports 802.11a/b/g/n single spatial stream, however the Droid 3 doesn't incorporate the appropriate 5 GHz front end for 802.11a/n, rather just 2.4 GHz 802.11b/g/n is supported. Likewise included is Bluetooth 3.0 and Low Energy (4.0) support, and GPS which the Droid 3 uses.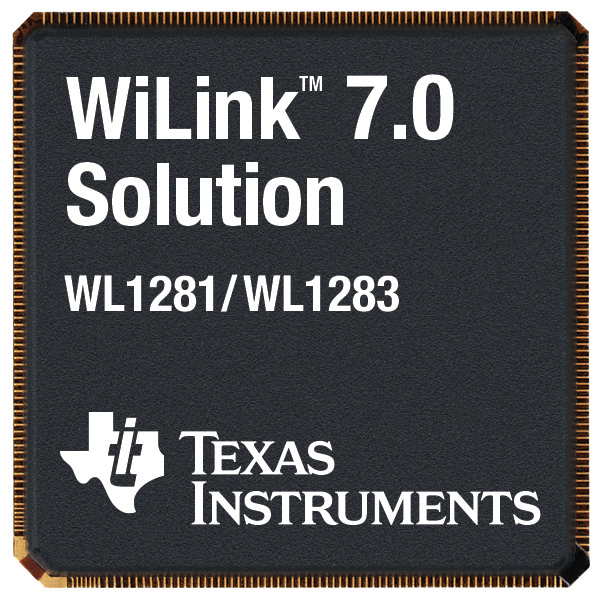 WLAN range on the Droid 3 is very good, with it being possible to use the Droid 3 in a few environments that the Droid 2 and X aren't entirely stable in. I took a photo of the Droid 3 alongside the X I have borrowed from a friend with the Droid 3 showing -84 dBm of signal compared to the X's -92 dBm.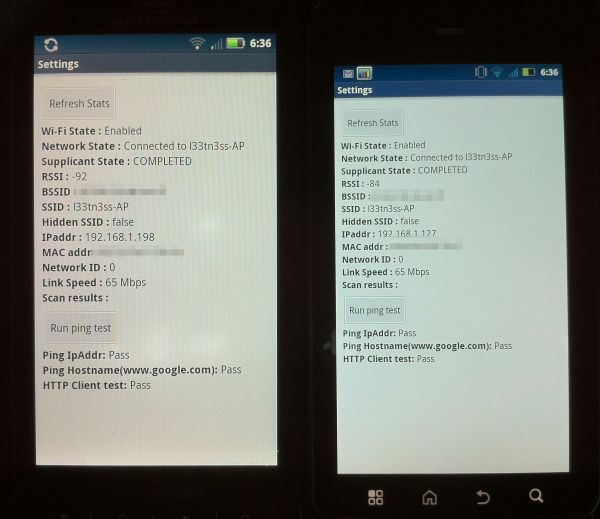 I'm not entirely convinced that either are showing the proper link rate (65 Mbps seems odd considering the low signal), however I've been able to maintain connectivity throughout my test location. I've seen bursts of above 30 Mbps on the Droid 3 when doing our local PDF transfer test, however the average settled down to around 27 Mbps as shown in the graph below.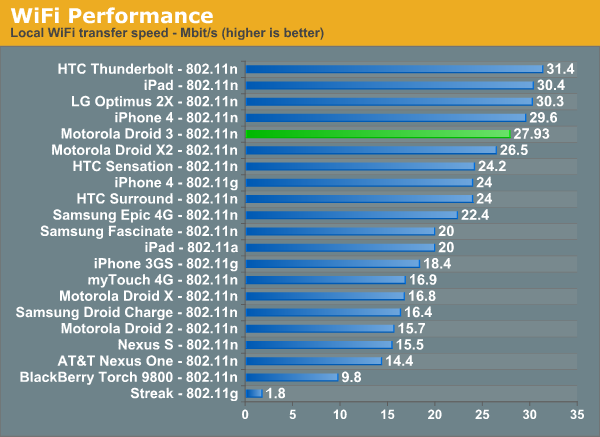 I guess that brings me to GPS on the Droid 3, which as I mentioned before is using the stack on the TI1281 instead of the stack on MDM6600. It acquires a 3D fix insanely fast, almost instantaneously. I timed under a second outside with no WiFi assist, down to 9.1 feet of accuracy almost immediately. I'm very impressed with GPS performance on the Droid 3. The only caveat is that it seems the TI1281 isn't passing on NMEA GPS data which includes per-satellite SNR and position to the Android API. Instead, you just get a location and degree of precision measure, which makes it hard to know whether there's some trickery going on or the GPS is really just that good.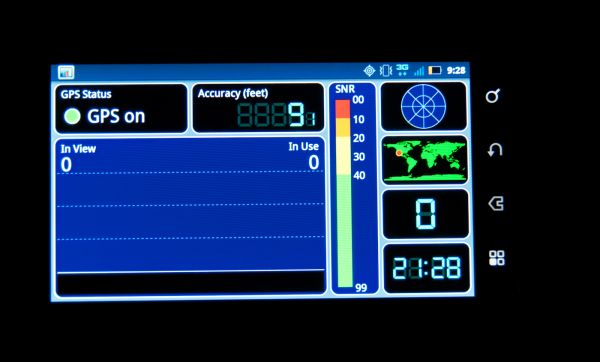 The other interesting curiosity is that the Droid 3 is one of the first I've seen to list sGPS as a supported feature. The s in sGPS of course stands for simultaneous, which means that during E911 calls the GPS and voice data aren't just slotted in a time multiplexed scheme but truly simultaneous.
WiFi Hotspot
Like most all other Android phones, the Droid 3 supports creation of a mobile WiFi hotspot, and does so through some custom Motorola software rather than the stock android host AP tool. The Droid 3 allows a maximum of 5 simultaneous users on its WiFi hotspot, and unlike the X2, I was able to test this out and run our hotspot battery life test and also stress test a bit. The configuration tool thankfully allows specification of which channel to use (something most others don't) alongside the typical WPA2 PSK/open configuration and of course SSID. The software also gives control over individual connected devices, showing a list and also providing a notification when devices attach and detach.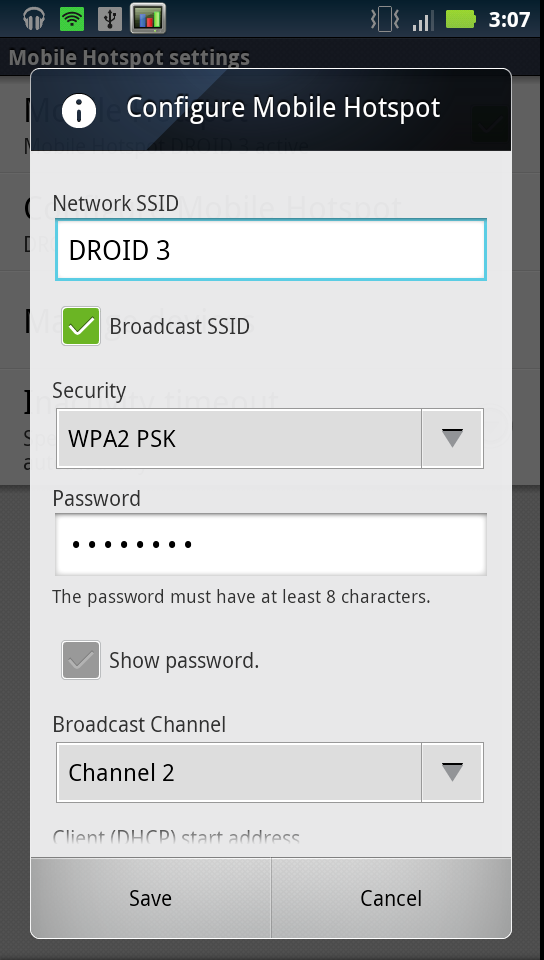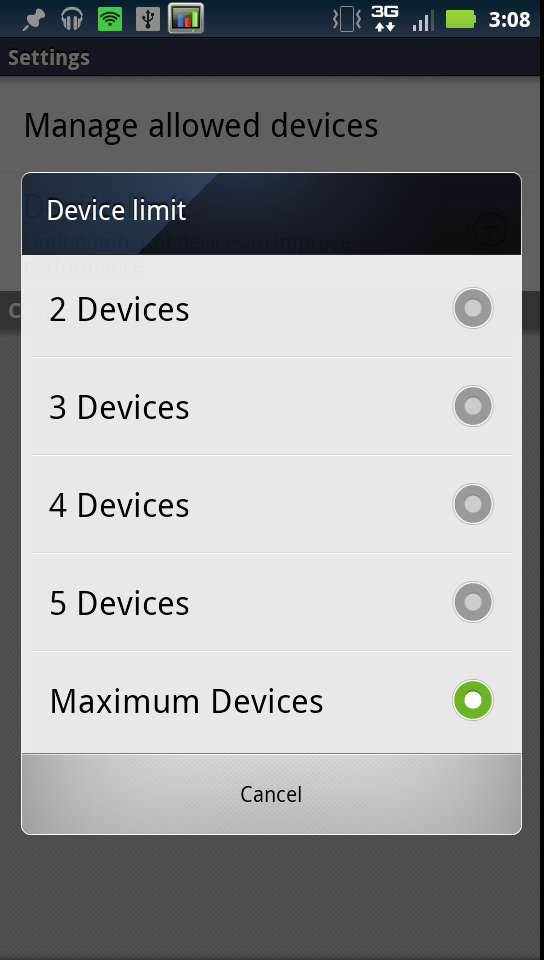 I encountered no bugginess at all with the Droid 3's mobile AP when using it at cafes or when out and about. It's effectively the same software used across the entire Motorola Droid lineup with the latest respective updates.
Speakerphone Quality
Next up is speakerphone, which is important of course not only for voice calling but also playing back music and using Google navigation. I talked about the car dock already, and the real assumption is that you use the car dock in conjunction with either A2DP to a bluetooth head unit, or use a supplied 3.5mm audio cable that jacks into your car's aux jack, if you're lucky enough to have one. Sadly, my car lacks both bluetooth and an aux jack, and has no tape deck or easy other means of getting audio in, so having a loud speakerphone for route guidance is very important.
The Droid 3's speakerphone is on the back and changed considerably from the previous generation Droid and Droid 2 which previously stuck it under a grille next to the battery. Instead, the Droid 3 has a small, long port with a raised top lip to prevent the port from laying completely coplanar with a table and directing no audio out. Next to it, centered, is a microphone which aids in noise cancellation and also stereo audio capture.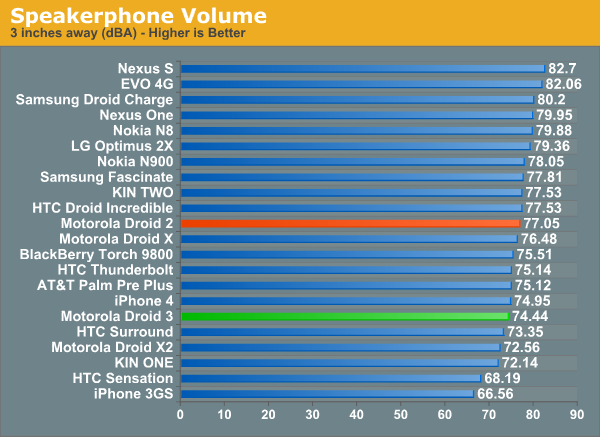 We measure speakerphone volume by placing a call to the test ASOS locally and using a digital decibel meter placed 6" above the device with its display face-up and on maximum volume. By the charts, the Droid 3 honestly isn't as loud as its predecessors. Subjectively, I agree with the results - it isn't as loud as I wish it could be while using Google navigation, but there's no distortion on the speaker at least.
Call Quality and Noise Rejection
Last but not least in this section is actual call quality, which we've done a bit more analysis on with the Droid 3 than normal. I think we're starting to settle on a call testing suite that's representative, though some non-subjective tests are still being derived.
The first thing we've done is place calls to the local ASOS number and record them with the Droid 3 on three different voice coders. By default, virtually all CDMA2000 1x voice devices use EVRC, however there's another EVRC-B voice coder which adds a quarter rate, and the highest quality 13k voice coder which is sort of a legacy standard that sounds better but uses more bandwidth. I've tested the same number with all three and tossed them up on soundcloud. This is of course a recording taken by running line-out from the Droid 3 to line-in and recording.
Motorola Droid 3 - EVRC Verizon Wireless by AnandTech
Motorola Droid 3 EVRC-B Verizon Wireless by AnandTech
Motorola Droid 3 - 13k Verizon Wireless by AnandTech
The Droid 3 subjectively sounds excellent in call tests, definitely better than the average CDMA2000 phone. In addition, I decided to test another thing - ambient noise cancellation on the Droid 3 when in a noisy environment. I noted earlier that the device has three microphones, one at the very top, one on the back, and one on the front at the lip of the device.
To test this, I called a couple of parties in a loud environment playing back music and increased volume, asking them if they could hear the background noise. Only at the highest settings did they report hearing any background noise at all. I went on to then test by recording the call and likewise playing back loud music. I compared to the iPhone 4 and made two recordings where background music (which included vocalizations in addition to instrumentals). Only at the highest (almost painful) volume levels is background noise audible to the receiving party, as illustrated in the recordings I've uploaded and provided below. The Droid 3 arguably performs better than the iPhone 4 at noise rejection which is quite a landmark considering its longstanding reputation as having excellent noise rejection.
Motorola Droid 3 to AT&T iPhone 4 by AnandTech
AT&T iPhone 4 to Motorola Droid 3 by AnandTech
The Droid 3 has excellent ambient noise cancellation during calls, again thanks to the two extra microphones which are no doubt used for processing. I'm not sure what IP is beyond the Droid 3's noise rejection hardware, but clearly it does a good job.
Performance Analysis
The next stop on our trip through the Droid 3 is of course its SoC, which is a TI OMAP 4430. This is our first formal encounter with OMAP4430 in a real, live shipping phone. Well, that's not entirely true - we have an LG Optimus 3D in the queue as well which we'll be talking about later.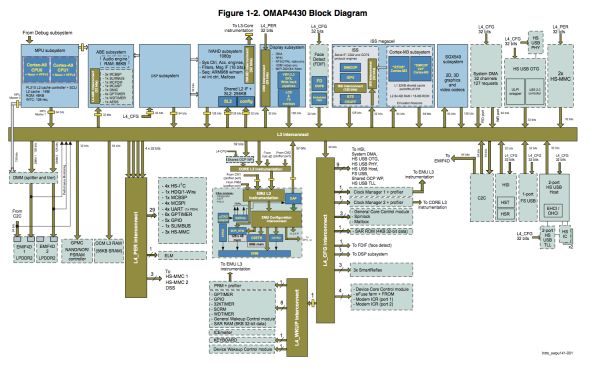 The OMAP 4430 is based on two ARM Cortex A9s, each running at up to 1.0 GHz and with 1 MB of shared L2 cache. Unlike Tegra 2, however, OMAP 4 includes the ARM Media Processing Engine (MPE) instead of just the default A9 FPU, and thus allows OMAP 4 to execute NEON (SIMD) in addition to just normal VFP and VFPv3 instructions. It's easiest to illustrate the difference simply by showing what looking at /proc/cpuinfo yields on each SoC:
OMAP 4: Features : swp half thumb fastmult vfp edsp thumbee neon vfpv3

Exynos: Features : swp half thumb fastmult vfp edsp neon vfpv3

Tegra 2: Features : swp half thumb fastmult vfp edsp vfpv3 vfpv3d16

MSM8260: Features : swp half thumb fastmult vfp edsp thumbee neon vfpv3

OMAP 3: Features : swp half thumb fastmult vfp edsp neon vfpv3
Careful readers will note that the other interesting differentiator is thumbee support, which to my knowledge isn't used in Android currently. NEON, however, definitely is throughout the Android OS, including places like Skia (for drawing 2D graphics, text, and images), Chrome (web browsing, both for rendering, page layout, and the all-important V8 JavaScript engine), and Surfaceflinger (Android's window system and compositor). Each Cortex A9 has an MPE onboard.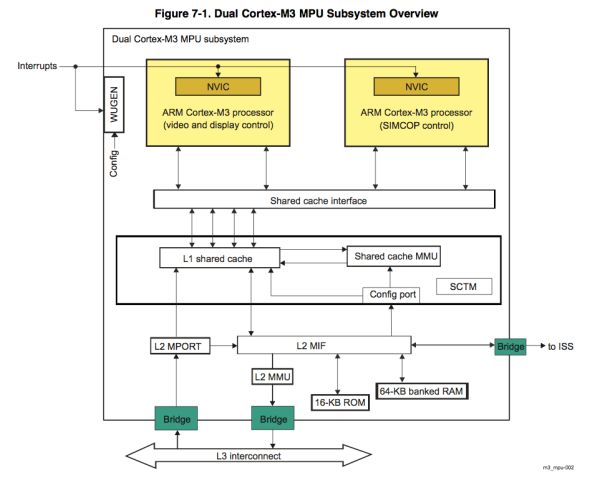 There's also two Cortex-M3s inside OMAP4430, which do double duty for for OMAP4's Imaging SubSystem (ISS). In OMAP4, that ISS comprises image signal processing (ISP) functions such as autofocus, exposure, white balance, and acting as a front end interface to any and all cameras, and secondly still image processing (SIMCOP) which includes functions such as actually coding the image out to JPEG, correction for lens distortion, and any noise filtering from running the sensor at a high ISO. One of the M3s handles SIMCOP, the other can divide itself between managing the realtime OS running both, the ISP functions for camera, or do some duty managing the display subsystem. Those M3s are also clock gated in sleep modes.
The next important part of the equation is OMAP4430's GPU, which is a PowerVR SGX 540. What sets the SGX 540 in OMAP4430 apart from the other SGX 540's we've seen to date (such as the one in Samsung's Hummingbird S5PC110 SoC) is that it runs at a higher clock of 304 MHz compared to Hummingbird's ~200 MHz. Back when OMAP 4470 was announced, I made this table:
TI OMAP 4xxx SoC GPU Comparison
OMAP4430
OMAP4460
OMAP4470
GPU Used
PowerVR SGX540
PowerVR SGX540
PowerVR SGX544
Clock
304 MHz
384 MHz
384 MHz
Alongside it I re-published the table that Anand put together back for our Tegra 2 piece with a more concise breakdown. We can see that though the GPU is still an SGX 540, increasing those clocks makes an obvious positive difference in performance.
Mobile SoC GPU Comparison
PowerVR SGX 530
PowerVR SGX 535
PowerVR SGX 540
PowerVR SGX 543/544
PowerVR SGX 543/544MP2
GeForce ULP
Kal-El GeForce
SIMD Name
USSE
USSE
USSE
USSE2
USSE2
Core
Core
# of SIMDs
2
2
4
4
8
8
12
MADs per SIMD
2
2
2
4
4
1
?
Total MADs
4
4
8
16
32
8
?
GFLOPS @ 200MHz
1.6 GFLOPS
1.6 GFLOPS
3.2 GFLOPS
6.4 GFLOPS
12.8 GFLOPS
3.2 GFLOPS
?
GFLOPS @ 300MHz
2.4 GFLOPS
2.4 GFLOPS
4.8 GFLOPS
9.6 GFLOPS
19.2 GFLOPS
4.8 GFLOPS
?
Hummingbird's SGX 540 thus gets around 3.2 GFLOPS, whereas the higher clocked SGX 540 in OMAP4430 is appropriately around 4.8 GFLOPS.
First up is Linpack which now includes a multithreaded test alongside its single threaded test. There was originally some debate internally about whether this version of linpack from the Android market was using NEON or just VFP, the results now speak for themselves, it's entirely just VFP.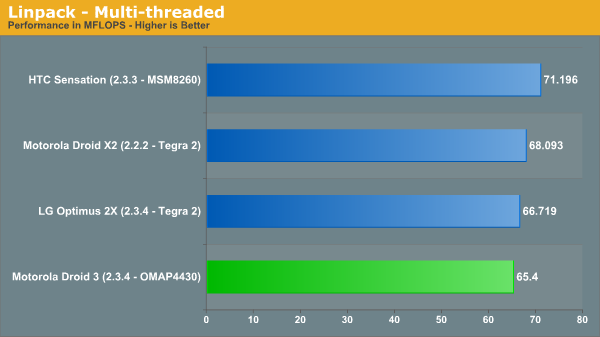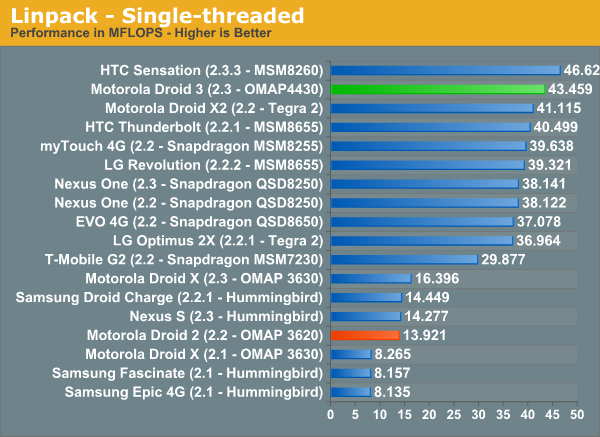 Next are RightWare's Basemark ES 2.0 which is the latest version of the ever popular 3DMark Mobile ES 2.0, itself an industry standard. The test has two main tests and then a variety of subtests, and Adreno 220 maintains a lead here over the faster SGX 540, but we can see already how much that extra ~100 MHz advantage helps the Droid 3 over the Droid Charge's Hummingbird (A8 + SGX 540 at 200 MHz). We run at the same VGA resolution here so the results are comparable despite the different display sizes.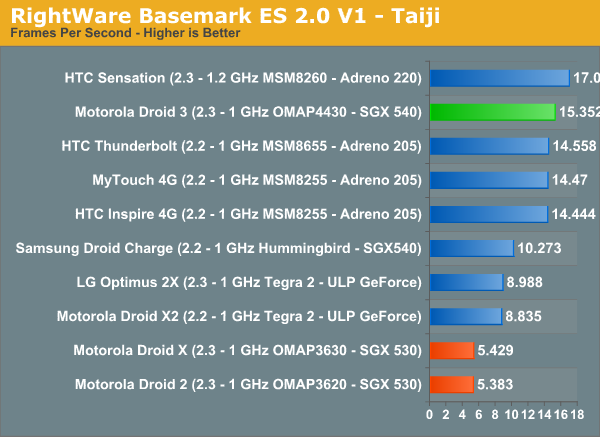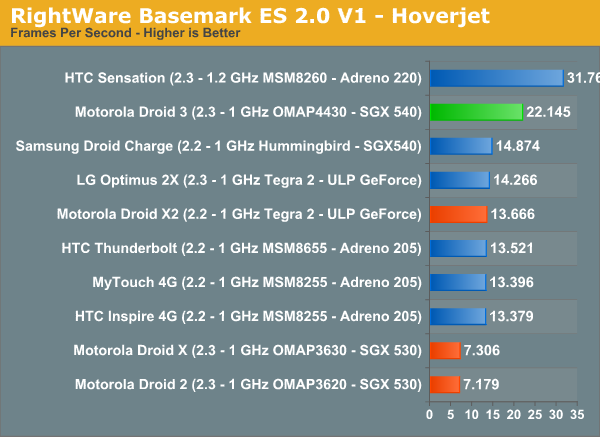 The ever popular GLBenchmark 2.0 is also an industry standard and a regular fixation in our smartphone benchmarking section, and the Droid 3 results mirror what we saw both way back when the device popped up online in the results browser and our initial testing two weeks ago with the phone. GLBenchmark runs in full screen mode, so keep in mind the qHD versus WVGA discrepancy when comparing results. We can easily again see that the higher clocked OMAP4430 SGX 540 changes things up nicely.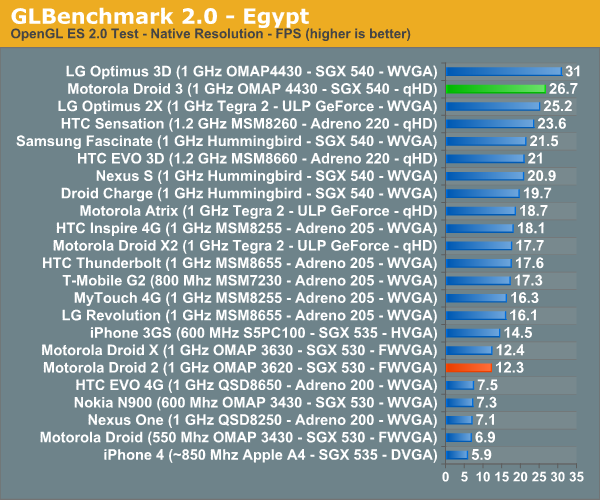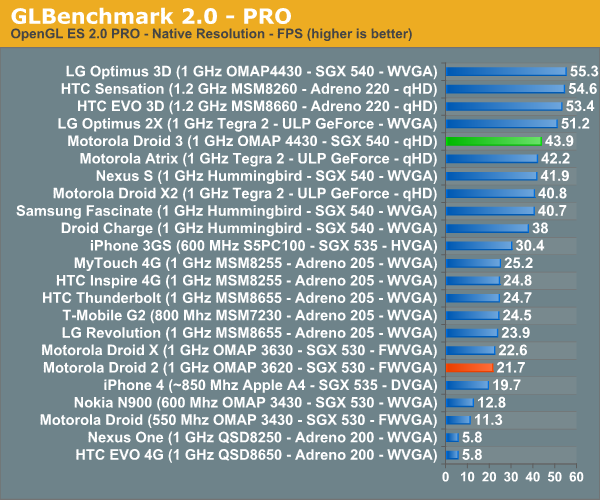 Next up is what started it all for us, the Quake 3 Android port "kwakk3" which is starting to show its age and is basically at the FPS cap on newer devices with newer GPUs. We've kept it around for the Droid 3 however just to illustrate how quickly things like this have gone from being almost unplayable a year ago to fluid on modern hardware. Anand keeps saying hyper Moore's law, and this is just one more data point you can point at as supporting that hypothesis.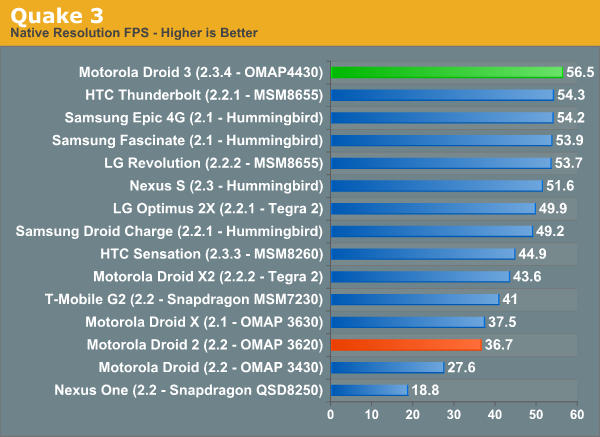 Finally are the two web benchmarking suites, SunSpider 0.9 and RightWare's Browsermark. We're running 0.9.1 and will migrate to that soon, but for now the results from 0.9 are still comparable. Remember that V8 does have some NEON codepaths, so we do see OMAP4 pull ahead of Tegra 2 just by a sliver on both tests.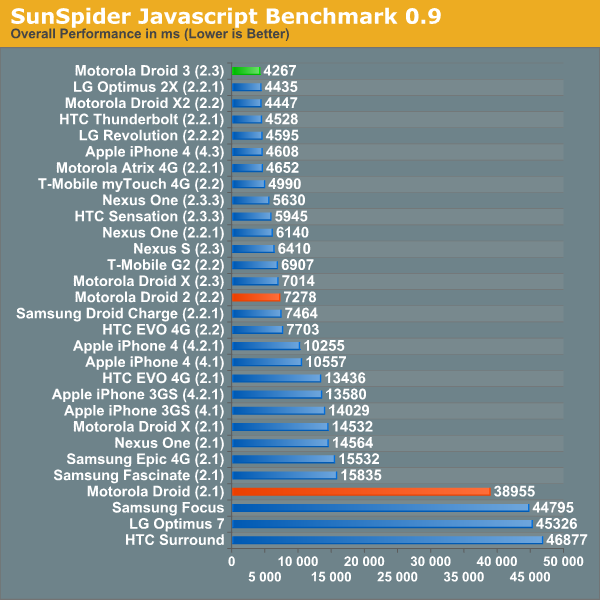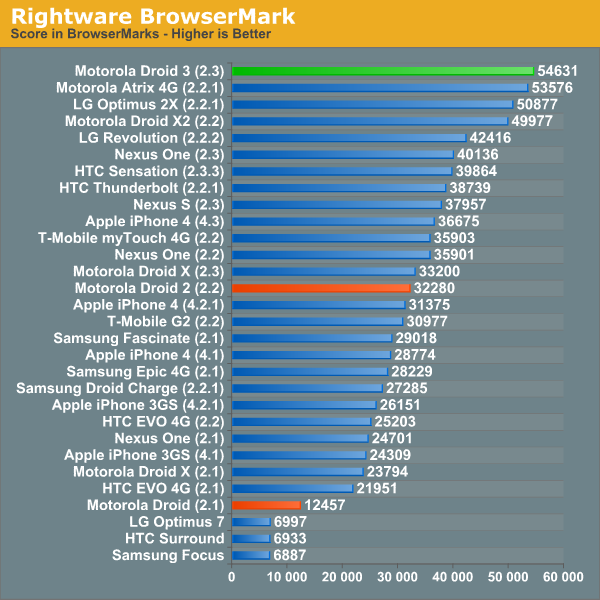 We're going to start reporting Qualcomm's new Vellamo benchmark results after we further understand all of its tests and how it calculates results, but we're running it silently on devices. Until then however, browser scrolling performance (one of the things it does purport to gauge) is still probably the largest and most perceptible performance issue.
I've put together a short comparison video showing the Droid 3 alongside a Droid X. I don't have a Droid 2 on hand anymore, but the X is a decent facsimile both because it has the same resolution as the Droid 2, is running Android 2.3.3 (which the Droid 2 has yet to get but will shortly) and still is based on a 1 GHz OMAP3 (3630 vs 3620).
Battery Life
Of course the next question is how battery life fares, after all, it doesn't matter too much in a mobile device if we have great application performance but need to be tethered to a charger all day long. Back to those Cortex-A9s, the next part of the picture is what power management features are and aren't supported. First off, OMAP4 is a synchronous architecture, which means that there's one frequency plane for both A9s - each runs at the same clock. Both can be clock gated, however.
The important next bit is that each CPU is on its own power domain. The power states of each CPU doesn't have to be the same, and OMAP4 supports three modes - Normal (run), dormant, and power off. You can see the different power domains as illustrated by the following diagram.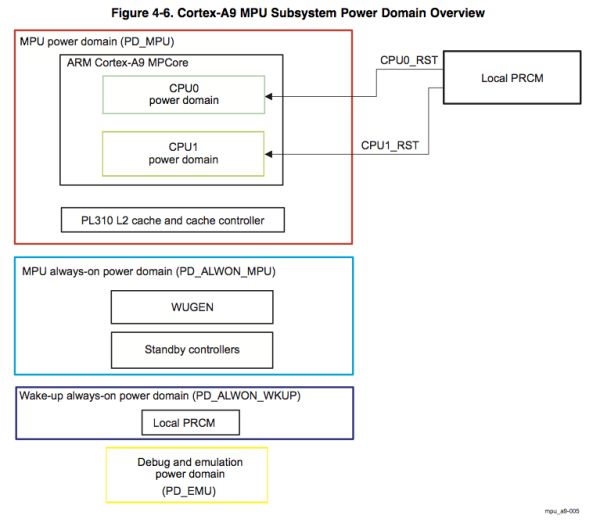 TI also provides a nice table with the supported power states and clock gating states depending on what assertions are made in the local power control module register.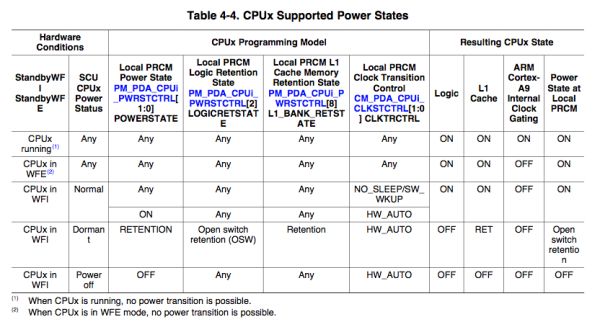 What's particularly interesting is that we can actually watch cores turn on and off both through console output on the device (by running something like dmesg) and moreover there's even some nice software that will show us graphically. System Panel (which I'm a pretty big fan of) recently added support for visualizing load on multicore Android devices, and you can see how things fare when there's both idle activity (CPU1 gets shut completely off), and when I'm generating tons of load by flicking the page around wildly (both CPUs are on, and clocked at 1.0 GHz).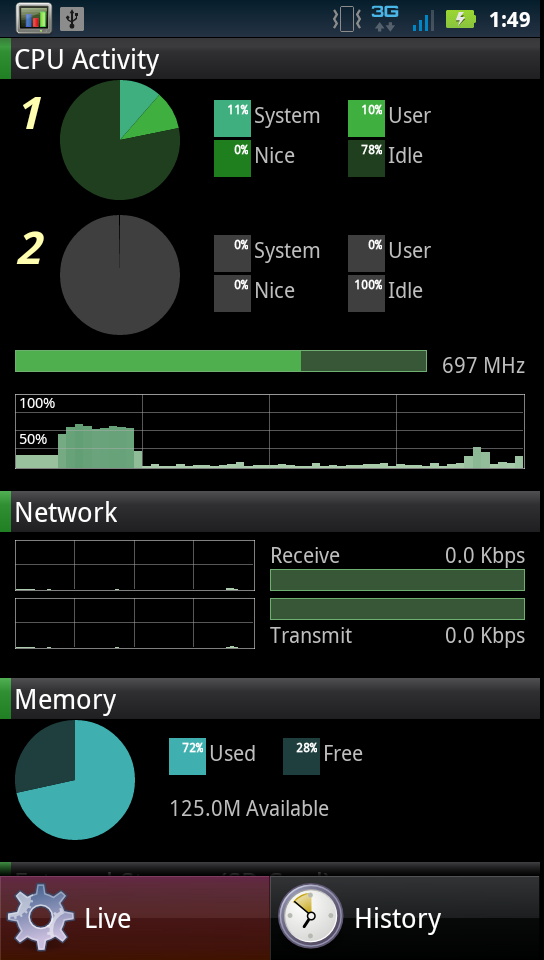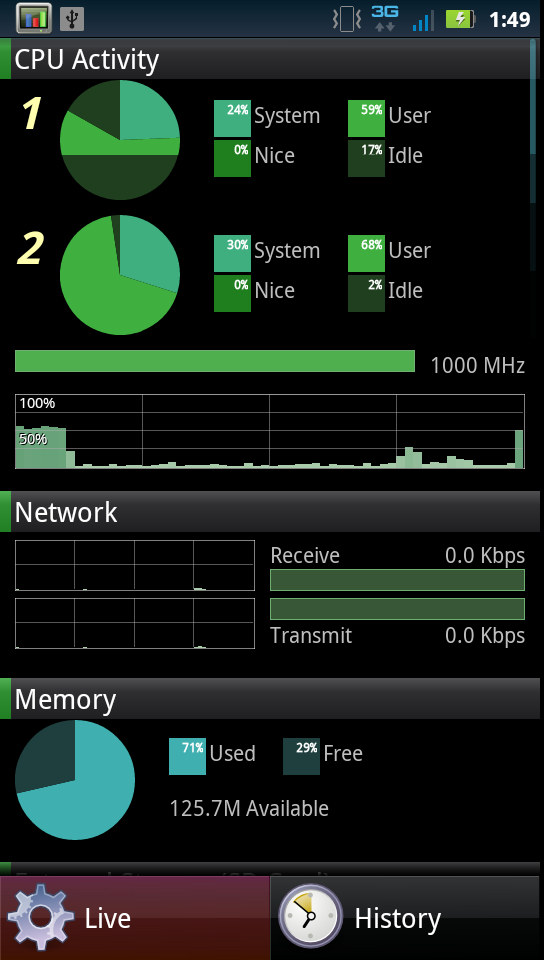 Like most modern SoCs, OMAP4 can dynamically change frequency, however it also can dynamically change voltage with a power management technique called SmartReflex. There are two different modes for SmartReflex, one which consists of an entirely hardware-controlled voltage control loop (class 3) and another which is assisted using software control (class 2). I've verified that the Droid 3 is using class 3:
"<6>[ 0.000000] SmartReflex CLASS3 initialized"
SmartReflex encompasses both the dynamic frequency, voltage, and power switching functions on the OMAP4430. The aim is to use silicon in the best way possible depending on either static silicon performance (given manufacturing) or dynamically based on temperature induced performance, and raise or lower voltage accordingly. To a large extent, SmartReflex it somewhat analogous to Intel's SpeedStep and related suite, and in OMAP5 even gains a turbo mode which allows the SoC to temporarily exceed its normal maximum clock.
Now that we've gone over the power features of OMAP4, it's time to present some Droid 3 specific battery life results. As usual, we've run our battery life testing suite on the device. The first set of tests are our page loading suite, which load through a few dozen pages every 10 seconds or so until the phone dies. The backlight brightness is at 200 nits and of course always on, to mimic continual web browsing.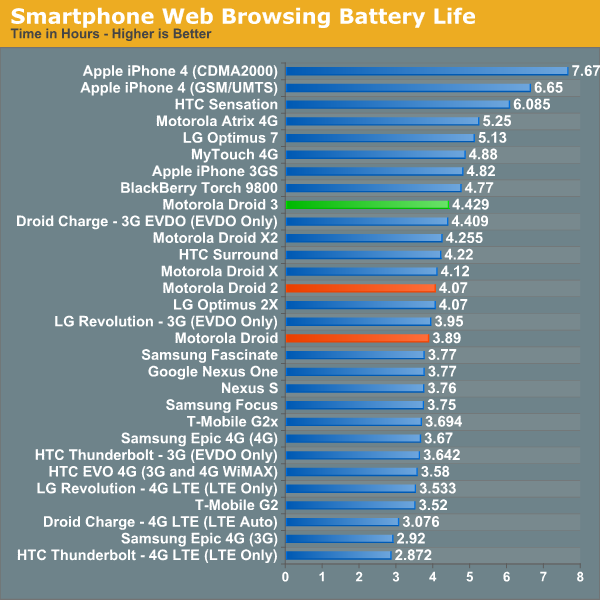 The Droid 3 both brings improvements in performance and display resolution alongside better battery life for smartphone web browsing. The other interesting performer to keep eye on is the Droid X2, which includes the same sized battery and baseband (MDM6600), but Tegra 2.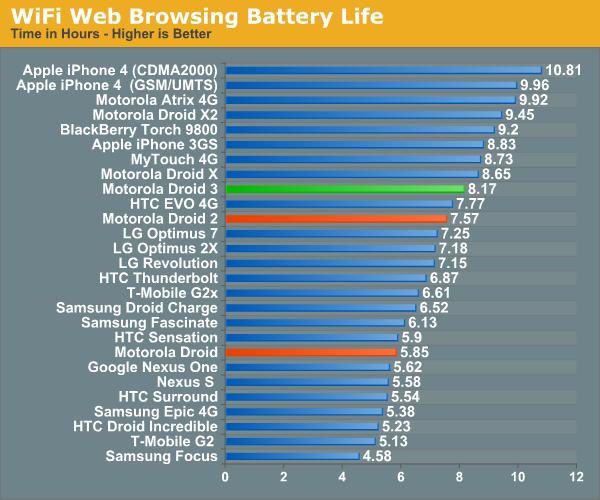 Next up is WiFi web browsing, where we run the same test but using WLAN instead of cellular connectivity. Here we can't compare to the Droid X2 anymore as there are different WLAN stacks in each, but the Droid 3 continues to outperform its predecessors.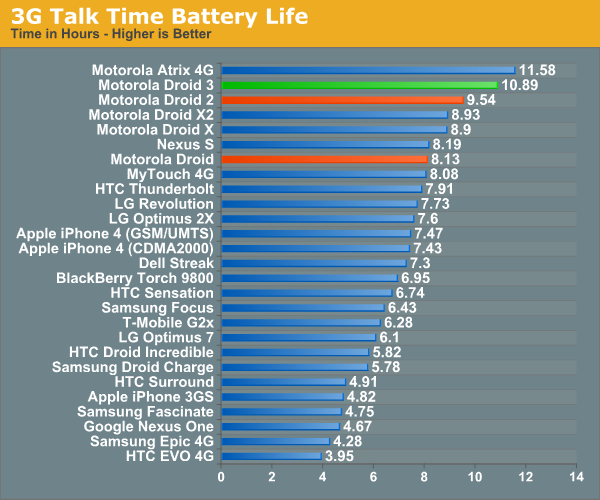 Motorola continues to somehow have a secret sauce for continually delivering incredibly long call time battery life, with now five spots dominated by Motorola devices. I'm still at a loss for exactly what they're doing that gives them such a leg up, but it's considerable.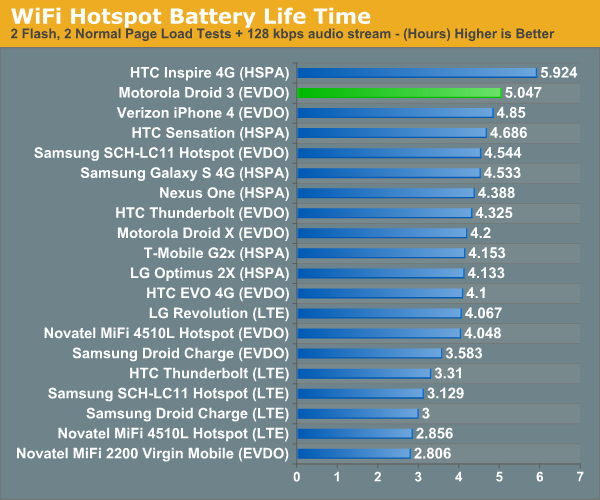 Finally is the WiFi hotspot battery test, which consists of a single WLAN client loading four tabs of our page loading test (two with flash content, two without), and a 128 Kbps MP3 streaming internet radio station. The display on the device is off the whole time. It's a heavy test that mimics continual use and keeps everything awake on the device.
Here the Droid 3 does very well, though we don't have any comparison data from the Droid 2 or Droid 1 due to this being a newer test. The overall results definitely illustrate the potential power savings of a dual core architecture - to put it in Anand's words, you just can't beat voltage scaling when dealing with power.
Concluding Thoughts
So here we are, one year after the Droid 2, and now we have the Droid 3. Dual core smartphones are now pretty much the norm, and overall smartphone adoption shows little to no signs of slowing down anytime soon. On its own, the Droid 3 is a considerable upgrade over the Droid 2. You get a vastly better keyboard, higher resolution display, better cameras, higher resolution and better quality video recording, much better CPU and GPU performance, a better baseband with GSM/WCDMA compatibility out of the box, and Android 2.3.4. One short year later, the same price buys you a considerably better device in almost every possible category.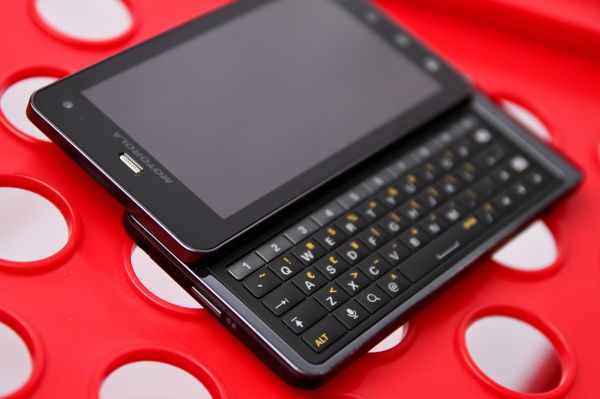 The problem is that there's no LTE onboard, which seems in retrospect like a major tactical error on Motorola's part until you consider that adding that in would likely dramatically change the Droid 3's size and battery life. Like it or not, we're still in the first generation of LTE modems, all of which are 45nm at present. Qualcomm's LTE MDM9600 baseband, which is at the core of an overwhelming majority of current Verizon Wireless LTE devices, is a 45nm part and not directly voice enabled. Around mid 2012, MDM9615 will begin shipping, bringing 28nm LTE/EVDO/DC-HSPA+ connectivity in a slightly smaller, less power-hungry package, and also bringing onboard voice to bear. Only at that point (or with MSM8960 potentially sooner) and with similar parts does LTE connectivity on the device become something you can include without a complicated dual-baseband solution.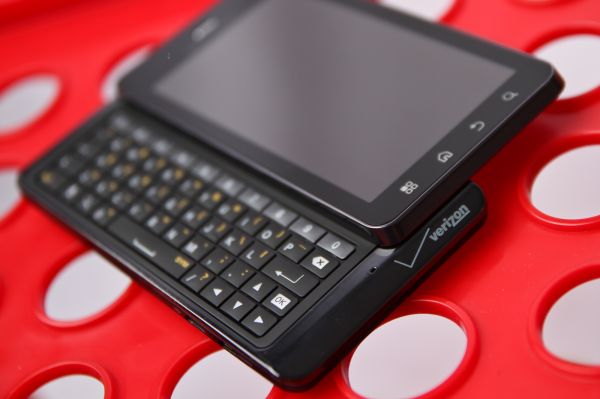 It's roundabout, but basically what looks at first like a tactical error on Motorola's part really isn't - they made a design tradeoff and instead the Droid 3 is one of the thinnest (if not the thinnest) devices with a slide-out keyboard. Instead, if you want LTE and a physical keyboard, you're going to have to wait a while until Samsung or another partner brings it to bear. That said, Motorola does have some LTE-enabled devices headed to Verizon, which we'll look at in due time, but they likely won't include keyboards.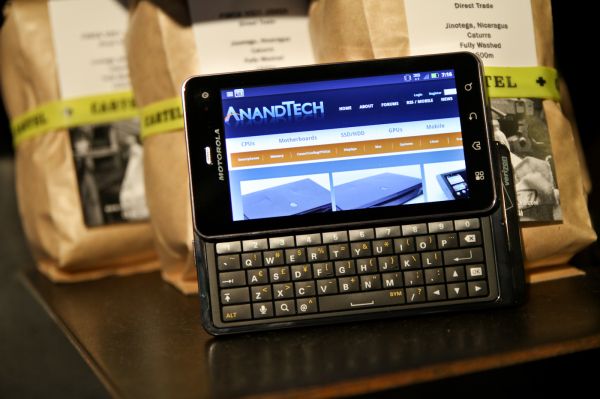 If you're in a market that Verizon hasn't included in its official list for deployment by the end of 2011, there's really no point to owning a first generation LTE smartphone. At that point, current devices like the Droid X2 or Droid 3 make sense, or waiting for devices based on some less power-hungry second generation basebands that will no doubt be the rage around the same time next year.
I like the Droid 3 a lot more than I thought I would going into it, just because of how much importance I personally put on having the fastest cellular connectivity. It's sort of a running joke among friends and people that know me that I spend far too much time running speed tests, and so I went into this review ready to be underwhelmed by more EVDO slowness. I was definitely wrong about how great this device really turned out to be. Keyboard, display, OMAP4, and overall size culminate to a device that feels like way more than just an updated Droid 2.
The device has had another unintended side-effect as well. The Droid 3's awesome keyboard has made me wish more of the Android flagship, triple-A devices had physical keyboards. Capacitive multitouch keyboards are great, but something is always going to get lost in the process of making a keyboard virtual. It's also clear to me that developer focus has shifted away from landscape view, with so many Android applications forcing you into portrait-only mode because there's so much more attention on portrait than landscape devices with keyboards. Maybe it's time for a Nexus device with a keyboard to remind developers that landscape still exists.