Original Link: http://www.anandtech.com/show/4547/mac-os-x-lion-server-review


Mac OS X Server costs 5% of what it cost just three years ago. Whatever your needs and whatever the software's shortcomings, this is hard to ignore. Leopard Server cost $999 for an unlimited-client license, Snow Leopard Server cost $499, and Lion Server costs $50.
For this reason alone, Lion Server will (and should) attract the attention of people who have never been in the market for server software before - home users, in particular - but it has to do so without alienating the business and education customers who currently rely on the software. These are Lion Server's challenges: is there a real point in having it at home? And as a comparatively-dirt-cheap App Store download, is it lacking in features and power compared to previous versions?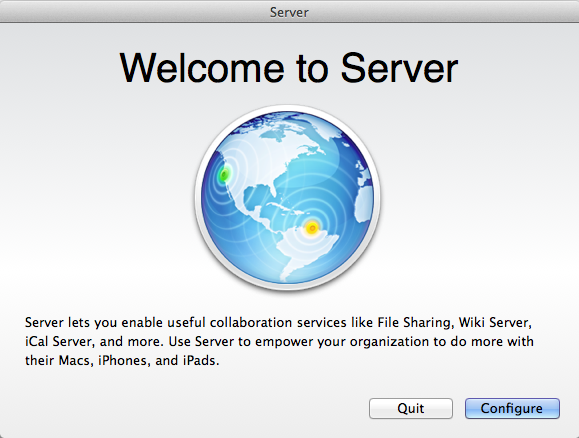 I want to clarify a couple of things before I dive into the review proper: First, just like previous versions, Lion Server is very much just OS X with server functionality laid over top of it. In appearance, performance, system requirements, and operation, it is mostly identical to OS X client. I'll point you to our massive review of Lion if you need to know more about any of that.

Second, know that I'm approaching this review from a different angle than the Lion client review - while most people interested in an OS X review have at least a passing familiarity with the software, this review will be the first exposure to OS X Server for many of you. For that reason, among the descriptions of Lion Server's features and comparisons with past versions of the software, I'm going to be going a little more in-depth about how to actually configure the services. Hopefully the newbies among you can use these instructions as jumping-off points as you explore the software on your own.

Last, OS X Server can do a lot of things - some (like mail and DHCP) can be handled by many different products, but others (like Open Directory, NetBoot, or the OS X and iOS management features) are pretty unique to OS X Server. I'm going to try to at least touch upon every single service and tool in OS X Server, but I'll generally focus more on the unique stuff for the purposes of this review.

Got all that? Good! Let's jump in.
Like the client version of Lion, Lion Server is now a download from the Mac App Store, and as with Lion client this means that there are some changes in the installation process.
A server upgrade install from Snow Leopard Server is performed the same way as a client upgrade install - fire up the App Store, download the installer, and let it do its thing. If you're running the upgrade from a Snow Leopard server, the App Store is smart enough to prompt you to buy the Server app if you haven't already. You can also convert any Lion client install to a server install by downloading the Server app from the App Store, and then running it - it will download and install some additional components, and the next time you reboot your Lion client, it'll be a server instead.
So, you've installed Lion Server, and you're ready to get started - go ahead and launch the new Server program (hereafter referred to as Server.app, for brevity's sake).
Server.app Overview
Let's start with Server.app, since it's going to be the administration tool we'll use the most throughout this review. I'll start with a general overview of what it is and what it does, and then I'll move on to the specific services that it manages.
The first thing I want to walk through is Open Directory, OS X's directory services implementation (roughly analogous to Microsoft's Active Directory). Many of OS X Server's other services rely upon or make use of a directory in some way, so it's important to know how it works.
Now that you've got a working directory server with some clients attached, let's show you what you can do with it.
A directory isn't much good to anyone without any objects in it, so we're going to create a few users and groups to test things out. As with creating a directory, there are a couple of different ways to do it.
If you've played around with iOS management at all, you might be familiar with the iPhone Configuration Utility that Apple has been maintaining for awhile now. Basically, it creates XML files with .mobileconfig extensions that can be downloaded to iOS devices and used to configure most of the device's settings, from email to VPN to password requirements.
Address Book
Now that we've spent what seems like an eternity on the ins and outs of OS X Server's directory and management capabilities, the rest of the review will go by pretty quickly - most of the services are pretty simple to setup and don't have a lot of moving parts.
Mail
Mail is one of the few services managed by Server.app that retains more advanced configuration options in Server Admin - we'll go over Server.app first.
File Sharing
FIle sharing in Lion Server is a logical extension of the file sharing capabilities already present in the client version of OS X. Flip the service on, and you can select any folder on the server's hard drive that you want to share with clients.
Podcast and Podcast Composer
The Podcast service (which needs the Wiki service to be fully functional, it would seem) works together with the Podcast Composer (another of the Server Admin Tools) to provide end-to-end podcast recording, editing, and hosting. Turn on the Podcast service (and the Wiki service if you haven't already) and then fire up the Podcast Composer.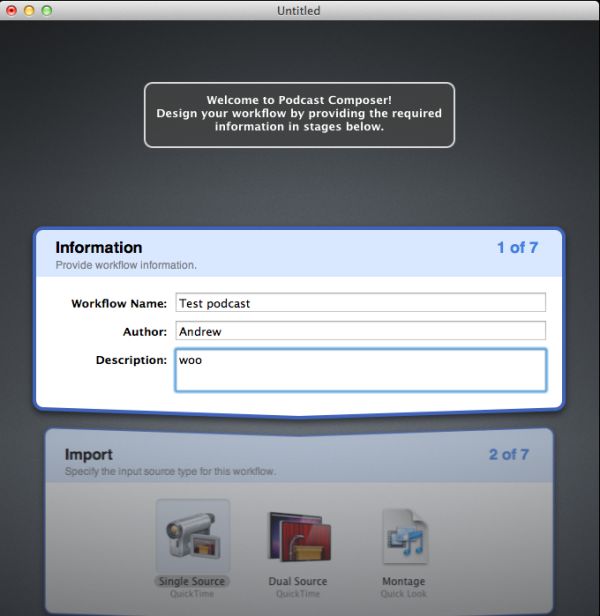 This program is pretty straightfoward - it builds a podcasting workflow, asking you what you'd like to use to record, what file formats you'd like to export to when done, what fades and wipes you'd like to use - everything a newbie podcaster needs, really (though this does seem to be tailored more to internal-use-only recordings and less to something you'd download from the iTunes store - just an observation). You'll want to specify your server's address under the Publish heading in the default workflow, where you can also specify whether you'd like to save any of the raw files along with the final product.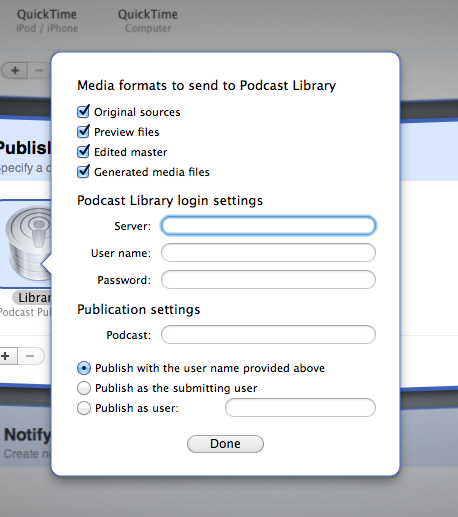 Once you've successfully published, they're up on your server for everyone with appropriate permissions to see.
Time Machine
VPN
There's nothing that can make setting up VPN (Virtual Private Networking, which allows access to your network from other networks) truly simple, but Lion Server includes an L2TP VPN host that tries very hard - flip the switch, set a password, and determine what IP addresses will be used for connecting clients. By default, it takes 30 addresses from the high 200s, addresses that are unlikely to be in use on a small network. Make sure that your IP settings won't conflict with addresses used by local clients.
We've now covered every service manageable by Server.app, which addresses the core of OS X Server's functionality. As we mentioned before, though, the Server Admin Tools still expose quite a bit of extra functionality that Server.app still doesn't manage, and I'll do my best to cover the services still managed by Server Admin, as well as the rest of the Tools.
RADIUS
Remote Authentication Dial-in User Service provides an extra level of authentication and logging to your network, though the service's insistence on AirPort base stations will probably limit its usefulness for most. Basically, once its setup, it allows you to control access to your wireless network using Open Directory user credentials. Handy if you can use it, inconsequential otherwise.
NetBoot
The NetBoot service is one of my personal favorites - using a mix of standard PXE boot technology and some of Apple's own mumbo-jumbo, you can use it to serve up OS images to client Macs over the network. Its uses are diverse - you can boot up a simple operating system designed to deploy OS X images to multiple computers at once (I recommend the excellent, free DeployStudio for this sort of work), you can serve up a vanilla OS X install disk, or you can use the System Image Utility (another of the Server Admin Tools) to capture a pre-configured OS X environment that can be served to many clients at once - the latter is particularly useful in classrooms, computer labs, public-use kiosks, and anywhere with a lot of Macs that need to look and act the same, since getting a clean instance of the OS is as easy as rebooting the system.
Software Update
Xgrid is the last of the services we'll be looking at tonight, and it's not a new one so we won't spend too much time here. Accessible only via Server Admin, Xgrid is Apple's distributed computing service - basically, it allows many computers to process a single task, thus completing that task exponentially more quickly than any one computer could do alone.
Configuring the service is easy - just select the service in Server Admin, click the Configure Xgrid Service button, elect to create an Xgrid Host, input your Directory Administrator credentials, and you're done.
You can control how clients authenticate to your Xgrid in the Controller tab within the Settings tab. For convenience's sake, I'll just have my clients authenticate with a simple password. By the same token, you can make your server's CPU cycles available to Xgrid in the Agent tab.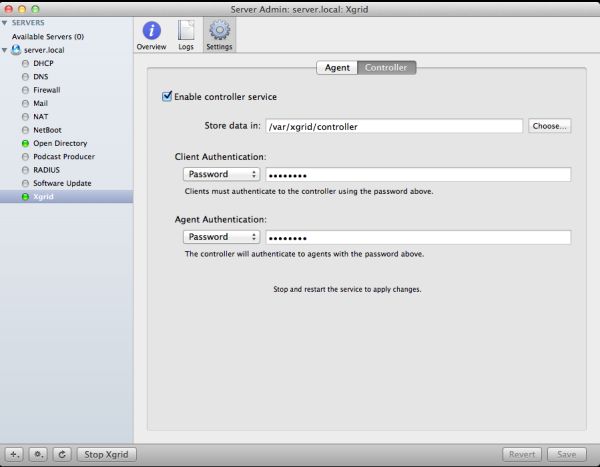 Now, to get other computers in on the fun, go to the Sharing System Preference pane, go to Xgrid Sharing, and click Configure. Tell your computer to use a specific controller, and input your server name.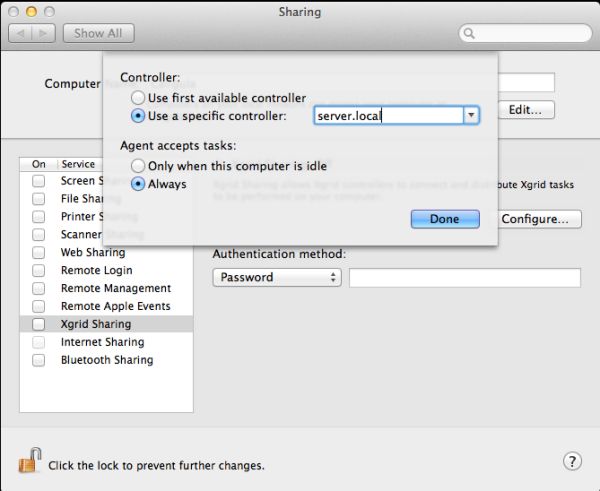 Under Authentication method, make sure what you put here matches the setting you put in on the server, and then check the service's checkbox to start it up.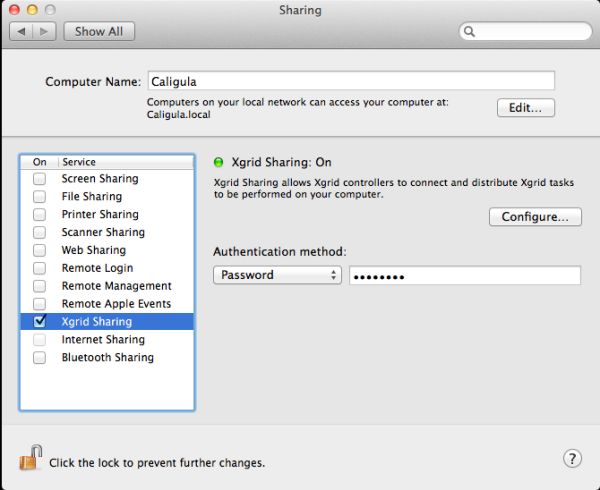 Now, check to see that everything is working using the Xgrid Admin Server Admin Tool - if you've configured your computers correctly, you should see that a pool of CPUs are available for your use.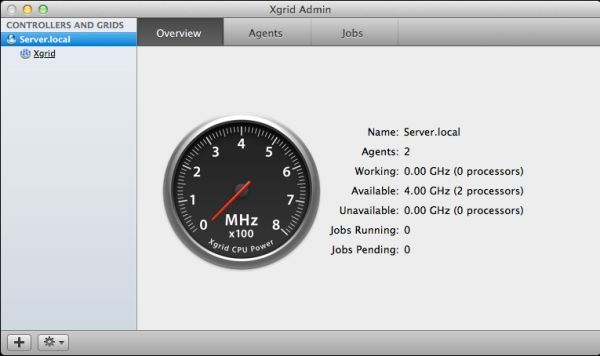 Your Xgrid clients can now submit jobs via the command line, and you can use Xgrid Server to start, stop, pause, and dictate the priority of those jobs.
The actual use of Xgrid is a little outside the scope of this review, but sadly it's one of those things that sounds a lot cooler in theory than it is in practice. You can't really use Xgrid to speed up consumer applications from Apple or Adobe - it's best used to help with CPU-intensive calculations, and it's not even ideal for all of those. If you're interested in learning more (and if you're fairly technically literate), I'll point you toward the generally excellent Xgrid wiki and wish you luck.
Rather than keep interrupting myself throughout the review to talk about using Windows with OS X Server's services, I thought I'd lump it all together at the end for convenience's sake. There's not much to say, so I'll be brief.
One thing to mention in a review of Lion Server is the state of Apple's server hardware. As you may or may not remember, Apple discontinued its Xserve line of rack-mounted server hardware back in January, and slightly modified two of their desktop models to fill the void - Lion Server can be installed on any Lion-capable Mac, but these are the systems that are actually shipped with it installed.
The first, the Mac Mini Server, adds a quad-core processor and second internal hard drive to the standard Mini configuration - you can certainly use this drive as additional storage space, but in a server it is best used to provide data redundancy in a RAID array with the other drive. A price of $999 (the same price, remember, as the Leopard Server software by itself back in the day) makes it a hard proposition to turn down for small-to-medium businesses or academic institutions, and a small group of them can provide enough power and redundancy to comfortably serve most services to many devices (rack-mountable shelves that will house up to four Minis are cheap and readily available).
Lion Server's main problem, from an IT person's point of view, has less to do with the software's functionality and more to do with Apple's software support model. Lion Server is a good product that maintains most of the appeal of past OS X Server versions, but like the client version of Lion, it's clearly a transitional product that makes many changes and foreshadows many more, and there's less tolerance for that sort of thing in the server room than on the client's end. If your organization depended on something like the Print or QuickTime Streaming service in Snow Leopard Server, or the ability to join Windows clients to Open Directory, Apple decided that those services were obsolete and got rid of them; now you're stuck having to find something else to do the same work.